Best Easy DIY Fall Halloween Decorations For The Front Porch And Yard
Updated July 23, 2023
Our favorite thing to do every Halloween is decorate BUT more often than not store bought Halloween decorations can look a bit generic.
Luckily it's super easy (and fun) to make your own unique Halloween Decor!
These easy DIY Halloween decorations look better than store bought and use items you may already have lying around the house.
They can be used for both indoor and outdoor, in apartments or homes and would also look amazing at a Fall or Halloween wedding.
Whether you want to add a touch of creepy to your yard, a scary elegance to your windows, rustic fall charm to your porch, or transform your home/apartment into a full blown haunted masterpiece, these are the most efficient and effective DIY decorations that will cost close to nothing.
We've also added versatile decor ideas that will save you time by taking you from Halloween to Thanksgiving with little effort.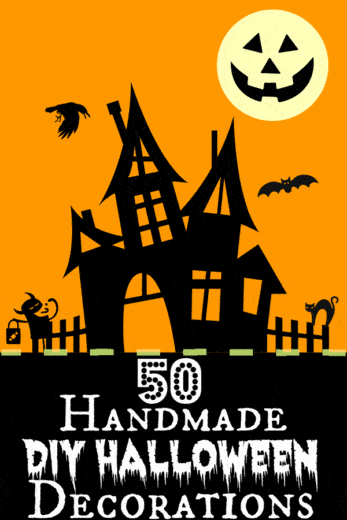 This post may contain affiliate links. Click here to read our full disclosure policy.
Versatile Halloween To Fall Porch Decor
Let's start out with the best versatile outdoor decorations that'll take you from Halloween to Fall to Thanksgiving and even Christmas.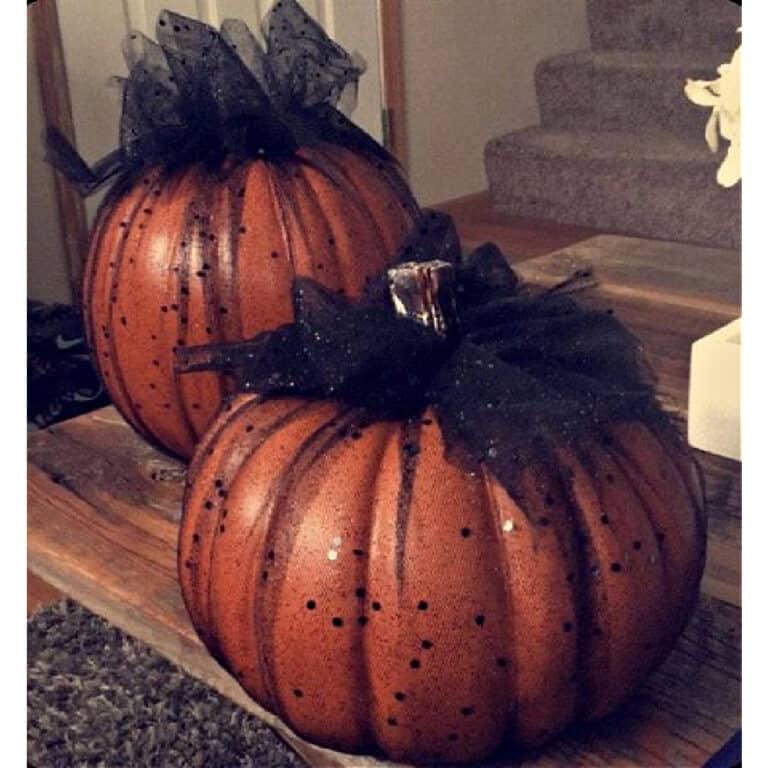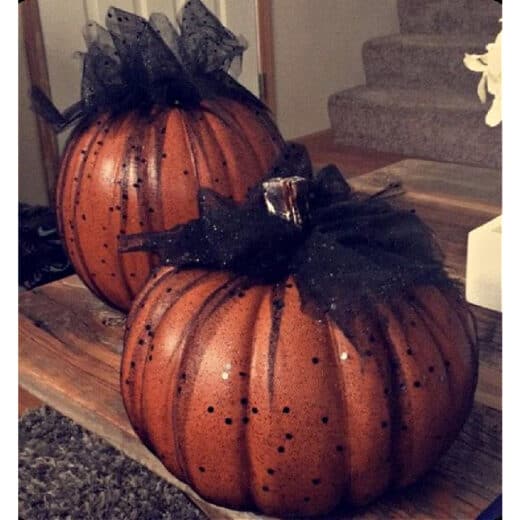 Wrap your pumpkins in tulle sprinkled with sequins or glitter for a super easy Halloween party decor idea. Just take the tulle off when Halloween is over to transition into Thanksgiving decor!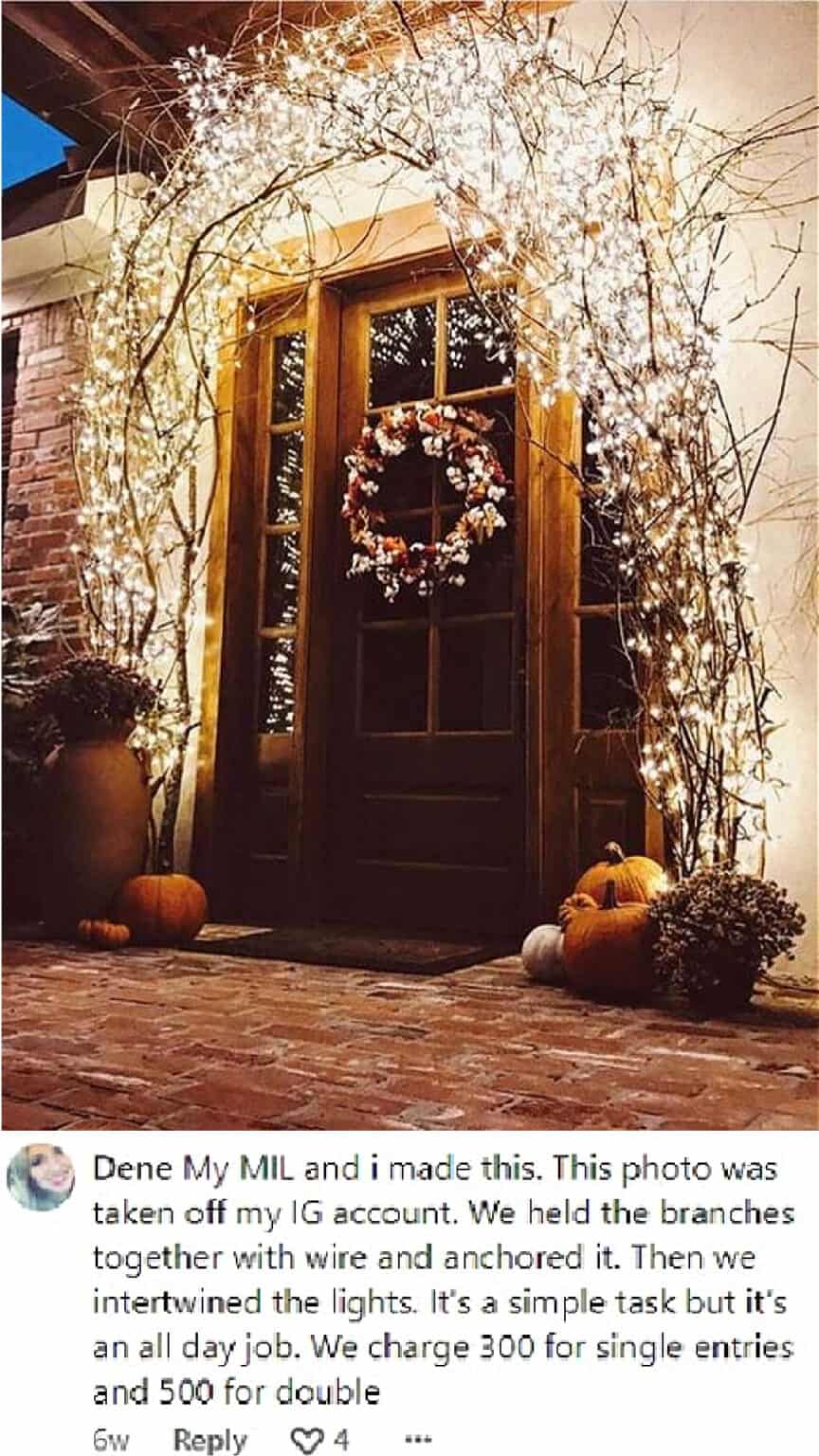 Make an archway out of branches, twigs, and lights for Fall decorations you can leave up for Christmas! The arch above was created by professional Holiday decorators Dene Masters and Amity Lynn. Follow their instructions above or use one of these YouTube tutorials.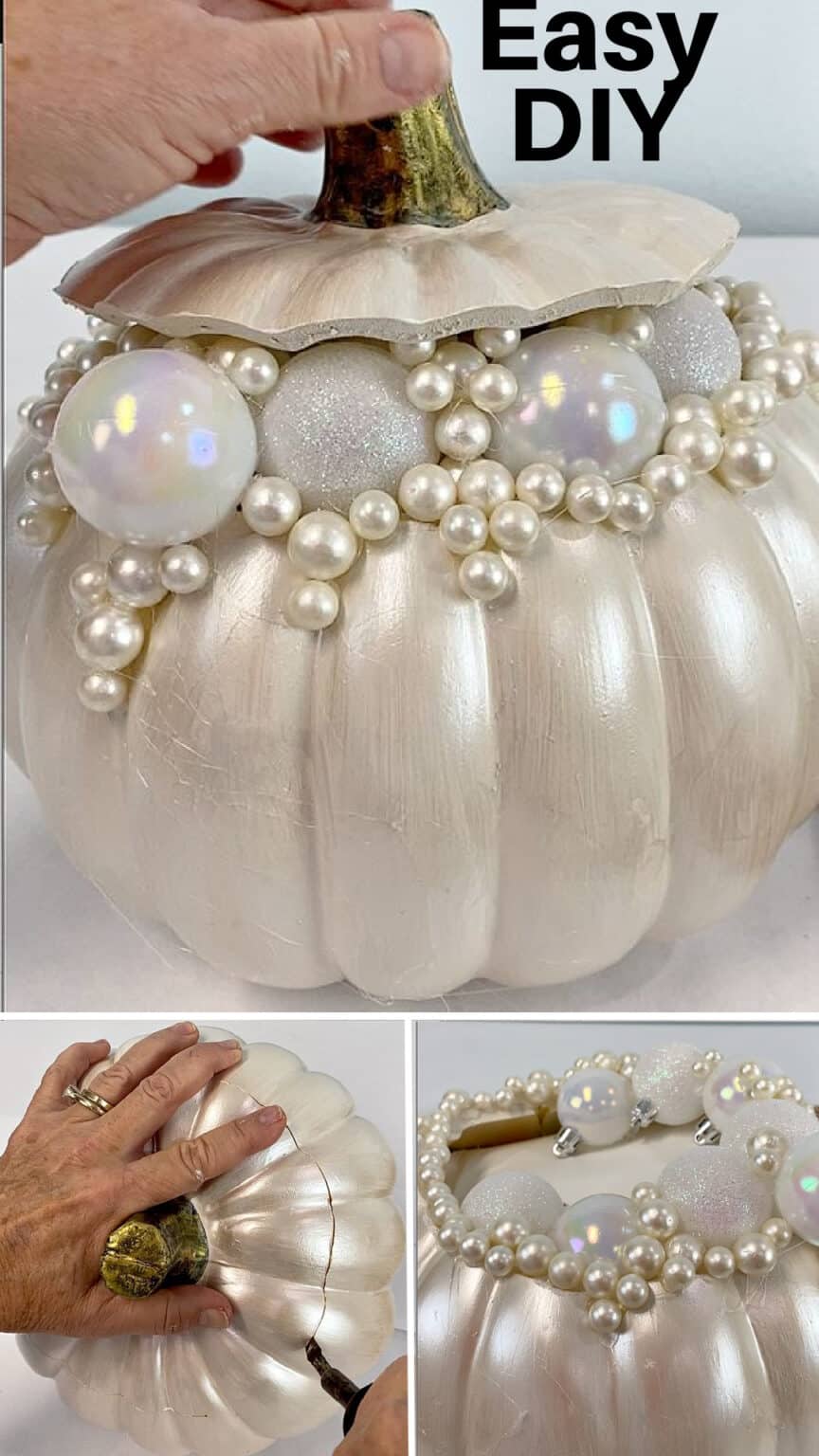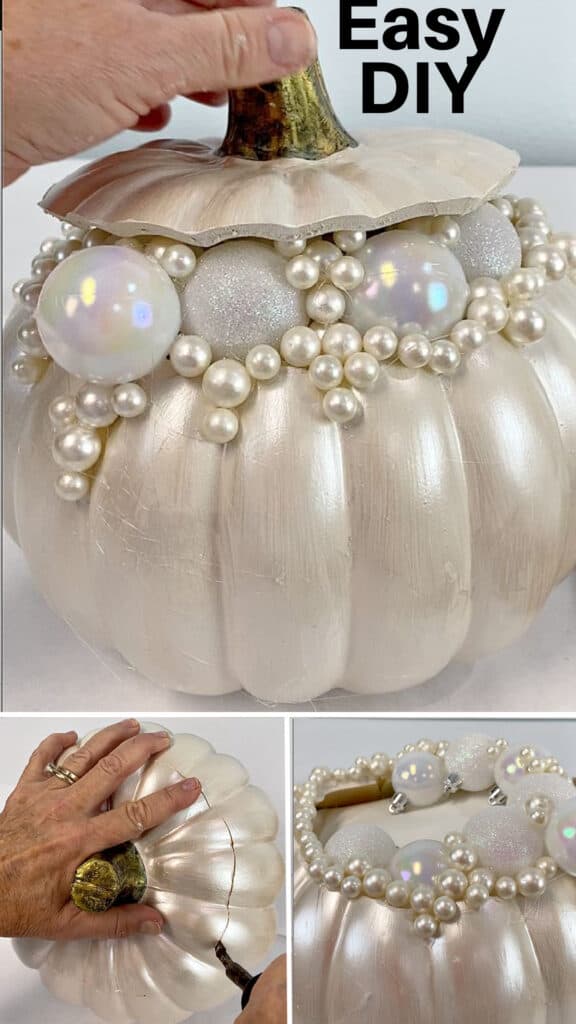 Make the beautiful fantasy pumpkins above with faux pumpkins from Michaels, paint, and ball ornaments! These whimsical pumpkins would be beautiful for a Fall wedding or Halloween decor.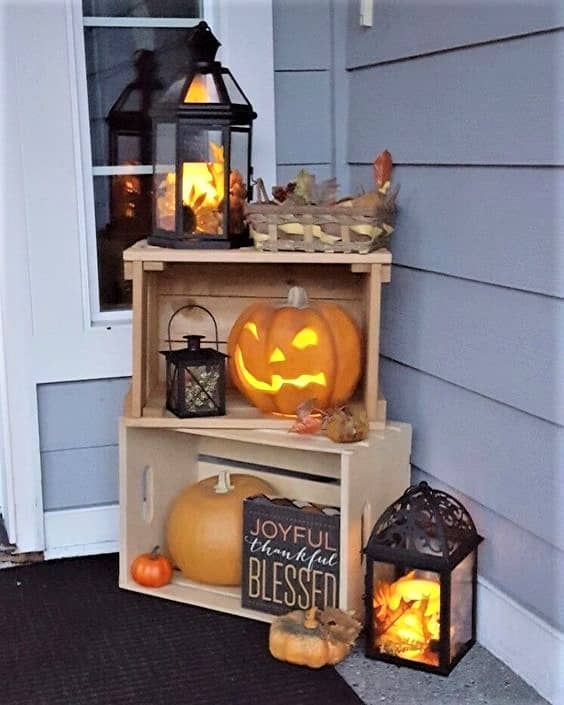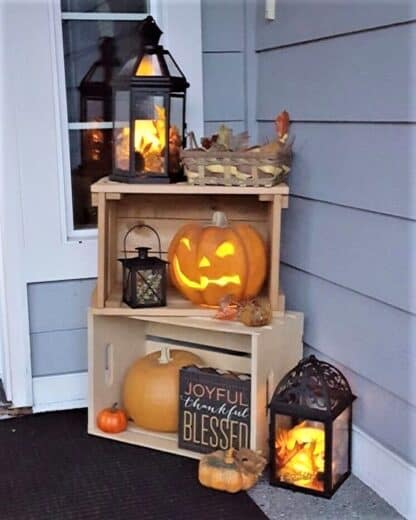 Wood crates are a versatile item you can use to effortlessly take your decor from Fall, to Halloween, and back to Thanksgiving just by adding and removing items.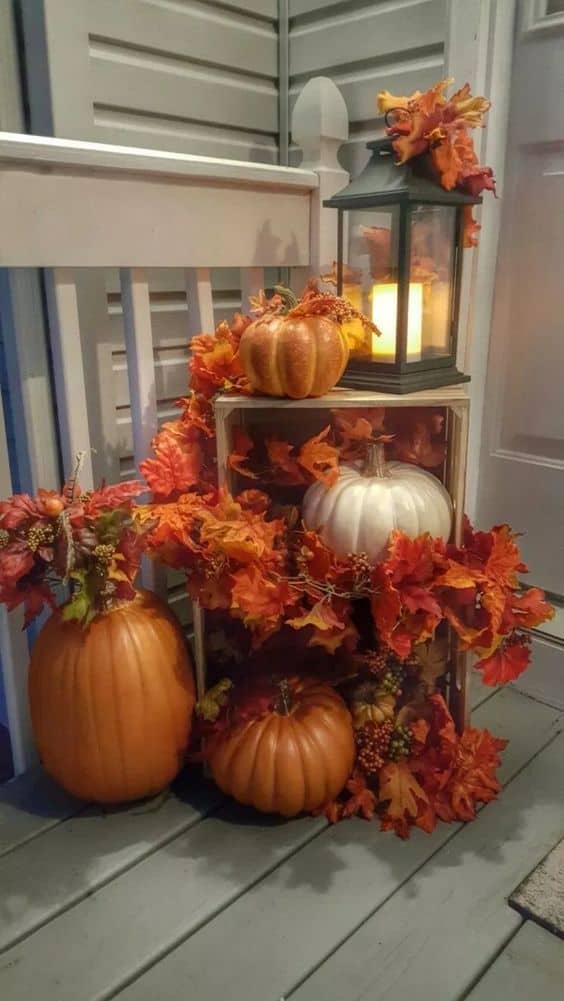 Grab some wood crates to display your pumpkins and lanterns. Add Fall leave garland, and even a basket of candy on top for trick or treaters.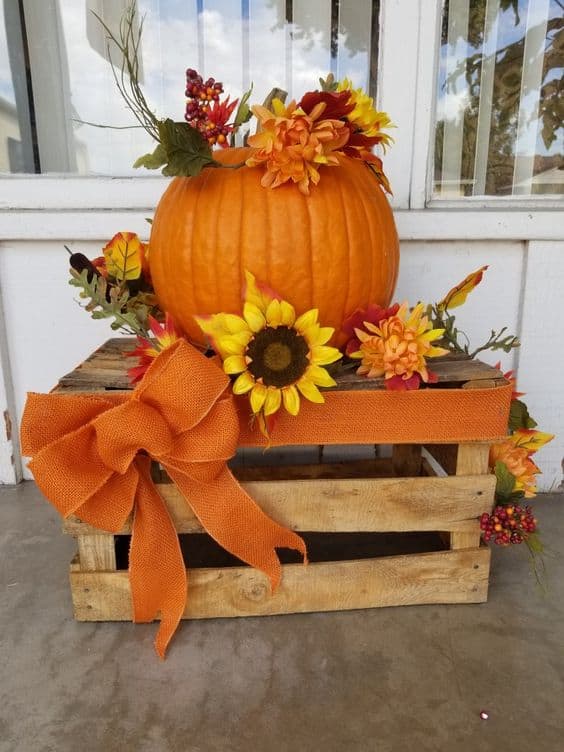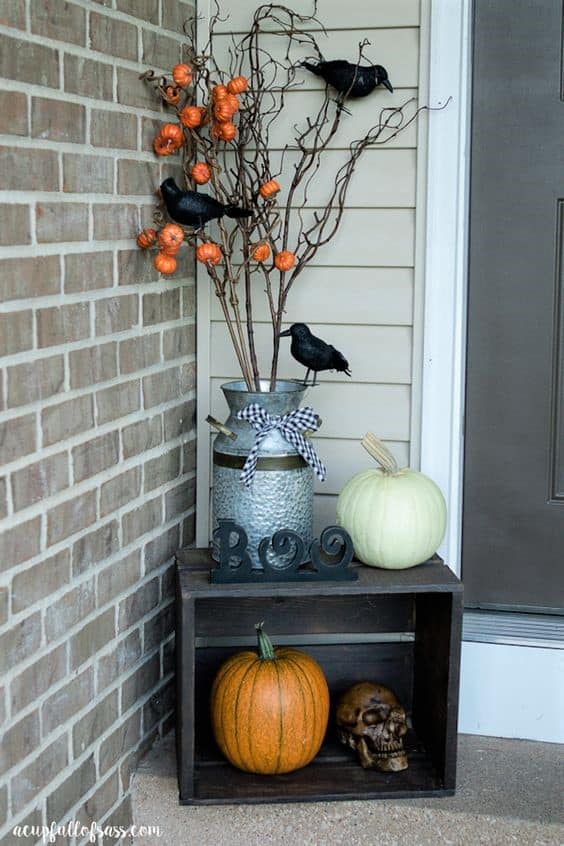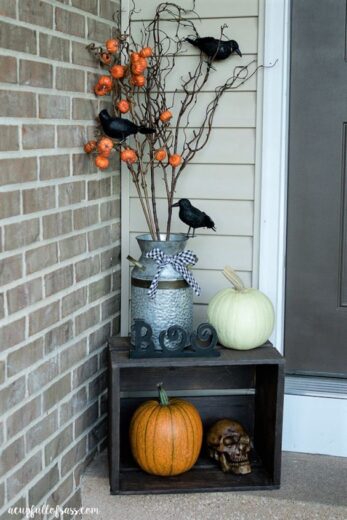 Add Pumpkin stems, a milk jug, and some crows for a beautiful yet creepy porch idea.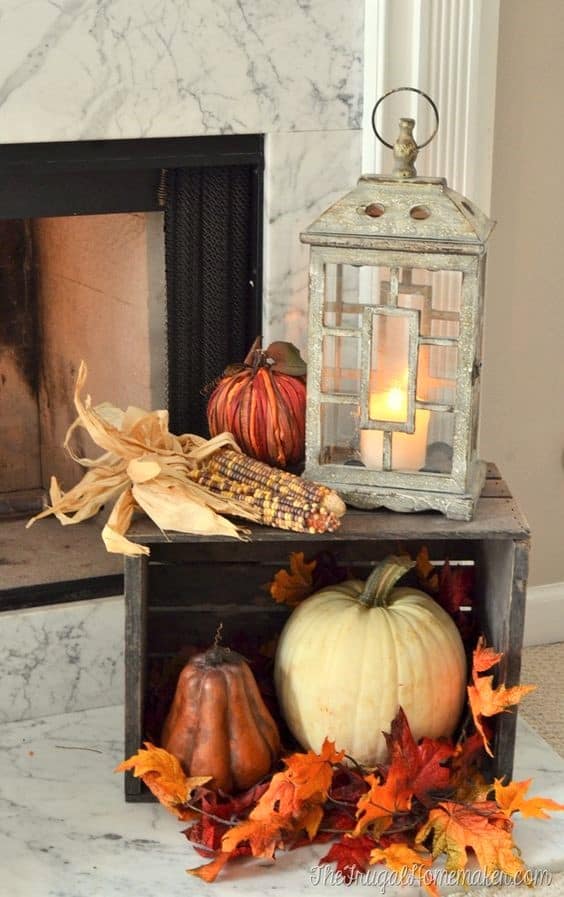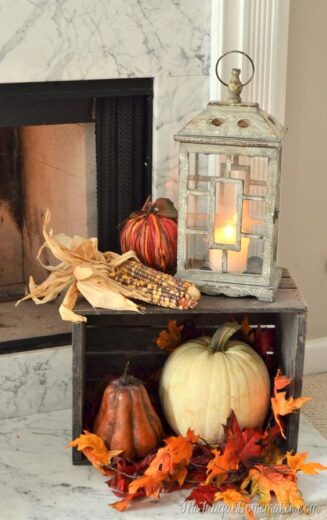 When Halloween is over switch out the jack o lanterns for harvest pumpkins, it's so efficient.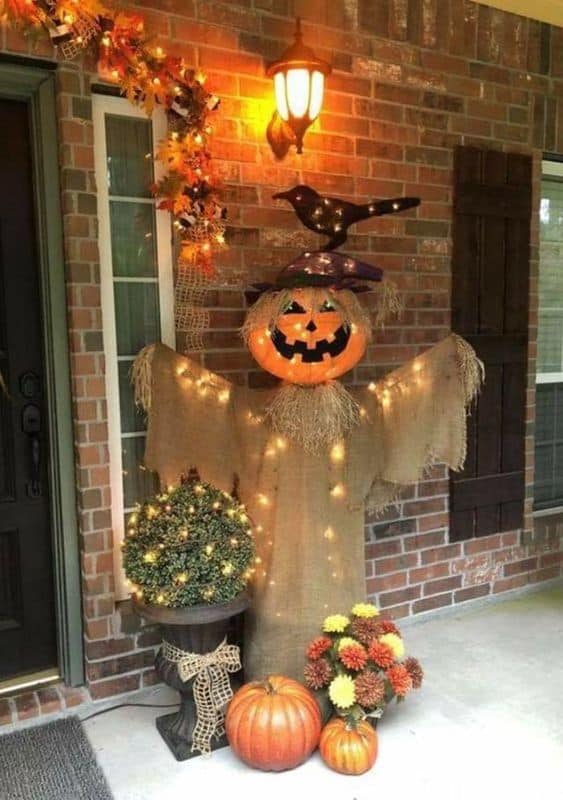 The Pumpkin Scarecrow above was purchased at Home Depot but you can recreate it using one of the following tutorials: TUTORIAL 1 or TUTORIAL 2.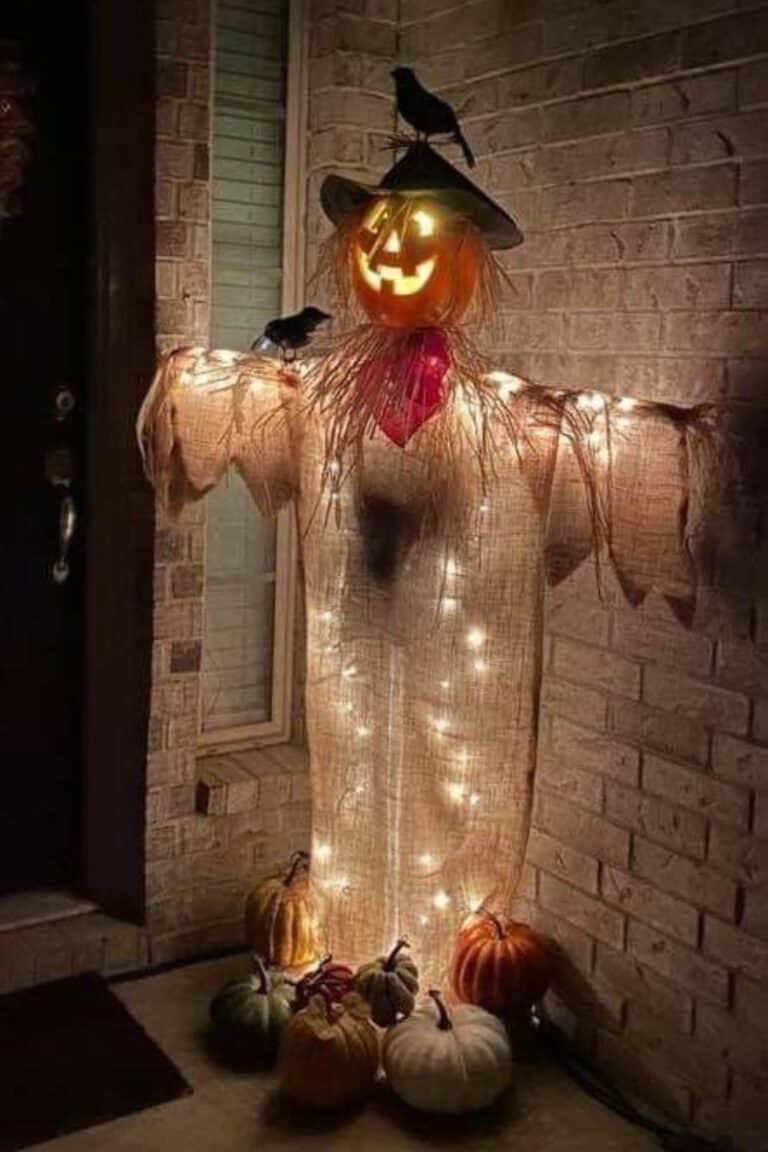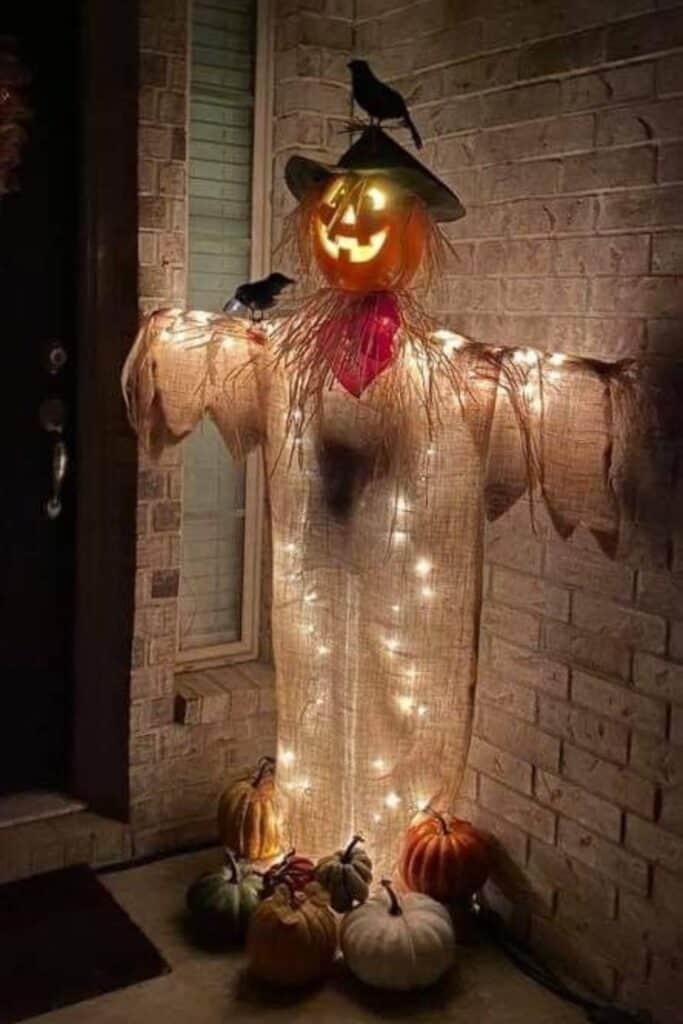 The Easy DIY Pumpkin Scarecrow above is made out of pvc pipe but you can also use a Dollar Tree broom stick! Use one of the following tutorials tp make it yourself: TUTORIAL 1 OR TUTORIAL 2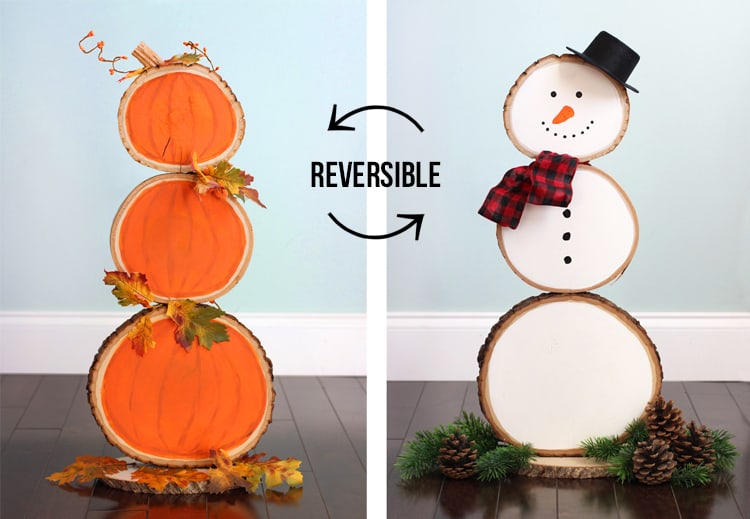 Speaking of wood, this DIY wood slice decor is reversible taking you not only from Halloween to Thanksgiving but to Christmas.
Place black stickers making a jack o lantern face on the Pumpkin side for Halloween, remove the jack o lantern face stickers for Thanksgiving, and spin around to the snowman side for Christmas and Winter.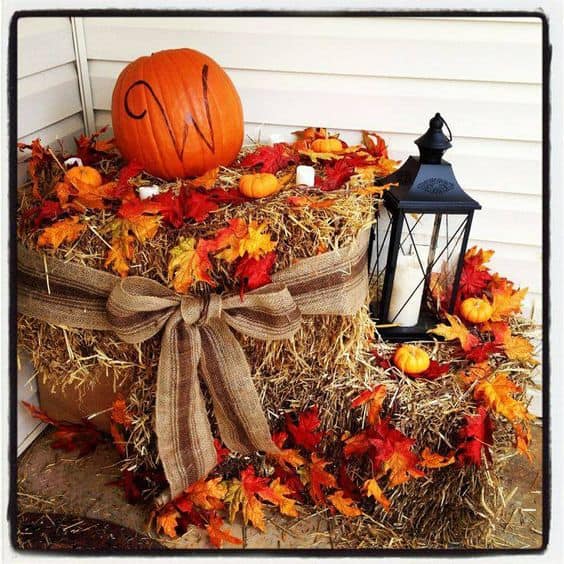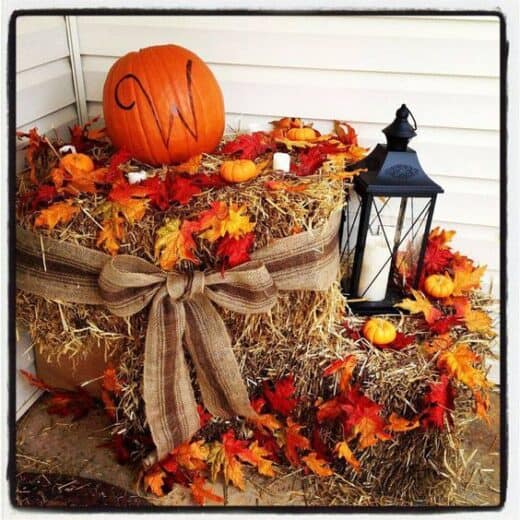 Like wood crates, hay stacks provide classy versatility to transition from Fall to Halloween to Thanksgiving. Just switch out the Jack o Lanterns and witches for Turkeys and Pumpkins. They're also great for fall weddings!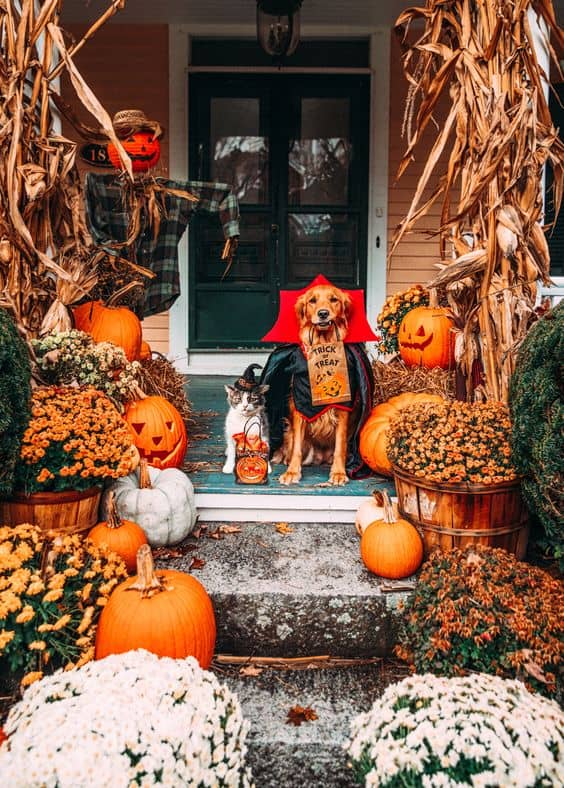 Corn stalks also work perfectly for all Fall Holidays.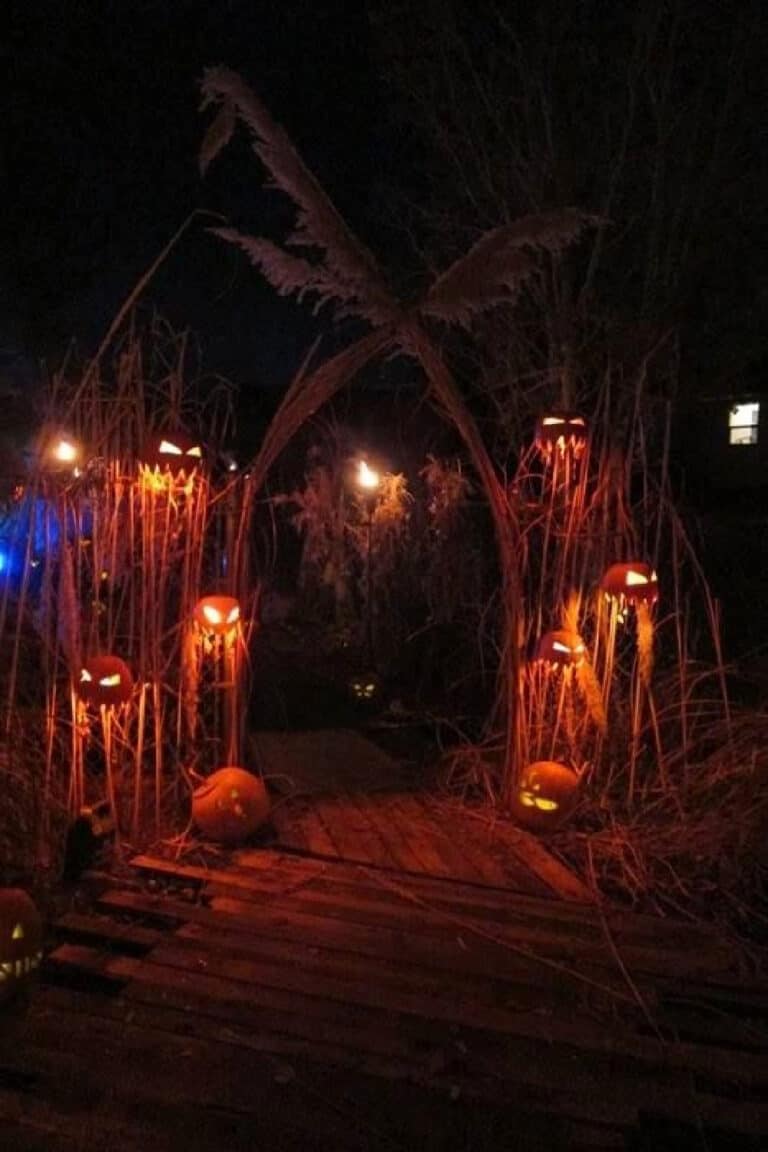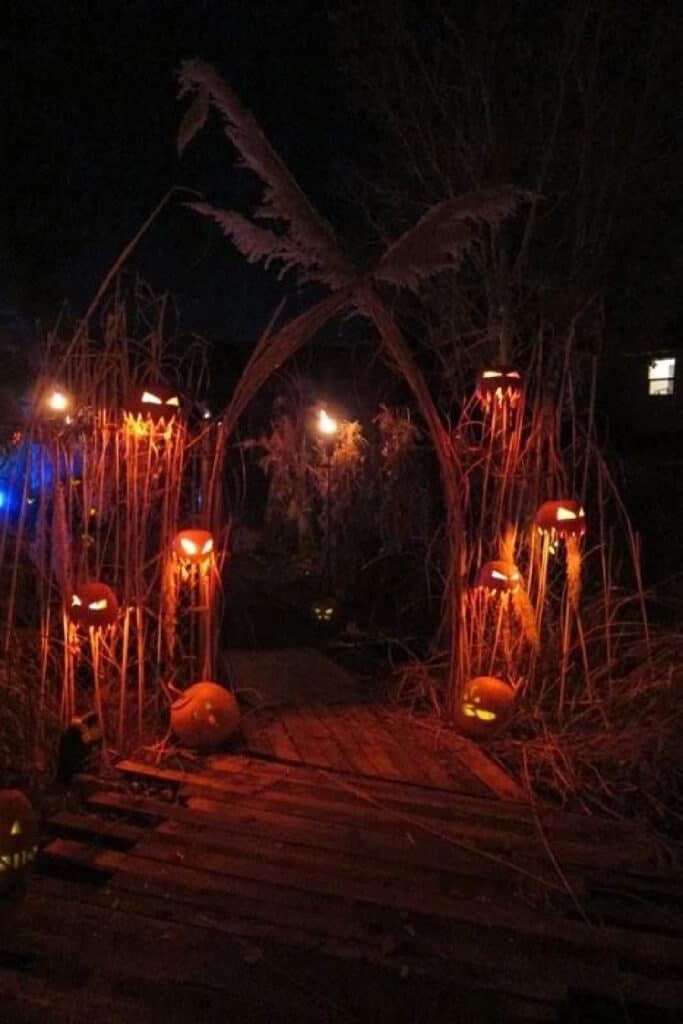 Add Pumpkins for spooky Halloween decorations.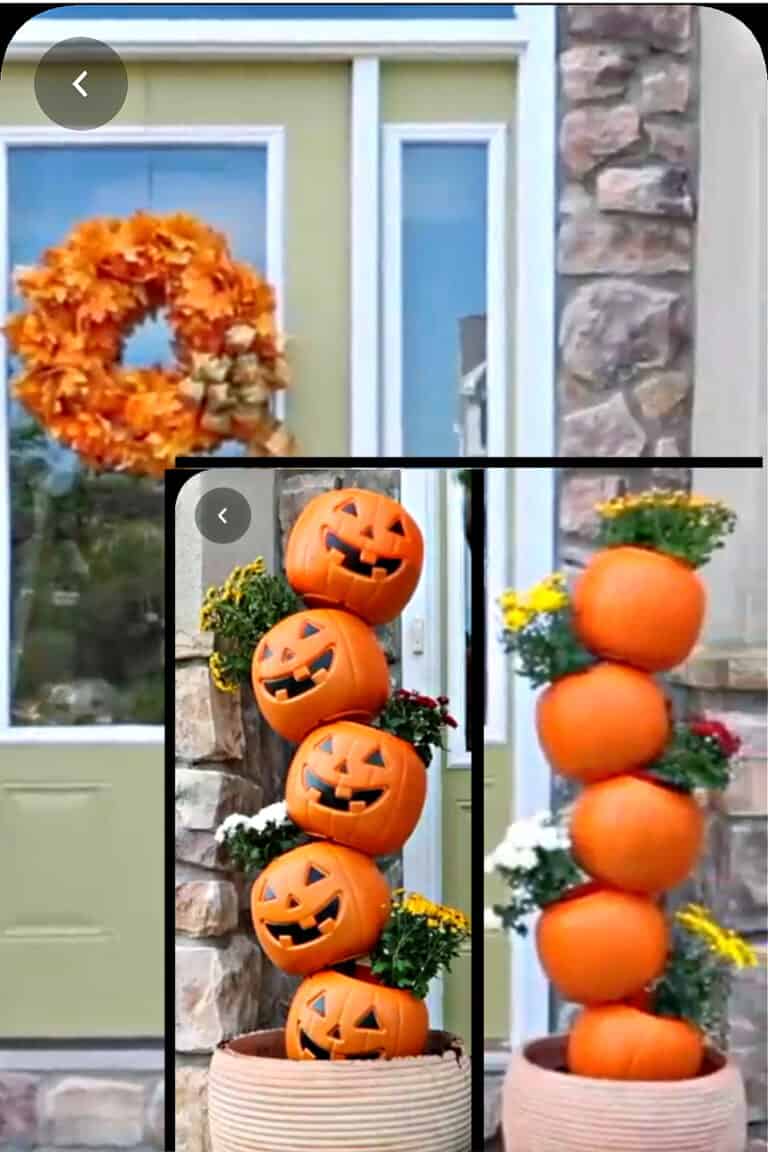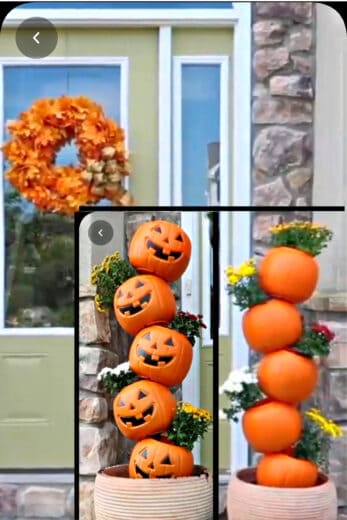 No need to redecorate, dollar store Halloween pumpkin pails can be turned around once Halloween is over for quick Thanksgiving decor.
---
Best Spooky Crow Halloween Porch Decor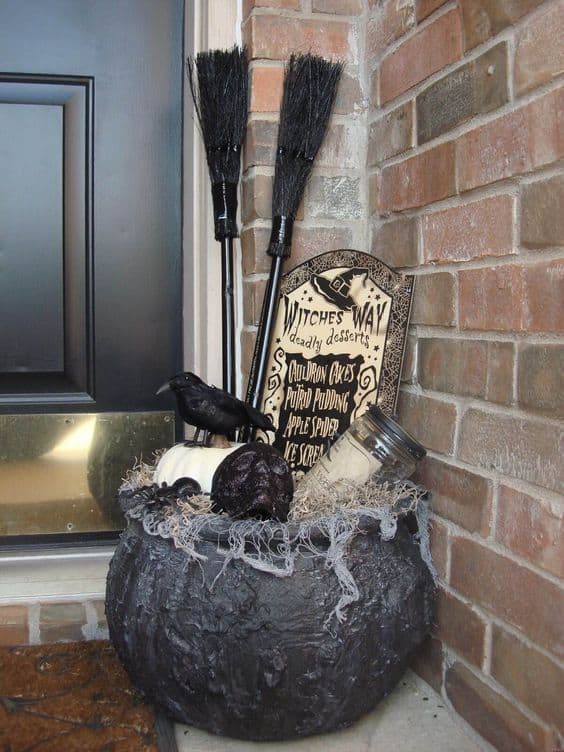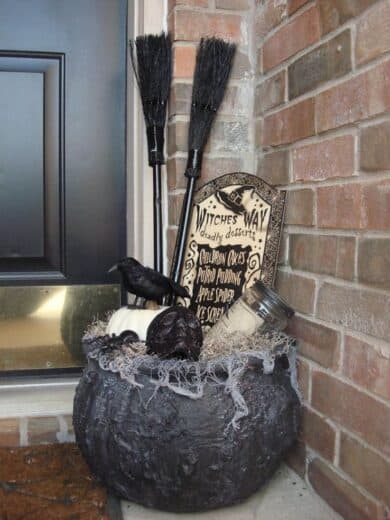 Grab a witches caulderon and fill it with wicked goodies for your front porch. Here are some filling ideas:
Moss, cobwebs, paper filler, cheesecloth, straw/hay
Pumpkins
Brooms
Spiders and bugs
Skull
Crow
Potion Bottles
Spell Book
Lights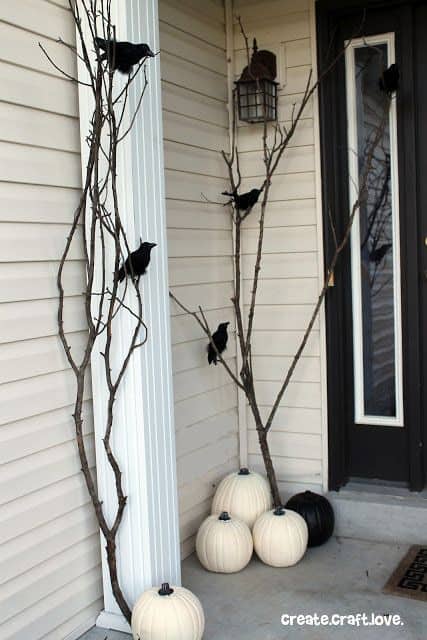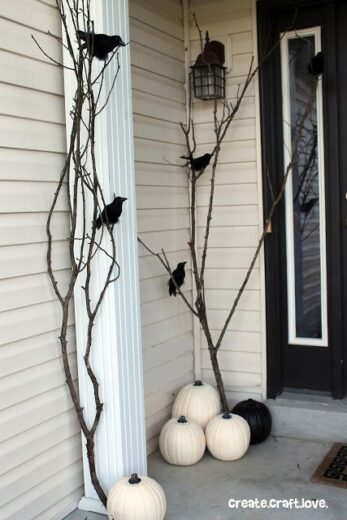 Fallen branches are a cheap yet elegant way to decorate your front porch or entry way. Just add some pumpkins and dollar store fake crows.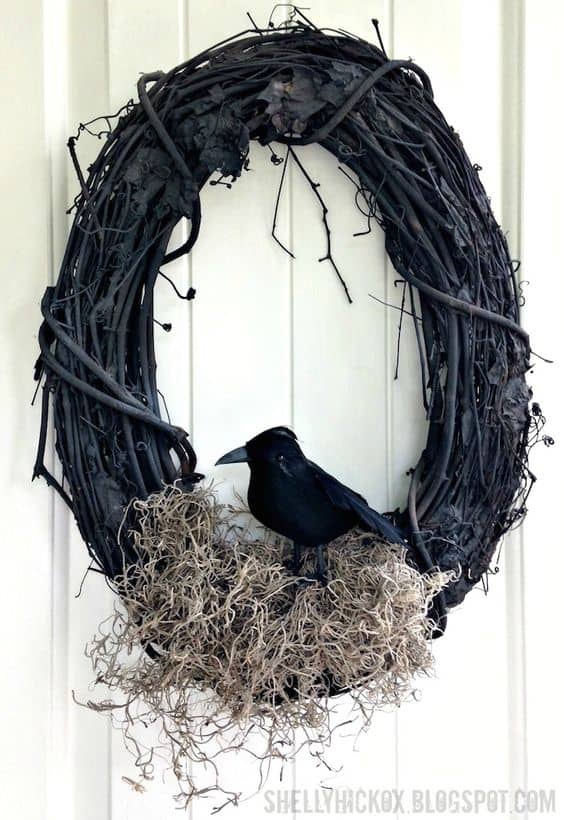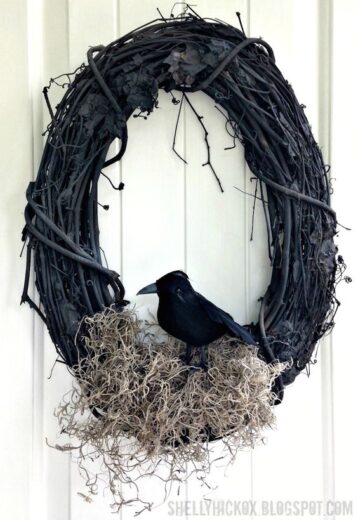 The same can be used to make a chic Halloween wreath for your front door
HALLOWEEN SPOOKY EYEBALL DECOR

A pool noodle, ping pong balls, and boa will make a wicked eyeball wreath for elegant last minute Halloween decor.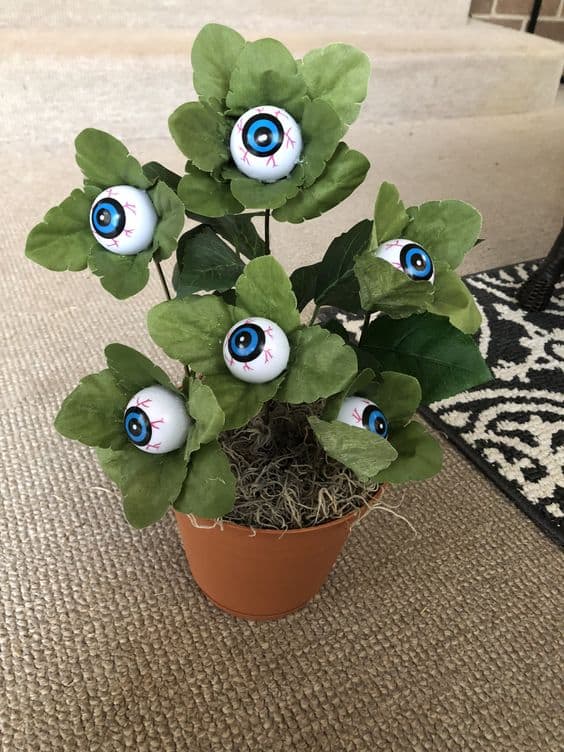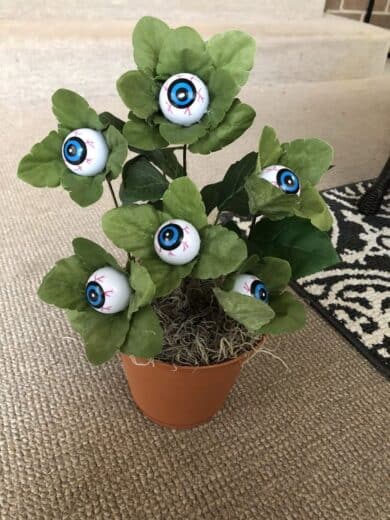 Glue those dollar store ping pong eyeballs to a fake plant! Spray paint the plant black for added effect or make the plant with black foliage.
---
WITCH DECORATIONS FOR YOUR HOME AND FRONT PORCH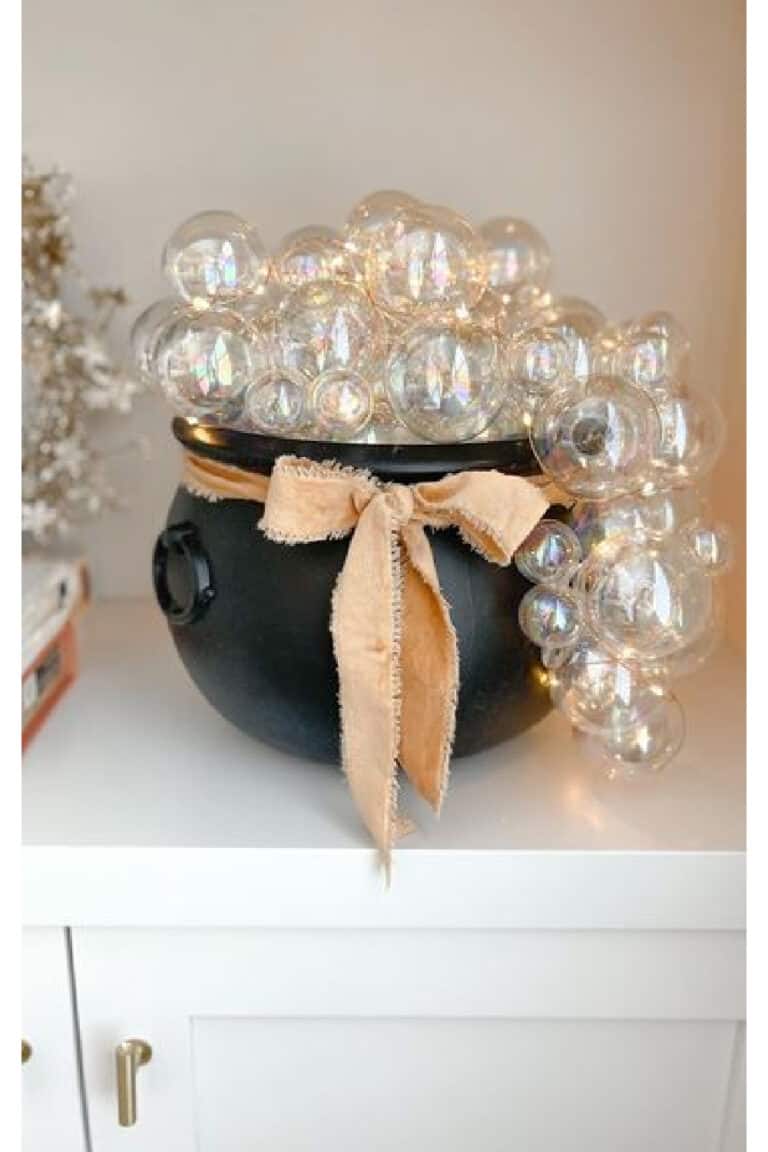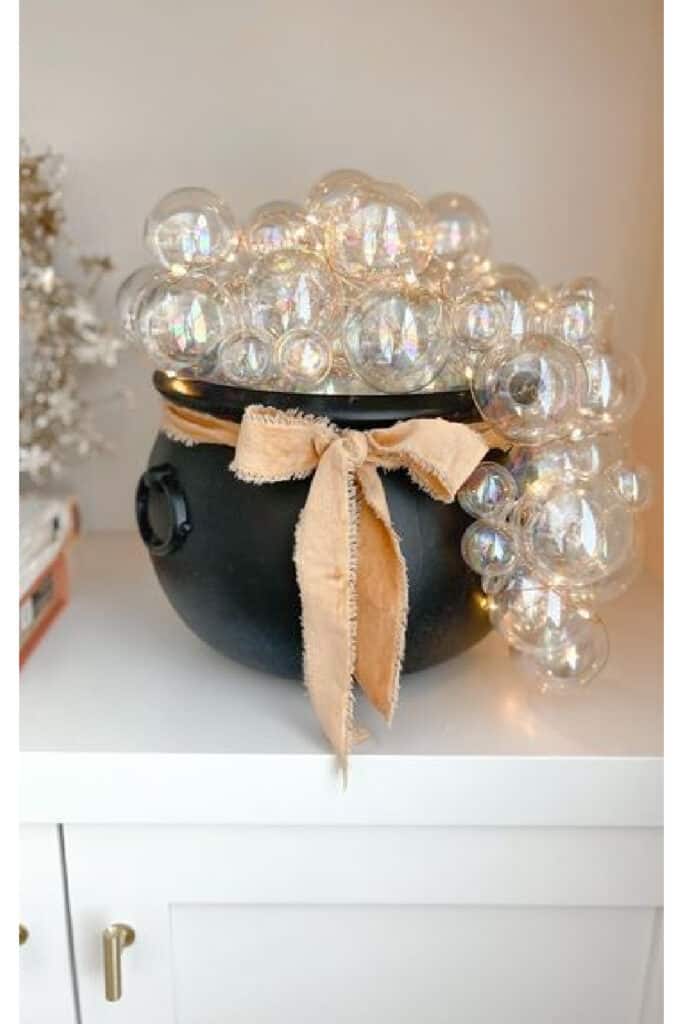 Make the Whimsical DIY Witches Caulderon pictured above using this video tutorial and the following items:
Witch Cauldron
Foam ball
Hot Glue
Velvet Ribbon
Twinkle Lights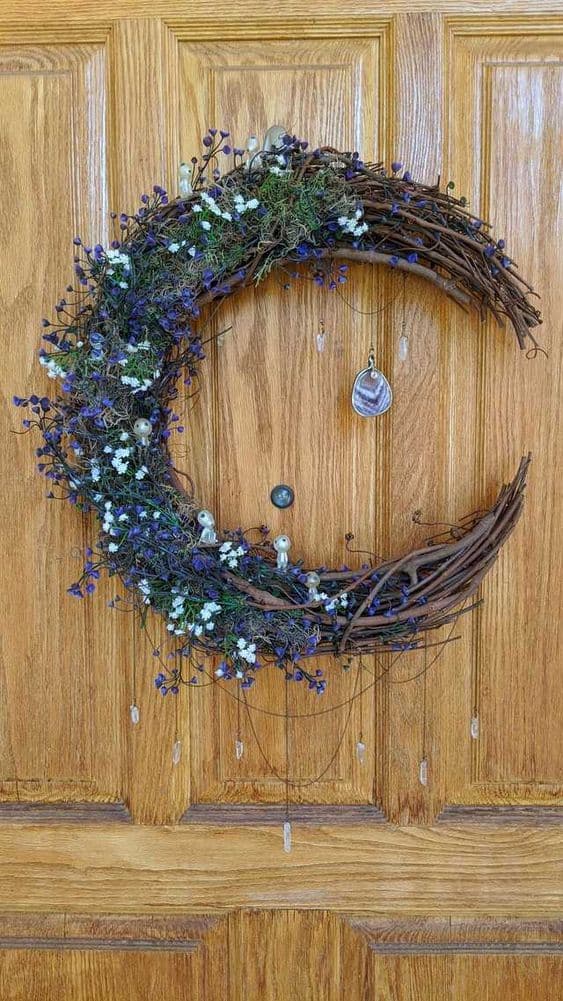 This easy DIY Dollar Store Witch's Moon Wreath screams Practical Magic to us! You can use grapevine garland (or backyard twigs), and this helpful tutorial to make the dollar store wreath form shape. Here is another great tutorial that will give you more inspiration and tips on how to decorate it!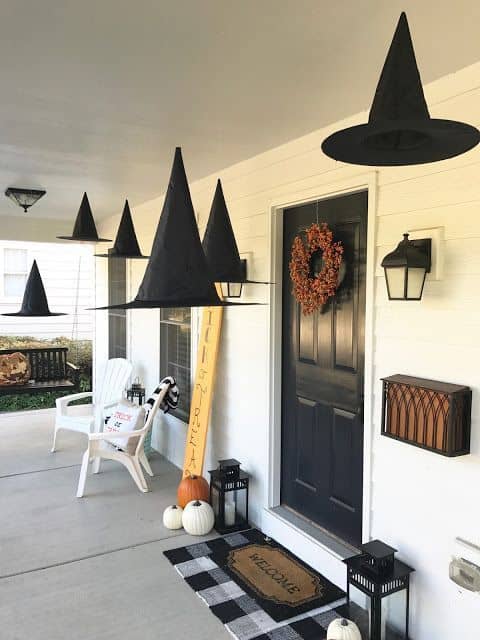 Suspend dollar store witches hats on nylon string for a floating witches hat effect.

Floating dollar store witches hats may be all the haunting your front porch needs. There is a DIY option to make them luminaries.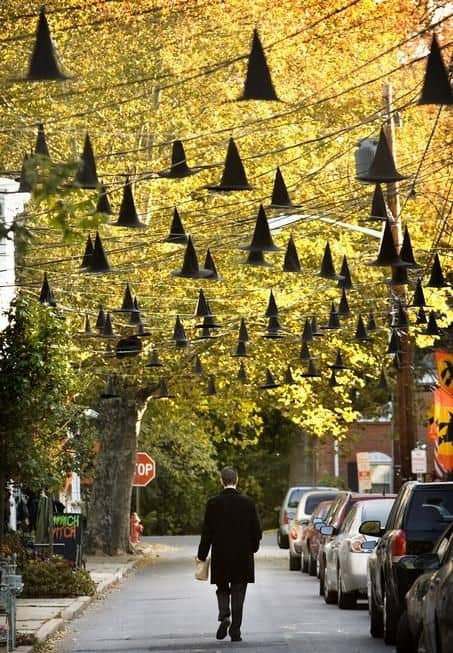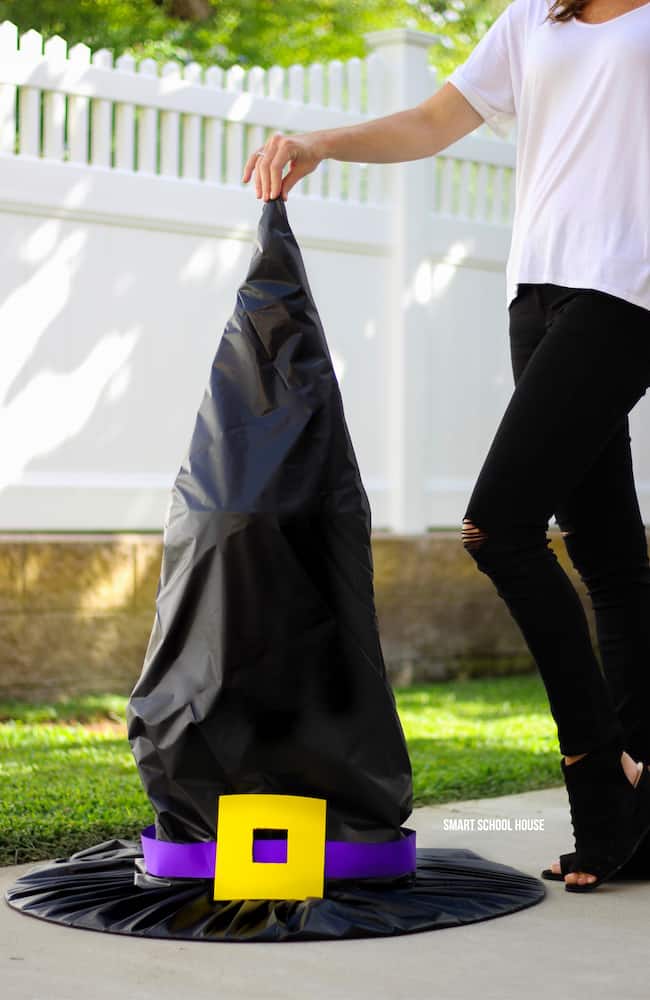 A tomato cage and a garbage bag can make an amazing witches hat for your porch or front yard.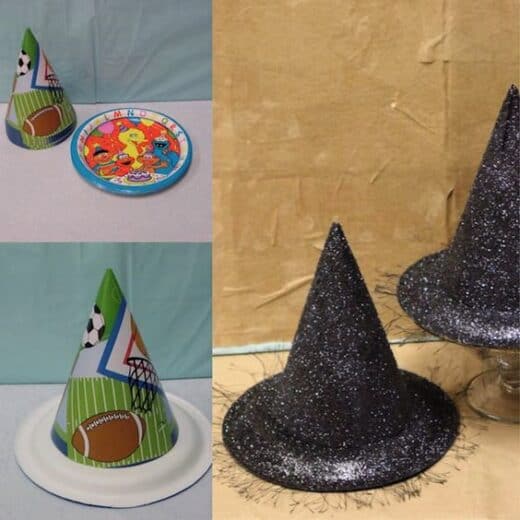 Make your own smaller witches hats with leftover paper Birthday hats and plates, glitter, and paint.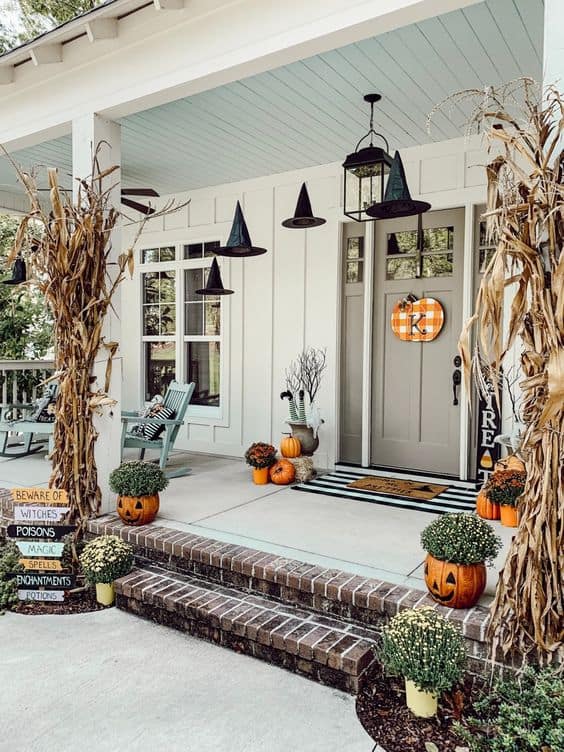 This lovely front porch Halloween decor idea comes from Old Time Pottery. This can take you from Halloween to Thanksgiving by just turning the pumpkin planters around and removing the signs, witches hats, and skeletons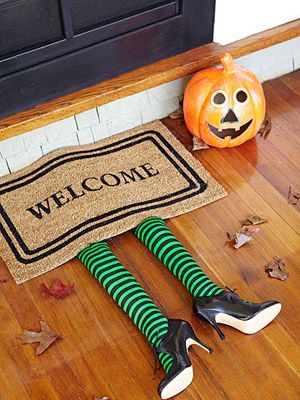 Stuff some stockings with filler or a pool noodle and add some witchy shoes to make a cheap yet chic witches doormat.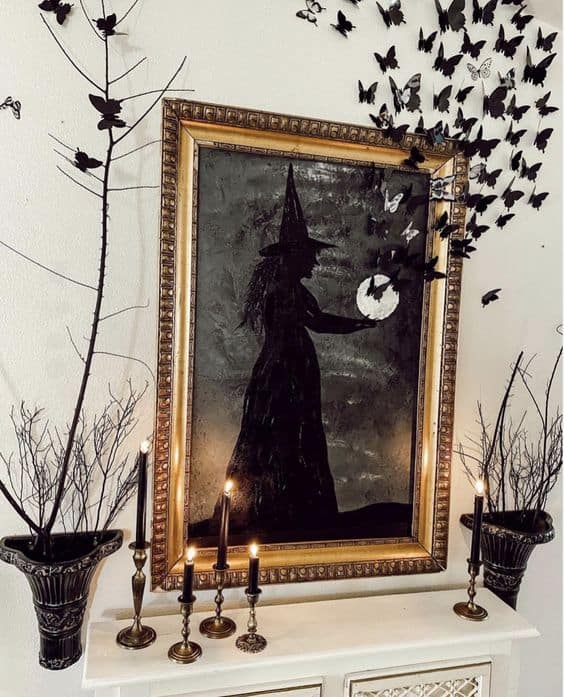 Use a vintage frame to make the elegant witchy painting above for your wall or mantle! You can purchase the black butterflies or bats on amazon.
---
BAT AND VAMPIRE DECORATIONS


Paint a dollar store doormat for a fun Halloween craft you can use as decor.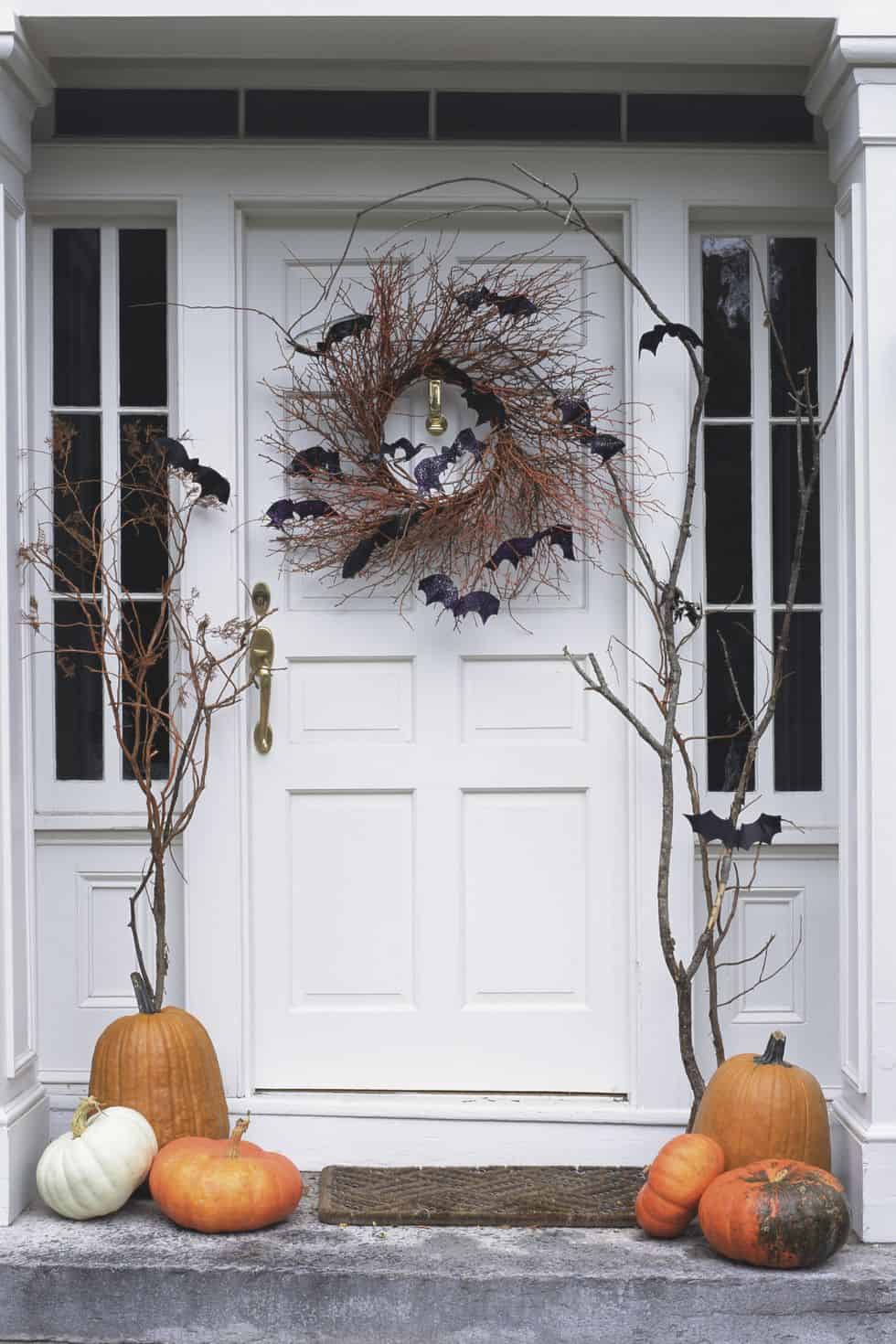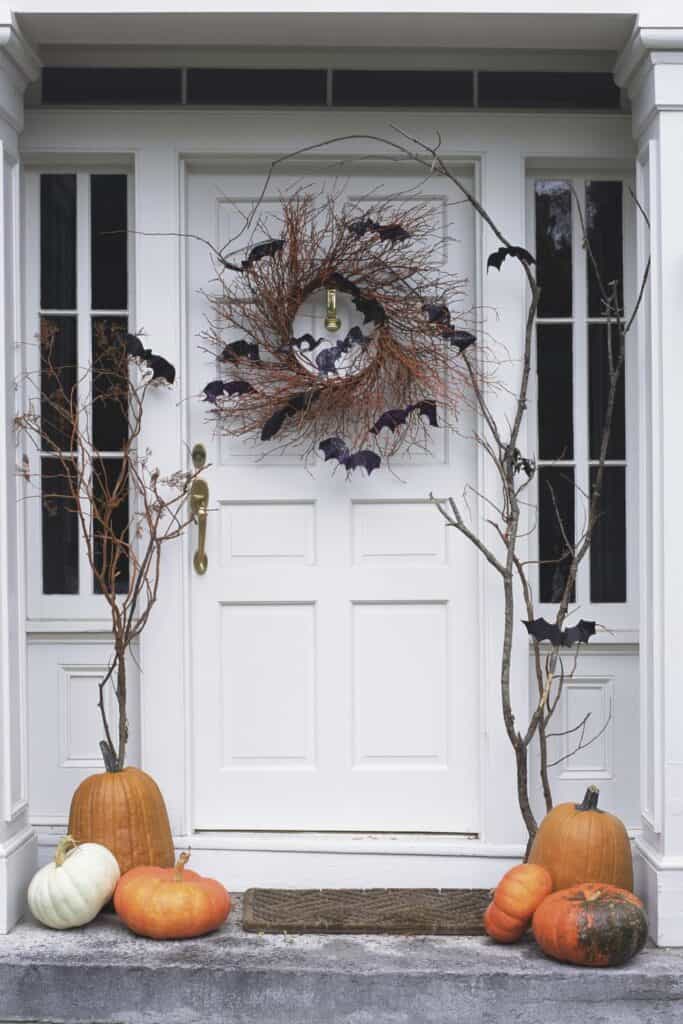 Gather those twigs and fallen branches for this cheap and easy yet chic Halloween outdoor decor idea using cheap bats.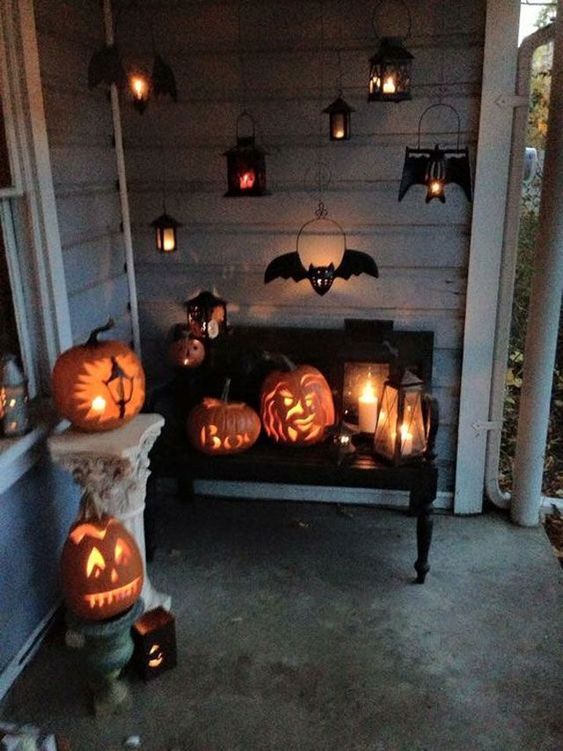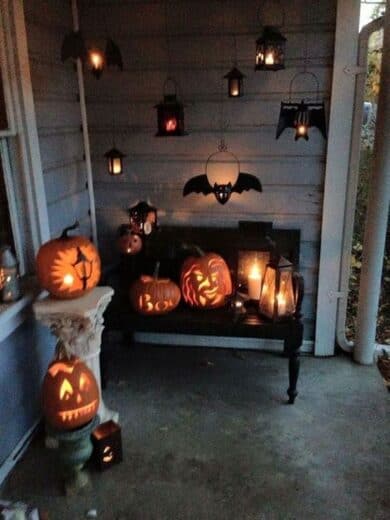 Bats, Pumpkins, and votives make an elegant and spooky front porch or apartment balcony decor for cheap.
DIY HALLOWEEN DECOR: FLOATING CANDLES AND CHANDELABRA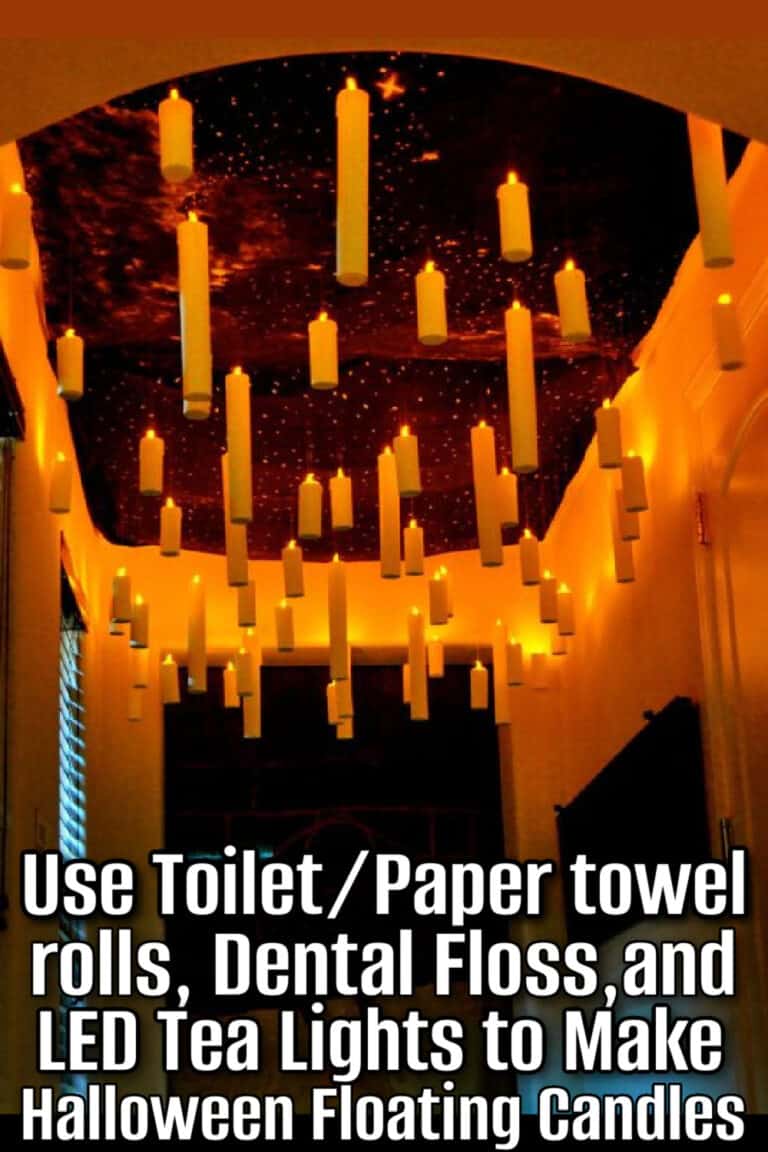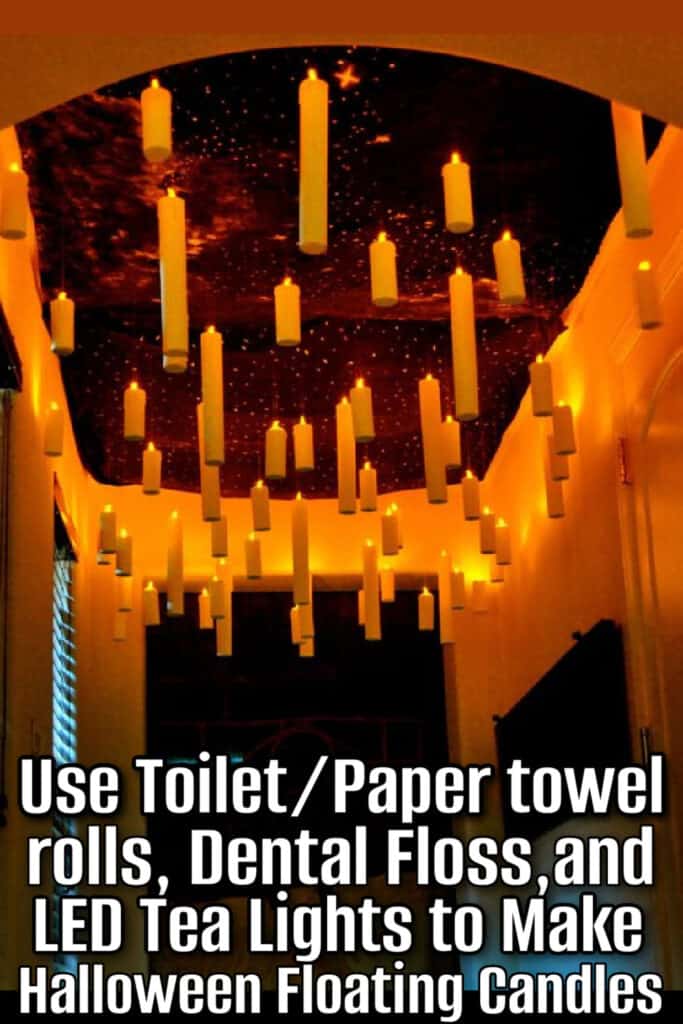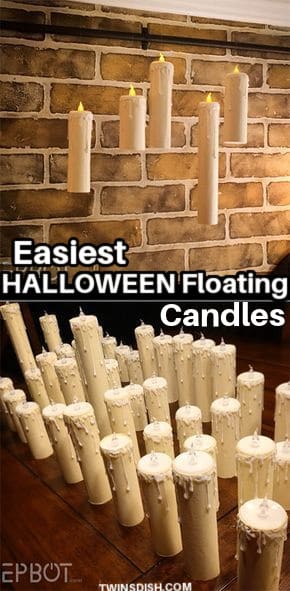 You can find another method for making the Halloween floating candles using cardstock by clicking here.
---
Best Halloween Outdoor Party Decor Ideas for your Porch or Balcony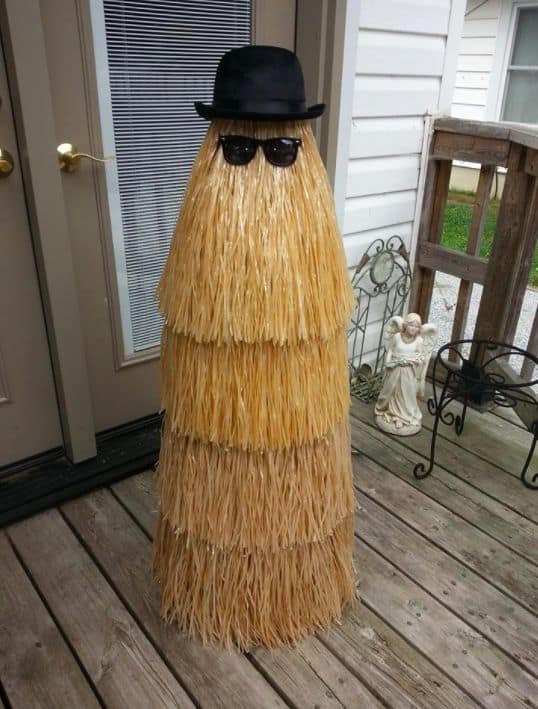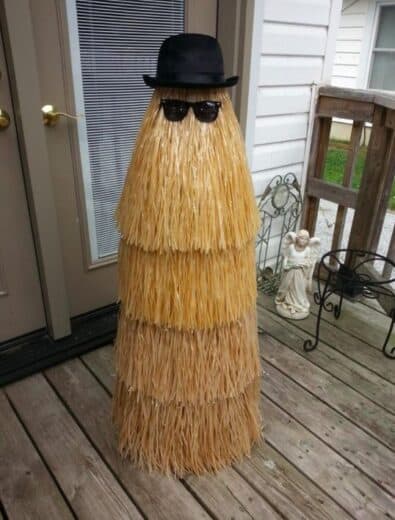 Buy a couple of those dollar store grass skirts to make your own Cousin It to greet guests at your front door.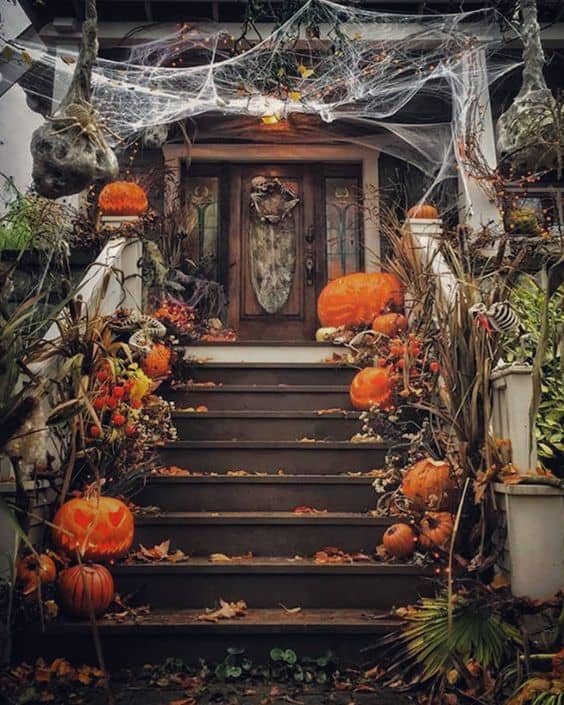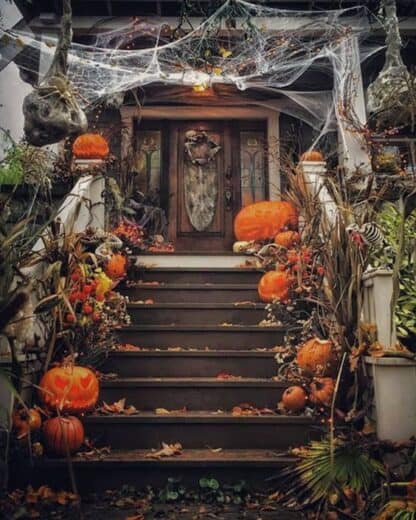 Don't forget those pumpkins leading up your stairs.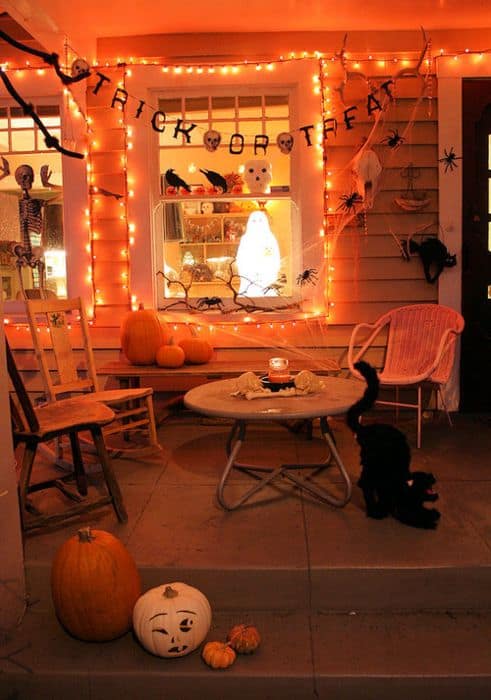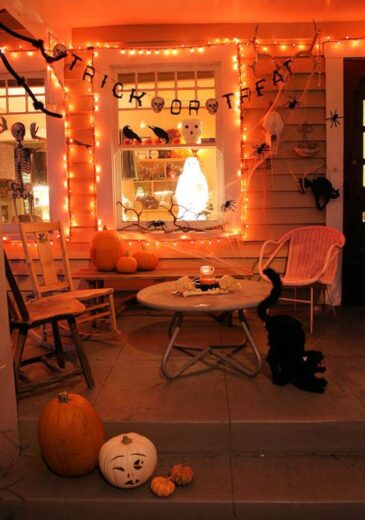 Have a haunted party on your porch with lighting, cobwebs and plenty of seating. This decor also works for an apartment balcony or patio.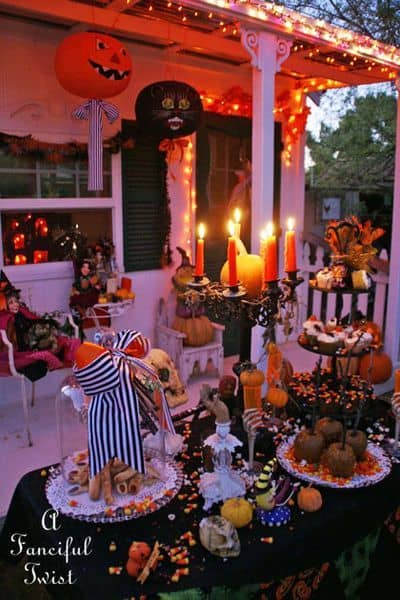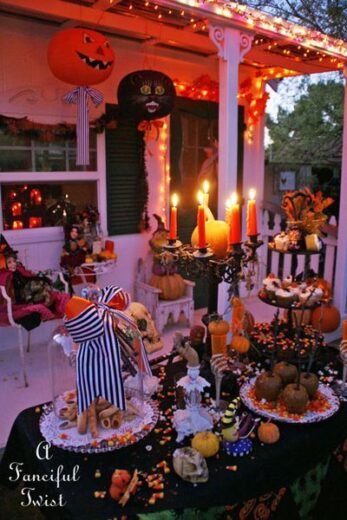 Lay out your goodies on a table for an elegant Halloween porch party idea.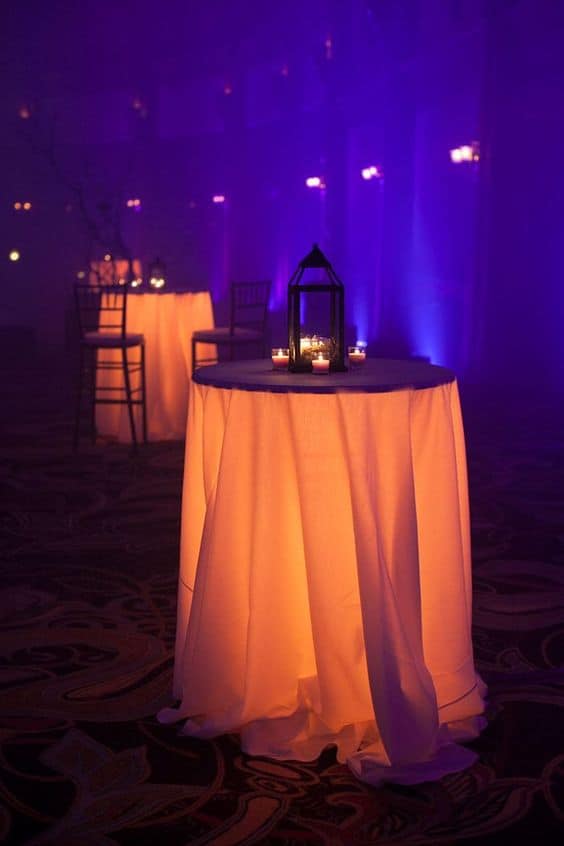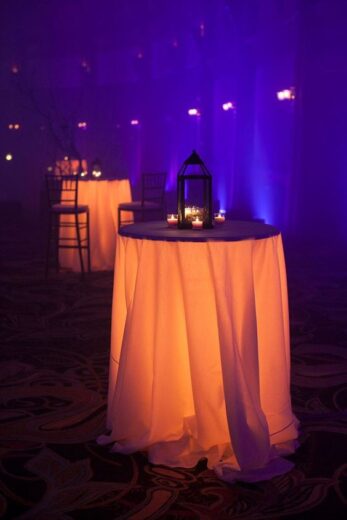 Dollar store plastic table clothes turn into illuminated tables when you place a tap light or camping light underneath the table. This could even work for a Halloween wedding.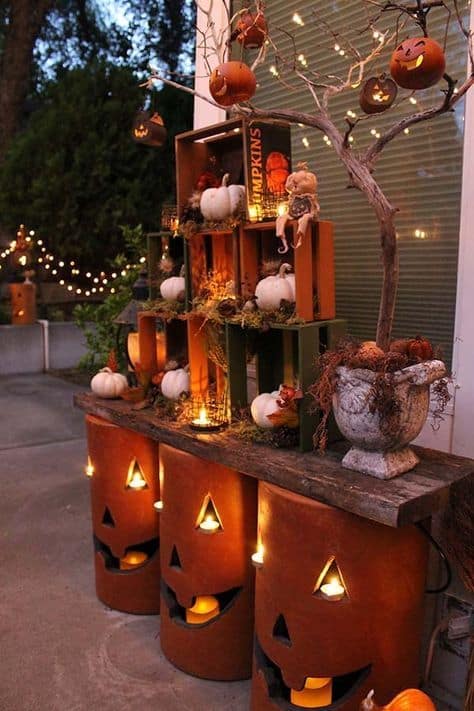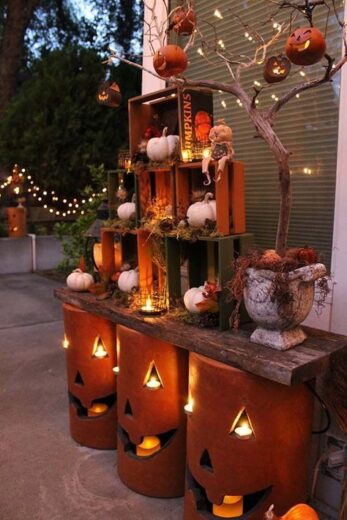 Pumpkin luminaries make an excellent base for an outdoor Halloween party table! Click on the "Source" link to copy the look. When Halloween is over, simply spin around for Thanksgiving.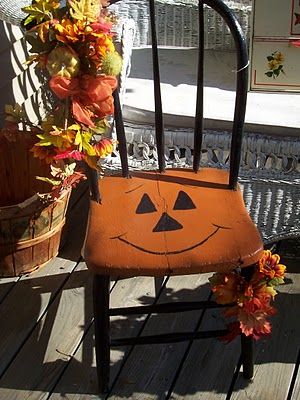 Don't forget the seating! Paint a face on an orange chair, or buy dollar store pumpkin face stickers you can remove after Halloween.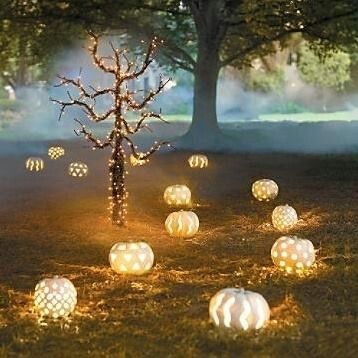 Use white Pumpkins and Christmas lights in your yard to light the way to your home or event.
---
Halloween Silhouettes and Shadows for Your Windows or Walls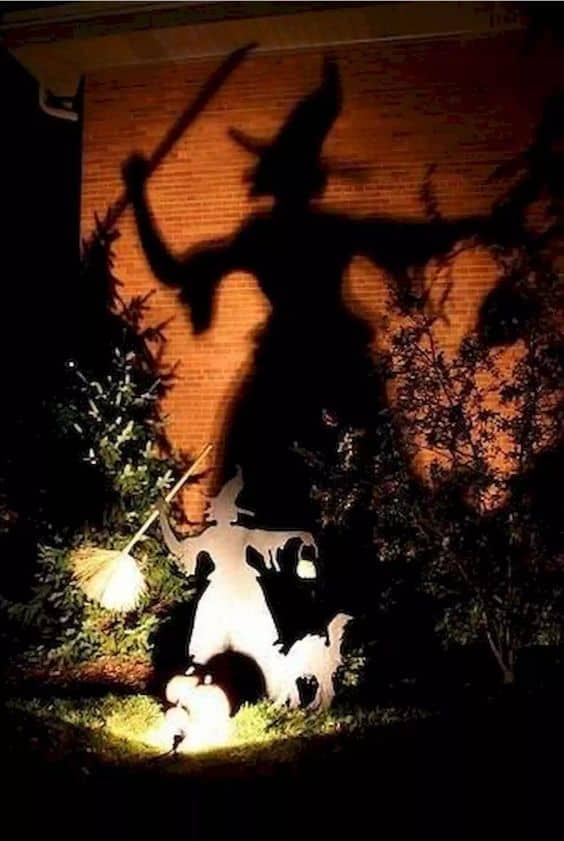 No need for labor intensive decorations and lights, Halloween silhouettes placed infront of a light will cast an eerie shadow on your home walls.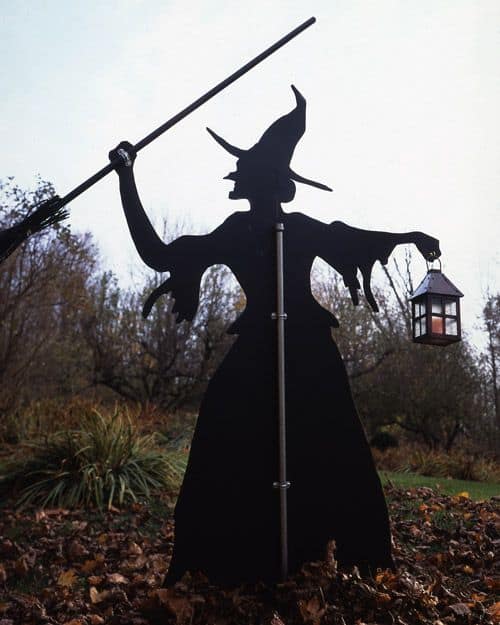 They're creepy by day and night! Martha Stewart has an excellent tutorial. You can make them as simple or elaborate as you'd like.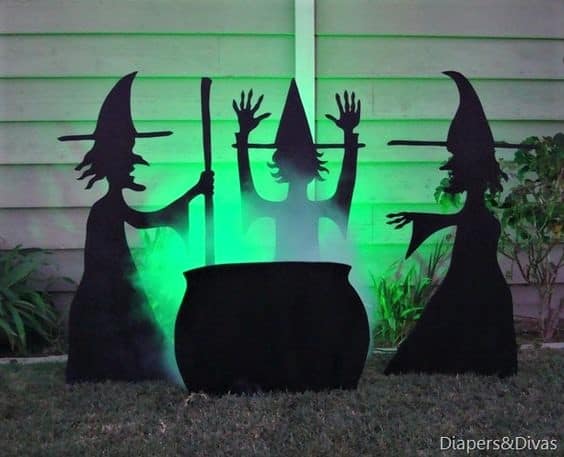 Make these shadow witches out of thin wood board, cardboard, or posterboard.
Just add some lights behind them or infront of them to get your desired effect.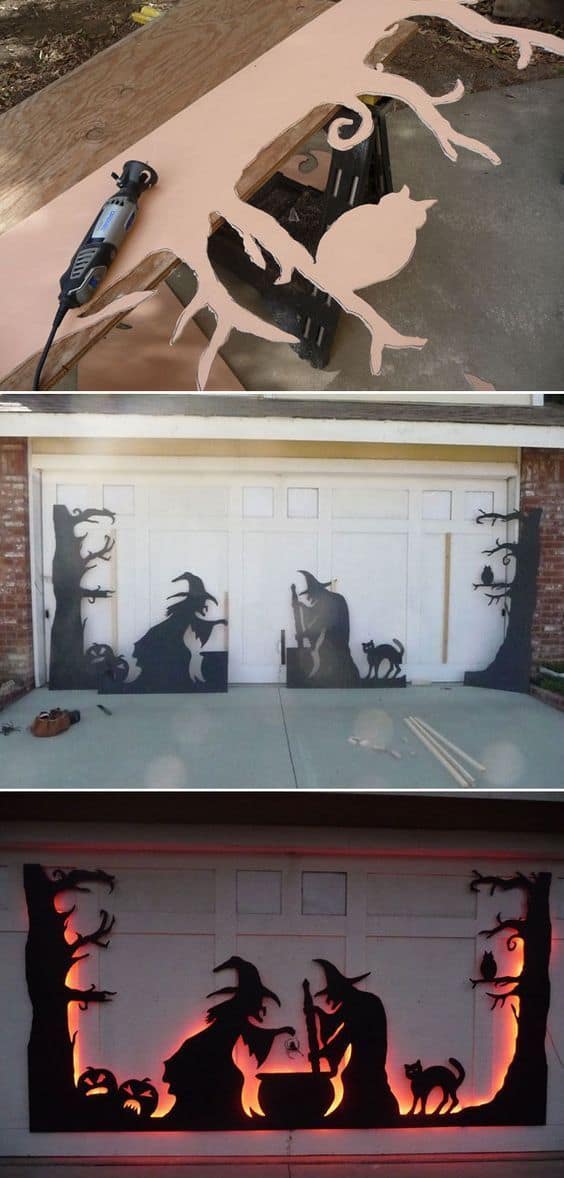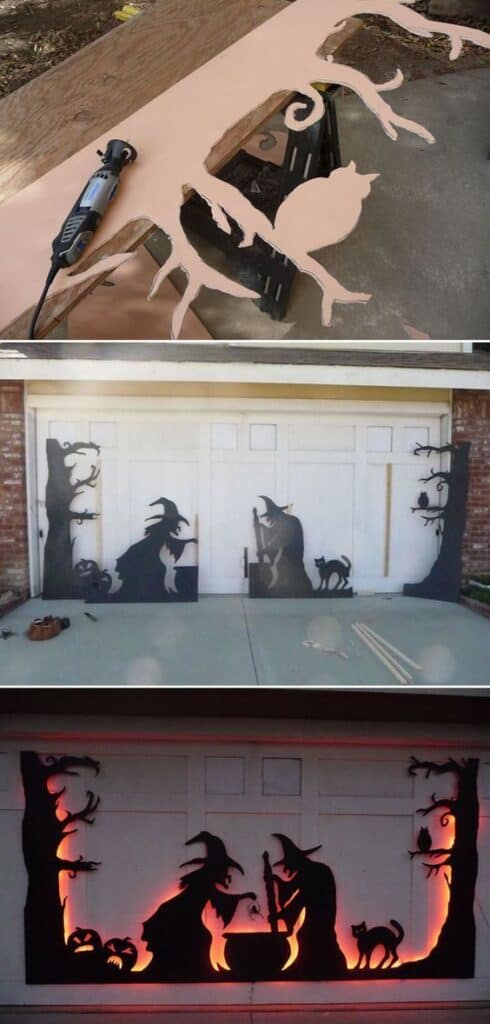 Don't forget that garage, lighted silhouettes work great for that too.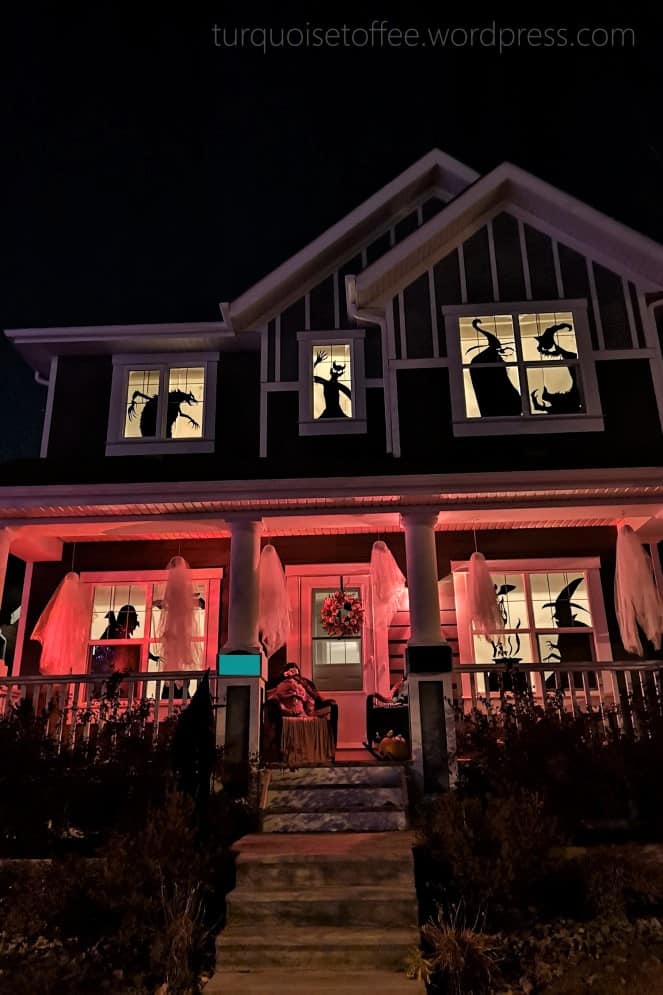 Make these super easy Halloween silhouettes for your windows out of garbage bags to make the neighbors think you're having a ghostly party.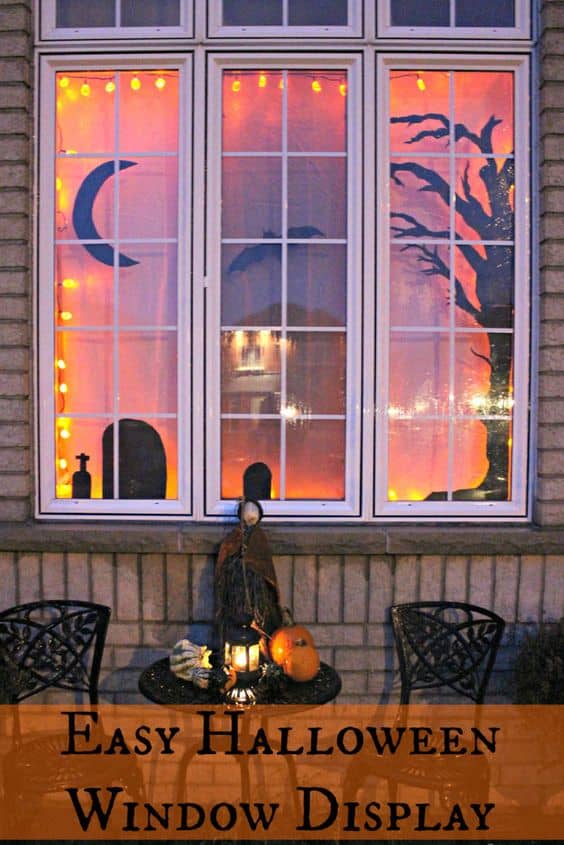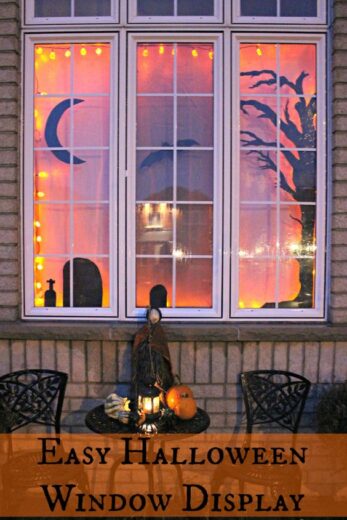 There is plenty of inspiration for window design ideas.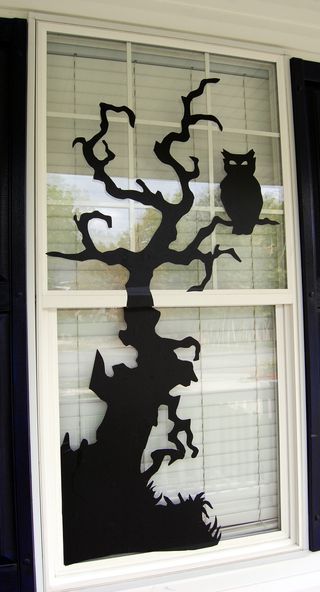 The method above uses vinyl sheets instead of garbage bags.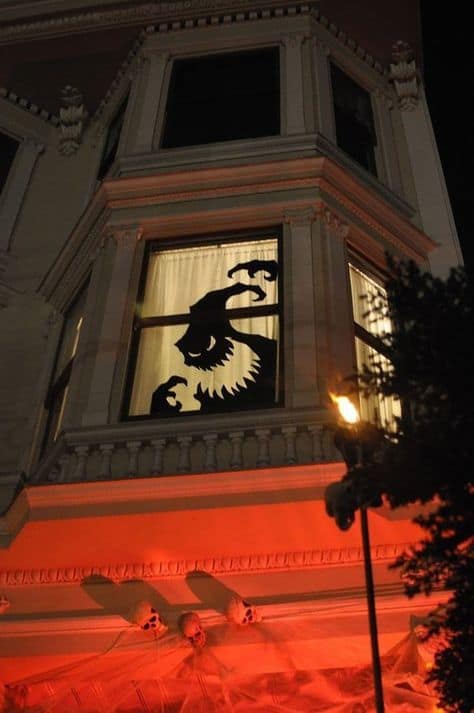 OOGIE BOOGIE man will make even an apartment window come to life.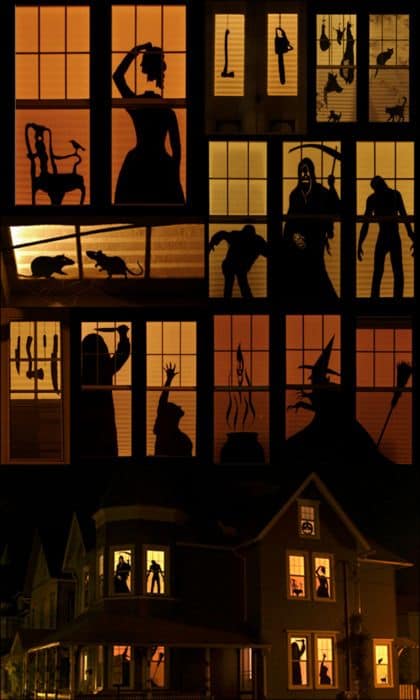 Here are plenty of horrific silhouette design ideas.
View this post on Instagram
You can also paint your windows too! For the details on how to do this visit the instagram page above.
---
Best DIY Outdoor Ghostly Decor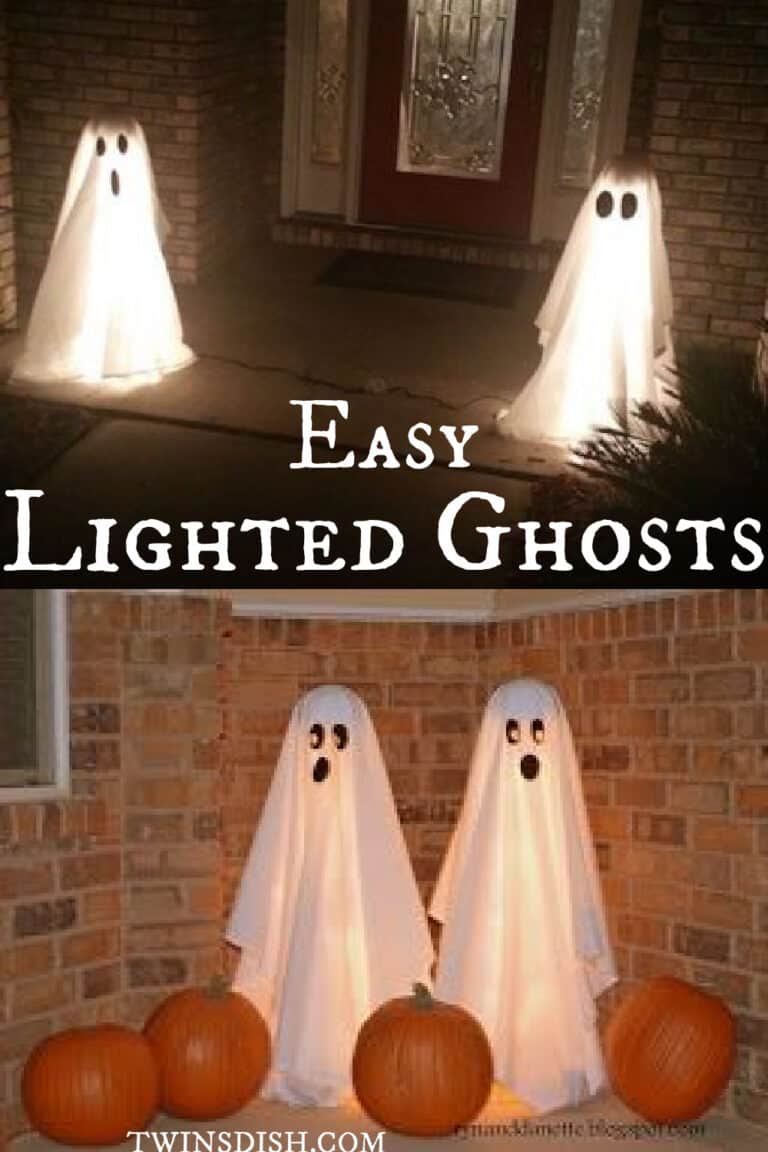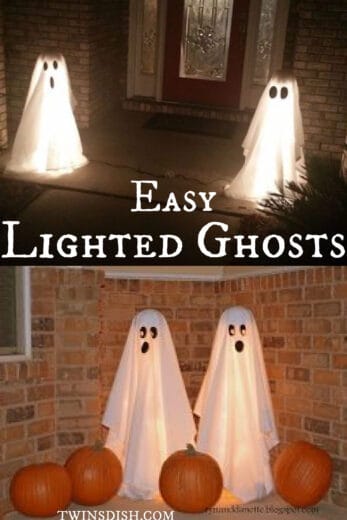 TOP PHOTO TUTORIAL, BOTTOM PHOTO TUTORIAL
Tomato cages and tap lights can be transformed into cheap and easy ghosts.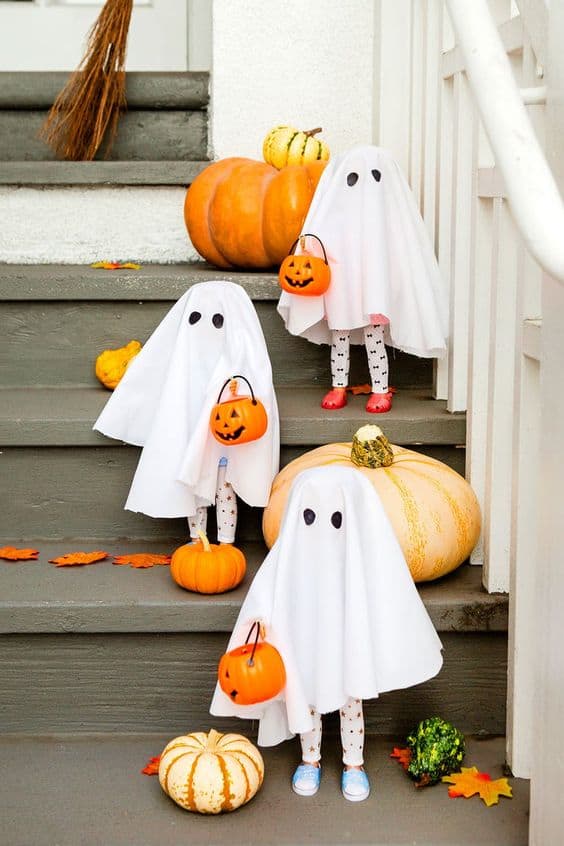 You can add creepy smaller doll ghosts to your stairs or even tables. This takes Chucky doll fears to a whole new level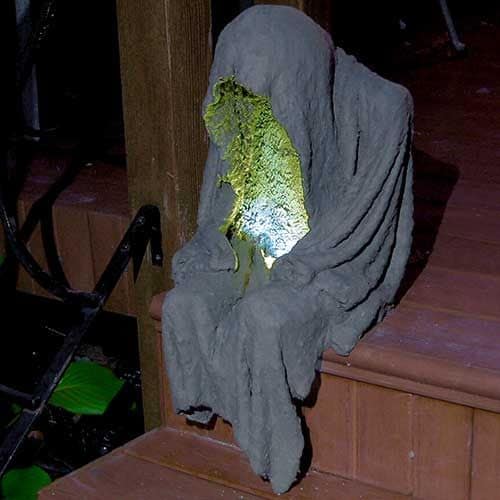 Make an eerie cement ghoul or spook to sit on your steps.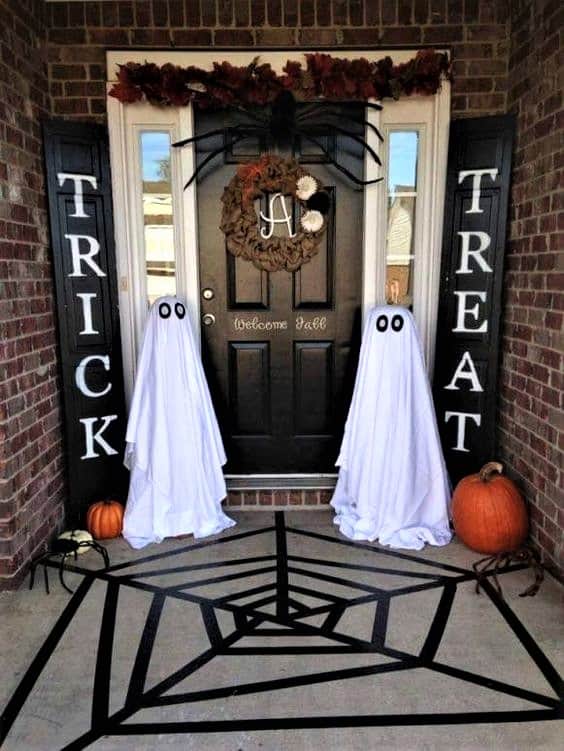 Some black tape can create an elegant yet spooky design for cement floors.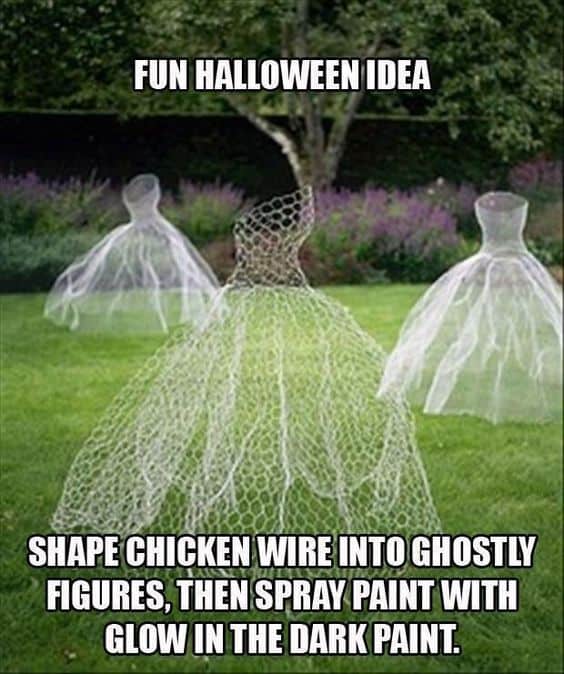 For more realistic and ethereal looking ghosts, you can use the chicken wire method, just be careful when handling chicken wire as it is sharp.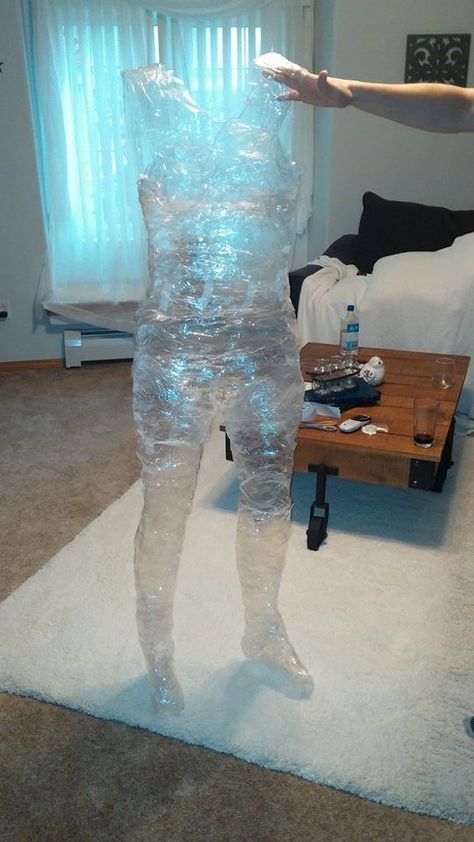 Make a spooky yet elegant masking tape ghost. This method provides professional looking results.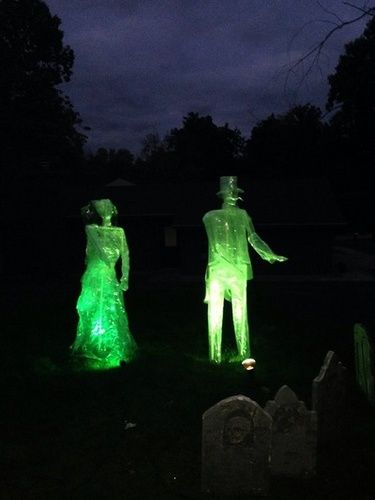 Illuminated ghosts are the perfect addition to your Halloween cemetery.


There are plenty of ideas for shipping tape ghosts to fit ever ghostly need and style.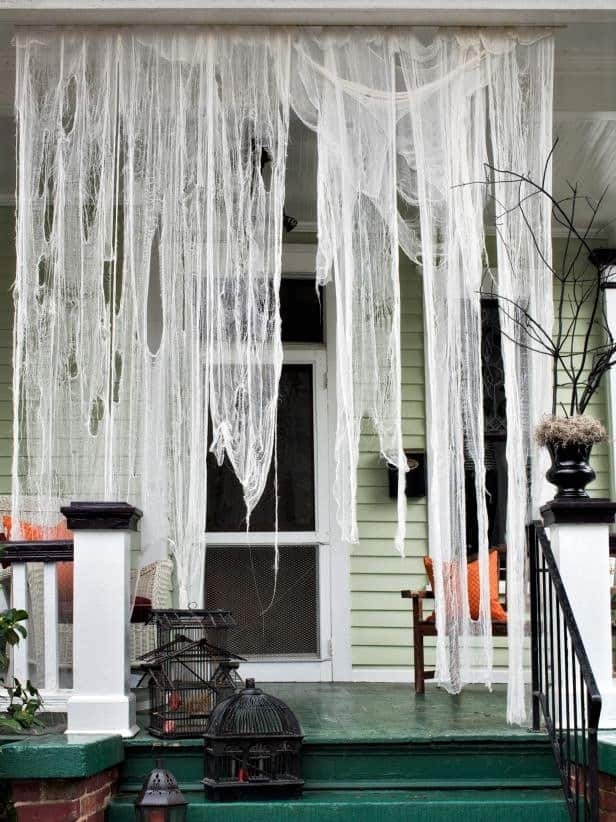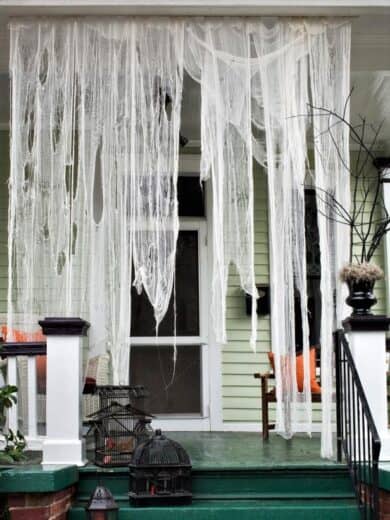 Make ghostly tattered drapes to give your porch a haunted look.
---
Best DIY Skull and Skeleton Decor Ideas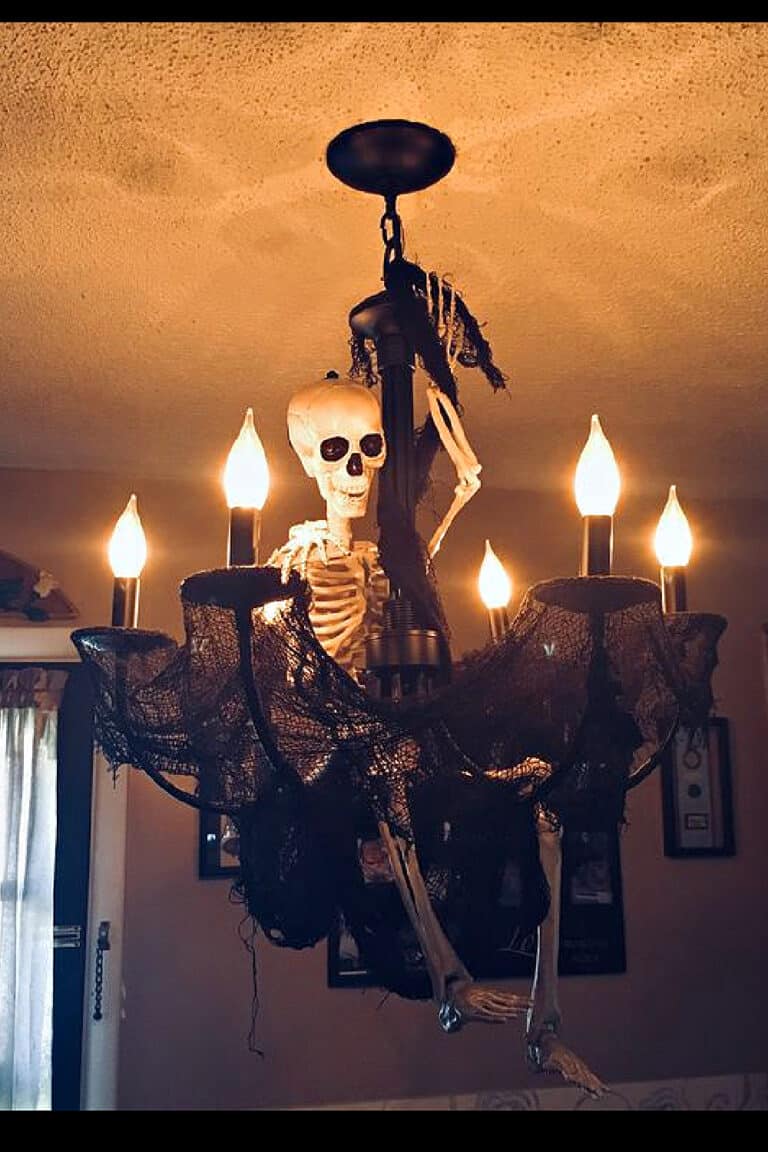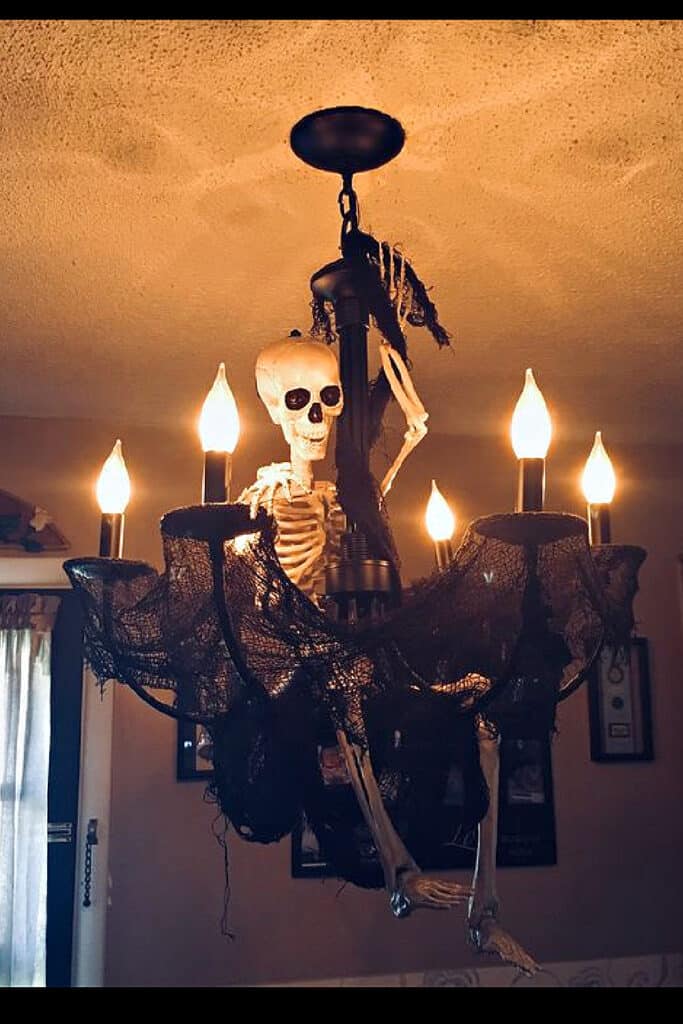 Hang a skeleton from your chandelier or light fixture. just be sure to steer clear of the bulbs if they aren't LED. Top it off with spider webs or black cheese cloth!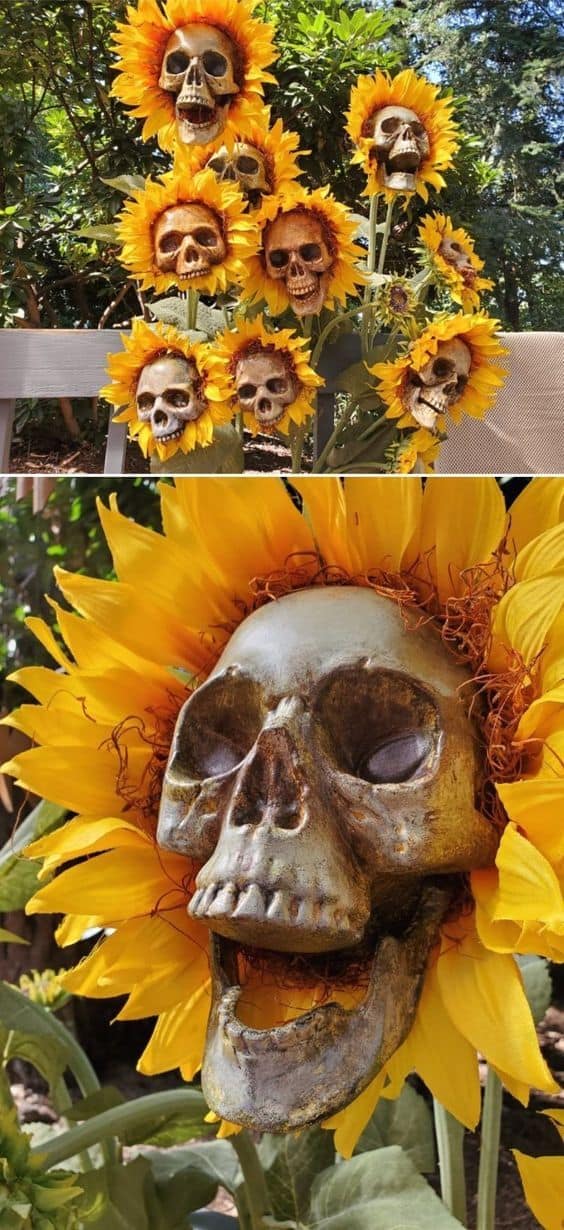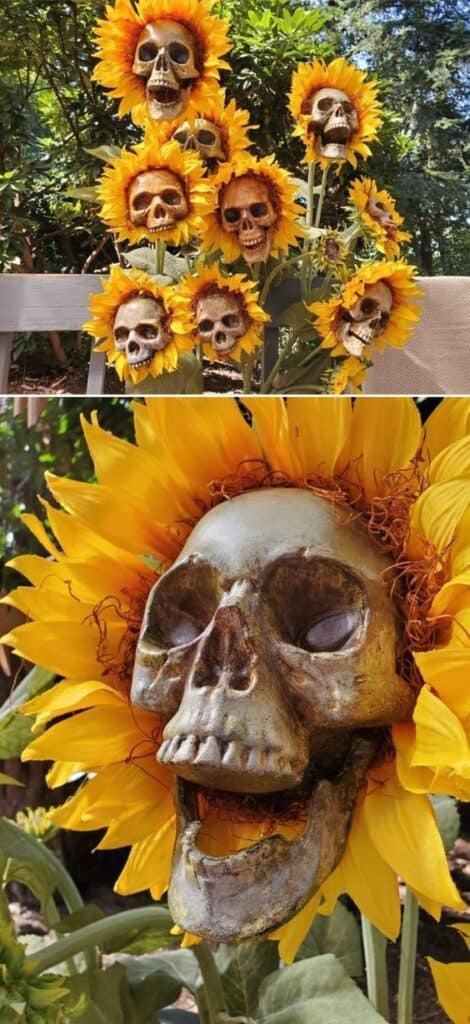 Haunt your garden with DIY skull sunflowers.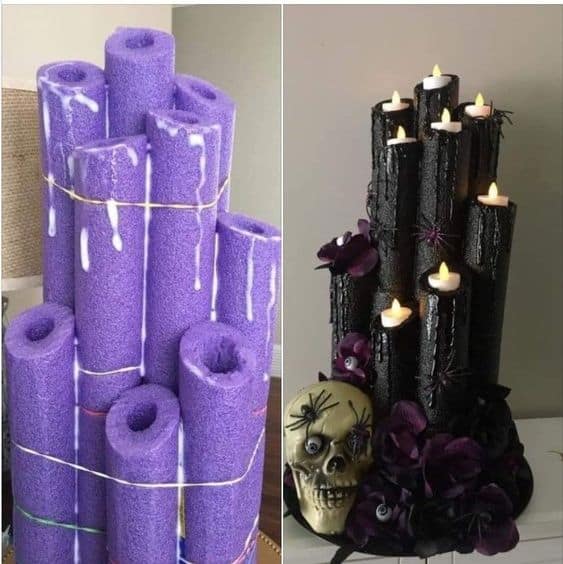 Make a skull Chandelabra out of dollar store pool noodles, use hot glue for the drippings.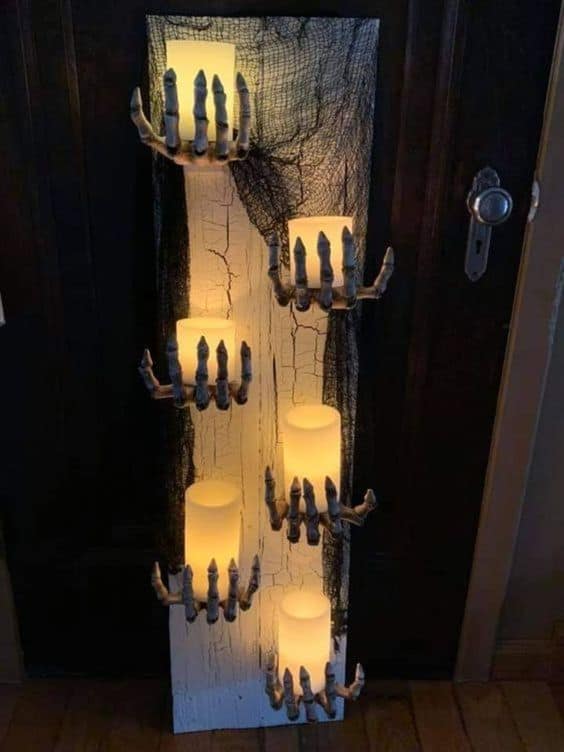 Use dollar store skeleton hands, black cheese cloth, a piece of foam board or scrap wood, and this tutorial to create these easy DIY Skeleton hand sconces for your home or porch.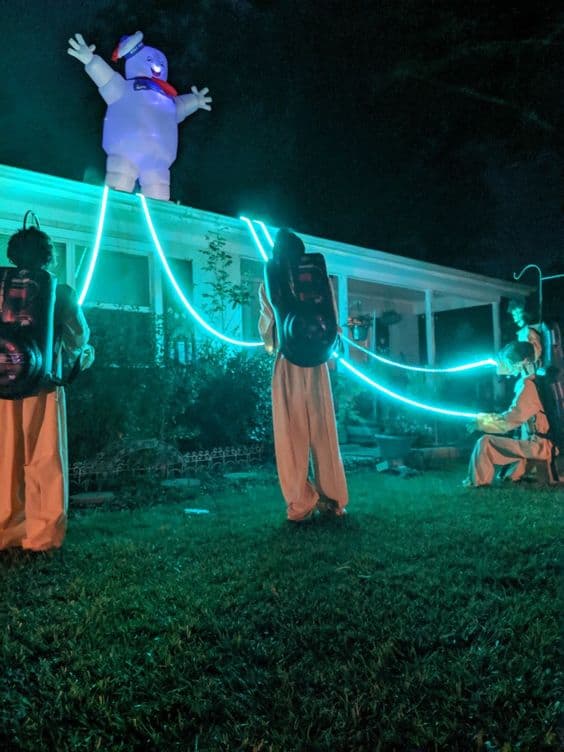 Dress your skeletons up as Ghostbusters and add some outdoor rope lighting for the proton pack beams.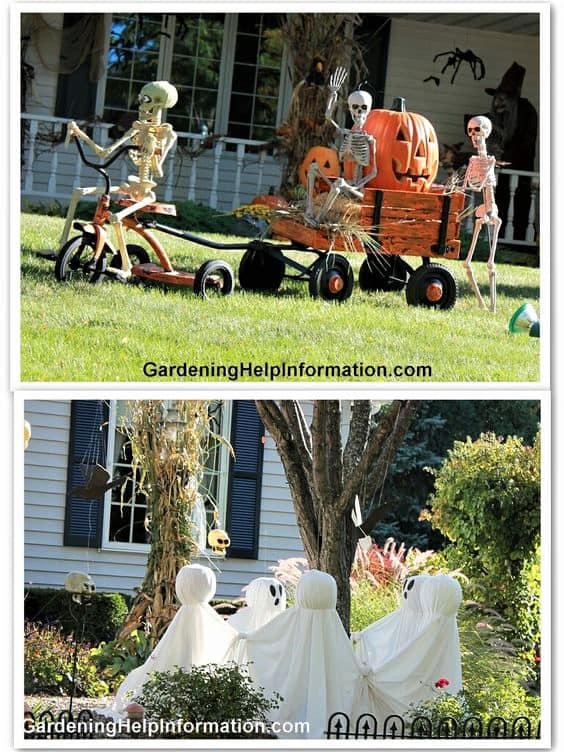 Full bodied skeletons are one of the easiest and most versatile ways to decorate your home or apartment for Halloween.
Place them on old tricycles or bikes…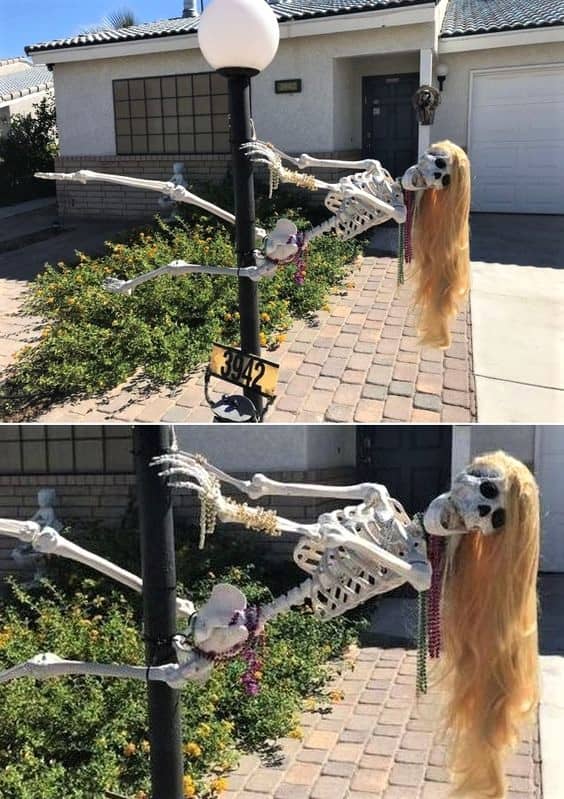 Hang a skeleton from your lamp post for a haunted stripper Halloween decoration idea.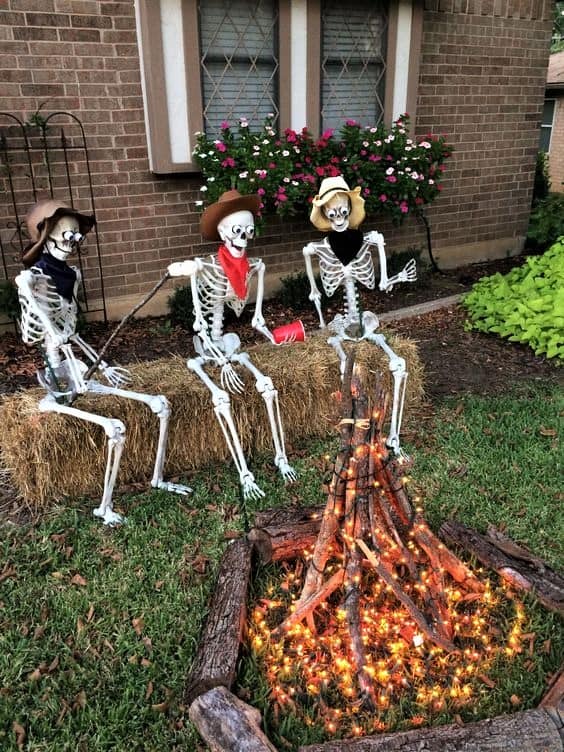 Sit them on a haystack for a camp fire to greet the neighborhood!
View this post on Instagram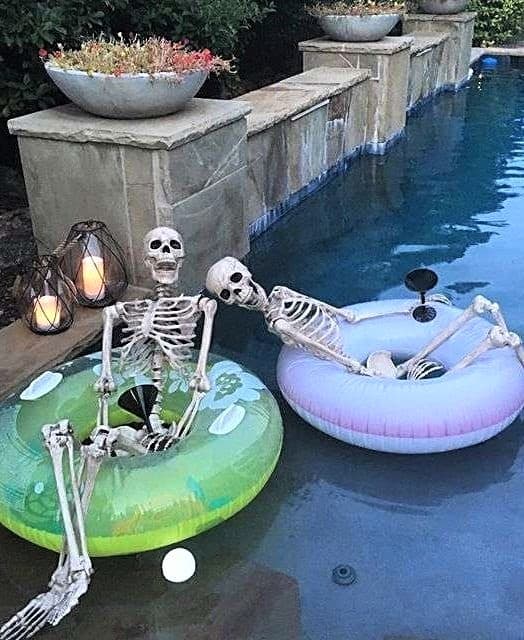 Skeletons can even lounge in your pool for a quick and easy Halloween decoration for your party. Add balloons with glow sticks in them to your pool for added effect.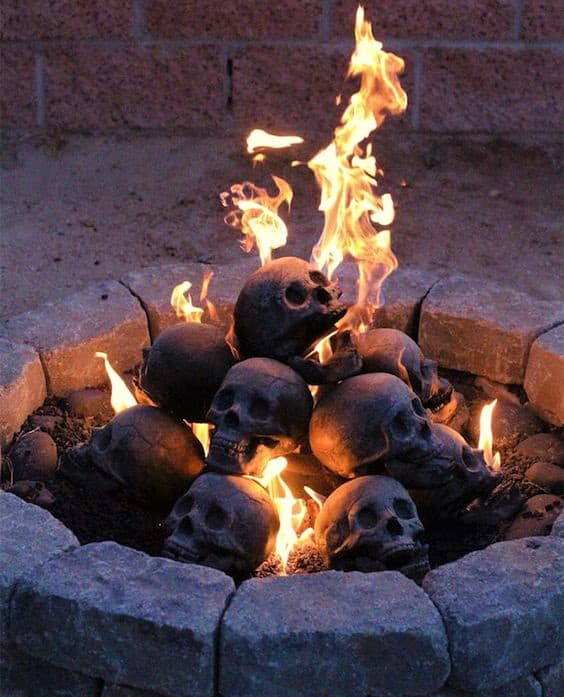 These are amazing! You can buy or make these fireproof skulls for your Halloween night full moon bonfire.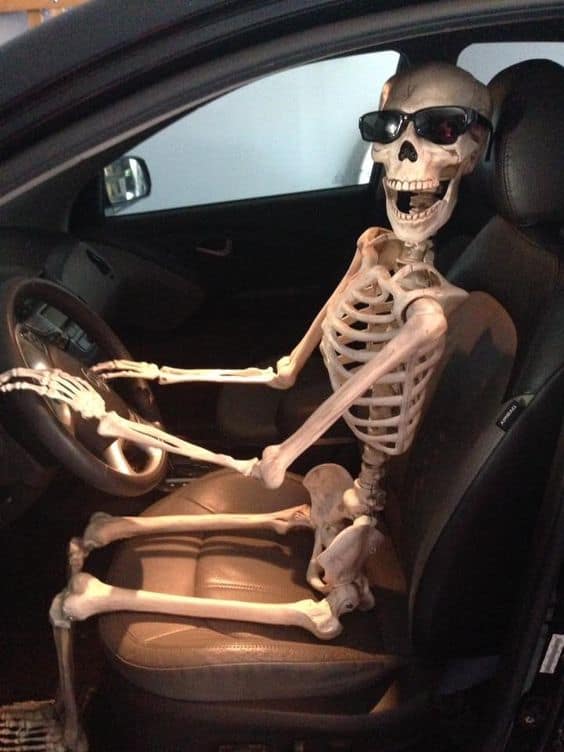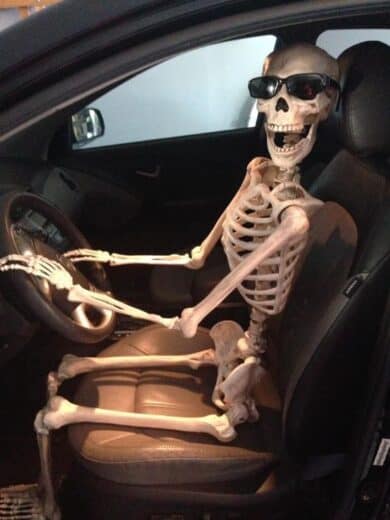 Whether it's a prank or decor for Halloween night this is a wickedly hysterical idea for a skeleton.
---
Best Dollar Store Pumpkin Pail DIY Decor Ideas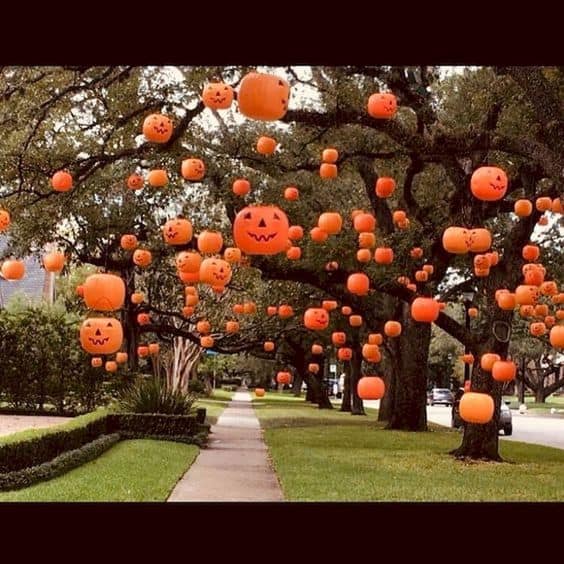 Dollar store Pumpkin pails transform any tree into a Halloween Tree! You can add solar lights for night time.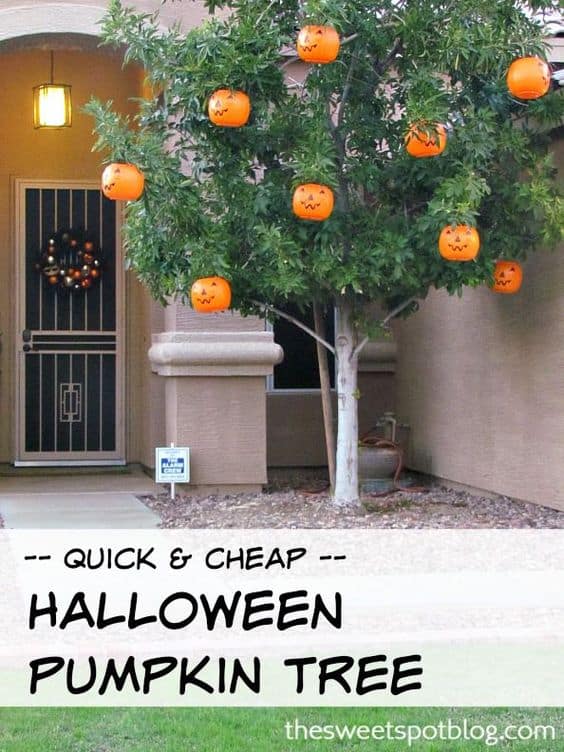 You can use this for virtually any size tree, the dollar store also sells mini pumpkin pails you can use on indoor trees or plants.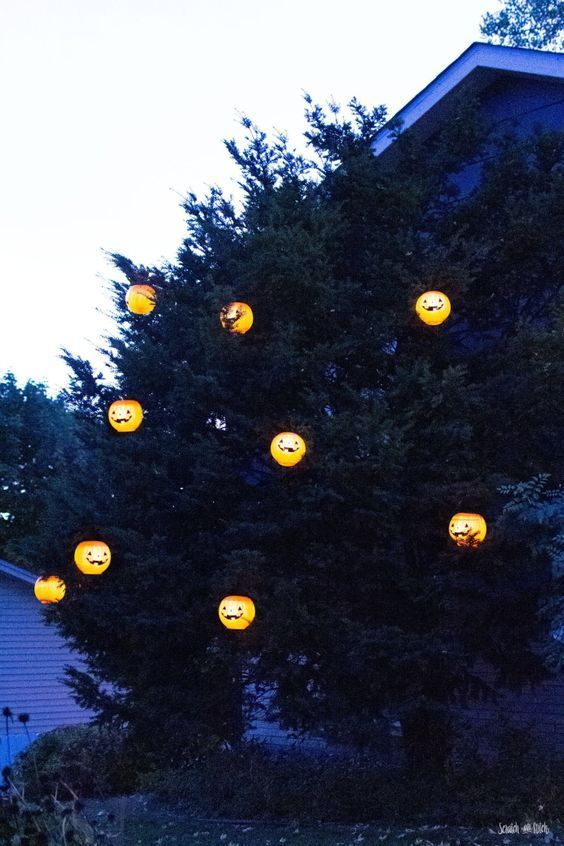 This idea uses solar lights in the plastic pumpkins so they automatically light up at night without the need for glowsticks or battery tea lights.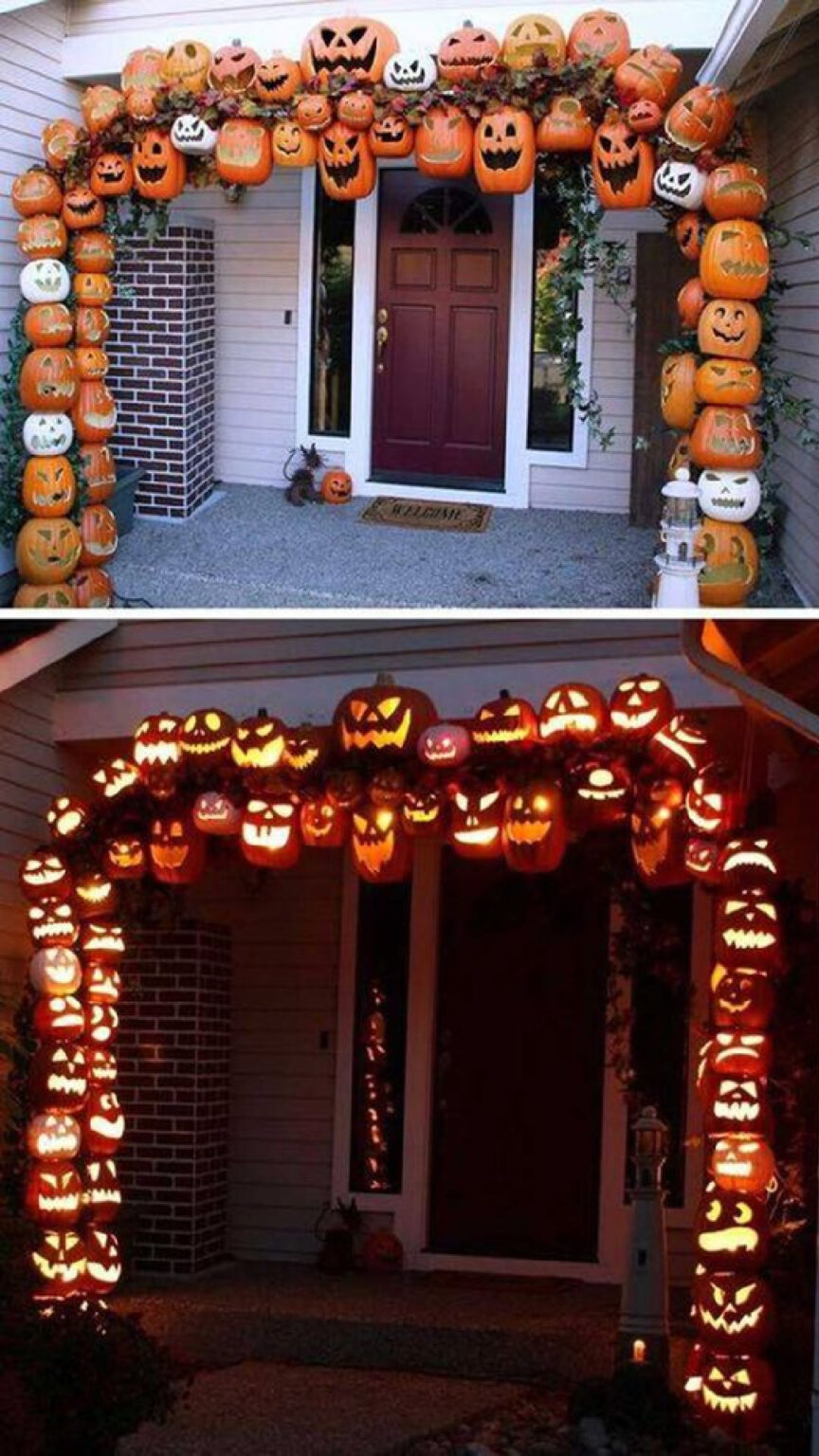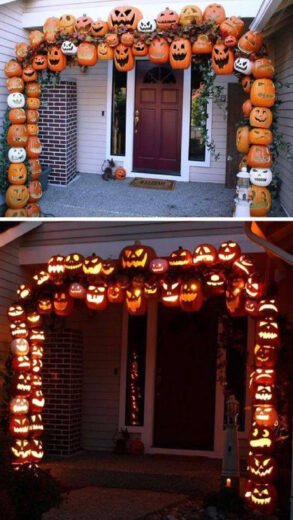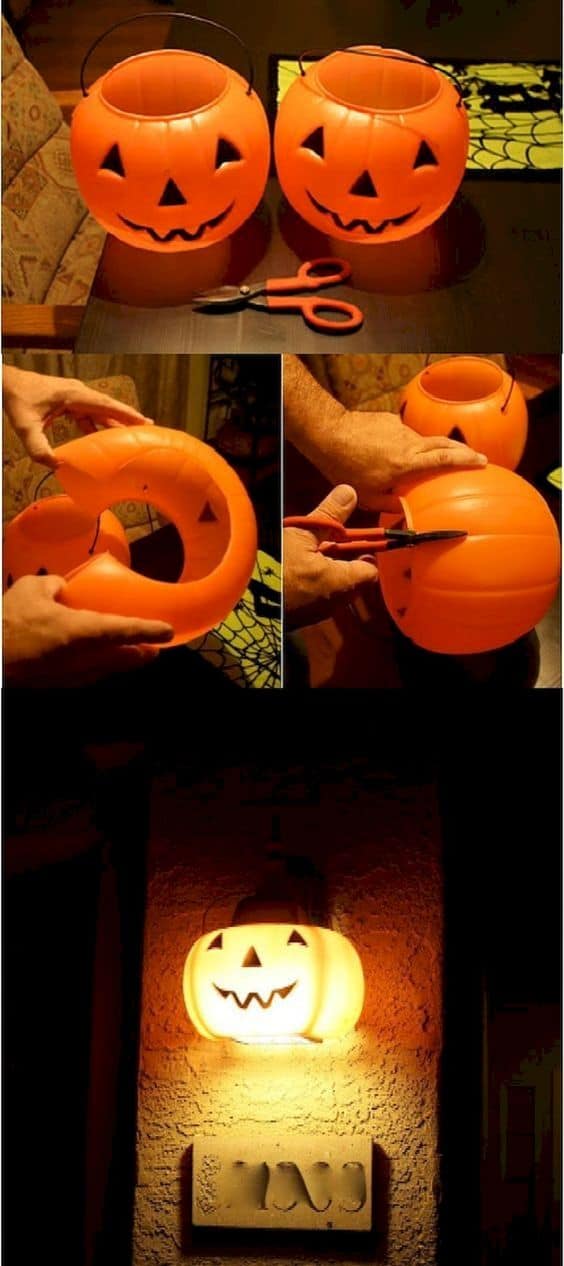 Need a cheap, quick, and easy Halloween decoration for your porch? Cut open a dollar store pumpkin pail and place it over your porch light.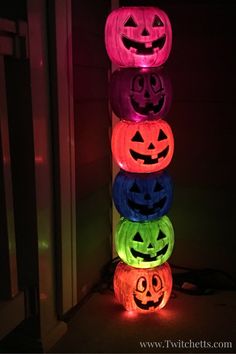 This DIY craft decoration will take you from Halloween to Thanksgiving.
Make an easy totem pumpkin light out of dollar store pumpkin pails and lights.
When Halloween is over, simply turn it around for Thanksgiving.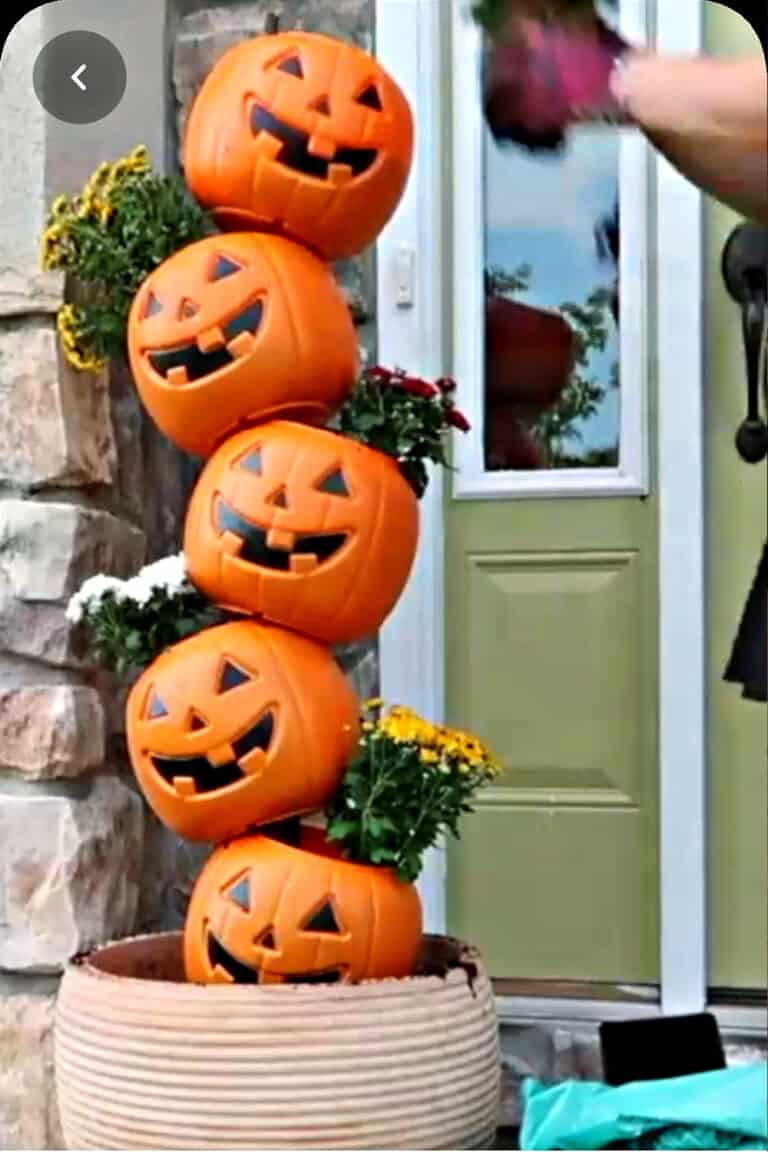 Dollar store pumpkin pails can easily be converted into Halloween planters too and double as Thanksgiving decor once turned around.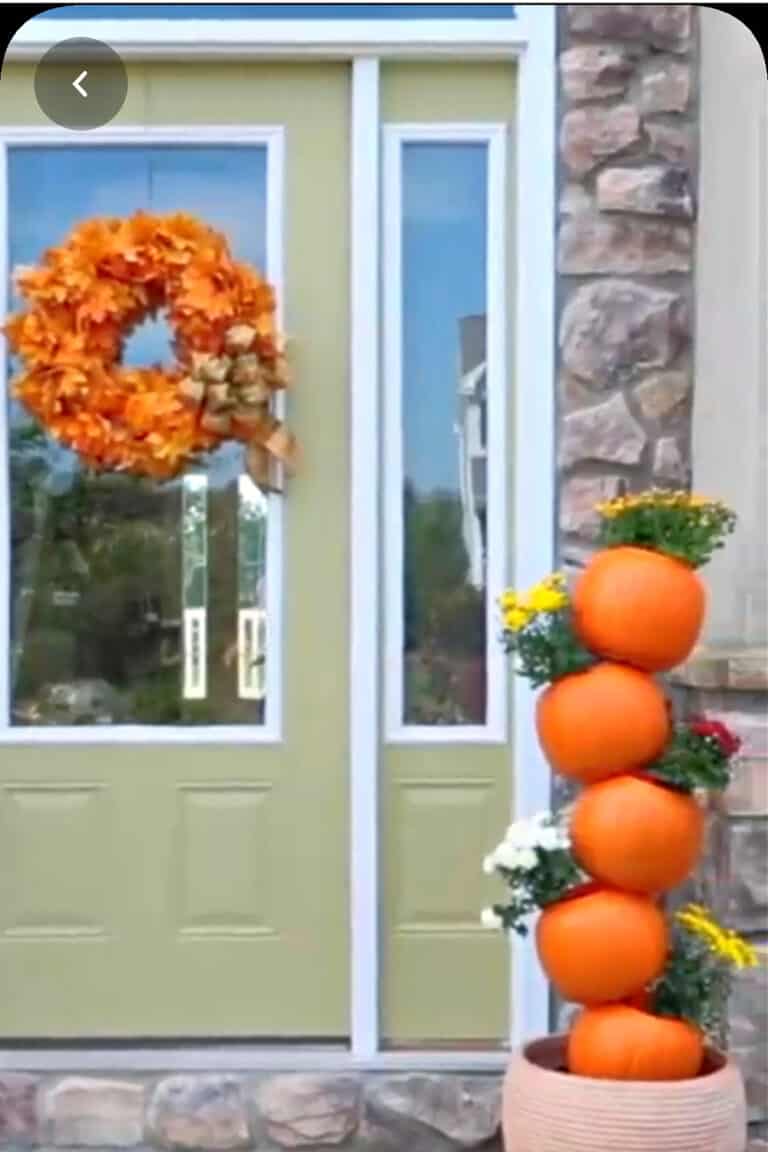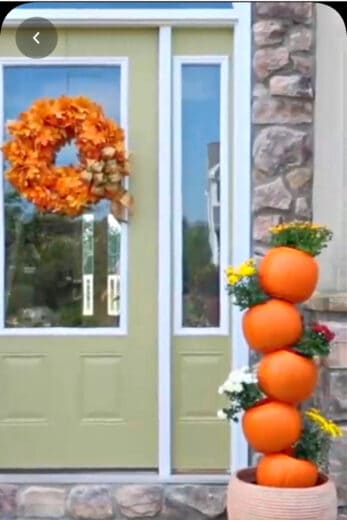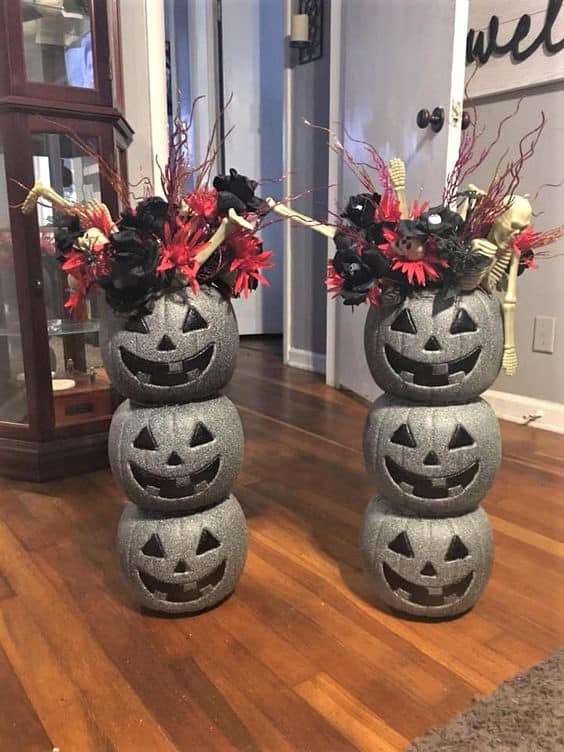 Pumpkin Pails can also be painted to fit any decor or color scheme like these faux stone ones.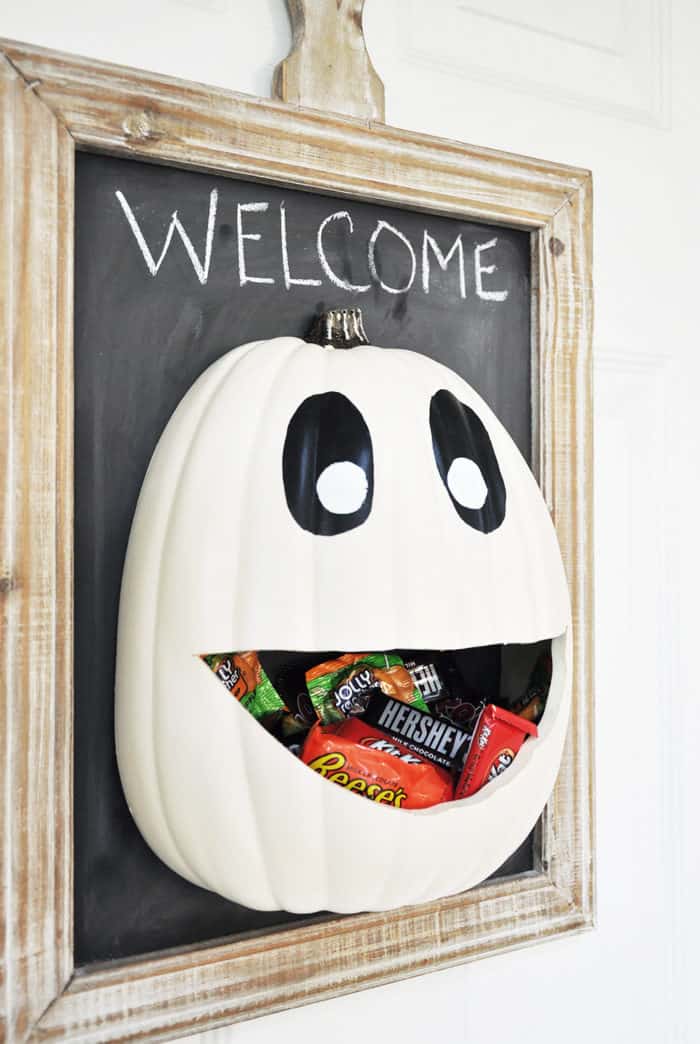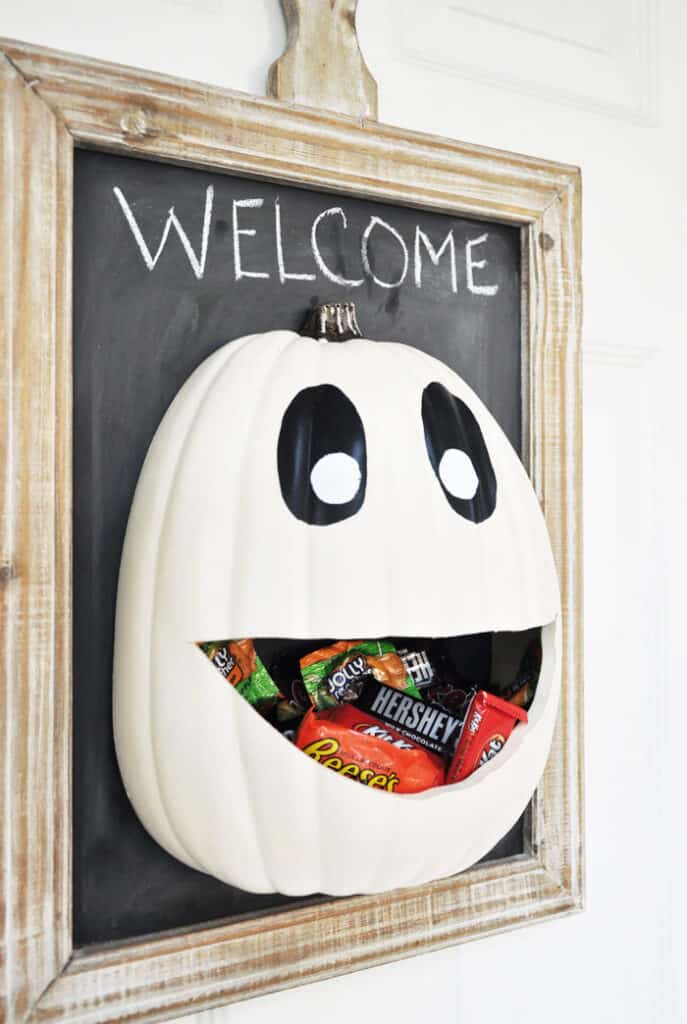 A faux pumpkin is easily transformed into a hanging candy dispenser for trick or treaters to help themselves to.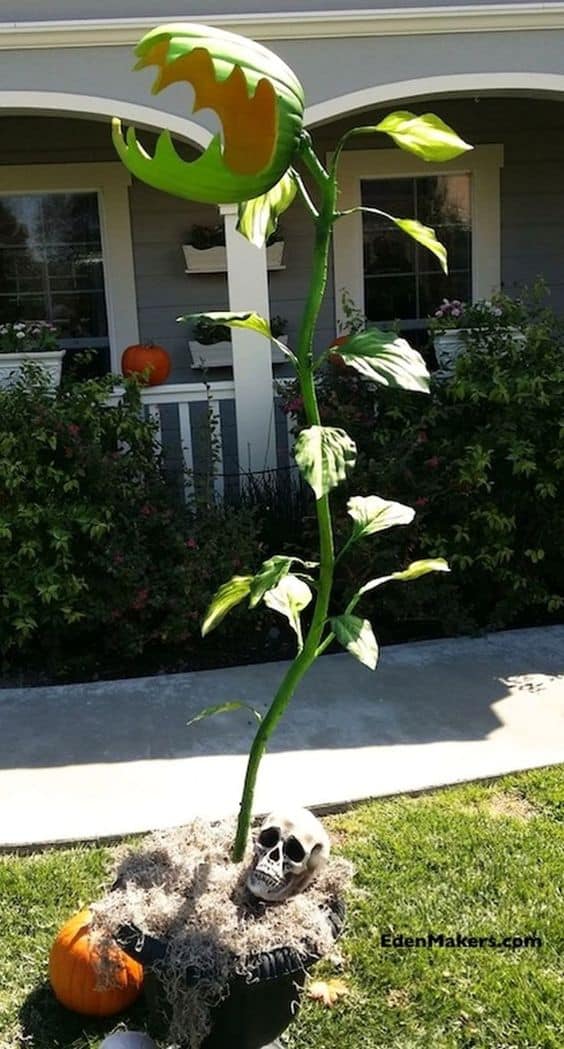 A faux pumpkin also serves as a unique man eating fly trap for your haunted garden.
---
In this post we showed you the best DIY outdoor Halloween decoration ideas that'll turn your home into a haunted masterpiece and take you from Halloween to Thanksgiving, and even Christmas.
We hope you found some amazing and easy crafts to make your home the envy of the neighborhood! Feel free to show us your pics and check out some of our other Halloween decor posts below that will make your party an absolute hit!
OTHER POSTS YOU'LL LOVE…