Easy DIY Christmas Ornaments That Look Store Bought
This post has been updated for 2023
DIY Christmas ornaments gift and party idea alert!
This year if you're thinking of holding a gingerbread house decorating party for kids why not hold an ornament making party instead.
Just pick which supplies you want to work with : Sharpies, popsicle sticks, seashells, sequins or beads and you'll have a blast with your friends and family making gorgeous ornaments they'll keep forever.
You can even make a separate section for adult ornament making and another section for kids!
We started a tradition in our family of giving our niece and nephew a Christmas ornament every year representing something they love.
This way we know they'll be left with a personal collection to remember us by every Christmas and a reminder of their interests year after year.
In recent years we decided we wanted to give our niece and nephew handmade Christmas ornaments as gifts instead of store bought ones, but let's be honest, DIY Christmas ornaments can sometimes be eye sores.
So we collected the ultimate list to choose from every year.
These DIY ornaments are easy enough for even a kid to make yet pretty enough for teens and adults to love. We wouldn't be embarrassed gifting these to friends and family.
Most look better than store bought, and can be customized making them the perfect keepsake gift.
This is also a great way to repurpose items you already have lying around the house.
So time to put the kids to work, if you have any, or be a kid at heart and create a new ornament you'll want to keep forever.
Don't forget to pin this post for later and keep checking back as we will be adding more ornaments!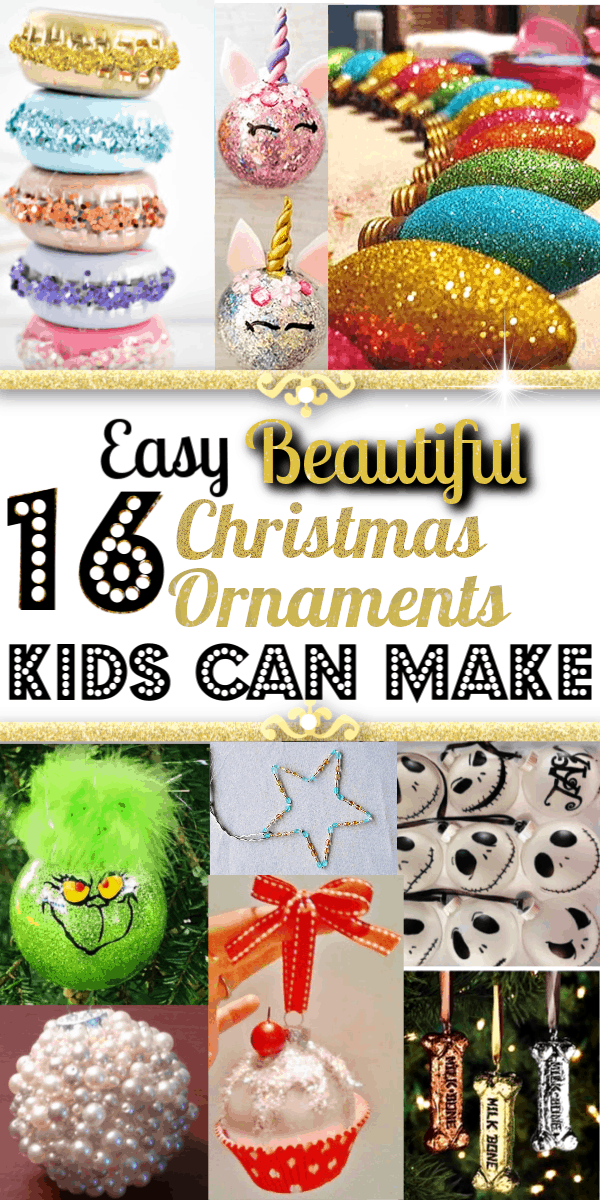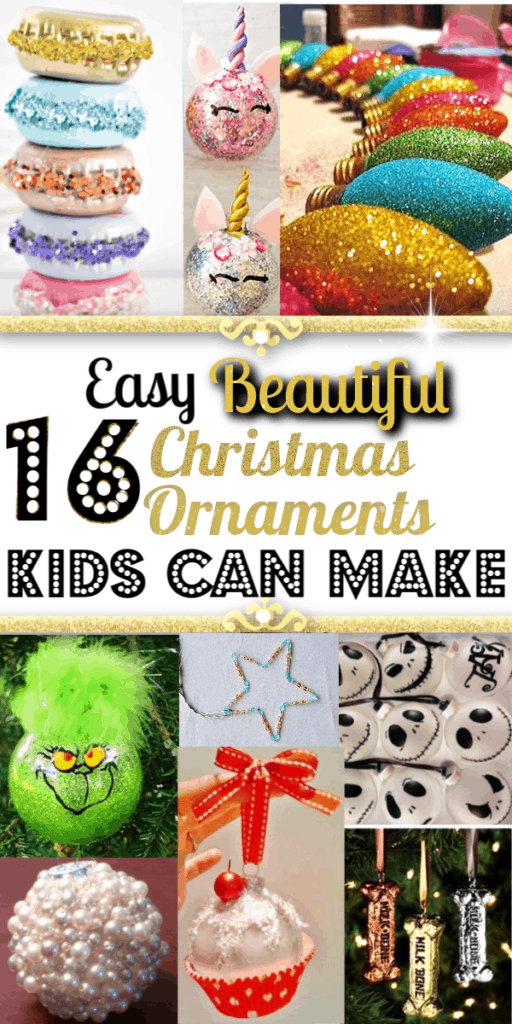 This post may contain affiliate links. Click here to read our full disclosure policy.
Easy DIY CANDY CHRISTMAS ORNAMENTS


Repurpose and regift the Werthers, Peppermints, Butterscotch, and even Jolly Rancher candies you'll get this holiday season.
Transform your leftover candy into ornaments, or gift tags, to decorate a gift basket or your tree. It's easy and only takes minutes. All you'll need is :
cookie cutter
cookie sheet
Just spray parchment paper and cookie cutter and place candies evenly inside of the cookie cutter on the parchment paper.
Bake at 350 degrees for 6 to 10 mins or until melted together.
Poke holes in the top using a knife or toothpick 12 minutes after taking out of the oven and let cool.
Kids will think it's magic, and adults will think you paid a bundle. If you put candy canes on your tree this is a must try.
SCENTED CINNAMON ORNAMENTS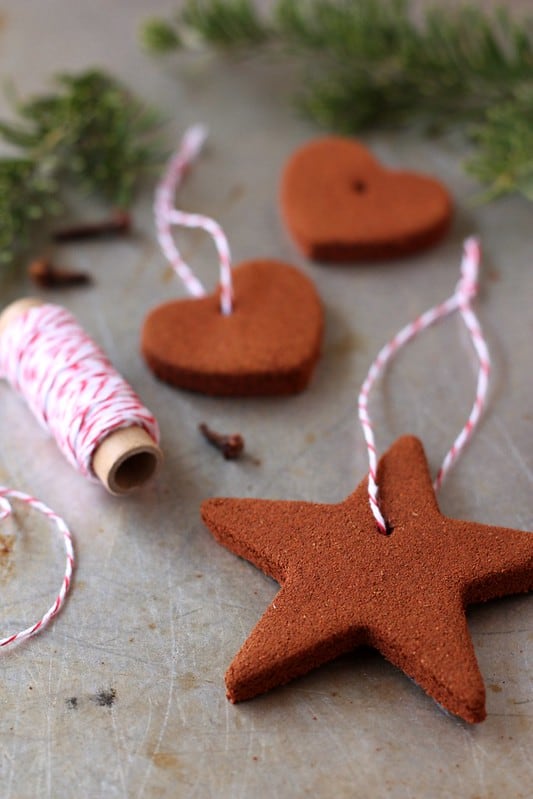 These are so easy to make and will have your home smelling amazing!
All you'll need is Cinnamon, Applesauce, string, and a cookie cutter. You'll need a lot of cinnamon which you can find in large bags or tubs at Dollar stores or on amazon.
You can hang these on your tree, around your home, or make them for trinkets or gift tags to give to friends, family, coworkers, or even neighbors.
EASY DIY DOLLAR STORE RUSTIC JUTE TWINE ROPE OR STRING CHRISTMAS ORNAMENTS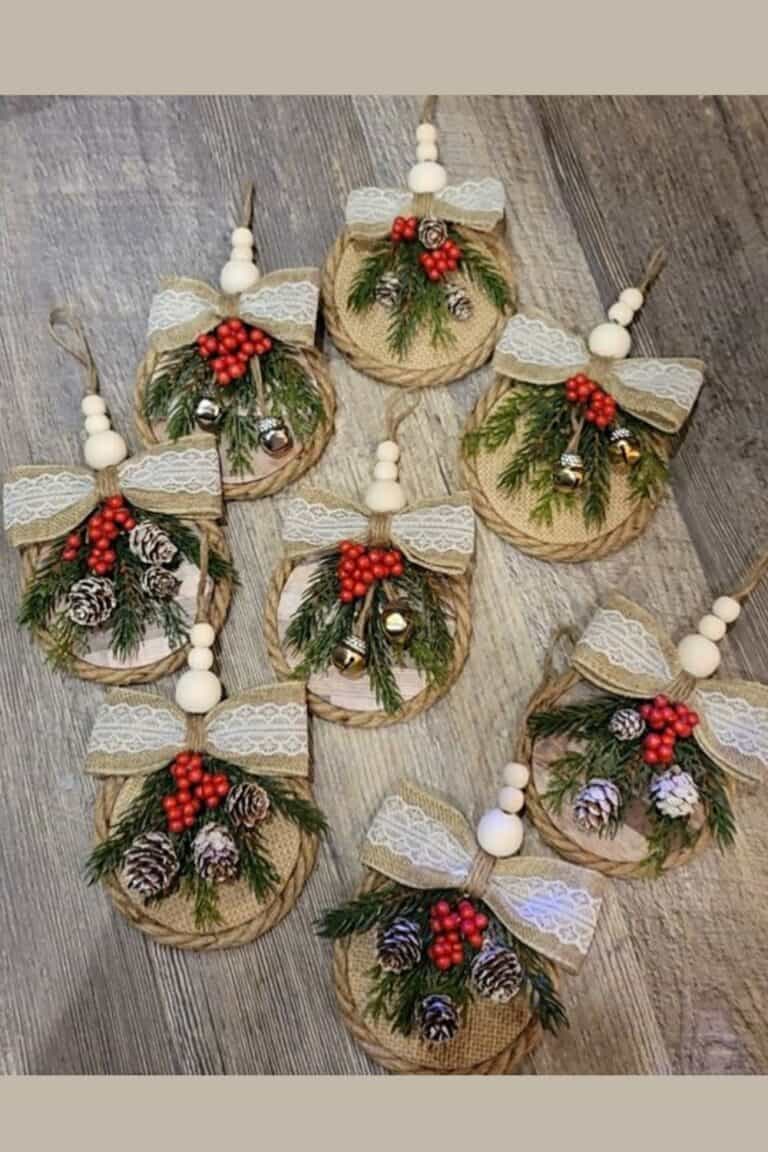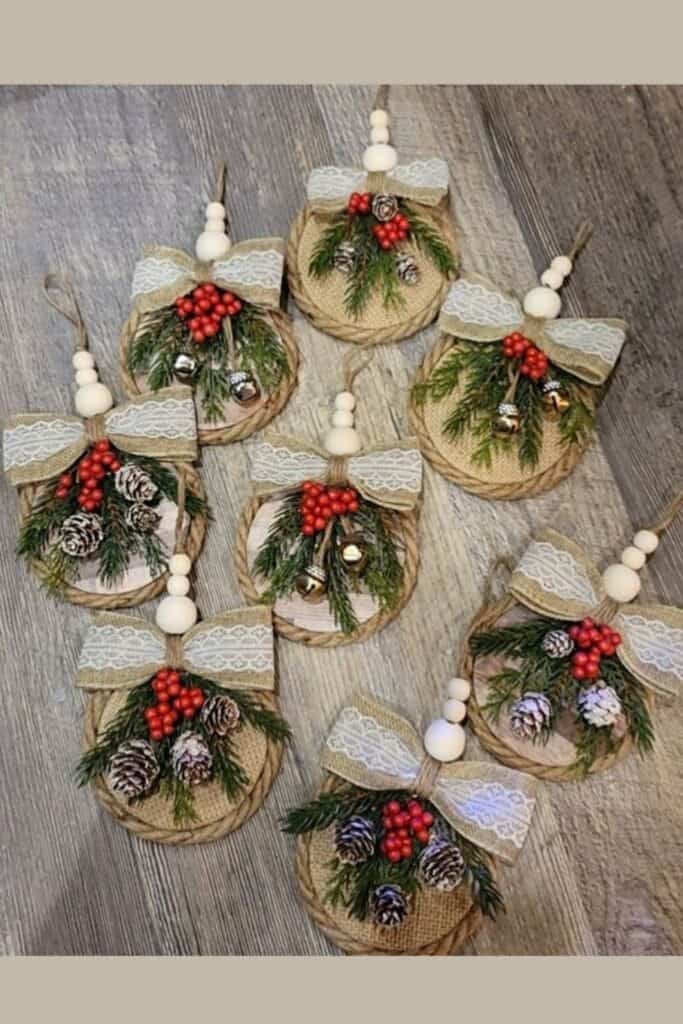 The easy diy Rustic Farmhouse Christmas ornaments pictured above are made with wood beads, thick and thin Jute Twine Rope, burlap, wood slices or discs, and garland. We have seen many of the items at the Dollar Tree.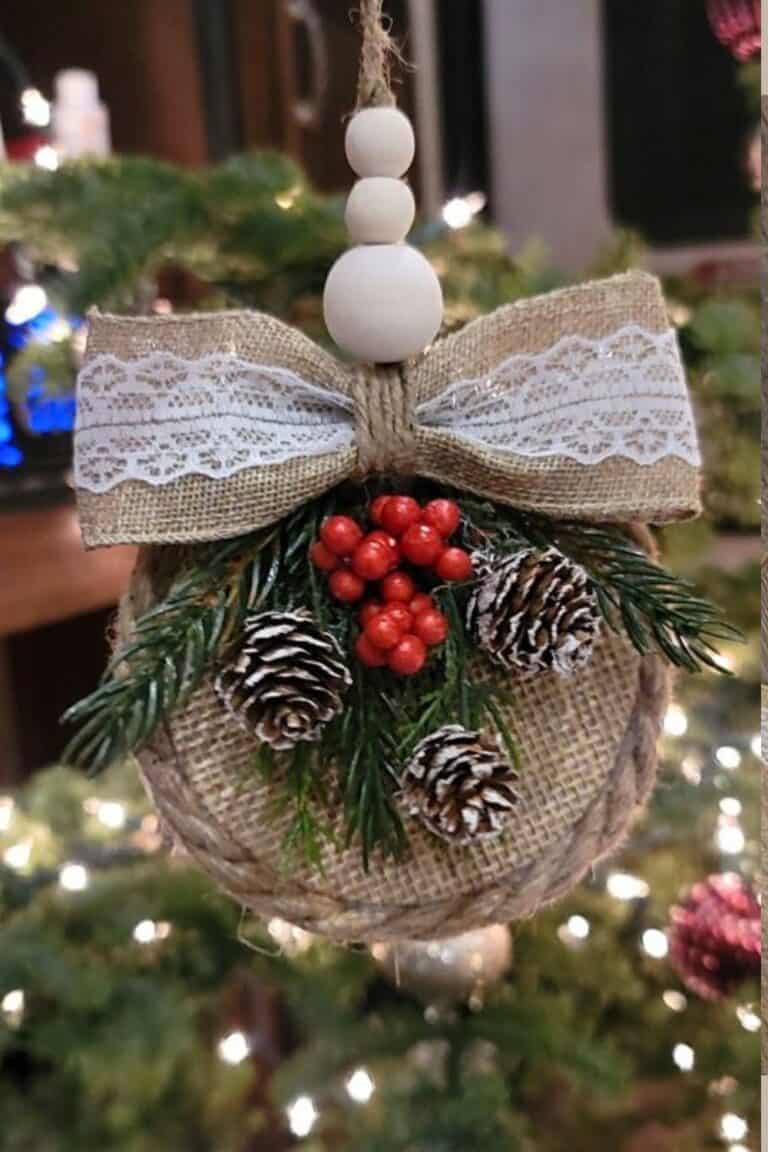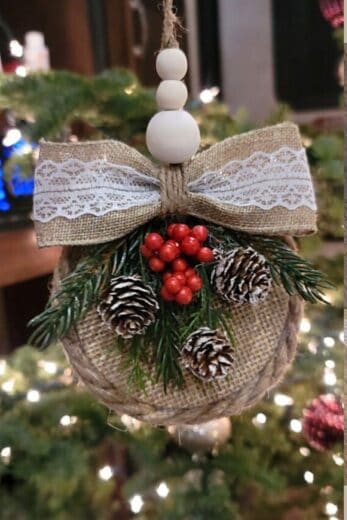 Use a hot glue gun or even elmer's to glue it all together trimming the burlap circle with Jute Twine Rope!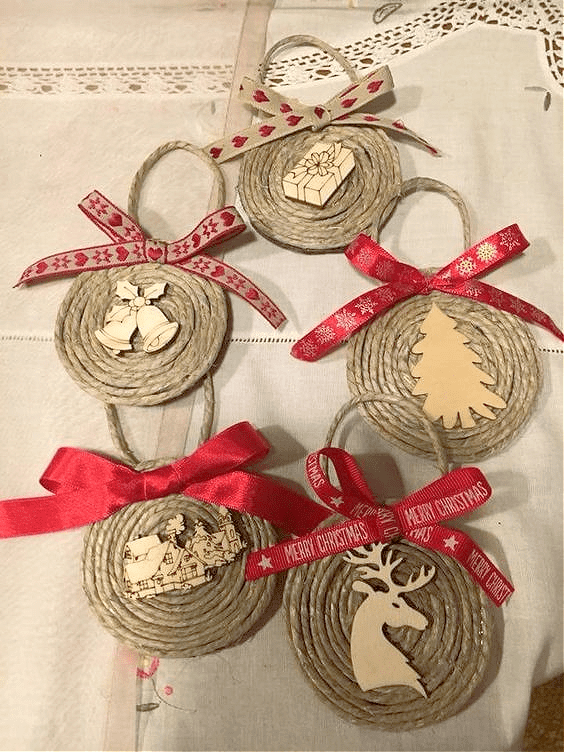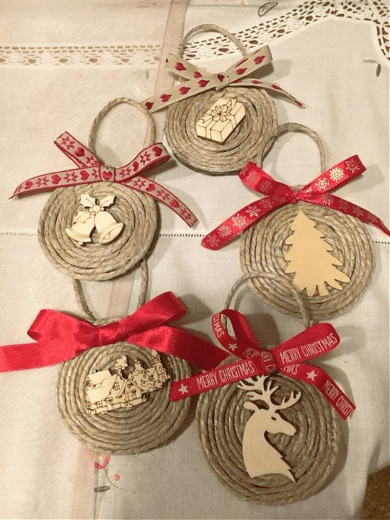 Although we can't find the exact tutorial for the diy Christmas ornaments pictured above, THIS tutorial will show you how to make the round disc.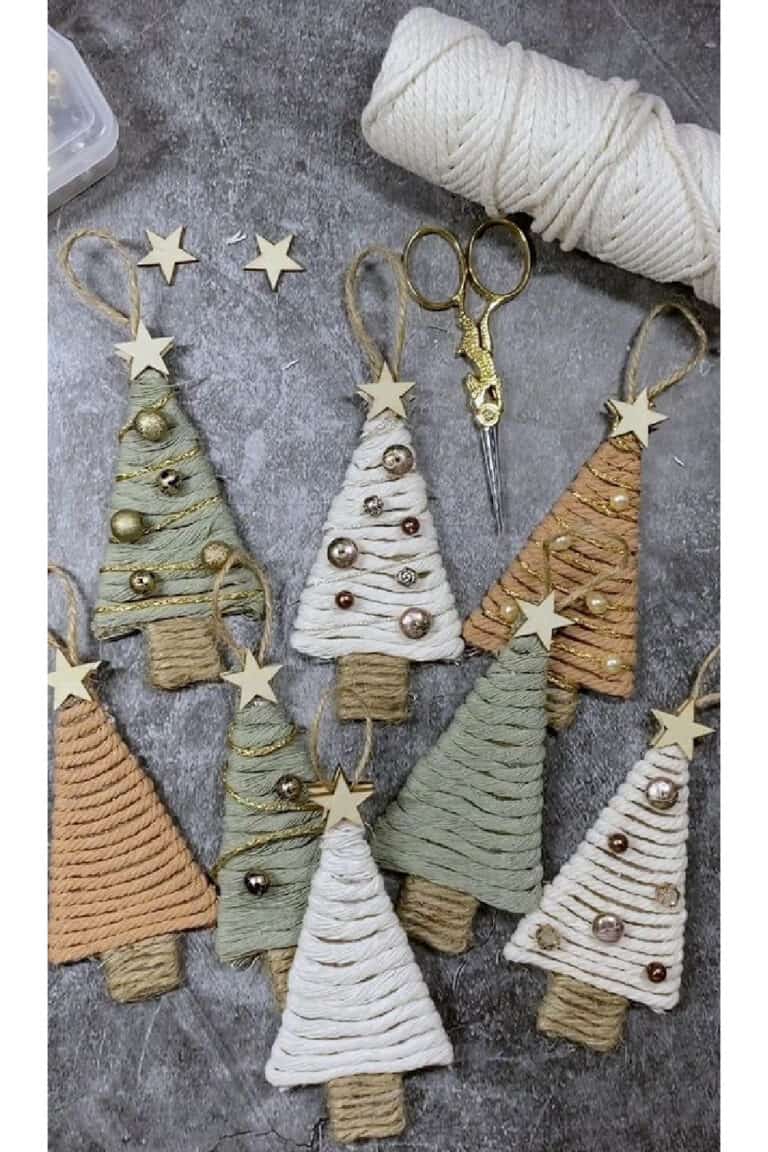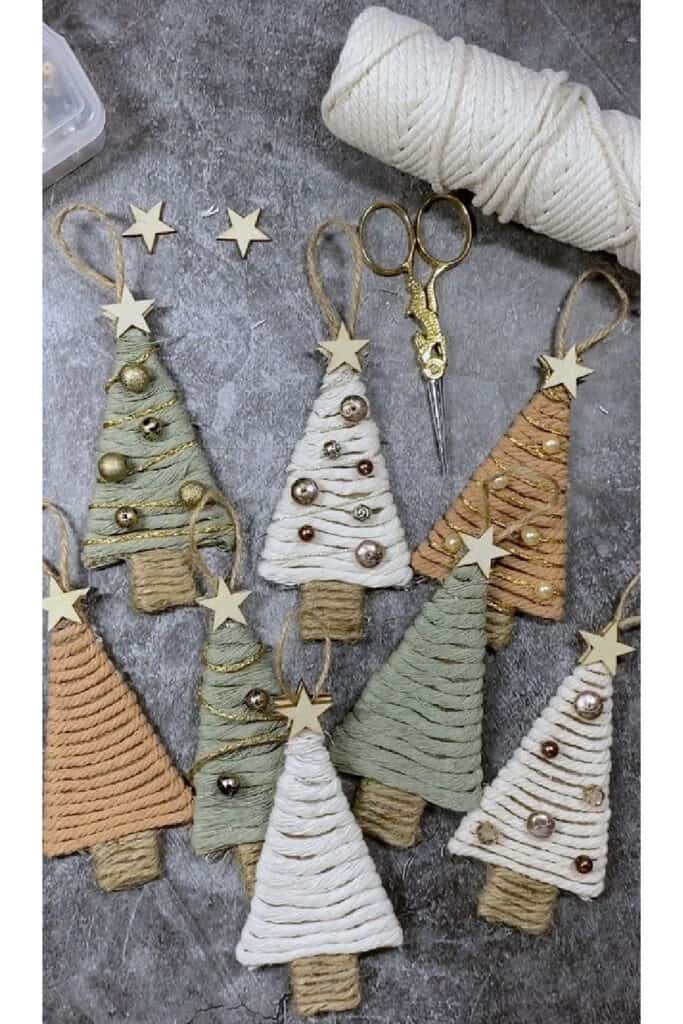 We couldn't find the tutorial for the above Farmhouse string Christmas tree ornaments but our guess is it's cardboard wrapped in glued rope or string with jute rope or twine for the trunk and gold beads for the ornaments. You can find the little stars at Dollar Tree or Michaels.
CHRISTIAN NATIVITY DIY DOLLAR STORE ORNAMENTS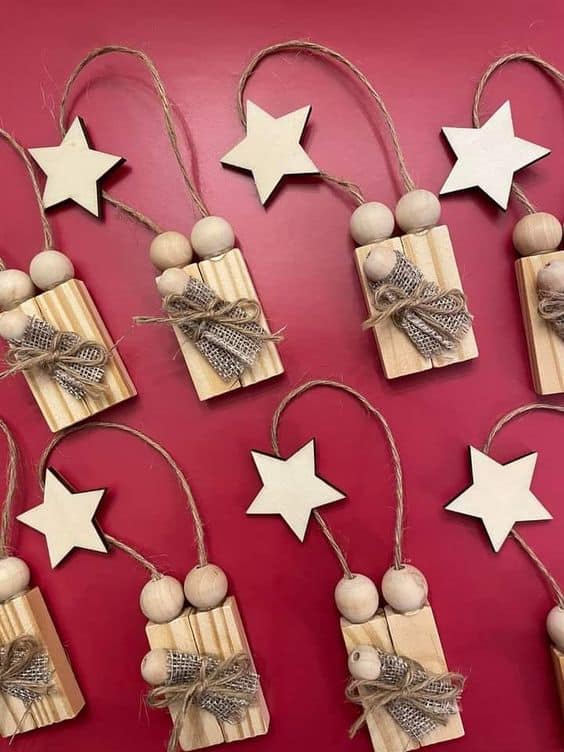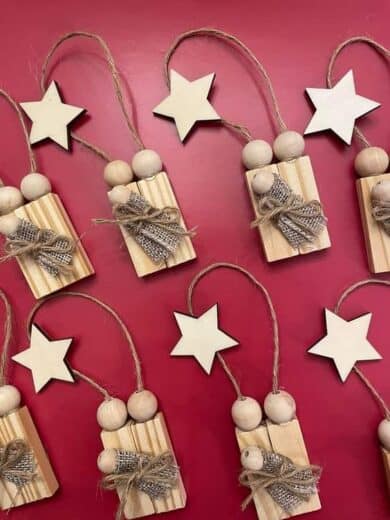 Almost anyone can make the super easy Dollar Store Christian Nativity Christmas ornaments pictured above! Use wood beads, twine, dollar store Tumbling Tower Game (Jenga blocks) (or any small wood blocks), burlap or fabric, a decorative star, glue, and this video tutorial.
DIY DOLLAR STORE TUMBLING TOWER GAME (JENGA) WOOD ORNAMENTS KIDS CAN MAKE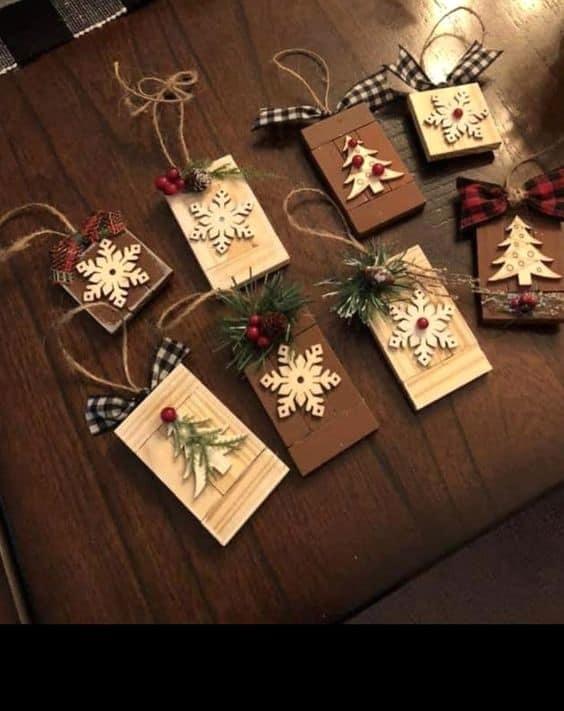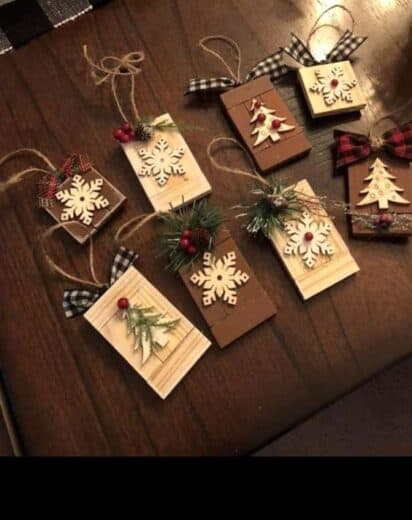 The Dollar Tree has it's own version of the popular board game Jenga, it's called the Tumbling Tower game. You can use the pieces to make beautiful DIY Christmas Ornaments that are so easy even kids can make them.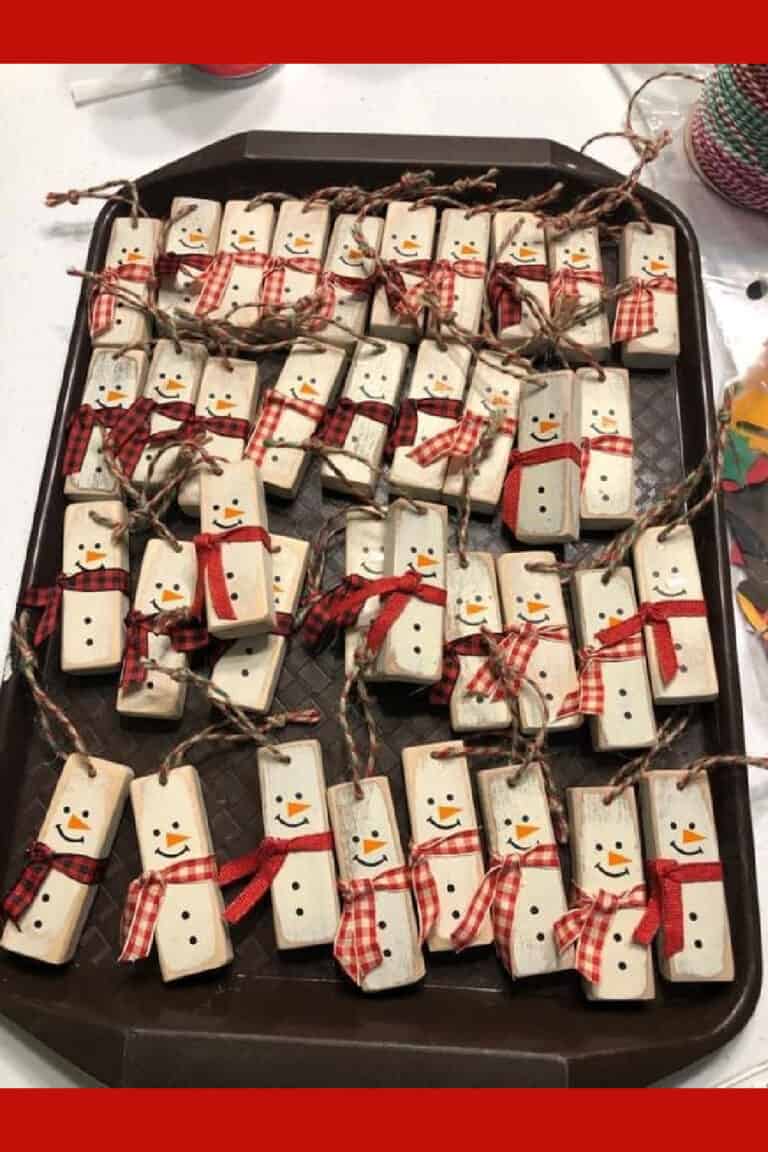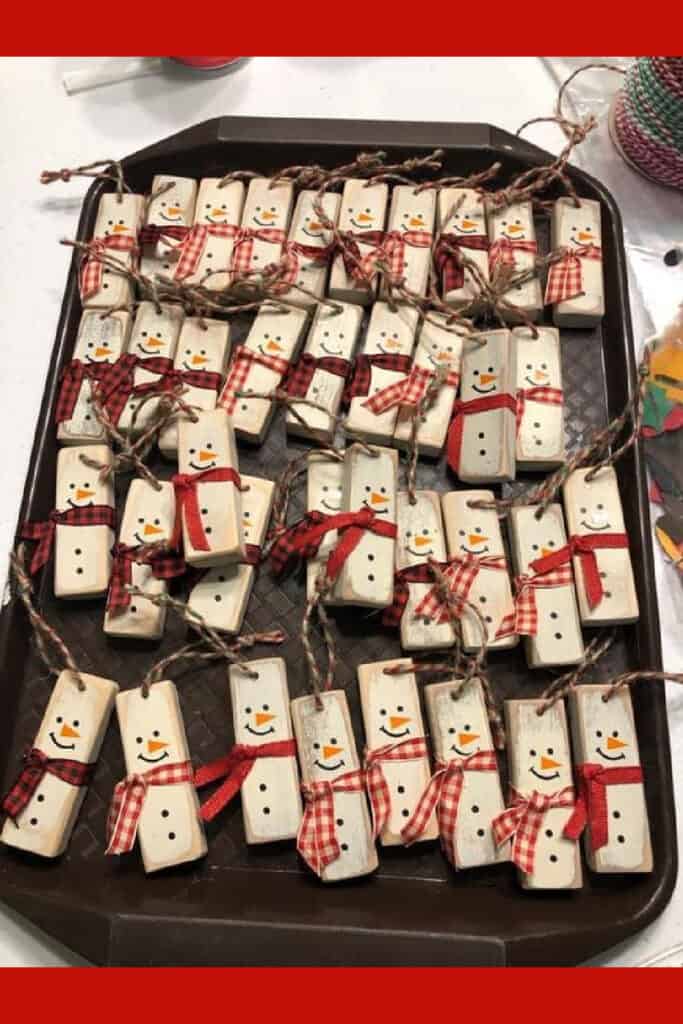 Paint them whatever color you'd like, sand paper the edges, write on them with marker, or decorate them with the many cut outs they have at the dollar store!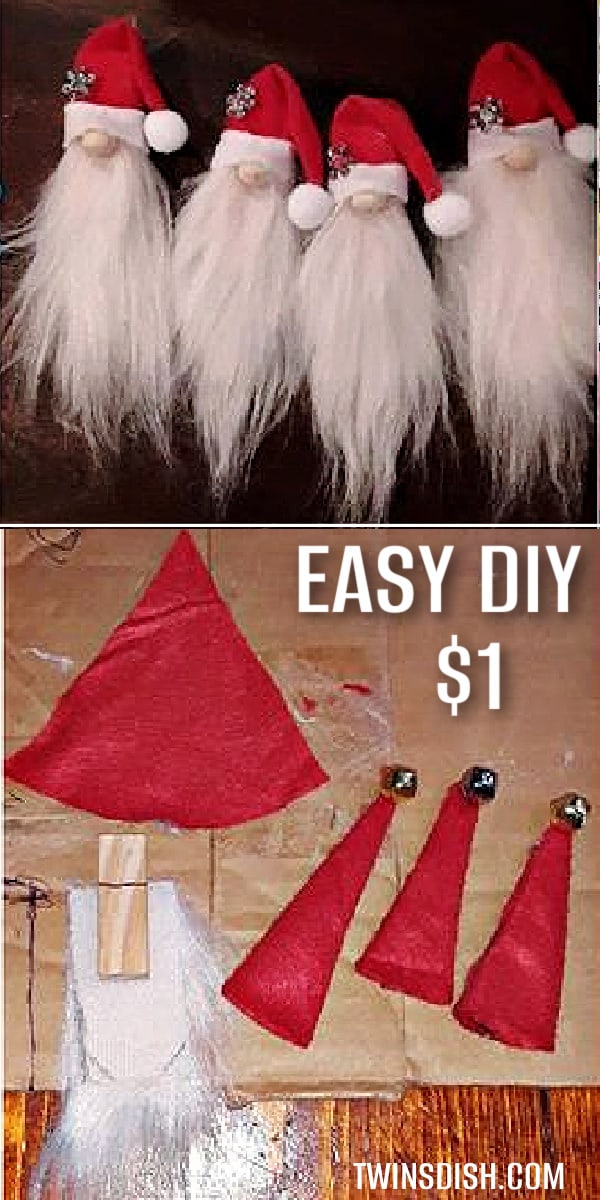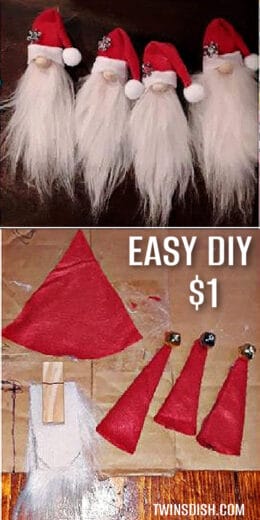 Use Dollar Store Jenga to easily make the adorable Santa Gnome Christmas ornaments (pictured above) for the tree.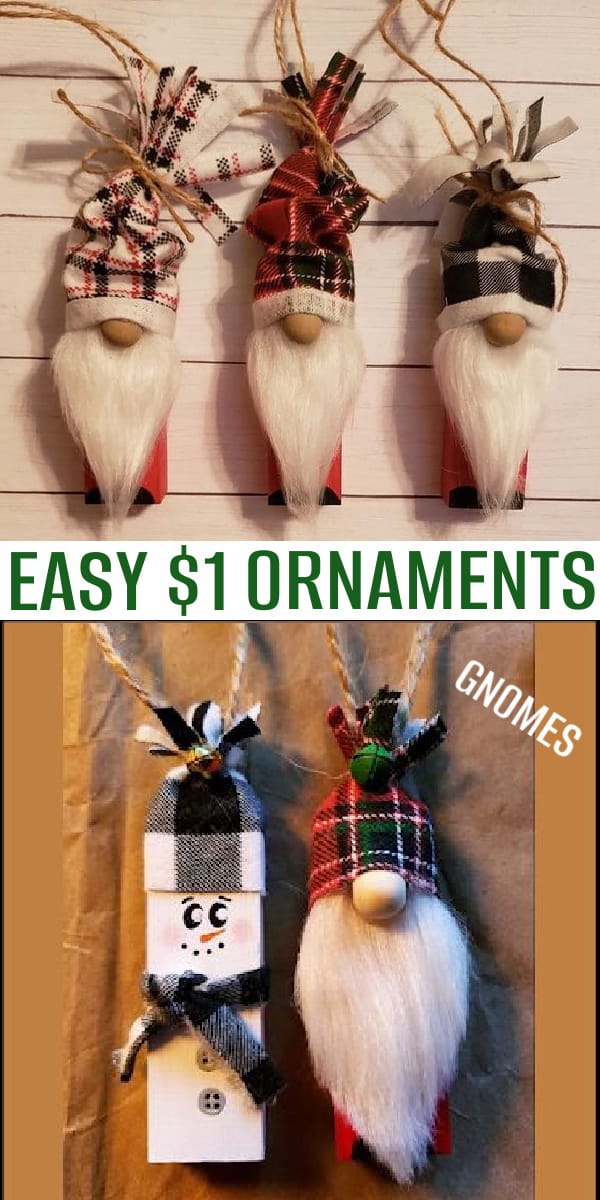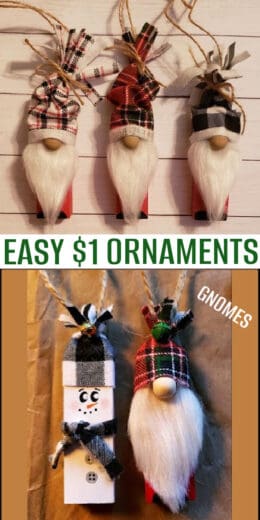 DIY TASSEL CHRISTMAS TREE ORNAMENTS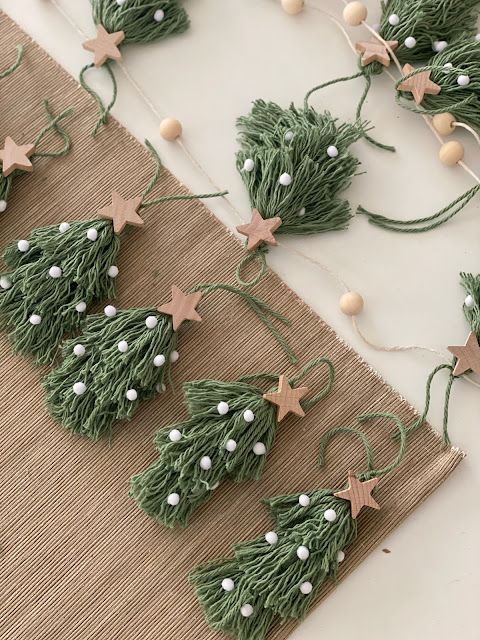 Make the adorable tassel Christmas trees pictured above to attach to gifts, make into garland or hang on the tree!
DIY RUSTIC TEXTURED CHRISTMAS ORNAMENTS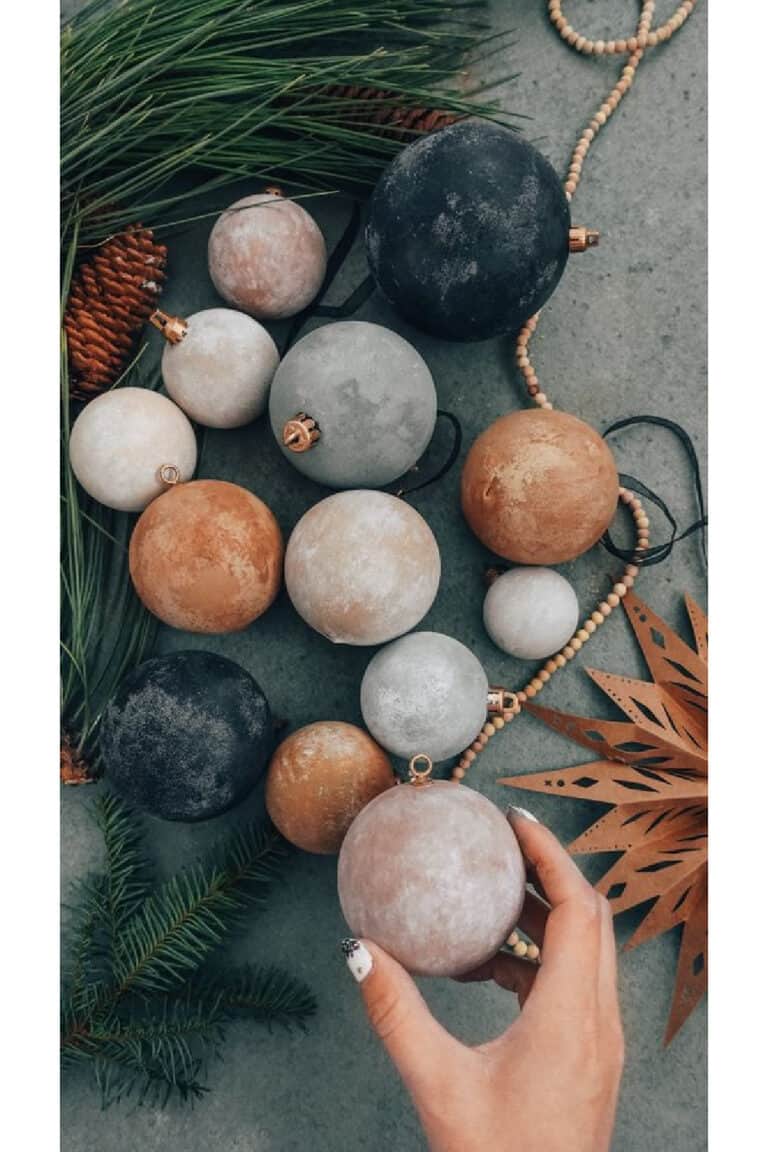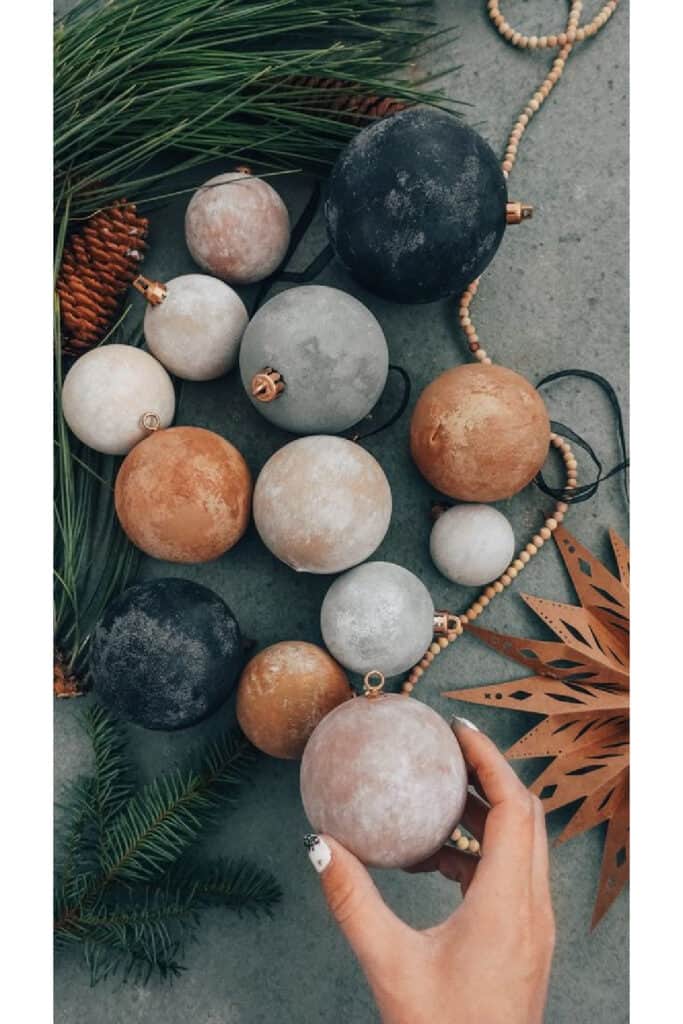 It's easy to recycle Christmas ornaments with these inexpensive techniques for a rustic distressed effect that's often seen in high end department stores for much more $.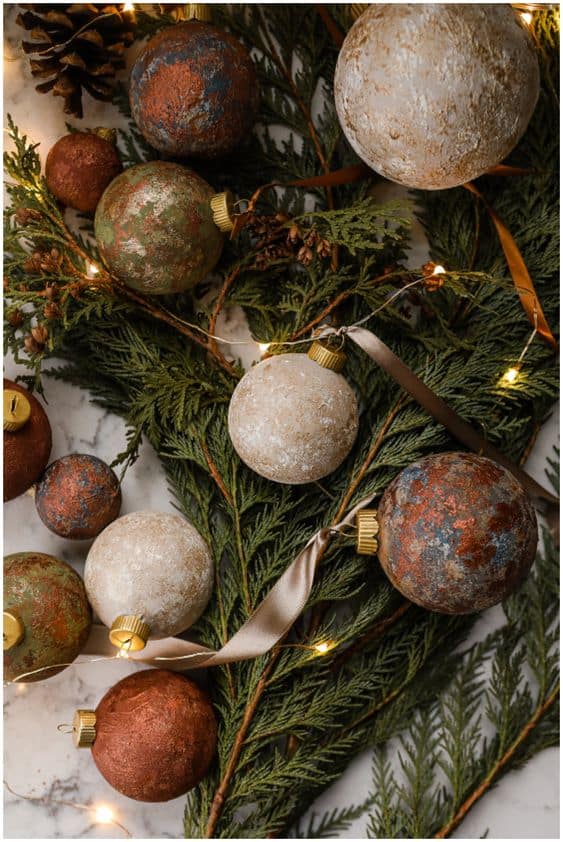 Just use either Cocoa powder or plaster of paris or baking soda, and some paints to make these beautiful earthy velvet looking ornaments.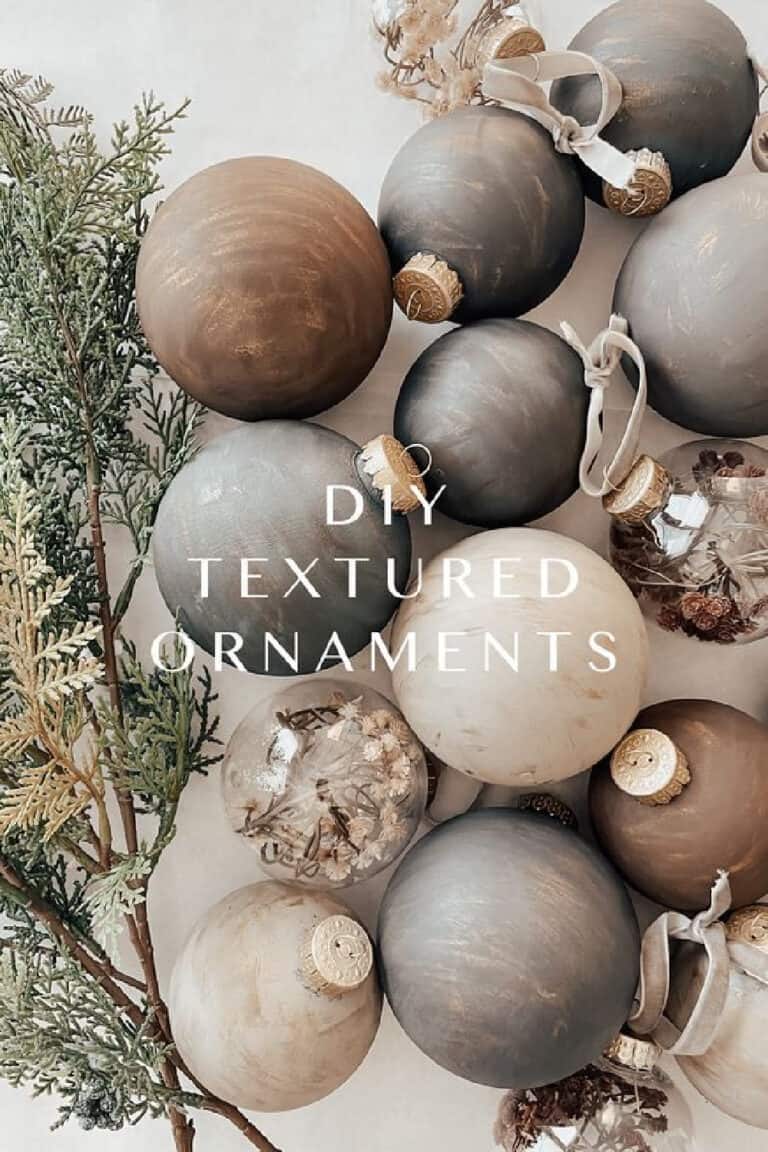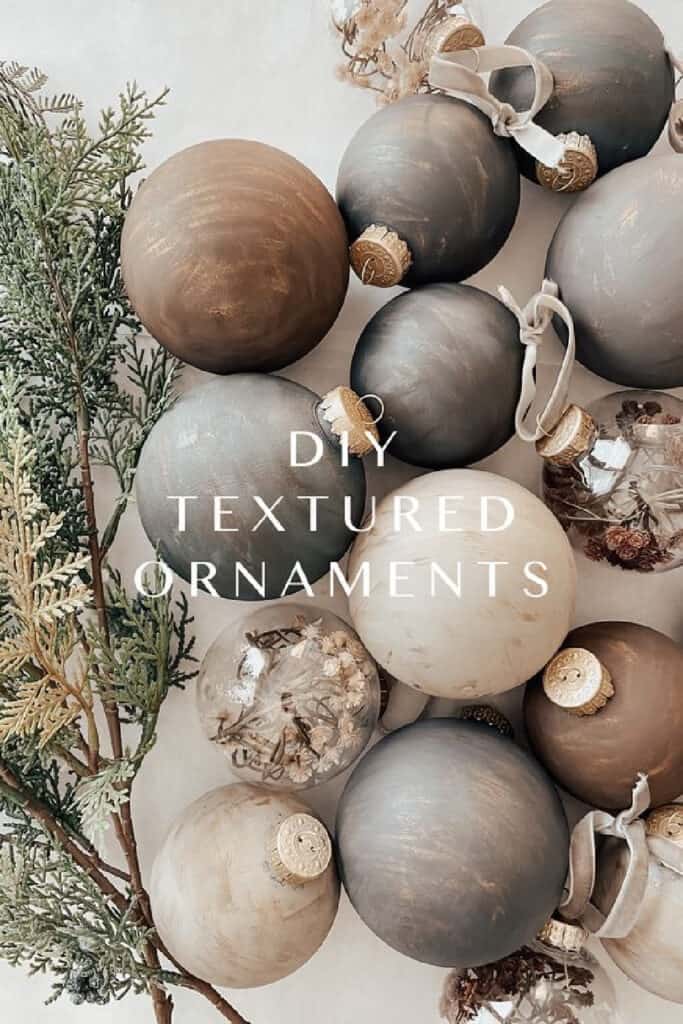 You can choose how rusty or metallic looking you want them to be.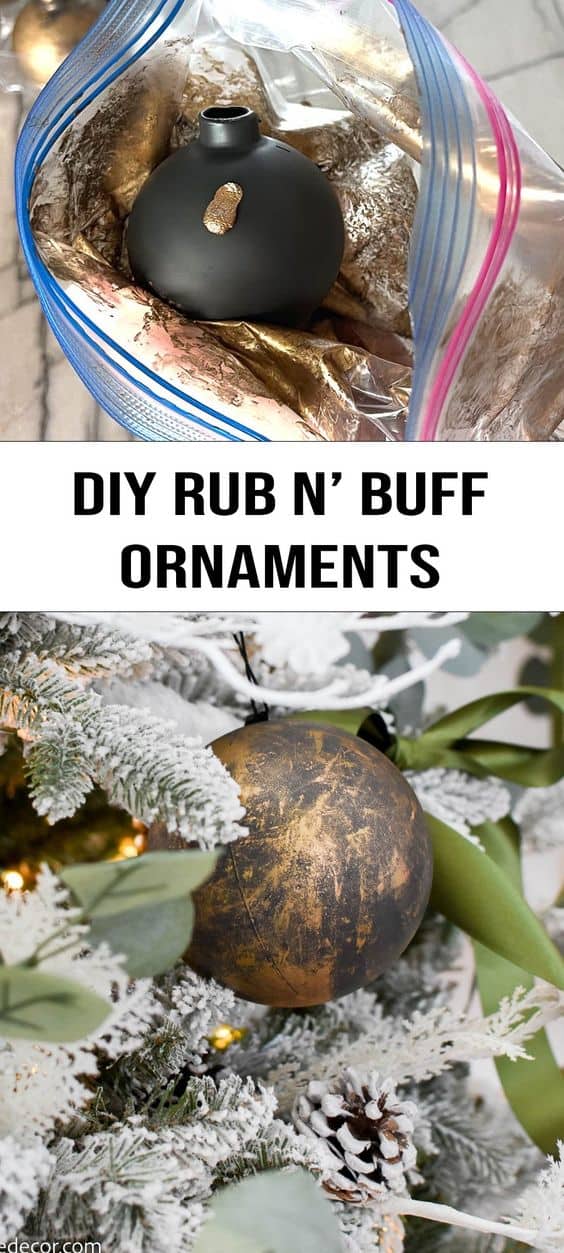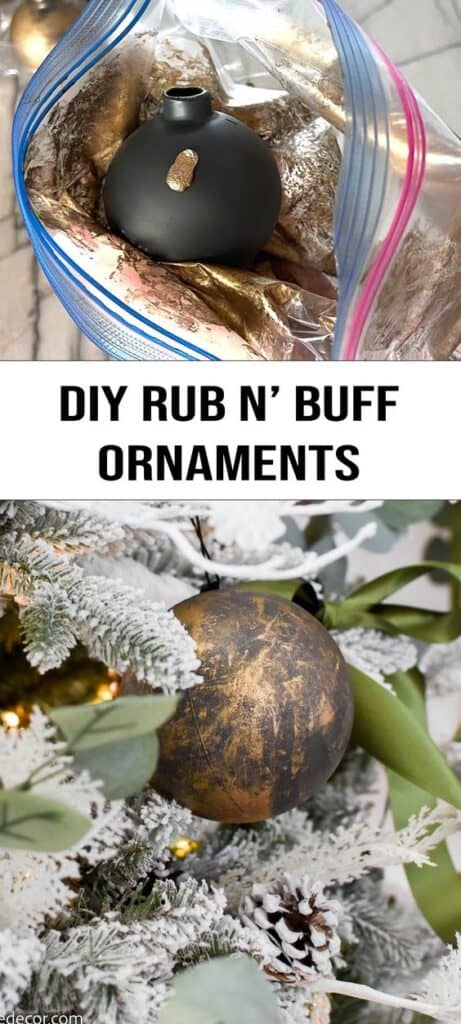 EASY DOLLAR STORE GRINCH CHRISTMAS ORNAMENTS DECORATION WOOD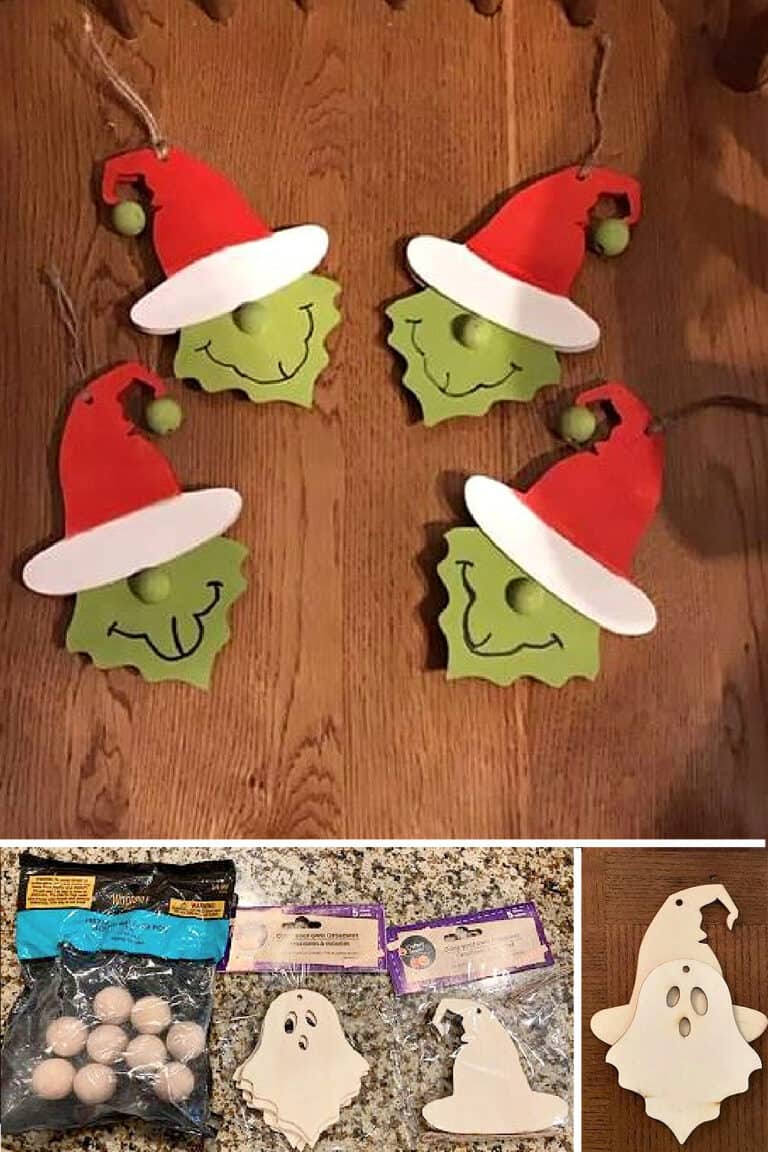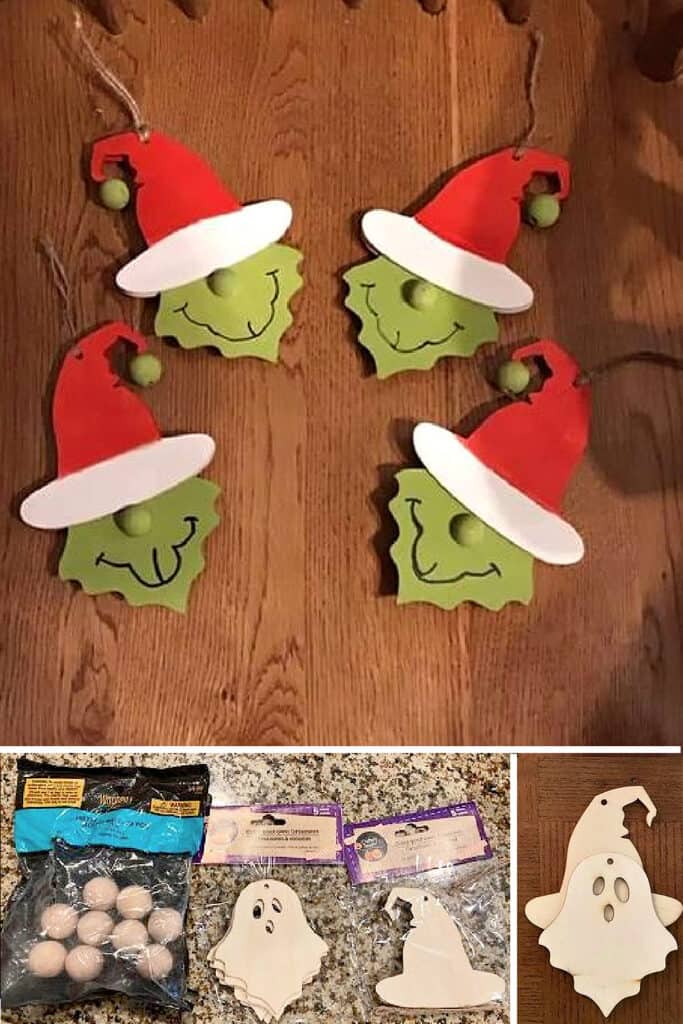 The easy DIY Grinch Christmas ornaments pictured above were made from Halloween ornament decorations at the Dollar Tree!
EASY DIY VINTAGE SHEET MUSIC ORNAMENTS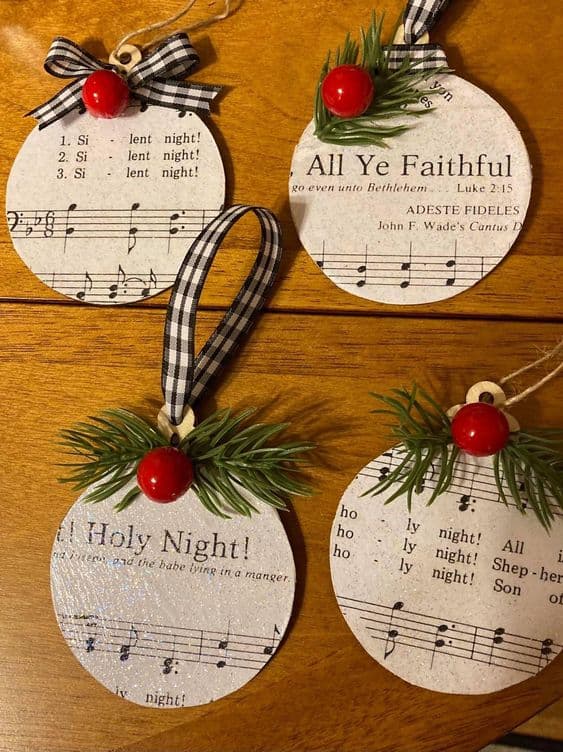 Turn your favorite Christmas carols, or Christmas books into ornaments! You can use card stock or wood Christmas ornaments from the Dollar Store.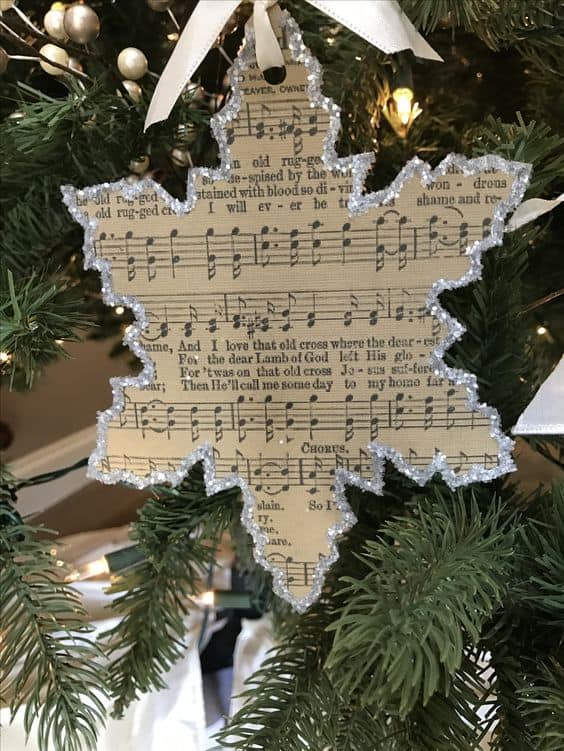 You can use cookie cutters to trace and cut out shapes.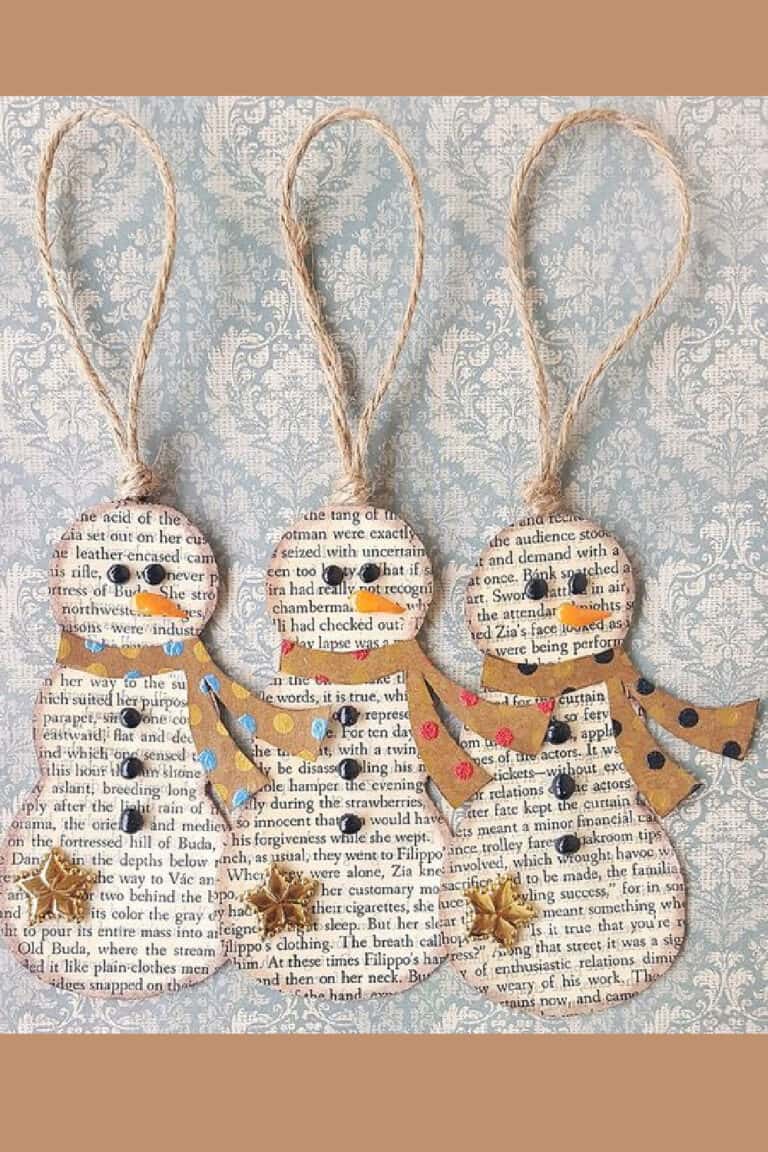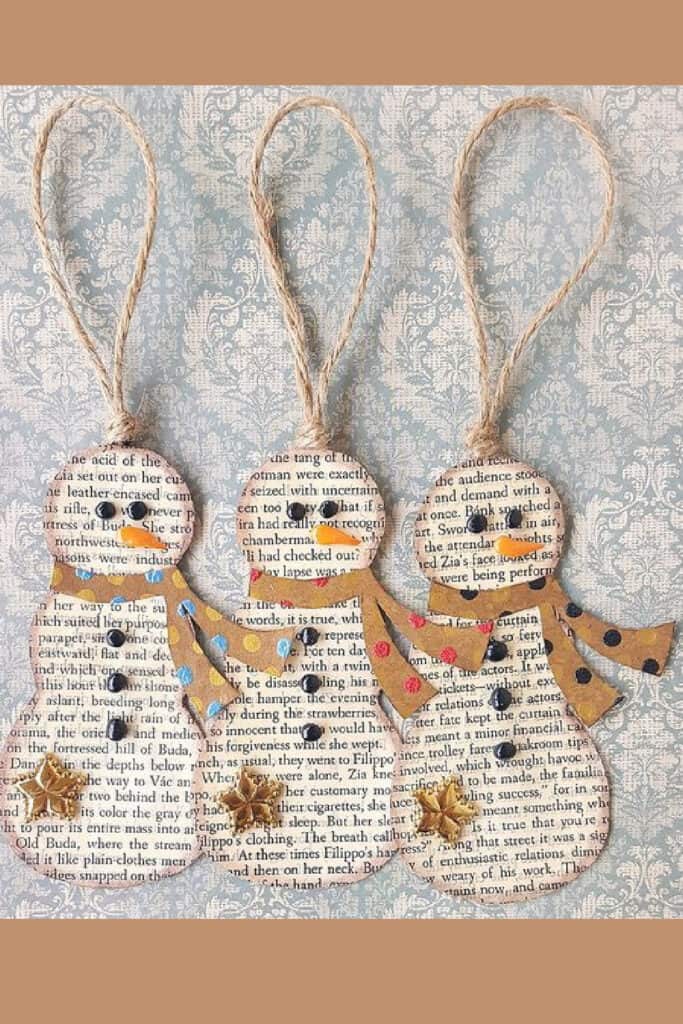 You can use this video tutorial to make the snowman ornaments above Get Creative and use stickers, beads, and paint!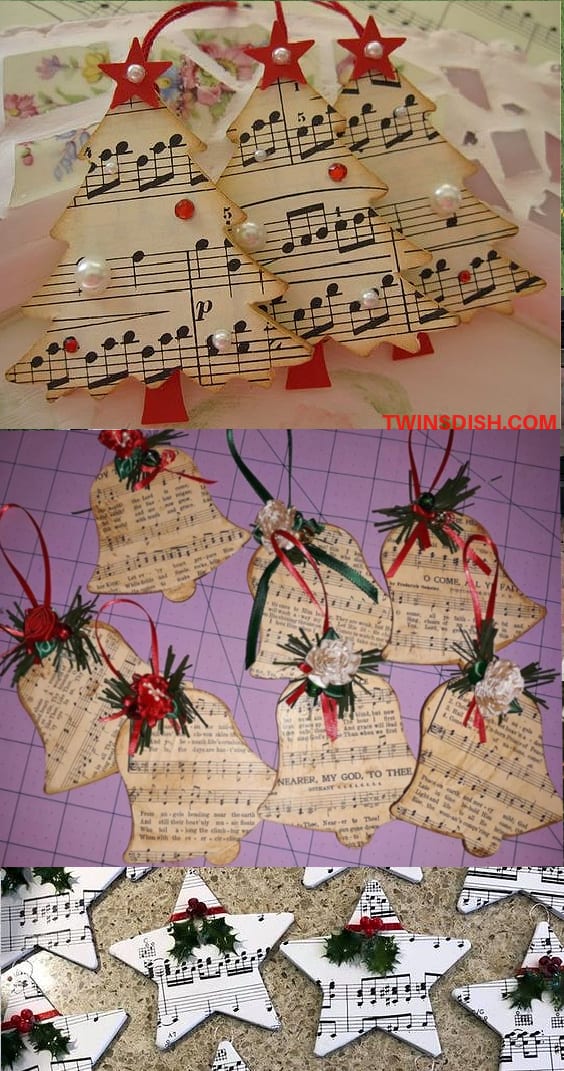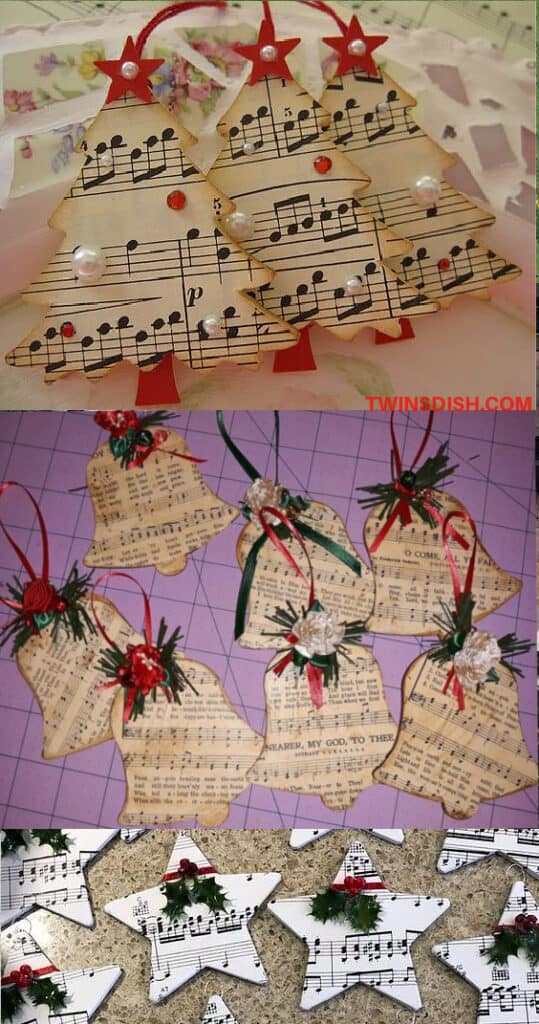 SUPER EASY MACRAME CHRISTMAS ORNAMENTS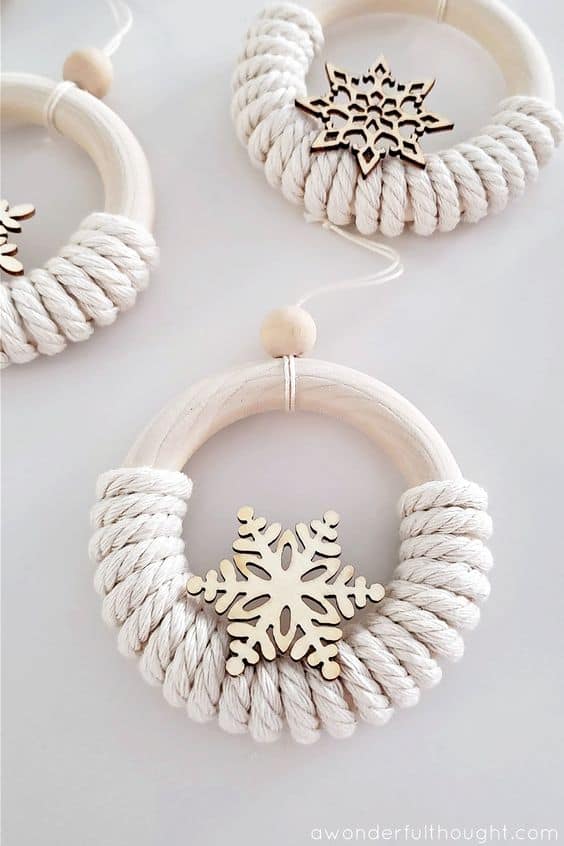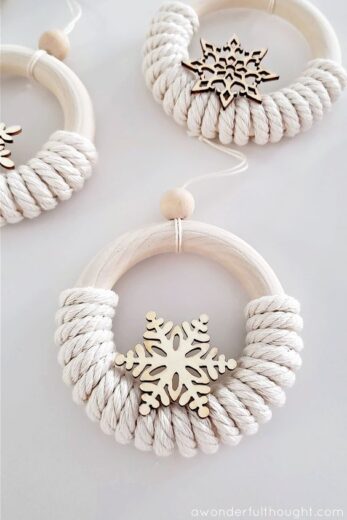 Don't the above ornaments look store bought? Find the complete video tutorial to the unique and ridiculously easy DIY macrame Christmas ornaments by clicking here.
DIY MACARON BOTTLE CAP ORNAMENTS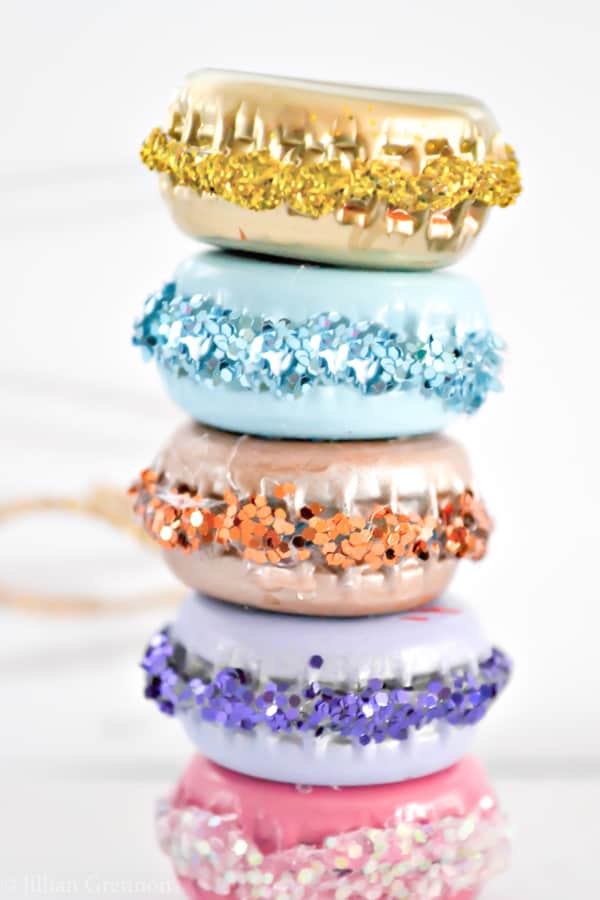 This is definitely something your husband, boyfriend, or best friend will be happy to help you with! Just make sure they remember to keep the bottle caps after those beers and soft drinks so you can make these adorable Macarons out of glue, glitter, and paint. You can also buy bottle caps in assorted colors on Amazon.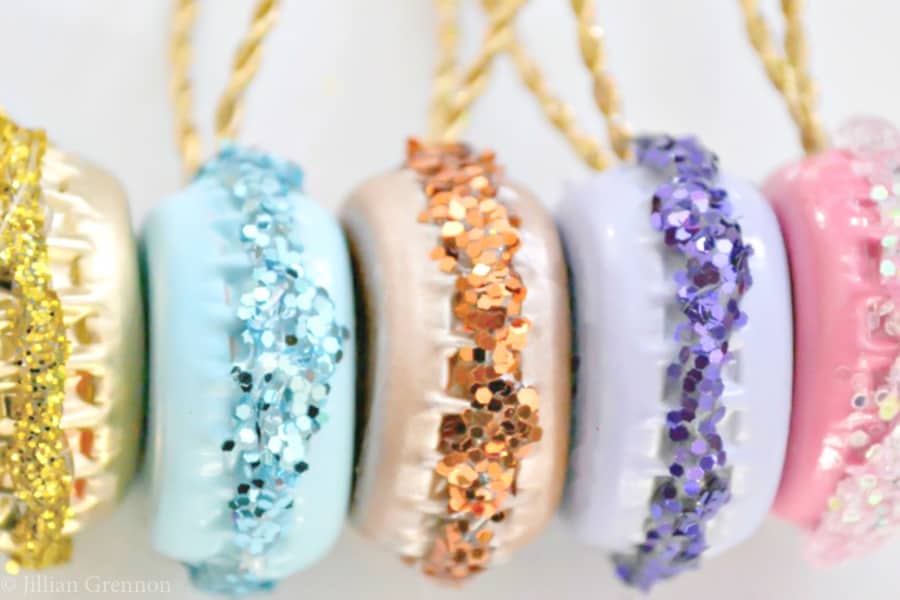 They're also good to make for table top Christmas trees since they are smaller than traditional ornaments. They'd also make a great gift or gift ornament for the trendy macaron eater.
DIY CUPCAKE CHRISTMAS ORNAMENTS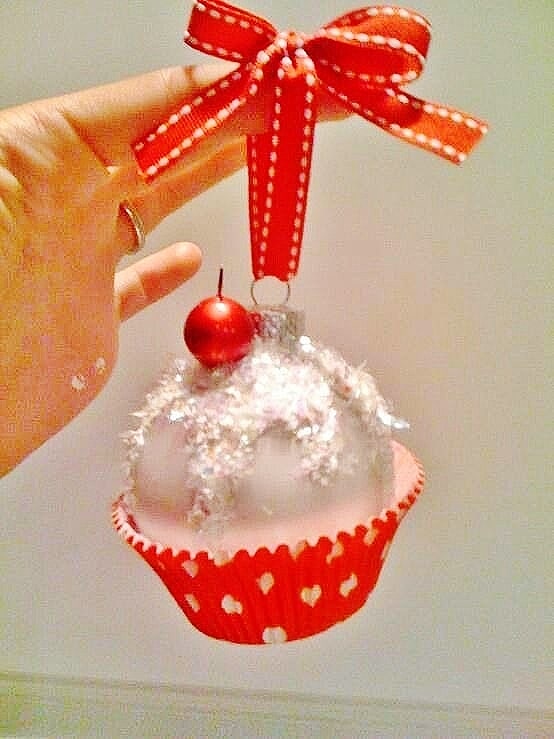 We've seen cupcake ornaments in countless stores for atleast $10, but by far the most beautiful ones are homemade.
The best part is all they require are items that you most likely already have lying around. Grab an old ball ornament, a cupcake liner, glue or glue gun, glitter, a bead, and ribbon to make this calorie free treat.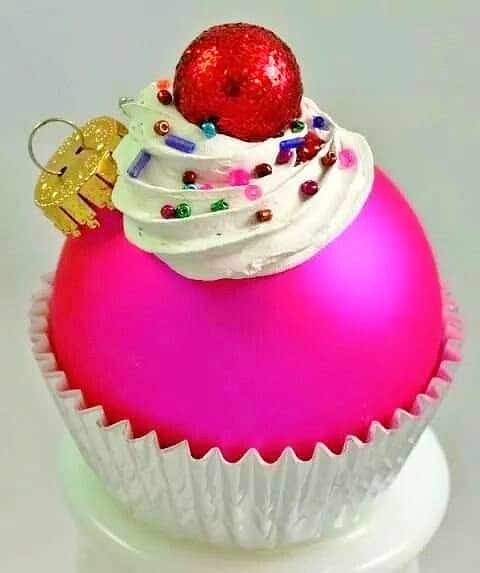 You can get fancy and use caulk for the frosting and beads for the sprinkles. You can also write on them with a sharpie for a bit of customization.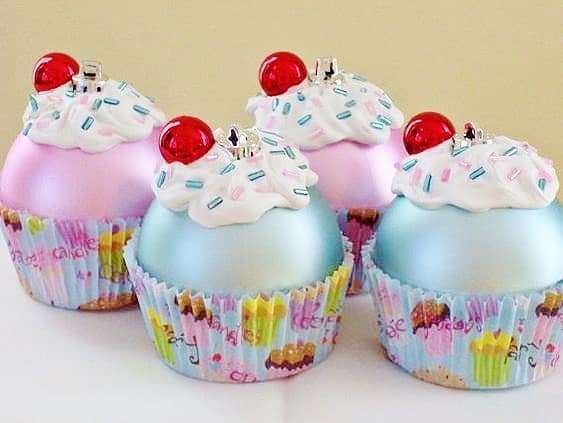 Gift them individually or make a half dozen variety box. The possibilities are endless and so are the variations.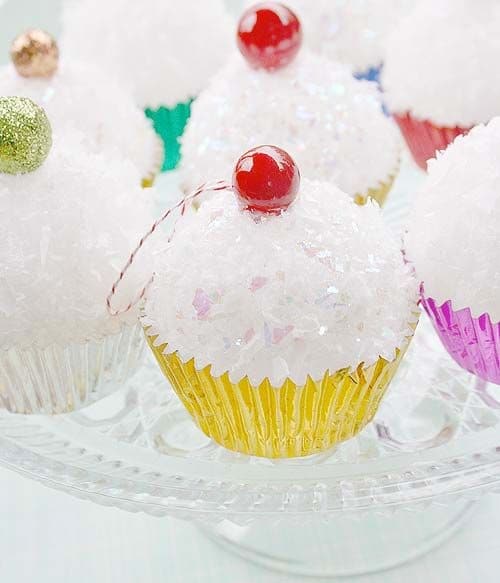 You can make another faux cupcake version using a styrofoam ball rolled in glue and glitter topped with a red ball or bead, marbles work too.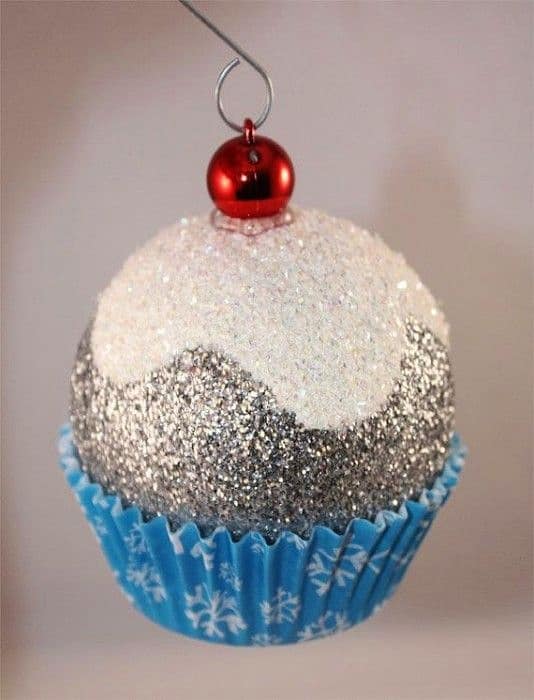 Adults can use a hot glue gun, kids can use Elmer's or fabric glue, one things for sure you'll have some amazing ornament when you're done. These are so difficult to mess up.
DIY CANDY LAND CHRISTMAS ORNAMENTS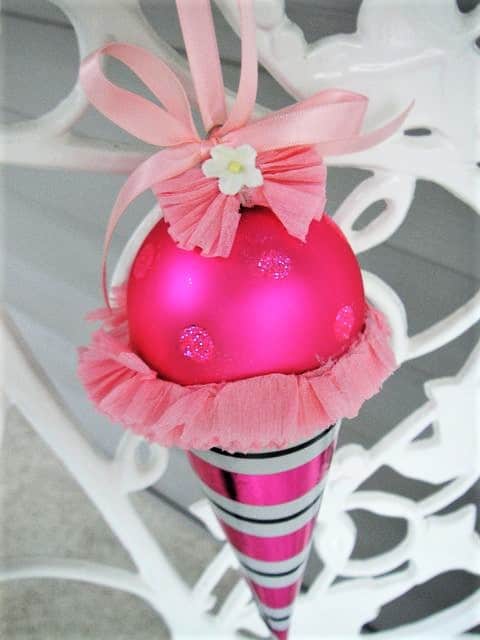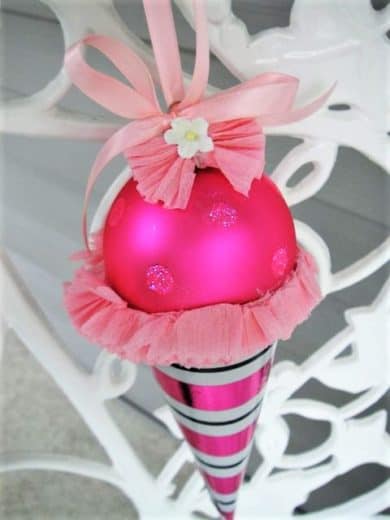 Who doesn't like the game Candy Land? Make your ball ornaments into ice cream cones easily with a little glue, party hat or card stock, and ribbon.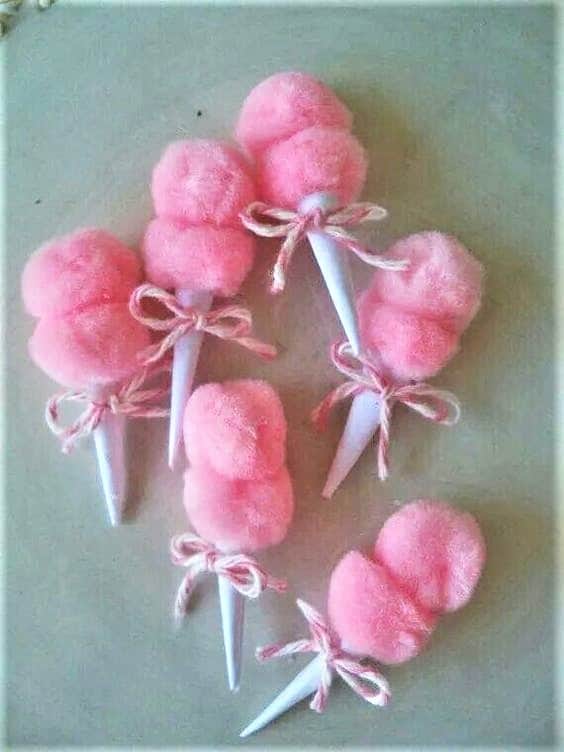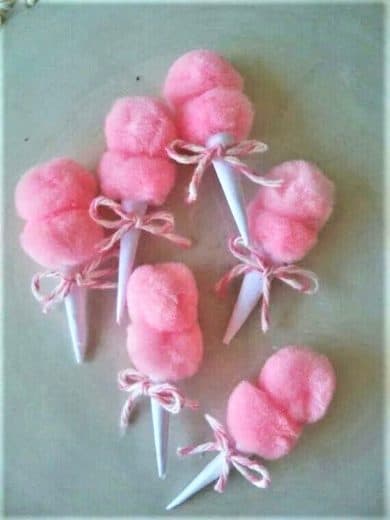 Kids and adults can make these mini cotton candy ornaments out of rolled up paper, pom poms, glue and string.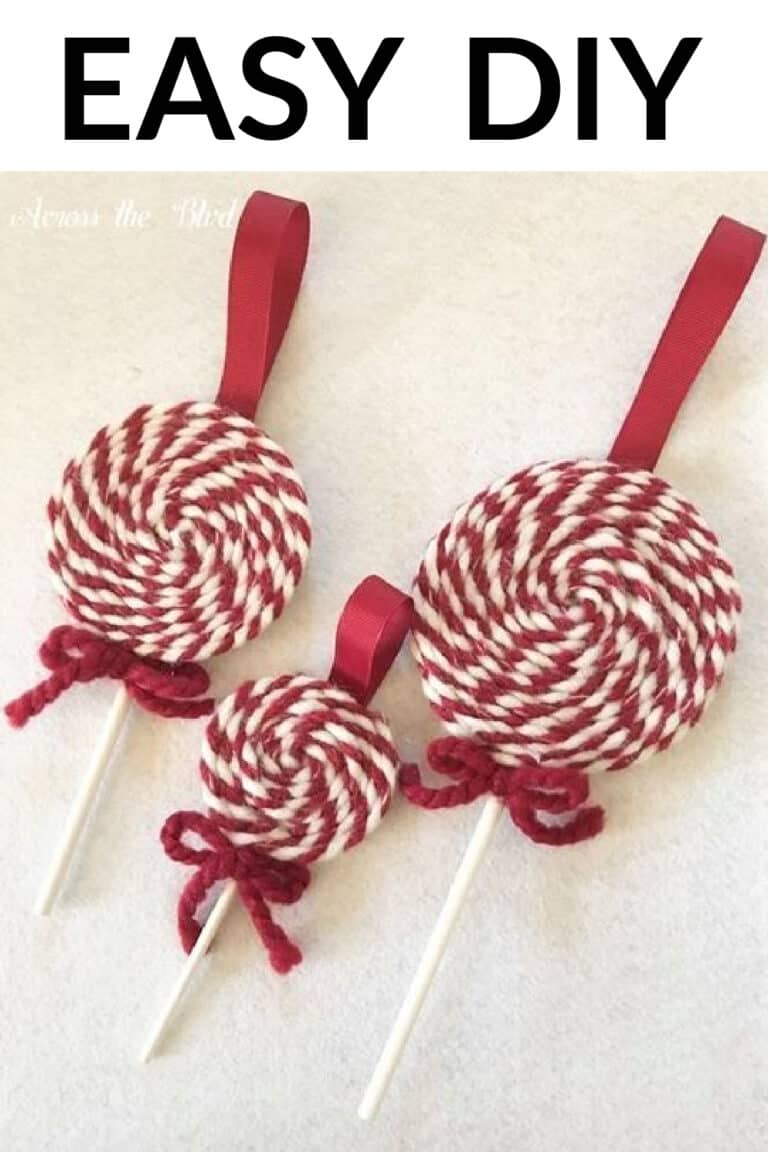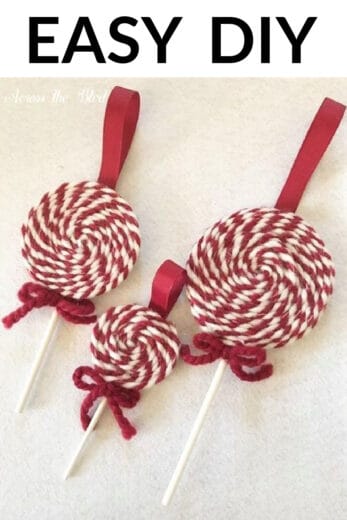 DIY GUMBALL MACHINE ORNAMENTS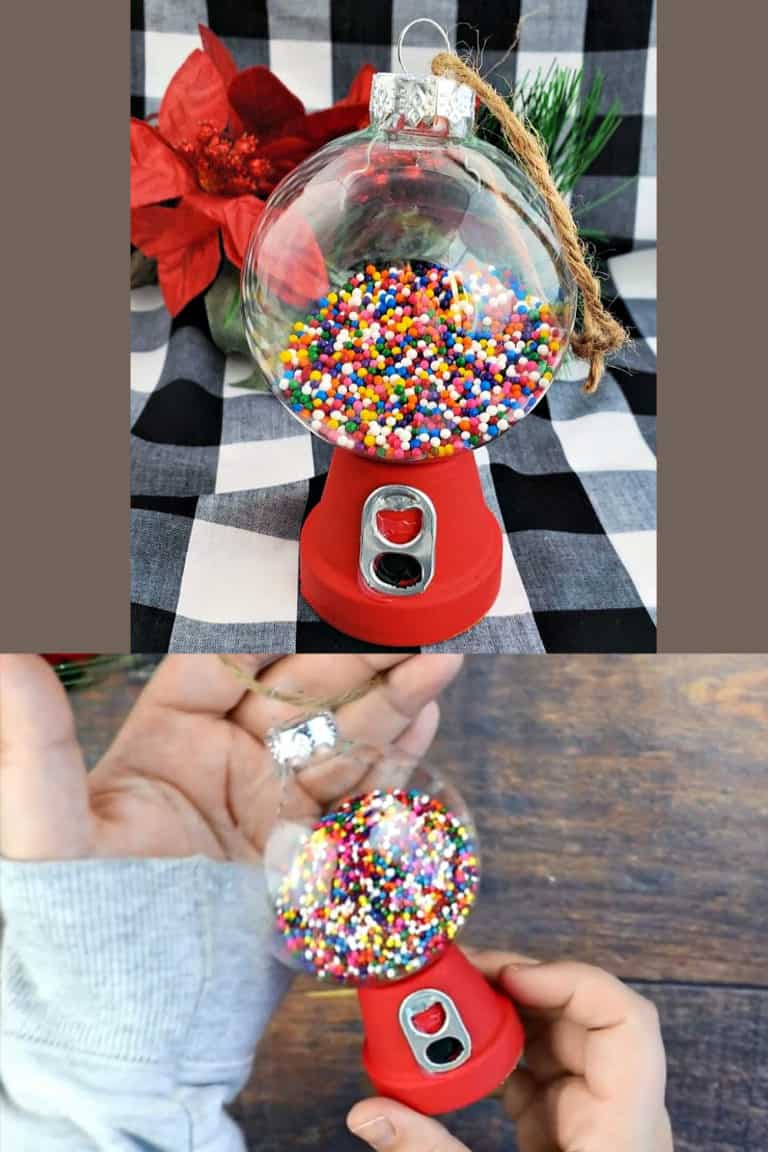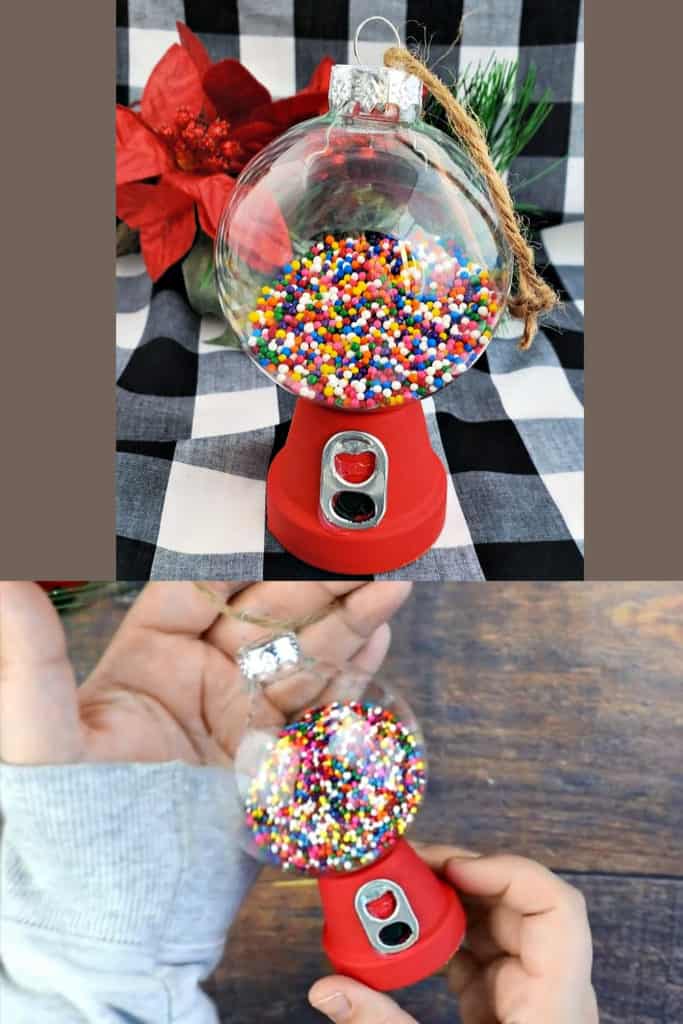 Make these adorable easy gumball machine ornaments from clear ball ornaments dollar store items.
DIY UNICORN CHRISTMAS ORNAMENTS


Unicorns are all the rage. There are so many different styles and versions for the unicorn ornament to fit every craft level.
Decorate a styrofoam ball with Sharpie drawn eyes, felt ears, and craft flowers.
Make horns out of kid friendly homemade salt dough that you can bake in the oven and paint.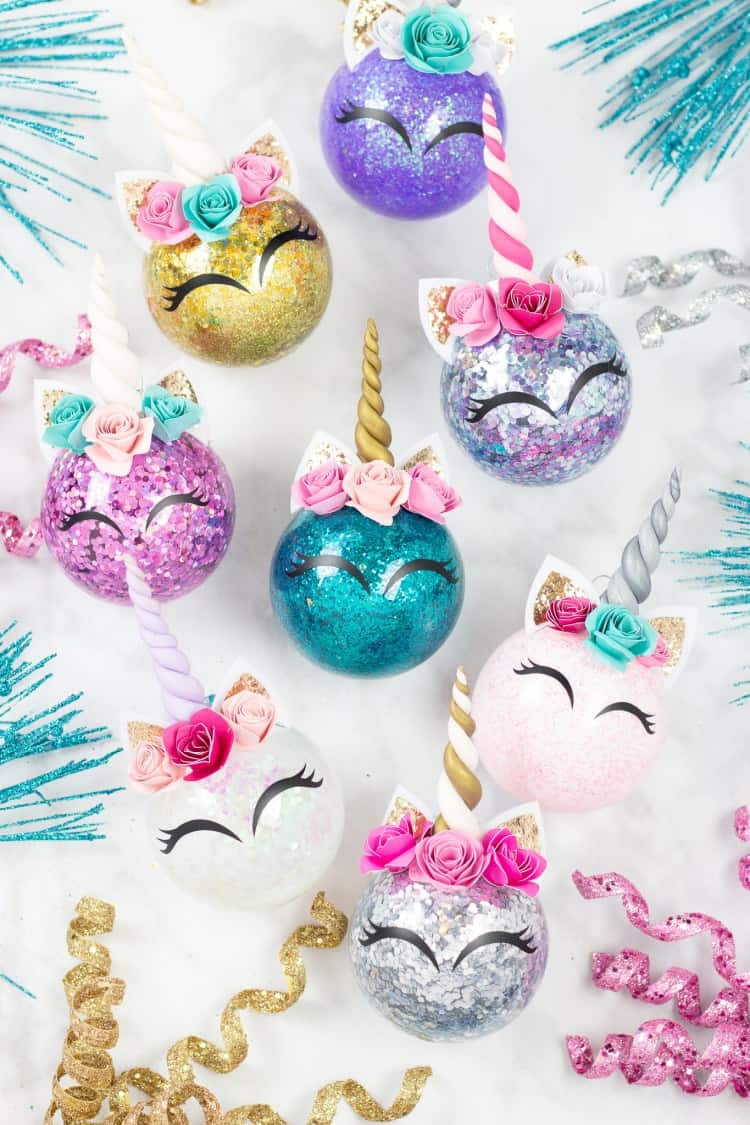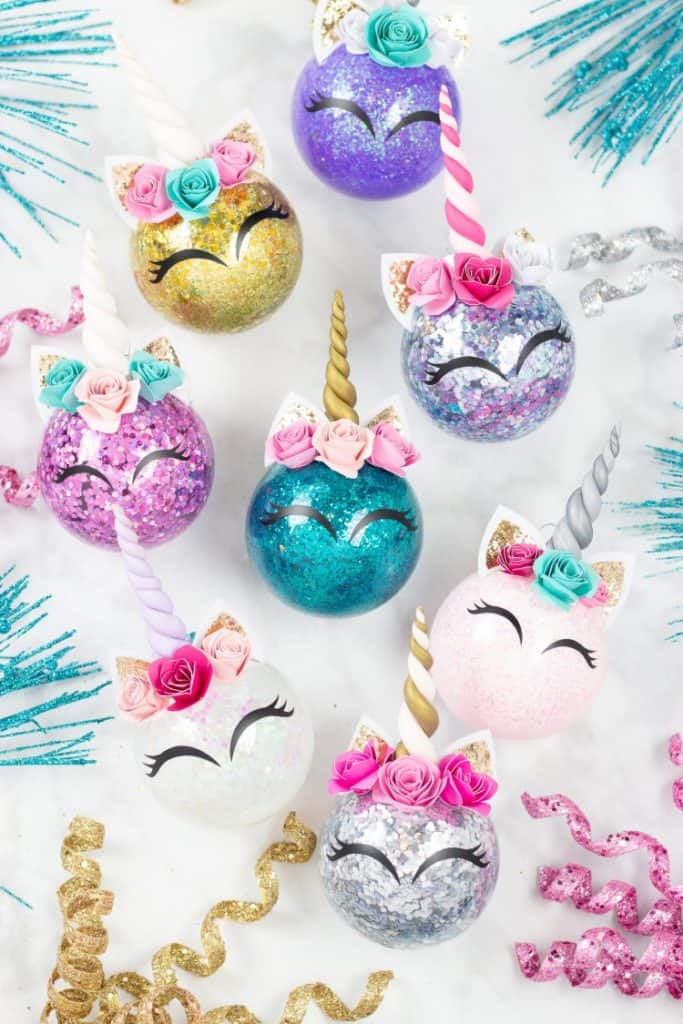 A glittery version can be made with a clear glass or plastic ornament and vinyl eyes made on a cricut machine but you can also use a Sharpie. It would make a beautiful gift.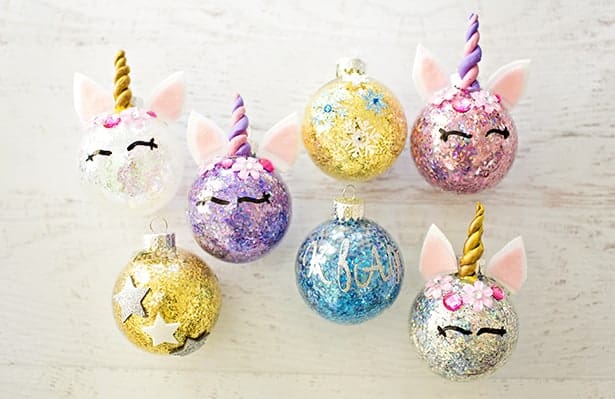 Customize the back with a name, initials, a message, or date to make a truly magical keepsake ornament.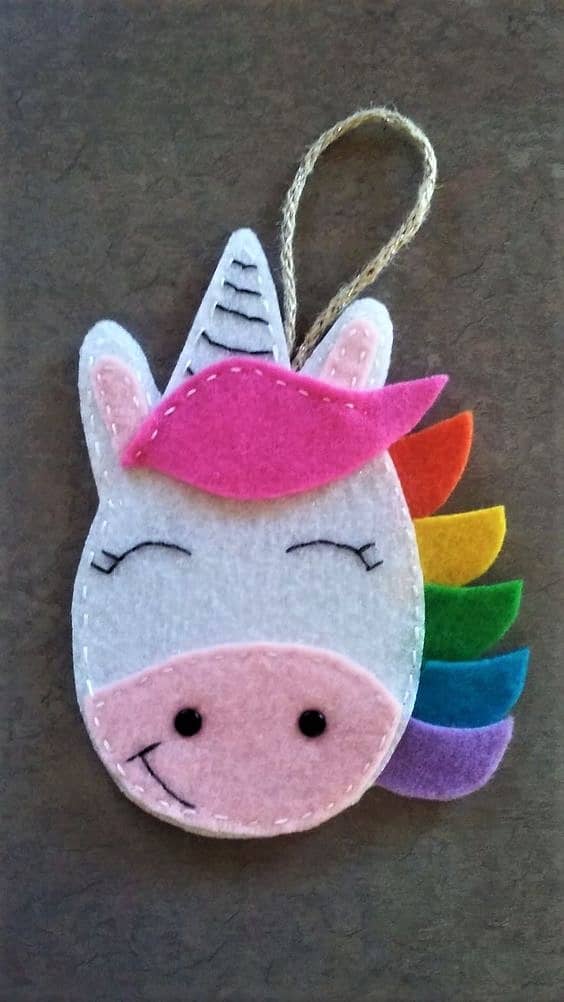 Cut felt into shapes and glue together to make an easy felt Unicorn. Use a sharpie marker for the face. You can also assemble it with stitches.
EASY DIY NINJA TURTLES CHRISTMAS ORNAMENTS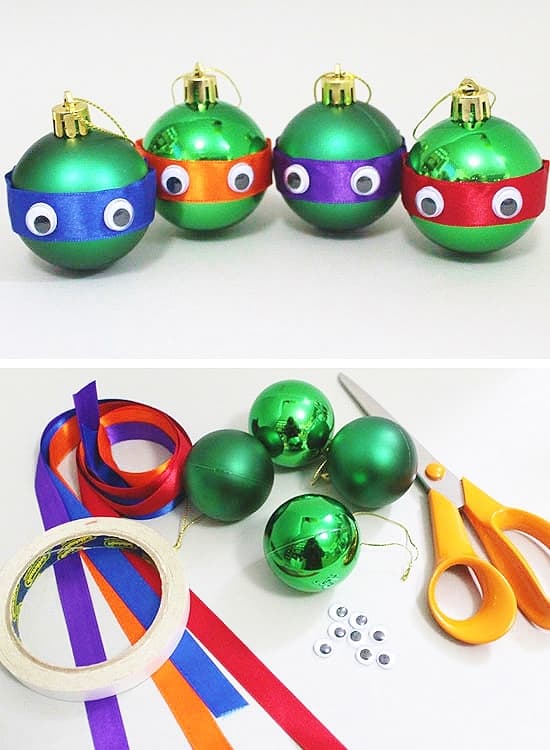 Ninja Turtles are just too easy NOT to make. Green ornaments, ribbon, and google eyes are all it takes to add ninja power to any tree. This is a great option if you're throwing a Christmas ornament making party for kids.
DIY COMIC BOOK CHRISTMAS ORNAMENTS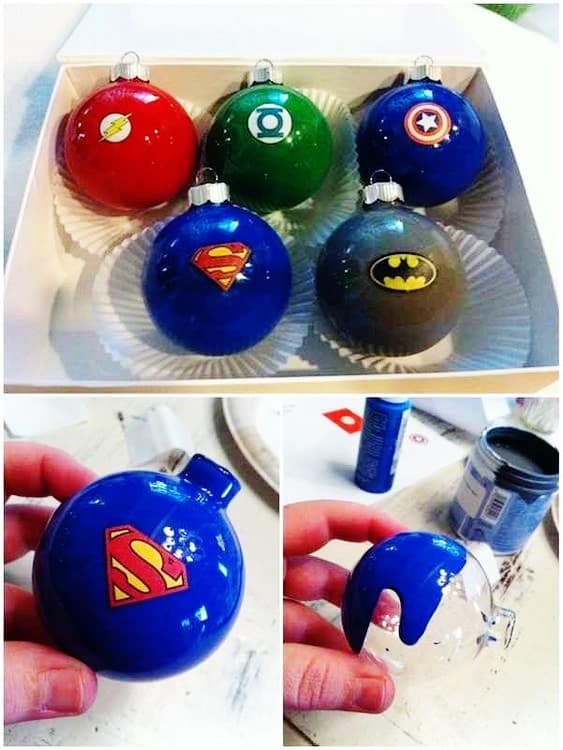 As huge Marvel fans we're obsessed with superheros! Luckily super hero ornaments are super easy to make!
Pour some acrylic paint into a clear glass or plastic ornament, swish around till coated, and let dry.
Print out a super hero symbol of your choice, cut out, glue to the front, and BAM you have your very own super hero ornament that looks store bought.
You can also paint the outside of a glass ornament with spray paint or acrylic paint.
Gift them individually or together in a group, both adults and kids will love them.
DIY PLEDGE GLITTER CHRISTMAS ORNAMENTS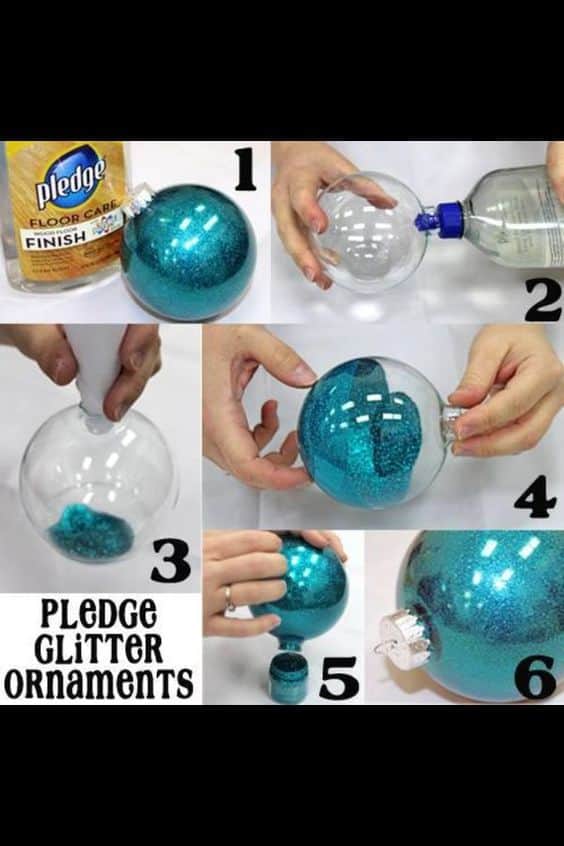 This is one of the easy methods we use to make many of the glittery ornaments on this list. All you need is a clear ball ornament, Pledge floor cleaner and some glitter or pigment (bust out the old eyeshadows). It works like a charm.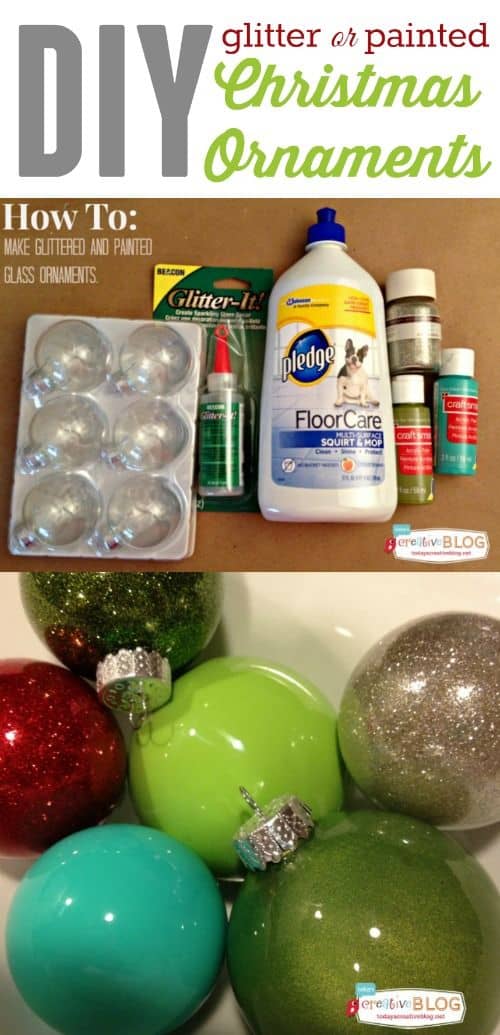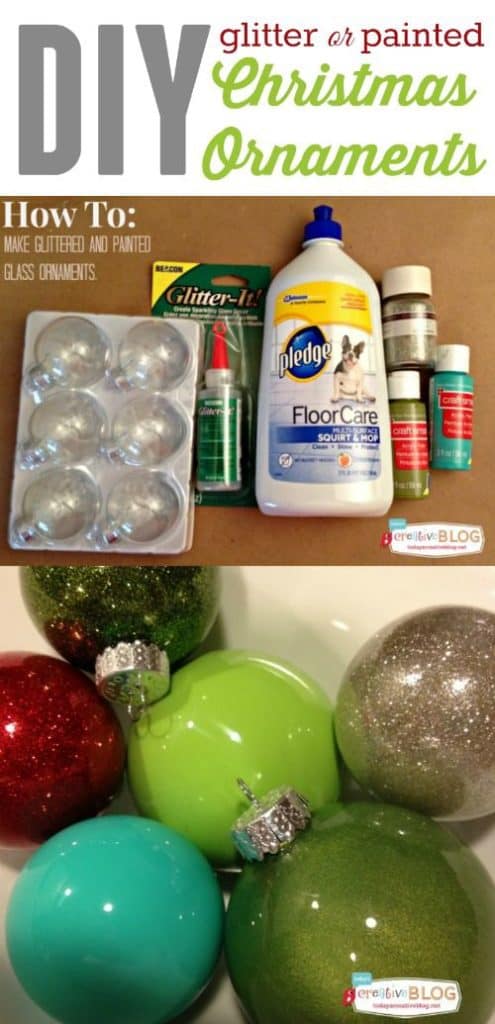 The great thing about the Pledge method is you can make any color you want. The color customization allows you to make your very own designer tree color palette.
EASY DIY M&M CHRISTMAS ORNAMENTS GIFTS
Use the above Pledge method to make easy DIY m&ms ornaments for gifts!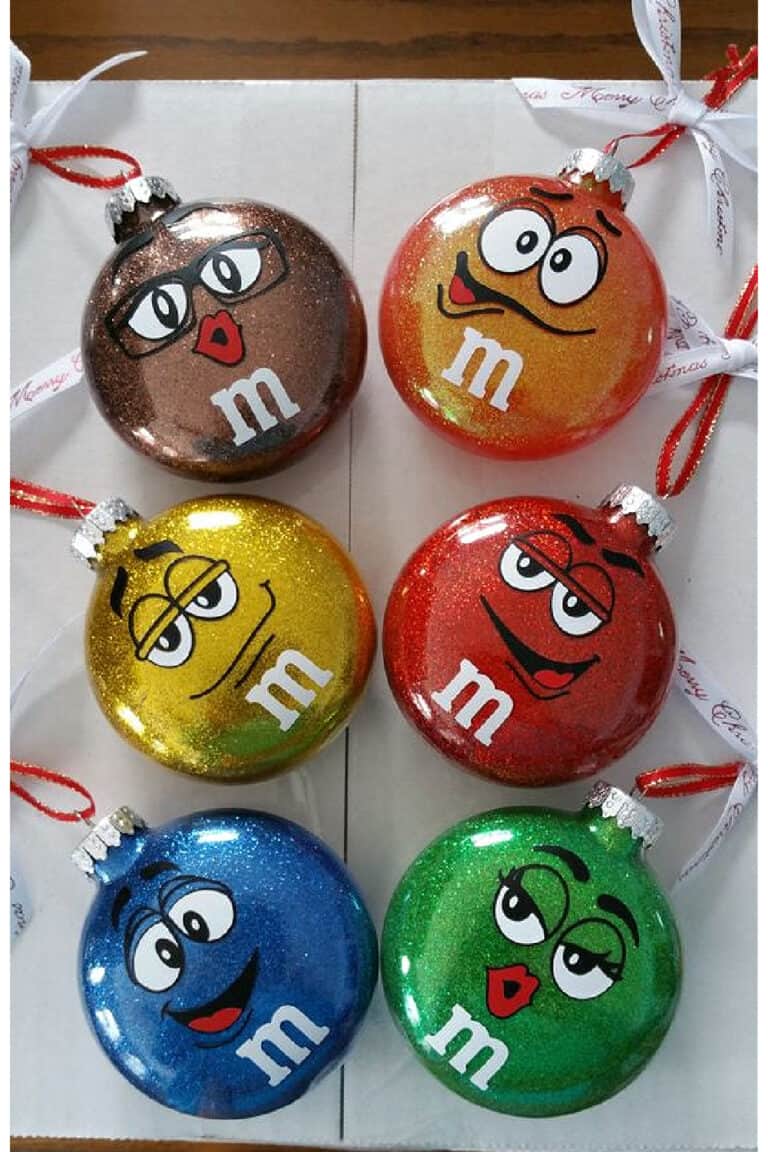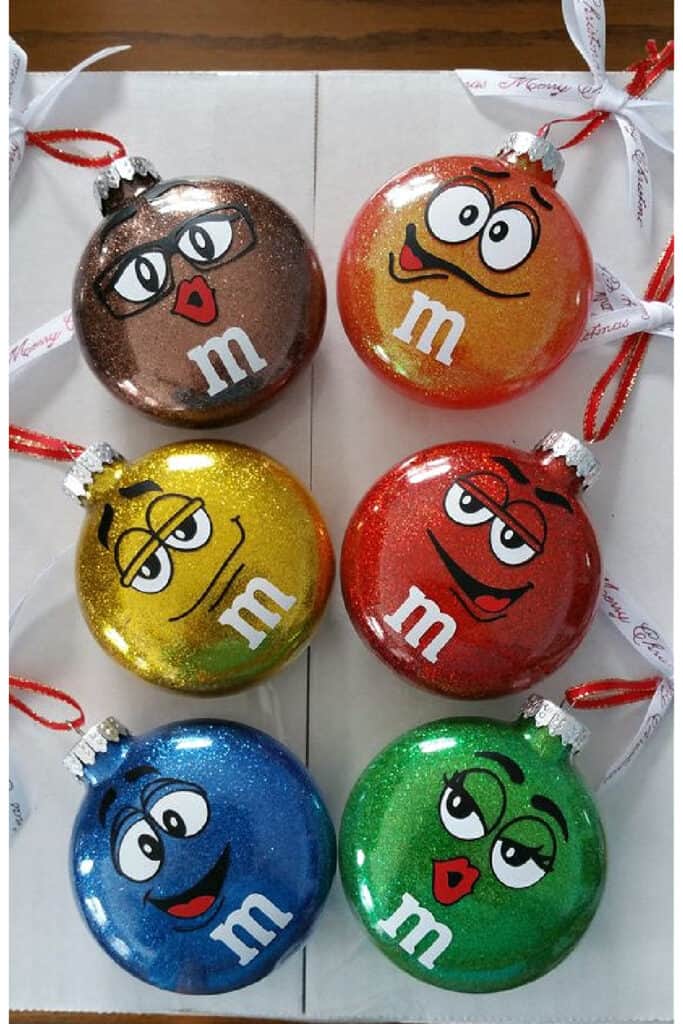 These make great gifts, crafts to sell, or Christmas kids craft! You can purchase the clear ornaments here on amazon and use the Pledge glitter method above o fill them. The faces are easy to make by uploading the face images and logo to a cricut machine that will print it out for you, or use paint or paint pens, and even markers!
DIY CHRISTMAS VINTAGE LIGHT BULB ORNAMENTS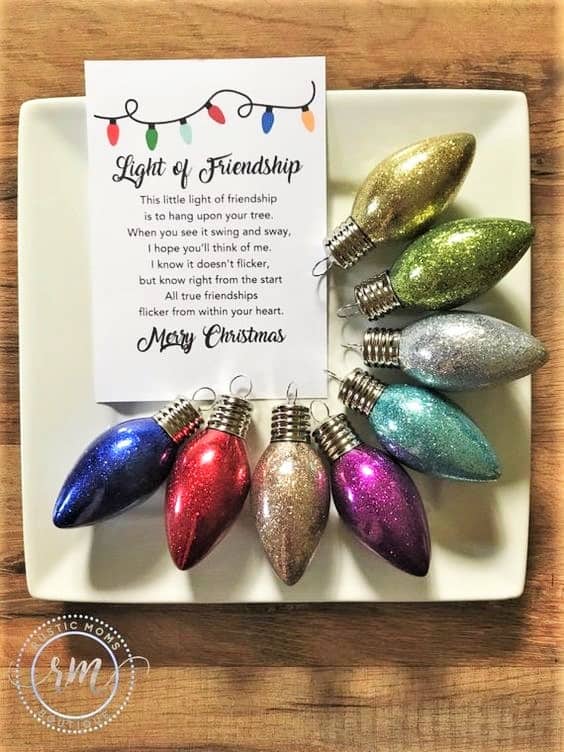 Make an easy and cheap yet thoughtful gift for friends using clear bulbs and the Pledge Glitter or Paint method.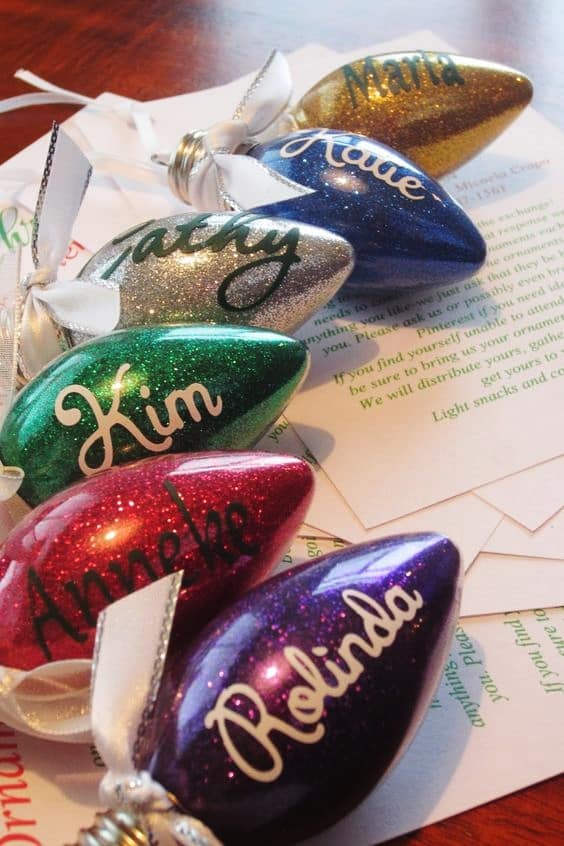 You can customize your ornament with vinyl using a Cricut machine, you can also use puffy paint to draw on names or initials.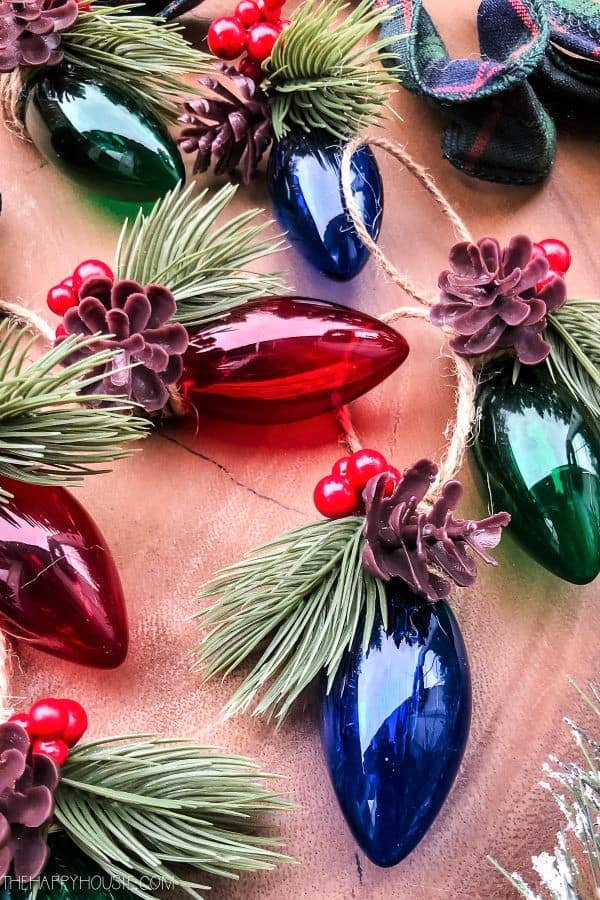 You can purchase clear bulb shaped ornaments at Michael's or on amazon.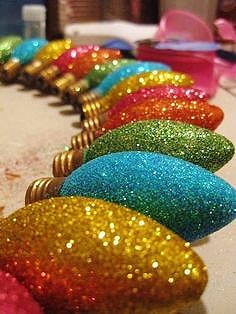 Roll your burned out bulbs in glue and glitter. Spray with hairspray to seal the glitter and use a string or ribbon to hang on the tree.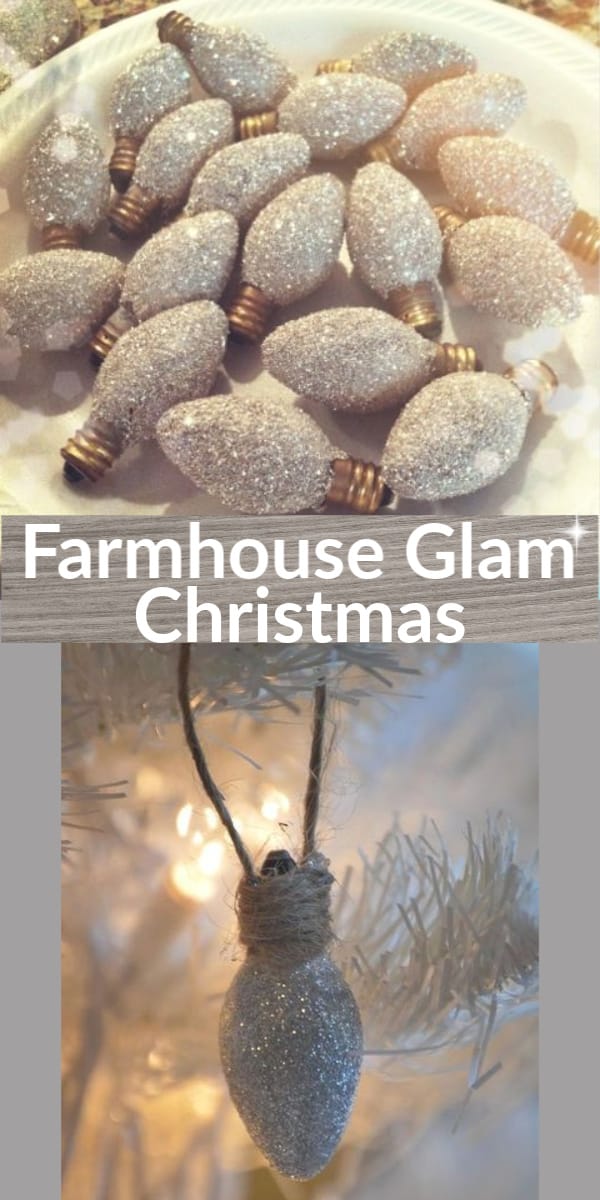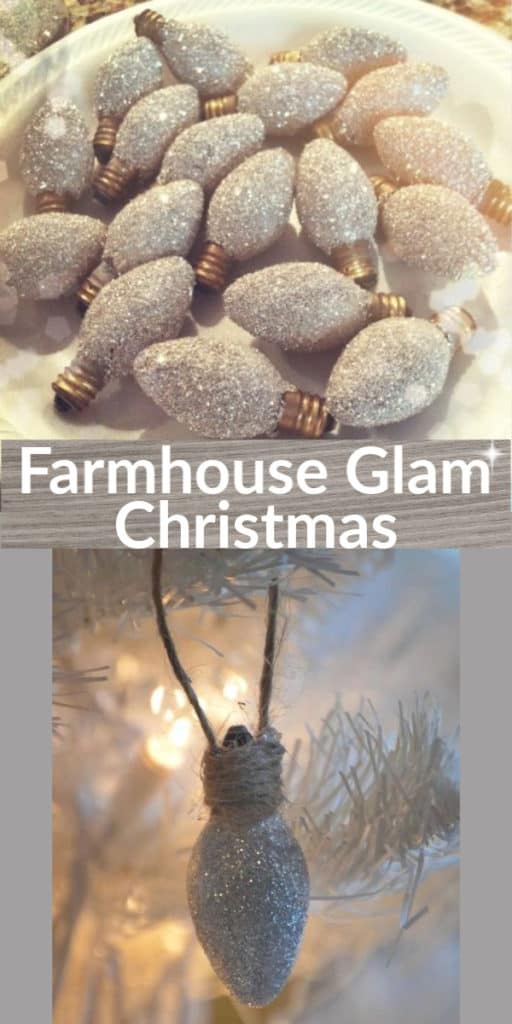 Use rope, mod podge, and silver glitter for a Farmhouse Glam look. You can also use the Pledge method to coat the inside with glitter instead.
ACRYLIC PAINT MARBLE ORNAMENTS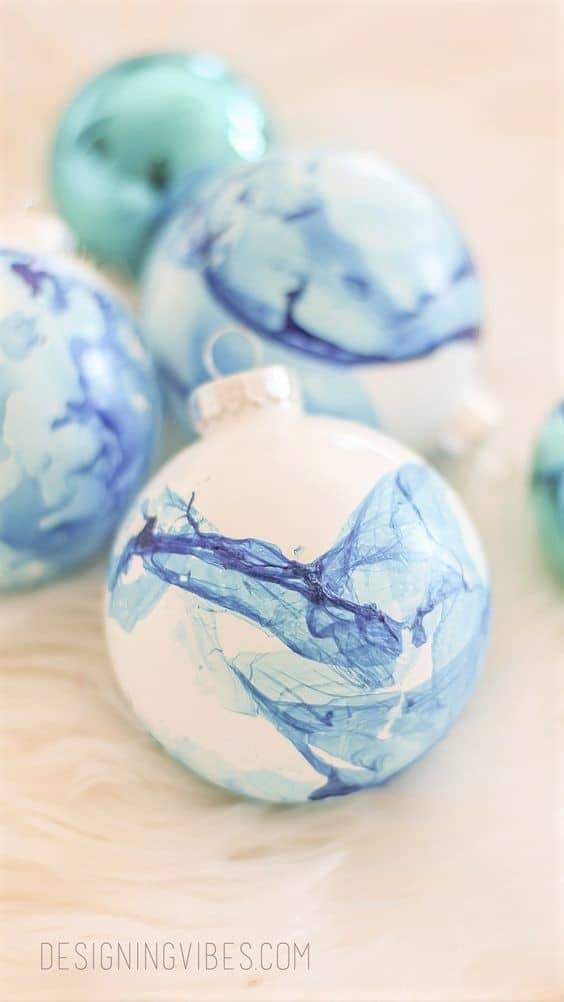 Pour acrylic paint into a glass ornament to make these easy marble ornaments for a chic Christmas tree decor idea.
DIY GRINCH GLITTER ORNAMENT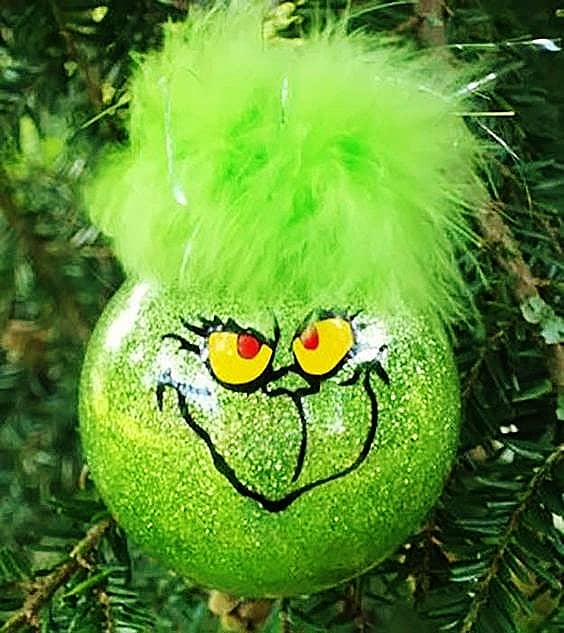 With the animated Big Screen version coming out for Christmas this is sure to be a hit for all ages. You can use an old green ornament or use the Pledge glitter method on a clear ornament along with a sharpie ( or an alcohol or gel marker), some acrylic paint, and feathers. That's basically it. If you want to use a Cricut, you can do that as well.
DIY NIGHTMARE BEFORE CHRISTMAS ORNAMENTS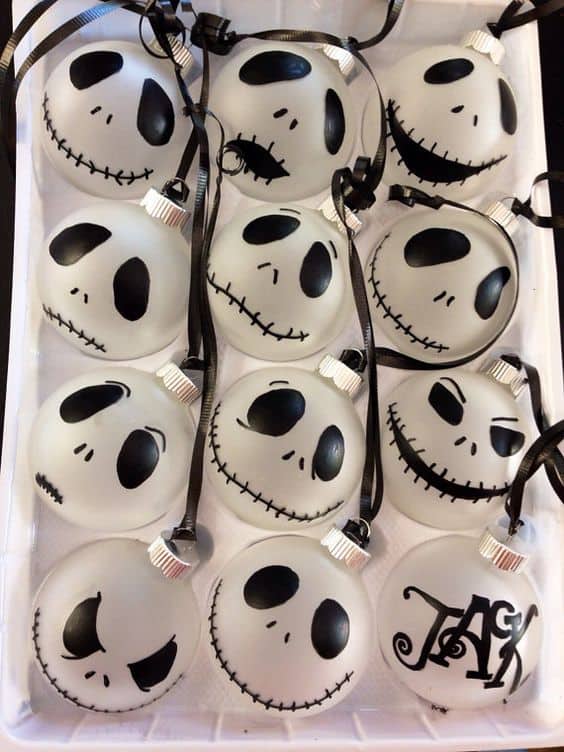 Jack Skellington ornaments are so ridiculously easy for kids to make and millennial adults love them!
We found these on Etsy and were able to easily recreate them. You can use either frosted ornaments or styrofoam balls and a Sharpie marker or even a Cricut. This Christmas classic will never go out of style.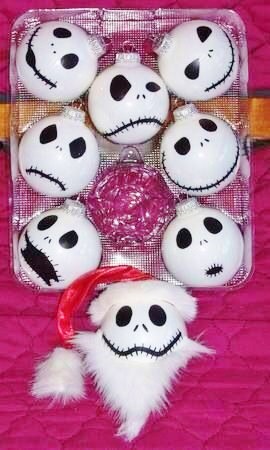 You could also paint, or just coat the inside of a clear plastic or glass ornament with acrylic paint.
We're dying to make a glow in the dark version using glow in the dark paint.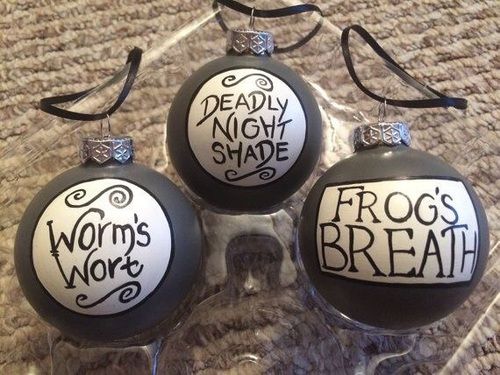 Use paint and sharpies to make Nightmare Before Christmas potion ingredients. If you have some glow in the dark nail polish left over from Halloween try painting a coat or two over the white labels.
DIY MINNIE & MICKEY MOUSE DISNEY CHRISTMAS ORNAMENTS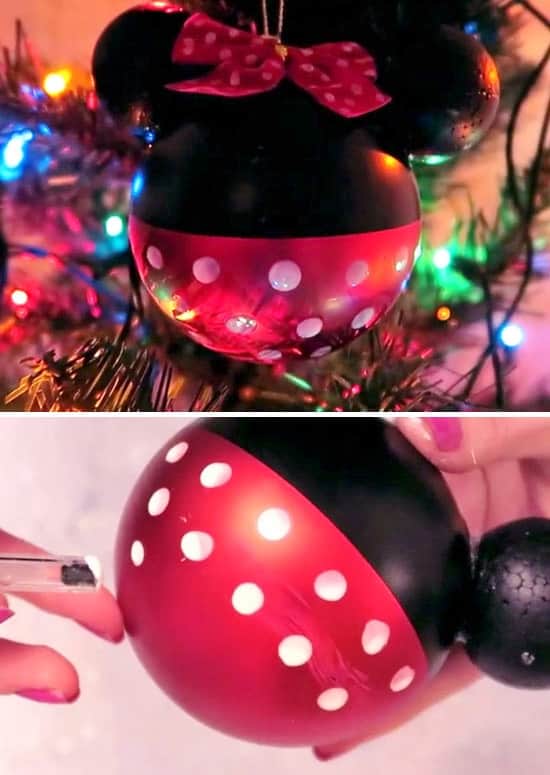 Continuing with the Disney theme, Minnie and Mickey Mouse ornaments are so ridiculously easy to make.
Just start with a standard red ball ornament and paint the top half black. Glue on styrofoam balls painted black or use smaller black ball ornaments for the ears, and white acrylic paint for the dots.
You can also use the Pledge method to coat the inside of a glass ornament with black glitter, and dip the bottom half of the ornament in red glitter.
Roll the ears in black glitter after painting. Add a bow and polka dots for Minnie Mouse or two buttons for Mickey.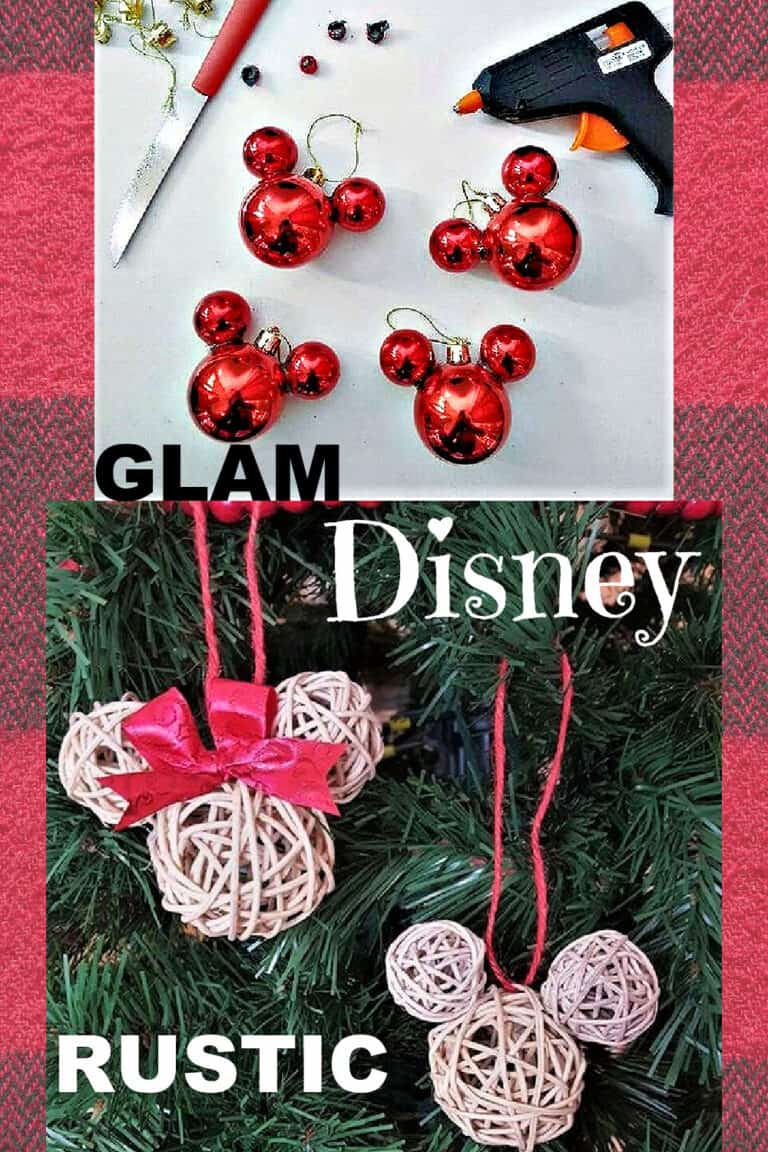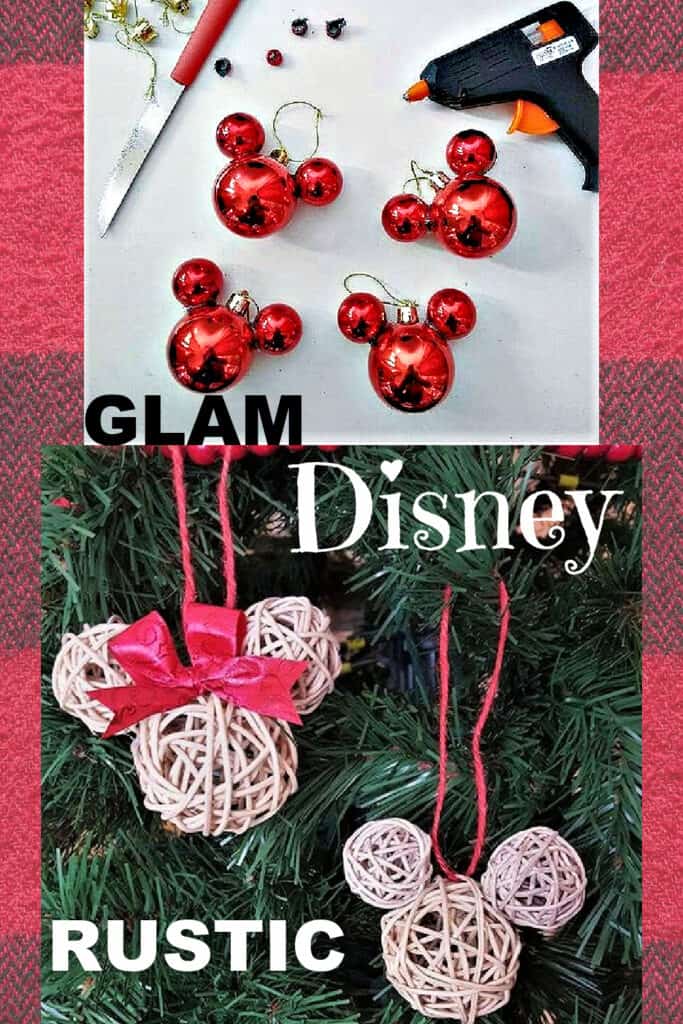 DISNEY STRING ORNAMENT TUTORIAL
Kids can make, sell, or gift these easy Dollar Store Disney Mouse ornaments in both rustic and glam designs.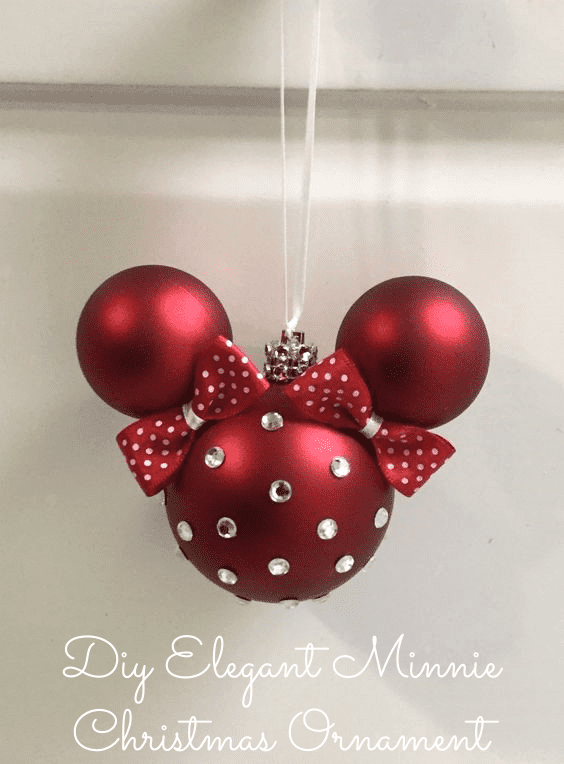 Have fun adding elastic hair bows and rhinestones for an elegant look! You can also use thin ribbon or metallic string to hang.


A tale as old as time deserves its own Christmas ornament. You can use a bud or fully bloomed fake rose to recreate the enchanted Beauty and the Beast enchanted rose. You can find the plastic ball ornaments on amazon.
DIY DOG ORNAMENTS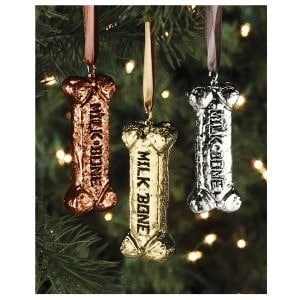 Don't forget your pooch! Spray paint a dog biscuit, toy, or treat with metallic paint for an easy fur baby keepsake.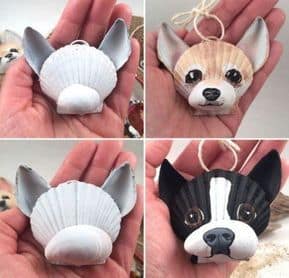 If you have some spare seashells hanging around glue them together to make a copy of your pooch! For floppy ears glue the shells pointed down. Add paint and glue on string.
DIY FINGERPRINT CHRISTMAS ORNAMENT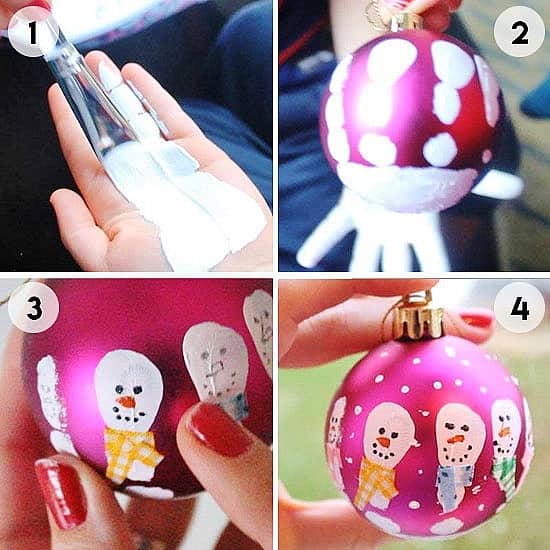 Honestly you can paint anything on an old ornament with acrylic paint but a customized print ornament is a great option for little fingers. Even an infant can take part in making a fingerprint ornament and the outcome is adorable and festive. Use any color ornament you want.
KIDS PONY BEAD CHRISTMAS ORNAMENTS
Get out your beads for an ornament making party. Beaded ornaments are like the new gingerbread house. They're growing a cult following as a favorite Christmas craft.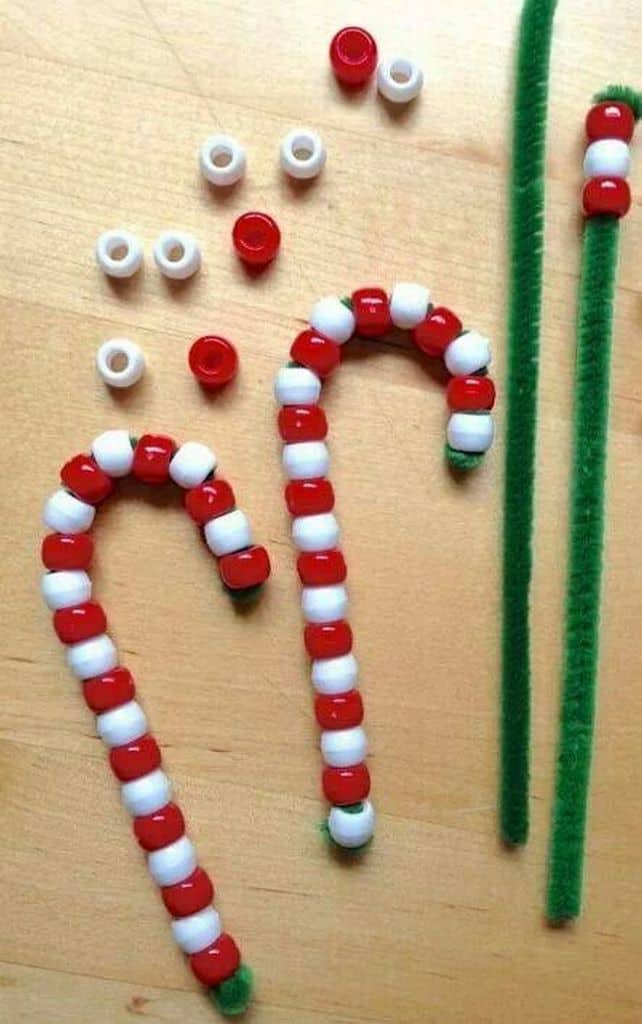 You can use any type of beads (even pre school beads) and supplies you may have around the house; from sequins to pipe cleaners to push pins.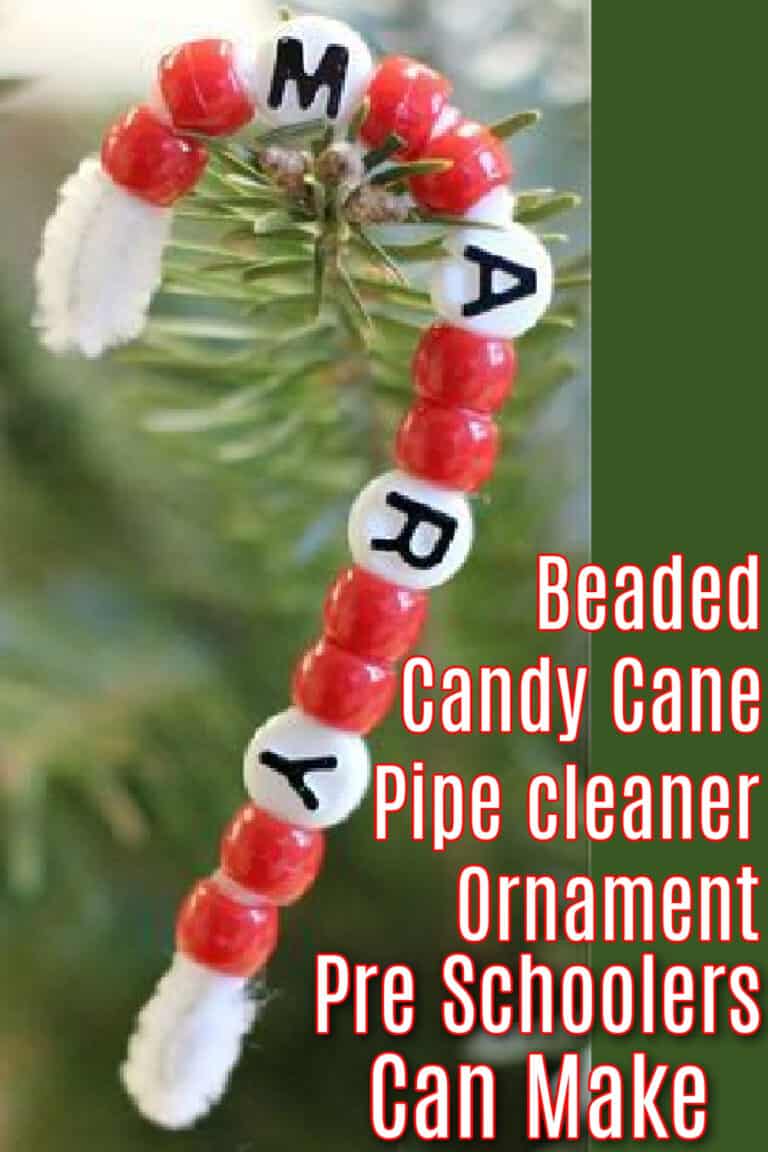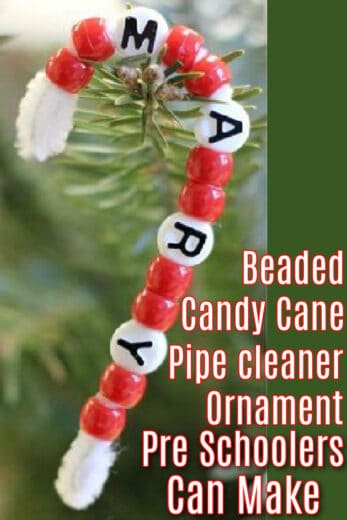 These would be a great activity at a party that even pre schoolers can make for the tree or as gift labels!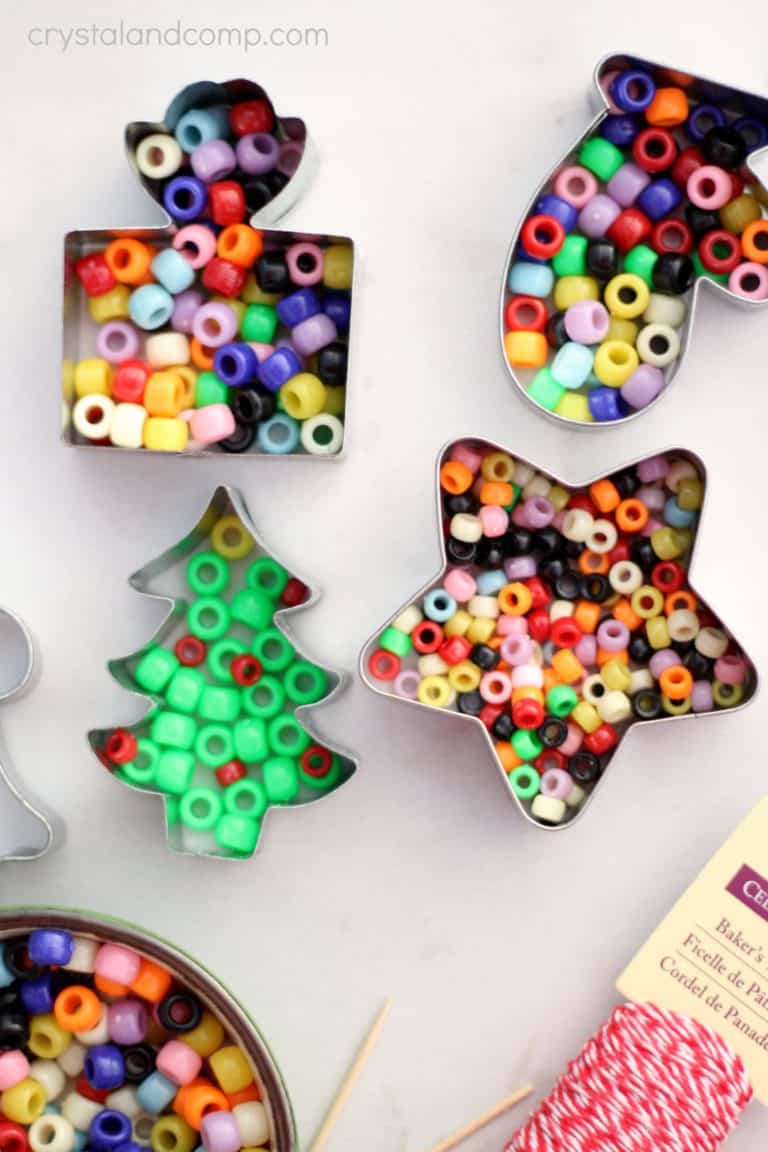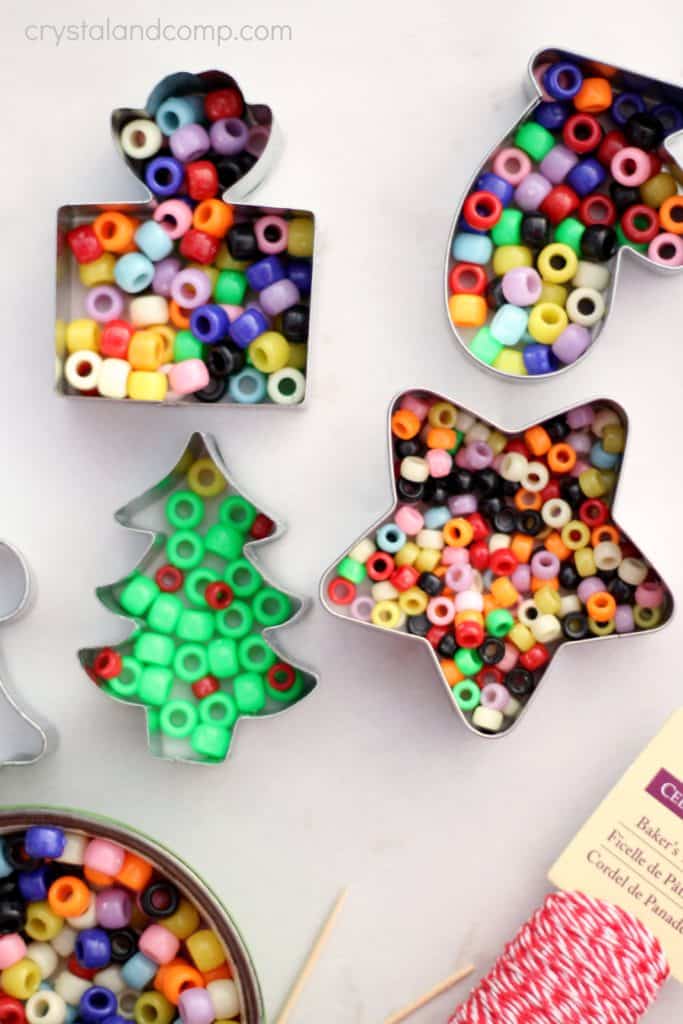 If you chose color lights on your tree this year you can easily make beautiful colorful ornaments by baking kids opaque Pony beads in the oven.
It's the perfect way to keep all of those beads after your kids out grow them and makes a beautiful keepsake gift for family and friends.
The plastic Pony beads can give off a smell when baking, if this is a concern for you you can bake them even faster using the outdoor grill. Some people have even taken their toaster oven and baked them outside.

If you use clear or transparent Pony beads they'll have a stained glass effect when baked and look beautiful when illuminated by Christmas tree lights. You can bake them in many shapes and sizes easily by using a cookie cutter.
They can also be used to make sun catchers for summer making them the perfect gift.
You can make cut outs using a DIY salt dough recipe made of salt, flour, and water and place transparent Pony beads in the center before baking.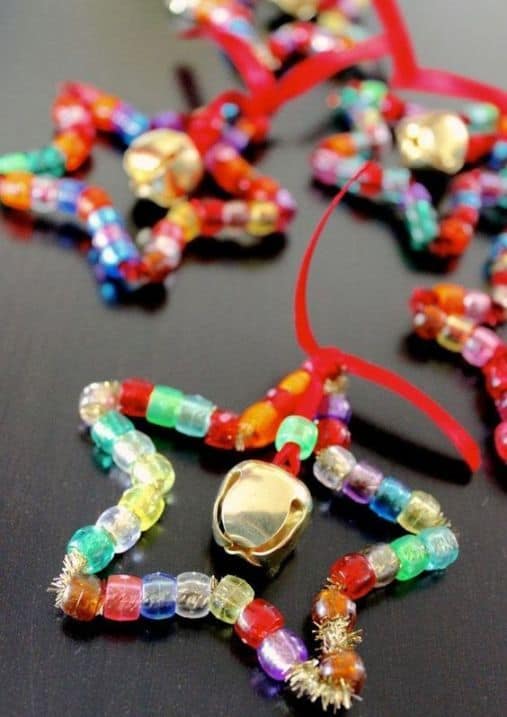 Kids can string their plastic beads on pipe cleaner and shape them around a cookie cutter of choice. Get creative and use any festive additions.
DIY BEADED ORNAMENTS FOR TWEENS, TEENS, AND ADULTS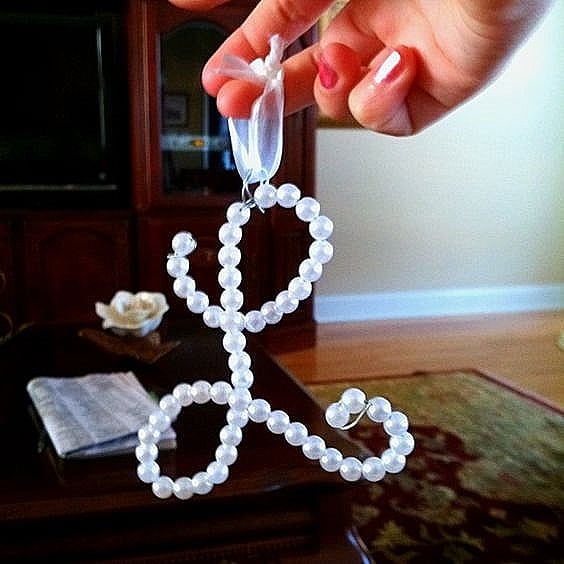 Load pearls or beads onto wire and shape into a letter, this would also be beautiful for a party, a gift tag, or wedding decoration.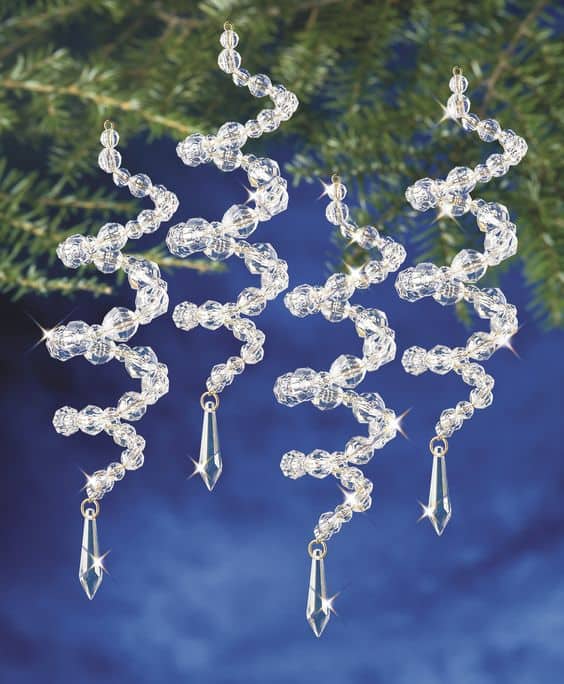 Load beads on to wire and shape around a wooden spoon handle to make spirals.
Hang them by bending excess wire at the top into a hook to hang on the tree, or make a small loop at the top and thread it with clear string or even fishing wire.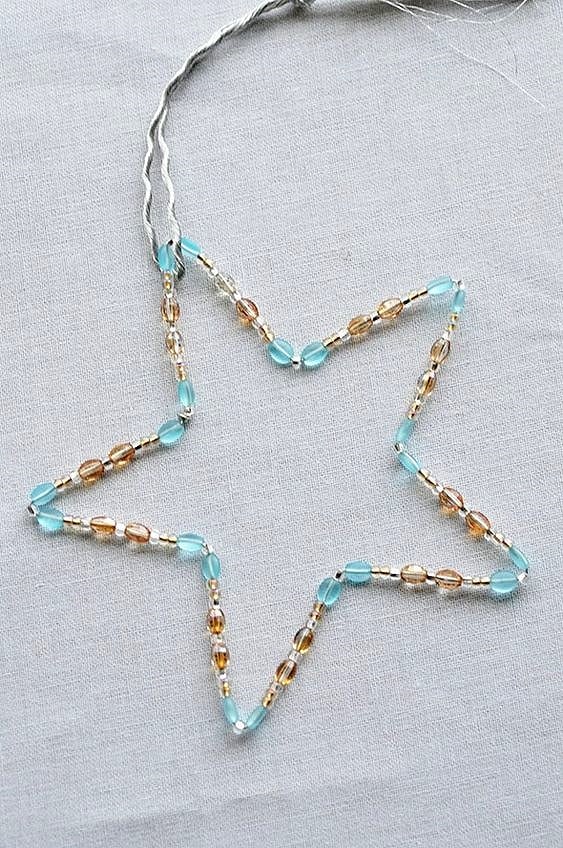 You can make some ridiculously easy beaded ornaments with cookie cutters. Just use some wire (the one pictured uses copper wire) and thread with beads. Shape it around a cookie cutter, add string and you're done.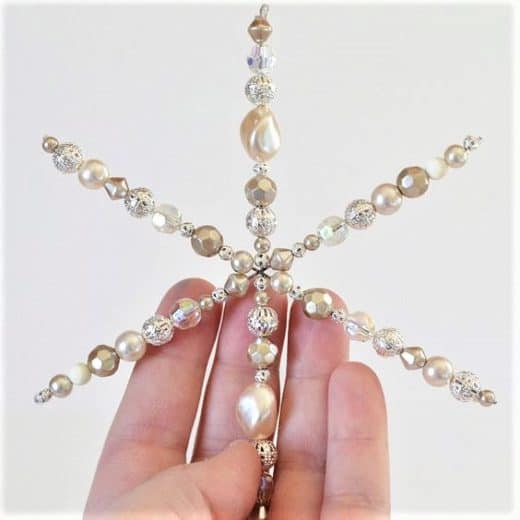 Make an easy yet beautiful beaded snowflake to gift or use as a Christmas decoration. All you need are beads, glue, and wire.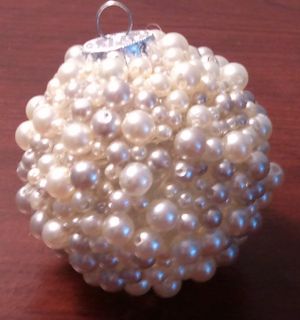 Whip out your glue gun (or elmer's for kids) and any beads, pearls, sequins or glitter you have lying around. Any old ornament will do or styrofoam ball.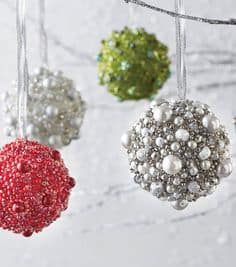 When our puppy ripped up our favorite beaded purse we put the beads to good use making beautiful ornaments. Use different size beads for an elegant vintage look that you can even use for December wedding decor.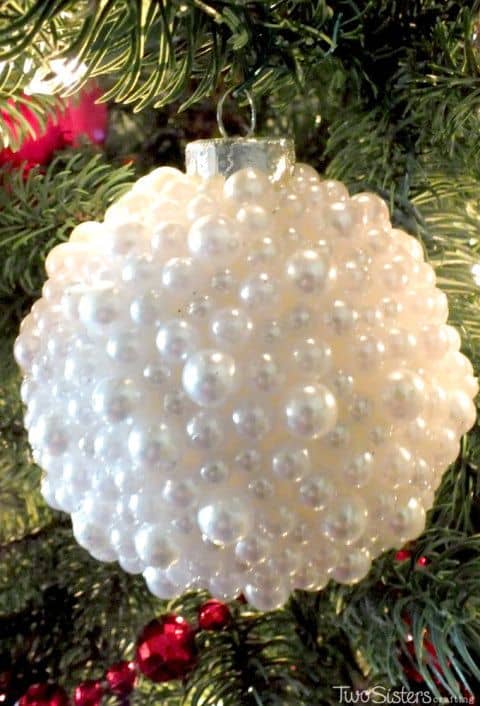 You can even use a glass ball ornament instead of styrofoam. Paint the glass ball ornament first before gluing on beads if you'd like, or just fill the glass ball ornament with the beads or pearls!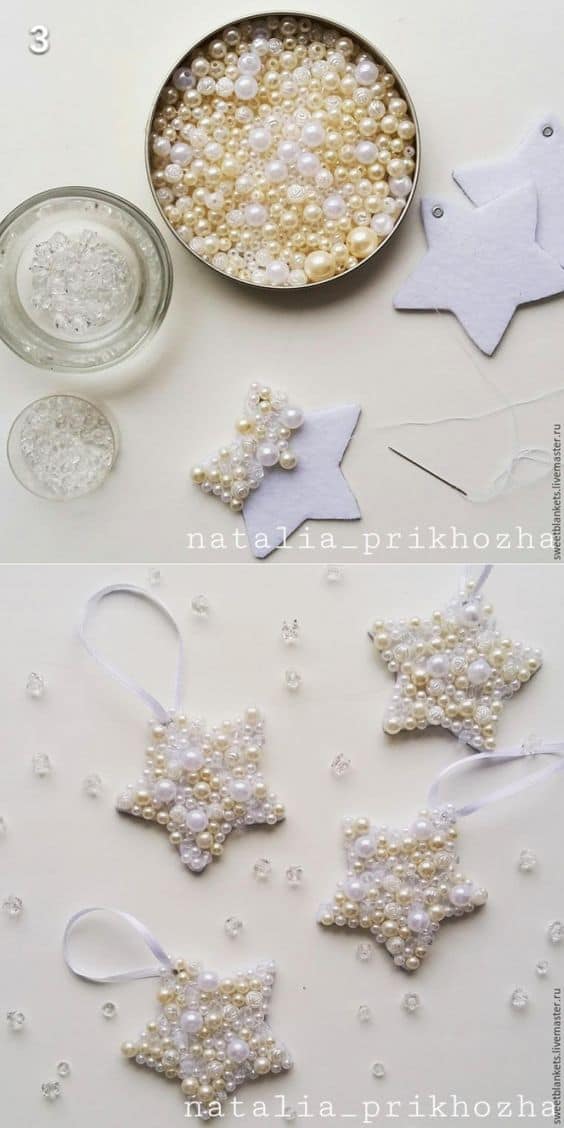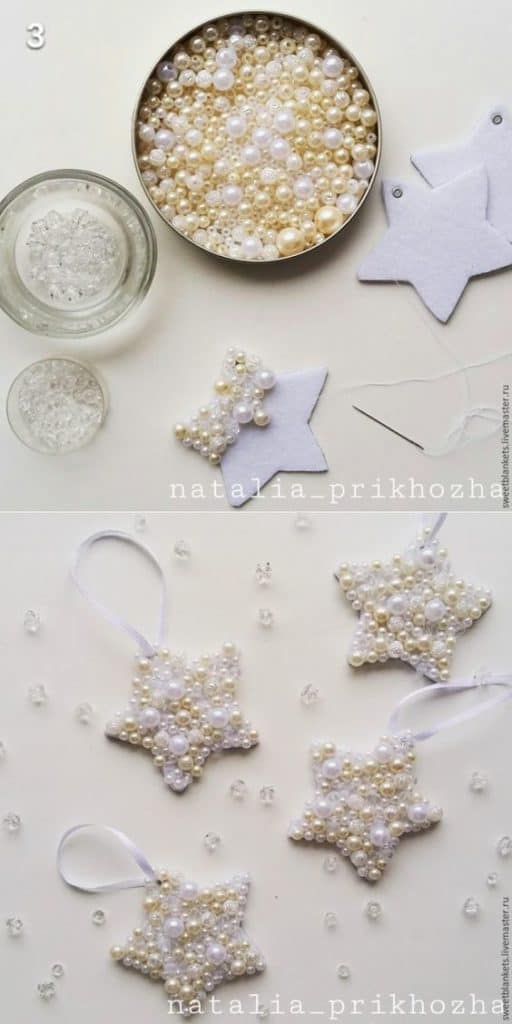 Don't have balls? Glue pearls and beads on cardboard using a glue gun (or craft glue). Paint the back or glue more to the back to make it double sided. This is a fool proof method even kids can do.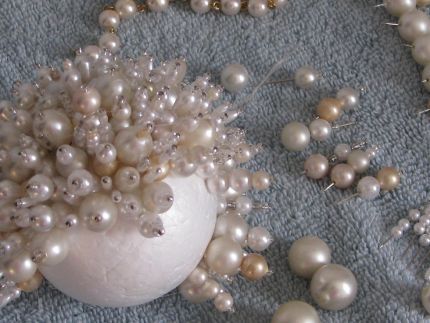 Use sewing pins, pearls and a styrofoam ball but reserve it for only teens and adults to make (no kids). Just add a bit of glue to the tip of the push pin before inserting it into the styrofoam so it won't come out.
It makes a stunning art deco ornament you can use for Christmas decor or even a December wedding.
This is a great gift idea for an adult.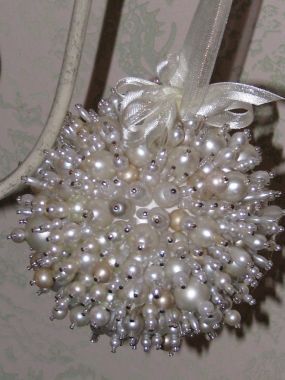 You can use old pearls from a handbag or even wedding dress for a sentimental ornament.
DIY SEQUIN DECCO PUSH PIN CHRISTMAS ORNAMENTS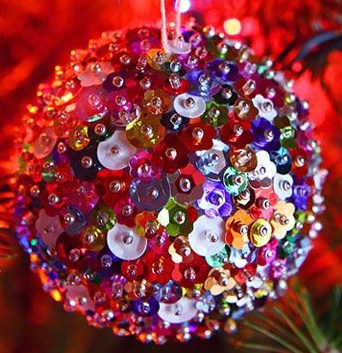 Don't stop at pearls, use sequins, beads, and anything you can stick a push pin through. When layering sequin or push pin ornaments place your first sequin or push pin at either the top center or bottom center and start layering from there.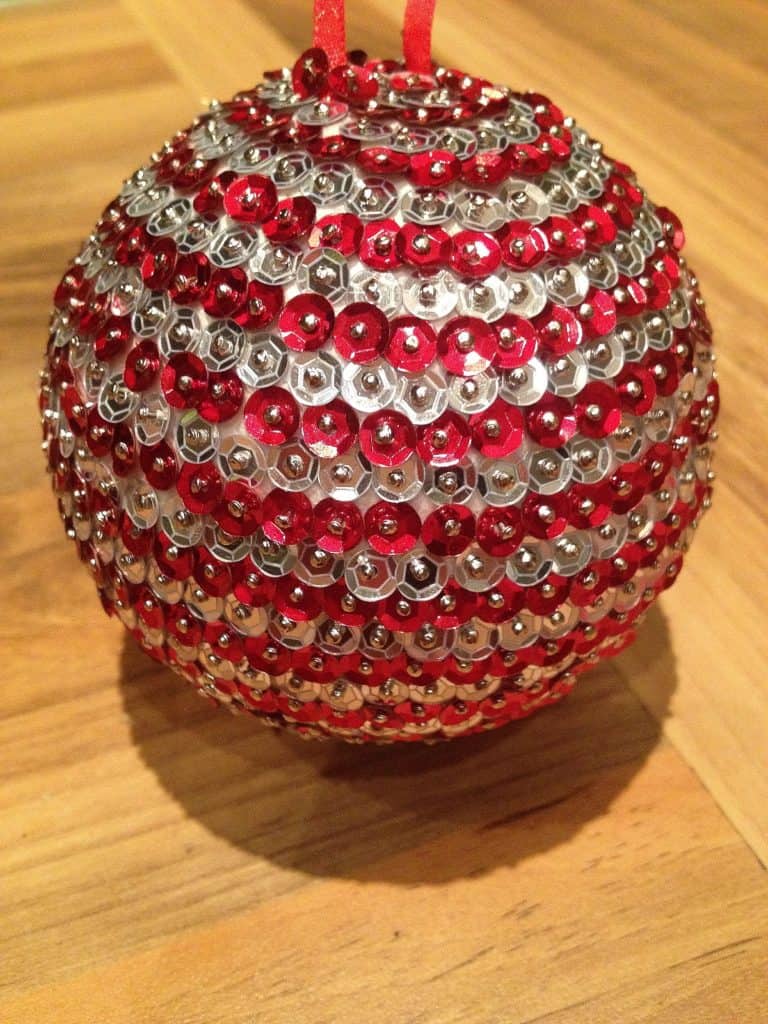 You can use multiple colors for a more dynamic look. There is so much freedom with these. You can make different colored patterns with the sequins and push pins.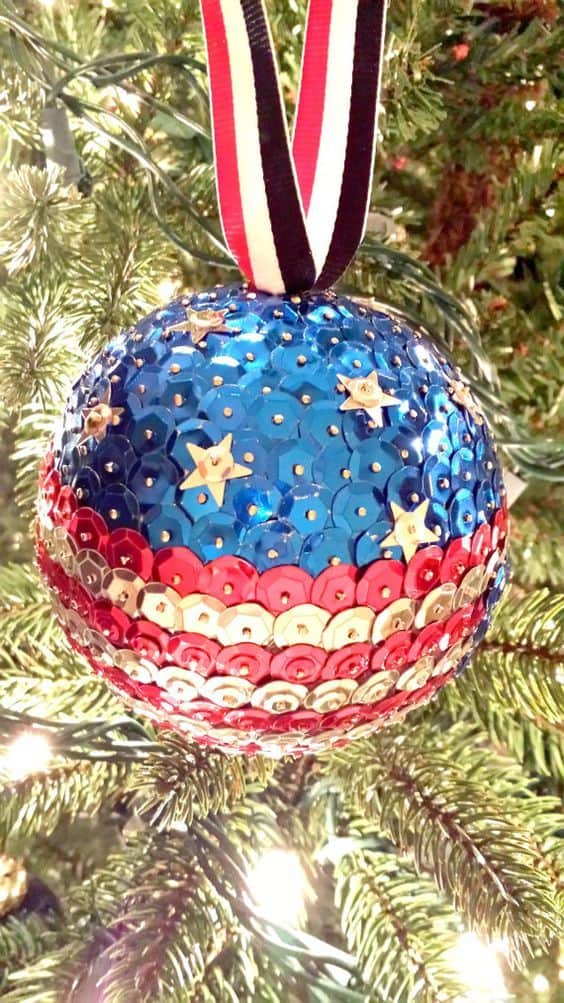 These ornaments can take time and patience to make but it's up to you to decide if the results are worth it.
The possibilities are endless with these push pin ornaments, but the results are always extraordinary. They are honestly jaw dropping and look not only store bought but expensive. Play around with different shapes and patterns.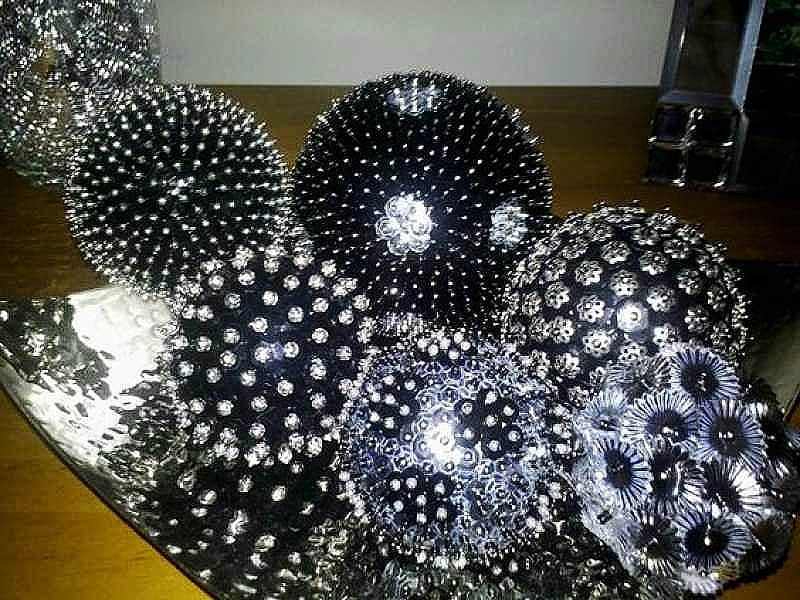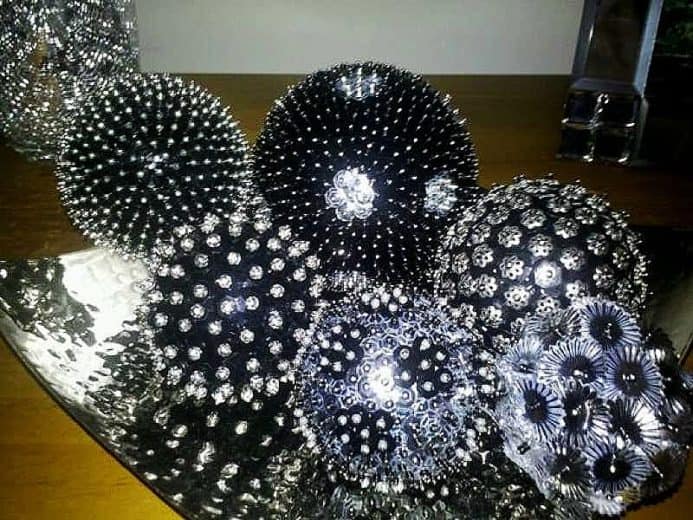 Make black ones for a man tree or glam tree and gold ones using brass thumbtacks for a New years Eve party decoration.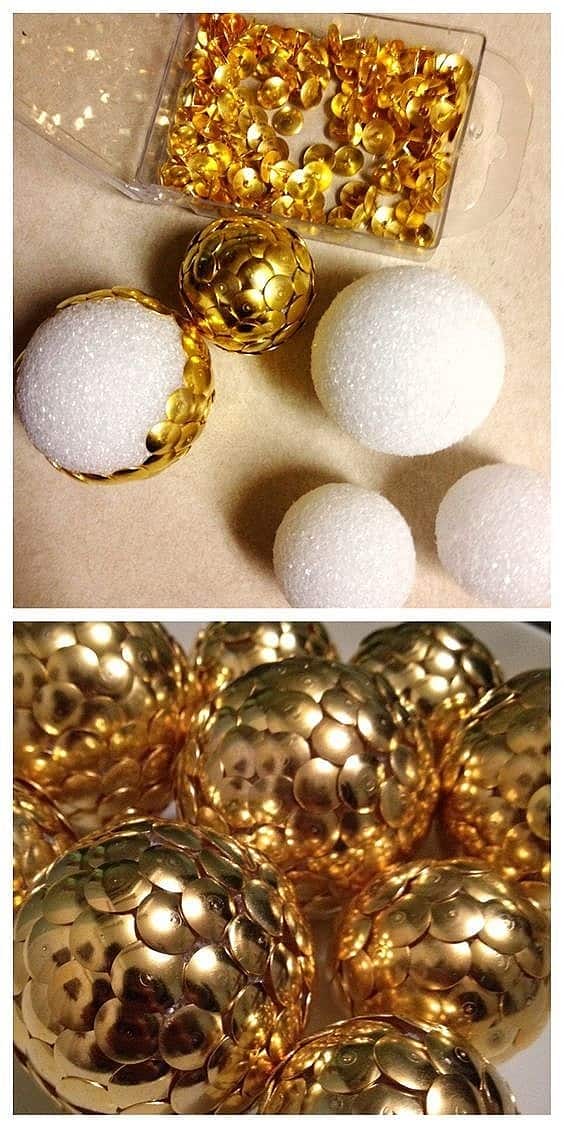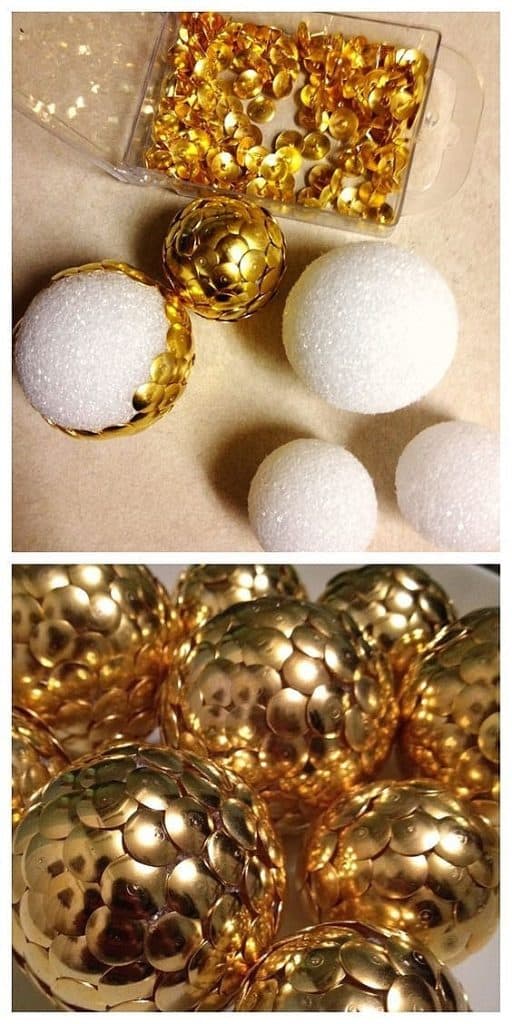 We used egg shaped styrofoam balls and brass thumbtacks to make gorgeous dragon egg ornaments.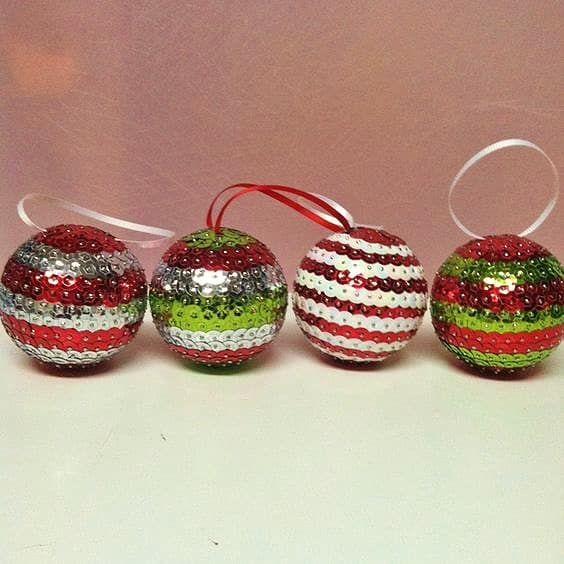 Beaded and push pin ornaments would make beautiful Christmas filler to put in an apothecary jar for your mantle or table.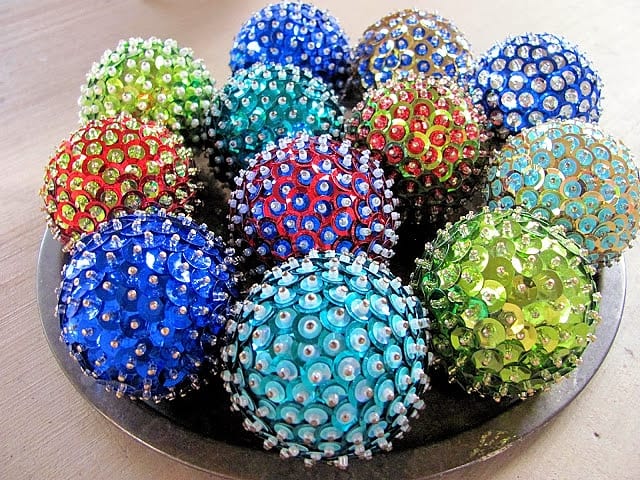 Get creative and layer beads and smaller sequins on top of larger sequins. Don't be afraid to use contrasting colors.
You don't even need to use them as ornaments, they would be gorgeous in a bowl on the table to enjoy year round.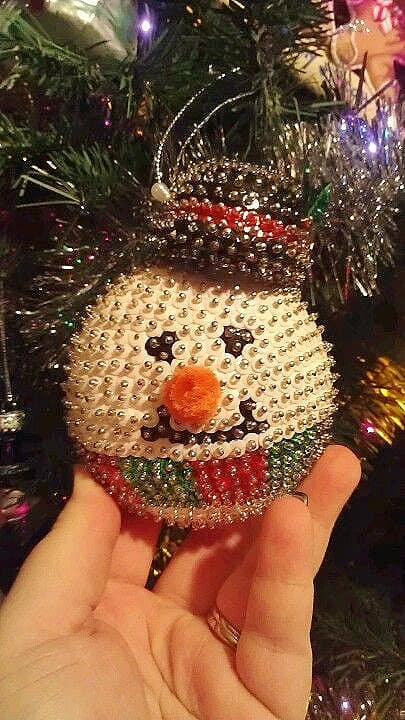 You can use any pattern or design you want, not to mention modeling it after any character. You could probably easily make a Jack Skellington push pin ornament.
WOOD BEAD CHRISTMAS ORNAMENTS DIY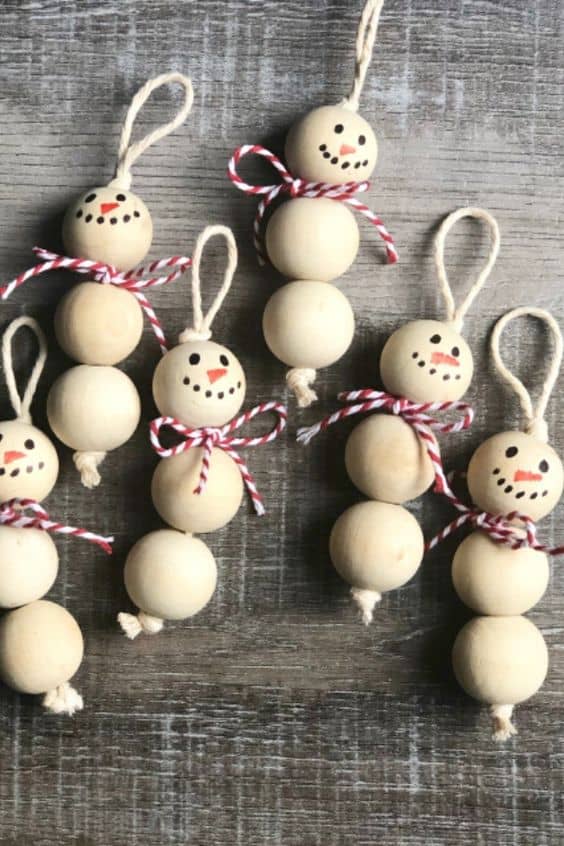 Wooden beads on string or twine make adorable Farmhouse snowmen ornaments. Just use sharpies for the face and string for the scarf.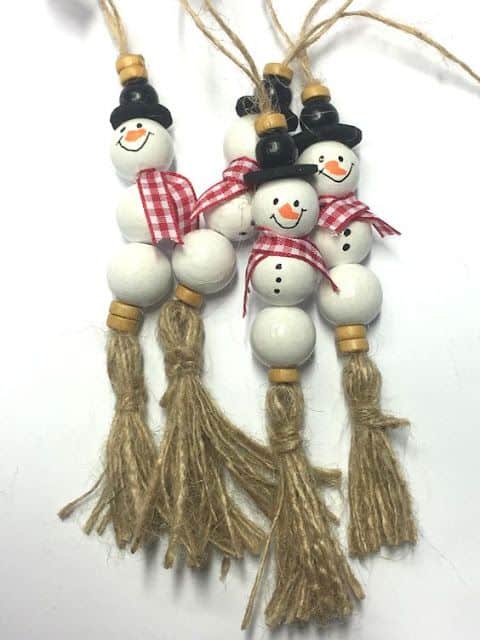 The above version uses white beads for the body, black beads for the hats, and diy twine tassels. The possibilities are endless.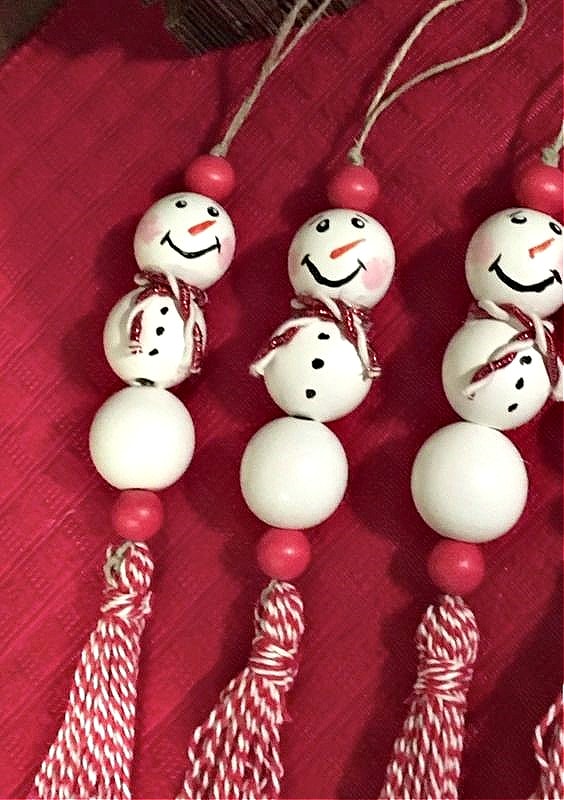 Add a tassel to the bottom with the twine and add different color beads to suit your tree!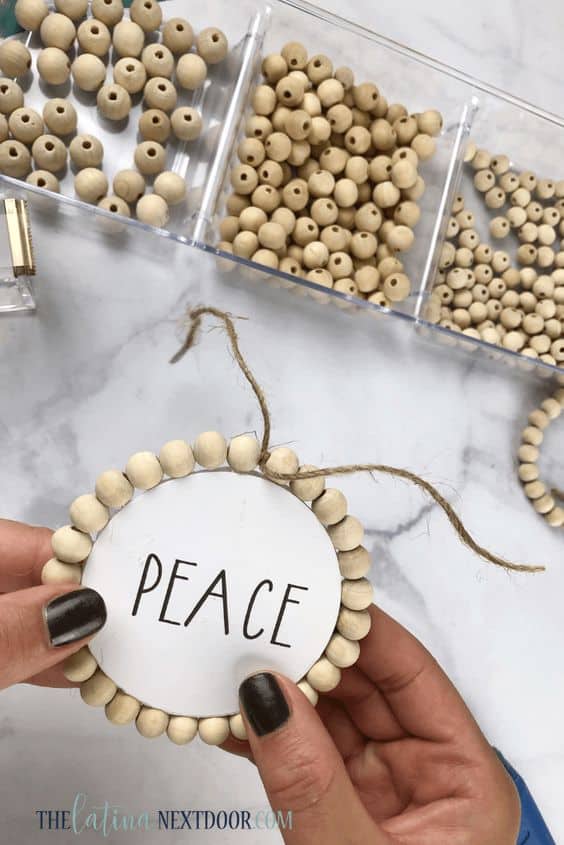 Wood beads from Michael's and Dollar Tree board were used to make this adorable FarmHouse DIY Christmas Ornament with an uplifting word!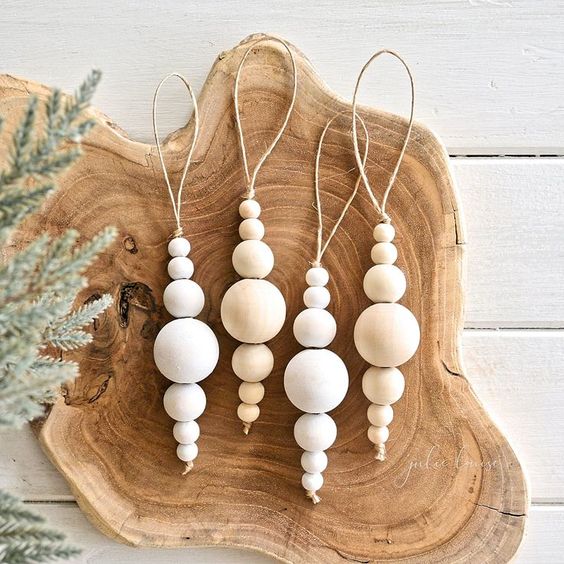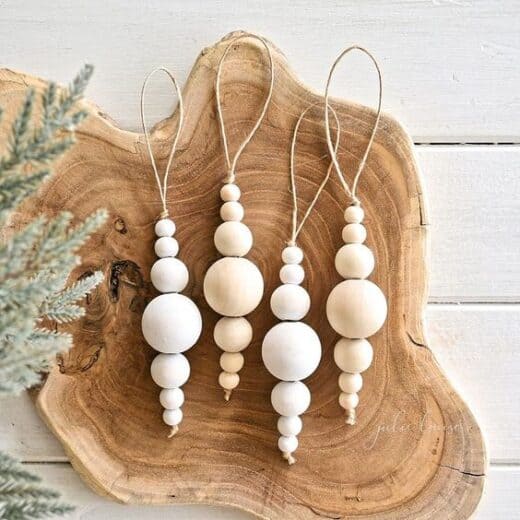 Wood beads of various sizes make rustic elegance.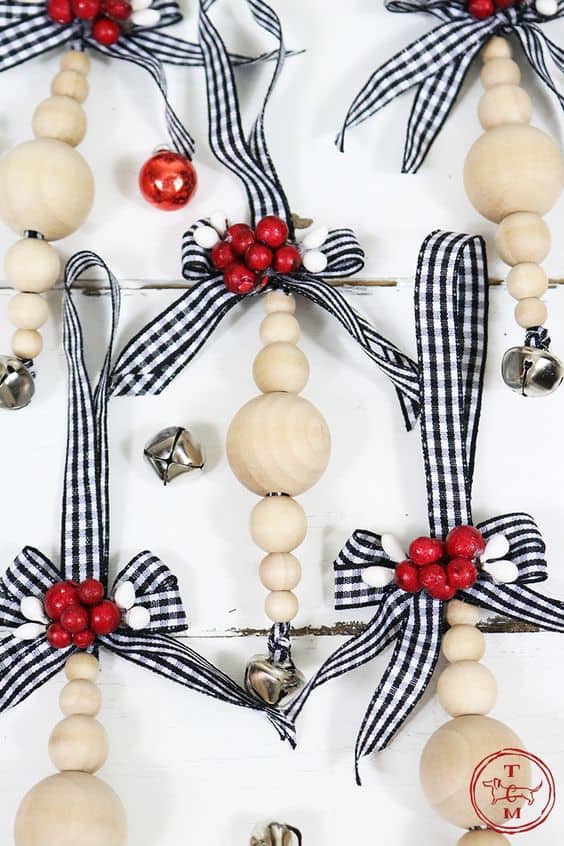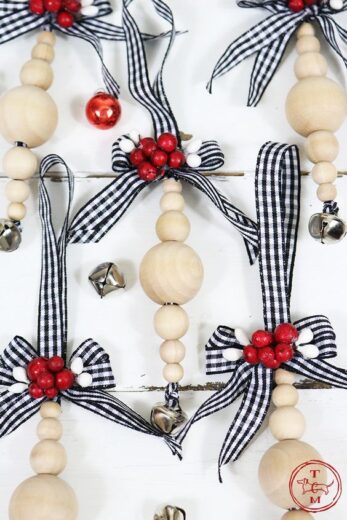 Add a Farmhouse Christmas flair with ribbon and bells.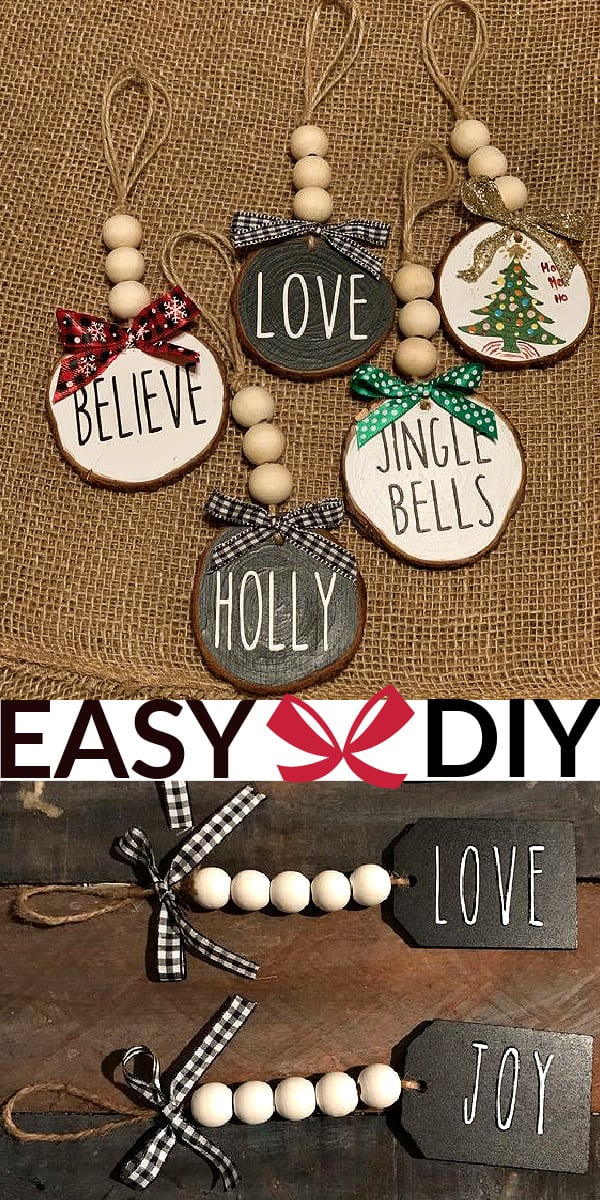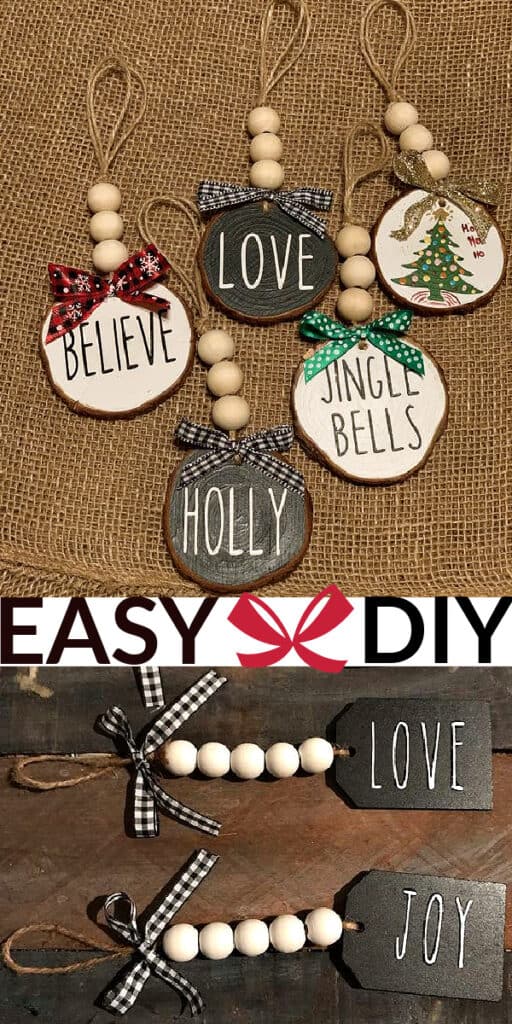 Purchase Top Ornament HERE, Purchase Bottom Ornament Here
You can purchase these adorable rustic wood bead ornaments online or try and make them yourself with wood beads, twine, and a chalk pen.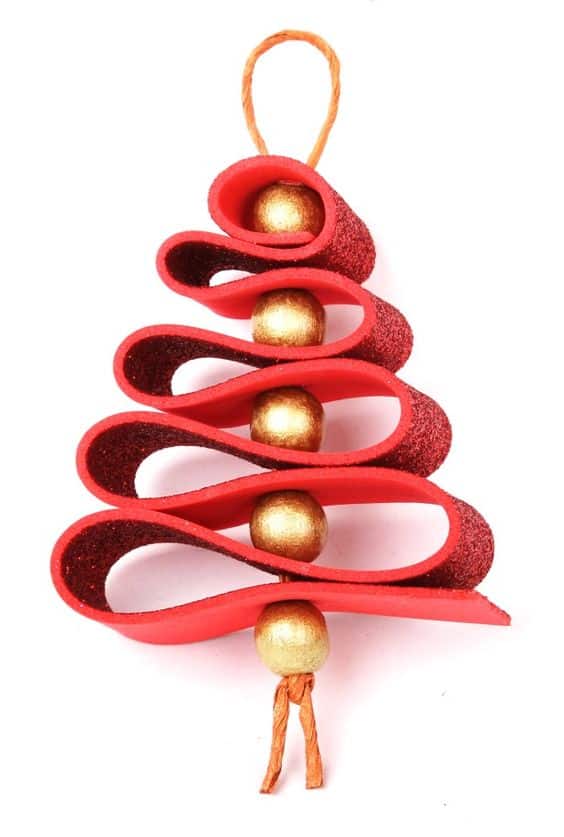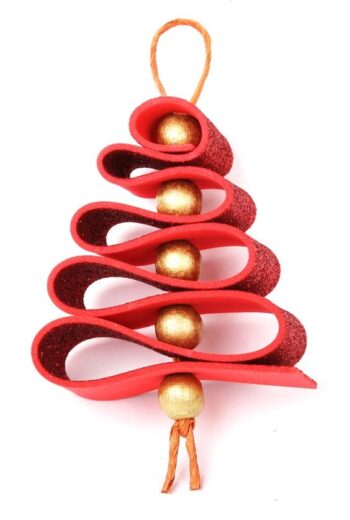 Use ribbon and beads to make this creative ornament. Here is an excellent tutorial.
EASY DIY FELT CHRISTMAS ORNAMENTS


We have many of these that we added rhinestones and sequins to. They're cheap and an easy sewing project even for beginners, not to mention fun.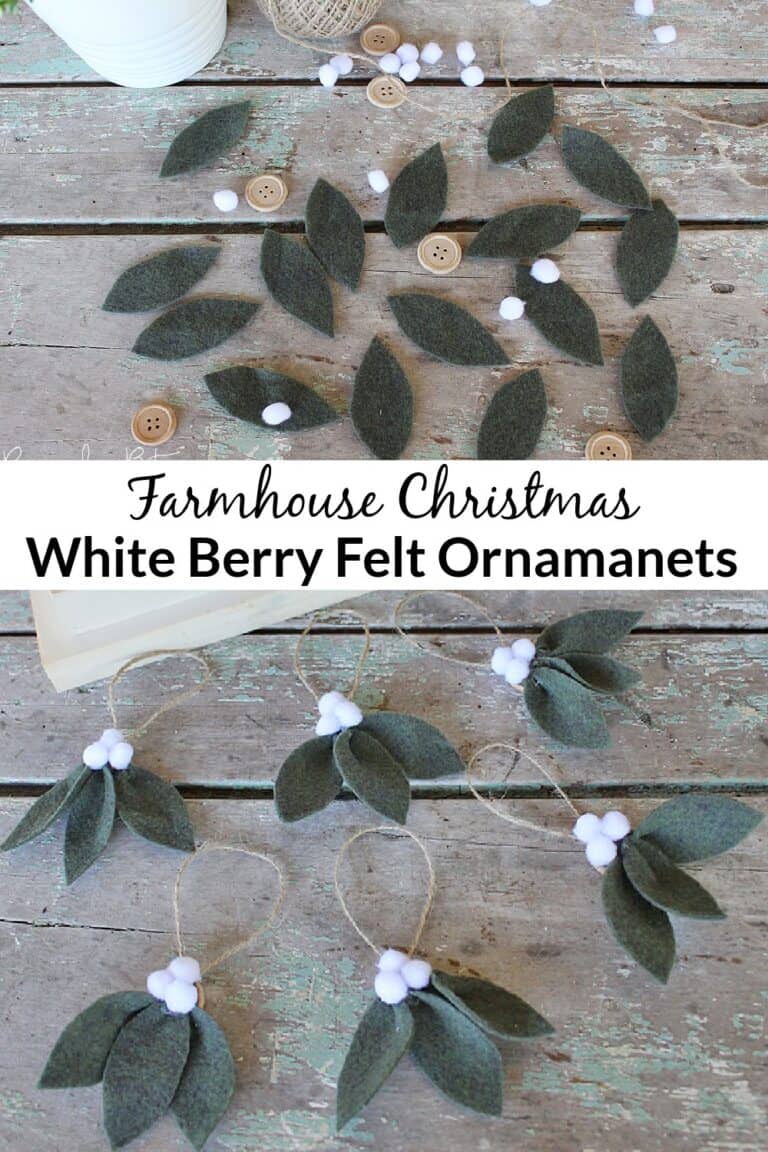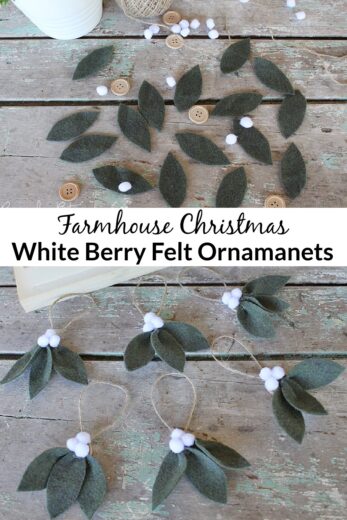 DIY White Berry Felt Christmas Ornaments
These adorable Farmhouse Christmas ornaments are easy and cheap to make and can be swapped for red berries instead of white.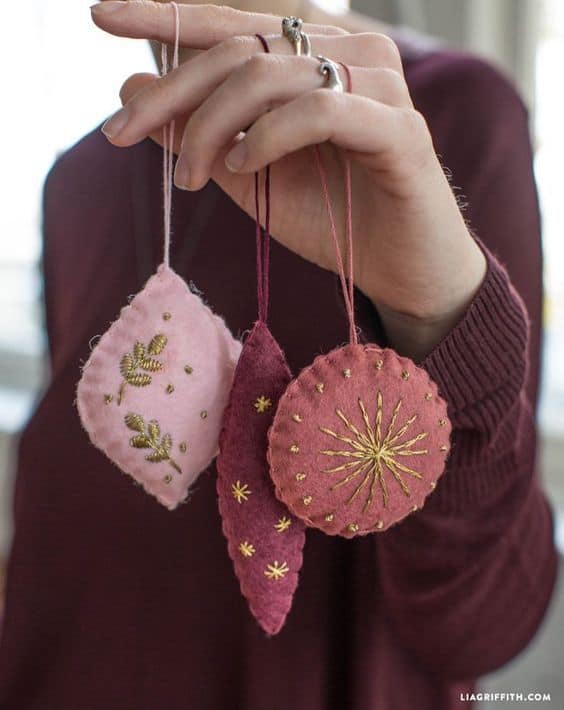 These beautiful stuffed felt Christmas ornaments are brought to life with gold stitching.

BURLAP CHRISTMAS TREE ORNAMENT PHOTO CREDIT
Use burlap, popsicle sticks, and buttons to make the perfect rustic tree ornament.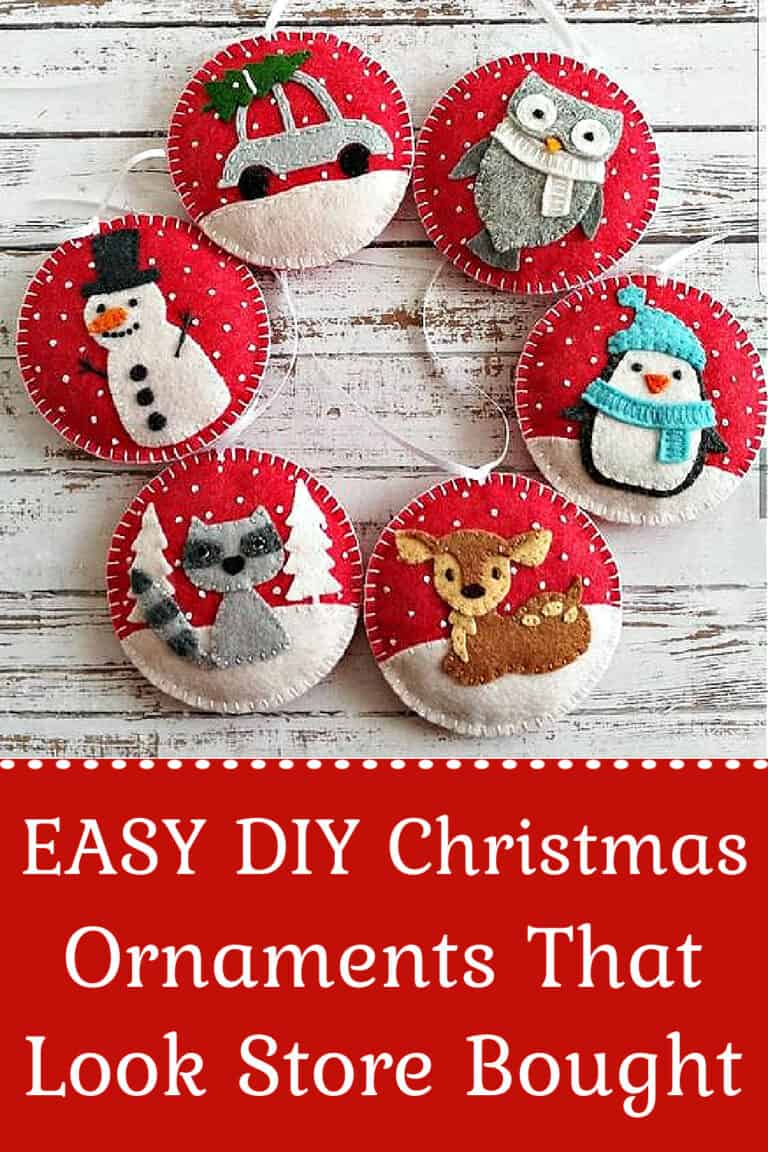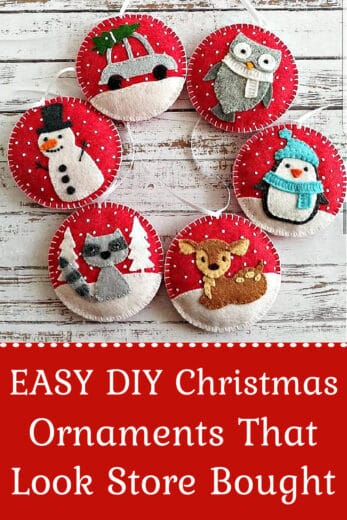 Make these adorable felt ornaments with simple stitching technique.
DIY GLUE SNOWFLAKE ORNAMENTS OR WINDOW CLINGS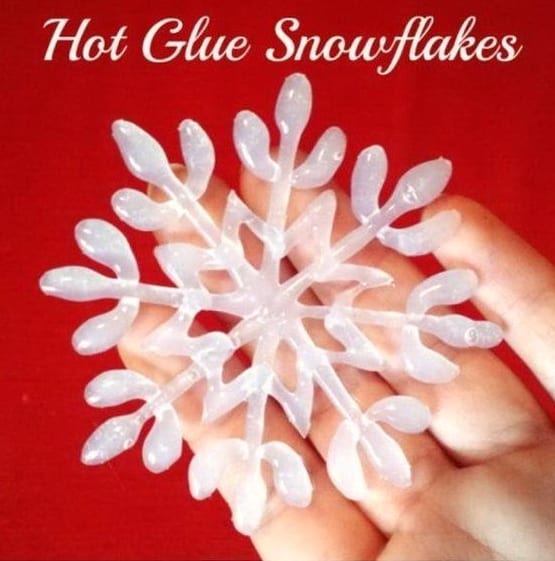 DIY glue snowflakes are one of our favorites because there are so many ways you can make them.
Just squeeze hot glue onto parchment paper in a snowflake design, sprinkle with glitter or add beads and let dry.
You can also paint them with nail polish if you'd like. That's it! Use them as ornaments or window clings.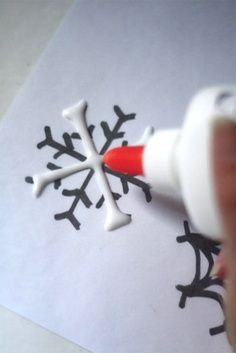 For little kids, use Elmer's glue on parchment paper, you can also add rhinestones or glitter.
TIP: Use the new Elmer's Glow in the Dark glue to make glow in the dark ones!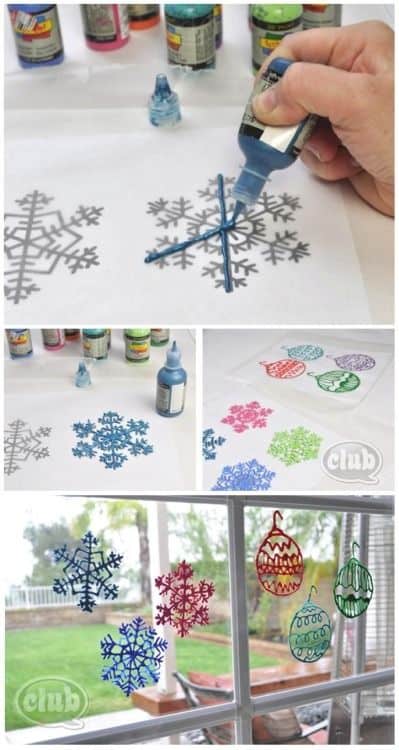 You can even use colored glitter puff paint. Again either stick these on the window or hang as ornaments. They're like magic.
GOLD EDGE CHRISTMAS ORNAMENTS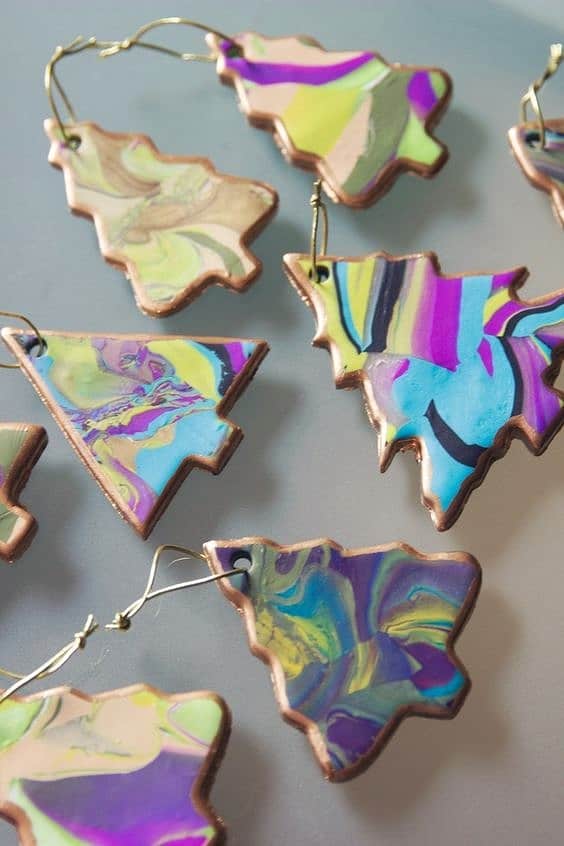 Line the edges of your flour salt dough ornaments with gold gilding or gold nail polish. They will not only look store bought but expensive, it'll also help conceal any rough edges.
PEANUTS GANG DIY CHRISTMAS ORNAMENTS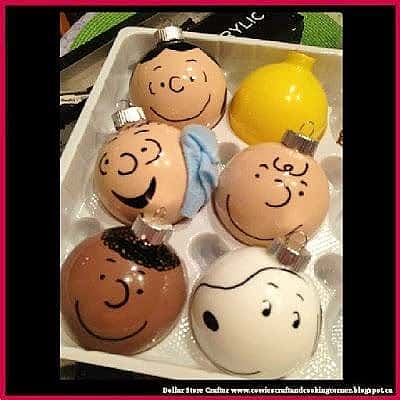 Peanuts characters are ridiculously easy to make. Take a clear ball ornaments, pour acrylic paint inside of the ornament to coat it, turn over and drain, and use a black Sharpie to draw the face!
BEACH THEMED DIY CHRISTMAS ORNAMENTS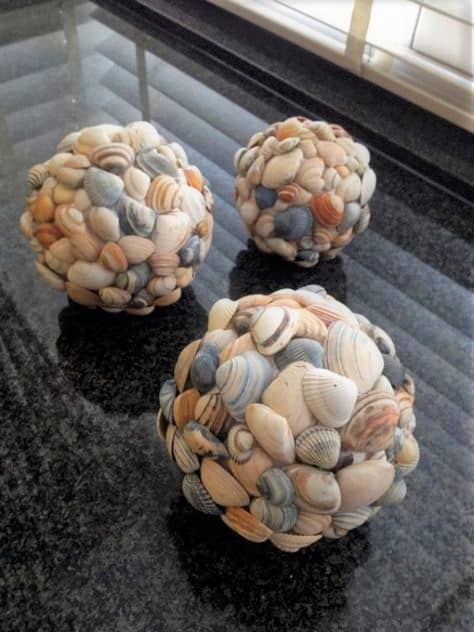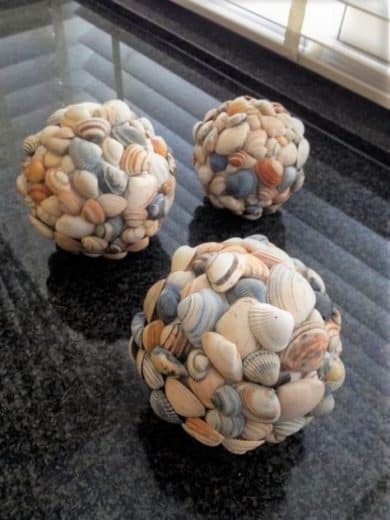 Do you dream of the beach in winter? Nautical themed ornaments are not only very popular but easy to make!
Glue your seashells to styrofoam balls to make ball ornaments. A little tip, to make an easy hoop for string to hang the ornament, just stick in a safety pin upside down.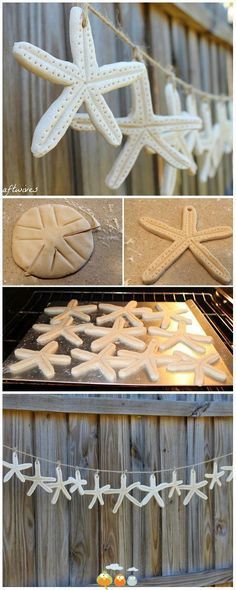 You can make star fish out of easy, kid friendly, salt clay you can bake in the oven. Leave plain or decorate with glitter and rhinestones, they can even be painted. Use these as garland or ornaments. We've had friends who even used these ideas for their wedding decor.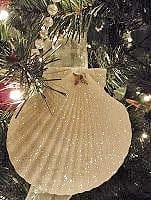 Use Seashells that you either collected on the beach or purchased on amazon to decorate with glitter, rhinestones, or even spray paint silver or gold.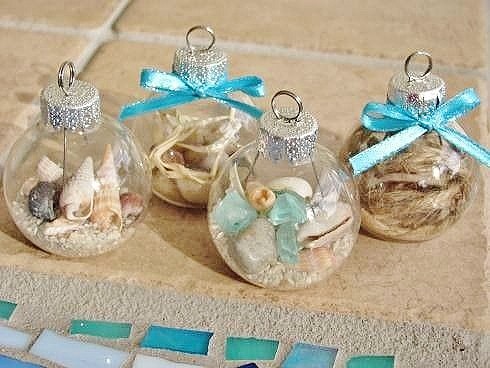 Fill a clear glass or plastic ornament with a little bit of summer beach to get you through the cold winters. Seaglass, seashells, sand, and even rope are all good fillers.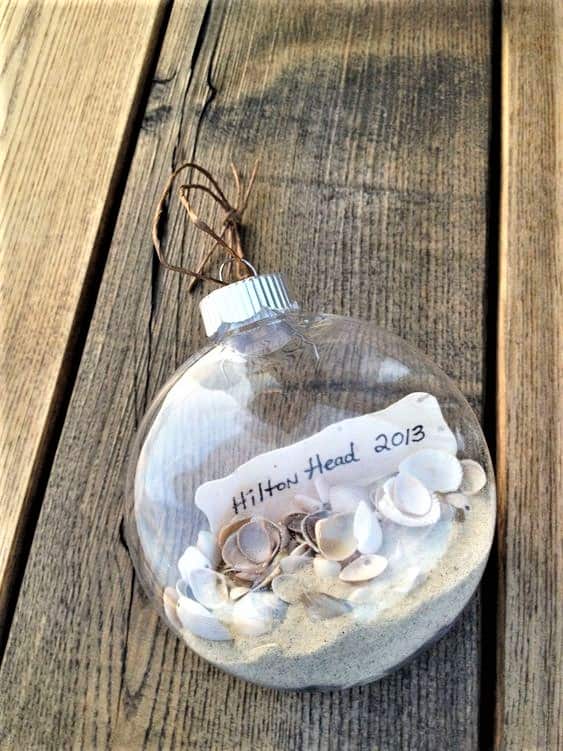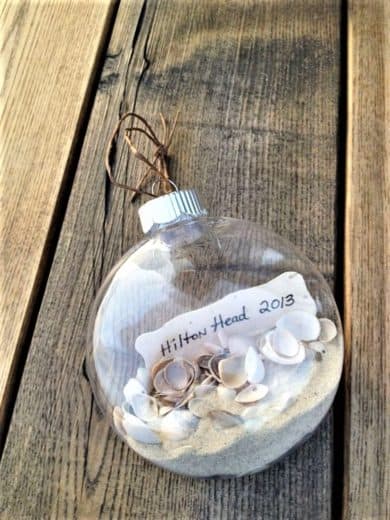 Be sure to grab some sand and shells if you take a vacation to the beach every year! This would also make a great wedding party favor keepsake.
TIP: Want to make a seaglass ornament? The above were made using Sea Glass paint available on Amazon but you can also try mixing Mix Mod Podge with a few drops of food coloring and paint it on a clear glass ornament to give it a seaglass effect. If you want a little shimmer or sheen, mix in some shimmer pigment or grind up an old metallic eyeshadow and add it to the Mod Podge mixture.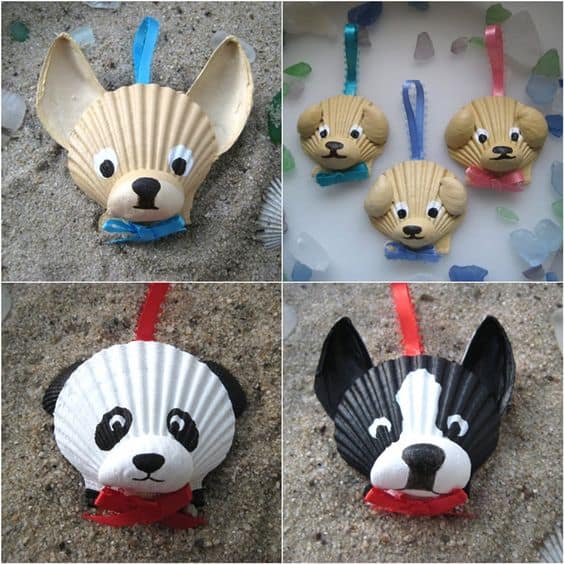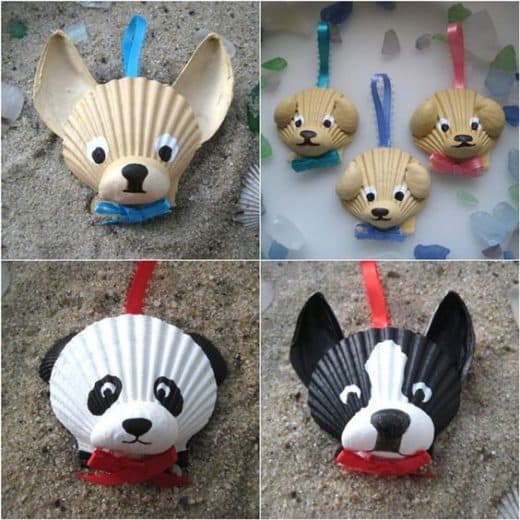 Use different size and shaped seashells to make adorable animal ornaments with glue and paint!
SANTA BELT BUCKLE BELT CHRISTMAS ORNAMENT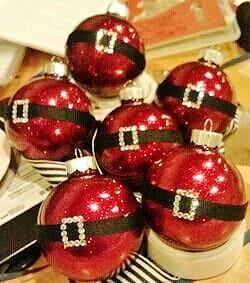 You can use the Mop and Glow method for making ruby red ornaments or just buy red ornaments and make the belt using a sharpie, ribbon, felt, vinyl, or paint. Finish off with a rhinestone or glitter belt buckle.
CRICUT CHRISTMAS ORNAMENTS
Cricut ornaments take only 5 MINUTES TO MAKE. These are the perfect gifts for teachers, family, friends, or even wedding favors.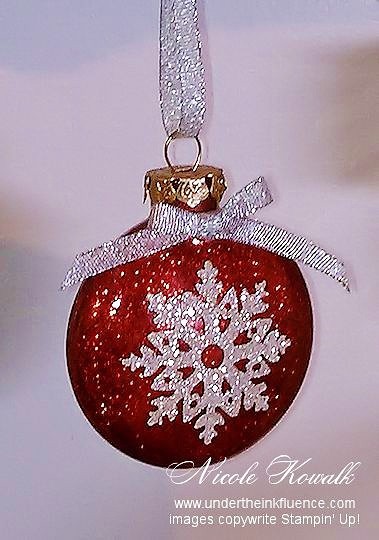 You can start with any colored ornament or use clear glass ornaments and the mop and glow glitter method to make it extra sparkly.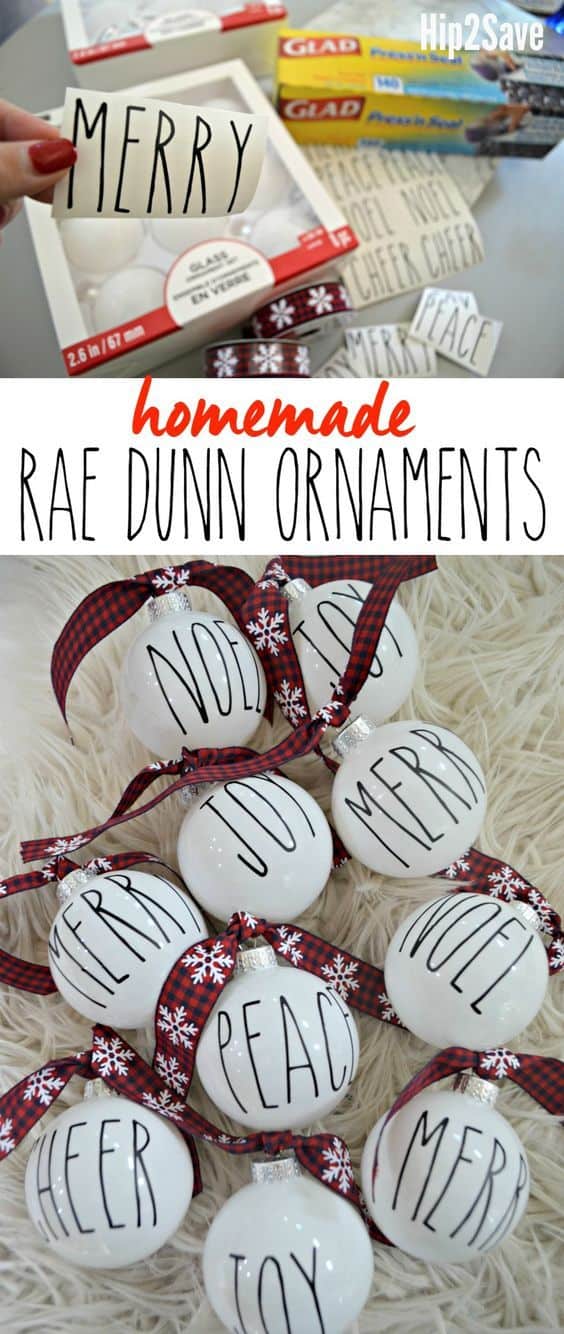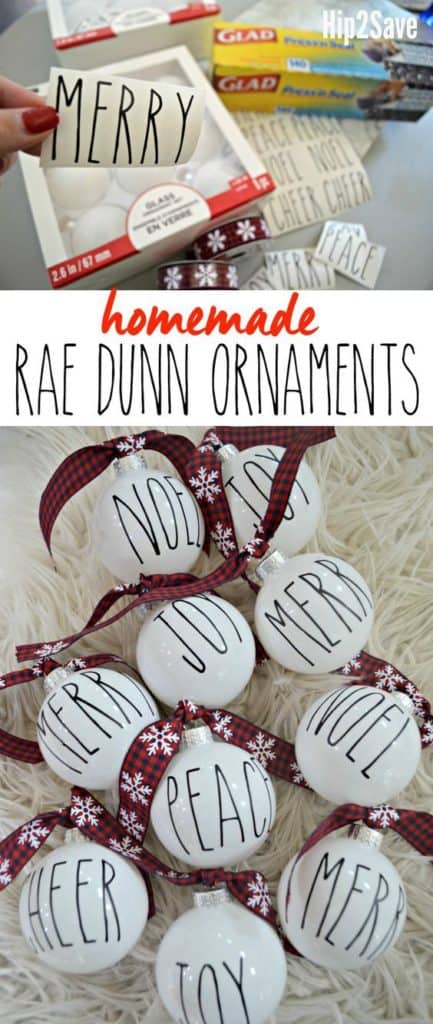 They're so easy to personalize. You can cut out snowflakes, trees, words or initials. They can suit any style and theme from farm house to ultra glam.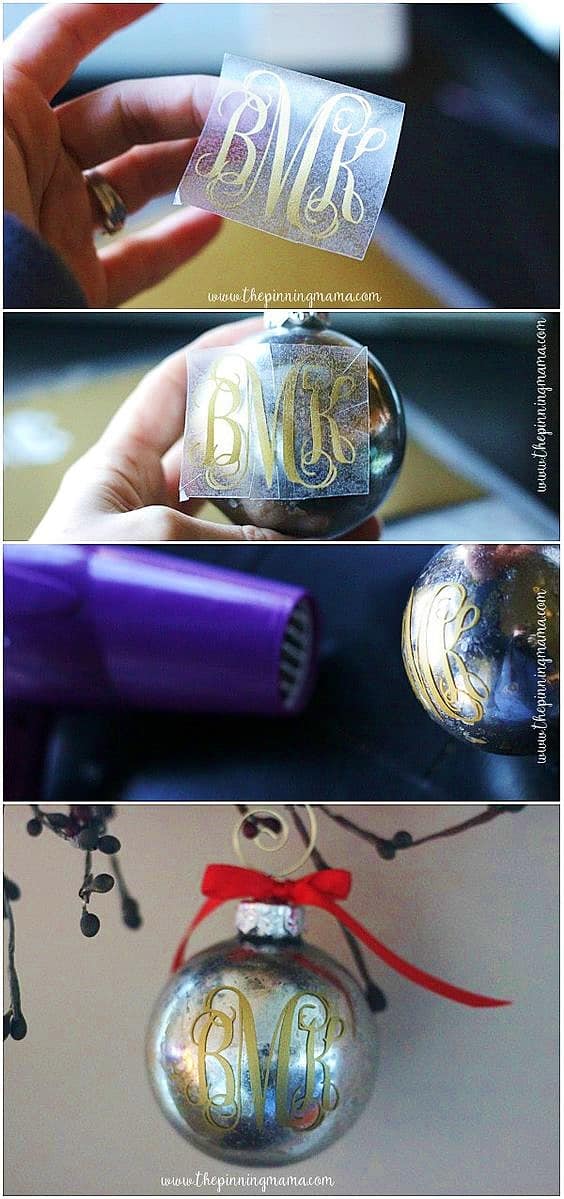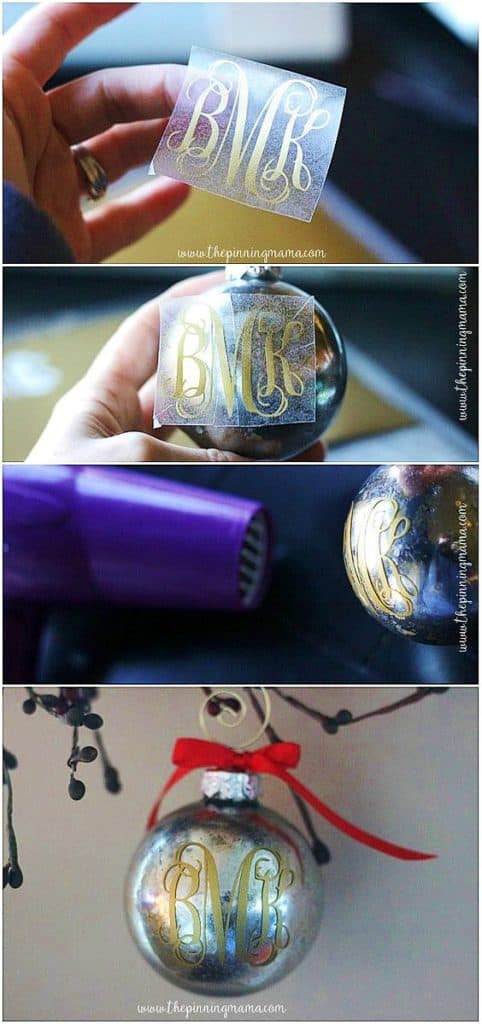 They look like you spent a ton on them. They're perfect for gift giving and December weddings.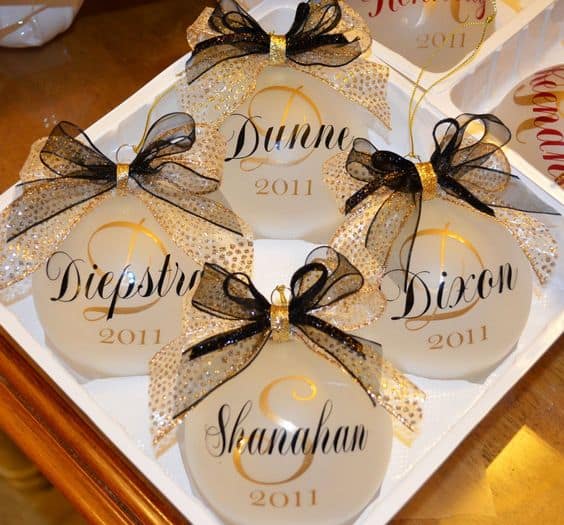 SUPER SIMPLE CAT ORNAMENTS CHRISTMAS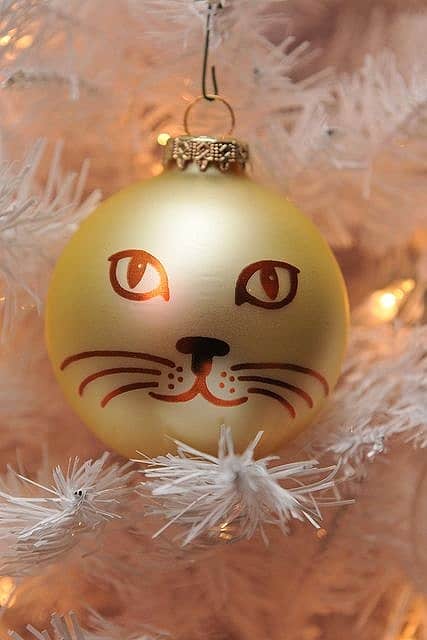 Cat ornaments are another ridiculously easy project to make with just a plain ornament and a black Sharpie! You can even customize them to resemble your cat.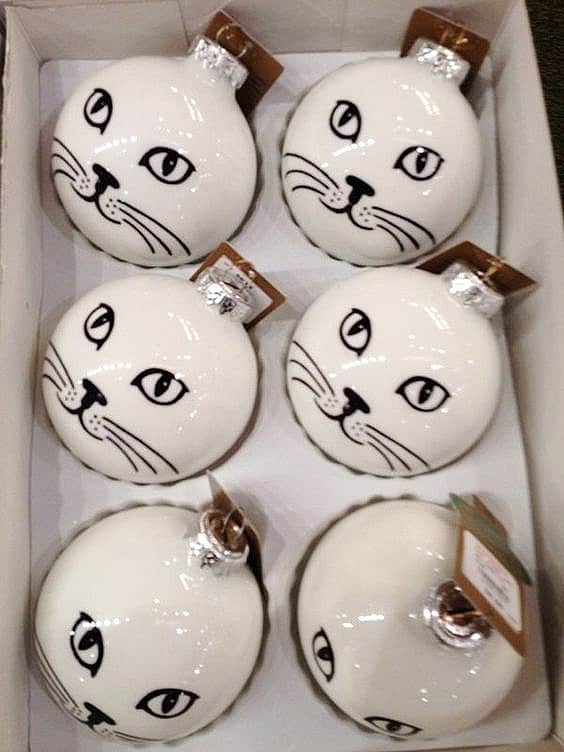 You could also make them with a clear glass ornament and acrylic white paint (or your cat color of choice), along with gel markers or black Sharpies.
Just pour the acrylic paint into a clear glass ornament, coat, turnover to drain, and use a gel marker or Sharpie to draw the face.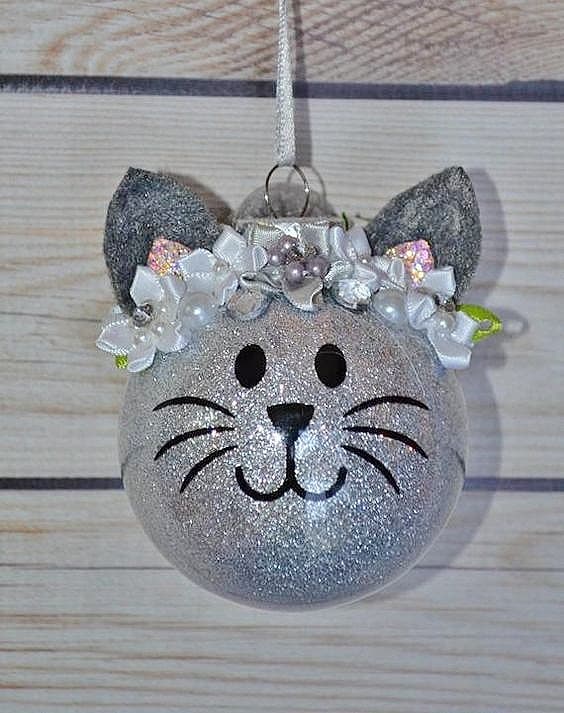 You can can use the super easy mop and glow glitter technique to make them yourself. Use a cricut or alcohol, gel, or Sharpie marker for the face. The ears can be made out of felt.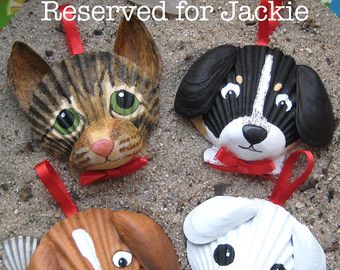 Have seashells lying around? All you need are 4 seashells, glue, paint, and ribbon to put your cat on an ornament. You can customize it right down to your cat's eye color.
KIDS POPSICLE STICK CHRISTMAS ORNAMENTS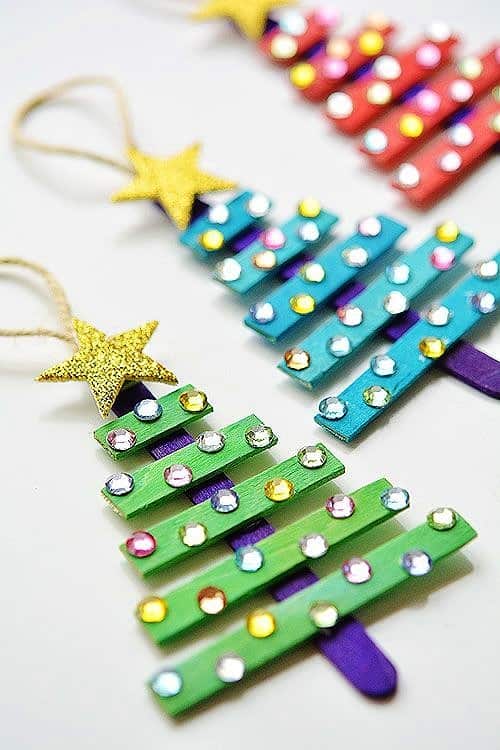 Popsicle ornaments are perfect for kids. They're cheap and easy to glue together.
All you need are popsicle sticks, glitter star stickers, glue, rhinestones, and paint–all of which you can find at the dollar store.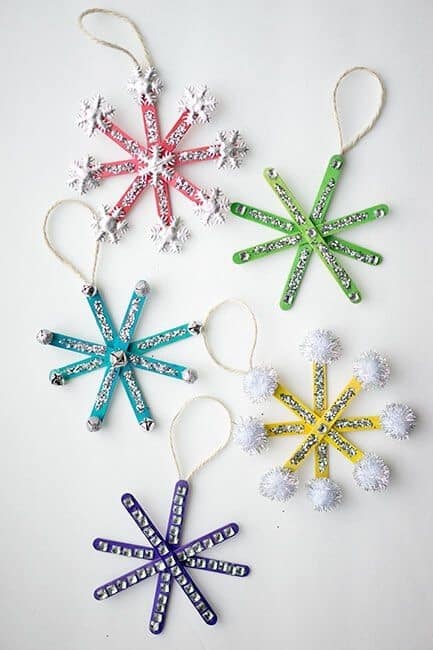 You can make a bunch of designs, from Christmas trees to snowflakes. Even though they're super simple they can still come out looking so elegant.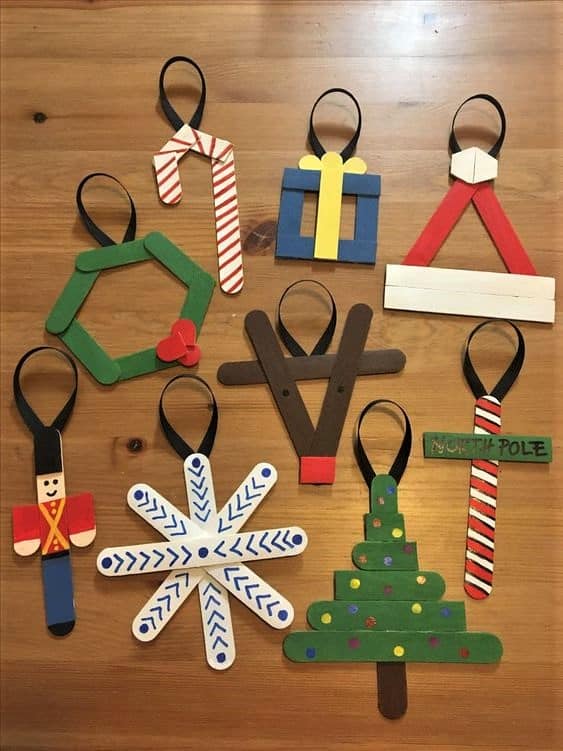 Kids can use markers, paint, or even food coloring to color popsicles. Just cut and glue into different shapes.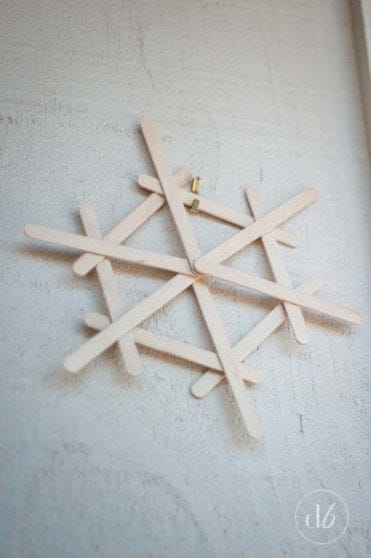 You can make a larger version that can be decorated or left plain for a farmhouse rustic look. You can also dress it up with paint, rhinestones, and glitter. Hang them as an ornament, on the wall as decor, or in front of a window.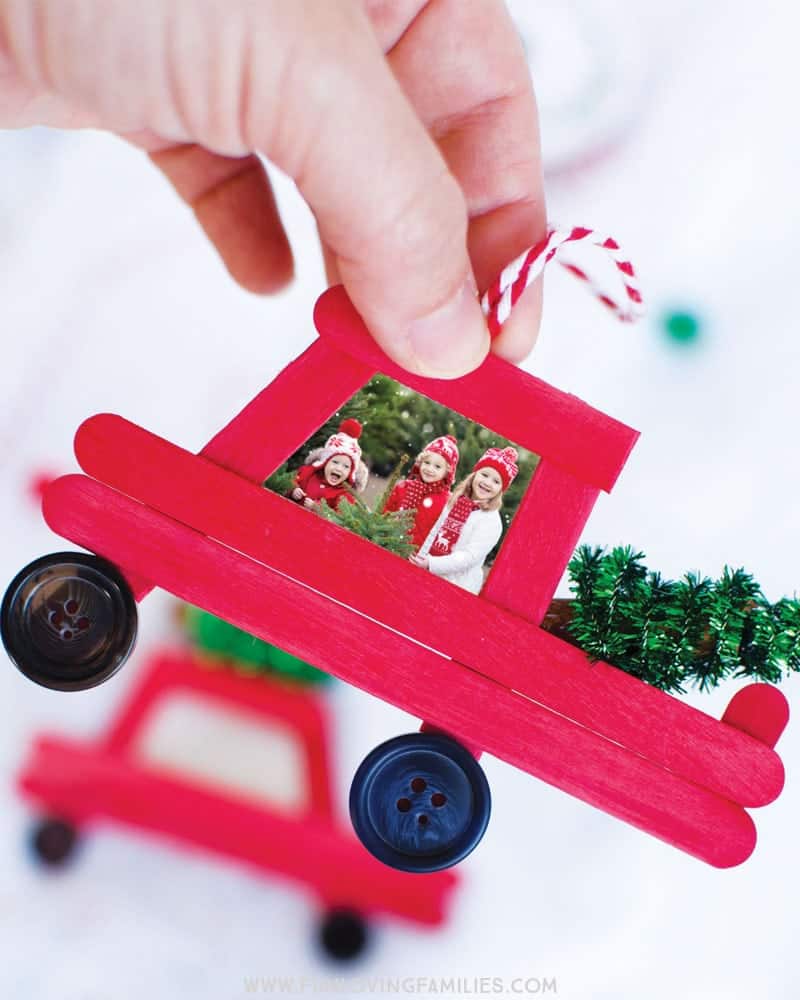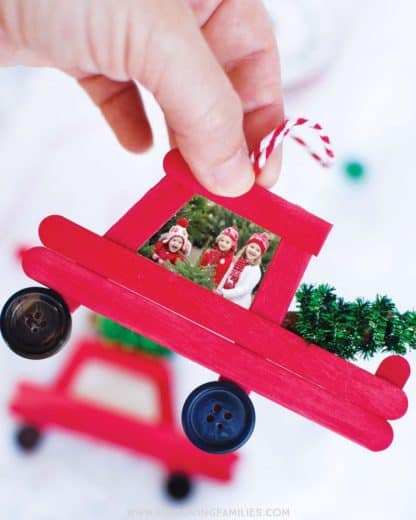 The possibilities are endless!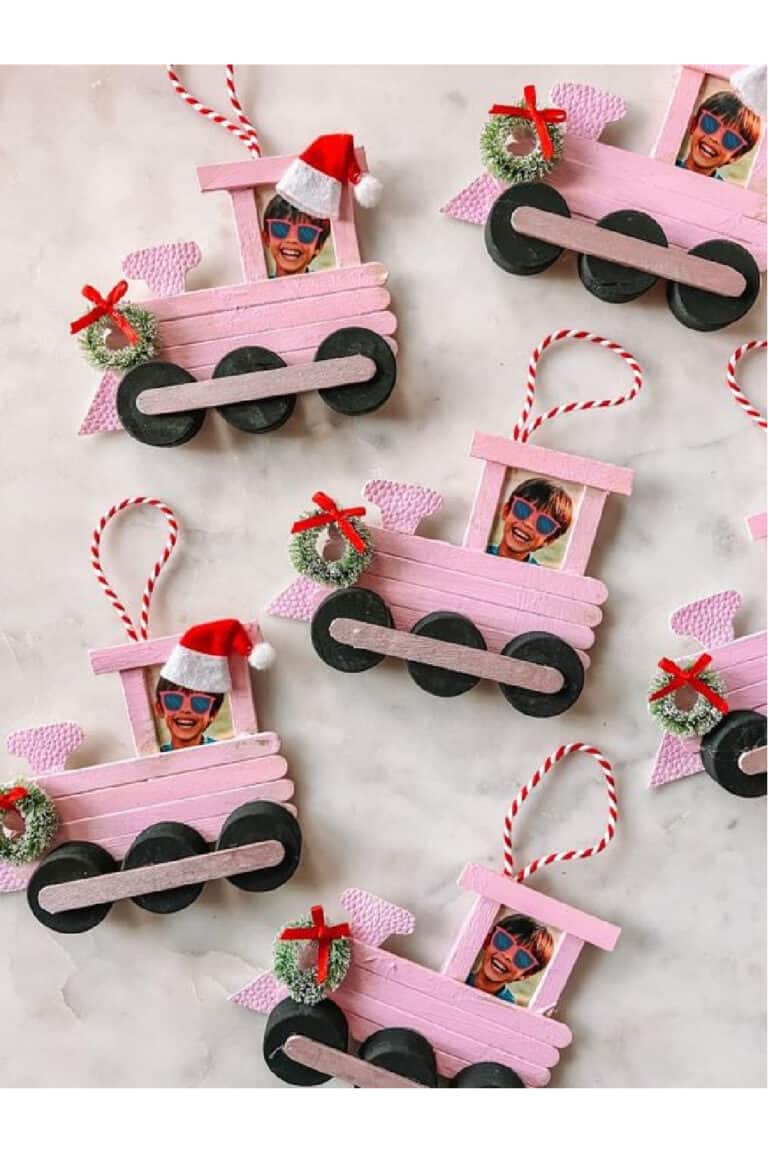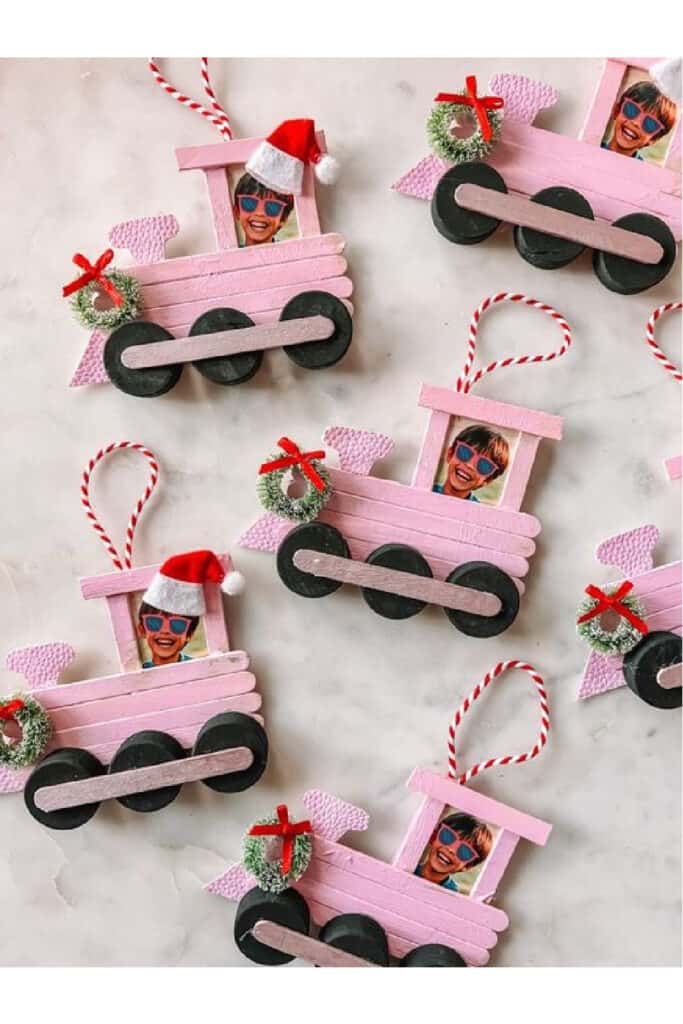 Here's a cute pink train that looks store bought!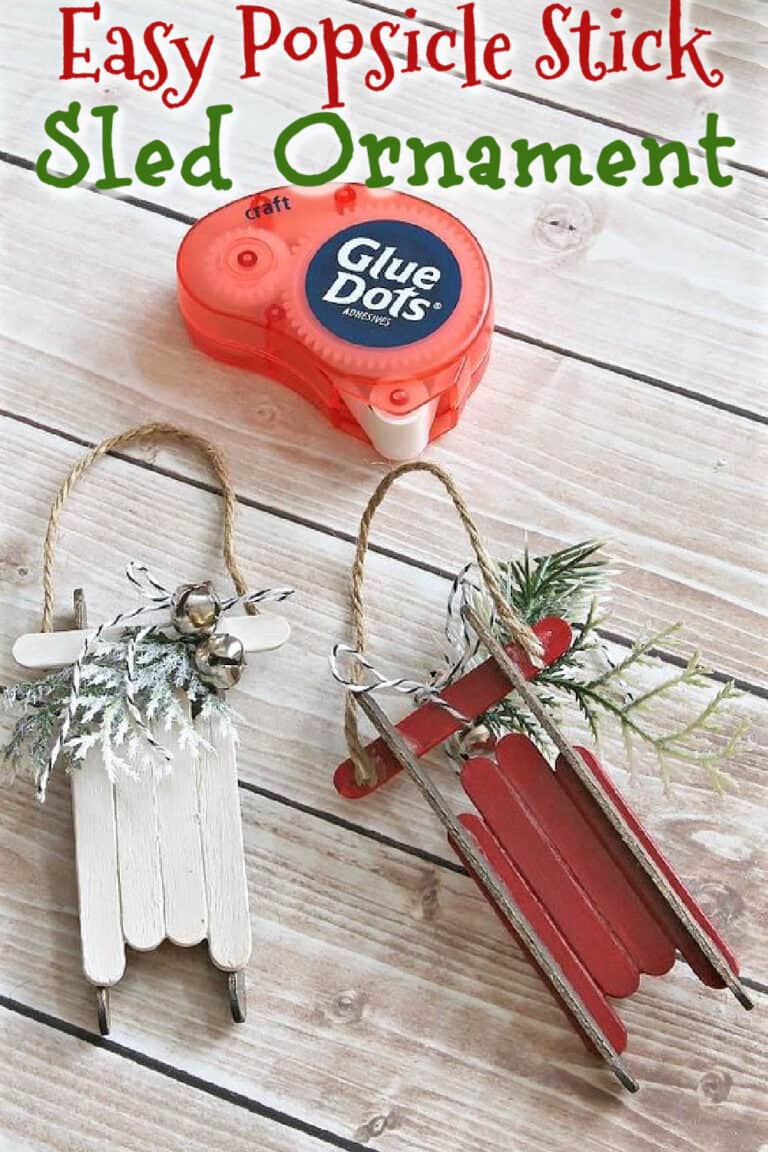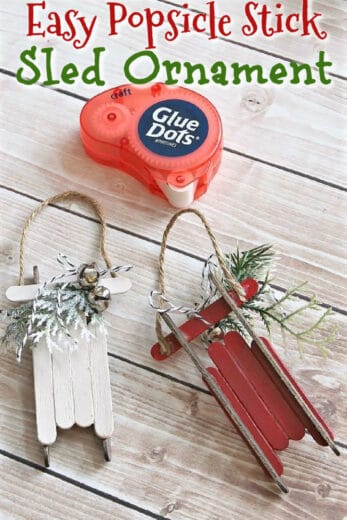 Kids can make adorable sled ornaments that look store bought out of popsicle sticks for the tree or as a gift tag.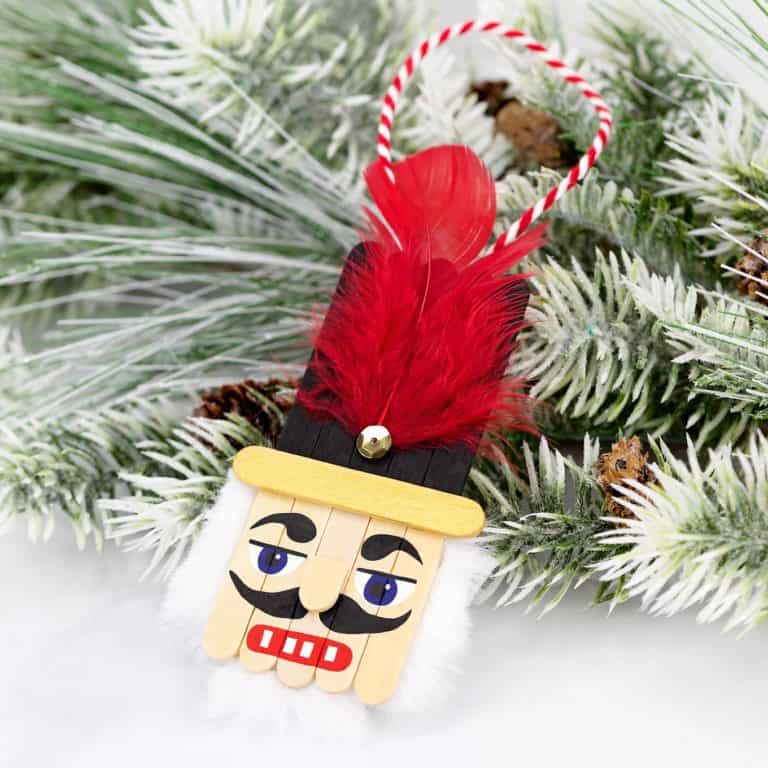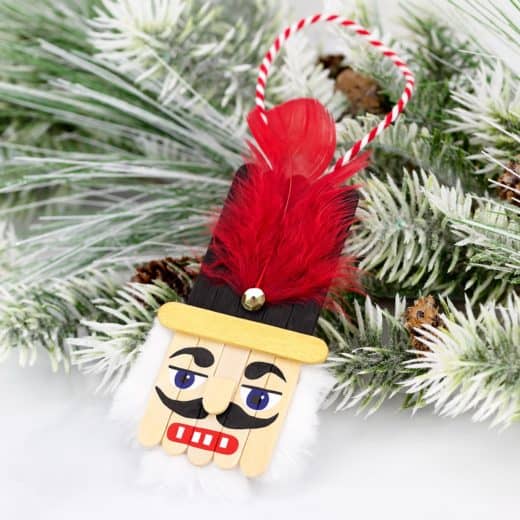 You can make store bought looking nutcrackers out of popsicle sticks glue and paint! Click on the word "Source" underneath the picture above for the tutorial.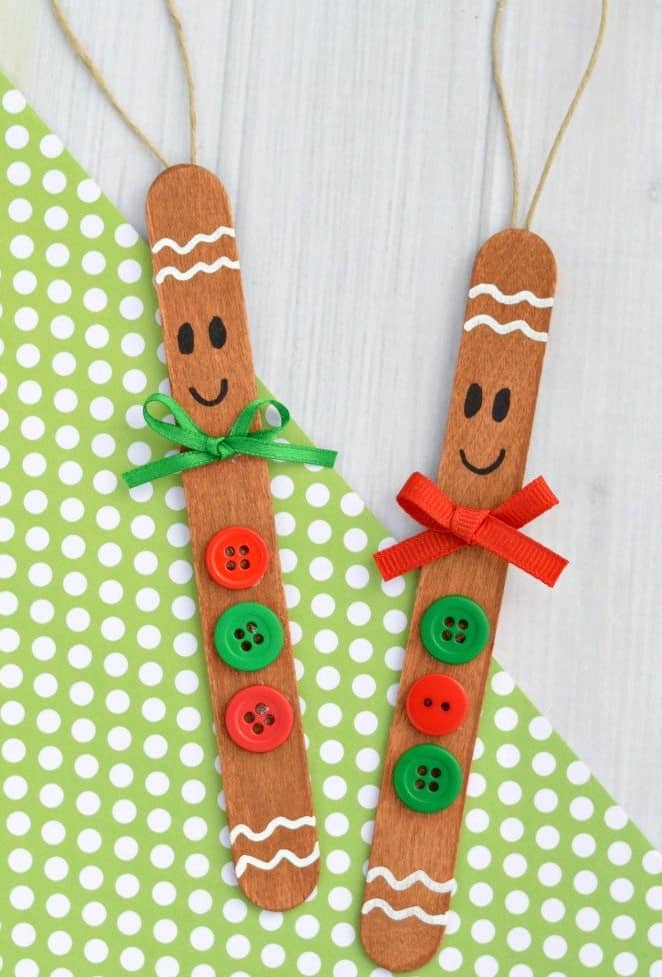 There is nothing simpler than this Christmas craft ornament for kids. Use them to decorate your home or tree.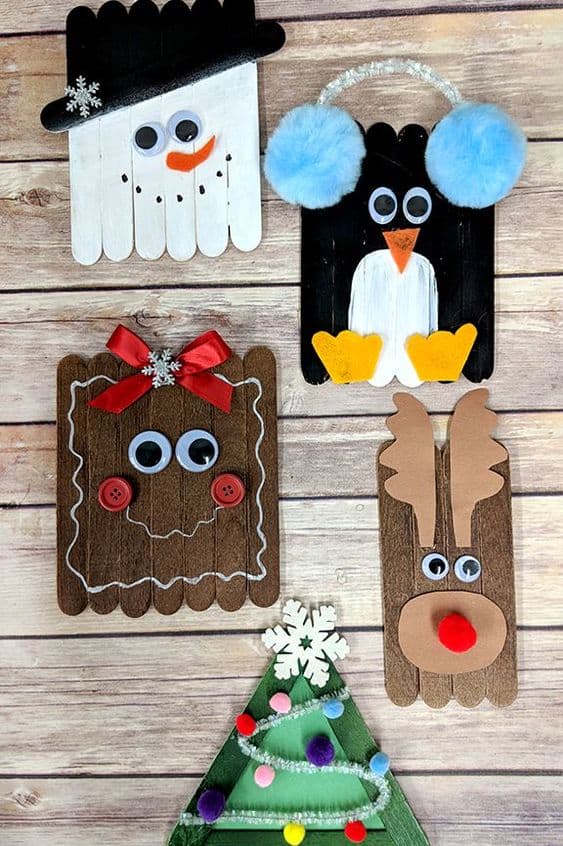 Let kids make these craft stick characters that you can use as ornaments or home decor.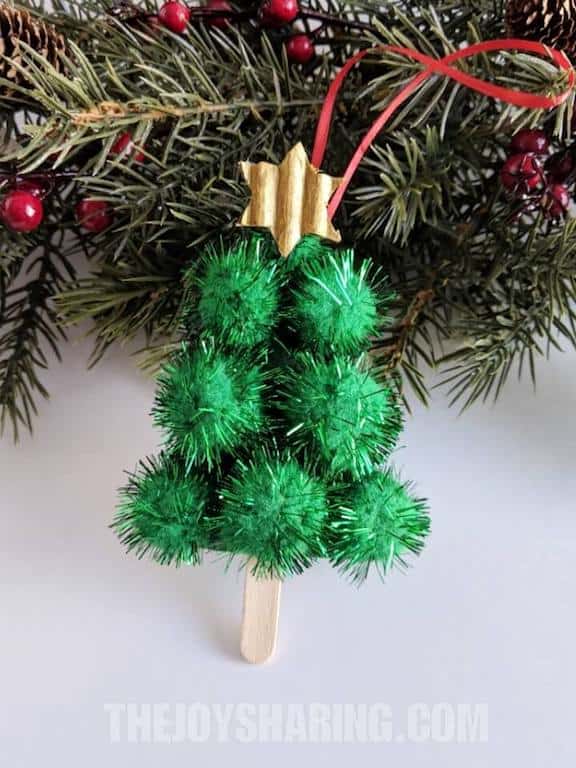 Add cardboard and pom poms to popsicle craft sticks to make these simple tree ornaments.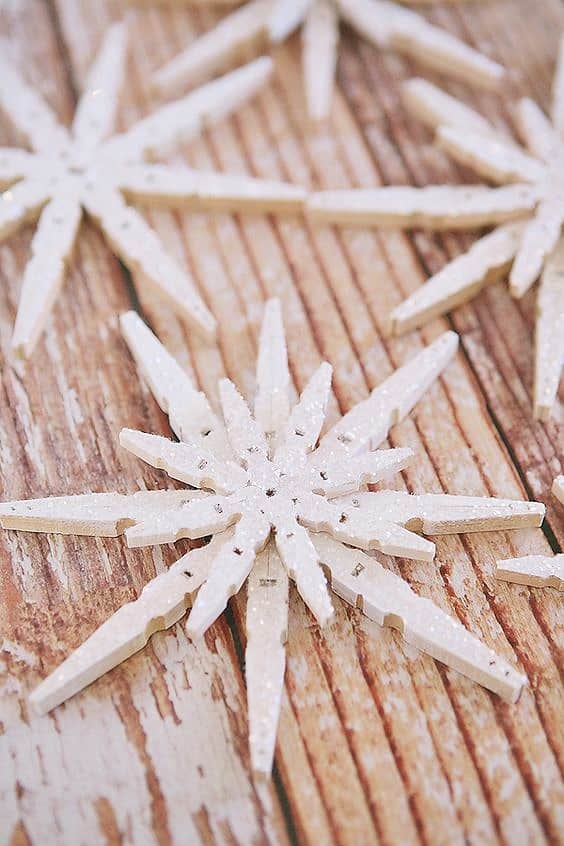 Don't have popsicle sticks? Clothes pins make the most beautiful snowflakes, just take them apart, glue them together, and dust with glitter.
25. Easy Pipe Cleaner Snowflakes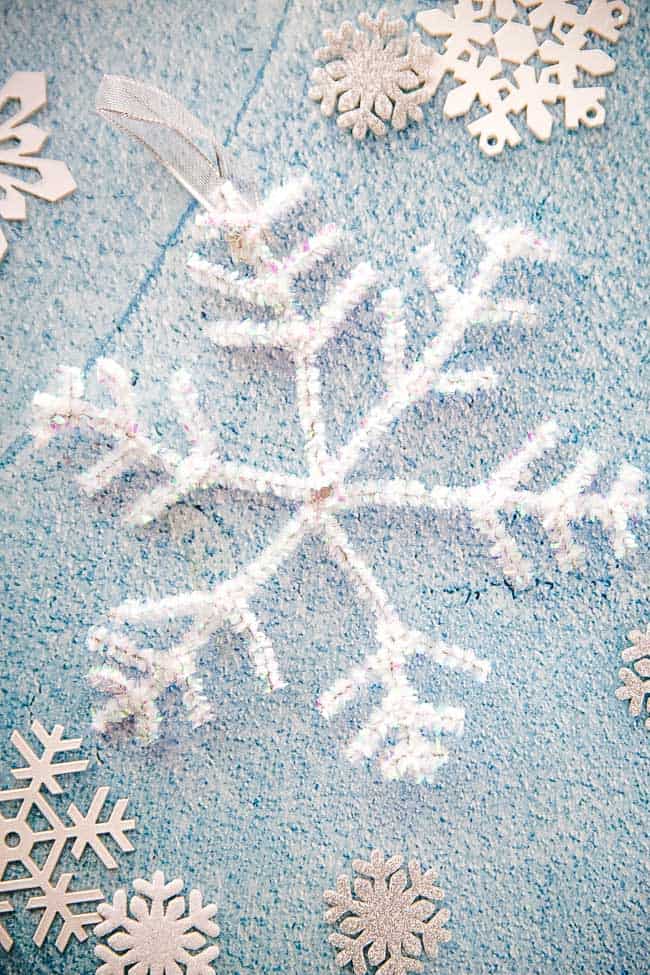 Pipe cleaner snowflakes are surprisingly easy to make and can be made as simple or as intricate as you'd like. The few supplies this craft uses can be found at the dollar store. Pipe cleaner, scissors, glue, and a rhinestone are all you need.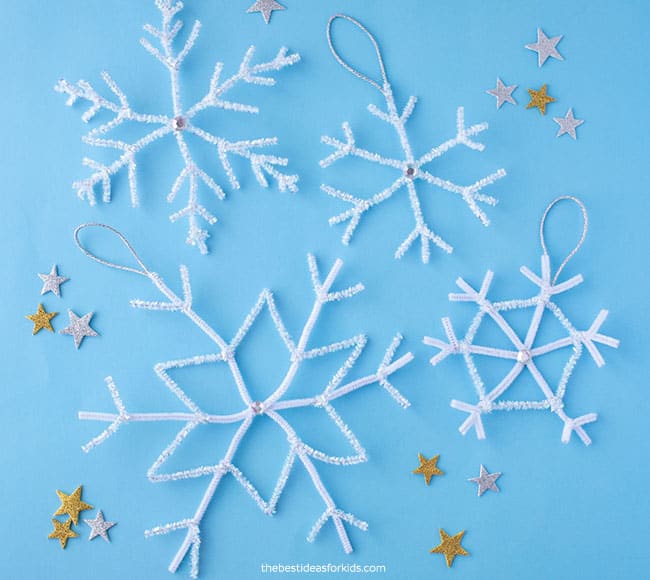 Make them in all sizes, and designs. Hang them on the wall, decorate the tree, hang them from the ceiling, or string them and hang as garland.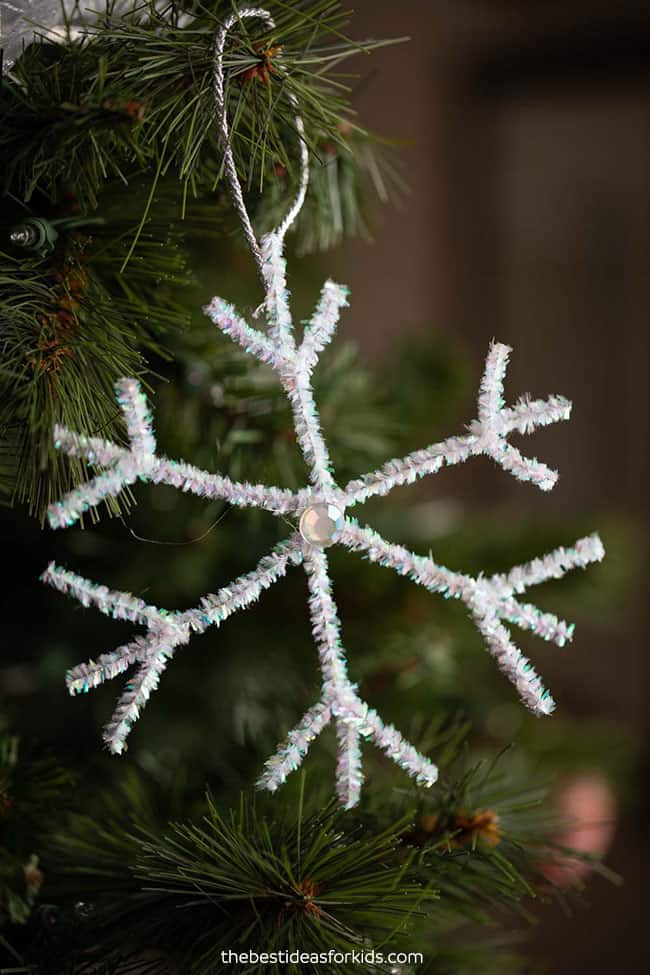 26.) Family Photo Heirloom Ornaments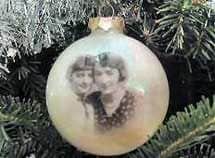 Make a photo heirloom ornament for friends and family using only a glass ornament and Mod Podge glue! You can spray a sealant on the outside or some have even used clear nail polish or hair spray.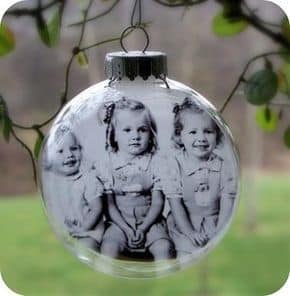 Slip a photo into a clear glass ornament for a quick photo heirloom idea.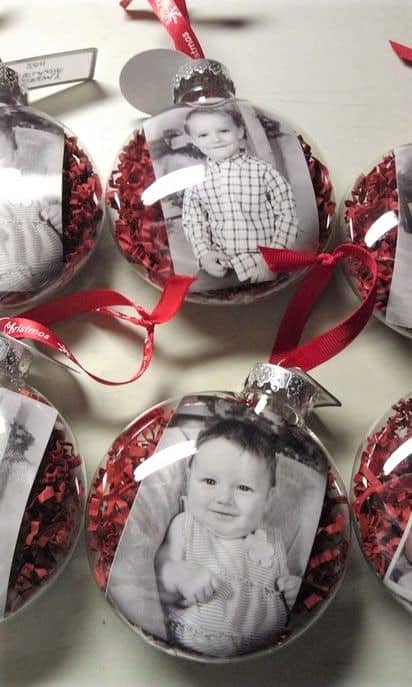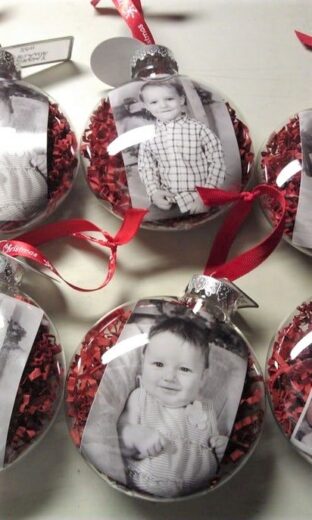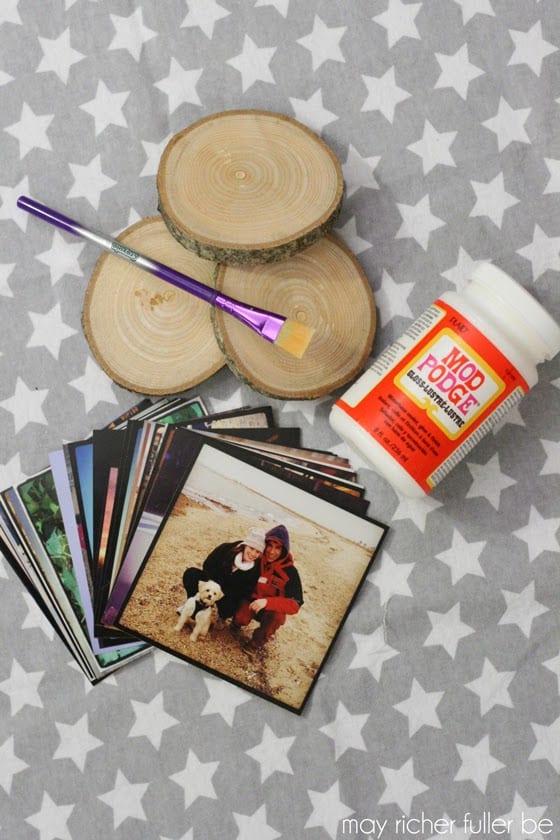 Rustic Farmhouse lovers can easily transfer a photo onto a wood slice using Mod Podge for a great gift idea for all of the relatives.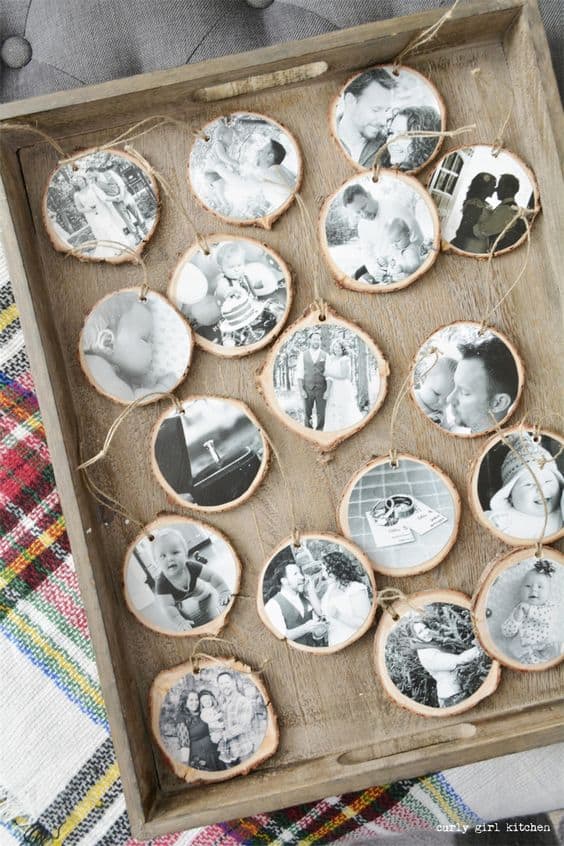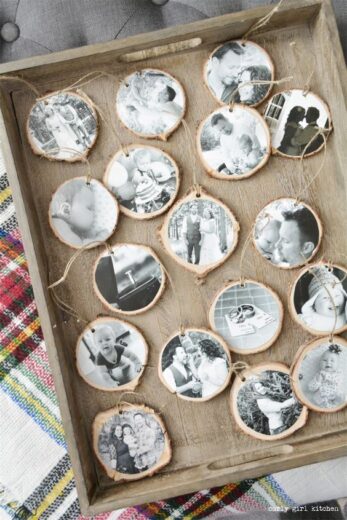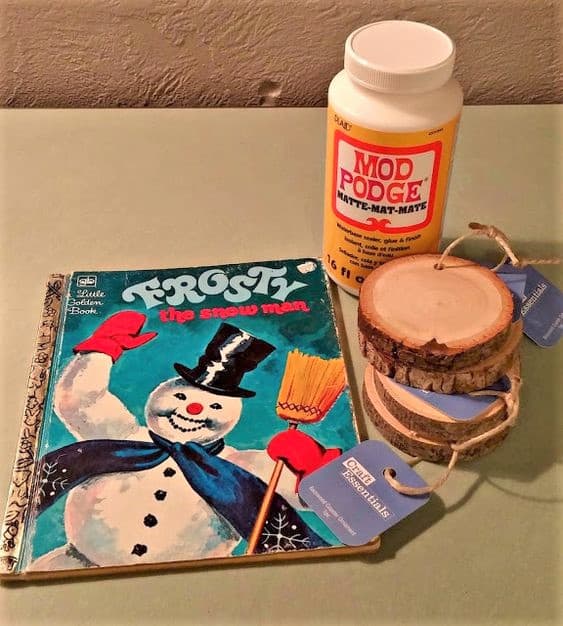 It's super easy to turn Little Golden books into rustic wooden keepsake ornaments.
PINECONE CHRISTMAS ORNAMENTS DIY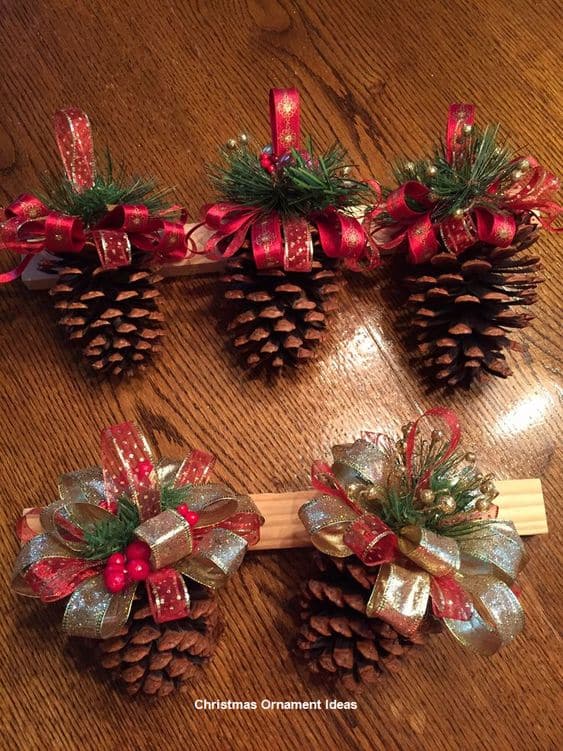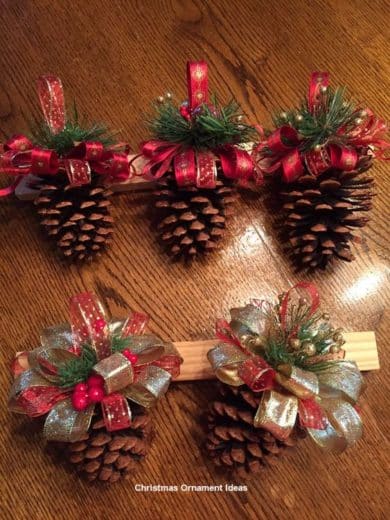 Grab some glue and ribbon or garland and decorate some pinecones.
You can even put some glue on the tips and sprinkle it with glitter.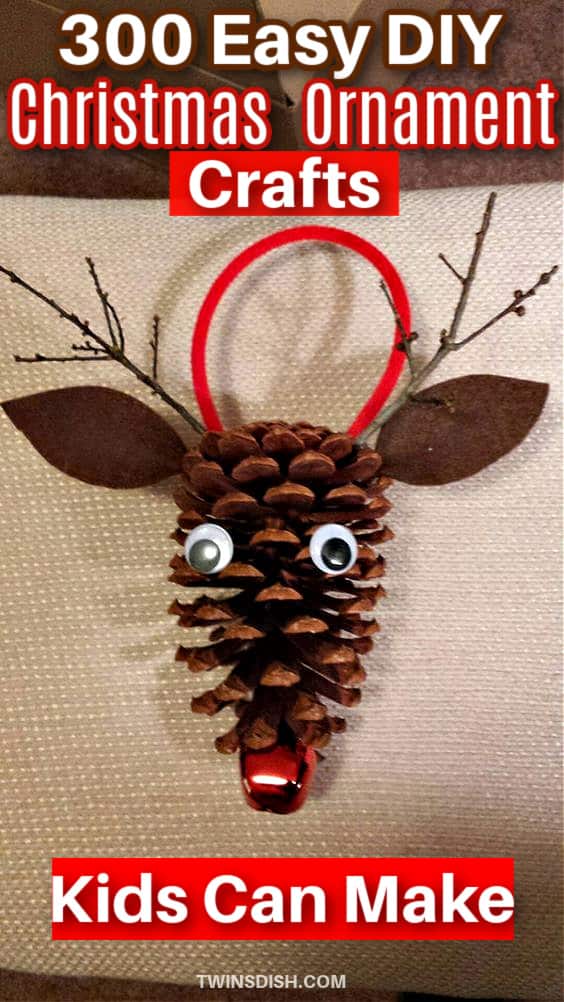 This Rudolph pinecone ornament is easy for kids to make yet beautiful enough to proudly place on the tree!! You'll need:
Pipe cleaners for the loop
Googley eyes size depends on the size of the pinecones used.
Red bells for the nose, size depends on size of pinecones used.
Twigs for the antlers
Brown felt for the ears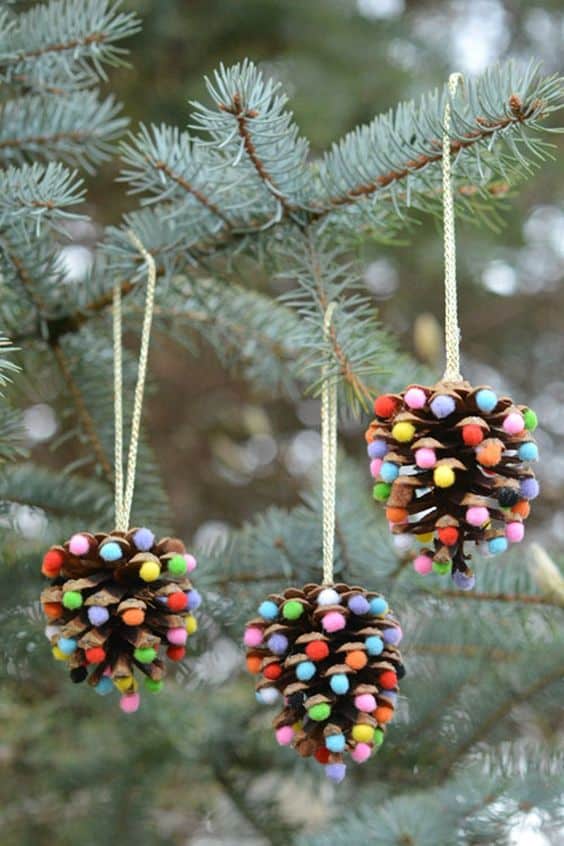 Pinecones and pom poms with a bit of rope is one Christmas craft kids can make that is beautiful and useful this season.
CRAYON BALL ORNAMENTS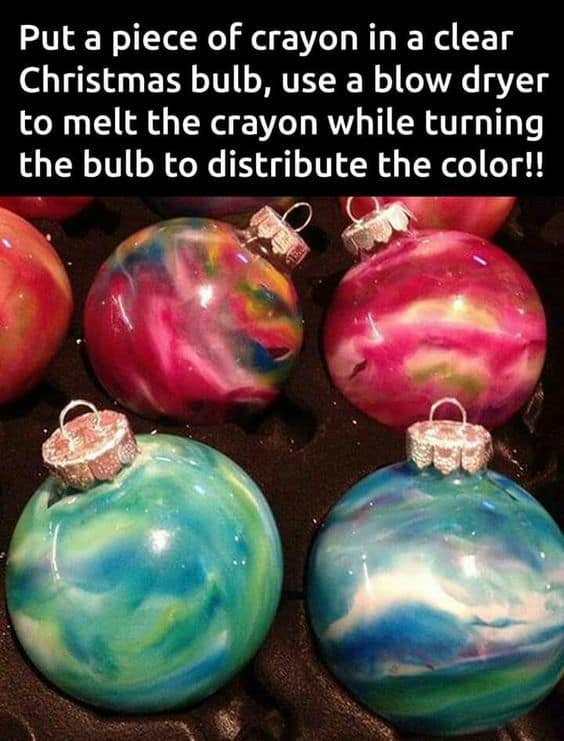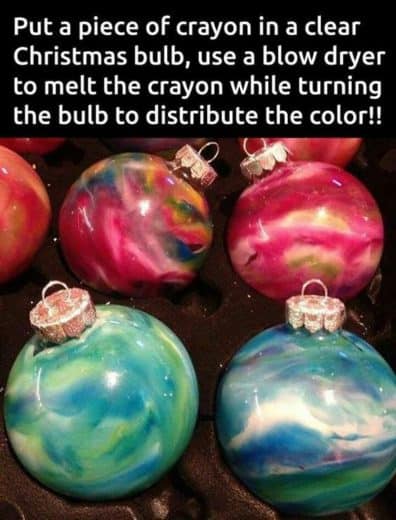 This is a great hack to do with your broken crayons and all it really takes is a glass ball ornament, hair dryer and crayons.
CLAYPOT DIY GINGERBREAD HOUSE ORNAMENT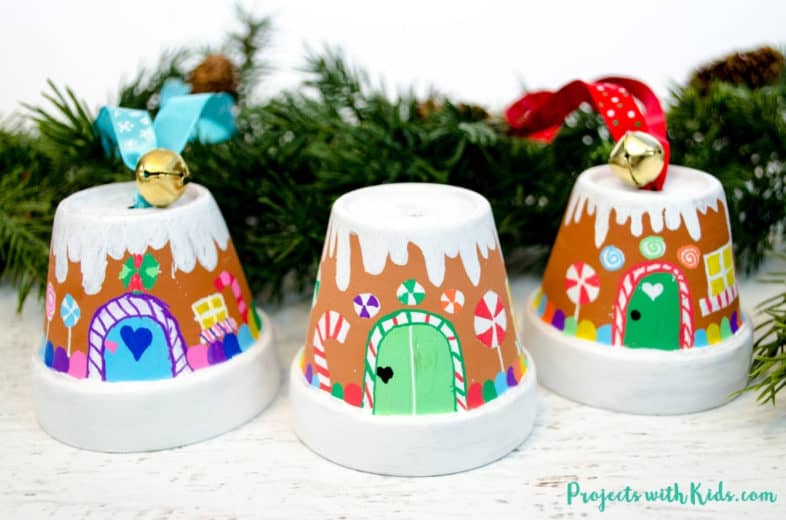 Ditch the gingerbread house making party and have a gingerbread house ornament making party. Use dollar store mini clay pots and either paint pens or acrylic paint to create a ginger bread house ornament. Just knot ribbon in a loop to hang.
EASY SHARPIE CHIRISTMAS ORNAMENTS
Other than Nightmare Before Christmas ornaments, here are some other ideas you can do with Sharpies and dollar store ball ornaments.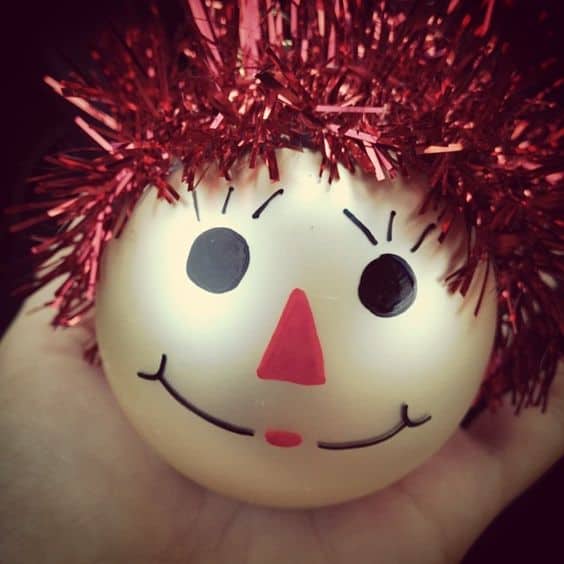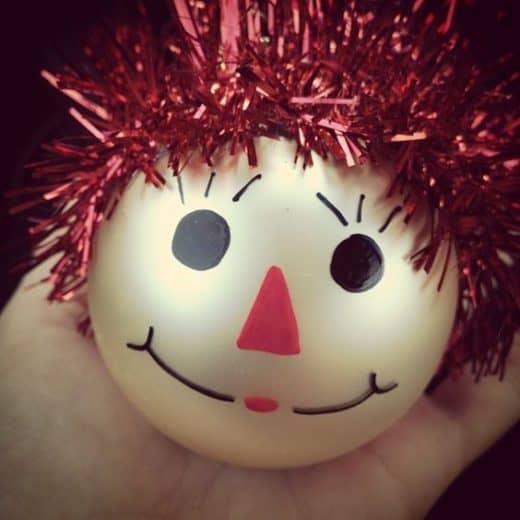 Make an easy scarecrow or a snowman. You can even use orange nail polish to paint the nose!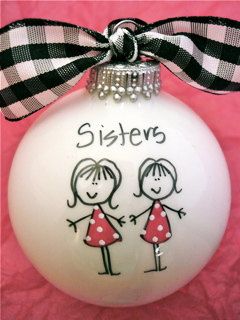 It's so easy for kids or even adults to make touching keepsakes for family or friends.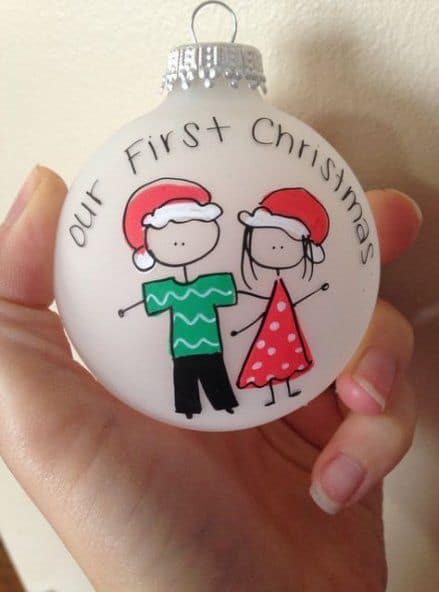 BOYFRIEND GIFT IDEA ALERT! Grab a Sharpie and make an easy yet touching Christmas ornament for your boyfriend or husband.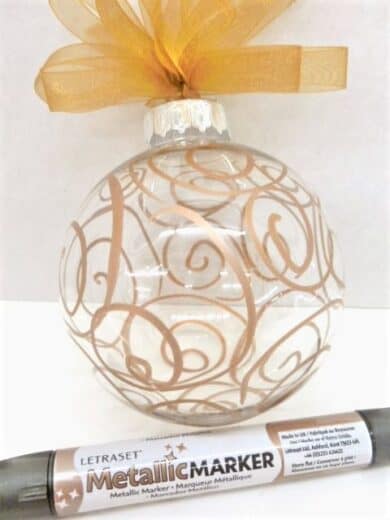 A metallic marker and ribbon can instantly turn a clear glass ornament into elegant tree decor!
EASY DIY DOLLAR TREE BELL ORNAMENTS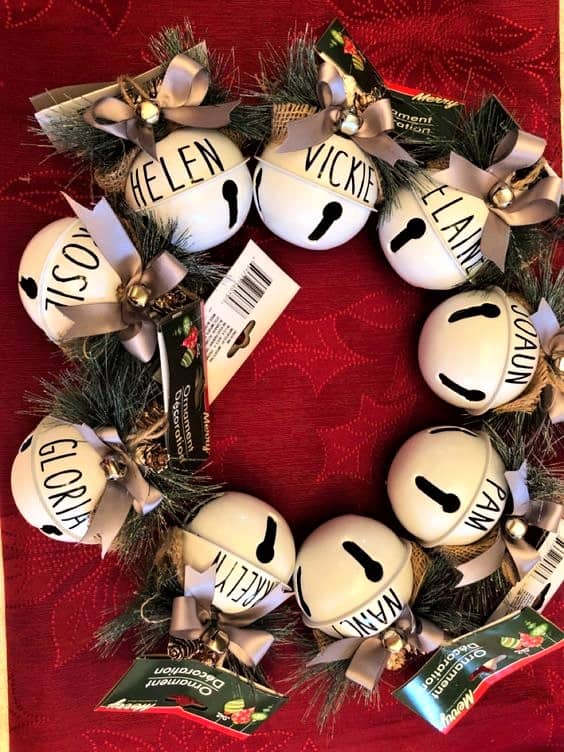 Use a sharpie to write names on a dollar store bell for an INSTANT Farmhouse Christmas ornament for your family tree or to gift, or use a cricut machine.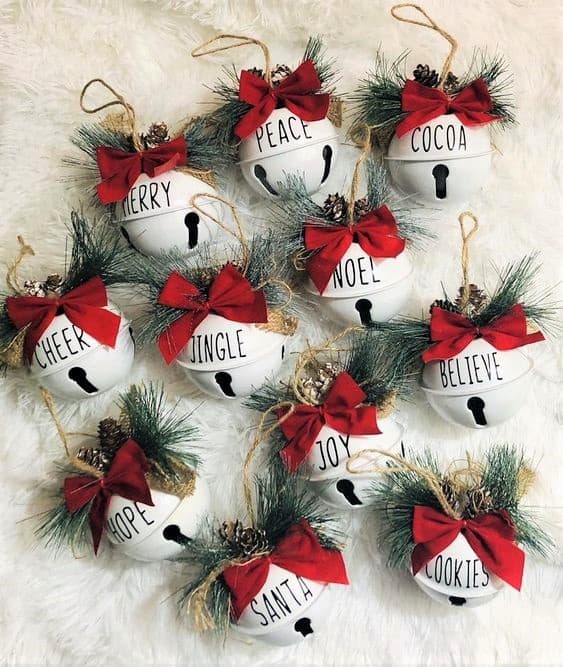 Buy it on etsy
You can purchase these farmhouse bell ornaments for your tree on etsy or make them yourself with a Sharpie, and a glue gun or use a cricut to cut vinyl letters. These would also make a great gift!
CASH GLASS ORNAMENT GIFT IDEA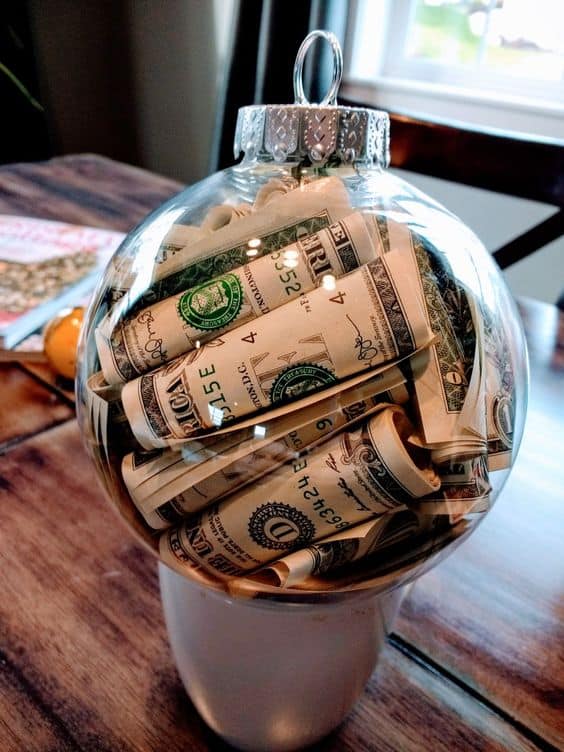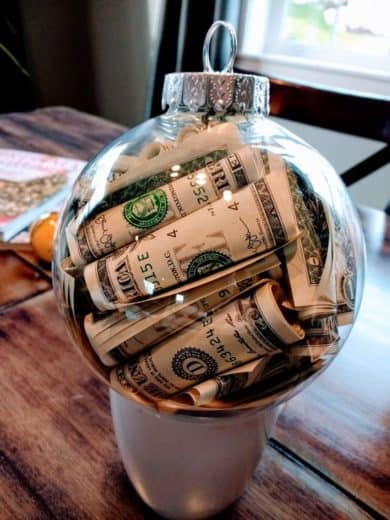 Sometimes the best gift is green and that goes for ornaments! Here is one ornament even a guy will love! Fill a glass ornament with cold hard cash, coal, or even a piece of jewelry.
WOOD SLICE RUSTIC CHRISTMAS ORNAMENTS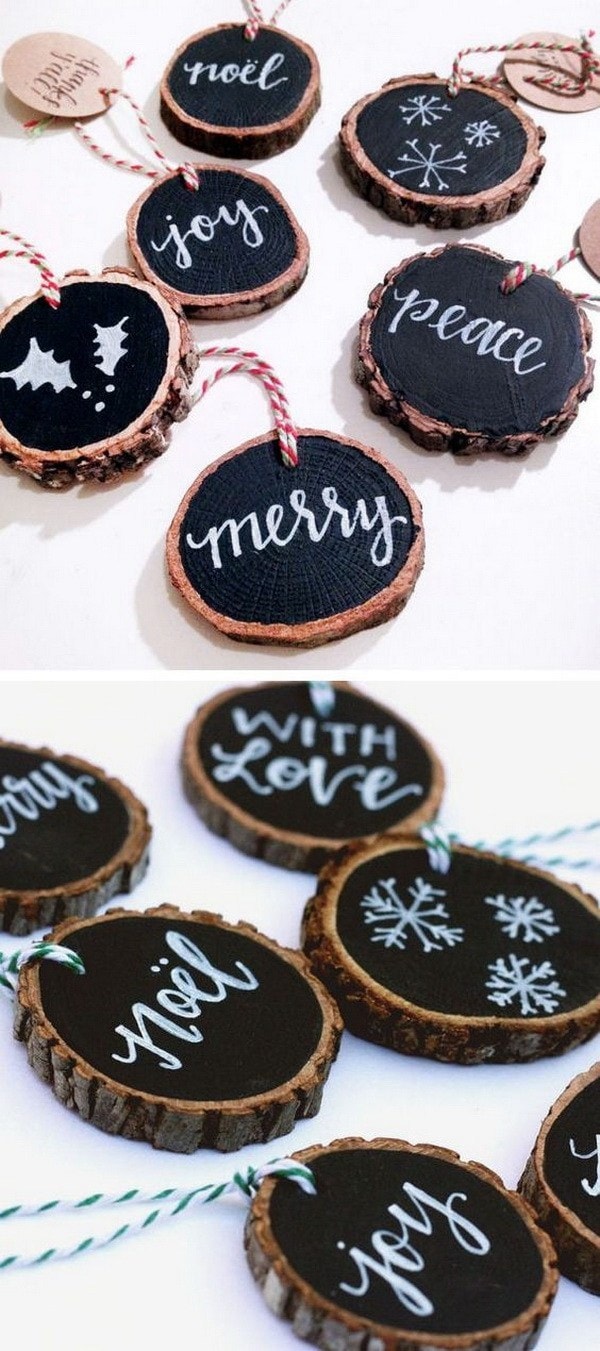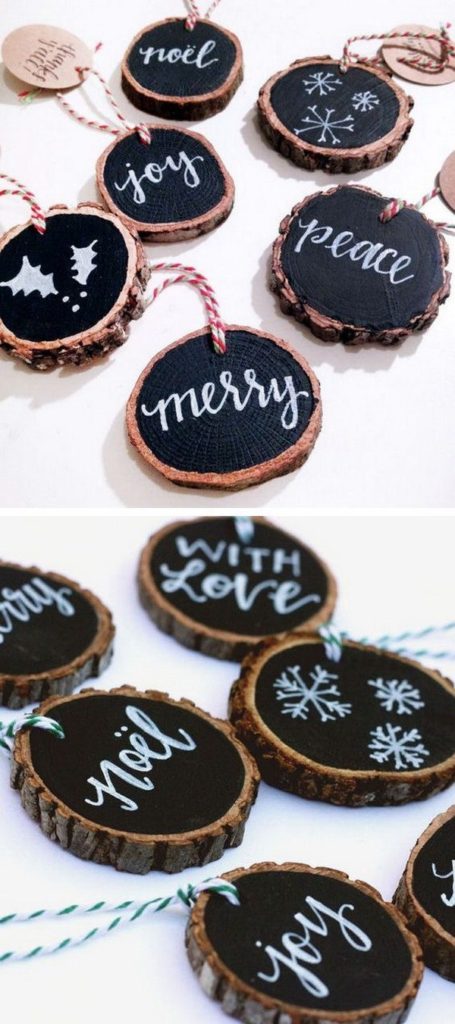 These easy DIY rustic tree slice ornaments have many uses! Slice up a tree branch if you're in the country or order tree slices off of Amazon.com if you're in the city. Paint on some chalk or acrylic paint and use either chalk, a chalk pen, or paint pen to write on them for gift tags, gifts, ornaments, coasters, or even name tags for a wedding!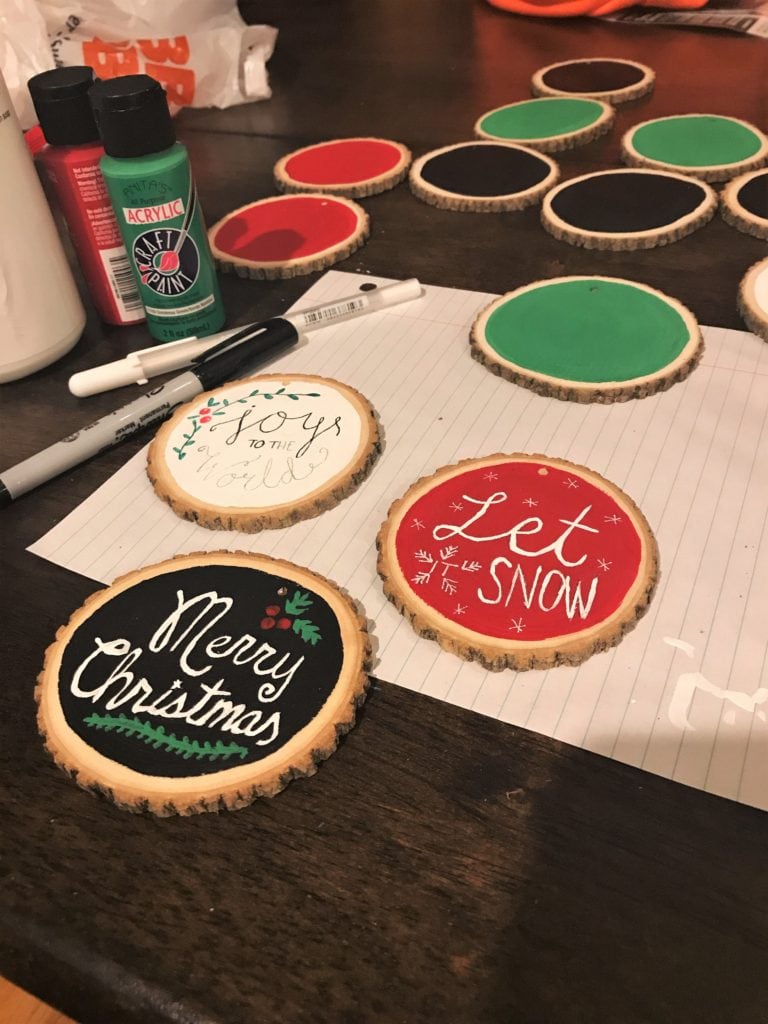 Let your imagination run wild with the design. Use different colors, glitter, and Sharpies! Kids would have a ball designing these with snowmen, reindeer, or even a customized message. These would also make great coasters for a customized gift!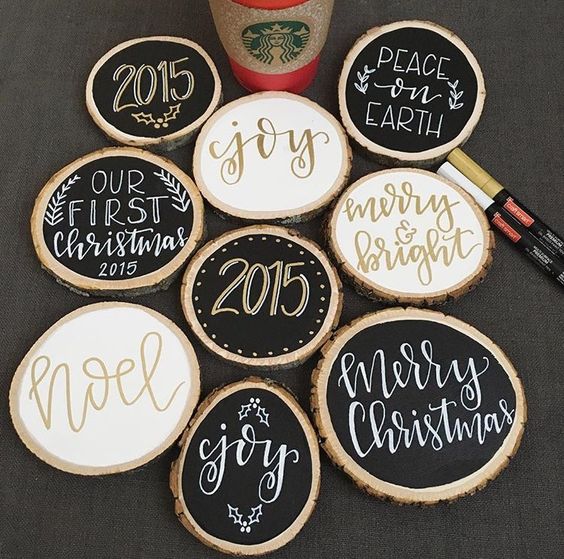 These are a great farmhouse glam design using metallic! You could use these for dorms, apartments, and homes…and did we mention weddings!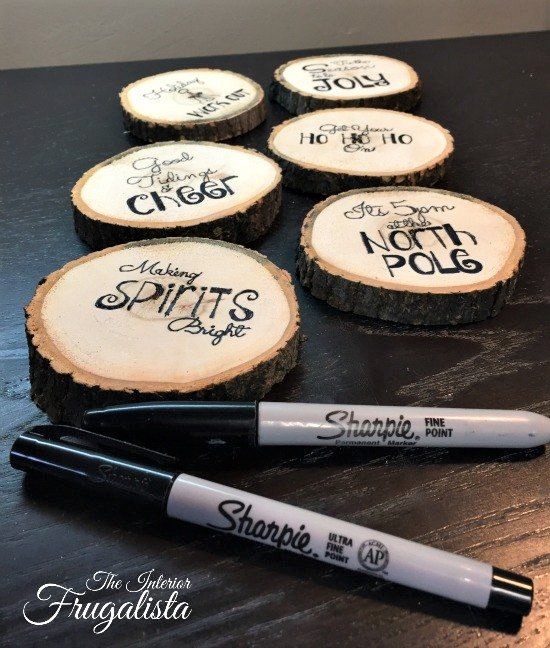 You don't even need paint, just use Sharpies! This would make a great gift idea for friends, boyfriends, neighbors, teachers and family!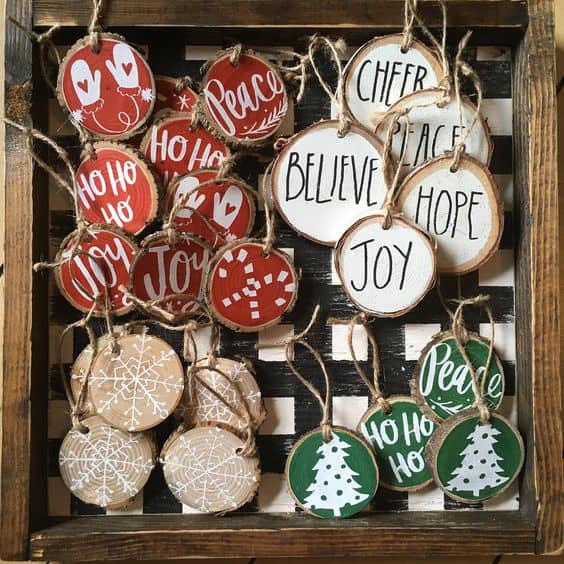 Use the popular Ray Dunn style writing without paying Pottery Barn prices!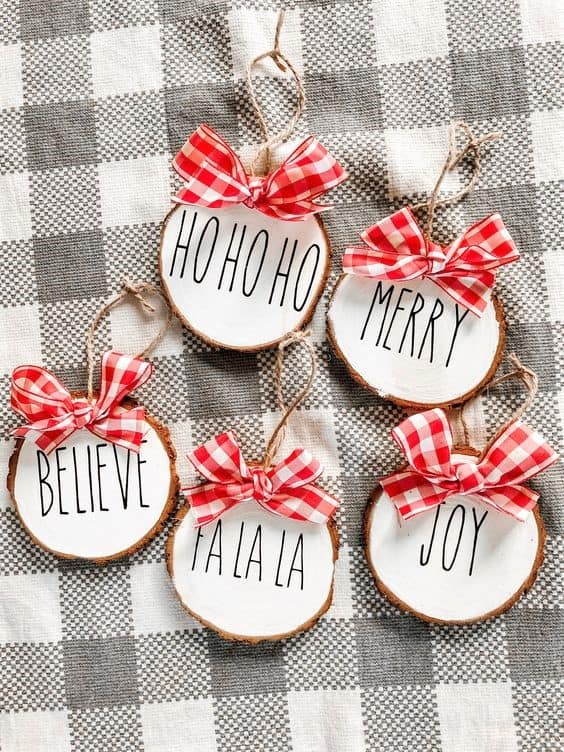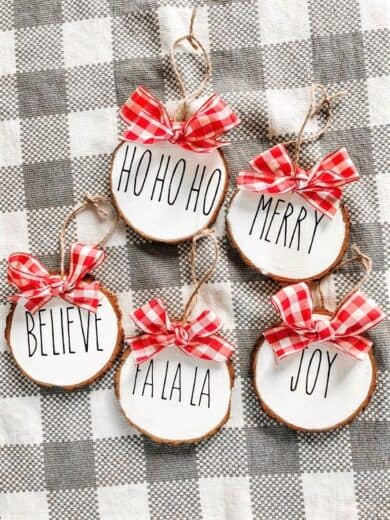 These farmhouse Rae Dunn inspired ornaments were found on etsy but they can easily be made with a sharpie!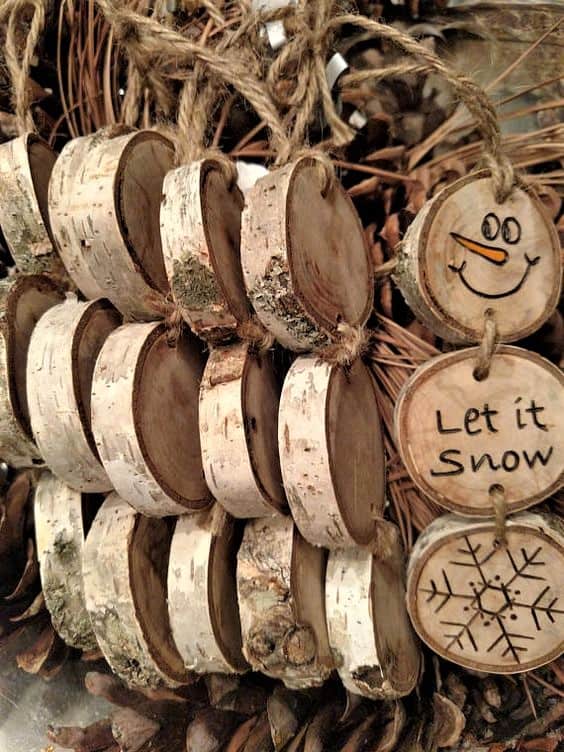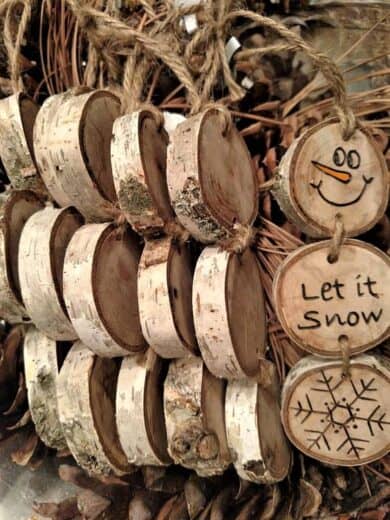 Slicing up tree branches would make the perfect size wood slices for these rustic snowmen!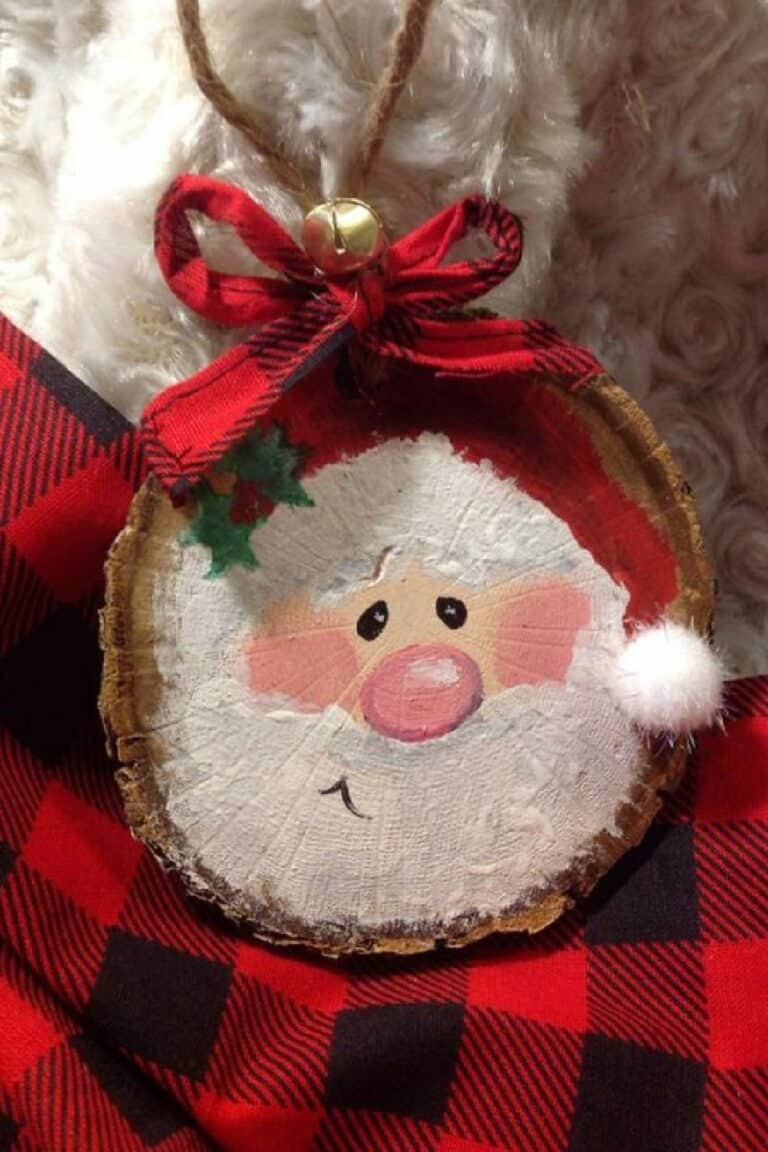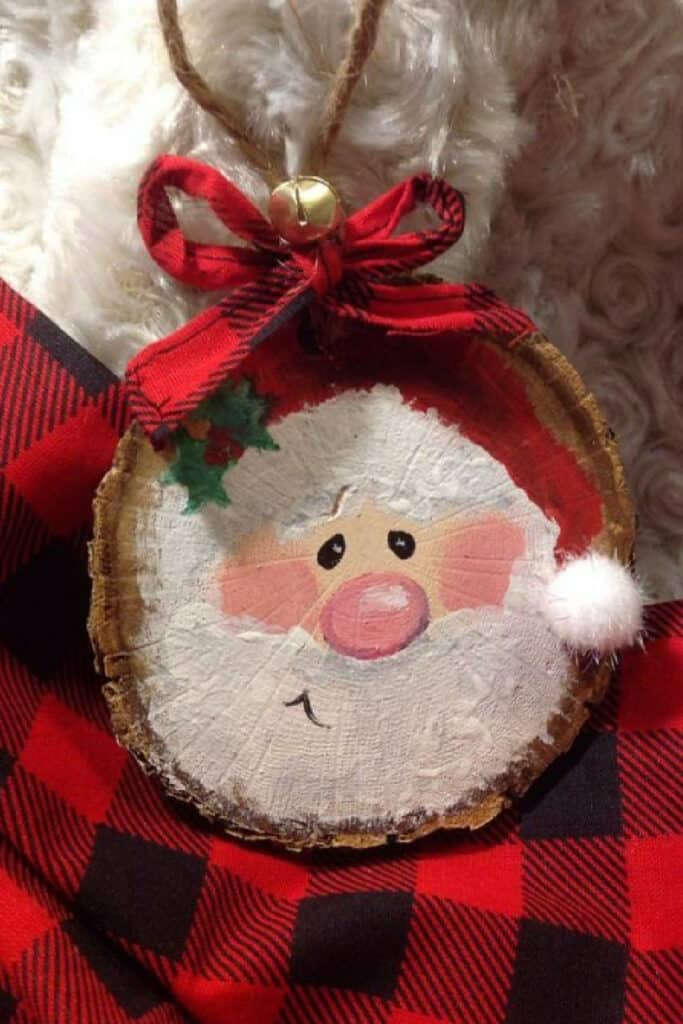 MASON JAR LID DIY CHRISTMAS ORNAMENT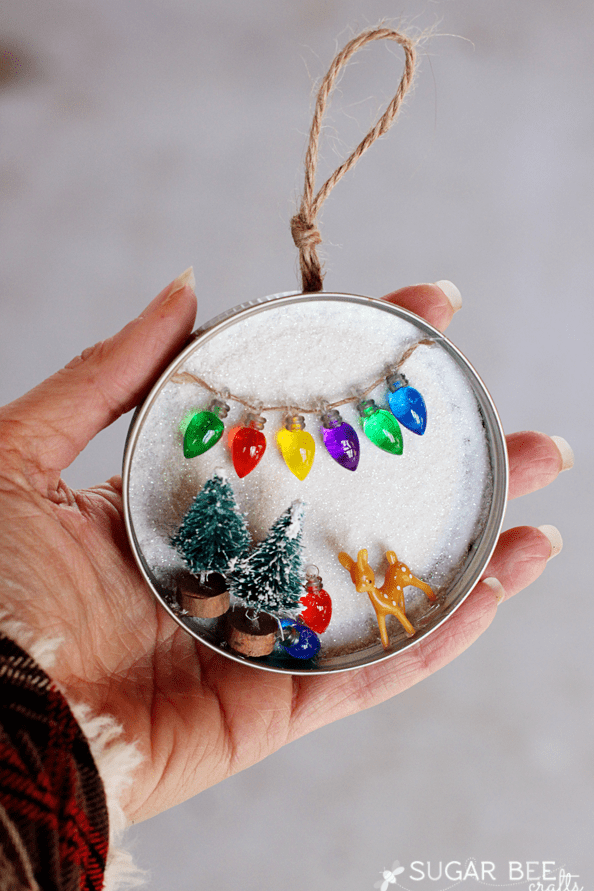 Need something to do with those mason jar lids? Try this quick, easy, and clever craft even kids can make! Just use little figures and glue. You can make virtually any scene or use any theme.
CLEAR GLASS CHRISTMAS ORNAMENT GIFT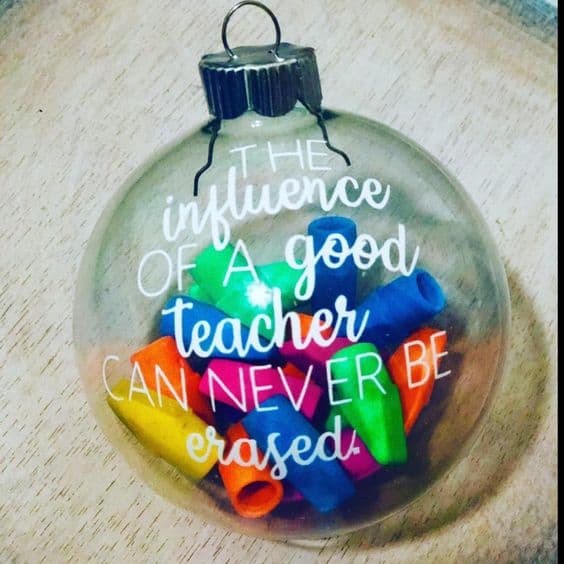 Make this out of a clear glass ornament and use an ink pen, sharpie, or a cricut for the writing. Fill with dollar store erasers and you have an instant pun teachers gift.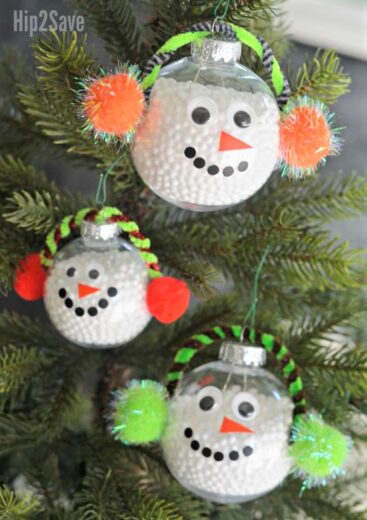 Kids and adults can make these super easy clear ball snowman ornaments for a tree decor craft or gift.
WOOD SCRABBLE PERSONALIZED RUSTIC ORNAMENTS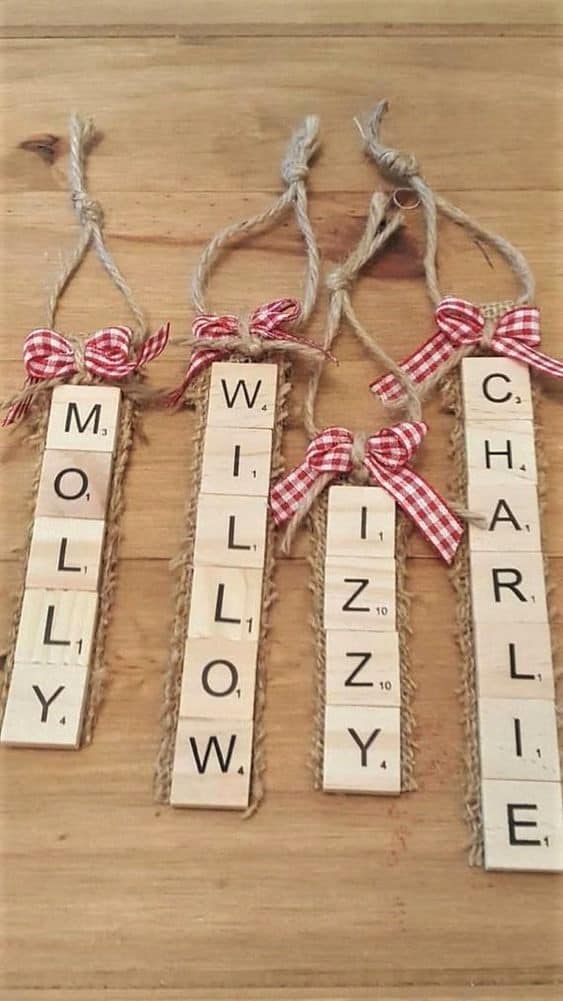 Easy Rustic ornament gift idea for the family using scrabble pieces, burlap, rope, and glue! Spell out anything for any loved one!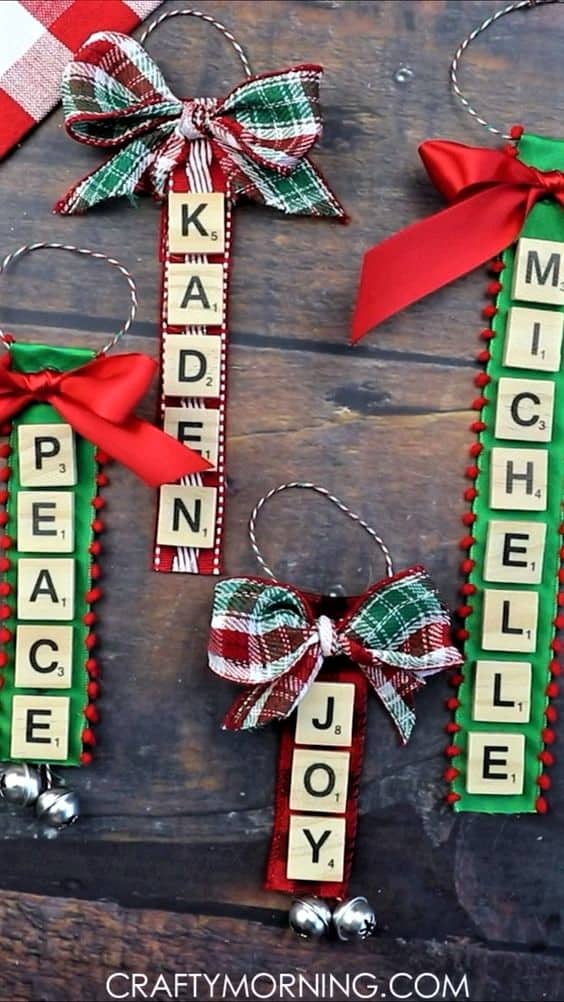 These would make beautiful gifts for friends and family!
DOUGH AND CLAY CHRISTMAS ORNAMENTS DIY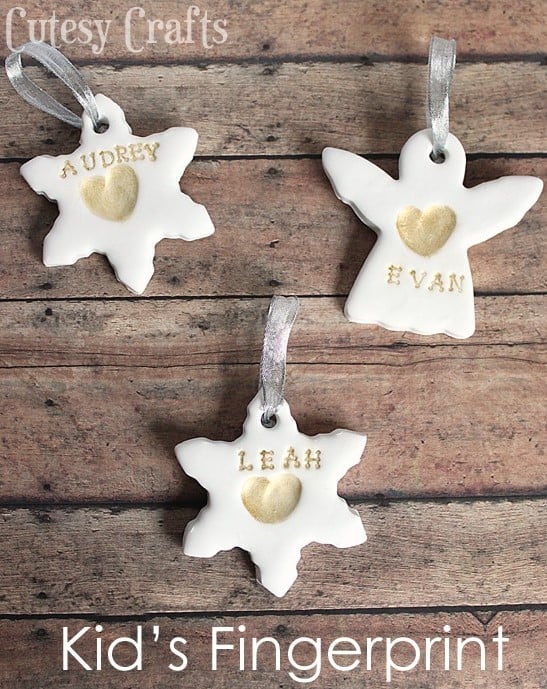 Use polymer clay and gold acrylic paint to make these adorable keepsakes that would make great gifts using the kids fingerprints!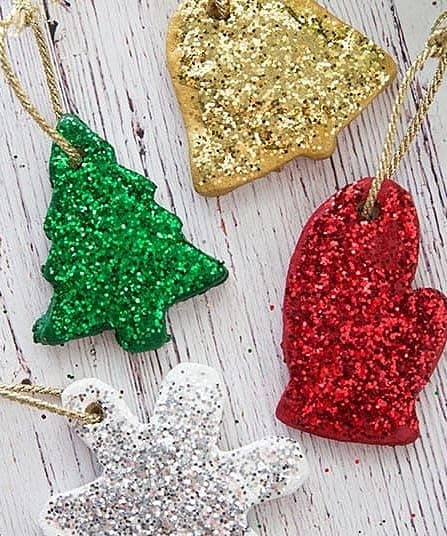 Use the leftover flour salt dough from the stain glass ornaments to make these glitter dough ornaments! Just simply paint and dip in glitter after baking.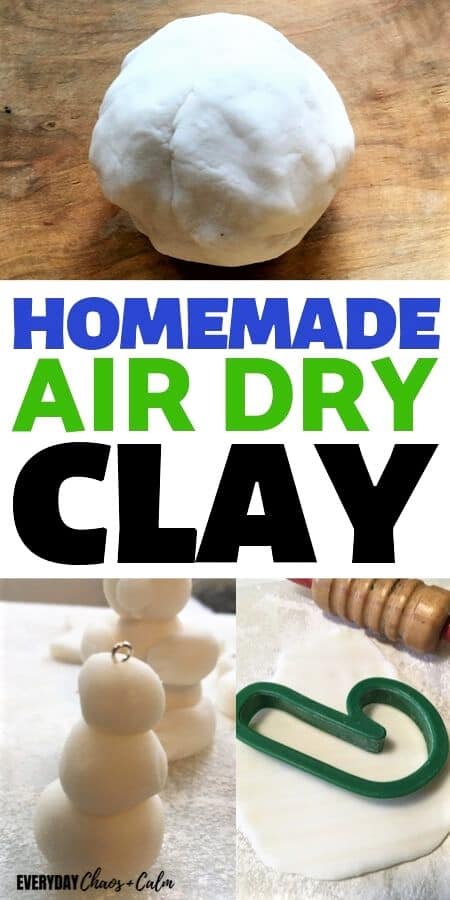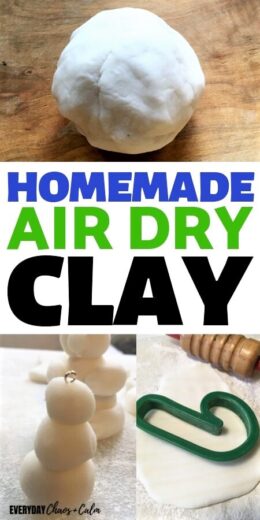 This is the best homemade air dry clay recipe for ornaments. It uses few ingredients and dries quickly!
DIY CARDBOARD CHRISTMAS ORNAMENTS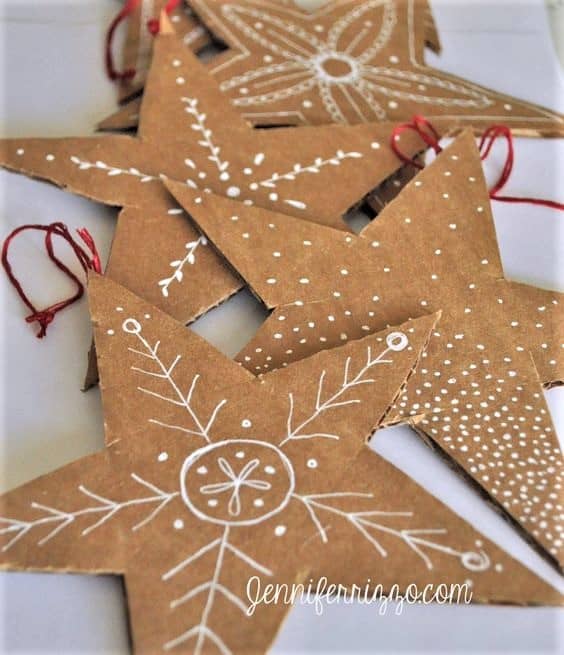 Recycle those cardboard boxes with a paint pen for beautiful star ornaments or Christmas decorations!
Cut out cardboard triangles so kids can make aluminum foil Christmas trees that glisten in the lights.
GNOME CHRISTMAS ORNAMENTS DIY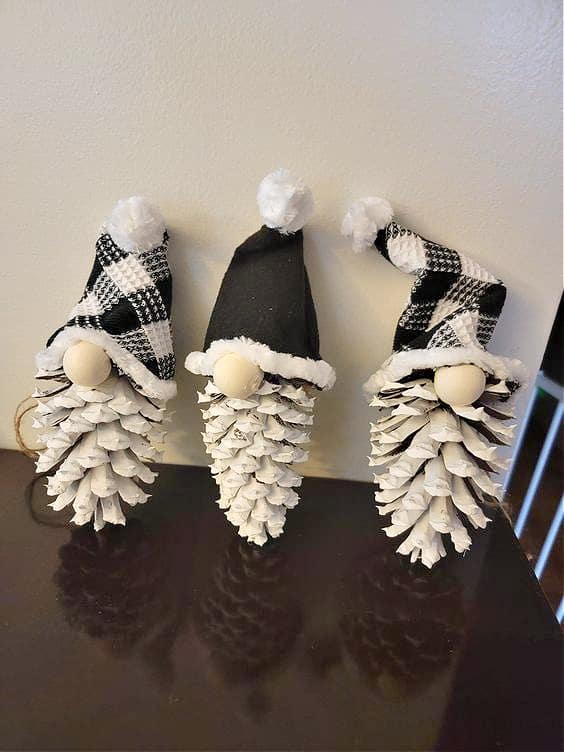 This is the perfect idea for your pinecones that even grandkids can make! Just use this tutorial for inspiration!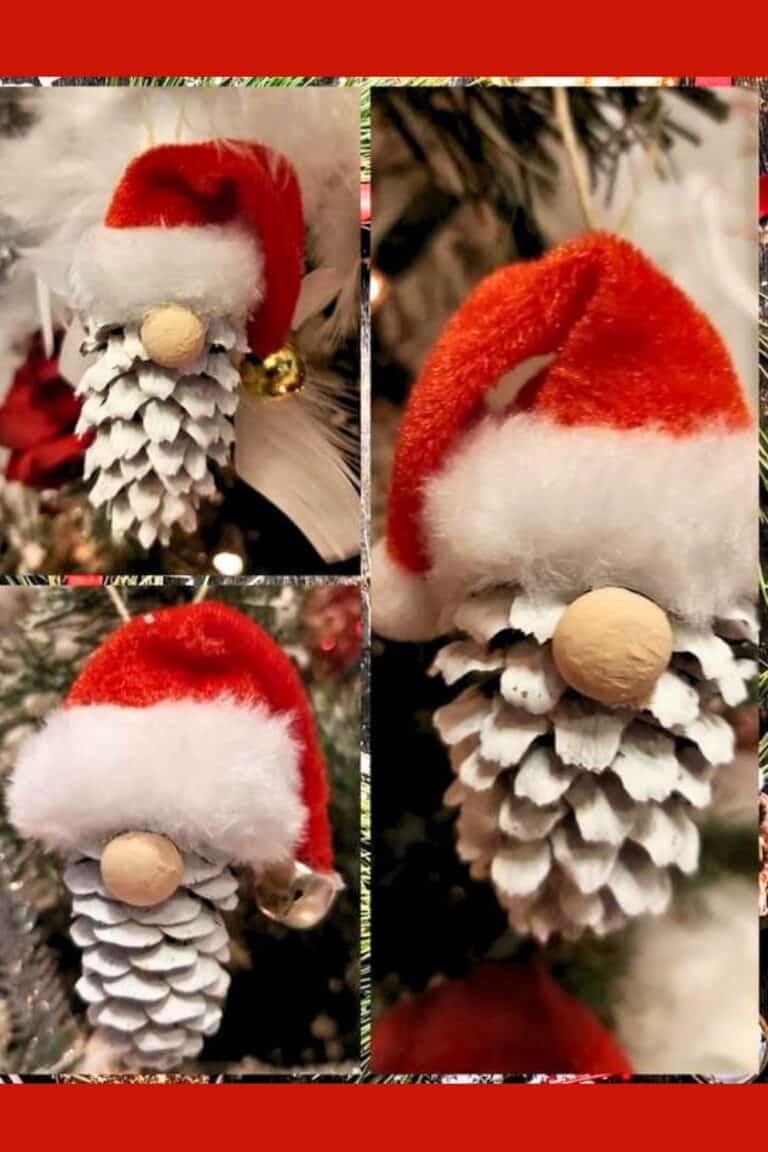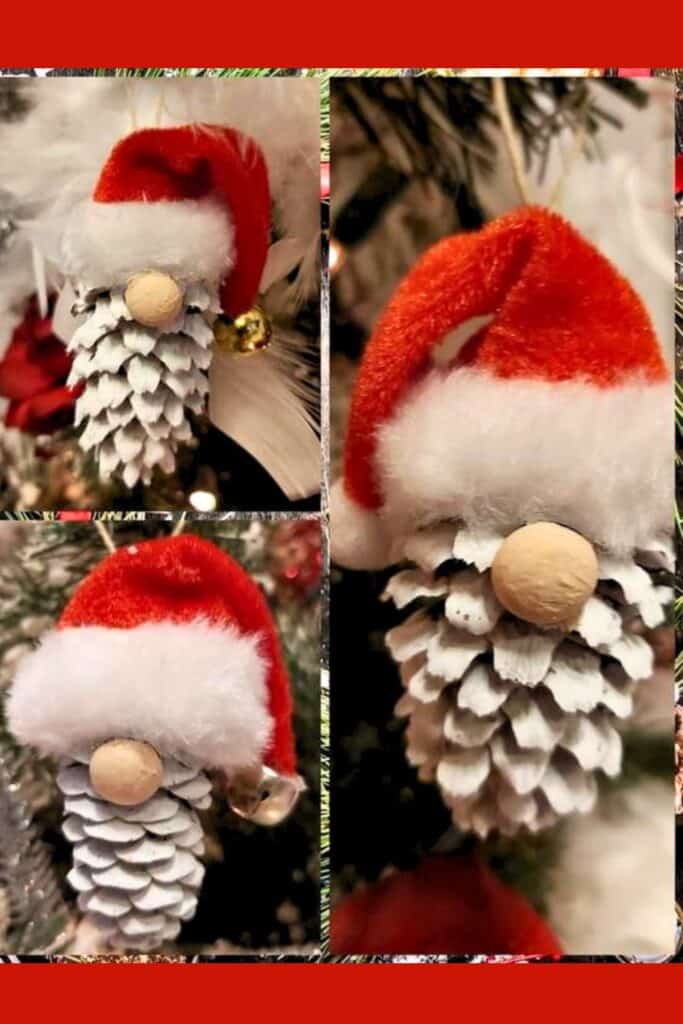 Pinecone Gnome Santa's are ridiculously easy to make with kids to sell using this tutorial (CLICK HERE).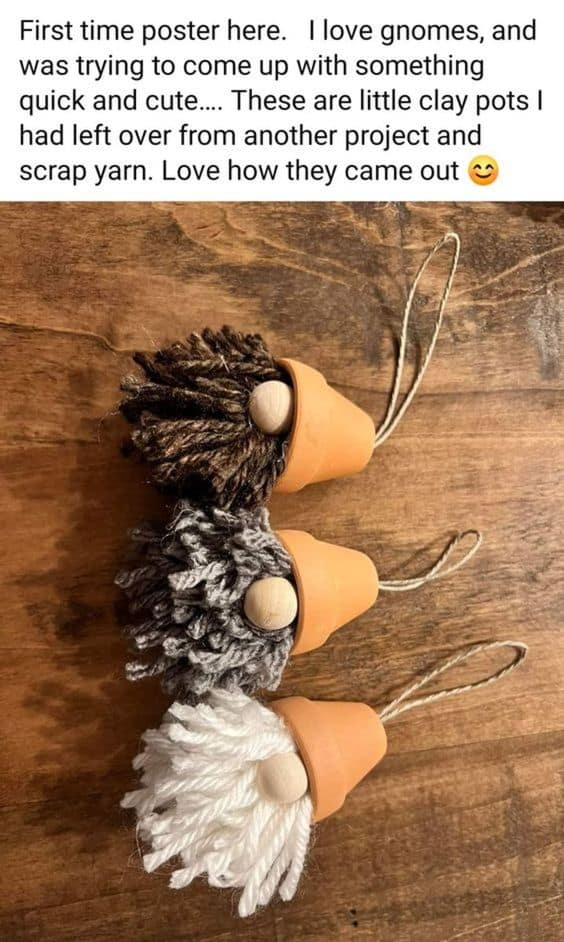 You can tie a bushel of scrap yarn in the middle, fold it in half, and glue to the inside of the clay pot. You can paint the clay pot any color you want, write a name on the front with a sharpie, OR cover it in fabric to make the gnome hat! You can also use mini plastic planters. We're going to add a round bead to the top to make it look like a snow cap!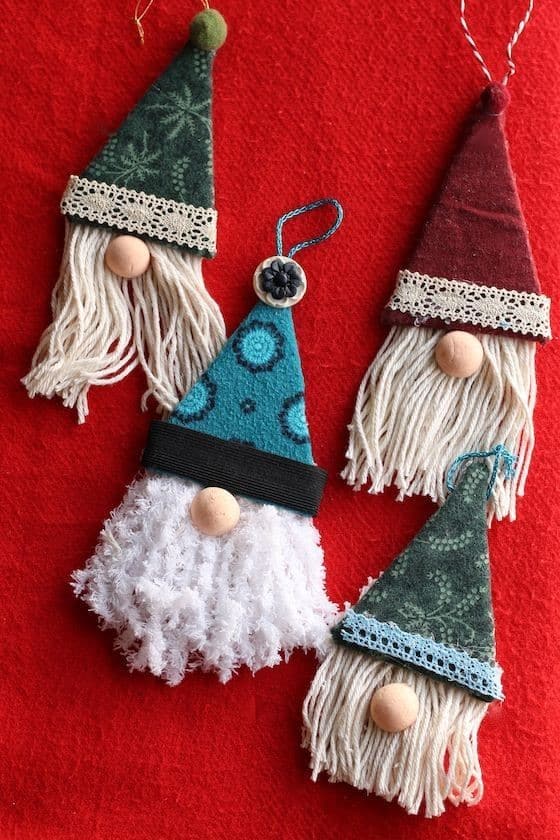 These easy gnome ornaments take only 30 mins to make! They just require cardboard, yarn, fabric, string, styrofoam balls or pom poms, and string!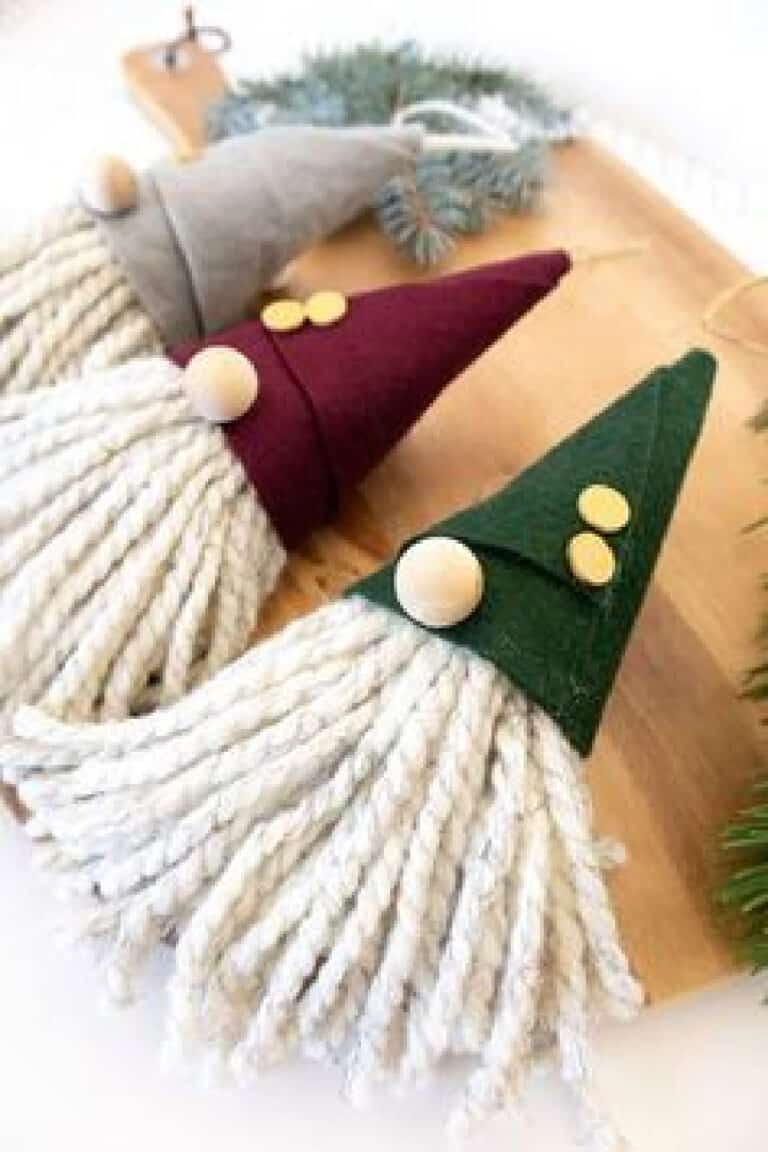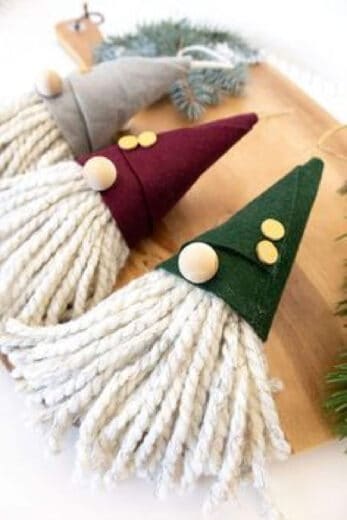 The super easy DIY no sew Gnome Christmas ornaments Ppictured above can be quickly made with just glue!
CROCHET ORNAMENTS DIY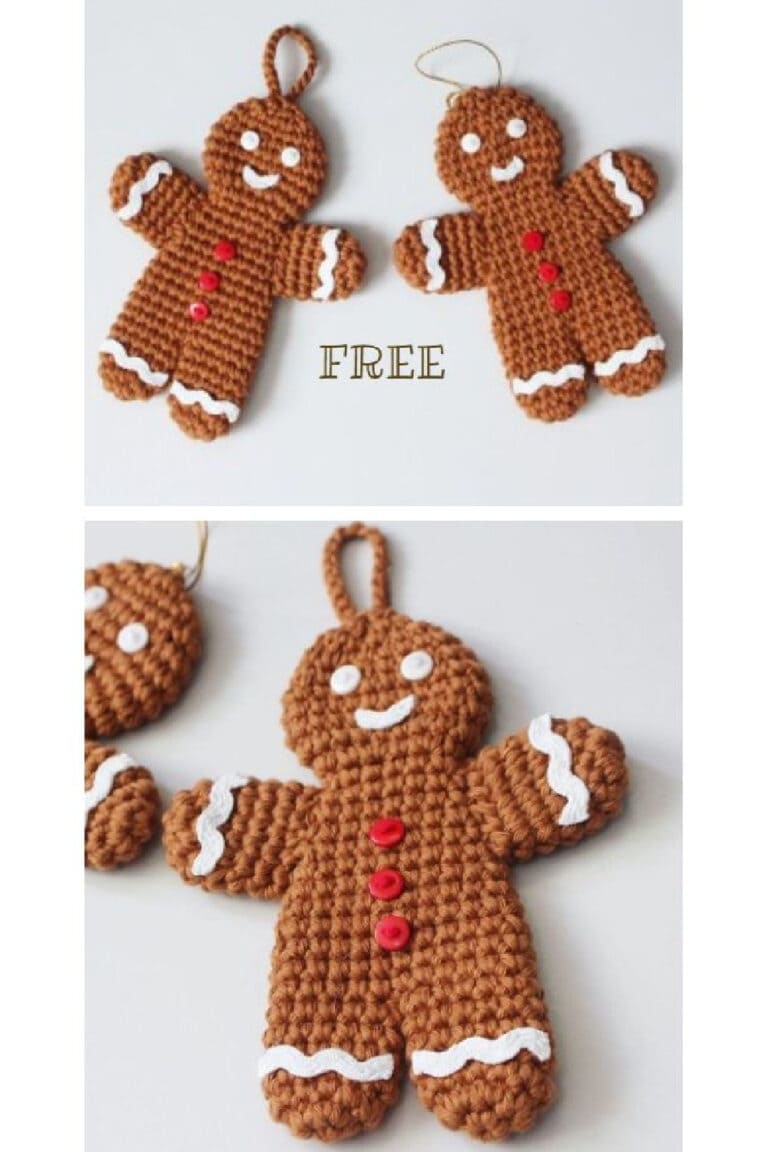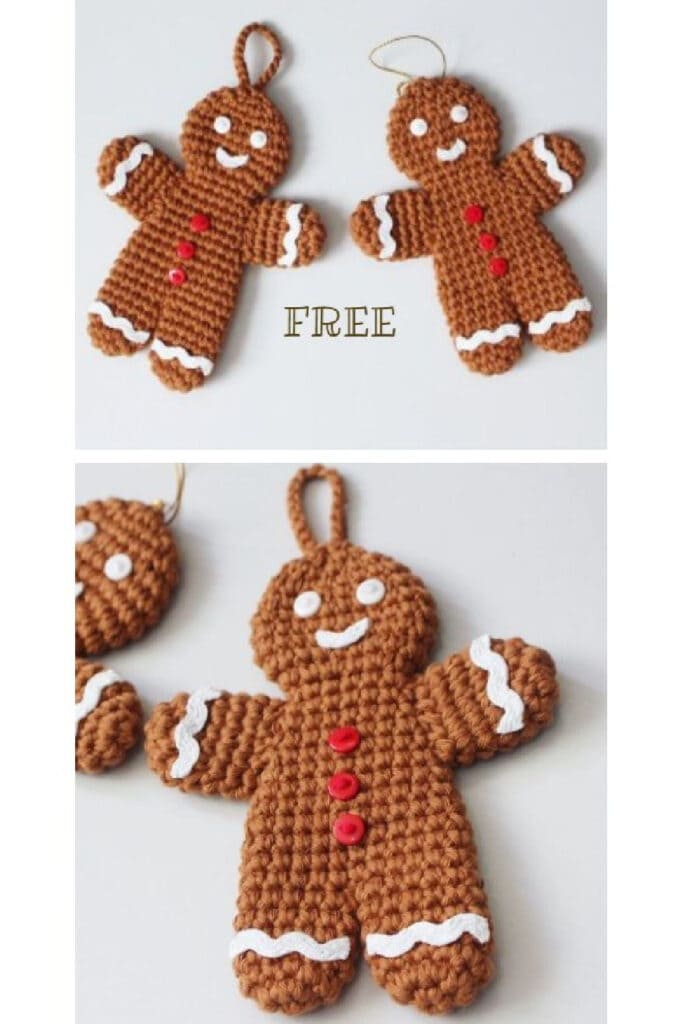 If you or someone you know crochets, you're in luck! There are so many free crochet patterns for adorable Christmas ornaments to suit every theme and style.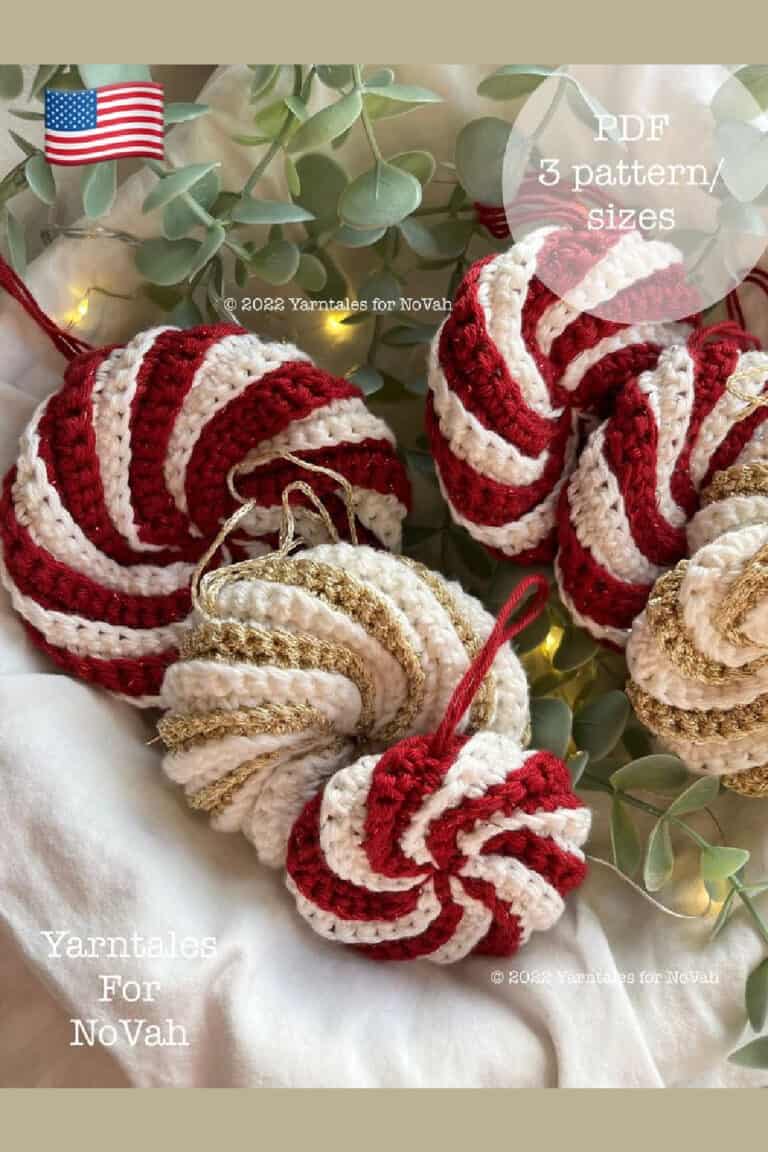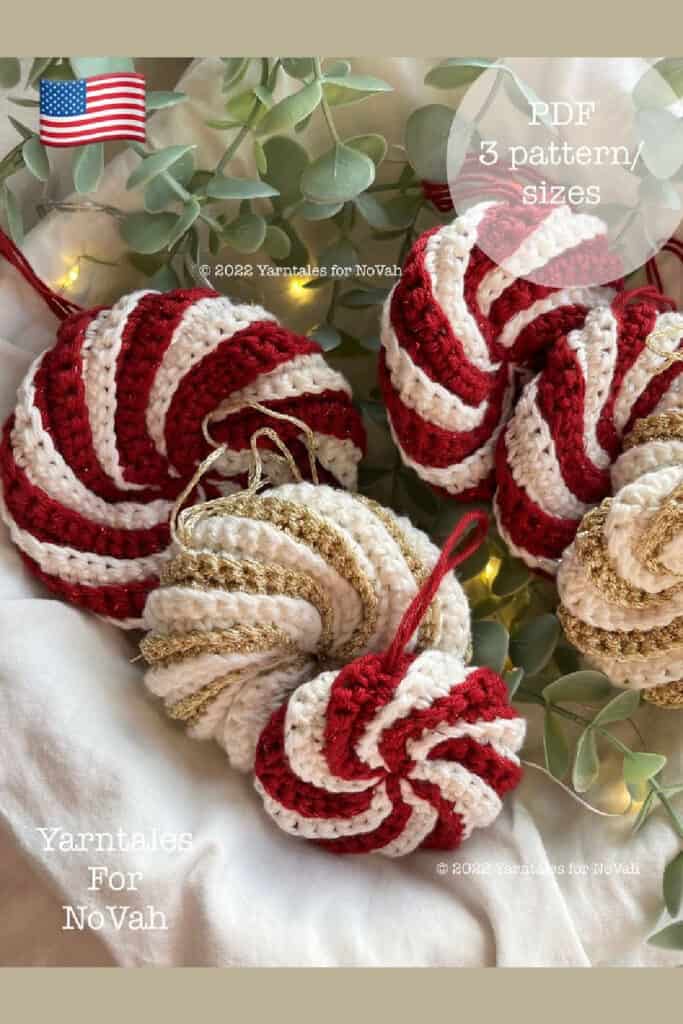 There are also great patterns to purchase for fairly cheap like this peppermint candy Christmas ornament that would be perfect for the popular "Candyland" Christmas tree theme this year.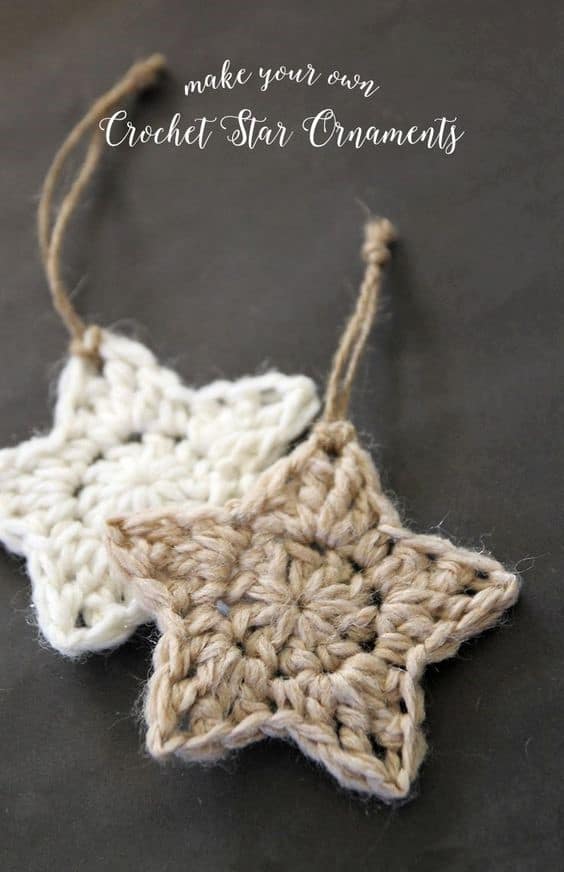 The easy crochet star Christmas ornaments above have farmhouse cottage written all over them.
RUSTIC TWINE OR JUTE ROPE ORNAMENTS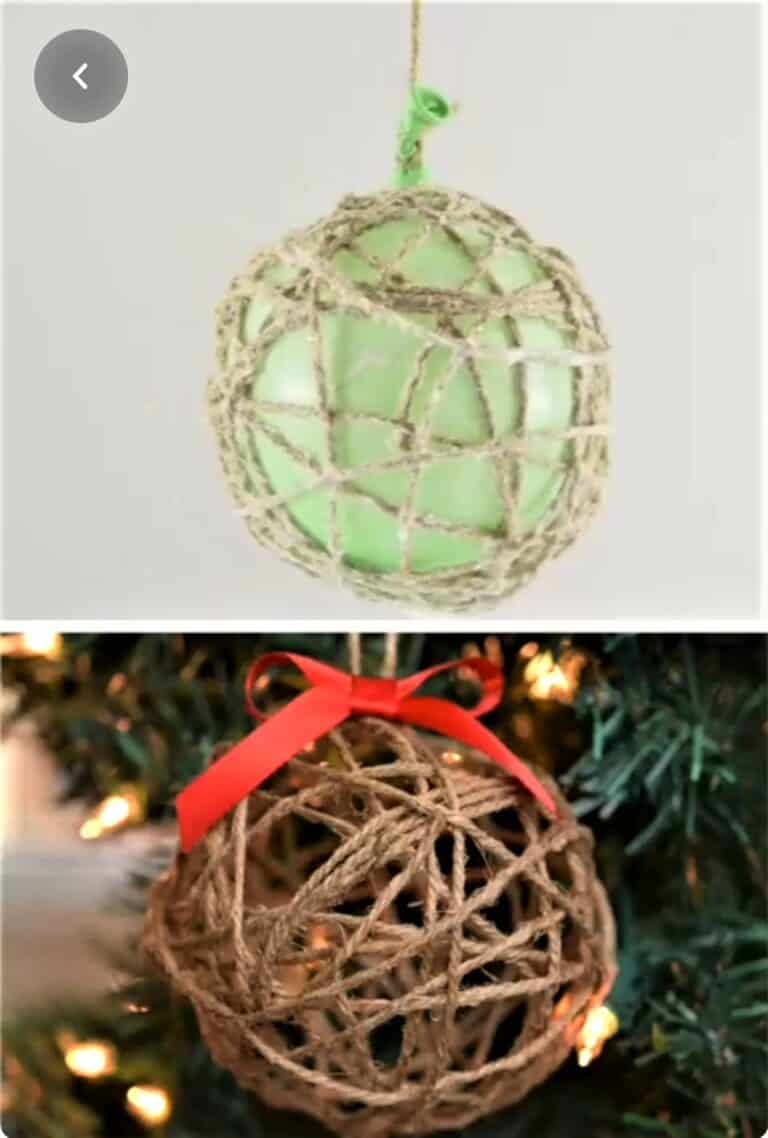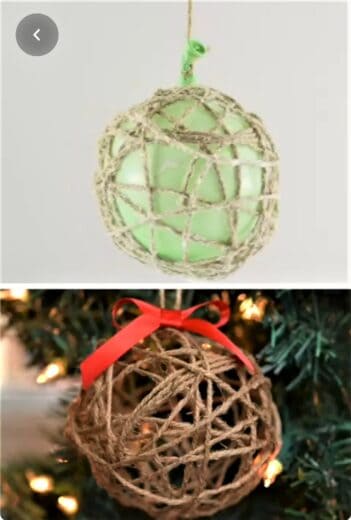 Twine + Balloon + Mod Podge Glue = Easy Rustic DIY Twin Ball Ornaments. These are GORGEOUS and versatile. There is a fantastic video on how to make these.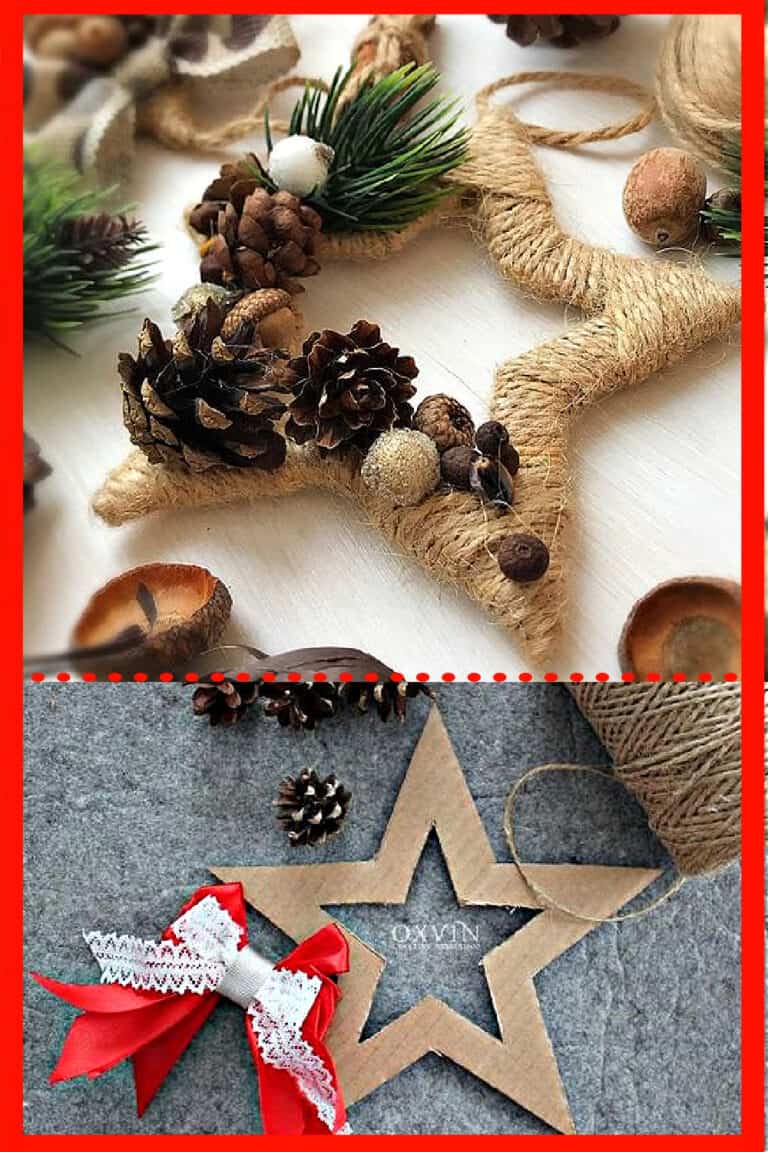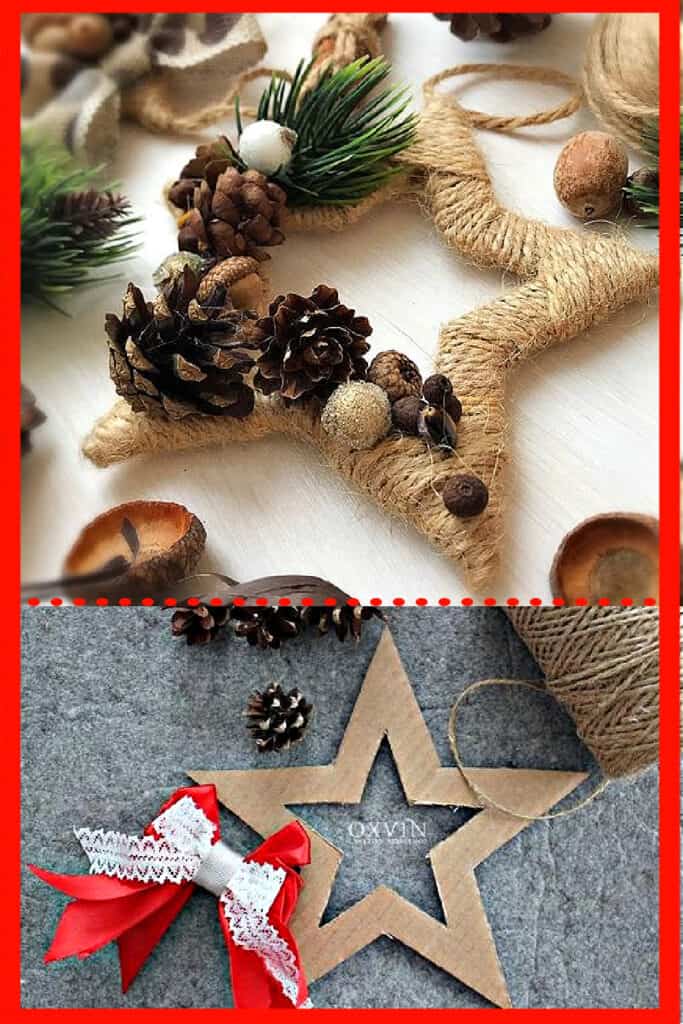 Use glue, twine, and cardboard to make beautiful rustic star ornaments.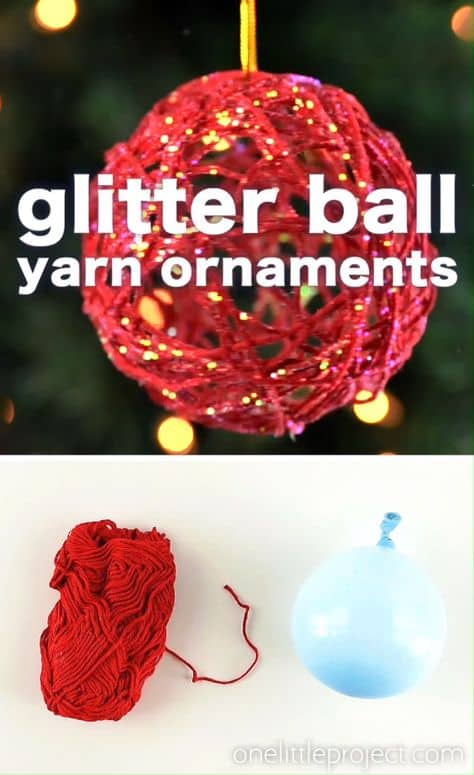 You can also make a glitter farmhouse glam version with yarn and glitter.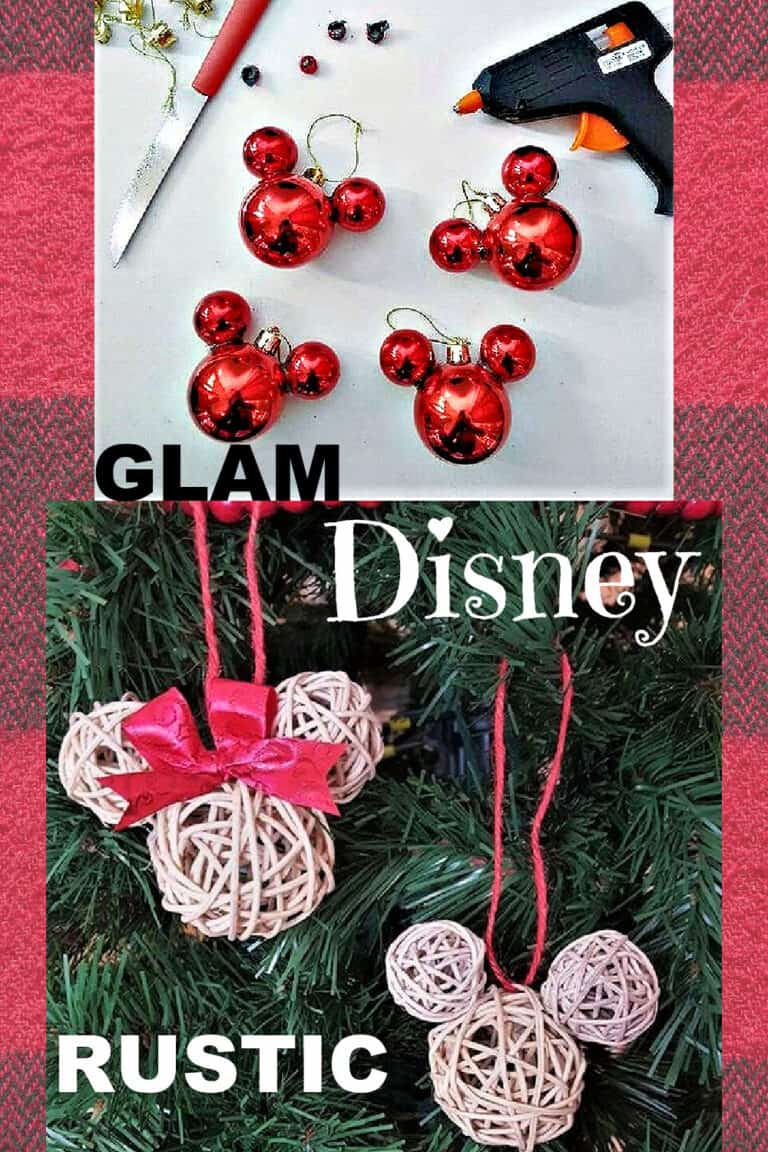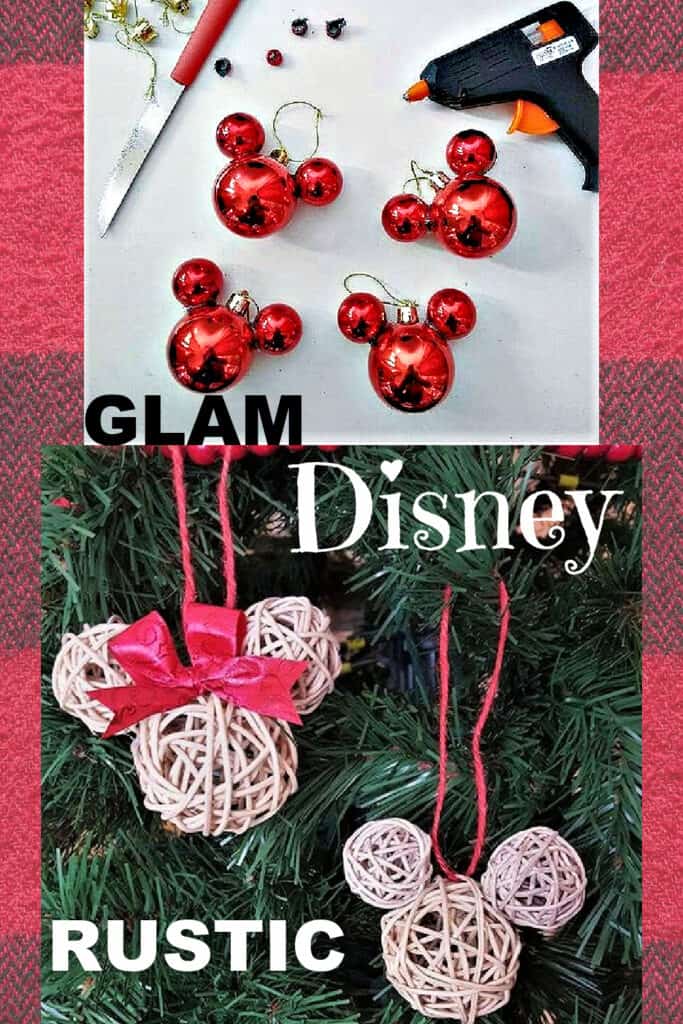 BOTTOM DISNEY ORNAMENT TUTORIAL
Kids can make, sell, or gift these easy Dollar Store Disney Mouse ornaments in both rustic and glam designs.
MINI WREATH CHRISTMAS TREE ORNAMENT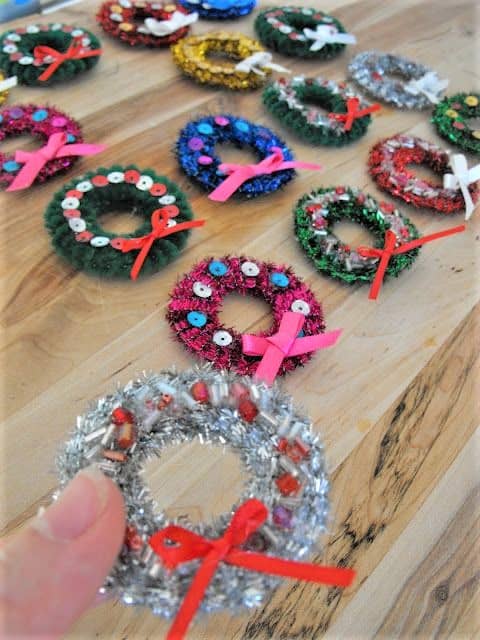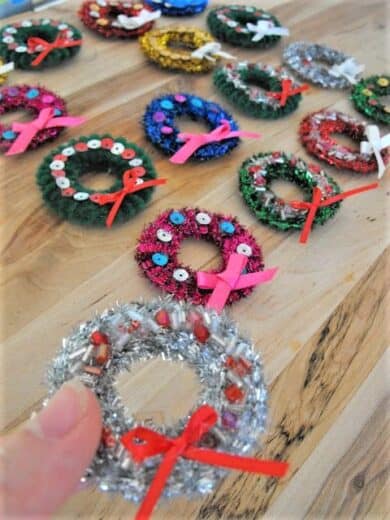 Use cardboard or even the plastic rings from mason jars and gatorade bottles to make these mini wreaths. Decorate with pipe cleaners, beads, pom poms, or sequins.
WOOD STICK TWIG CHRISTMAS ORNAMENTS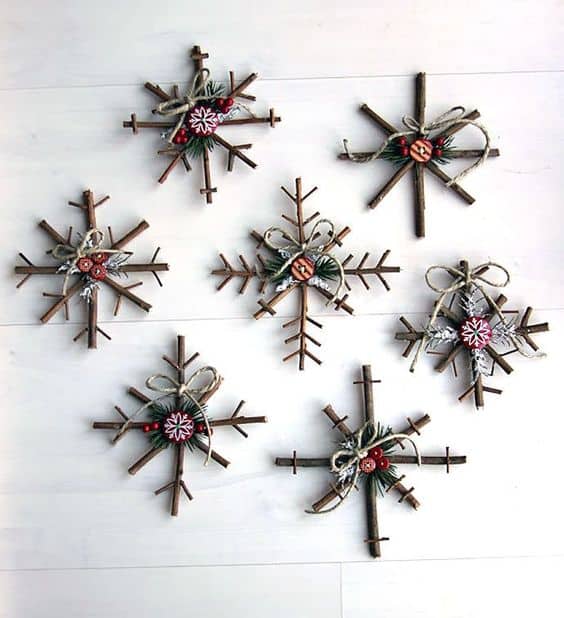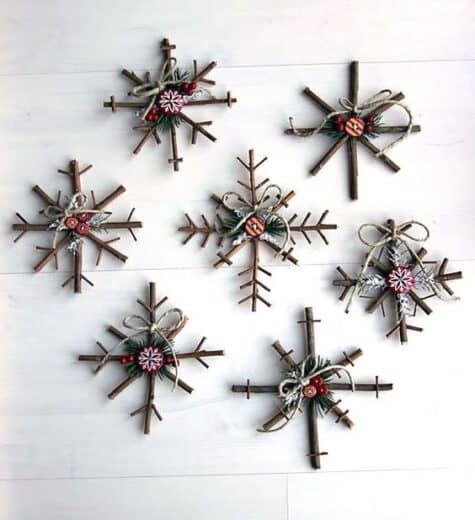 Snowflake Stick Branch Ornament
Have the kids collect fallen twigs and branches outside to create these easy snowflake ornaments using glue. It's the perfect rustic Christmas tree idea.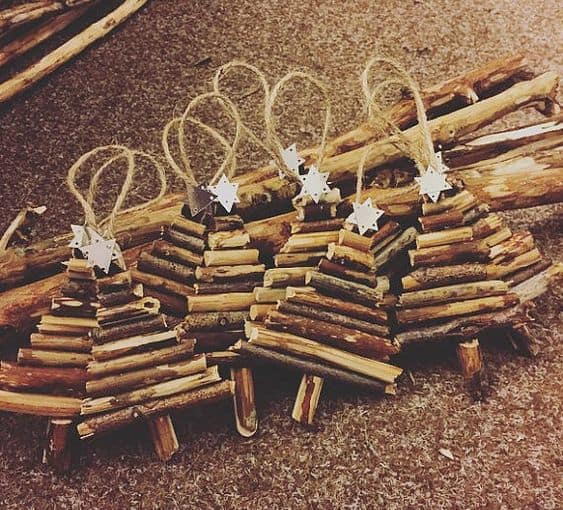 Twig Stick Christmas Tree Tutorial
These branch Christmas trees are ridiculously simple to make yet gorgeous enough to gift or sell.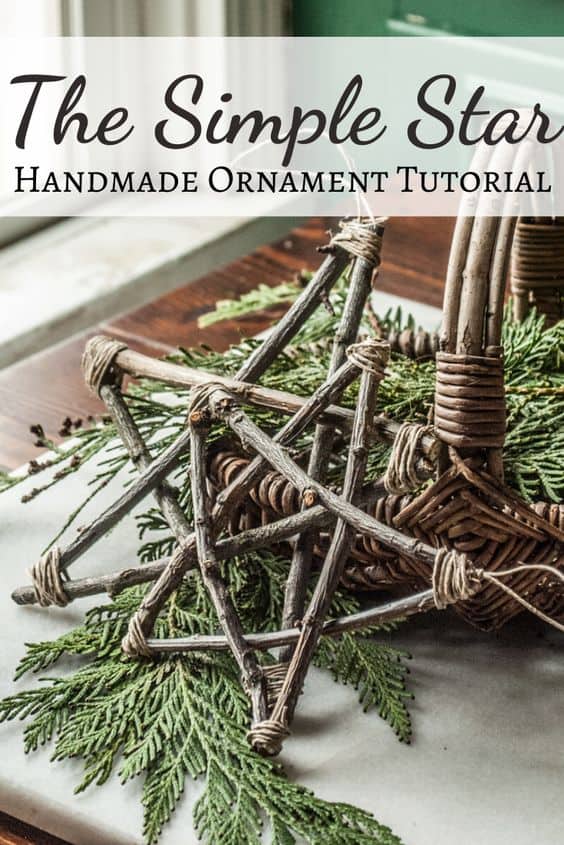 STICK TWIG STAR CHRISTMAS ORNAMENT TUTORIAL
These rustic stars are easier to make than they look. They not only make an excellent Christmas tree ornament idea but also can double as a tree topper and garland.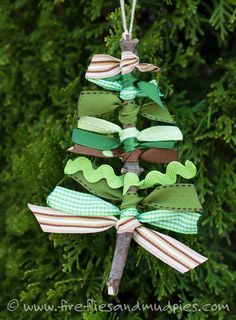 RIBBON STICK CHRISTMAS ORNAMENT TUTORIAL
These are ridiculously easy for even the smallest kids to make.
DIY EMBROIDERY HOOP CHRISTMAS ORNAMENT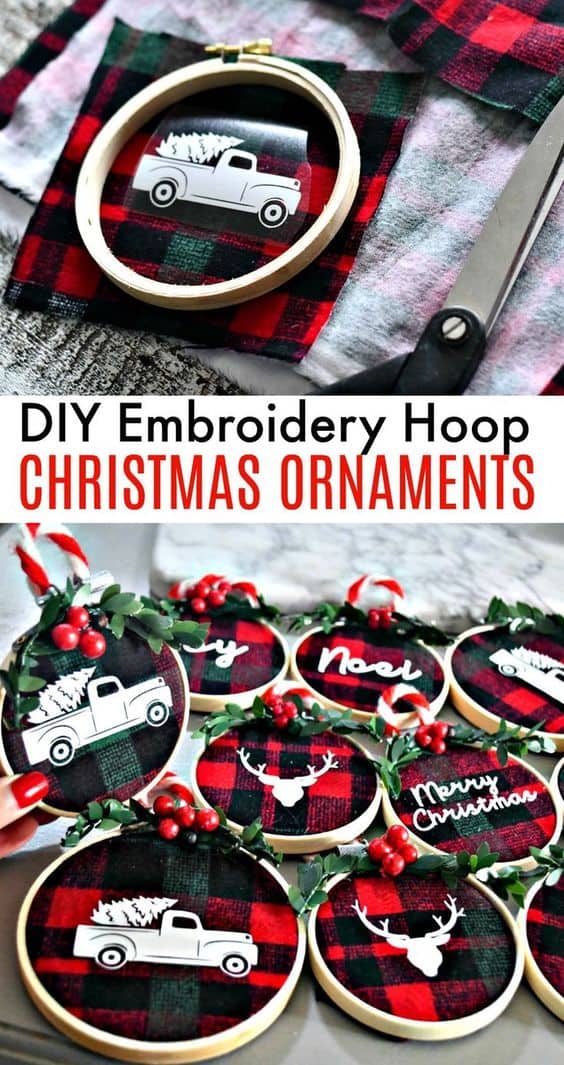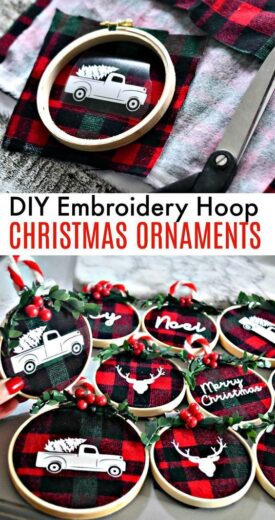 Use embroidery hoops to make these adorable ornaments that can be customized.
PANDEMIC ORNAMENTS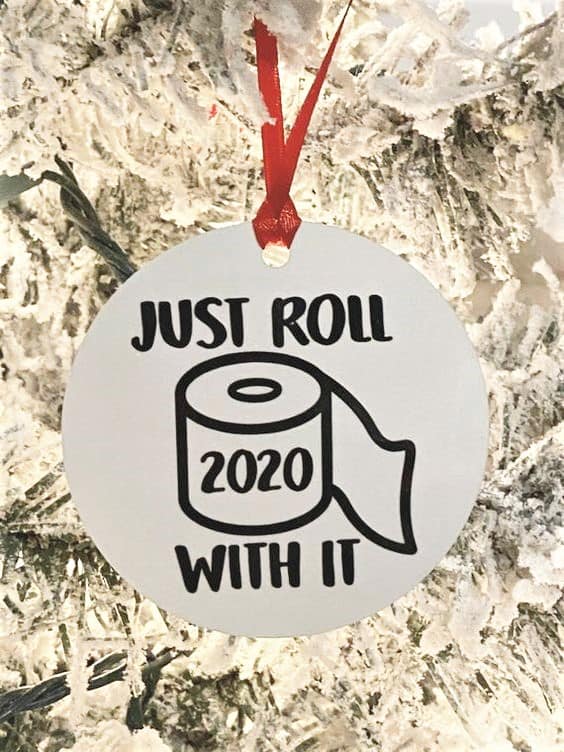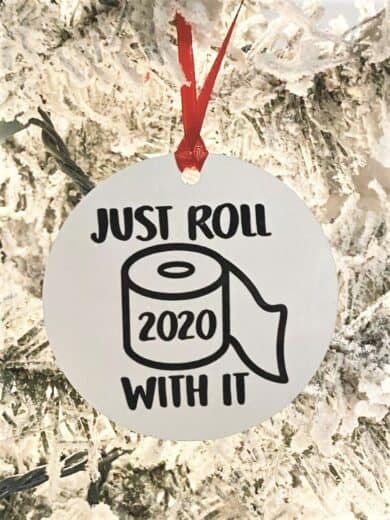 Use cardstock or cardboard, or easy DIY salt dough to make a disc with a hole in it (you can also make it in the shape of a toilet paper roll) and with a Sharpie write the 2020 pandemic quote of your choice on it for a quick DIY 2020 Pandemic ornament.
Here are some ideas for Pandemic ornament quotes:
2020 Our First Pandemic
2020 The One with the Pandemic
What a F*cking Year 2020
Oh the news is so frightful but wearing pajamas to work is delightful 2020
Homeschooling and Day Drinking Perfect Together 2020
---
This concludes our list of easy DIY ornaments that look store bought. We hope we sparked a bunch of amazing ideas you're excited to try.
The kids will have a gift they can give to their parents, grandparents or even teacher, or an ornament they can keep forever.
We keep adding more ornaments to make for our niece and nephew as we discover them so keep checking back.
We hope you have a Merry Christmas and the best New Year yet!
Love,

If you like this post, don't forget to pin it for reference: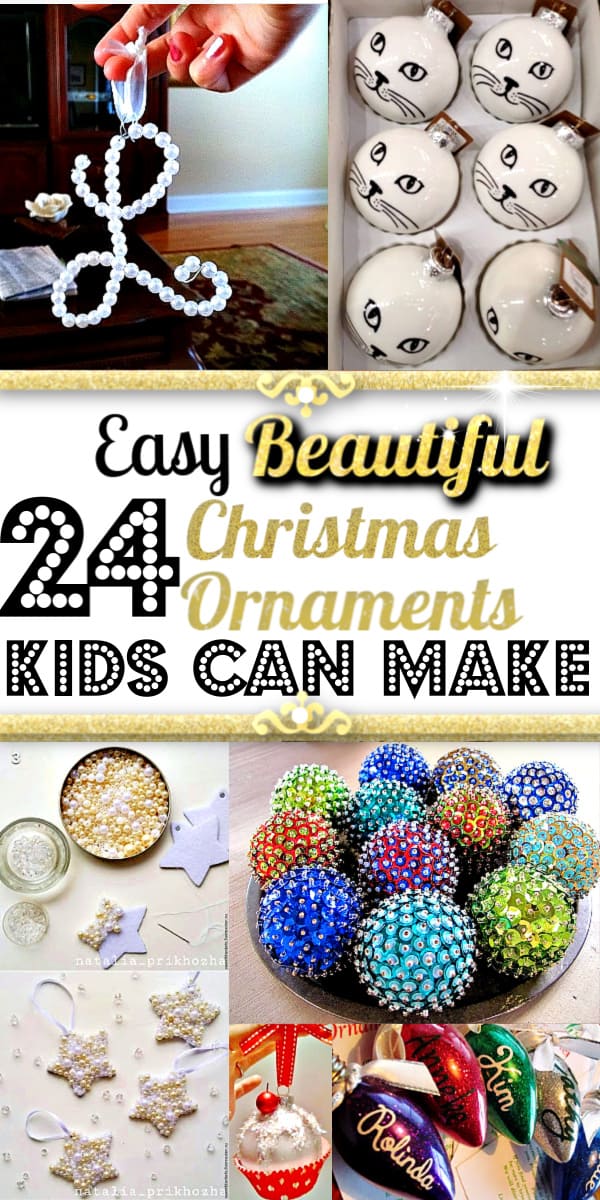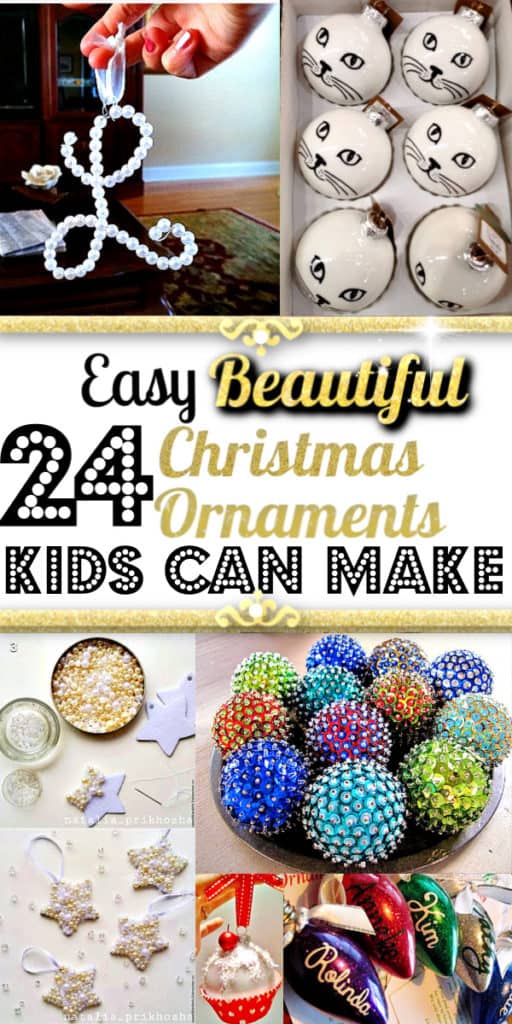 Posts you may also enjoy:
15 Easy DIY Ways To Decorate Your Home For Christmas
Ancient Greek Christmas Cookie Recipes Santa Most Likely Ate
The Gift Guide You'll Use Forever
The Ultimate Easy DIY Valentine's Day Gift Guide