DIY Gifts For Dad and GrandPa That Are Easy To Make in 2023
Updated 2023
We gathered together a special collection of the best DIY Father's Day gift ideas for every type of Dad or Grandpa.
Most of them are easy enough for even little kids to make and have the potential to be treasured keepsakes for the newest and oldest of Fathers.
All of them will make Dad feel appreciated for being the Hero he is.
Pin it for later.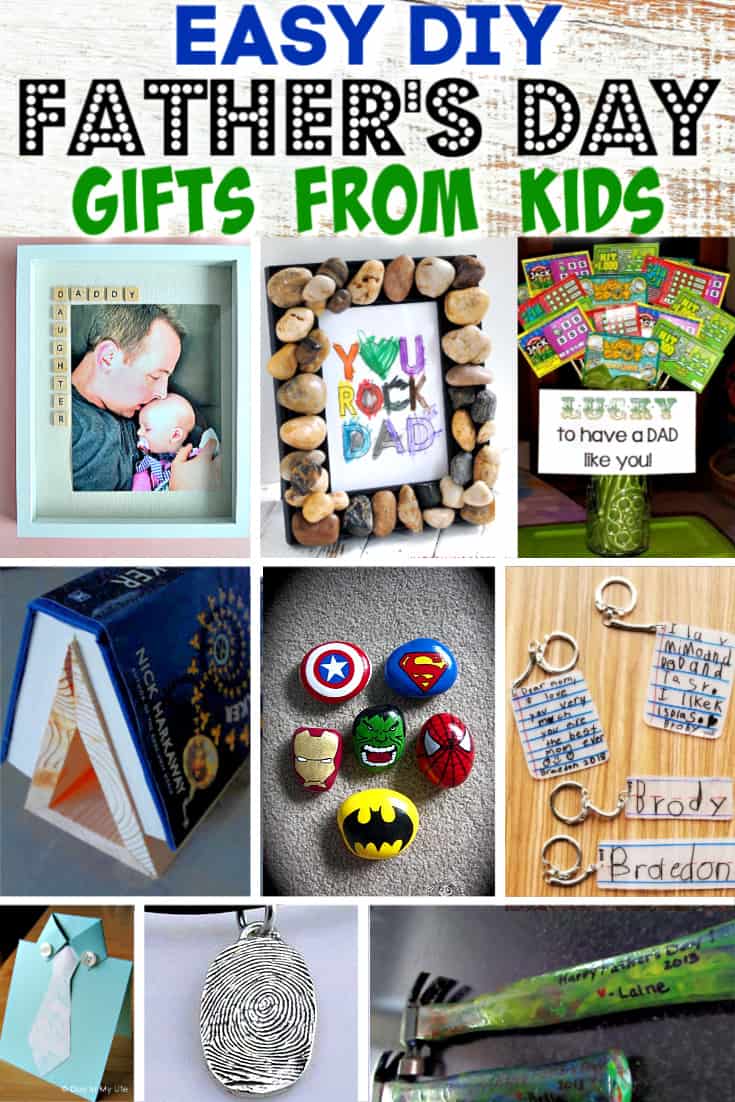 DIY FATHER'S DAY DECORATED HAMMER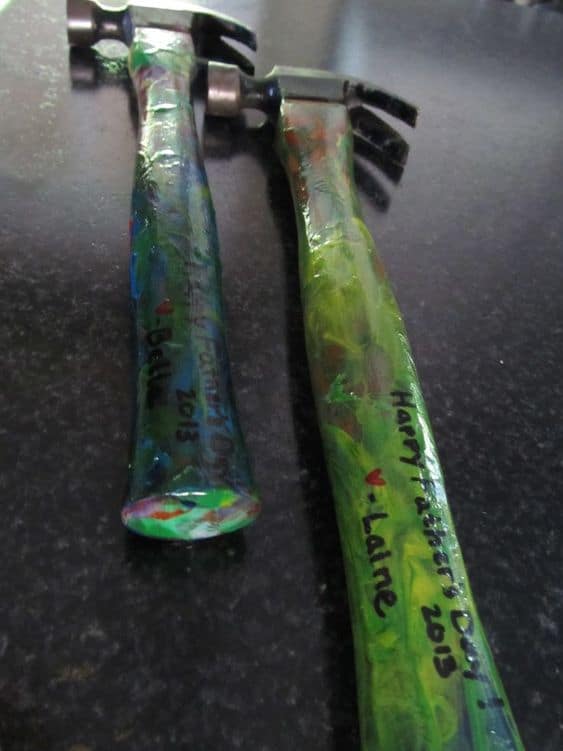 Most men love their hammers! Customizing one (above) with paint, Sharpies, or even pictures is a great useful gift he'll love. Be sure to use a sealant to make the design last.
---
FATHER'S DAY FRAMED KEEPSAKES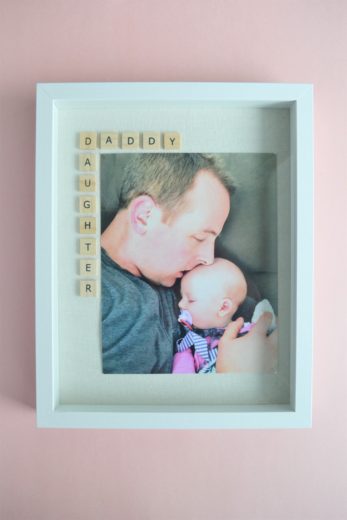 Make this last minute gift using a shadow box frame and Scrabble pieces. There are many variations that can work for both boys and girls in this excellent tutorial!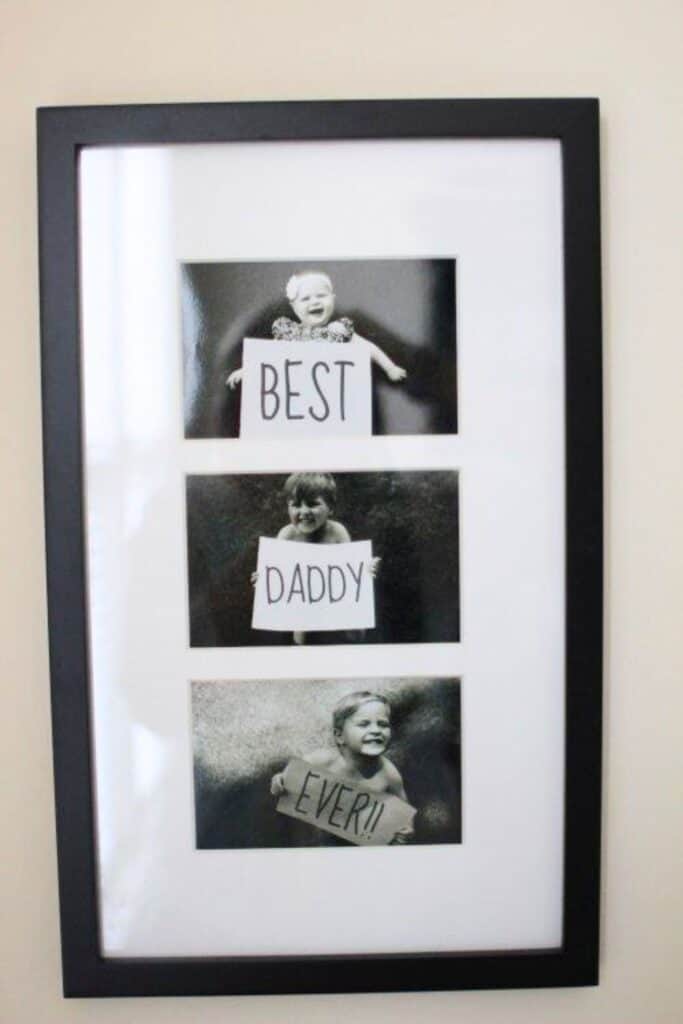 The above Diy Father's Day gift idea makes the perfect easy gift from Wife and Kids for Fathers or Grand Fathers. They'll cherish it forever.
Need a gift for a first Father's Day? The above framed photo would make the perfect gift for a first time Dad to hang in his room or office!
BUY IT HERE ON AMAZON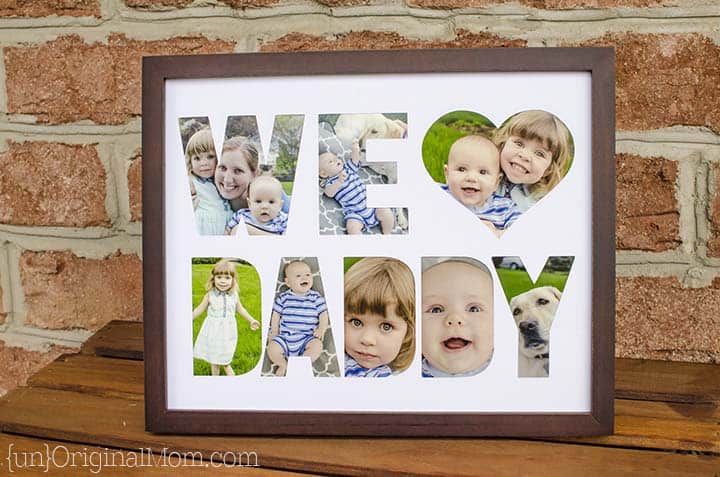 The tutorial for this precious We Love Daddy picture uses design software but you could easily make this by tracing letter stencils over the photos and cutting them out.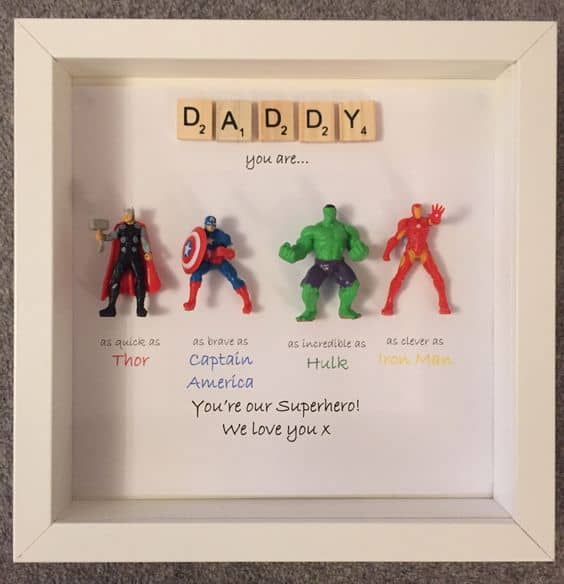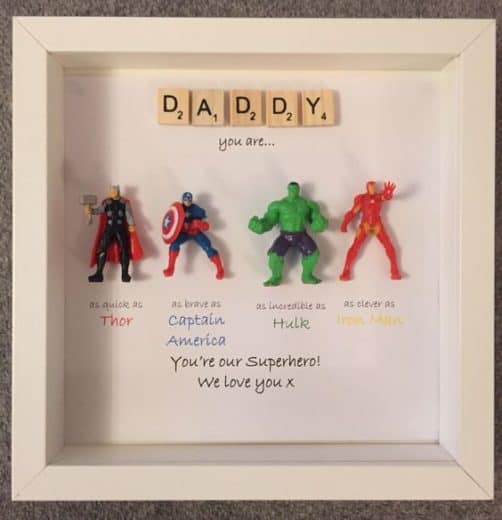 We found this darling Marvel keepsake on Etsy but it could easily be DIY. The message is on target.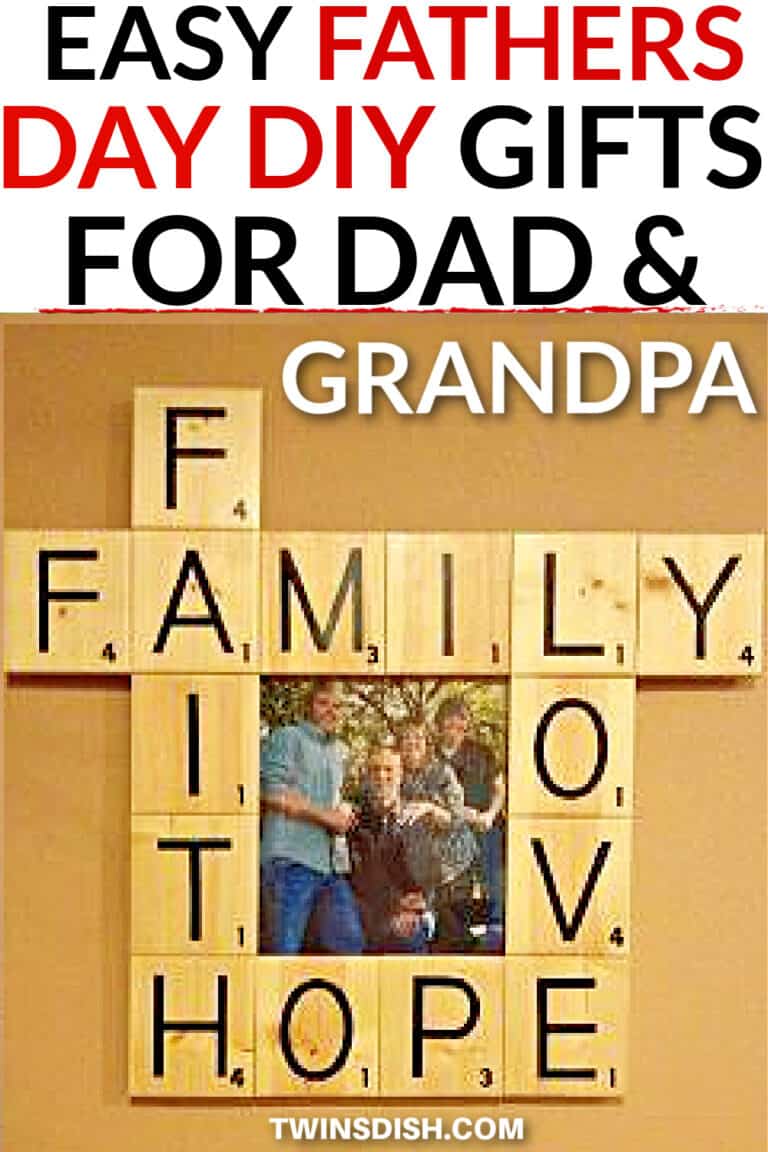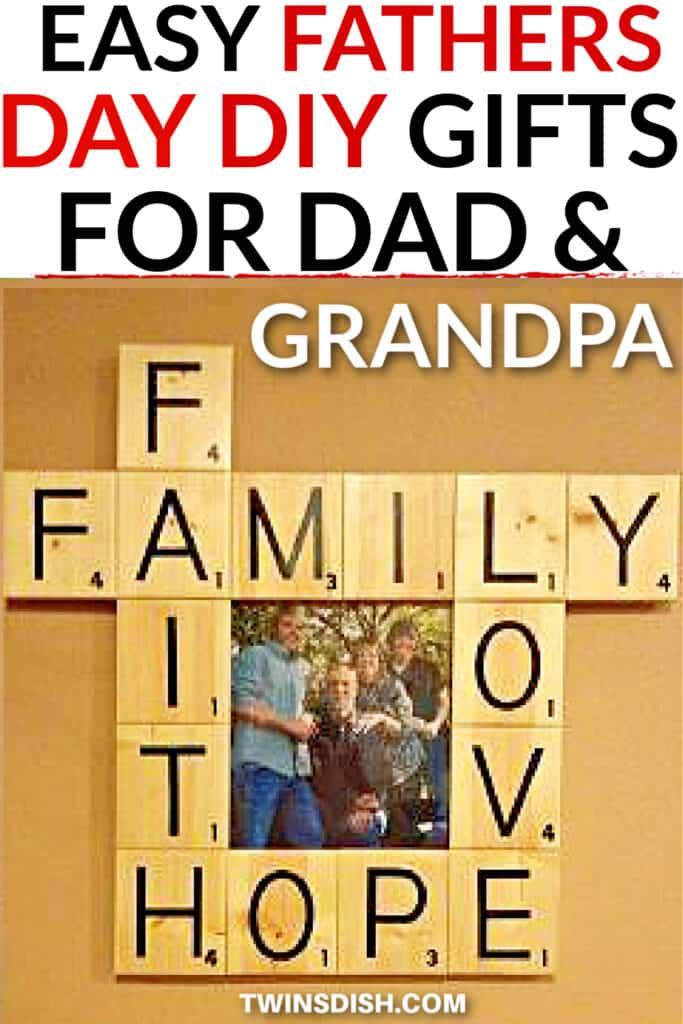 Make an easy heartfelt Scrabble letter wall frame for Grandpa or Dad!
HANDPRINT AND FOOTPRINT CRAFTS
Kids can make the following crafts on canvas, poster board, salt dough or even baseballs….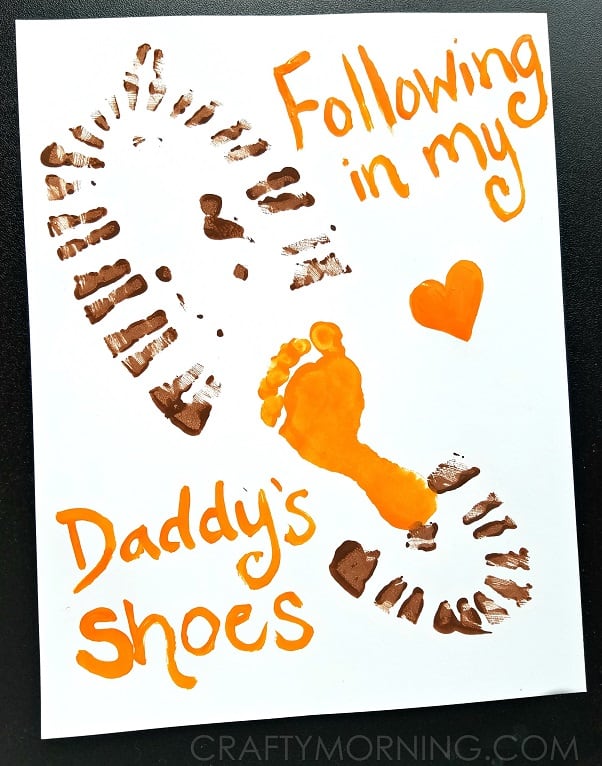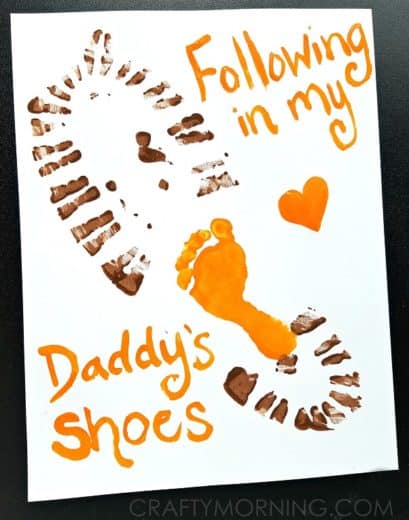 You can do the same quick and easy Father's Day gift idea with kids hand prints…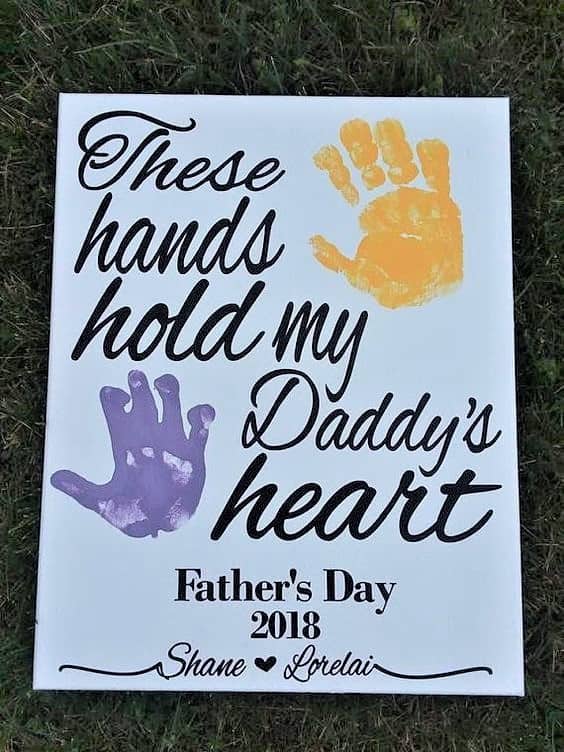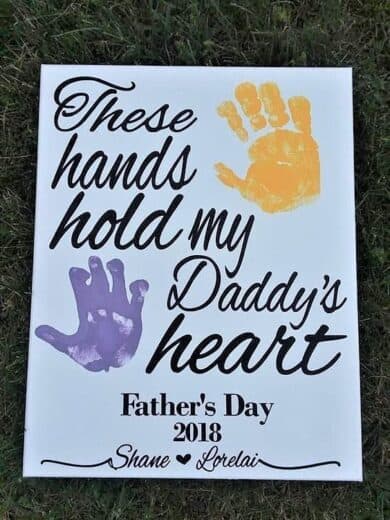 You can buy one on etsy or make it yourself with acrylic paint and the kids hands!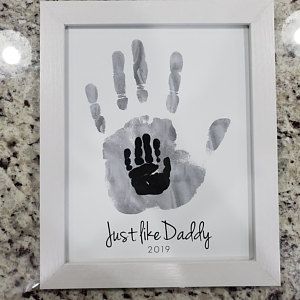 This is such a heart warming gift for a first time Dad or Grandpa.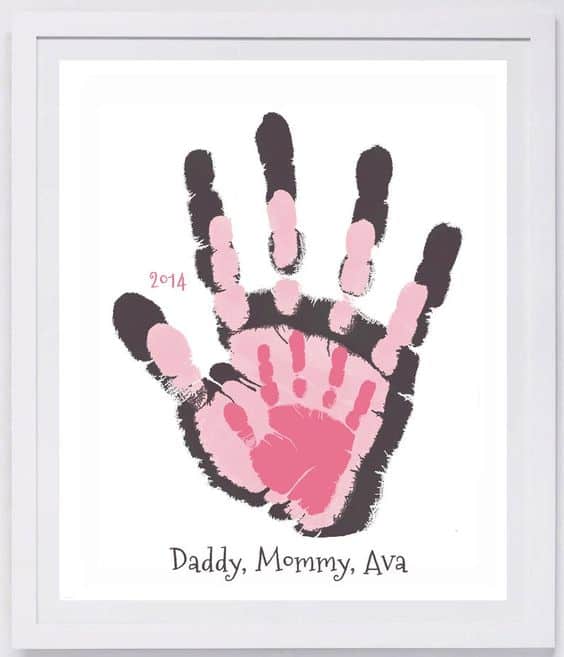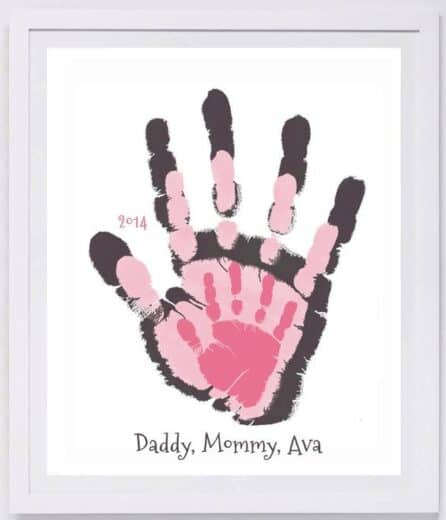 Make a family handprint portrait from both you and your little one/s !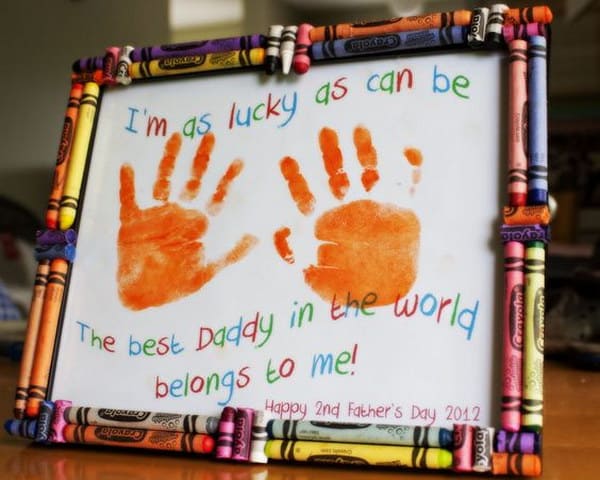 What a great idea for broken crayons! Crayons can easily frame works of art from little ones.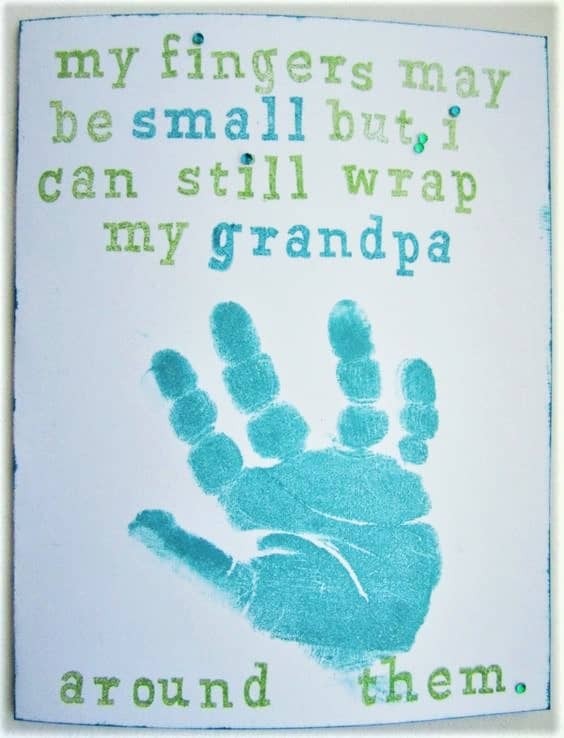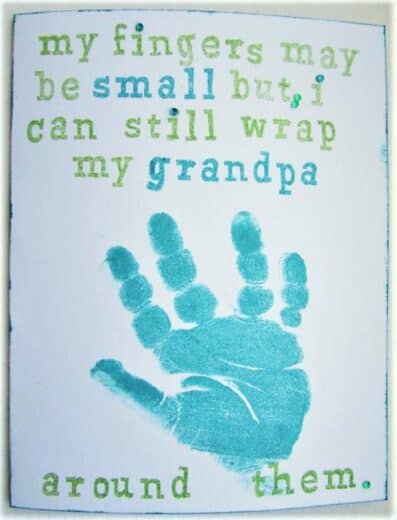 A newborn or toddler can easily make this touching gift for Grandpa. Extra points if you frame it and date it.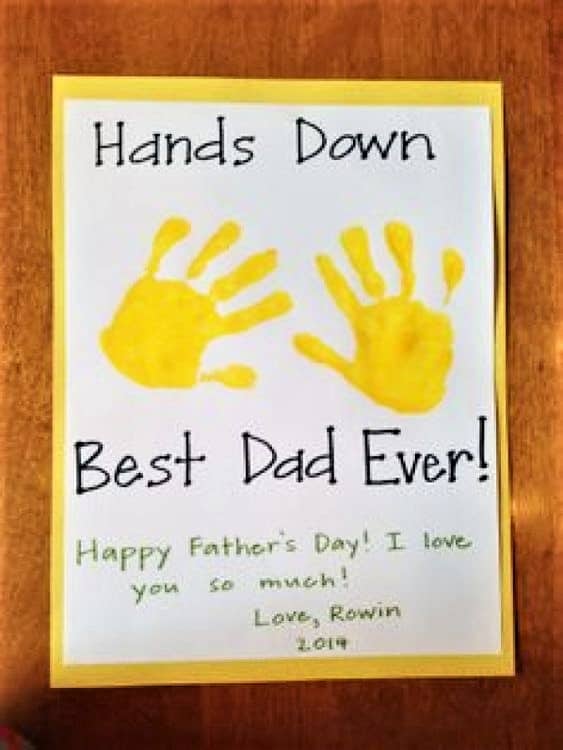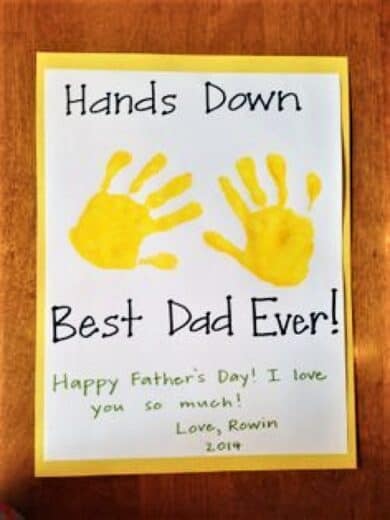 How about a witty pun that a child of any age can make for Dad or Grandpa!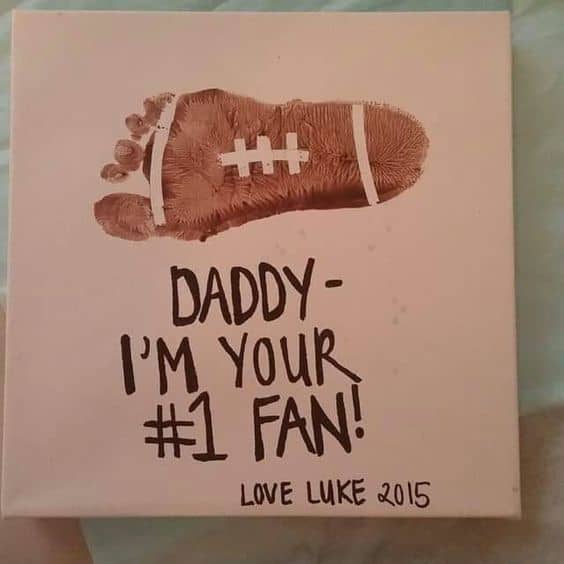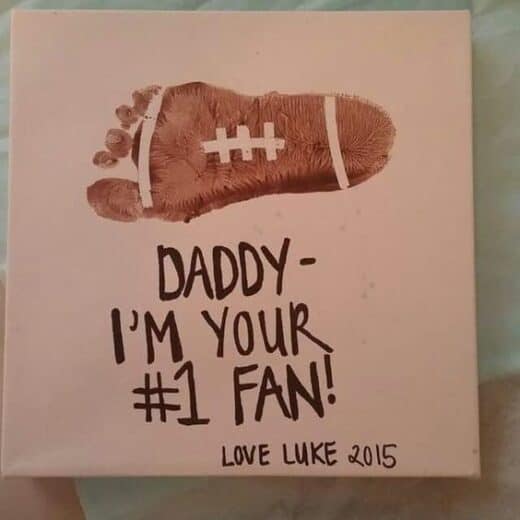 For sports fans and 1st time Dads, this football foot print card is perfect and so cute.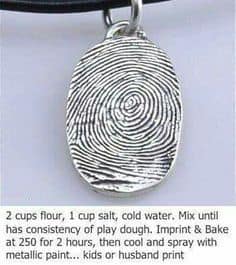 This fingerprint pendant would be a great gift for Dads and even Grandpas. It makes a nice keychain or pendant.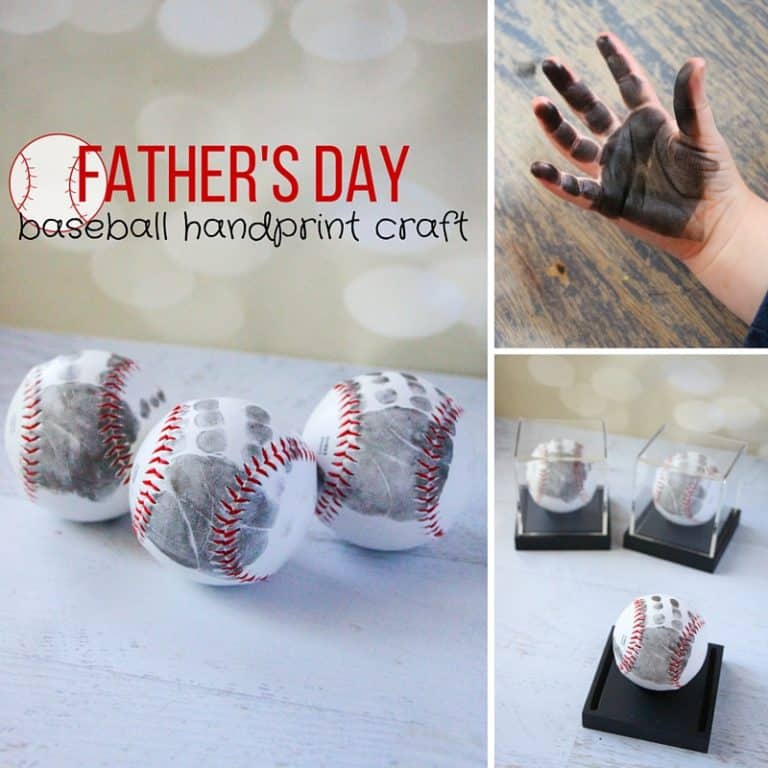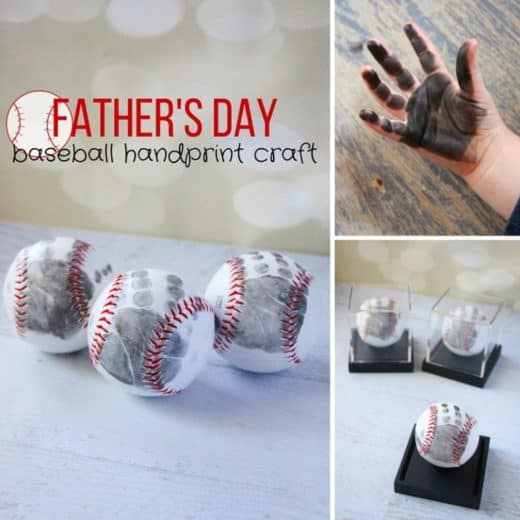 You can make the above craft easily with just about any ball you want. It's a darling keepsake especially from infants or toddlers.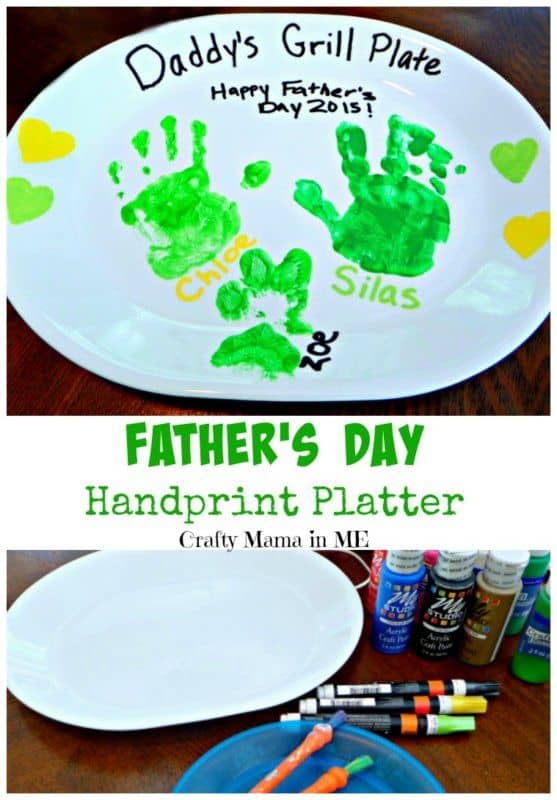 Although this grill plate can't be used for food it makes a nice keepsake for Dad to display!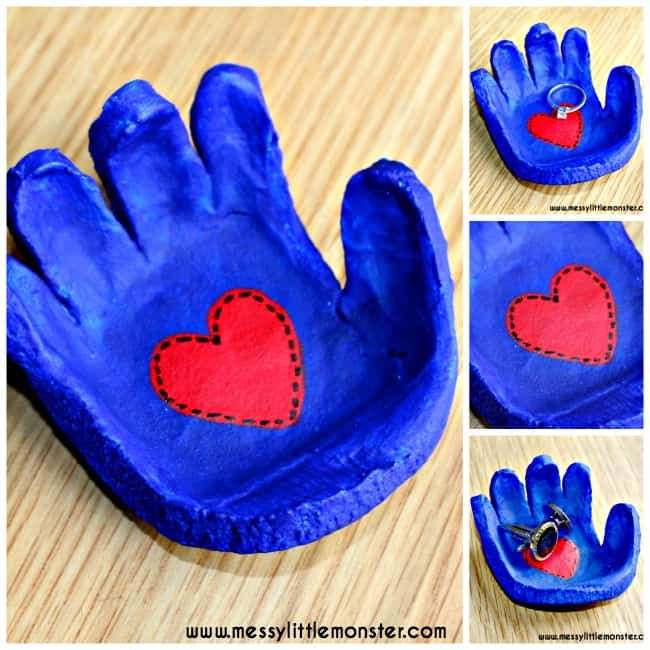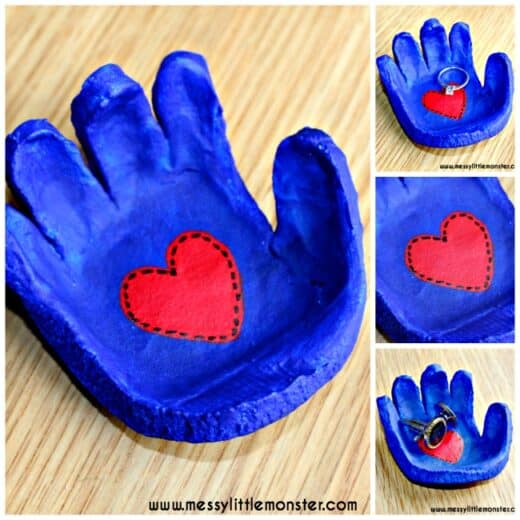 You can make easy keepsakes like the one above using a simple salt dough recipe of flour, water, and salt and a sealer like Mod Podge. It costs next to nothing yet can be kept for years.
---
FATHER'S DAY SHRINKY DINKS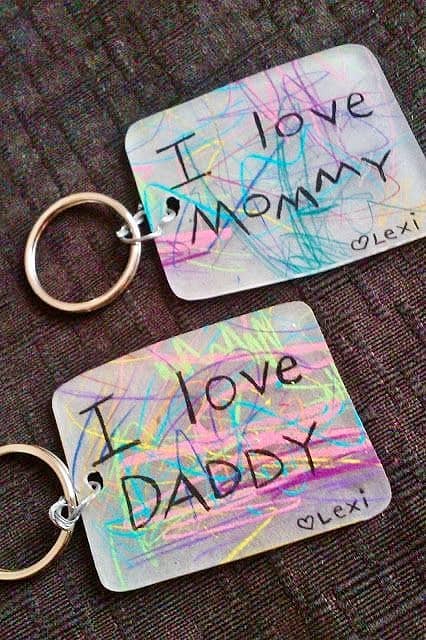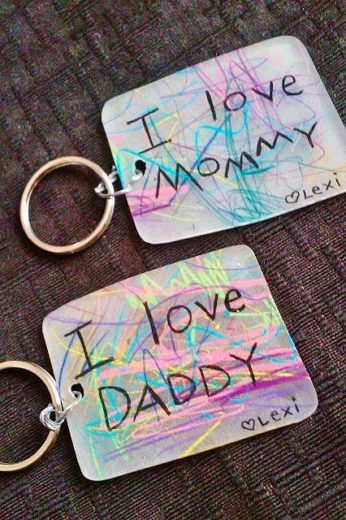 Gift even your youngest's work of art on a shrinky dink keychain.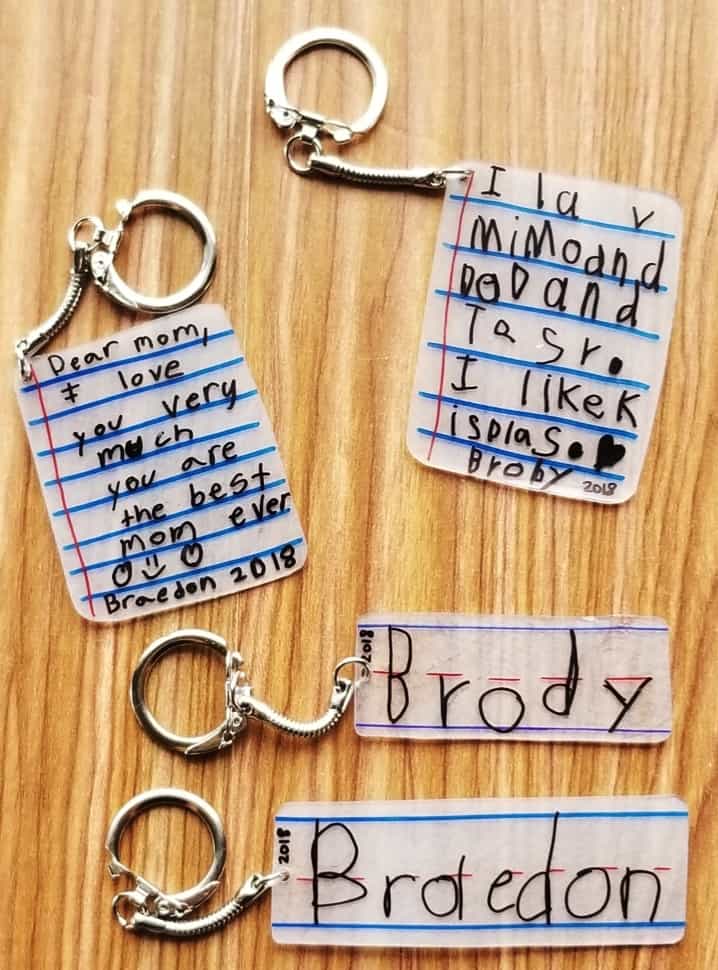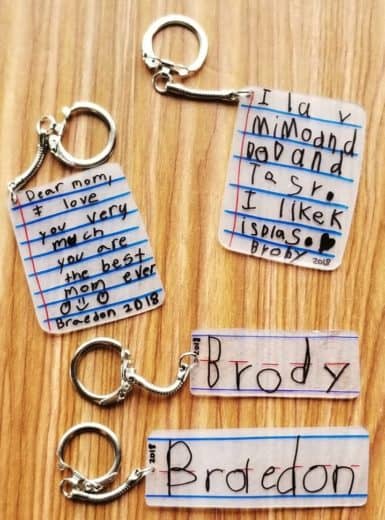 Toddlers and children can write special notes to Dad, just be sure to brush them with clear nail polish to prevent fading.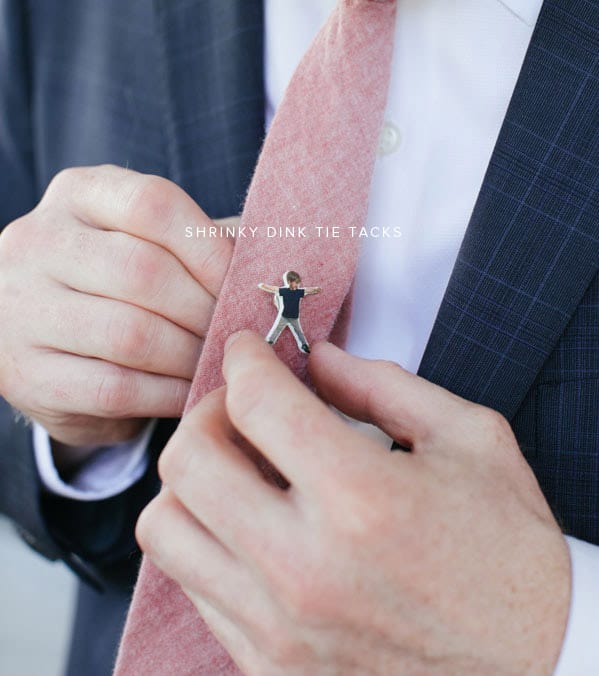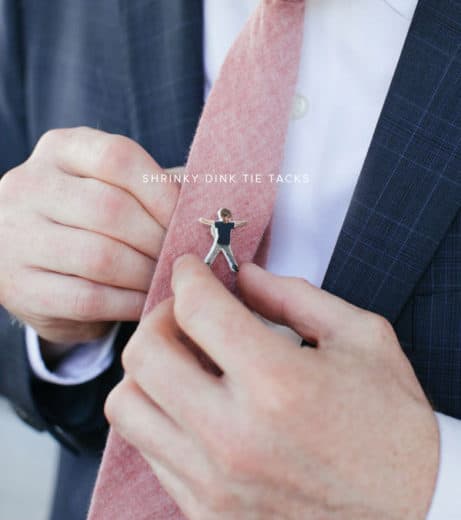 Make an adorable shrinky dink pin or key chain with Dad's favorite photos.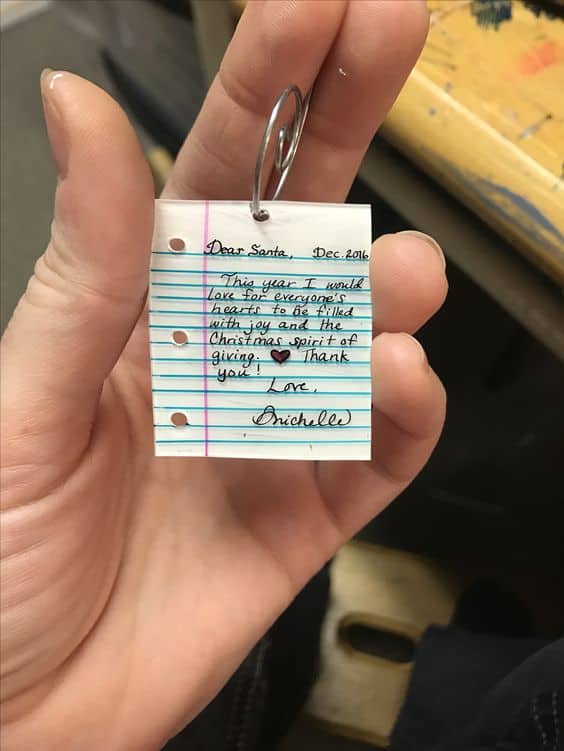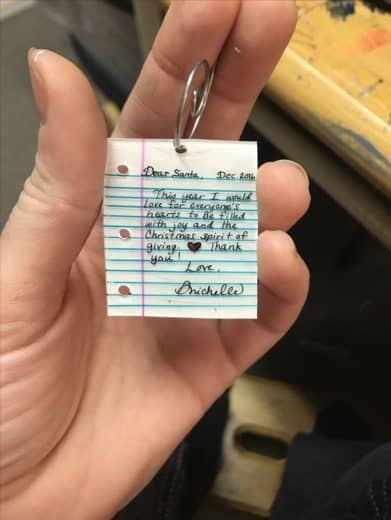 You can even write a whole letter to Dad.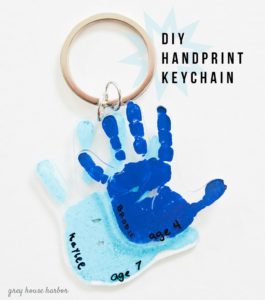 Yet another useful and fun handprint keepsake Dad will love.
---
FATHER'S DAY PHOTO CUBE GIFTS


This wooden photo block is so easy and another great idea for first time Dad's. Just get a wooden cube, photo prints, and Mod Podge.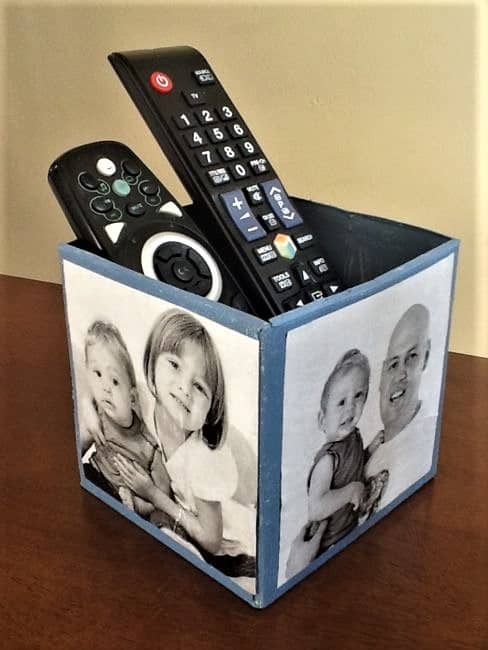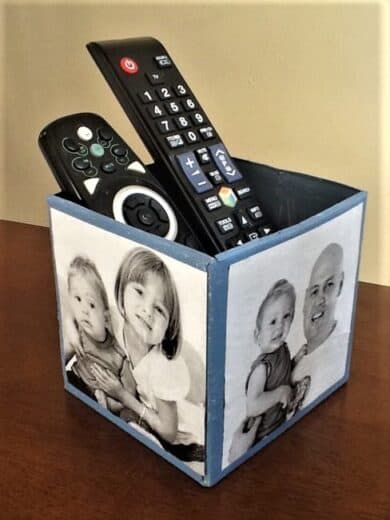 Grandpa or Dad will love this easy diy photo cube to store their remote controls in!
---
FATHER'S DAY MAN BOUQUETS
Bouquets are not just for Mother's Day anymore. Get some of Dad's favorite things and arrange them in one of these touching gifts.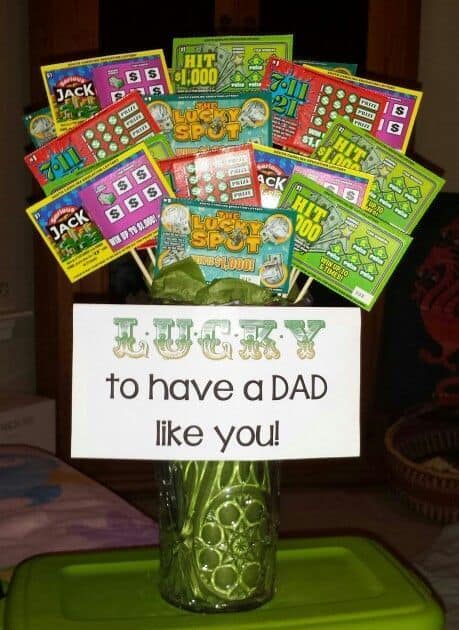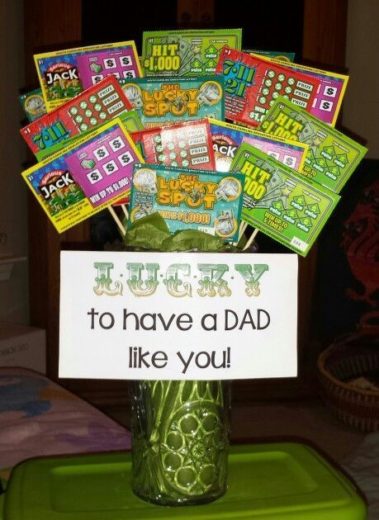 This is one bouquet Father's are guaranteed to love!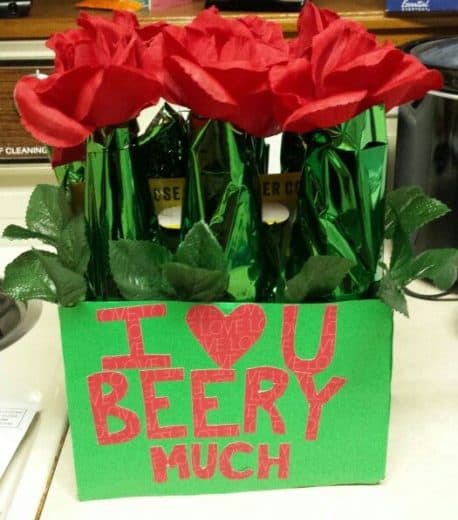 Get creative with touching puns to warm up even the manliest of gifts.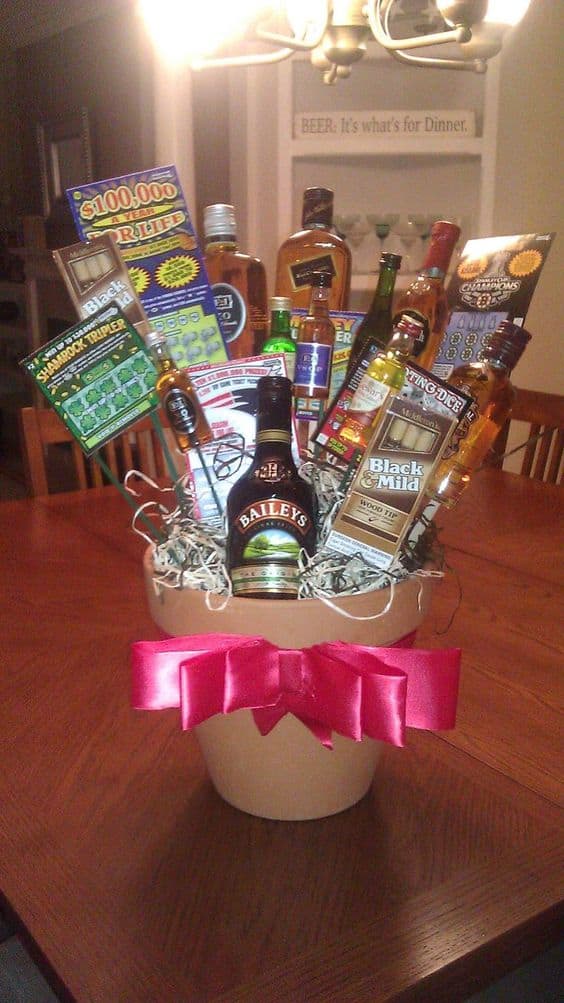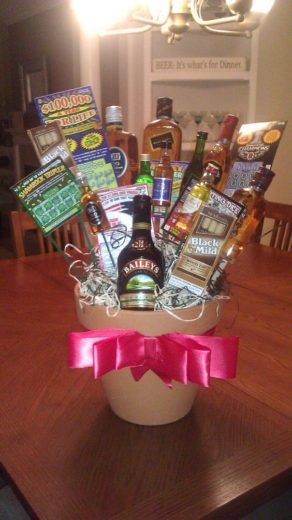 This man bouquet idea merges lotto tickets AND alcohol.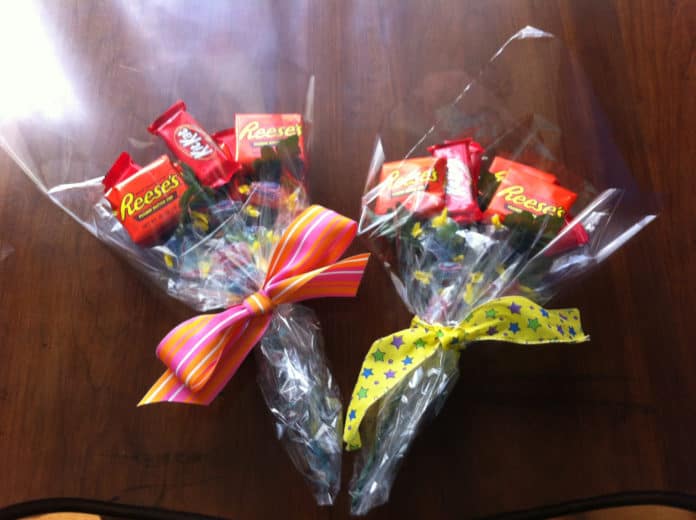 You can even easily make him a bouquet of candy using fake dollar store flower stems glued or taped to his favorite candy.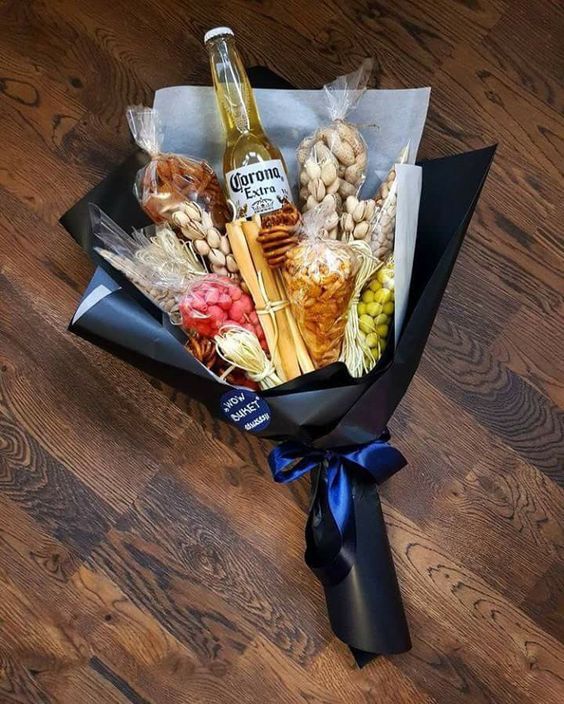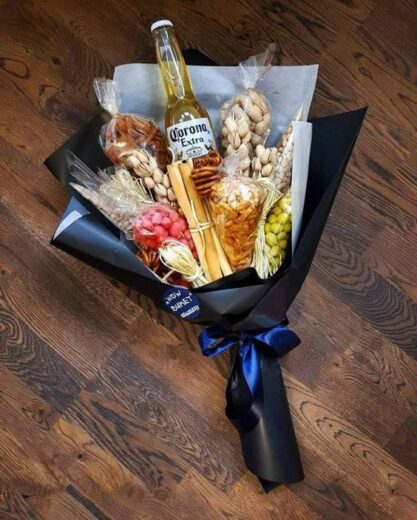 Here's another great man bouquet idea for Father's Day with beer and snacks.
---
FATHER'S DAY MAN CAKE GIFTS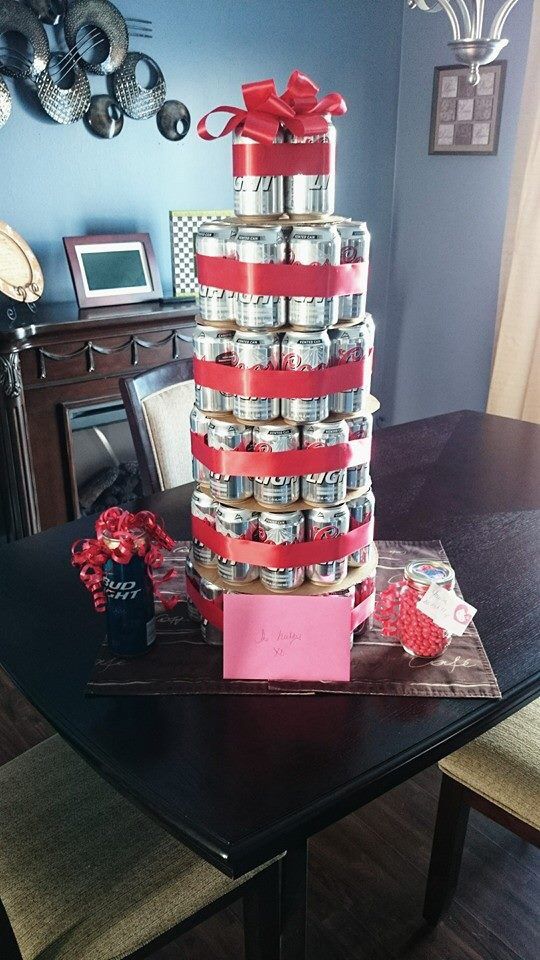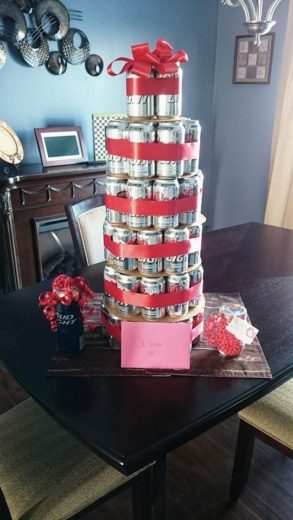 ditch the boring cardboard beer boxes and stack his cans in cake form.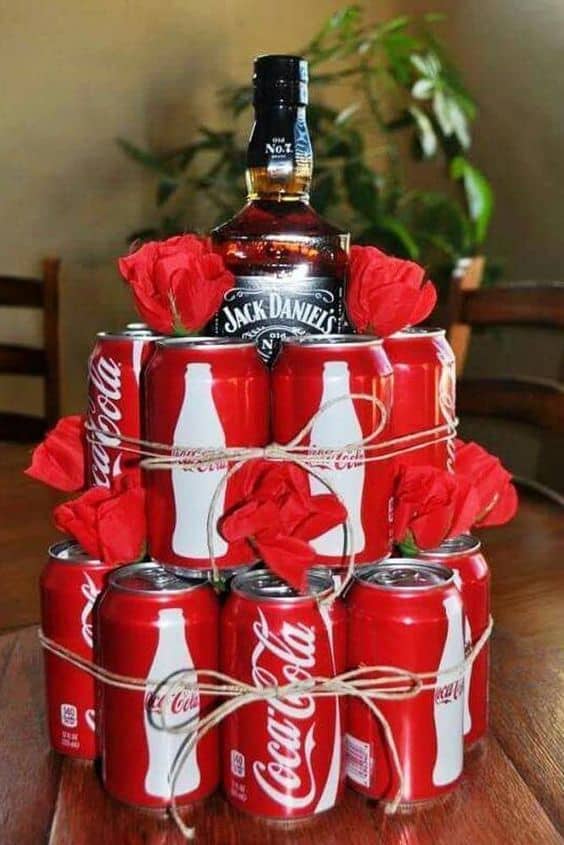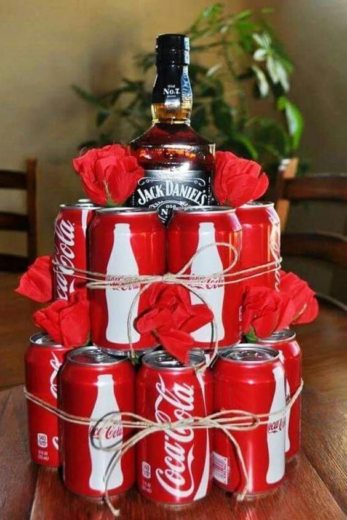 Arrange mixers around the alcohol bottle of his choice!
---
FATHER'S DAY ROCK ART GIFTS

By far the easiest craft to make is rock art. Not only are stones fun to collect and easy to get but they can be decorated with just about anything and even glued together to make a heartfelt gift any Dad would cherish. Here are the best Father's day Rock crafts…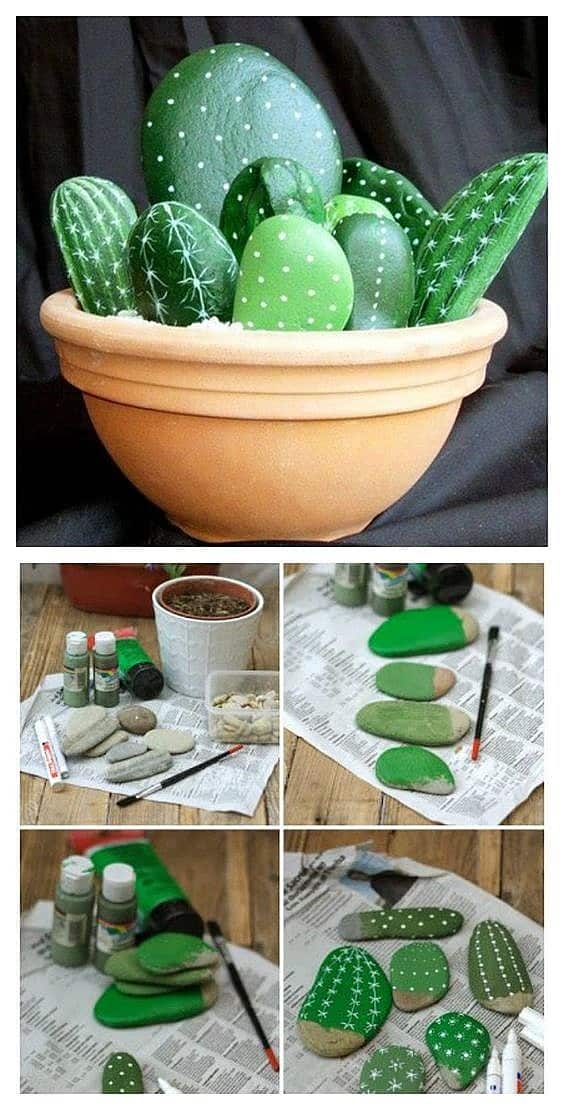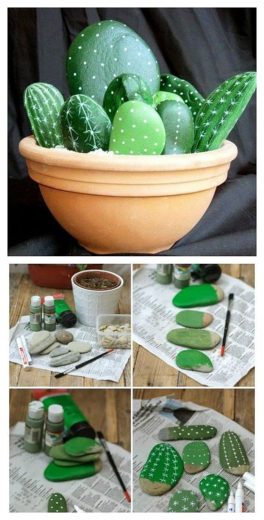 Have kids make him a plant he will NEVER have to water and one that can survive in the darkest of man caves.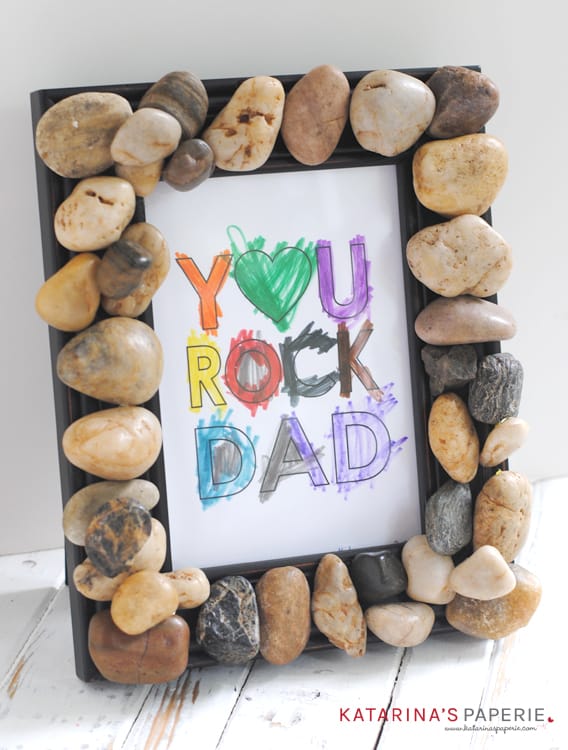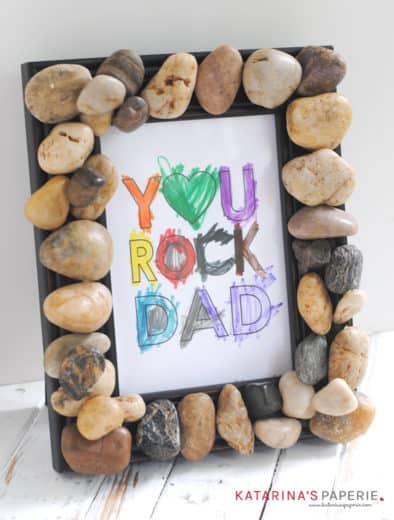 This easy witty frame is also surprisingly stylish for every Dad or Grandpa.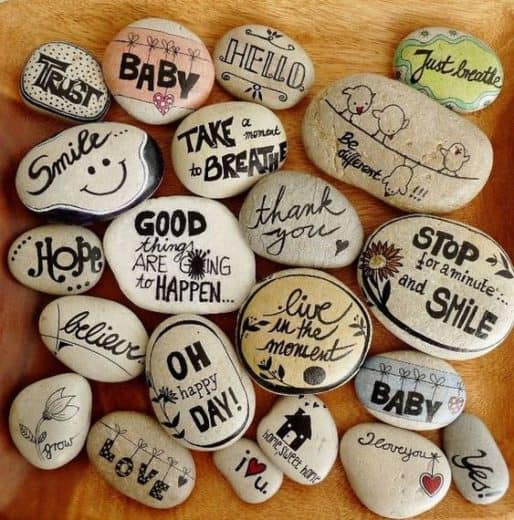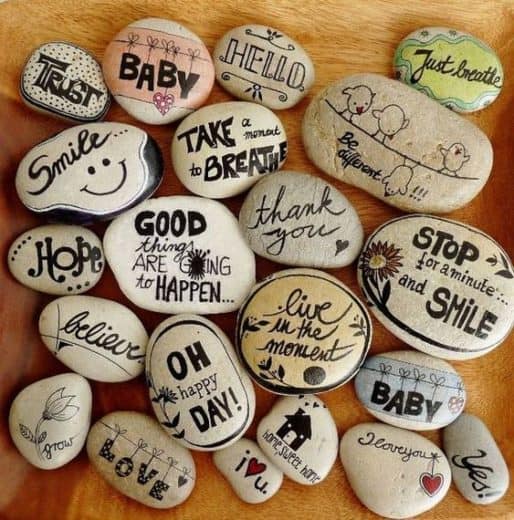 Write how much you love dad on a pretty stone with a sharpie for a beautiful paperweight keepsake. You could even make a rock frame with these.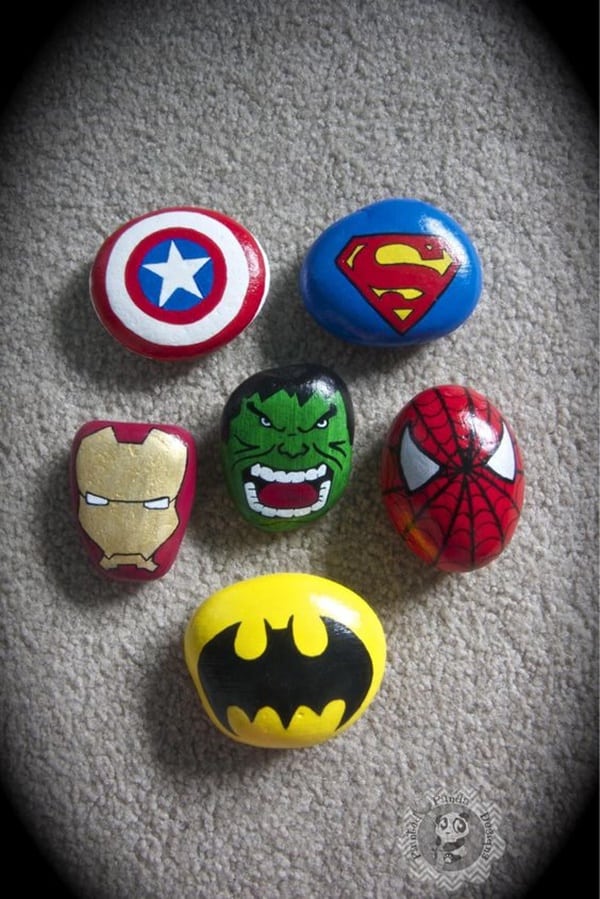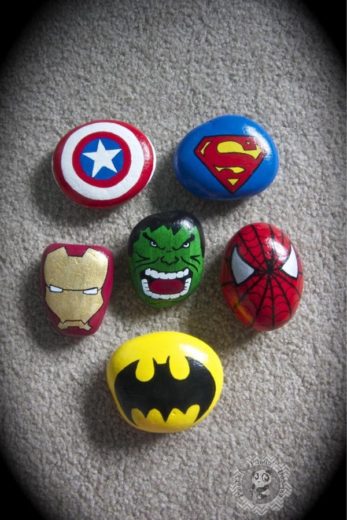 Dads really are super heroes…so these painted stones are perfect….we even want them!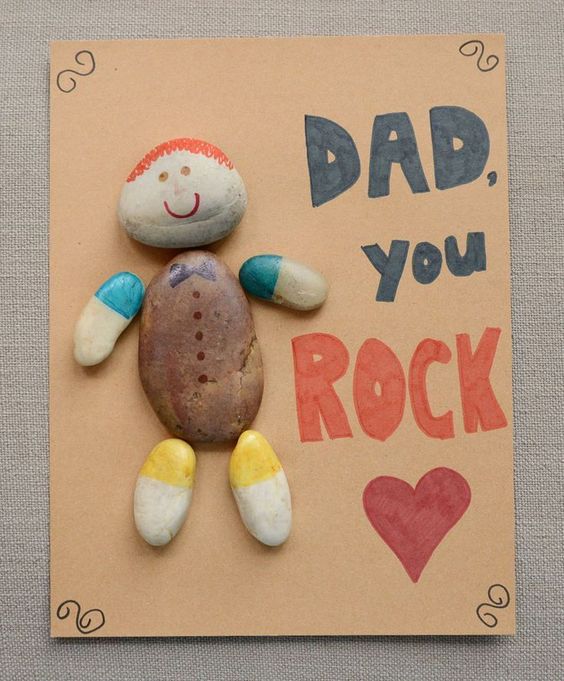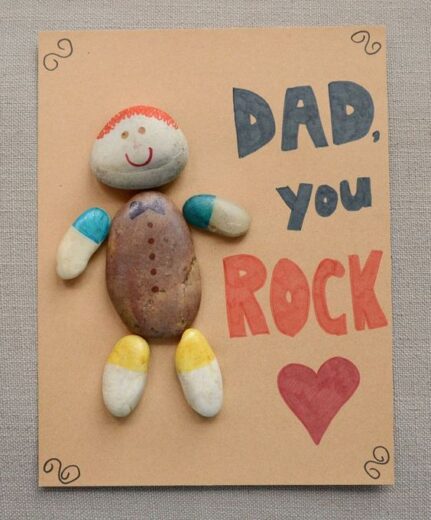 You can even make a rock card with markers.
---
FATHER'S DAY DIY MUGS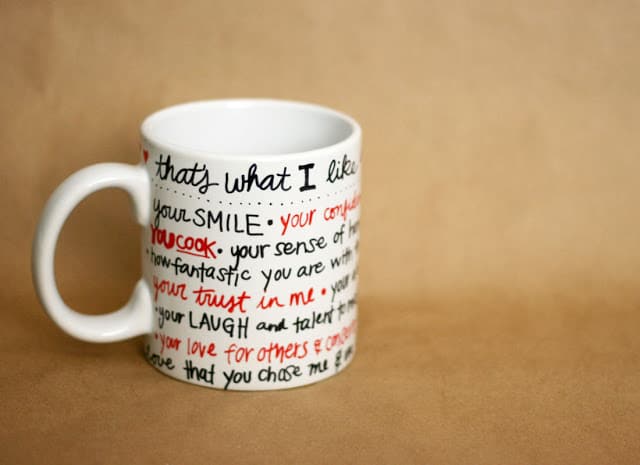 You or kids can write everything you love about Dad with sharpies on a $1 mug and after a few minutes in the oven it'll become a treasured keepsake he can drink his morning coffee out of everyday. What a great reminder!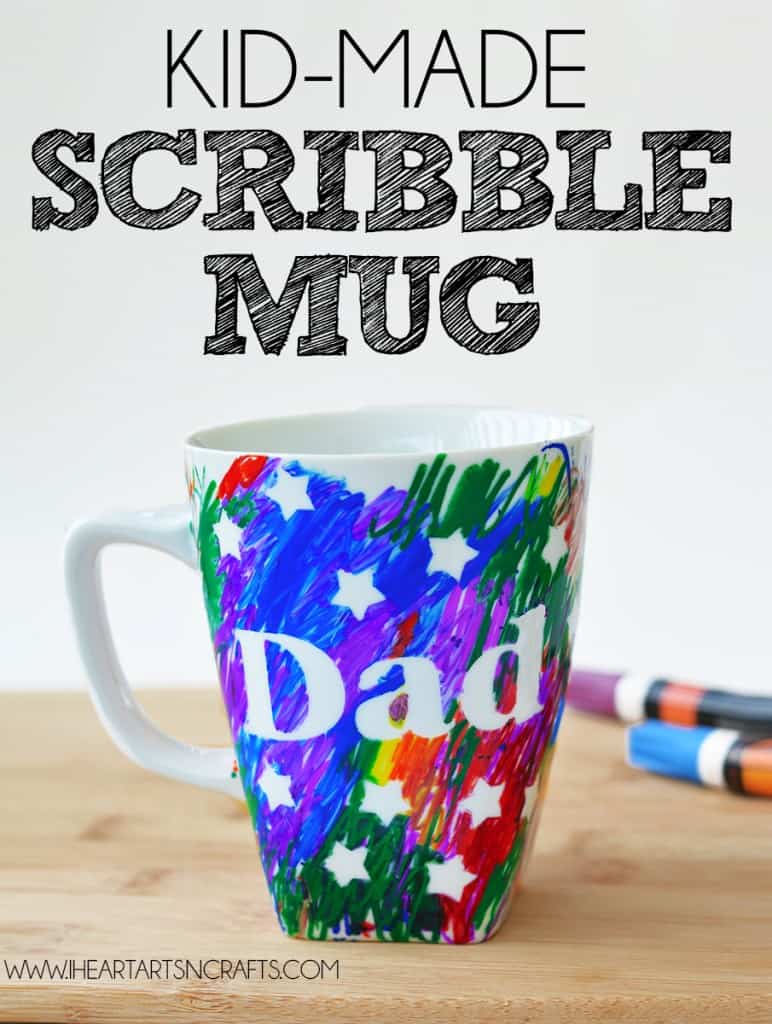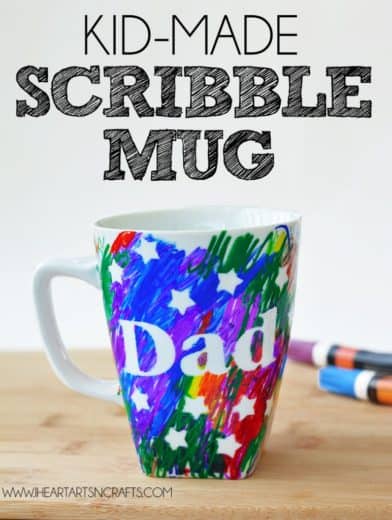 ---
FATHER'S DAY GIFT BASKETS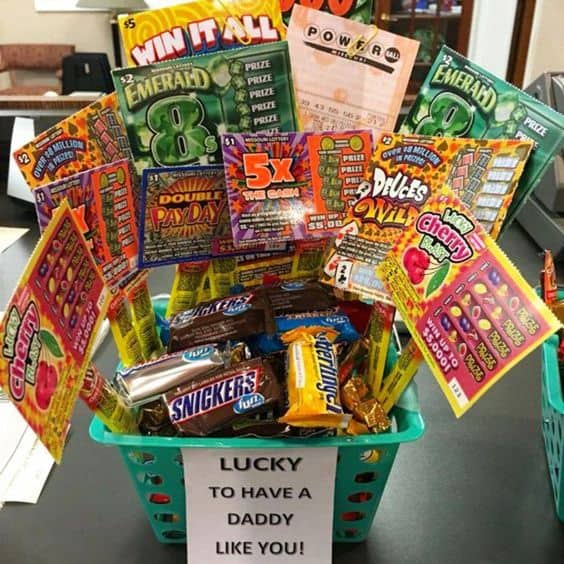 We love gift baskets because we can give a variety of little things our father loves in one perfect gift.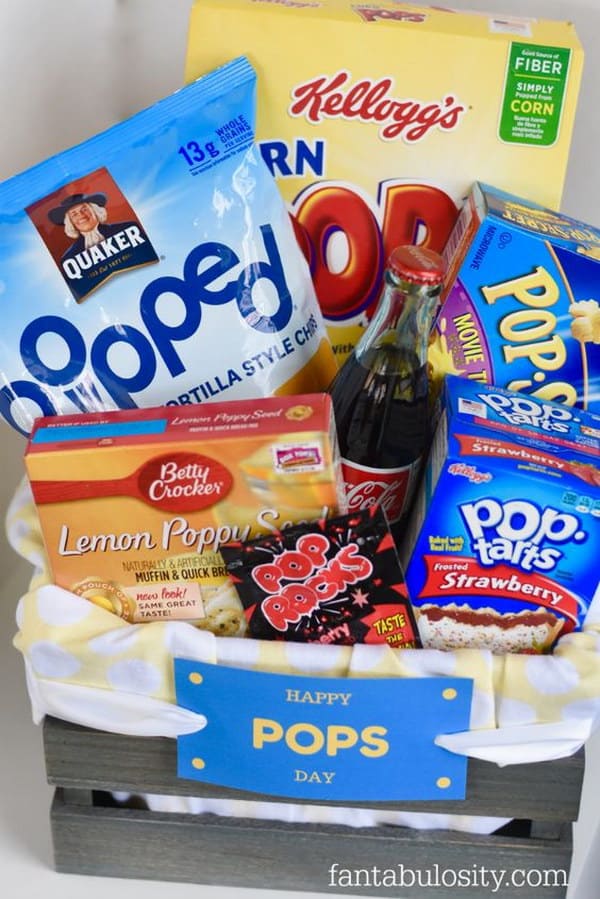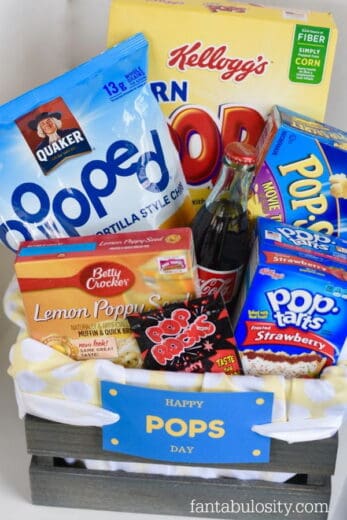 We can even pick themes like food, or movie night, or sports with witty puns.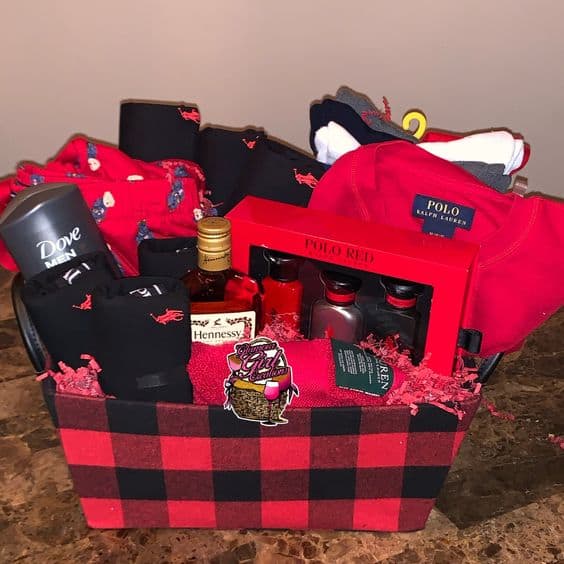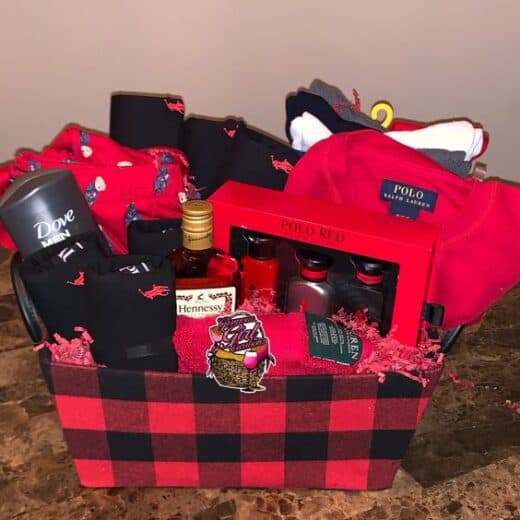 They're super easy and affordable and can make great gifts from a wife or partner too.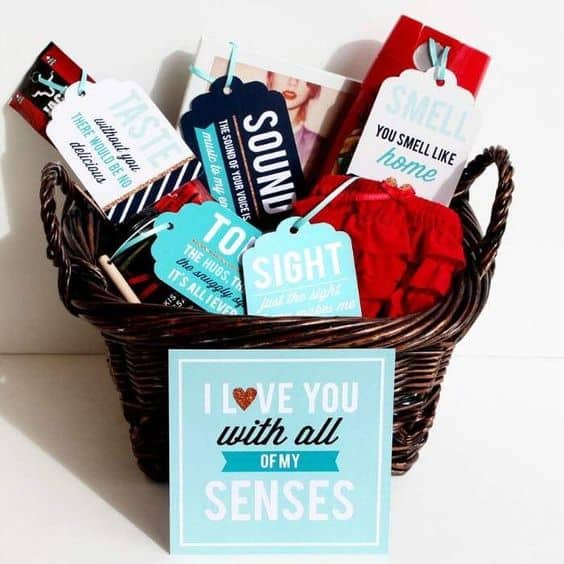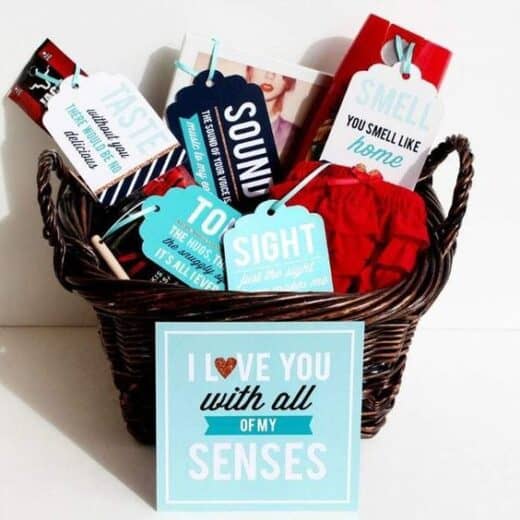 ---
CROCHET EYEGLASS HOLDER GIFT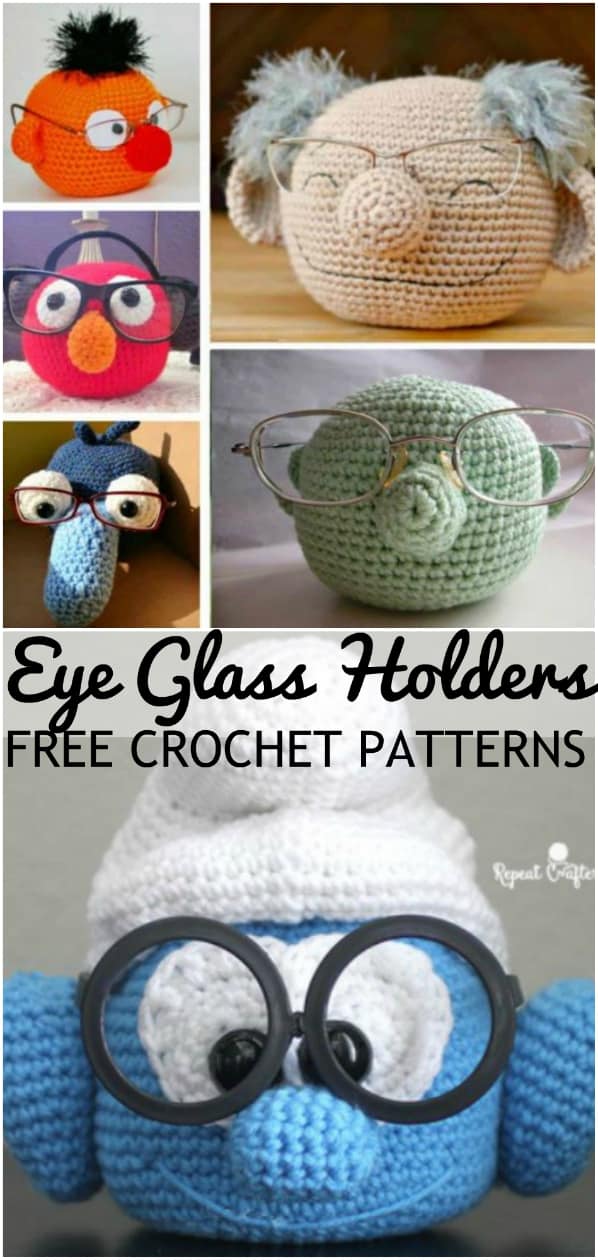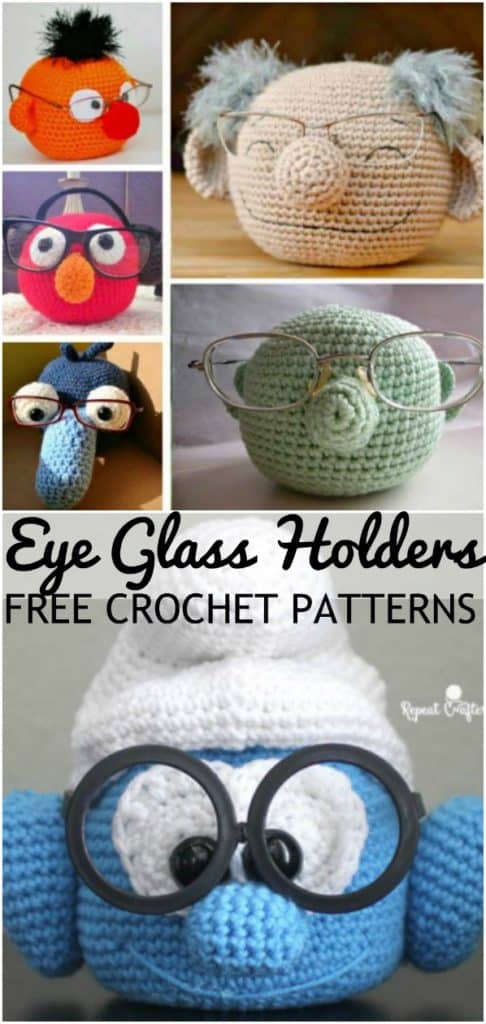 How cute is this eyeglass holder?? If you know how to crochet this would make an adorable Father's day gift, even for Grandpa.
---
PICTURE BOOKMARK GIFT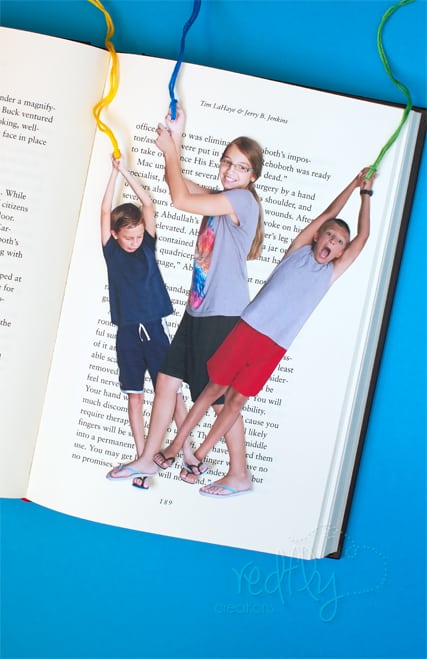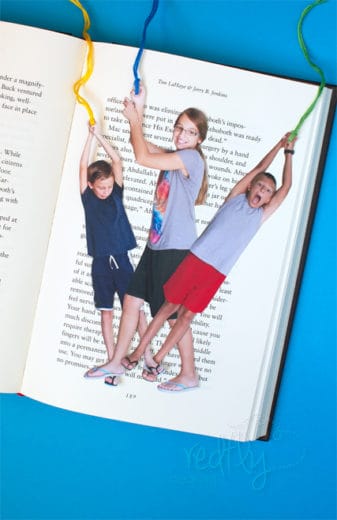 You and the kids can have a great time taking funny pics for these adorable book marks. If Dad or Grandpa is a bookworm, he'll definitely love these…they're super easy too.
---
DIY WOOD BOOKSTAND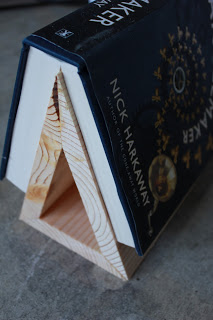 If you're into woodwork (or know someone who is), this handy DIY bookstand requires wood glue and a saw to make. Younger kids won't be able to help build it but they can paint and decorate it.
---
FATHER'S DAY TACKLE BOX CANDY GIFT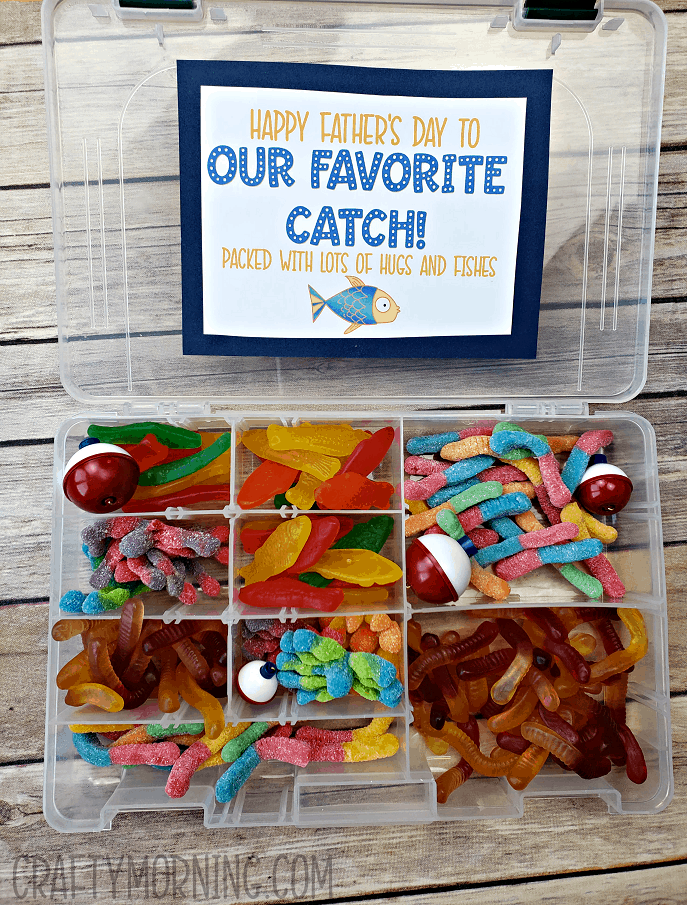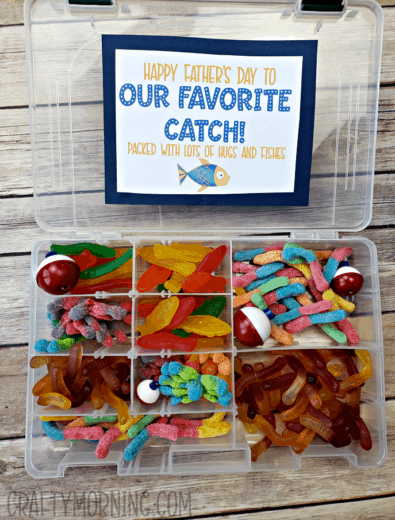 Kids (or adults) can have fun filling a dollar store tackle box with candy and crafting a sweet message for their favorite fisherman!
---
EASY DIY Cell Phone/Ipad Holders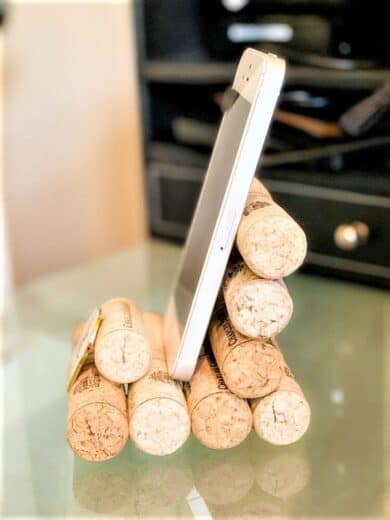 Does Dad or Grandpa love wine? Have the kids or Grandkids make him an easy but useful cell phone holder out of wine corks.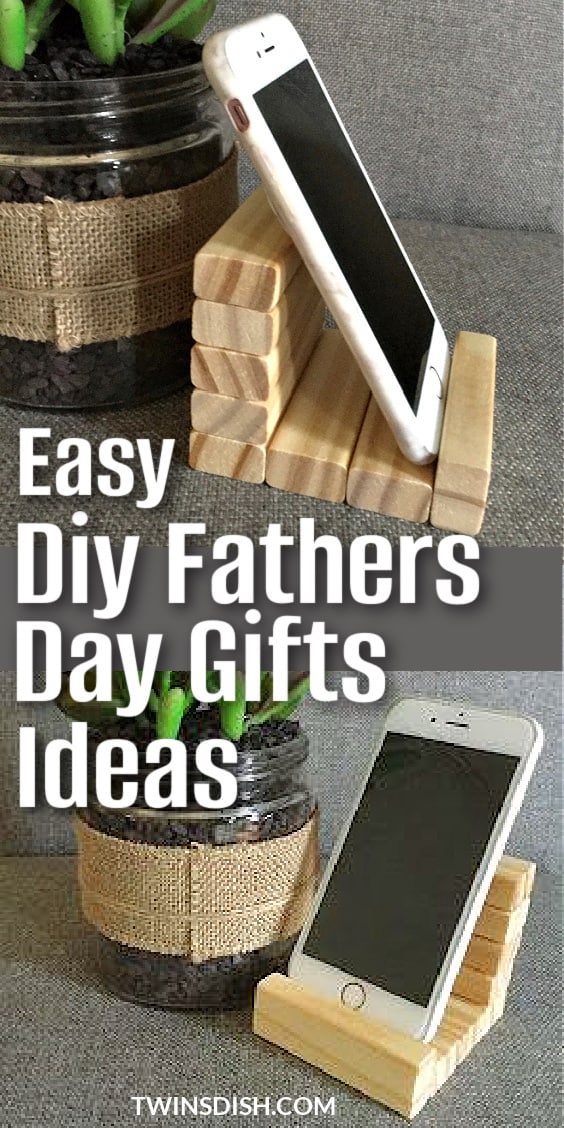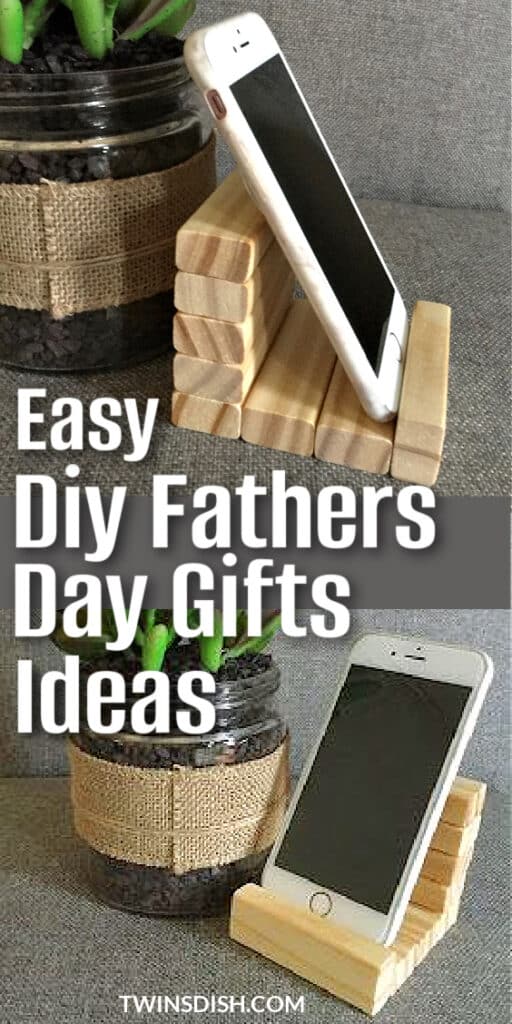 Use wood glue to make a cell or ipad holder out of Jenga pieces and have the kids write messages to Dad or Grandpa on each one. Our Dad loves playing slot machine games on his phone so this will come in handy!
---
EASY DIY GOLF GIFTS KIDS CAN MAKE FOR DAD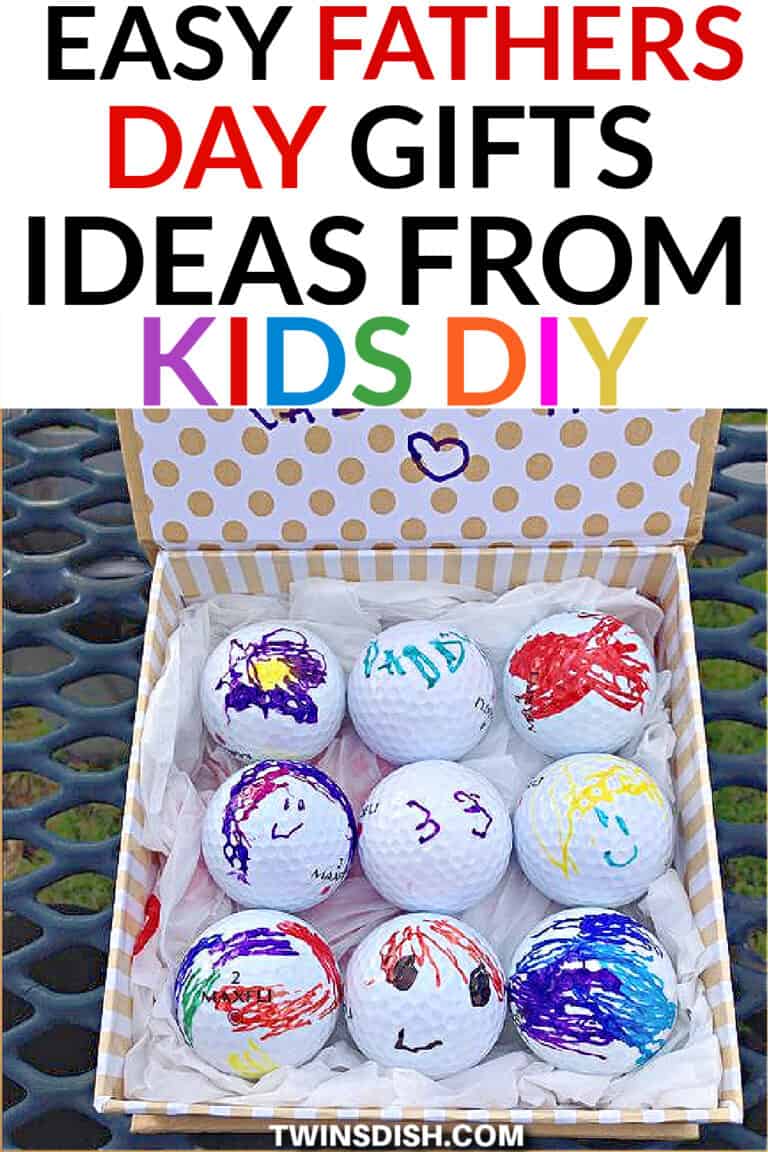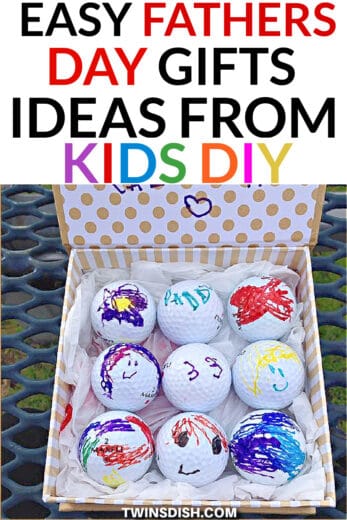 Let the kids have a "ball" drawing on golf balls with Sharpies for Dad or Grandpa! This is a useful gift that Fathers and Grandpas will love.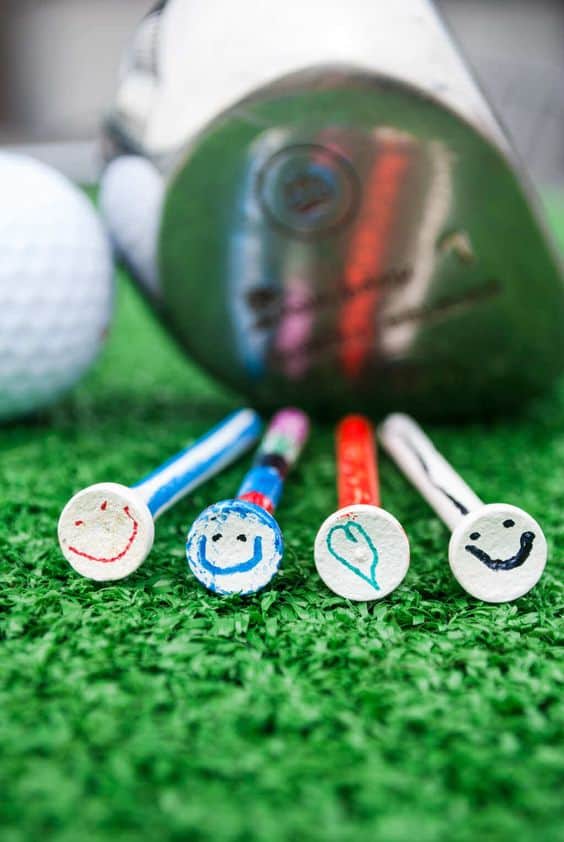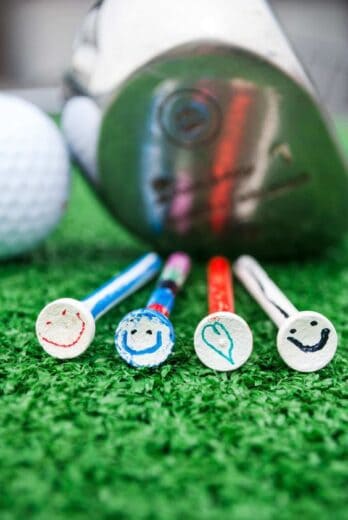 Don't stop at golf balls, have kids decorate their own golf tee for Dad and/or Grandpa!
DIY PENCIL HOLDERS FOR DAD
Pencil holders are a necessity on nearly every Dad's desk. It was always a favorite craft of our when we were little (and even as adults).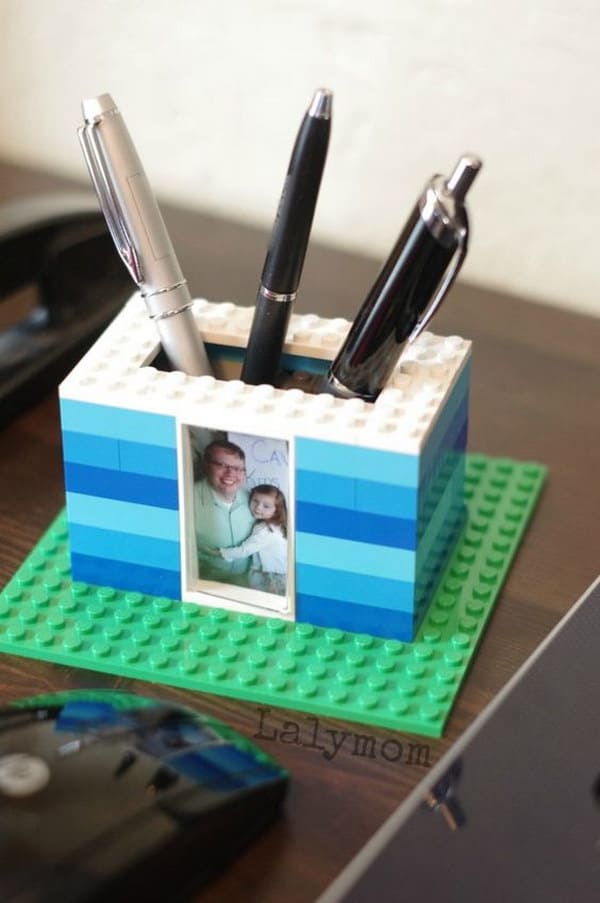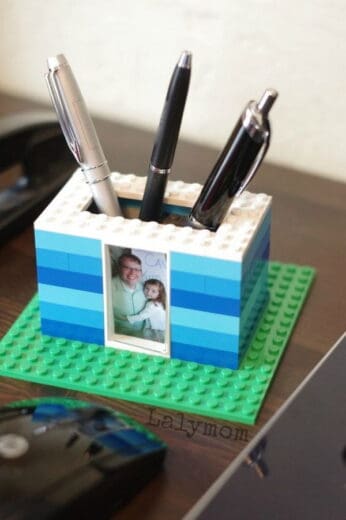 There are so many creative pencil holder gifts that are easy enough for kids to make.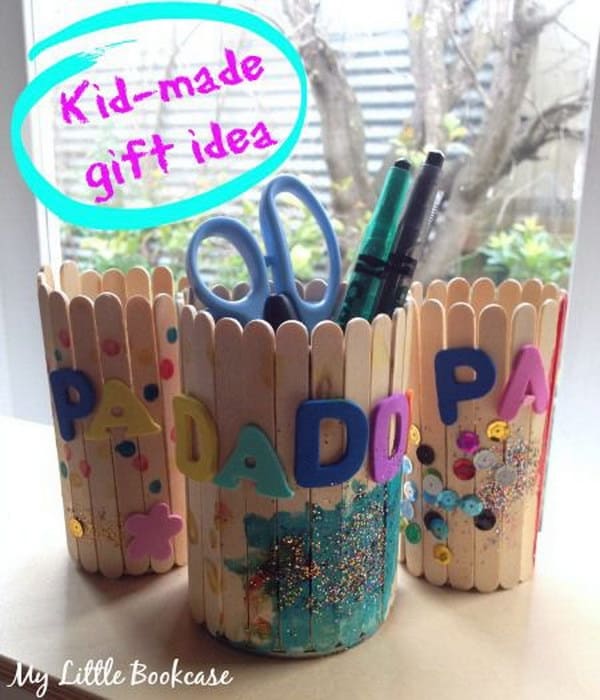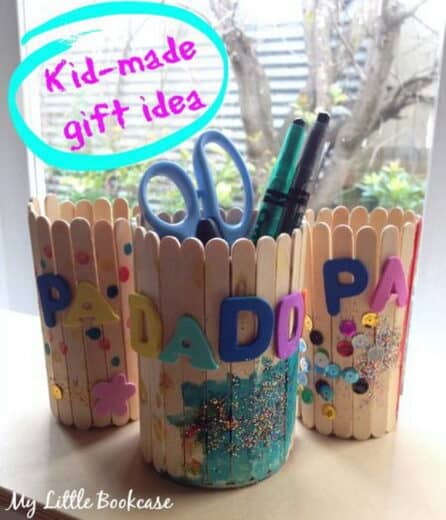 Legos, cans, popsicle sticks, boxes, and even toilet paper rolls are just some of the materials you can use.
---
DIY FATHER'S DAY CARDS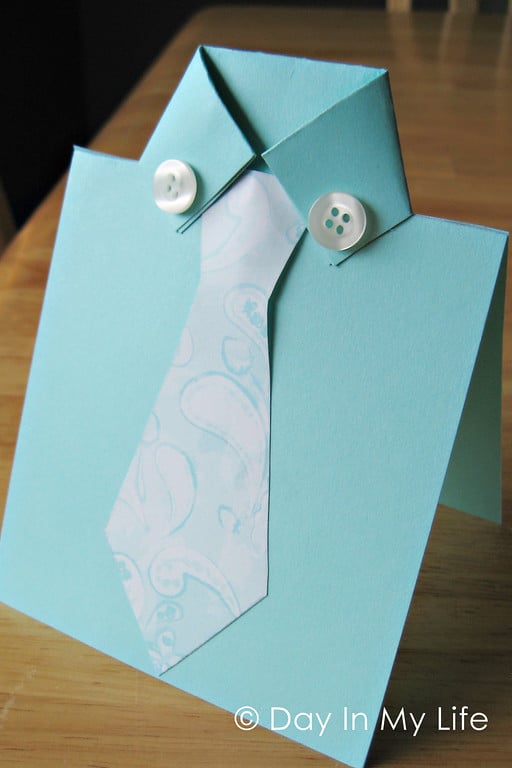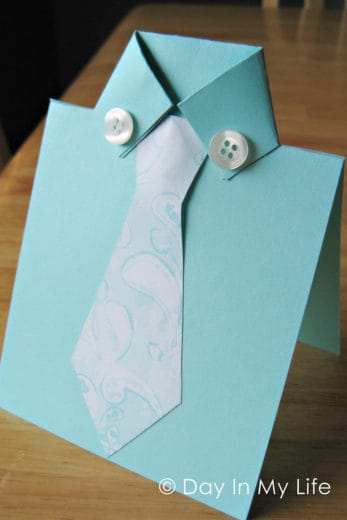 This adorable card is super easy and fun to make but beats out most store bought cards. Kids will enjoy this craft.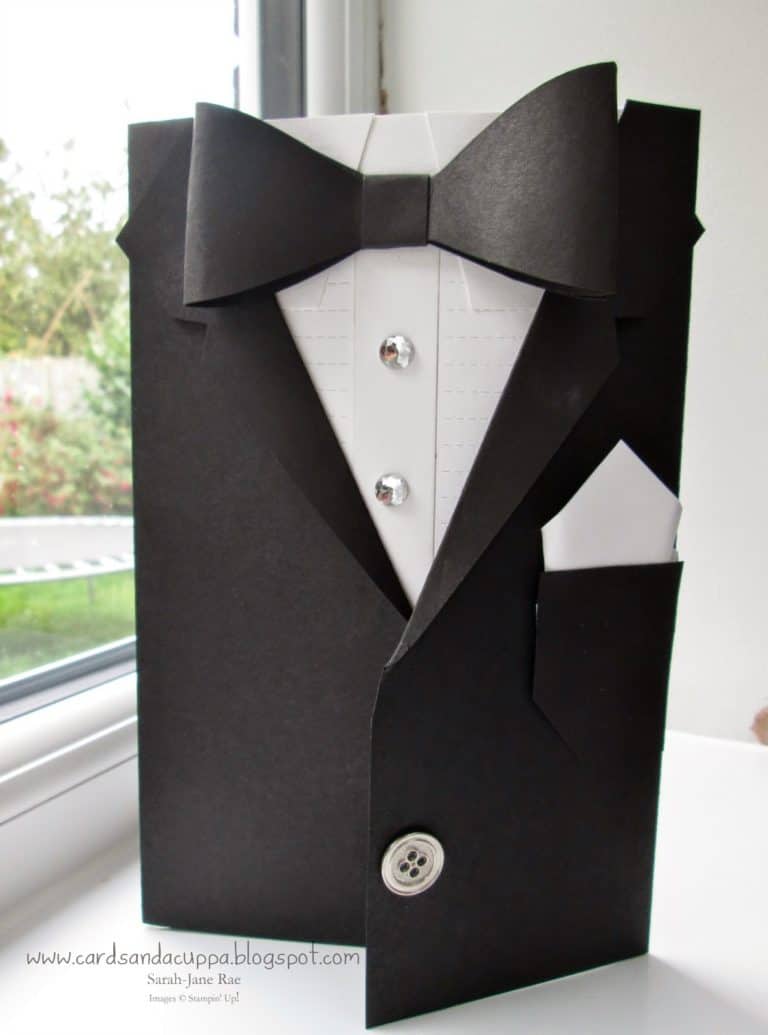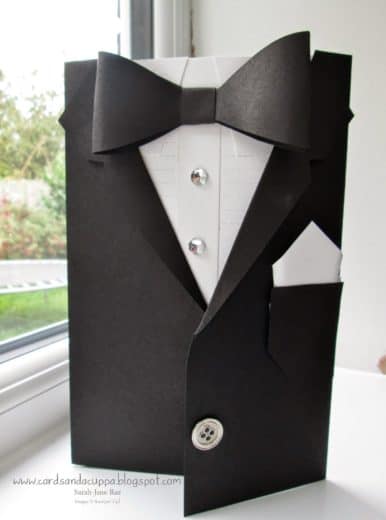 This card is a bit more complex but great for fancy Dads and looks like an expensive Papyrus card.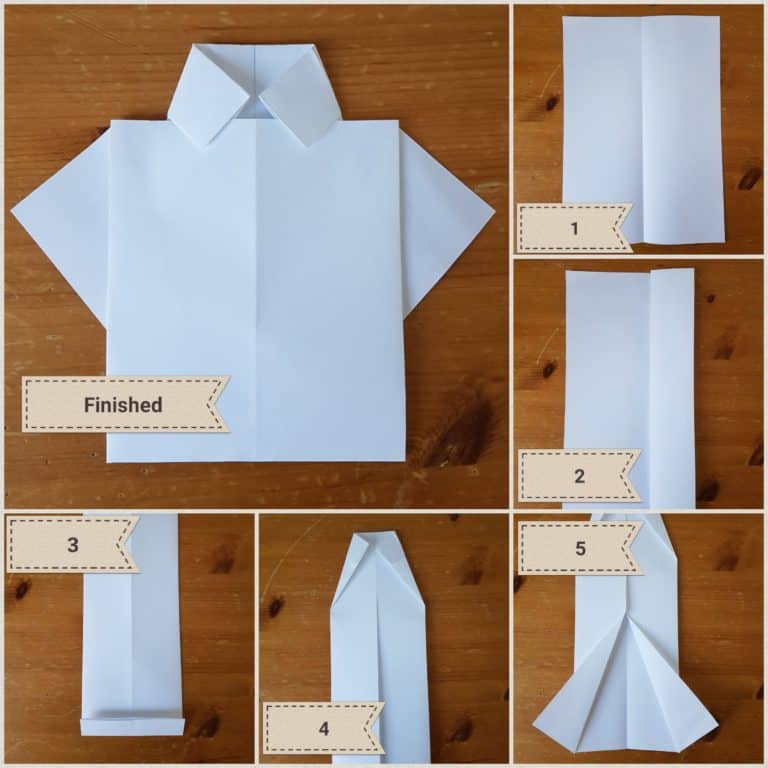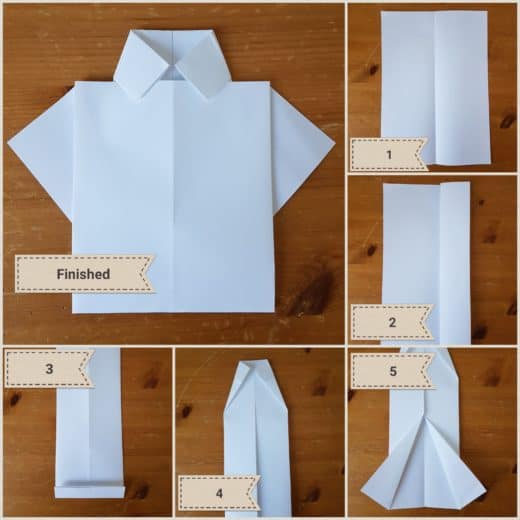 Once you fold this origami card, younger kids can customize them.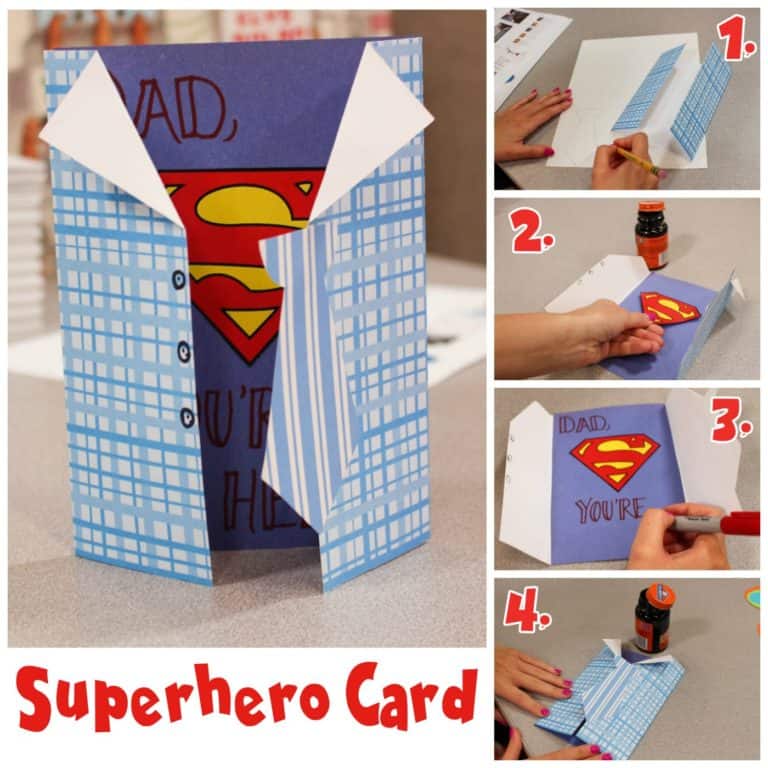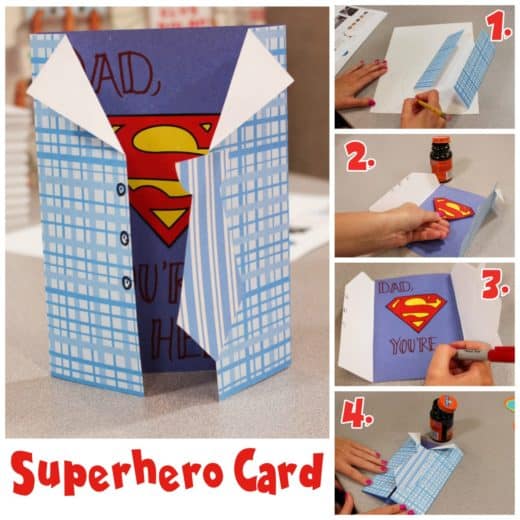 We made this Super Hero card for our Father last year and he was in tears.


Candy cards are so fun to make and heartwarming. For very little money you can give dad sweet treats along with a sweet message.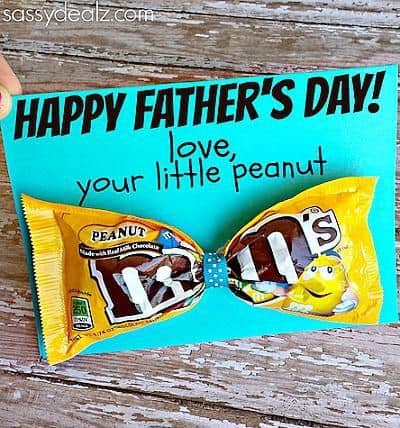 The adorable little punny candy card above is sure to give him the feels.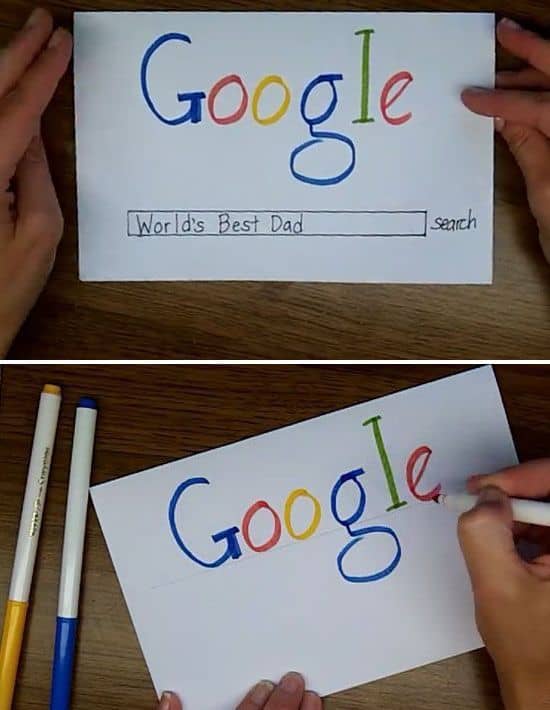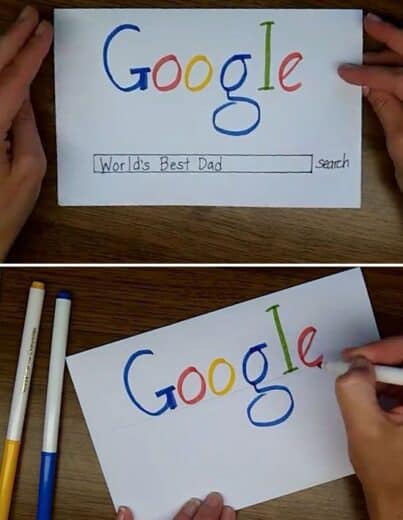 If there's a Dad who deserves to show up on Google search, make him this card. All you need is markers and card stock so it's easy for kids to craft.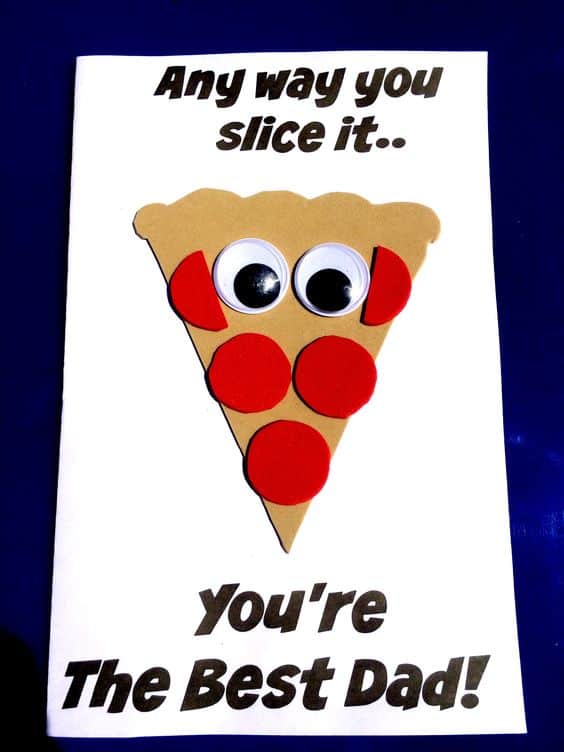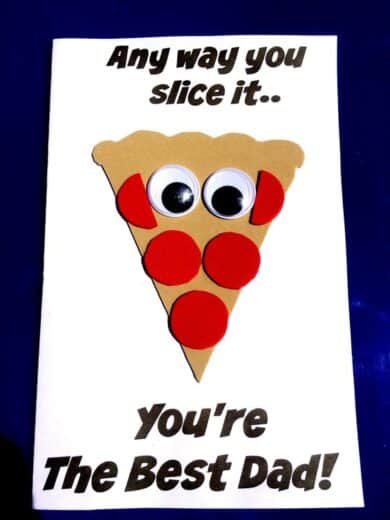 This pizza card is fun for kids to make and would be great with a storebought or homemade pizza.
If your Dad deserves a ribbon, make him one…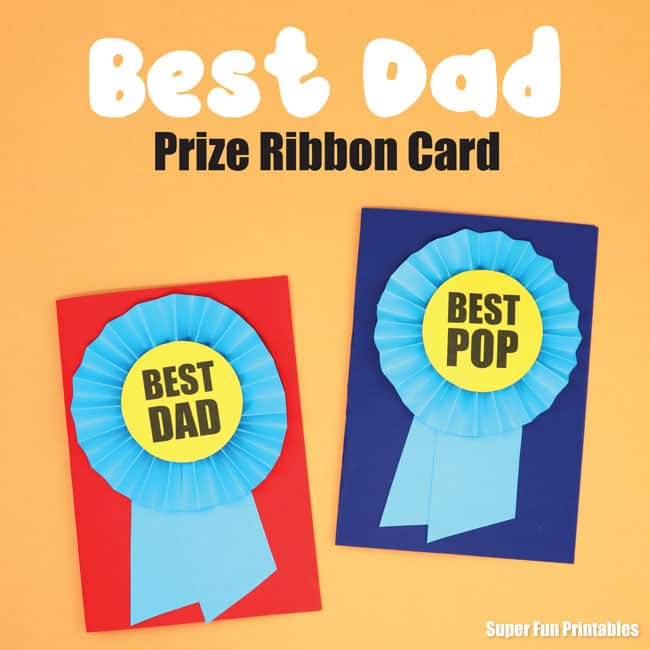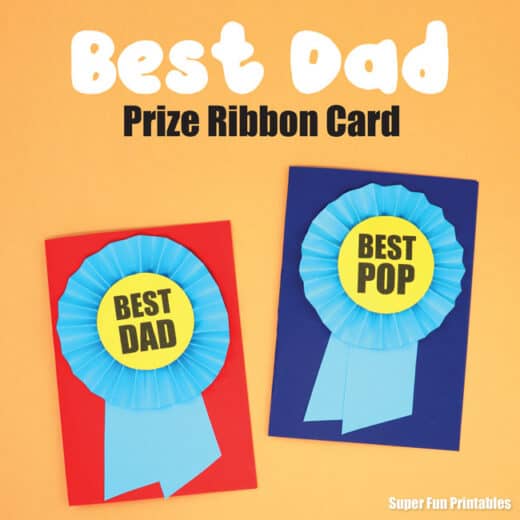 A baseball fan would love this sweet little pop up photo card. It's so easy to make, just trace and cut the free printable.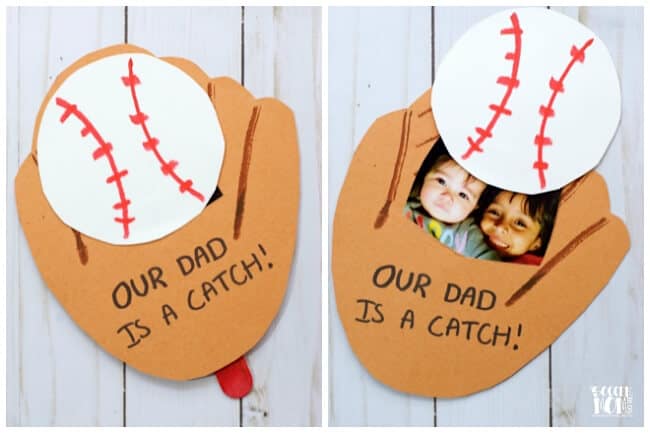 This card is a darling personalized craft that he will keep forever. It can also be framed.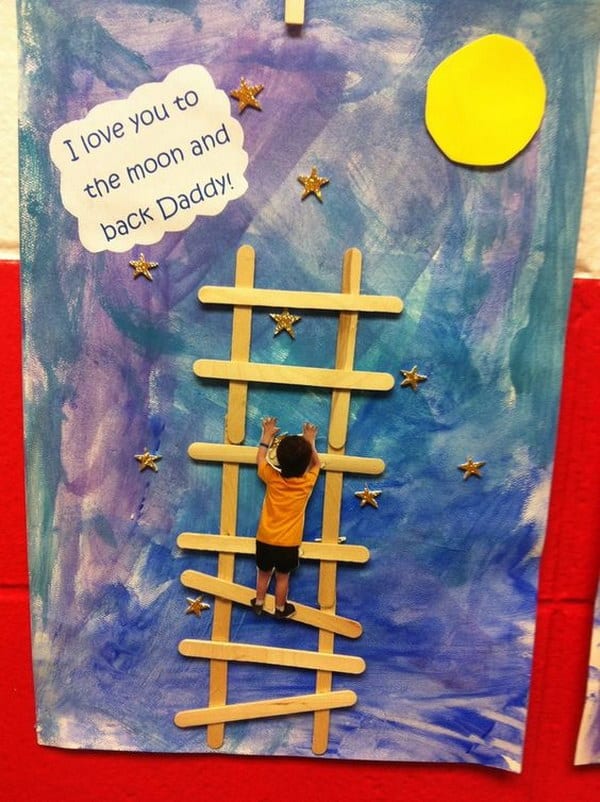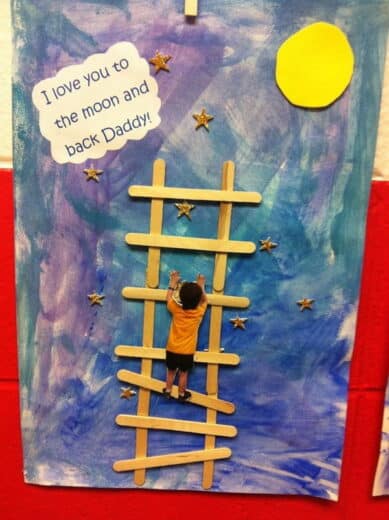 This card mixes a photo with a popsicle wood craft kids can easily put together.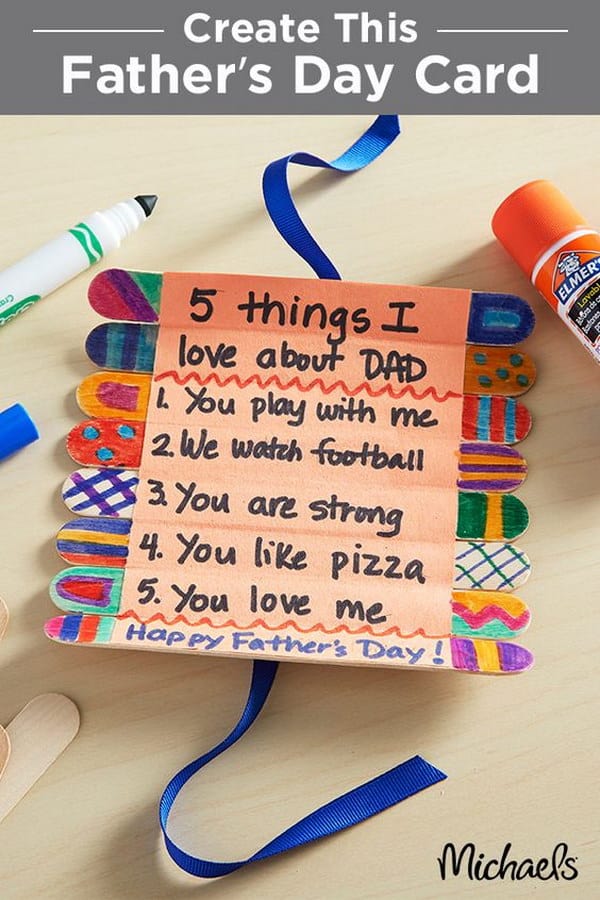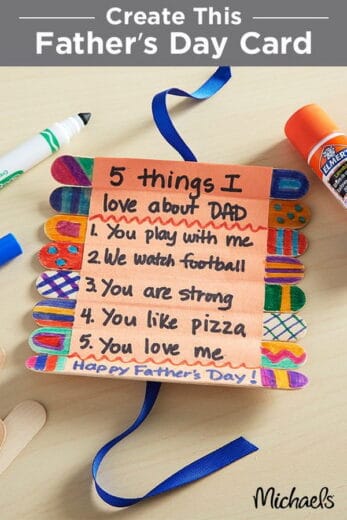 This super unique card craft uses wooden craft sticks and rolls up.
---
DIY GIFT BAG CRAFTS FOR DAD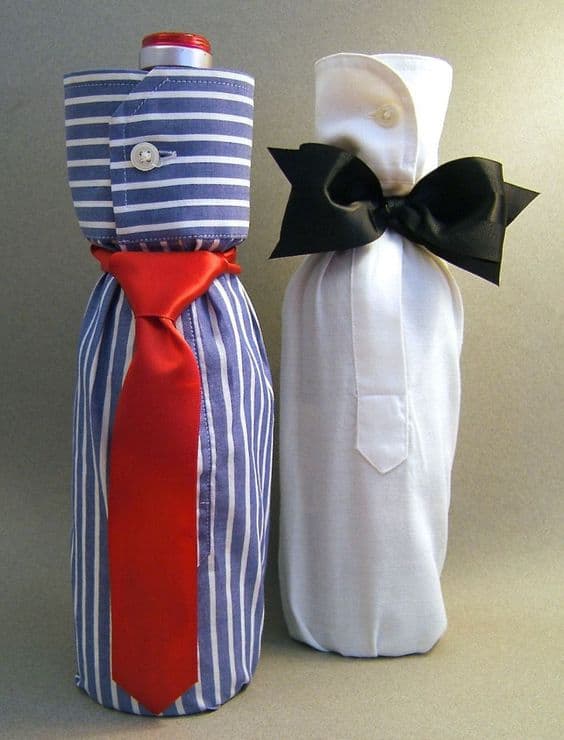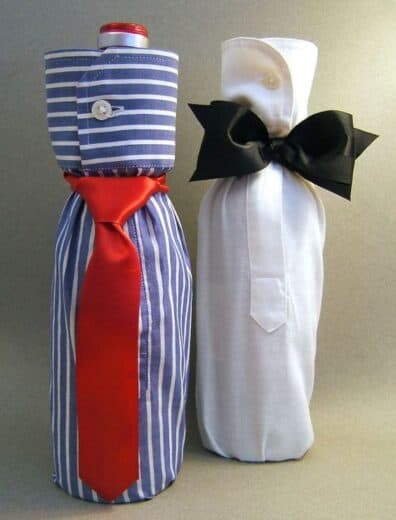 You'll need something to put his gifts in! Make these unique and festive bottle wraps!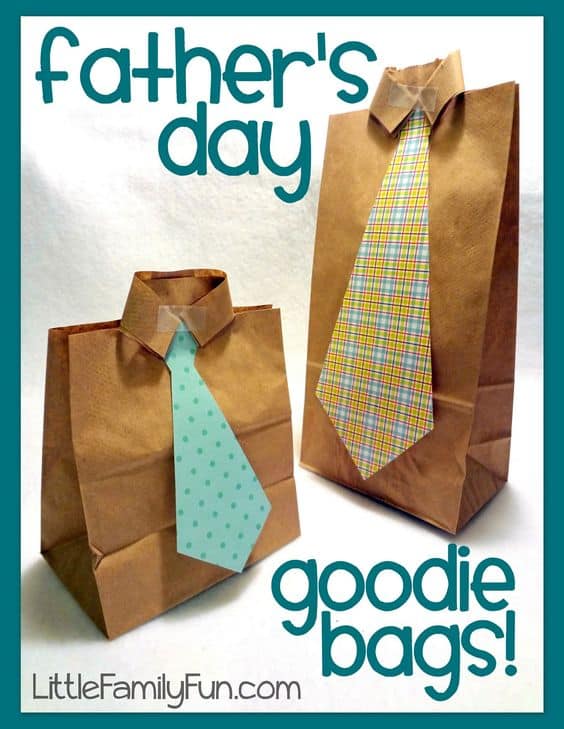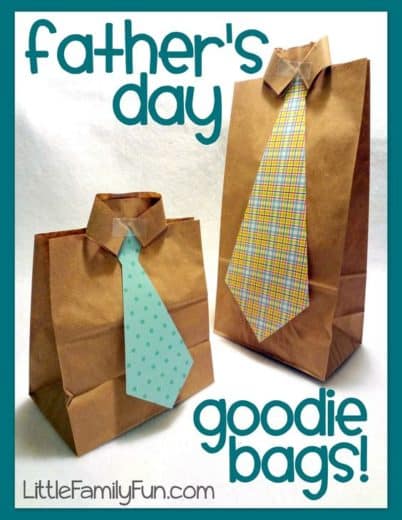 We all know men tend not to like or appreciate wrapping paper. This is quick, practical gift wrapping our Dad LOVED!
---
FATHER'S DAY FREE PRINTABLE COUPONS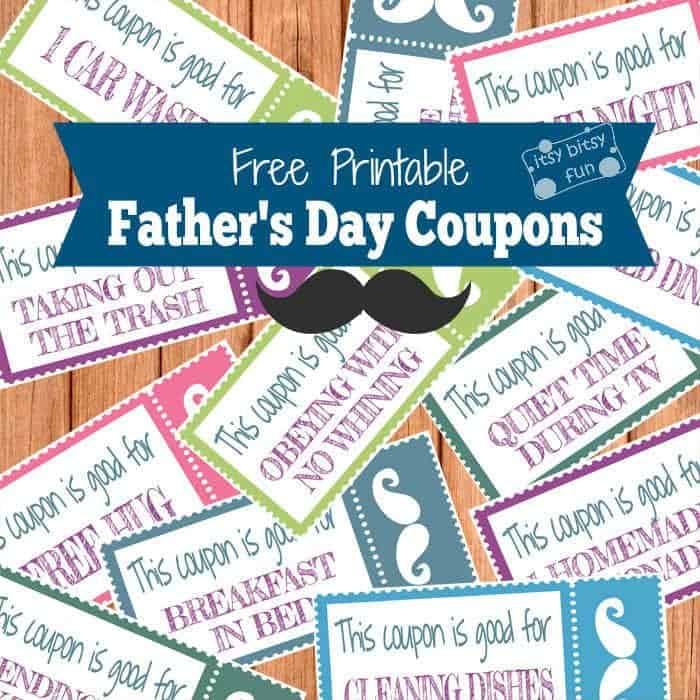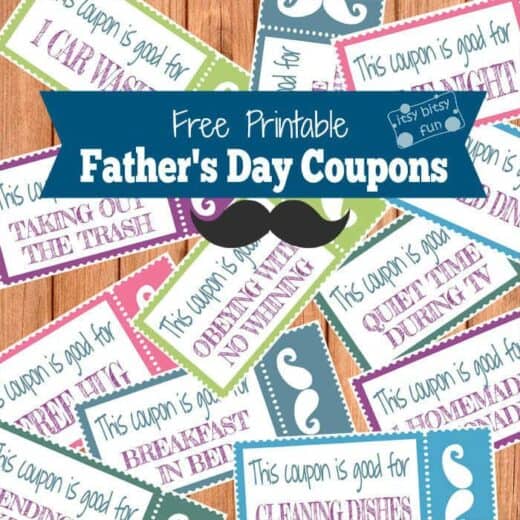 There is such a wide variety of free printable coupons available to give Dad.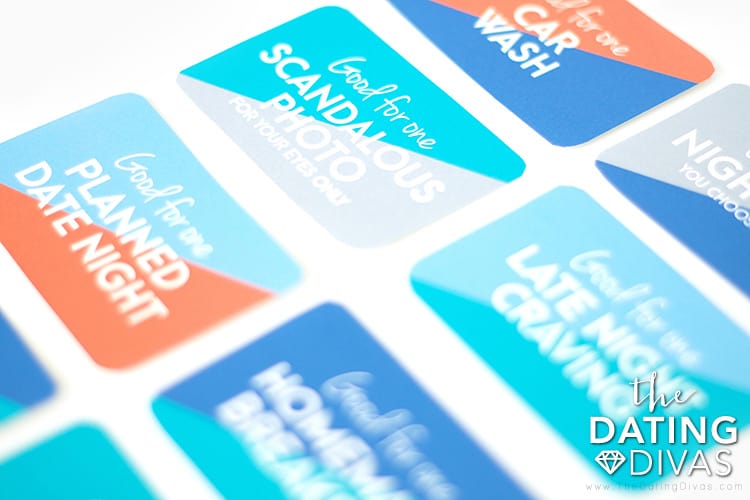 This is a good gift idea from kids, teens, adults, or even a wife or partner. Give Dad a pass on chores, diaper changing, no fighting, no whining, a lunch date or anything he deserves (a little peace?).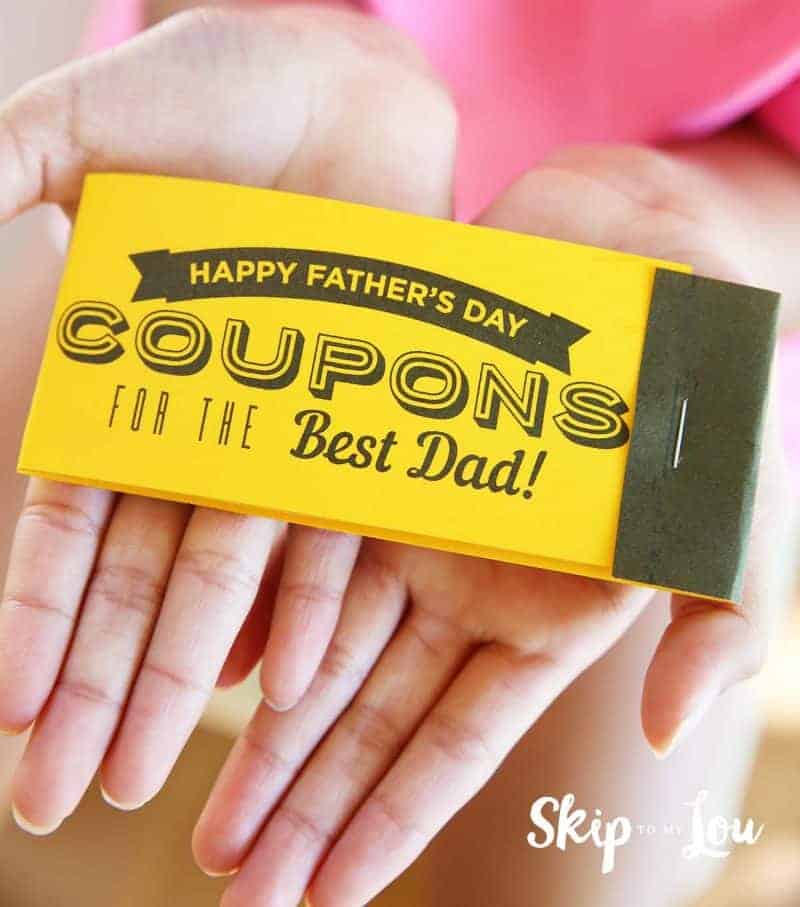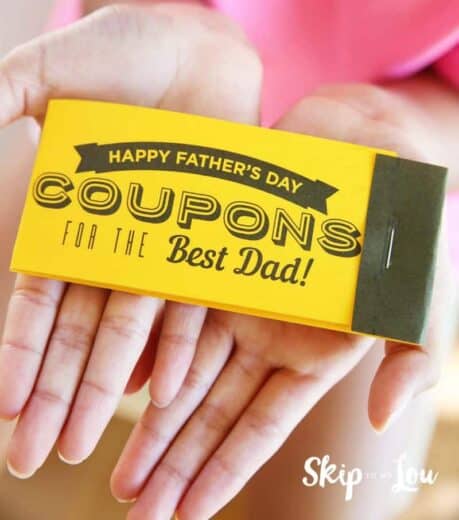 You can create a cute printable coupon book, token, or handmade cards.
---
DIY PHOTO TIE GIFT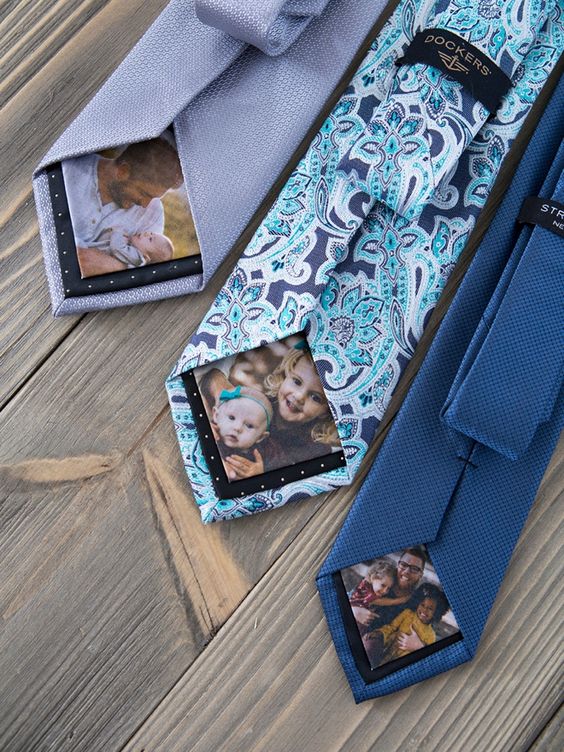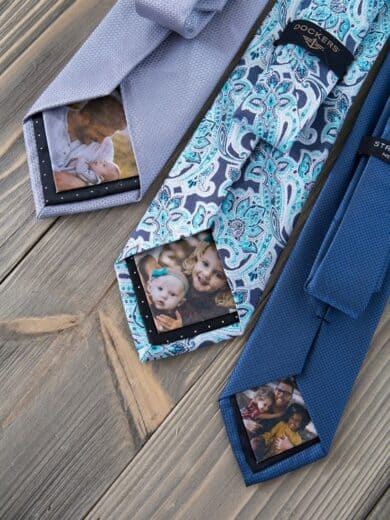 This is an absolutely adorable idea. It's like a photo locket for men! You can do this with a new tie or his favorite tie. All it takes is iron on transfer paper, and some fabric glue.
If you don't want to do a photo, you could also print out a special message or quote.
---
We hope this list of DIY Father's Day gifts helps you create something as special as the DAD you're making it for. Fathers are SO important in this world, we adore ours'. To all the amazing super hero Dads out there, we salute you!
LOVE,


Pin It.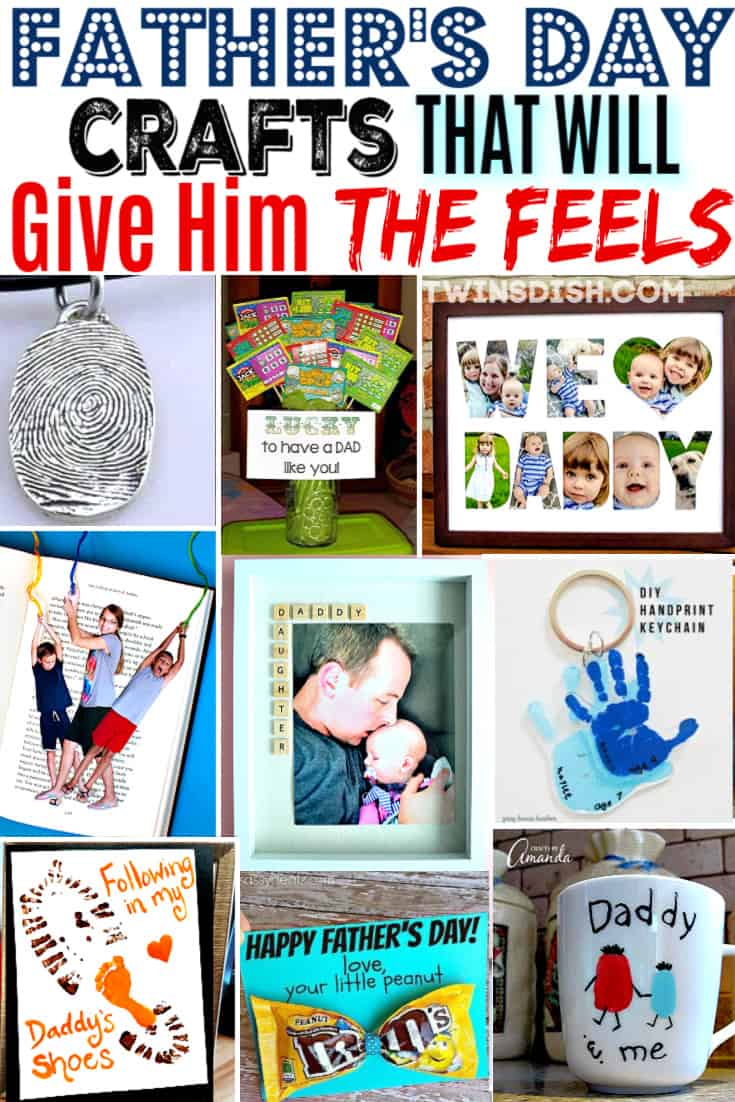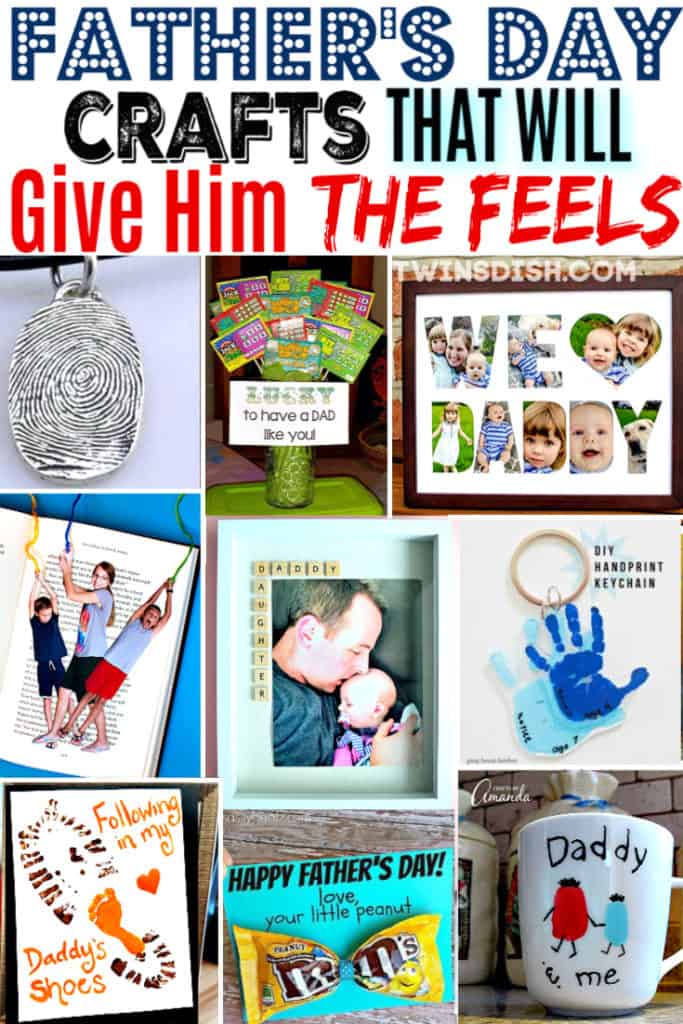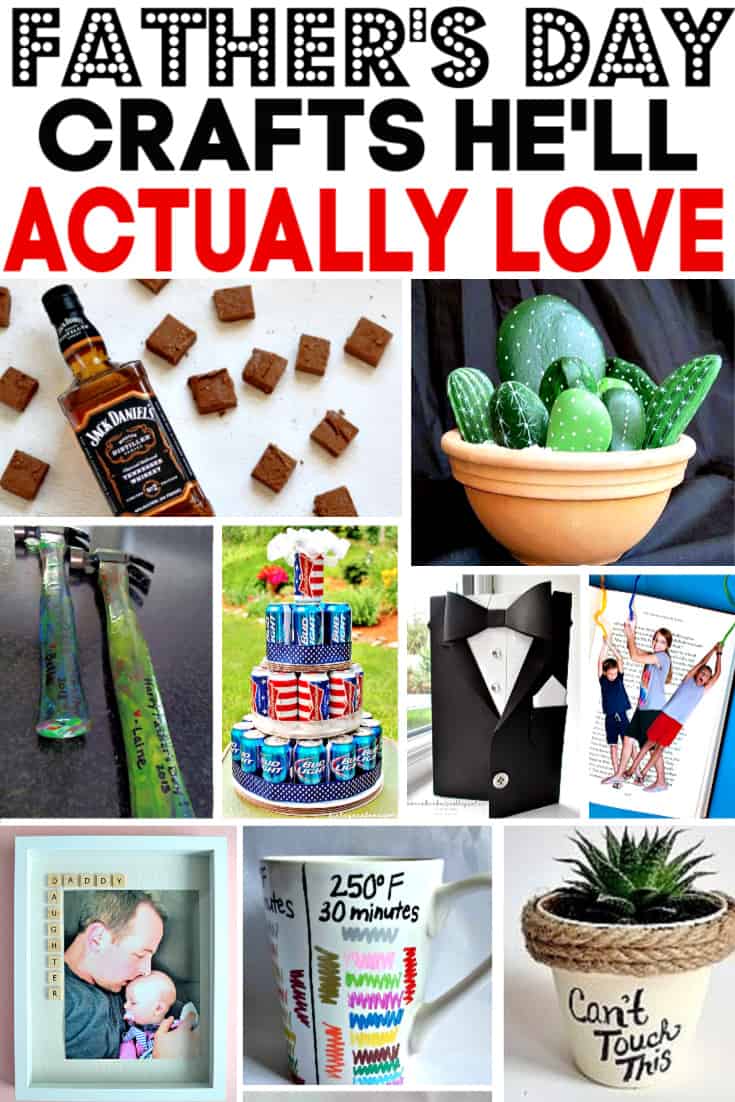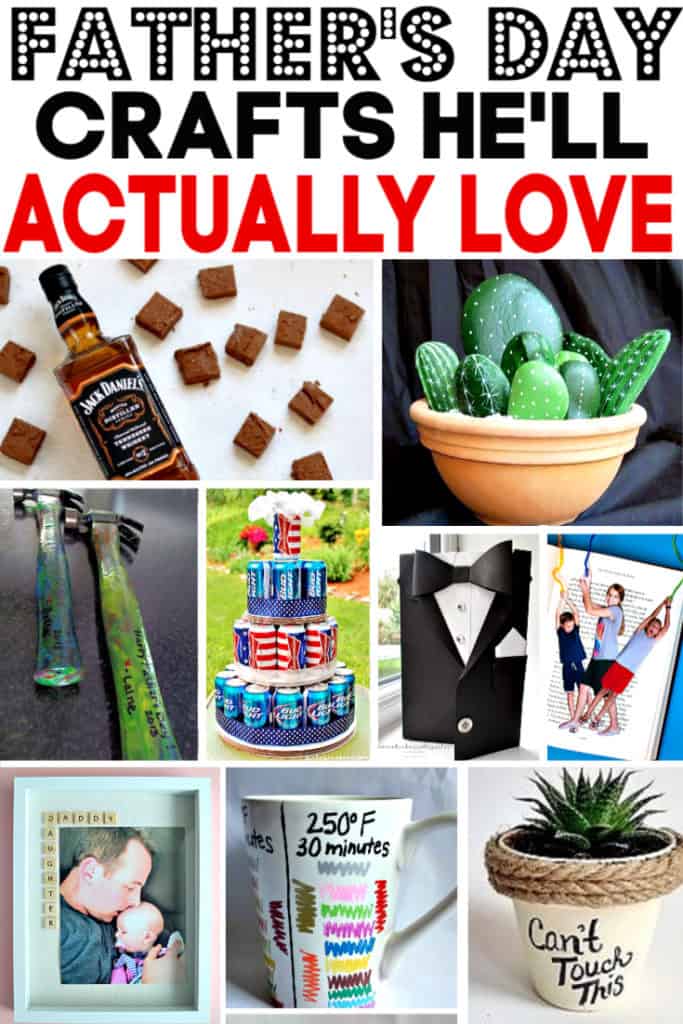 Posts You May Like…