The Gift Guide You'll Use Forever
Do you struggle to find the perfect gift for that special someone?
This is our ULTIMATE fail proof list of the absolute best go-to gift ideas that won't collect dust.
It can be used for ANY holiday or special occasion.
We even covered DIY options and 5 senses ideas.
No matter who you're shopping for, what your budget is, or how little time you have, you'll find great gifts for EVERYONE on your list including:
men
teens
parents
in-laws
siblings
friends
coworkers
and pets
…you may even find some for yourself.
Everything listed we've either given, received, or have on our wishlist.
We organized it by sections:
Digital Subscriptions
Insulated Products
Heated Items
Teen Bedroom/Dorm Decor
Sleep Wear
Alcohol Related Gifts
Alternative Bouquets
Experiences
Beauty and Personal Care (both men and women)
Electronics
Home
Fashion
Health Conscious
Gift Baskets and Cards
Pets
For a must see DIY only gift list visit our Ultimate Guide to DIY Gifts That Don't Look Cheap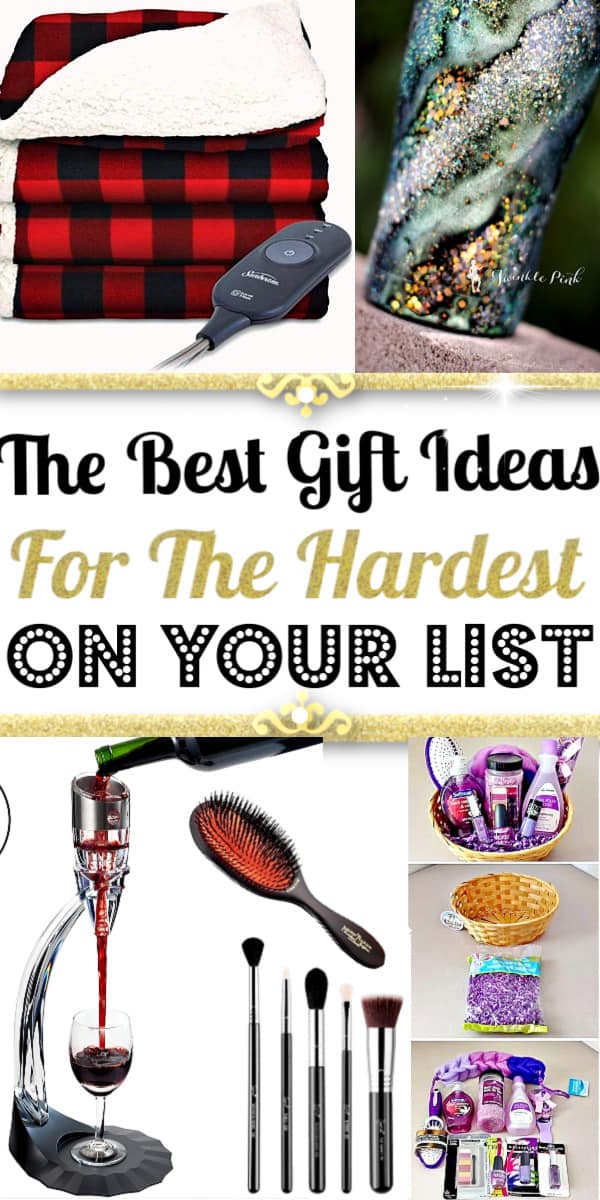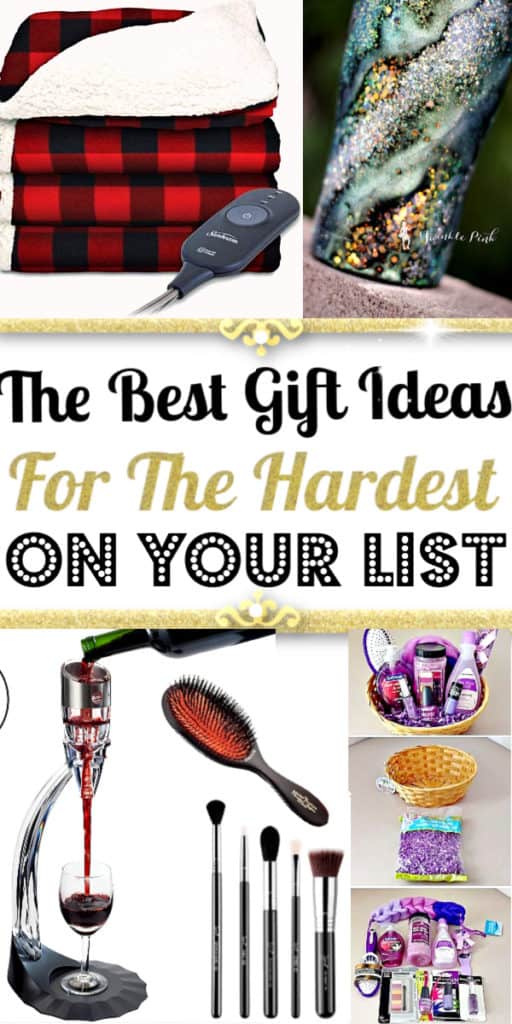 *Post may contain affiliate links, which in NO WAY influences our opinion or inspires our content. If you click on them we may receive a small commission at no cost to you. If you'd like to read our full disclosure click here.
Before you get into our list you should seriously consider signing up for Rakuten. It's free and gives you cashback at just about anywhere you shop online. Sometimes they give you more cashback than the product costs, we got $6 back on a 1 month subscription to Peacock that costs $4.99. It is NOT too good to be true.
Go to their site, sign up, click on the store youre going to buy from via their site it will tell you how much cash back each store is offering OR download their browser extension-which is what we did so that you get cashback automatically-buy something online, and get a check in the mail. It's really that simple.
1. Digital Subscriptions
THE EASY gift for anyone including long distance recipients, men, and college students.
There are so many digital subscription services that make perfect gifts, especially for long distance recipients and at an unbelievable value especially if you buy via Rakuten:
Prime members enjoy benefits like FREE 2 day shipping on millions of Amazon items with NO minimum order size, streaming of thousands of movies and TV shows, unlimited ad-free access to over a million songs and hundreds of playlists.
Here are some amazing budget Amazon subscription ideas:
Get a 6 MONTH free trial for college students with an Amazon Prime subscription. It includes the free shipping and streaming benefits of Amazon Prime but with exclusive college deals.If you decide to keep it it will cost only $6.49 a month or $4.92 a month annually. If it's your son or daughter, you could definitely benefit from this too, we order things for our parents from our Amazon account all of the time.
Amazon FreeTime offers kids books, videos, and apps. They offer a free trial for 30 days so you can see if kids like it first. Amazon FreeTime Memberships start at only 2.99 a month after the trial ends.
2. Insulated Tumblers, Bottles, Lunch bags, or Coolers
Perfect for EVERYONE – Men, women, teens, kids, parents, friends, and even yourself.
Keep their coffee piping hot, their water ice cold, and their lunch from spoiling.
You can find insulated packaging for just about everything from wine to pot roast.
Personalized insulated tumblers are available on etsy with glitter, initials, or any design you want or do it yourself using glitter, mod podge, and resin.
Add vinyl letters yourself with a cricut machine.
Here are some insulated products to buy: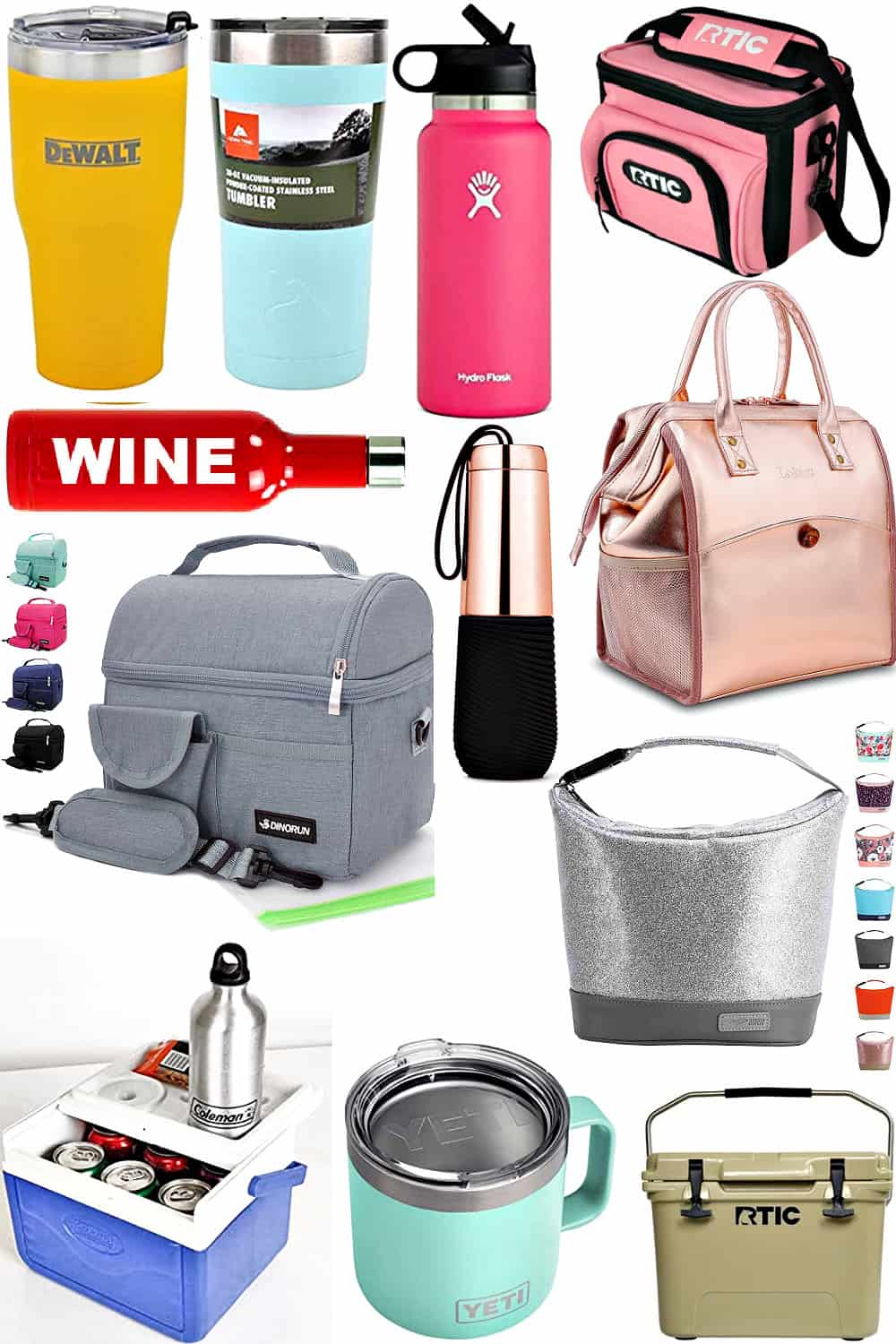 Here are the products pictured above:
Hydro Flask (dark pink water bottle pictured above)– Coveted by teens, College students, hipsters, and young adults for their BPA and Phallate free water bottles.
Rose Gold and Black Art and Cook Silicone and Stainless Steel Water Bottle
Yeti mug (aqua color cup pictured above)- Popular among celebrities, Politicians, and Suburban America for their nearly bullet proof tumblers, drinkware, coolers, and even dog dishes. The "Gucci" of insulated products.
RTIC (pink lunch bag & tan cooler chest above) – Nearly identical to Yeti products at half the price. Popular among 2nd amendment supporters who were alienated by Yeti's prices and political stance. Check out our Yeti vs. RTIC full product comparison here.
Dewalt (Yellow tumbler above)– Industrial strength, the #1 choice among construction workers.
Ozark (Sky blue tumbler pictured above)- Popular in the southern U.S. Comparable to RTIC in quality and price.
Coleman (blue and white cooler chest) – Good value brand that fits any budget for coolers and insulated drinkware.
Meir (silver glitter lunch bag)- Glam leak proof insulated lunch bag purse. High quality, low price.
Lokass (Rose Gold tote) – Glam Leak proof, roomy, insulated lunch bag tote. High quality, low price.
Dinorun (Heather Grey) – Unisex Leak proof, roomy insulated lunch bag tote. High quality, low price.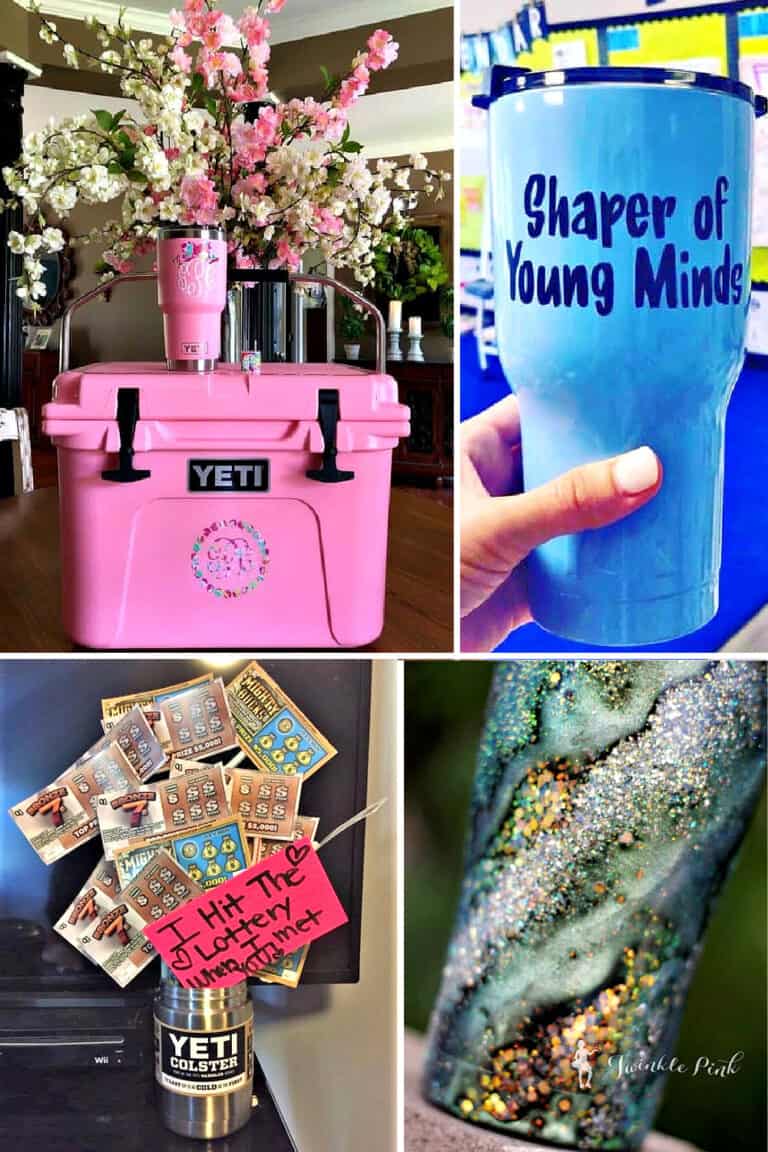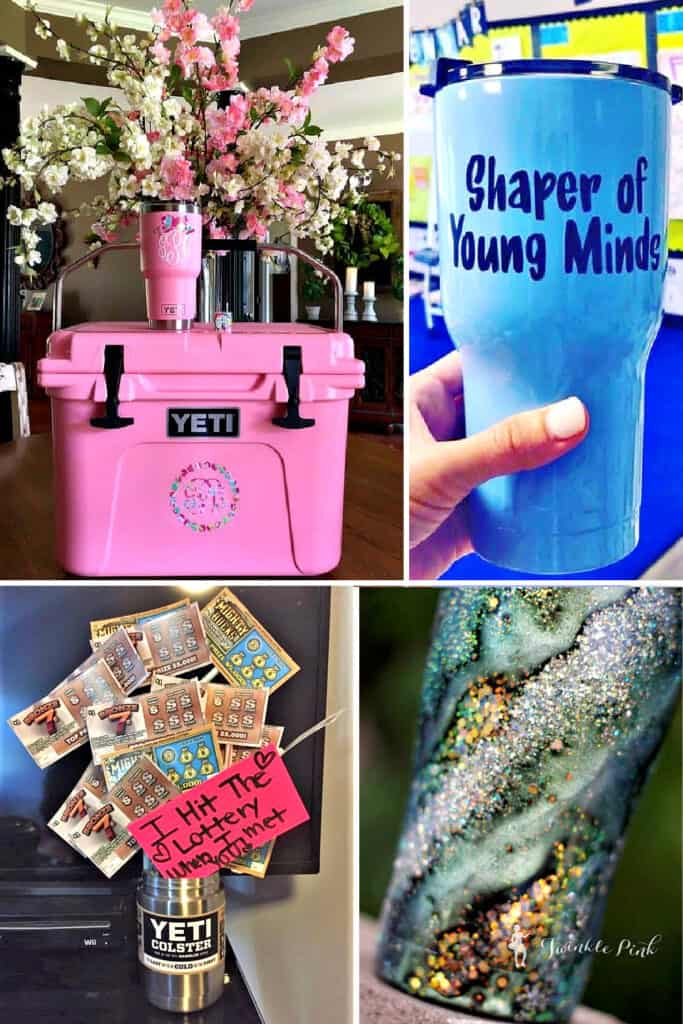 ---
3. Novelty Mug Gift Ideas
Great gift idea for everyone.
A novelty mug that represents their interests or even their profession will make a memorable and thoughtful gift they'll love.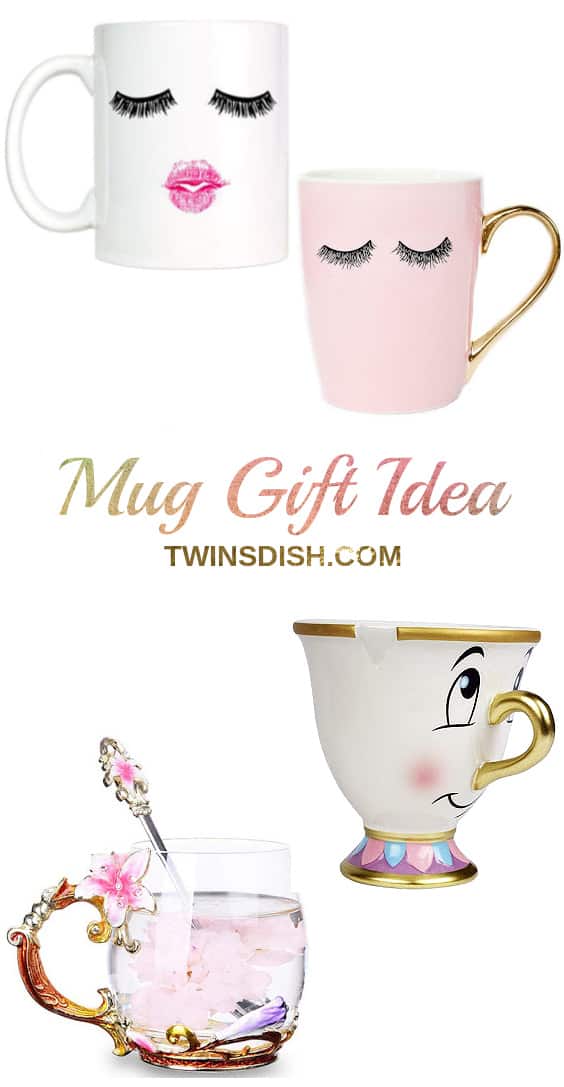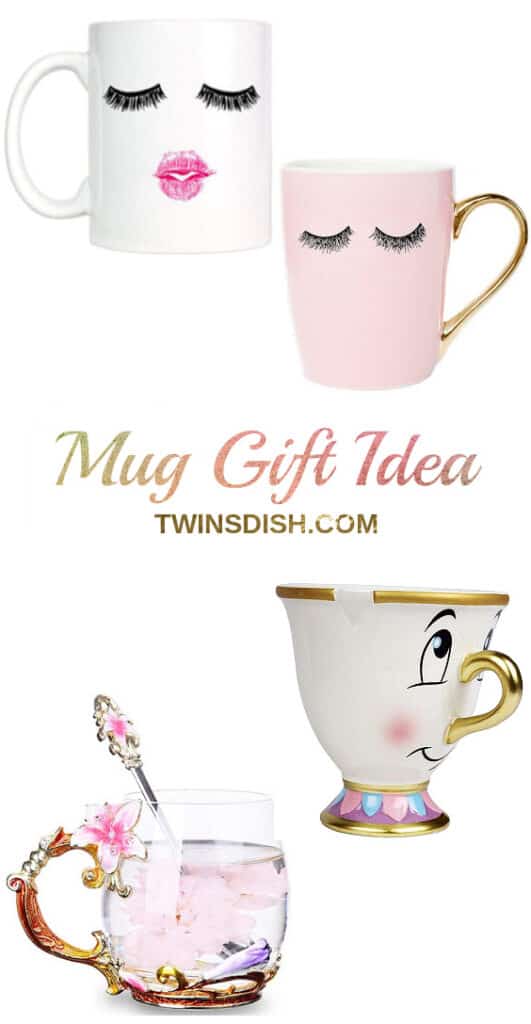 4. Heated Products
Great for everyone of any age.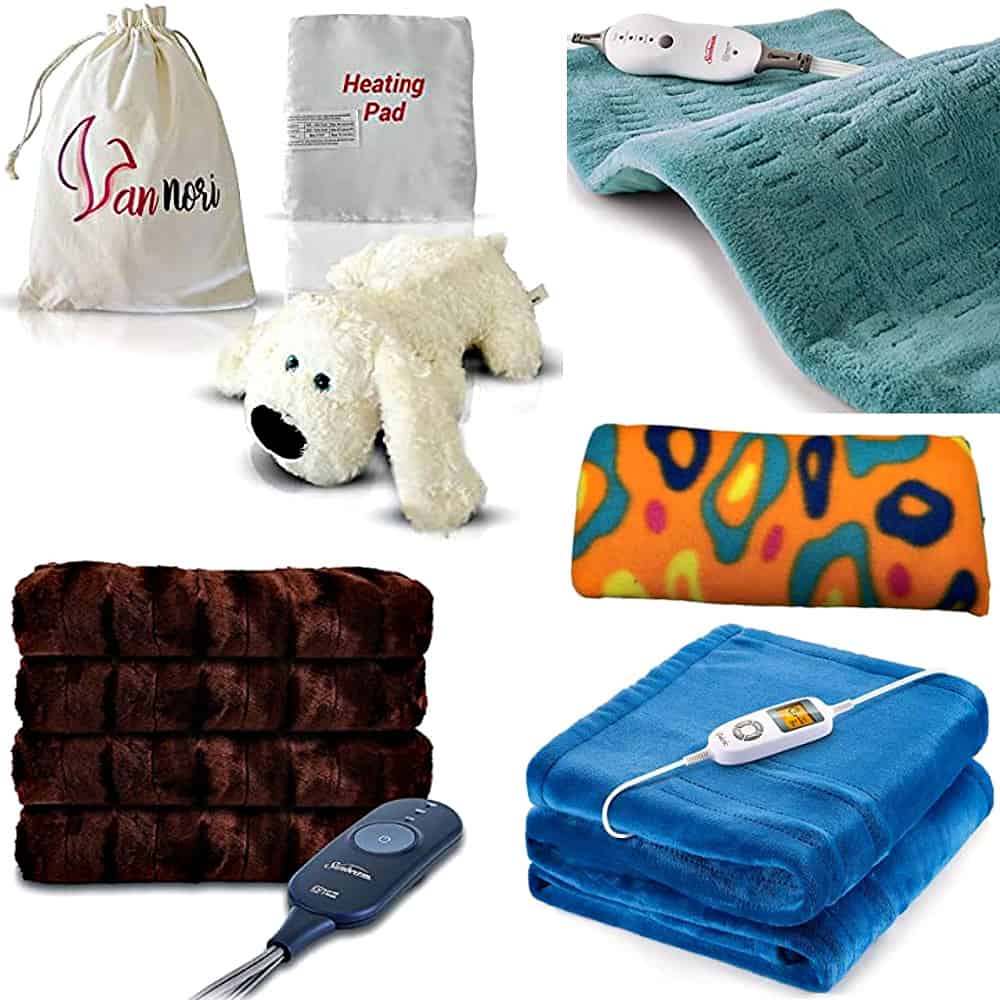 PRODUCTS PICTURED ABOVE:
VanNori Microwaveable Puppy Heating Pad
SunBeam Electric X Large Heating Pad in Turquoise
BROWN FAUX FUR SUNBEAM HEATED THROW BLANKET
SABLE HEATED BLANKET ELECTRIC THROW IN BLUE
Heating Pads are an absolute necessity! They ease cramps, stomach aches, sprains, headaches and fit every budget.
Here are the main types of heating pads:
Microwaveable Heated stuffed animal– Good for teens and kids. These cozy and scented stuffed animals can be heated in the microwave or frozen in the freezer. They're magical for cramps and stomach aches.
Moist Microwaveable Heating Pad – Moist heat can aid in the heat's penetration into the muscles, doesn't dry out skin, and never spoils, molds, or smells.
Electric Heating Pad – Provides constant heat at the press of a button and covers larger areas of the body.
Heated Electric Blankets

will cut the heating bill in half! We've given friends in the Midwest heated blankets and they can't live without them. They come in all sizes, styles, prices, and colors.
---
Teen Bedroom | Dorm Room Decor Gifts
Below are decor gifts that will satisfy even the pickiest of teens and the smallest of budgets. Teens can take them from bedroom to dorm room to first apartment GUARANTEED.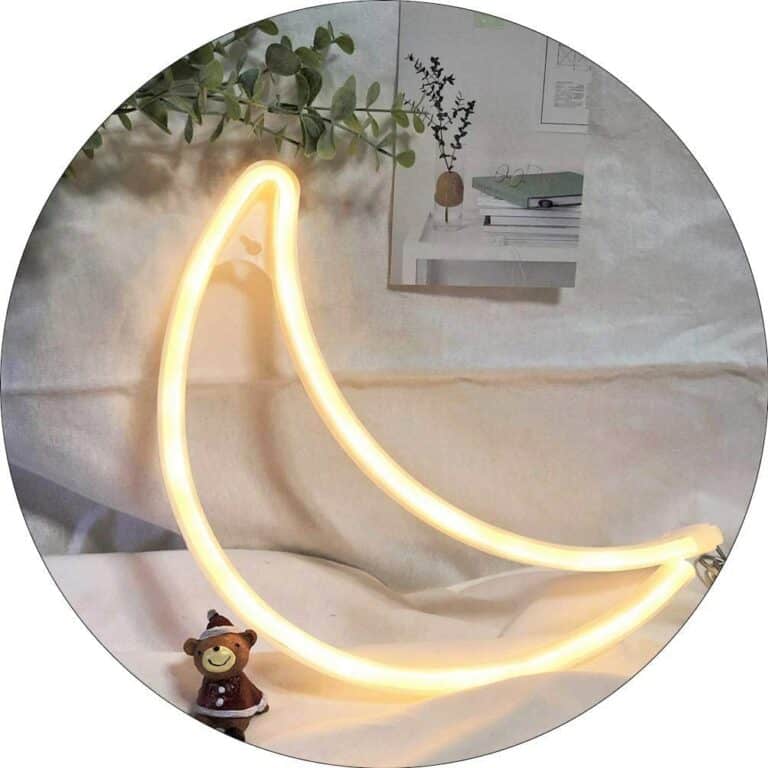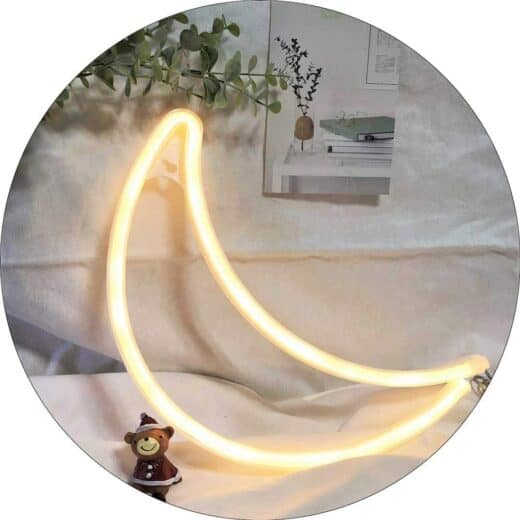 This Neon Moon Sign (pictured above) is light enough to be hung on the wall with double stick tape and has an even lighter price tag.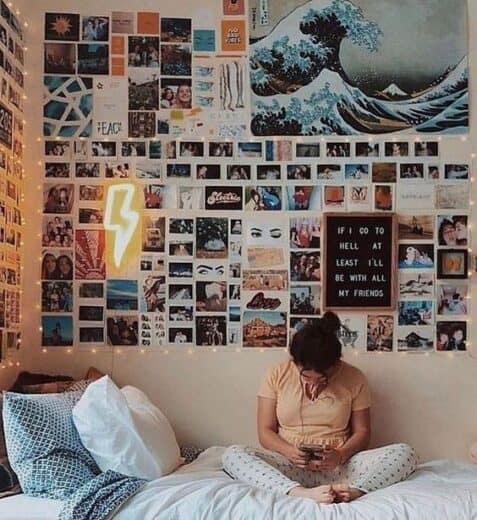 This Thunder Bolt neon sign (pictured above) is insanely popular and comes in a variety of colors.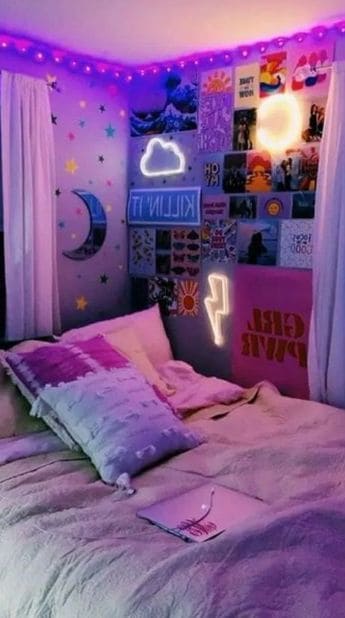 MOOD ROOM MULTI COLOR LIGHTING
Every teenage dream room includes TikTok "Mood Room Lighting" (PICTURED ABOVE): A glowing ambiance of changing colors made possible by remote controlled multi colored LED lights that can be synced to music.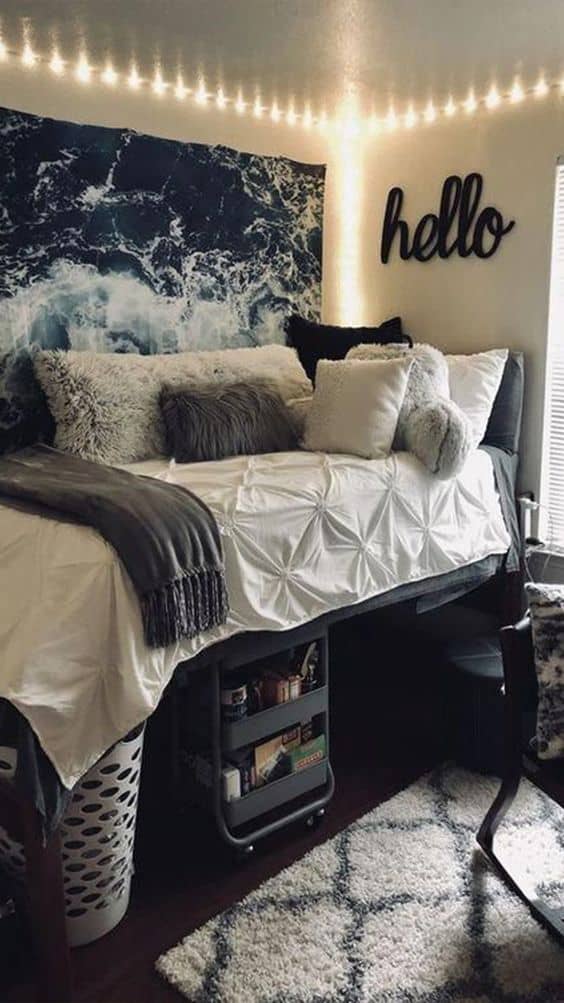 The streamlined movie theatre quality LED tape lights (above) are easy to set up, come with strong 3M tape adhesive, and can be cut to fit any size room.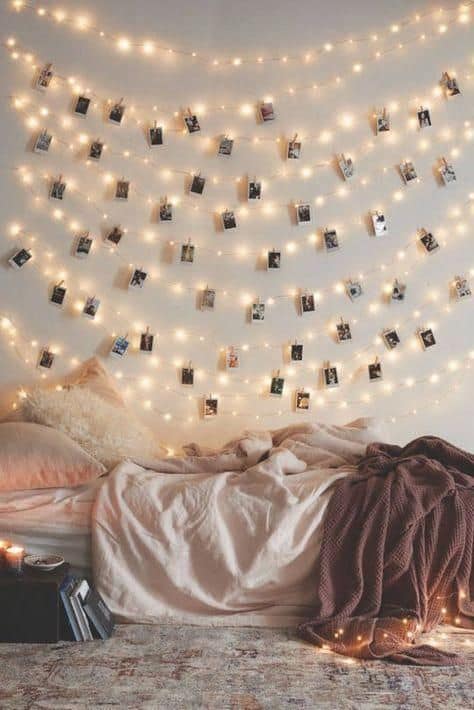 Fairy lights (pictured above) with photo clips can be used to make the ultimate wall decor for any teen room or dorm. They can be taped to the wall in any design.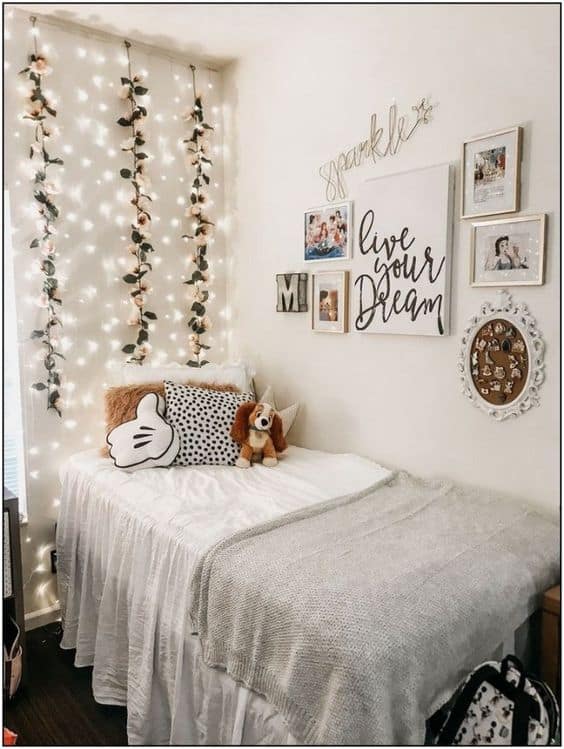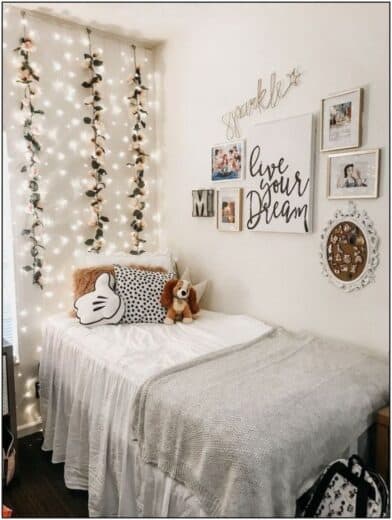 Create a cute and girly look any teen or College student will love with fake rose garland and curtain fairy lights! Curtain fairy lights have different light settings to create the perfect ambiance for any occasion.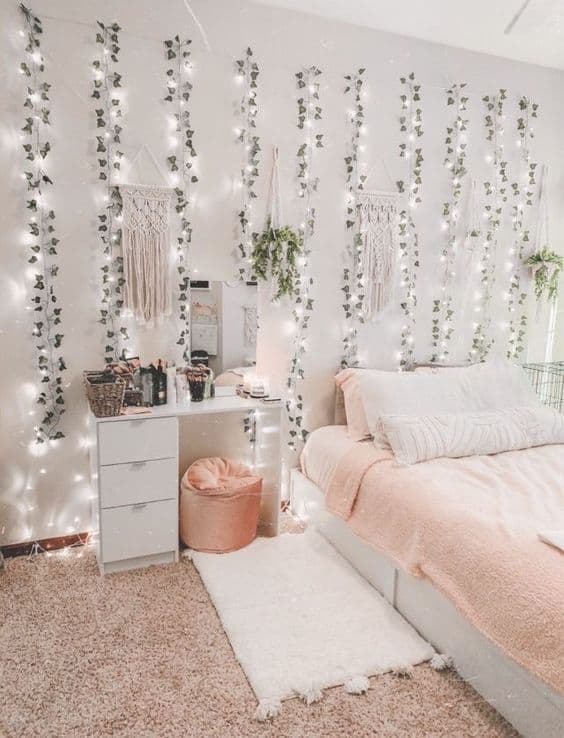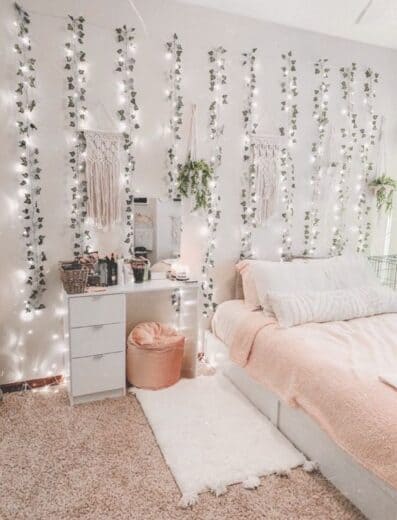 To get the look above you can either purchase Faux Ivy Vines and curtain fairy lights separately and drape them on the wall OR purchase faux ivy that already comes with fairy lights.
---
5. Sleepwear:
Robes
Good for everyone and every age.
We used to think this was something only teens and adults valued until we heard our 10 year old nephew likes to lounge in his robe after each shower.
Get them the terry cloth robe for when they get out of the shower, the cushy soft robe for getting out of bed in the winter, the thin summer cover up robe for when they need just a little something extra, or a themed robe for whenever.
Pajamas
Good for EVERYONE who wears them.
Even men need pjs in the winter. Hipsters and 20 somethings will love a onesie and you can even buy a set of matching holiday pj's for the whole family. A sexy night gown or lingerie will definitely send a message on special occasions.

Slippers
Again, good for EVERYONE.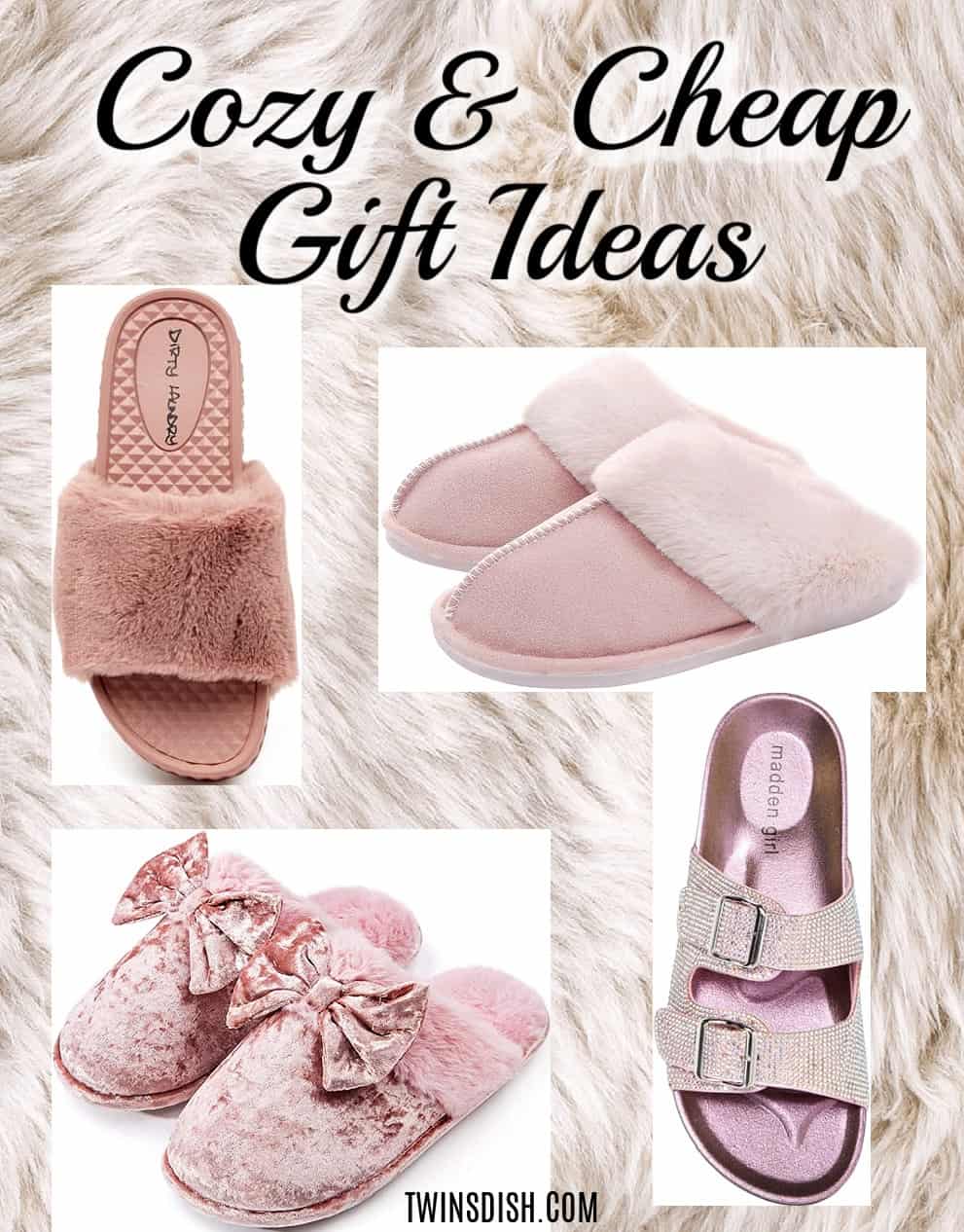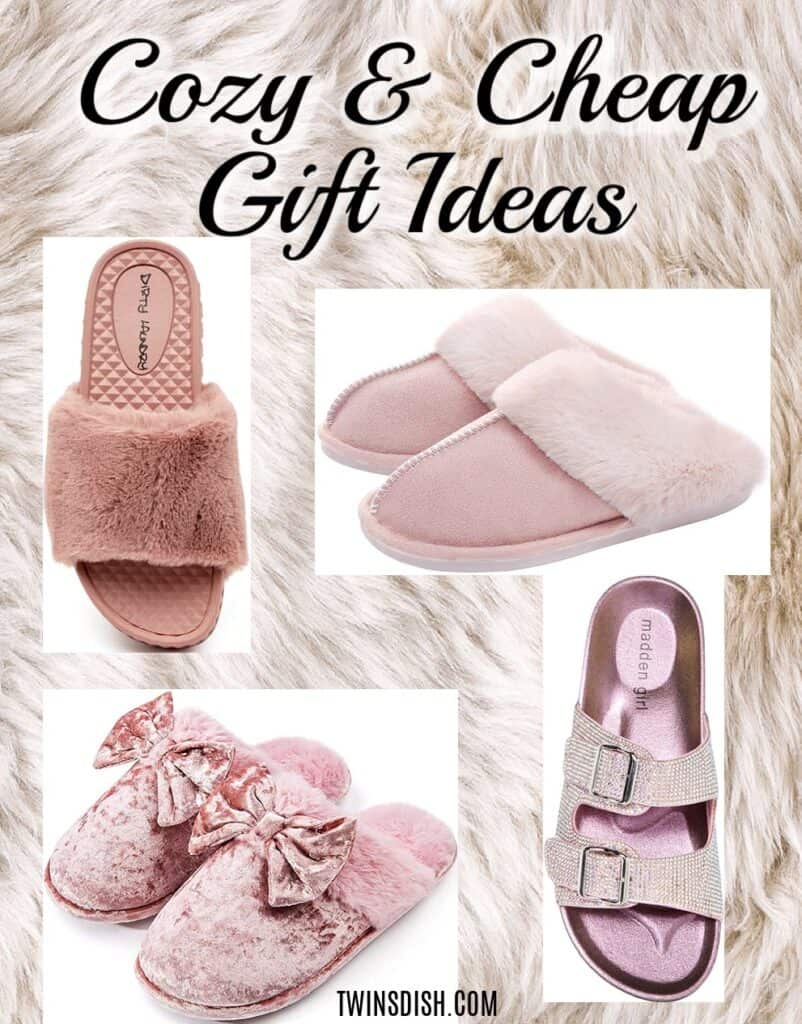 Pictured above starting at upper left hand corner:
Ever try walking on the cold floor barefoot in winter, or the filthy floor of a hotel room or dorm? Sure you can use socks but they get dirty and so will your sheets.
You can find slippers to fit every budget from cheap to designer.
If you're buying for someone who travels a lot make sure you get a pair that's easy to pack.
Since kids grow fast and tend to lose their slippers a lot, you could go to your local discount store to purchase cheaper ones.
---
5. Alcohol Related Gifts:
Chateau Montelena Wine
The best date night gift for wine lovers, retirees, couples, and anyone with a sophisticated palate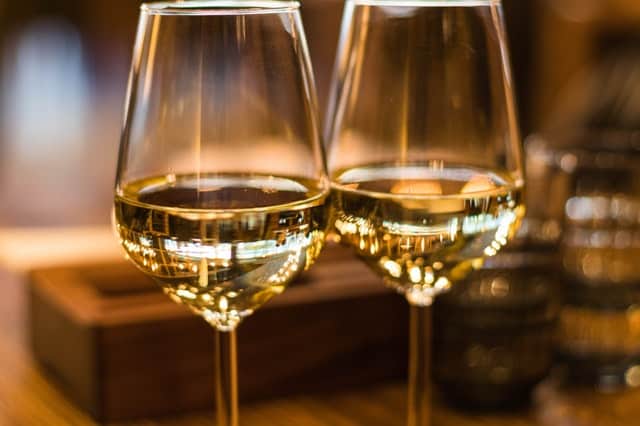 Score MAJOR points with wine lovers and connoisseurs by giving them a bottle of Chateau Montelena Chardonnay. This CA wine put Napa Valley on the map in the 70s by beating out all the French Chardonnays in a blind taste test.
There's an EXCELLENT film about it called Bottle Shock starring Chris Pines, Alan Rickman, and Bill Pullman that you can purchase on Amazon.
The winery sells a nice little gift of their 2015 Chardonnay along with a signed DVD of the movie for $68. You can have it delivered right to their door. By the end of the film they'll be popping open that bottle at the speed of light.
If you just want the wine, you can purchase Chateau Montelena Chardonnay from their website or stores like BevMo or Wine.com
Wine Preservation Device
Great for wine lovers.
These devices are a favorite of wine experts and connoisseurs because they allow you to preserve an unfinished bottle of wine for weeks or even months! We included the 2 best brands for each budget below, Vacu Vin Wine Saver and Coravin.
Coravin makes 2 good models, their Model One is a bit cheaper and lighter weight for more infrequent wine drinkers. Their Model 2 is more durable and pours quicker for more frequent wine drinkers.

Wine Aerator
MUST HAVE for Wine lovers!
This can instantly make a $5 dollar bottle taste like a $100 one and a $100 bottle taste like $1,000. It really makes a difference! Here are 2 of the best wine aerators that can transform even the cheapest bottle of wine and preserve it for up to a week. The Secura Deluxe is RIDICULOUSLY affordable yet effective!

You can also get them an RTIC Insulated Wine Bottle so that once they aerate their wine, they can keep it at the right temperature when they're outdoors. It comes in two sizes a half bottle of wine (375 ml) or a full bottle (750 ml).

Man Cakes
For anyone who likes to drink (legally of course)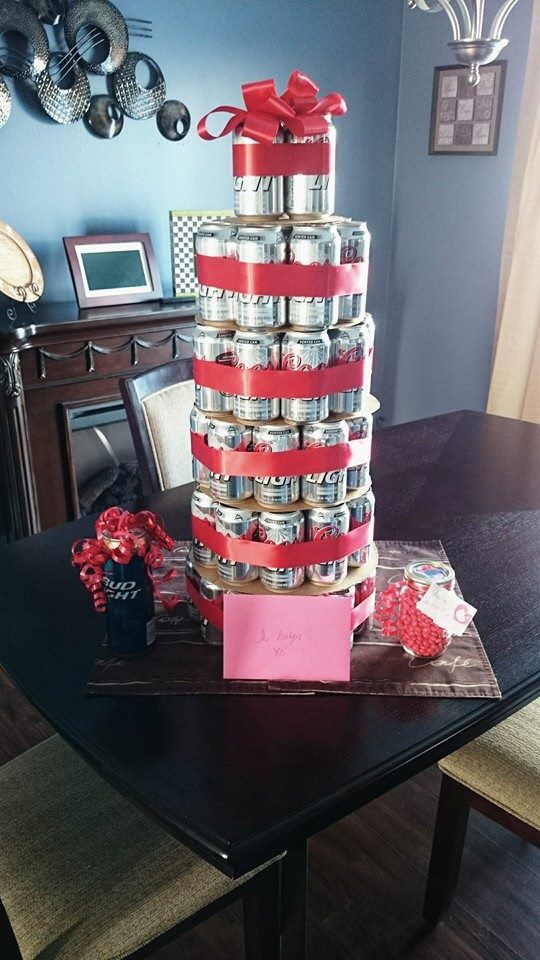 You can make a beer cake, Jack and Coke Cake, even a liquor bottle Snow Man. For a list of the best liquor cake ideas visit our Ultimate DIY Boyfriend Gift Guide.
Boxed
You can put airline bottles of their favorite alcohol in a heart shaped box or tin for Valentine's Day, or add an airline bottle of their favorite alcohol in a mini stocking, mug, or jar with your favorite hot cocoa mix for Christmas.
Bling Out The Bottle (pun intended)
Bling out a bottle of their favorite alcohol with rhinestones, pearls, glitter, ribbon or paint, the possibilities are endless.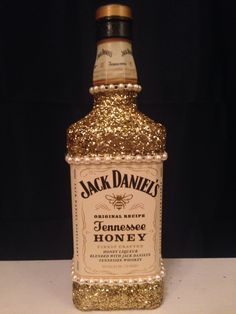 Alcoholic Man Bouquets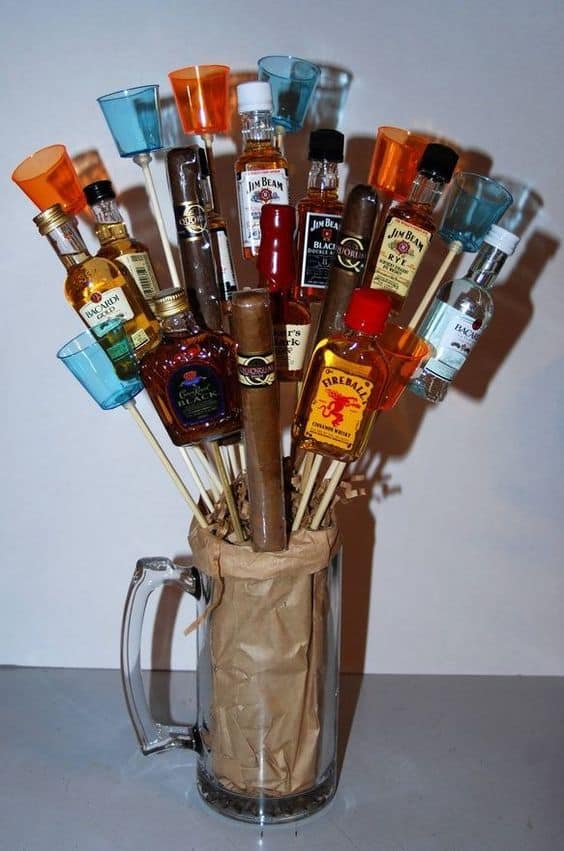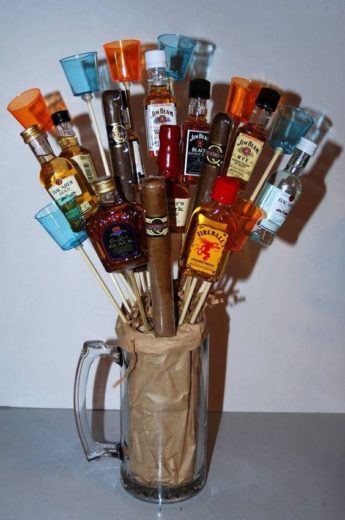 Using sticks, tape, and his favorite alcohol you can make a man bouquet.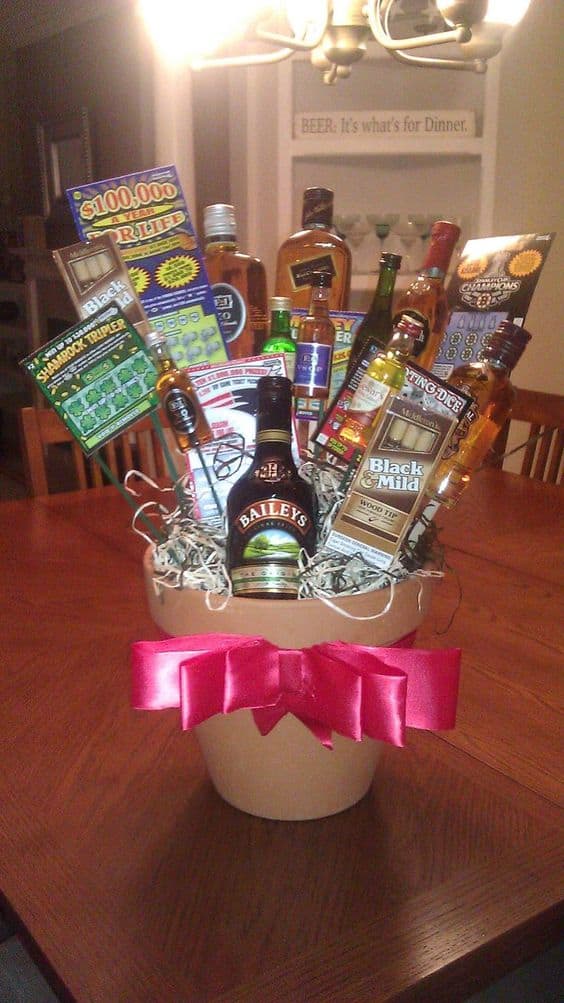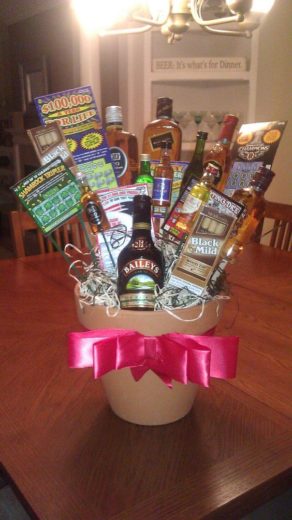 Stick the sticks in a mug, vase or even flower pot.
For more creative ways to gift alcohol visit our Ultimate DIY Boyfriend Gift Guide
---
6. Alternative Bouquets
Good for everyone.
You can make a bouquet out of gifts that last a lot longer than flowers. It's a fun way to give underwear, lottery tickets, Tumblers and even candy.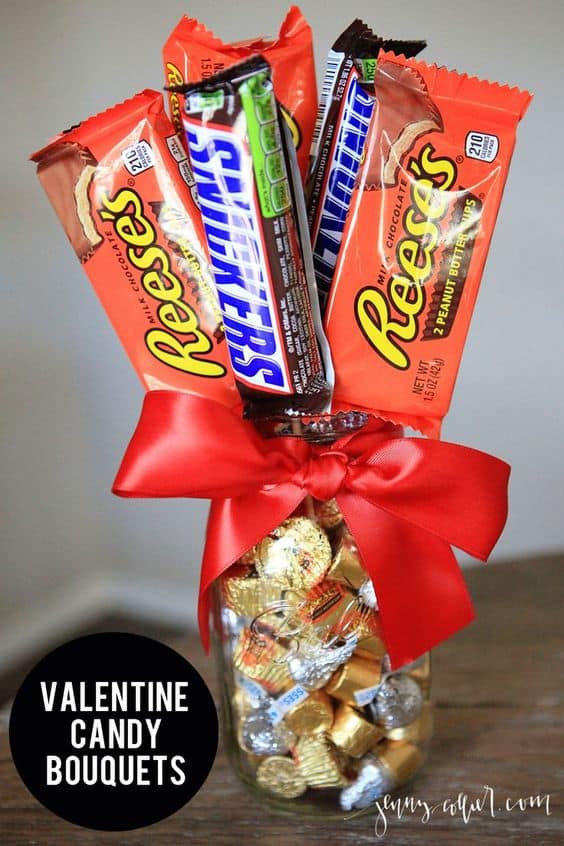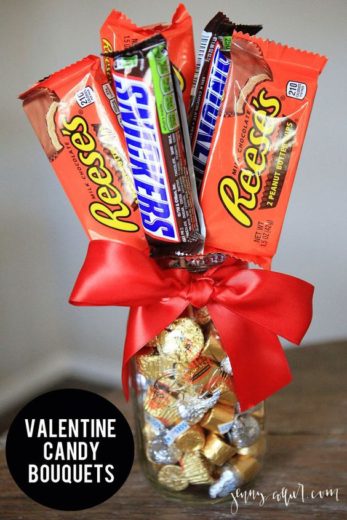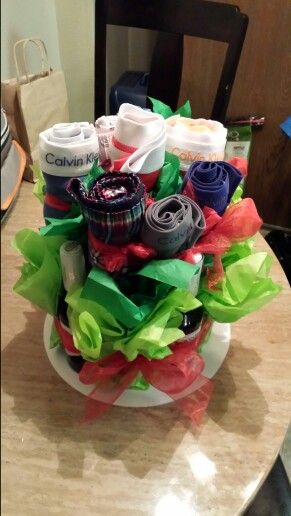 ---
7. Experience
A great gift for everyone.
Buy them passes to their favorite theme park, tickets to their favorite concert, show, or even movie tickets.
Our brother in law always wanted to skydive but after having a baby, our sister didn't want him to take the risk, so we bought him indoor skydiving tickets.
You can also find really great deals on Groupon just be sure to check the reviews.
If you're short on funds, take them to a favorite park or place they have been wanting to visit.
If they're far away, buy them a plane or train ticket to visit anytime they want.
A Class or Online Course
Stay at home moms, retirees, teens.
Give them the gift of knowledge and buy them an online course they have been eyeballing or a class. Blogging, cooking, even yoga will give them some me time. How about ballroom or salsa?
---
8. Beauty & Personal Care
Magnifying Mirror
Good for everyone Men, Women, Teens, parents, and the whole family.
This is something a whole family will not only use but may fight over.
Men use it for nose hairs, eyebrow trimming, and shaving, Teens for their make up and zit analysis, and even grandparents for chin hairs!
We were gifted a dual sided magnifying mirror for Christmas 10 years ago and still use it multiple times a day. It makes plucking eyebrows a breeze and when we have family over, they're always taking a look.

Lip Balm
Good for everyone from kids to teens to adults.
Our niece and nephew love EOS lip balm and so does everyone we know from men to women and everyone in between.
This is especially perfect for people who have to brace cold weather. EOS is one of the top brands along with Burts and Bees.
Lash Serum
Perfect for beauty enthusiasts, women, teens.
Lash serums help people grow natural fuller lashes in a few weeks, it can even help eyebrows. The serum is applied daily. EVERY girl or woman would LOVE this. There's a good one at Target by No 7 for $9.99 (not an affiliate link) but the ones below are really good as well and have a better applicator:

Make Up Brushes
Teens and anyone who wears make up
We still use MAC make up brushes given to us 13 years ago. If you buy quality ones, they'll last forever. The top brush brands are MAC and Sigma but you can find good ones at every price point. Coastal Scents sells very cheap, but quality brushes made with synthetic and natural hair.
We have their Classic Blender Brush Natural, their Classic Blender Crease Brush Natural, and their Pro Blending Fluff Brush.
If you're not sure what kind of brushes to get,we suggest an angled eyeliner brush, an eye shadow blending brush, a powder brush, or a blush brush. You can also get a whole set.

Mascara
Everyone who wears mascara including beauty enthusiasts.
Everyone who wears make up is always on the hunt for the best mascara.
While there are plenty of expensive options our personal favorite is Lash Princess False Lash Effects mascara by Essence. It's under $5 yet it outperforms every designer brand mascara we've ever tried…and we've tried them all (See our full review of this mascara here).
Gift a good mascara to everyone you know who loves to wear it and they will LOVE you for it.

Beauty and Health Oils
Everyone from the health conscious to the beauty fanatic
There are some really great must have oils that do double duty as a healthy option to cook with AND a great beauty product. The key is to get unrefined cold pressed/cold processed oils.
While Coconut oil is a popular healthy baking oil, it also has the highest penetration rate into the hair shaft for moisturizing treatments.
Avocado oil is one of the most ideal oils for frying since it has a high smoke point which also makes it's the best heat protectant for the hair.
Same goes for Castor oil, it has worked miracles on our skin and can also be used for a hair moisturizing treatment and in some cases help hair grow faster.
Essential oils like lavender are also great buys. Use a few drops of them for baths, to add a scent to oil treatments when you put them on your hair, or even to make homemade soaps or body scrubs. Here are the exact ones we buy.
Jouer Liquid Lip color
Perfect for Teens, adults, beauty lovers, and shimmer glitter enthusiasts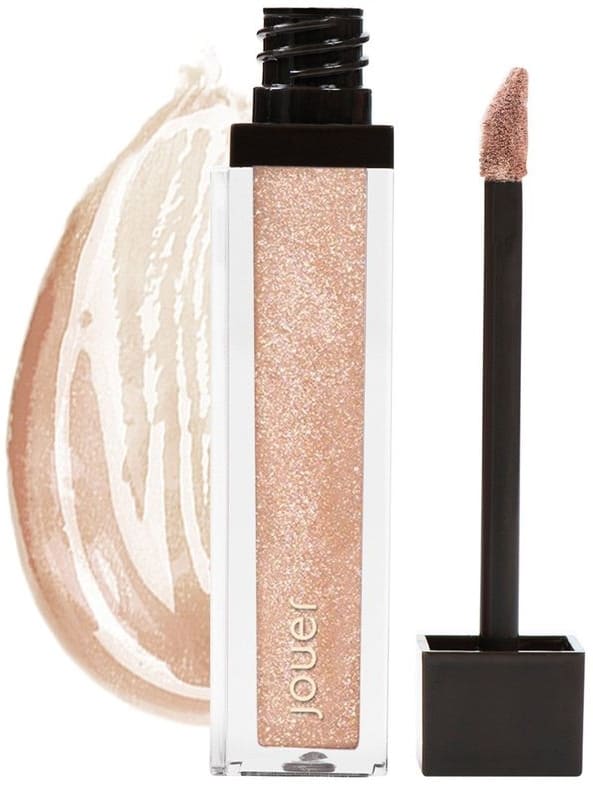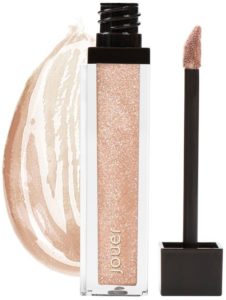 If you know someone who enjoys non sticky, long lasting, shimmer lip color this is a must. Two years ago a picture of a model wearing a metallic irridescent light pink peach lip color sent Pinterest in a frenzy. They finally tracked the source to a company called Jouer and the lip color was Papaye. We got Jouer Papaye at their black friday buy one get one sale online along with their Lip Topper gloss in the color Skinny Dip and we've been major fans ever since. Papaye is a long lasting, non sticky, light weight, peachy gold metallic, while their Lip Topper in Skinny Dip was a pale, long lasting, glitter metallic shimmer, you can wear alone or layer over glosses and lipsticks. While Papaye is beautiful we loved the Lip Topper even more since it not only looks gorgeous alone but makes any lipstick shimmer.
Sunless Tanner
Teens, beauty fanatics, and anyone that could use a little color without the skin damage.
Every online beauty guru swears by this sunless tanner. When our last tube of our favorite but discontinued sunless tanner runs out, we'll be buying this one. If you know someone who's looking to try a new tan look this is definitely the perfect gift.
Manicure Kit
Perfect for everyone: men, women, teens, and parents
Don't think this is just for women.
Everyone needs a good small sharp pair of scissors to trim anything from eye brows, to nose hairs, to lip hairs and nails.
We've had ours for years and growing up found our Dad stealing it every once in a while and let's not get started on tweezers and nail clippers.
This case is perfect for both men and women and has a good quality sharp scissors. It's also highly rated on Amazon by both men and women.
Teeth Whitener
Good for Men, women, especially those entering the job market or dating scene.
If you know someone with a smile that could use a little boost get them teeth whitening products (make sure you know them well otherwise they could take it as an awkward hint).
We have been using Arm & Hammer Truely Radiant Booster. It's a whitening gel you apply to your toothbrush on top of your toothpaste before you brush. Our teeth have gone up atleast two shades from using it. We buy it online.

For more stubborn stains you can buy Premier White 5 Minute Whitening Gel which is a favorite among many youtube beauty gurus.
You can find the gel at Bed Bath and Beyond in many sizes for $1.99 and up, pair it with a cheap Walmart mouth guard for under a dollar and you have a nice little gift that will transform their smile.
A little caution, always consult your Dentist before starting any treatment.
Nail Base Coat And Top Coat
Great for anyone interested in strengthening their nails or reduce nail polish chipping.
We got ">No Chips Ahead Top coat for a gift and can't do without them.
They prolong the wear of your nail polish, prevent chipping, and strengthen your nails allowing you to grow them.
Thanks to Essie our Mom was able to grow out her nails and no longer relies on acrylic nails.
Our long natural nails are much stronger.
Nail Polish Rack
Great for teens or adults, everyone who has a collection of nail polishes.
Anyone who has a collection of nailpolishes needs this in their lives!!
No more digging in a crowded drawer or box barely using half of your colors because they're hidden in the clutter. They'll be able to see all of their bottles, nicely organized, and away from the heat and humidity of the bathroom.
If you live with someone you can make a DIY nail polish rack out of Dollar Store poster board and surprise them with it or buy one. They come in many sizes for both wall mounted and table top, some also include storage for nail polish remover and files etc.

We chose the DIY option thinking it would just be temporary because we wanted to fit a certain nook while still holding 100 bottles but we ended up keeping it and not buying one because we love it so much. You can view our DIY Nail Polish Rack No One Will Know Is DIY here.
A Good Hair Brush
Everyone with hair.
A good brush is something everyone needs and not enough people have.
We got our Conair Colorvibes hair brush 5 years ago at a Black Friday sale for free and have used it ever since. It was listed on Allure Magazine's Best of Beauty List in 2015.
It's the perfect brush for detangling and gets knots out like nobody's business while also being gentle on your hair..and just look at the price!
Most of the hair and make up artists who have done our hair on set have used boar bristle brushes like this Mason Pearson All Boar Bristle Brush on Overstock because it's made of natural animal bristles that distribute oil evenly smoothing out the hair for styling, improving dandruff and giving it shine.
You can also buy a boar bristle mix. It may be a bit more expensive but they'll have it forever.
Perfume and Cologne
Perfect for men, women, and teens.
We've been wearing a scent from Bath and Body Works that everyone loves called Moonlight Path since we were 16.
It's sold as a perfume and body spray. We use the body spray everyday and the perfume when we want something stronger.
Chloe is another signature scent that's AMAZING. It has a beautiful floral rose and jasmine scent that everyone goes nuts for and it's actually a lot cheaper now than it used to be.
Cashmere Mist is a sophisticated Vanilla Sandalwood Musk scent that we often gift our big sister.:

The all time favorite men's cologne is Fierce by Abercrombie. We don't know a man or woman alive who doesn't like that scent. Another classic we love that costs a lot less is Joop.

You can also get a box of 5 small perfumes or colognes, they usually sell them in Macy's for $15-20. These can be good for stocking stuffers.
Body Spray Cologne
Perfect for men, teens, and young adults.
Who wants to wear their expensive cologne to go to class?
This is great for teens and college students or anyone that needs a cheaper alternative to cologne.
Axe body spray is great for guys and can be found at most drugstores and supermarkets. Bath n Body Works body splashes are great for girls.
Permanent Hair Removal System
Perfect for men and women
Give this to anyone who can't stand shaving because it actually works and will save them a lot of time and money. Buy them an ipl painless hair removal system that will permanently remove their hair.
There are two different brands on the market that we've used that work. The Silk N Flash N Go system is good for light to medium skin with medium to dark hair and can also be used on all areas of the body.
The ME Chic system we recommend for darker skin colors and lighter hair colors but it is not recommended for sensitive areas like men's face, jaws and lips, or genital areas.
Initially we used them once a week for 7 weeks then only had to use them once a month for up keep, but eventually after 6 months to a year it becomes permanent.
The only time you may have to use it again is after pregnancy or if you start taking certain hair growth vitamins.
It's available on amazon but we would purchase it at Bed Bath and Beyond because they have an amazing return policy with no time limit, you can even use the product before returning it.
Electric Shaver
Perfect manly gift
When our Father was complaining about getting knicks, cuts, and irritation from shaving he picked up our moms electric facial hair trimmer and loved it, so we're getting him this for Christmas this year. This is also great for lazy men because they can do it anywhere, wet or dry and even in the car no shaving cream or water required.
You could go the Amazon route if you're certain of the type you want to buy but we would personally purchase it from stores like Bed Bath And Beyond that has an unlimited refund policy incase they want a different one or it breaks down.
---
9. Electronics
Lipstick/pocket sized portable cellphone charger–
Perfect for EVERYONE you want to keep in touch with
Nothing is scarier than when you call to check in on a teenager or loved one only to find their cell is dead. A portable charger is great for everyone to have.
This portable cell charger only weighs 3 ounces and will fit in a pocket or evening bag.
It is good for atleast one full charge of a cellphone so they can always keep in touch.
It comes in 5 colors to satisfy even the pickiest person.
We've found it for up to half off at Flash and Black Friday sales on Amazon.
Anker is USA's leading USB charging brand.
While the older model Anker Powercore 3350 mAh is often on sale for half off on Amazon, apple users will have to use their own wire.
The newer model 3350 mAh includes a mini cable for iphone, and ipad charging (pictured below).
They also have the more powerful model Anker Powercore 5000mAh that can guarantee atleast 2 full cell phone charges.

Family Portable Cellphone Charger
Perfect for families or people with a lot of gadgets.
This has been a life saver for us, we highly recommend it. It's perfect for anyone traveling with a family or multiple gadgets since it can charge them all at once. You can find models with 2, 3, and even 4 ports to charge 4 different devices. The prices for each will vary.
External Hard drive
Perfect for everyone especially college students, parents, and entrepreneurs
Having a back up hard drive not only saves you from having to buy a new computer, but will save you from losing everything in case it crashes.
You can either back it up using an online service where you pay per year like idrive, back blaze, or sos. For more private documents you can purchase an external hard drive.
Western Digital (WD) is the most trusted and top brand in external hard drives. You can purchase hard drives in sizes ranging from 1TB to 3TB, if someone is big on videos or gaming we would recommend 2TB and 3TB. We have a 1 TB and we need more.
Once all of your pictures, videos, and documents are on the hard drive your computer will run like new again.
Waterproof Speakers
EVERYONE especially men
Save time by listening to radio, youtube videos, or music in the shower with these water proof blue tooth speakers. They are one of the best (and durable) on the market and include a microphone for under $30.
Ear Buds
Everyone including teens, college, students, and adults can always use more of these.
These ear buds are a great value for the price and have a superior design making it nearly impossible to slip out of your ear. They also come with a microphone.
Record Player & Records
Men, women, teens, and even kids will love this!
This is a hot ticket item with everyone and will score you major points as the cool gift giver.
Records sound better and, in this digital age, give kids memorabilia of their favorite artists to hold on to. Plus browsing through used record stores with your friends and family is a lot of fun.
Both our niece and nephew have this suitcase record player, aptly named because it closes up like a suitcase so they take it to sleepovers and on vacation. You can find it on Amazon or Walmart. They range in price from $29.99 to $40.00 depending on the exterior print.
---
10. Home
Black Out Curtains
Perfect for babies, adults, parents, and college students or anyone who either lives in a noisy city, or has an unsteady sleep cycle.
Once we got these we don't know how we ever did without them.
Not only do they help with blocking out light while you sleep but also reduce noise and block out heat and cold from windows. There's a reason why every Vegas Hotel room has them.
The American Cancer Association says sleeping in a dark room without daylight or blue light reduces breast cancer risk by providing better quality sleep. With these you can prolong the quality of your sleep even after sunrise.
These are definitely a gift they will use forever and thank you for.
TIP: If you purchase these in store bring a laser pointer with you. If the beam shines through on the other side faded or not at all then you have a great pair.
You can purchase this great pair on Bed Bath and Beyond, but many stores carry them.
Handheld Shower Head
Great for Men, Women, dog owners, and clean freaks.
Ginetarr 3 Mode Water-Saving Shower head-Amazon
This makes life so much easier!! We bought this for our parents 2 years ago and they can't live without it. Having a handheld shower head is perfect for rinsing hard to reach places, bathing kids, the dog, and cleaning the shower.
We were given the one below as a gift and we love it! It has a water saving yet high powered stream so it's great for rinsing our long thick hair and our dog's.
You can either add it to the current shower head (it's a lot easier than you think) or buy a shower head and handheld combo. Handheld shower heads come in all price points and styles.

Secretary Desk
Great for College students, apartment renters, Parents, kids, and anyone looking for a multipurpose compact furniture piece.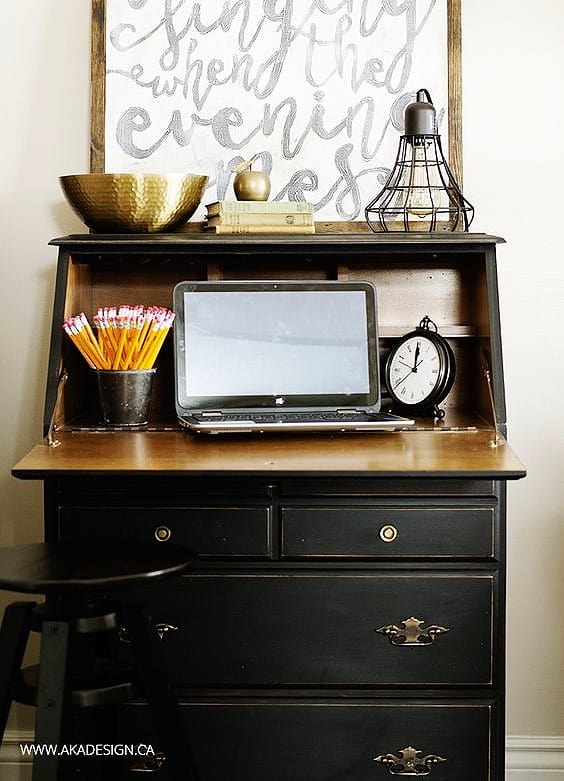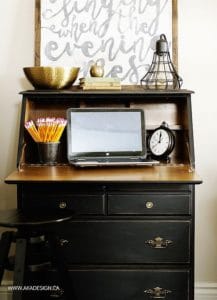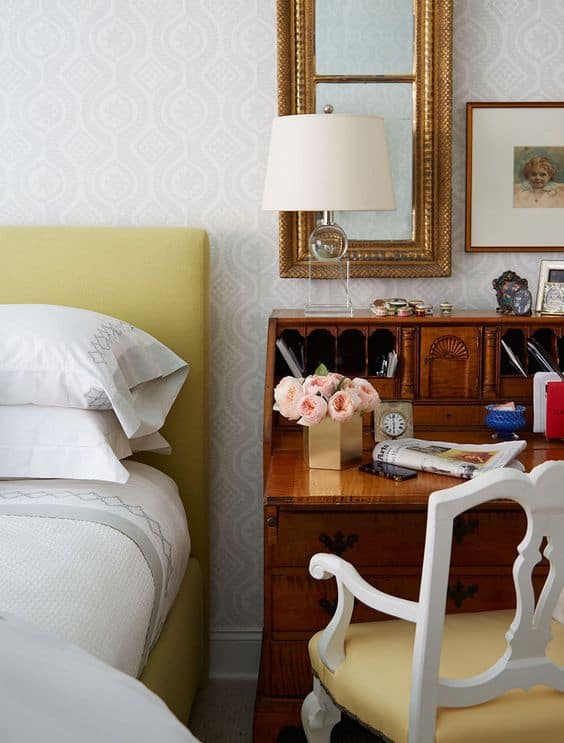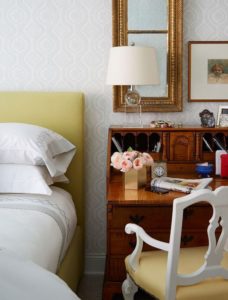 Secretary desks act as a dresser, nightstand, desk and bookcase all in one and has excellent resale value. You can also hide your mess in seconds just by closing the desk. If you get one with a hutch you can store even more in it. It's perfect in dorms, apartments, small spaces, kids rooms, guest rooms, and even living rooms as a command center or bar and china closet. Check out our complete buyers guide to secretary desks for everything you need to know about them.
They can be purchased brand new at discount or department stores or you can purchase them on resale sites on Craigs list for as little as $25. For our tips on how to score the deal of your life on craigslist without haggling, check out our post.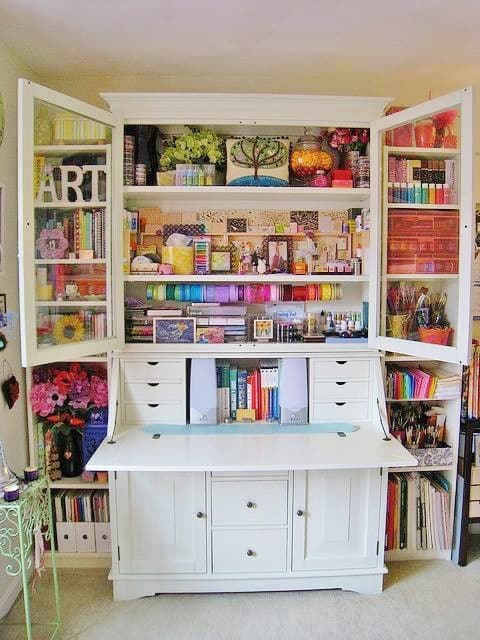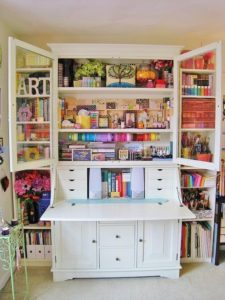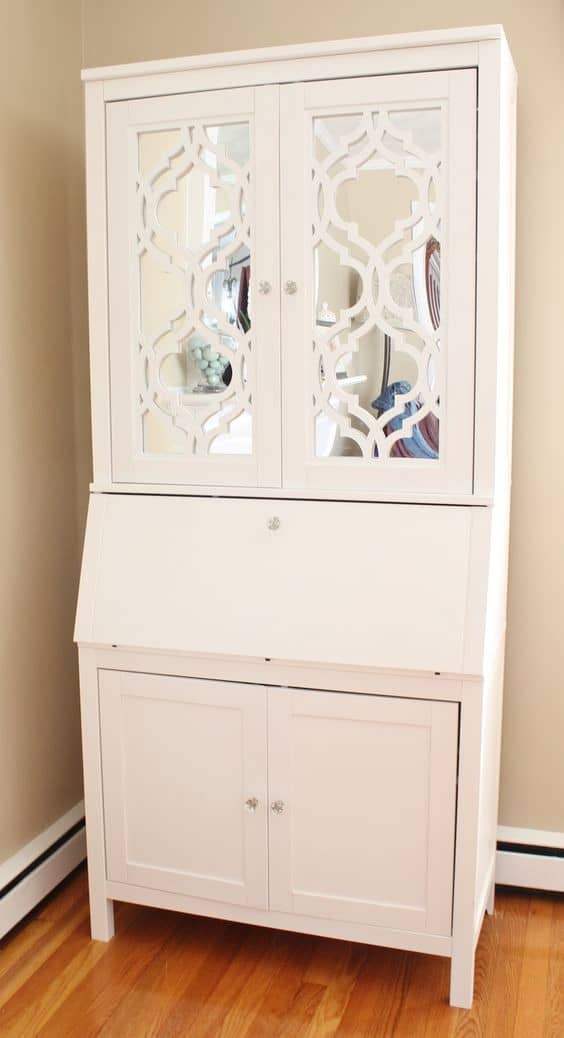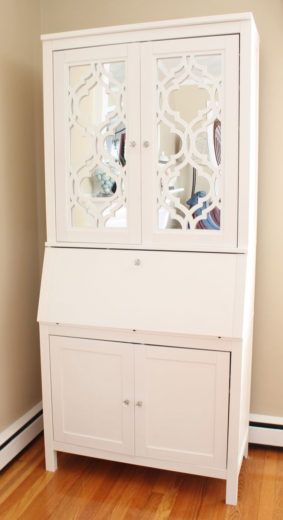 ---
11. Fashion
Garment Steamer
Great for any adult including frequent travelers, fashionistas, and college students
No need to have to pull out that big ironing board. With a couple of flicks of the wrist you can steam wrinkles out, and for pretty cheap too. They sell all different kinds but the one above is compact, light, and inexpensive.
Lululemon
Perfect for teens, college kids, and young adults.
Teens, college students, and young adults love anything lululemon. It's the "it" brand for athleisure wear. Whether it's an item or gift certificate, they will love you for it.
Scarves
Everyone including kids, teens, family, friends, and loved ones.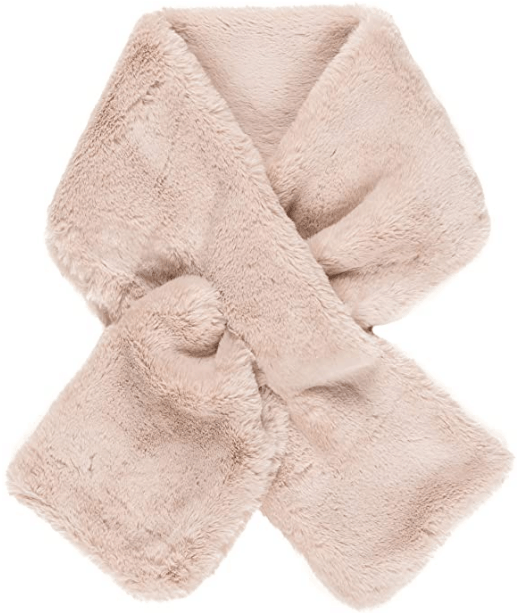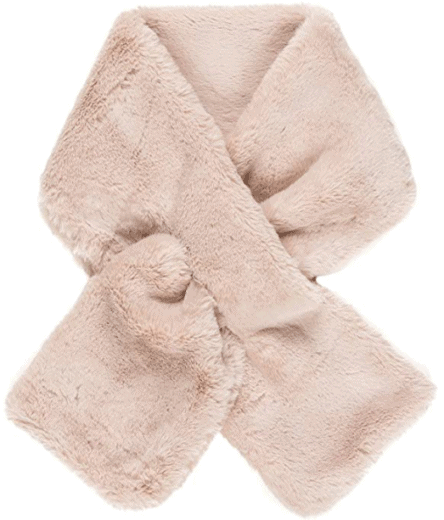 GET IT HERE FAUX FUR NO TIE SCARF (PICTURED ABOVE)
This gift is not only a great gift because there are SO many different styles to choose from but it fits EVERY budget.
You can get knit, silk, furry, sparkly, or ones that you can microwave to keep warm.
One of the best gifts our sister ever got us were sparkly furry scarves that we still wear 12 years later.
Nike & Adidas
Perfect for teens and young adults
Whether it's sneakers or apparel, boys and girls alike still love these two brands particularly teens. A gift or gift certificate from either of these companies will definitely score you some cool points.
---
12. Health Conscious
Metal or Glass Straws
Good for everyone, especially environmentalists, 5 Senses-Taste Gift
Plastic isn't only bad for the environment but it's often made with chemicals that are bad for our health. If you know an environmentalist..or someone who has a phobia of BPA (rightfully so), they'd really enjoy stainless steel straws. Make sure to get ones with silicone tips so that they don't chip a tooth! If they drink a lot of Apple Cider Vinegar drinks you may want to warn them or skip it, ACV has a corrosive effect on metal.
Air Purifier
Good for everyone, especially those with allergies, 5 Senses-Smell Gift

Did you know a major contributing factor to cancer is dust and air pollutants? Protect your loved ones by getting them an air purifier. Air purifiers can take out 97% of bacteria, smoke, pet dander, and allergens from the air. This is especially important for someone who tends to skip cleaning every now and then, lives in a big city, or works in a dusty office. It cleans the air of all the nasties and allergens. They come in super quiet desktop and portable sizes too. Below are some great ones to protect your loved ones in all sizes, portable, desktop, and standard.
If you'd rather go for a more natural method get them a plant. On Nasa's list of top plants that purify the air are orchids, English Ivy, Bamboo plants, and Aloe Vera. An Aloe Vera plant is a great option since it's easy to maintain and you can use it on your skin and hair. English Ivy is perfect in bathrooms because it's a mold buster, and bamboo grows well in low light.
Air Sanitizer Spray
Everyone, especially men and athletes, 5 Senses-Smell.
This spray works like an air purifier to clean the air in cars, homes, lockers, and closets. This is great for anyone including athletes. It's way better than just covering smells up with Febreeze. They will be thankful for this.

Bullet Blender
Perfect for parents, grandparents, moms, the health/image conscious, people looking to lose weight, family, boyfriend/girlfriend, and siblings
Did you know one of the leading causes of cancer is the lack of cruciferous vegetables in the diet? We know people who have stopped taking their blood pressure pills because they started drinking healthy smoothies they made with Bullet Blenders.
Bullet blenders are more powerful versions of household blenders that do a great job liquifying fruits and vegetables. They're so much better than juicers because all of the nutrient dense stuff like the pulp is also turned into liquid. The two best ones on the market are Juice Ninja and NutriBullet but you can also find good deals on other brands. Given older adults sometimes have dental and health issues, this could be a lifesaving gift but it's also great for busy moms (kids love smoothies too), and anyone interested in health and fitness. Their energy will go through the roof.

Vitamins and Supplements
Parents, grandparents, teens, adults, beauty enthusiasts, and the health conscious.
Another easy way to make sure your loved ones get their nutrients is with vitamins. Not only are there some great and affordable multivitamins on the market but also supplements that can improve anything from bone health to even your skin. We personally love the GNC's Women's Ultra Mega Multivitamin and their Hair, Skin, and Nails Gummies, and GNC Mega Men Gummy Multivitamin for Energy, Metabolism Immune Support, Mixed Berry – 120 Count
">GNC Mega Men Gummies (they often go on sale for $6 and $10 respectively every Black Friday). They're not only delicious but they make us look and feel amazing. GNC also makes great gummy multi vitamins for Kids, and Teens. We gift them to our family every year…and of course buy some for ourselves. Just a little word of caution, always check with your doctor before taking any dietary supplements to make sure there are no issues especially if you're currently taking any medication. What we do is take half the dosage.
Teapot Diffuser
Perfect for adults, Parents, siblings, spouses, grandparents
There are many health and emotional benefits to drinking tea. It can replace coffee, prevent cancer, aid in weightloss, stabilize hormones, and is the best remedy for a cold. If you use loose leaf tea you need something to keep the leaves out of your cup.They use this exact brand and model teapot to serve tea at an upscale cafe called The Larder in Beverly Hills and our Mother fell in love with it. It has a steel tea infuser inside that will give you a clean pour, pair this with the <br />
Coffee Percolator
Perfect for health conscious, coffee enthusiast, parents, and grandparents.
Many regular coffee makers contain plastic, that once heated, releases BPA ( a cancer causing carcinogen) into your coffee. Steel Percolators not only solve that problem but also make your coffee taste better. An added bonus is you don't need a coffee filter. You can either get an electric one or an old fashioned stove top percolator. This is a great gift for the health conscious and coffee enthusiast. Tip: The electric percolators may have aluminum bases.
Spiralizer
Perfect for the health conscious
We were trying to find a healthier alternative to pasta and stumbled on an as seen on tv item in Marshall's called the Veggetti that turns zucchini into spirulized noodles and our lives have never been the same. We no longer eat regular pasta anymore. There are other spiralizers on the market but the Veggetti is a good cheap start that is worth every penny. If you decide you love zucchini noodles and want a pricier spiralizer you don't have to keep twisting by hand like a jar you can always go to Target, Walmart, or any department store and pick one up.
Fruit Keg Tapping Kit
Great for couples, young adults, parents, anyone that hosts parties.
Everyone especially men love this! Turn your watermelon or Pumpkin into the hit of your holiday gathering with this easy to install Keg tapping kit. Just install it into a hollowed out watermelon or pumpkin and fill with your drink of choice, it's that simple to install. We're already jealous of who you're going to give it to.
Aluminum Free Deodorant
Perfect as a stocking stuffer or in a basket for everyone including tweens, teens, young adults, and adults of all ages.
Parabens, aluminum, and talc found in deodorants can disrupt hormones and have been linked to health problems such as breast cancer and Alzheimers. Luckily they make some pretty good natural deodorants (and unfortunately some bad ones). The two best ones on the market are Native and AOS. You can buy Native through their website Nativecos.com and AOS on Amazon. We recommend atleast using these at night, right after a shower, or after shaving when your pores are open instead of your regular antiperspirant.

---
13. Gift Baskets And Gift Cards
Perfect for everyone including kids, teens, adults,teacher, co workers, and bosses.
CHECK OUT OUR POST OF THE BEST GIFT BASKETS FOR EVERYONE ON YOUR LIST.
You can make customized baskets out of all kinds of things. You can make a healthy basket with a great cooking oil like avocado oil, a Veggetti, and some zucchini for under $20. A beauty basket with coconut oil, Lash Princess False Lash Effects Mascara, and EOS Lip balm wouldn't cost more than $15. You could even make a little gift pack out of an RTIC tumbler, a can of Coke, and an airline bottle of whiskey.
If you really don't know what to buy or want something really easy that you can buy anywhere and know they'll love then a gift certificate is always the best choice. This is also be a great option that teachers appreciate. You should definitely check Groupon since they often have great deals on Starbucks Cards and a few others gift cards. Here's a list of gift certificate ideas:
iTunes
Stores like Macy's, Sephora, lululemon, Bloomingdales, Bath and Body Works, Bed Bath and Beyond, Target, Sephora, Cabelas, Coastal scents
Restaurants and fast food like Chipotle, Marie Callenders, Outback, Lawry's, Morton's
Movie theater gift cards to companies like AMC, or a movie subscription service like Movie Pass
---
14. Pets
For Kids Who Want A Dog
Do you know kids that want a dog but you're not quite sure if they understand the responsibility of having one? Are you not quite sure you want to commit to fostering a real one yet? Here are some EXCELLENT kids toys and games that can teach them about the responsibilities of owning a dog and even make them feel like they have one:
Diggity Dogs game is a card matching game for even the youngest of players where you need to figure out what the dog needs.
Woof and Me teaches kids the financial responsibilities of raising a dog such as spaying and neutering, training etc.
We know you had to have found atleast one thing on this list but keep checking back because we'll keep updating it. You can use it all year round for any special event or holiday. Let us know how your shopping goes.
Love,


Don't Forget To Pin This So You Never Have to Worry About What To Get them Again: