Farmhouse Glam Christmas Decor
Whether your looking to add Farmhouse to your glam or a touch of glam to your Farmhouse, get ready to be inspired.
We mixed the rustic charm of the country with Hollywood glamour to create an easy DIY Farmhouse Glam Christmas.
You'll find a collection of picture perfect Christmas décor ideas for anyone wanting the best of both worlds.
These ideas will work for either an apartment or home and any budget. We also included DIY ornament Christmas tree ideas.
1. PINECONES BRUSHED with "SNOW"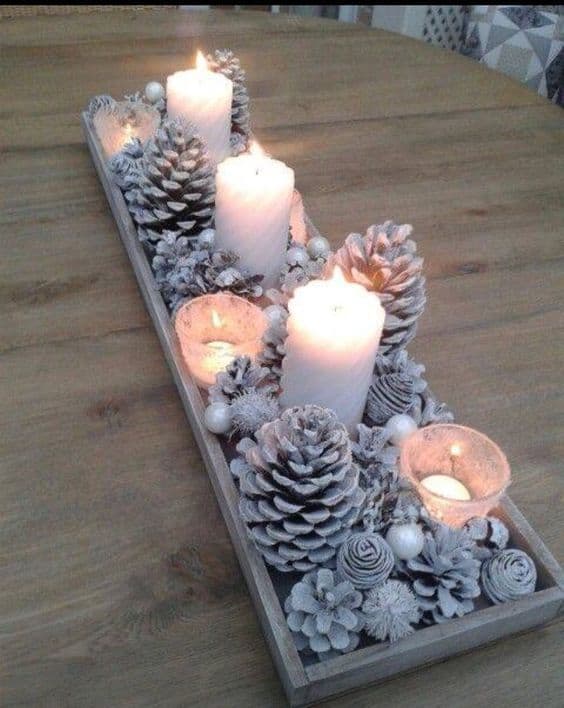 Give rustic pinecones a glamorous makeover with white paint, a whitewashed tray and candles. Sprinkle with glitter for some extra sparkle.
Items can be found around the house or at the dollar store.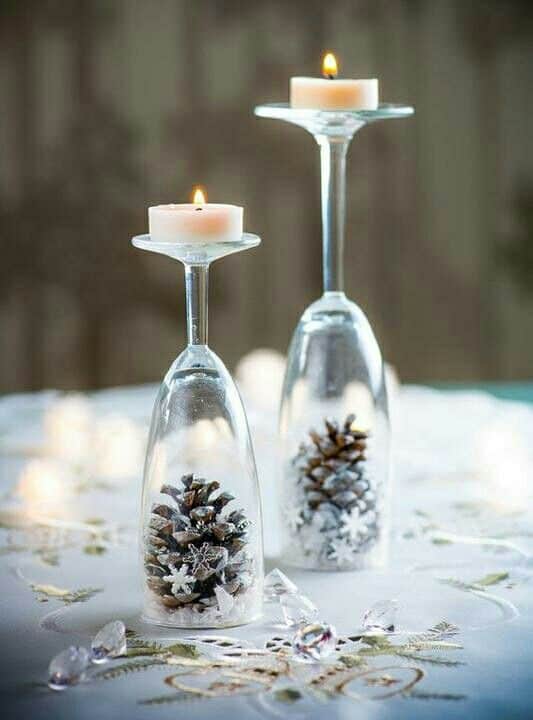 Capture a single pinecone in an upside down dollar store champagne flute for a romantic farmhouse glam votive that'll cost you nothing.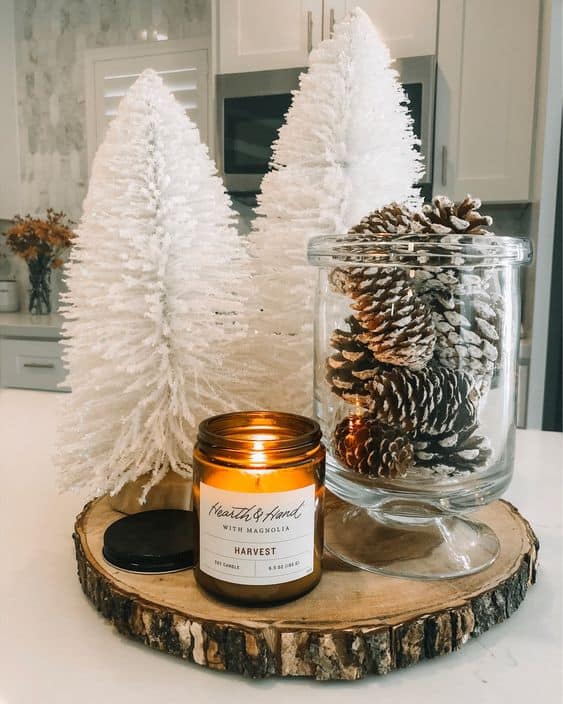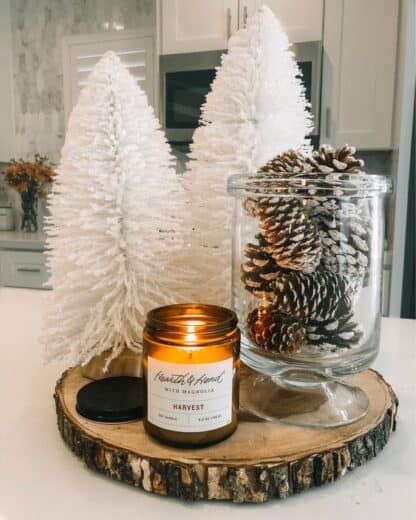 Try this simple yet glam pinecone and bottle brush tree holiday or winter centerpiece idea.
2. SPARKLY IDEAS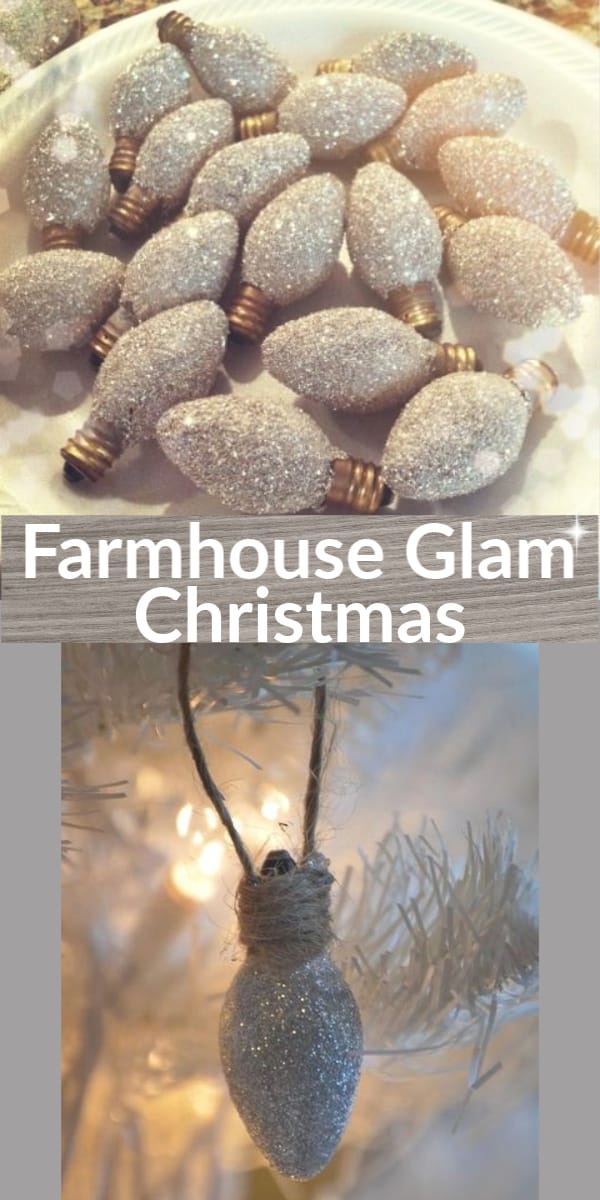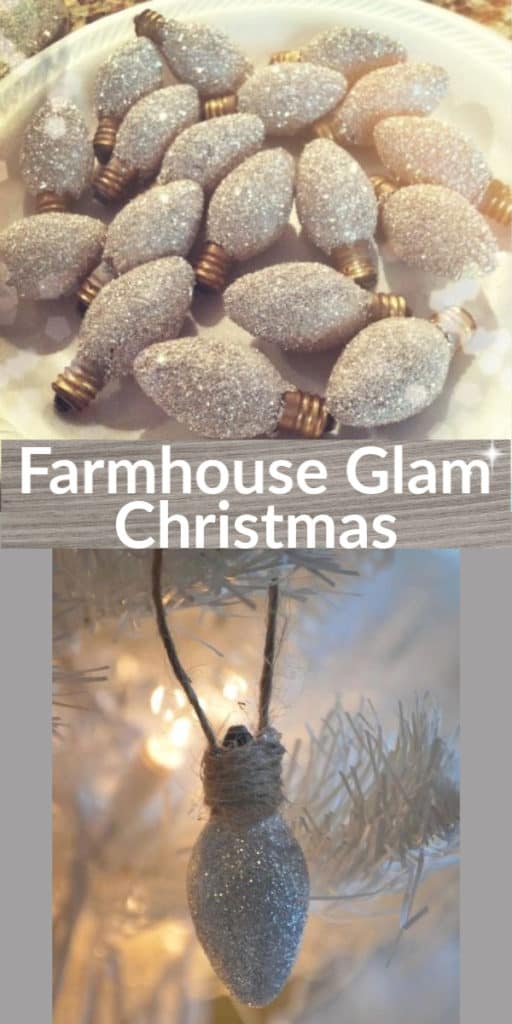 Brush mod podge on vintage Christmas bulbs and dip in glitter. Store in an apothecary jar or vintage bowl for your table or mantle.
You can also wrap the ends in twine or rope to hang on the Christmas tree or make into garland.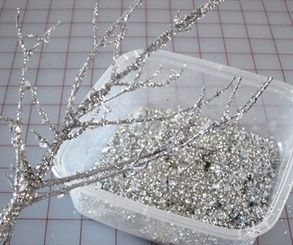 The above glitter bulb ornaments would look amazing hanging from glitter branches you can make like the one above!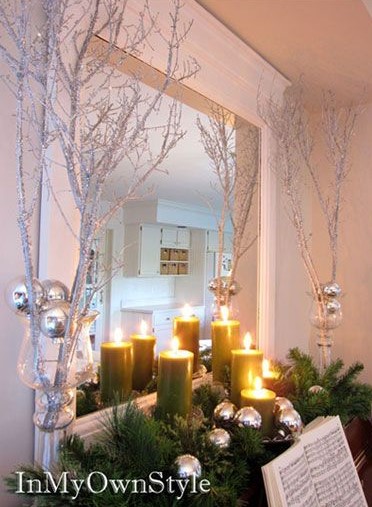 Collect some outdoor branches, spray or brush them with adhesive or Mod Podge and coat with glitter for the ultimate Farmhouse Glam branches that'll transform your home.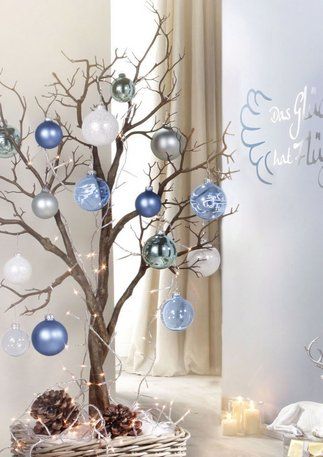 Put the branches in a vase, spray them with gold or silver, you can even hang ornaments or your glitter bulbs from them, or string them with lights.
Your home or party will feel like a winter wonderland!
For the most amazing easy DIY Christmas ornaments to fill up your sparkle branches visit our post!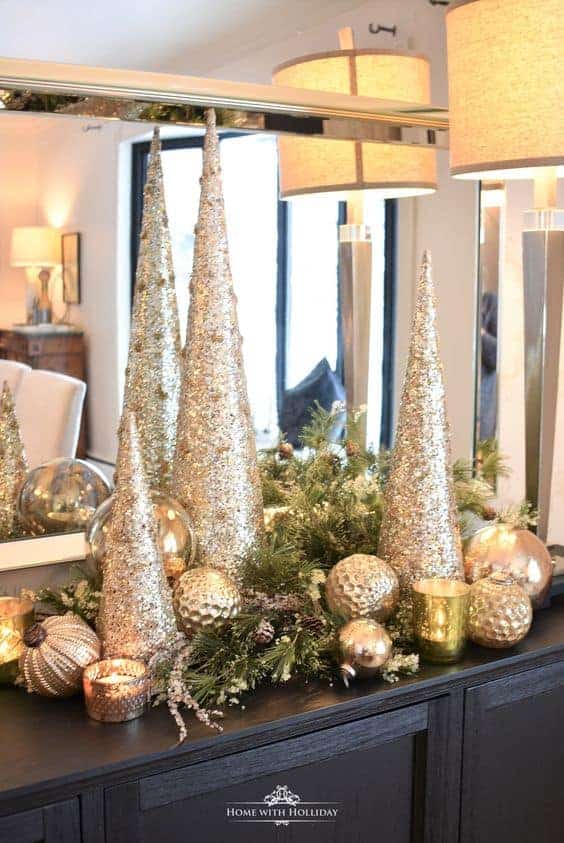 Make cones out of dollar store cardstock and roll them in glue and glitter.
This is another Farmhouse glam mantle idea that will transform your home but costs nothing. Wedding worthy.
3. CONTAINERS FILLED WITH A "SNOWY SCENE"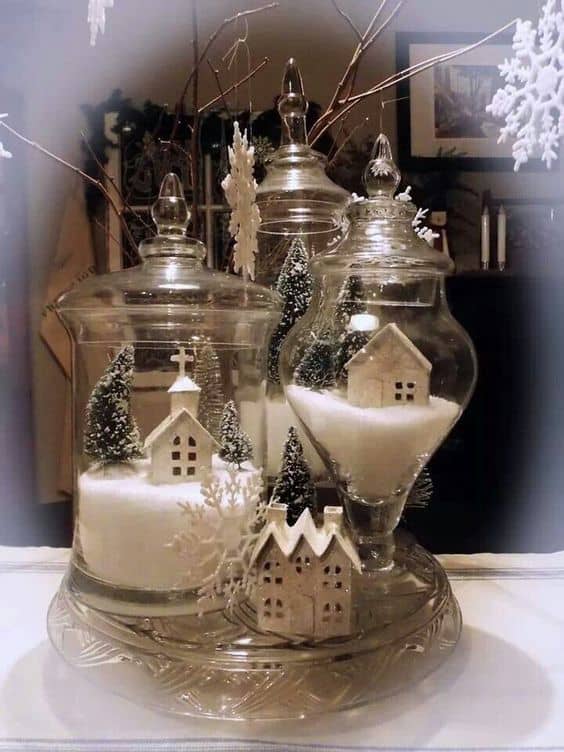 Fill your apothecary jars or canisters with sugar or white sand and a Christmas scene of your choice or just use them to store pinecones and ornaments.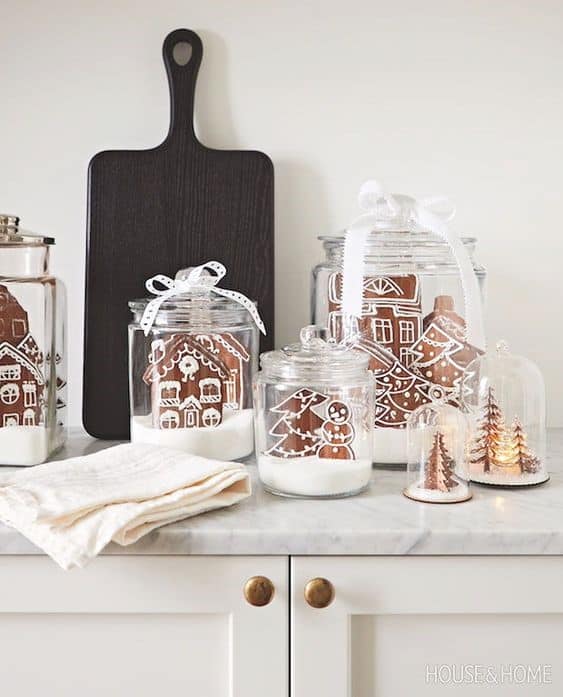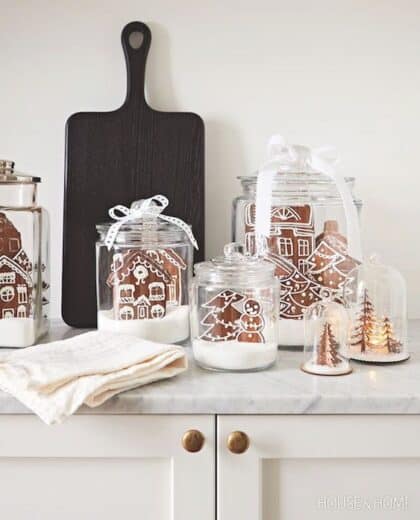 You can also use gingerbread houses or cookies for elegant Country Christmas Kitchen decor.
4. DIY VOTIVES AND VASES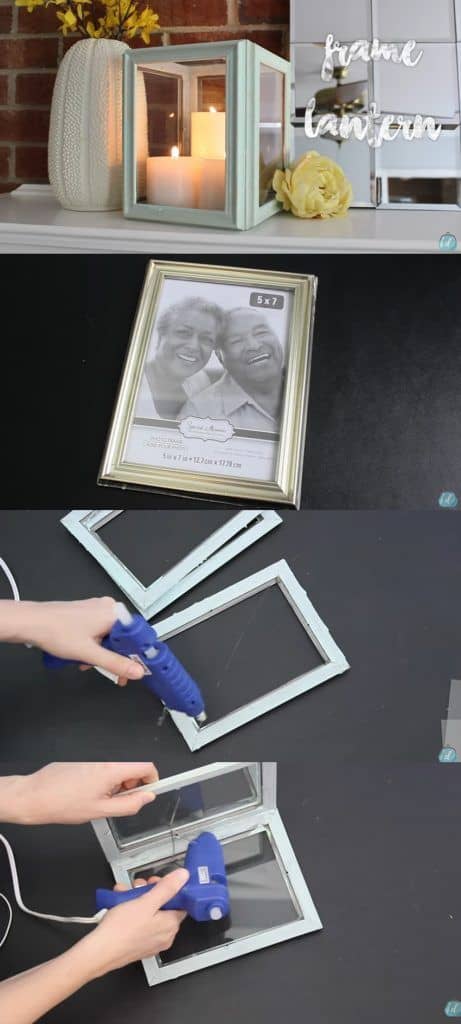 Make beautiful lanterns from dollar store picture frames and glue. Use them to fill with all things Christmas or your favorite candles.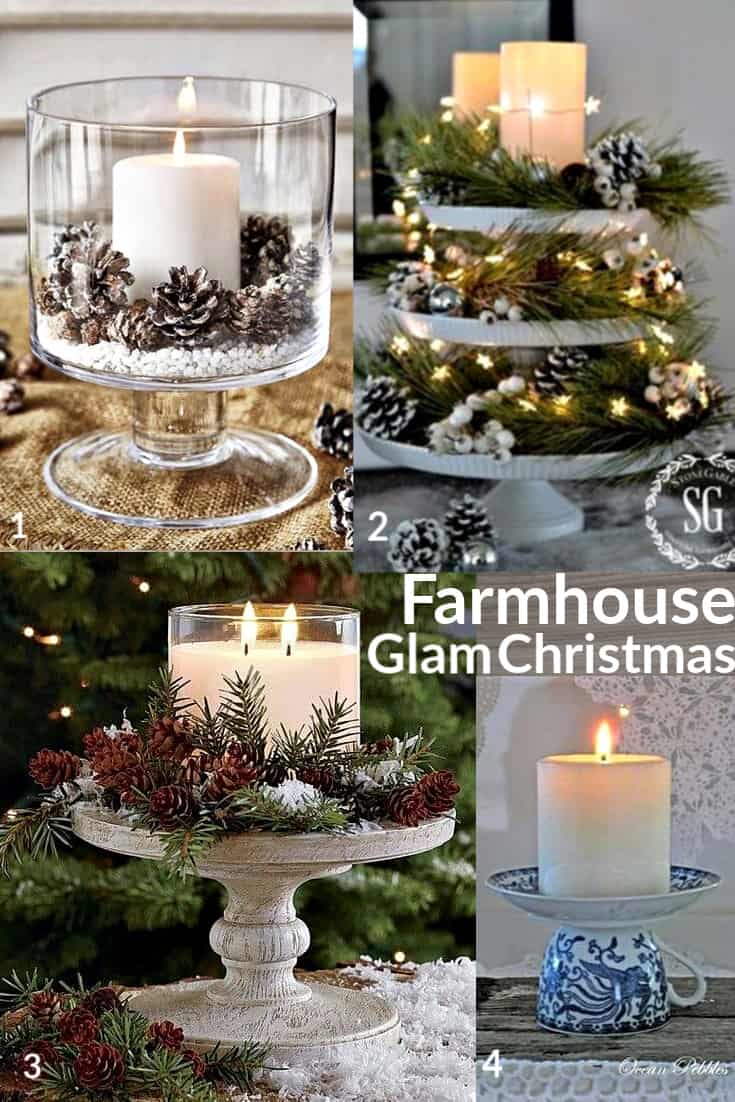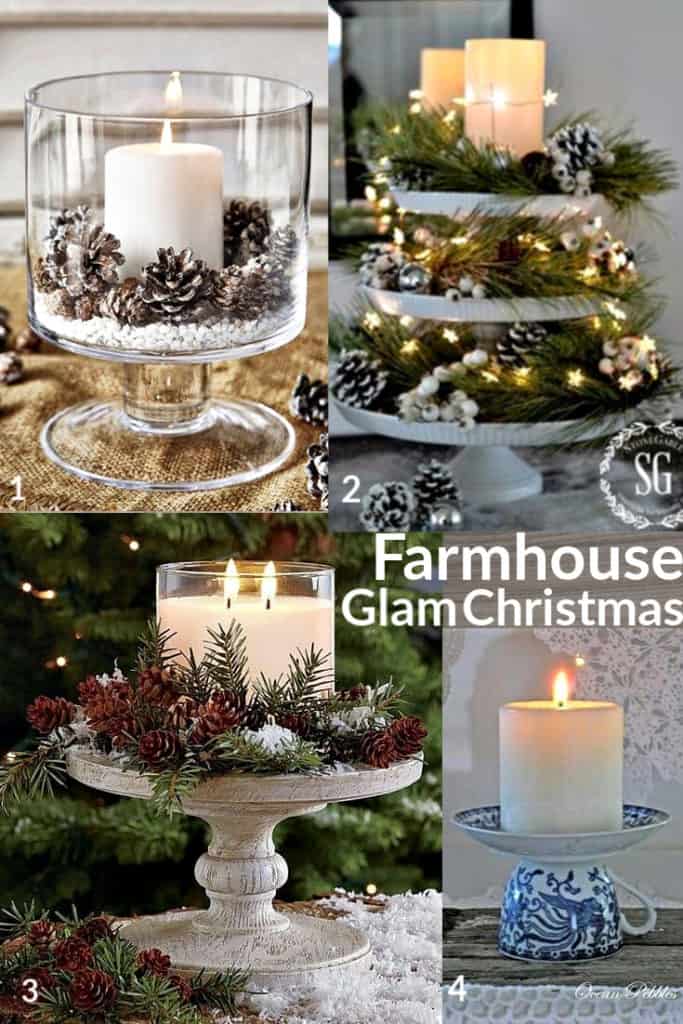 SOURCE 1, SOURCE 2, SOURCE 3, SOURCE 4
Christmas tree clippings on a cake stand, platter, or in a vase with a few pinecones and a candle is Christmas décor magic for your table or mantle. Add fairy lights for elegance.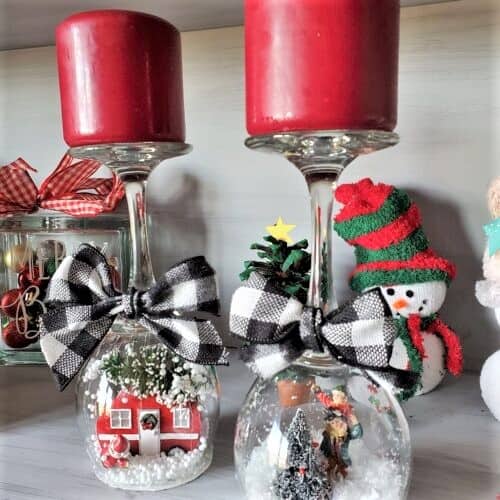 Easily turn wine glasses into Farmhouse votives for your mantle, table, or even bathroom.
Use ribbon and wrap the stem in twine or rope for an extra farmhouse glam look.
5. BOLD COLORS, PRINTS, AND FLOCKED TREES
Adding bold festive printed accent pillows and accessories will instantly transform any glamorous room into Farmhouse for Christmas.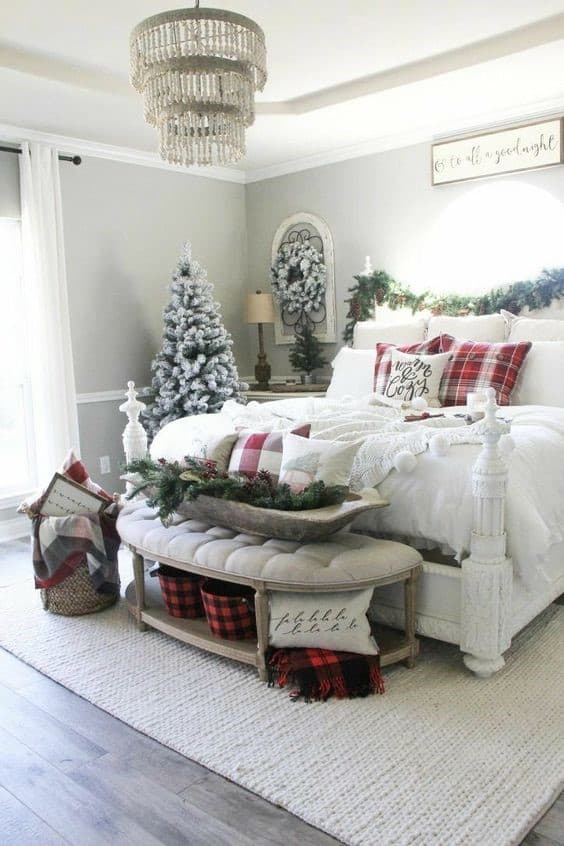 Buffalo plaid accents and snow flocked trees easily transformed the glam room above to rustic Farmhouse for Christmas.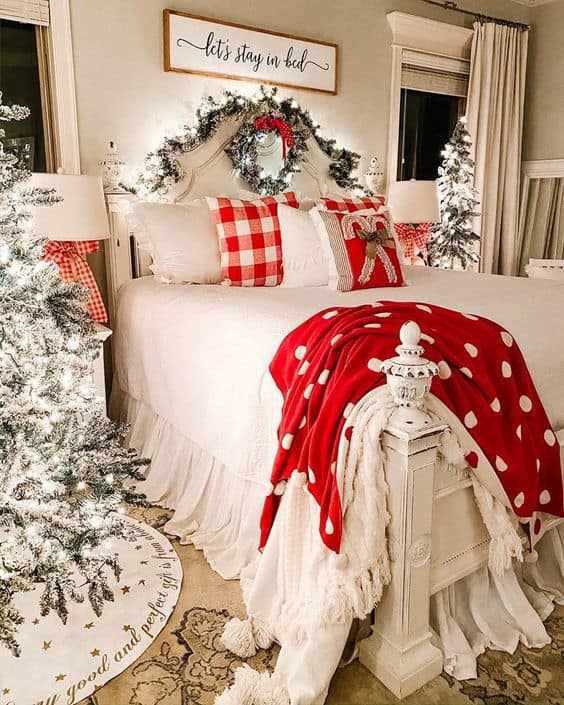 You can see how bold prints with snow dipped garland, lights and trees can instantly turn your room into a country Christmas dream.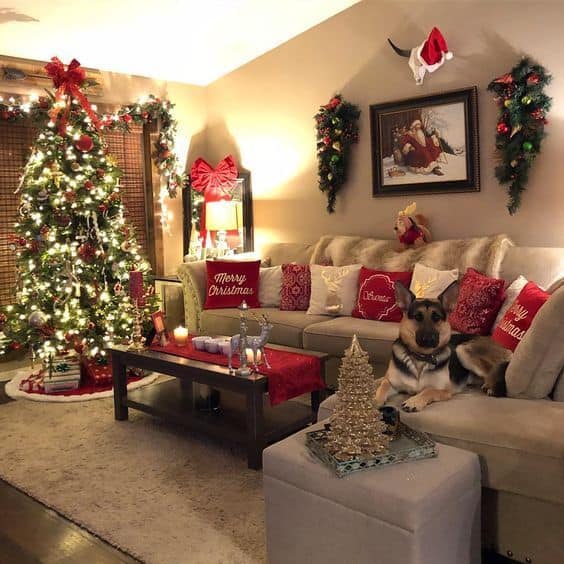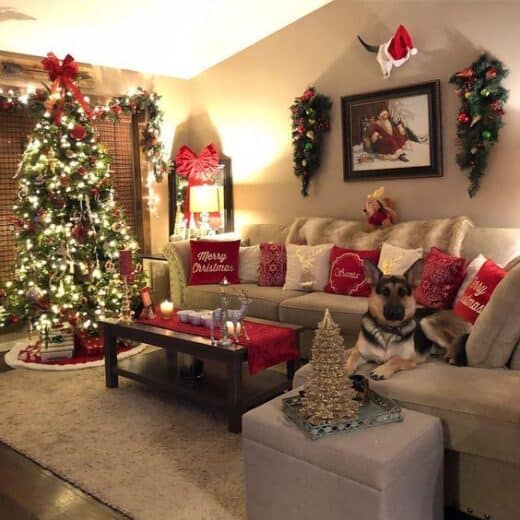 PINTEREST.COM
Bold colored pillows and table trimming add an instant rustic look to any living room.
6. STATEMENT WREATHS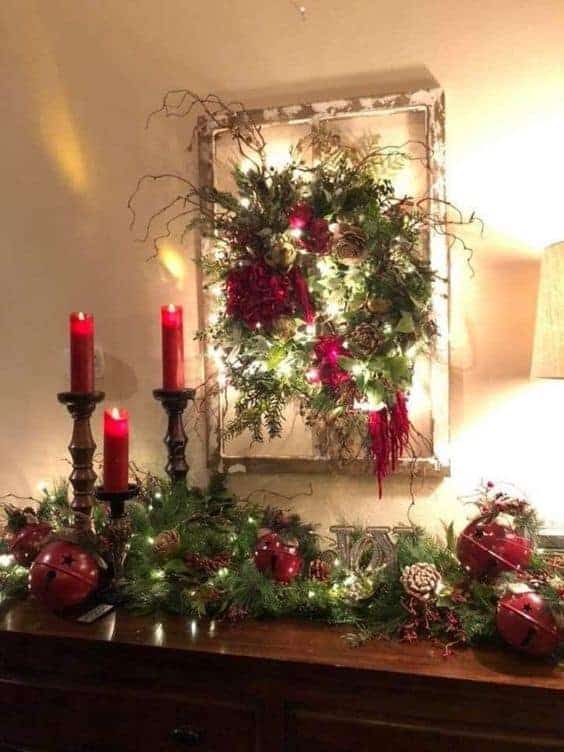 Add a wreath to your mirror or, if you don't have a mirror, place an old window on the wall above your fireplace or mantle and add a wreath.
Finish the look off by adding lights, garland, pinecones, and candles. This versatile look could work in an apartment or home.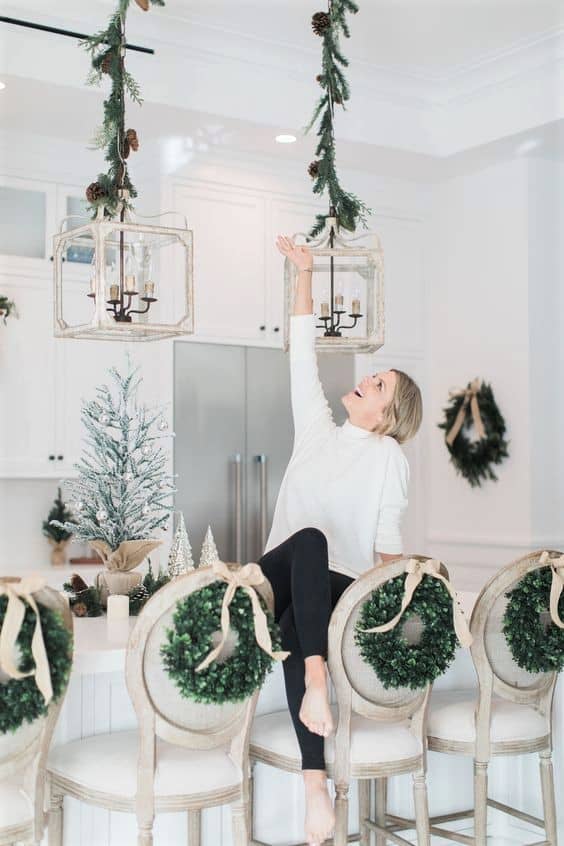 Add wreaths to everything. Adding wreaths to the backs of even the most glamorous dining room decor will give them an instant Farmhouse glam look.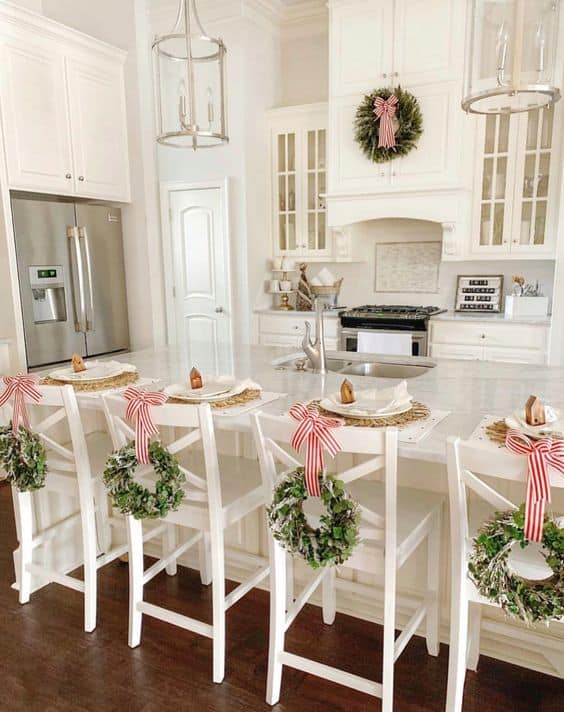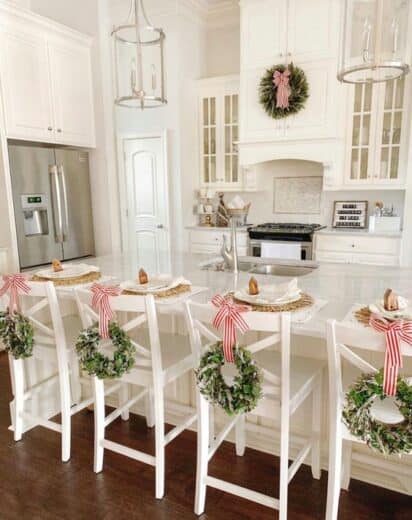 Turn even the most glamorous kitchen into a Country Christmas kitchen by adding wreaths and bold color ribbon to not only the backs of chairs but the front of your Christmas cabinets.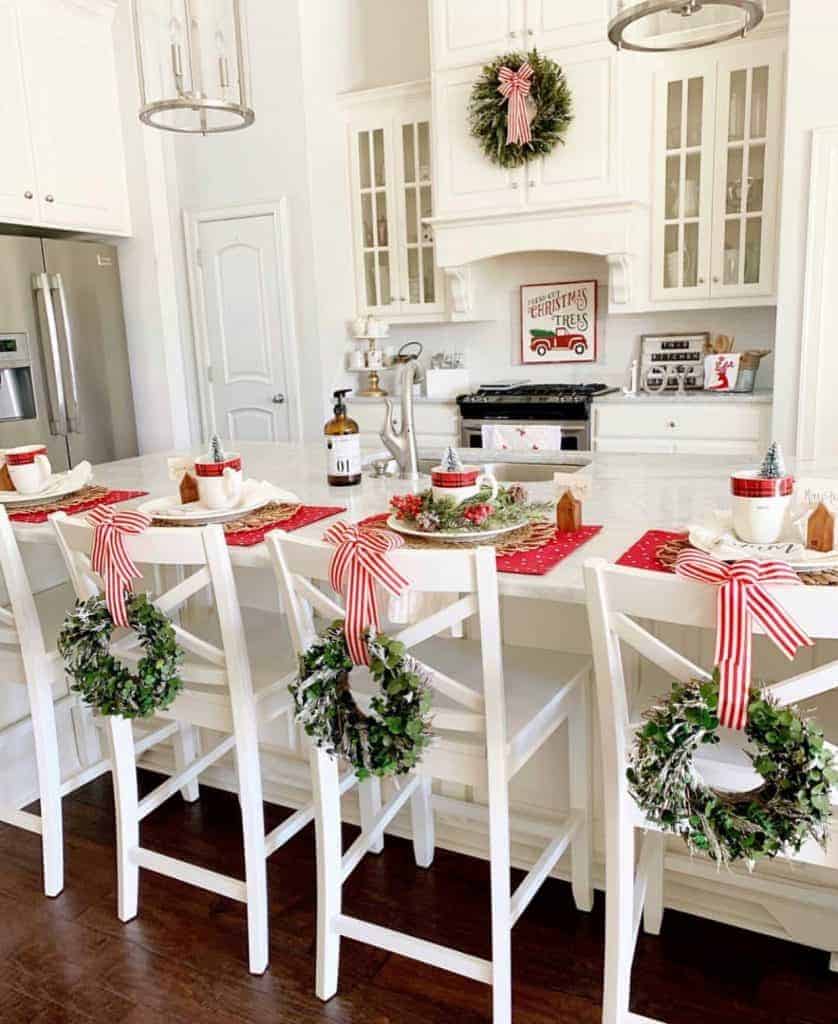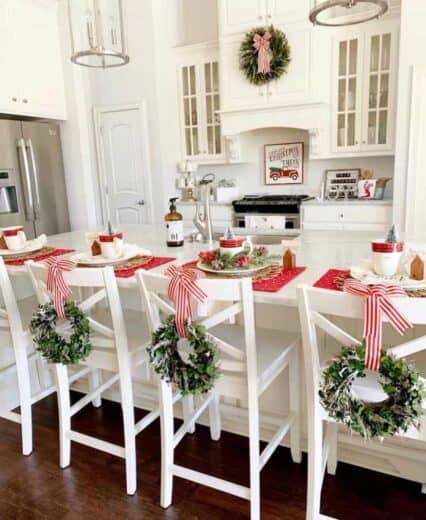 This is the same kitchen only the neutral table settings have been swapped out for bolder more festive reds and greens, and vintage Farmhouse pictures and accessories have been added to the kitchen backsplash and counter.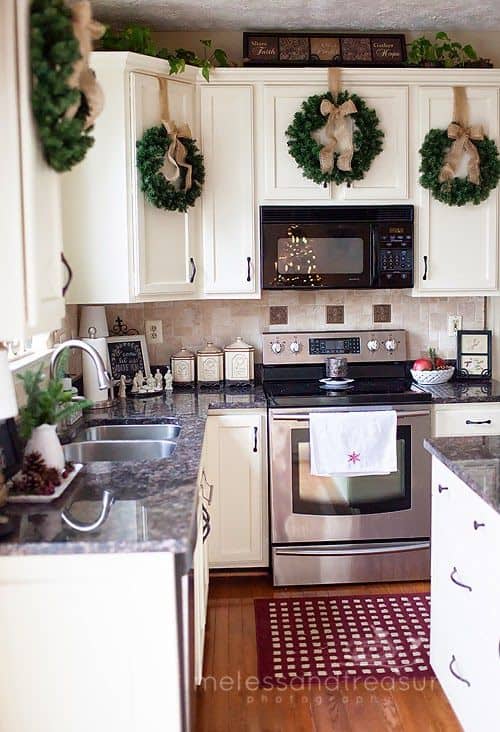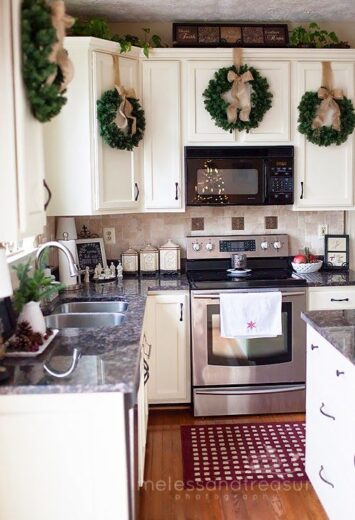 The addition of wreaths to kitchen cupboards instantly transports your kitchen from the big glam city to the cozy country.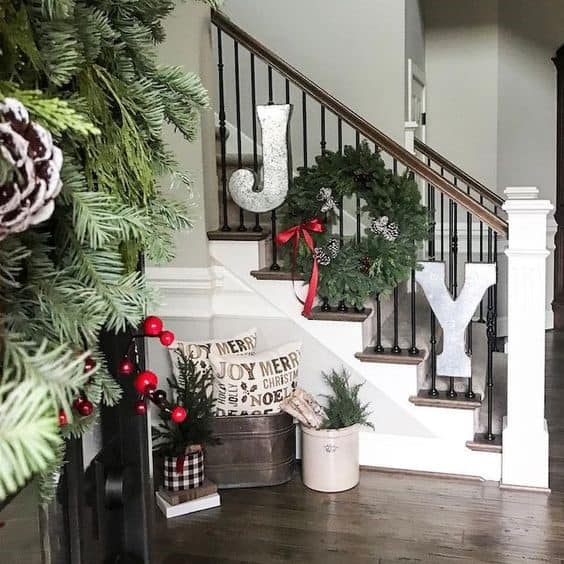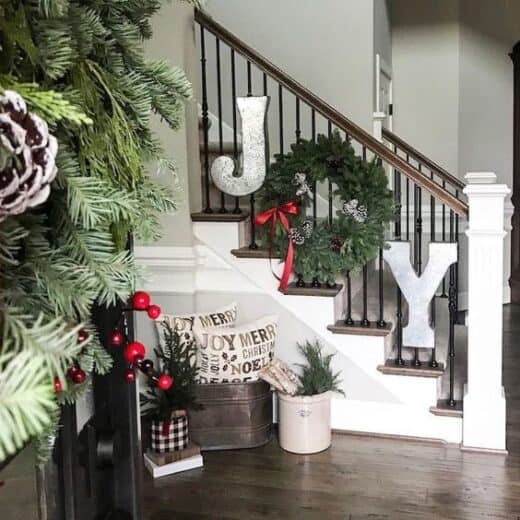 Don't forget the staircase! This is Farmhouse glam done right.
The silver letters add the perfect touch of glam to the rustic pinecone decorated wreath. You can purchase those letters or make them out of dollar store board and foil or paint.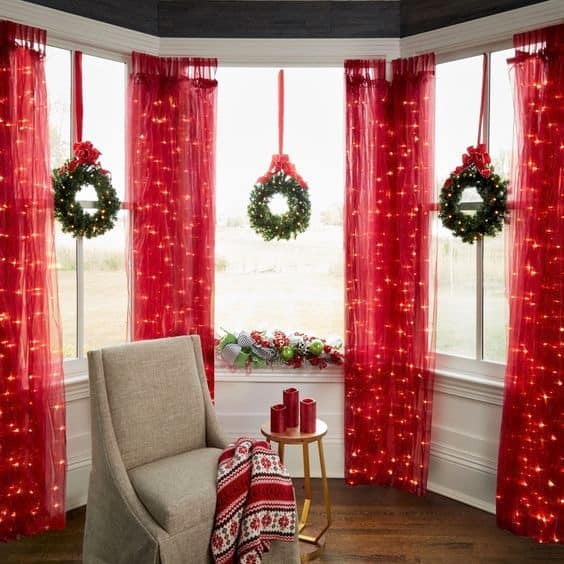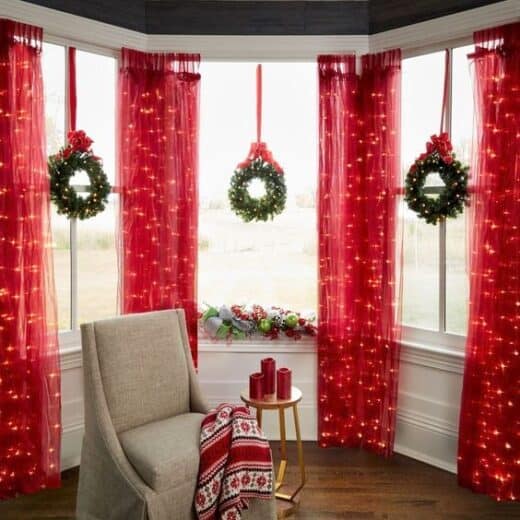 Add wreaths to your windows with ribbon.
7. RUFFLE GARLAND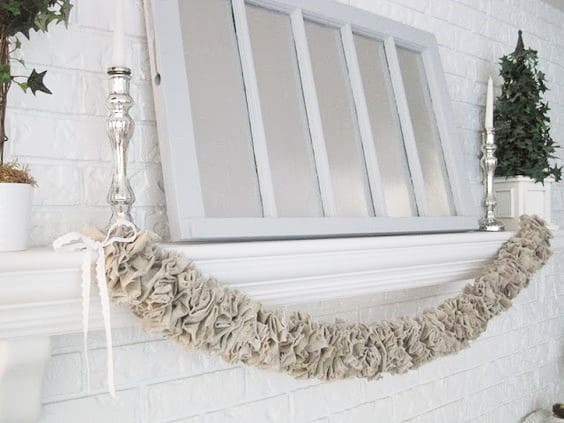 RUFFLED LINEN GARLAND TUTORIAL
Use linen to make easy Farmhouse Glam Christmas garland for your mantle.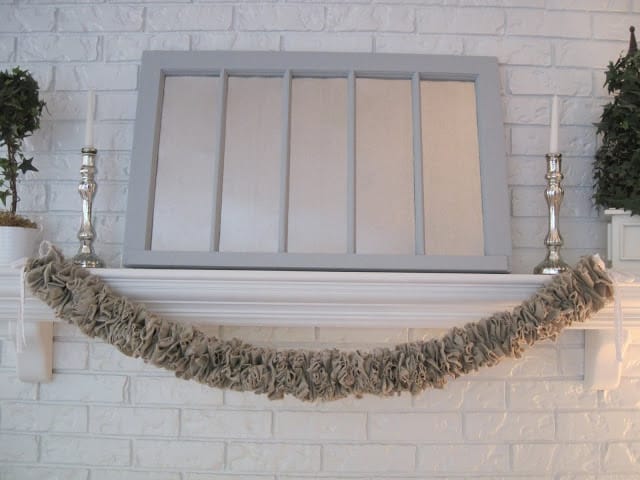 The results are the perfect mix of girly glam and rustic Farmhouse.
You can make this in many different colors for Thanksgiving, Christmas, Birthdays, Weddings, and anniversaries.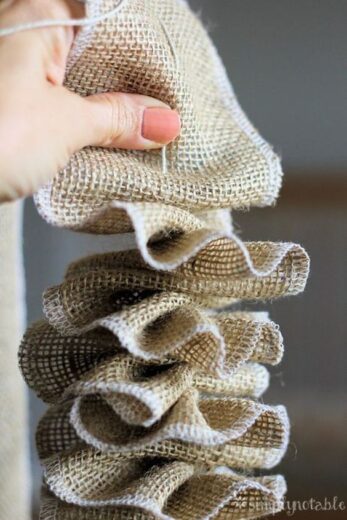 RUFFLED BURLAP GARLAND TUTORIAL
You can also use burlap instead of linen and even brush the tips with paint or glitter. Burlap comes in other colors such as red.
8. Pallet Wood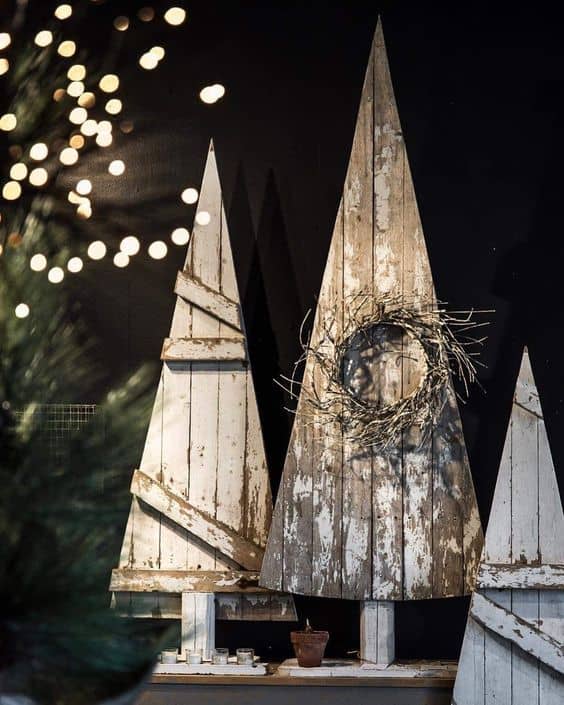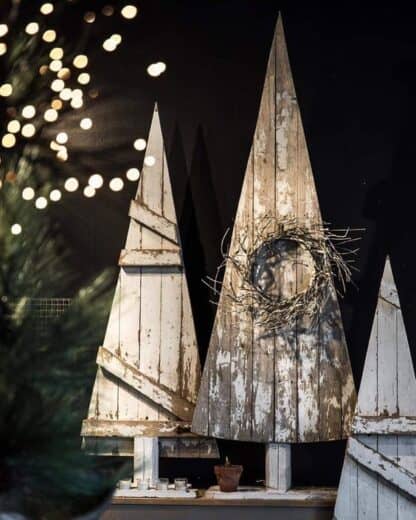 These pallet wood trees can be used on your front porch or your living room and bedroom.
Pallet wood is free and screams Farmhouse. Cut it into different shapes, make signs out of it, the possibilities are endless.
---
We hope this post helps you create the Farmhouse Glam Christmas of your dreams. Please keep in mind this list is a work in progress. We add more ideas all of the time, so keep checking back!
We hope you have a very Merry Christmas!