The Ultimate Easy DIY Valentine's Day Gift Guide
Updated 2023
Whether it's Valentine's Day, a birthday, Anniversary, or Christmas–we did all of the work for you and created the ultimate one stop post with the best, easiest, and most impressive gifts, DIY, crafts, date ideas, puns, food ideas, and decorations for the one you love.
Some are naughty, some are nice, and some are kid friendly.
Even if it's the night before or the day of Valentine's Day, or ANY special day, there's still time to make it memorable.
We separated it into different sections:
Valentine's Candy & Man Bouquets

Easy Inexpensive Last Minute Romantic Surprises

Valentine's DIY Mugs

Gift and Card Puns

DIY Creative Gifts

Man Cakes

DIY Baskets

Valentine's Food & Treats

DIY Valentine's Decorations
There's NO WAY you WON'T find something in this guide and we keep updating it all of the time, so check back.
So sit back, scroll through, mix and match and create the perfect celebration!
If you're looking for any store bought gifts to go along with any of the puns or gifts in this post, you should also check out our post: Gifts They'll Use Forever
Don't forget to Pin This For Later…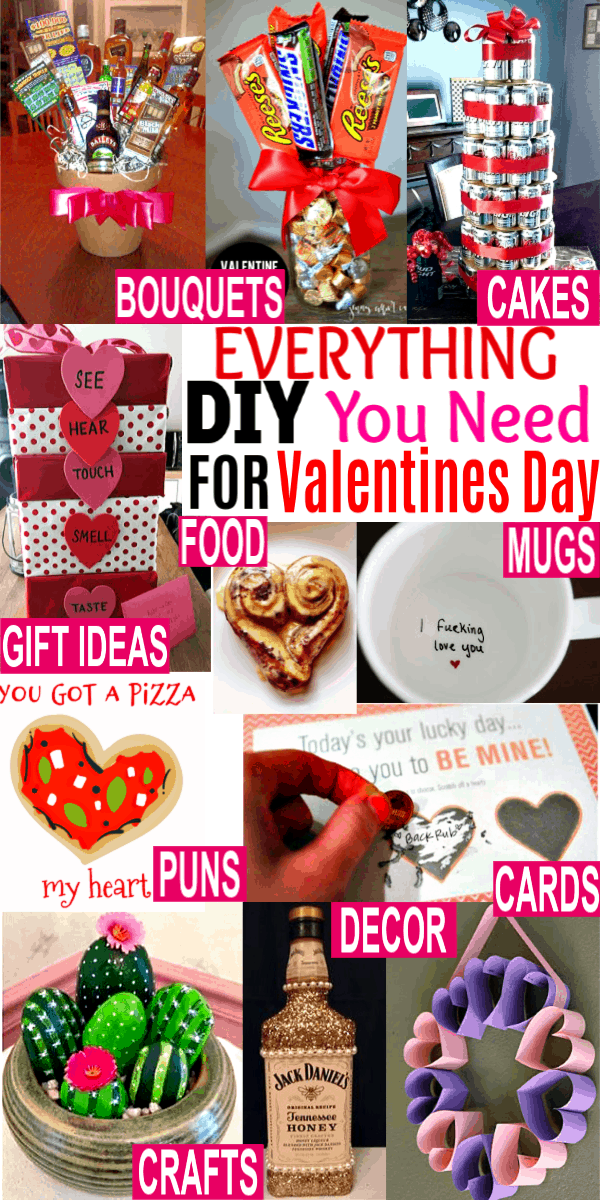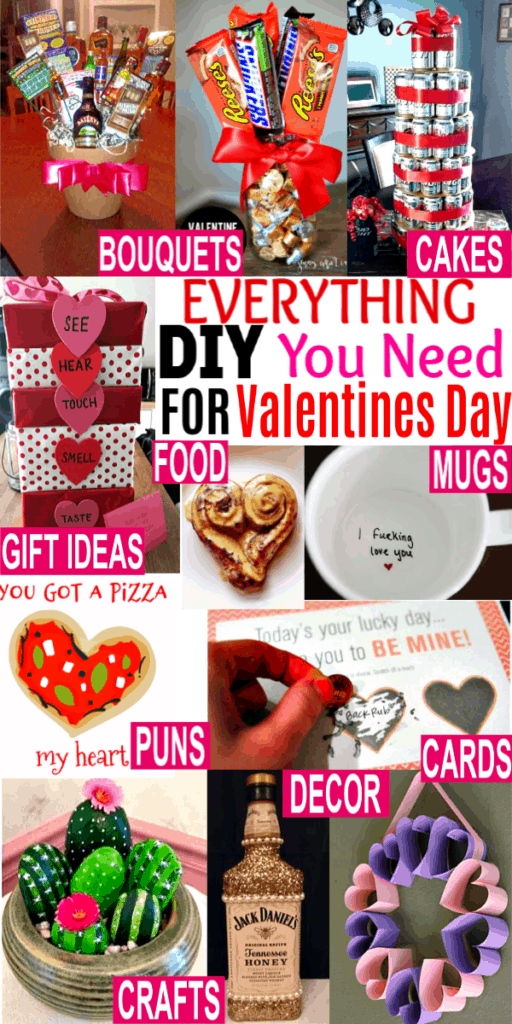 Valentine's Candy & Man Bouquets
They're not just for flowers or women anymore. Man and candy bouquets are all the rage.
With a little creativity and very few supplies you can turn virtually anything into a bouquet.
You can make bouquets out of candy, liquor, lotto tickets, underwear, and even condoms and lube or any other store bought items.
The possibilities are endless.
(Pictured above from left to right)
I Love You Beery Much 6 Pack of Beer (via Pinterest) – Create a Beer Bouquet by using fake flowers, tissue paper, and scrapbook paper from the dollar store. For a last minute gift grab a 6 pack and print out our free I Love You Beery Much printable in the puns section below!
Valentine Jar Candy Bouquet – Sticks, a glass jar, candy, tape, and a ribbon is all this takes. Can be paired with the candy puns in our pun section below. Via by Jenny Collier
(Pictured above from left to right)
Wrap a square or rectangle piece of florist foam in tissue paper
Glue boxes of candy like Sugar Babies or Junior Mints (for kids or small girls) around it like a vase
Glue or tape individually wrapped candy to skewers
Insert them in foam
Strawberry Bouquet (Right) via SlowlyDesign on Twitter: You just need strawberries, a knife and some lollipop sticks or skewers to make a beautiful strawberry bouquet for breakfast or dessert. Arrange with chocolate dipped strawberries to make it extra special.
Cigar, Shotglass, and Alcohol Beer Mug Bouquet via Pinterest
Flower Pot Lotto and alcohol Bouquet from Pinterest
Candy Bouquet–
Take a dollar store silk flower bouquet
Remove the flowers
Hot glue (low-temp works best) individually-wrapped candies to stems where the flowers used to be.
Wrap in clear cellophane and tie with a festive ribbon.
Snack sized candies work best, fill in with Jolly Ranchers or the like.
Perfect for boys or girls who don't like flowers. Via Pinterest
Mug Candy Bouquet via Pinterest
I Won the Lottery When I Met You Man Bouquet via Pinterest-This bouquet served as inspiration for the lotto bouquet we made for our Dad. Just tape lotto tickets to skewers and stick them in any box or vase full of stuffing. You can write on the box, decorate it, or make a cute printout to stick on it.
"I Hit the Lotto When I Met You" Bouquet made with just straws, scratchers, and a Yeti tumbler via Pinterest
Underwear Bouquet from Pinterest:
The men in our family never fail to get underwear on most major holidays. This is a much more exciting way to gift it. Get a box, or wrap a cardboard one, put a square of foam or some stuffing in, insert skewers in rolled up underwear and arrange the underwear in the box. You can add candies and a card to give him something to snack on while he's lounging in them. LOL.
Vase Bouquet by Fun with Barb and Mary
Beer and Underwear Bouquet from Pinterest-
This version of the underwear bouquet uses a make shift vase made out of beer bottles. The underwear is inserted in tissue paper and a ribbon is tied around the whole thing to fasten it.
Candy Wreath by Crazy Little Projects:
We made a candy wreath for someone and left it on their front door while they were out. If only we took a picture. We glued the candy to a cardboard cut out of a heart and added a bow on top and strings of ribbon. They were pleasantly surprised.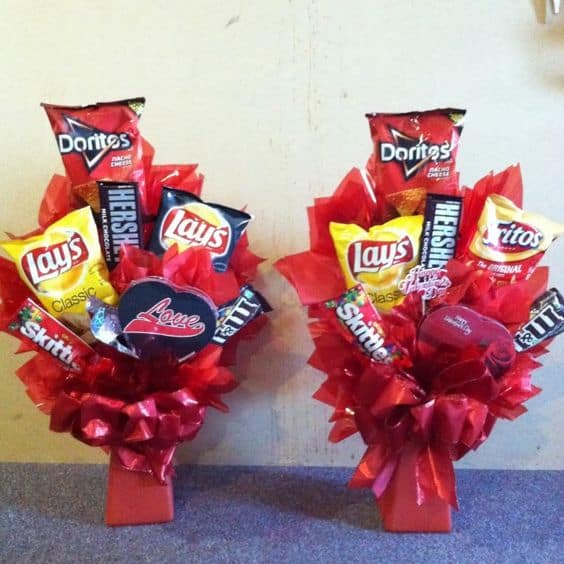 Junk Food Bouquet photo courtesy Pinterest
It's not all about candy and underwear. You can use any kind of treats your Valentine prefers.
Easy and Inexpensive DIY Last Minute Romantic Surprises
It's SO easy to make last minute surprises your Valentine will remember for years to come. We've made post it note displays, DIY scratchers, and lunch bag surprises for our Valentines and they still talk about them to this day. These ideas are especially great if you're not best at vocalizing how much you love your Valentine, their heart will melt.
(above from left to right)
Surprise Car Heart Love Notes – Give your sweetie a surprise for their morning commute with love notes written on paper hearts. For him, her, teens, or parents. Via Pinterest
Surprise them with pink Post It love notes in heart Shape on the bathroom mirror. So easy yet so romantic and they'll remember it forever. Via Lifeliveshere on Tumblr
More Post It Love Notes– This is another version that literally requires only a pad of post its, a pen, and your passion. Via Pinterest
The Dice Game– If you don't have dirty dice this is the next best thing. Via To Love Honor And Vacuum
You're the Shit Babe post it note on toilet, incase they need a reminder. You can also write this on an envelope with tickets or a gift certificate in it. via Pinterest.com
Banana Puns written on their fruit are good if you pack your sweetie a lunch everyday. source
Pop Me! Love note Balloon– All you need is a balloon, a marker, and a hand written love note. We add confetti in the balloon. Via Thinking Closet
Boxed Pop Me Balloon with a love message inside, just include a pin in the box (and confetti)! This is also great to ship to a long distance relationship.
DIY Love Scratchers- Dishwashing soap, acrylic paint, and card stock make for a fun Love Lotto Scratcher. Write reasons why you love them or gifts like a massage or a picnic. We made these last year and they were a big hit! Via Beani Pet
Framed Favorite Romantic Movie Quotes- Pick out a love quote from one of your or their favorite movies and frame it for your Valentine. For a complete gift, include this in a gift basket with the corresponding movie or some popcorn and treats. Via BrenDid
Kisses Jar– Put Hershey kisses in a jar for when they need a little sugar. Via Pinterest
A Jar Full of Love– Fill a jar with little hand written reasons why you love someone, future plans, or even date night ideas that they can read whenever they need to be reminded. Via nicky-poisonivy.tumblr.com
Put all of your kisses in a jar for when he needs them. Via Pinterest
Kiss Notes– Get out his favorite lipstick and kiss paper or poster board, cut out and write reasons for each kiss on the back then put them in a jar like above. Via Pinterest
DIY Fortune Cookie– A circular piece of paper and a handwritten love note/fortune makes the best fortune cookie ever. Via Splash Of Something
Carved Initials Candle– Why hurt a tree when you can use any candle around the house to make this easy, adorable, carved sweetheart candle. Via Hello Glow
I Love You because framed dry erase gift- Only costs $1.80 to make! The best thing about this is you can write something different everyday. Just put this print out in a nice frame and add a dry erase marker for a daily reminder of what you love. Via Super Savings
Year of Monthly Dates Each card has a different date idea for every month of the year. It's the gift that keeps on giving the whole year. Via Pinterest
Open When Letters- All it takes is an envelope and paper to be there for your Valentine when you're not around. This is perfect for anyone from boyfriends, to husbands, to college bound teens, to military spouses, to parents, to grandparents, to friends, galentines and anyone long distance. Via Pinterest
Open When Letters and Packages– This version includes little care packages for when your Valentine is sick etc..it's even perfect to give a child that is going off to college! Via Pinterest
Open When Letter Ideas by Jo My Gosh More inspiration for open when letters.
Letter Love Stones via glinsterling on Flickr
Pun Fruit– Grab your favorite fruit or candy and write a corresponding pun. This is good to put in a lunch bag as a little surprise. For more punspiration visit the "pun" section of this list below. Via Pinterest
Rock Pun– A sharpie and a rock is all you need. If you'd like it to last seal it with clear nailpolish or Mod Podge. Via Little Lovables
Finger Print Heart Friendship Love Stones- Use you and your love's finger prints to make a keepsake stone. Via Red Ted Art
Colorful Love Stones from Pinterest
Left: Inspirational Quote Stones by Beside Room, Right: Up Lifting Stones by Going To Tehran
If you and your Valentine collect stones on the beach then grab one and write one of your favorite quote, a nice message, or a special name on it for your Valentine. It'll make a nice paperweight for their desk or a decoration for their garden or potted plant.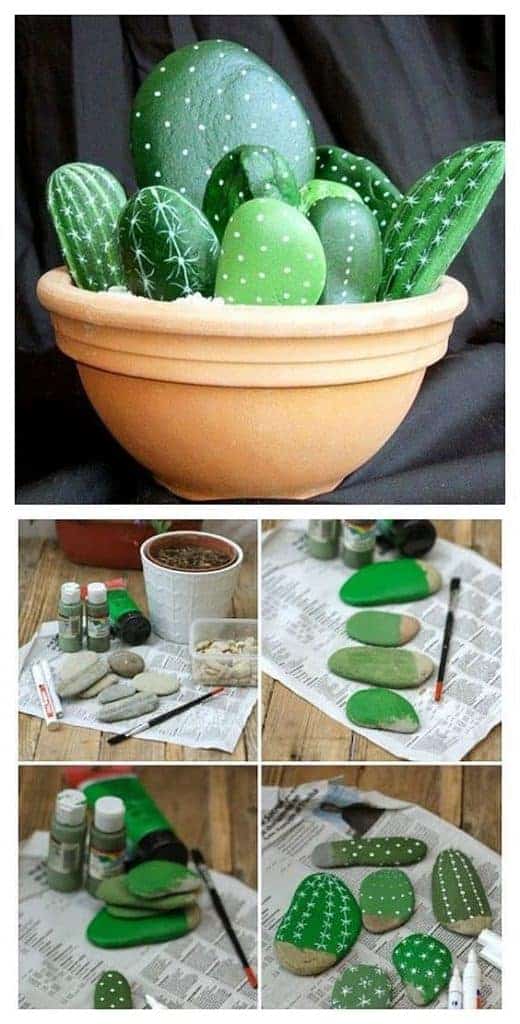 Festive Bookmarks – Use printable versions or make one of your own. Get as creative as you want, add your favorite picture of you two or even pair it up with a book!
Our little hack: To make it water resistant and more durable, cover it in clear masking/shipping tape on both sides. Image above left via Mommy Evolution
I Think You Are Just Write – Print out the pun message, cut it in a heart shape, make two slits and slide in a pen or pencil. Image above right via Bits of Everything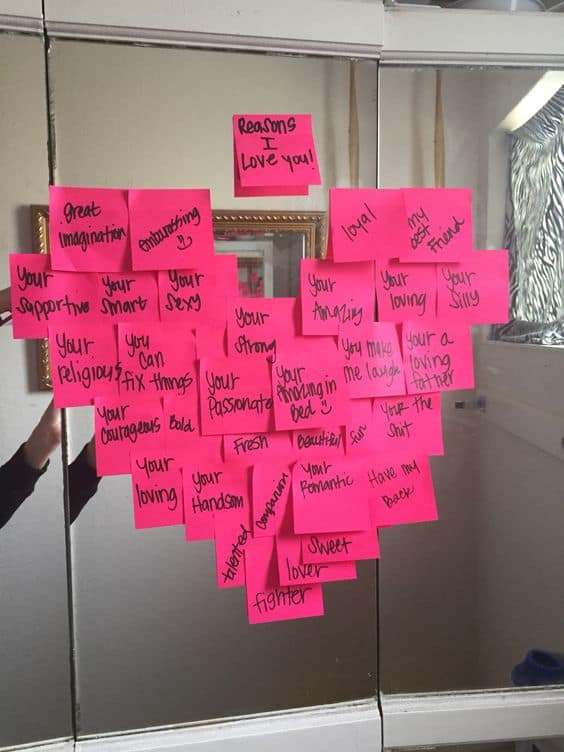 List all of the reasons you love them on dollar store post its and place as a surprise on their mirror or wall for a priceless Valentine's Day Gift.
DIY Valentine's Mug Gifts
If you have a Sharpie, a mug, and an oven you can make a nice Valentine's Day gift for your coffee or tea drinker to cherish. We made one for our Mom and she absolutely loved it.
Here are a few different ideas…
Sharpie Heart Mug via Pinterest
Sharpie Mug here's another version of the sharpie mug. All you need is a sharpie, a mug, and an oven. Side note: they may not be dishwasher safe.
Vday Initial Dishwasher Safe Mug All you need are sharpies, rubbing alcohol, a mug, and some paper.
Surprise Inside Mug Message via Etsy- Don't forget the inside when decorating a mug!
Sharpie dinnerware. You can make a whole sharpie plate set.
DIY Chalk Board Mug so they can let you know what mood they're in every morning before their coffee.
What I Like Sharpie Mug more Sharpie mug inspiration.
Diy Heart Shaped Tea Bags. These make the perfect addition to your sharpie mug. All you need are coffee filters and some string.
DIY Glitter Tumbler by Jennifer Maker– You just need a steel tumbler for the best one to buy check out our post.
Gift and Card Puns
Impress them with your wit by writing or printing out one of these puns as a card or adding the corresponding treat. You can find the perfect food match for your pun in our Valentine's Treat section!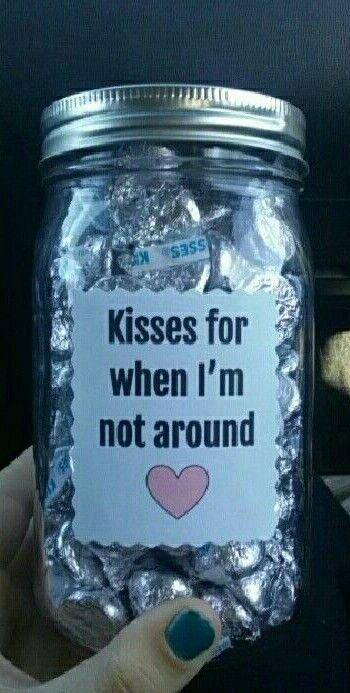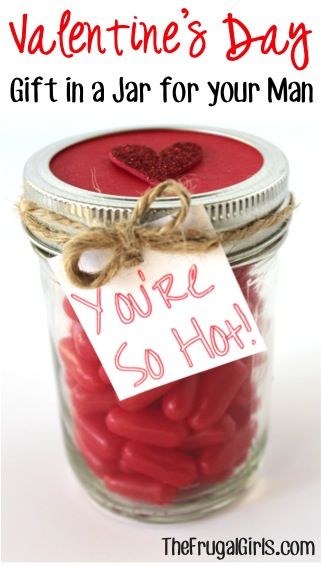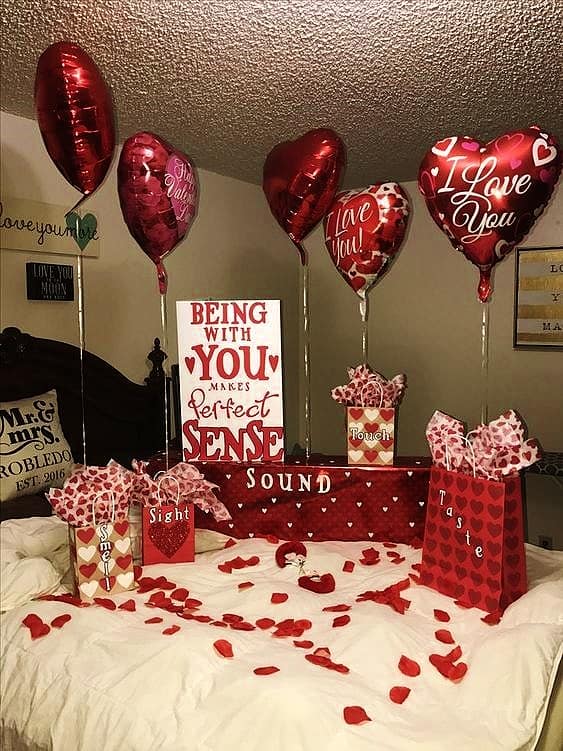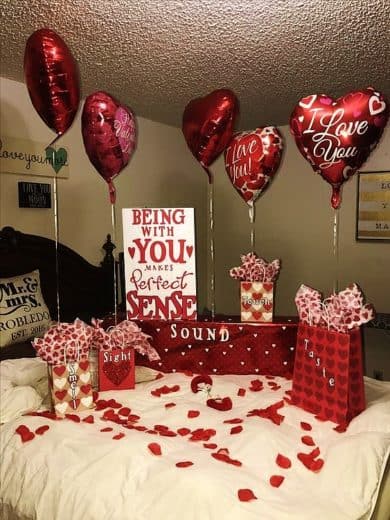 Starting from the pic in the upper left hand corner, and going from left to right:
Bacon Puns: Don't Go Bacon My Heart, You Bacon Me Crazy- By Twins Dish. Free printables when you sign up for our newsletter!
Tea Puns: You're Tea-riffic, Sending You A Cup Of Positivi-Tea- By Twins Dish. Sign up for our newsletter to get these free printables!
You Make Me Bananas pun via Pinterest
Nice Buns via Pinterest
Stud Muffin via Pinterest
Donut Pun by Pinterest

.

You can use this pun with a dozen or just one donut.

I Love You A Latte and I Love You Beery Much Pun FREE Printables below. These would go great with a tumbler :
Tea-rrific pun would make the perfect pun with a box of tea or these adorable DIY heart tea bags, one of the diy mugs we listed ( or even a tumbler), and the honey pun. If your Valentine happens to be sick with the flu this will bring a smile to their face.
I wanna take you out Take out box Pun from Twins Dish-Sign up for our Newsletter above!
Fruit and vegetable Puns- Just pick your pun and treat or make a basket of them. Via Pinterest
Gouda Provolone Feta and Brie Puns for friends via Take A Mega Bite
You Got a Pizza My Heart/ I Pepperonly Have Eyes For You/ You're My Missing Slice Puns- Get the free printables now, subscribe below!
I Value Our Friend Chip pun via Pinterest. Just include your favorite bag of chips or chocolate chip cookies to your favorite friend.
Lick Me Till Ice Cream via Pinterest. Let your Valentine interpret this pun anyway they want.
I'd Mount and Dew You via Pinterest
You Are Kind Of A Big Dill, pickle lovers Pun via Pinterest
Still Nuts About You Jar via Pinterest
Spoon Card via Daria (Kittenhood) on Pinterest
You're the Balm pun. Just include a lip balm of your choice with this witty pun and they'll be prepared for a kiss.
I Chews You Gumball Pun by Twins Dish- Get the free printable now. Subscribe to our Newsletter below!
Tic Tac Toe via Nest of Posies
DIY Color Your Heart Out Crayon Pun. Make your Valentine an adorable multi colored crayon.
Candy Pun Card Via Pinterest
Candy Pun You Make Me Feel Special Card Via Pinterest
DIY We're a Perfect Match, You Make My Heart Race, You Are Amaze ing, You Lite Up My Life card puns. Easy but witty DIY cards. Via Pinterest
Time Fries When I'm With You and all puns beyond- Pinterest
DIY Cards
Starting from the pic in the upper left hand corner, and going from left to right:
DIY Lottery Tickets free ticket printable
DIY Lingerie cards-You can get as creative as you want with the fabric and you can also include one of the DIY lotto scratchers like we did. Add a little spritz of perfume and give a little T&A to your Valentine. Photos via TwinsDish.com and Holidappy.com
You're Worth Every Mile Between Us via Pinterest DIY card. Perfect for a long distance Valentine.
You're My Favorite Thing To Do card via Etsy. Straight, simple, and to the point.
I Luv U 3D Valentines Day card- Via Pinterest
Love Valentines Day Card – via Pinterest
DIY Creative Craft Gifts and Wrapping Ideas
*Some of the links in this article may be affiliate links for companies such as Amazon. If you choose to click on them, we may make a small commission at no additional cost you.
Starting from the pic at the upper left and going from left to right:
5 Senses Gift via Pinterest grab some sandwich bags with ribbon or decorative gift bags and include a themed gift that caters to each of the 5 senses.
Pun Shrinkie Dink Keychain there are no directions for this but you can follow any shrinkie dink instructions to do it. We have plenty of puns to choose from below that you can recreate using markers on plastic and shrink into an adorable personalized keychain.
Valentine's Day Tumble Game just requires a marker and a Jenga set found at the dollar store or toy store.
Pillow Made from Your Shirt is a good idea for a long distance Valentine. Just spritz with your cologne or perfume and your loved one can have something to cuddle with when you're not there.
Flower Pot Gumball Machine made entirely from dollar store items.
5 Senses Gift via Pinterest Boxes are the same idea as the bags but with boxes. Gifts can even be super simple and affordable or expensive or a mix of both.
Heart Shaped Bath Bomb make your own for a fraction of the price. This recipe includes citric acid, epsom salt, and cookie sprinkles. You can purchase cute silicone molds of all different shapes on Amazon or here are some household items that would work.
Rose Sugar Scrub only three ingredients (rose petals, sugar, baby oil) and 5 minutes of prep work. Package it with a bath bomb or use it as one of the 5 senses gifts.
Valentines Day Box of Chocolates with mini alcohol bottles via Pinterest
DIY Studded Jack Daniels Bottle via Pinterest
Painted Cactus Rock Garden With just a few smooth stones, a cute container, and some green paint you can make these adorable rock gardens. This is a great craft for kids as well.
DIY Lingerie Gift Bag via Pinterest

An adorable way to tell someone you'll love them Gnome Matter What! Find the tutorial on how to make these adorable yet cheap Valentine's Day Gnomes here.
Man Cakes
DIY Gift Baskets
Movie Basket this is a gift and a date all in one. You can theme the items in the basket any which way according to the movie. For example you can make a 50 Shades of Grey themed basket with sex toys (here's how you can get them for free) and the movie.
Sports Basket this is perfect for a sports fan. You can include his favorite sports snacks, and sports themed items or even tickets.
SEXY Movie Night Basket give your Valentine the gift of fantasy with a copy of 50 Shades of Grey and sex toys (image via Wish.com). Watch the movie and use the toys to act out the fantasy.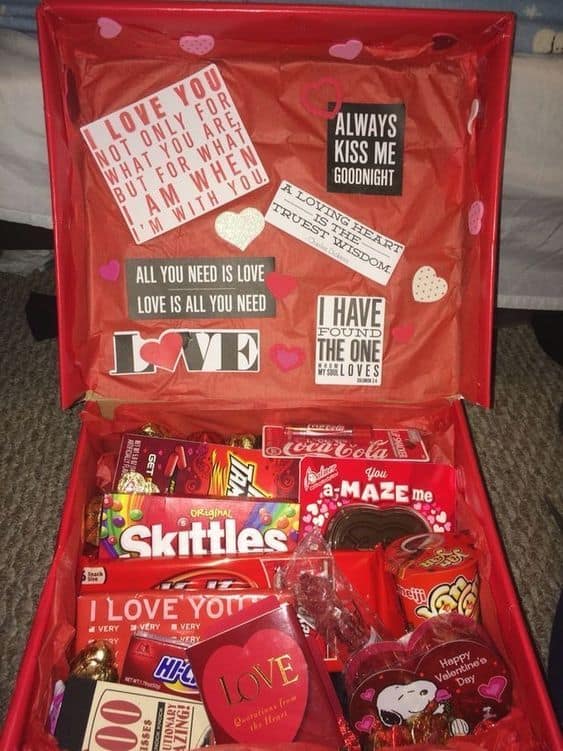 4. Easy, creative, and cheap box for him.
Decorate the inside of any box with love quotes or photos and fill with their favorite sweets. You can find all of these things at the dollar store or drugstore for cheap and this would also work if your sweetheart is long distance!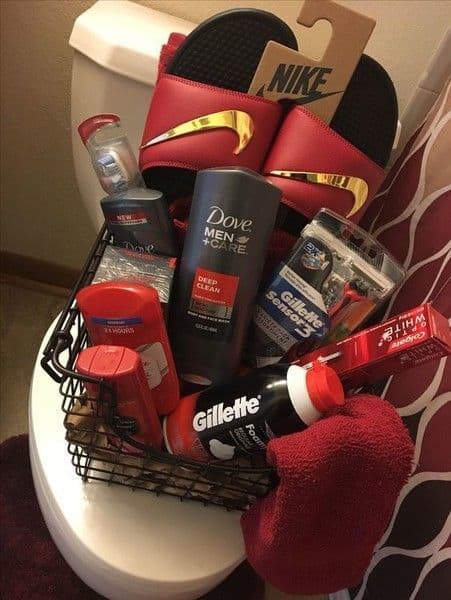 5. Easy, Creative, and Romantic DIY Spa Basket for Him
Fill a basket with the spa essentials he uses or you think he SHOULD use for a romantic gift idea you'll enjoy too.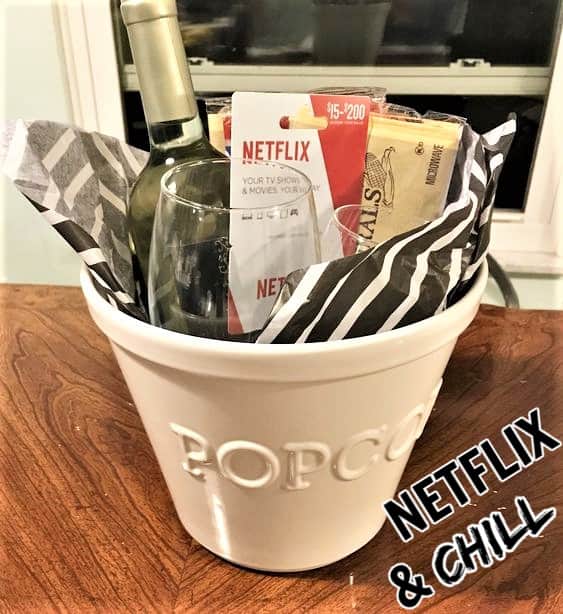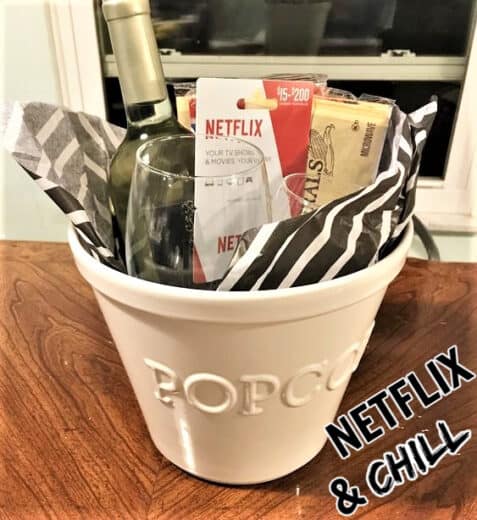 NETFLIX & CHILL GIFT BASKET TUTORIAL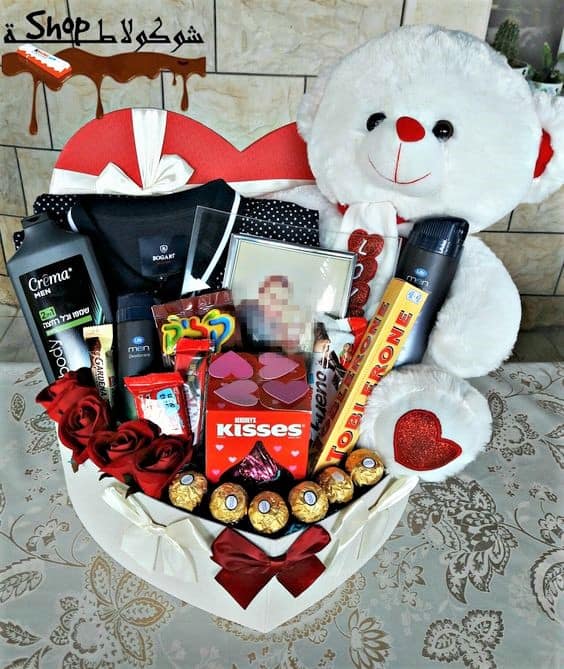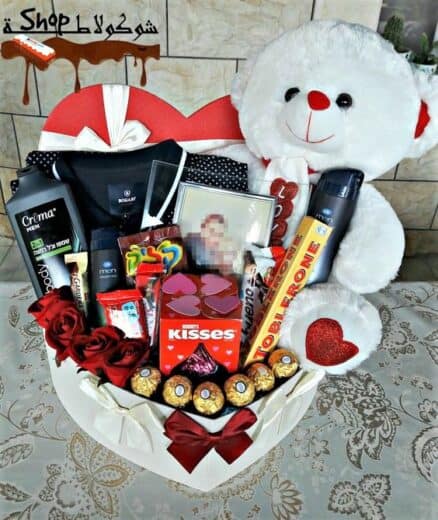 Valentine's Food, Dessert, and Dinner Ideas
Only the best of the best of easy tried and true, Valentine's Day foods made this list.
These treats have maximum wow factor but are very quick and easy! Some you can even box with one or more of the puns we listed above to make the perfect gift or a beautiful meal.
Apple Cream Cheese Rose Tarts are unbelievably easy to make and just as delicious as they are beautiful. If you don't believe us then look on Pinterest where the recipe was tried over 1,200 times with glowing reviews and gorgeous pictures. We made them for viewing the Rose parade and they were a huge hit. Just make sure you put on enough sugar and cream cheese.
Apple Cream Cheese Rose Tarts are so pretty we thought they deserved their own row of photos.
Apple Cream Cheese Rose Tarts can be put in baking cups and given as an impressive gift to your Valentine.
Easy Heart Shaped Bacon is quick to make. This would be great added to a sweetheart breakfast or brunch with one of the bacon puns above.
Sweetheart Sunny Side Up Eggs with Toast all you need is a heart shaped cookie cutter. Did this a while back for Mothers Day as kids and grandma loved it.
Sweetheart Cinnamon Buns Quick and Easy Just use store bought Pillsbury bun dough and re-roll into a heart shape. Add the bun pun from our puns list and you have a little treat for your Valentine.
Engagement Chicken This recipe will make him propose (no joke it works). At the very least he'll be talking about it till he does. Super healthy and delicious.
Sweetheart Watermelon and fruit. Just use a cookie cutter and the rest is history.
Heart Shaped Pizza would make the perfect pairing with the pizza and pepperoni puns above.
Heart Shaped Hamburger quick and easy.
Heart Shaped Grilled Cheese same can be done with a quesadilla.
Heart Salad use cookie cutters to shape everything from beets to cucumbers.
Heart Cheese Platter don't forget to pair it up with a cheese pun.
Marshmallows on a Pixie Stick, instead of the straw pictured use pixie sticks.
Heart Cake allows you to write your own message on the cake via Pinterest
EASY DIY KISSING BOOTH DOLLAR TREE VALENTINES DAY DECORATION, CRAFT OR GIFT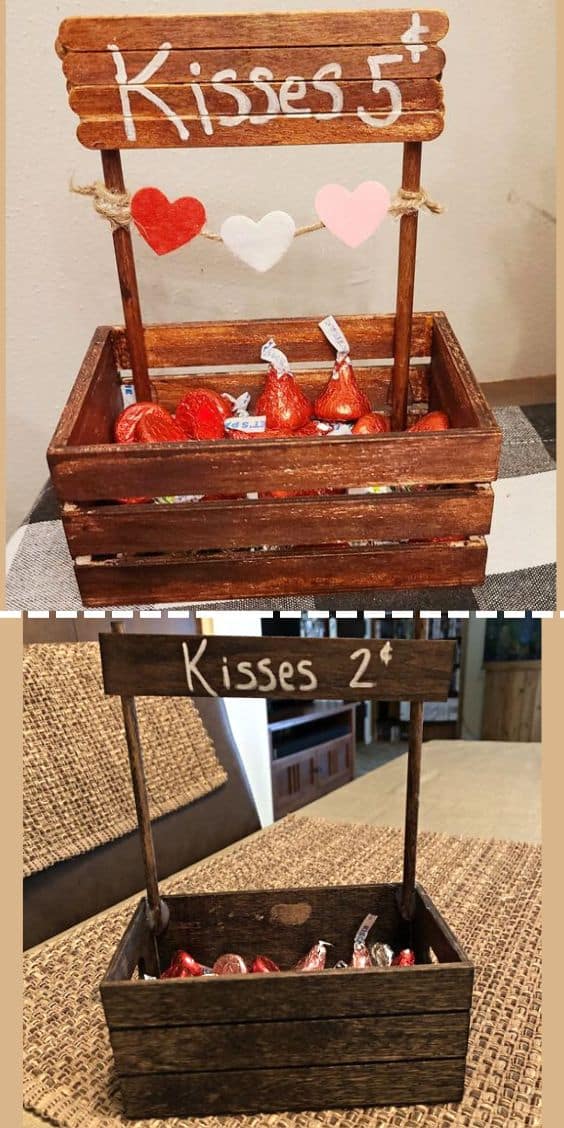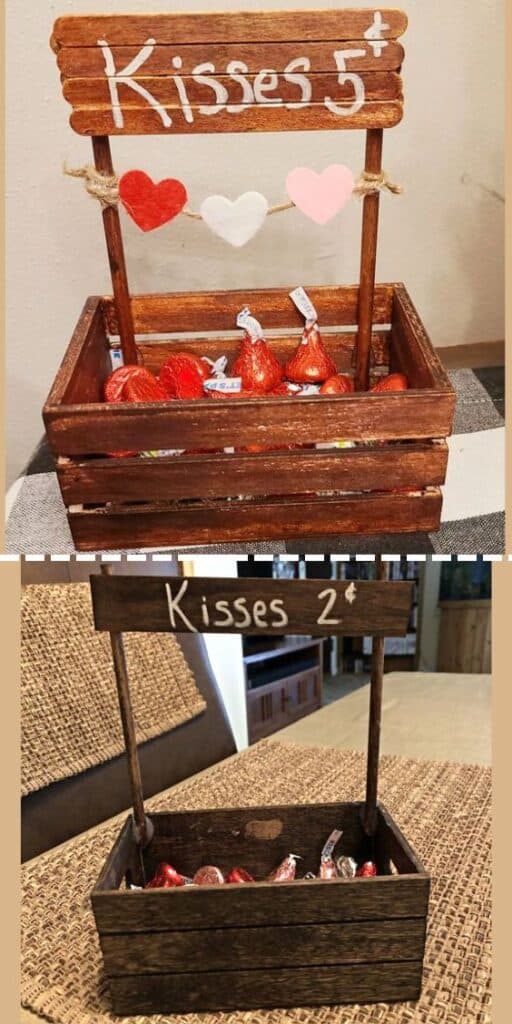 The adorable Kissing Booths above were made entirely from items at the Dollar Tree.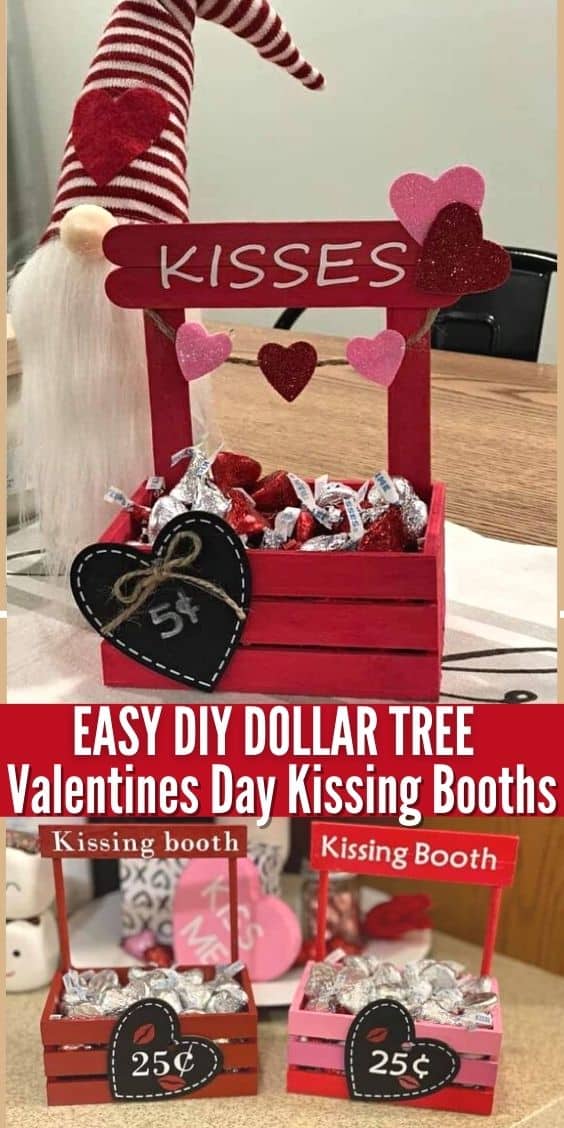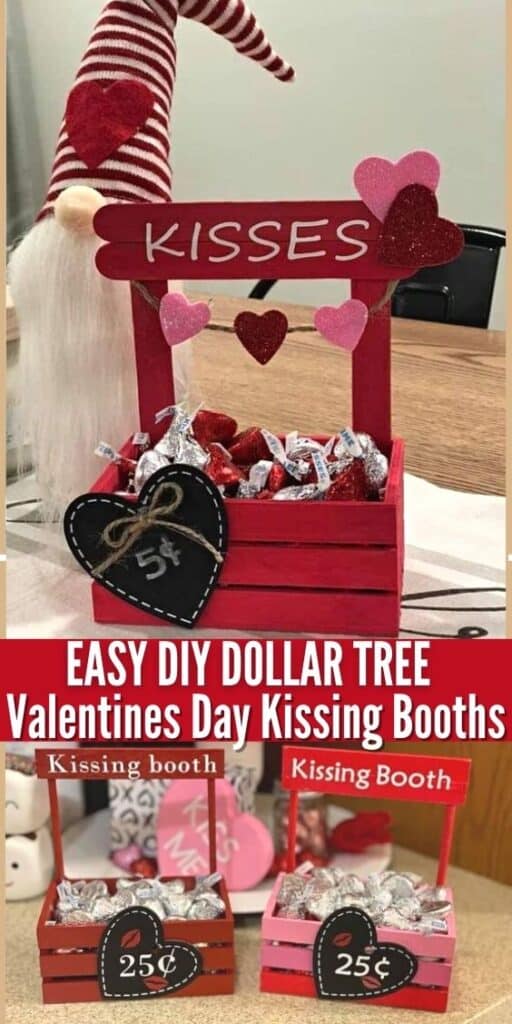 You can find a ton of different crates in different sizes and designs that would make a fun and festive crafts for kids, an easy DIY Valentines day decoration, or a great little gift or gift basket idea for boys and girls.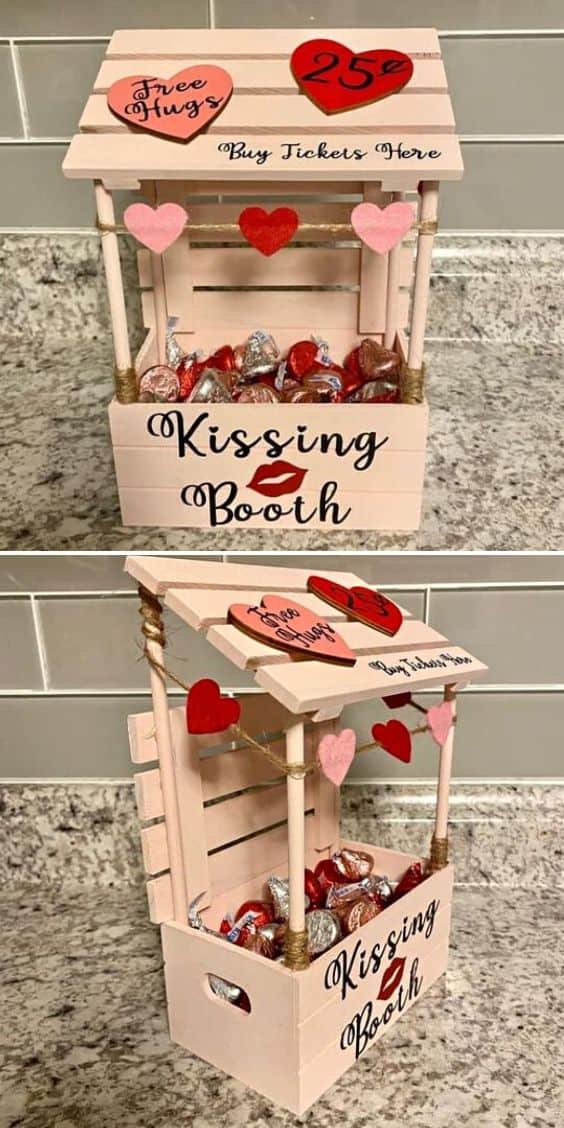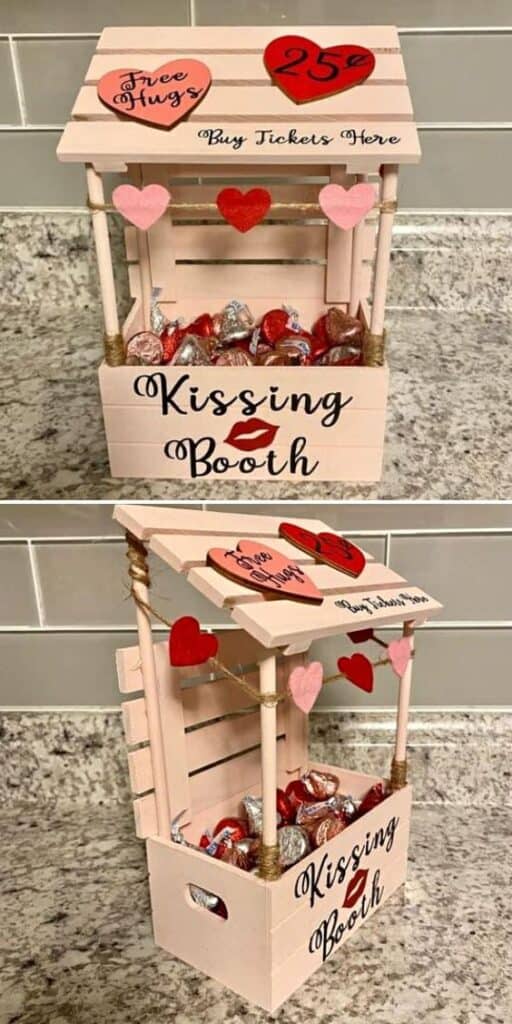 Here are a few great filler ideas for the kissing booth:
Hersheys Kisses
Mints
Gum
Dollar Tree Rose Lipstick balm or chapstick
Dollar Tree lip exfoliator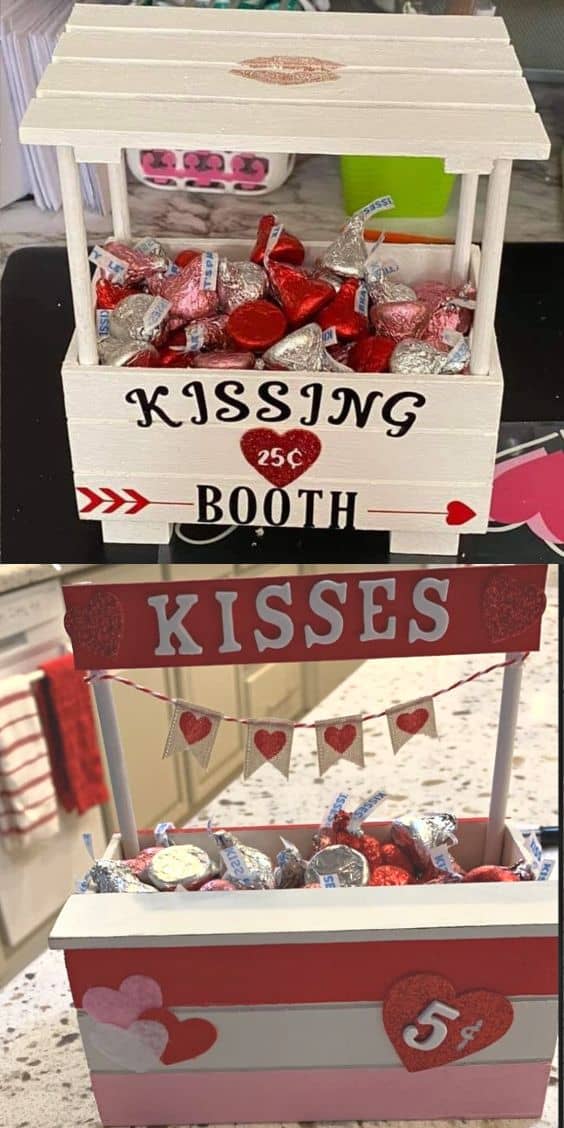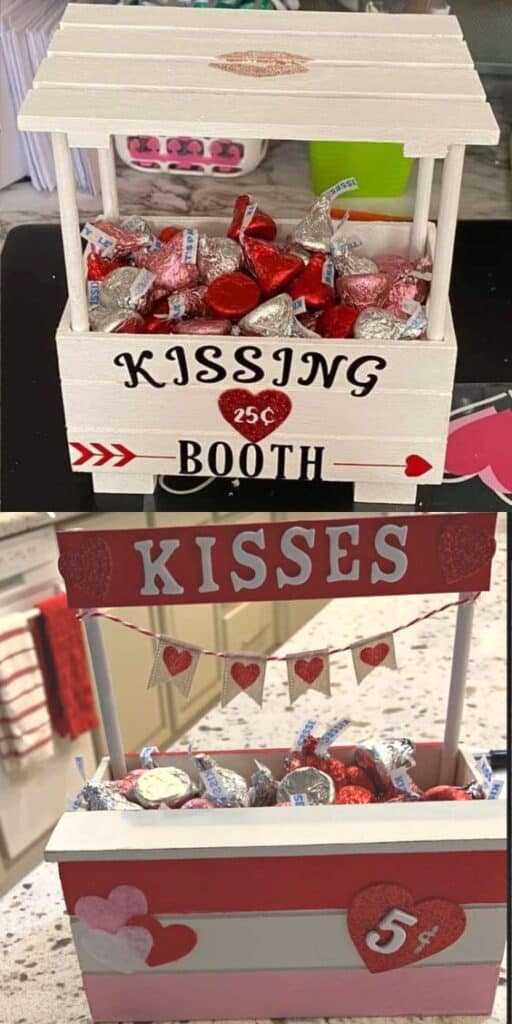 Make them as intricate or as simple as you like, and have fun painting and designing them!
Easy DIY Valentine's Decorations
Heart Prints on the lawn just use flour and a heart cutout.
Kiss Balloons are super easy and inexpensive just blow up a balloon, put on your favorite lipstick and practice kissing!
Streamer Bed Decor- this is great if you want to end the night on a super special note and even better if you have a sexy gift to leave on the bed. Quick balloon hack: put double stick tape on the top of balloons and stick them to the ceiling instead of helium via Pinterest.
Napkin Roses perfect for the brunch table or dinner for two stuffed inside a wine glass or champagne flute.
Candy Vase take a water glass or small vase place inside a larger vase, and fill the outside with conversation candy hearts.
VDay Romantic Indoor Date Decor whether you're having dinner watching a movie or both; candles, flower petals, and lights can make any setting romantic. Make a picnic on the floor for your Valentine and have some fun!
Indoor Valentines Family Picnic tray tables and cushions set the mood for this date idea. It's perfect for a meal with family and friends or just two.
Easy DIY Hearts on a String Garland via Pinterest
DIY Easy Valentines Day Heart Garland via Pinterest
DIY Easy Napkin Rose in Wine Glass How To via Pinterest
DIY Easy Heart Napkin Fold via Napkins.com
Branches with Red Paper/Felt Hearts glued on via The Idea Room
Lace and Rose Table Setting and Runner via Facebook
DIY Real or Fake Rose on top of upside down wine glass center piece idea via Pinterest
DIY candle on top of upside down wine glass with a fake or real rose via mycountrydecor.com
Real or Fake Rose Submerged in Water with a floating candle via Global Rose
Valentines Day Apothecary Jar Decor Idea Via Subscription Box Ramblings
Bulb Heart Shaped Valentines Day Wreath Idea via Judy Blank
Easy DIY Hearts on a Stick for driveways, gardens or front Lawns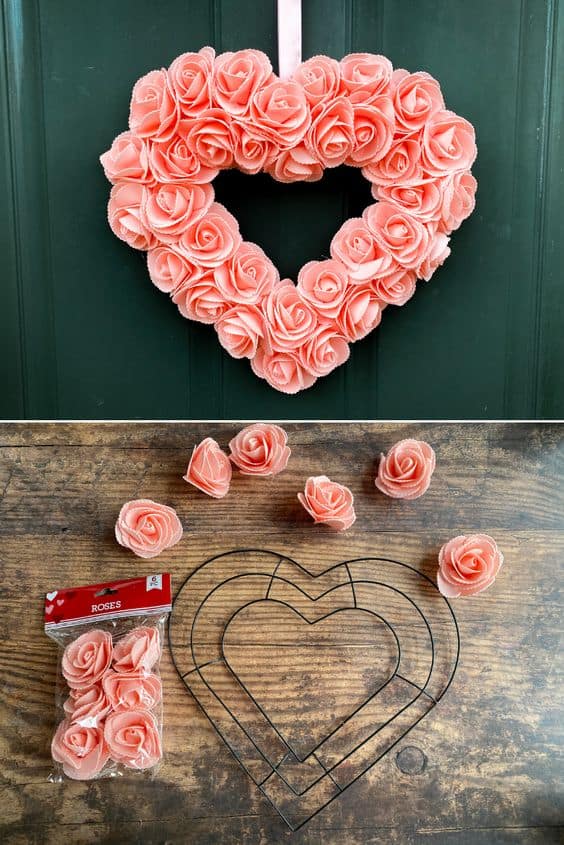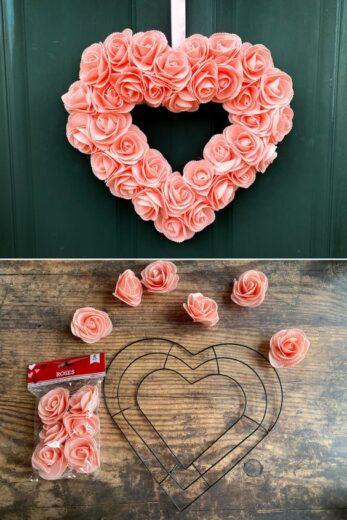 Make a beautiful wreath out of dollar store items. Get the tutorial here.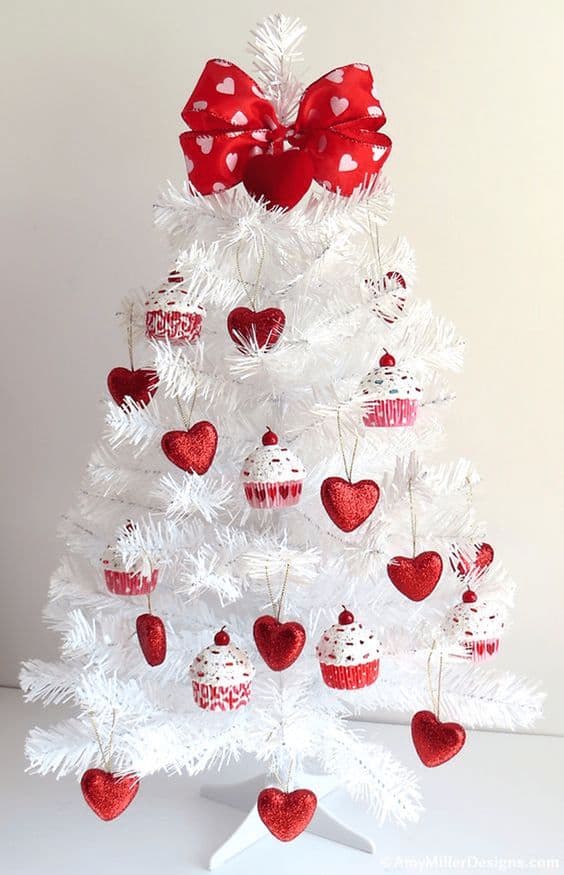 Repurpose your Christmas tree with this tree of love Valentines Day decoration idea from Amy Miller Designs.
---
Let us know what you picked and how it went, we'd love to hear about it. Keep checking back, we'll be updating the list.
Love,

Posts You May Also Like:
Remember to Pin it for later.