The Ultimate Guide To Easy DIY Gifts For Mom
Updated 2023
We still make our mother atleast one DIY gift every year for Mother's Day and Christmas eventhough we're well into adulthood. We think it adds a more personal touch to any store bought gift and feel she deserves something as unique and special as she is.
We comprised a list of our favorite DIY gifts we've made for our mother through the years and a few variations for each one.
Most of them are easy enough for kids to make but pretty enough for adults to admire. The best part is they cost mere dollars, if anything to make.
We divided it into the following sections:
Shrinky Dinks

Sun Catchers

BookMarks

Candy Stash

Flower Pot Ideas

Plant Ideas

Rock Art

Vases & Containers

Votives & Candle Holders

DIY Sharpie Mugs

Jewelry

Cards

Unique Gift Basket Ideas

DIY Tiered Displays

Crochet
So sit back, scroll through, and pick one of these personalized creations for the special mom in your life…and don't forget Grandma.
For store bought ideas she'll use forever checkout our Ultimate Go-To Gift Guide.
PIN This To Pinterest For Later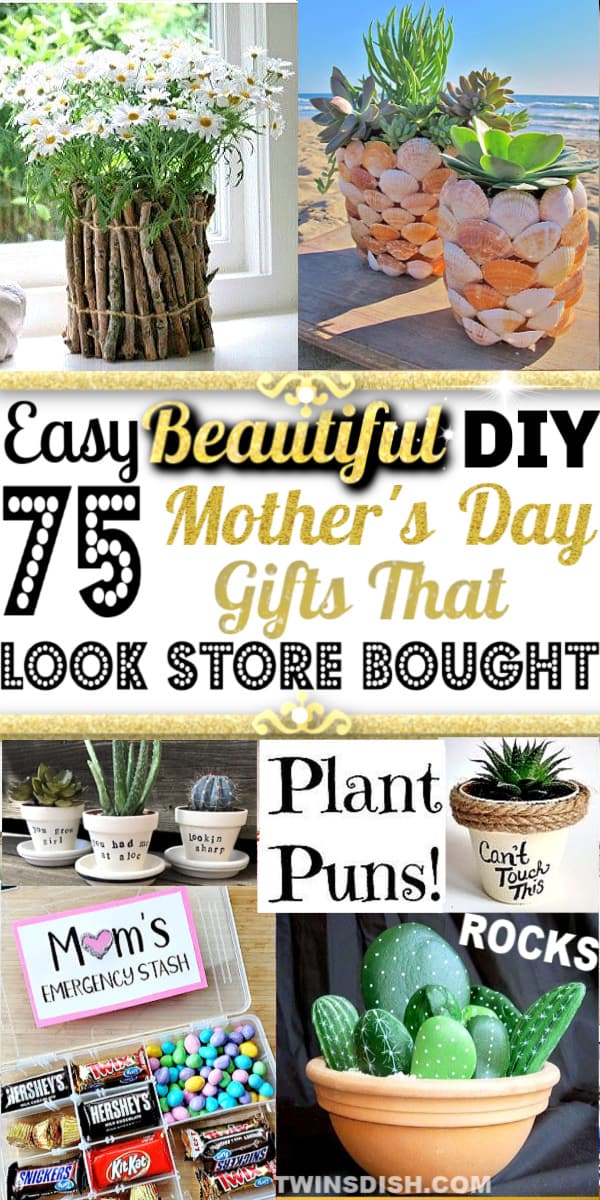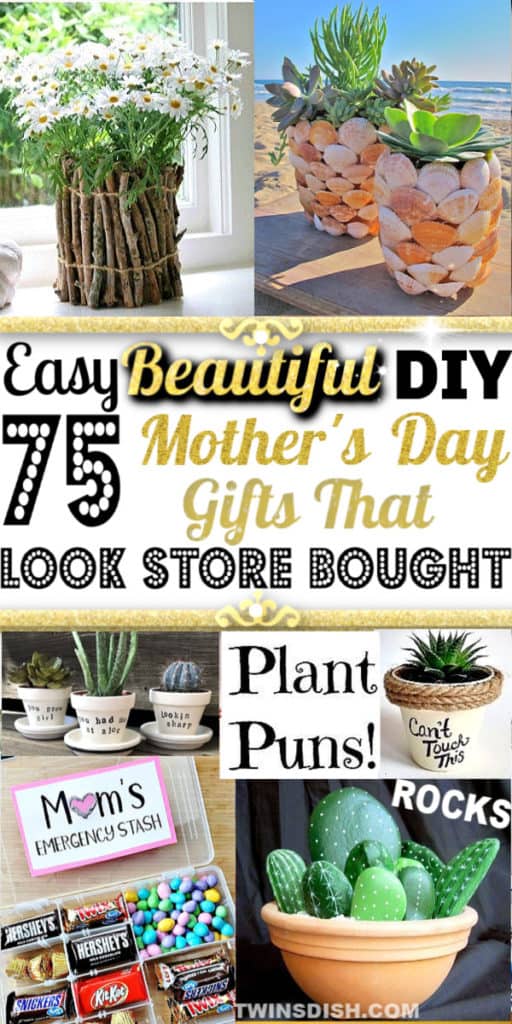 Shrinky Dinks
The first Mother's Day gift we ever made, that wasn't a scribble drawing, was a shrinky dink necklace when we were 7 years old. Our Mom still has it to this day.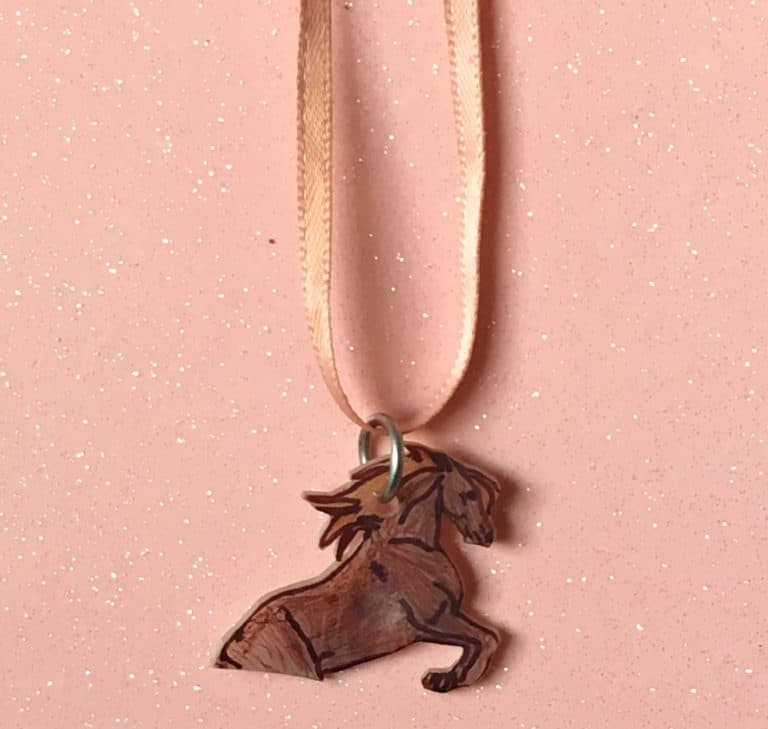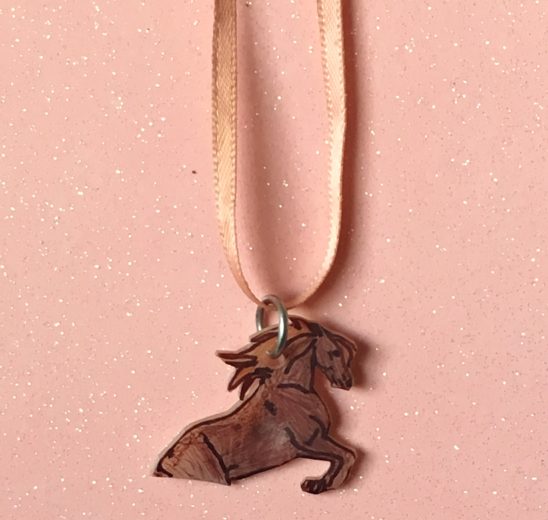 We traced our horse and colored it with markers on shrinky dink paper then used a hole puncher to make the hole before putting it in the oven. After it cooled we attached the jewelry ring and ribbon. You can easily omit the ring.


You don't even need special Shrinky Dink paper, you can make them out of clear plastic food take out boxes or empty bags of chips!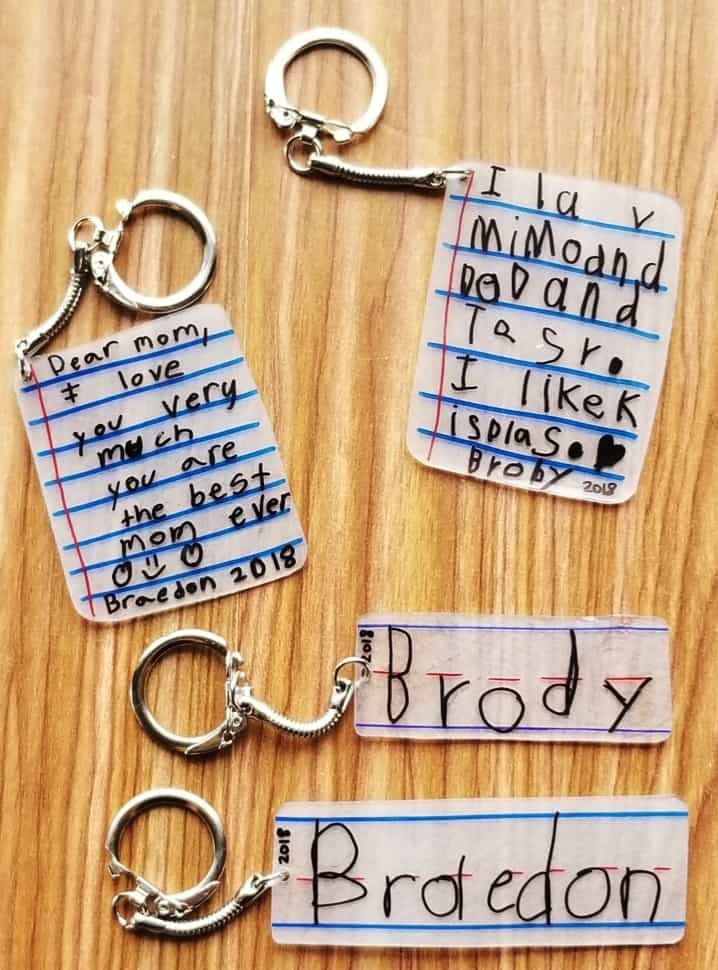 We love shrinky dink gifts because they're so versatile. Older kids can write a heartfelt message to Mom or Grandma and younger kids can write their name or draw a picture for keychains or jewelry. Be sure to paint a coat of clear nailpolish over the writing to make it last.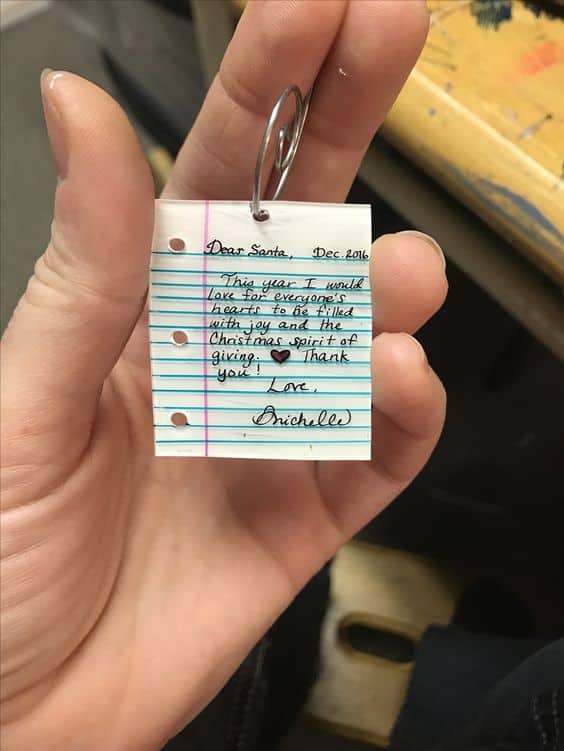 They're such an adorable and thoughtful gift that's easy for people of all ages to make. You can find different kinds of Shrinky Dink paper at most craft stores or online through Amazon.
They come in many colors and usually run about $6 to $7 for non printable paper and $10 – $12 for printable. The two main brands of paper are Shrinky Dink and Grafix Shrink Film. Shrinky dink paper does give off some fumes when baking so be sure you're done cooking dinner for the evening before baking.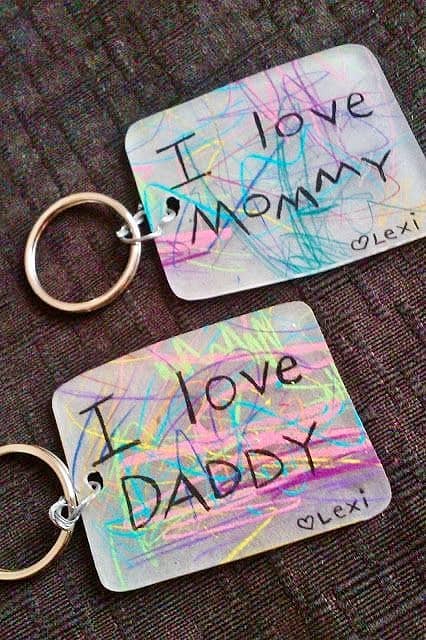 All it takes is some shrinky dink paper, Sharpies, and a little imagination and you can have a keychain for Dad and a necklace or bracelet for Mom.
Honestly Shrinky dink gifts are good for both Mother's and Father's Day, not to mention gifts for friends and relatives.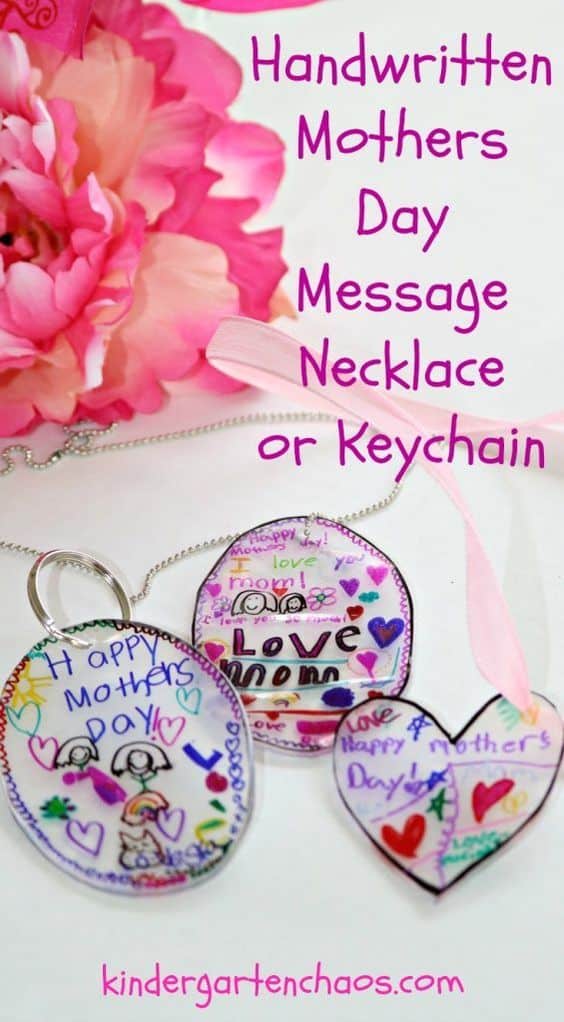 ---
Sun Catchers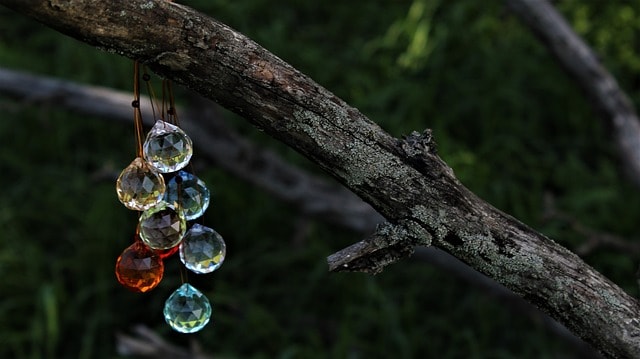 If your Mom has a garden or patio this gift is for her! Sun catchers are gorgeous and super easy to make with beads, flowers, or even sea glass!
You can make them as intricate or as simple as you'd like but they still come out looking beautiful.
This is especially good to do with kids' plastic beads instead of throwing them out. You can string beads or melt them in the oven or on a grill to create these beautiful keepsakes. They look expensive but cost mere dollars to make and will cost nothing if you already have kids beads at home and ribbon or clear nylon string.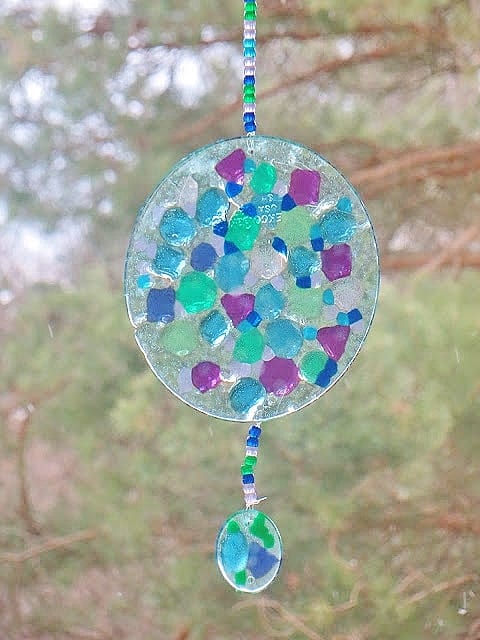 One caveat we must add, if you choose the oven method the smell can be strong. If you're sensitive you should stick to grilling them outdoors.
Use different shape and size baking pans to create various designs, and be sure to include Mom's favorite colors.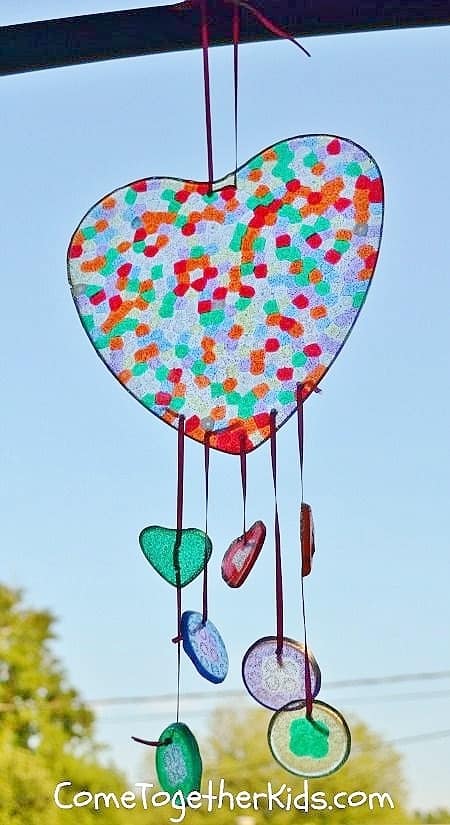 You can also easily mold the beads to make a sun catching bowl for Mom or Grandma she absolutely love!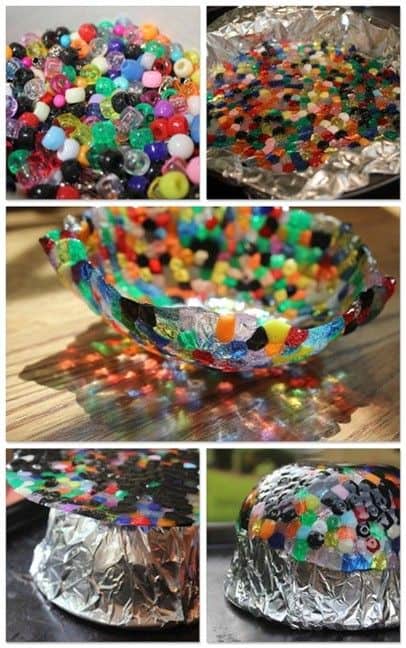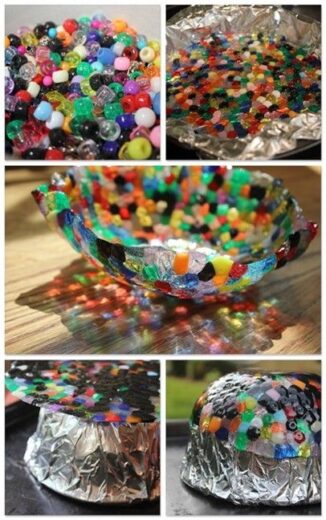 We also like making super easy sun catchers with pretty glass containers. This would be the easiest type of suncatcher for kids to make.
They're a great way to showcase the sea glass and shells we've collected with our mother on all of our trips to the beach.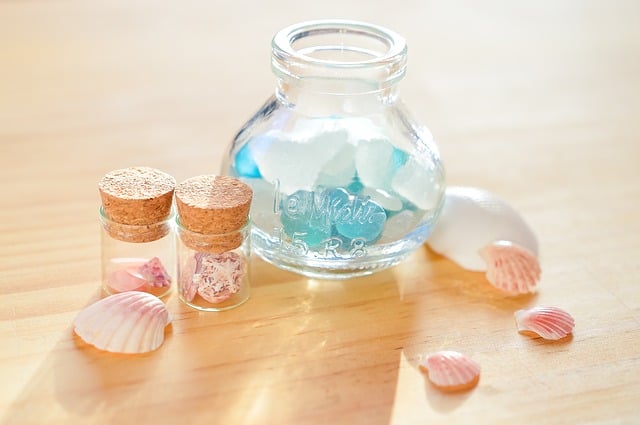 Our mother loves to hang hers in the garden and place them on a patio table but they look beautiful in front of a window. You can write little dates on the shells or stones of when you collected them with Mom.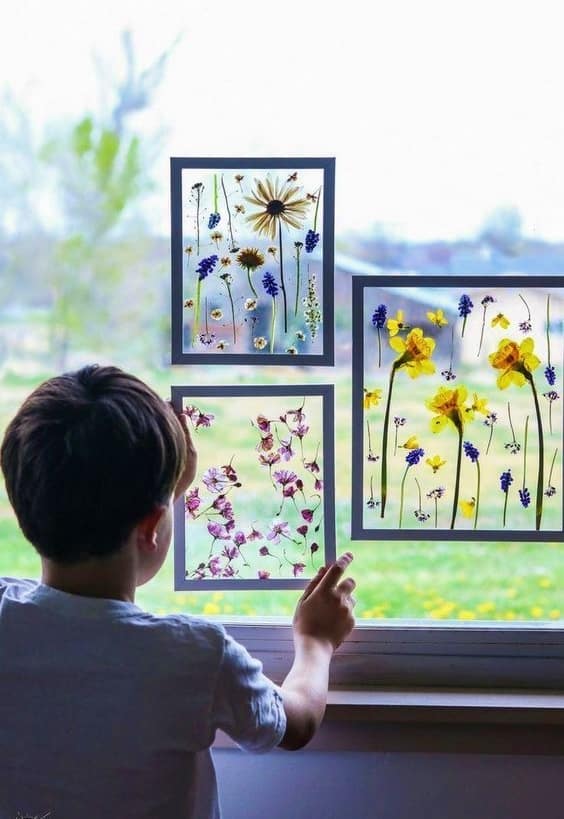 Sun catchers can also be an amazing way to preserve a bouquet.
---
Book Marks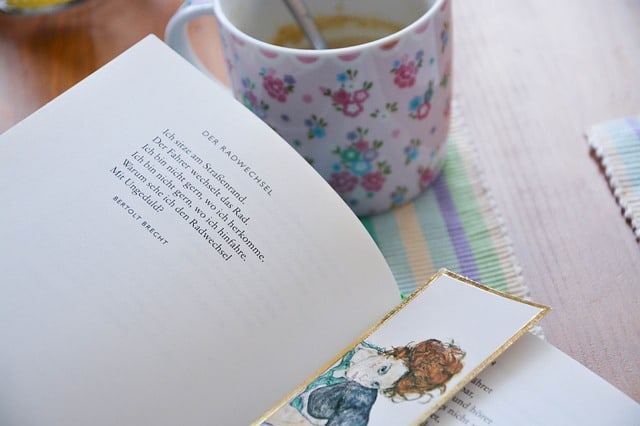 The second gift we ever made for our mother were bookmarks when we were 8. In the front we put school pictures of us and in the back we wrote a sentimental message. We were always happy to find them in her Jackie Collins novels.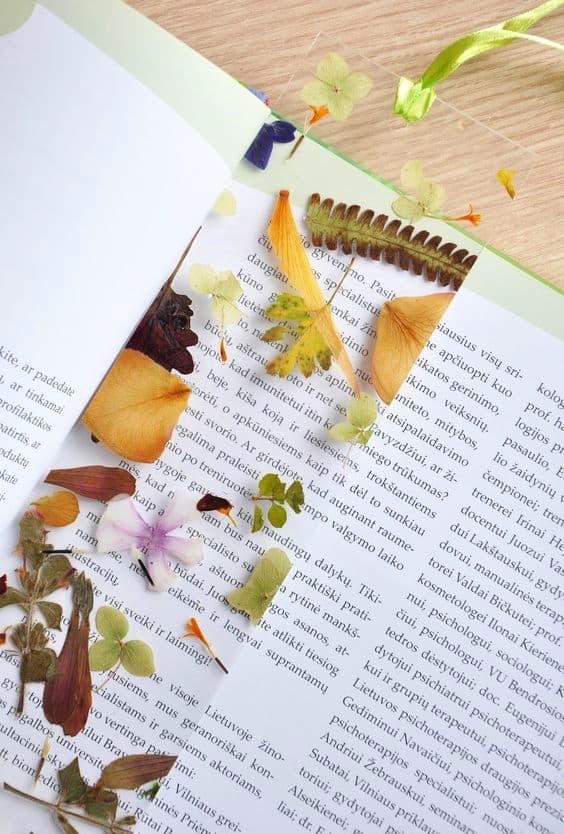 Bookmarks are highly customizable and so easy to make. You can use:
flowers
stickers
felt
drawings
pictures
pretty cardstock/construction paper
paper clip
ribbon
or even crochet
It really just depends on what kind of look and sentiment you're going for. A handmade bookmark would make a great gift on it's own or in addition to gifting your Mom a book.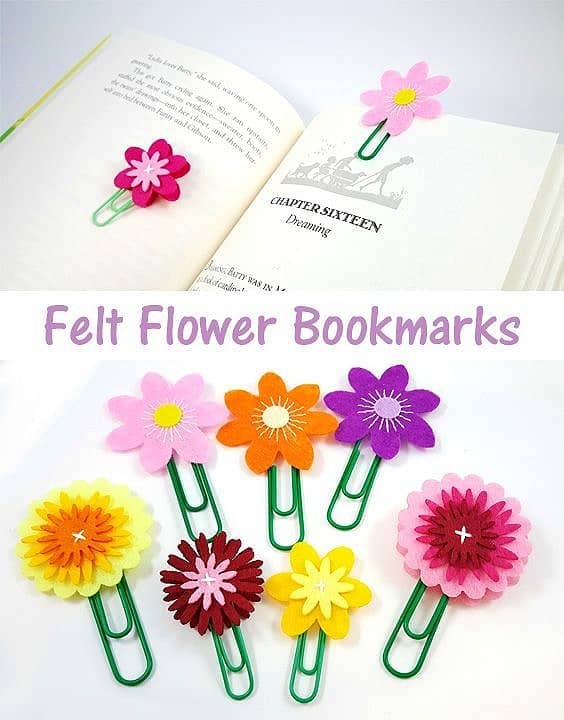 We've made ones that cost us literally nothing to make but even our more elaborate creations didn't cost more than a few dollars. Plus you can batch make them for not only Mom but Grandma and even Grandpa too.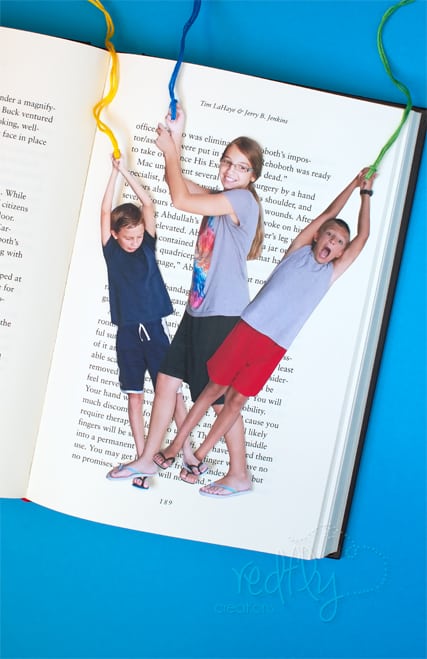 If you're using any kind of paper or pictures it's best to have it laminated OR try our easy HACK: cover both sides of your bookmark with clear shipping tape then cut the excess around the sides.
It works like a charm, is quick, and costs zero to do. Sometimes you just don't have time or resources for laminating, and with this hack, you don't really need it.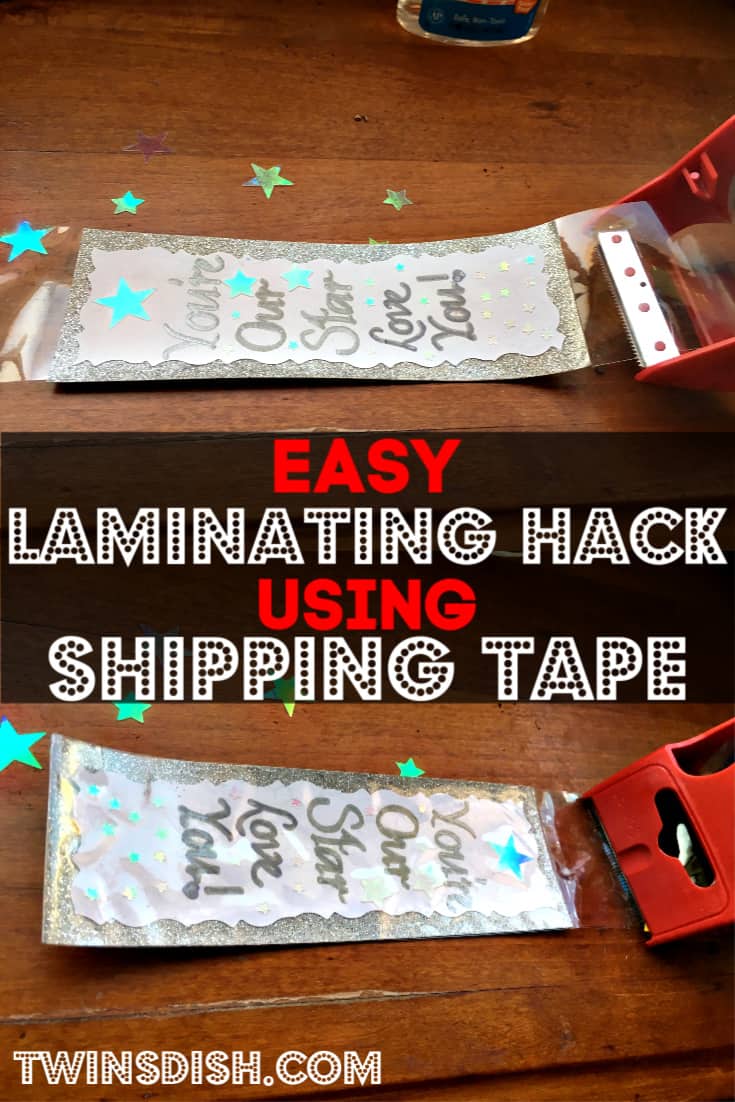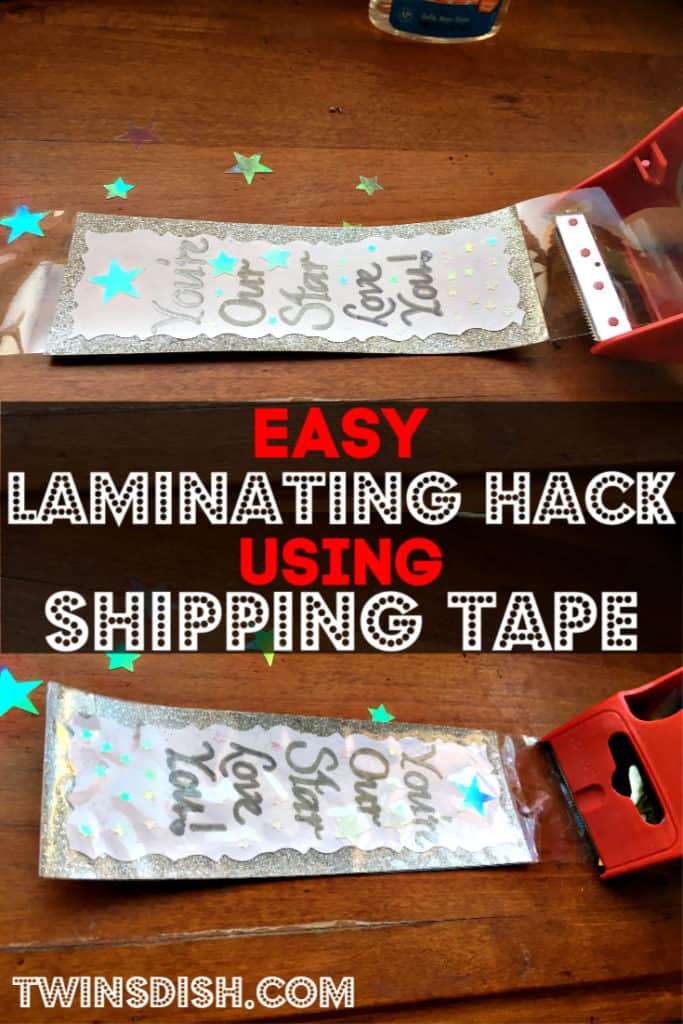 ---
Candy Stash
A few years ago we discovered that our mother keeps a secret candy stash in the drawer of her nightstand so we started giving her gifts to keep it fully stocked and organized.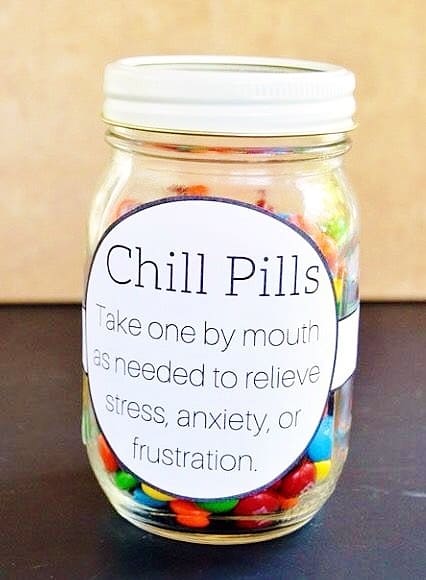 We've made cute candy "pill bottles" out of empty vitamin bottles with printed messages on them, candy bouquets, and even put her favorites in an old bead organizer. It's so easy to do and is a great way to re use containers that we would normally throw out.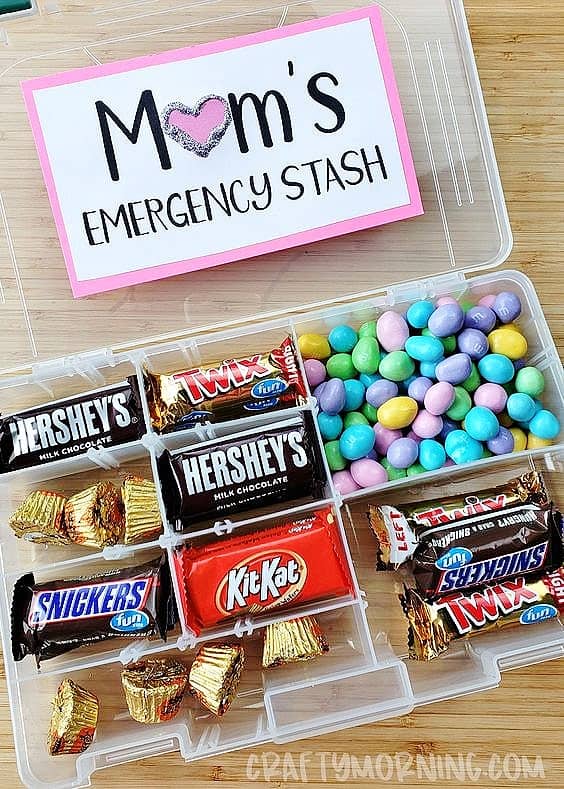 You can also use tackle boxes from your local dollar store or even from home. This is a great gift for not only Mom but Dad too!
Our mother recently lost a lot of weight so we switched to using healthier treats like dried fruit, nuts, and dark chocolate.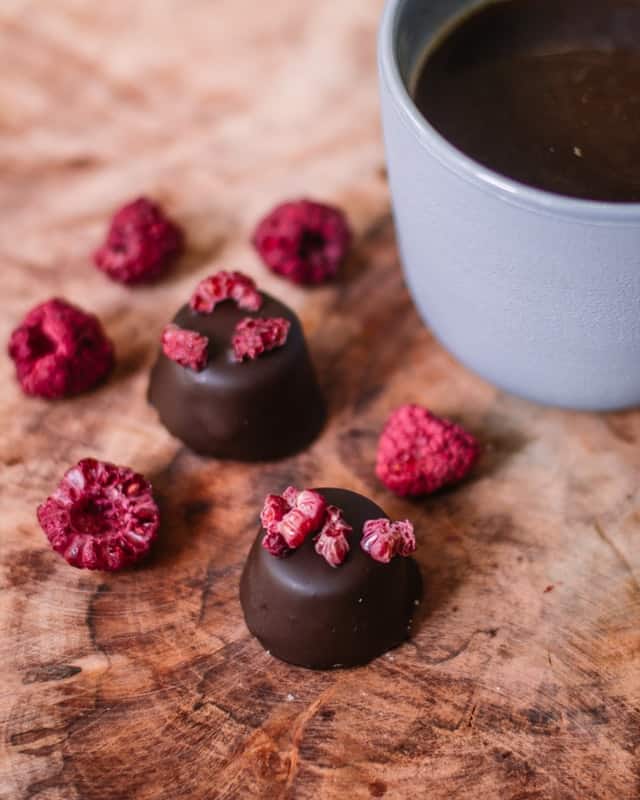 If you want to stay away from candy or food altogether try making a Love Jar. Love jars are calorie free they're also a great reminder for days when the kids may be driving Mom a little crazy.
Just write down your favorite memories with mom, the things you love about her, or the most valuable things she's taught you on little papers and put them in the jar.
If multiple children are doing this they should include their name on the papers. They can paint the jar to make it look pretty or add glitter and rhinestones or anything they please.
It's a thoughtful zero dollar gift that happens to be priceless.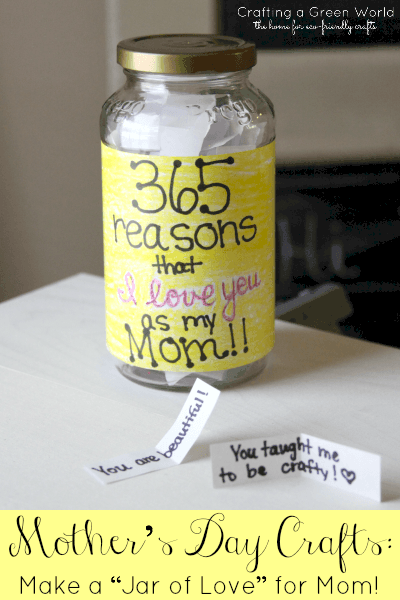 ---
Flower Pot Ideas
We almost always prefer giving our mother potted plants over fresh cut flowers. Not only can she enjoy them much longer but we can easily customize or make pots in all different styles to suit Mom's taste and decor.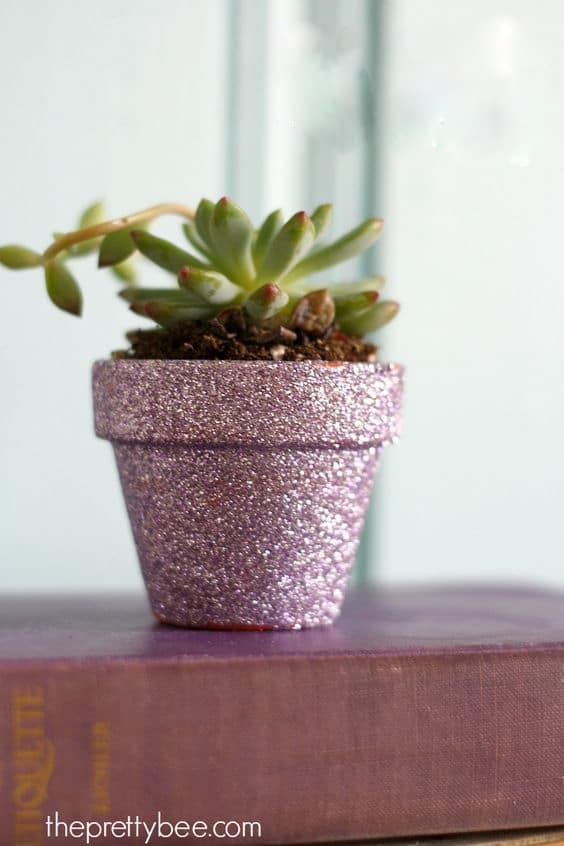 One of our all time favorite pots we decorated for her was using silver spray paint and clear beads and it was really simple to make.
We just painted the pot, waited for it to dry, then painted glue all over the pot and rolled it in beads then pressed the beads down. It came out gorgeous.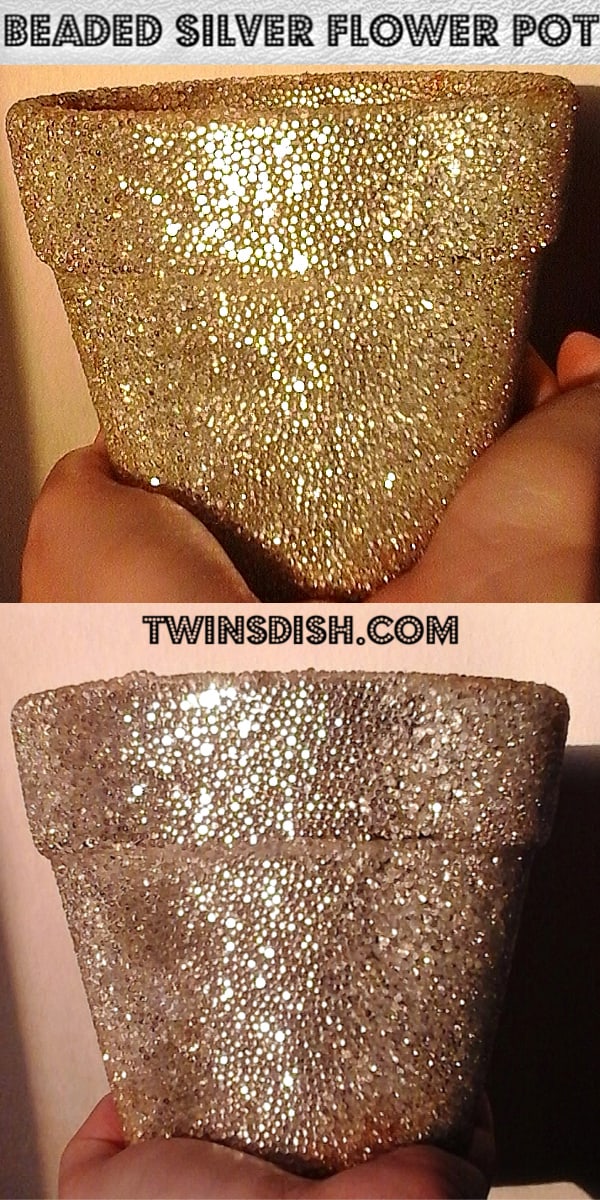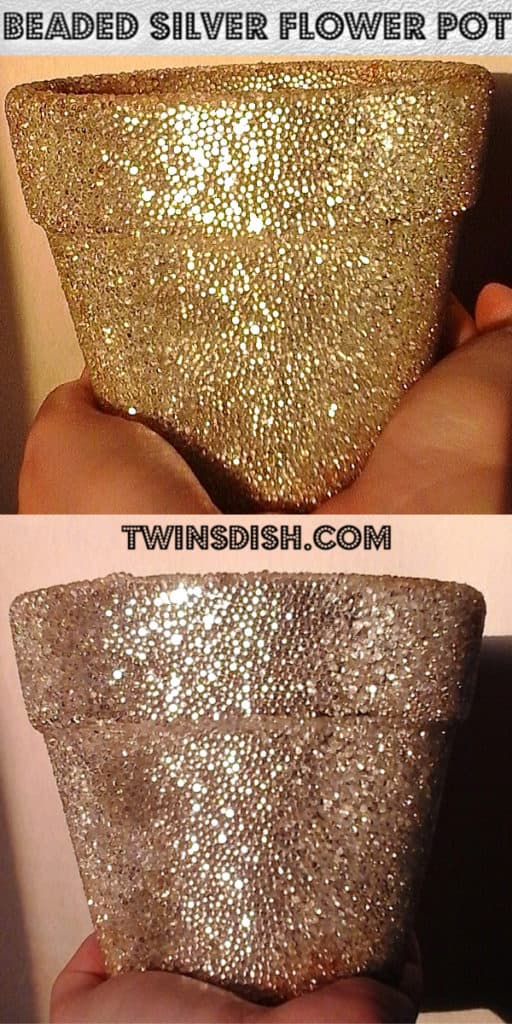 Sometimes we just give our Mother an empty decorated pot for her to upgrade her outgrown plants.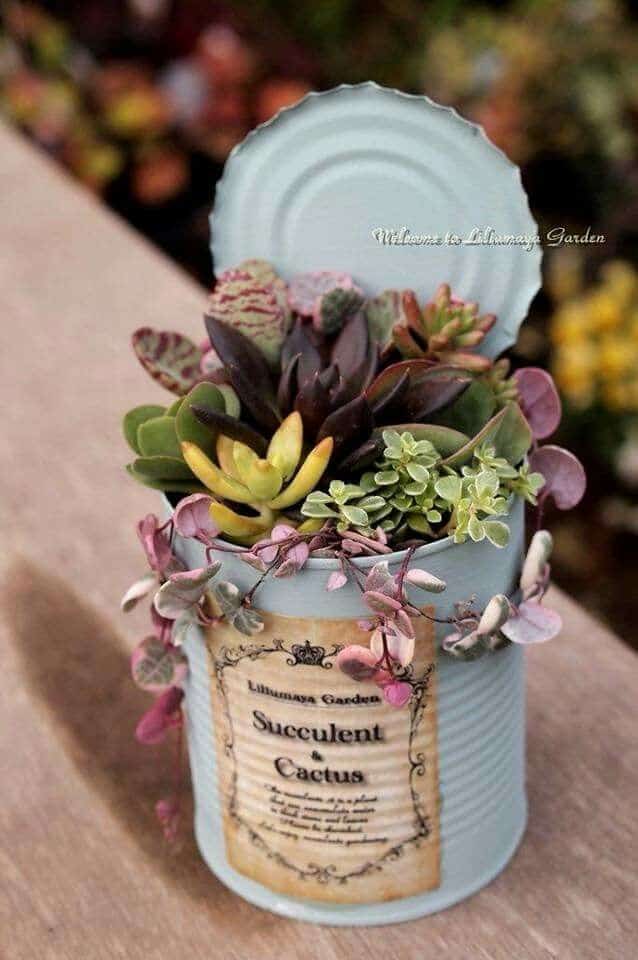 If you live with your Mom you can even just snag one of her existing plants the night before and surprise her with a plant pot makeover the next day!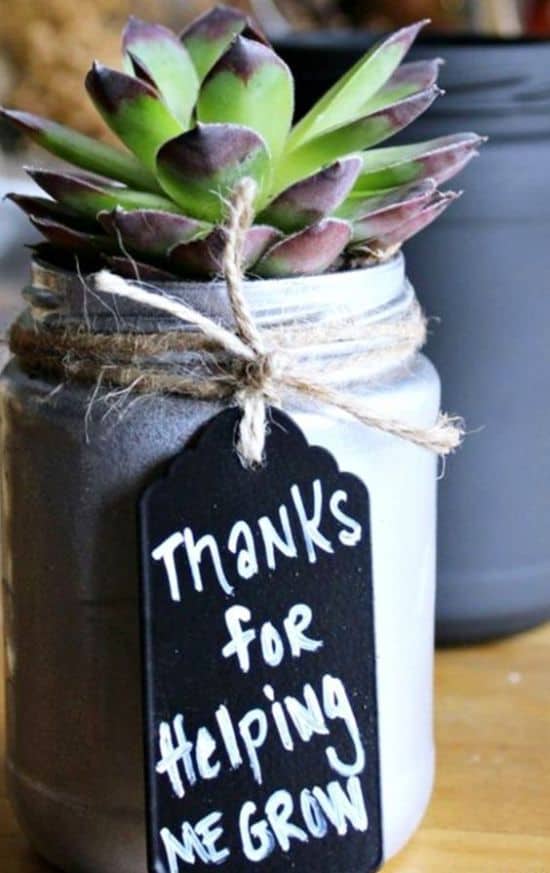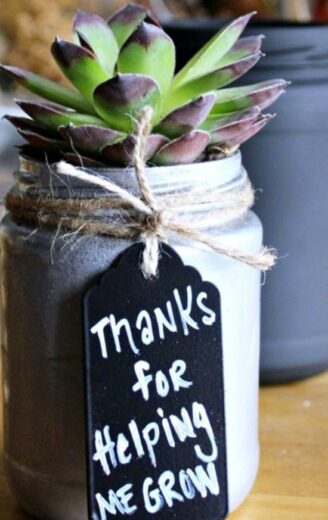 You can personalize any pot and make it a sentimental keepsake or a visually stunning piece, the choice is yours.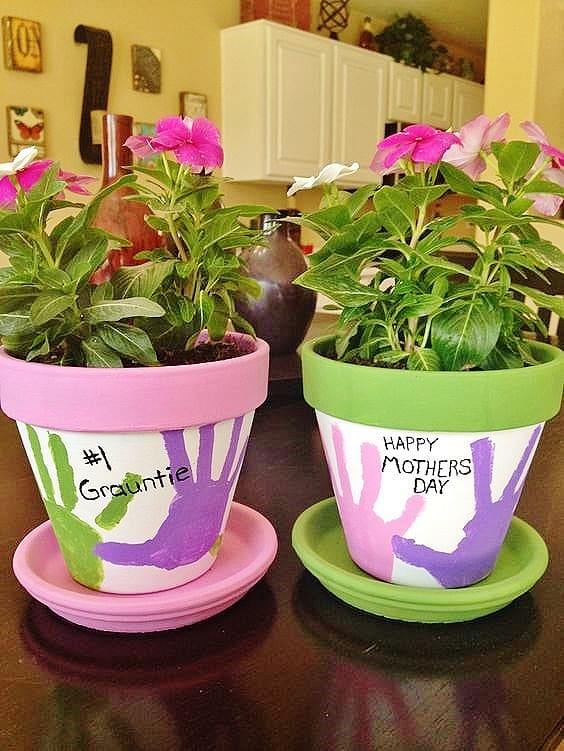 DIY Flower pots are so easy for even infants to personalize. You can use anything you have from either Sharpies, glitter, paint, and hands and feet to make each pot unique.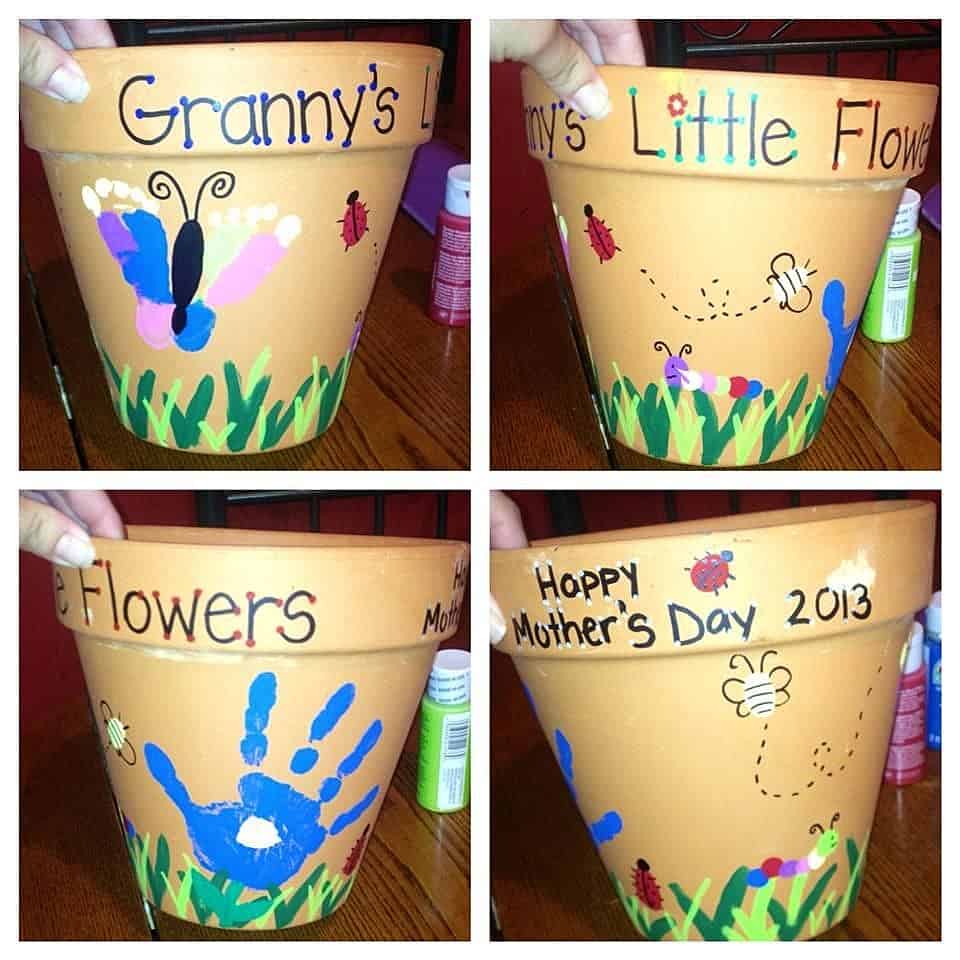 Use puff paint or the kids' acrylic paint to transform a basic dollar store pot into a one of a kind keepsake.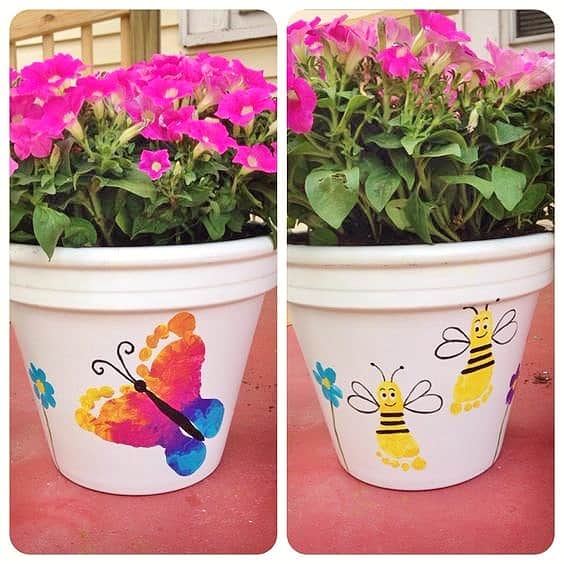 Any painting technique works. Painting with little feet, or sponges and multiple colors before stamping them creates a beautiful effect.
These are one of those rare memorable DIY items that even an infant can take part in making that isn't an eyesore.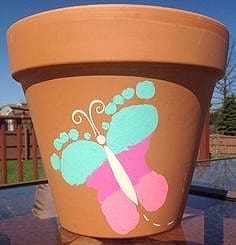 The absolute easiest way to make an adorable pot is by using Sharpie markers. You can paint the pot white first or not at all and draw some of your Mom's favorite things on the pot.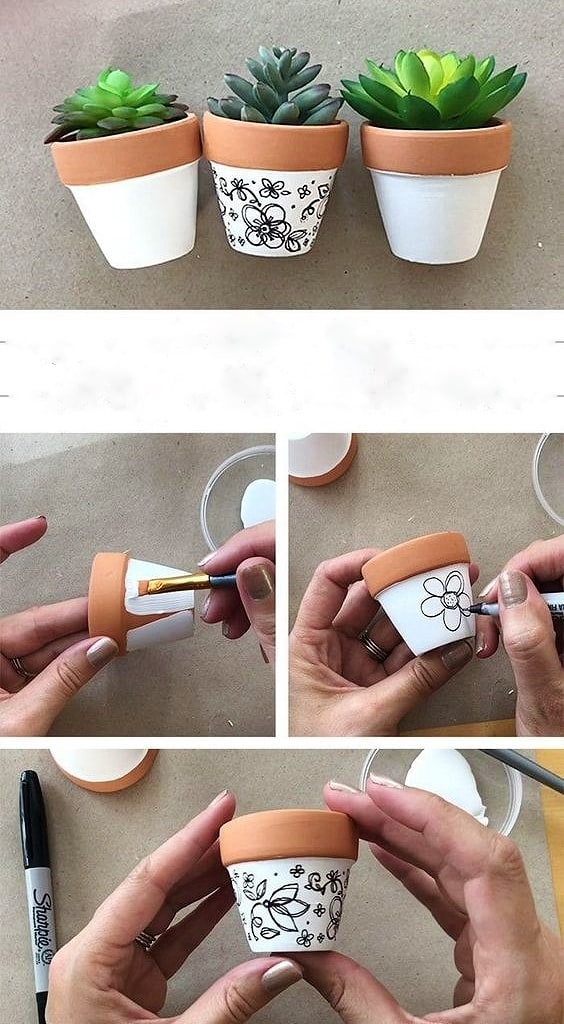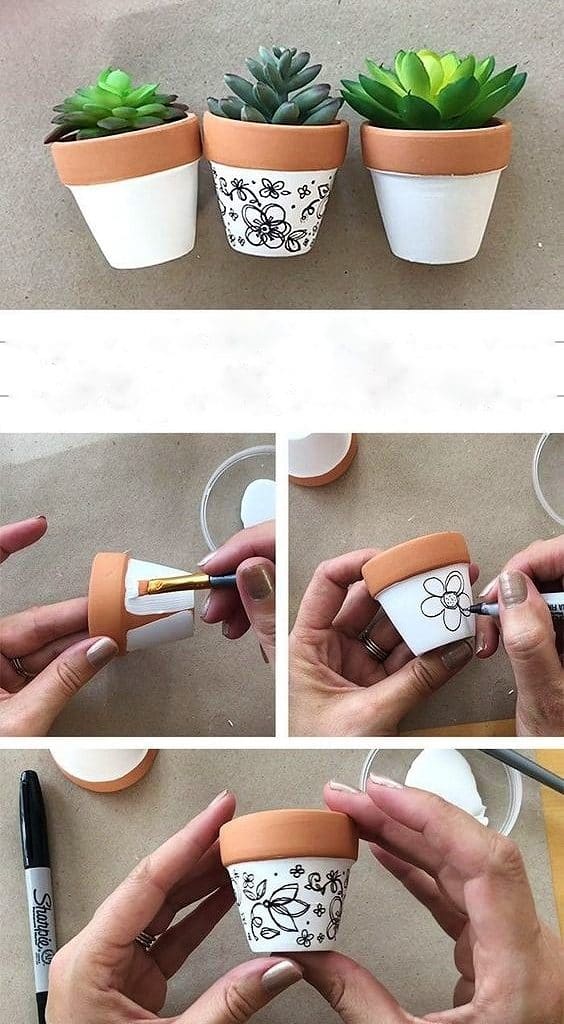 We also like adding a little bit of embellishment to the rim of the pot like rhinestones or glitter. You can use silver, gold or multi colored Sharpies to draw anything from fruit, to a unicorn, to flowers, or hearts.
For a more rustic farmhouse look you can glue gun rope or burlap to the rim.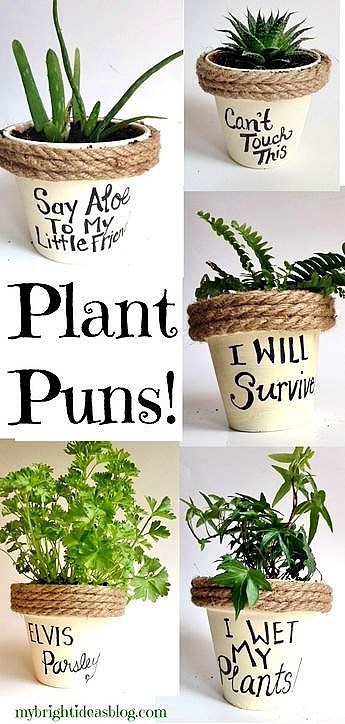 We love Sharpie pots because not only can we easily draw pictures but we can get creative with the messages. We've written everything from heartfelt sayings to witty quotes.
We've gifted these to friends for Mother's Day and even Bridal and Baby showers.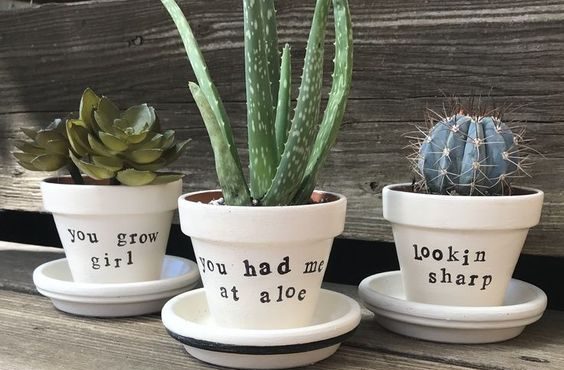 If your mother has a sense of humor (like ours' does) she'll love pots with puns or jokes on them for her herb or cactus garden.
The pun pots we made her were a little edgy (our Mom likes risque jokes) so we won't be posting pics, but here are quite a few others to give you an idea.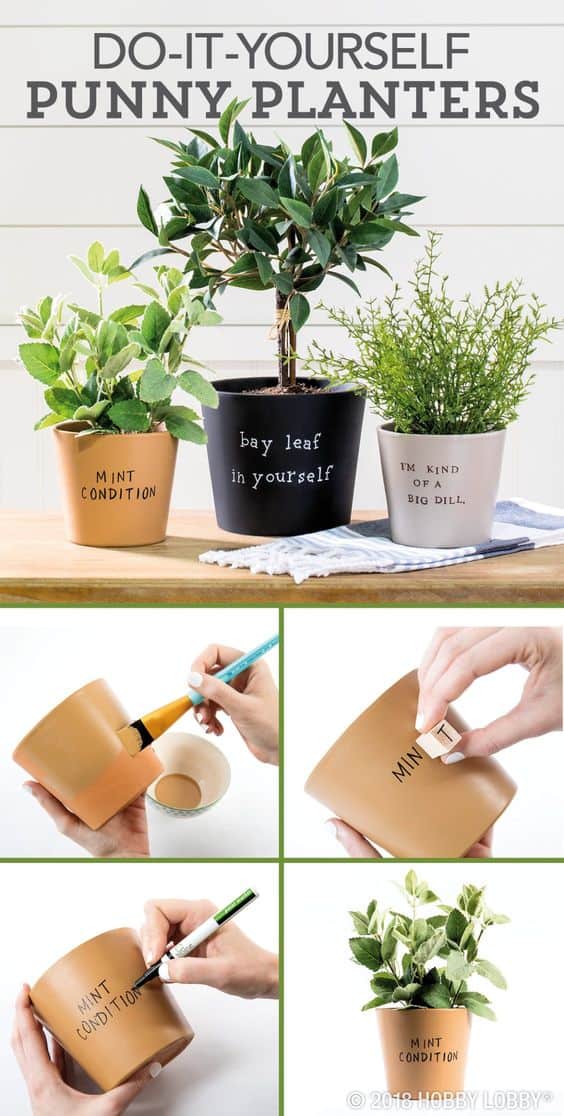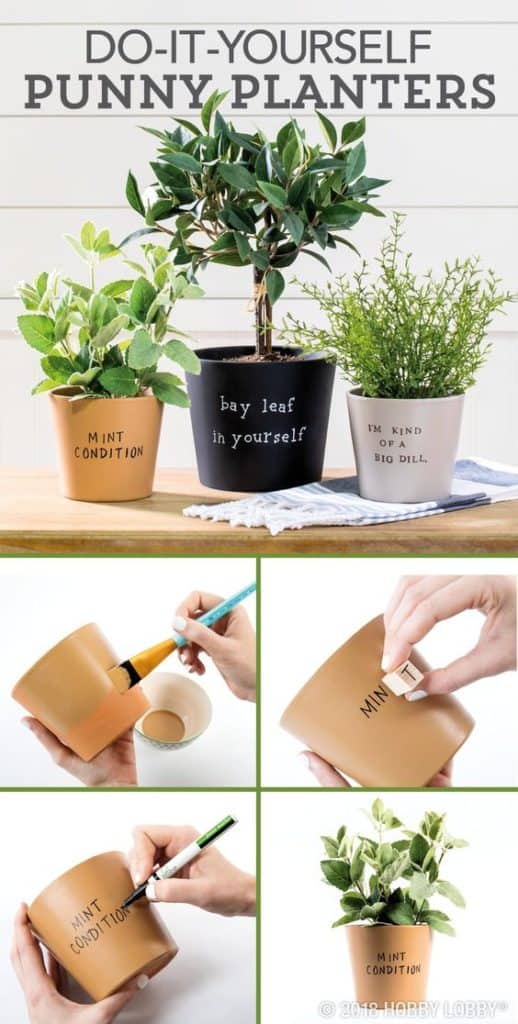 If your writing isn't neat, you can use stamps or stencils for an outline or just stamp her initials on the pot. That's the great thing about this gift, it's fail proof and can be made as simple or as decorative as you'd like.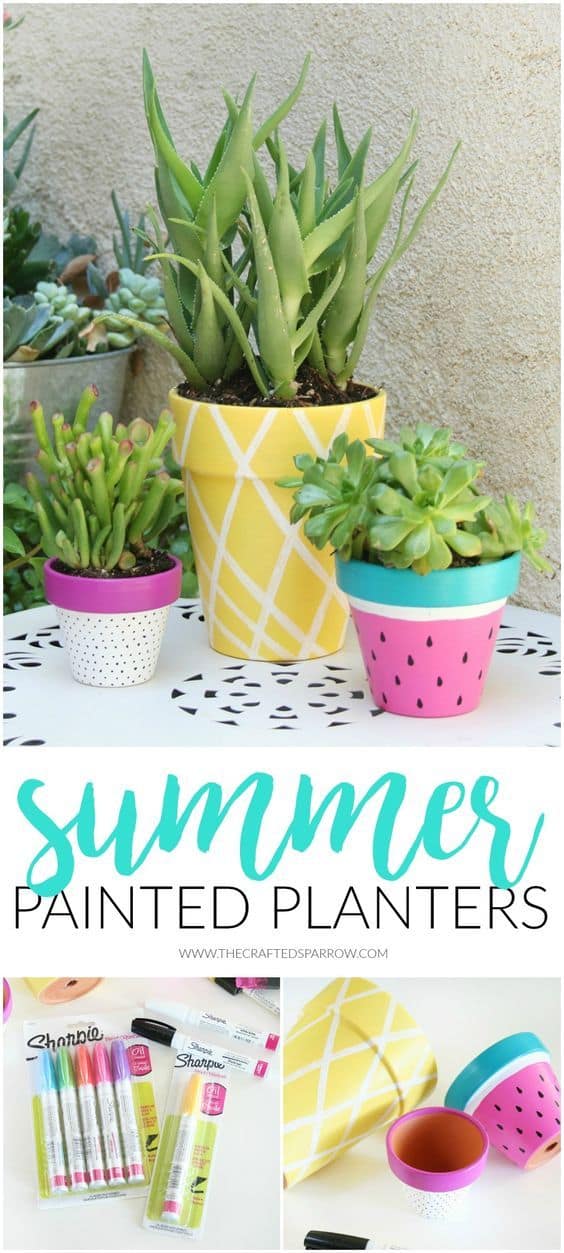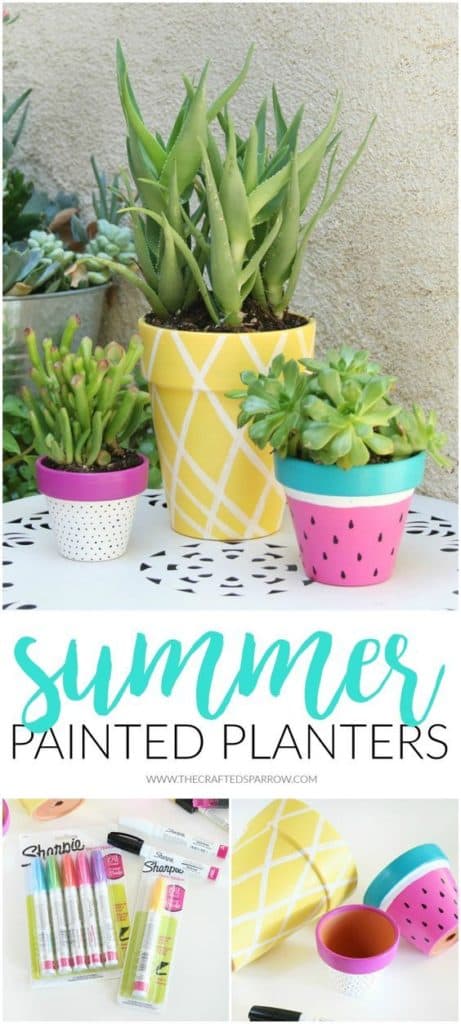 If you have colored Sharpies on hand you can make some amazing designs with them.
Ditch the adult coloring books for the time being and do some color therapy on your Mom's pots.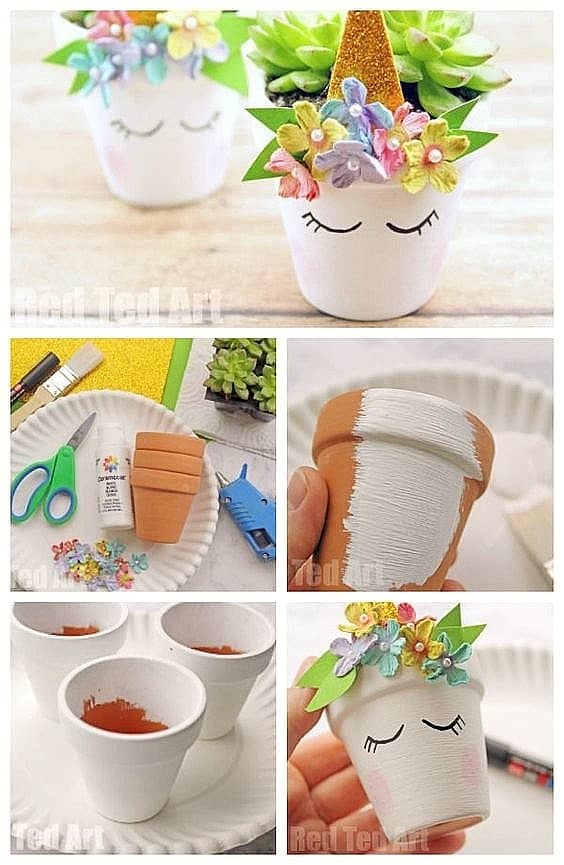 Aside from Sharpies, a glue gun can completely transform a pot.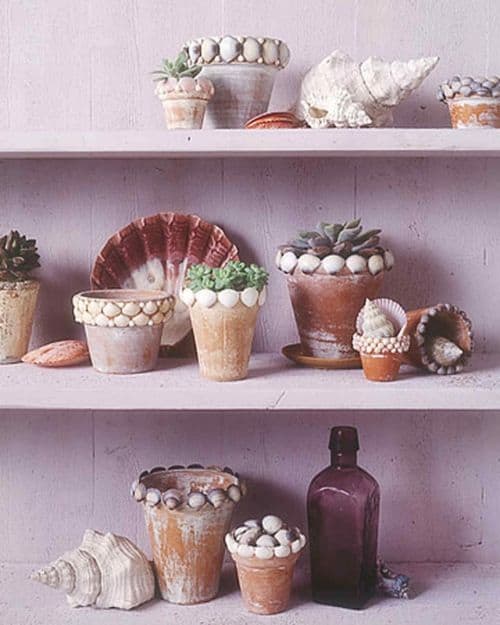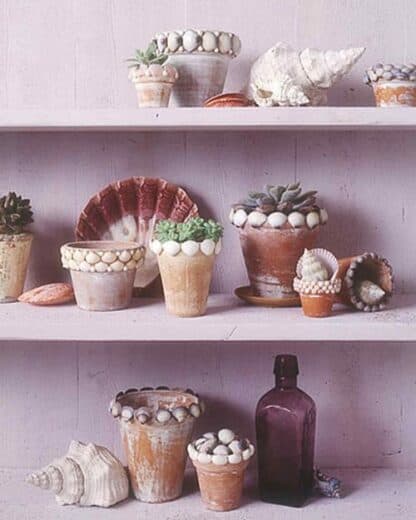 The stones and seashells we collect with our Mother on our trips to the beach are beautifully showcased when glued to flower pots.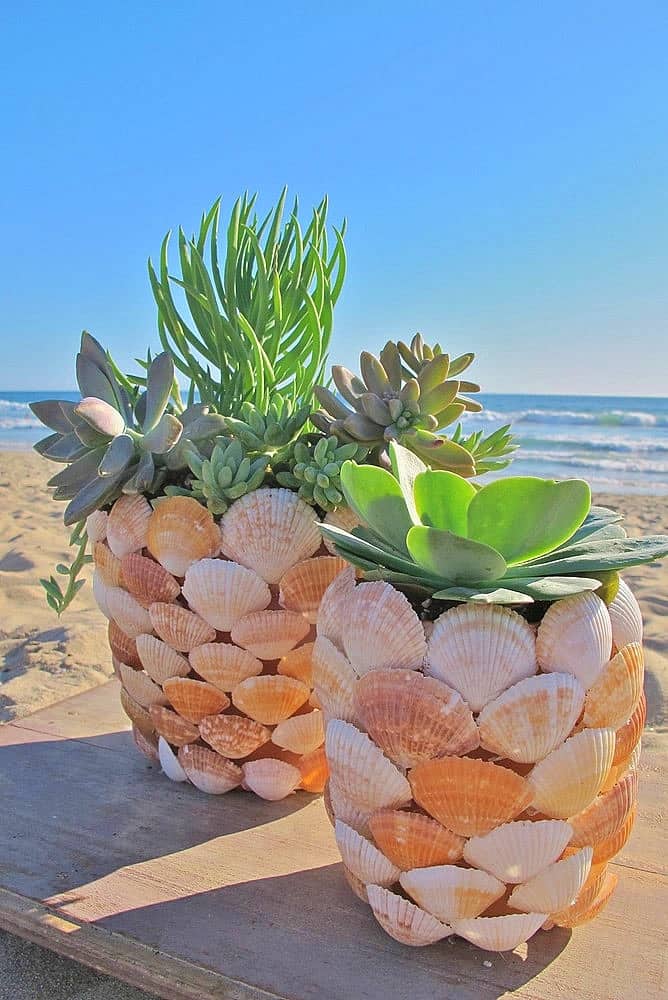 We sometimes use Sharpies to write on some stones, or we paint the edges of seashells with nail polish or glitter before gluing them on. The results are breathtaking and are a favorite in her garden.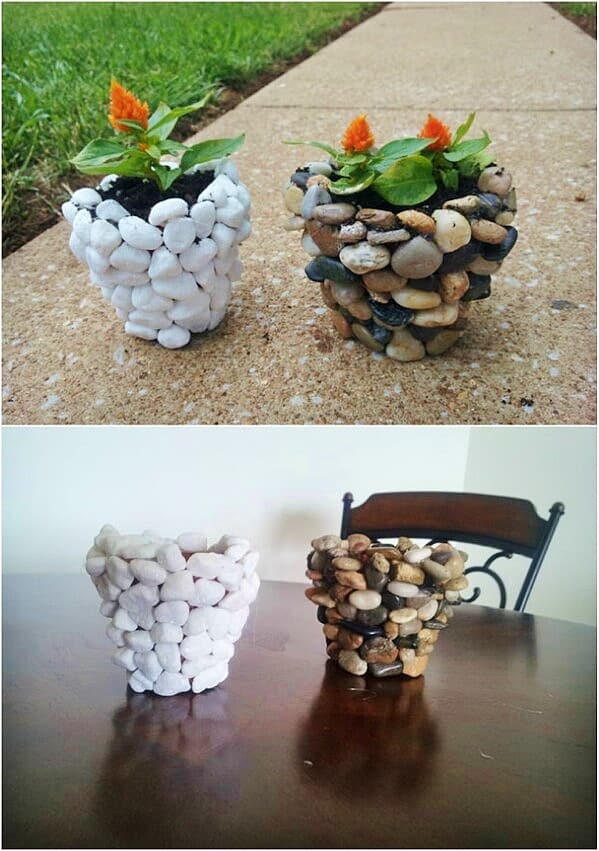 If you have little kids then even just painting and gluing on popsicle sticks can add a pop of color to Mom's garden.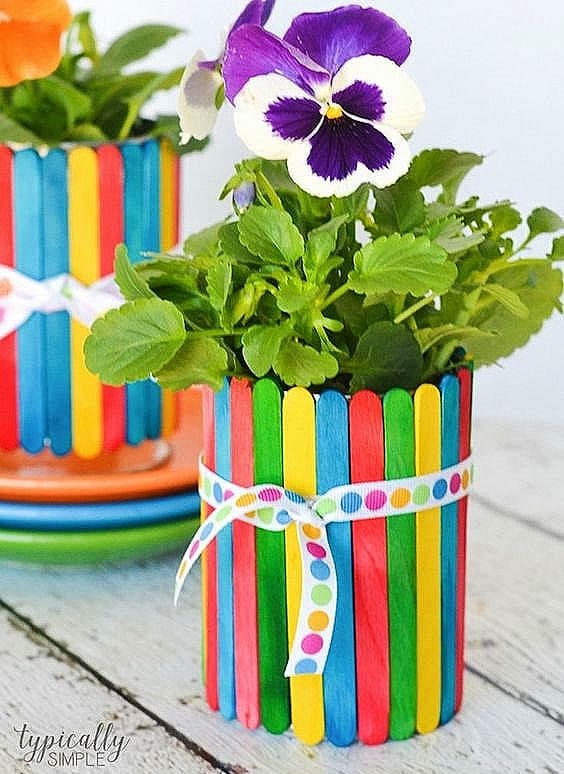 You can glue just about anything to the pot or can of any size…like sea glass, rhinestones, or pennies to make a precious keepsake.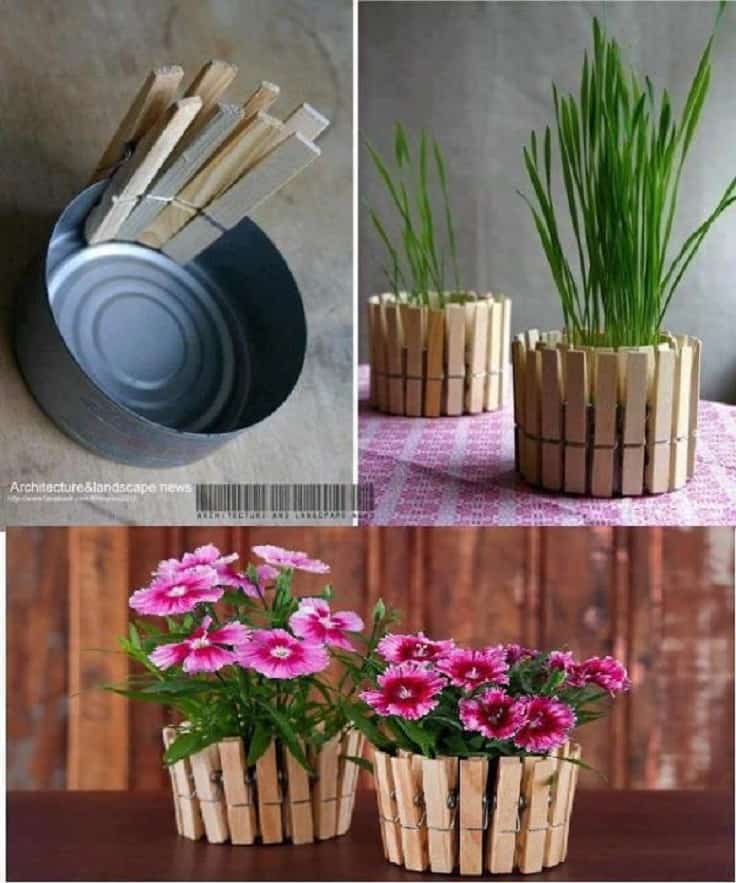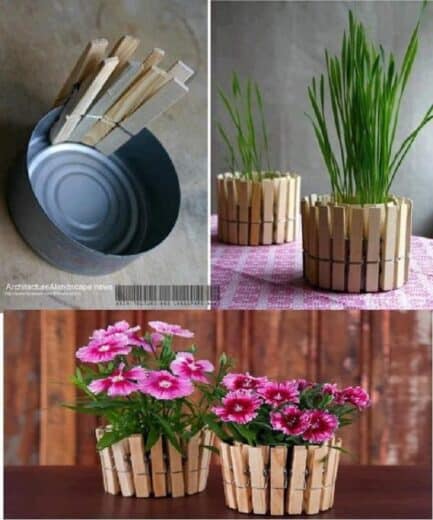 Don't throw out those plastic soda bottles! Upcycled plastic soda bottle planters make an easy and adorable gift for Mom that kids can make.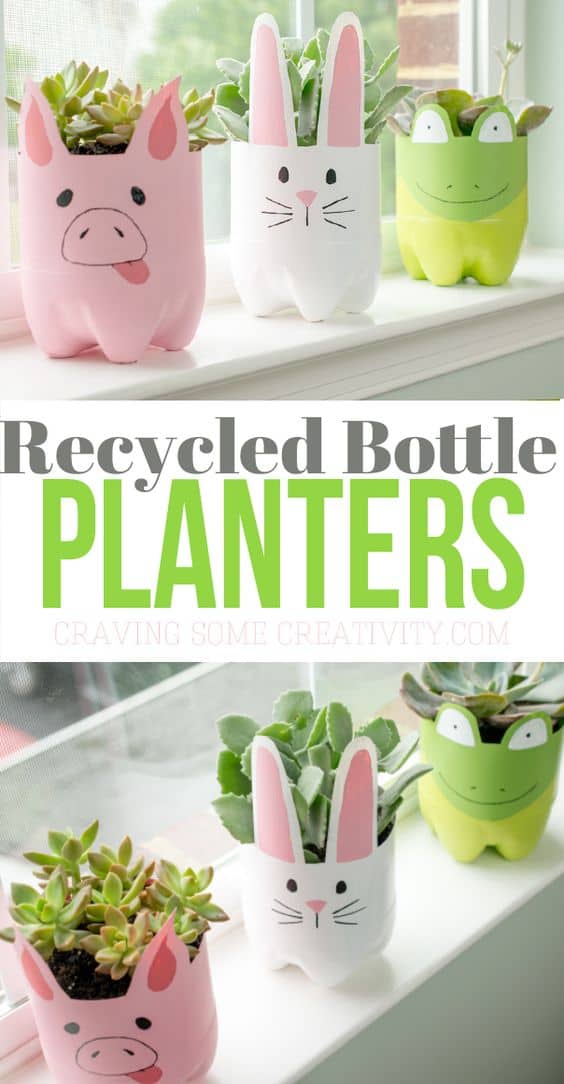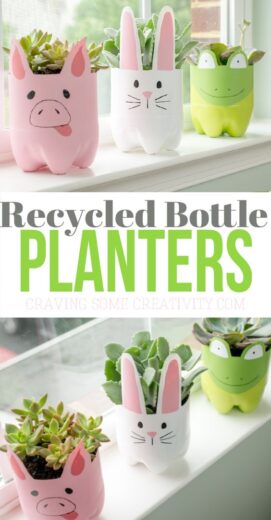 You can also easily make decorate wood planters of any size with pictures to add a personal touch. Just be sure to use laser print copies instead of an ink jet printer. SO adorable.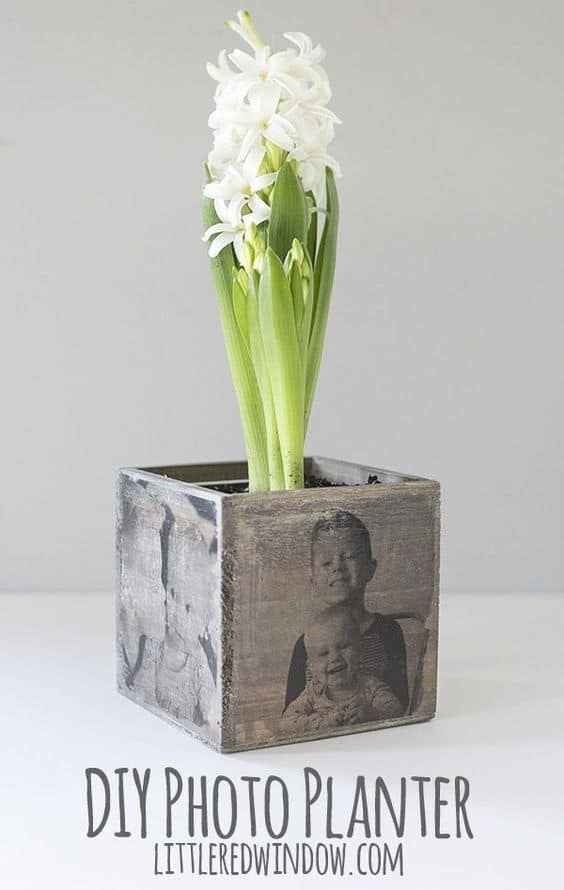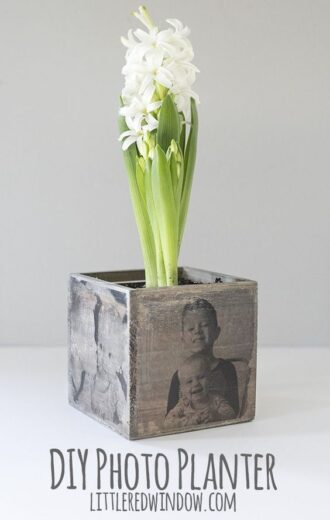 MOTHER'S DAY PHOTO PLANTER TUTORIAL HERE
---
Plant Ideas
A customized flower pot on it's own is nice but if you want something special to put in it, we have some easy DIY ideas that Mom can enjoy forever.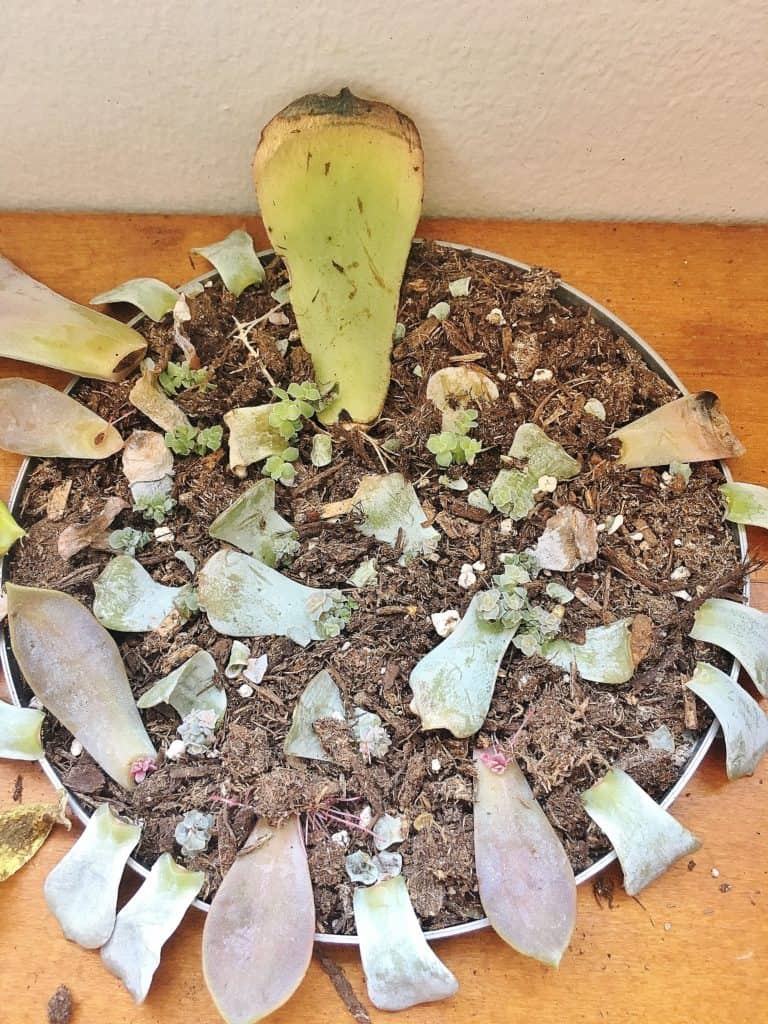 This year we're propagating succulents for our mother using leaves from our own plants. It's so easy to do:
Just gently pluck a leaf by wiggling it from side to side.
Place it on a sunny window sill or on top of shallow soil to let it dry out.
After 4 days start spraying it with water daily or atleast every other day.
You can also cut the head off of one of your succulents (leave a little stem at the bottom) and place it in soil to grow roots.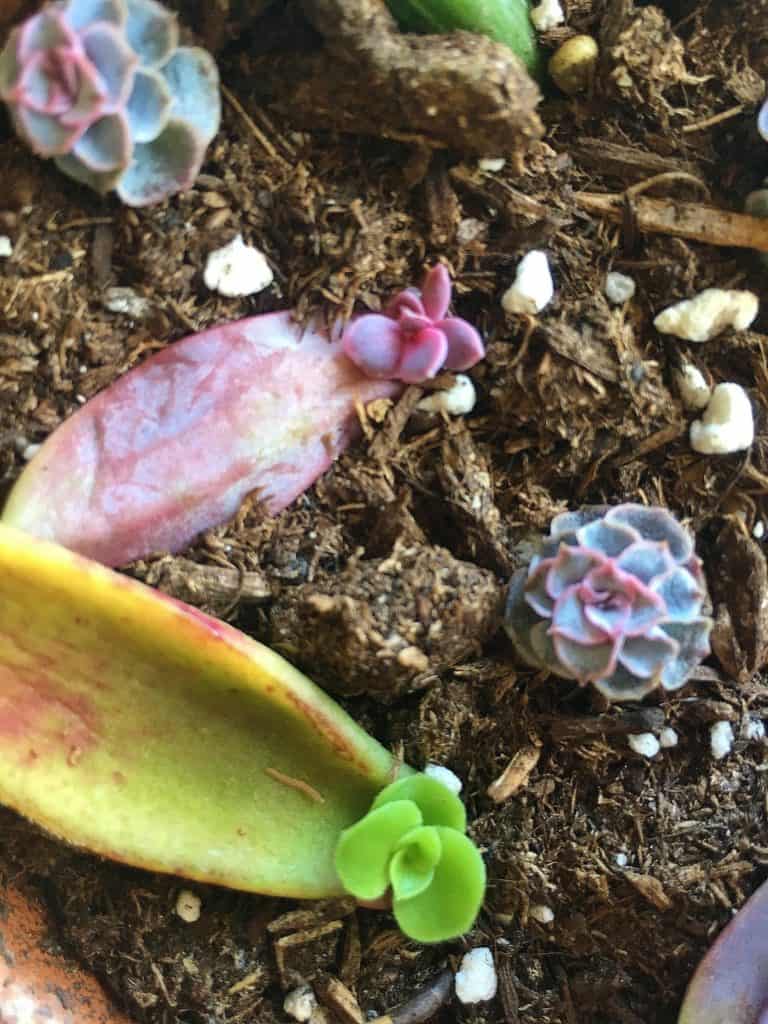 They should start sprouting within 2 weeks.
We specifically love succulents because they're very easy to grow and care for and they can live indefinitely but kids would also enjoy growing any type of plants even from the seeds of the fruit they eat.
When we were little we grew apple and orange plants for our Mom.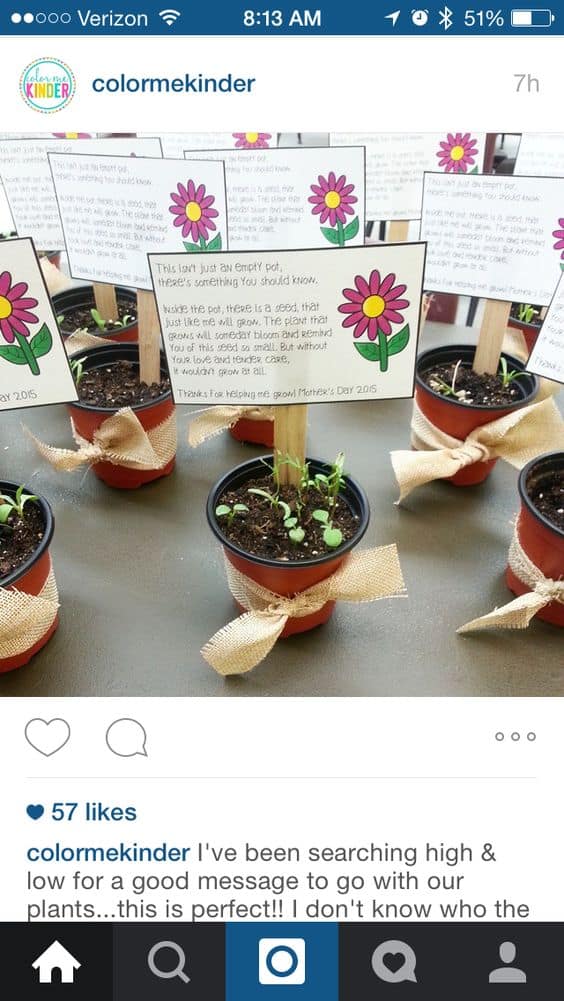 The care and nurturing it takes to grow plants and the joy of watching them grow is the perfect metaphor to use in a touching message or poem to go along with any plant gift.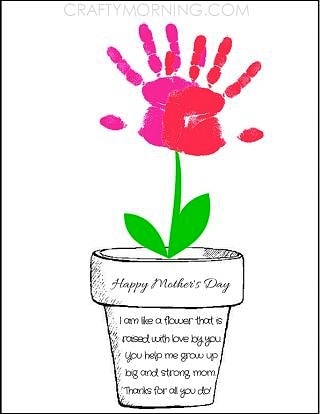 ---
Rock Art
We recently found out that our Mother is allergic to certain plants and trees, so we started looking for an alternative that looks just as good but won't aggravate her sinuses.
We found an amazing alternative that's not only easy to make but is completely hypoallergenic and impossible to kill: Painted Cactus Stones.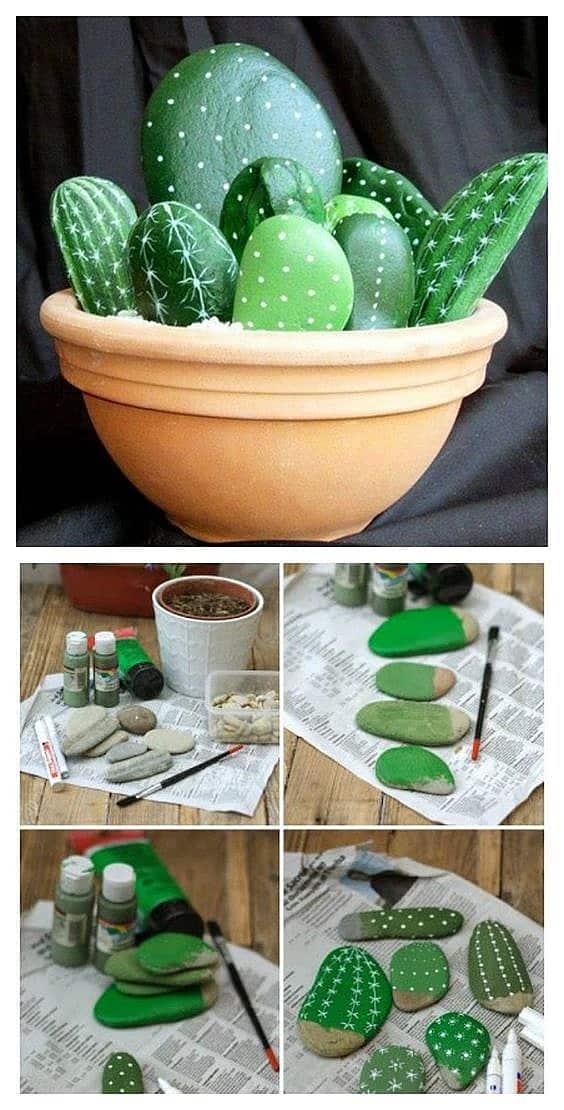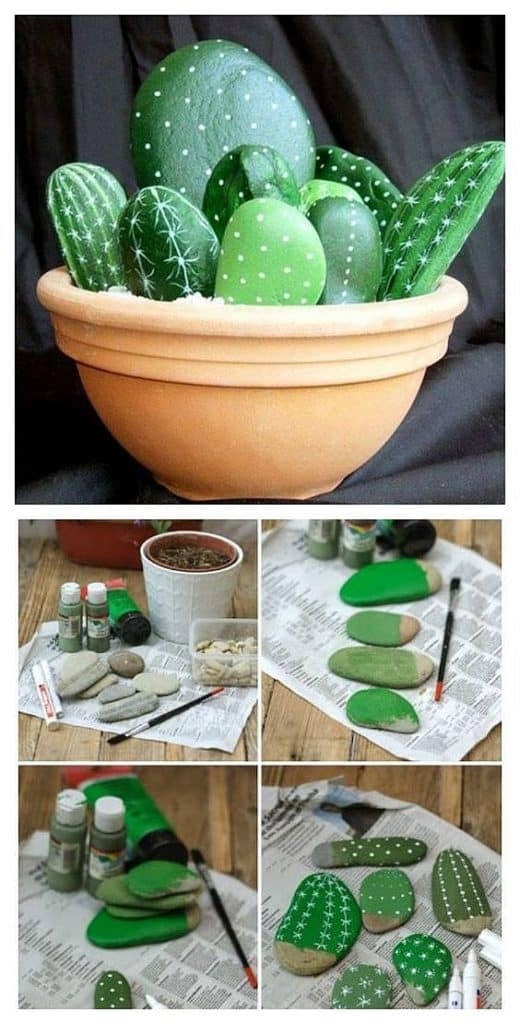 There are a variety of other plants you can paint on stones from strawberries, to daisies, to pumpkins, but we think cactus are the most beautiful and easy to do.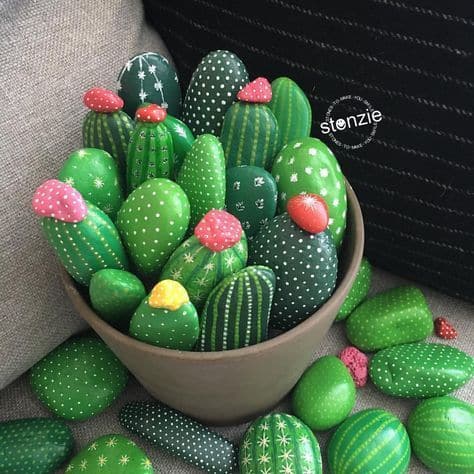 Stones and green and white paint is all you need. They're super easy for even kids to do.
They'll last forever and can be used as a table or garden decoration, paper weight, or even a door stop.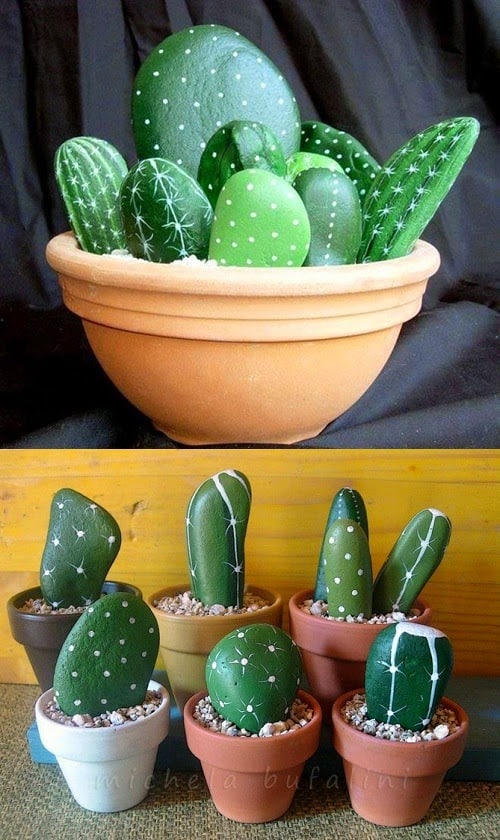 You can make larger cactus arrangements or single small ones for mini pots.
This is a great gift idea for anyone including teachers and Fathers. Our Mother used to keep her mini stone cactus plant on her desk at work.
You can also customize the cactus plant pot too.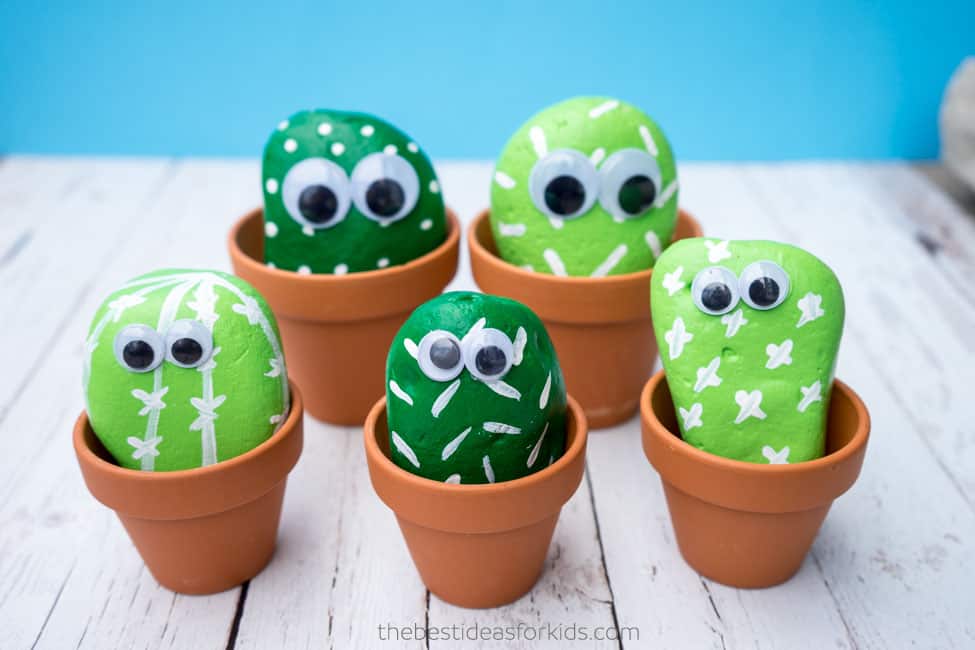 Glue embellishments on stome cactus plants like smaller stones or flowers for a more elaborate look and even rhinestones.
We haven't tried it yet but we're going to whip out a bottle of puff paint for texture on our next cactus creation.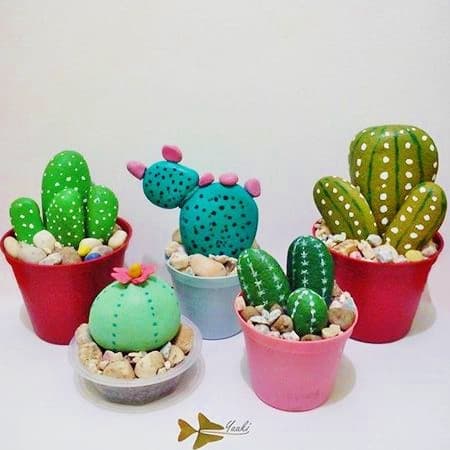 Just about any shaped stone can be turned into a cactus with a little creativity. It's so beautiful.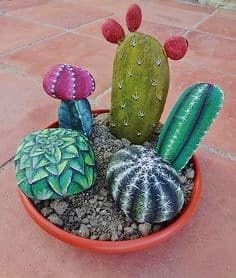 Make an adorable Rock Family votive! This is something kids can do or help with….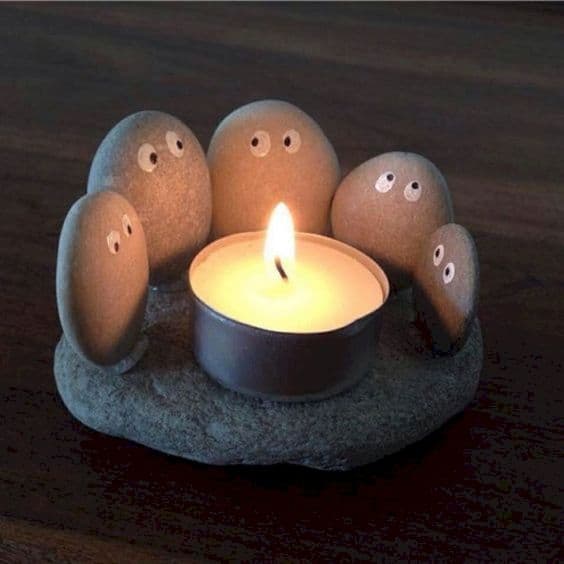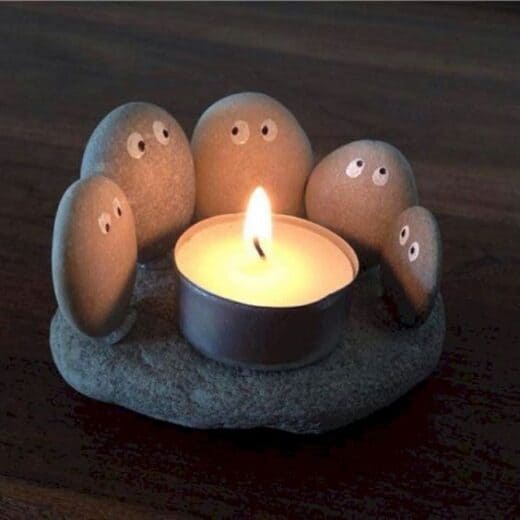 Just get a larger stone or rock for the base and smaller stones representing each family member. Paint or draw eyes on and glue in place. Add a tealight and you have an adorable family votive.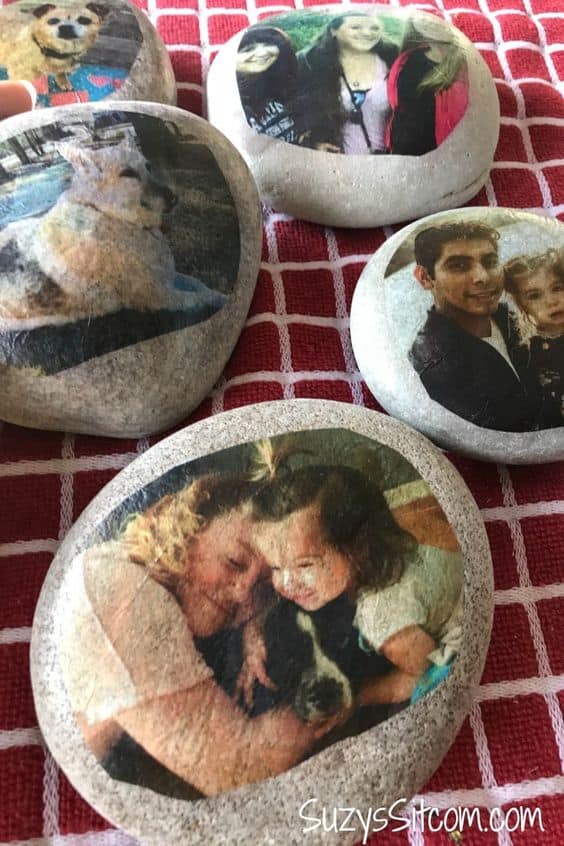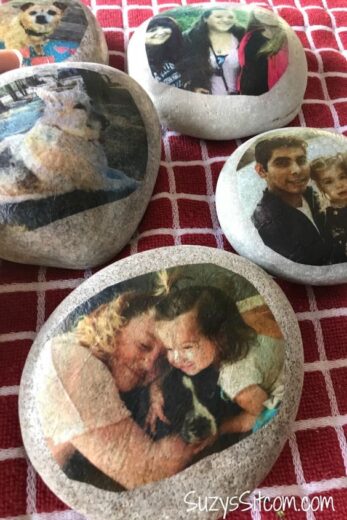 Easily transfer your Mom's favorite photos to rocks or stones for a thoughtful keepsake Mother's Day gift that'll last forever.
---
Vases & Containers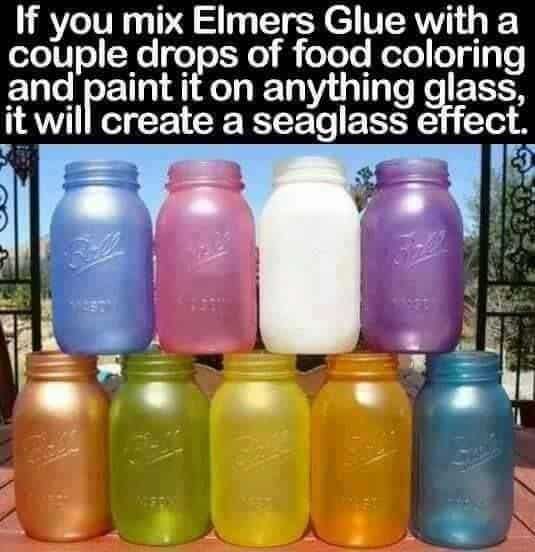 Considering bouquets are one of the most popular gifts for Mother's Day, vases and tin canisters have to be one of our favorite crafts.
Ever since we made a pencil holder out of a coffee can in 2nd grade, we were hooked! It's a DIY gift every Mom could use and anyone can make.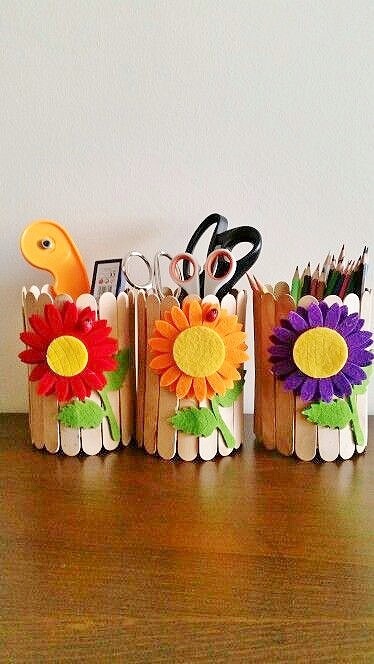 With some creativity virtually anything has the potential to be turned into a beautiful vase or canister. You can try any of the following household items :
food cans
mason jars
empty water bottles
wine bottles
and even empty plastic soda bottles with the top cut off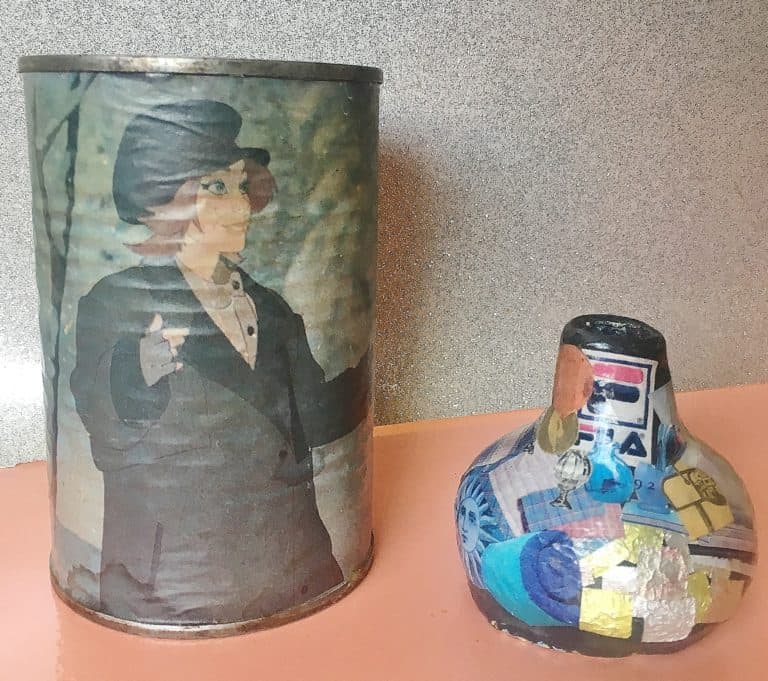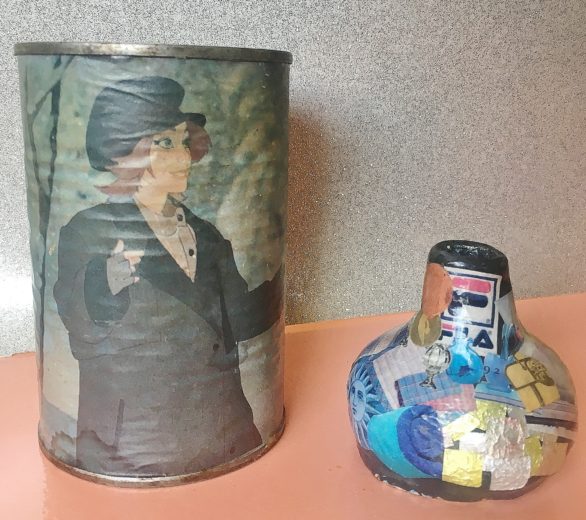 We loved taking a stack of old magazines, clipping out our Mom's favorite things, and gluing them on a vase or can. Sometimes we'd even save wrappers from our favorite Easter candy and used those. Not all of them came out pretty (as you can see) but they are still a fun time capsule to look at to this day.
As we got older we started adding our own pictures and glitter to jars and painting them. The results were amazing and looked store bought.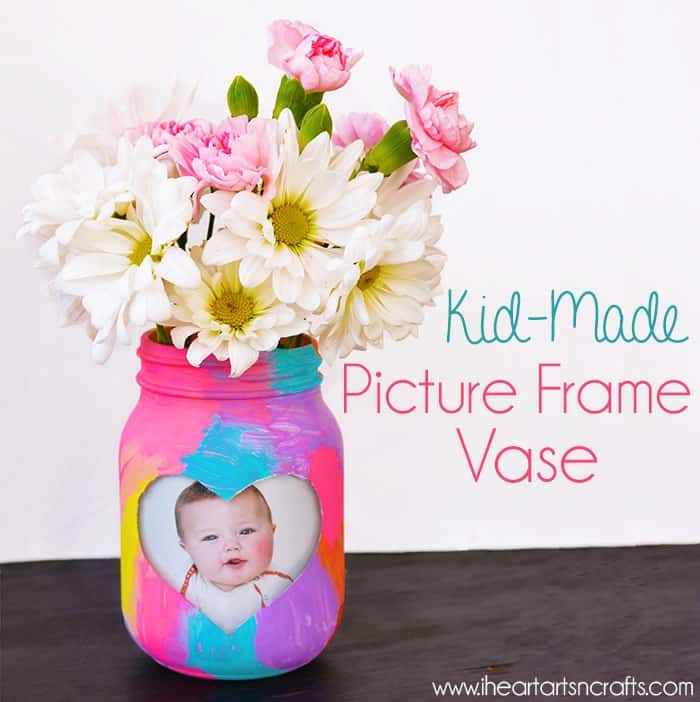 We could use our baby photographs and a glass jar to make a keepsake that's so much more useful than a picture frame.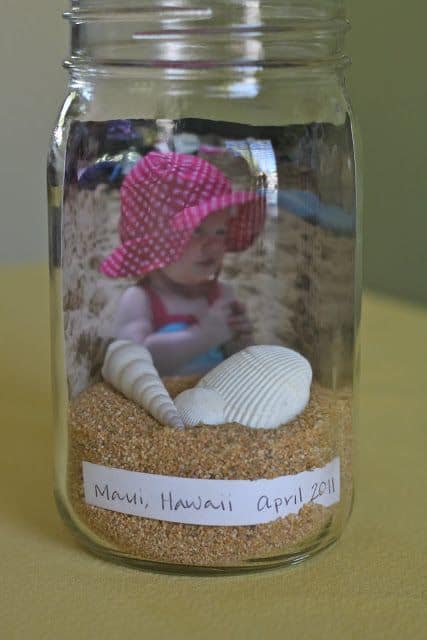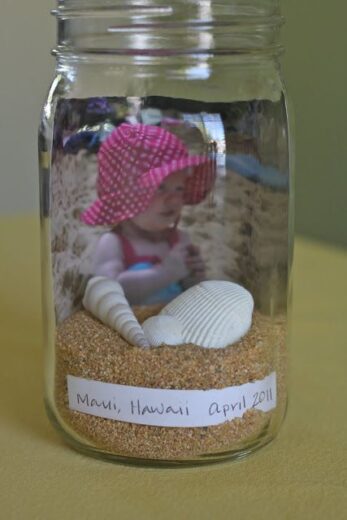 Print your favorite photos, cut them to size, and place them in any clear container for a quick, easy, and creative alternative to a regular photo frame.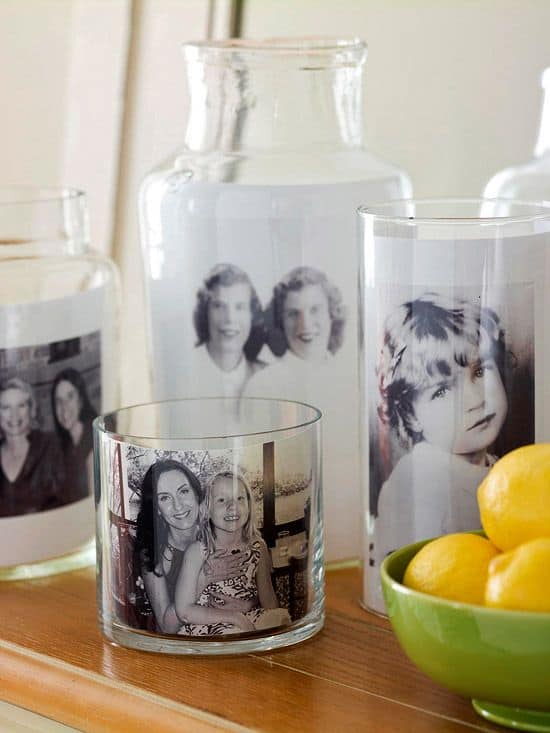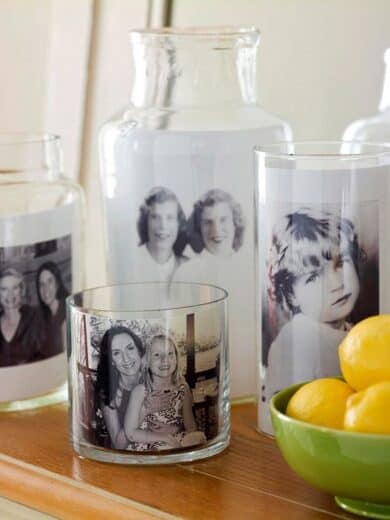 It wasn't long before family members started asking us to make them one of their own. This is perfect with a bouquet of flowers for Mother's Day.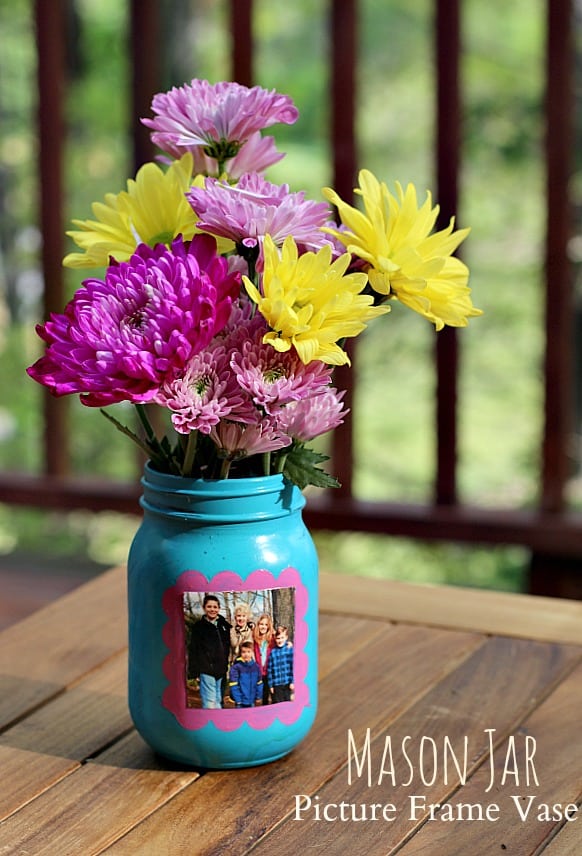 There are so many different styles and methods to choose from.
Don't think this is only good for Mother's Day, you can use this for baby showers, weddings, and even grad parties.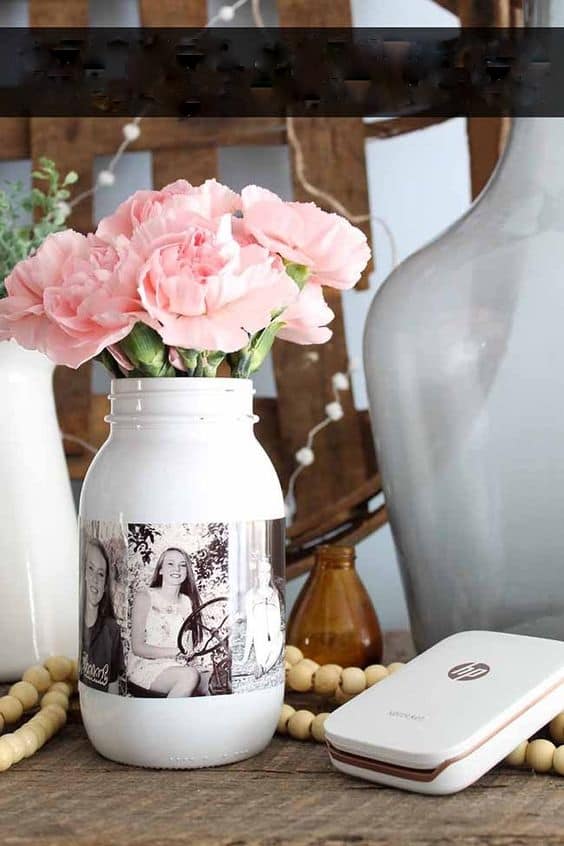 For a more sophisticated look, paint the background a neutral color, glue the photo on, and apply another layer of Mod Podge over the entire vase. You really can't buy Mom a better vase.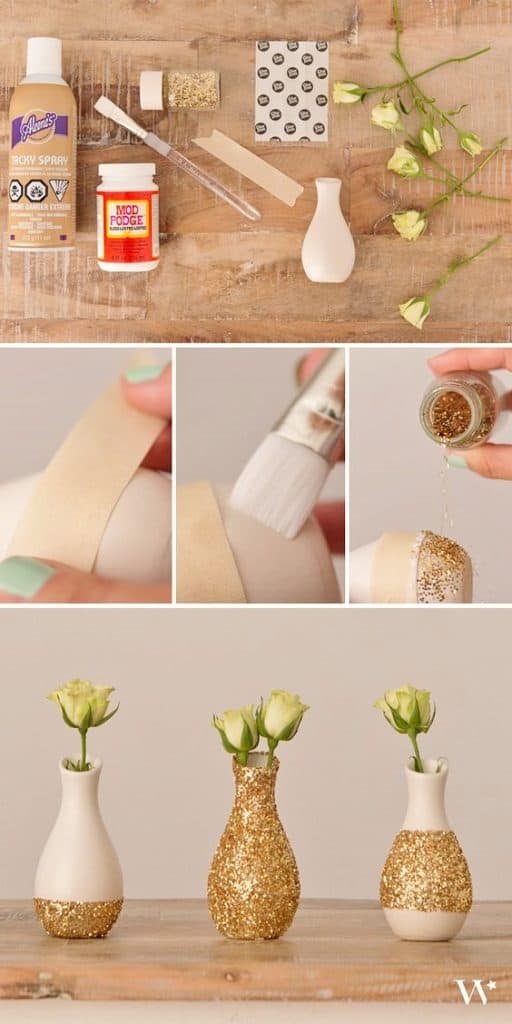 Once we were old enough to use a glue gun we'd glue all sorts of things on our cans (and even more glitter) to make pencil holders and storage bins.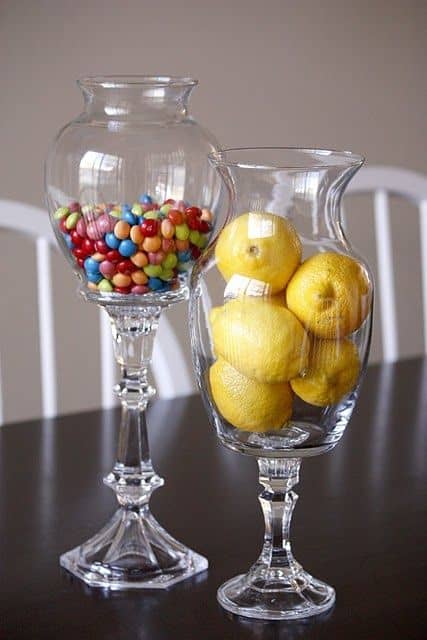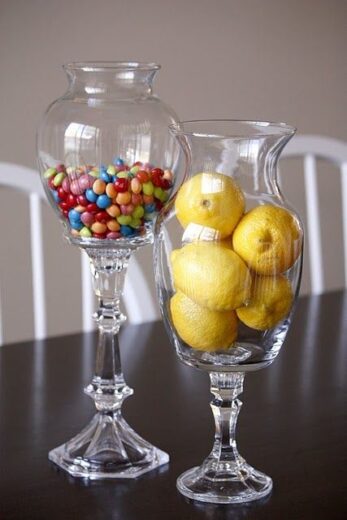 Cheap dollar store vases were easily transformed with a few candlestick holders into something that looks not only store bought but expensive! You can use E-6000 glue for a stronger hold.
It's kind of amazing what gorgeous creations you can make with used jars of Ragu, beer bottles, Christmas tins, tuna cans, and cans of Campbell's Soup.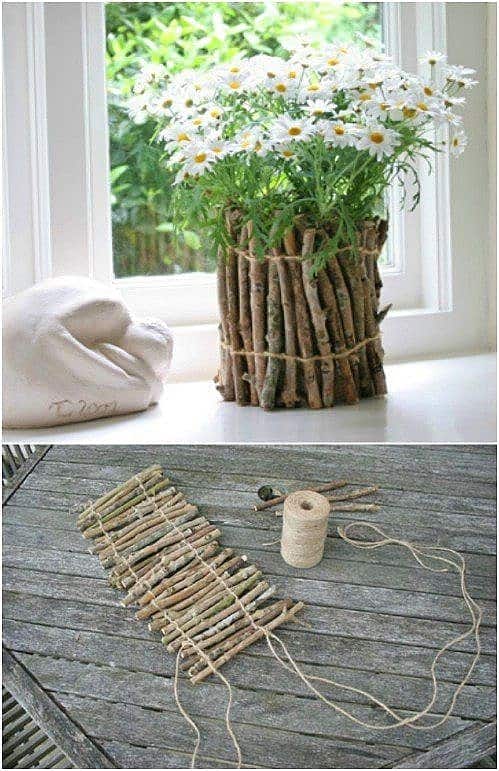 The last few years our Mom's into more of a glam style so we use plenty of metallic spray paint, rhinestones and…did we mention glitter? It's a great way to repurpose bottles from her favorite wines or beer after she's finished them.


That's the great thing about this craft– whether it's glam, rustic, or Chinese, we can easily customize it to suit our Mom's ever evolving taste.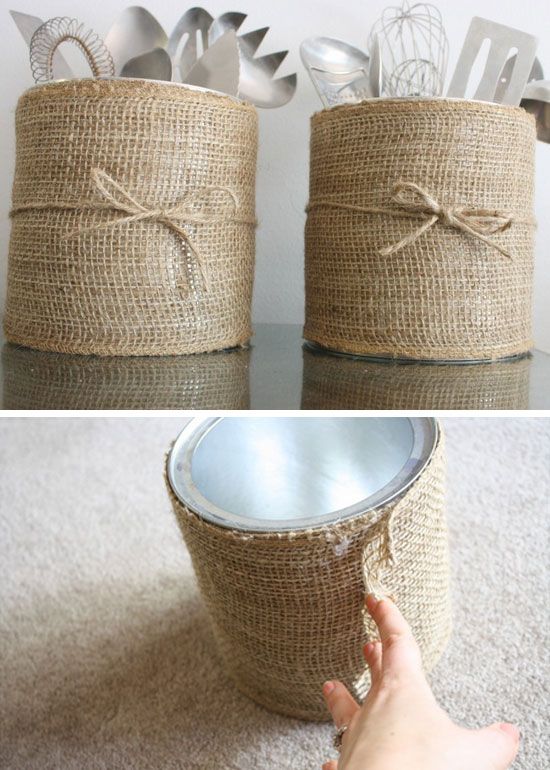 A DIY vase is also a good way to give Mom's bouquet longevity, she'll enjoy it long after the flowers die.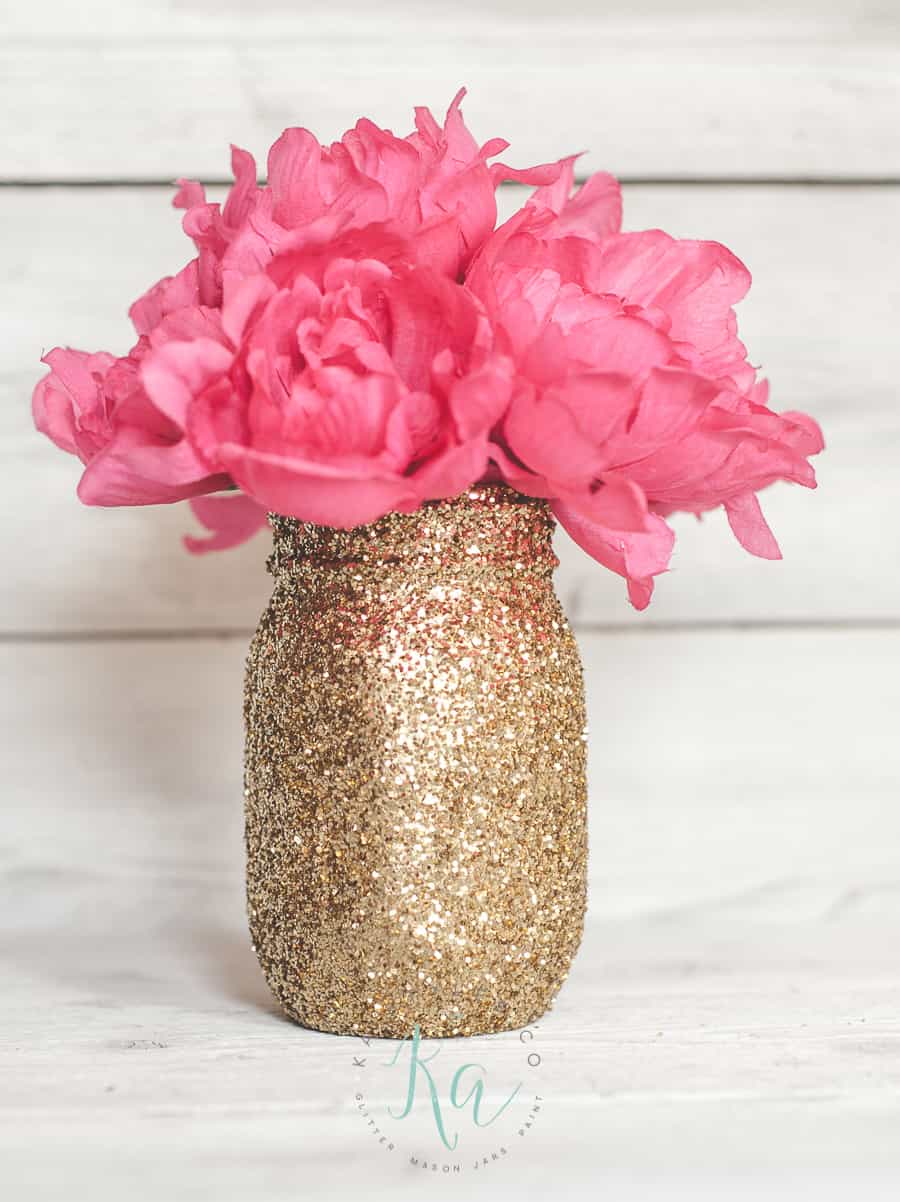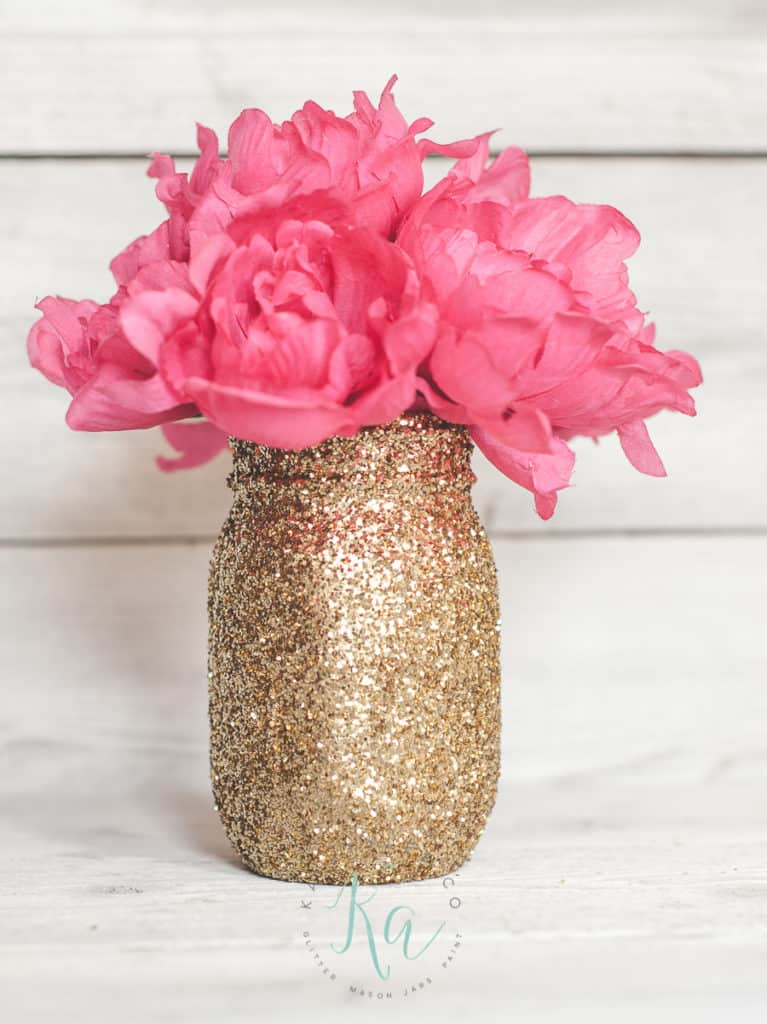 ---
Votives & Candle Holders
Another way we put vases, old jars, bottles, and even glass dishes to good use is by turning them into votives and candle holders.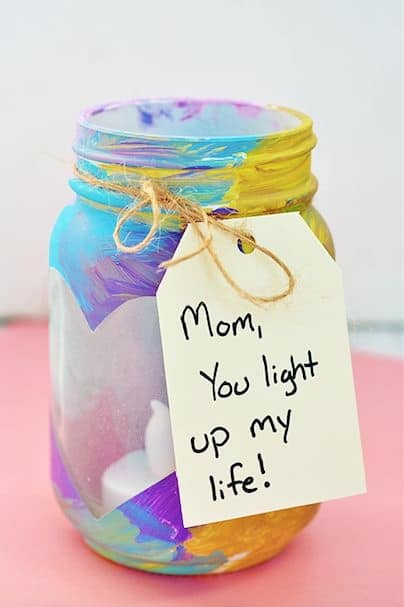 Our Mother went through a period of time when she got a LOT of candles. The problem was she didn't have anything safe to burn them in so DIY votives became our gift of choice for her. Children and adults of all ages can make beautiful ones.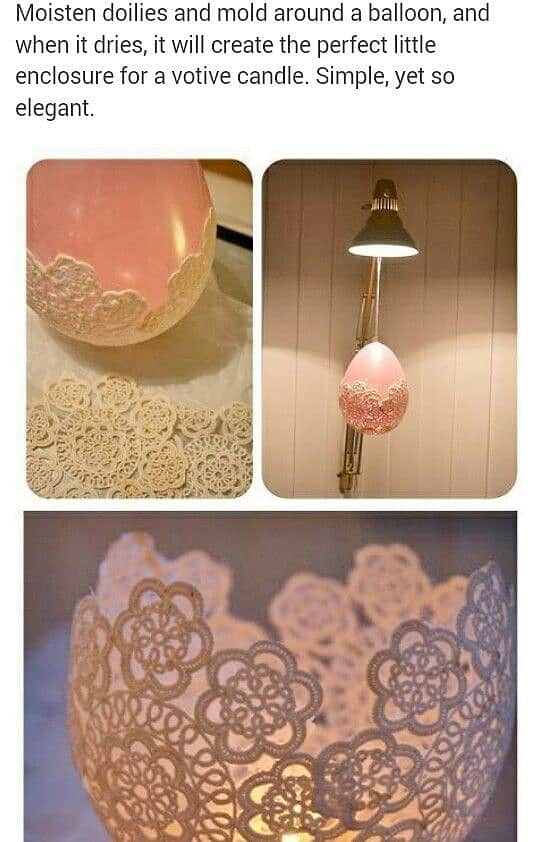 We discovered you can make them out of almost anything, and if you put an electric votive in them, then you have even more possibilities.
This is another craft you can use to showcase all of the things you love to collect with your Mom on nature walks.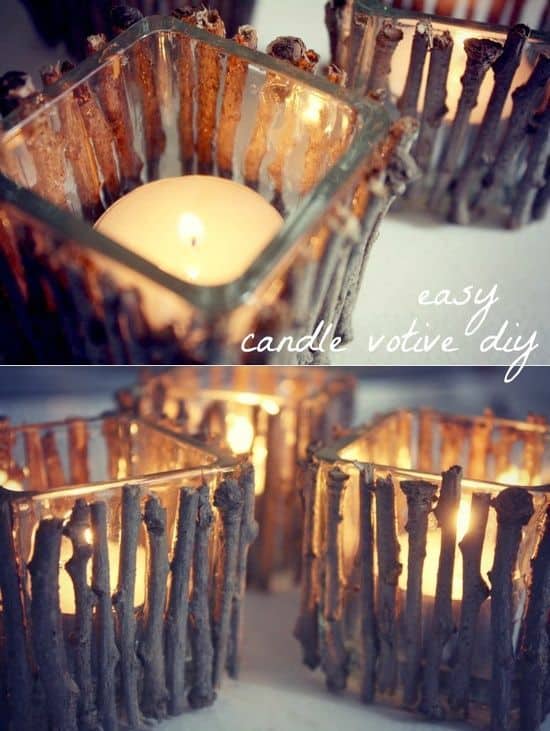 Fill any glass jar or vase with shells, sand, beads, stones, or anything else you can think of and insert a wax or electric candle.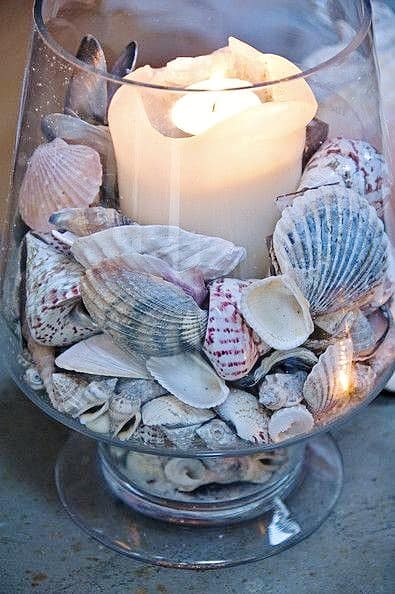 Kids can write their own personal messages or paint on stones and seashells before putting them in the votive.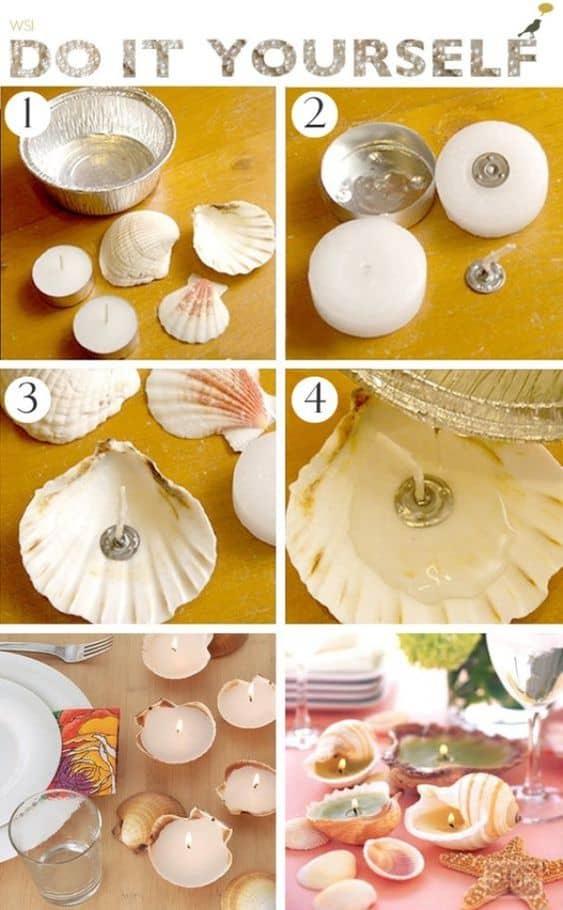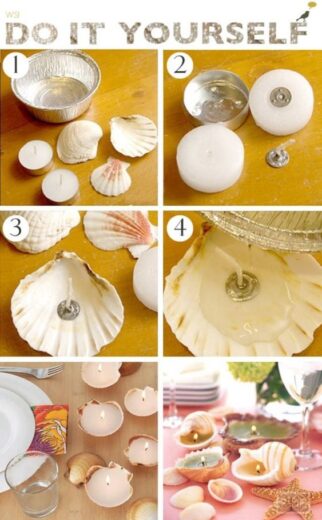 Grab a tealight votive, dump it over and remove the wick, and glue the wick to the center of your seashell.
Melt the wax and pour it in your seashell and let cool. If you want to create more stability so shells won't rock, glue little pearls to the bottom of the seashells. You'll have a beautiful seashell votive.
You can also adhere collectibles to the outside of a votive with a glue gun or Mod Podge.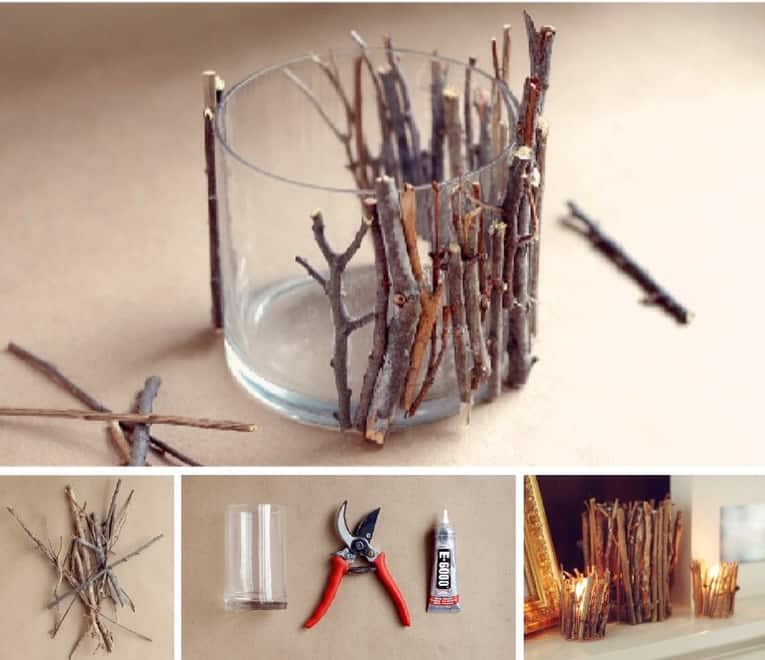 If you want to add a more personal touch, you can paint your votive…don't forget to use fingers and feet.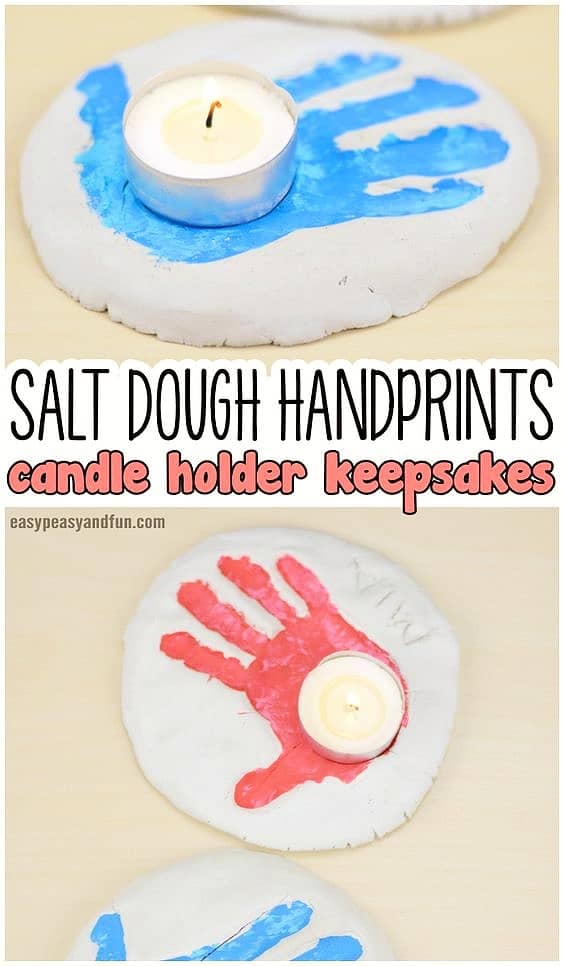 You can also paint or glue pictures or decorations to the back of a clear dish for a decoupage look.
It's so easy and there are so many options that even the youngest kids can help with. Best of all, it's tough to make an ugly votive.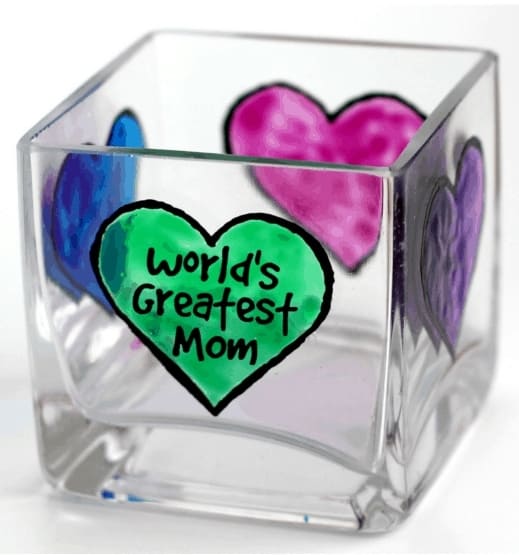 You can make a photo votive out of any glass jar or container using vellum sheets and double sided tape.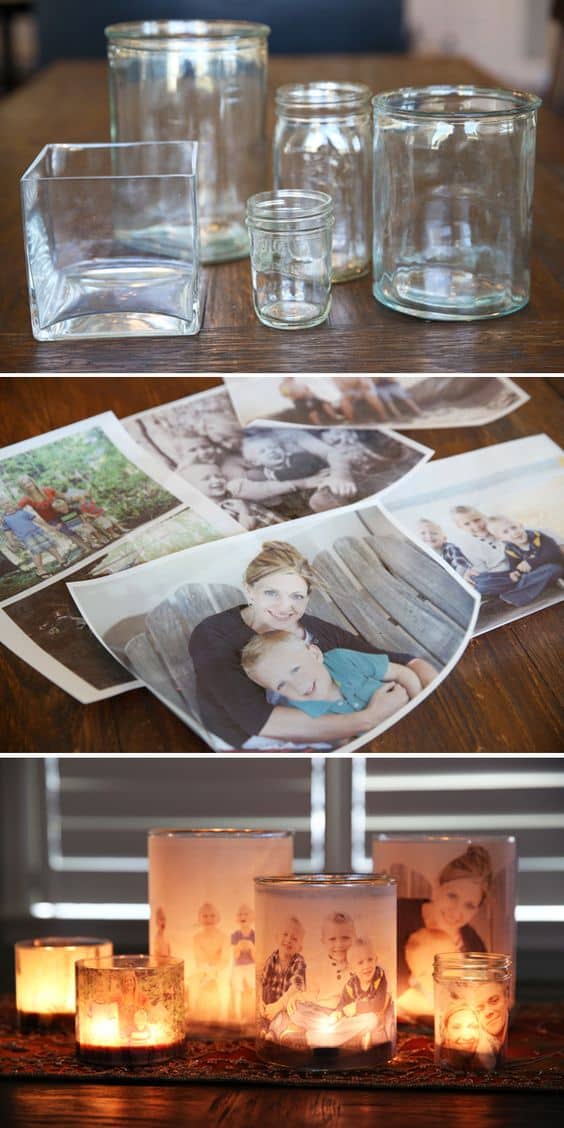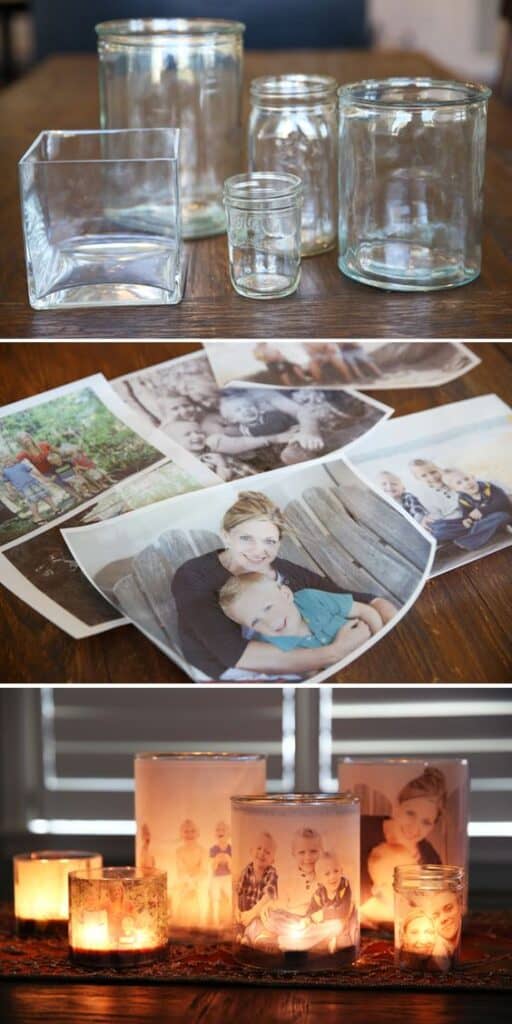 Skip the votives altogether and just decorate the candles with your favorite photos.
There are so many methods for transferring photos onto the wax. One of the easiest ways is with wax paper and a blow dryer.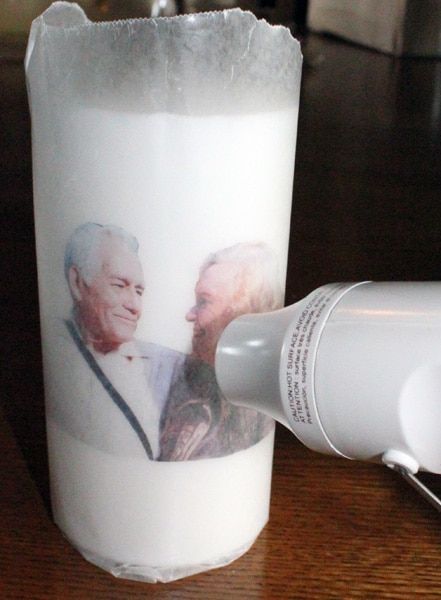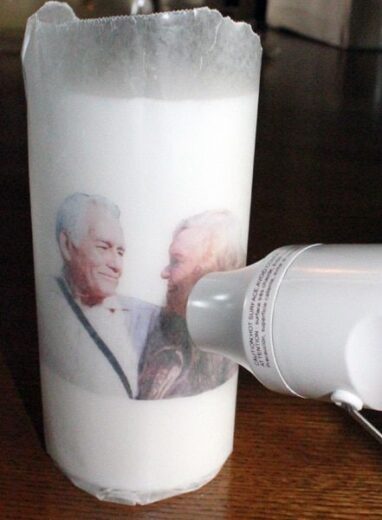 You can also seamlessly put photos on glass jar candles using laser photo copies, water, and masking tape.


---
DIY Sharpie Mugs
Since a lot of Moms rely on coffee, this is a great way for them to start their day and it's not only ridiculously easy to personalize but cheap and fun! You can do this with dollar store mugs and even dishes.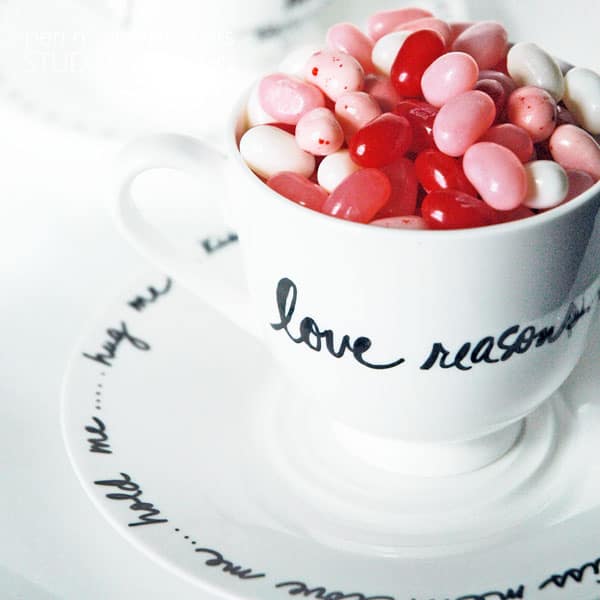 You can make Sharpie tea cups for Mom easily using oil based Sharpies that include drawings or messages.
Pick out an adorable dollar store tea cup or mug, write any message or pun or add any drawing or illustration you want, and bake in the oven.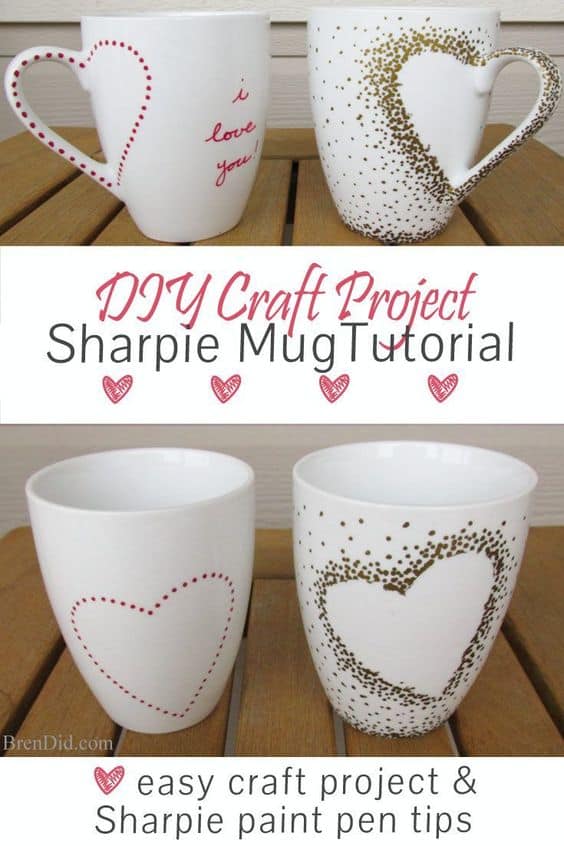 Bake for 250 degrees for 2 hrs for the best results.
Write a message on the inside bottom of the mug for an extra surprise. You can also write your favorite memories with Mom or what you like most about her. Although they are dishwasher safe, we would recommend hand washing them to ensure they last.


---
Jewelry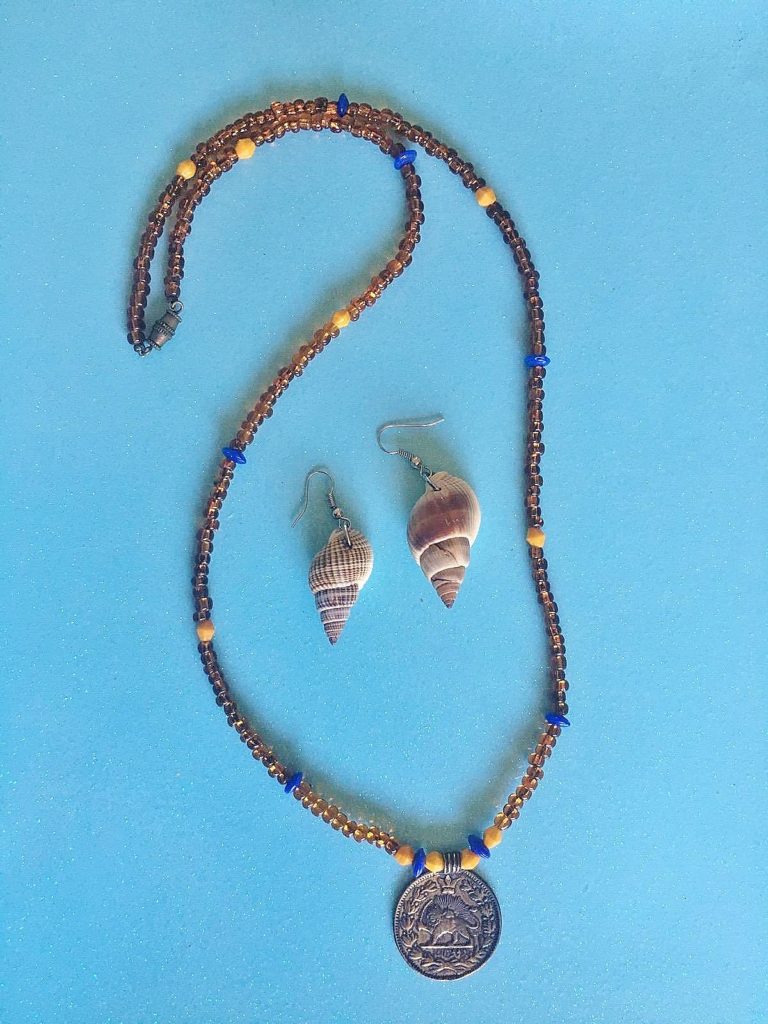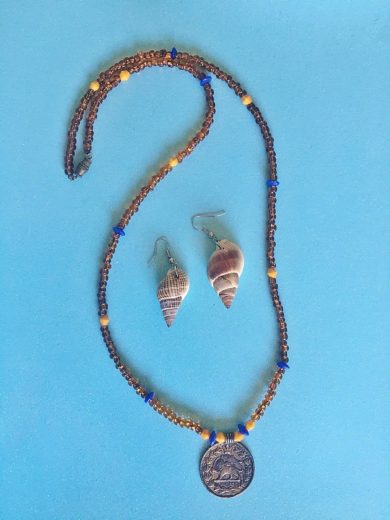 Aside from the shrinky dink necklace we mentioned earlier, we've enjoyed making jewelry pieces for our Mother through the years that were not only easy but beautiful.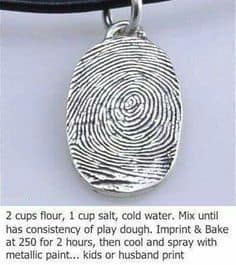 We've used beads, medallions, and seashells to make cute little pieces our Mother could actually wear out. She still has them and wears them to this day.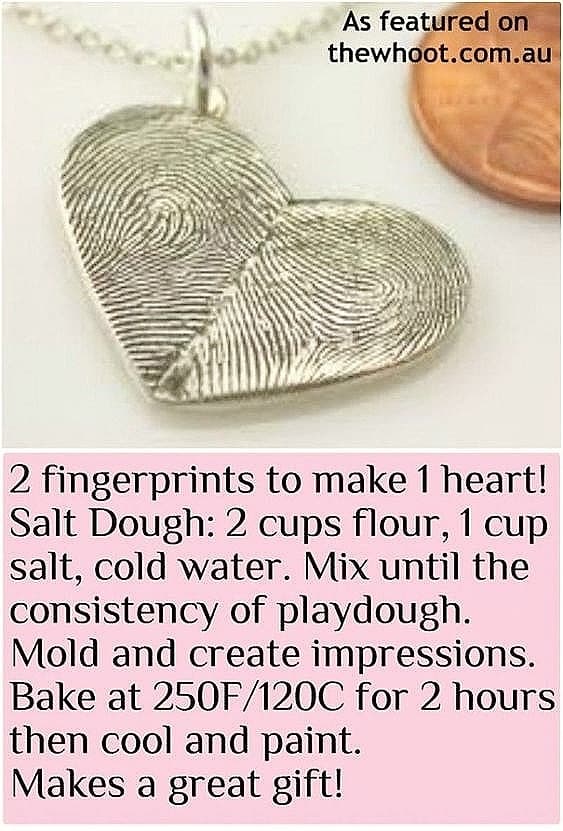 If you don't want to purchase them, it's so easy to make precious customized medallions for jewelry out of home made dough, shells, clear glass, plant beads, or stones. They're surprisingly cheap and can be batch made for Dad, Grandma, Grandpa, and even Aunties.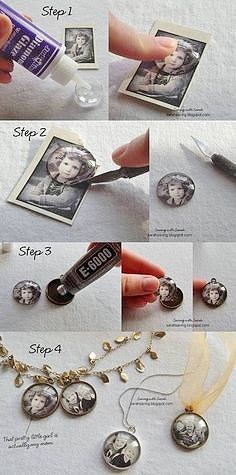 If you want something budget friendly yet impressive that'll become a staple in their jewelry box, making your own customized jewelry is a gift they'll keep forever.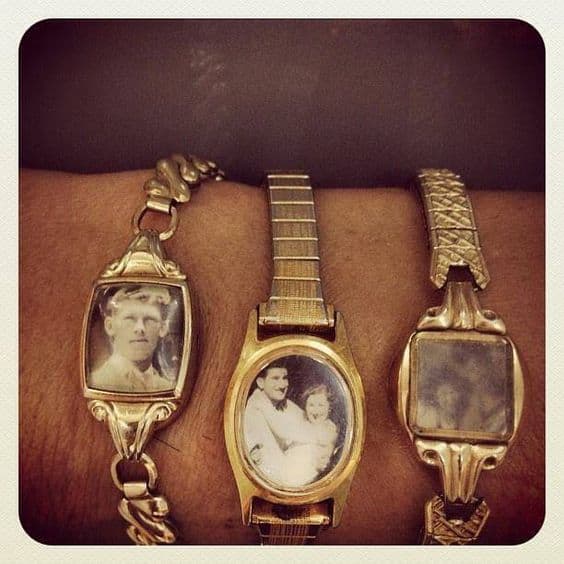 An old broken watch can easily be revamped into a keepsake locket bracelet using just a photo and glue gun.
---
CARDS
We started making cards when we were little because not only were most nice store bought cards expensive but we felt they didn't convey the message we wanted them to (and they didn't have nearly enough glitter and rhinestones for our liking).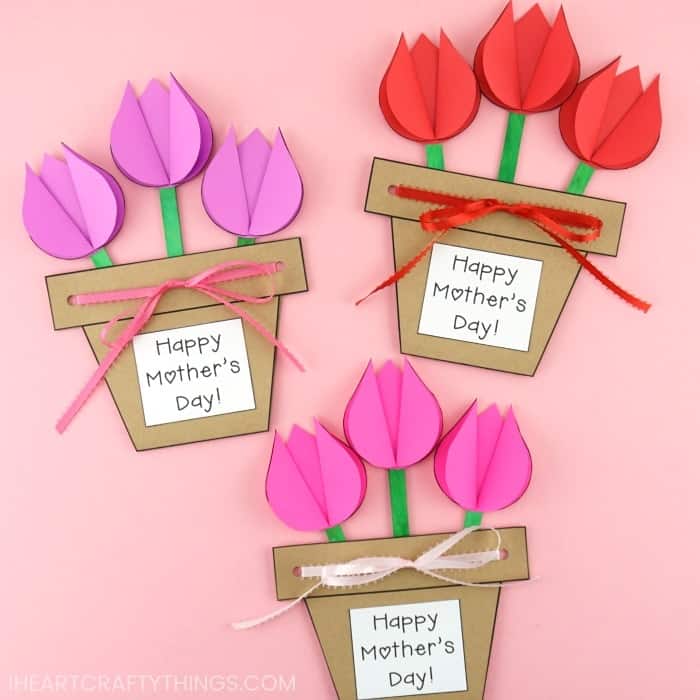 When you make cards Mom (and even Dad) is way less likely to throw them away and the messages in them seem even more genuine because you created them yourself.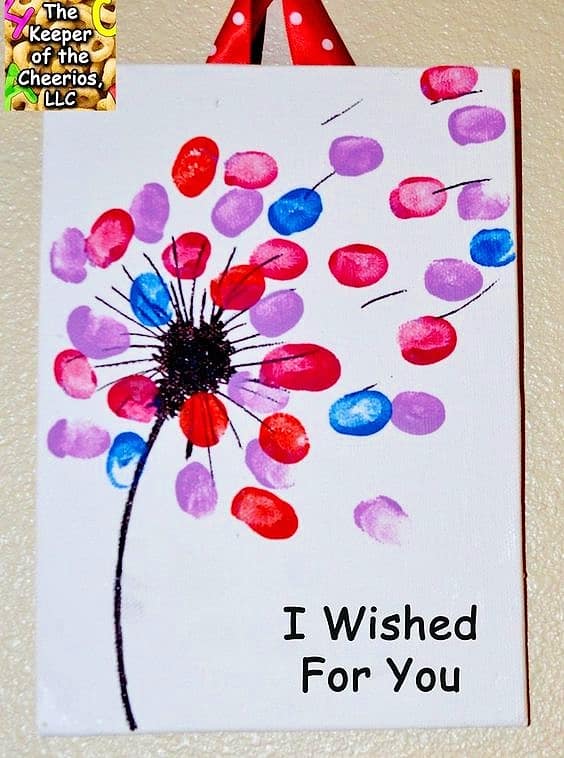 There are so many different options when it comes to making adorable cards.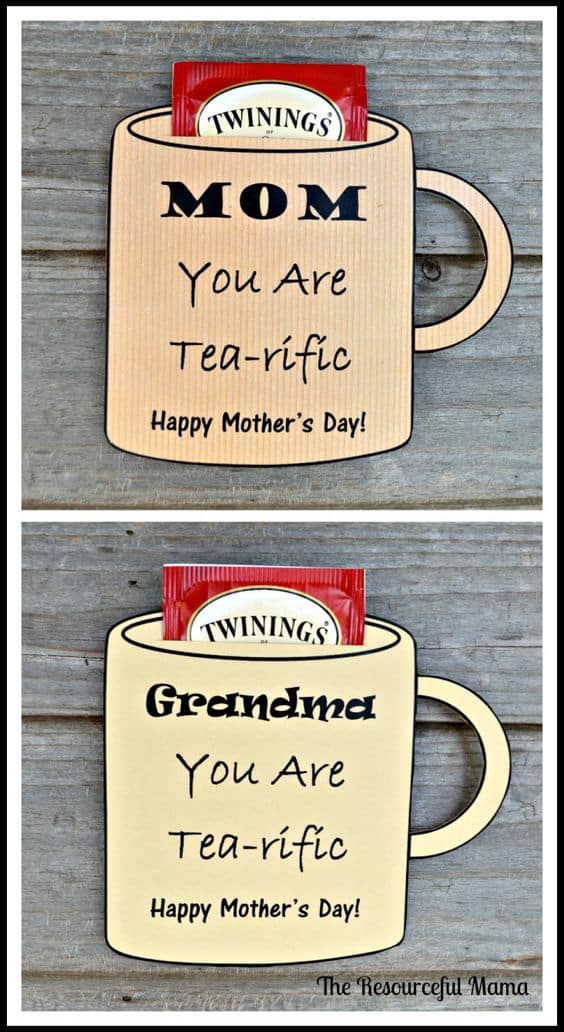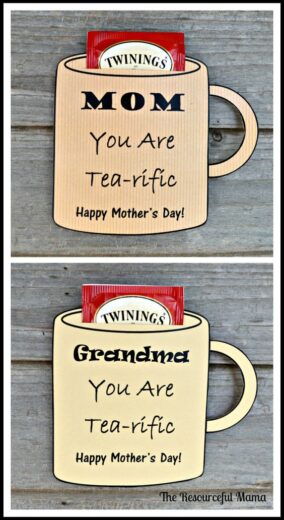 GET TEA-RIFIC MOTHER'S DAY CARD TUTORIAL HERE
Start with Mom's favorite hobbies, treats, or activities.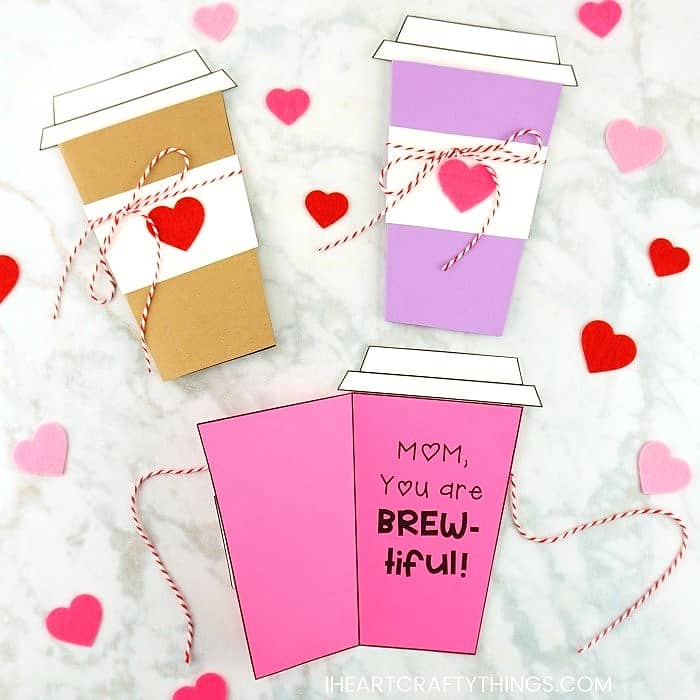 If your Mom (or GrandMa) is a gardener, she'd love a plant themed card. If you're getting Mom a bouquet (or can't afford one), then make her a card bouquet. We love making cards to go along with the theme of a gift.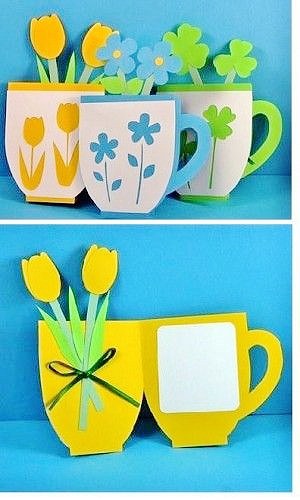 Little ones can utilize construction paper, glitter, ribbons, rhinestones, fabric, pictures, and even fingerprints to personalize it.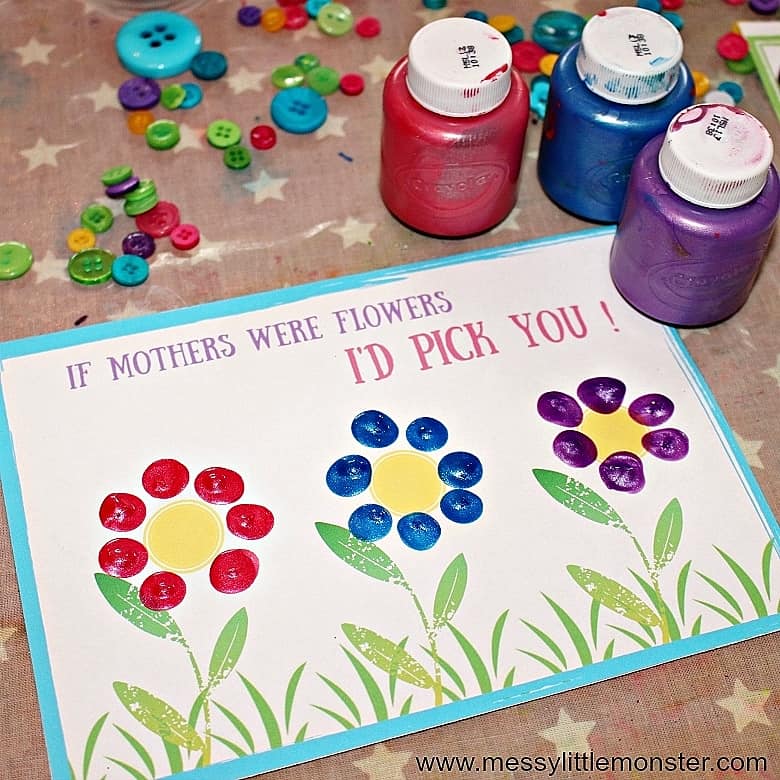 We once made a card with fabric on it from skirts we outgrew.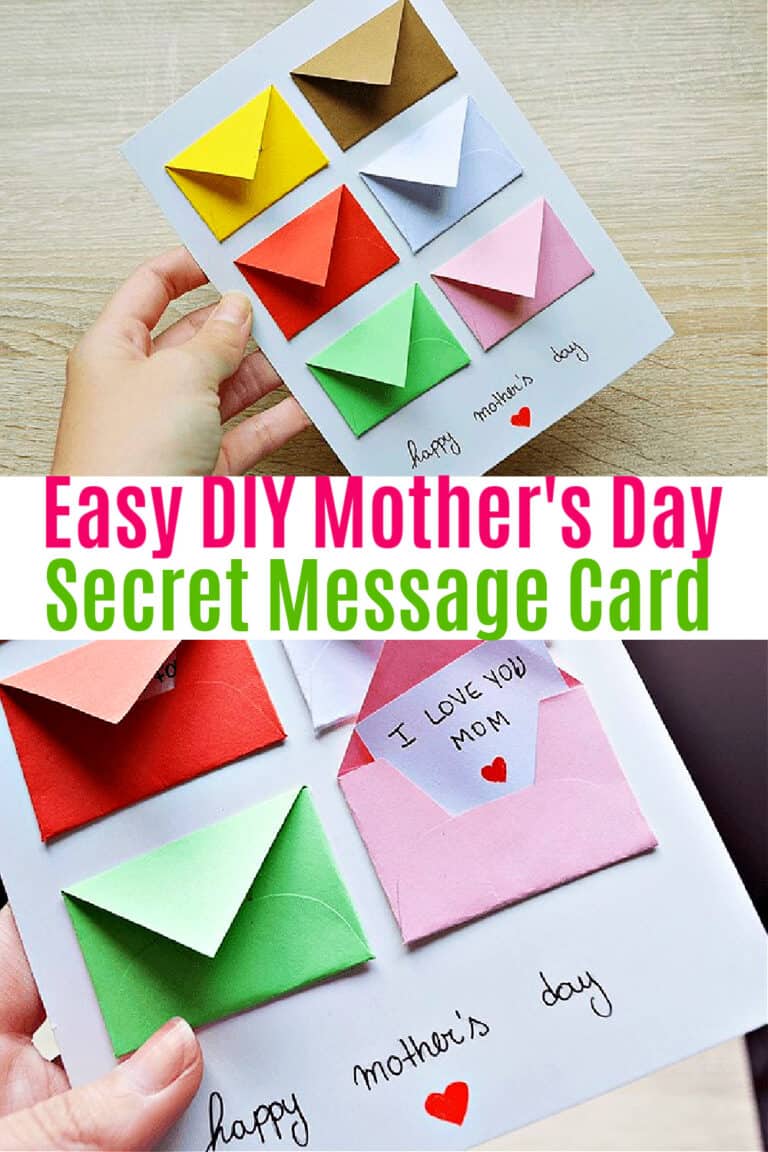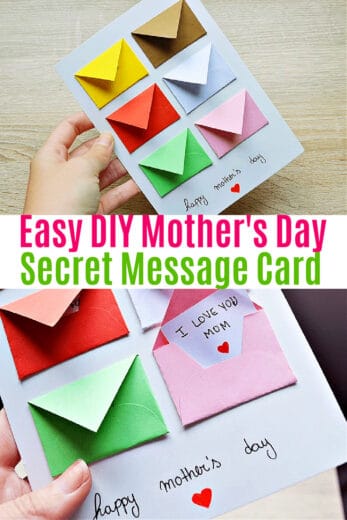 SECRET MESSAGES MOTHER'S DAY CARD TUTORIAL
Cards really are a lot of fun for people of all ages to make and enjoy.


Any card we ever made for either of our parents ended up being treasured just as much if not more than the gift itself.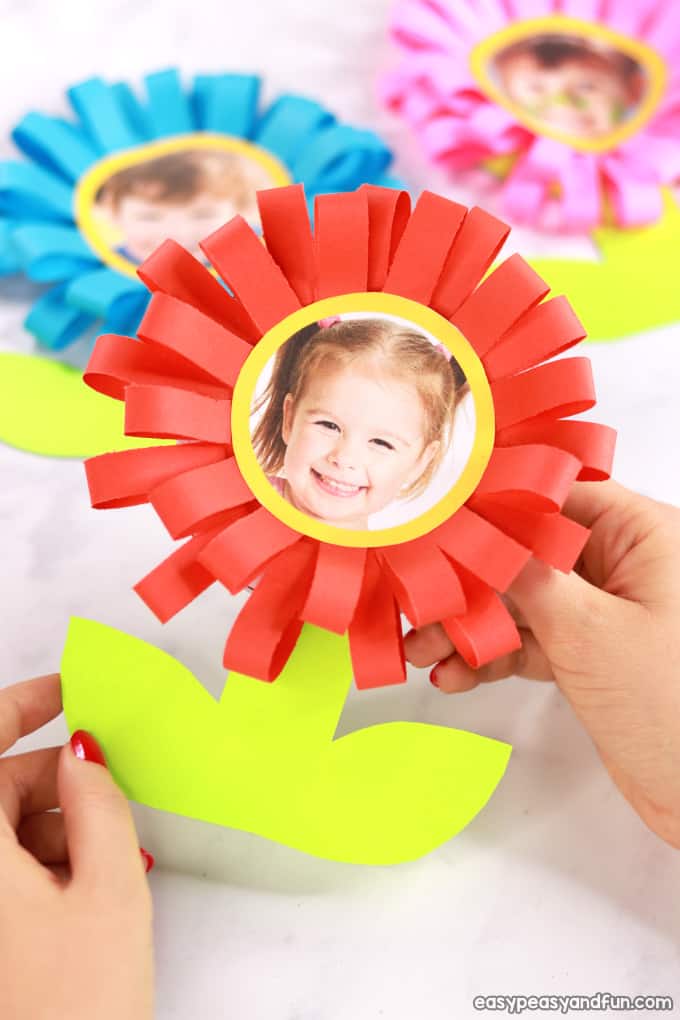 ---
Unique Gift Basket Ideas
This idea isn't a DIY craft but it's our favorite way to pamper Mom/Grandma on her big day and can suit any budget.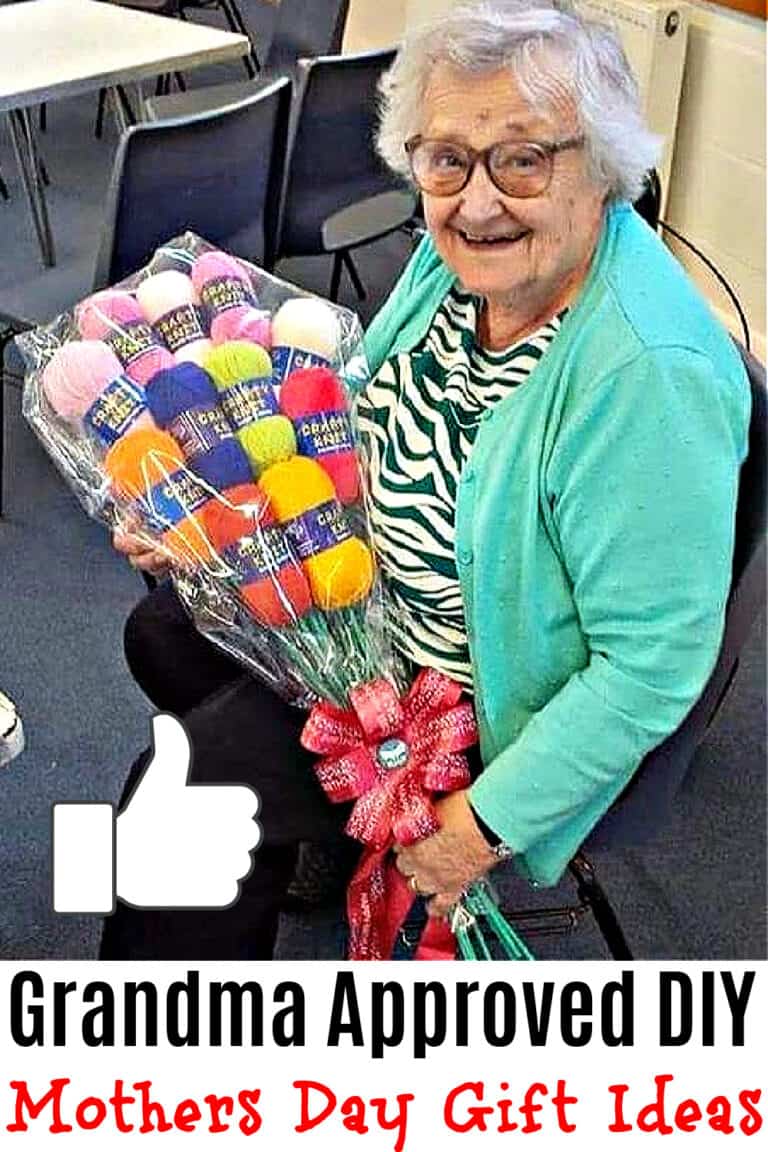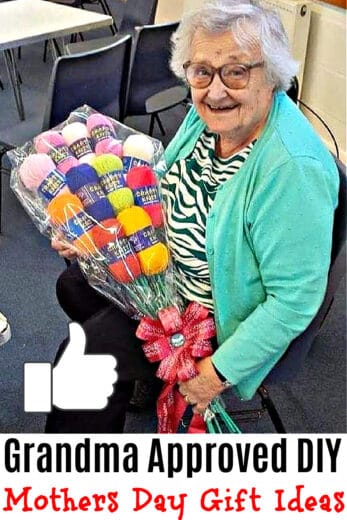 Take a pretty jar, canister, basket, or even slippers and fill it with all of Mom's favorite things.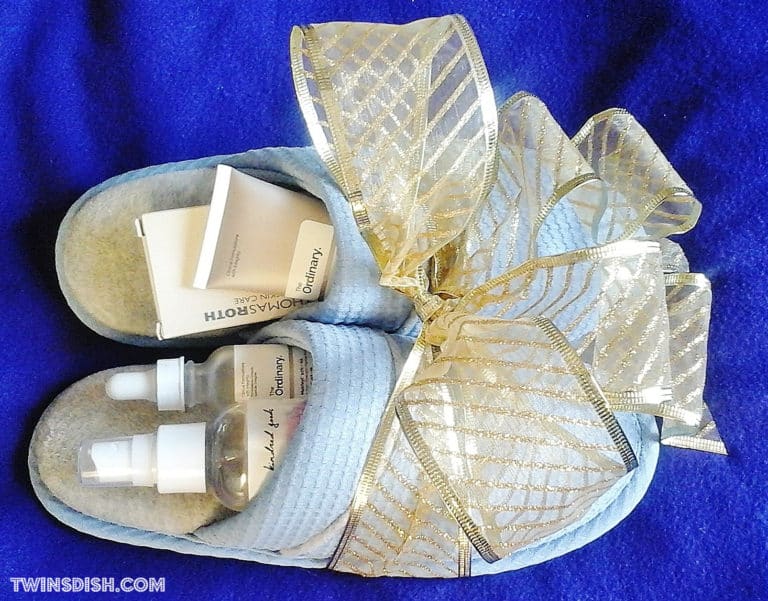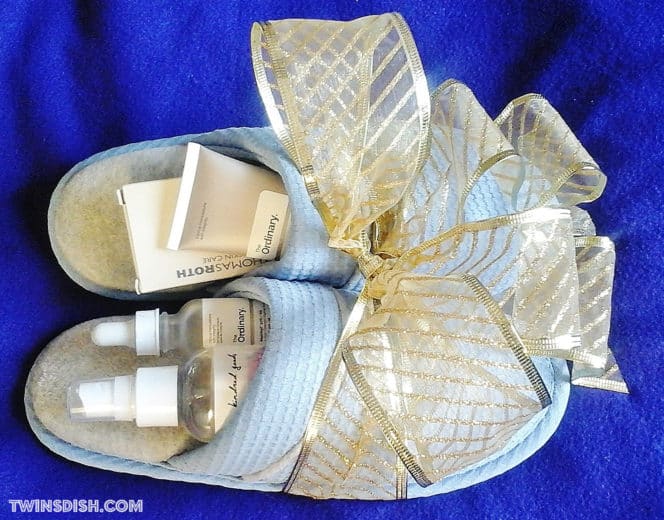 You can do beauty products, treats, teas, or kitchen gadgets. Mix and match as many different kinds of items you want and just add a bow.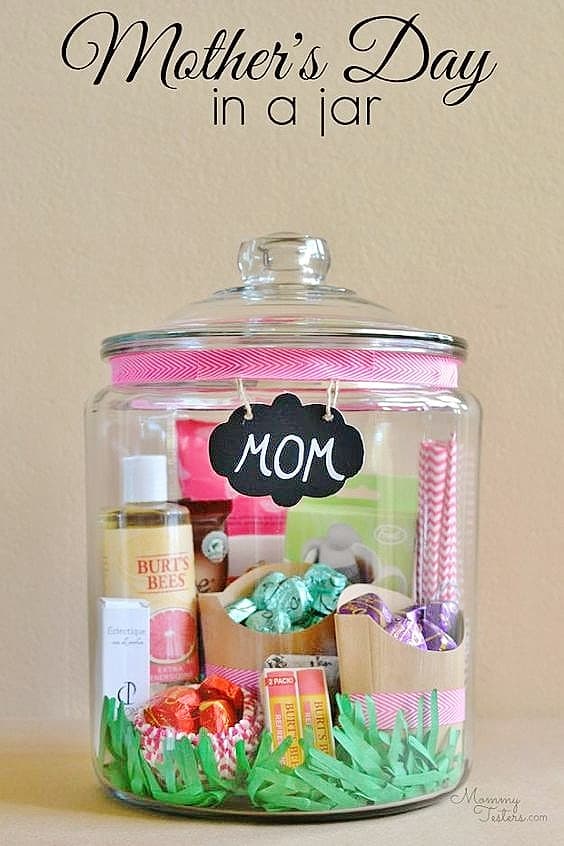 If you're on a budget, discount stores such as the 99 Cent Store and Dollar Tree now sell drugstore brand beauty products and items for a dollar so you can easily make your Mom a gift basket she'll love without breaking the bank.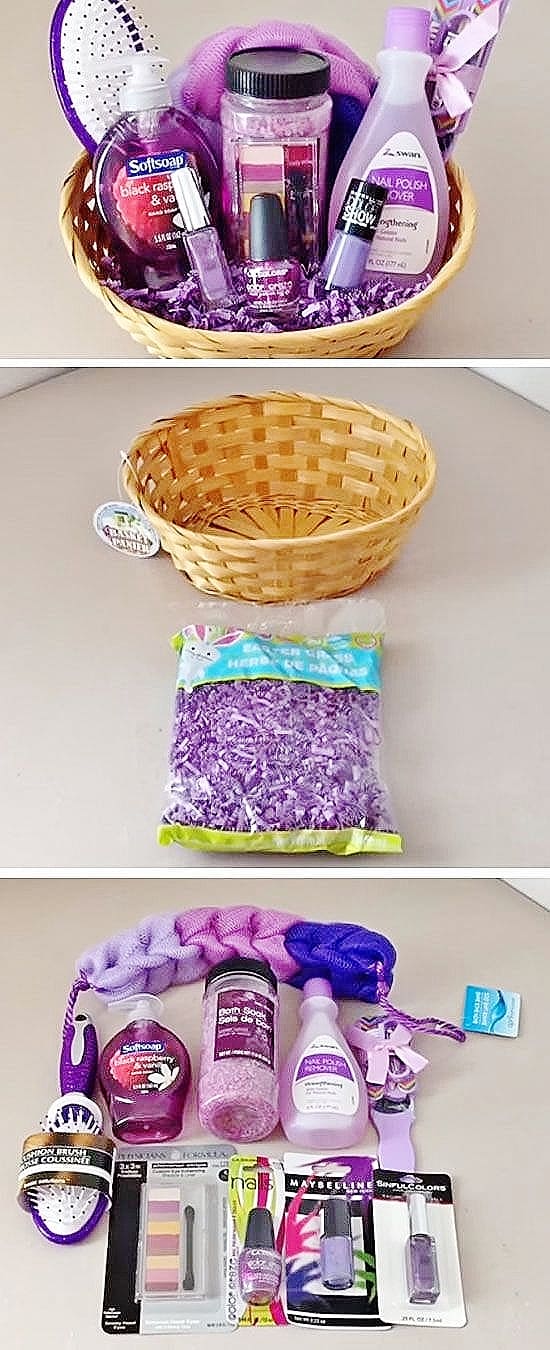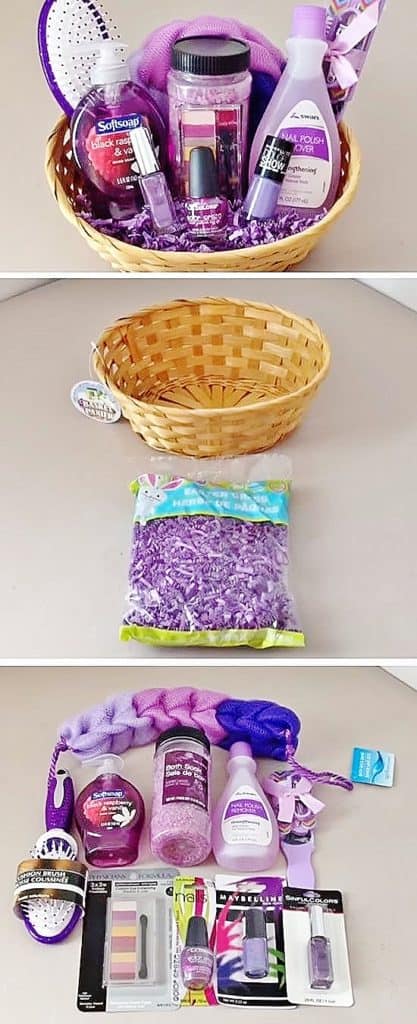 You can repurpose Easter baskets, candle jars, or make your own apothecary jars for dirt cheap.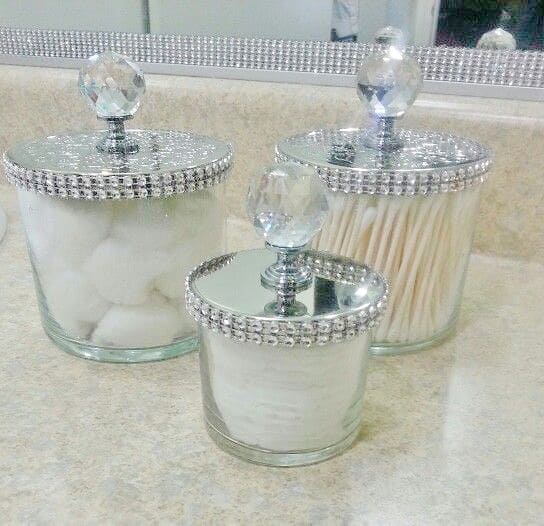 DIY Apothecary glass jars double as not only storage but home decor. During Easter you can fill them with eggs, and for Christmas you can store ornaments for a perfect centerpiece or mantle decor.
They normally cost anywhere from 18-40 dollars but you can make your own using dollar store items and strong glue for a fraction of that. For a longer and taller stem, glue two candle stick holders together before gluing to the base of the jar.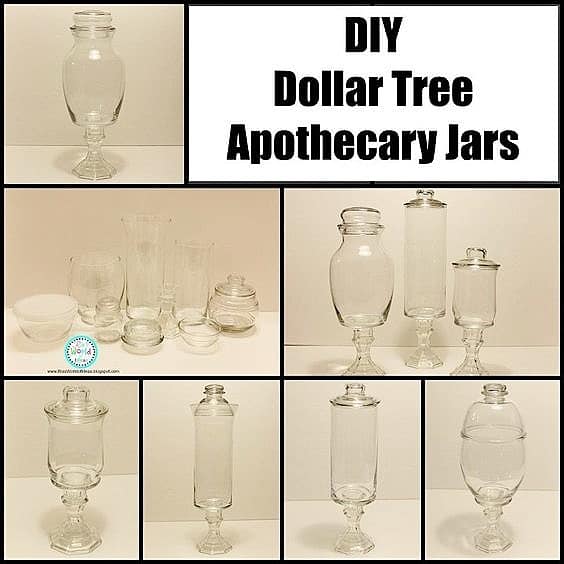 Moms always have self care last on their list so this is a great way to remind them that they need attention too.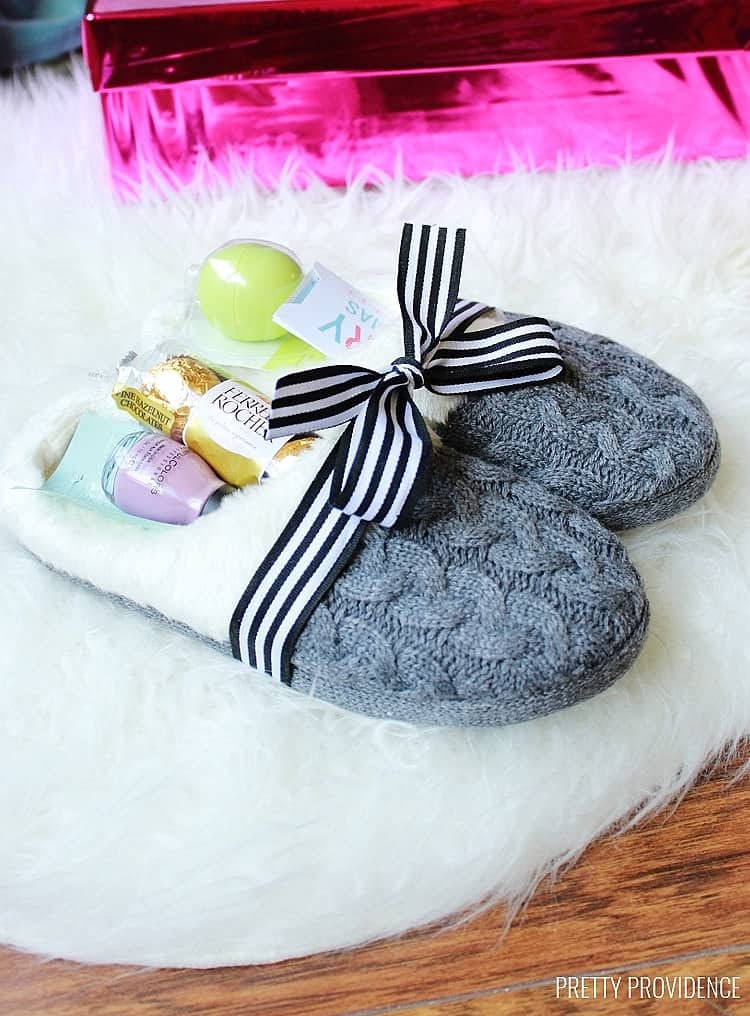 Don't forget to slip gift certificates or DIY coupons in too.
Our Mom had surgery and couldn't eat or drink so we gifted her a DIY coupon for Margaritas at her favorite restaurant for when she gets better and we included a gift certificate.
You don't have to include a gift card, you could also give her coupons for favors (especially the ones you've been putting off) or movie nights. She'll love it.


Make your Mom or Grandma her own little prayer box out of an old Altoids container to keep her stress at bay…


---
DIY Tiered Displays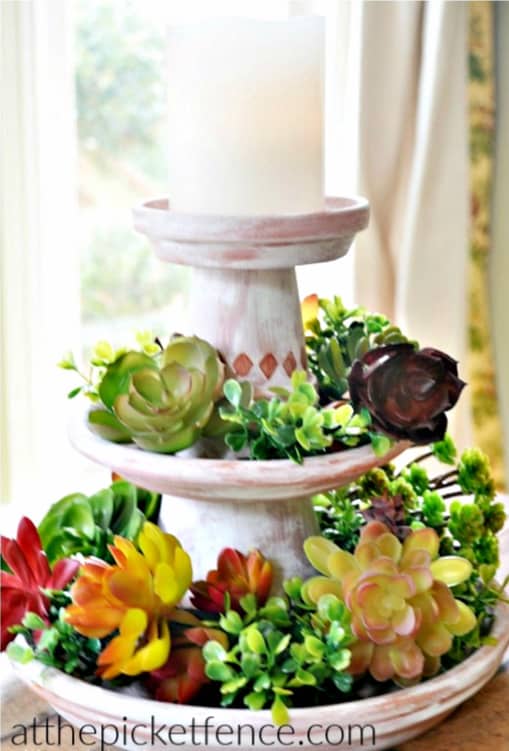 Tiered displays are so beautiful, super easy to DIY, and perfect for loading up with gifts or food items.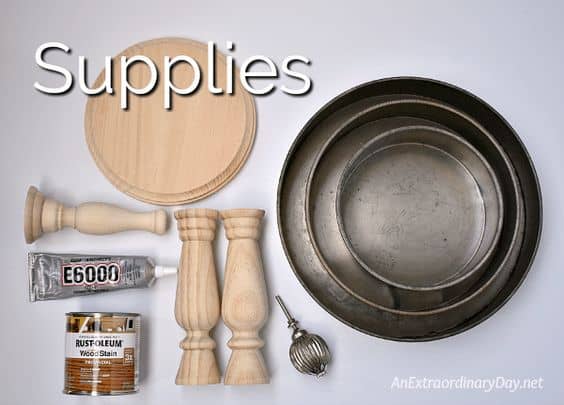 You can make them any size to use in the bathroom, kitchen or even for jewelry.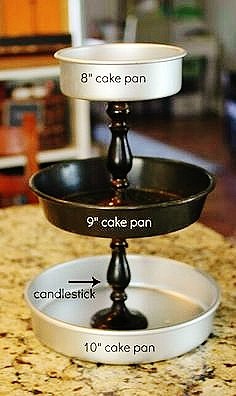 Glue together candle sticks and cake pans or plates and spray paint them or stack wine glasses upside down on top of china plates.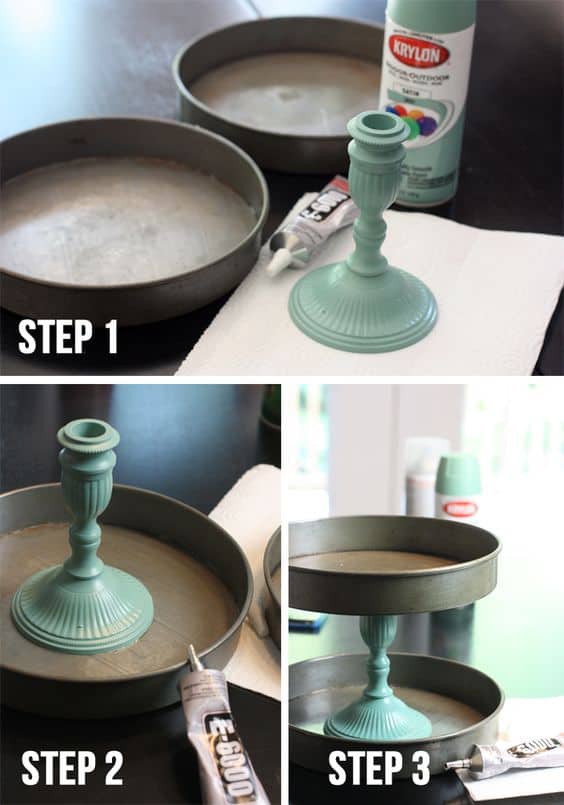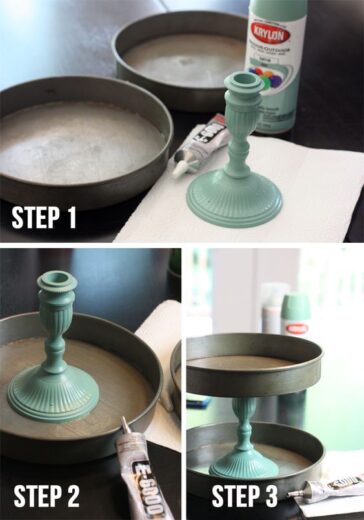 Mom can use tiered displays long after Mother's Day is over for desserts, produce, bathroom storage, centerpieces, or holiday decorating.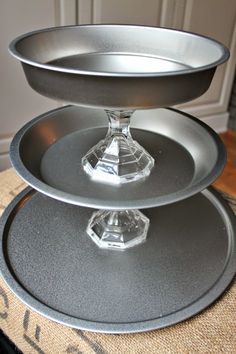 Use Dollar Store items or things you already have at home. You could even paint or decoupage the back of clear glass dishes with pictures to make a more personalized display.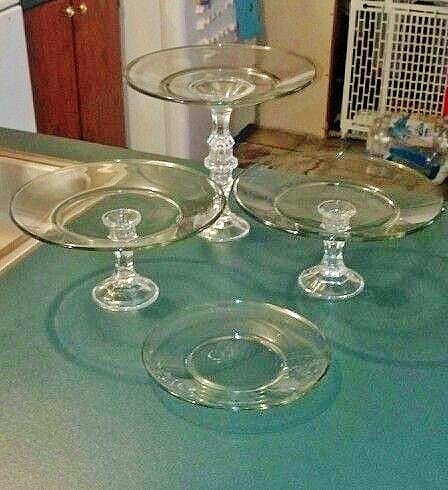 Use mismatching plates and glassware for a beautiful 3 tier vintage plate serving dish you could load up with finger foods for a Mother's Day high tea.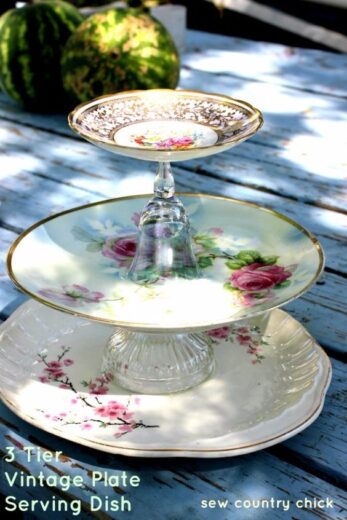 You can make a tiered display using any combination of containers and platters or plates.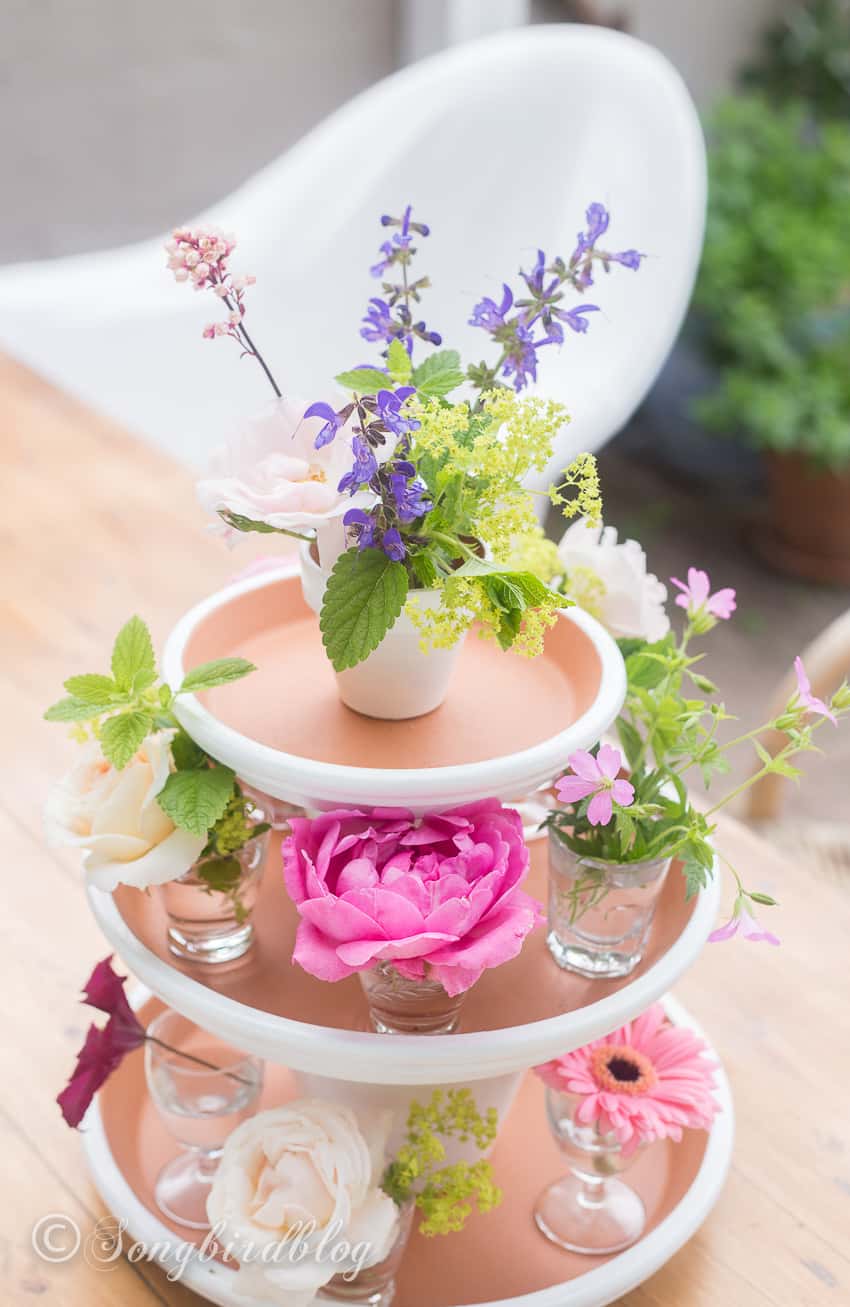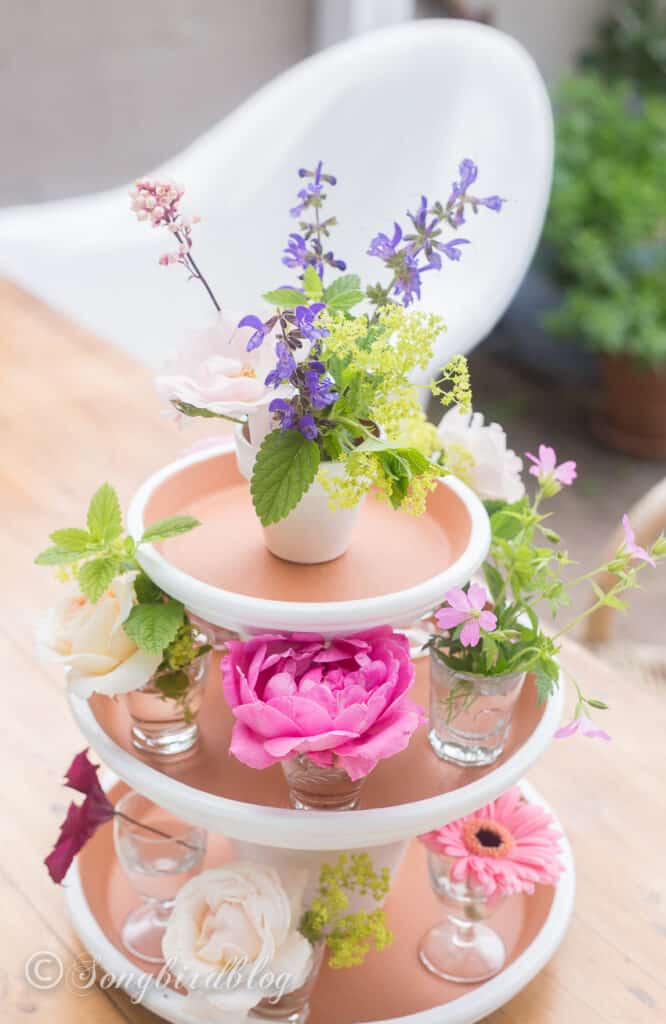 Paint dollar store terra cotta clay pots in a wide variety of colors and techniques to suit your mother's taste and decor.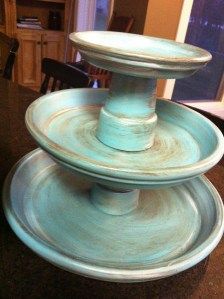 These make a beautiful table centerpiece or display for customized candles or plants.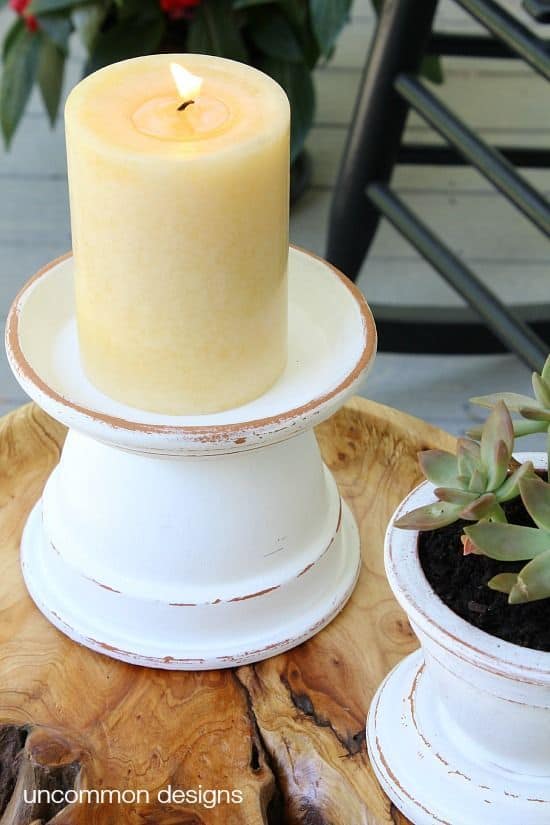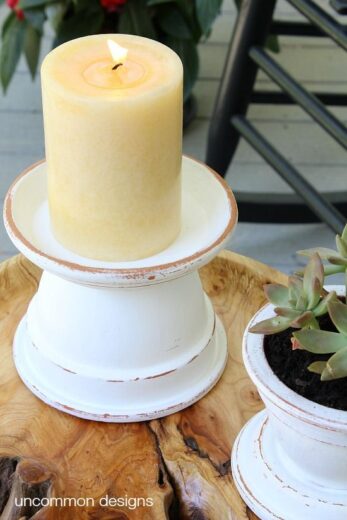 ---
Crochet
A friend of our Mother started gifting her gorgeous items she crocheted for Mother's Day and Christmas. Until then we had NO IDEA how many cute and useful crochet crafts there are.
This isn't exactly something kids can make but they will definitely have fun picking out the project.
Eye glass holders, purses, blankets, shirts, skirts, rugs, and slippers are just some of the adorable things you can make with crochet.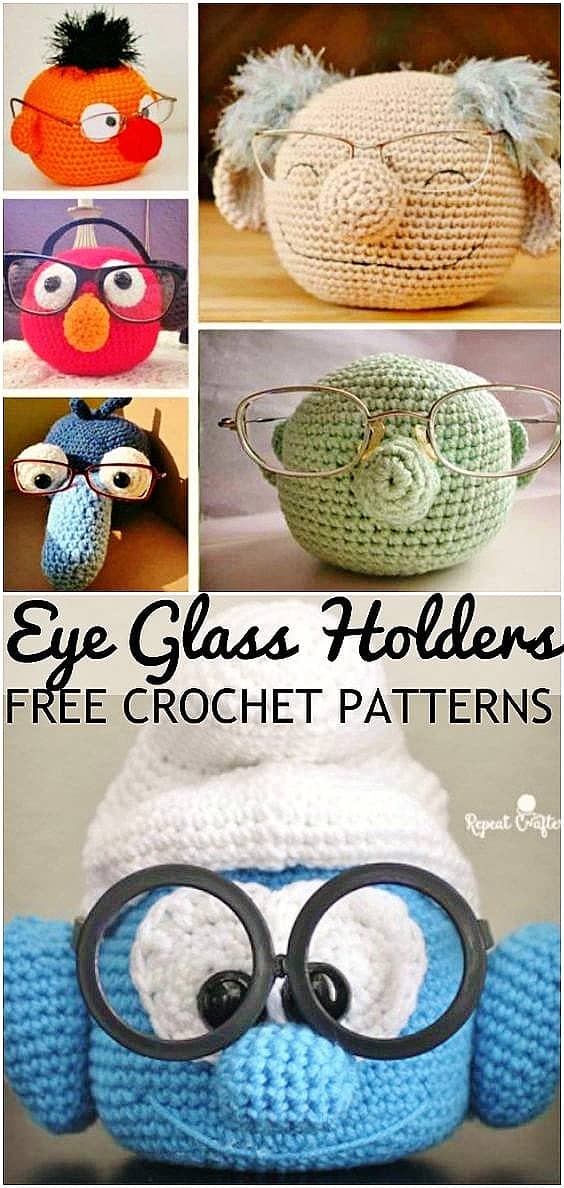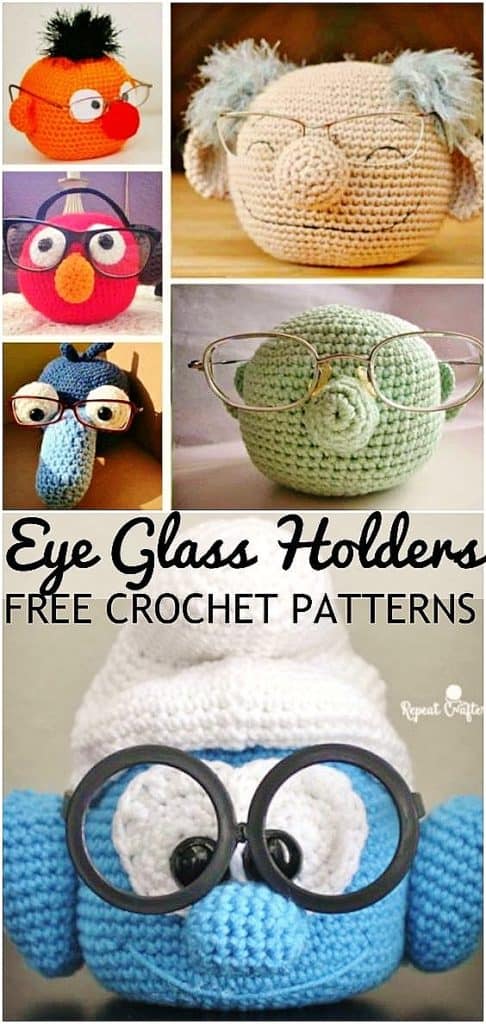 For more crochet projects Mom would love, feel free to check out our crochet post with free patterns.
---
Wood Craft Gifts
You can buy this Mother's Day wood sign on Etsy or make it yourself. We've seen wood letters at the dollar store, you can even design your own on poster board.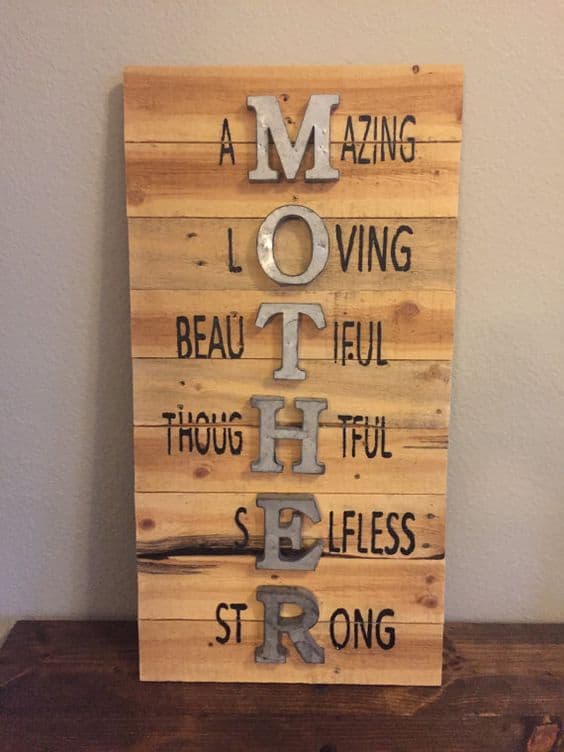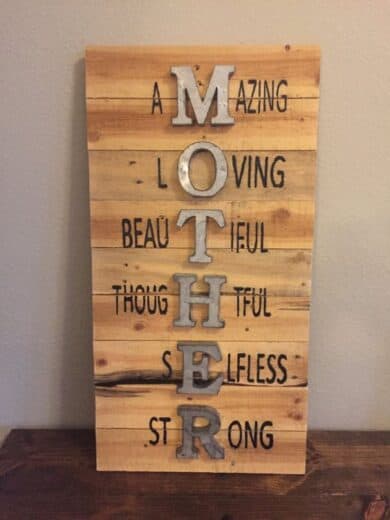 Family memories can easily be transferred onto wood pieces with Mod Podge and some elbow grease.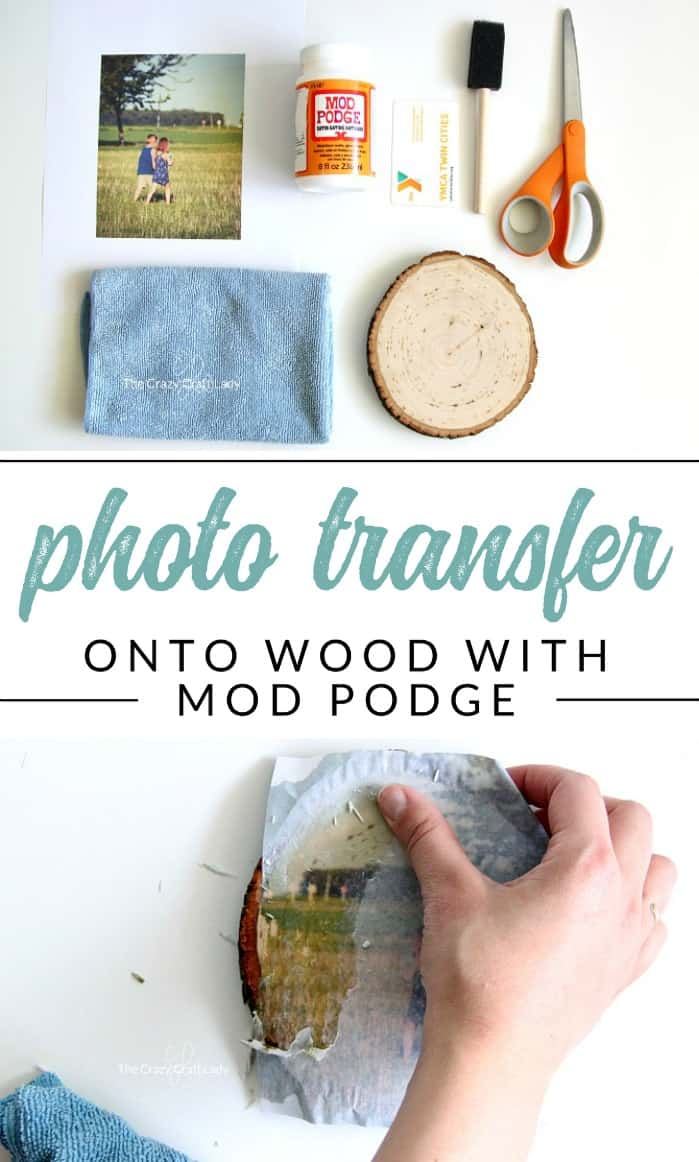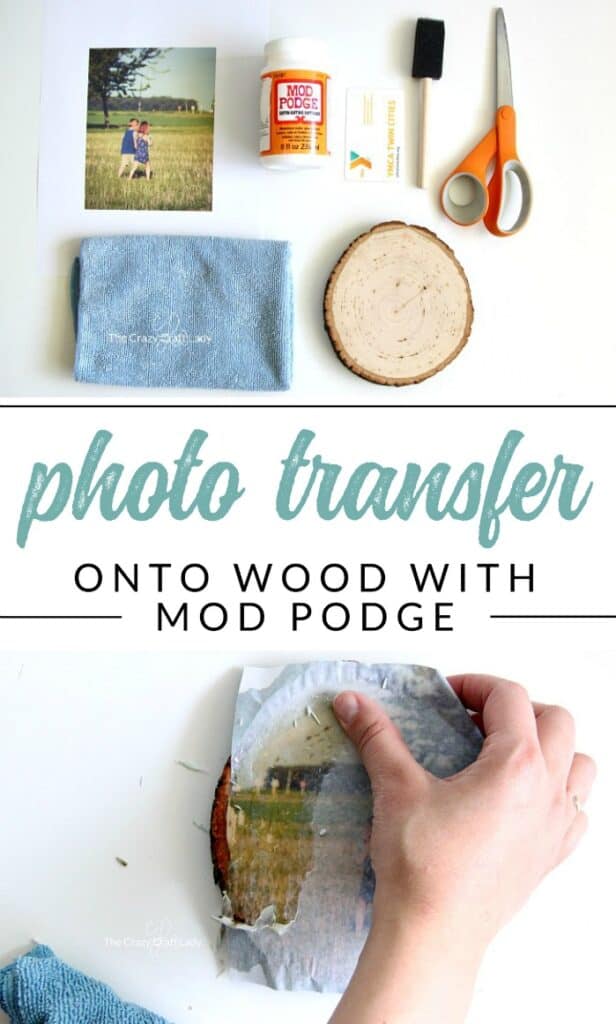 Transferring pictures onto wood planks for a rustic feel to family portraits and memories.

Make a framed photo collage for Mom's wall with all of your most memorable moments. Use poster board, cardboard, you can even glue together two frames.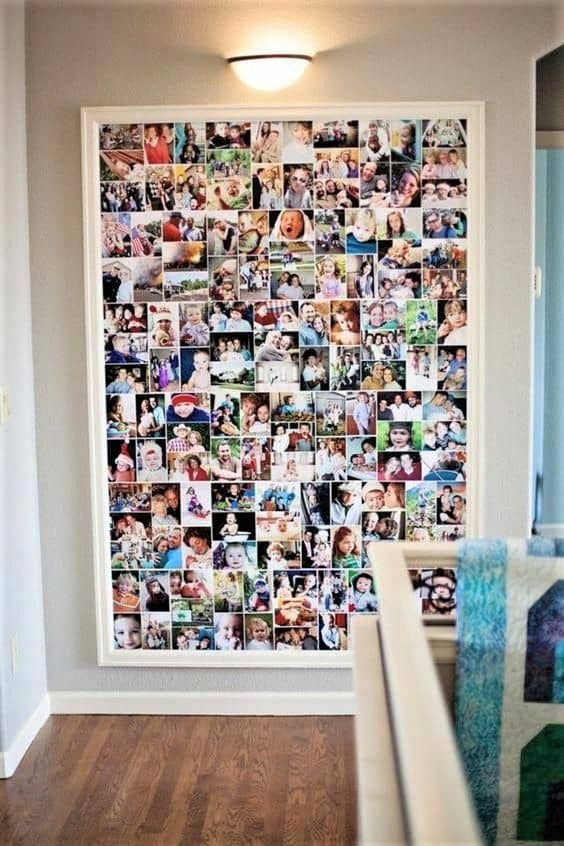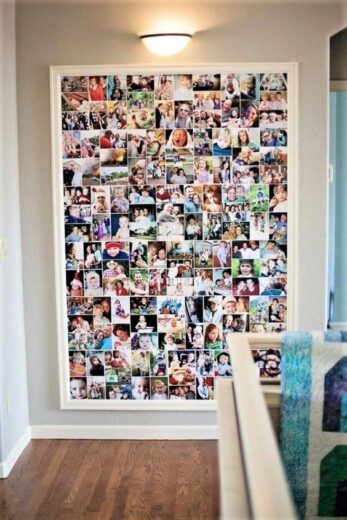 You can also easily transfer a photo onto a canvas using Mod Podge.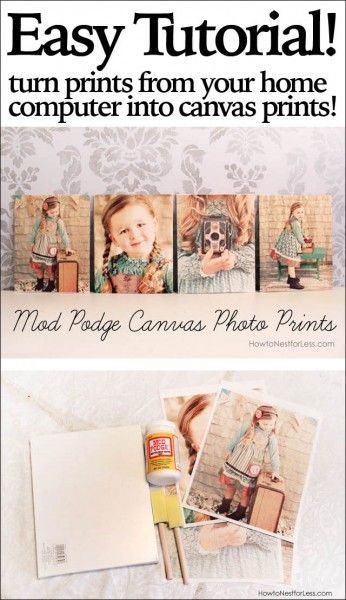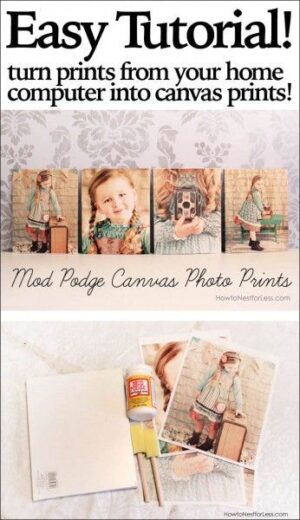 ---
We hope you enjoyed our personal list of easy DIY Mother's Day gifts even kids can make. Our wish is that this made your Mother's day gift giving a lot easier and less stressful.
Keep checking back as we'll be adding more ideas as we make them. If you try any, let us know how it turns out in the comments on Pinterest or below.
Pin It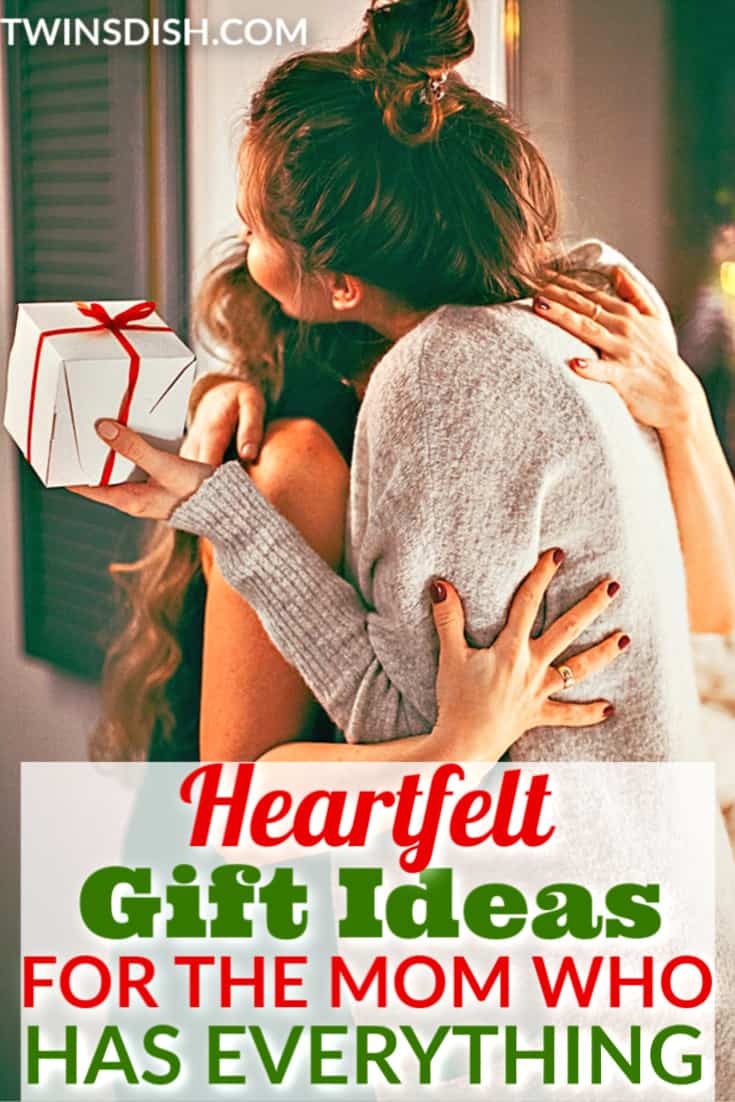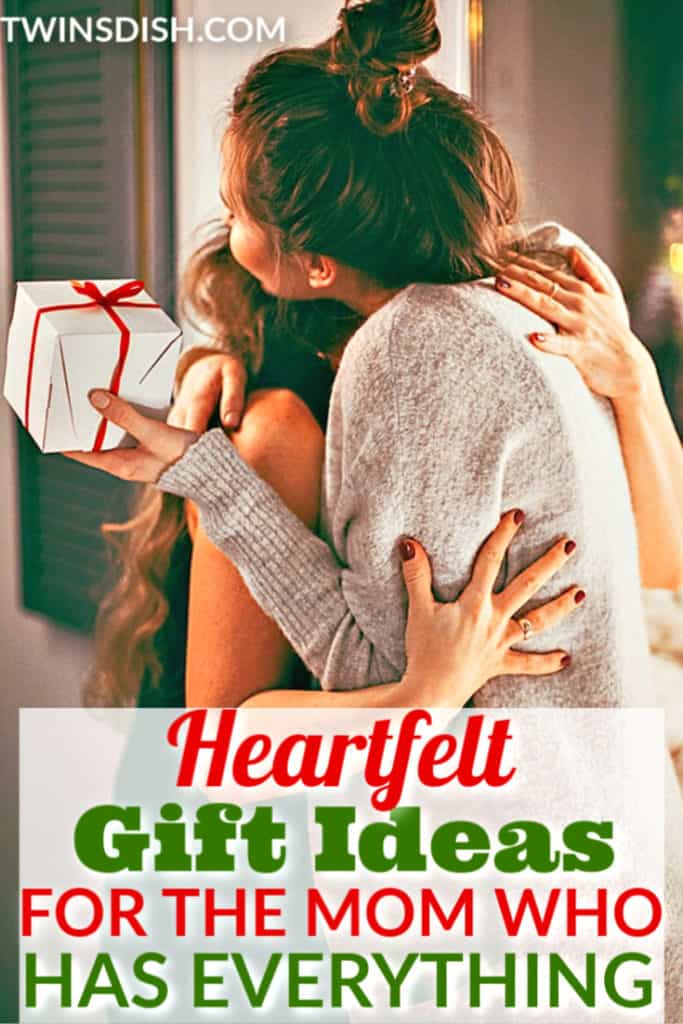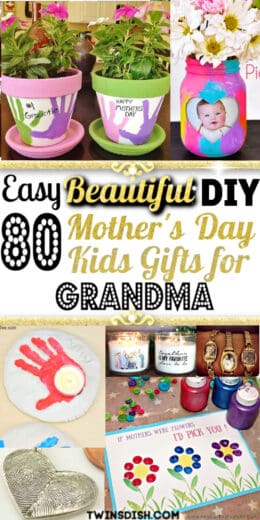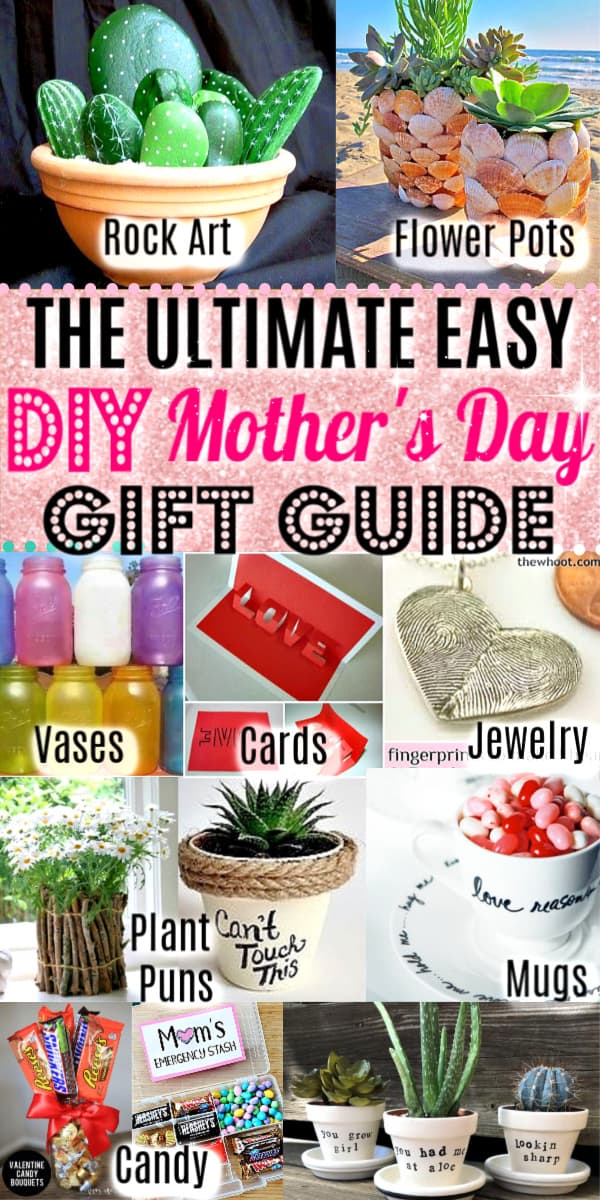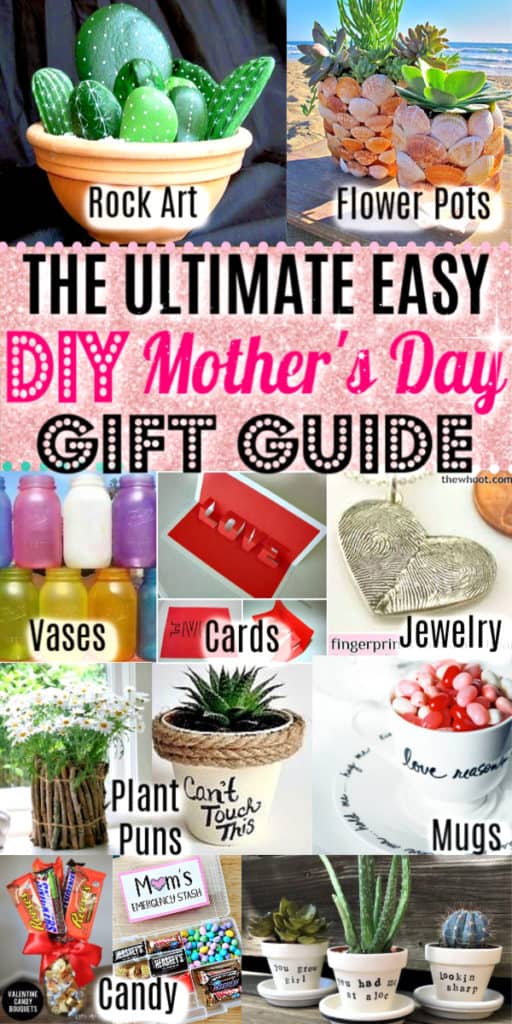 Happy Mother's day to all of the hard working Mothers out there. We salute you!
Love,

Other posts you may like…