Halloween Party Decor That Will Keep Guests Out of Your Rooms
We already went over The best, and easiest DIY Halloween Bathroom Decorations that'll scare the crap out of your guests. Now we're offering more Halloween Party solutions.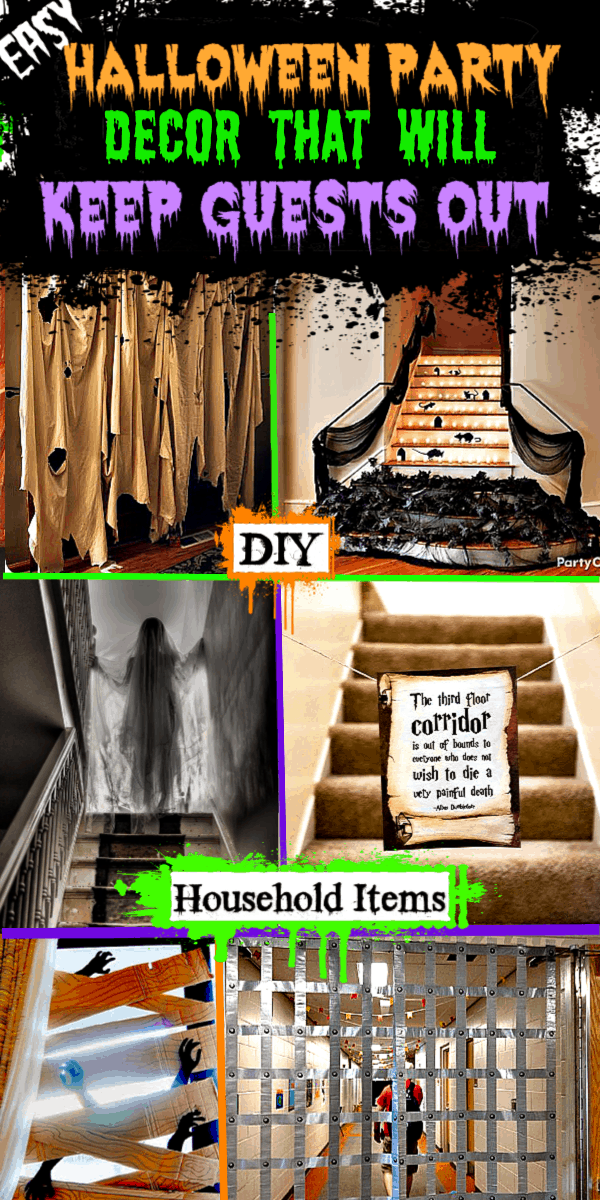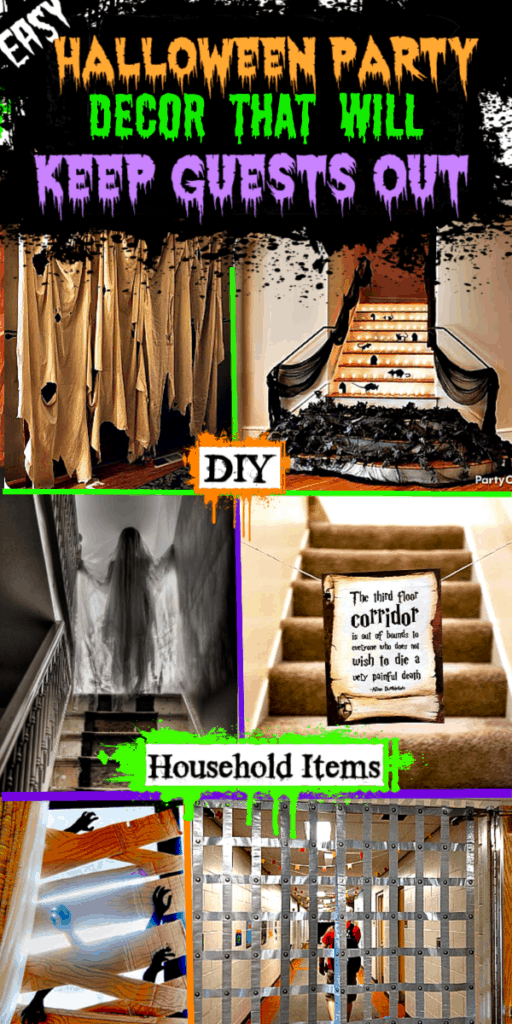 Be sure to Pin this for reference!
Don't let the threat of roaming guests keep you from enjoying your epic Halloween party. Here are the best, easiest, and most creative Halloween party decorations that'll keep guests out of your bedrooms without them even knowing.
We use these year after year because they're not only cheap, but the most effective!
This post may contain affiliate links. Click here to read our full disclosure policy.
Caution Tape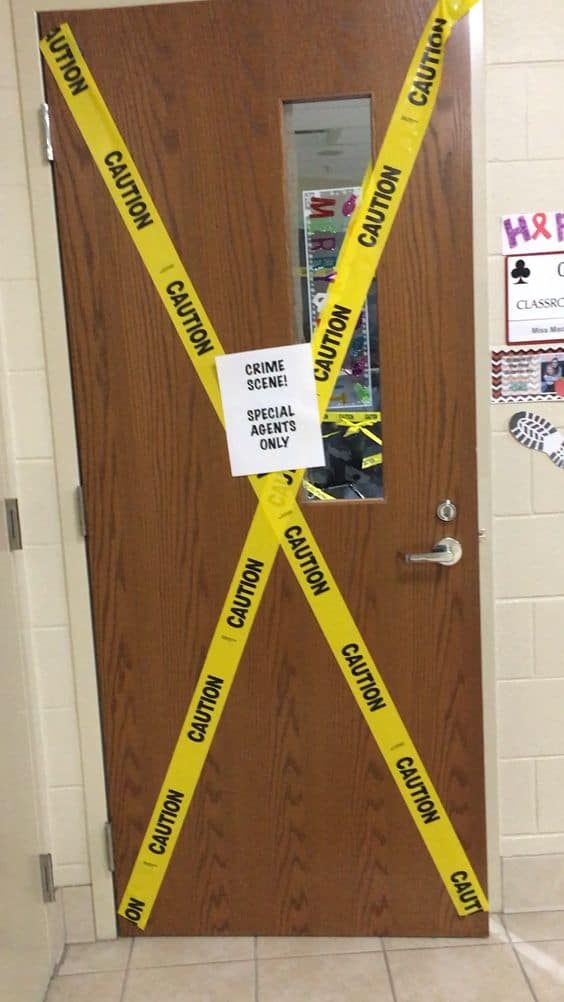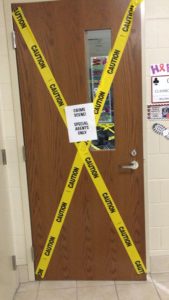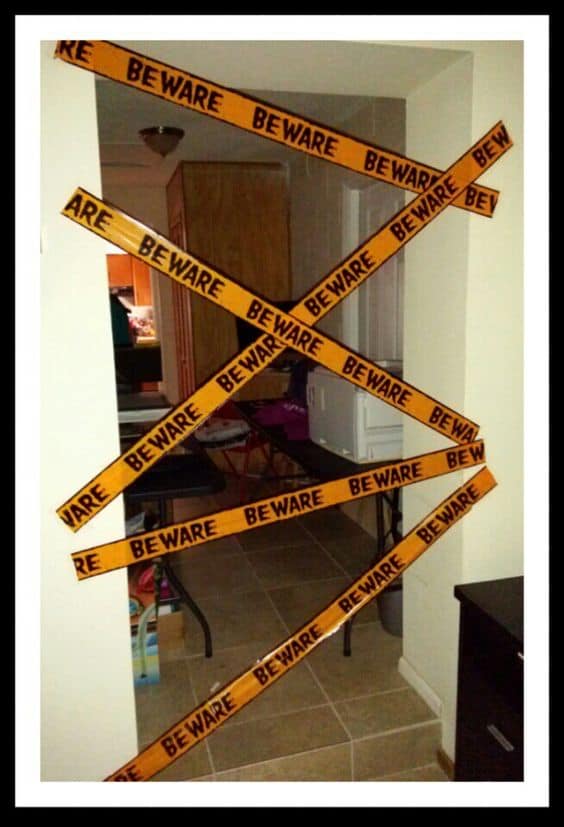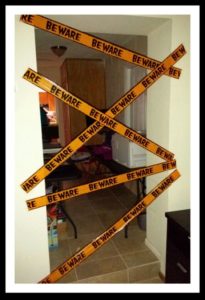 This is one of the cheapest and easiest methods since you can find Caution tape at most dollar stores. Add cob webs, candles, and fake rodents or insects to deter guests even more.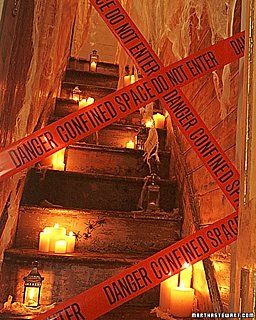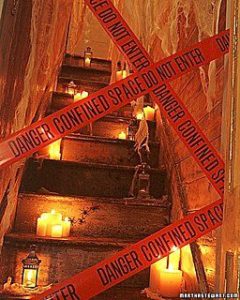 Drive the dagger home by adding candles to the stairs and spiders. These act as a visual boobie trap deterring guests even more.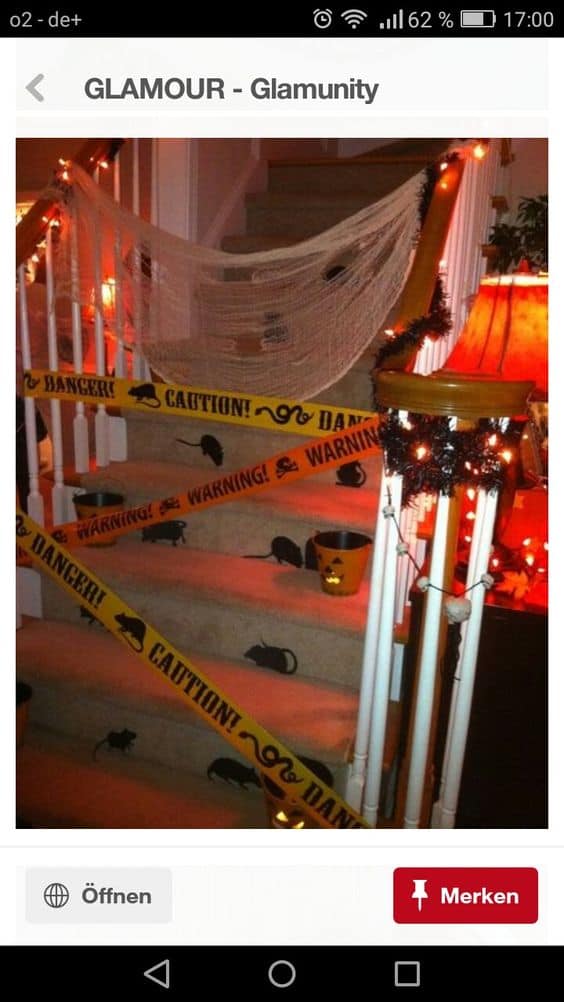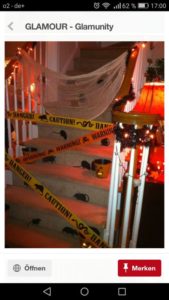 Rodents, cheese cloth, and caution tape has worked for even the drunkest of guests.
Streamers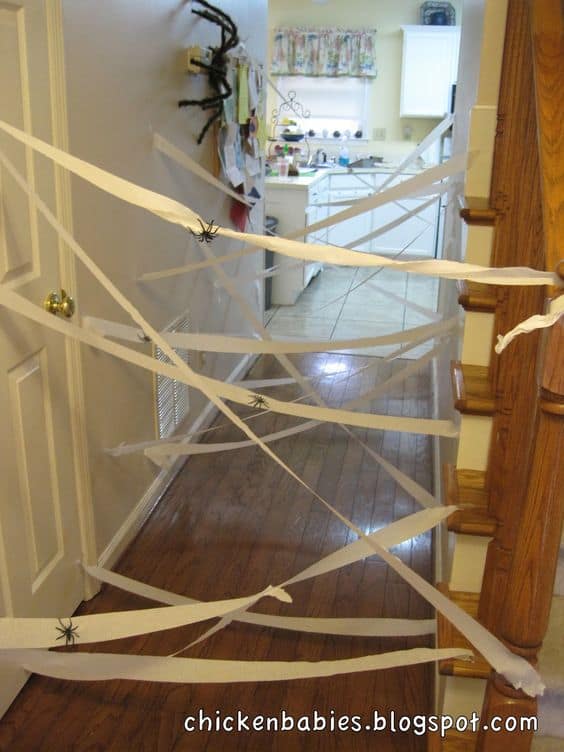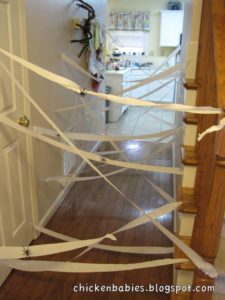 Streamers, spiders, and tape is all it takes. You can find all of them for super cheap at most dollar and discount stores or on Amazon.
Add a huge spider you can make yourself or purchase at many dollar stores and put the little plastic spiders crawling on the streamers. No one will want to walk through that.
Rodents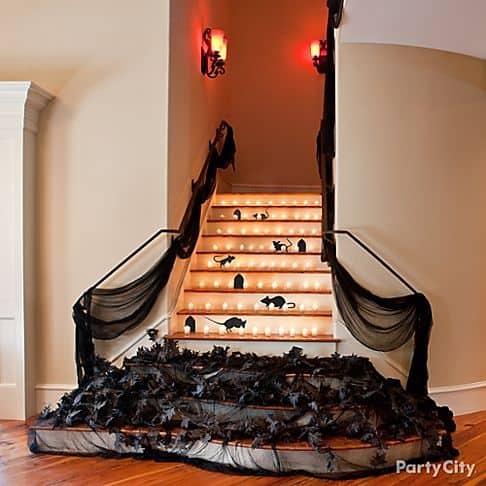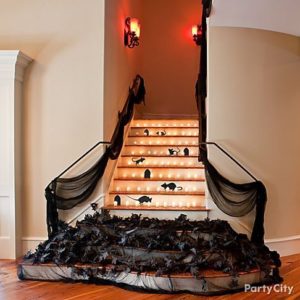 It's amazing what a little bit of cheese cloth, rodents, and lights can do. Would you use that stairway?
Duct Tape Gate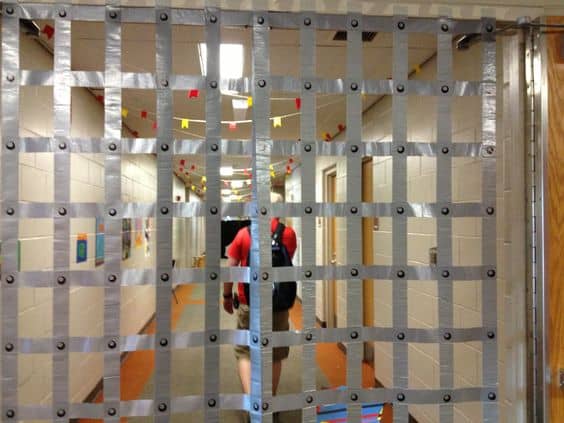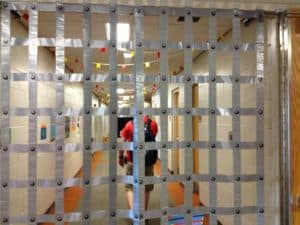 Who doesn't have electrical or duct tape lying around? Draw the little fake nails or screws with a sharpie and you're done! You can also find electrical tape at most dollar stores.
Card Board Planks & Shadow Hands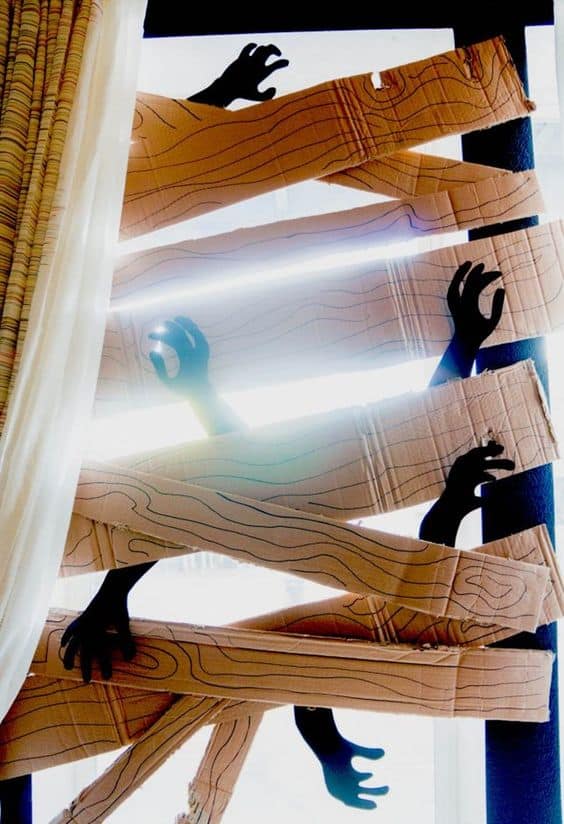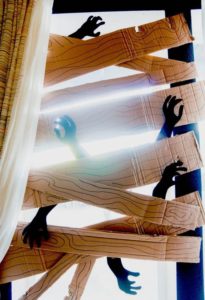 This idea will give you a chance to reuse all of those amazon shipping boxes. Cut up an old card board box, draw some grain with a sharpie, and cut out some shadow hands from construction paper or stuff some old black gloves for a fake zombie attack.
Corridor Signs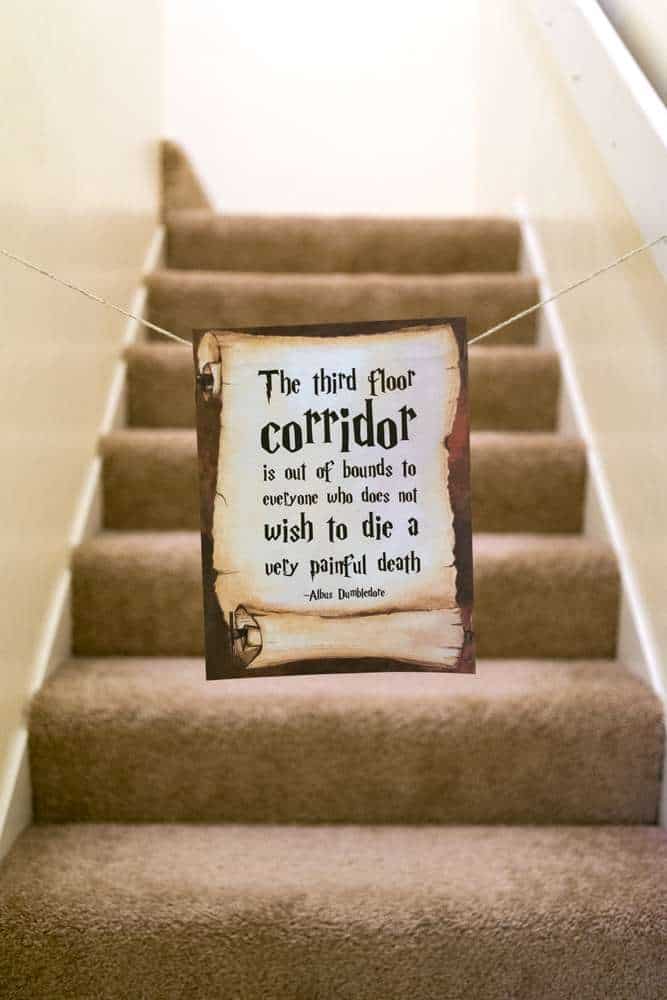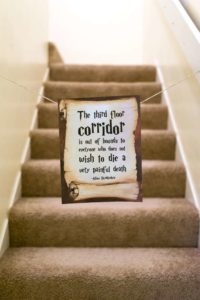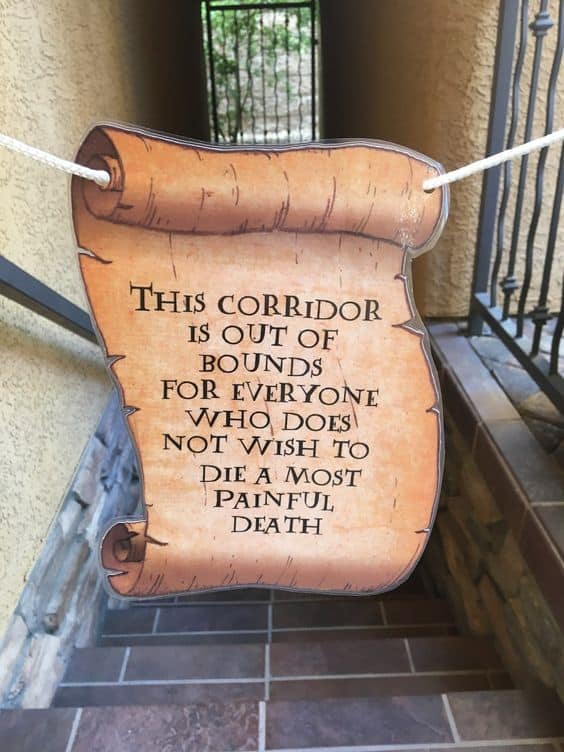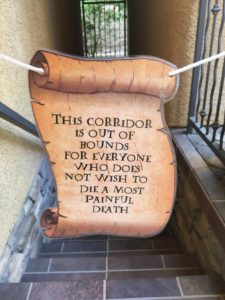 Make Harry Potter printouts but even a creepy handwritten note will work. This is probably the classiest and easiest to clean up. You can create fancy Harry Potter like signs to print out on free design sites such as Canva or Pic Monkey.
Apparition
This is one of our favorites! The following apparitions can be made using black construction paper, a sewing form with a foam head, wig and sheet/curtain sheers, or a mannequin.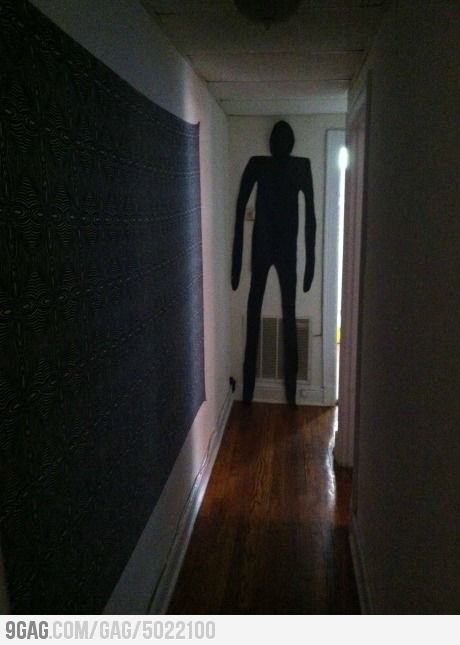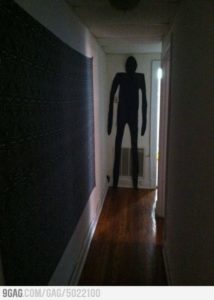 You can make a huge shadow figure to stick to a door using black poster board from the dollar store or construction paper.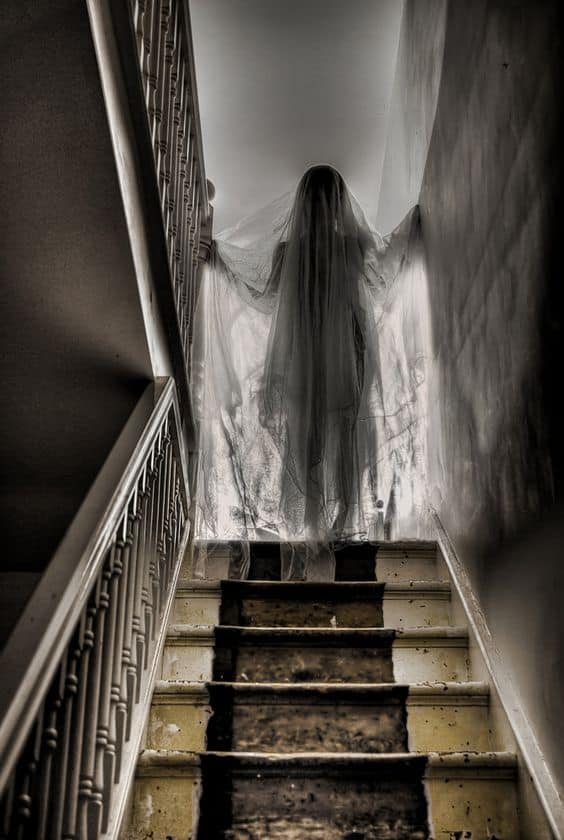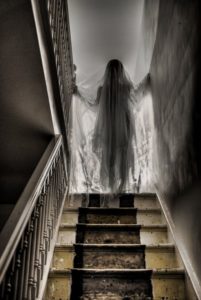 A sewing form, foam mannequin head, and curtain sheers or a sheet can make a spooky apparition to place at the top of a staircase. Flash a light behind it for added effect.
Bloody Tarpes and Sheets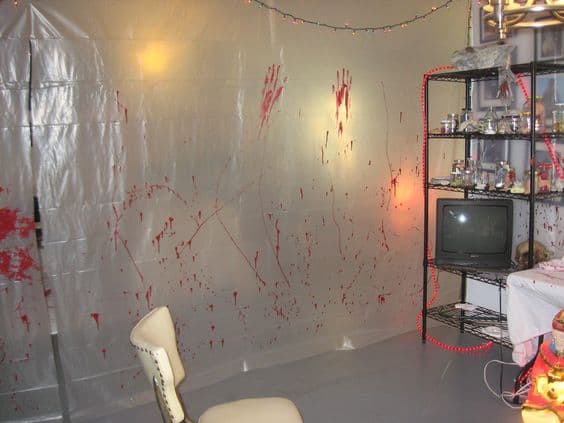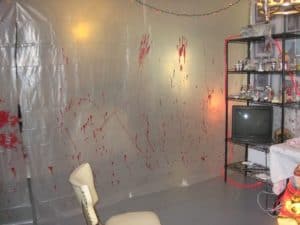 Painter's tarpe, an old sheet, shower curtain, cheese cloth, or wrapping paper can seal off a room. Splatter some red paint on it or cut holes and you're done.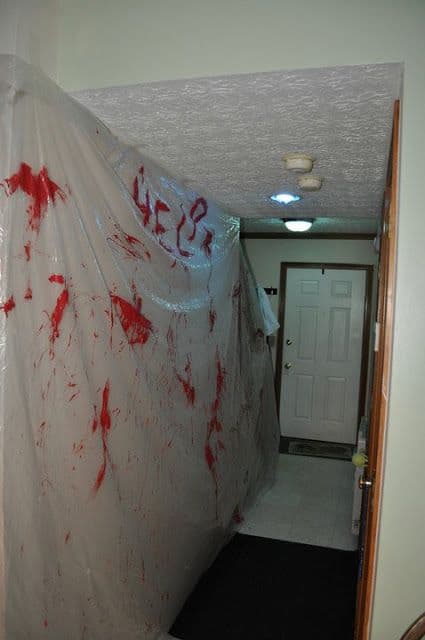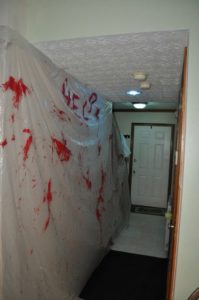 Reuse that dirty old sheet to block off larger areas or sections of your home to guests.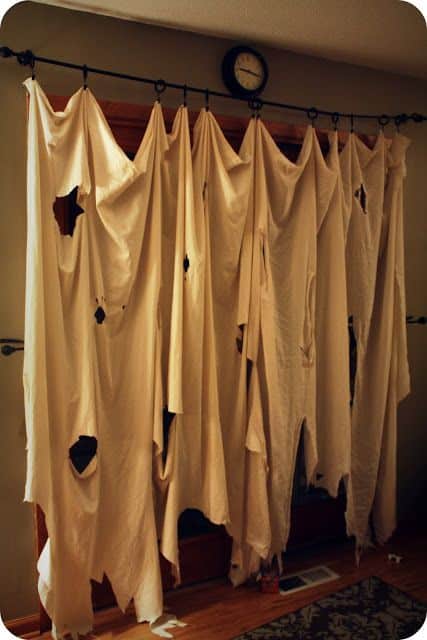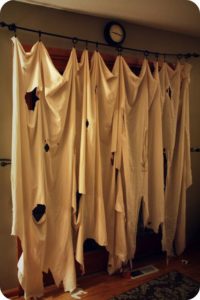 You can also decorate it with cardboard handles to make doors. So easy and cheap!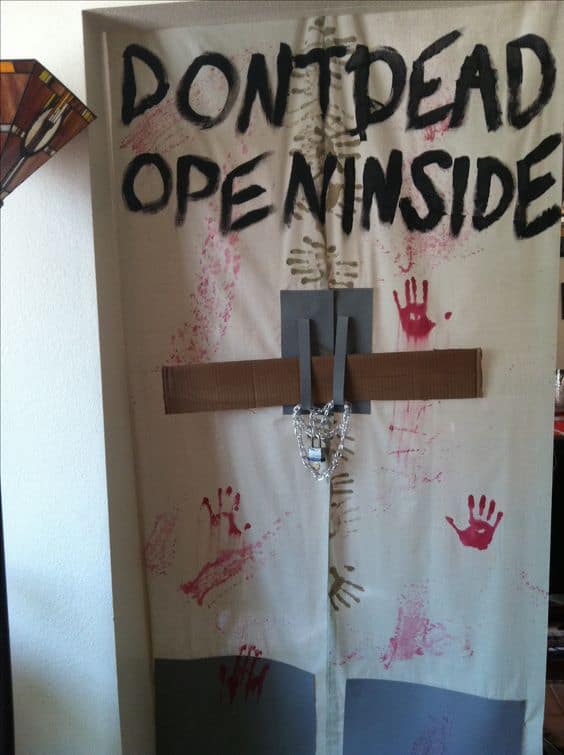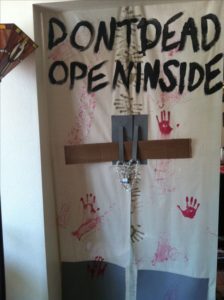 Cheese cloth tarps create a web like look that's too eery to enter.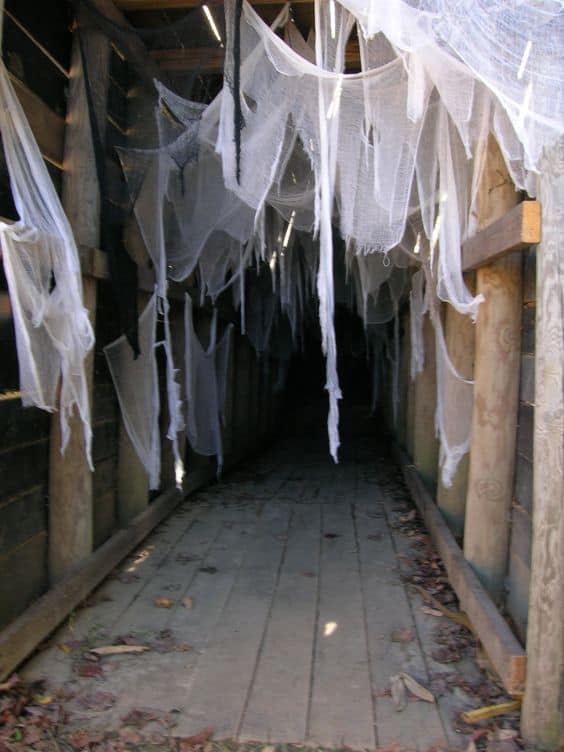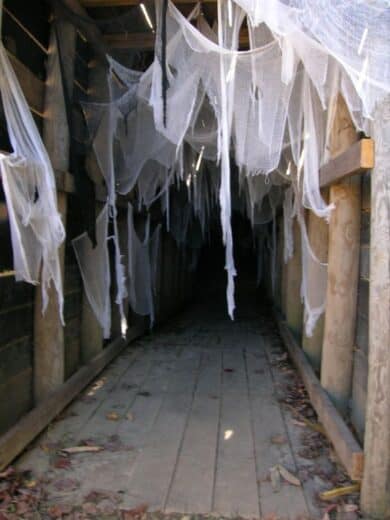 Spider's Web
Cover doorways with spiders and webs. If you want you can wrap some empty soda bottles into a human figure for their feast.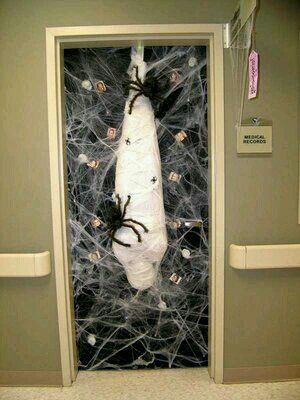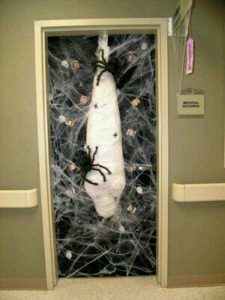 Create cheap walls of webs with spiders to keep guests out.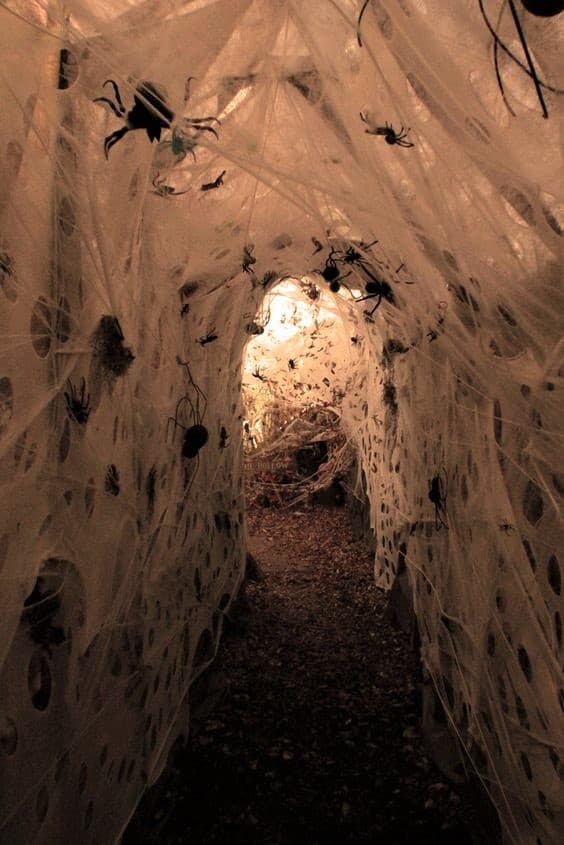 Disembodied Hands
Stick fake Amazon hands under your door for a creepy look that'll make them back off.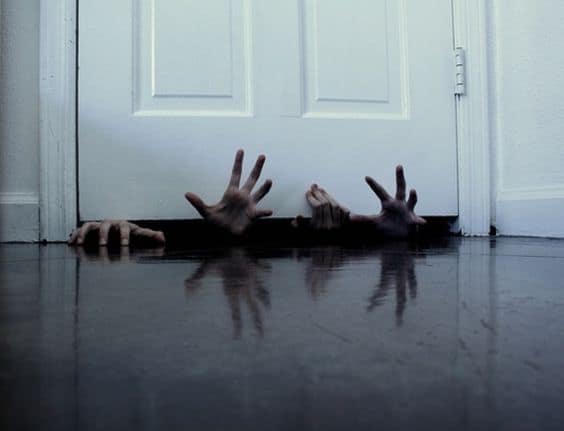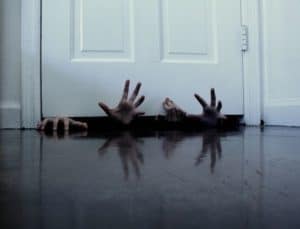 Pallet Wood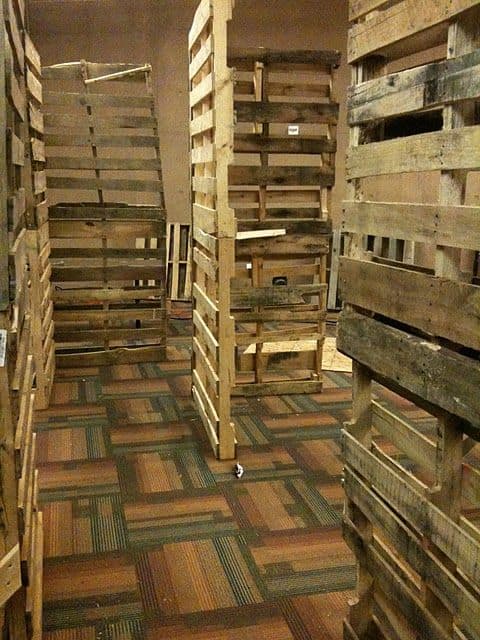 Make faux walls or block off entrances using pallet wood. We've asked for pallet wood and gotten it for free from our local Trader Joes.
You can even try Walmart, Target, or your local supermarket.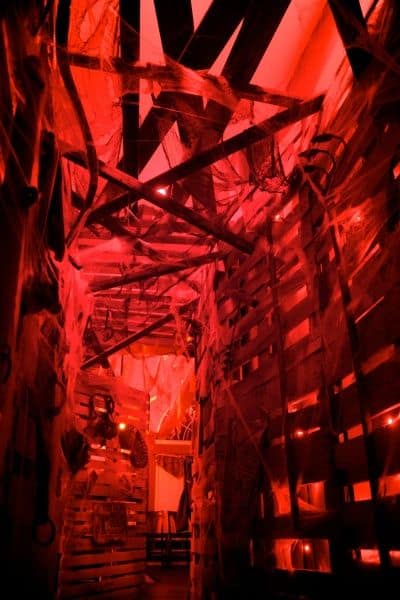 Paper Faux Cave Walls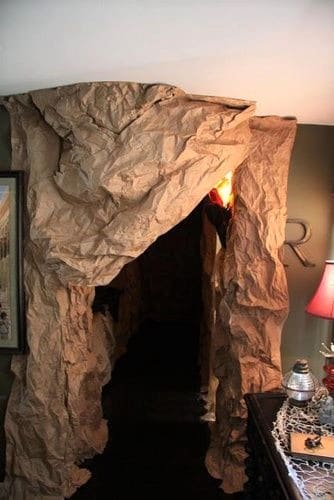 Crinkle up shipping paper to make faux cave walls to block off or create entrances in your home or apartment.
---
That concludes our list of the best and easiest ways to keep guests in the party zone while scaring them. Now you can enjoy your Halloween party worry free!
XOXO, The Twins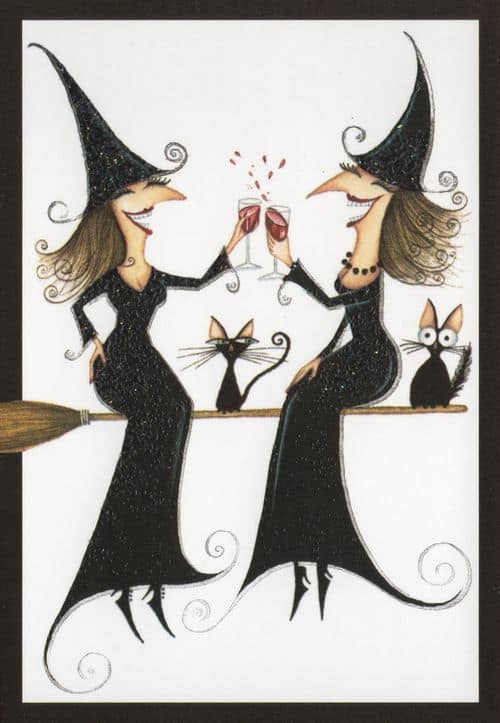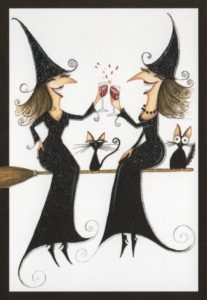 Other Posts You'll LOVE…