Why You Need A Secretary Desk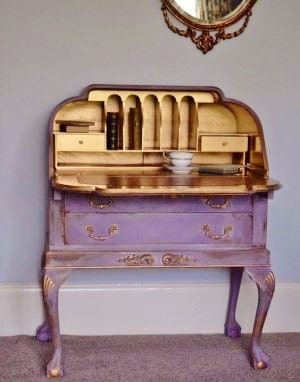 Whether you're a student moving into a dorm, a young adult moving into their first apartment, a busy family in need of a command center or you're just simply short on space in your home, the BEST solution is a Secretary Desk. Secretary desks are cheap, versatile, multi-functional, easily refinished, and have great resale value.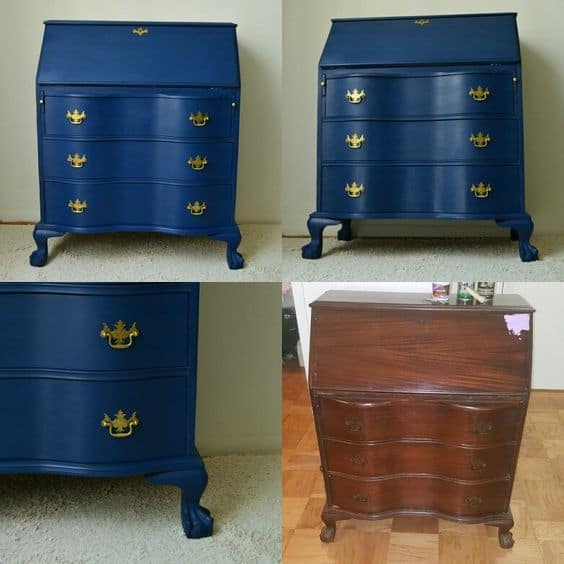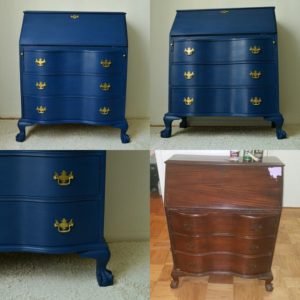 One of the most famous Secretary Desks was the one in the movie Sex and the City 2 that held the tv that Big gave Carrie for their anniversary.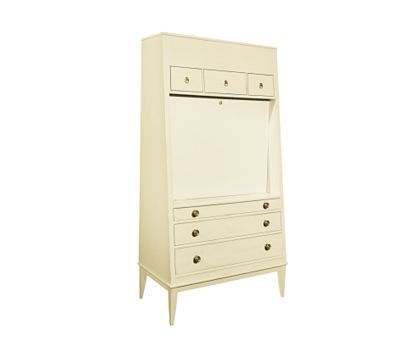 They're like a dresser, desk, office, nightstand, vanity, and library all in one. Add two book cases on either side and a hutch on top for the ultimate craft station like the combination below from Ikea.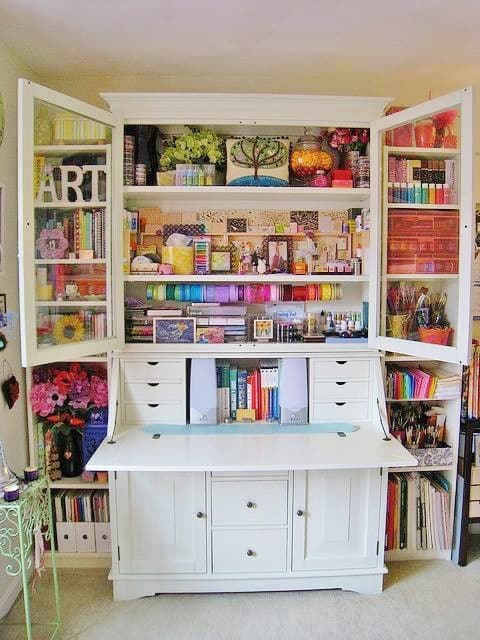 COMPLETE BUYER'S GUIDE
Here are all of the reasons why you need one, ideas on where to put it, and tips on finding the best one for you at the right price. At the end of this post you'll also find a gallery full of DIY inspiration.
A SECRET COMMAND CENTER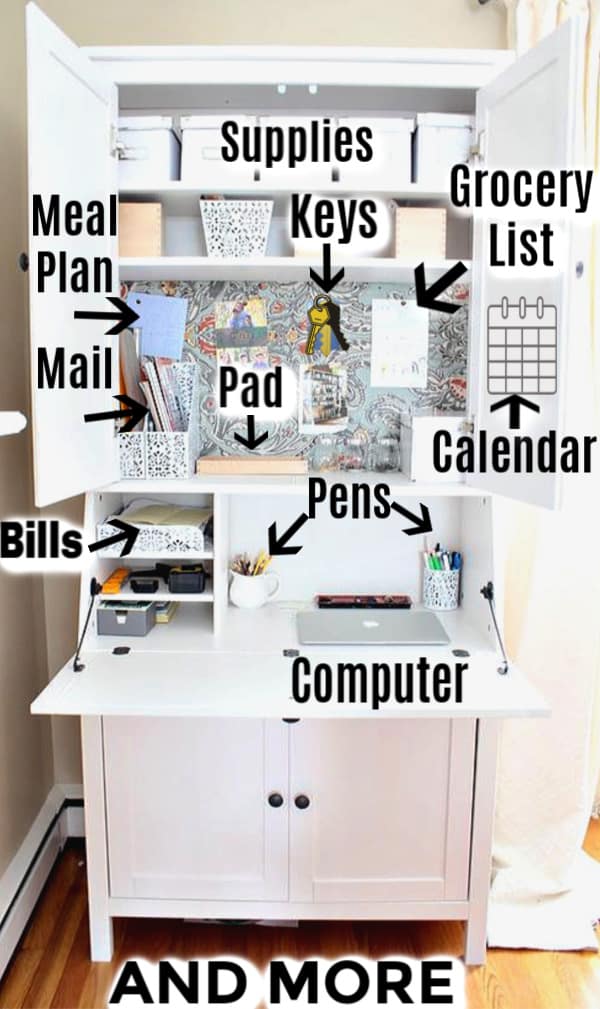 One of the best purchases we ever made was our $40 secretary desk. We were able to fit ALL of the contents of a bulky, 5 foot long desk into a compact, efficient, versatile hidden office that doubles as a beautiful piece of furniture.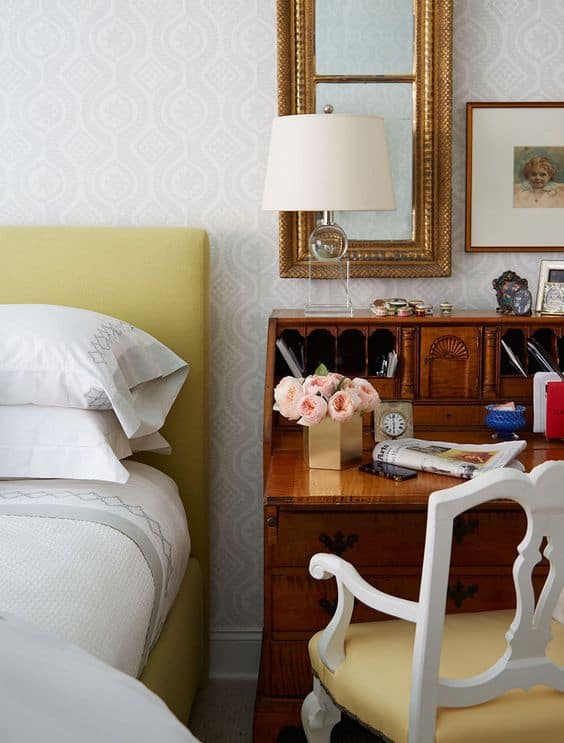 The best thing is when we're finished with work or have company over, we can just close the desk door and our office is safely hidden away from prying eyes or flying toys.
You can get one with a lock on it or have a small lock installed for security against nosy roommates, parents, visitors or kids looking to doodle.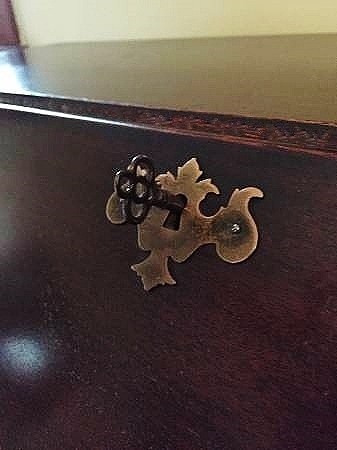 There's nice counter space on top to place nick knacks, a computer monitor, tower, modem, printer, or even food or drinks while we're working. As a matter of fact this post is being typed on a Secretary Desk right now!
Ours has 3 drawers including a cedar lined bottom drawer that we can use to store sweaters. We haven't done it yet, but we plan on refinishing it to a silver metallic.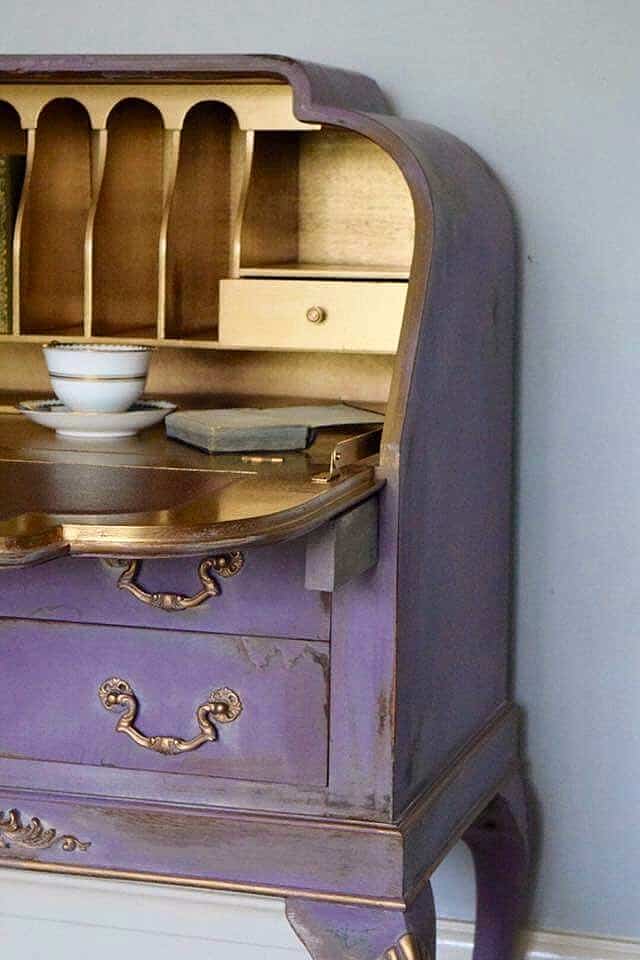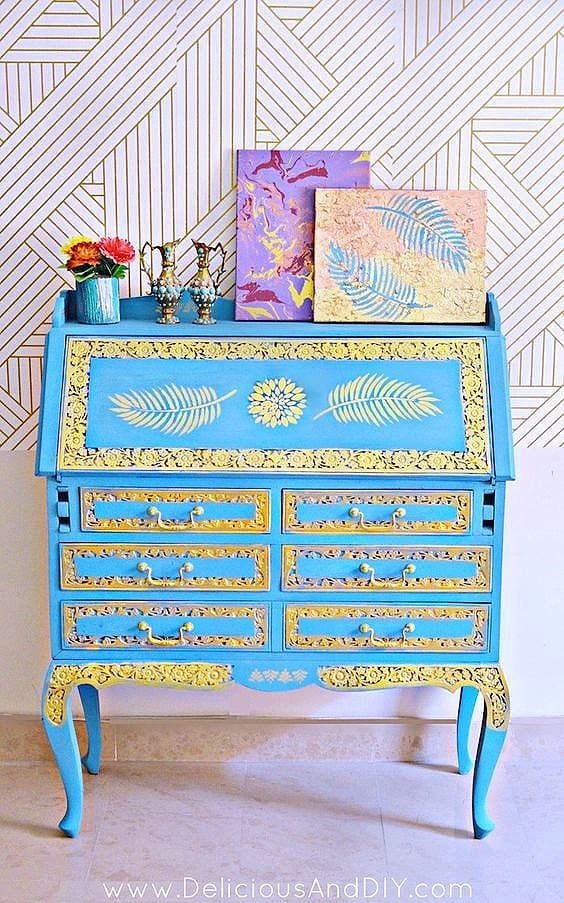 What Is A Secretary Desk Used For?
You can place a secretary desk in any area of the home but it's especially great for bedrooms since it can act as an office, dresser, vanity, and nightstand all in one.
Secretary Desks are perfect between two beds which can save a ton of room in small spaces like dorms.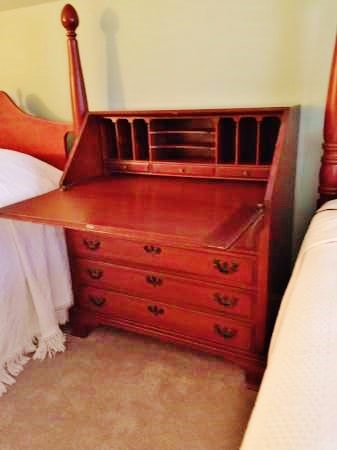 For an extra space saving tip, a storage bench or chaise lounge at the foot of your bed can double as your office seat when needed. Just be sure you purchase furniture sliders, available at dollar stores, for underneath the legs of your bench or lounge so you can easily slide it to the desk and back to the foot of your bed.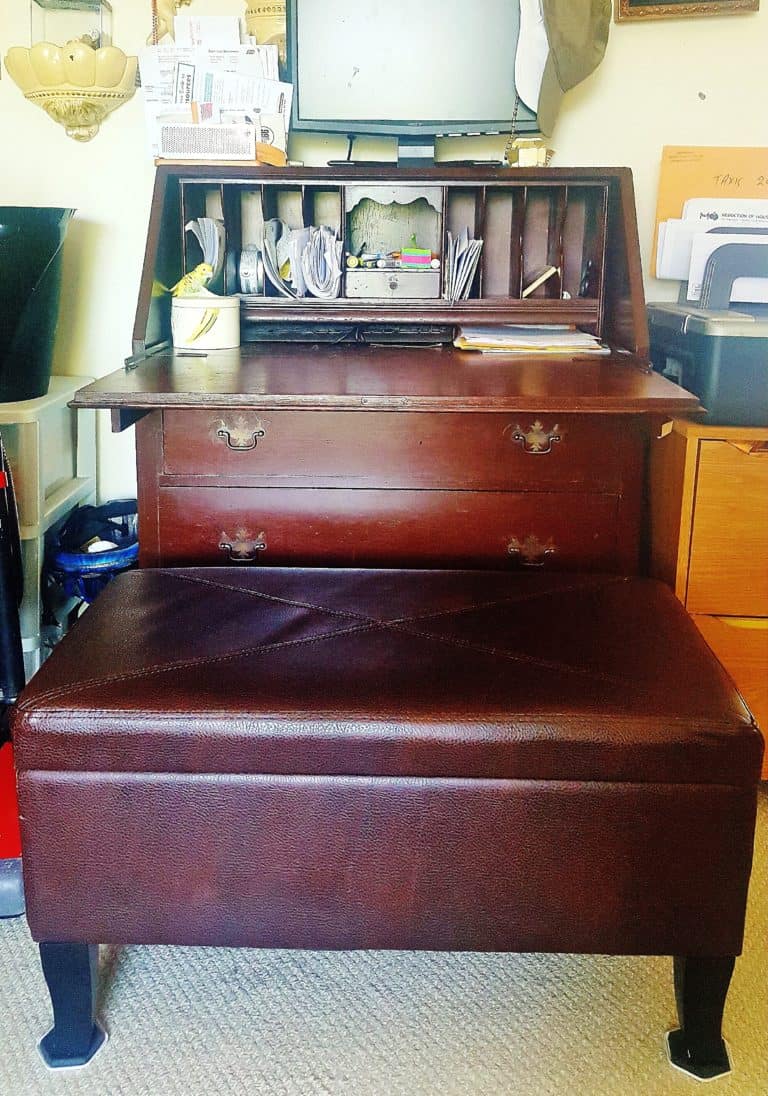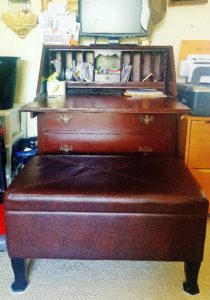 In a living or dining room Secretary Desks can be used as a china closet, bar, dresser, and desk or even as all in one.
Secretary Desks can vary greatly in shape, size, design, and price so here are some tips on finding and purchasing the right one for you :
How Much Is A Secretary Desk?
Our personal favorite is buying older antique or used desks from sites like Craigslist, Facebook Market Place, and apps like Letgo. You can sometimes find them for as little as $25.
Antiques are a fraction of the price, come with their own unique characteristics, can be repainted, and are usually made of real wood in a variety of finishes (Mahogany, Walnut, Maple, etc).
You can also purchase new secretary desks from stores like Pottery Barn, IKEA, and even Home Depot for anywhere from $140- $1,400.
TOP COMPARTMENT
When deciding which Secretary Desk to purchase you're going to want to think about what you're going to use it for and pay attention to the compartment at the top that pulls out converting it into a desk.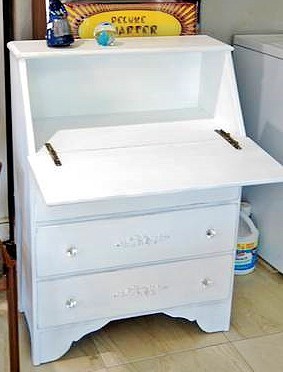 Some secretary desks are completely empty inside the top compartment but many come with shelves and drawers that can be great for smaller items but limit the inside space for storing bigger electronics.
Be sure to see pictures of inside the desk (when the desk is open) especially if you plan on storing a computer or laptop in it to make sure the shelving inside the top compartment leaves enough clearance at the bottom to slide in a closed laptop.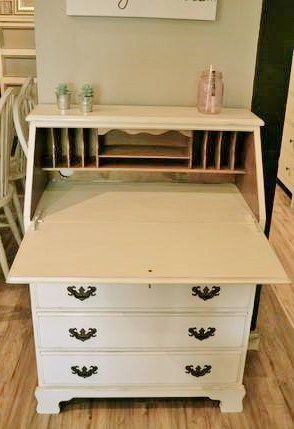 The depth size is going to give you a good idea of whether or not it can fit your laptop or computer when it's closed.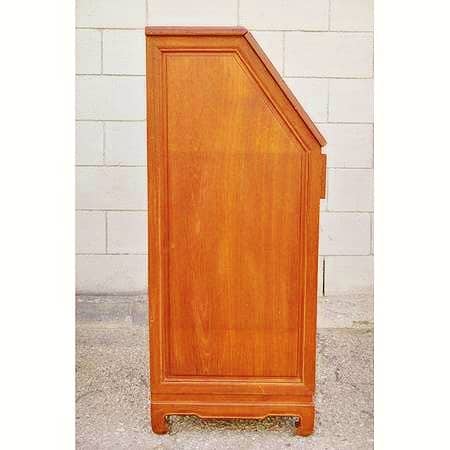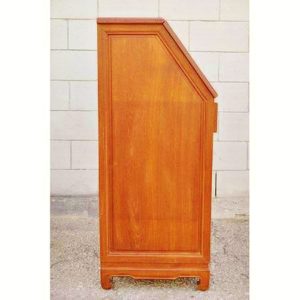 The shelves in some secretary desks are removeable so be sure to ask the seller if that's the case.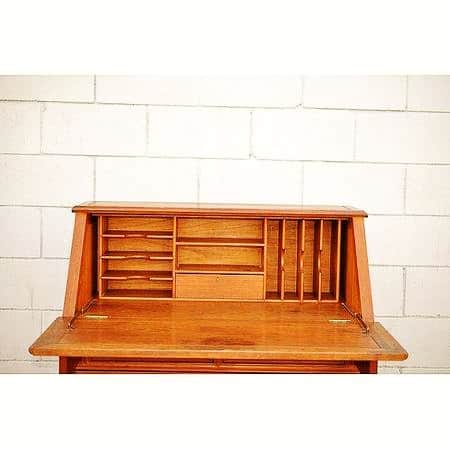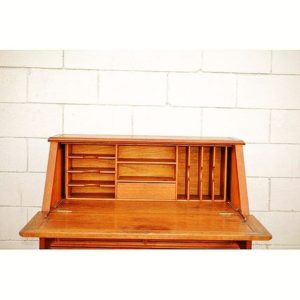 Secretary Desk With Hutch
Some Secretary desks come with a tall cabinet on top known as a "Hutch". Think of a hutch as a bookcase or glass cabinet on top of your desk.
Some hutches are detachable from the desk and some aren't. A hutch can be useful in adding additional storage if needed.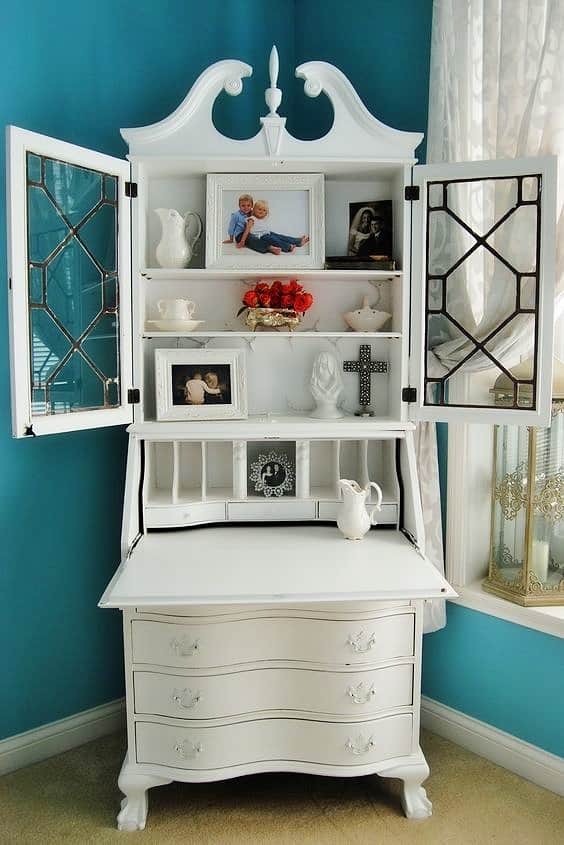 You can also make a DIY hutch with a small bookcase as seen below or hang shelves above the desk.
We chose not to purchase a desk with a hutch because it was going under a window.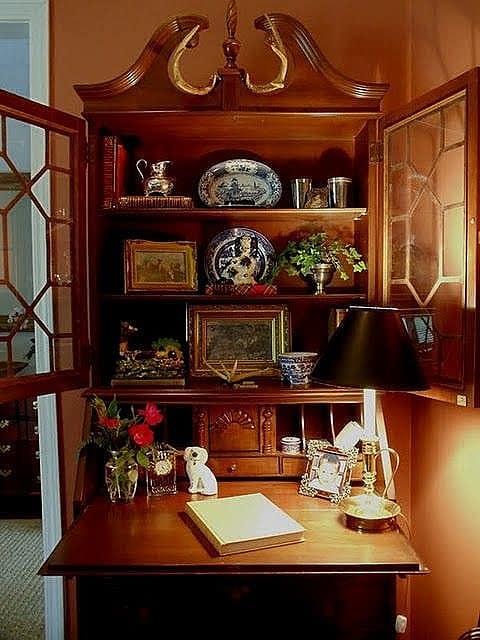 Secretary Desk Dimensions
Secretary Desks come in different sizes spanning anywhere from 29 – 42 inches wide, 14 – 20 inches deep, and 37 – 72 inches high. Whether purchasing new or used, be sure to ask what the measurements are for the width, depth, and height of the desk. Don't forget to also ask what the span or depth of the desk is when open so you know how big your work space will be.
Below is an idea of the best uses for each desk size range.
28-30 INCH WIDE SECRETARY DESK
Best suited for a kids room, dorm or small space, this mini Secretary desk is great for light office work, paying bills, writing letters, kids craft storage, china cabinet, as a bar or dresser.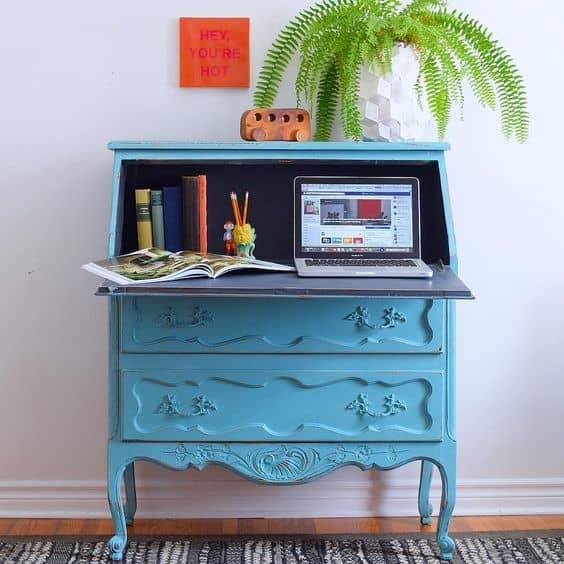 Since they usually come with a depth of only 14-15 inches, most medium to large sized laptops cannot be stored inside of a 28 inch wide desk unless the top compartment is completely empty or sparse.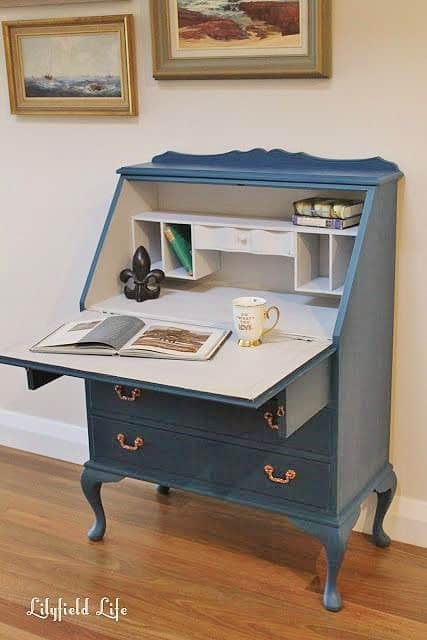 Larger laptops or a desk top computer can however be placed on top of the desk. You can also store a closed laptop in the drawers.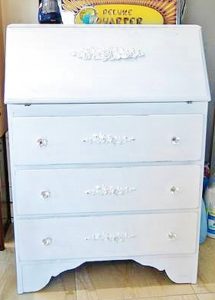 If you purchase one with a hutch you might even be able to store a desk top monitor and tower inside of it along with books. Many classic antique Secretary desks that include a hutch are this size.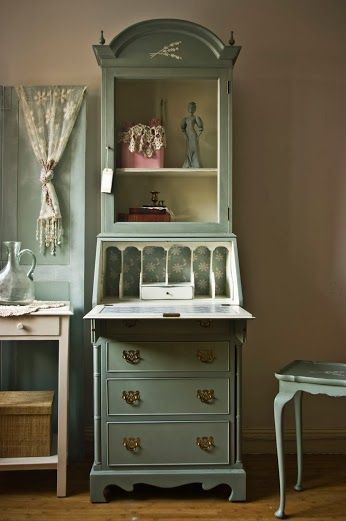 31-42 INCH WIDE SECRETARY DESK
If you want the best replacement for a full sized desk, this size range is probably your better option.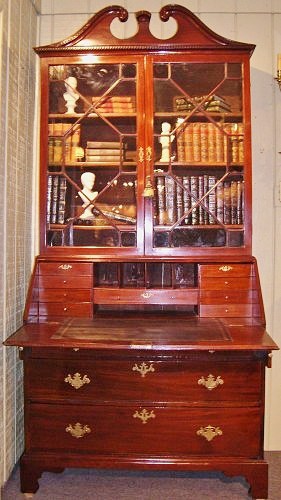 They can vary from 16-20 inches deep allowing more room for storage inside of the top compartment of the desk.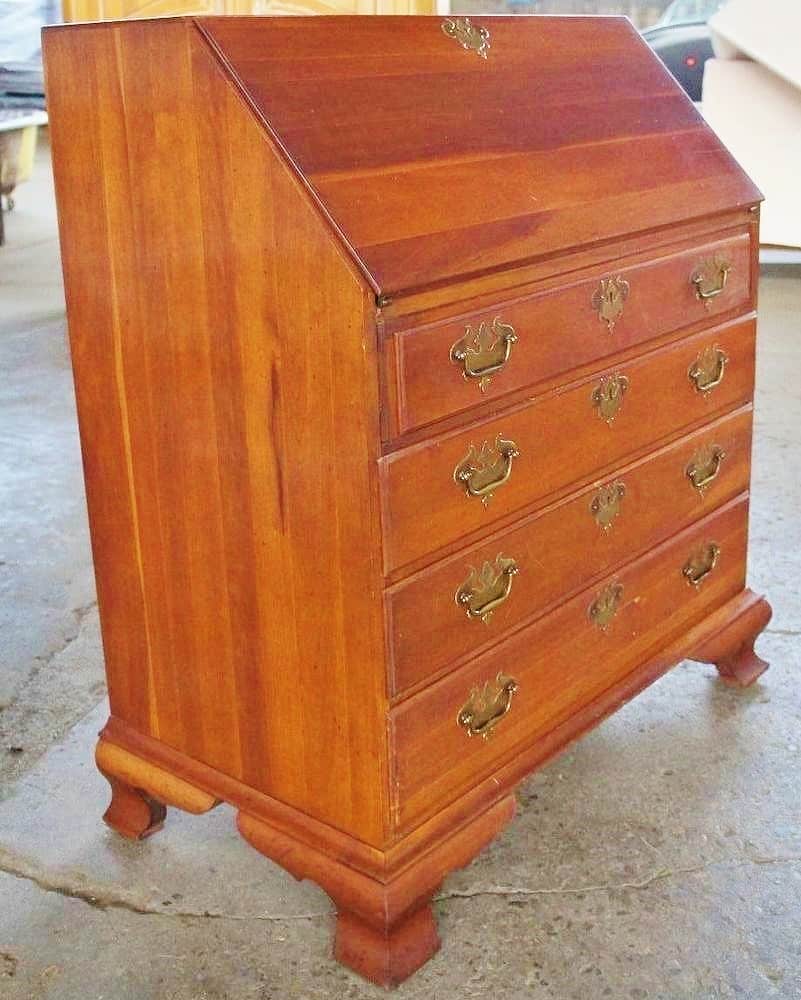 Our desk is 31/32 inches wide, and 17 inches deep allowing us to store three 14 to 15 inch closed laptops within the top compartment. The desk is 40.5 inches tall meaning the drawers are deep allowing for a whole lot of storage.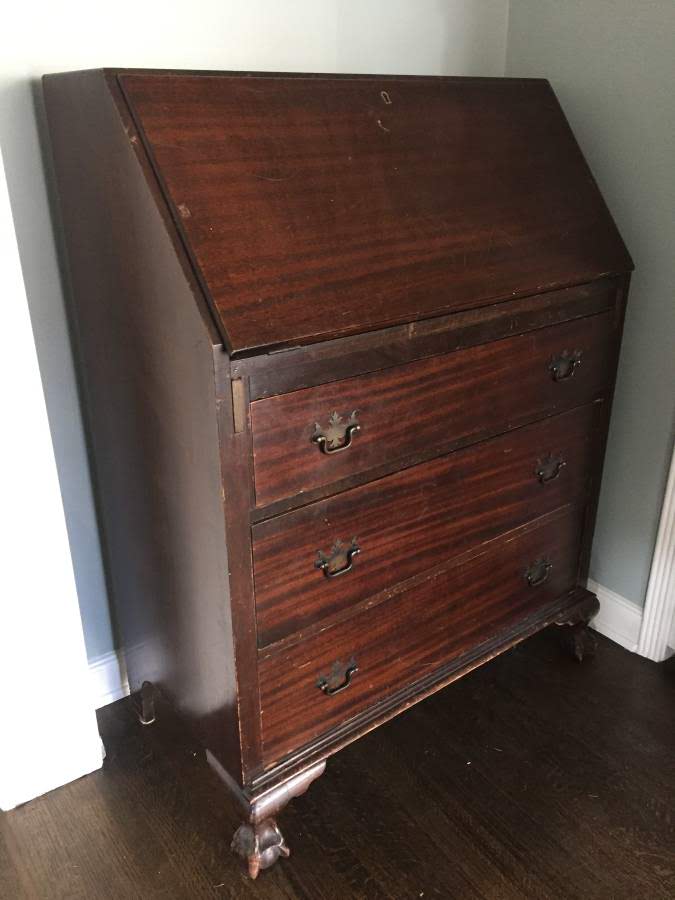 We are two petite women and we can both sit next to eachother at the desk comfortably.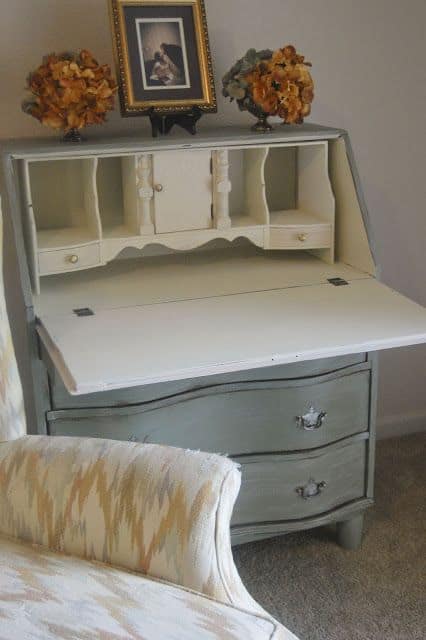 THE BEST TIME TO BUY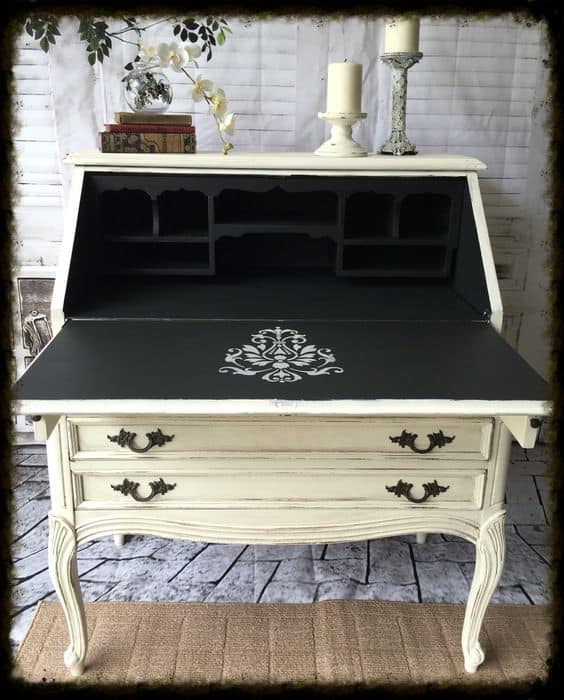 Don't be discouraged if you can't find the one you want right away especially when seeking used. It took us 7 months to find one that we liked and we ended up finding a second one shortly after. You'll have the best luck between July to December when people are moving or cleaning out their home for the holiday season. You might also have some luck during the spring cleaning season.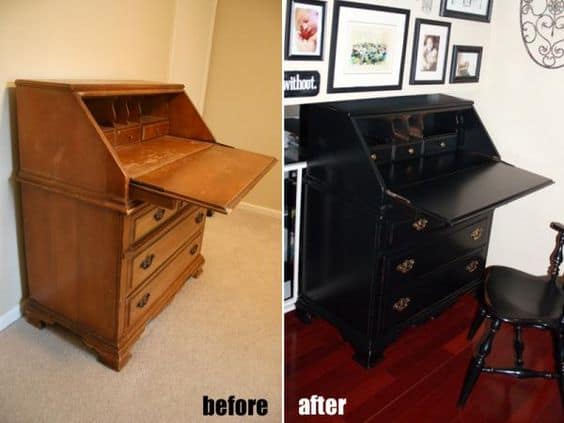 A dresser, office, nightstand, and book case all in one for as little as $20 makes secretary desks a unicorn product and the ultimate space saver.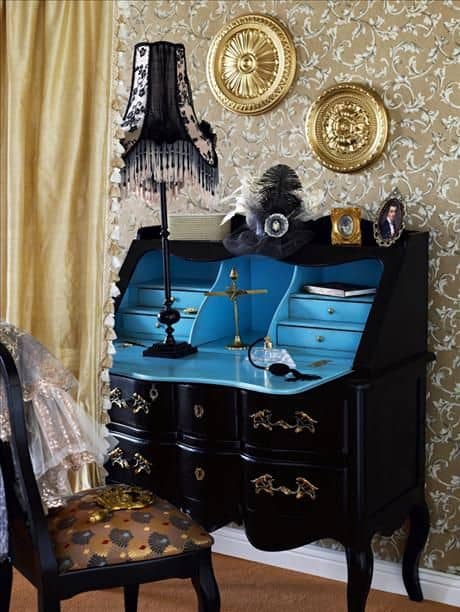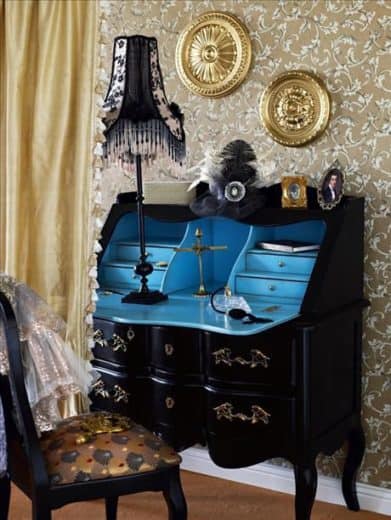 The best part is that they're so much fun to refinish. For make over inspiration check out the gallery below. The possibilities are endless.
Secretary Desk Ideas And DIY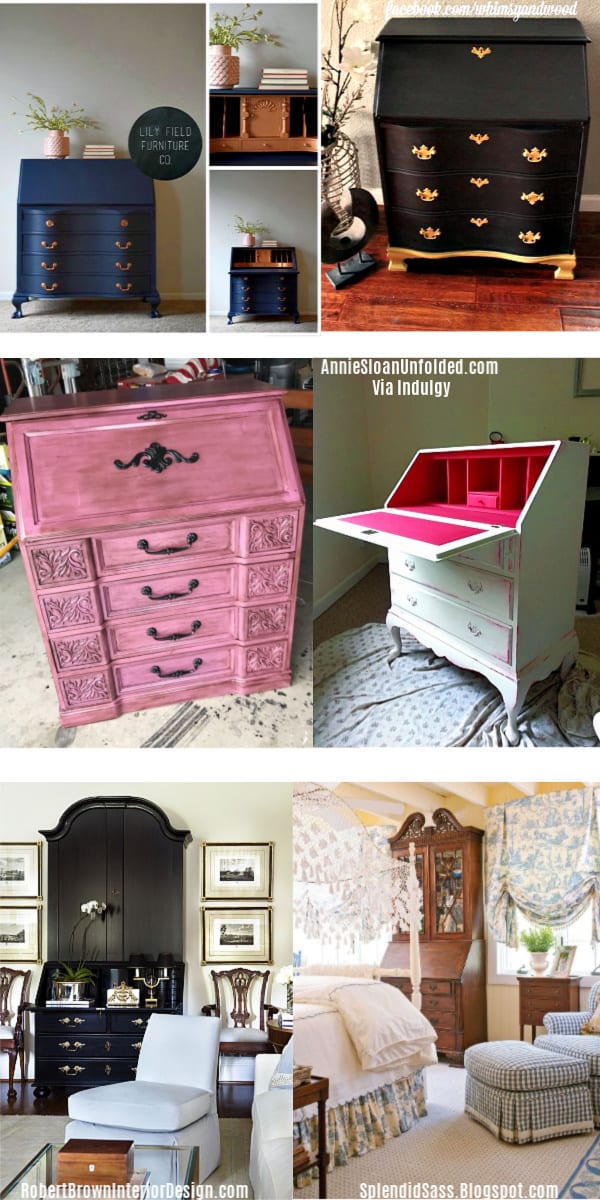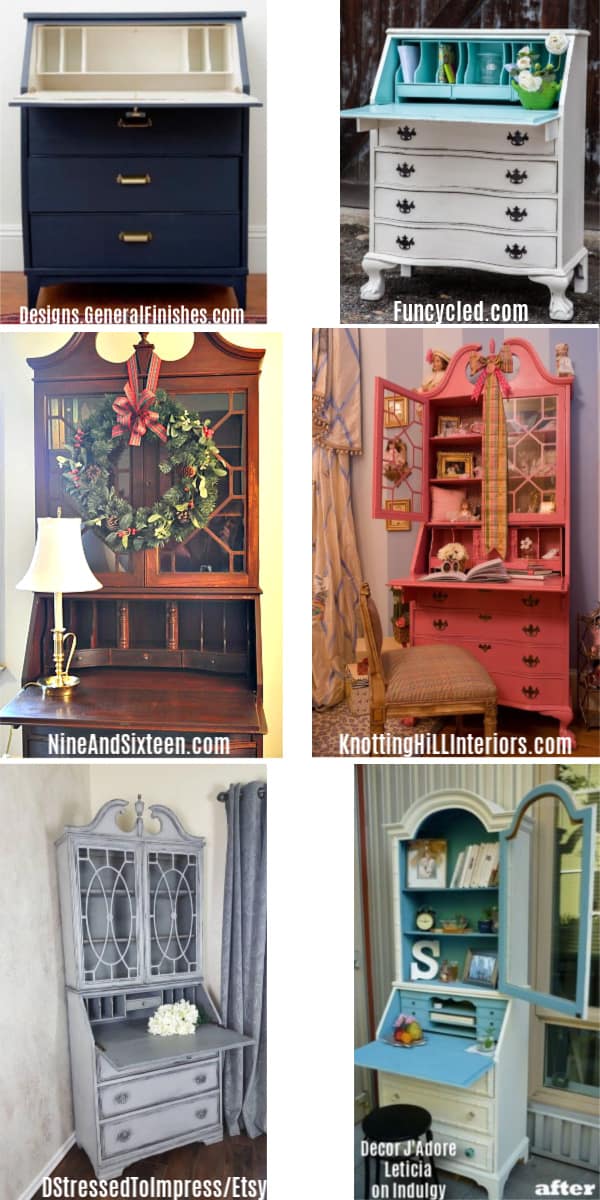 Have you purchased a Secretary Desk? Share your experience or tips. If you have any questions or comments, let us know!
Pin it for later: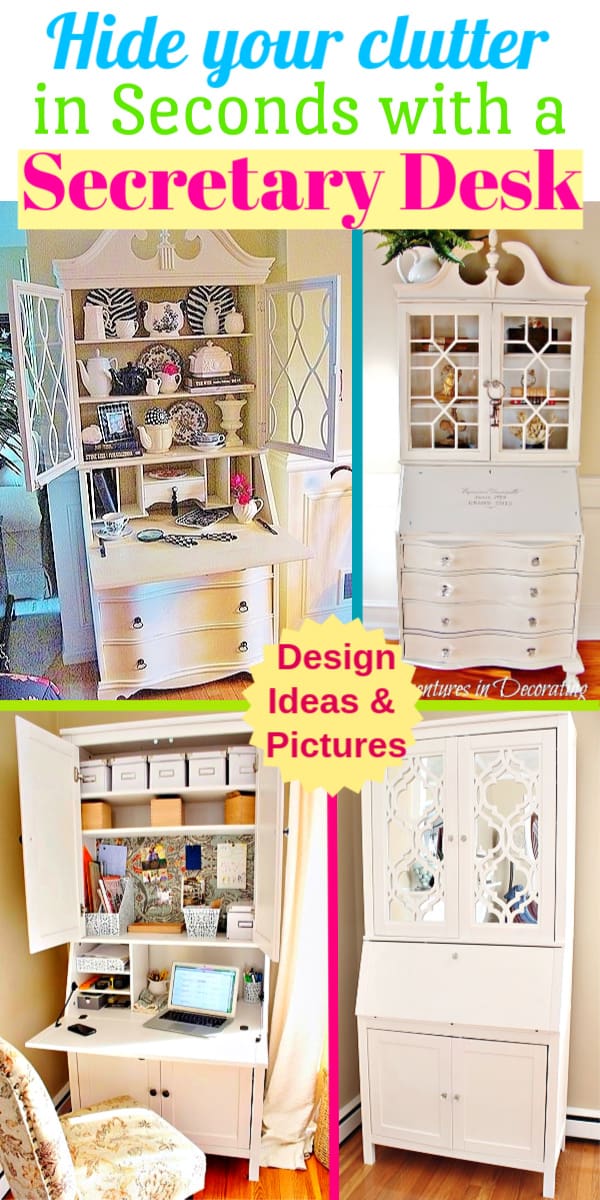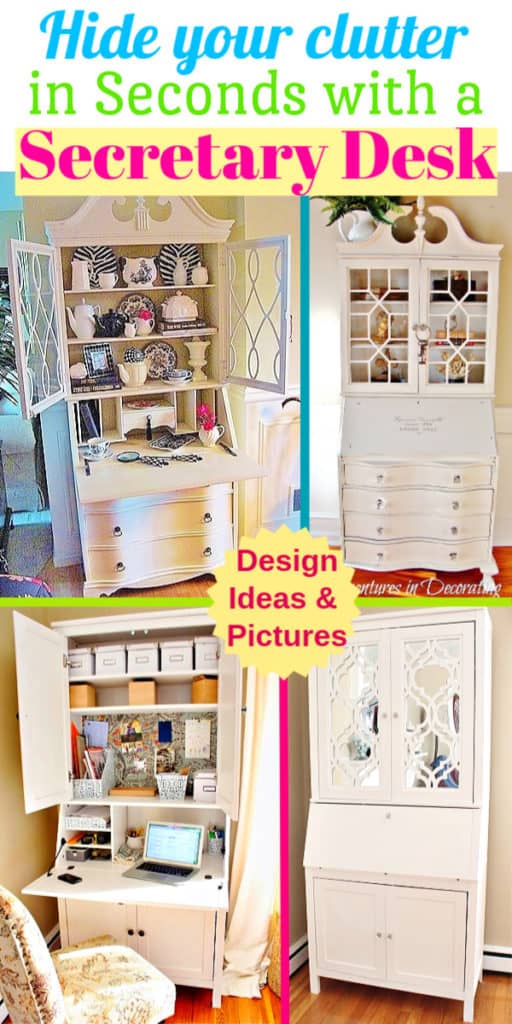 Other Posts You'll LOVE: