What NOT To Do To Your Dorm 2023
Updated 2023
Although most schools offer dorm room ideas and guidelines on what to do and bring to your dorm, there are some universal tips we have only learned from experience.
Here are 7 (do's and) don'ts for your dorm that no one thinks about but you definitely should. You won't find them on any College website but they may save you from a dorm room disaster.
THAT'S NOT ALL, we'll also be including tons of inspirational ideas on what TO DO to your dorm including how to get all of the trendy looks like:
the TikTok Mood Room
Vine Room
Boho
lighting effects for every budget
and the best kitchen ideas!
Even though this post may contain affiliate links, it in NO WAY influences our content, all are products we love, use ourselves, or recommend to family and friends. Read the full disclosure here.
1. Don't Loft Your Bed Without Considering These Factors…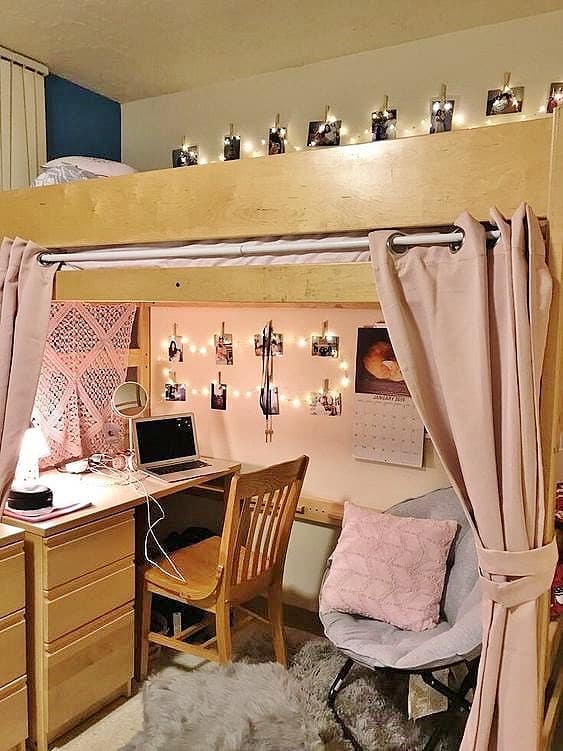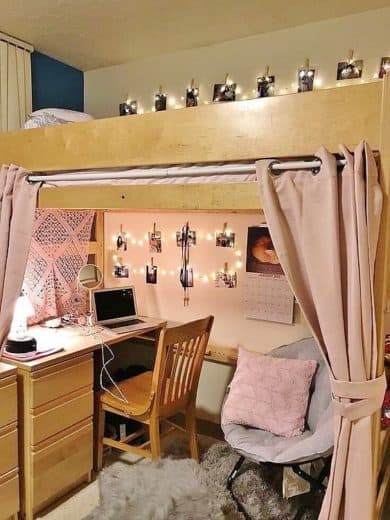 Many students love loft beds because they are raised allowing you to have a whole other space under your bed you can use for an office, kitchen, living room, or just extra storage.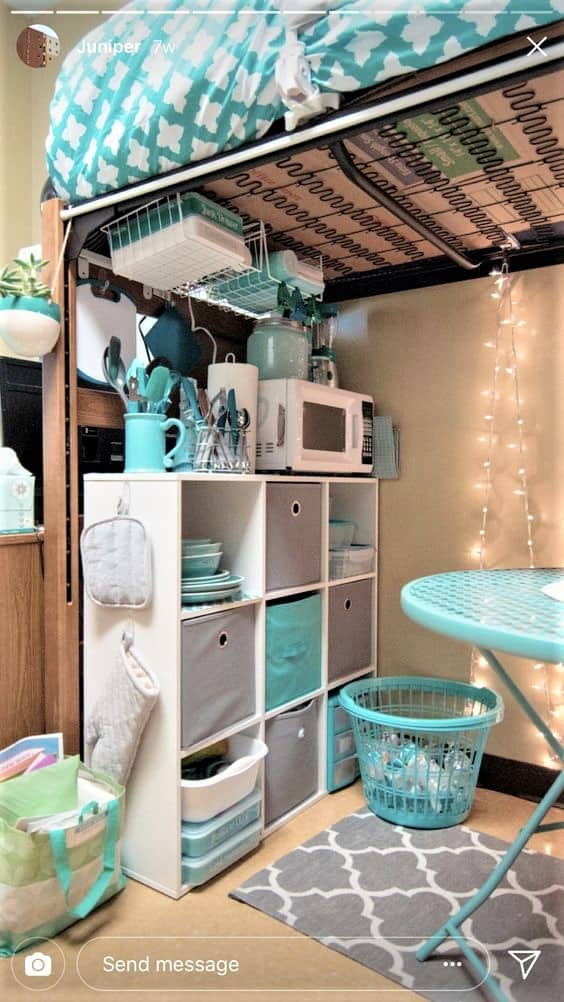 GET THIS DORM LOOK:
While loft beds may come standard in some dorms, others give you the option of renting one for an additional fee per semester (usually $100-$150).
You can also purchase bed risers like these to create extra room and storage under your standard bed.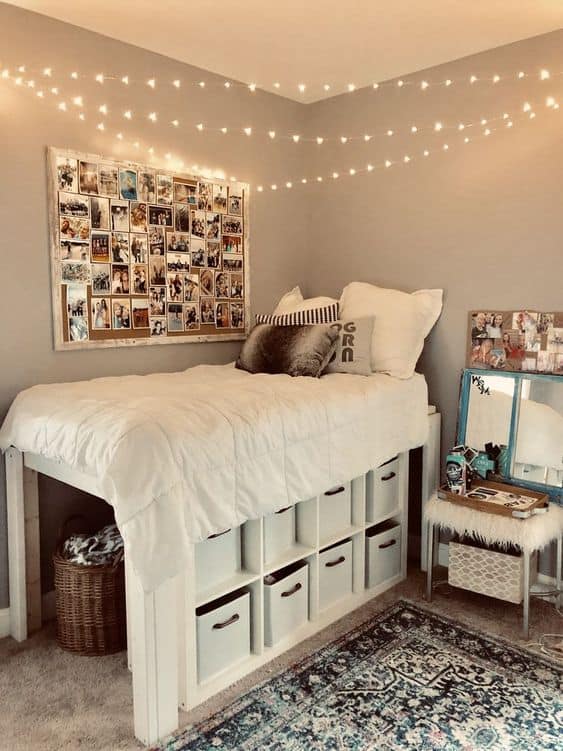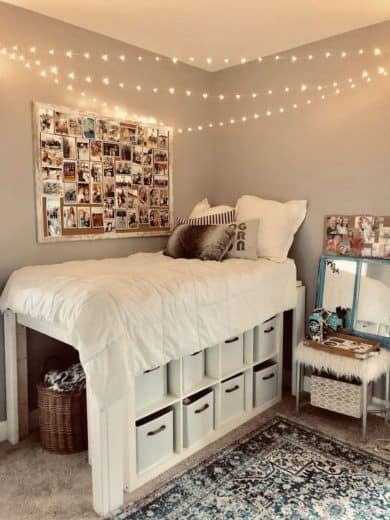 GET THIS DORM LOOK ABOVE HERE:
While risers and lofting beds are all the rage online for dorm room design and decor, before you jump to get one, there are SERIOUS factors you need to consider:
ARE YOU GOING TO COLLEGE IN EARTHQUAKE COUNTRY?
When an earthquake hits you could get seriously hurt jumping or falling out of bed especially if you're not used to them.
Take it from L.A. natives, earthquakes usually strike in the middle of the night or early morning when everyone is asleep.
When you awaken abruptly to violent shaking you have no time to think and your first instinct is usually to get up and run.
You may forget you're in a high loft bed and fall out of it, if you do remember and use the ladder, you could slip and fall from the shaking and adrenaline.
Even if you ride out the earthquake in bed you may be shaken out of it or worse, it could collapse.
WHAT HAPPENS IF OR WHEN YOU GET SICK?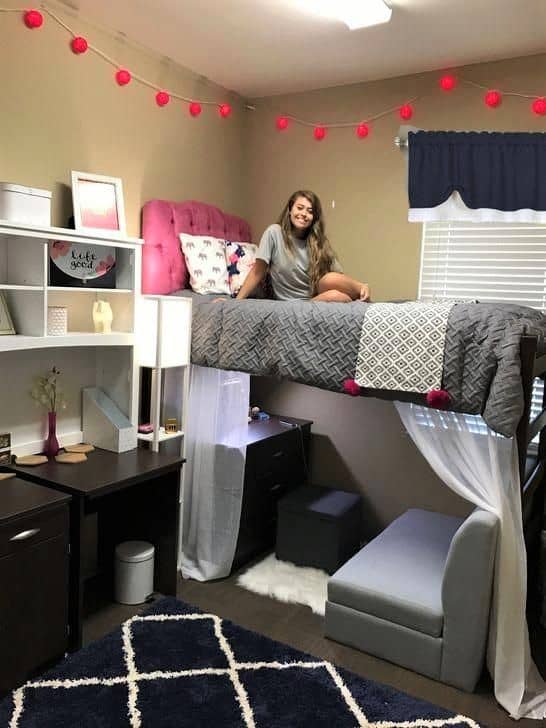 If God forbid you wake up :
vomiting,
get an ankle sprain,
have the flu,
or the runs,
would you really want to climb down the ladder to go to the bathroom? Is that even possible?
If you still want a lofted bed don't worry, just have in mind an alternative temporary sleeping arrangement such as a couch, blow up mattress, or fold up cot in the event of illness, earthquake, or injury.
IF YOU'RE PETITE, even the lowest bed raisers can impact your ability to get in and out of bed.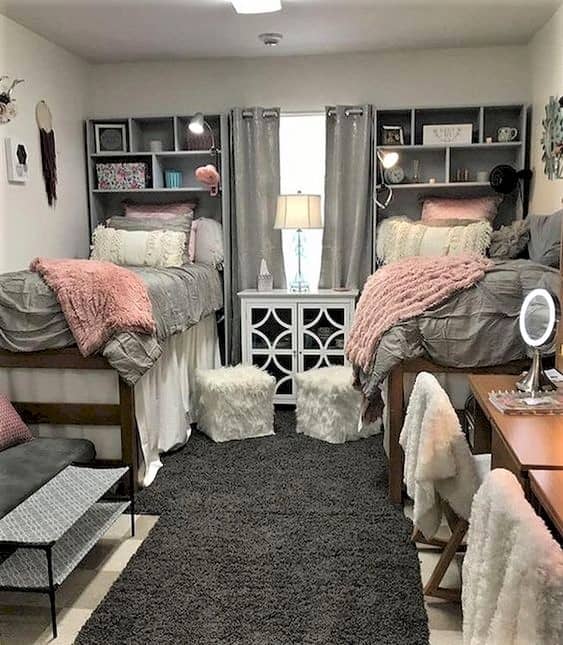 COPY THIS DORM LOOK:
We had small 6 inch bed raisers for a year and once we stopped using them, we were so much happier but a step stool may be all you need.
---
2. DON'T Decorate Dorm Room Walls With Heavy Shelves and Framed Photos, Use Trendy Light Weight Posters, Lights, And Prints Instead.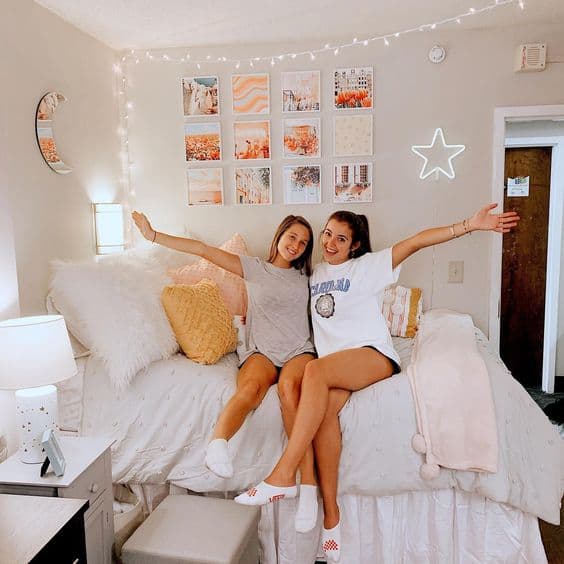 Heavy framed photos, wall hangings, nick knacks, or bookcases over your bed require you to punch holes in the wall to hang and could fall and injure you.
Use command hooks to safely hang light picture frames and decorations, they come in all sizes and many can hold as much as 7 lbs.
If you're accident prone or your dorm is in earthquake country, be sure to purchase Quakehold Museum Putty to safely secure nick knacks to shelves and walls.
It works, is cheap, reuseable, and comes in putty, gel, or wax.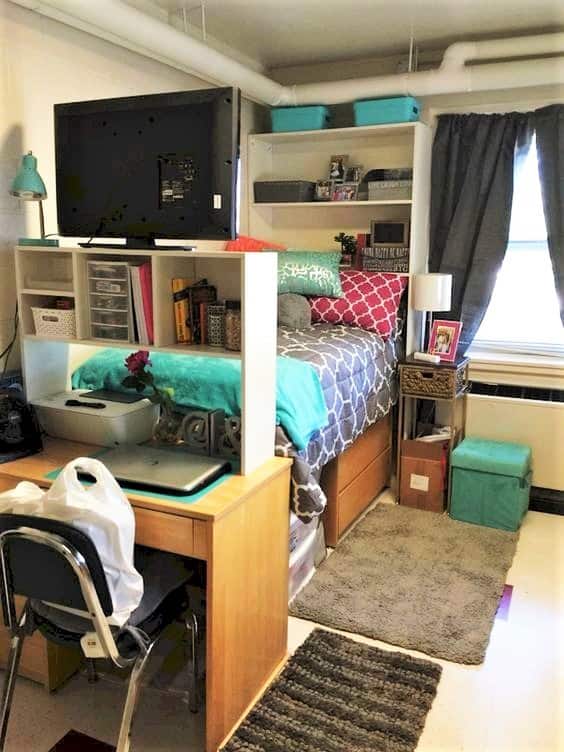 You don't have to fear waking up to a book or picture frame hitting your head especially when you have so many cuter options for wall decor!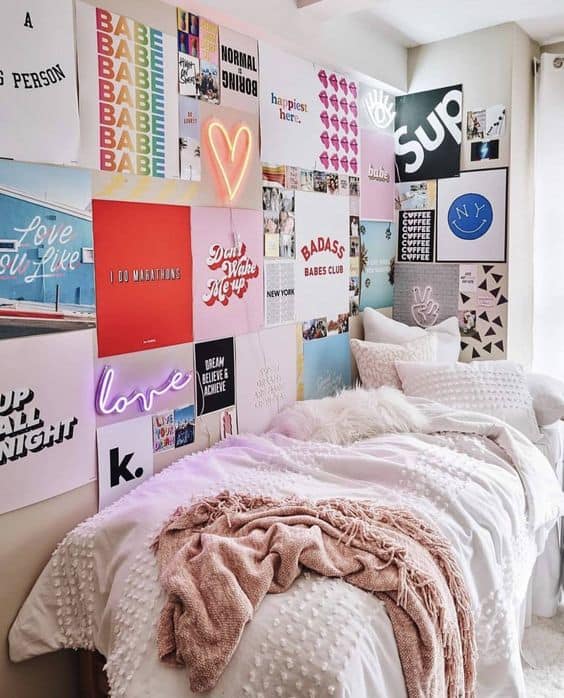 You can opt for trendy posters or prints above your bed instead!
They will not only be safer but cuter and so much easier to hang up (use double stick or regular scotch tape).
Make a cozy VSCO masterpiece dorm with lights, post cards, and wall stickers!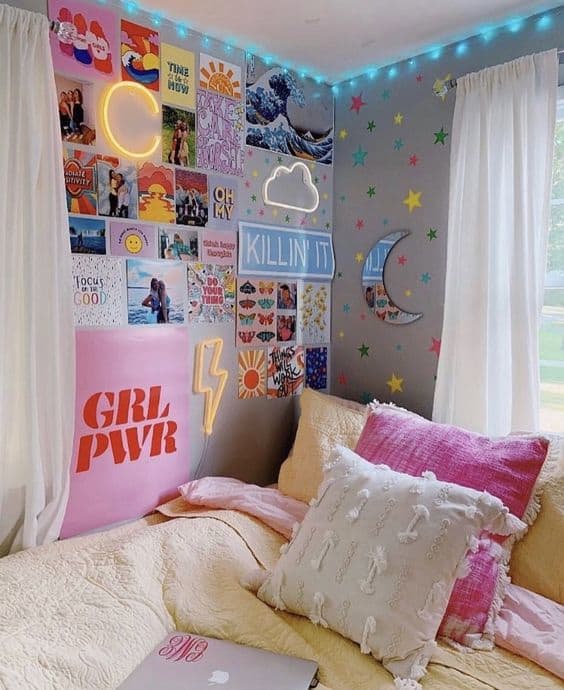 A lot of cute neon light signs like the Thunderbolt and Cloud above can be found for cheap.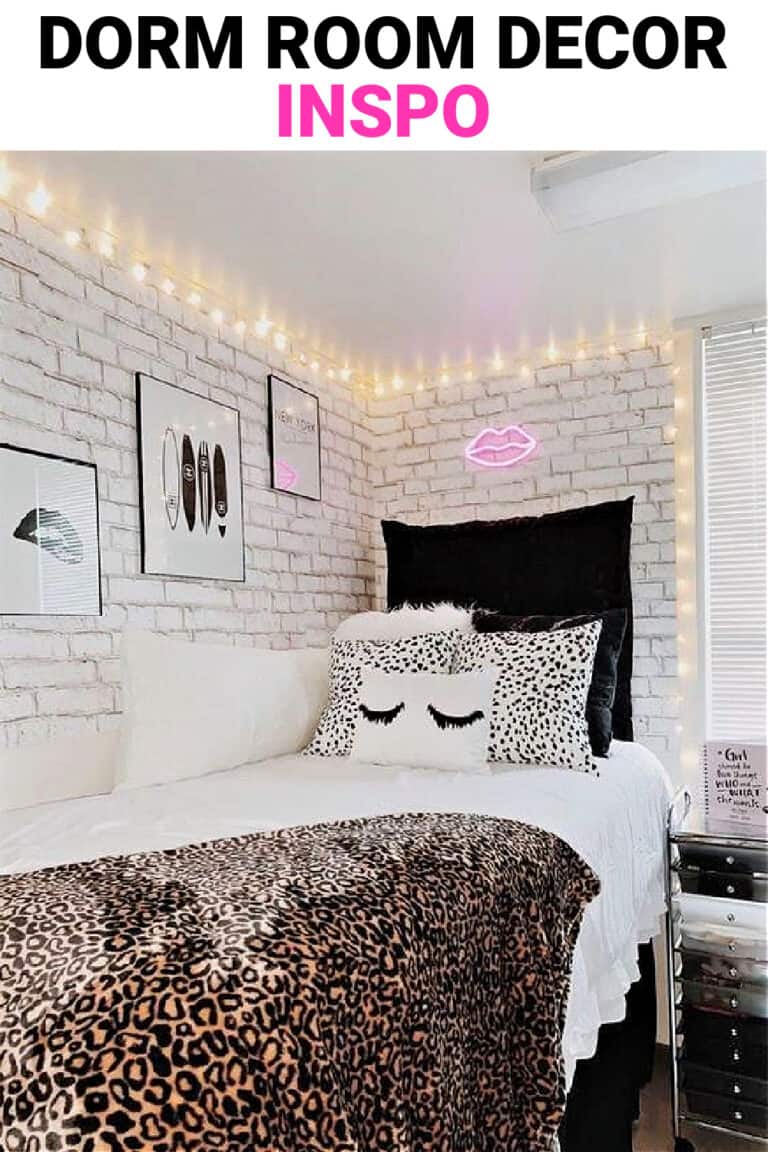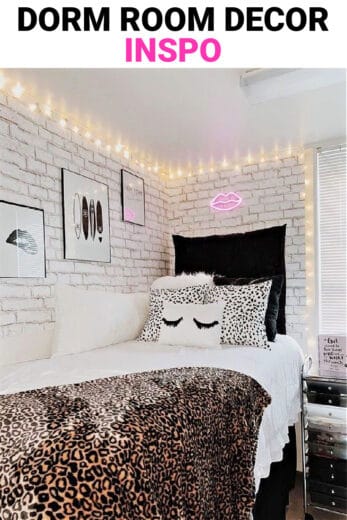 Neon lights will give a calming and cozy effect to your first dorm apartment.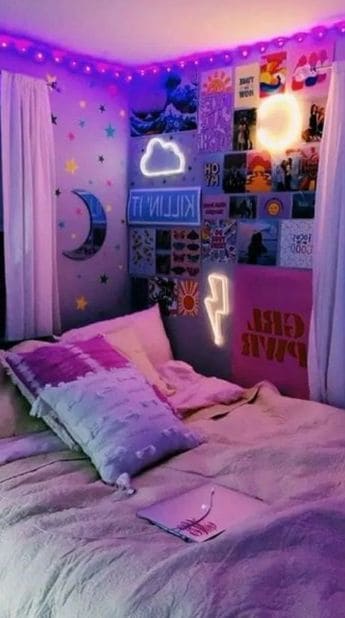 The colorful lights lining the ceiling (above) are remote controlled and can be synced up to music.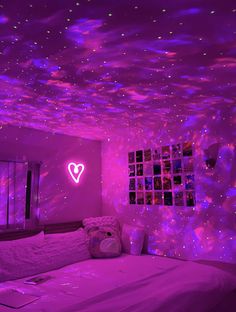 Use a Star Projector to project a star lit galaxy onto your walls and ceiling instantly without any effort or mess. This Star Projector, wildly popular on tik tok, is cheap, comes with blue tooth speakers and can be synced to music.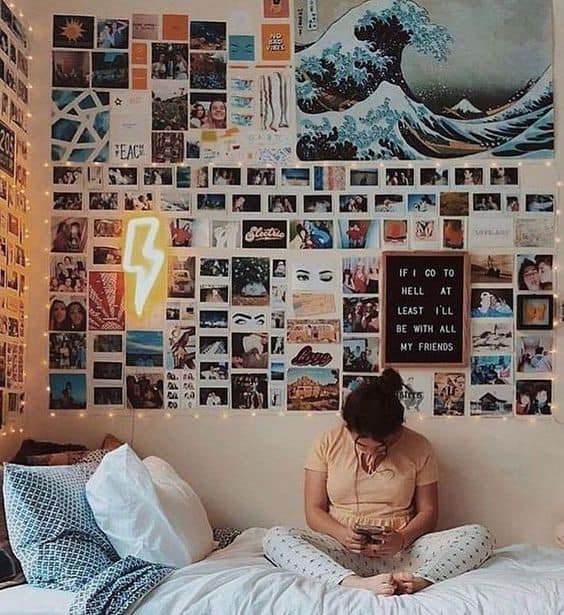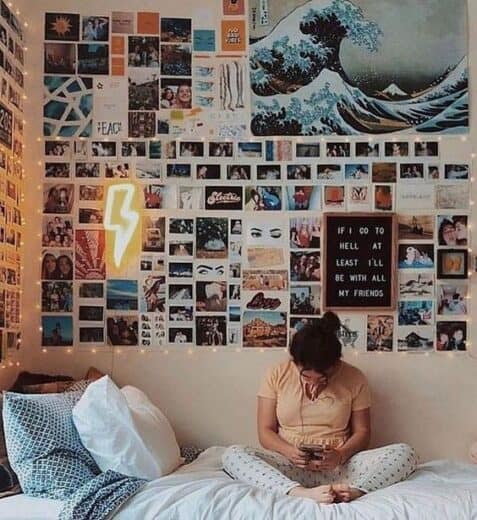 Make a photo wall of all of your loved ones pictures to gaze at when you get home sick.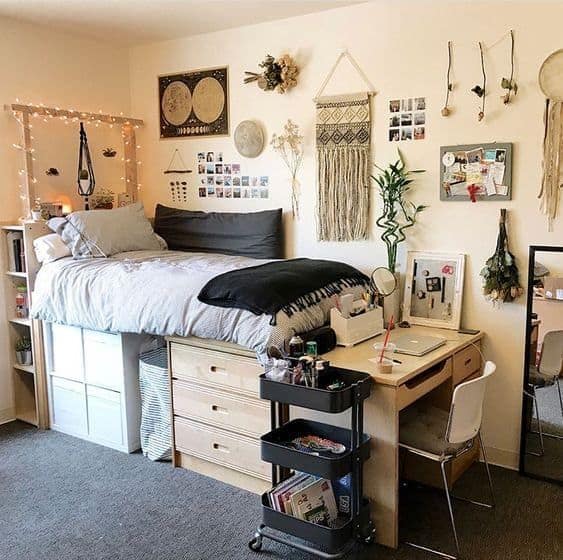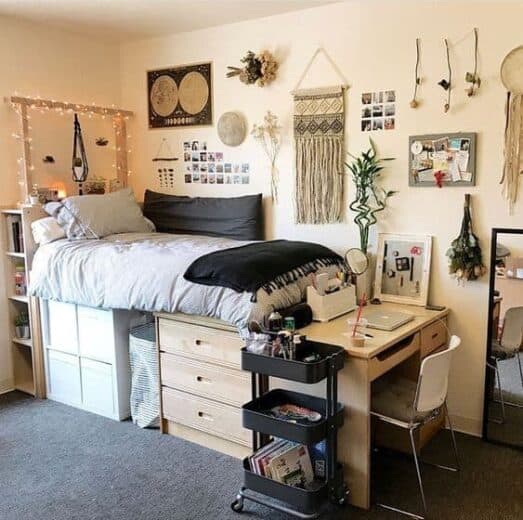 Try light boho macrome wall hangings and even flowers!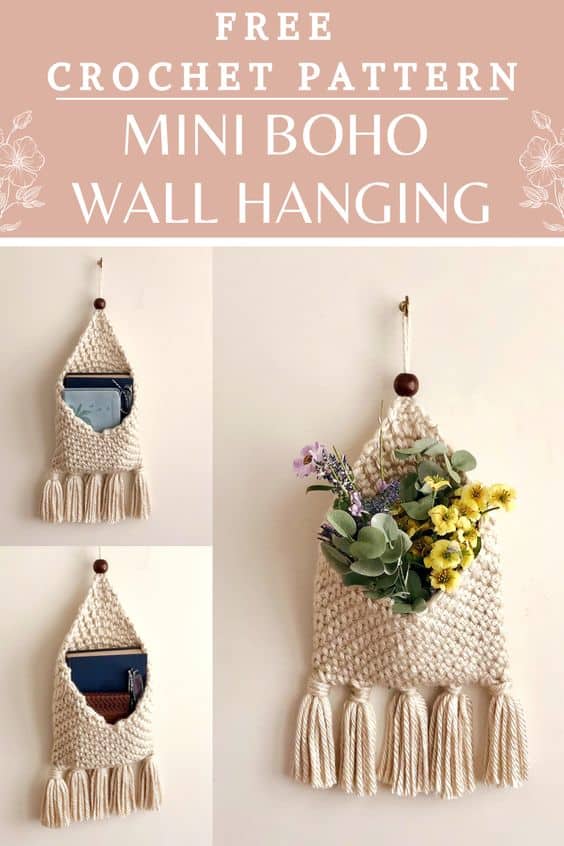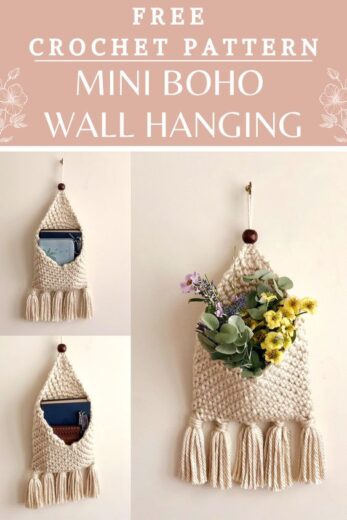 Beg Grandma to make you this stylish yet useful Boho wall hanging.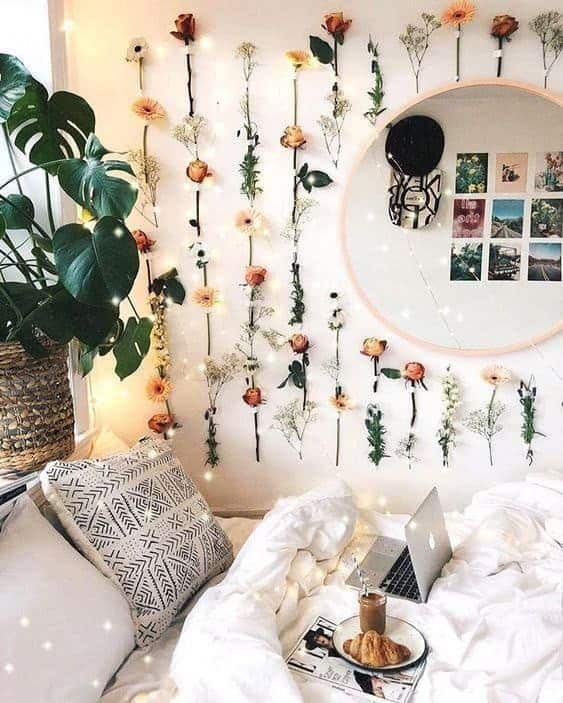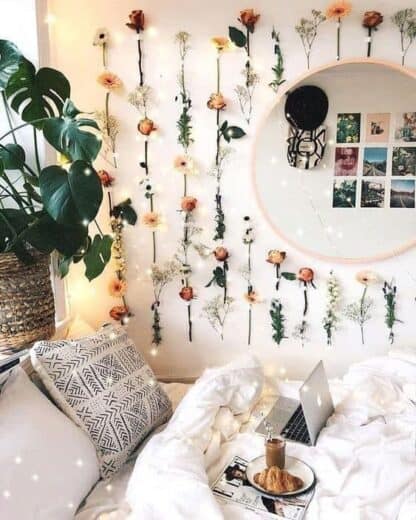 SOURCE : Pinterest.com
---
3. DON'T HANG VINES OR LIGHTS IF YOU'RE AFRAID OF BUGS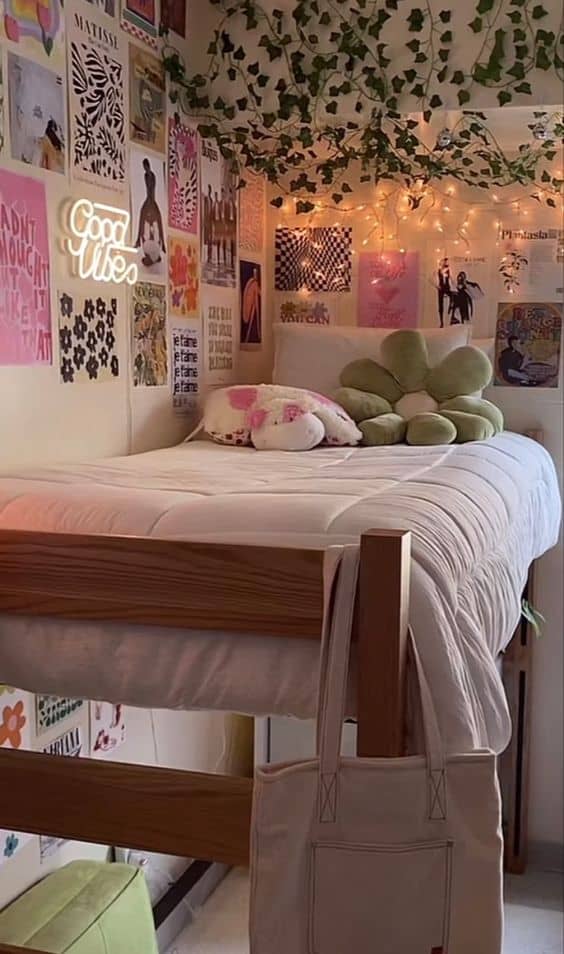 Trendy vines and lights maybe an insanely cute and cozy dorm room idea but you may want to rethink them if you are afraid of bugs.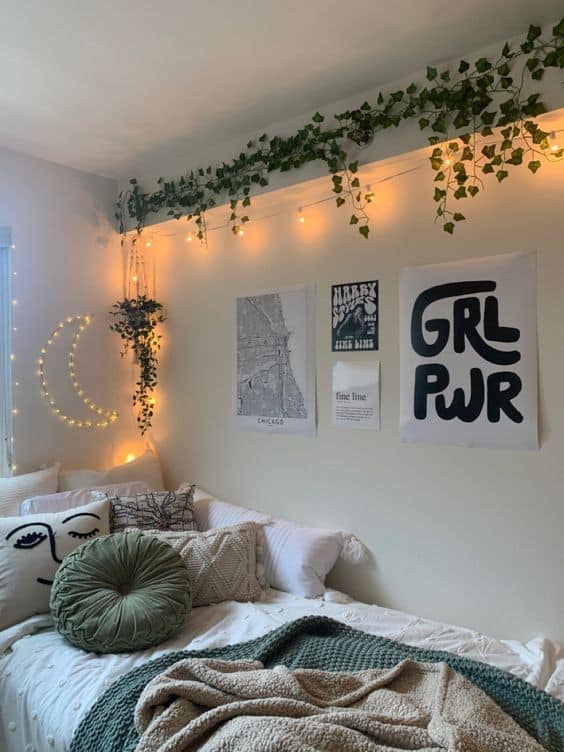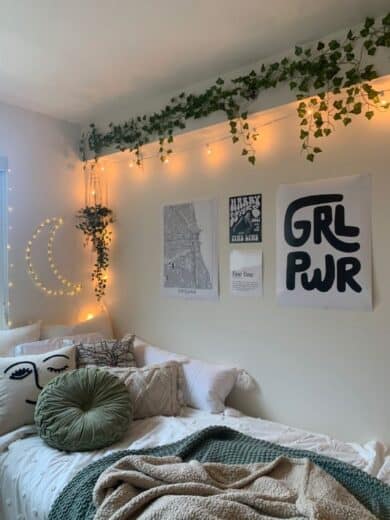 Many dorms have bug infestations. When you have thousands of students travelling from all over the world, bugs often hitch a ride in boxes and suitcases.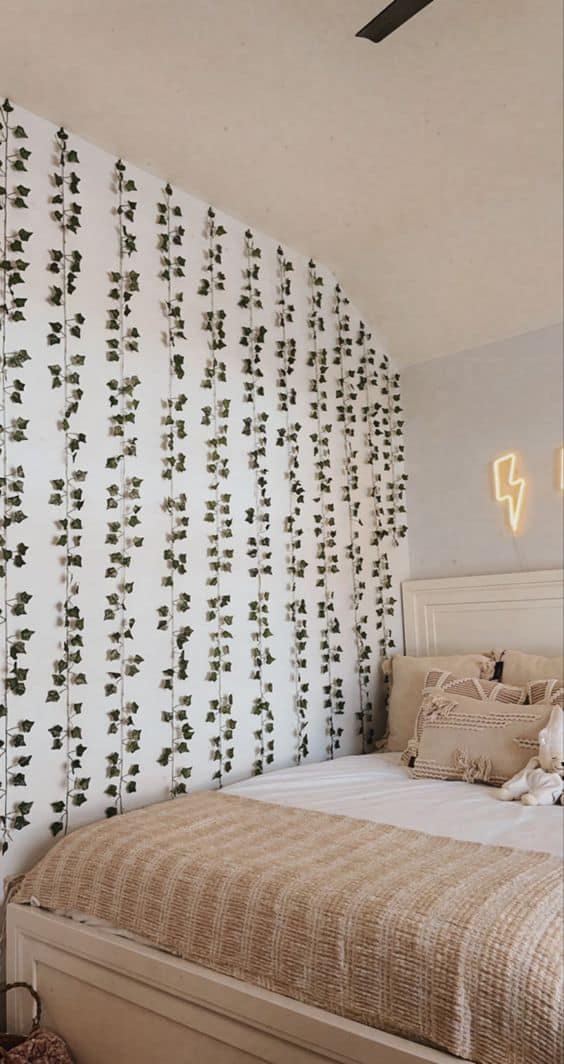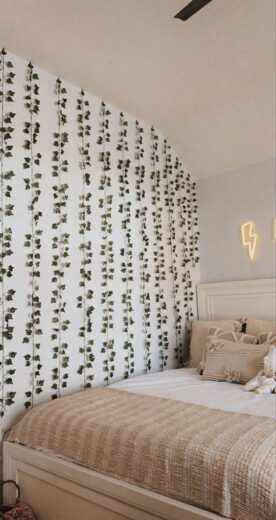 Untidy students may leave food and garbage around especially during finals or flu season making the problem even worse.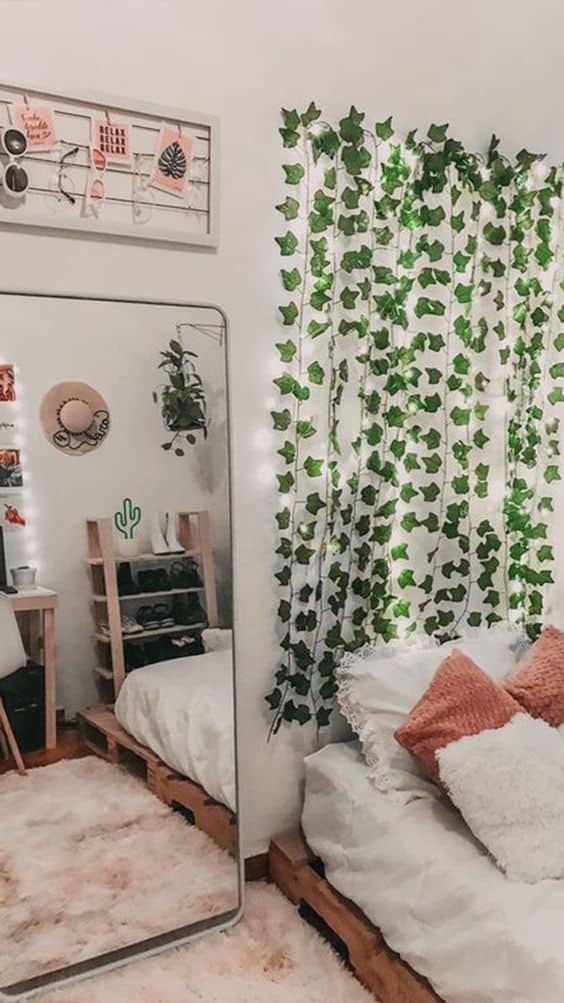 Vines and lights give bugs like spiders and roaches a nice place to crawl and hide that's close to your head, and the instability of vines make it easy for bugs to fall on you…YES it's happened to us!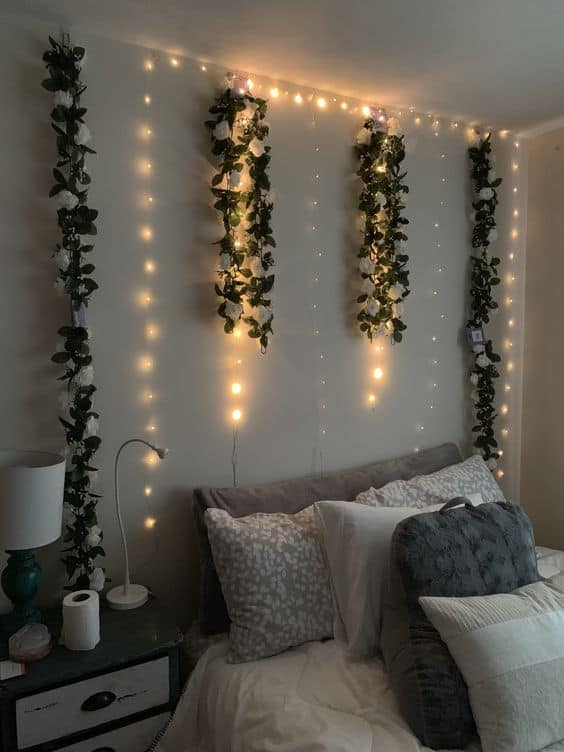 If just reading this is getting you creeped out then skip the decoration all together OR consider doing some of the following:
jiggle the vines/lights every week or so since bugs love to make their home in undisturbed areas
consider placing decorations on another wall away from your bed, desk, and ESPECIALLY windows (bugs love them)
regularly dust and clean the vines and your dorm
cover food and take out trash frequently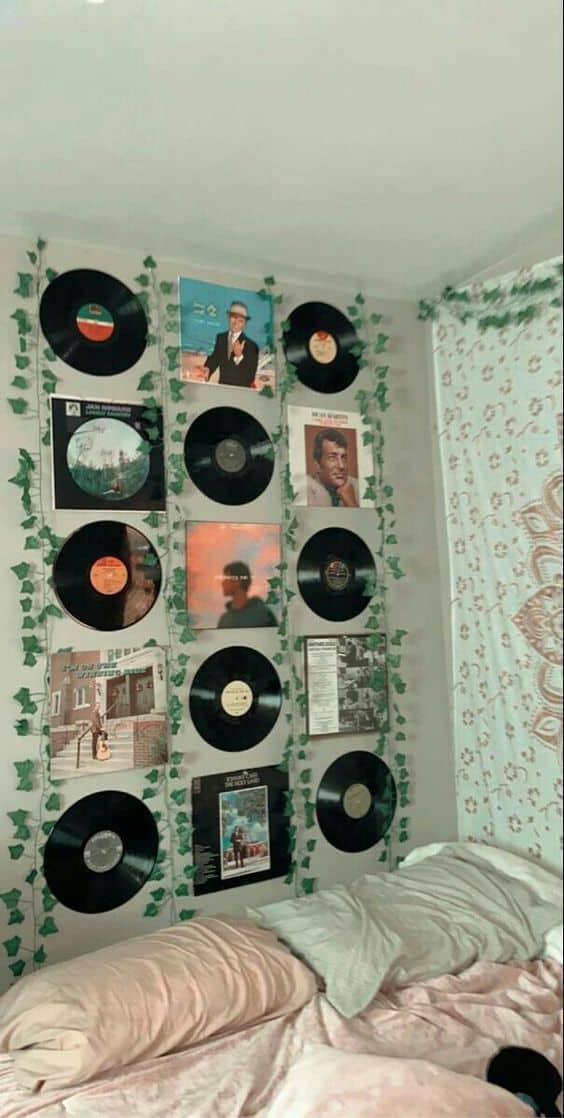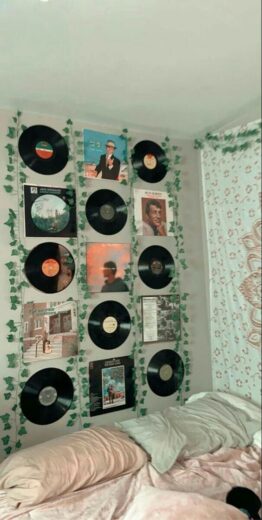 EVERYONE should invest in these items to keep bugs at bay:
a vacuum to suck up food, dust, and bugs
Tupperware food storage containers
bug spray (like Raid etc) and/or bug repellent for fake plants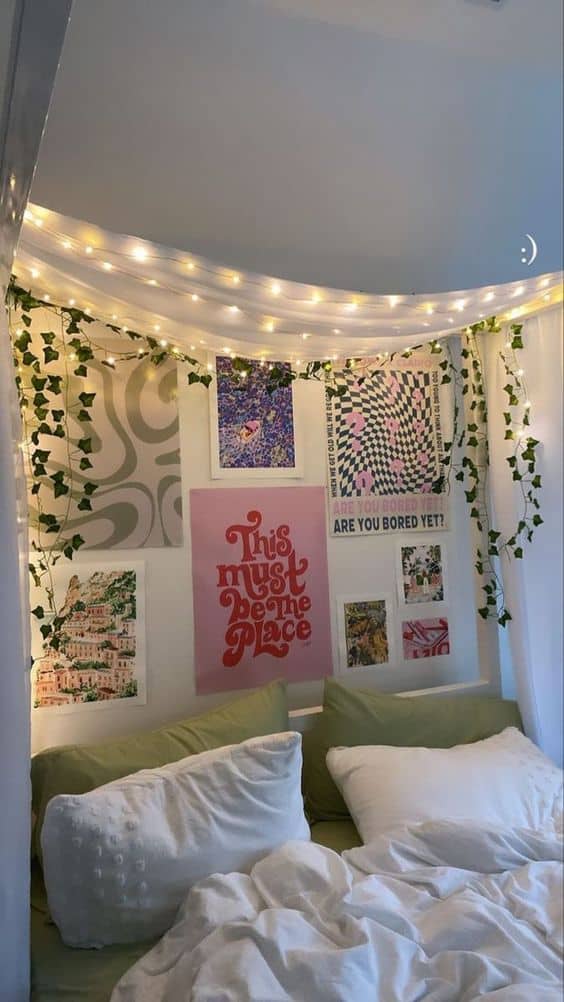 4. Don't Leave Your Belongings Unsecured and in Plain View…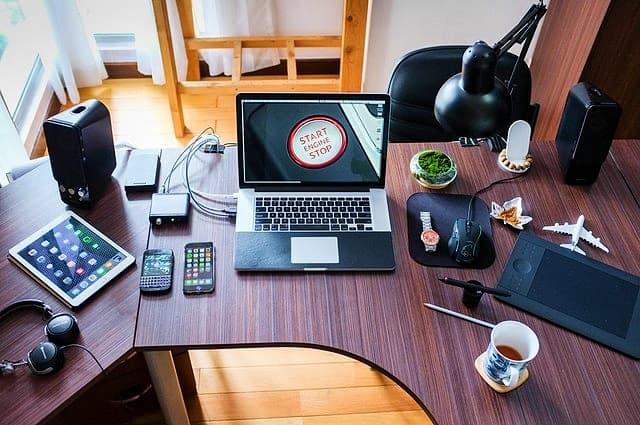 Call us paranoid "Big City" girls, but lets face it, most Colleges are in big cities.
It's not uncommon for students in dorm halls to leave their dorm room doors open especially when they're trying to connect with fellow students and make friends.
No matter how nice everyone seems, there's always a risk of theft. Not just from fellow students but personnel and guests.
Don't store valuables in plain view on top of desks, dressers, counters, or beds. Leaving your ipad or laptop on top of your desk will make it an easy target for a thief to quickly swipe.
You can use a small safe or a secretary desk (some even come with a lock), so valuables will be out of sight.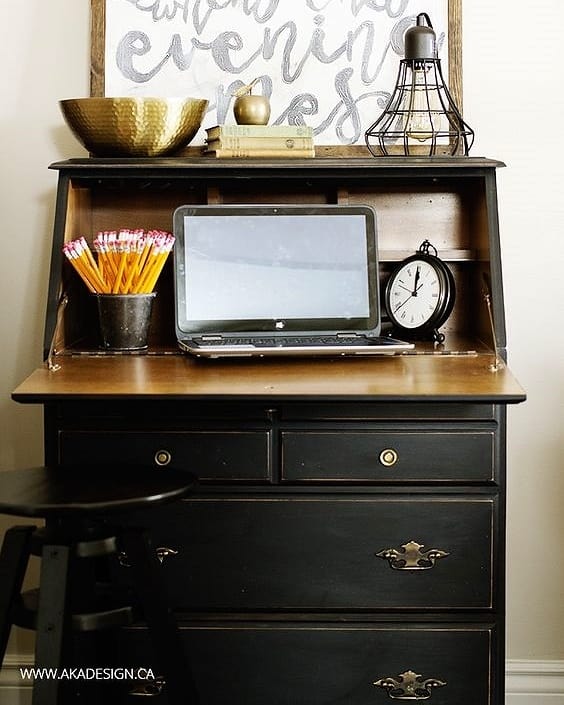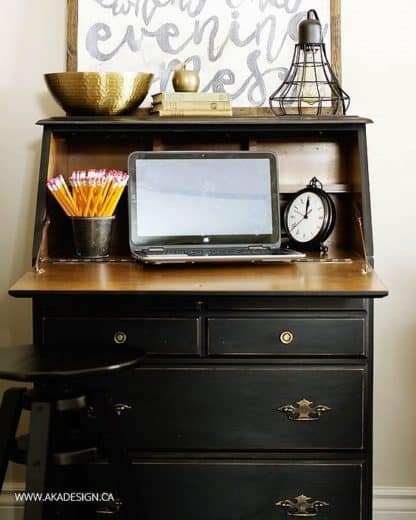 Secretary desks have a closing door making it easy to not only clean up in a pinch, but hide away your valuable electronics, and jewelry when you have guests. They're compact and can also make a great nightstand between two beds.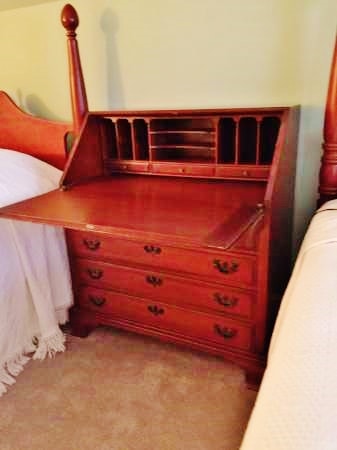 At the very least store your valuables and electronics in a drawer or someplace out of sight.
…And please do away with the open jewelry displays, even if your jewelry is from Forever 21, it'll still attract potential thieves.
---
5. Don't Rely Solely on Paper Plates, Cups, and Utensils…
You can run through them really fast and accumulate trash quickly. Not to mention you'll keep having to run to the store.
A steel water bottle or tumbler can preserve your hot or cold beverage for longer, is portable, reusable, indestructible, all while allowing you to store water in your tiny fridge.
Bring your favorite microwaveable ceramic mug incase you need to put your beverage in the microwave (we had a Santa Claus mug).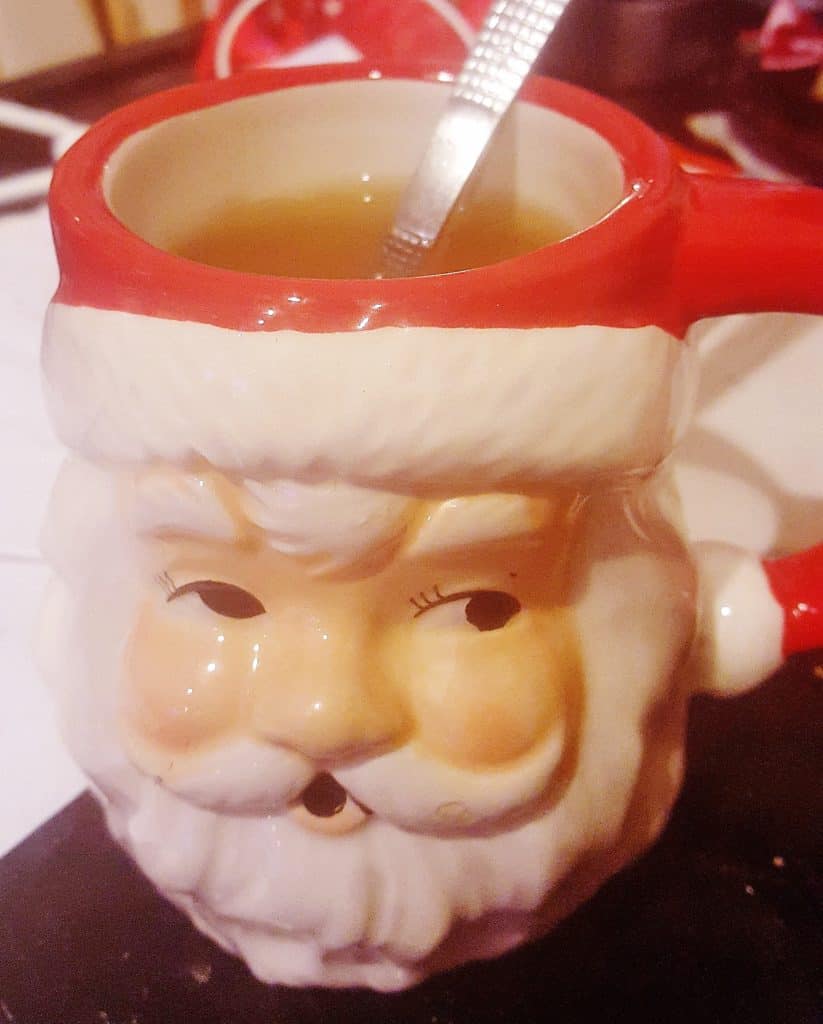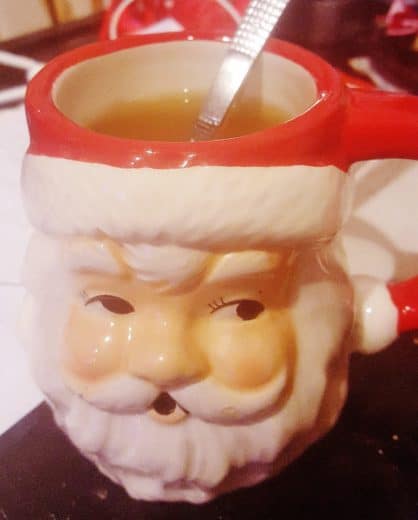 Also be sure to bring atleast one reuseable bowl or plate and set of utensils or chop sticks. You can get these at most dollar stores.
Reserve your paper plates, cups, and utensils for times when you're sick, lazy, or midterm cramming.
---
6. Don't Leave Your Printer At Home…
When you look on most College websites they suggest not bringing your own printer because there are a lot of accessible printers you can use for free on campus.
While we do agree you should take advantage of the free prints your college offers, we still think you should bring along a printer for emergencies.
For instance, printers get super busy around midterms and finals so there may be a wait to use the printers.
If you want to make a last minute change to your paper or you pushed your assignment to the last minute, you may not have time to spare.
Also what if you're sick and want to do some work in bed and print out your assignment so someone else can drop it off to your instructor? It'll be more convenient.
If you reserve your personal printer for these instances you may be able to get by with only one cartridge a semester, a year, or more.
---
7. Don't Rule Out Bringing A Pot Or Pan
Think about what's important to you. Are you on a special diet, are you going to want to cook a piece of fish or steak, do you want to grill or bake in the oven, do you like stir fry?
Will you want a break from the typical, often unhealthy microwaveables?
We're sure Mom won't mind if you take one of her frying pans just make sure it's PFOA free and non stick so you don't need butter or oil.
---
8. Don't Forget Your Essentials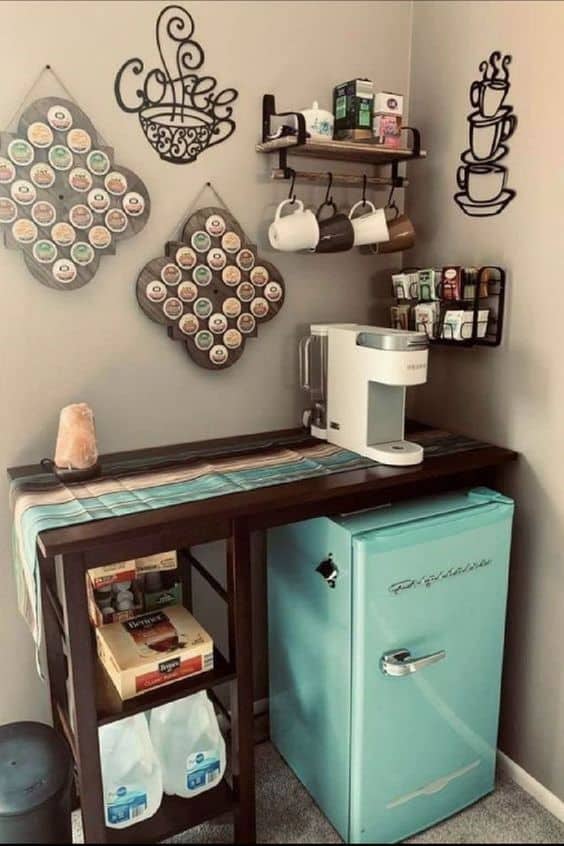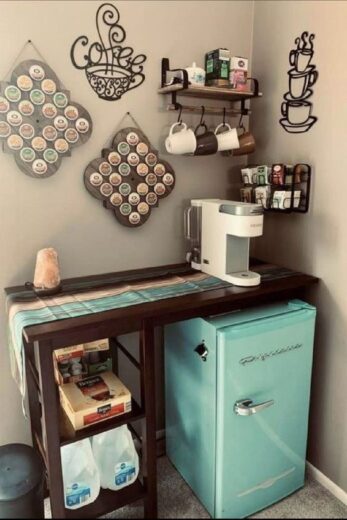 COPY THIS EXACT DORM ROOM KITCHEN LOOK:
Have you decided on a dorm room kitchen?
Don't be fooled by those mini refrigerators, they can store a ton of food saving you a ton of money.
Does your dorm room have a bright window? Will you need shutters or black out curtains to block out the light and outside noise? We have them in our bedrooms and we sleep so much better!
This may not seem like a necessity but it is to women: Do you have a full length mirror?
What about an iron, t.v., fan, or microwave?
Do you have band aids, medicine, a thermometer, and heating pad? You could raid the nurses station at college but you may want to have a small stash of your own.
How about a robe and slippers for after you shower or to avoid walking on the dirty floors?
Think of the must haves you'll need to survive and thrive everyday.
To help you with this, Amazon Prime is offering college students a 6 month free trial with no purchase necessary and a steep discount on their monthly service there after. You not only get two day or less shipping for free, but access to thousands of movies and t.v. shows as well as music.

---
9. Don't Freak Out If You Forget Something
Don't be scared to ask a fellow dormie if you can borrow whatever it is you forgot. It's a great way to make friends and you can even offer to lend them something in return.
With Amazon Prime whatever you need can be shipped to you within 2 days (sometimes same day)
Be sure to keep a list of the things you forgot to bring but needed so you'll remember to bring them next semester.
---
We hope these dorm room ideas and tips enhance your college experience! They're definitely great things to consider while you're planning the big move.
If you have any questions or additions, feel free to leave them in the comments section below or contact us.
Love,


Don't Forget To Pin It!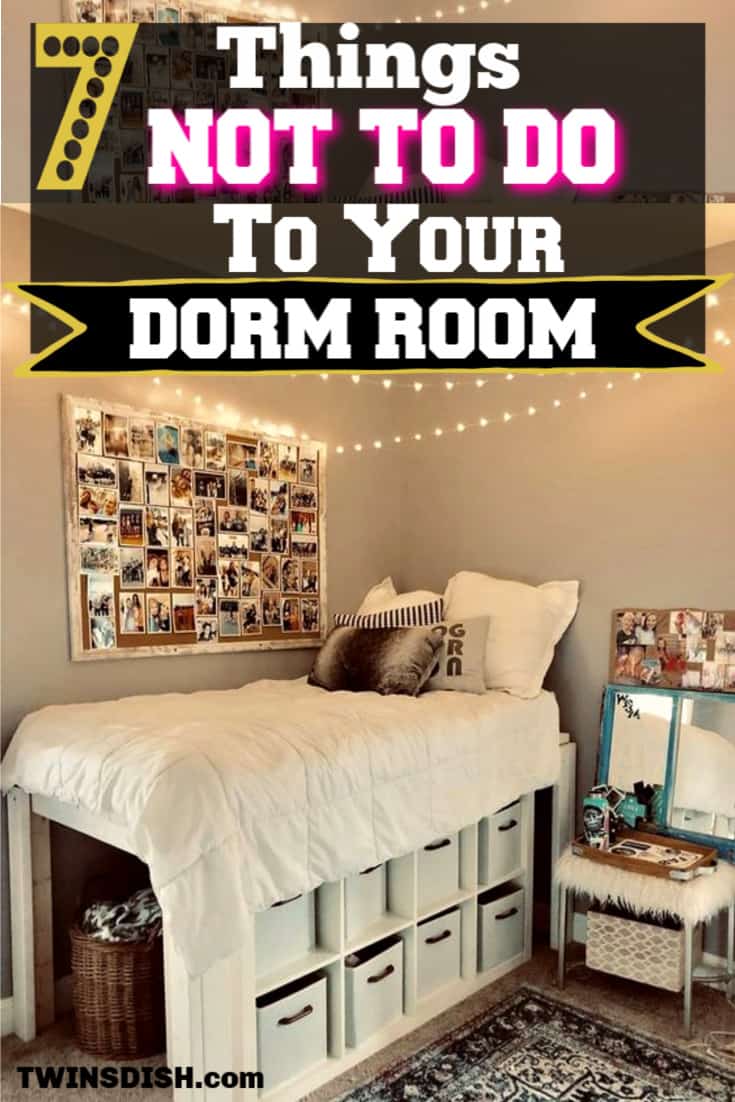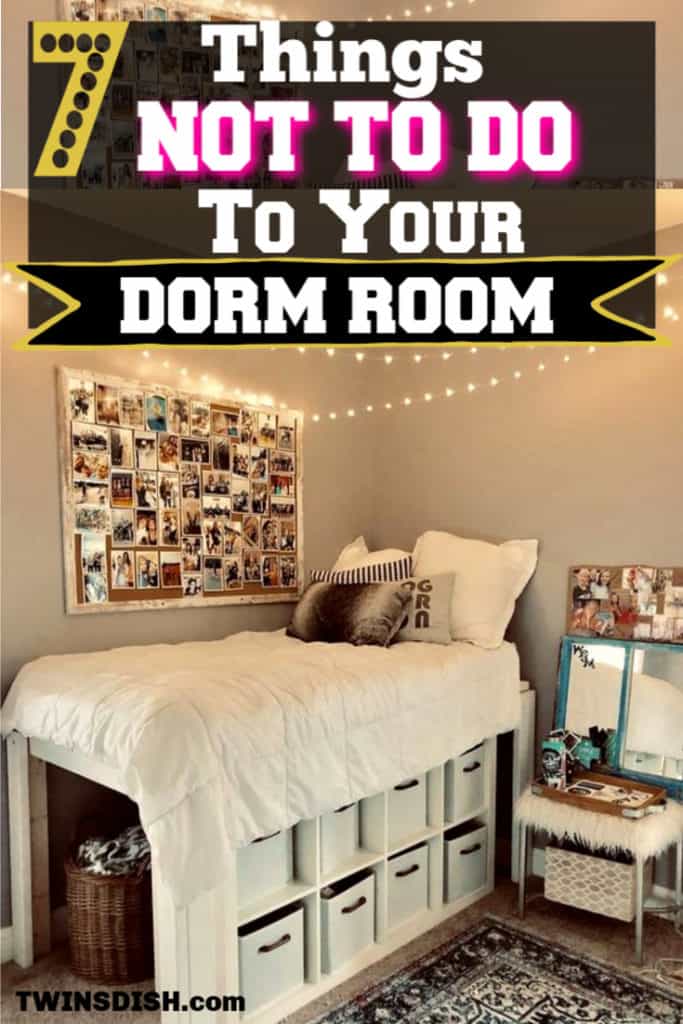 OTHER POST YOU MAY ALSO ENJOY:
Best Teen Bedroom Lighting Decor Ideas – Twins Dish