Easy DIY Halloween Costumes For 2023
Updated September 27, 2023
These easy Halloween costume and make up ideas not only look professional but will make you the star of Halloween night!
They work for Solo, couples, duo, and groups too!
Many of them require household items or basic make up you already have.
This is our personal list that we whip out when us or our friends need sure fire convo starting costume ideas in a pinch. They are tried and true L.A. crowd pleasers that will make you stand out in the biggest of crowds.
IT'S NOT TOO LATE. IT'S NOT TOO HARD.
Get creative, have fun, and remember: anything goes on Halloween!
This post may contain affiliate links. Click here to read our full disclosure policy.
1920'S GREAT GATSBY FLAPPER GIRL(S)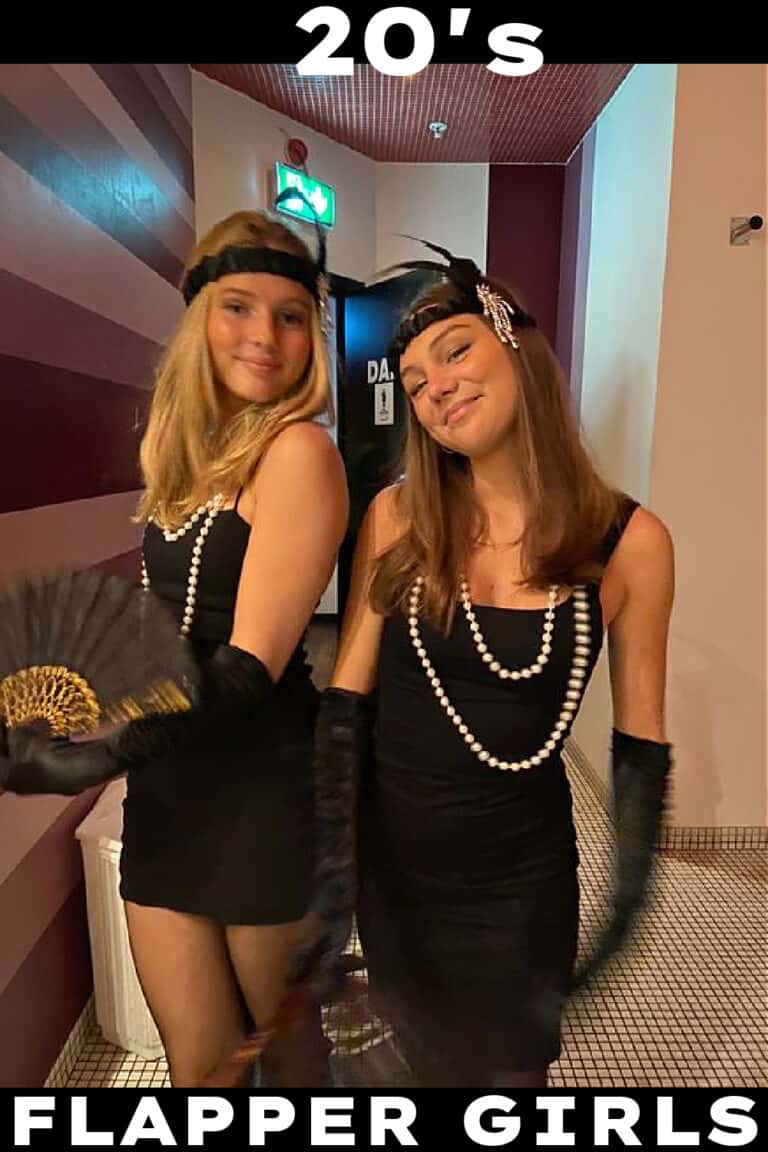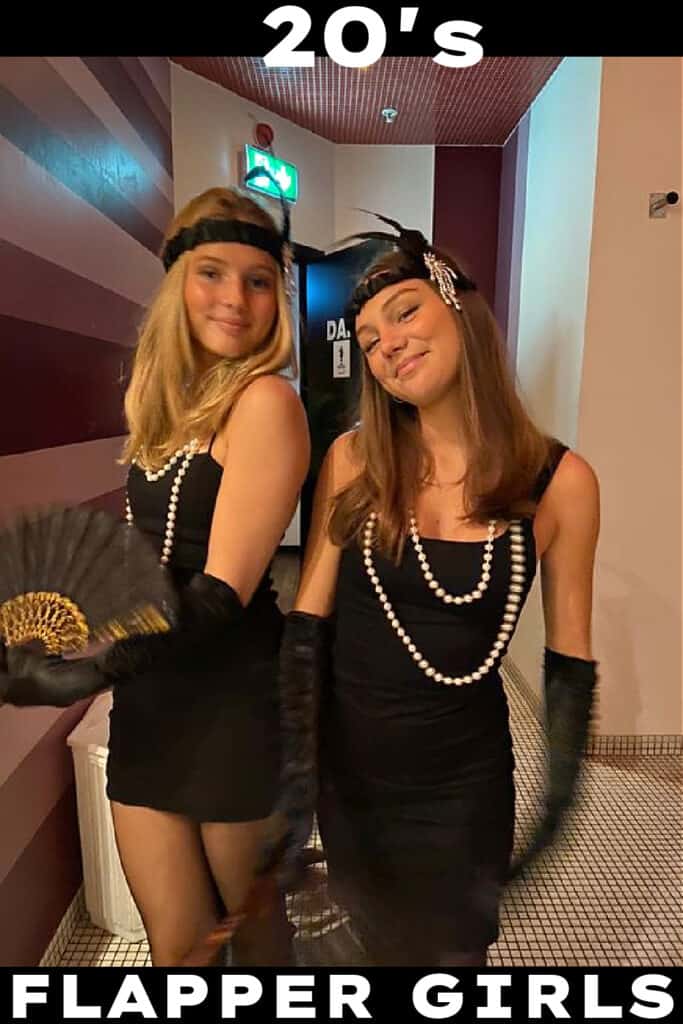 Whether you call the costume above the Flapper Girl costume, The Great Gatsby, or the Charleston, one thing we do know is it's cute and classy! Purchase the dress here and the headband and accessories here. The Great Gatsby Flapper Girl costume can work solo, as a duo, trio, or group and comes in many colors.
COUPLES COSTUME IDEA:
Throw in a Mr. Gatbsy for a great Couples costume idea.
RHYME WITHOUT REASON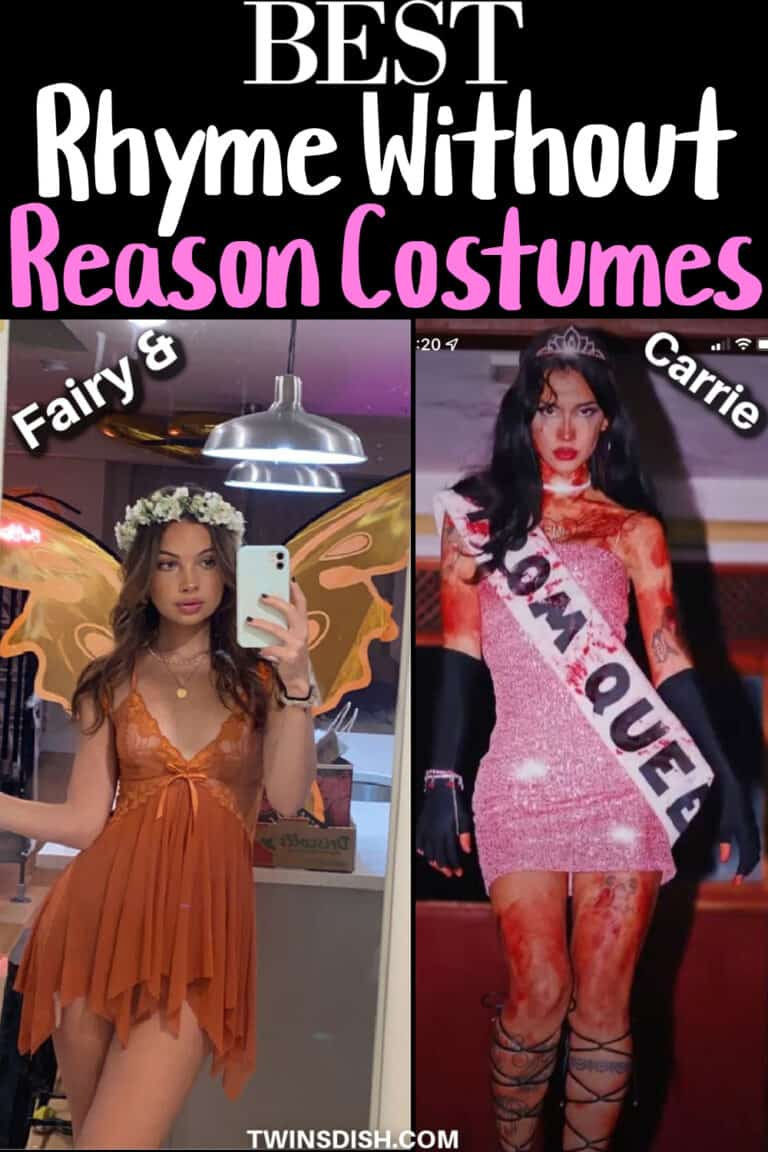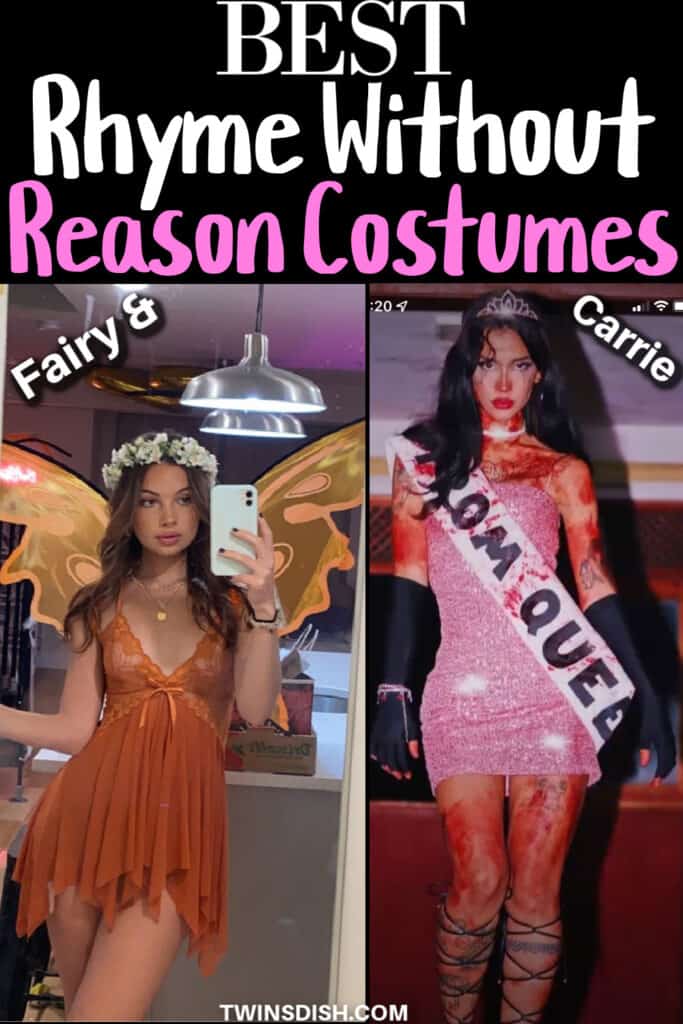 Rhyme without reason costume idea is the hottest Costume idea on Tik Tok this year. Just use two or more costumes that rhyme, THAT'S IT. Pick two of the hottest solo costumes that rhyme from this post (like the Fairy and Carrie costumes above) or select from the list below :
Joker and Chauffer (see our Hot Joker Costume below)
Cougar and Freddy Krueger (see our HOT Female Freddy Krueger costume below)
Fairy and Carrie (Harry and Dairy)
Illegally Blonde and James Bond
Bud Light and Great White
Gummy and Mummy
Mean Girls and Squirls
Tinkerbell and Taco Bell (see our hot Tinkerbell costume below)
Chucky, Puppy, Yuppie, Truckee (see our hot Chucky costume idea below)
Mice, Spice, Dice, Ice (see the hot mice costume idea below)
Witch and Bitch (see hot witches costumes below)
Cher (from Clueless or the singer) and Bear
Cat, Hat, and Bat (see hot cat costumes below)
Fem Bot, and Thot (see our hot Fem Bot costume ideas below)
Filter and No Filter (See the hot couples filter not filter costume idea below)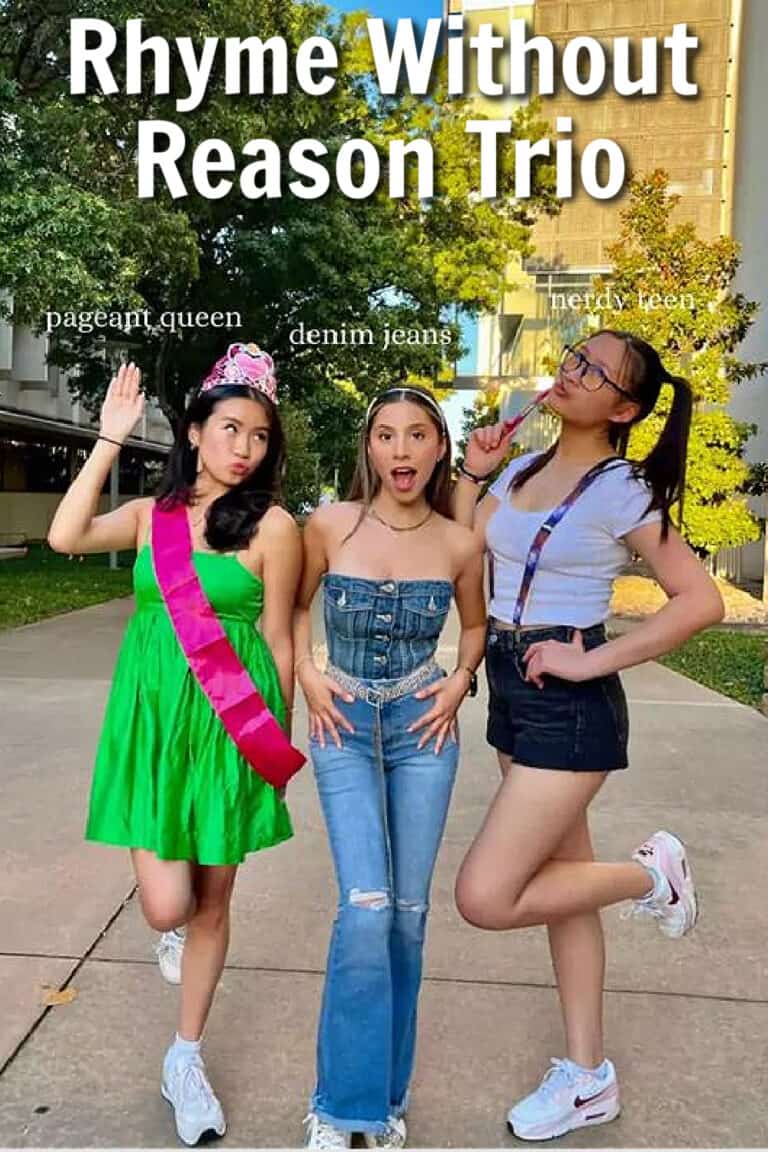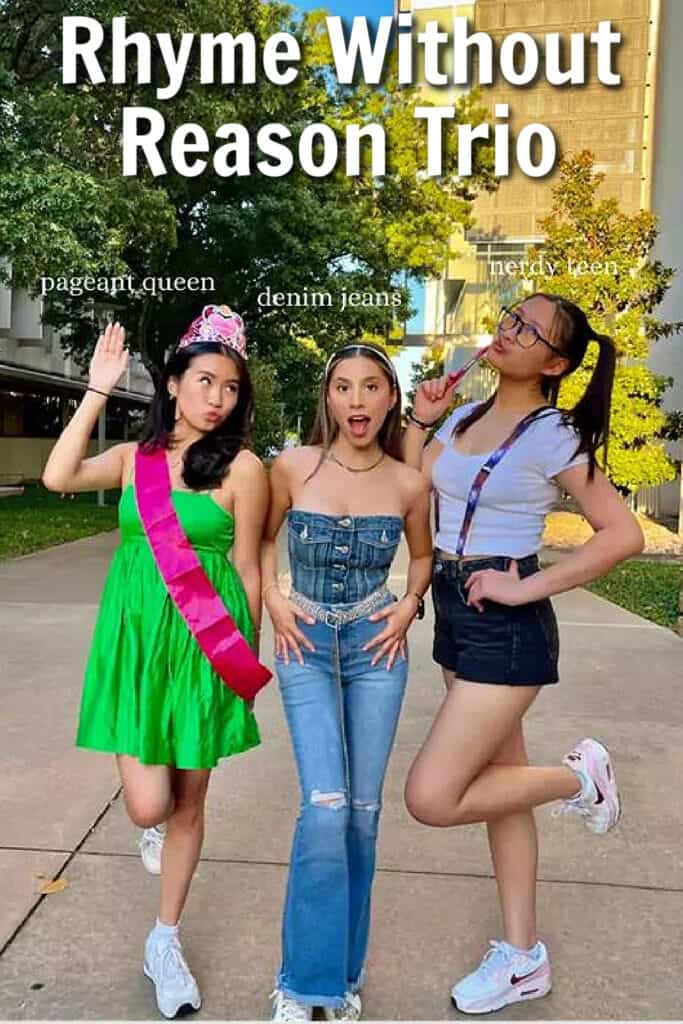 This can work for couples, duos, trios, or groups. You can use two or more of the solo costumes in this post that ryhme. (Get denim jeans outfits for the costume above here),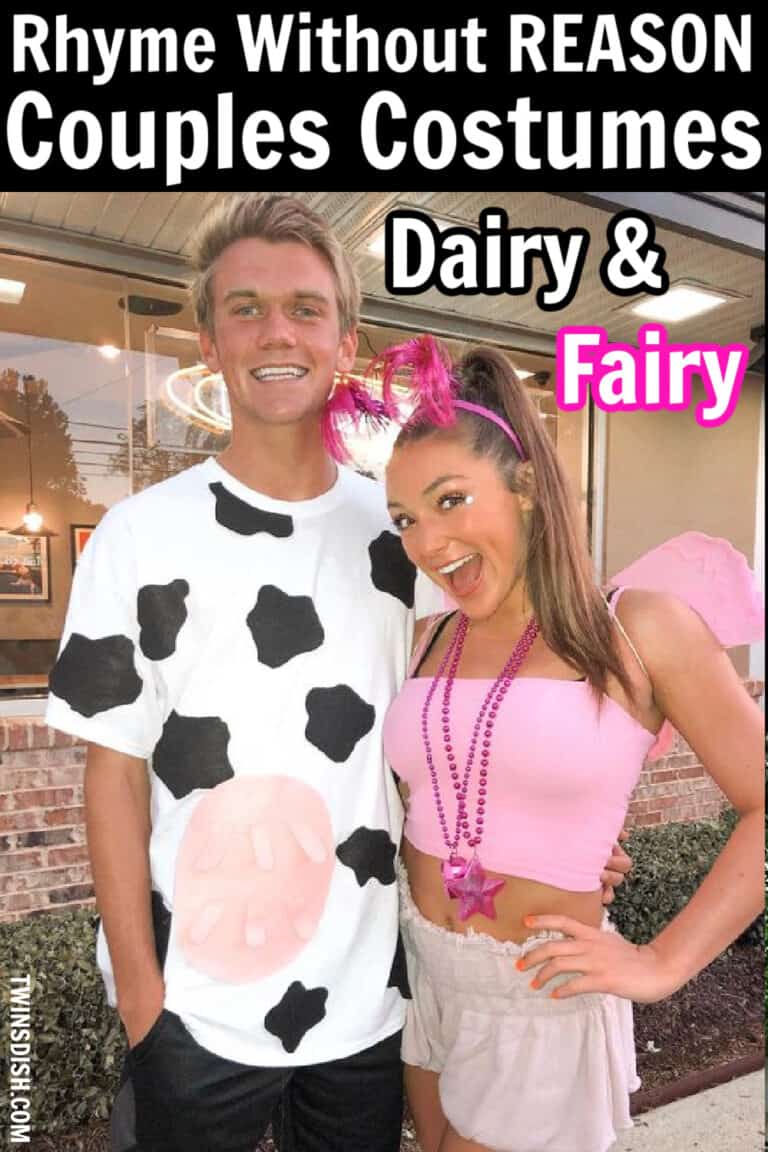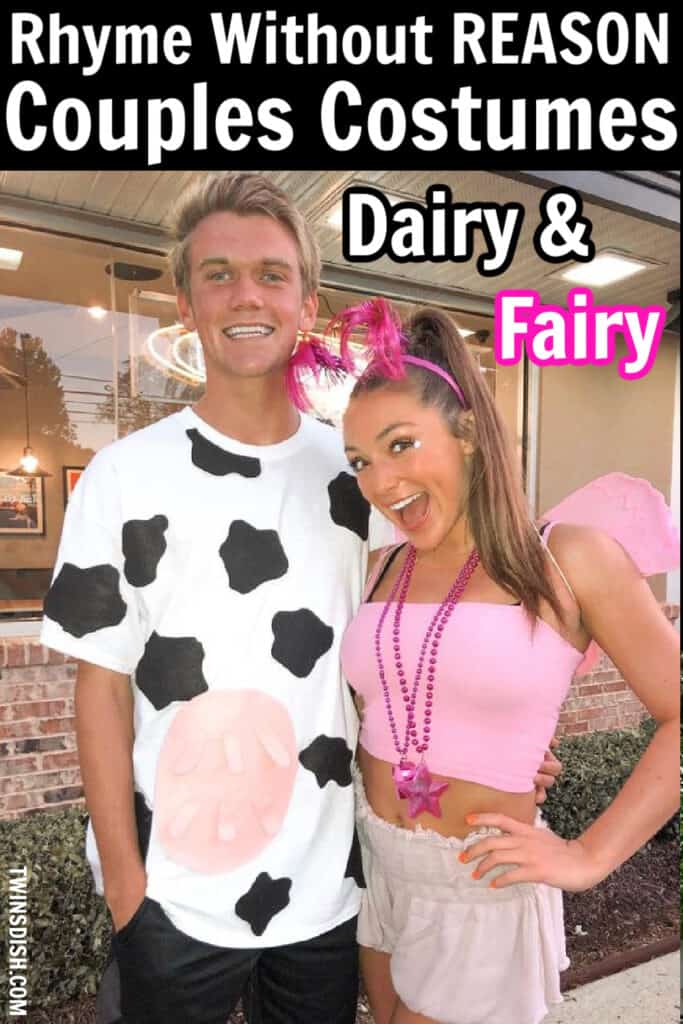 This can be used for duos. couples, and trios or groups!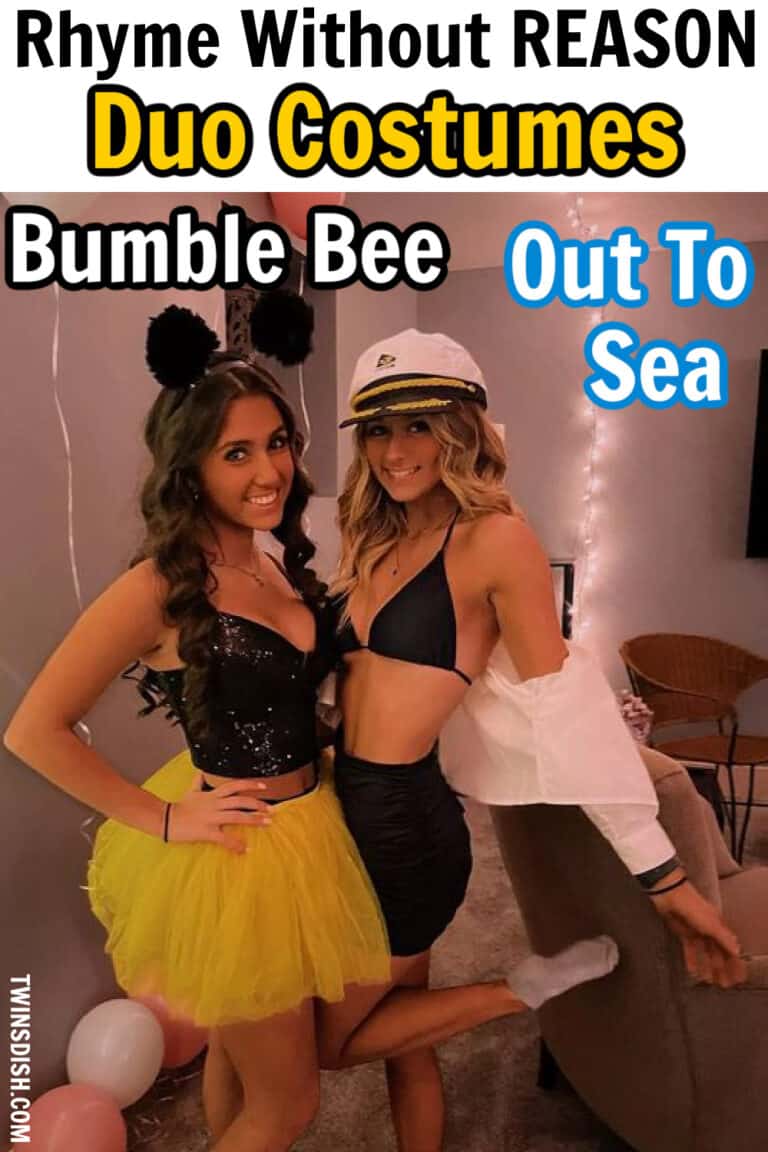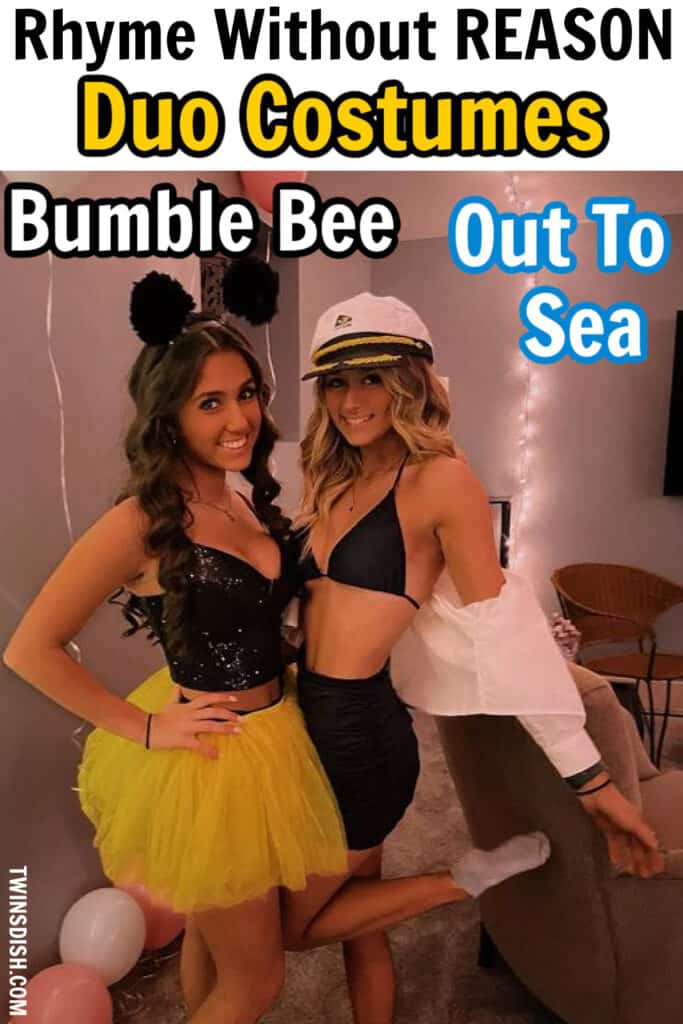 HOT JOKER COSTUME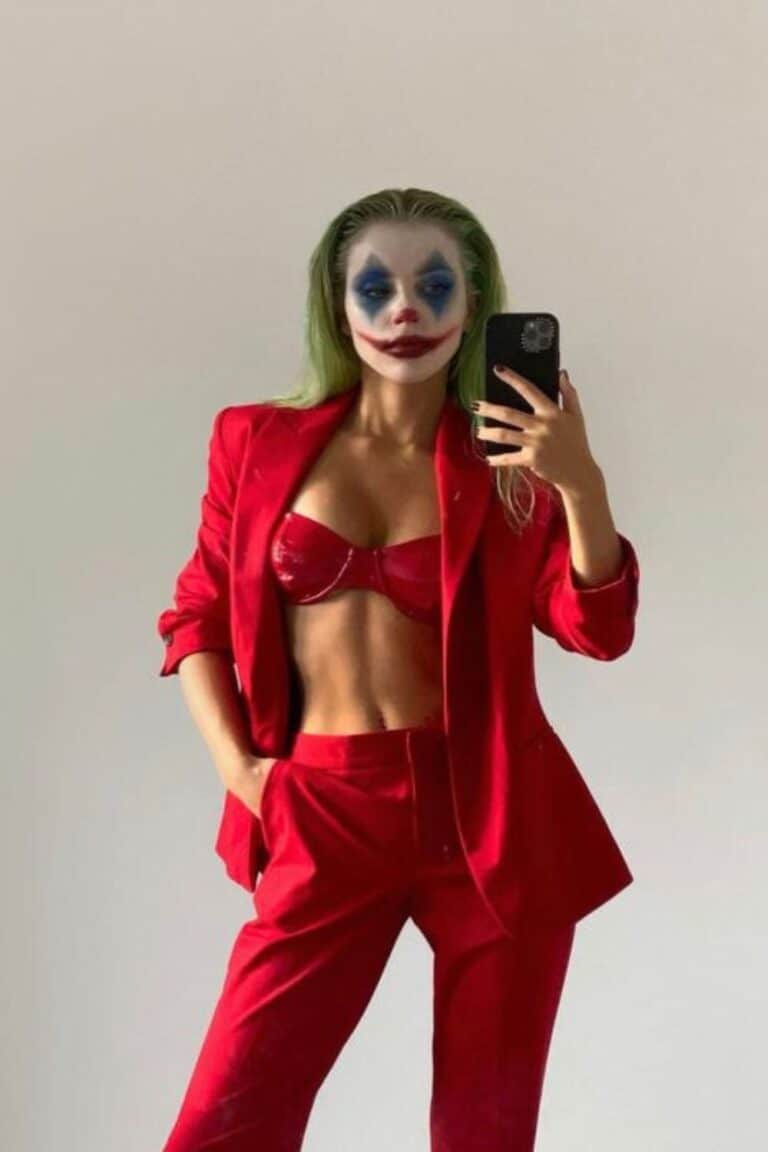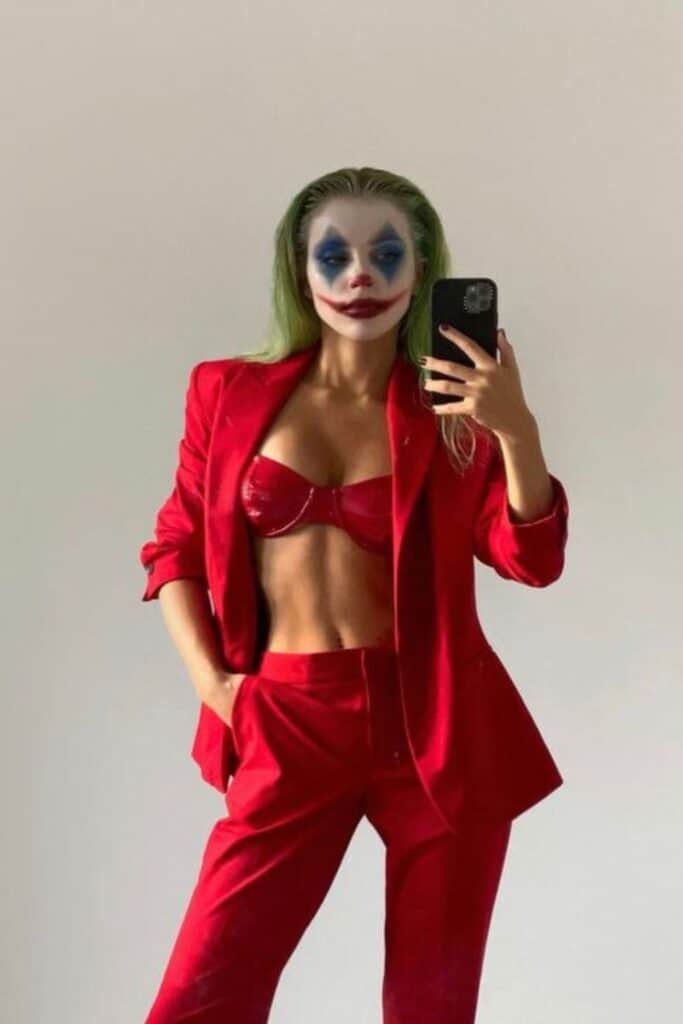 Grab a red suit and a red bra for a quick, easy, yet HOT Joker.
PIRATE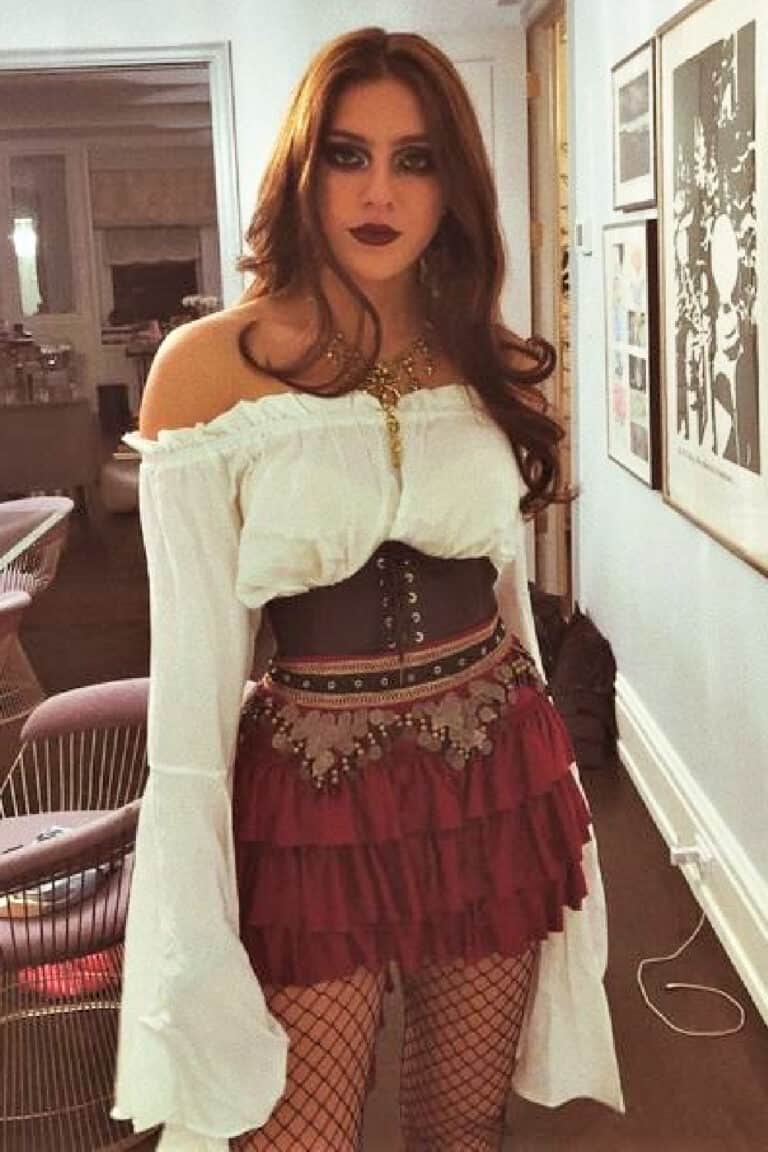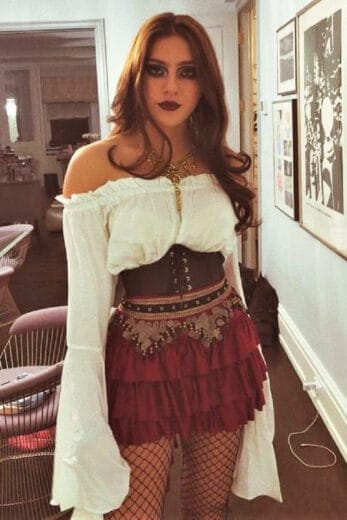 Thank Johnny Depp for the revival of the sexy Pirate costume.
You can do variations of the outfit above and include boots or a hat.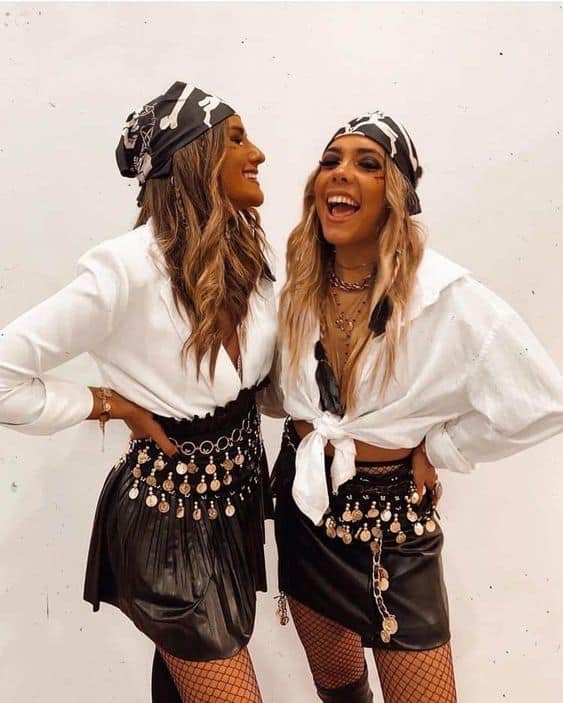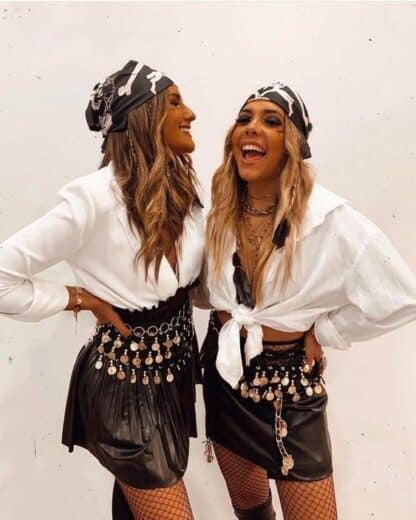 Besties can dress up as fellow pirates!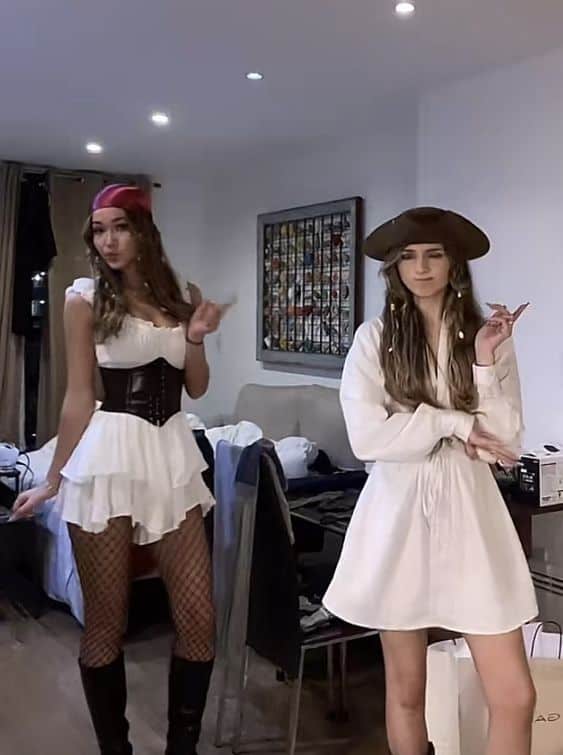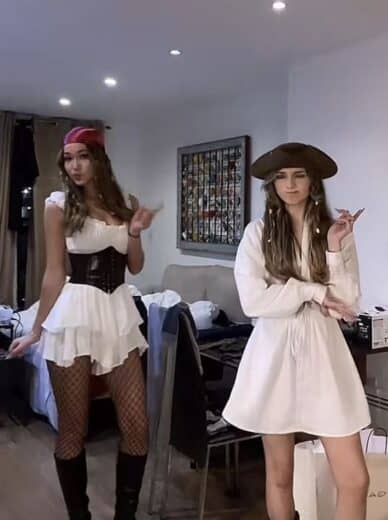 The dress on the left is "The Love Galore Romper White" from PrincessPolly.com.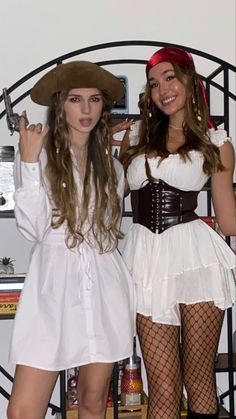 PIRATE COUPLES COSTUME IDEA :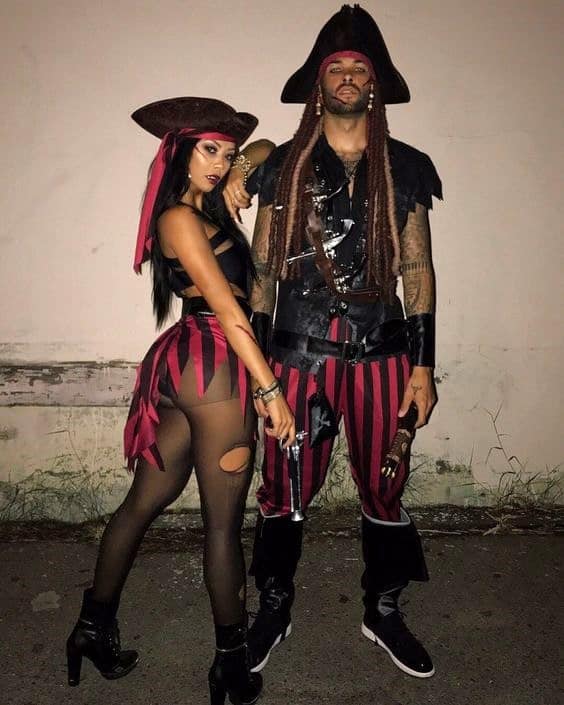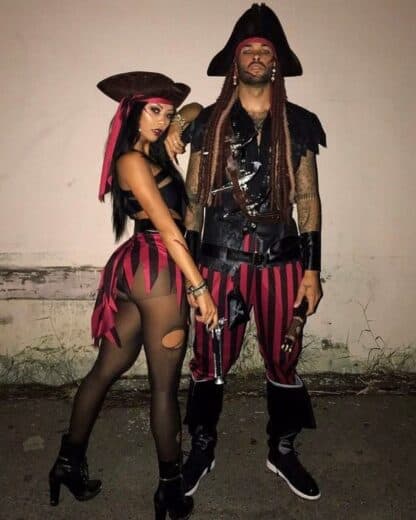 Dress up as a wench and pirate for couples. Get sexy pirate costumes for women here, get sexy men's costumes here
Easy DIY ScareCrow Costume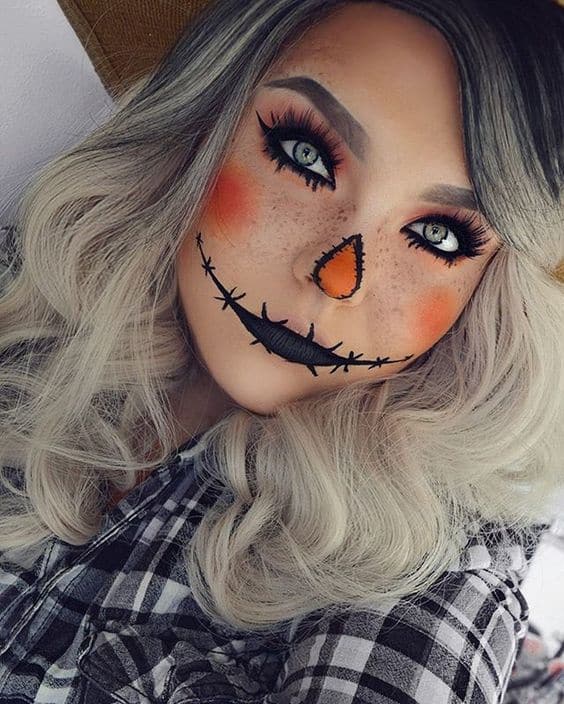 A scarecrow is just too pretty to pass up. It's wholesome in the cutest way. If your friend suddenly calls you on Halloween night wanting to go out, throw this beauty together. What you'll need:
A flannel shirt
A hat
Orange eye shadow or cream make up
Black eyeliner
Falsies or volumizing mascara (the best is $4.99)
Brown liner or shadow for freckles
Couple Costume Idea: One could dress as a scarecrow and the other Dorothy from the Wizard of Oz
Group Costume Idea: a group could dress up as the whole Wizard of Oz clan.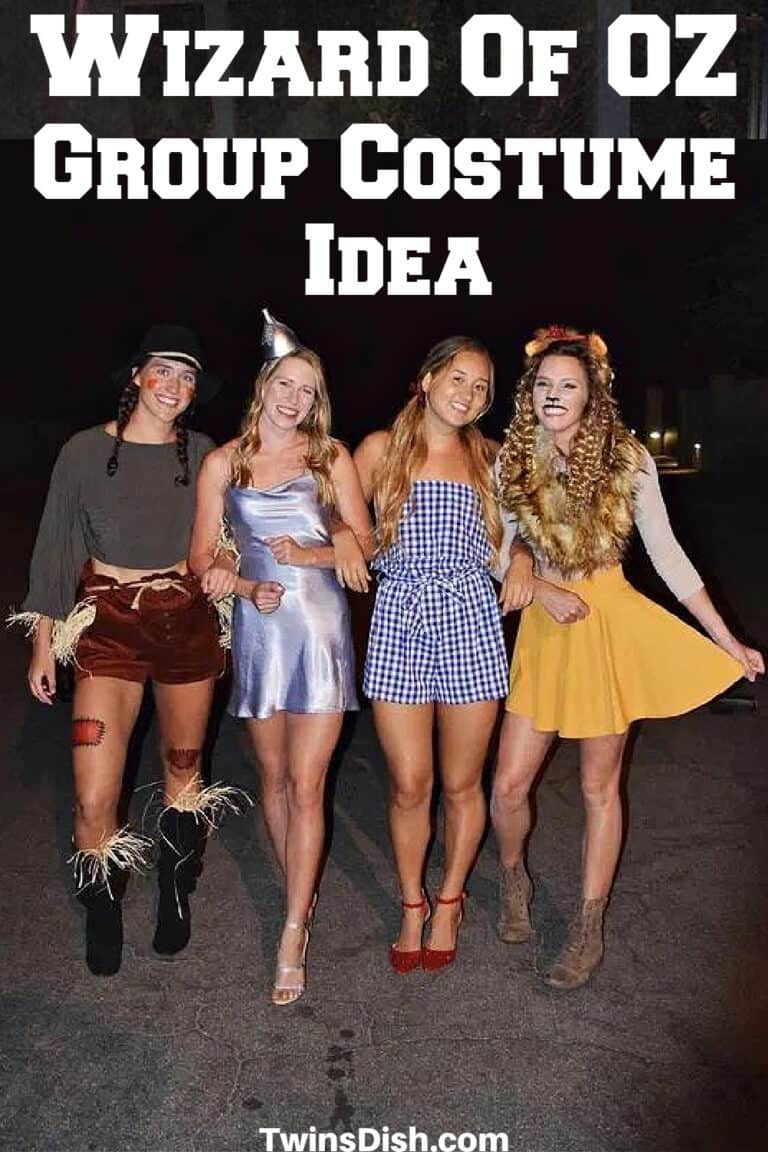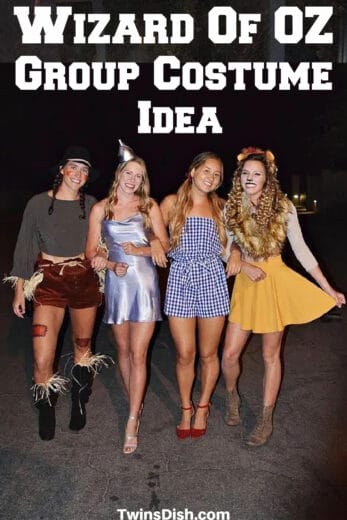 If you have the scarecrow why not go for a Wizard of OZ group costume?!
Ratatouille Remy and the Chef Costume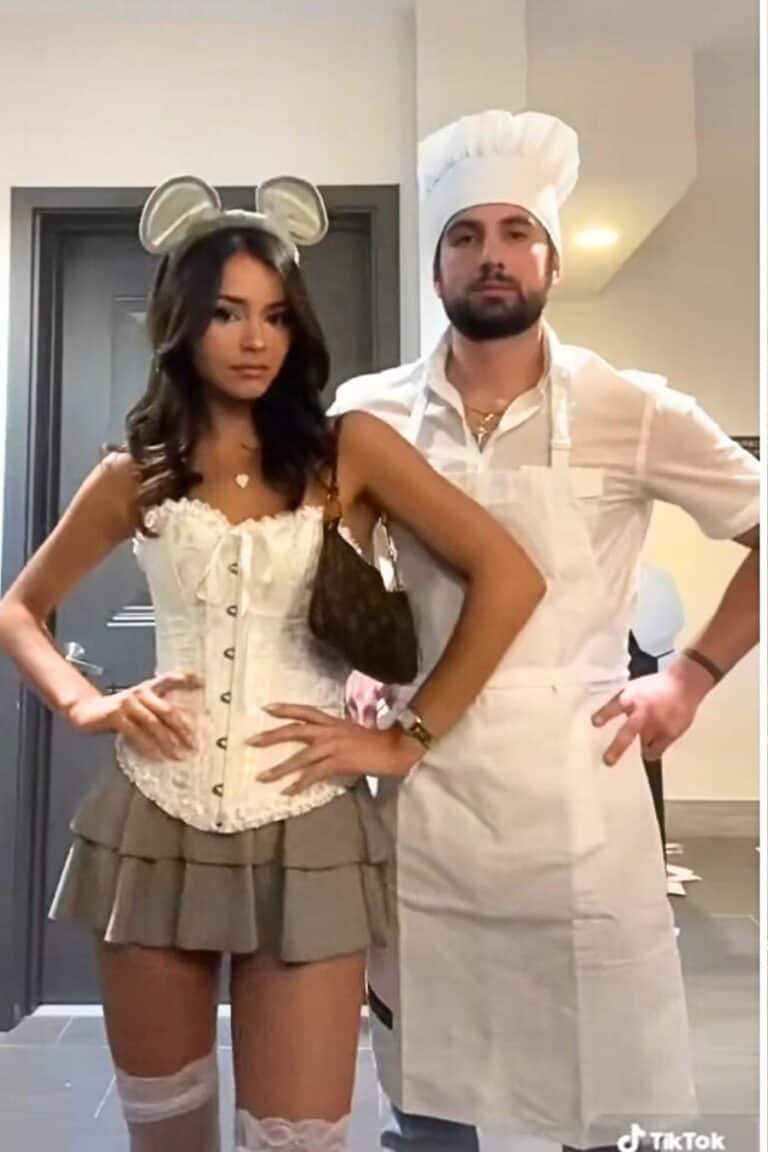 This adorable couples costume from the popular film Ratatouille can be used for a solo costume too! For girls grab these mouse ears , this skirt, and corset or tank, for guys an apron and chefs hat! Here is an easy guys costume that's sure to be a hit! Put Remy in your Chefs hat!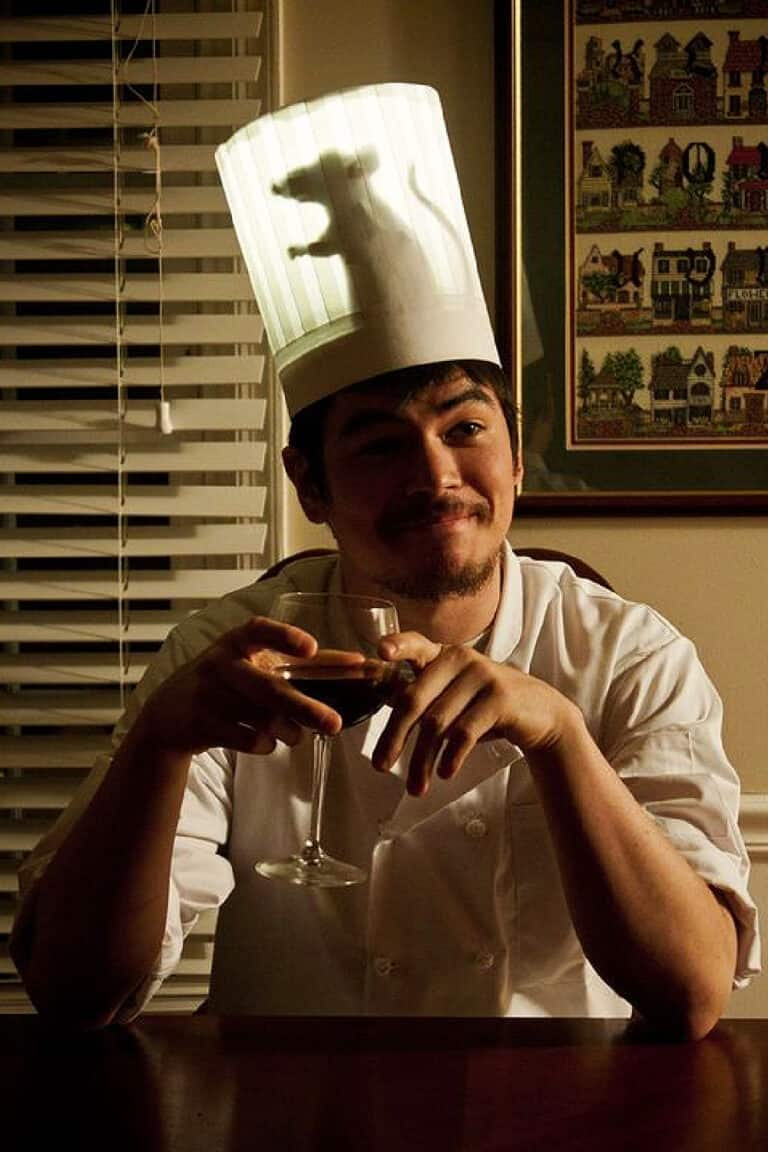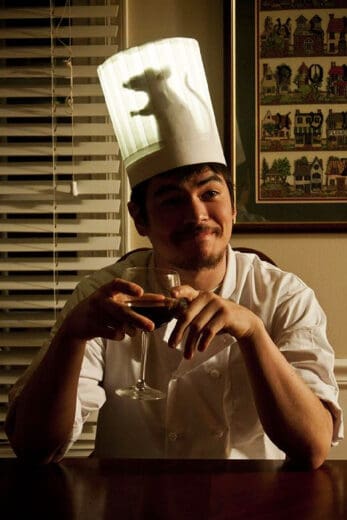 A Tap light and either a card stock cut out or rubber rat is all you need for this creative witty Halloween Costume Idea!
3 BLIND MICE HALLOWEEN COSTUME IDEA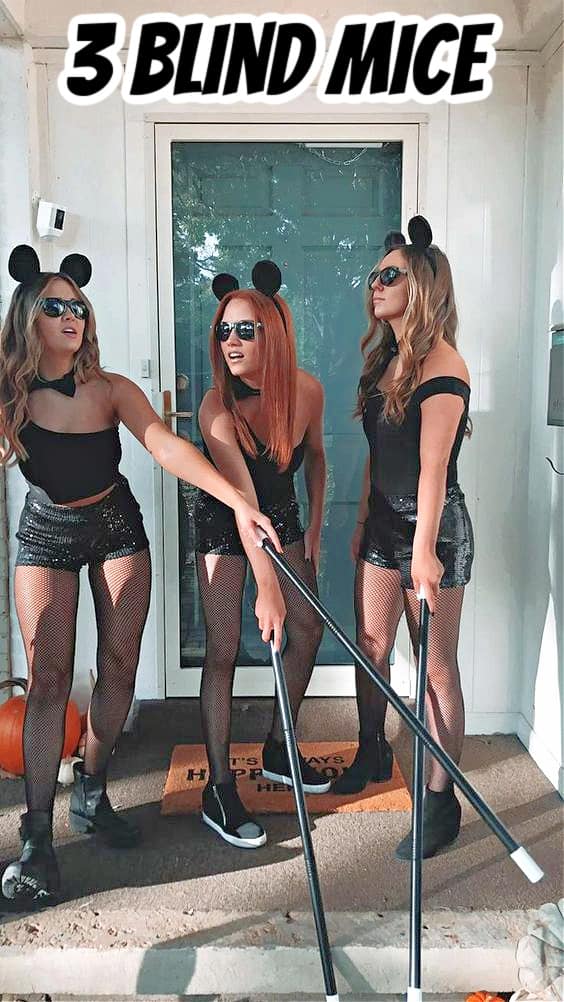 3 Blind Mice! A clever and cute trio costume that's easy to put together! Purchase the tops here, the ears here, the hot pants here, the bow ties here, the fishnet stalkings here and the sticks here.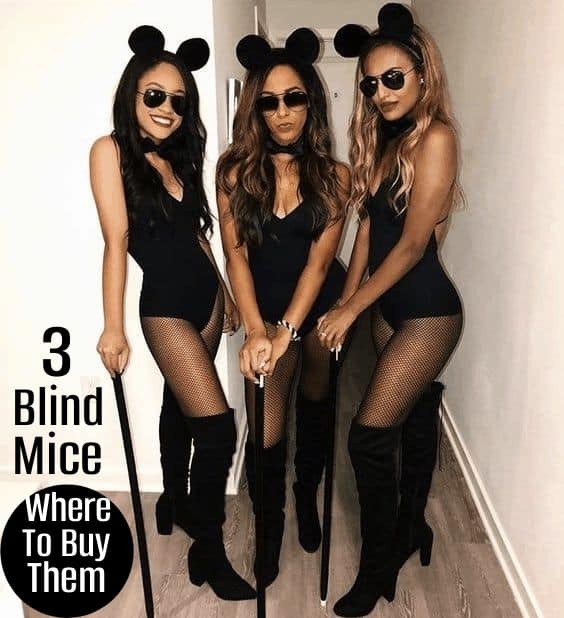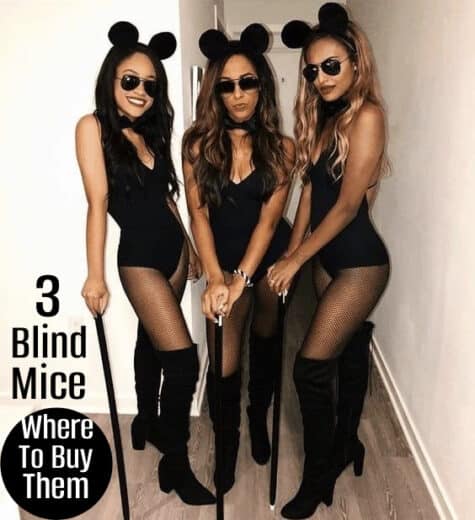 Above is a sexier version of the 3 Blind Mice costume. You can buy the leotard here.
SPACE CADET HALLOWEEN COSTUME IDEA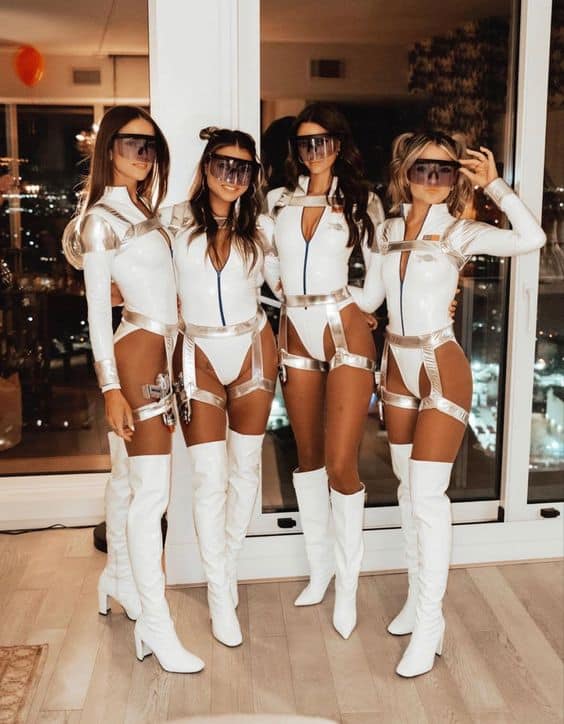 You will be the hit of the party GUARANTEED! This sexy costume works for a solo person, a couple, or a group!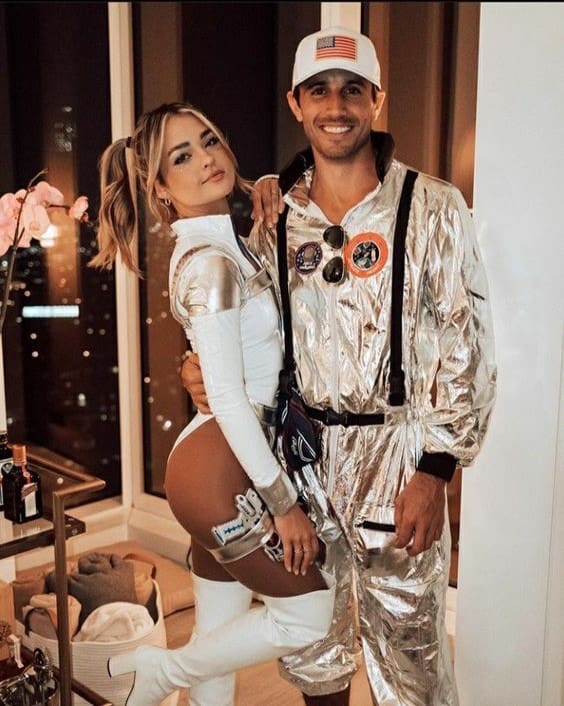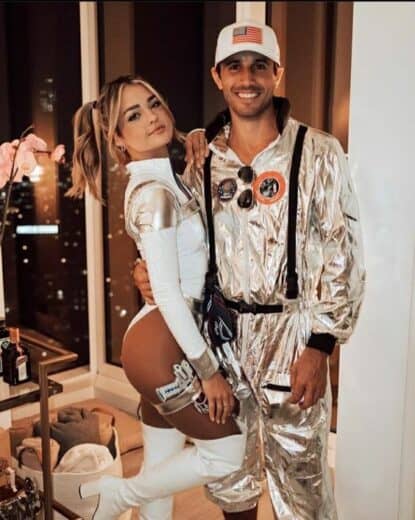 Couples can go as a Space Cadet and an Astronaut! Be prepared to take plenty of pictures.
CLUELESS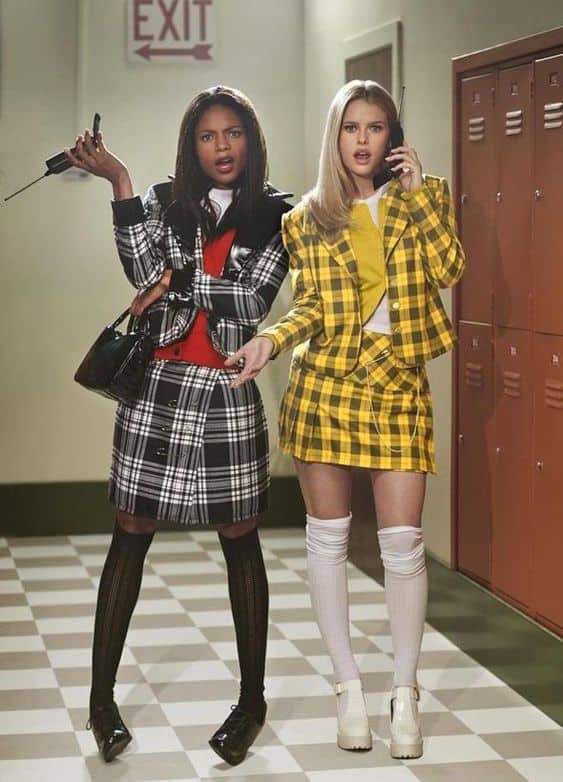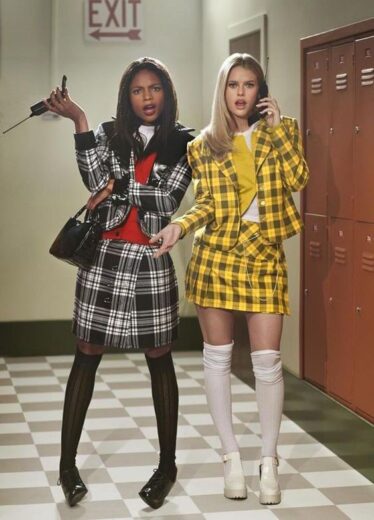 Cher and Dionne are the ultimate cute iconic duo costume! Get the costumes here.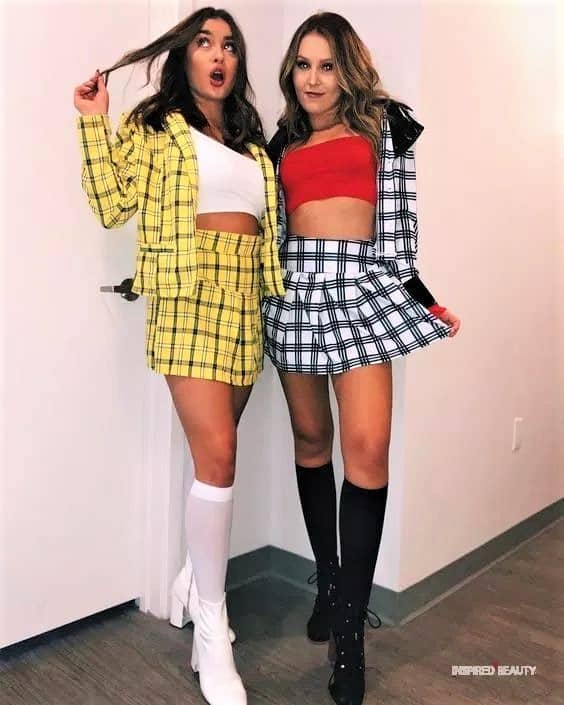 Clueless characters Cher and Dionne are one the trendiest iconic 90s duo costumes for Highschool right now.
CLUELESS COUPLE COSTUME IDEA: Go as Cher and Josh or Dionne and Murray for couples
TRIO COSTUME IDEA: Go as the whole Clueless gang for a group costume idea (Cher, Dion, Tai).
DIY Fortune Teller Costume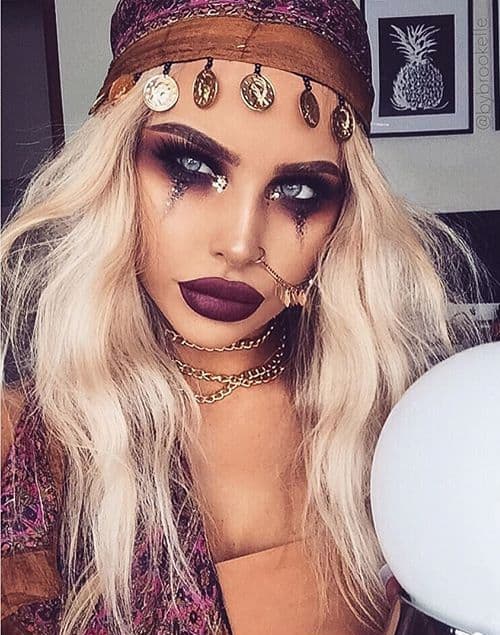 She used a scarf she had and this coin ribbon from Spotlight.
Whether you prefer to call her a Gypsy or a Fortune Teller this costume is mysterious and therefore sexy.
What you'll need:
Dark or burgundy lipstick
Black eyeliner
Brown eye shadow
Mascara or faux lashes
Your best Boho or flowing outfit
Crystal ball, you can DIY yourself using a white balloon, an electric votive or glow stick (to put in the balloon) and card stock for the base.
THE BACHELOR/ETTE COSTUME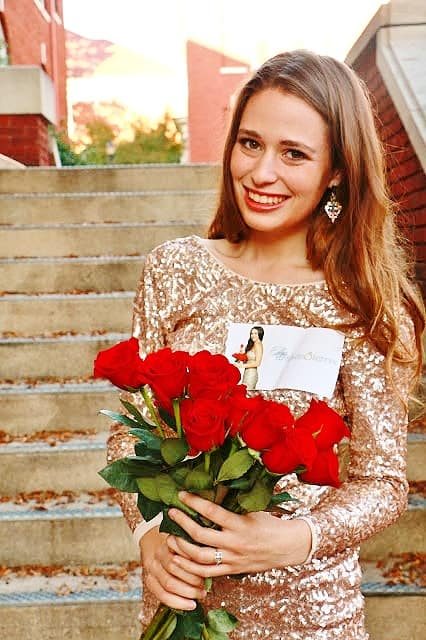 Be prepared to get hounded. This costume is classy, super easy, puts your best foot forward with your most glamorous look, AND includes a bunch of real or fake roses that you can easily attach your number to and give to whomever you want (just make sure they're single).
What you'll need:
Some real or fake roses
Your best evening look (Hair, Make up, jewelry, attire)
A tag with the logo or name of the show on it OR simply write Bachelor/ette.
Little papers with your number on them to wrap around each stem with tape.
Can you imagine if you end up marrying someone you gave a rose to? What a story that would make!
When Life Gives You Lemons (Punny Costume)
View this post on Instagram
This is so easy yet funny as heck and perfect for getting dates. We'll tell you how, but first…
What you'll need:
a bag of lemons
a name tag, cardboard sign or ratty t shirt
a sharpie or black marker
Just write "Life" on a name tag or a t shirt (it could be extra ratty for added effect) and get a bag of lemons.
Bring a sharpie to write your phone number on the lemons in case you meet someone cute and ask them if they would be your lemonade. How could they say no?
This outfit is great for both guys and girls and probably the easiest on this list for last minute.
GIRL FREDDY KRUEGER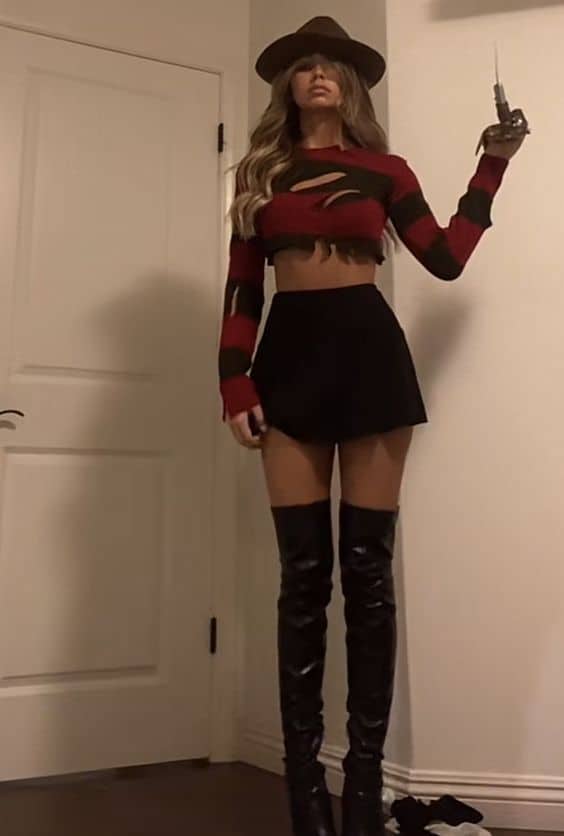 GIRL FREDDY KRUEGER will make you stand out! The gloves can be purchased here but it appears she cut them to customize it. You can find the hat here, and the sweater here. The sweater was cut to fit by @adisonJustis on TikTok.
URSULA – THE LITTLE MERMAID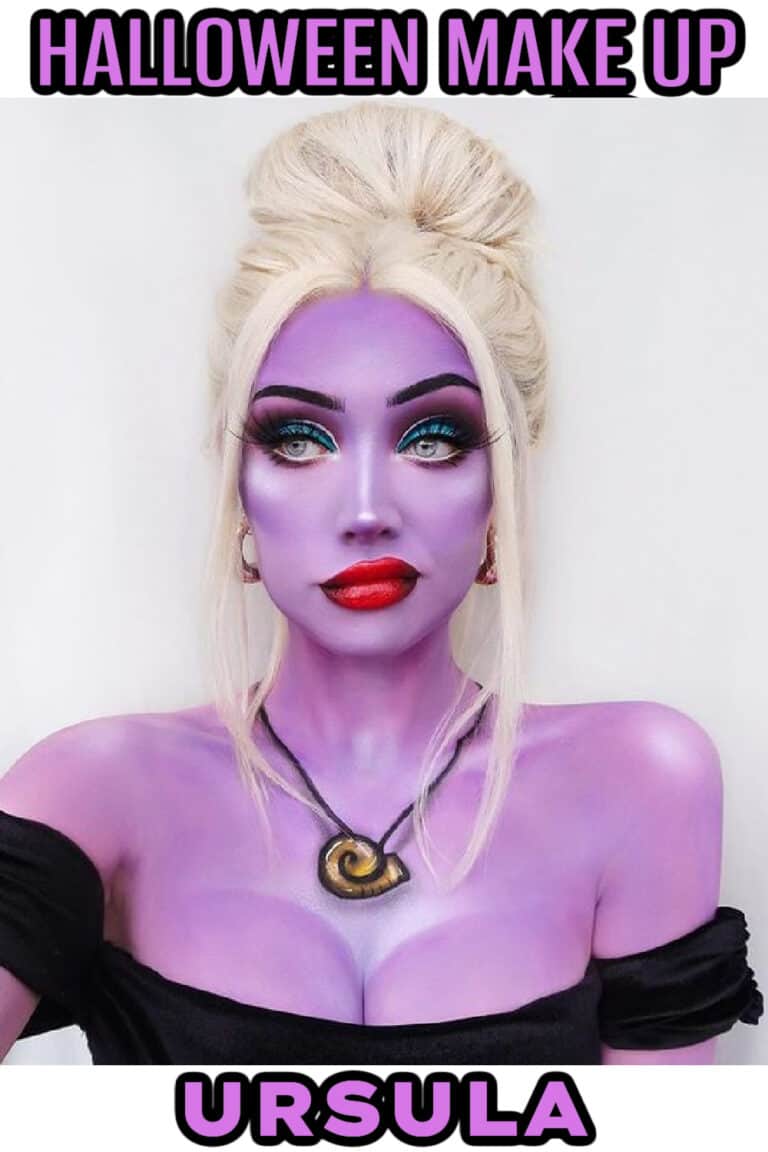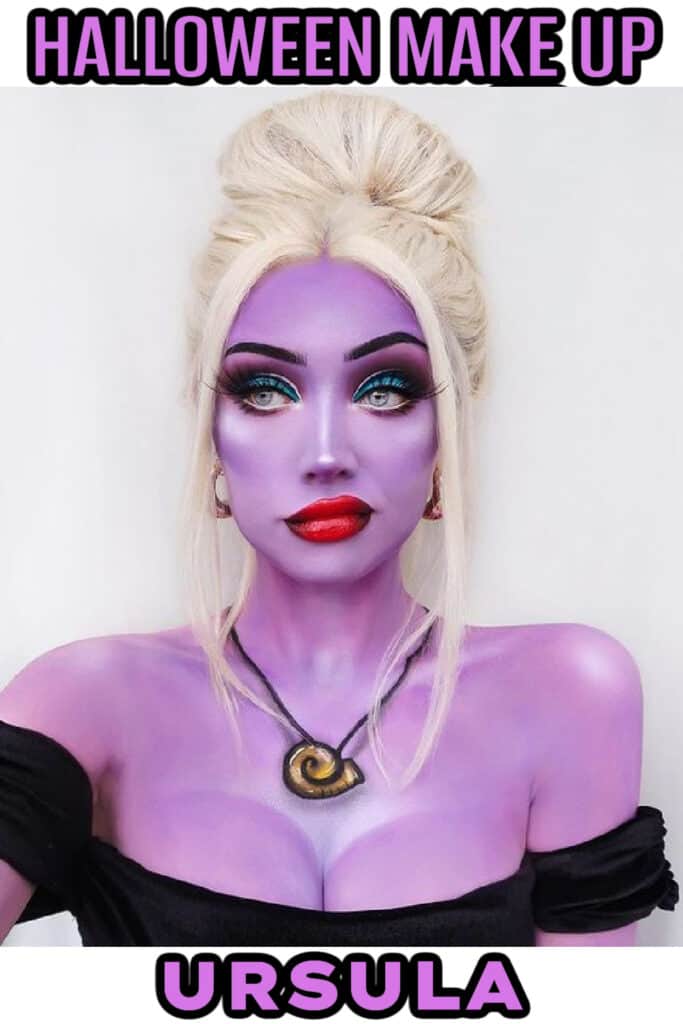 This epic Ursula can be made almost entirely using Halloween make up. You can buy a platinum blonde wig here, and a black dress here.
SUPER MARIO BROTHERS – MARIO AND LUIGI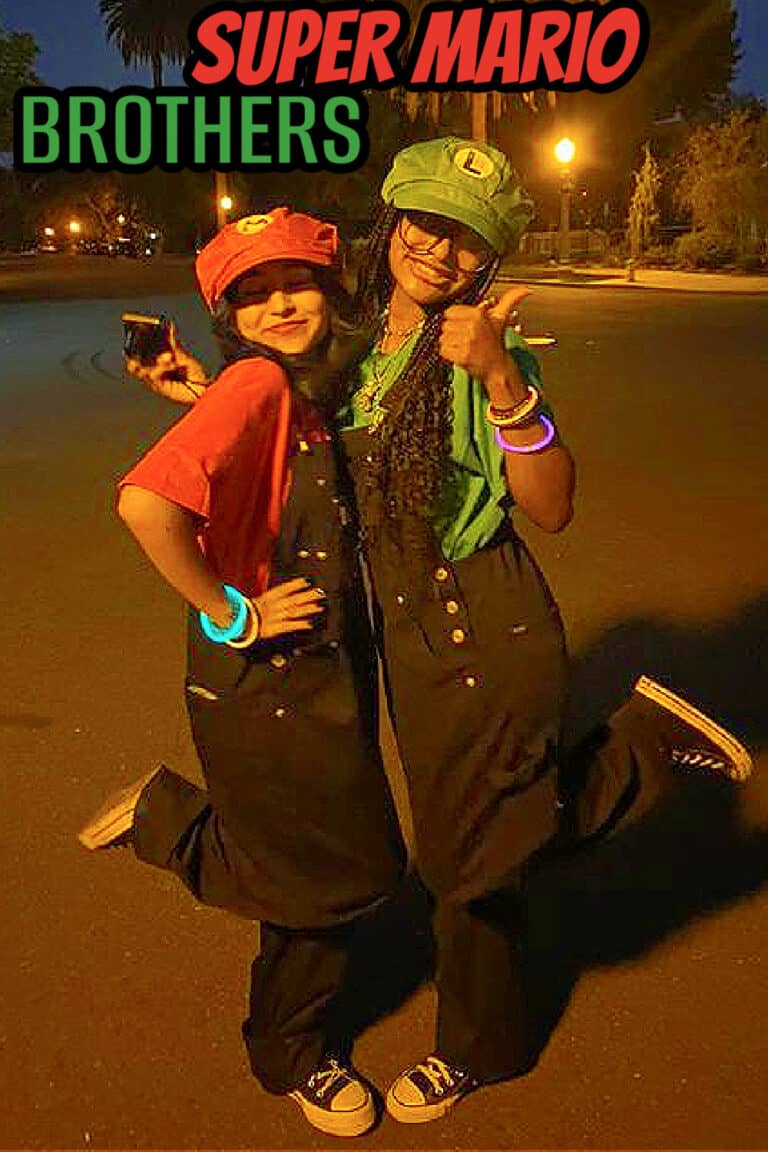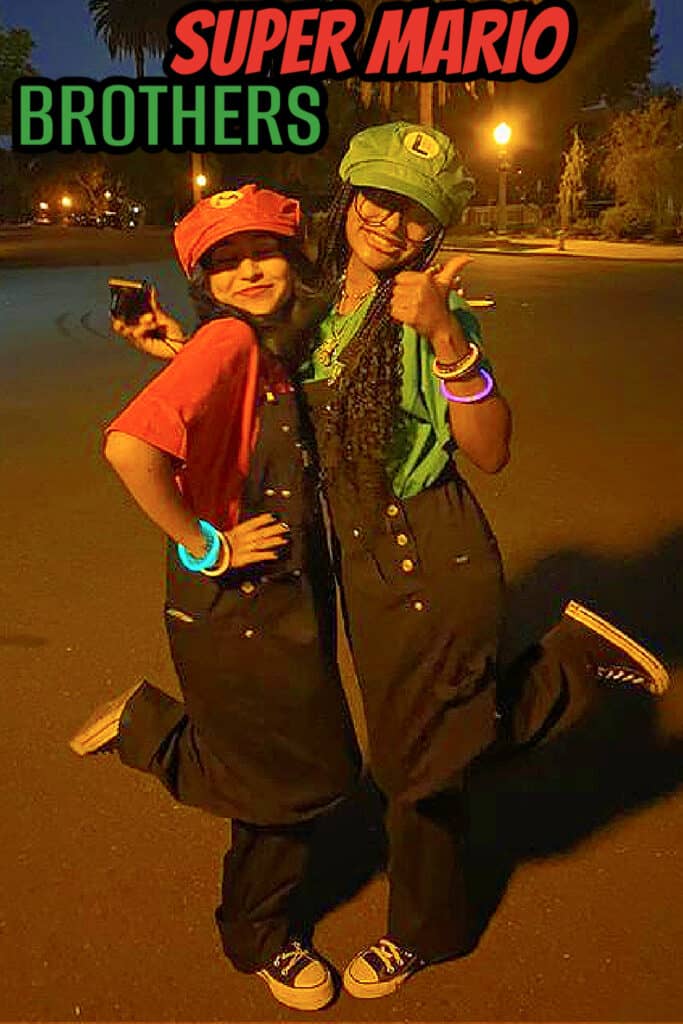 Characters from the Super Mario Brothers movie remain some of the hottest costumes for Halloween, they're also among the easiest! Get the Mario and Luigi hats here. You can find navy blue overalls here, and a red and/or green tshirt.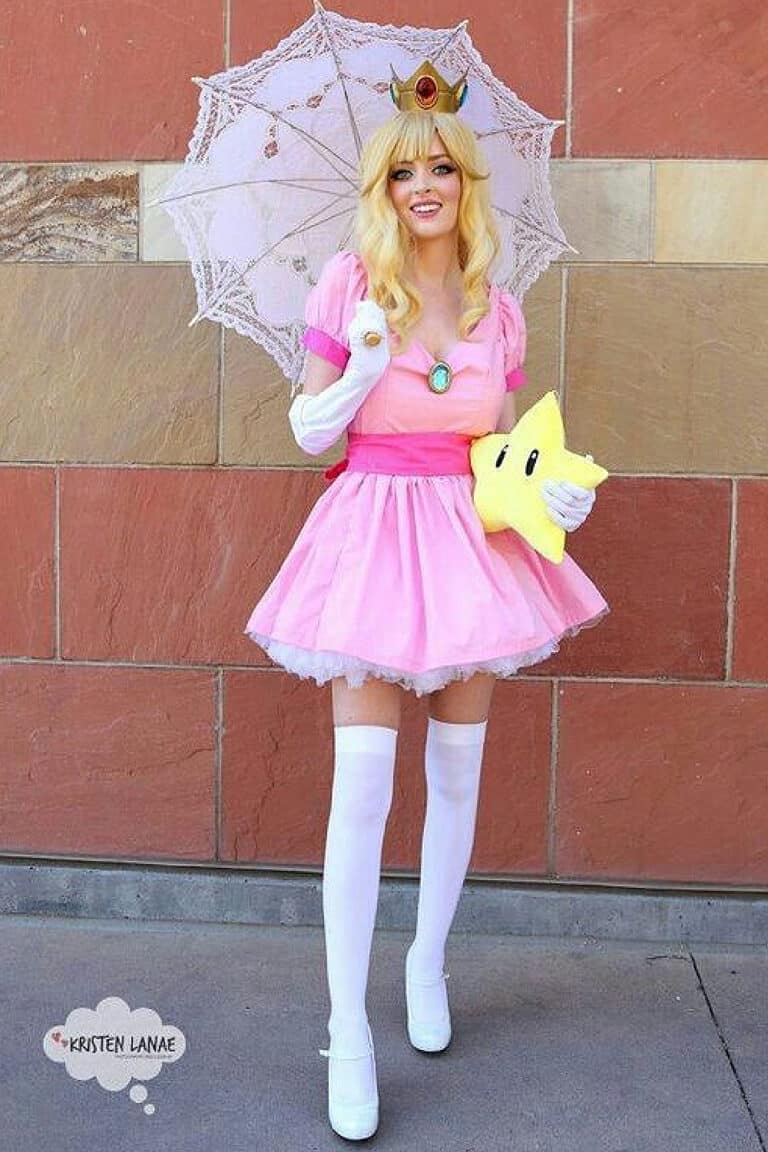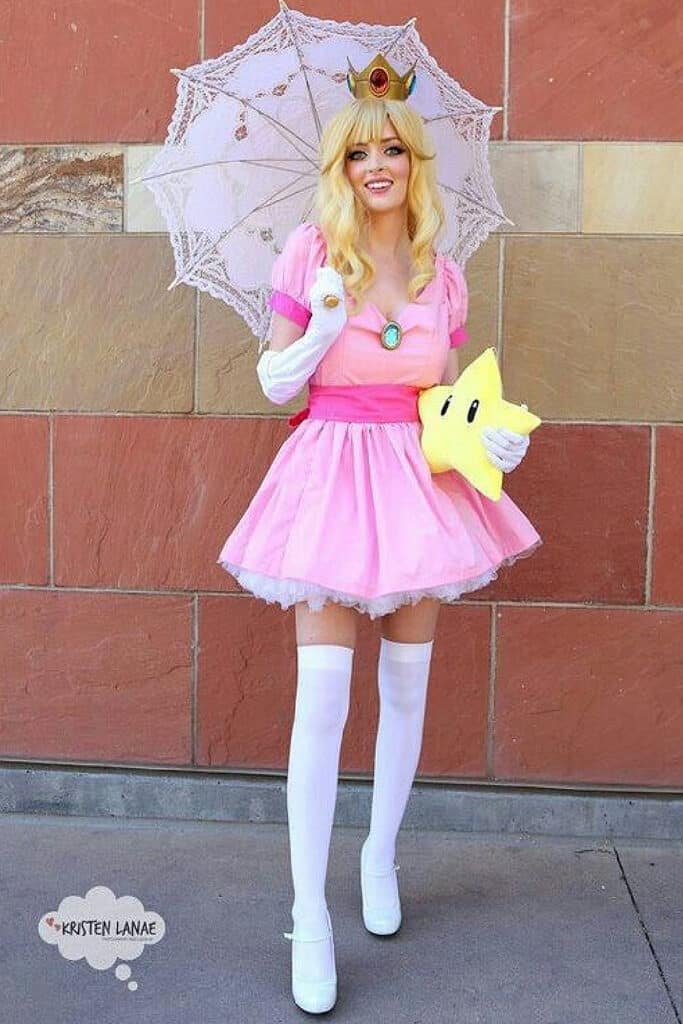 Going solo? Dress up as Princess Peach! Buy the Lace Parasol here and the accessories here.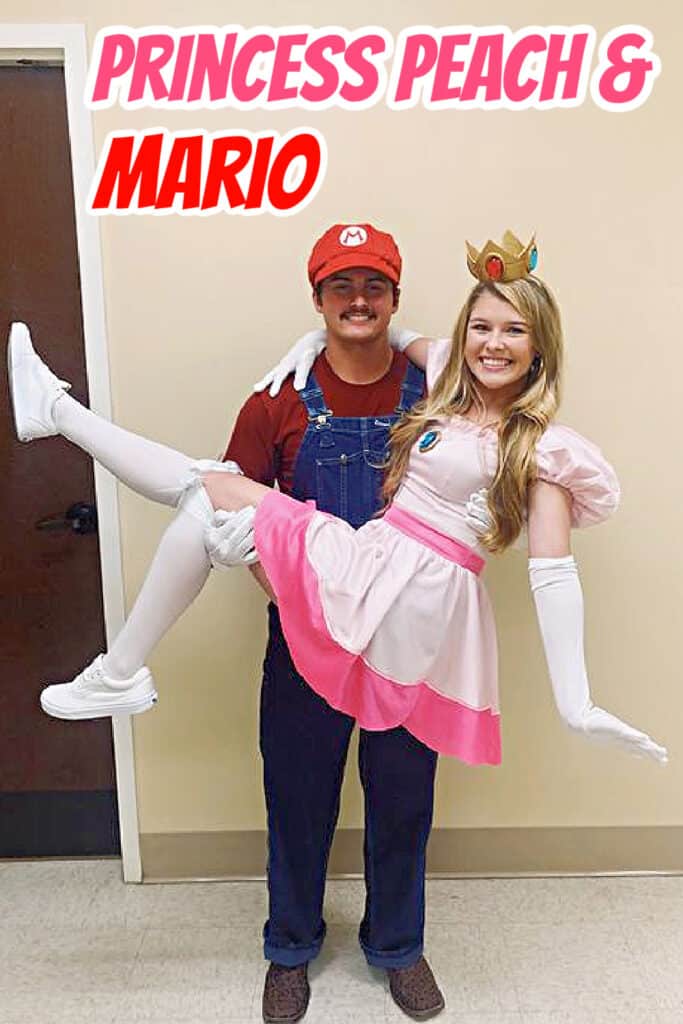 Super Mario Brothers – Couples Halloween Costume Idea
Couples can dress up as Mario and Princess Peach, or Mario and Bowser! Groups can dress up as the whole Super Mario Brothers clan!
SPRING BREAKers MOVIE HALLOWEEN COSTUME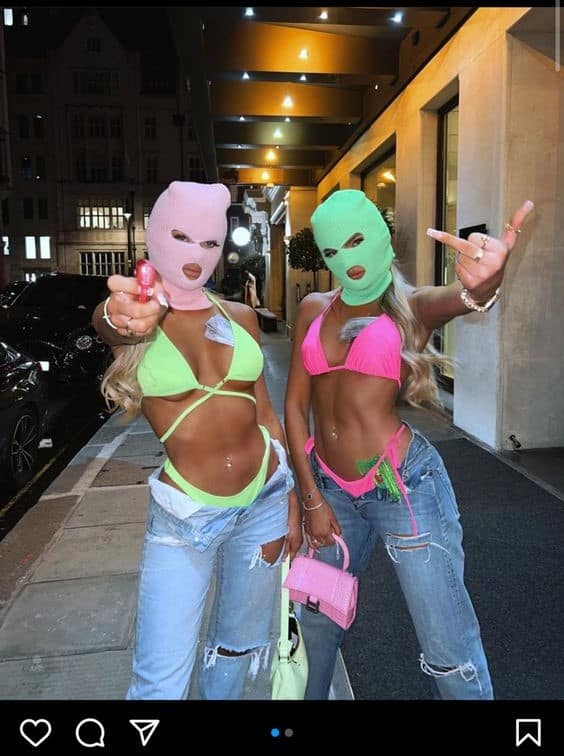 The indy hit "Spring Breakers" with Selena Gomez was the inspiration for this easy baddie bff Halloween costume idea. You can find the face masks here.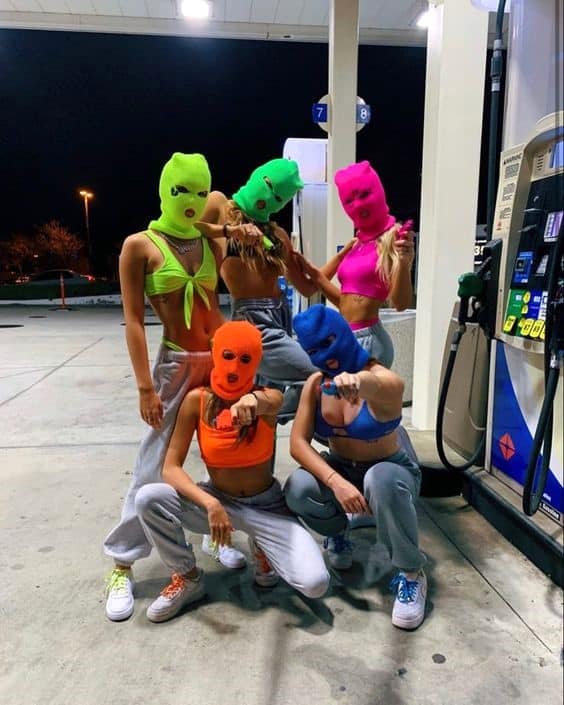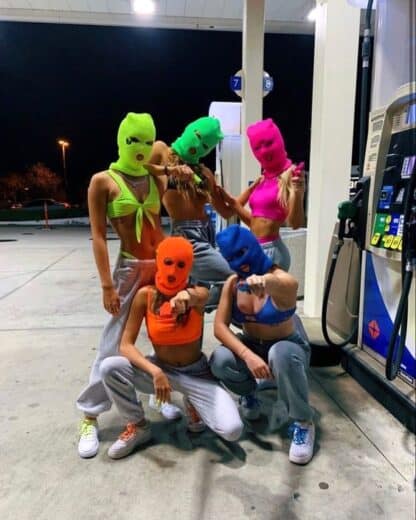 Easily turn it into a hot group idea with neon athleticwear or swimsuits and pants. You will have the most comfortable costumes around. Again you can find the face masks here on amazon.
THE PURGE

HALLOWEEN

COSTUME IDEA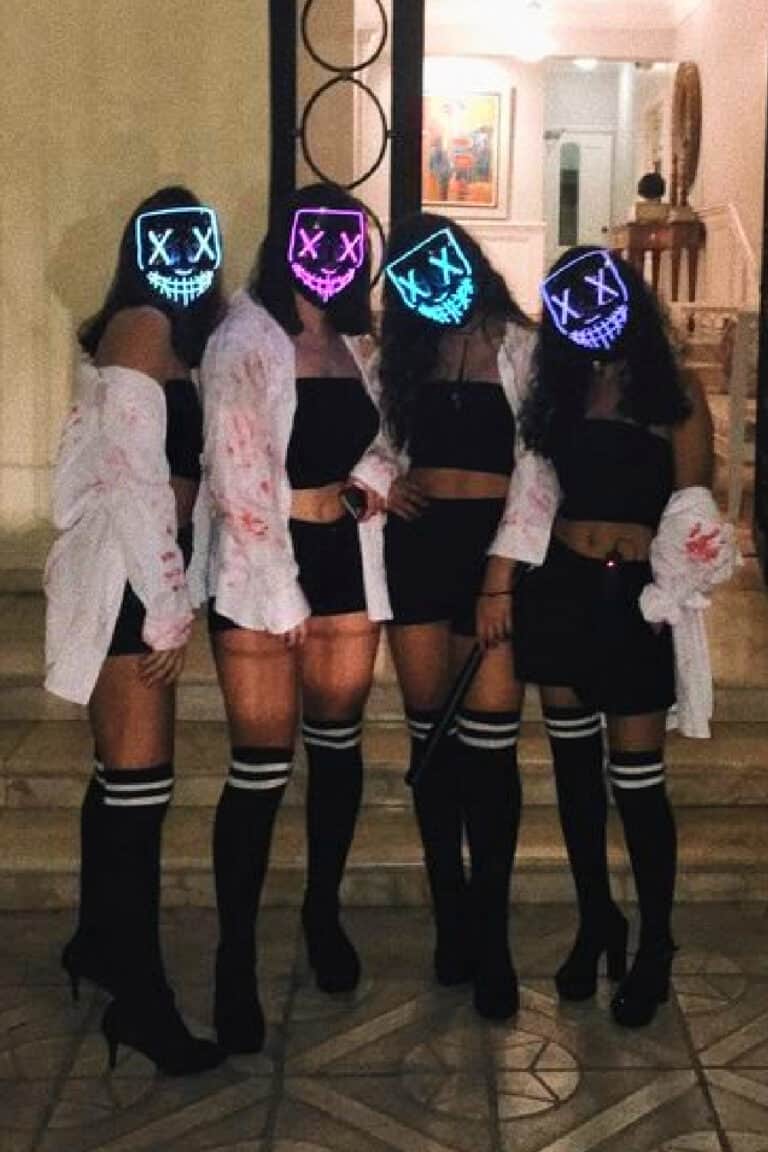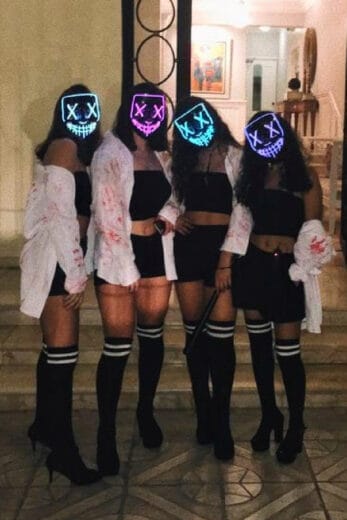 You can find the light up PURGE MASKS HERE and the KNEE SOCKS HERE
This is one of the cheapest, easiest, yet hottest kids, teen and College costumes for both boys and girls!
No need to wear any make up!! This is creepy worn just by one person or a whole group!
FEMALE WILLY WONKA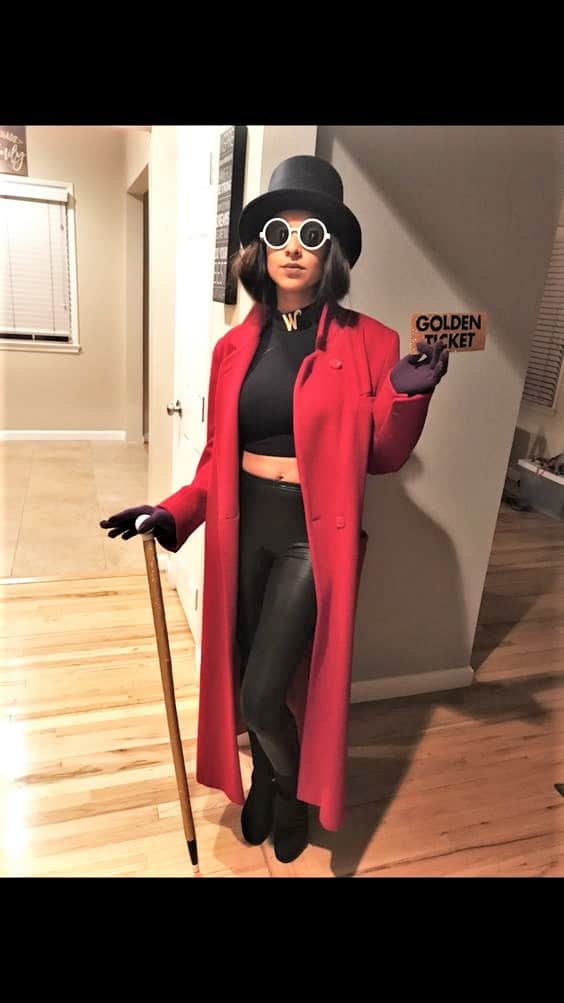 Johnny Deps version of Willy Wonka is making every girl swoon on Tik Tok, this fem version can give one lucky person a chance at a Golden Ticket.
Write your phone number, email, or insta on the otherside if you see someone worthy.
Do a faux bob or wear a wig.
COUPLE COSTUME IDEA FOR WILLY WONKA: Fem Willy Wonka and Charlie, or Male Willy Wonka and Violet or an Oompa Loompa.
GROUP COSTUME IDEA: Willy Wonka and Oompa Loompahs or the whole golden ticket gang.
Rip & Beth Yellowstone Couple Costume Ideas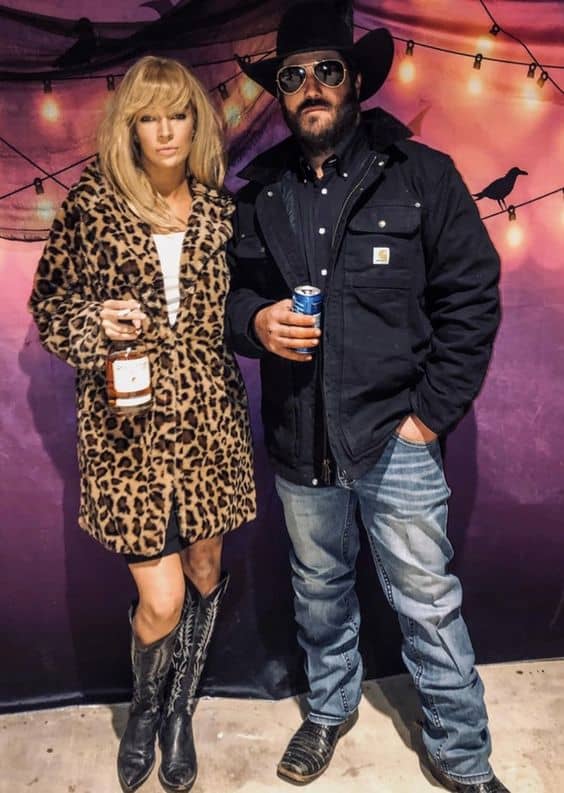 With over 15 million viewers, characters from the tv series Yellowstone remain the hottest costumes for Halloween. In the above picture "RIP" is wearing this Carhartt black jacket. Here are the links for the two BEST wigs for Beth Dutton WIG ONE WIG TWO.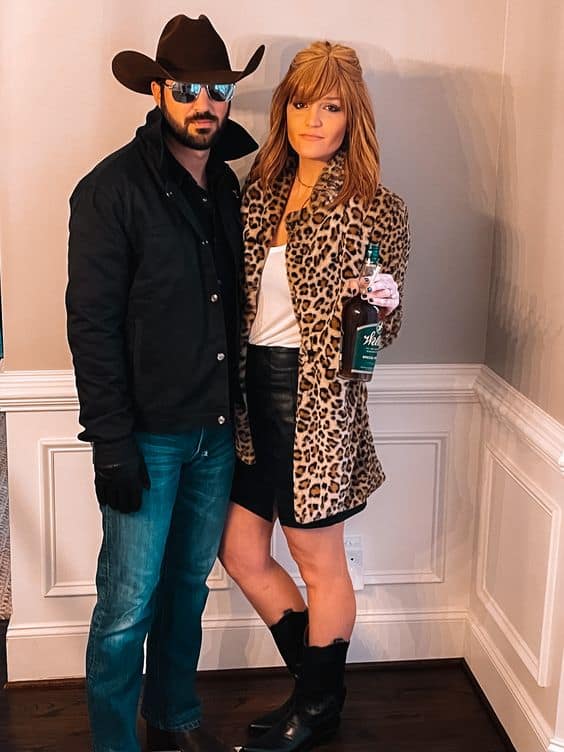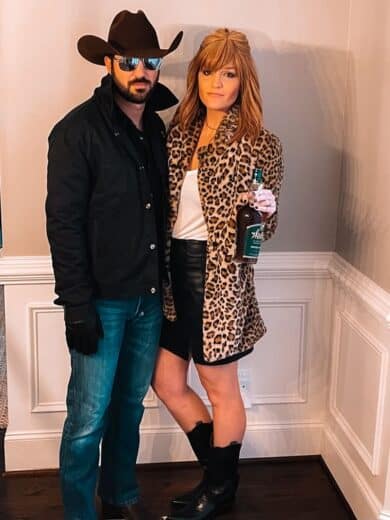 This is so simple to do and pretty self-explanatory. We would just add a DIY branding iron that Rip can hold.
GROUP COSTUME IDEA:
Groups can make the whole Yellowstone gang and even dress up as some of the favorite villains!
Women's Bandit Halloween Costume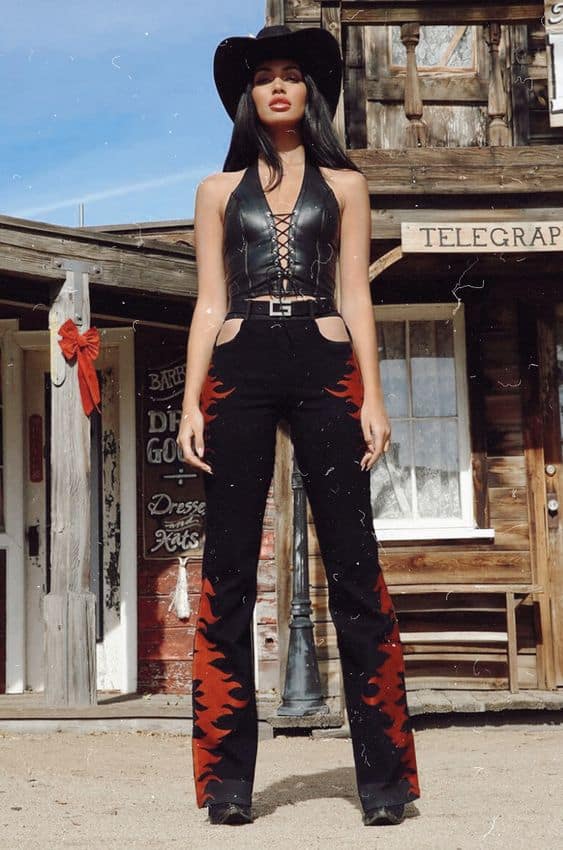 This hot costume is also super easy to diy. Either get some black jeans and cut out the section above the pockets, or purchase these women cut out pants. and this women's leather crop top Add a black cowboy hat to pull it all together.
NIGHTMARE BEFORE CHRISTMAS COSTUME IDEAS- LOCK, SHOCK, AND BARREL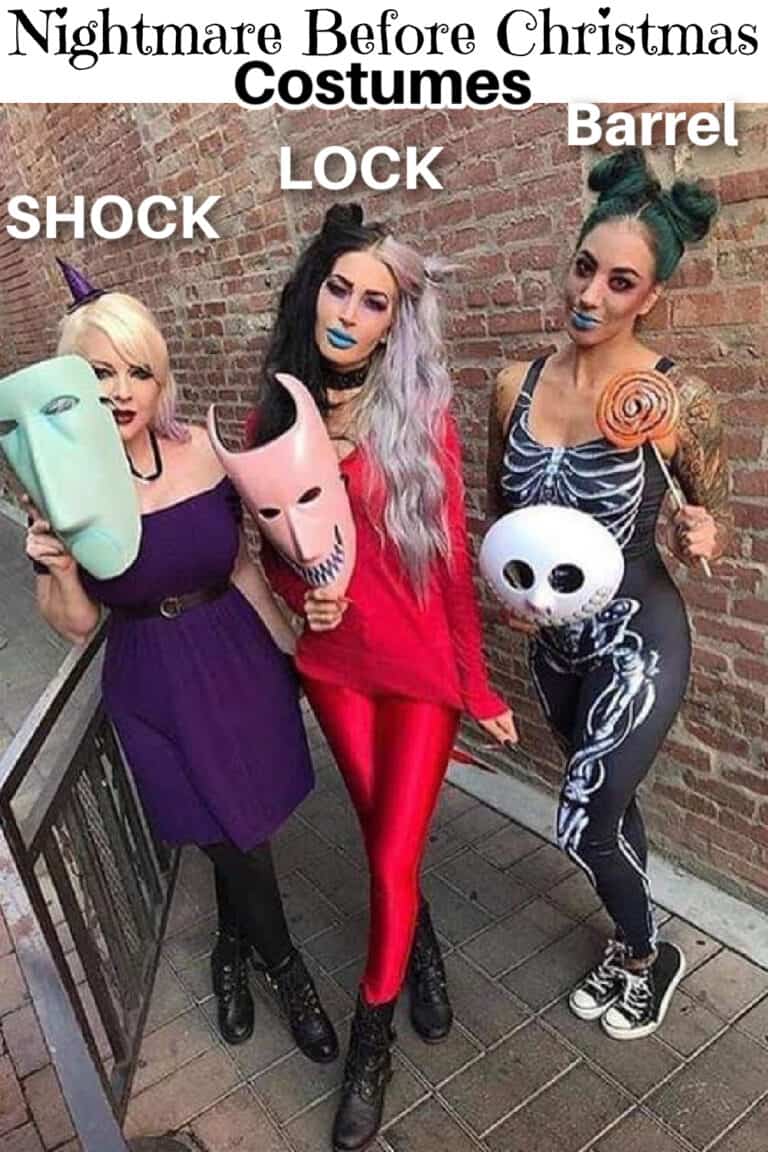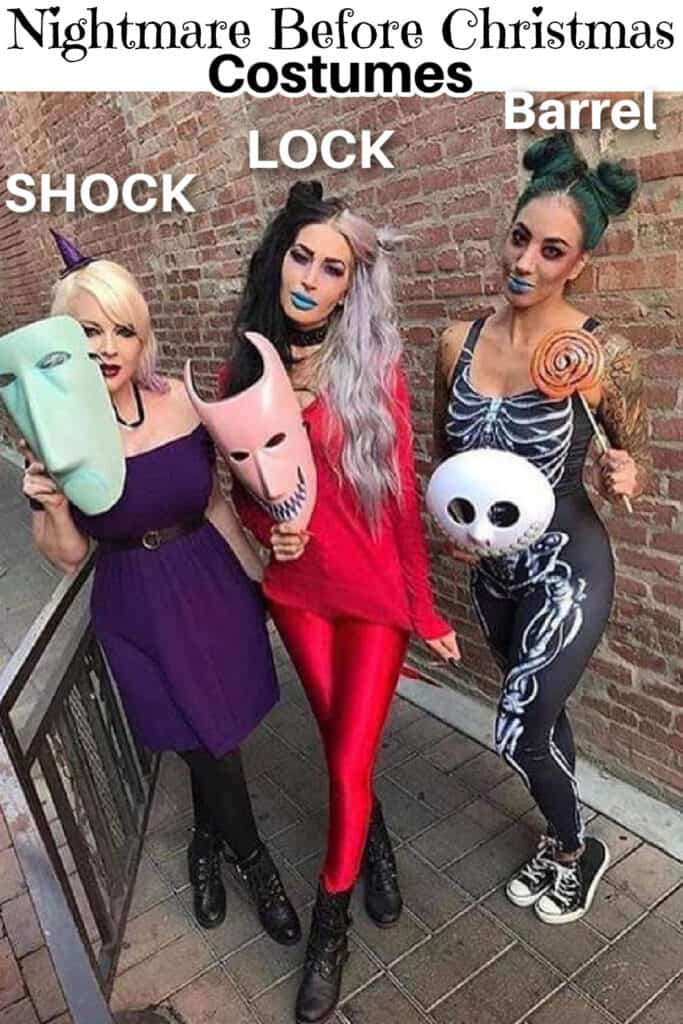 Oogie Boogie's little clan Lock, Shock, and Barrel make an adorable trio costume! You can buy the Lock mask here, the Shock mask here, and the Barrel mask here.
Space Cowgirls Costume Idea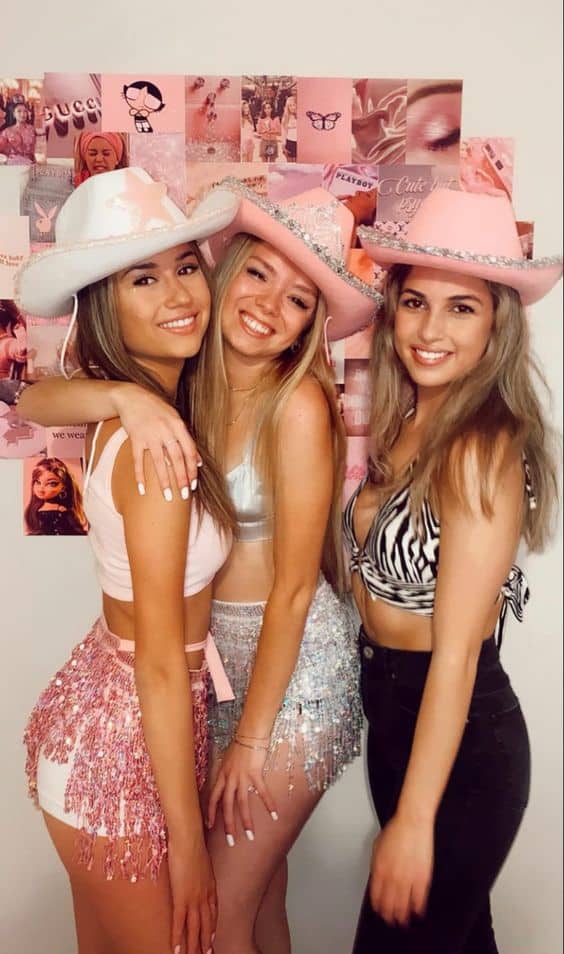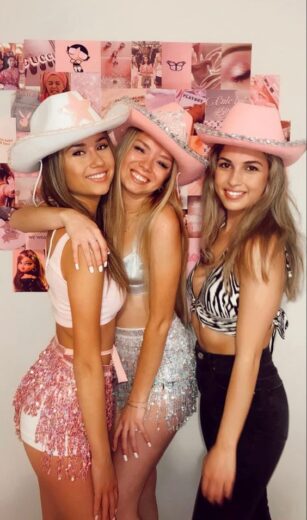 One of the trendiest costumes for teens and College students is the Space Cowgirl. Get these trendy Space Cowgirl skirts HERE ON AMAZON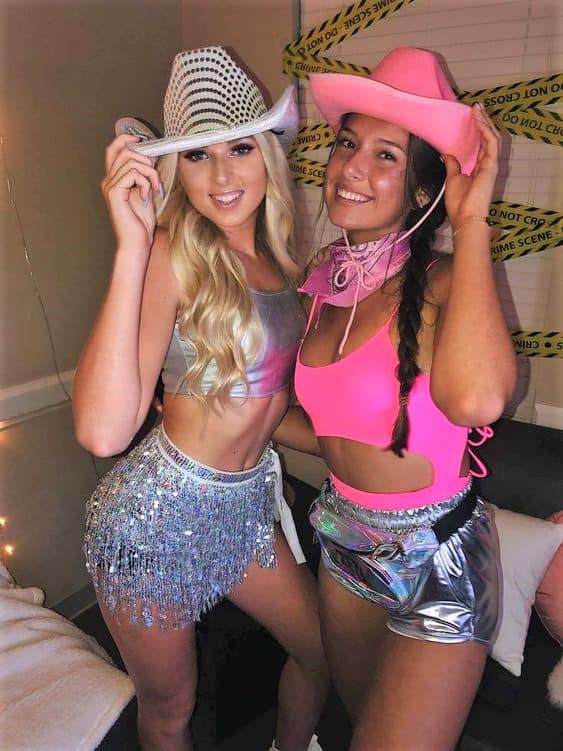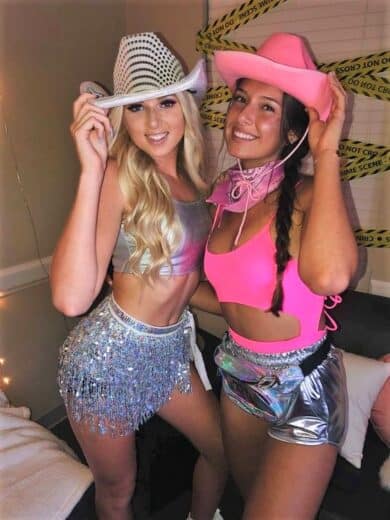 This is a bestie favorite that you may already have in your closet.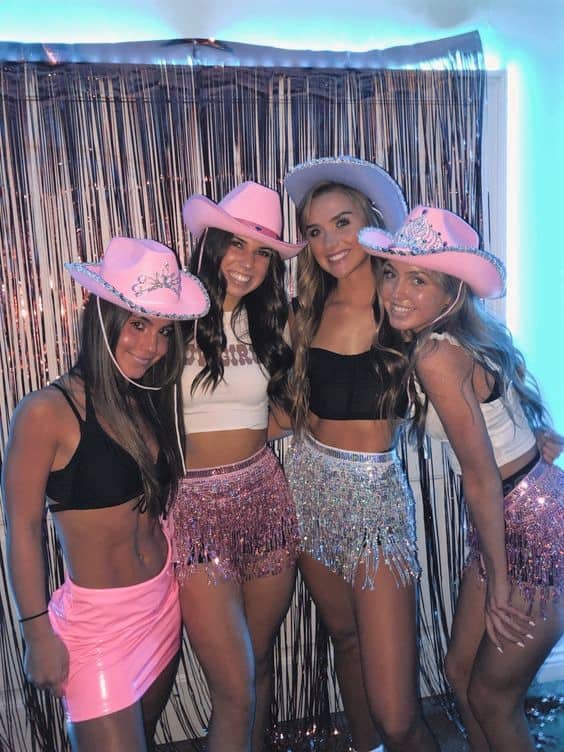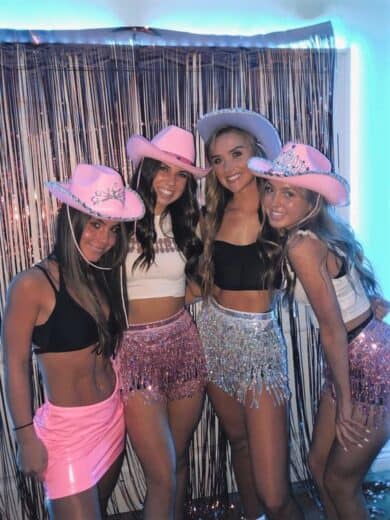 Pull out your metallics and mix with bright colors or prints. Top it off with Cowgirl hats and booties.
Couple and Group Costume Idea for Space Cow Girls: Just use variations of colors and metallics!
BUCKLE BUNNY COSTUME IDEA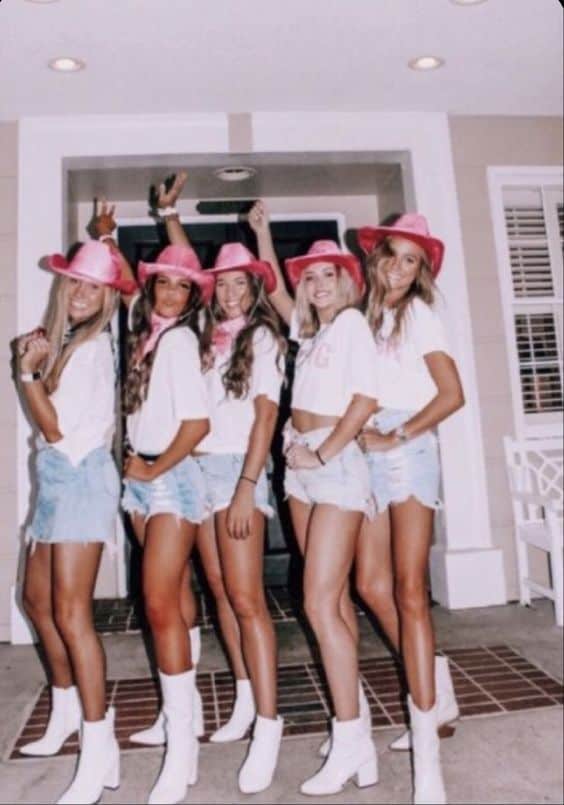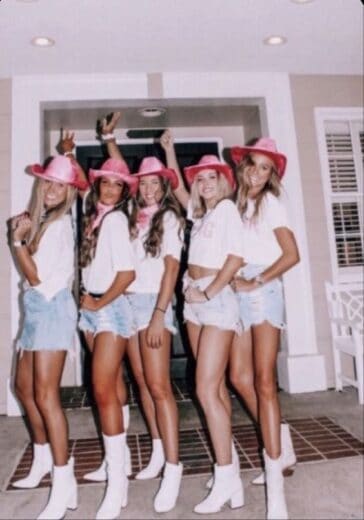 BUY THE LOOK:
Buckle Bunny is an individual or pack of atleast 2 women that prowl around rodeos in search of Buckle Winning Cowboys. They make a really great group and couple costume idea.
COUPLE: One dress as a Cowboy and another as a Buckle Bunny.
GROUP: Get together your besties and go as a gang of Buckle Bunnies. Girls just need short jean shorts or a jean skirt and flannel or crop top and a girly cowgirl hat.
FAIRY COSTUME IDEA FOR SINGLES, DUO, AND GROUPS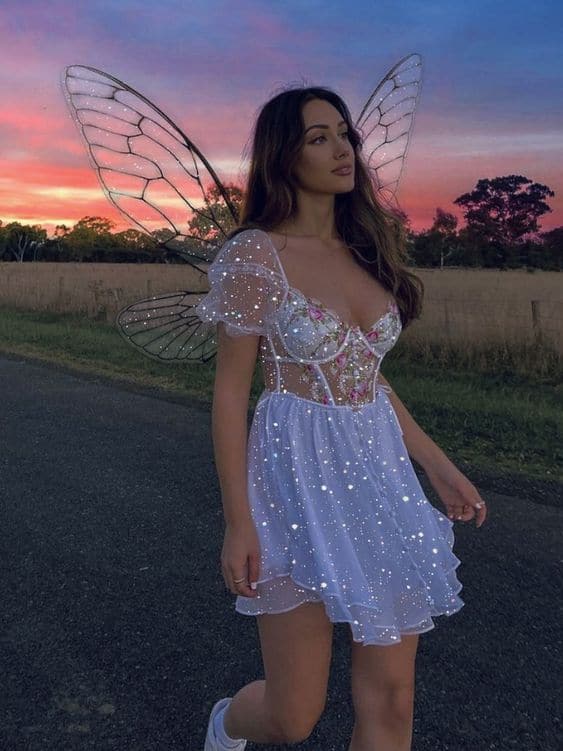 The beautiful aesthetic, versatility, and easy execution make fairies one of the hottest Halloween costumes. The beautiful dress above is the "Trellis Rose Dress" from Love and Lemons.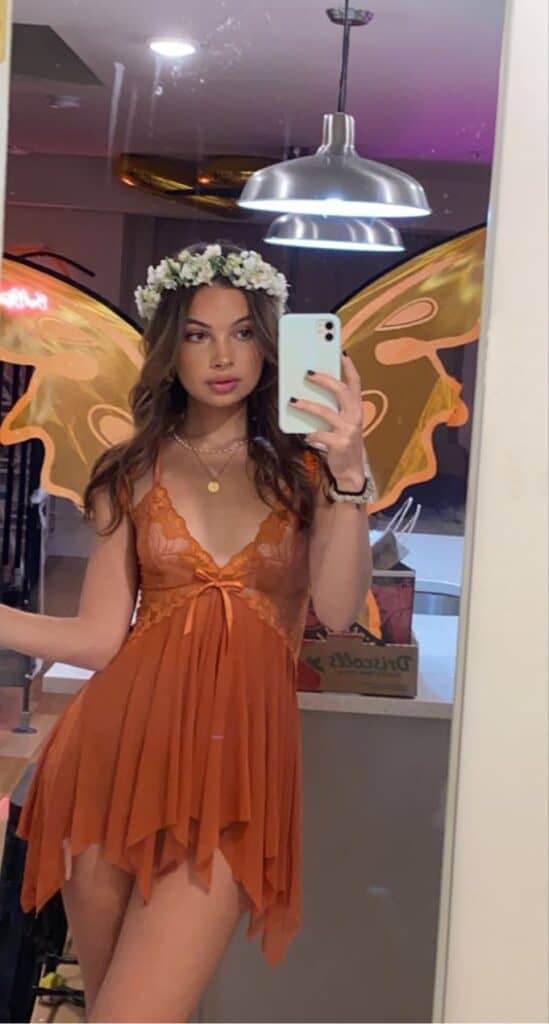 Purchase the EXACT dress above here. You can make this costume as angelic, or sexy as you want for solo, duo, trio, or groups.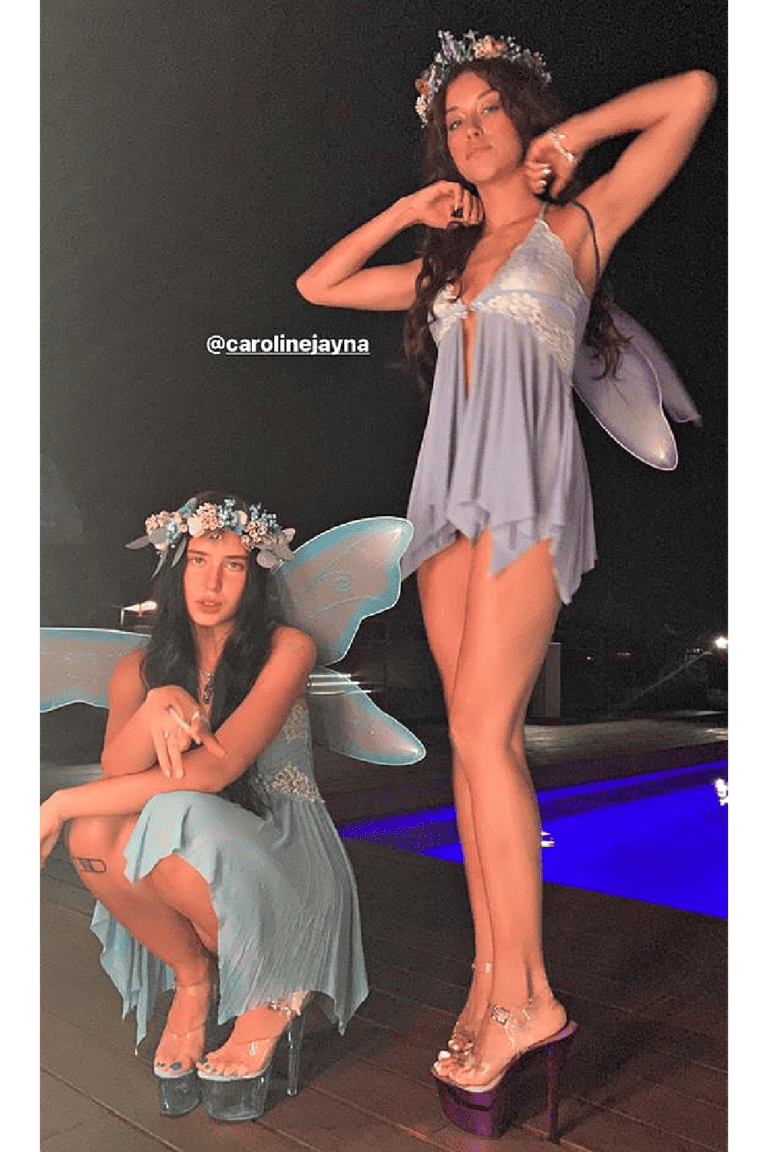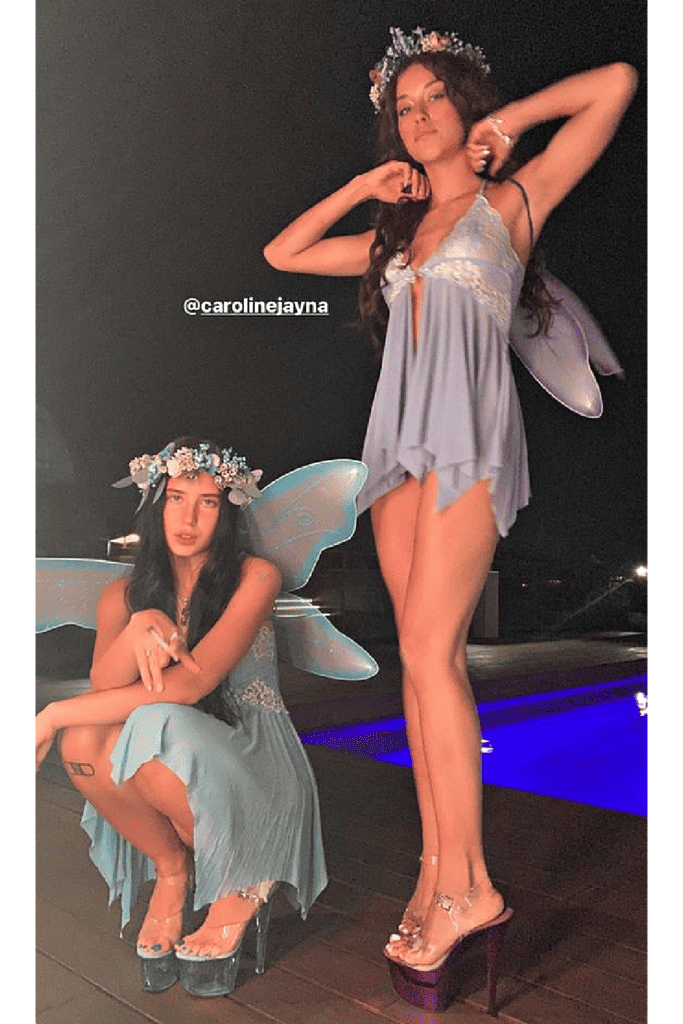 The possibilities are endless!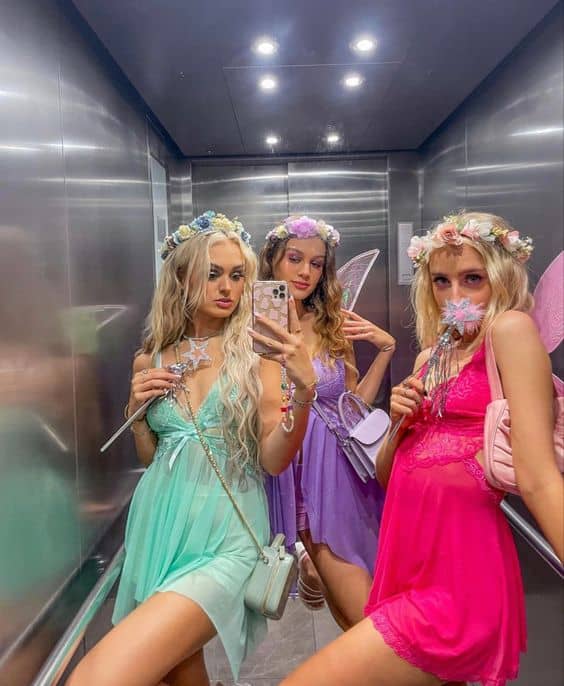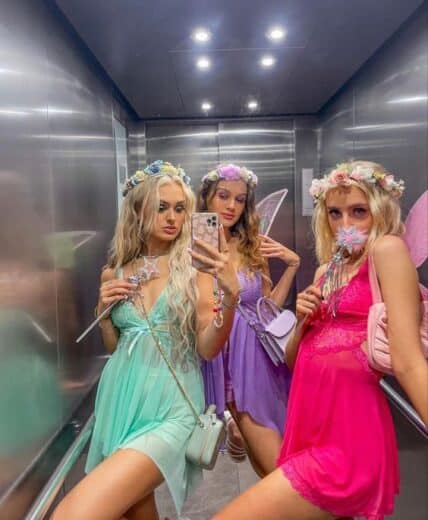 Carrie Halloween Costume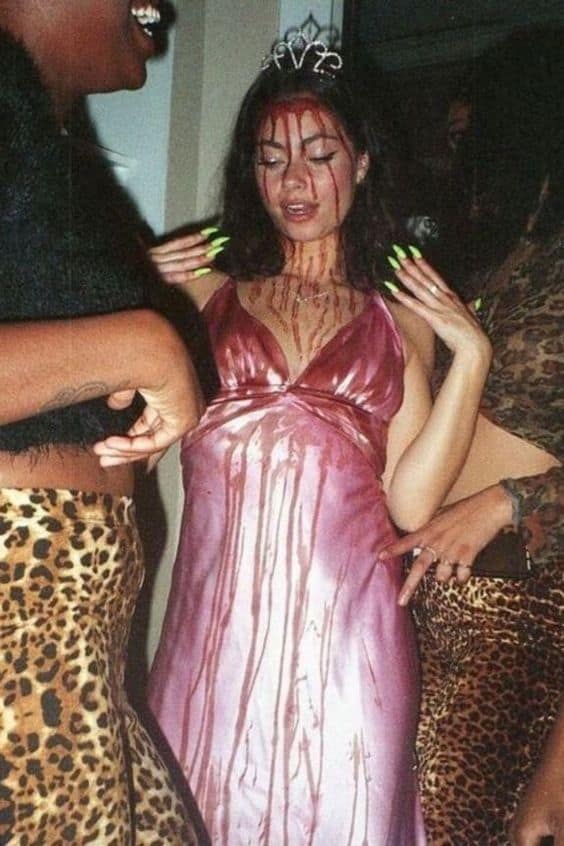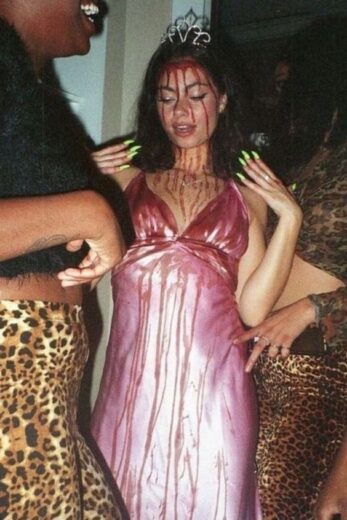 Prom Queen Carrie is an easy one to pull off with a satin slip dress, tiara, and blood.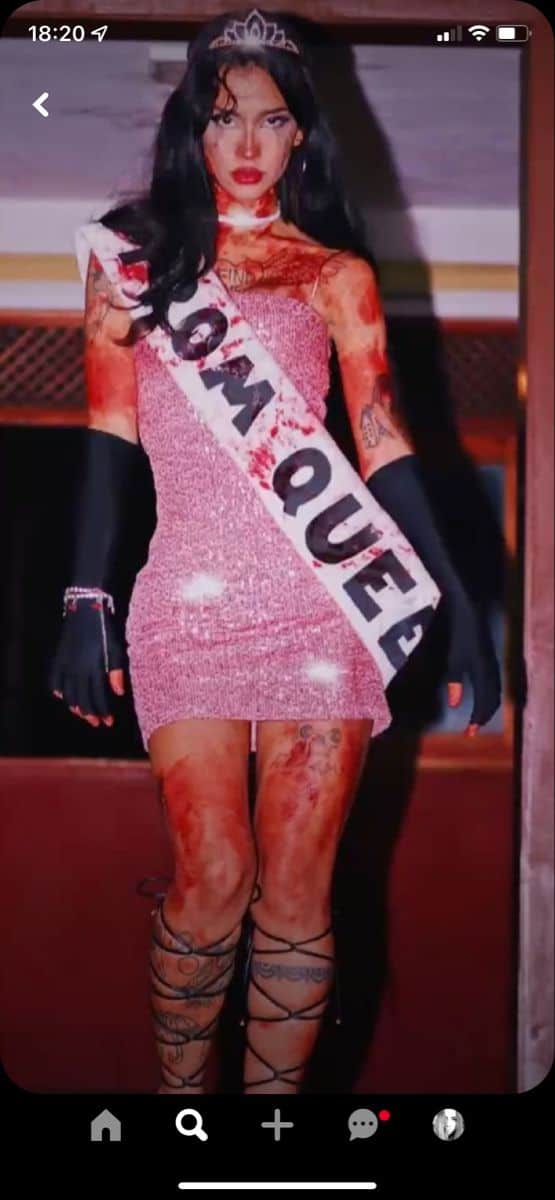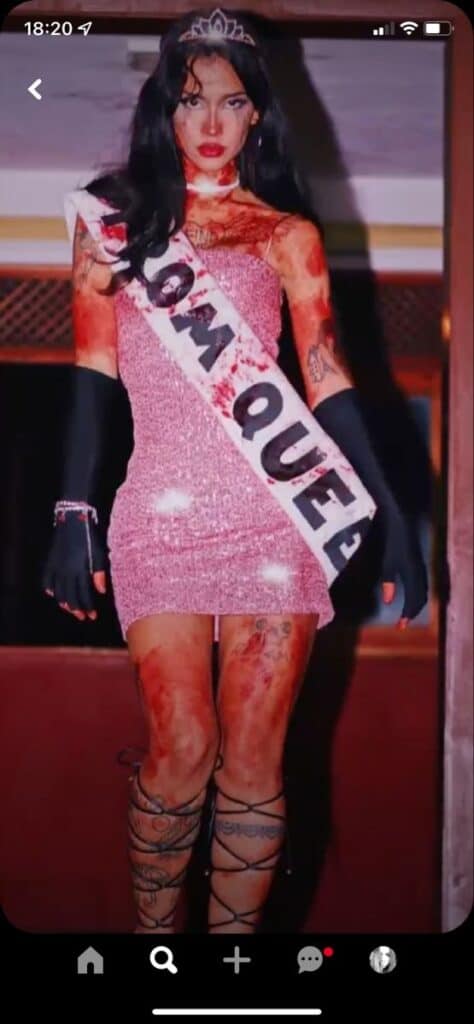 Add a Prom Queen Sash too.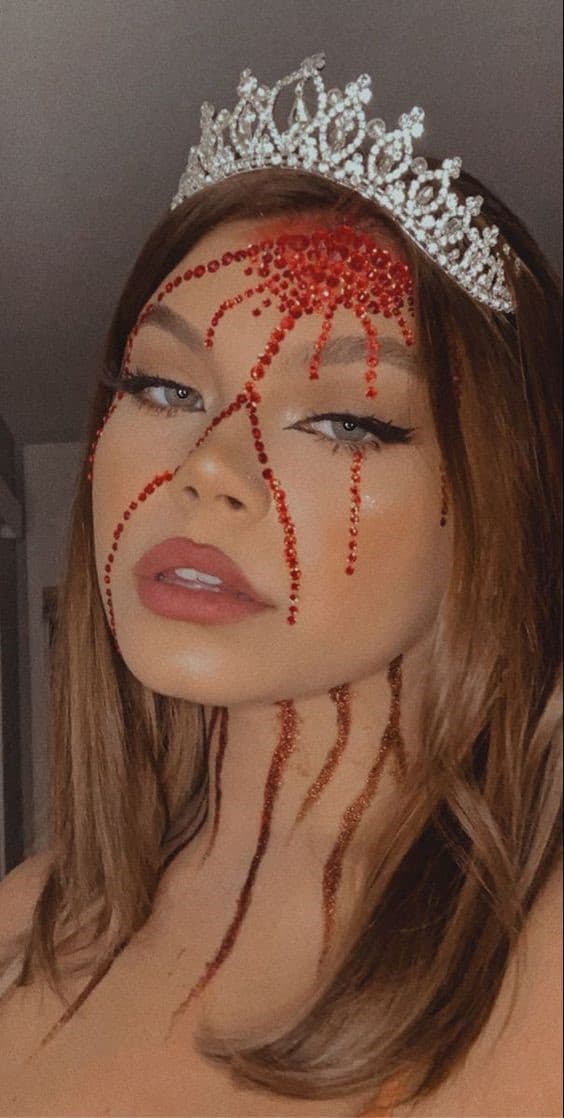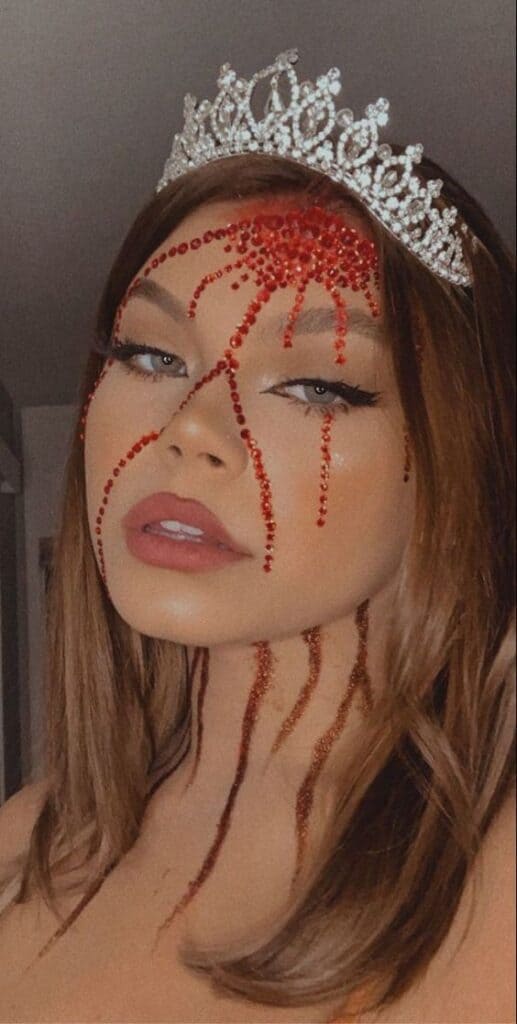 This is a versatile look teens can wear to school.
FEM BOTS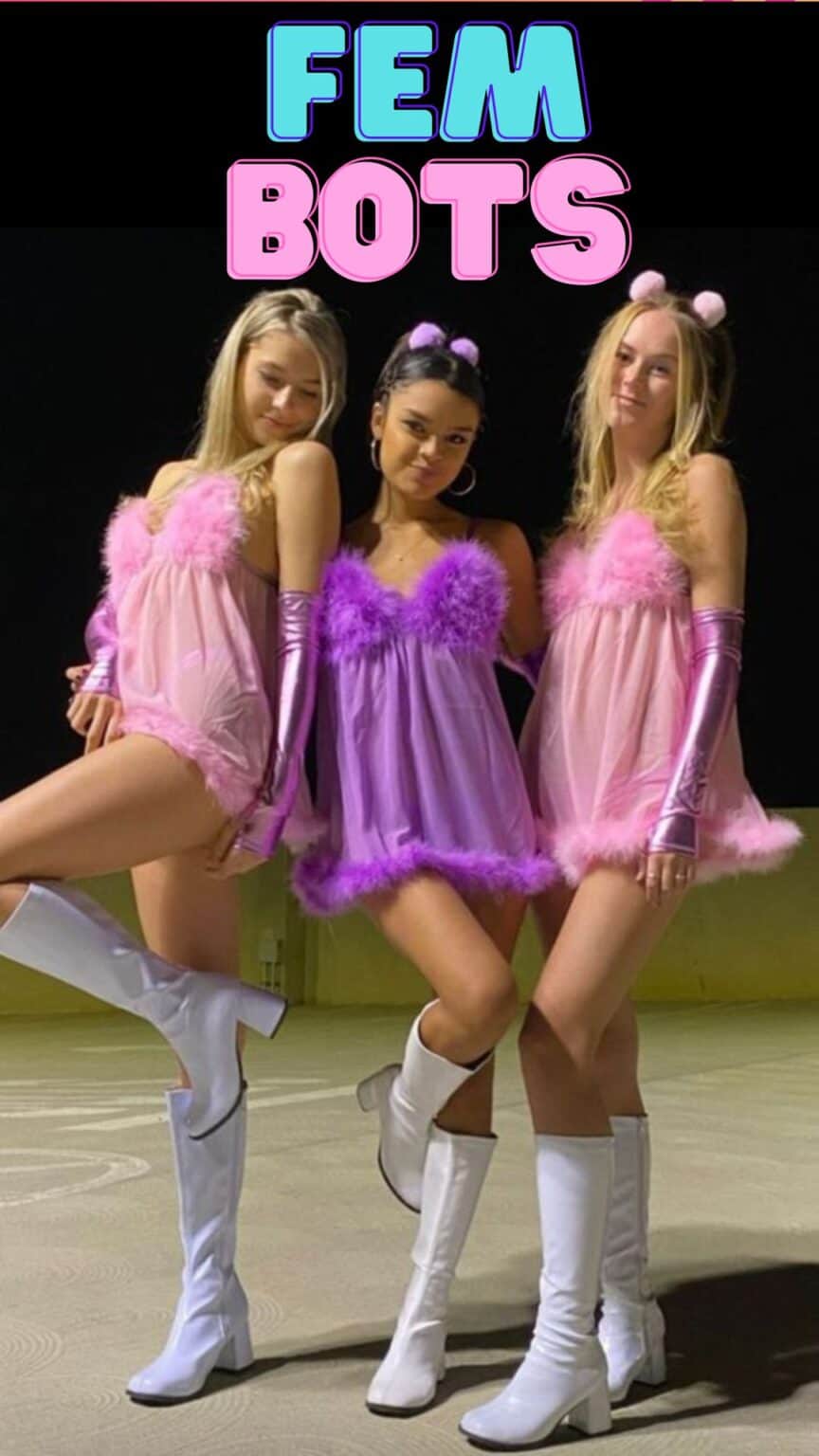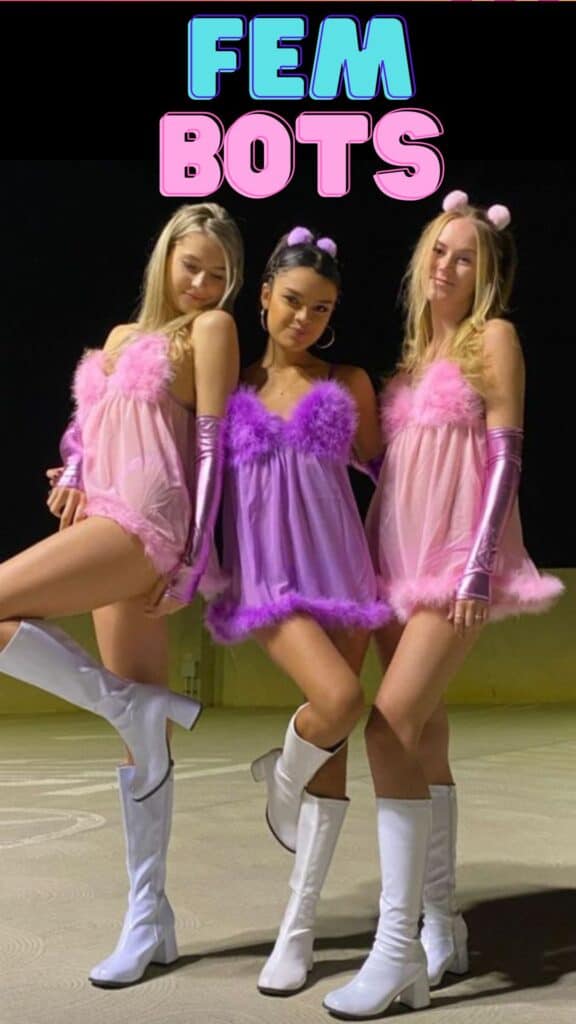 You can thank the hit movie Austin Powers for REVIVING 1960s Fem Bots in the 90s, and Kendall Jenner for reviving it in the 2020's. The costumes are from DollsKill.com but you can find knock offs on amazon.com.
CRUELLA SOLO HALLOWEEN COSTUME IDEA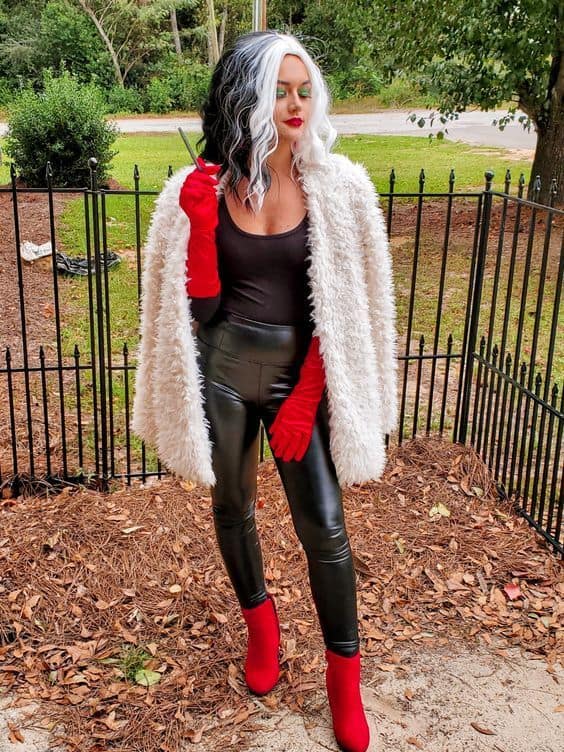 This is a sexy costume idea without showing too much. Use whatever black outfit you have on hand in your closet for Cruella Deville! Top it off with this coat or this shawl and wig and you'll be the hit of the party without feeling naked.
BARBIE SOLO, DUO, GROUP AND COUPLES COSTUME IDEA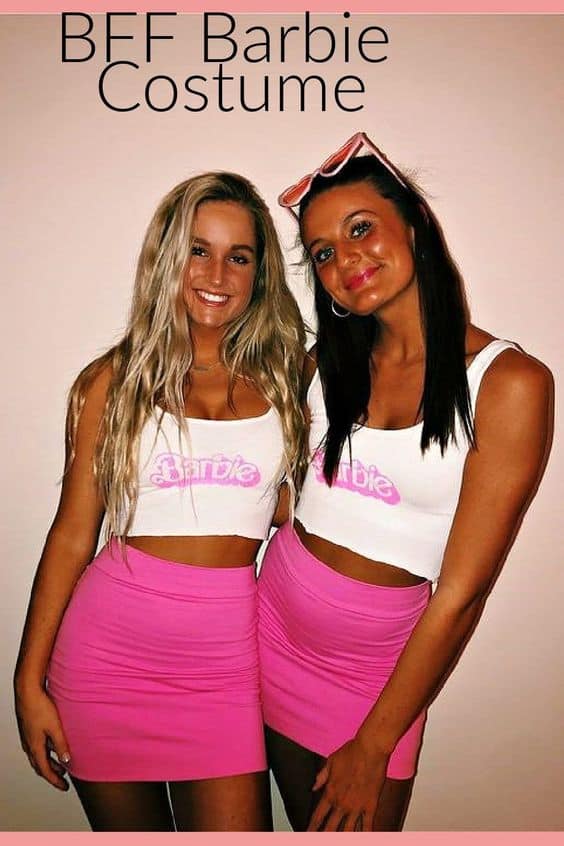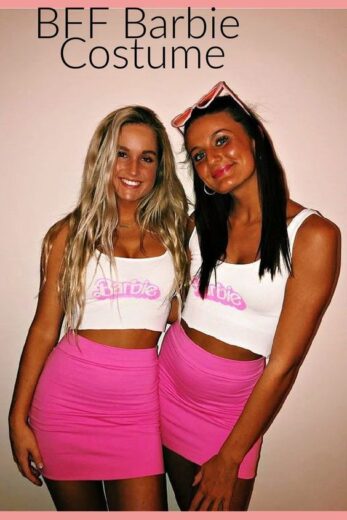 With her feature film debut, Barbie is a hot and very easy Halloween costume for one person, BFFs, groups, or couples. You can make the outfits yourself or purchase them on Shein or amazon.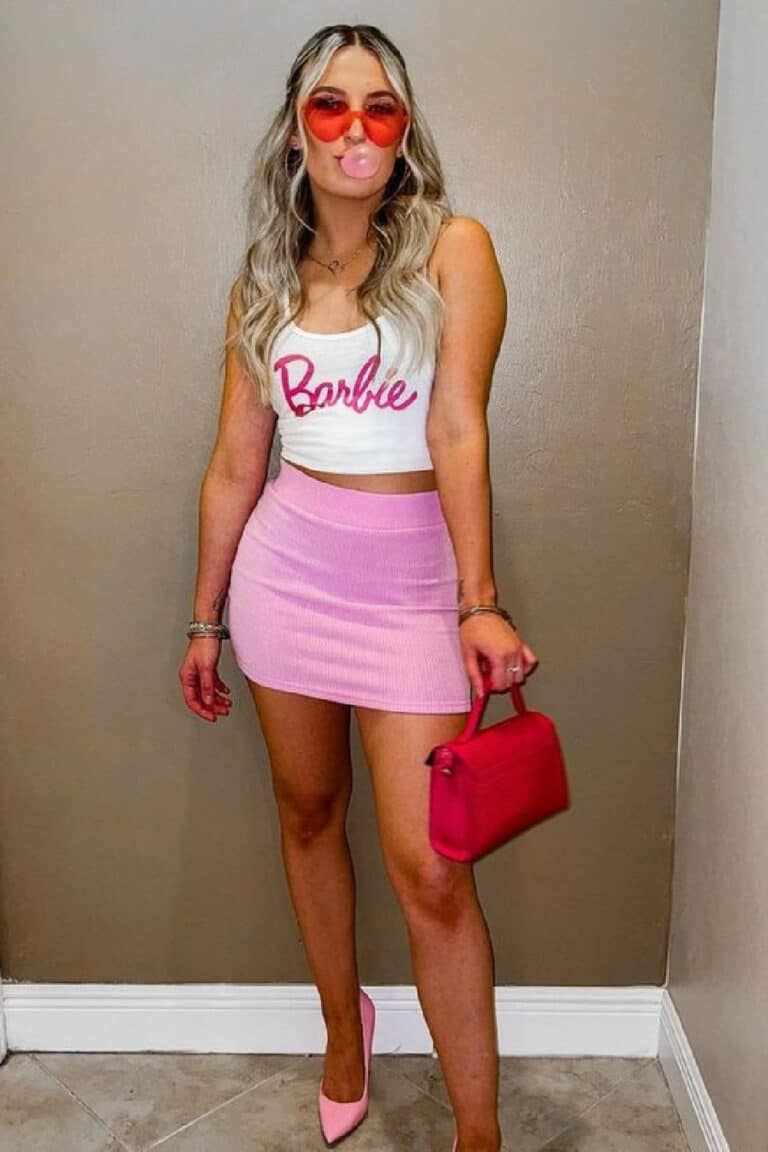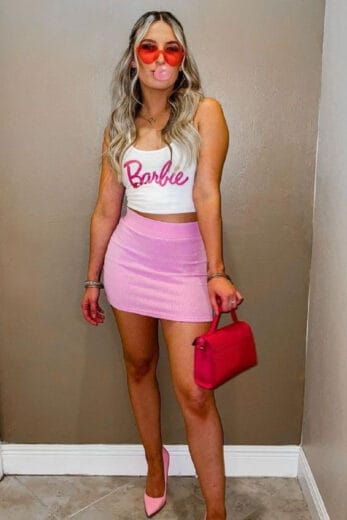 COUPLES, BFFS, GROUP BARBIE COSTUME IDEA: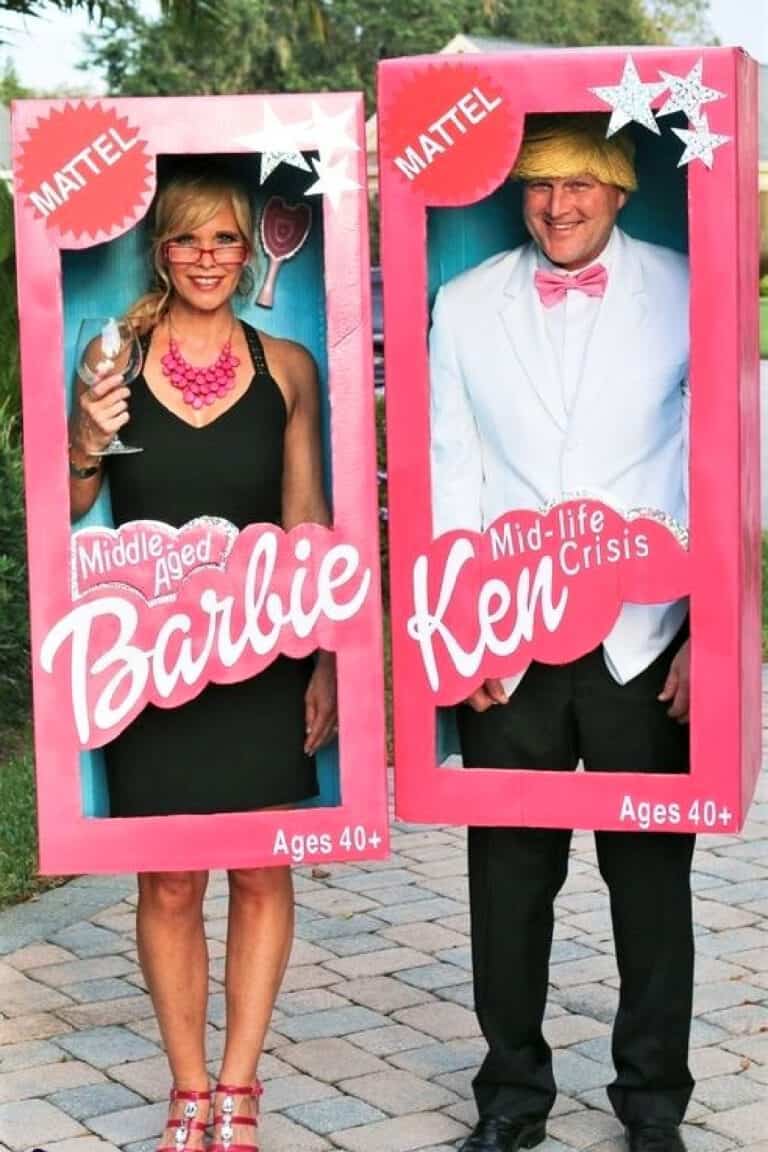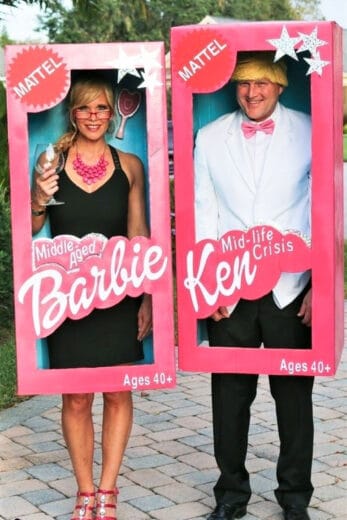 Couples can go as Ken and Barbie, while duos and groups can go as the whole Barbie clan with matching outfits.
GO GO GIRLS HALLOWEEN COSTUME IDEAS FOR SOLO, DUO, GROUPS AND COUPLES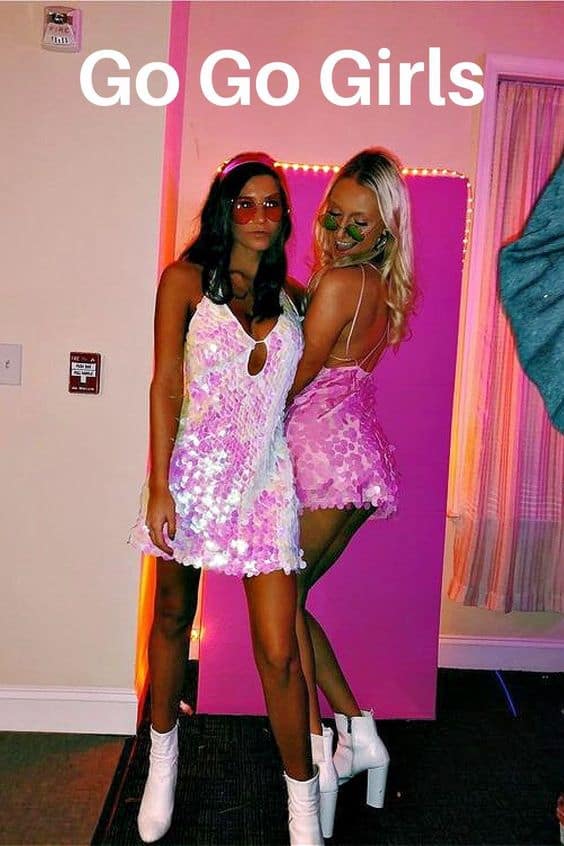 The boots, the dress, and no messy make up makes go go girls an ever hot go to Halloween costume. Whether solo, for a duo, or a group here is a link to the cutest costumes.
MERMAID COSTUME IDEA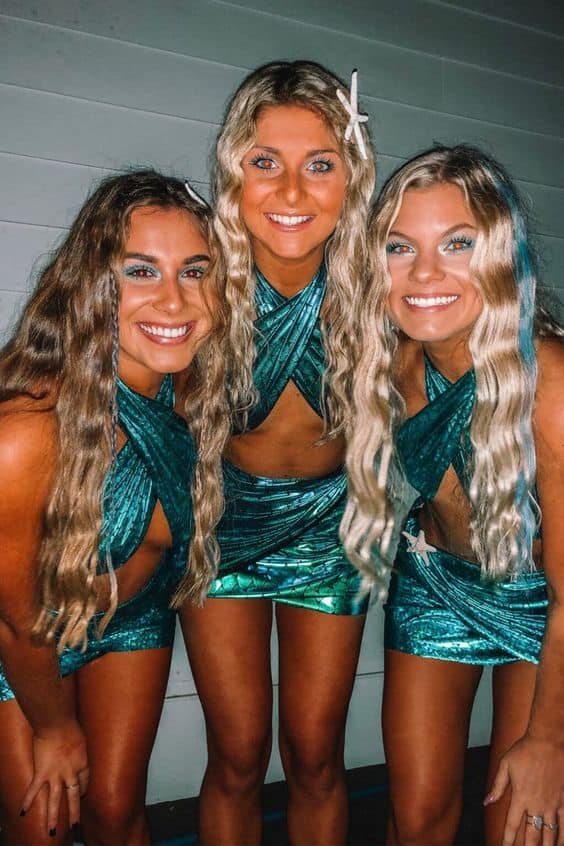 These gorgeous Mermaid costumes above were made using fabric!
PLAYBOY BUNNY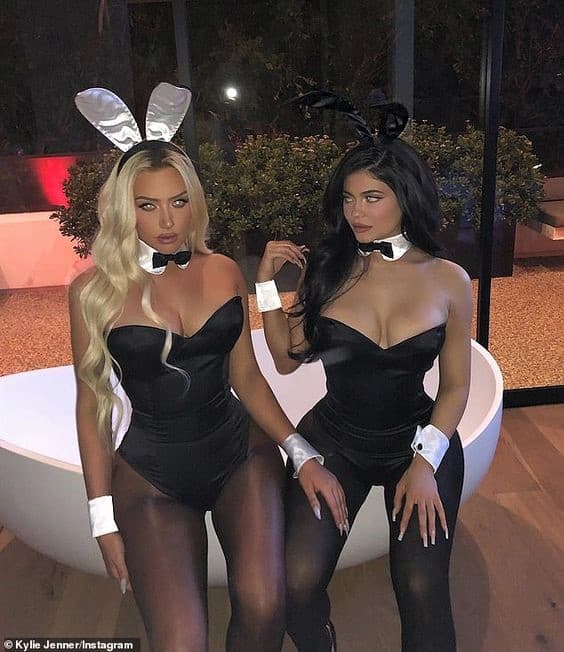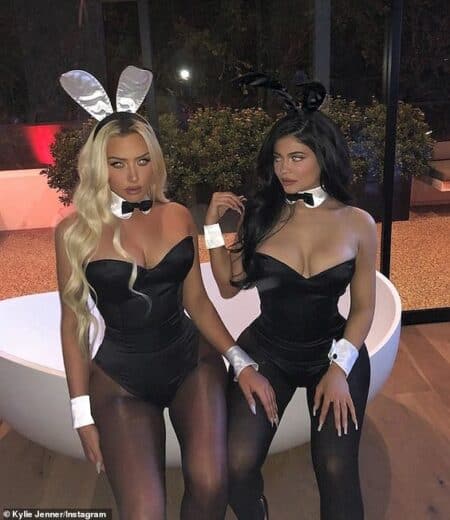 A playboy bunny costume is hot and also an easy option for a bestie, group, or couples. You can find the official Playboy Bunny costume on their website or buy a bunny girl costume here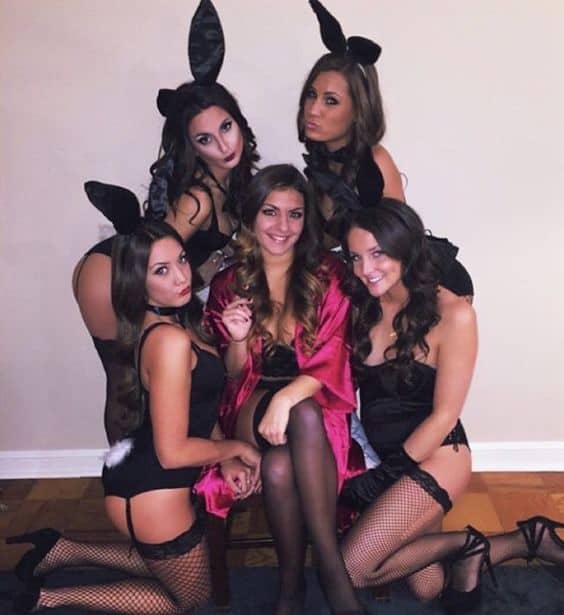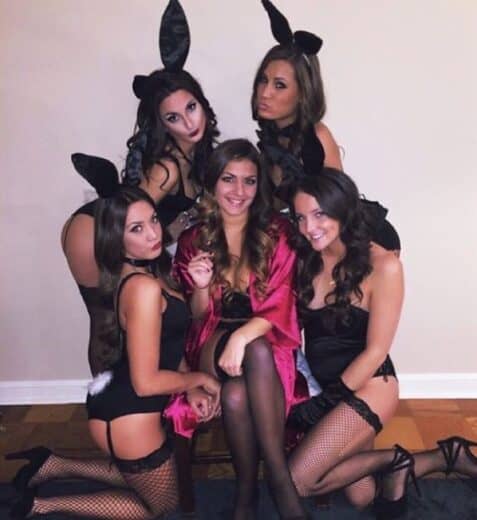 This works for groups of all sizes and just requires a black leotard or corset and panty hose.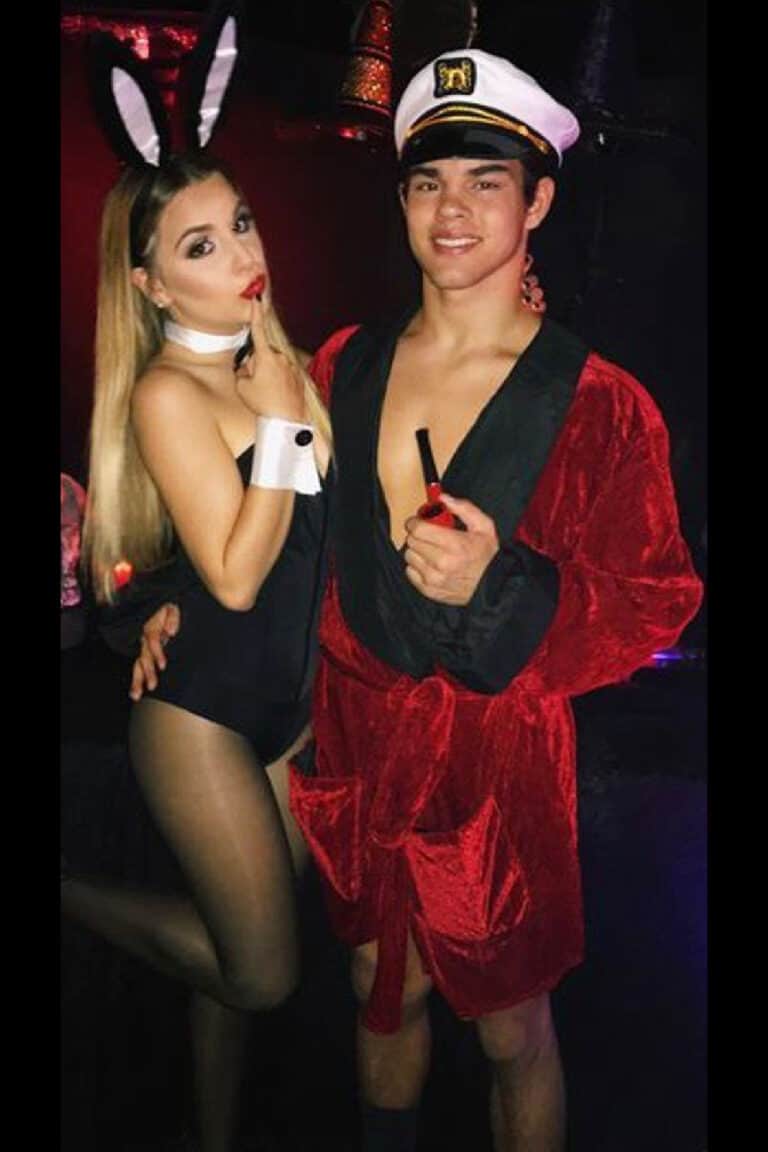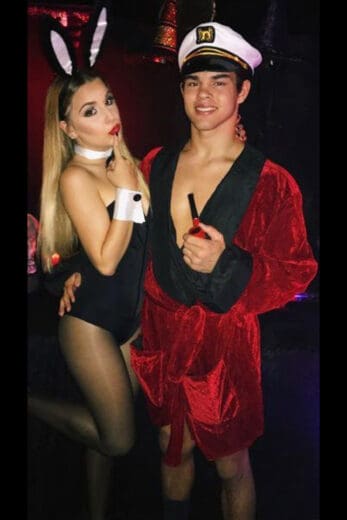 You can throw together this hot couples Halloween costume idea with him as Hugh Hefner and her as a Playboy Bunny last minute.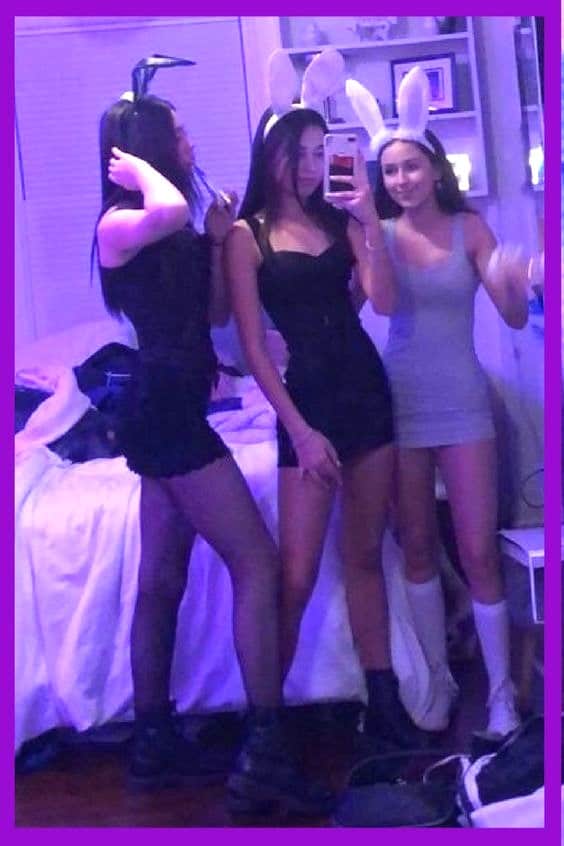 Grab your best mini dress and some bunny ears for a hot group costume that'll make you stand out!
Cat Make Up Costume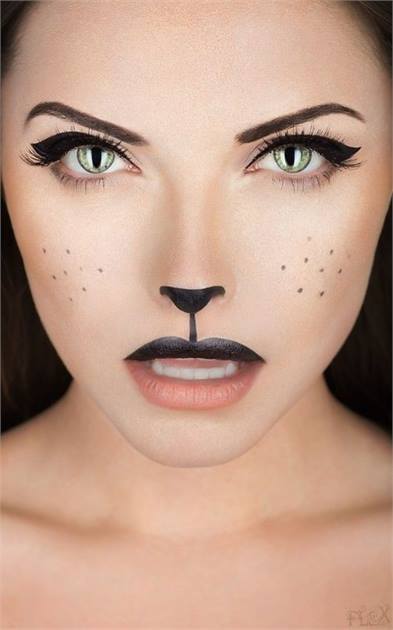 What you'll need:
Black eyeliner or eye shadow (wet the brush)
DIY Kitty Ears hair tutorial (below) or cat ears, a cat beanie
black or leopard clothing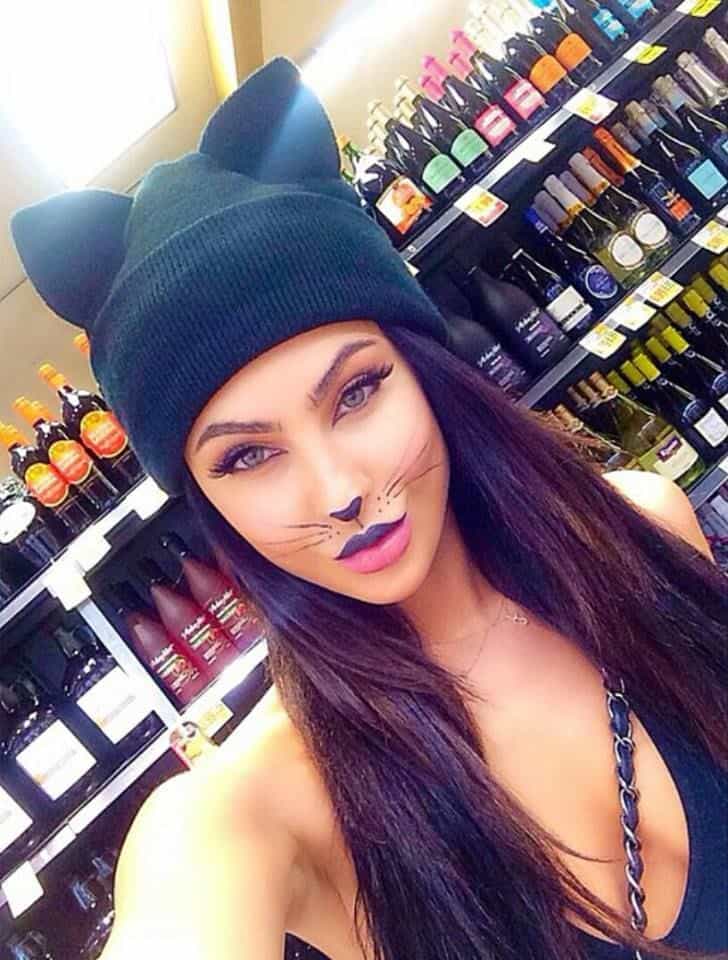 A cat has ALWAYS been the favorite default sexy Halloween costume (we keep a pair of emergency leopard cat ears in our closets).
This is another pun because it makes people think of the other name for a cat that starts with a "P".
If you have a group of friends, you can all dress up as cats and call yourselves the Pussy Posse.
It's so easy to execute beautifully. Start out with killer eyeliner and your best mascara (ours is $4.99) or falsies, then color the bottom of your nose and your top lip with black eye liner, add some freckles or some whiskers, and make shift ears and you're done! You can wear leopard or black, you can even put on a collar.
If you don't have cat ears don't fret, you can make them with your hair or cut some out from black construction paper and tape it to a headband.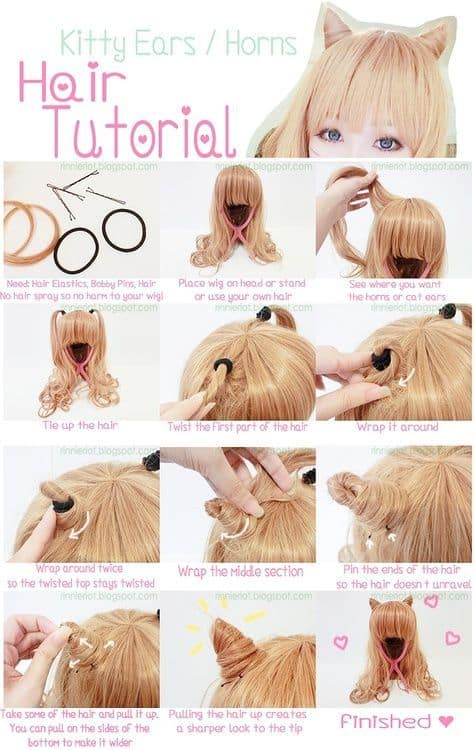 CAT COUPLES COSTUME IDEA: Cat and mouse, one dog and one cat, or Batman and Cat woman would all be clever ideas for couples.
GROUP COSTUME IDEA: For groups try a Pussy Posse!
CAT WOMAN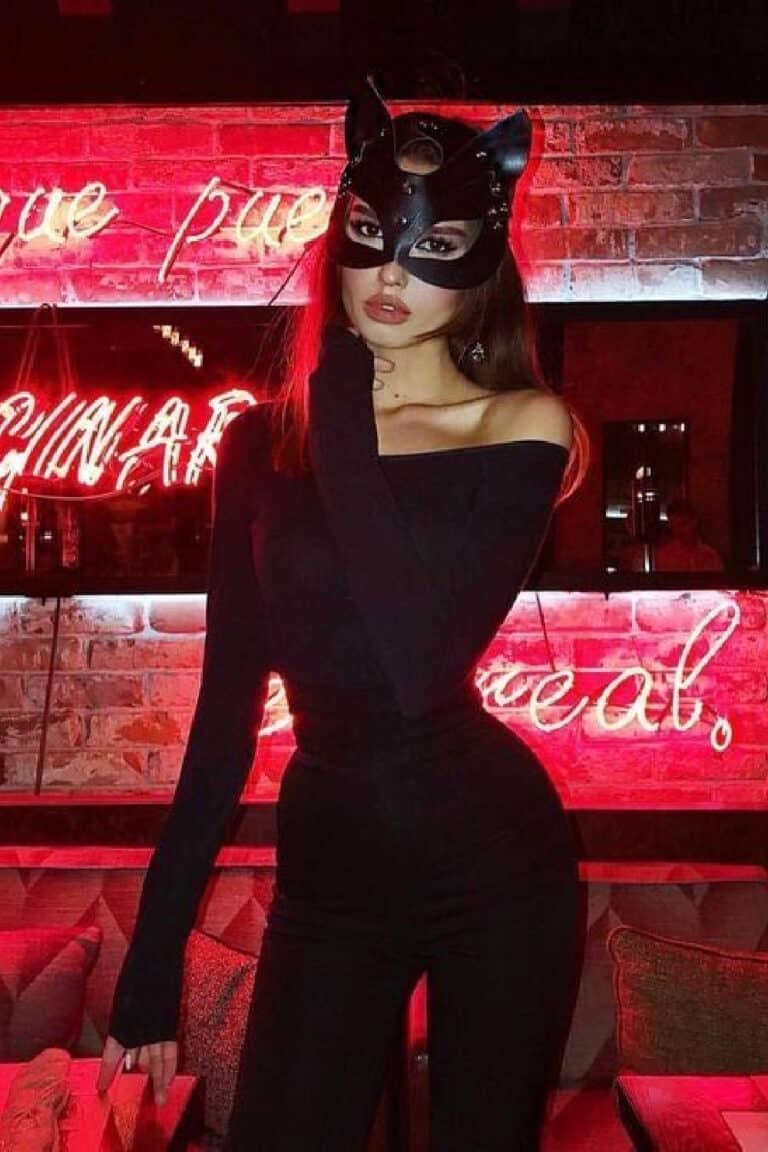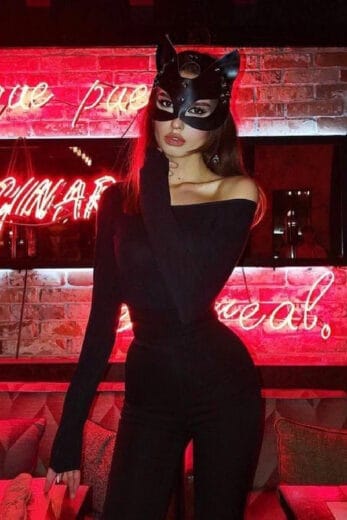 Whether you wear a jumpsuit, black top and black pants, or even a long black dress, just throw on a mask and you have cat woman!
The above look was created by pairing high waisted black pants with an off the shoulder top.
Devil
You can use the same hair technique above to make an easy but super hot devil.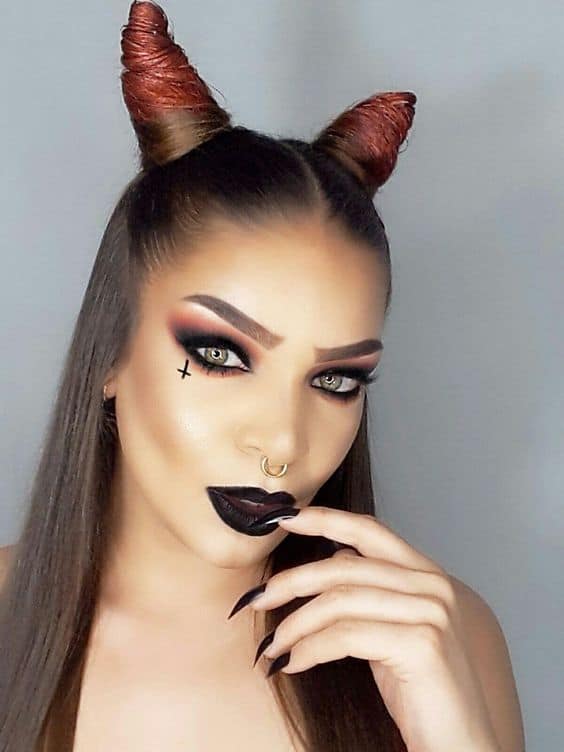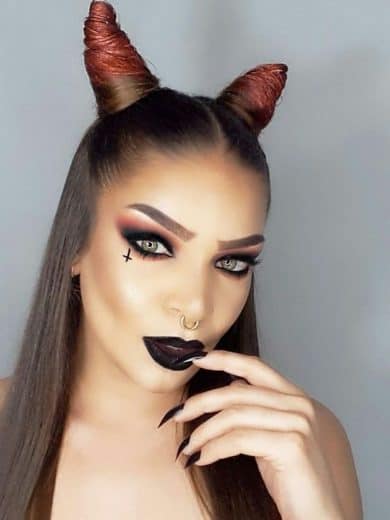 Just use some black eyeliner to smoke out your eyes and fill in your lips as thick as you'd like. Spray your two hair horns with red hair spray and add black nails to complete the look.
Couples Costume Idea:
Have one dress up as an angel and one as a devil for a couples costume idea.
Maleficent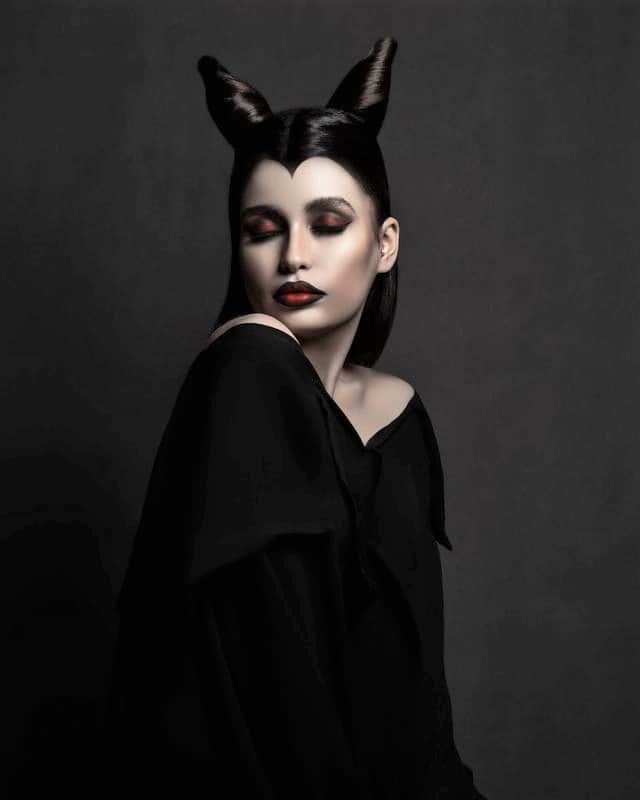 Since the movie came out, Maleficent has become a majestic figure of female power and, since Angelina Jolie portrayed her, very alluring.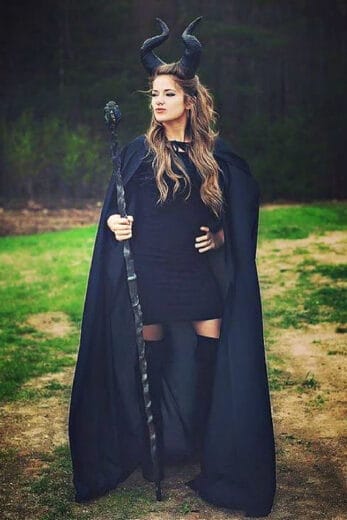 We like the costume because it's DIY yet looks professional and it can work for two people.
For Halloween, one of us is going to be young Maleficent pre wing removal and the other is going to be her darker character.


This version requires paint and takes a little more effort but uses only a few supplies.
What you'll need:
a headband
a wire hanger
2 plastic or paper cups
foil
masking tape for fairy Maleficent or black electrical tape for evil Maleficient
black or brown paint
Just follow the pictorial, tape the foil to the cups, then paint and you have horns.
Flip a section of your hair in between the horns and pin the sides back to cover the headband (like in the pic). Wear a black flowy outfit with boots, add red lipstick and you're done!
Couple Costume Idea
You can make this a romantic couple costume idea by dressing up as Maleficent and Diavel her pet crow. Just dress up the boyfriend in a black shirt and pants.
For besties one can dress up as dark Maleficent and the other as the fairy Maleficent, or Aurora!
U

n

i

c

o

r

n

C

o

s

t

u

m

e

s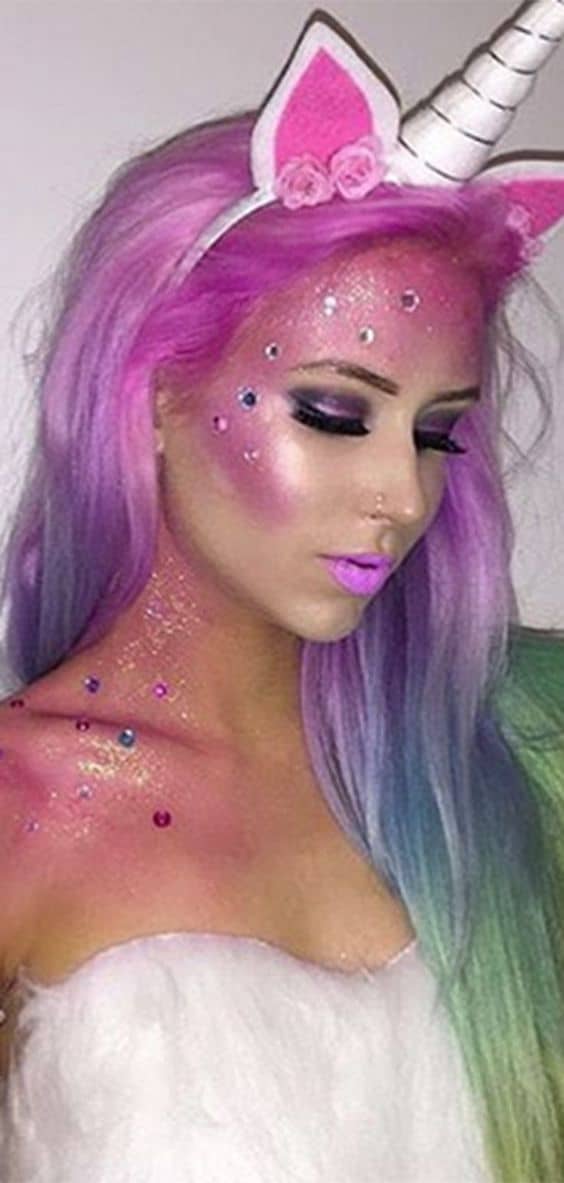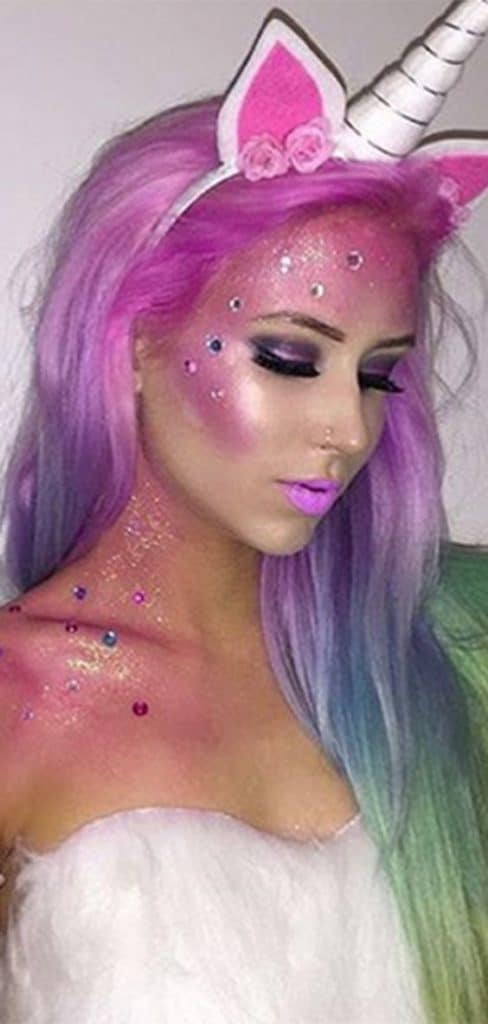 Unicorns have a peacocking effect in a large crowd, the bright colors and glitter really stand out and puts people in an ethereal headspace.
You definitely won't need a lot of headgear to make a beautiful unicorn. You can make a DIY Unicorn horn with a headband, paper and/or hair.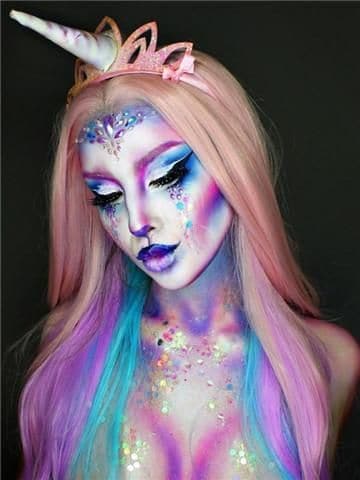 For the rest of the costume, wear a white fitted shirt with white or brightcolored tights and some yarn or hair extensions for the tail (anything fuzzy will work). Top it all off with sparkles and bright make up!
If the hair do is too tough for you, just make an easy paper cone (color it if you'd like), tape it, roll it in glitter and tape ribbons or strings on both sides so you can tie it to your head.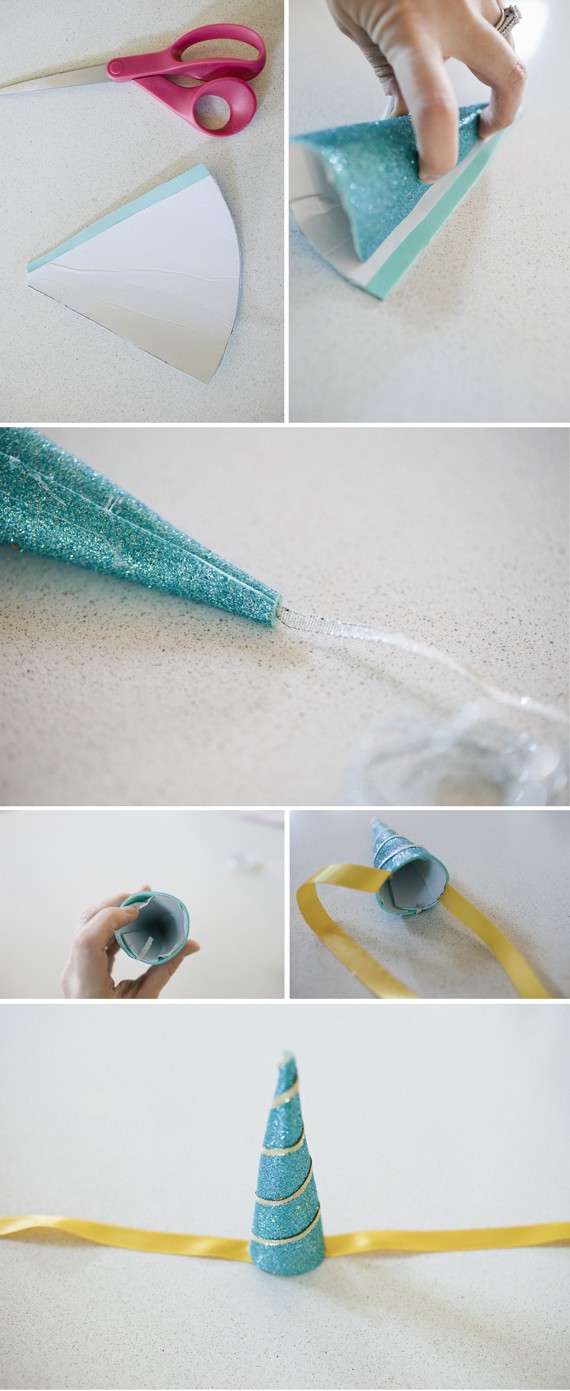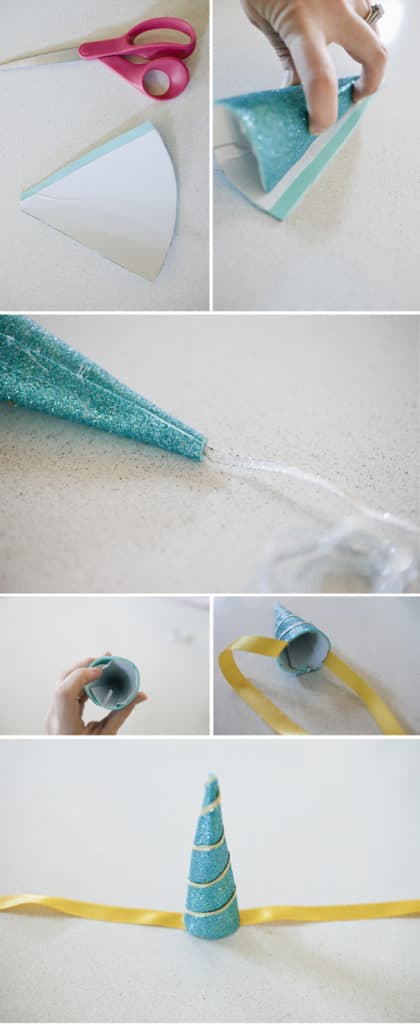 Couples Costume Idea
Unicorn and Merlin the magician.
Comic Book Character Make Up Costumes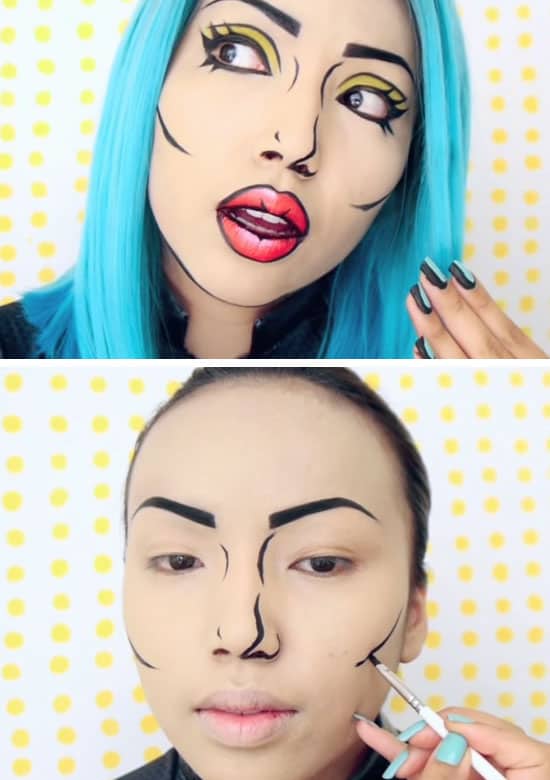 We're big comic book fans so whenever we see someone with this make up, we always get excited. It also works great for couples or groups.
What you'll need:
Black eyeliner
Colored eyeshadow (the brightest color you have)
Lipstick
Optional: White face paint, white eye shadow, or a white eye pencil (if you want to do a dot style)
Atleast one of our friends does this costume idea every year and it always looks amazing.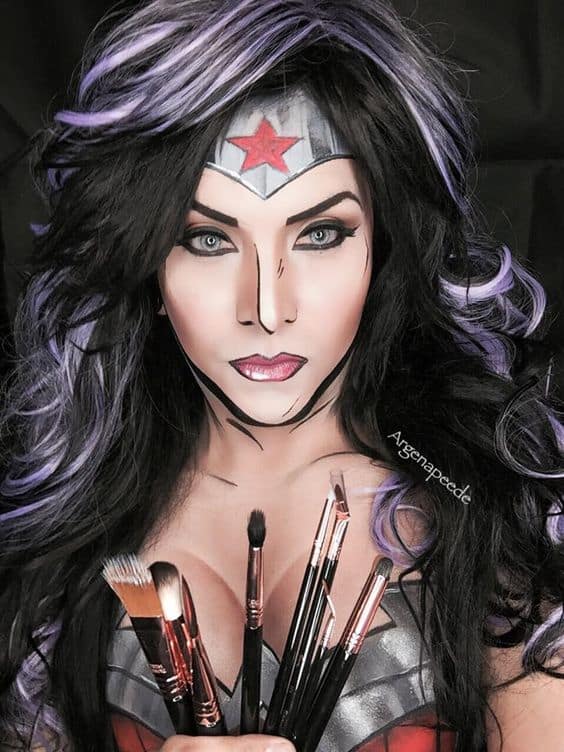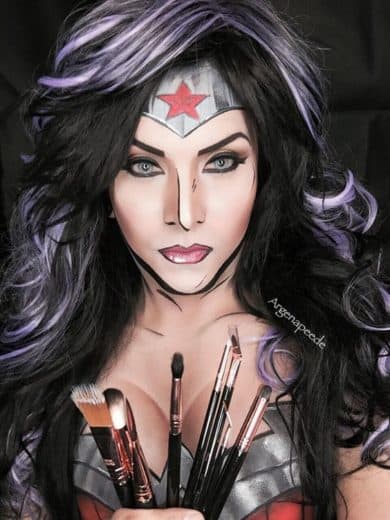 There are soo many easy Comic Book Make up tutorials out there. You can use black facepaint and a brush or just use an eyeliner pen or pencil.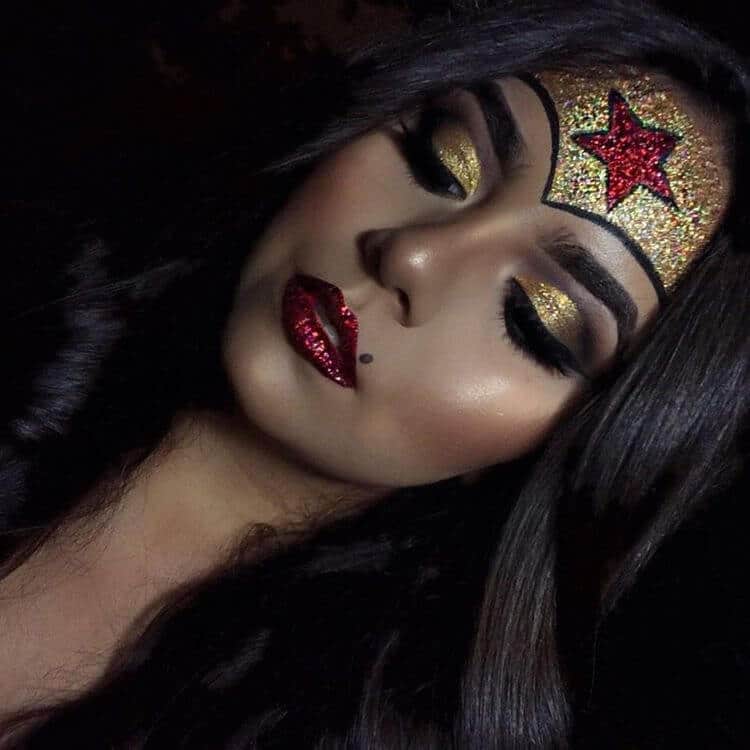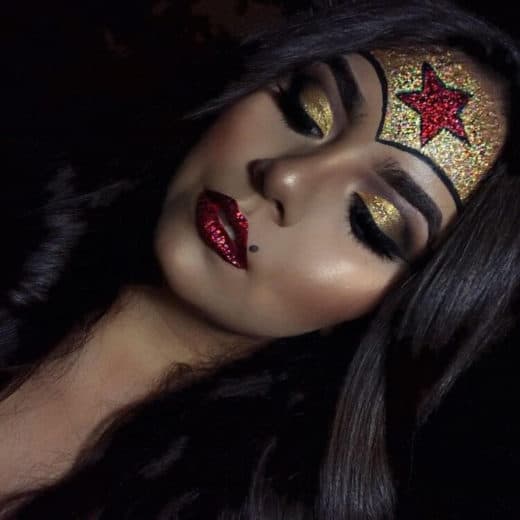 If you're using white eyeshadow for dots then be sure to dampen the brush to make them pop.
Quick tip: To soften an eye liner pencil, hold it over a candle for a few seconds (NOT MINUTES, Be Careful).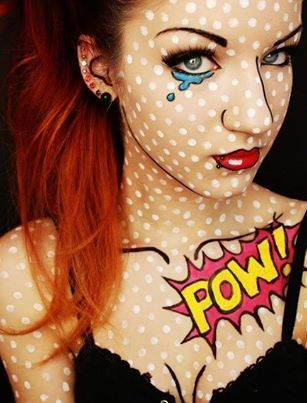 Black Widow Costume Make Up
There's nothing scarier to us than spiders, so why not be the queen?
Black Widow spiders are appropriately named because the females eat their male partners after mating! If you're a man eater, or want to dress up as one, then you can easily pull this off.
This is another costume idea that just requires an eye liner and maybe some grey eyeshadow. You can do spiderweb eyes or all out spider eyes.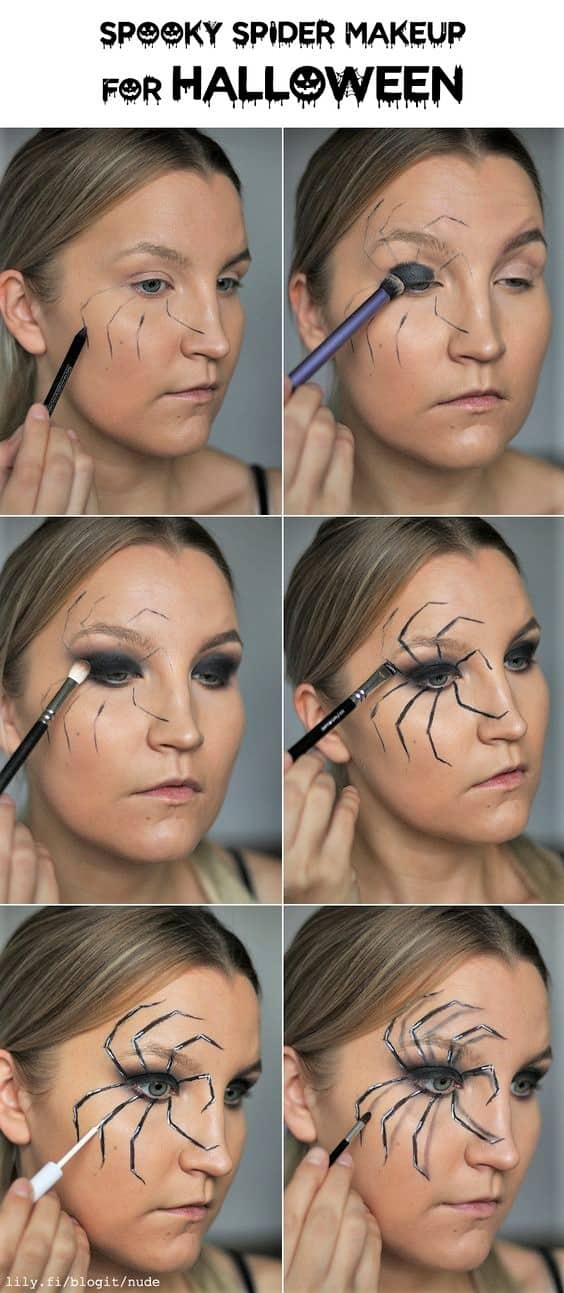 SPIDER MAKE UP VIDEO TUTORIAL HERE
If your drawing skills are severely limited you can just draw some little spiders on your face or glue little plastic dollar store ones with eye lash adhesive. We did this to a friend with a really pretty smokey eye and she looked amazing.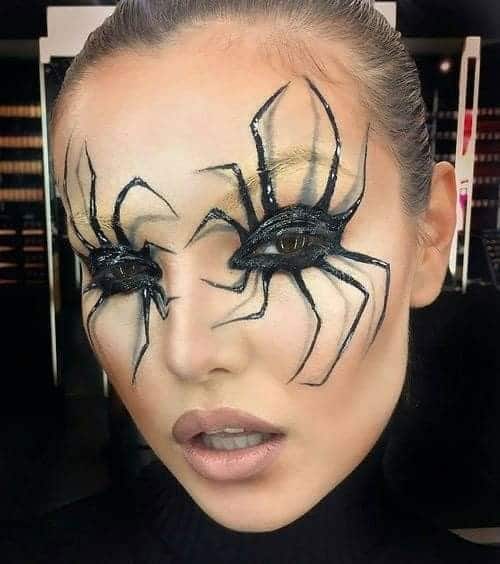 For more Spider Web eye make up inspiration checkout this collection by Pop Sugar.
Couples Costume Idea:
For a couple this would also make a funny costume since we all know the fate of the male. Just make sure one of you is wearing a red black widow symbol on your belly.
Mad Hatter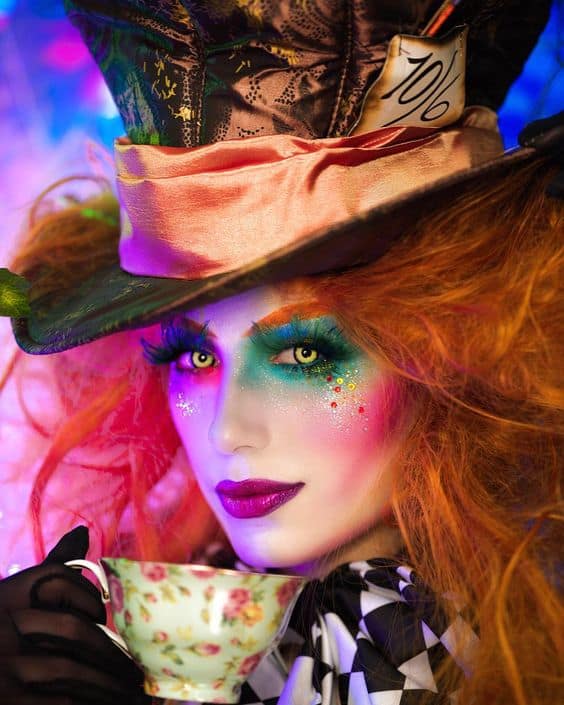 Channel your inner Johnny Depp and try a glamorous Mad Hatter! Get a red wig here and Madhatter hat here
Couples or Group Costume Ideas
Mad Hatter and the Queen of Hearts or Alice for couples, for a group costume you could dress up as all three!
Creepy Stitched Doll/ Zombie Costume Make up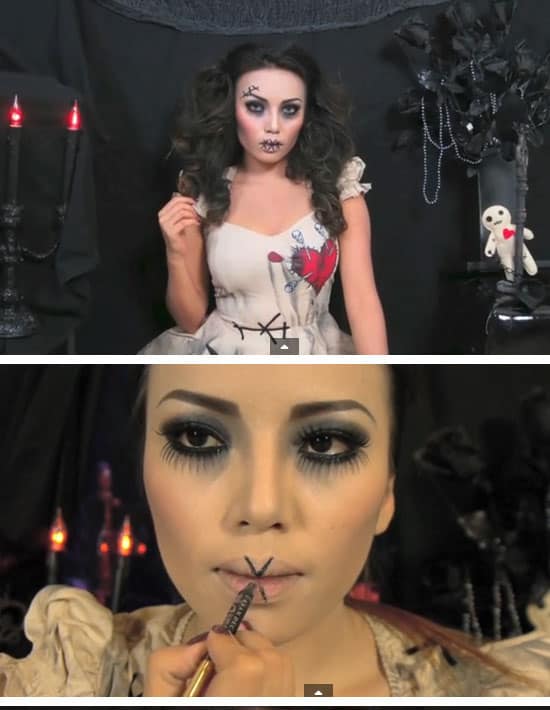 Creepy Stitched Doll or Zombie…the choice is yours.
If you're super shy or a bit of a wall flower then people will think the eerie silence is part of your costume.
They won't expect you to speak much but will definitely take notice.
All you need is a cute dress, killer lashes, a black liner pencil, and your best smokey eye.
Vampire Costume Make Up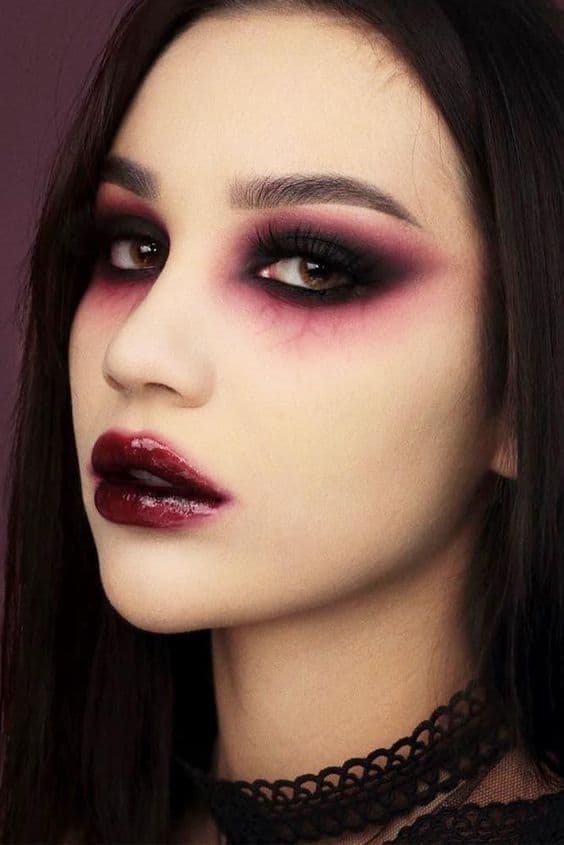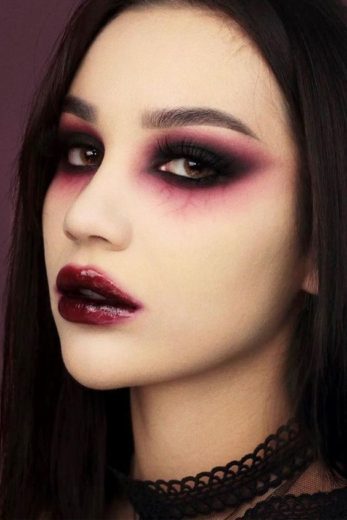 Thanks to all the vampire movies and t.v. shows, there are sooo many different types of vampire costumes you can do.
You don't need fake teeth to be a vampire.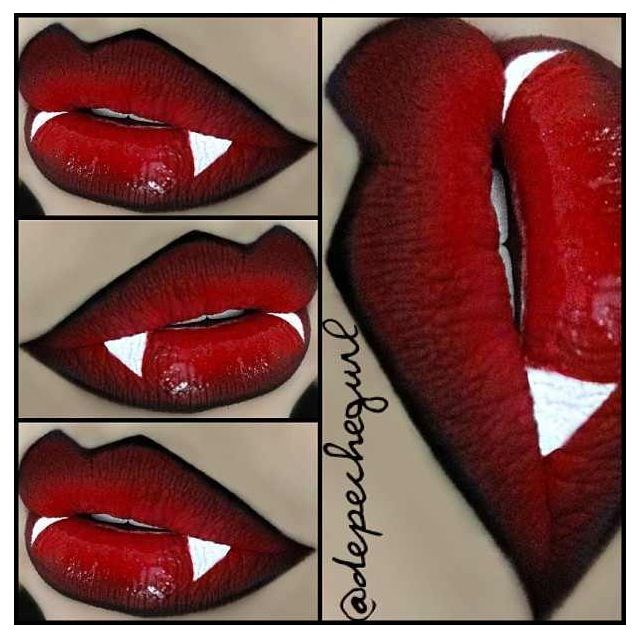 You can paint them on your lips with a white eyeliner pencil or make up paint. Be sure to line your lips with black eyeliner for a more 3D effect. Make sure to draw the teeth spread apart so if you eat or drink it won't smudge as much.
If you want to skip the teeth altogether then just cover yourself with shimmer and call yourself a Twilight vampire or put two red bite marks on your neck to be a vampire in transition. There are a lot of easy ways to play this up beautifully.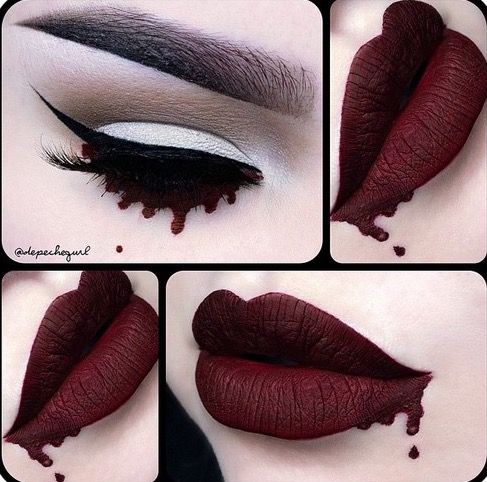 Couples or Friends Costume Idea
You could both be Vampires ofcourse or one of you could be the victim with two bite holes. One also could be a vampire hunter. Just make sure you have a stake or crucifix.
Giraffe Costume Make Up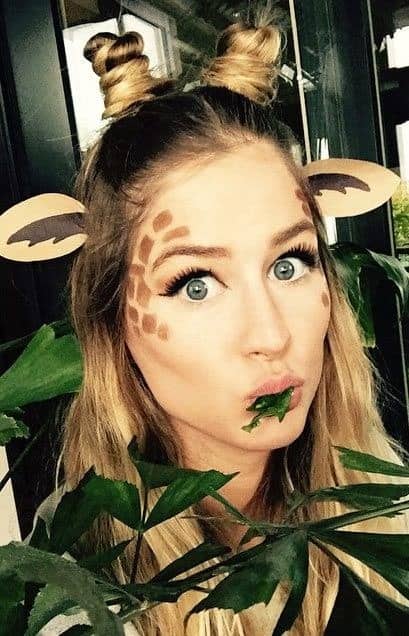 We heard a couple dressed as giraffes won a Halloween costume this past weekend at a bar event, it's worth a try and so adorkable.
Tape some giraffe ears made out of construction paper to a headband
Wrap your hair in two little buns on top of your head
Draw some brown giraffe spots around your forehead with liner or eye shadow
Wear brown or beige clothing.
Tinkerbell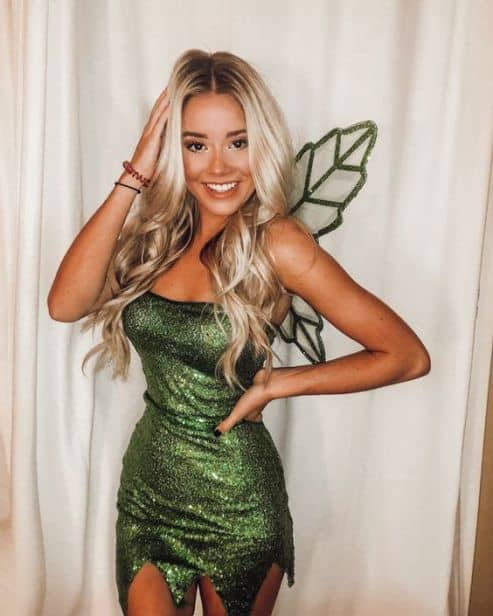 Beach wave hair, a green tube dress, fairy wings, and glitter. Tinkerbell is a quick, easy, and unique costume that's sexy without trying too hard. You can find this costume here!
Couples Costume Idea
Peter Pan and Tinkerbell is an adorable couples costume..add on Captain Hook for a group costume!
Hunter or Deer Costumes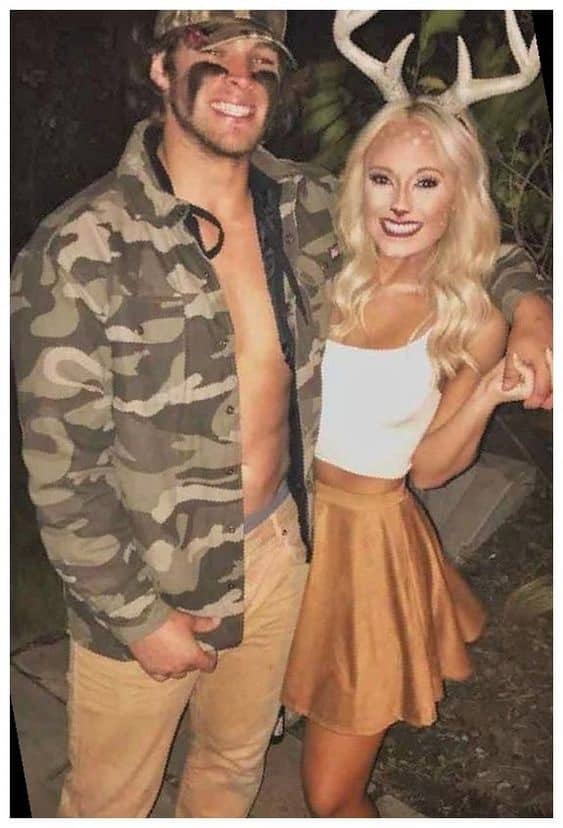 This is a popular and hot unisex or couples costume idea!
Clown (IT) and Joker Costume Make Up
With Stephen King's IT reboot, the Joker, and Suicide Squad movies it's no surprise that clowns and jokers are one of the trendiest make up looks for Halloween not to mention the hottest.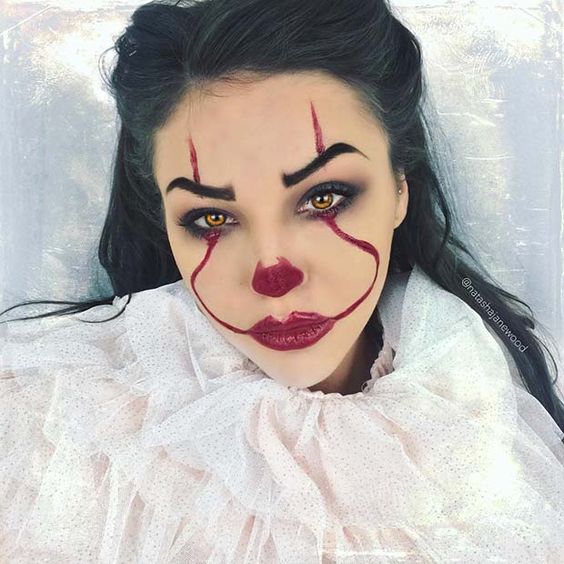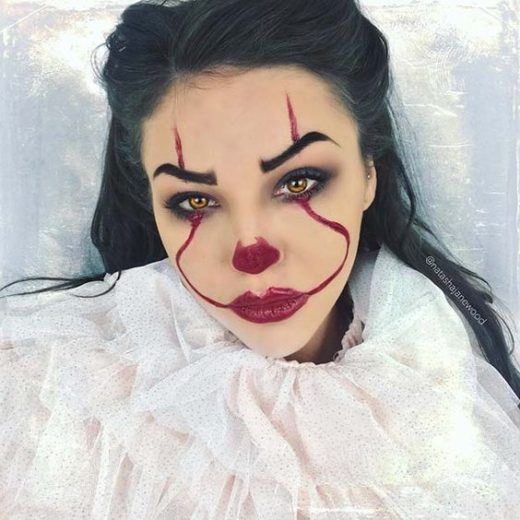 A smokey eye and red lipstick is all an IT clown look takes, making it a perfect last minute make up choice that looks professional.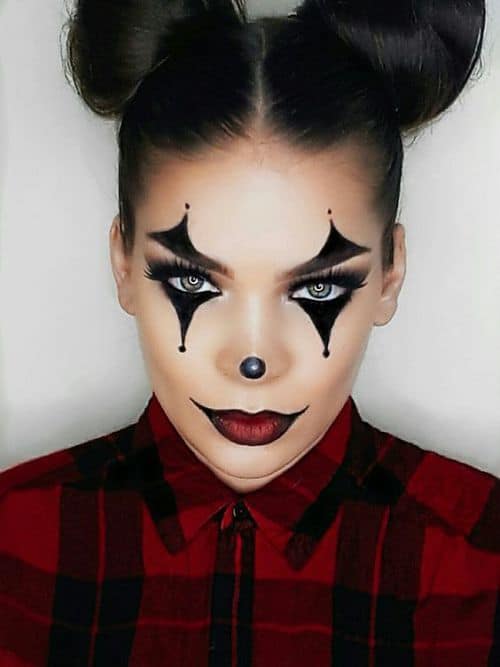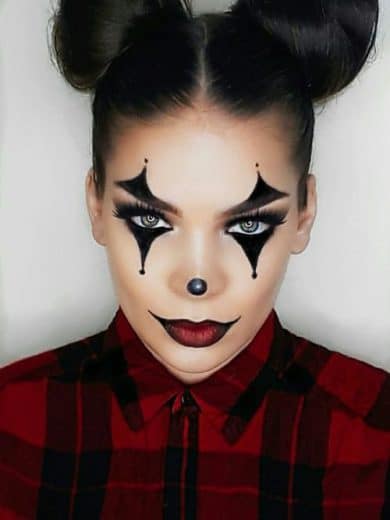 Not good with a smokey eye? Just use black eyeliner! It's quick, fool proof, but will make you look hot.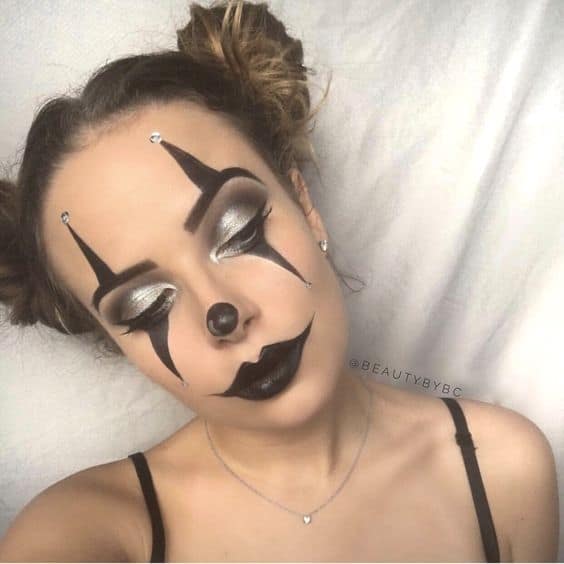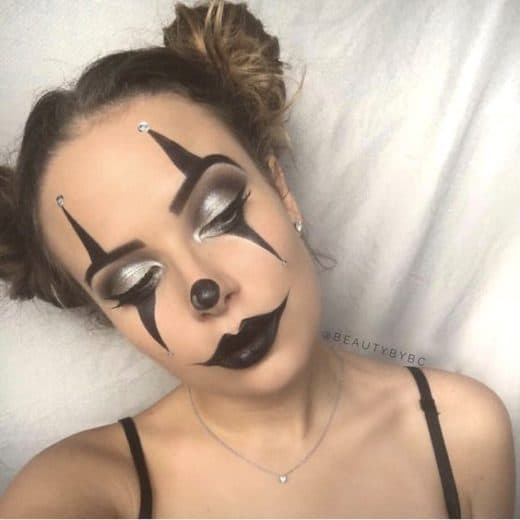 Add glitter, rhinestones, or metallics to glam up your look. Pig tails work well too.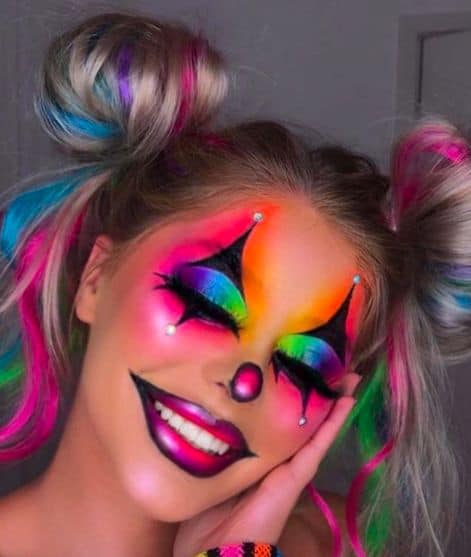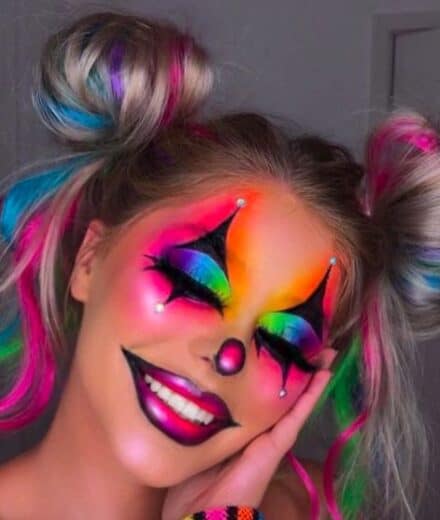 Not all clowns and jokers have to be dark and scary. Try this colorful clown look that'll channel your inner Rainbow Brite.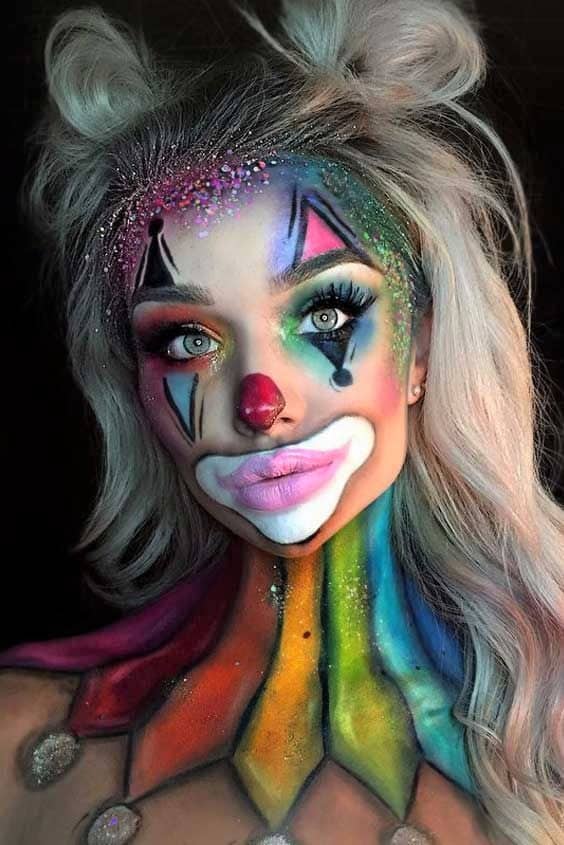 Turn that clown upside down into a colorful delight with beautiful rainbow colors and glitter.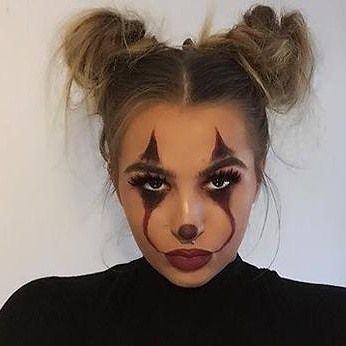 How about a super sexy Joker?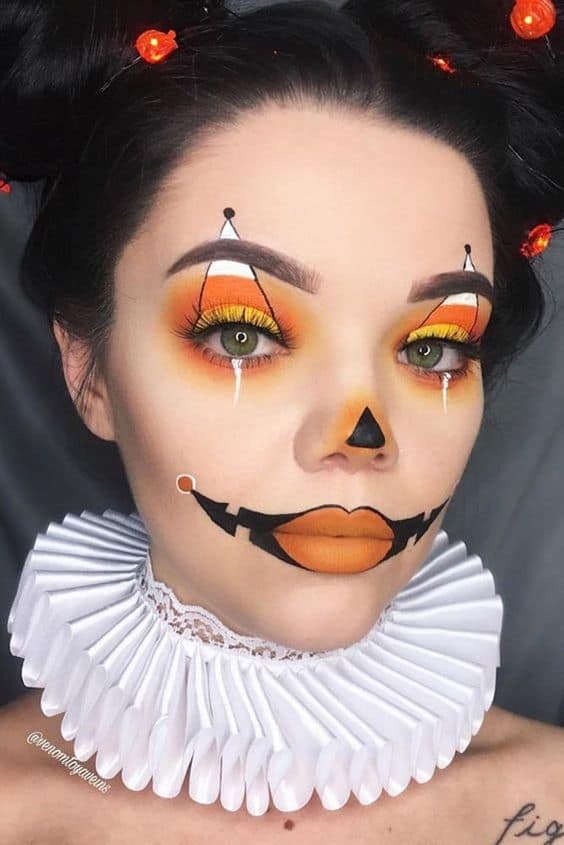 If you can't decide whether to be a Pumpkin or a Clown for Halloween, now you can be both!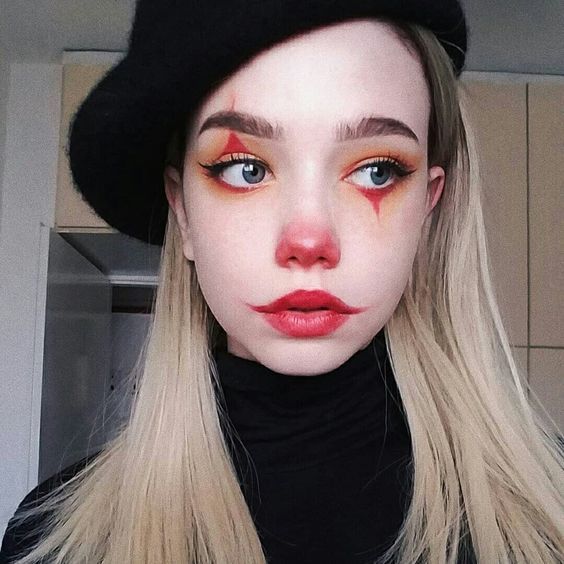 You could totally wear this super simple and classy clown to school or work! The black beret or hat gives it a little something extra and the super easy make up is nearly fool proof.
Couples or Friends Costume Idea
One person could be IT and the other the Joker.
Chucky Costume
The movie Child's Play made a big comeback with the recent feature film reboot. With Chucky's long red locks it's no surprise girls are sporting this hot ginger costume that's sure to turn heads.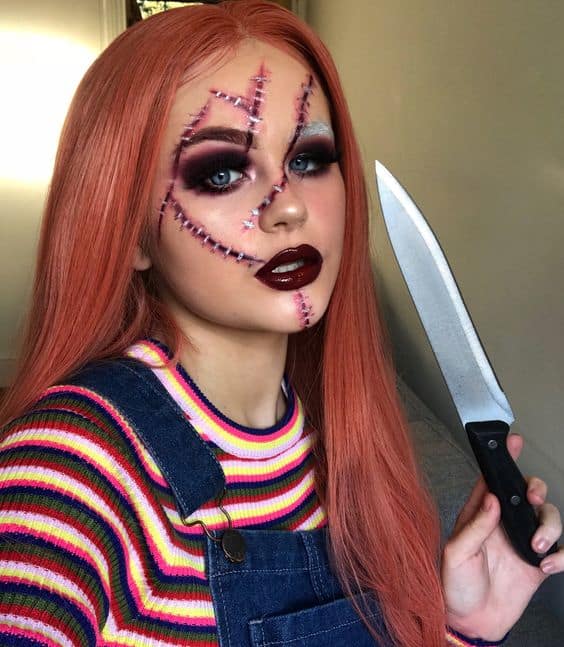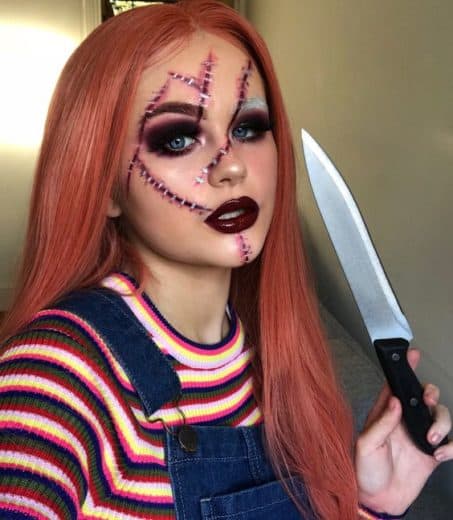 This costume will make anyone look hot and if you're a red head there is no need for a wig. The make up can be done with black and white eyeliners and red or pink shadow. Use your vamp lip and smokey eye of choice.
Couples Costume Idea
The Bride Of Chucky and Chucky.
Bouquet Costume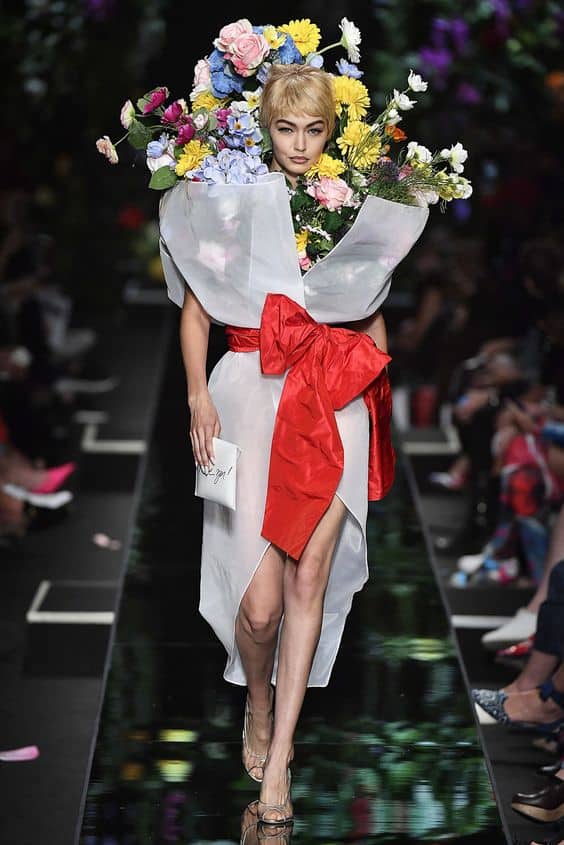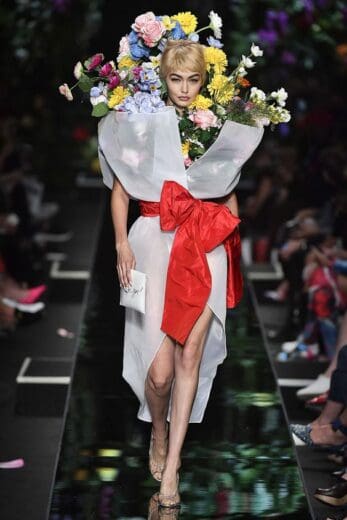 This idea is taken straight from the runway of Milan Fashion week. If you have a wide neck coat, robe, or even a sheet, you can turn yourself into a bouquet by filling it with fake flowers and adding a ribbon or sash.
Couples Costume Idea
This bouquet idea is easy to transition to a couple or bff costume. A man can dress in a tuxedo, a woman can dress as a pageant queen, or even a graduate.
Wednesday Adams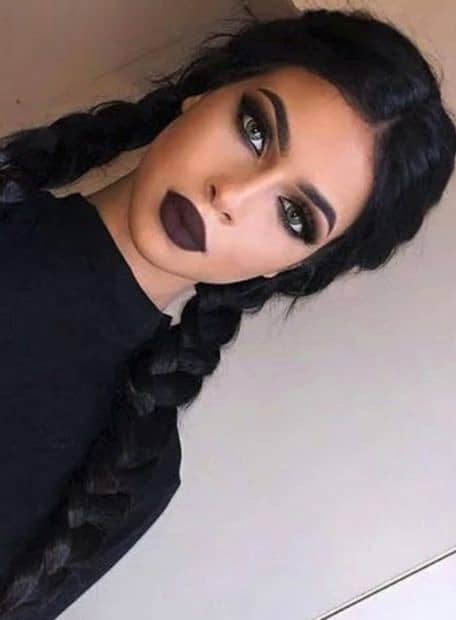 Try a Wednesday Adams inspired make up look to wear to school or work.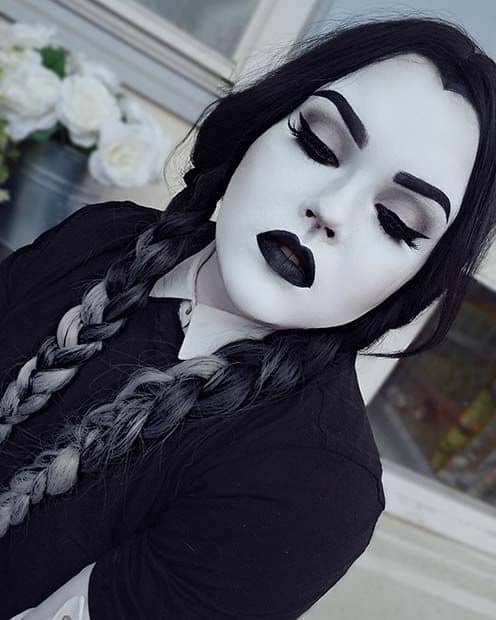 Channel the original black and white Wednesday from the popular tv show.
Adams Family Couples and Group Costume Ideas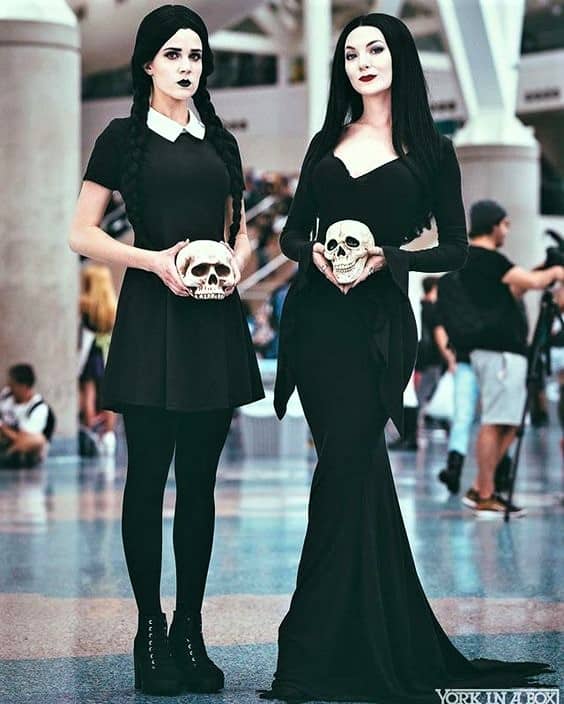 You and your bestie can go as Wednesday and Morticia.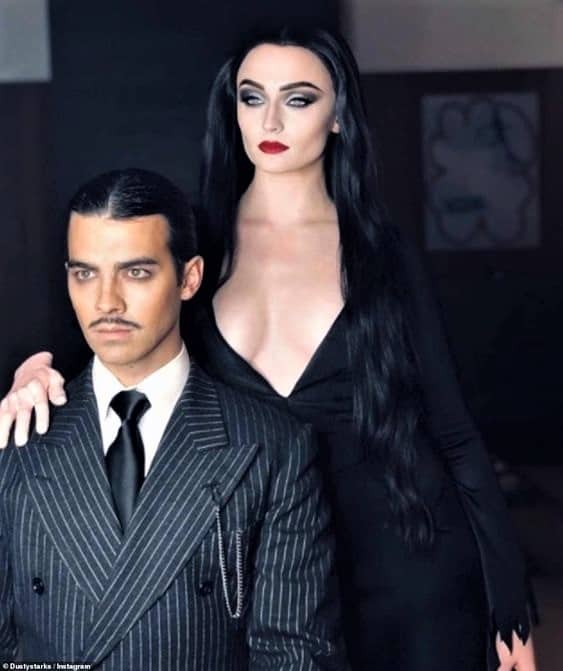 Make a striking entrance to any Halloween party as Morticia and Gomez Adams with your girlfriend or boyfriend.
Betty Boop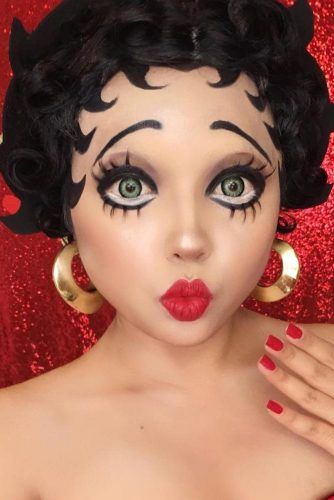 This refreshingly unique costume comes from the timeless cartoon. This is easy to pull off with a cheap short black wig and make up you probably already have. You can pick an outfit from any decade of Betty Boop cartoons.
Couples Costume Idea
Betty Boop and her reappearing boyfriend Fearless Fred would make a killer couples costume.
WITCHES and "Sailormoon" Characters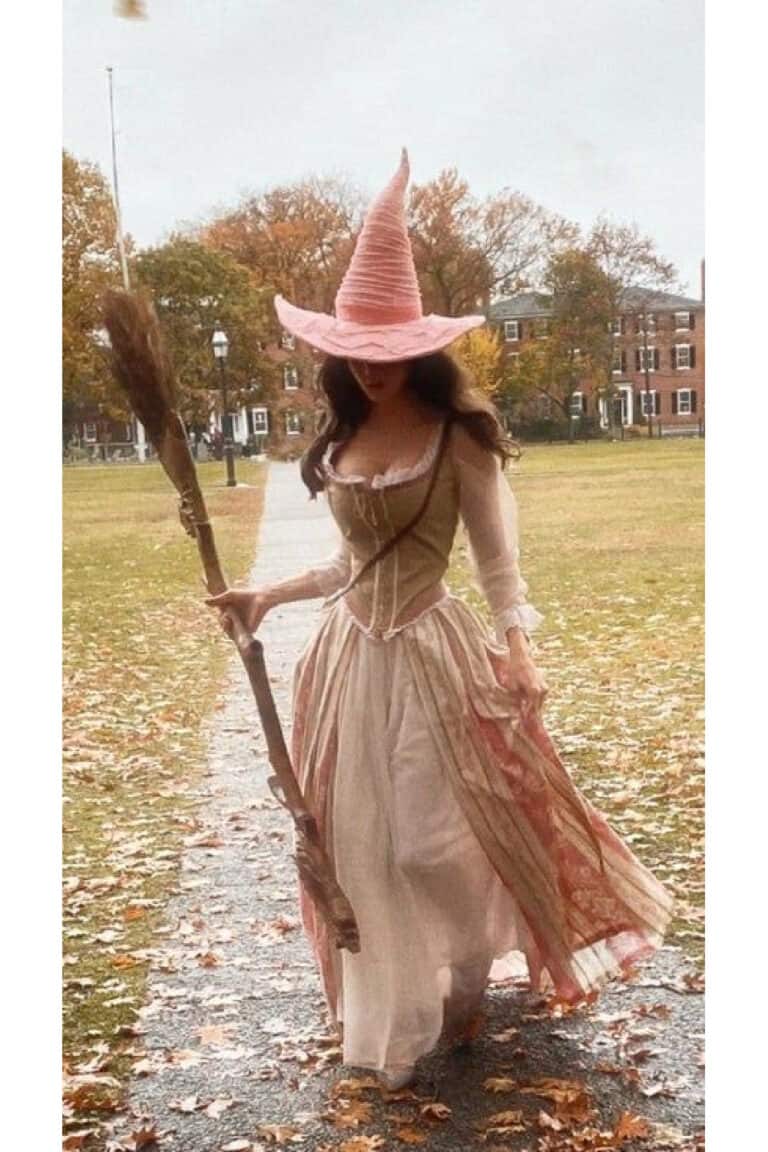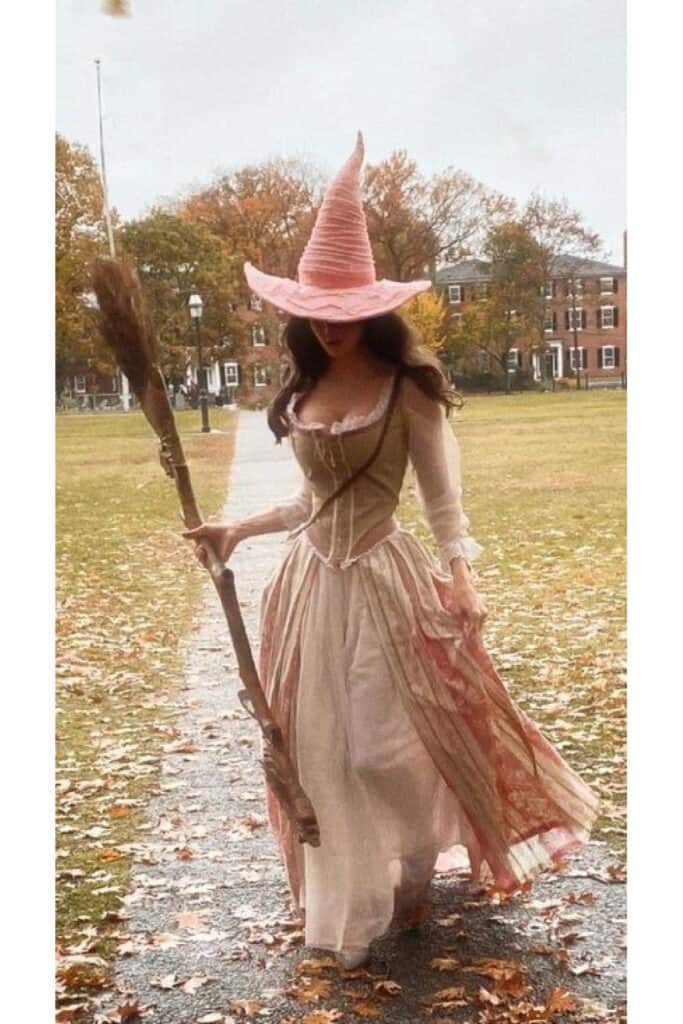 Contact sellers on etsy for this ethereal pretty witch costume. This is a renaissance corset with a custom skirt and hat. Etsy sellers either have something similar or can custom make one!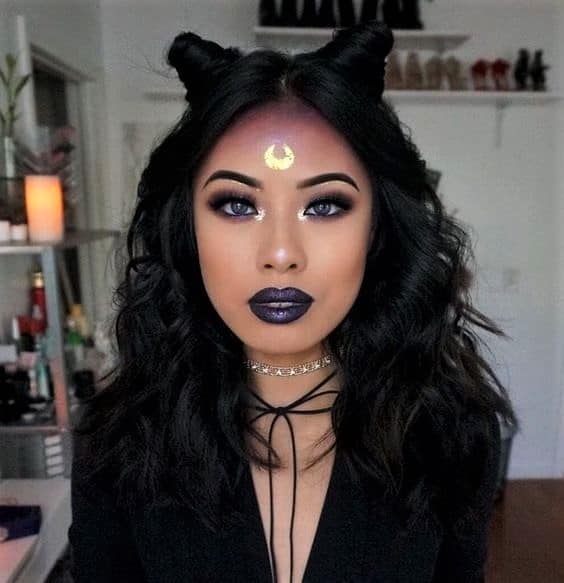 To weebs this costume make up is for the cat character Luna in the hit Japanese anime series "Sailormoon" but the symbol on the forehead is originally that of a pagan Moon Goddess and beautiful glam witch!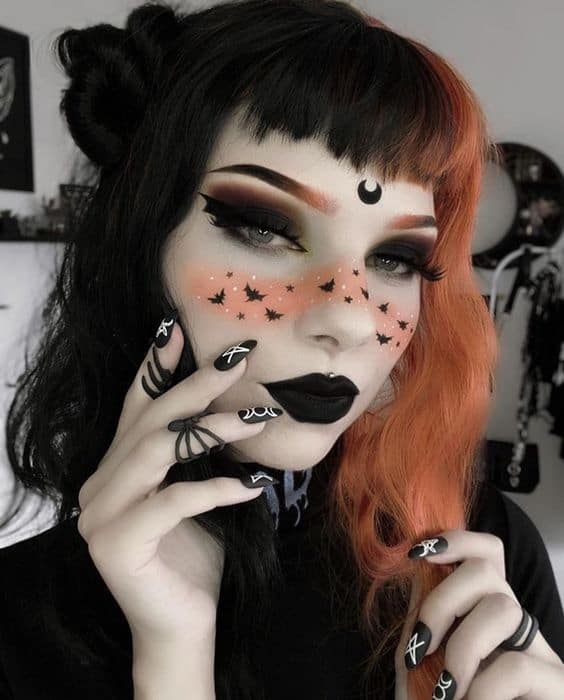 This make up look can be used for both!
The method you use to get this look relies on the supplies you have on hand.
For example you may already have a similar lipstick color or you can create it by patting foil purple eye shadow over black lipstick.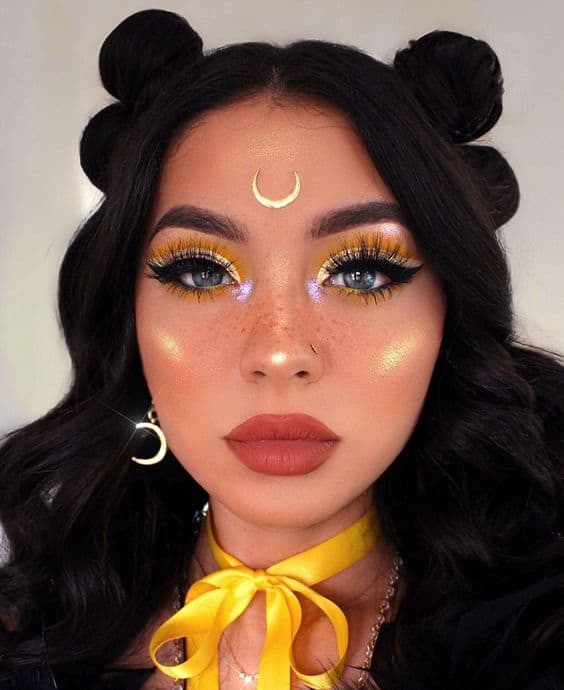 Here is another Sailormoon look only this is of one of the human "Sailors".
The two top knot buns are a sure fire giveaway this is a "Sailormoon" character and not a Pagan moon goddess witch.
Whether you use this make up for a Pagan Moon Goddess or Sailormoon, one thing is for sure, it's stunning!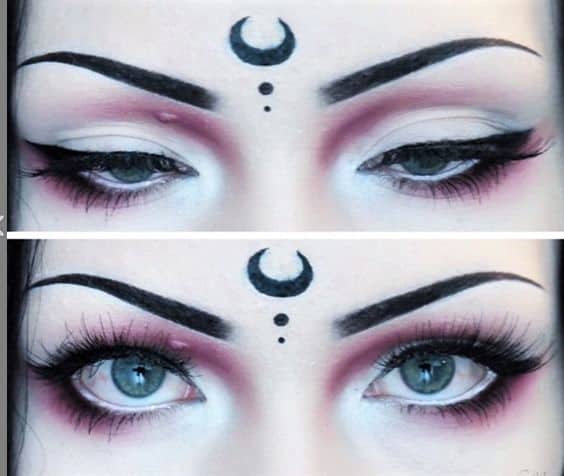 This easy yet seductive make up look is for a Pagan Moon Goddess.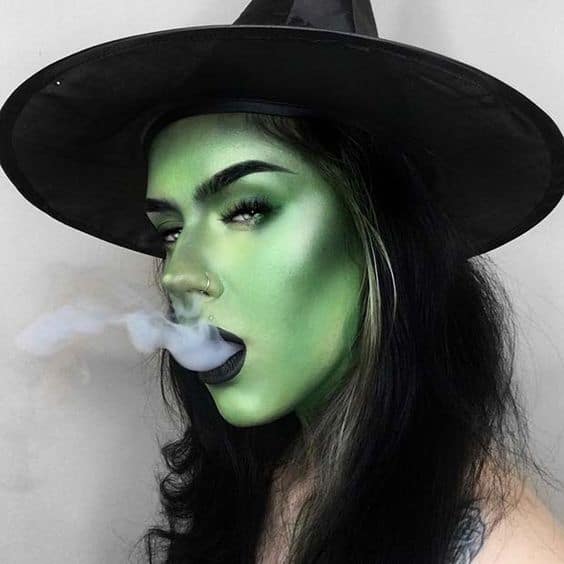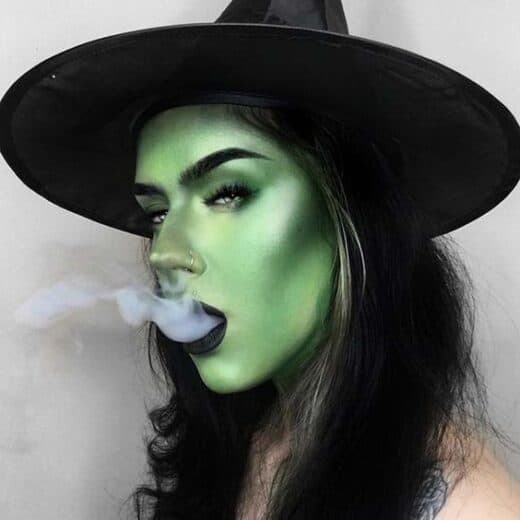 The classic green witch gets a glam make over in this tutorial that'll make everyone green with Halloween make up envy.
Skeleton and Skull Make Up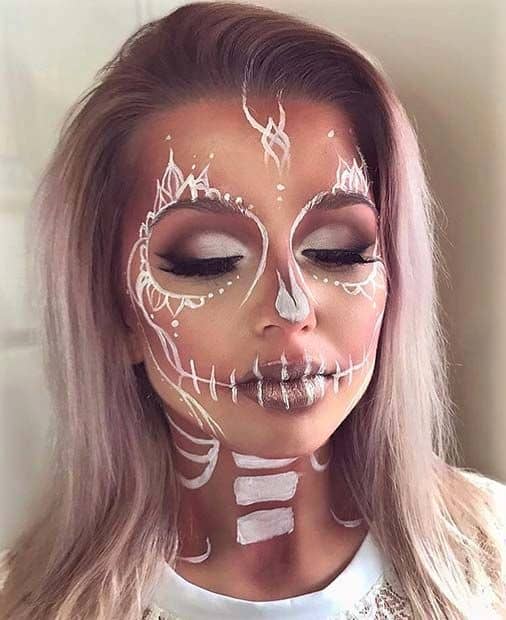 The trendy skeleton is getting a glam make over this Halloween. Try a pretty skeleton look that's delicate and feminine. You could even add some glitter.
Couples Skeleton Costume Idea
This look is hot with celebrity couples.
Pumpkin Make Up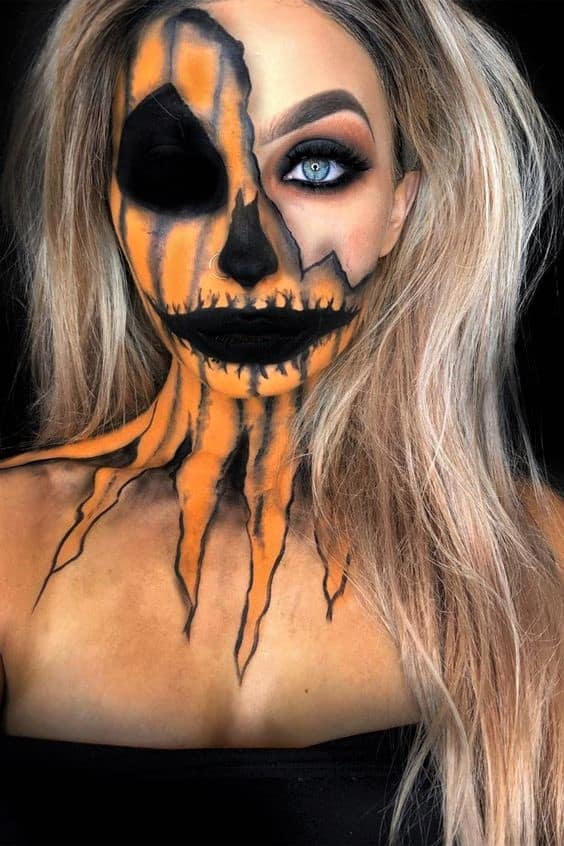 This creative Pumpkin make up look is scary pretty for those that want both.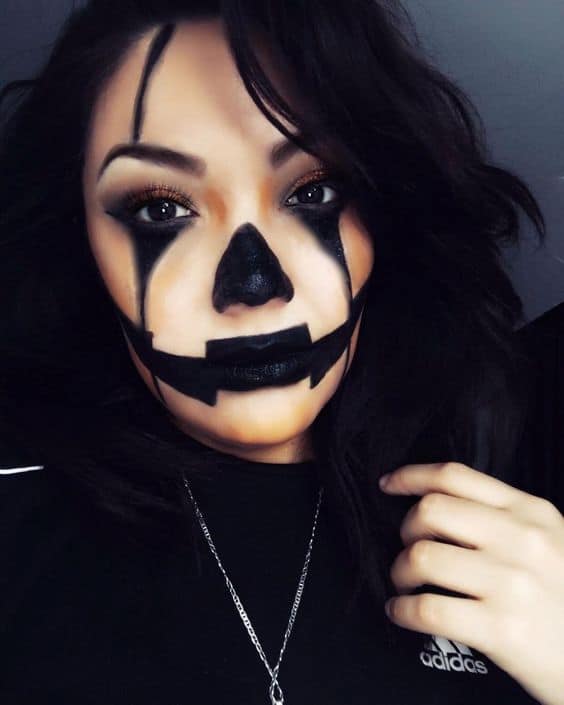 Here is a very gothic and less orange version of a Jack O Lantern.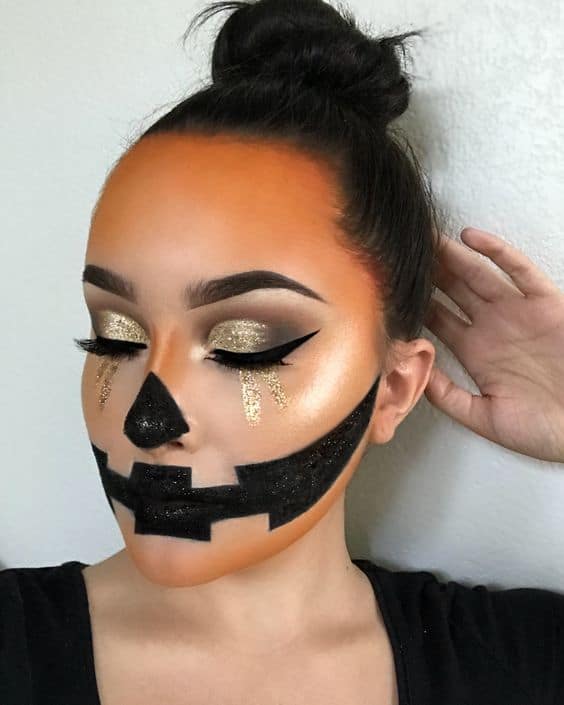 Some glitter and winged eyeliner makes for a glam pretty Jack O Lantern make up look.
Cleopatra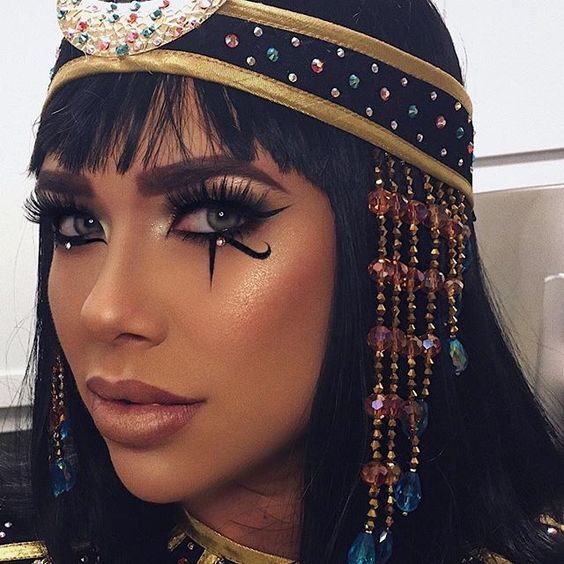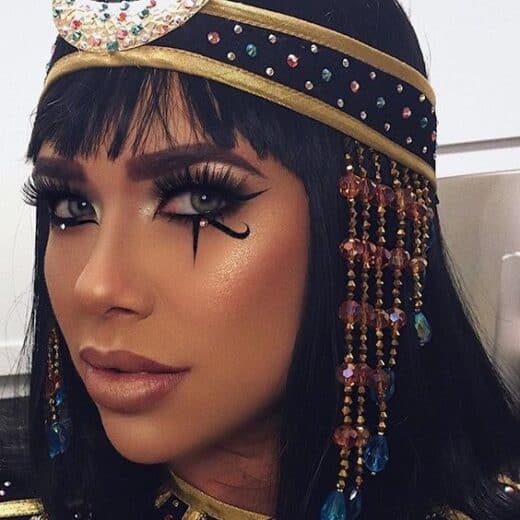 Try this beautiful Cleopatra make up look. Use eyelash glue to glue on any rhinestones.
FILTER COUPLES COSTUME IDEA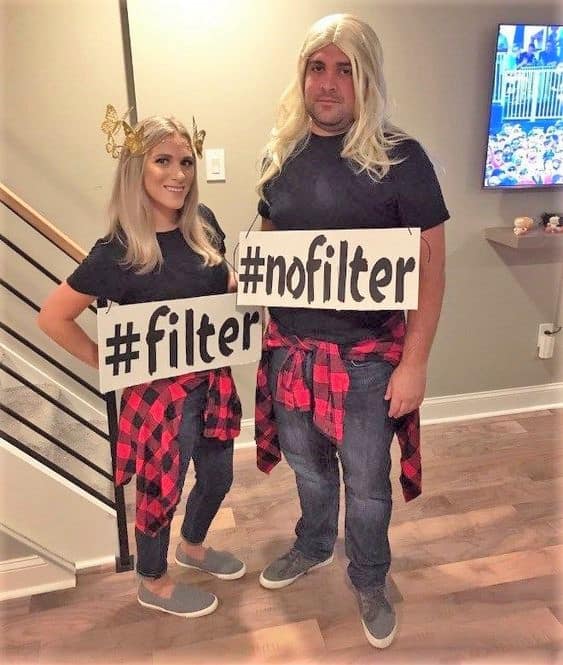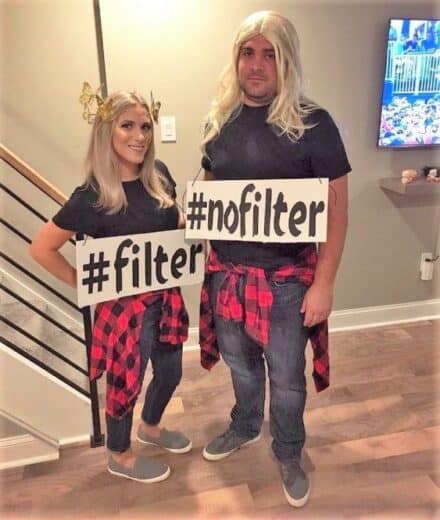 Try this costume idea with ANY of the looks in this post!
CUPID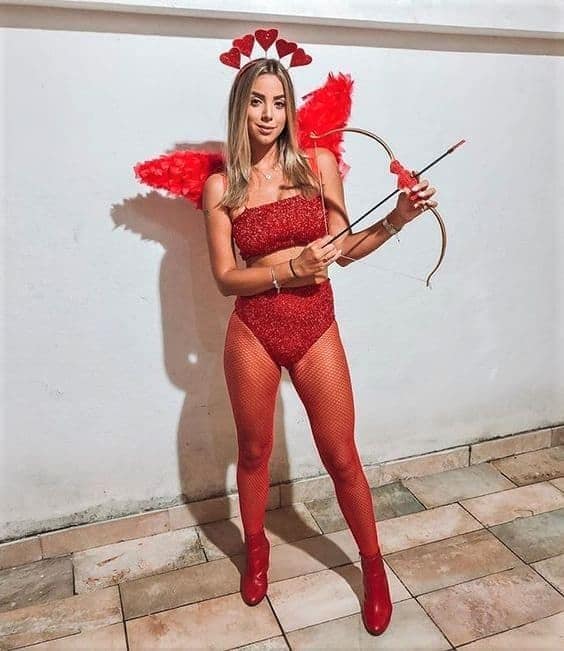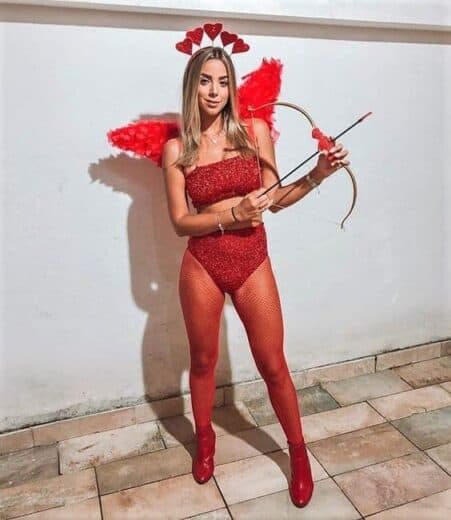 This is pretty easy to pull off, just dress in all red. You can either make the bow and arrow out of cardboard or order a faux one on amazon.
COUPLES CUPID COSTUME IDEA: Cupid and the man that got shot or a Cherub
ONE NIGHT STAND COSTUME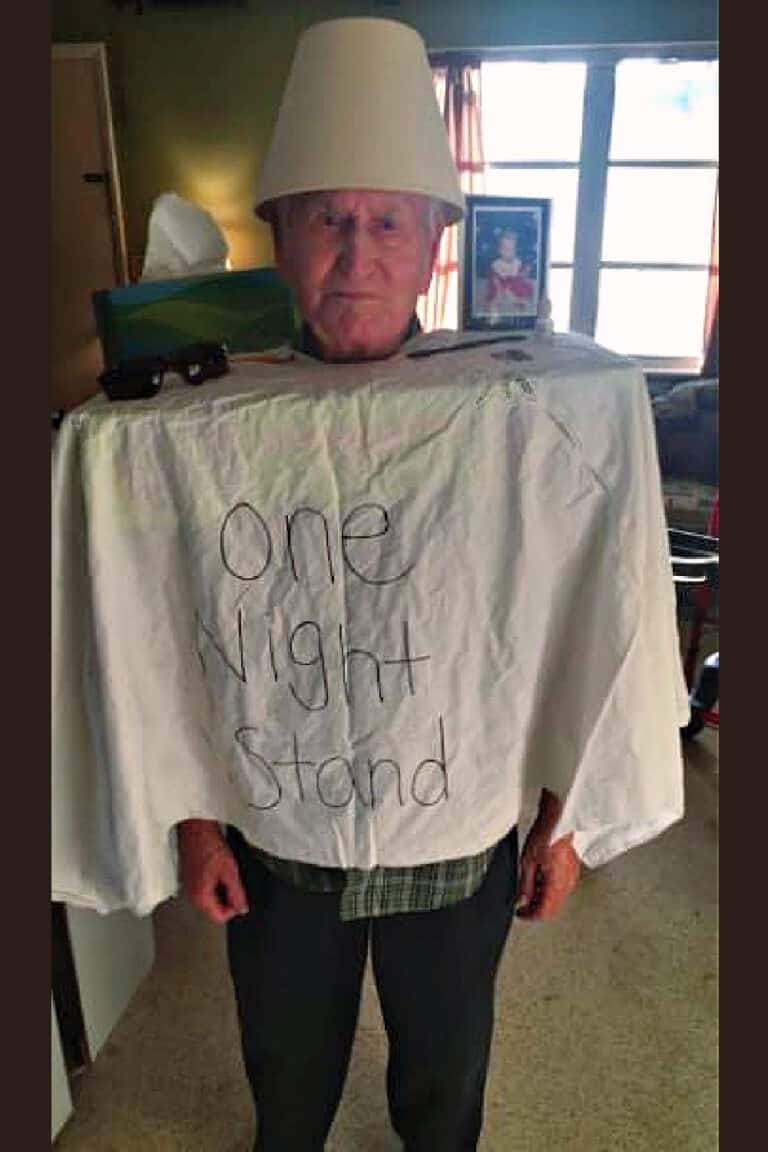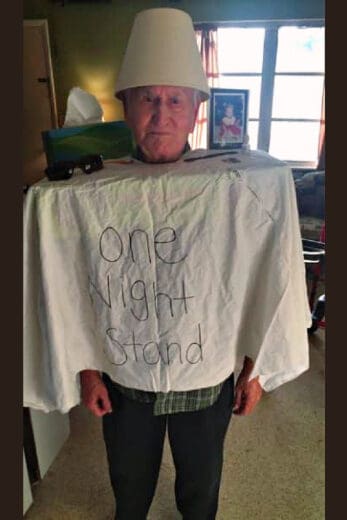 Whether you're a man, boy, teen, or senior here is a quick and easy last minute Halloween costume idea even Grandpa can wear!
Use a cardboard box or crate, sheet, and card stock (for the lamp shade) to create this witty one night stand Halloween costume everyone will remember.
Disney Princess Halloween Costume Idea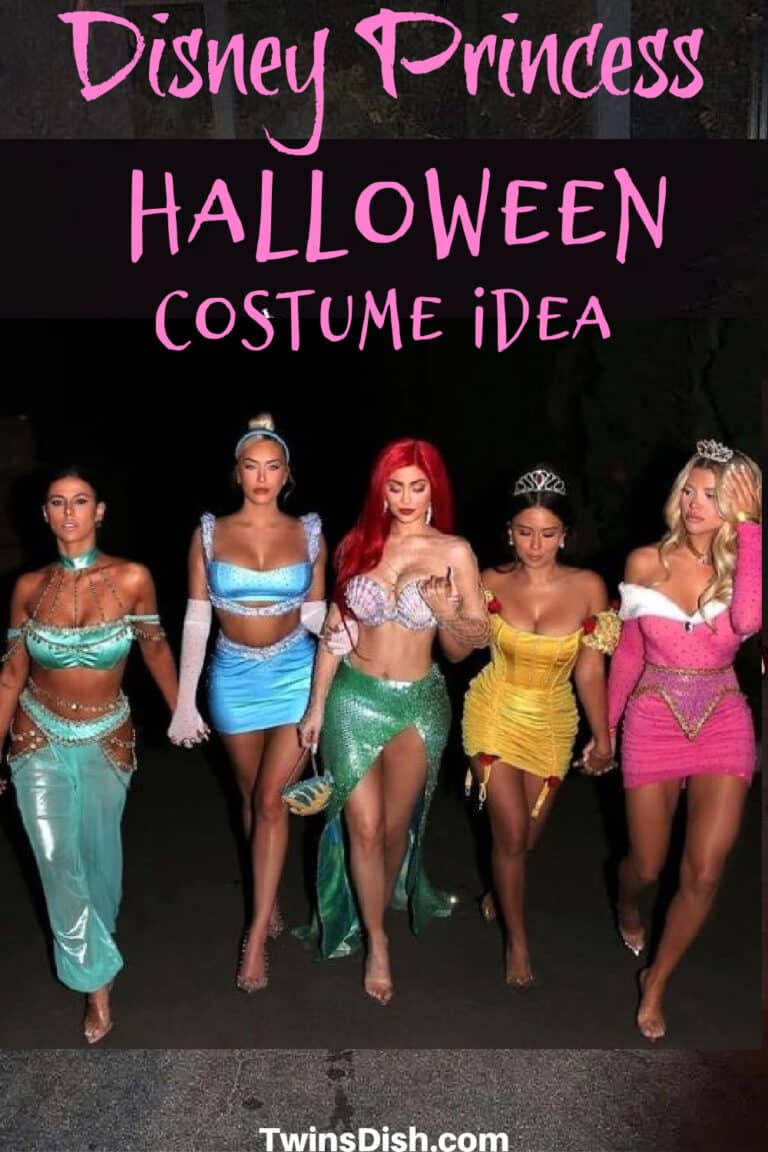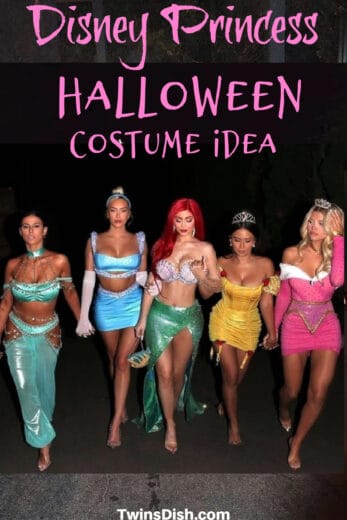 Pick one Princess for your costume or have your squad be all of them! For couples just add your Princess or Prince charming.
MUMMY COSTUME IDEA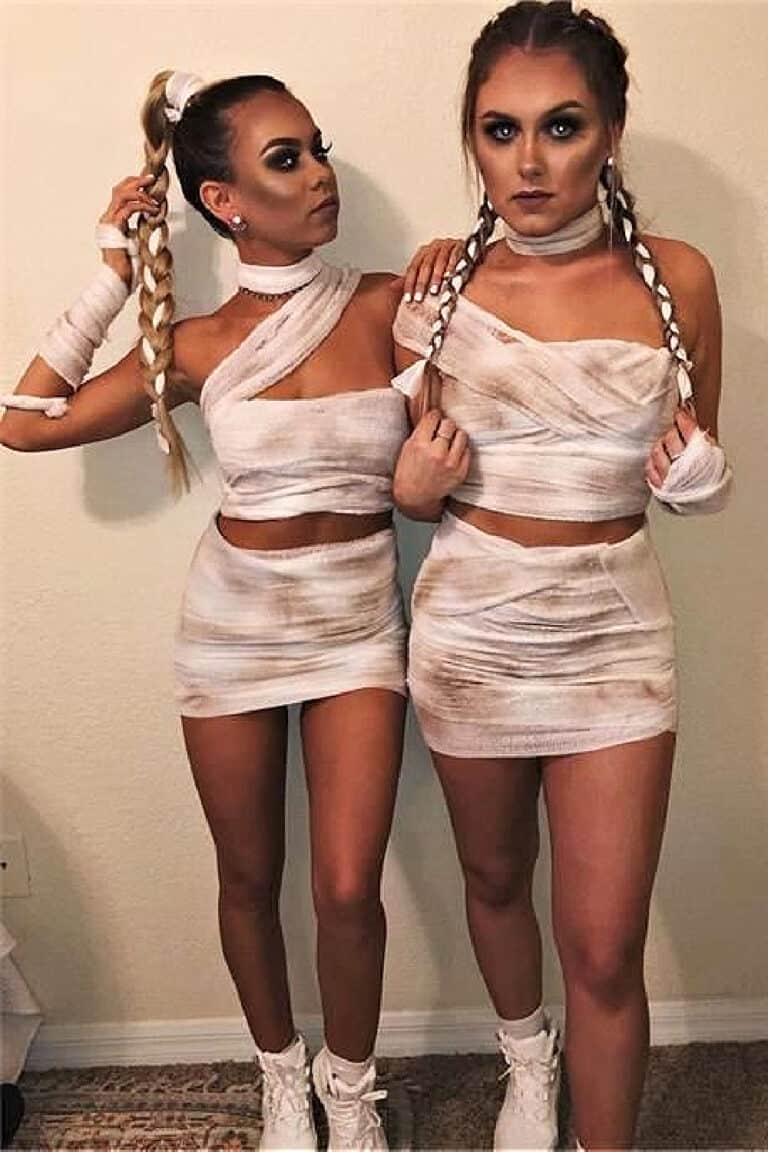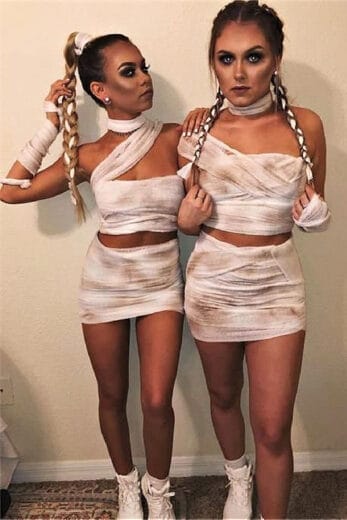 The Mummy is a classic that never gets old. Try a sexy Mummy by yourself or with a bestie. For couples try a his and her Mummy.
---
By now we hope we've helped you find an idea or two. Now get your supplies and get to it! Be sure to tag us on Instagram: @TwinsDish and tell us if you SCORED. Our favorite thing to do on Nov 1 is look at other people's costumes. Happy Halloween!
LOVE,


Don't forget to Pin it!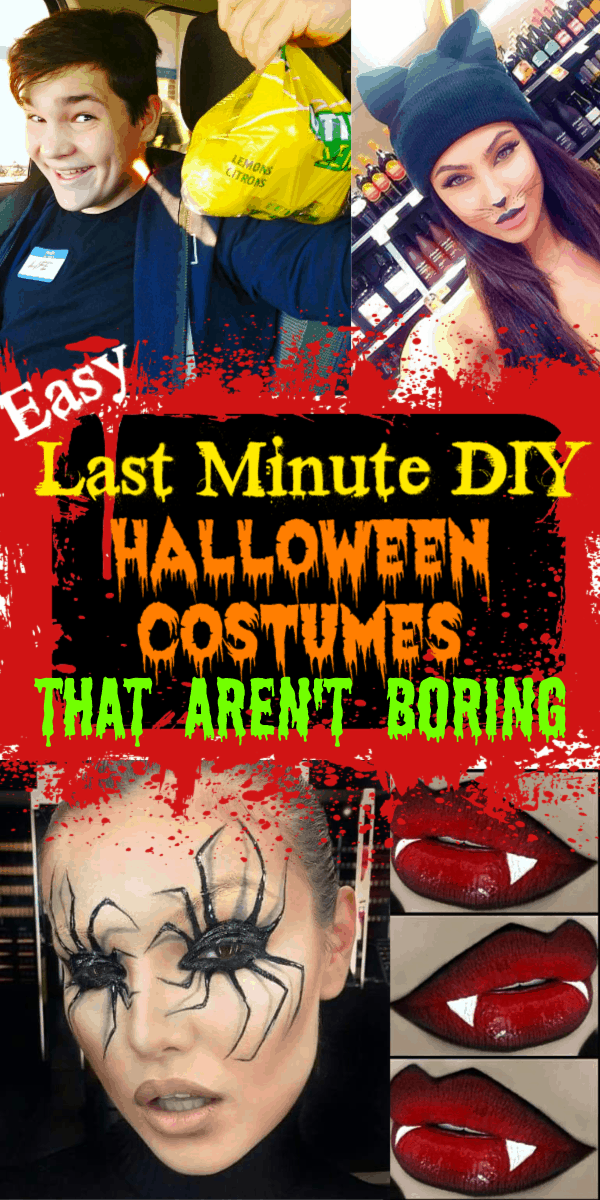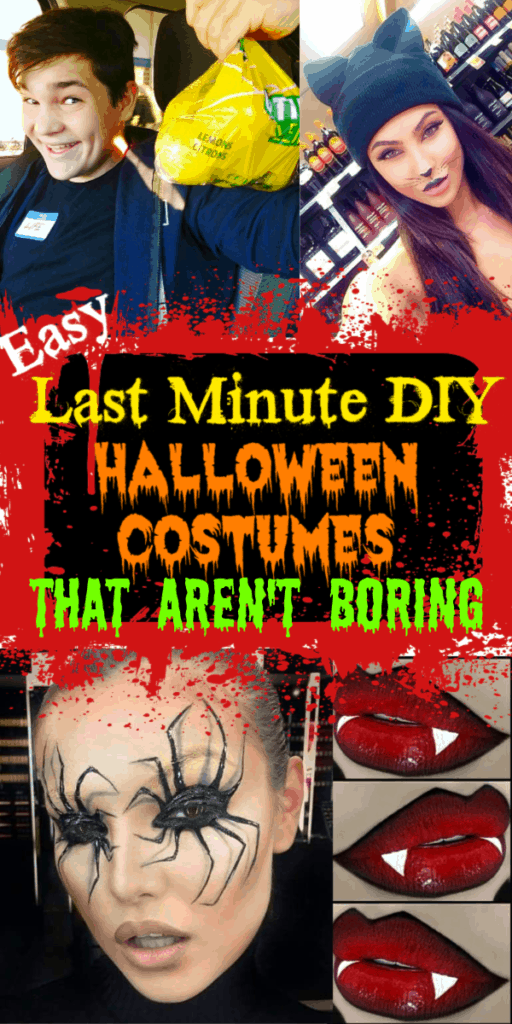 Other Posts You'll LOVE…