10 Easy Time & Money Saving Bathroom Decor Ideas
We can't stress enough the importance of having a well organized bathroom. It saves you vital time and energy getting ready if you don't have to scramble to find your toiletries or dig for your hair brush in a crowded drawer, especially if you're running late.
With very little effort, and by even just repurposing items you may have around the house, you can transform even the tiniest bathroom into a beautiful, functional sanctuary.
Why stress when you don't have to? Follow our 10 easy bathroom organization DIY home decor ideas, and you'll be starting your day off on time and like a boss:
Pin it for later: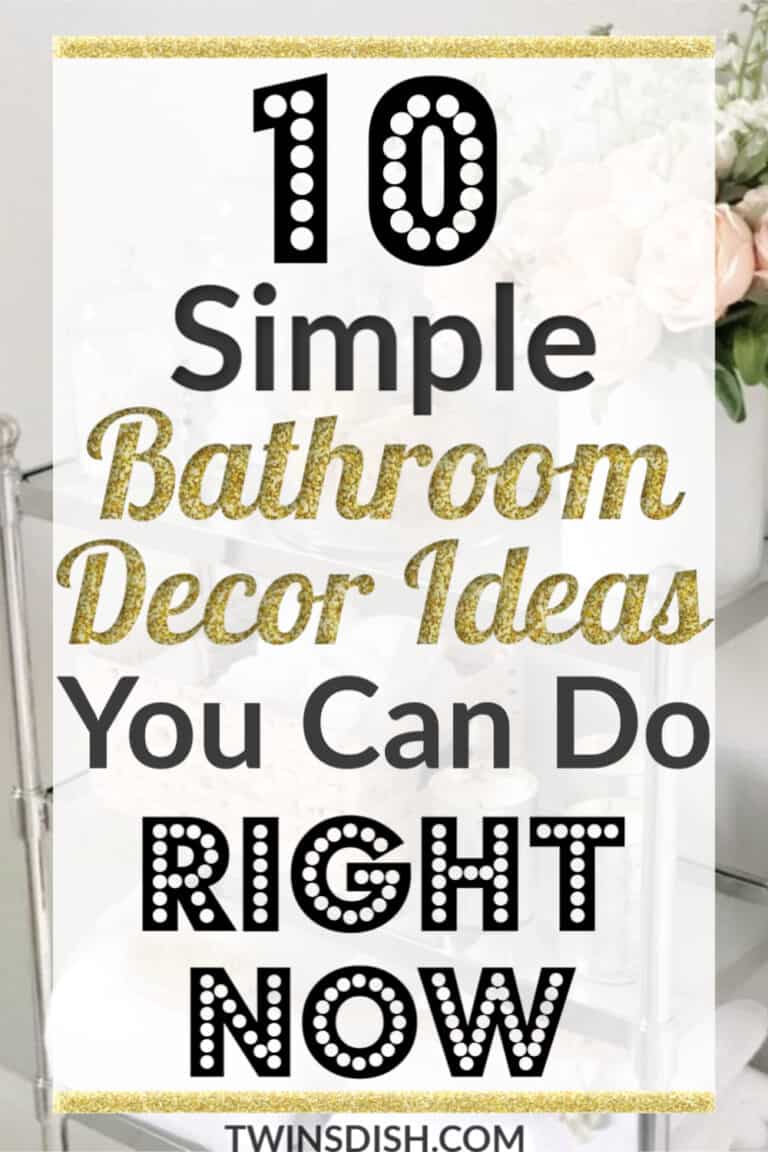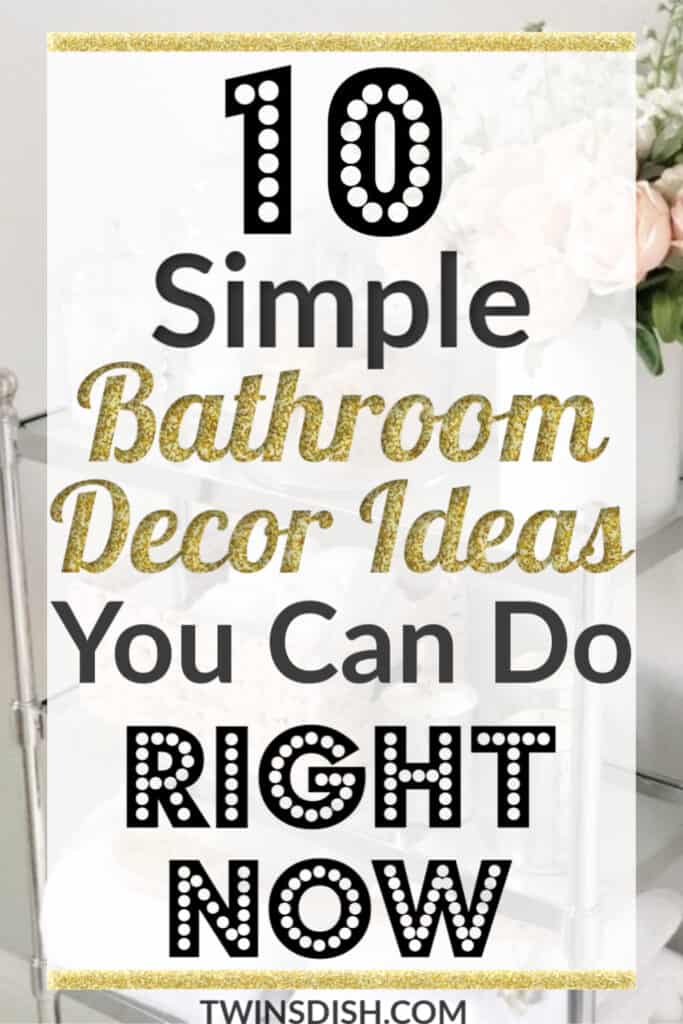 1. Wall Mount Toothbrush Hooks/Holders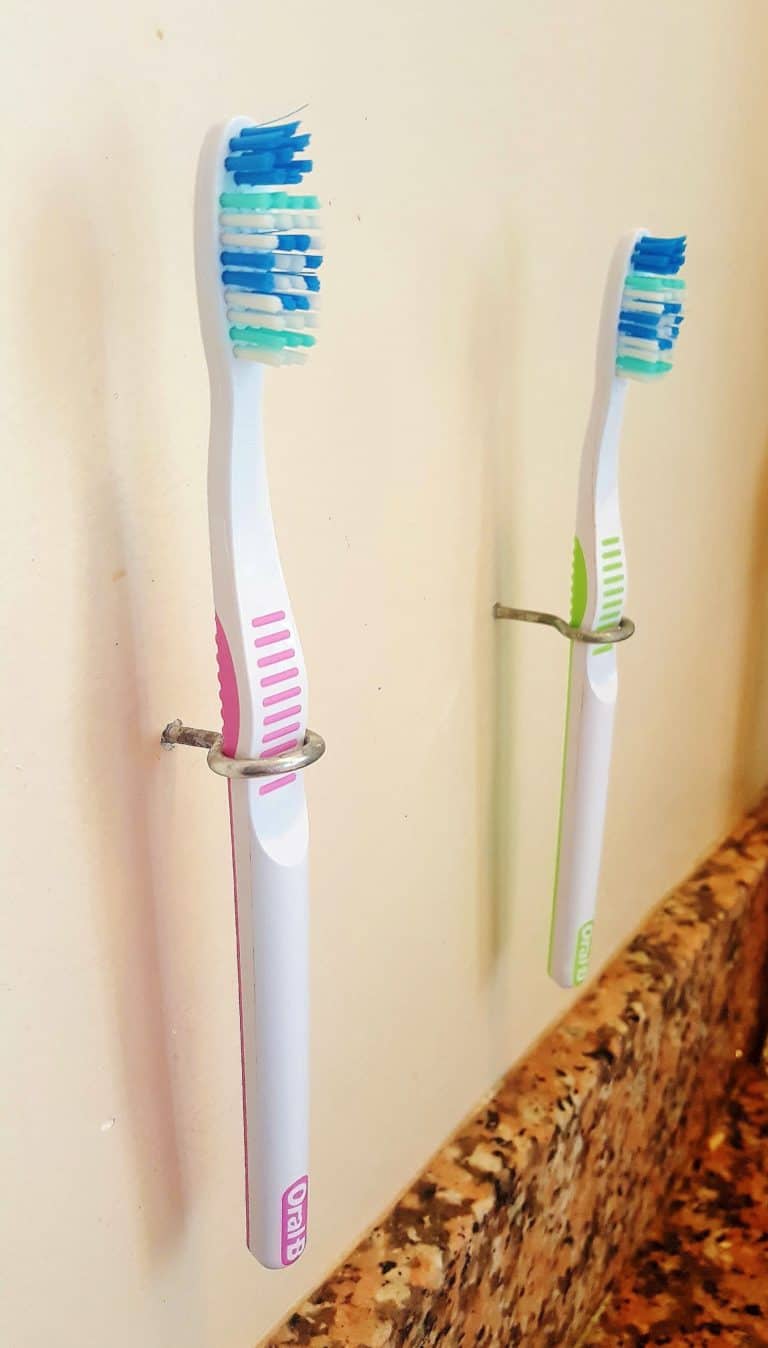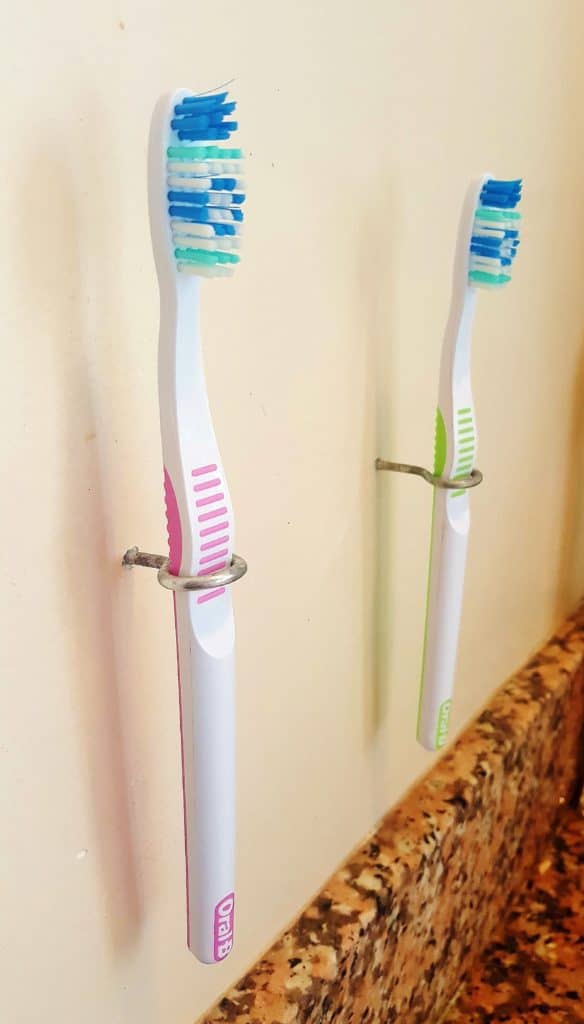 Although decorative countertop toothbrush holders are pretty, they can clutter your counter and are tough to clean. Keep it simple by using either command hooks or small ceiling hooks to hang your toothbrush on the wall. You can find them at many dollar stores or maybe even in your tool chest.
2. Baskets and Containers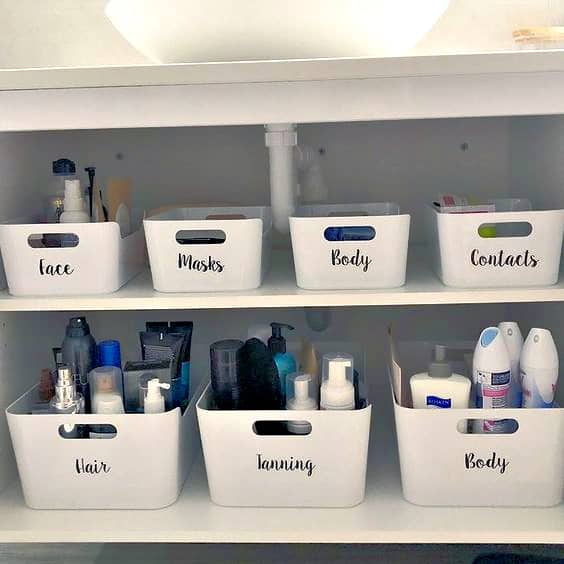 Being able to find and use all of the bathroom products you have under your sink or in your drawers can save you money and a lot of hassle ( it has for us).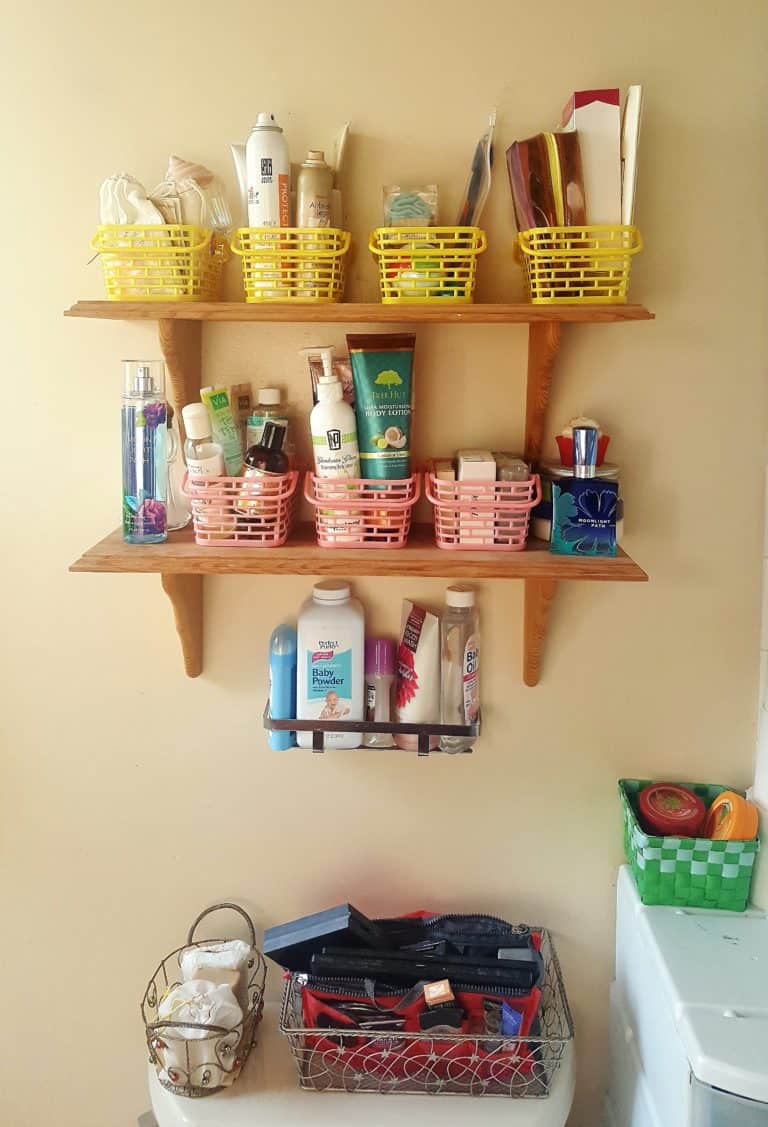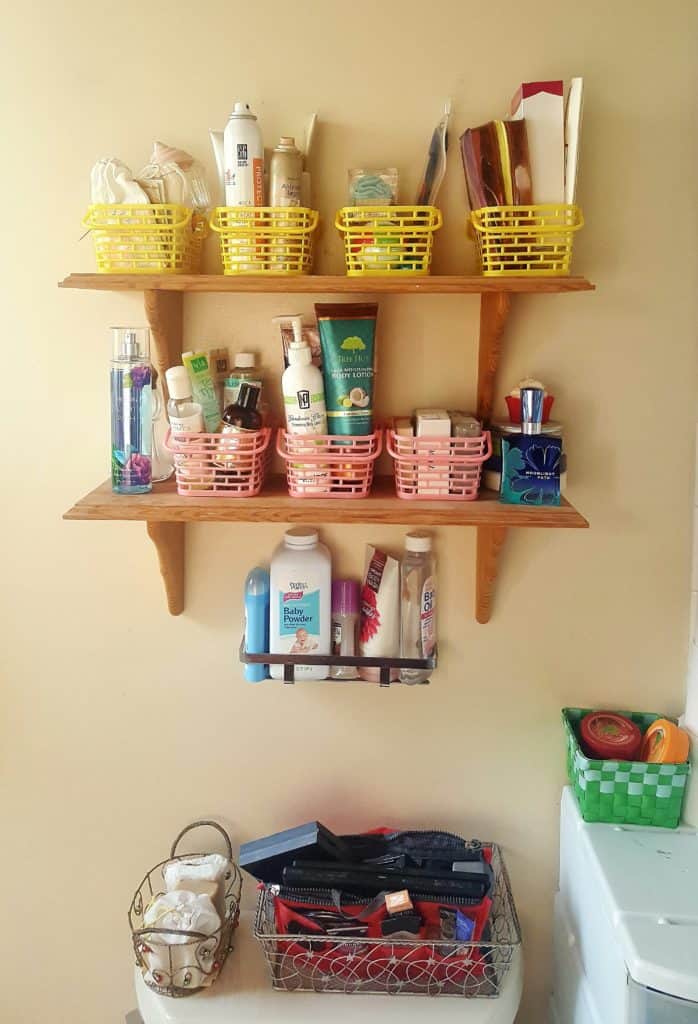 Even something as simple as discounted 15 cent Easter baskets can do a good job of grouping together similar items on shelves for easy access.
If using plastic baskets isn't your thing you can repurpose gift baskets to hold soaps, your make up bag, and body butters.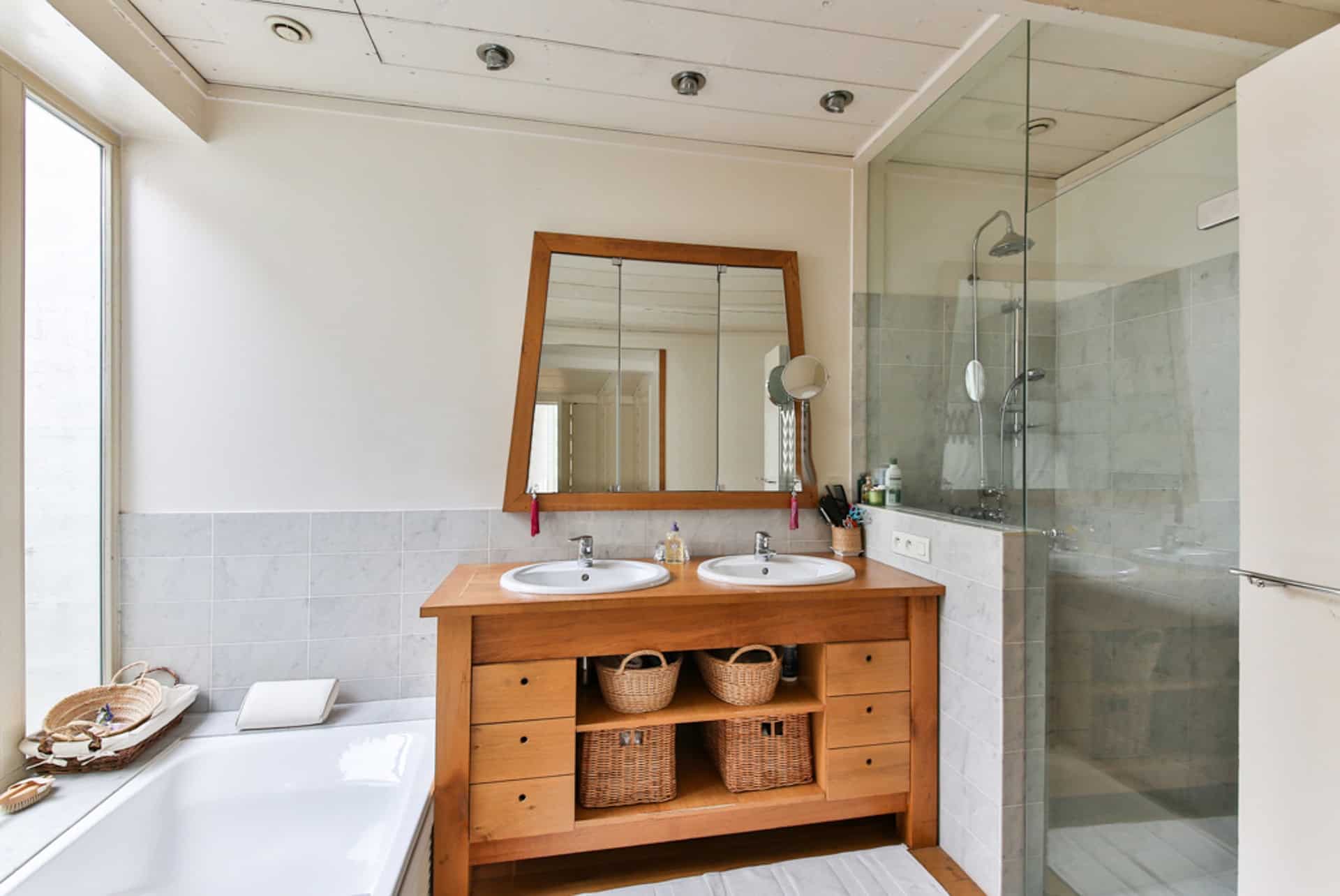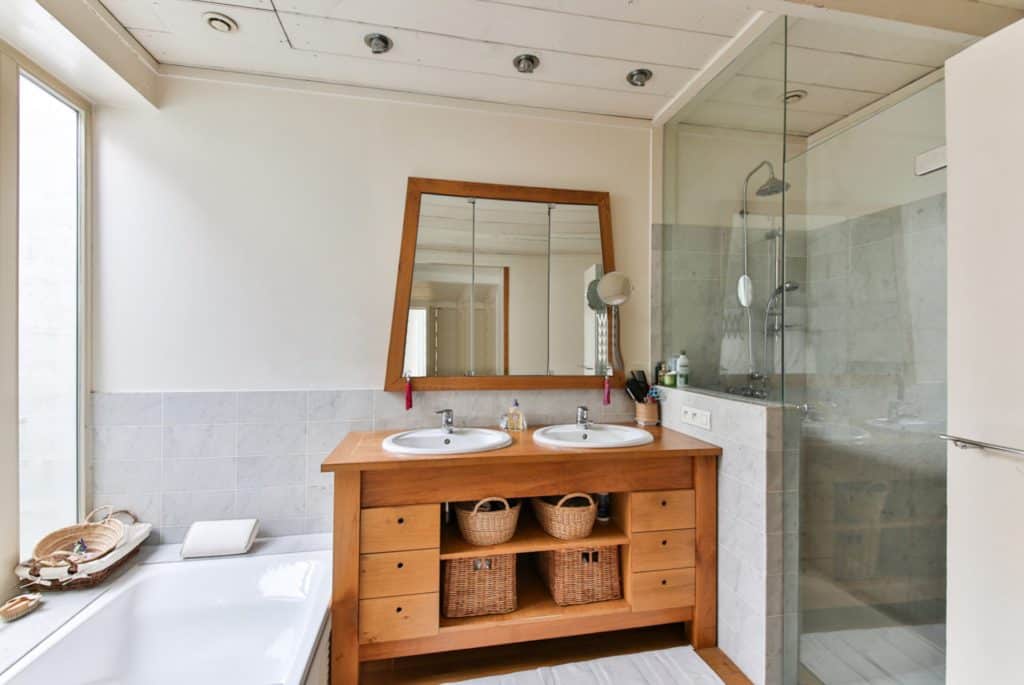 In super small bathrooms you can hang baskets and all kinds of containers like bins, tins, crates, planters, or even hat boxes on the wall.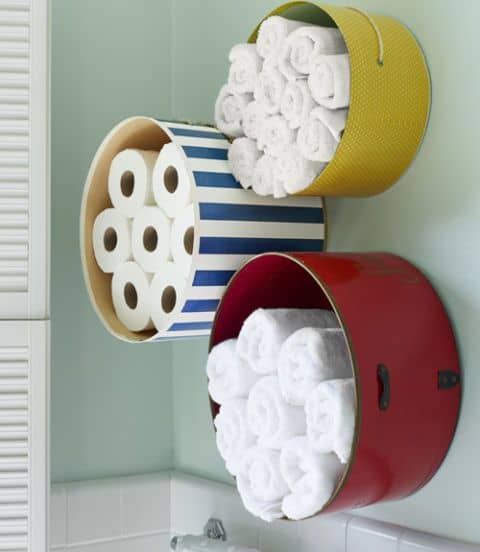 Don't be afraid to get creative.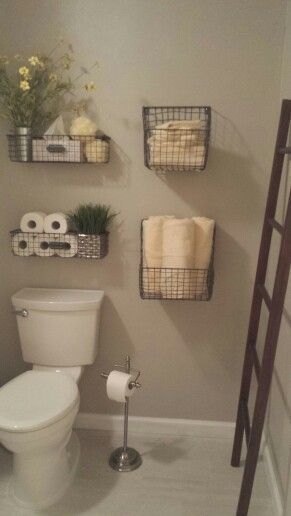 There are so many easy tutorials to show you how. Just make sure any baskets or containers you use are sturdy enough to hold what you need.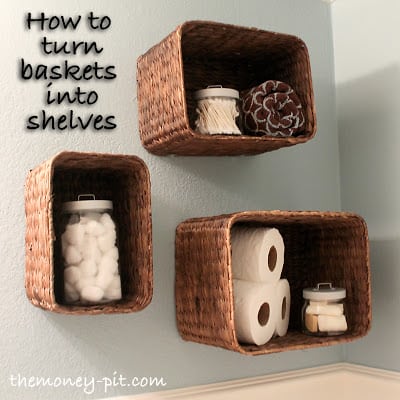 So don't throw away those containers, if they're unsightly you can always paint them.
3. Bathroom Shelves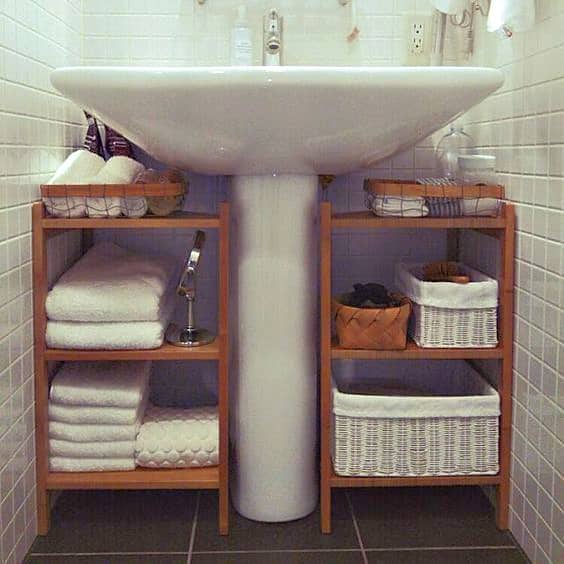 In super small bathrooms that lack cabinet space, strategically place bathroom shelves like these Ragrund Sink Shelves From Ikea, to create more storage where needed for organized baskets and containers of your essentials.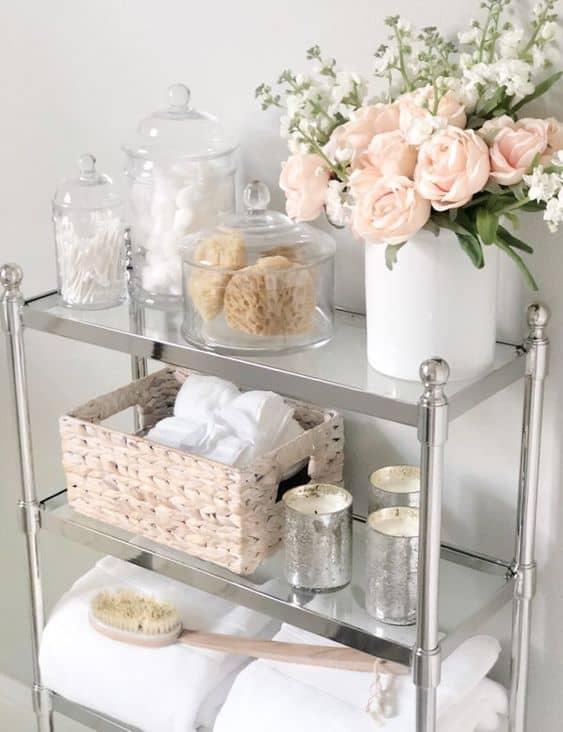 4. Drawers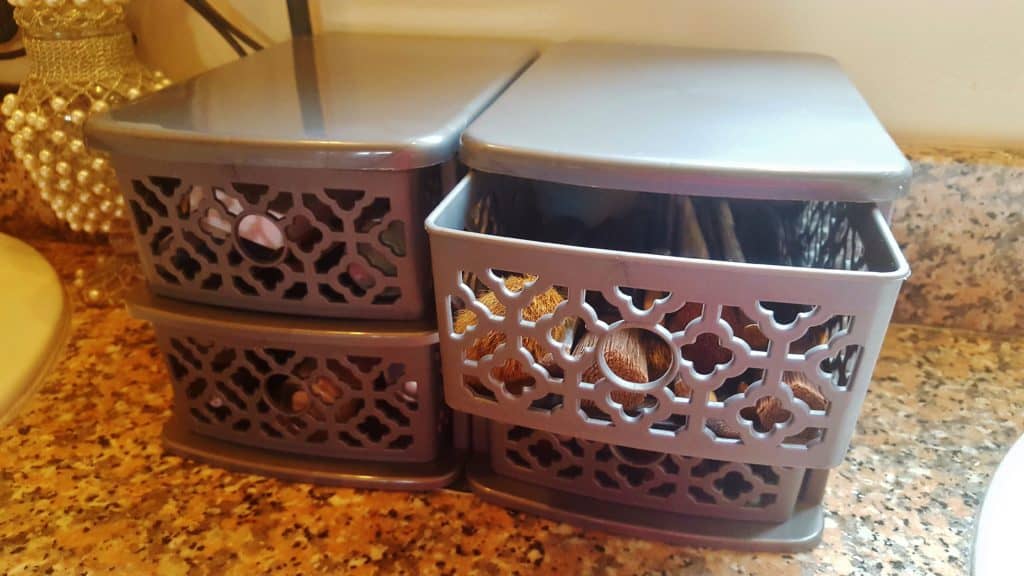 Small stackable drawers are great for keeping necessities like toothpaste and face creams within reach. A gate design allows for ventilation which is perfect for holding make up brushes.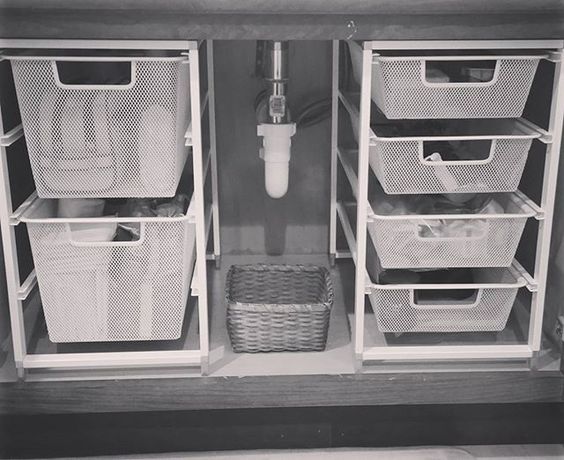 Stackable drawers also work really well in the cabinet underneath your sink.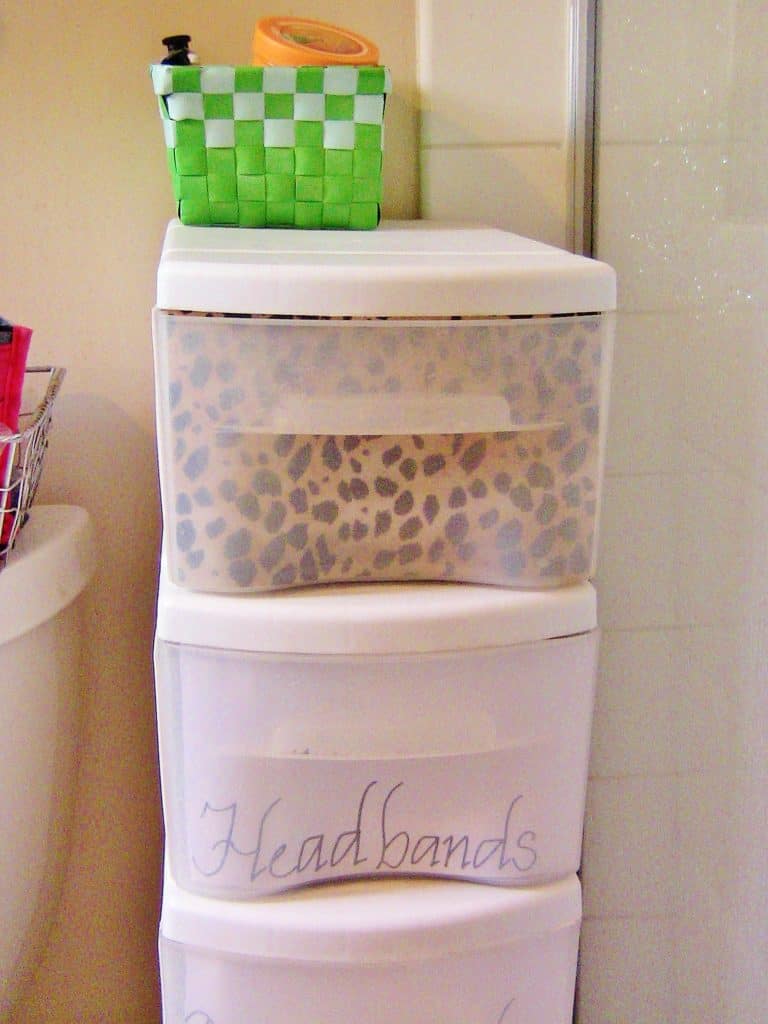 Larger stackable Sterilite drawers (above) can hold additional items and also double as an extra counter top. Bonus tip: cut pieces of white or patterned paper and slide them in the front of the drawers to cover up the contents, you can also use it as a label to write what's in each drawer.
5. Use Dollar Stores Cabinet Hooks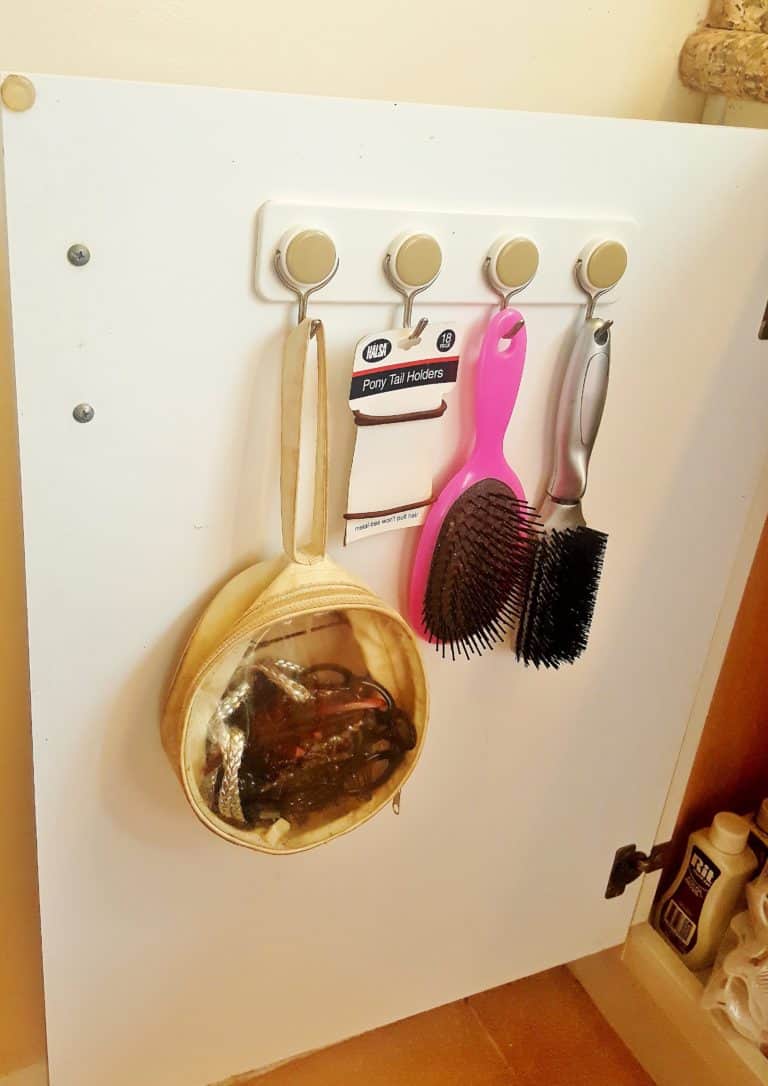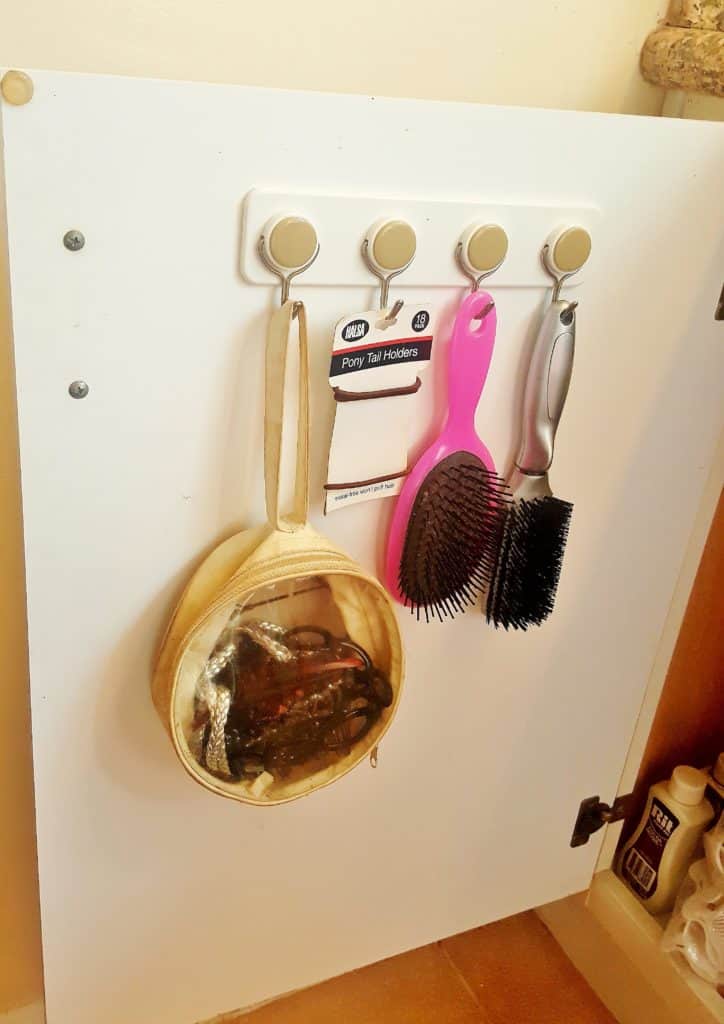 You can get the hooks above at any dollar store or use command hooks inside of your cabinet to hold brushes, ponytail holders, decorative hair extensions, and wash cloths. This frees up a LOT of drawer space and makes hair items easily accessible.
We used an old round zippered pouch from Bath and Body works to store our elastic head bands and hair clips.



6. Use Spice Racks In The Bathroom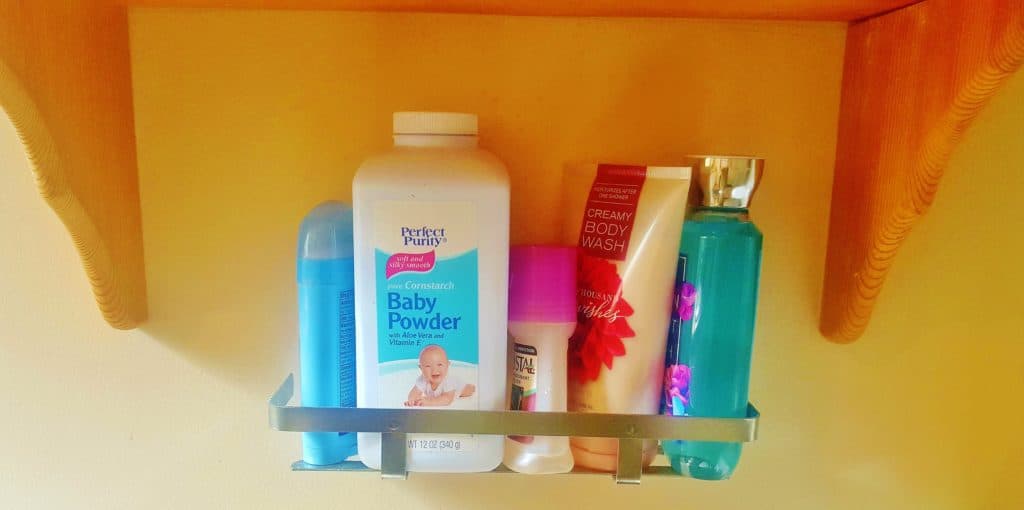 This is great for storing essentials that you use often like deodorant, cologne, mousse, hairspray, and lotions.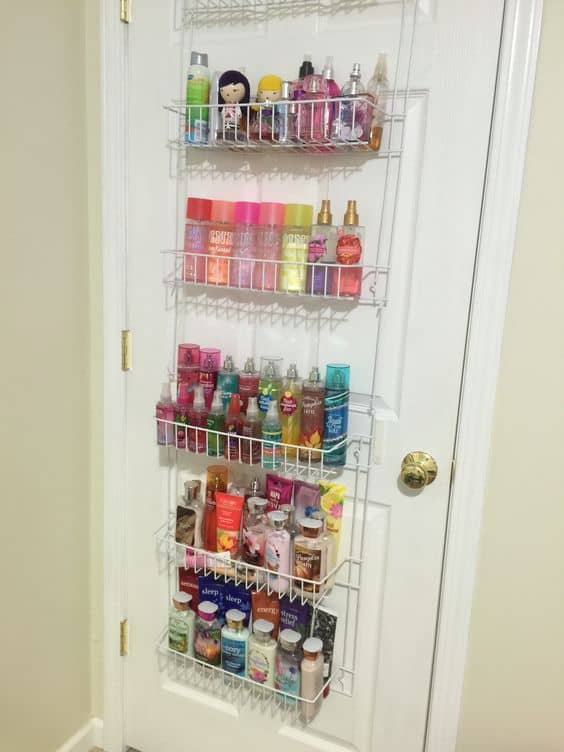 The great thing is, you can place spice racks virtually anywhere and use as many as you want.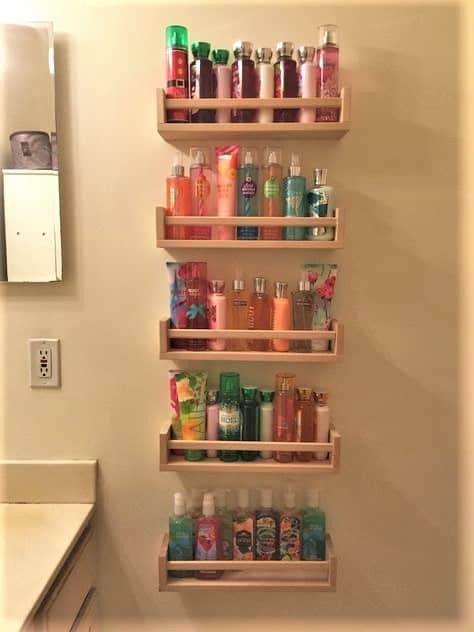 Ikea Bekvam Spice racks make the perfect DIY Bathroom storage solution for lotions and toiletries.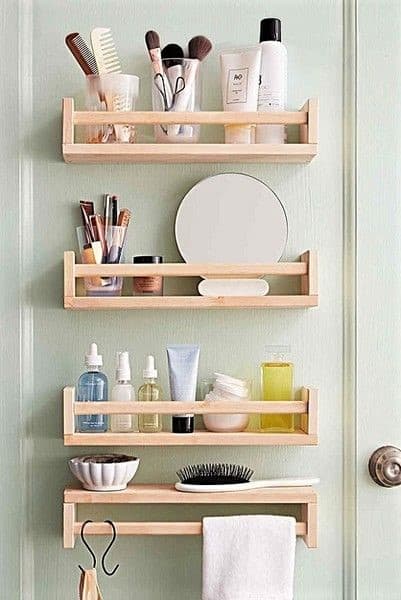 You can also hang one spice rack upside down to use as a shelf/towel rack.
Tiered Trays And Canisters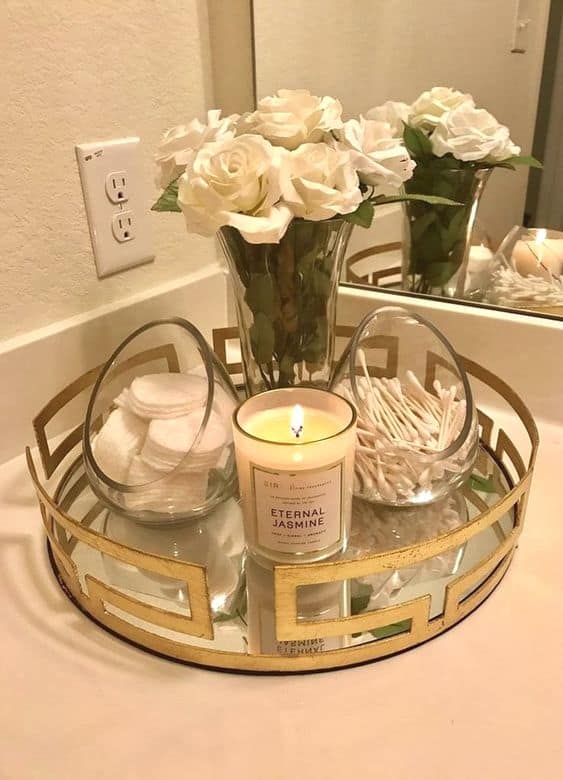 Trays and canisters are the most efficient bathroom decor since they are a beautiful way to display your everyday bathroom essentials. BUY THESE ANGLED BOWLS BY CLICKING HERE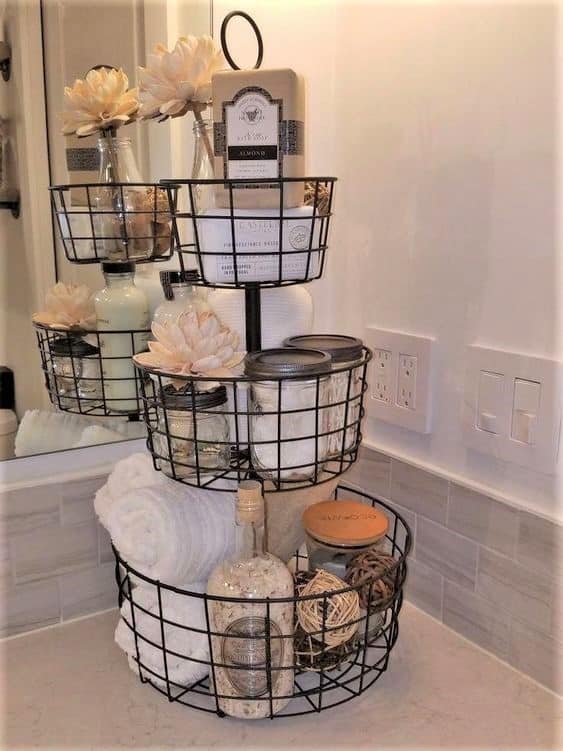 Tiered trays are one of the most useful and economical space saving solutions for limited counter space. You can either purchase one or even make one yourself.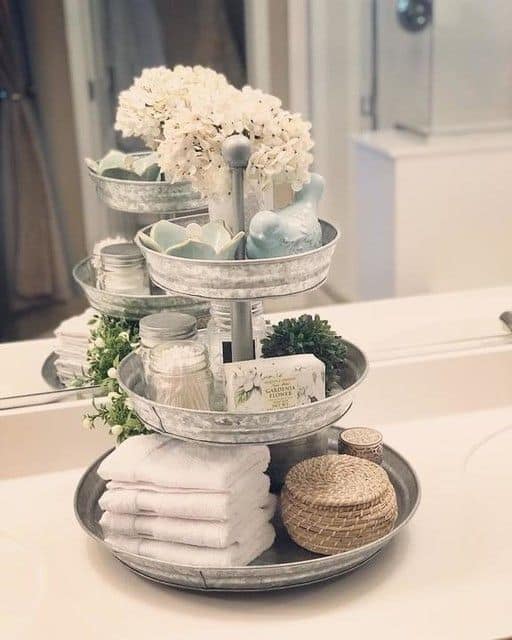 You can opt for purchasing the popular farmhouse style galvanized trays at Pottery Barn or make a dollar store DIY version that's just as functional.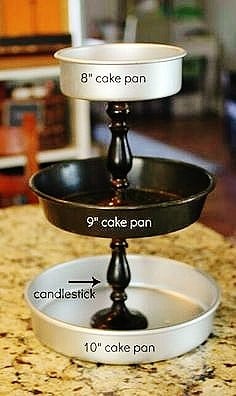 You can make DIY tiered trays for mere dollars that are functional and stylish.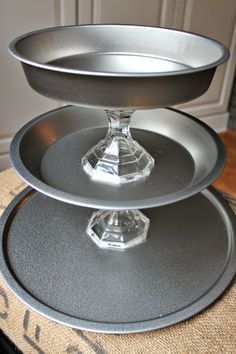 Glue together dollar store candlesticks, plates, or pans for the look and style you want.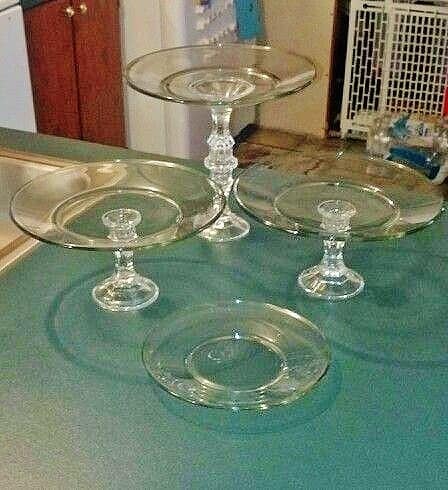 Reuse those old cookie and Christmas tins lying in your kitchen cupboard to make a functional, rustic tiered tray for your small bathroom counter.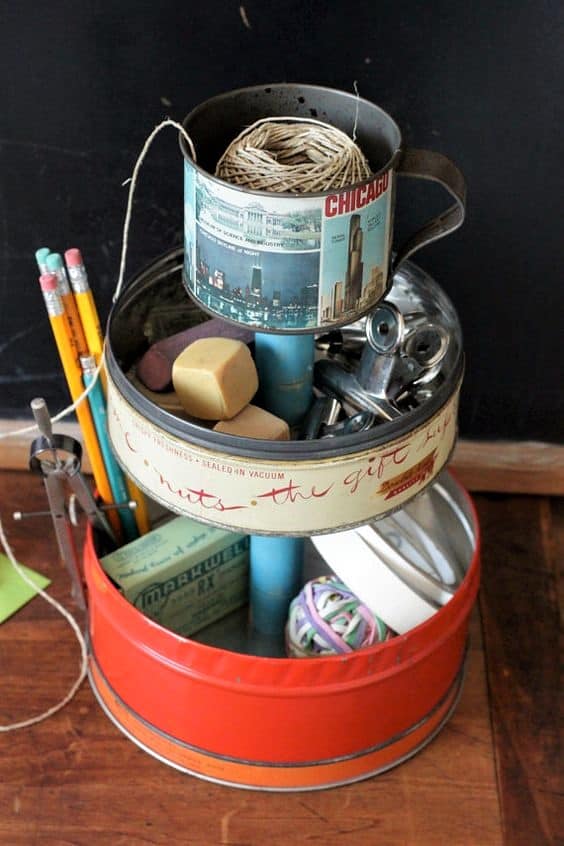 Repurpose old kitchen supplies like loaf pans, and wooden spoons, or utensils for the ultimate rustic, farmhouse tiered tray for your bathroom!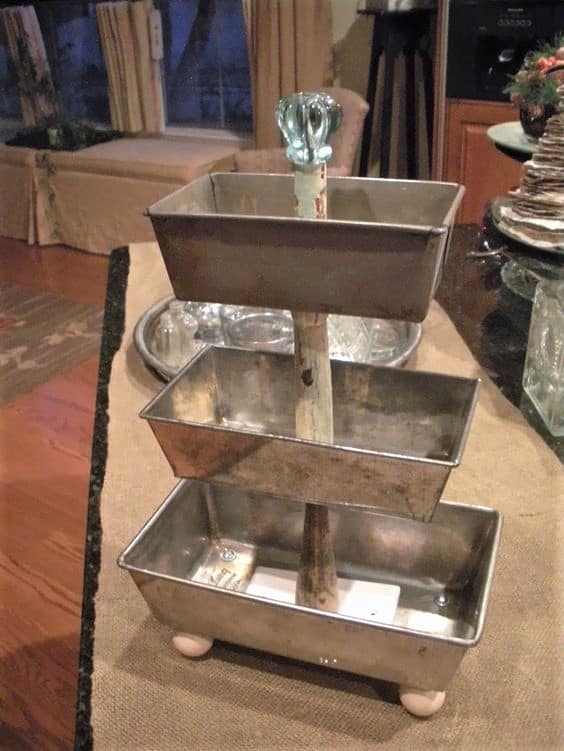 7. Shower Head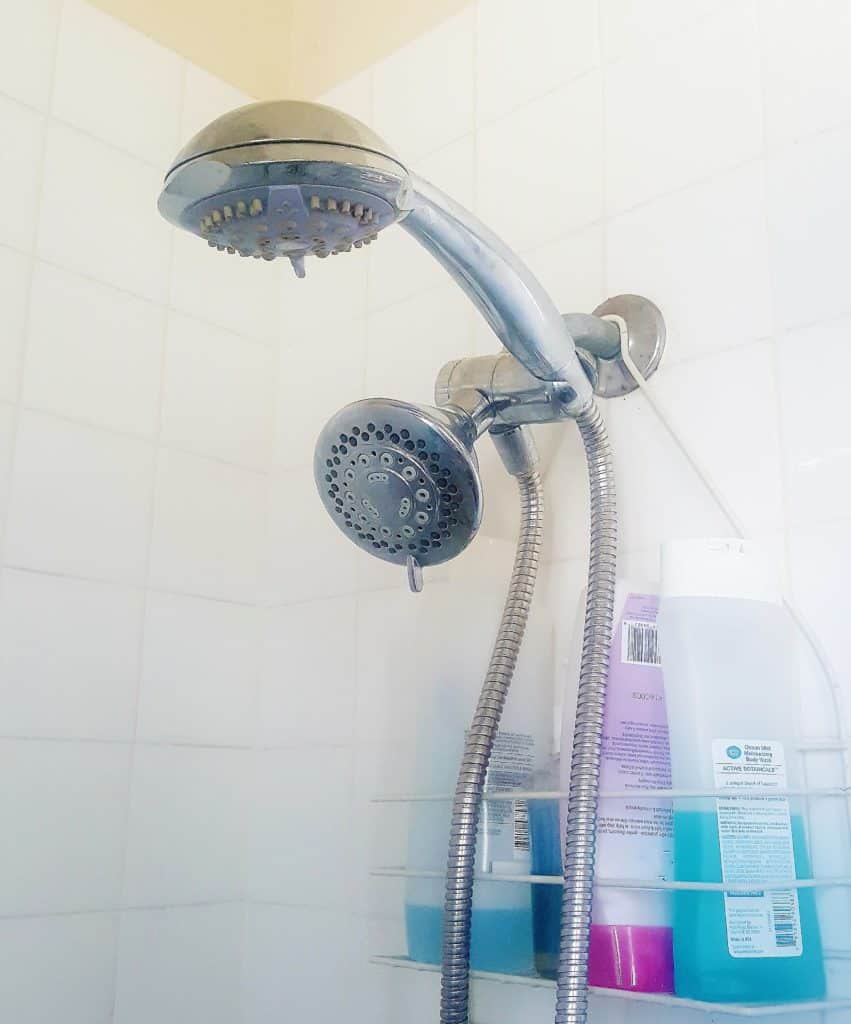 Replacing your shower head may seem like a difficult and expensive task but it's far from it. We opted for a shower head and hand held combo. It instantly gives your shower a spa like feel not to mention made other tasks like washing the dog or cleaning the shower super fast and easy.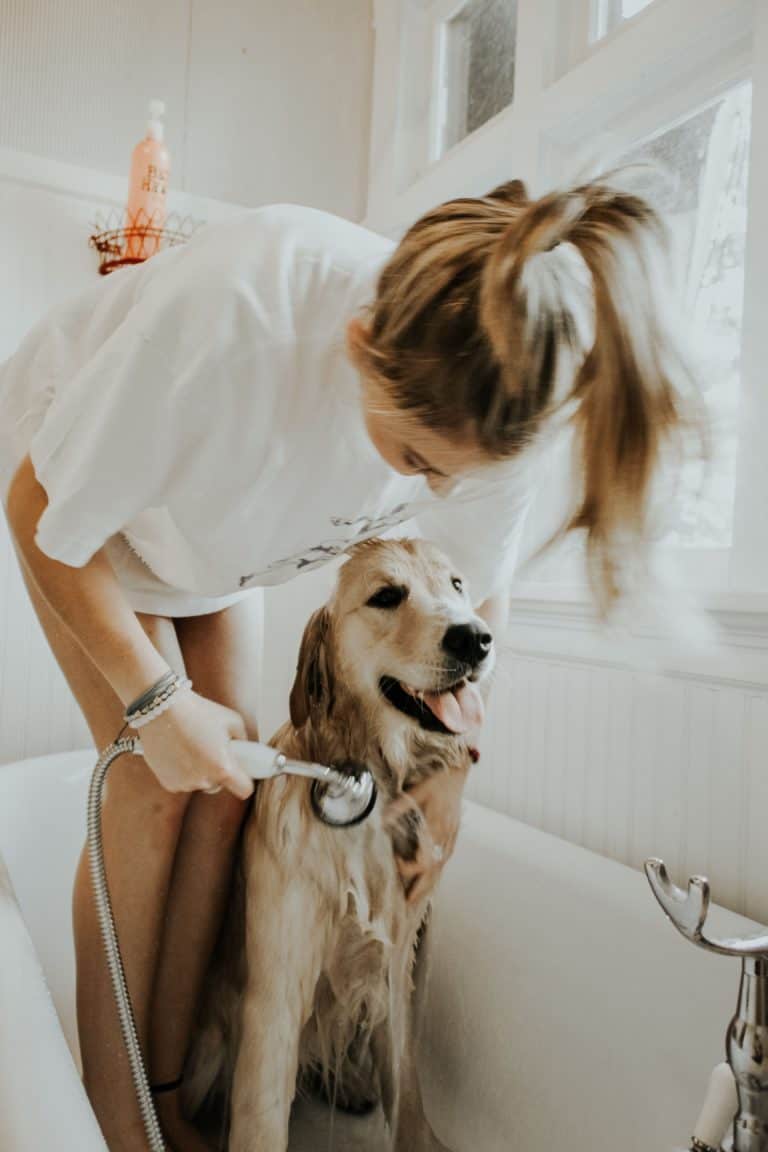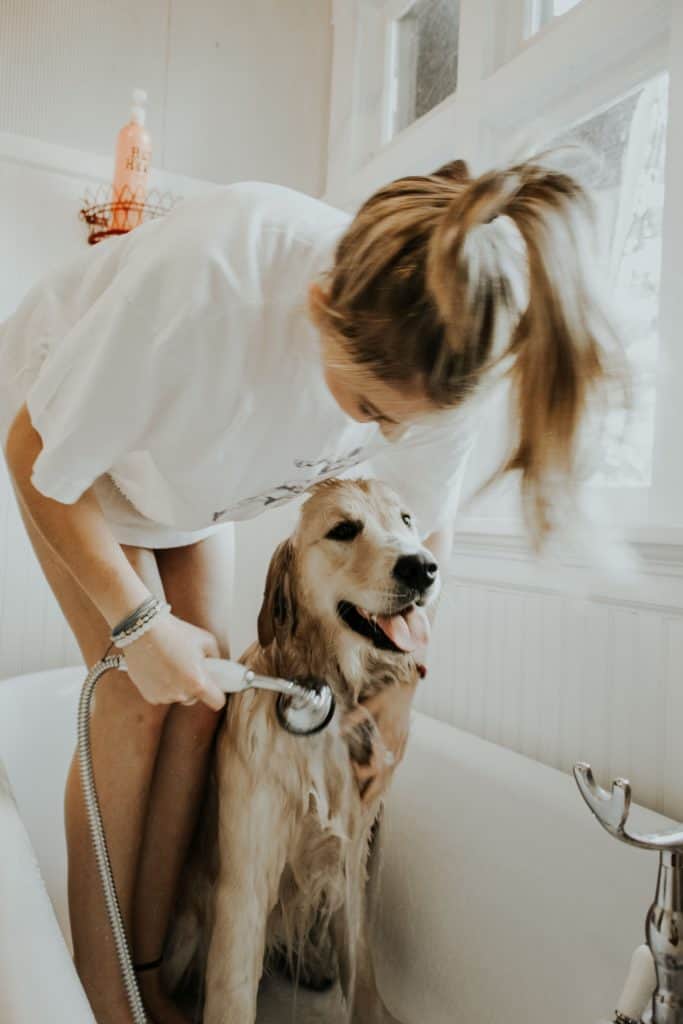 A handheld shower head also makes a great gift for elderly or aging relatives as it makes rinsing hard to reach places convenient.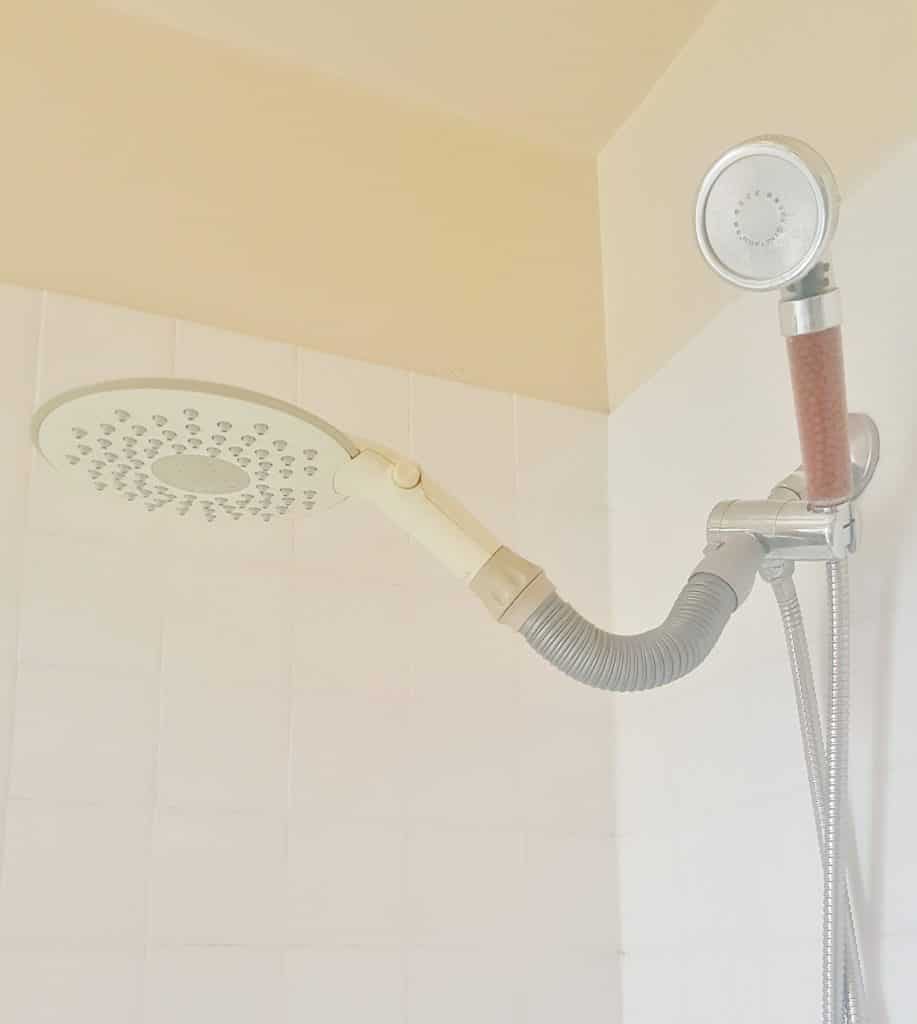 The shower we put the Ginetarr handheld shower head (above) in is the one everyone wants to use. It delivers a STRONG high powered stream while conserving water, and the beads are supposed to filter your water.
Bonus tip: If you find another shower head down the road that you like better you can easily switch it out and keep the handheld portion. There are many easy to follow tutorials on how to change your shower head online.
8. A pop of color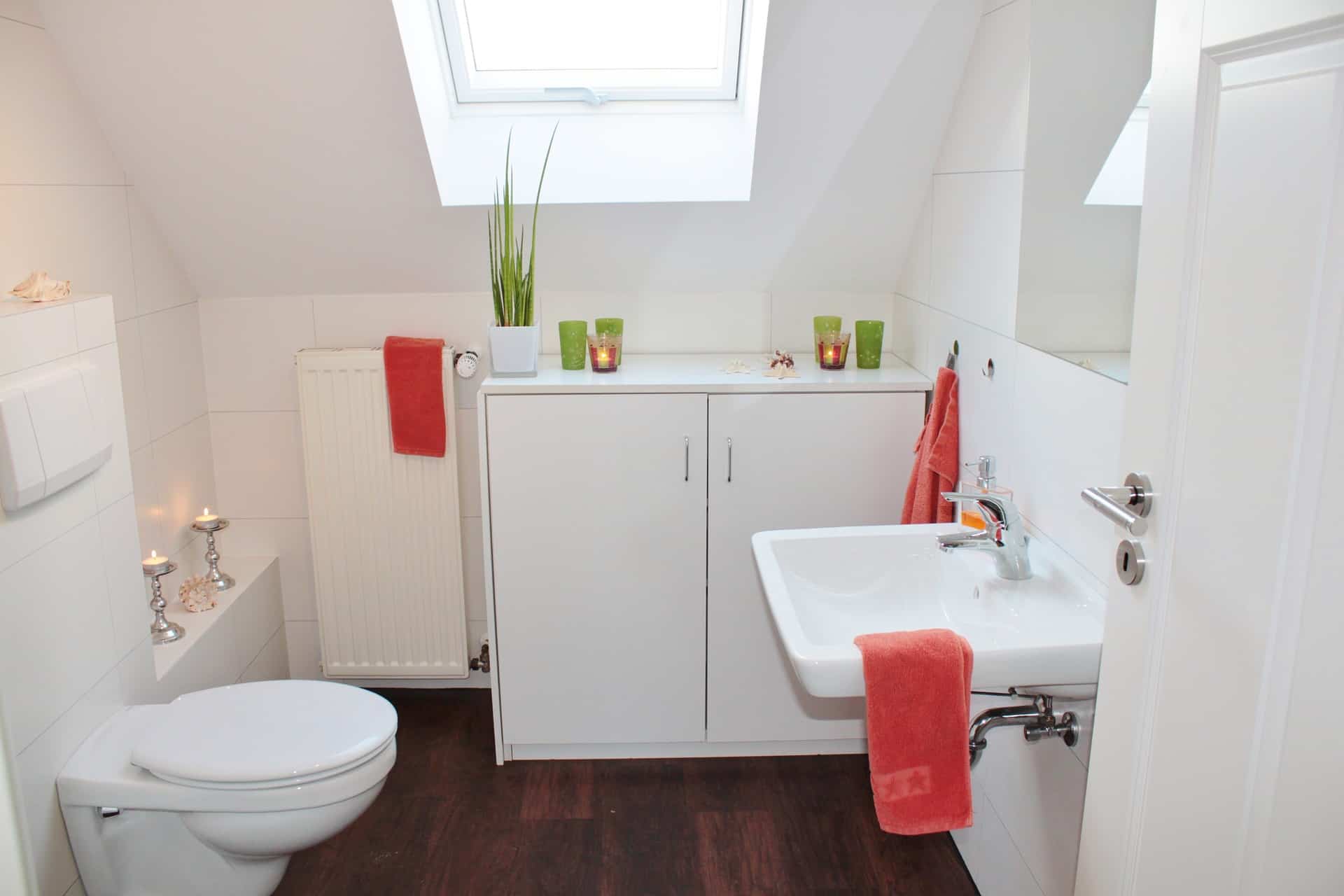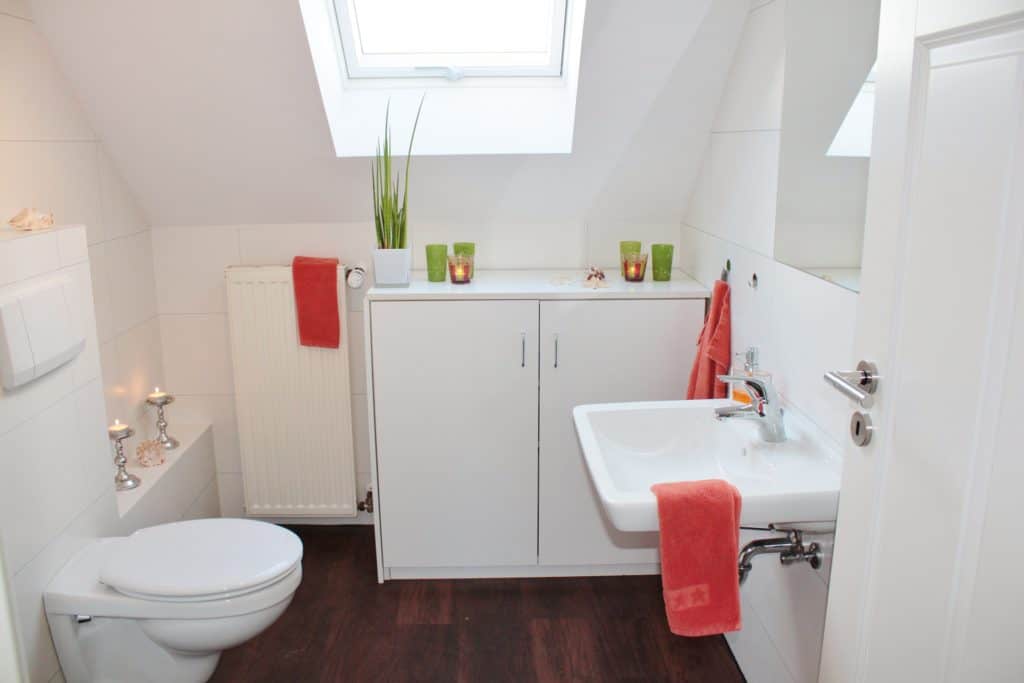 This is probably the easiest way to liven up your bathroom decor. Whether it's towels, candles, a plant, rug, vase or even baskets, adding a pop of color will make the most bland bathroom look stylish. If bold colors aren't your thing, try metallics or neutrals for a more elegant flair.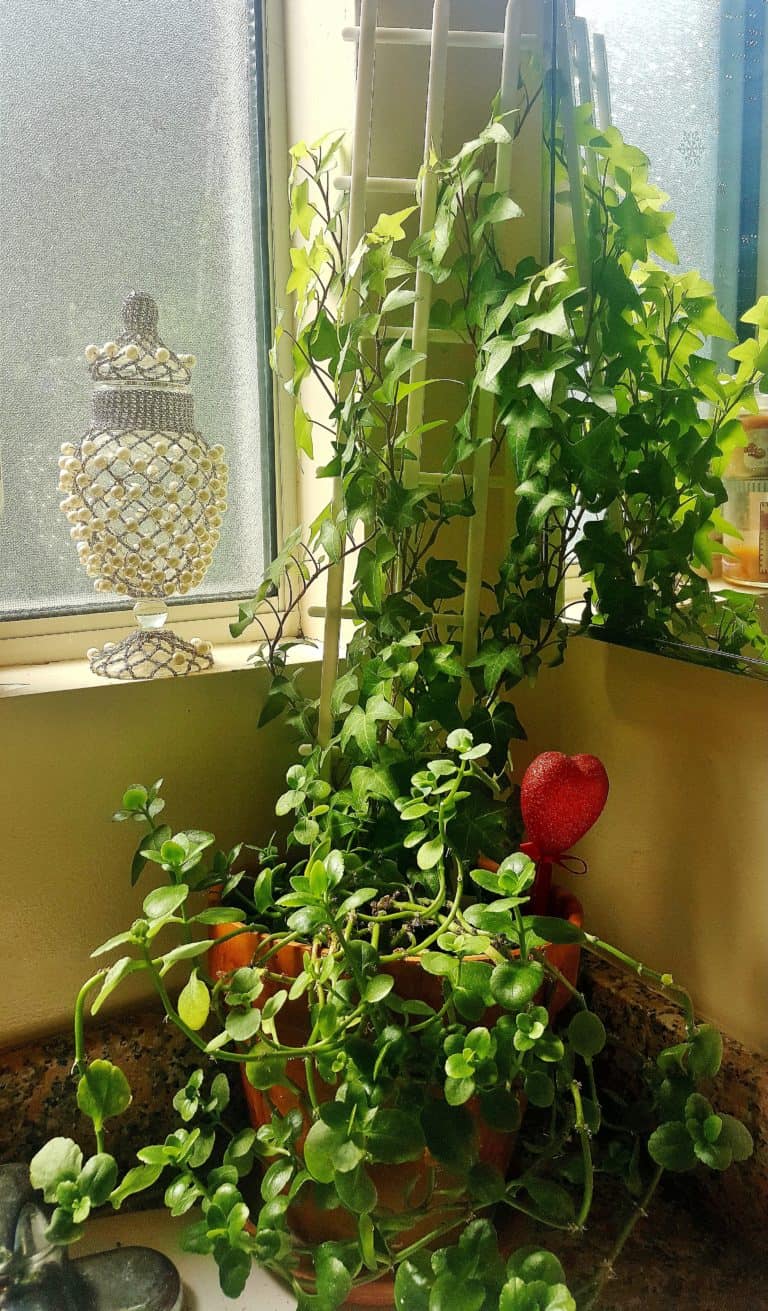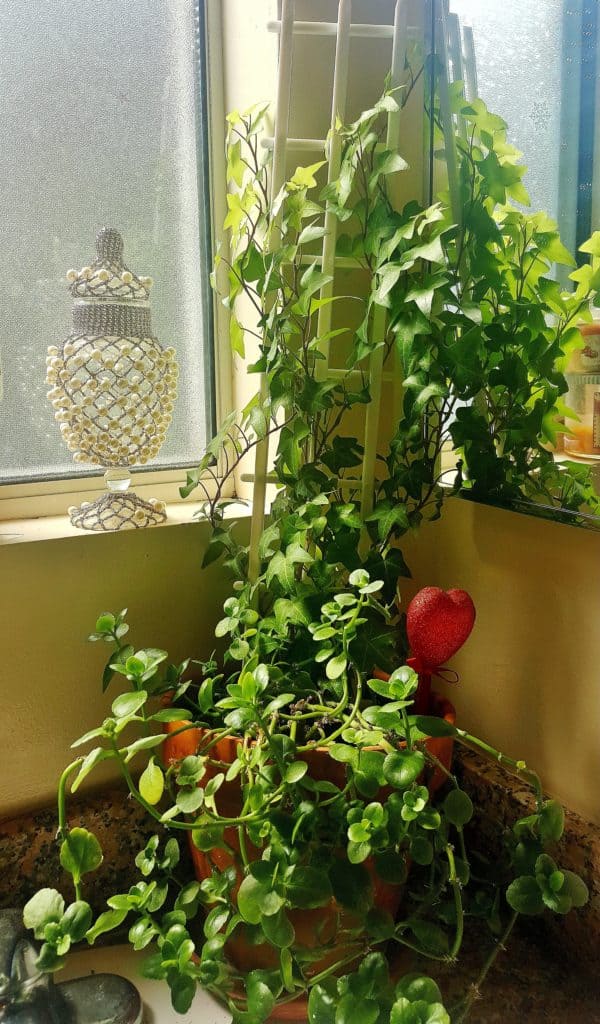 Plants are our favorite way to add a pop of color to a bathroom. They not only breathe life into your bathroom but also help purify the air of feces, mold, and chemicals. If you're on a budget, you can purchase plants for low cost at most grocery stores ( be sure to checkout the clearance section after Valentine's Day) or even the 99 cents Store.
Air filtering plants come in many attractive varieties. English Ivy is one of NASA's top air purifying plants, it specifically targets feces and mold. Just be sure to keep it away from cats and dogs as it is toxic to them. Another favorite of NASA's is the Peace Lily which filters out toxins like formaldehyde from the air. Aloe vera is a great choice to filter out the chemical benzene, you can also break off a leaf to use on your skin and it's super hard to kill.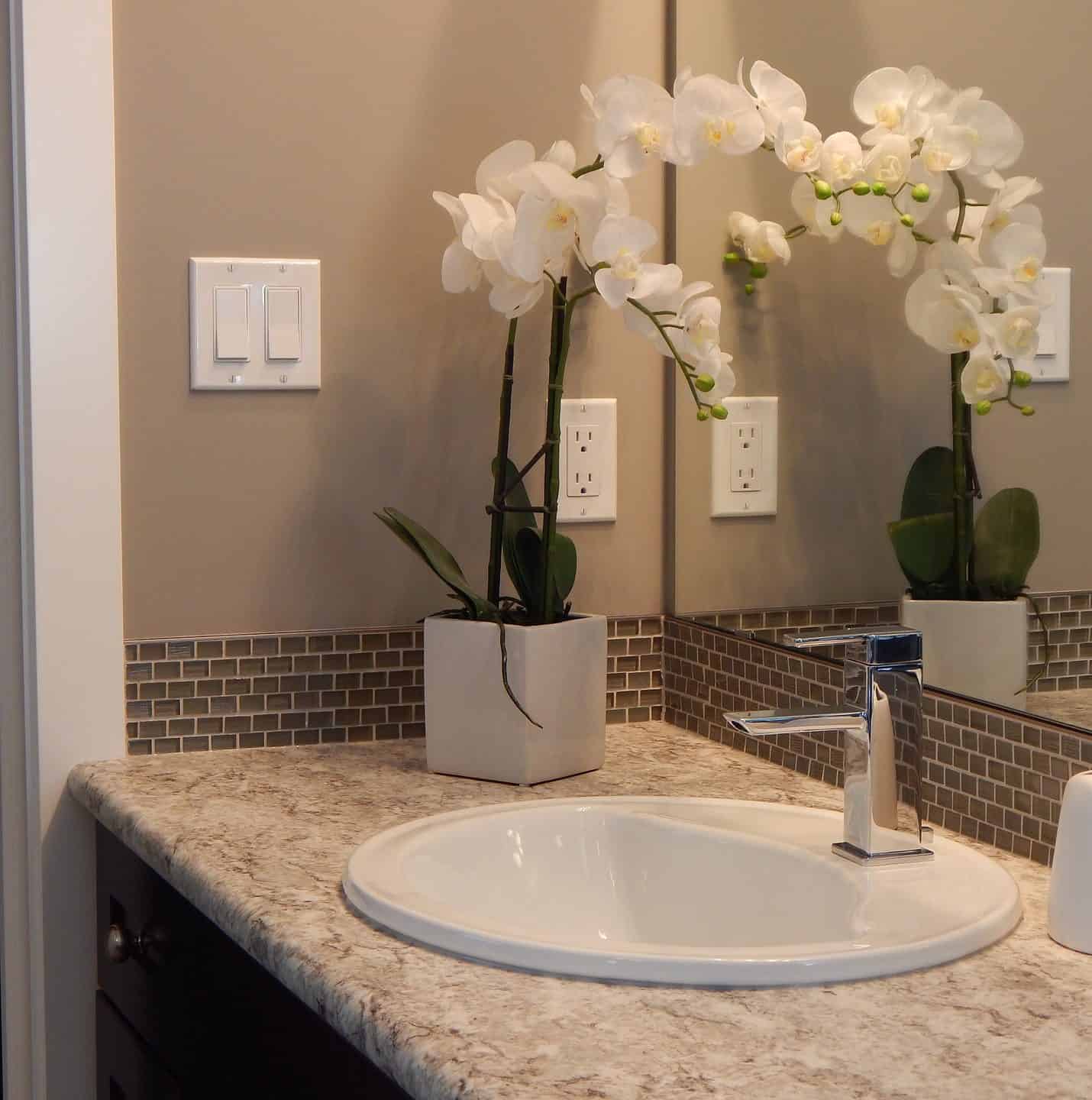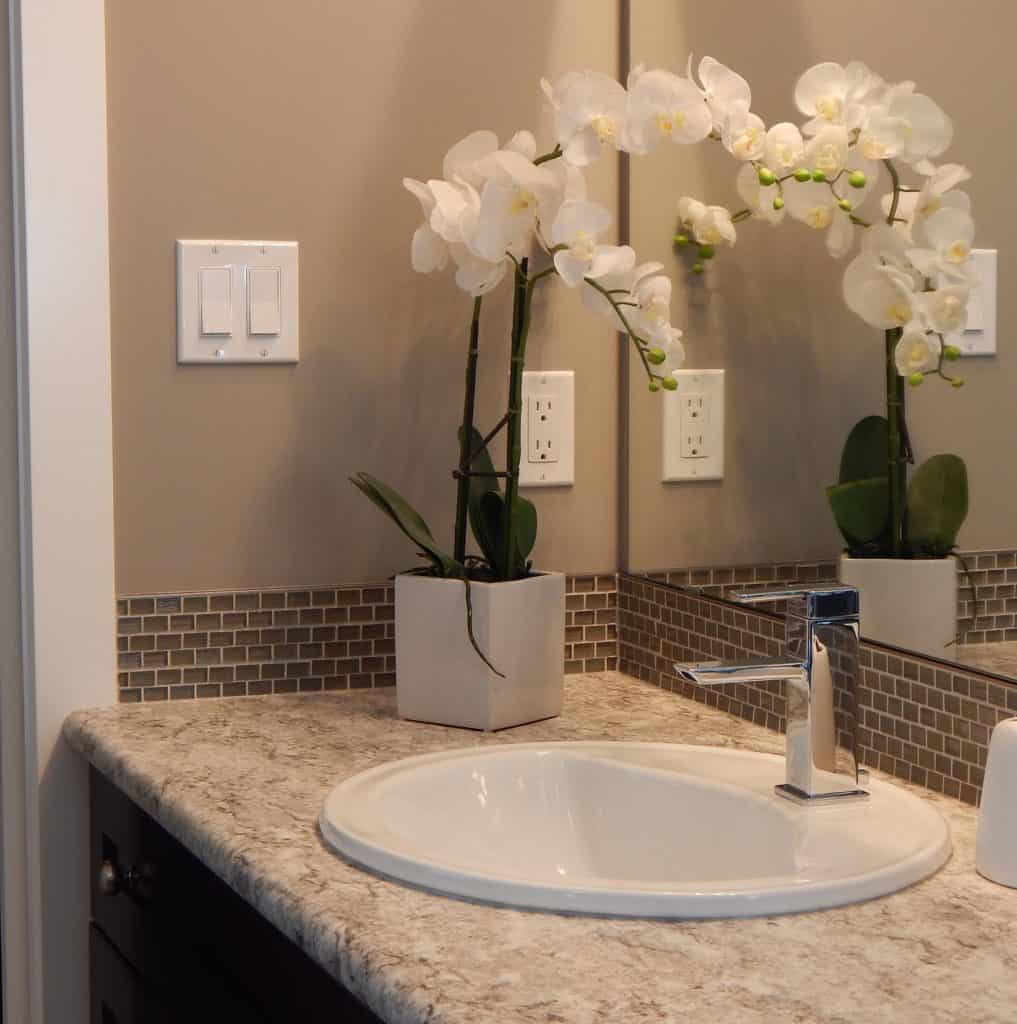 If you have a very dark bathroom you may want to try bamboo since it needs very little light to grow and requires no soil, or an orchid which filters out the chemicals toulene and xylene. Other great bathroom choices are Begonias (they have beautiful flowers), Boston Ferns, Cast Iron Plant, Chinese Evergreen, and Dragon Plant.
9. One or a few of your favorite things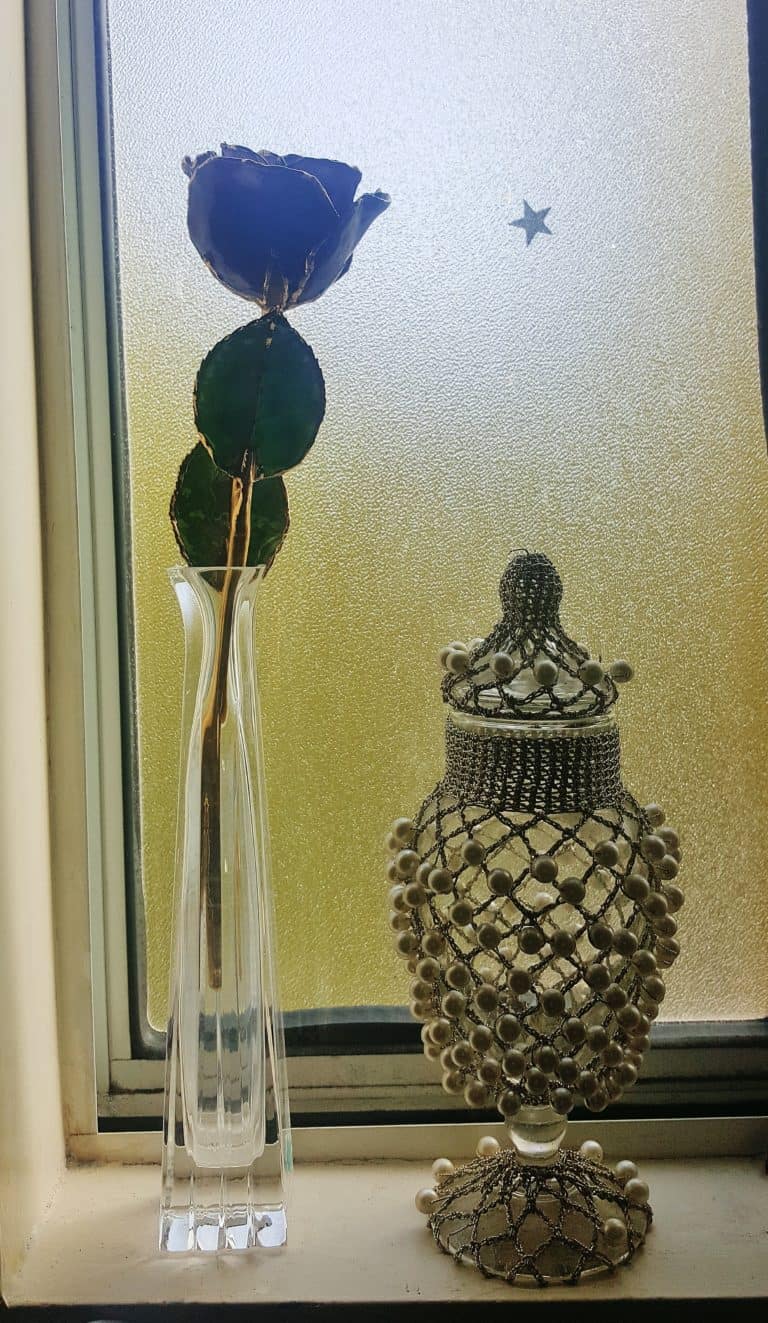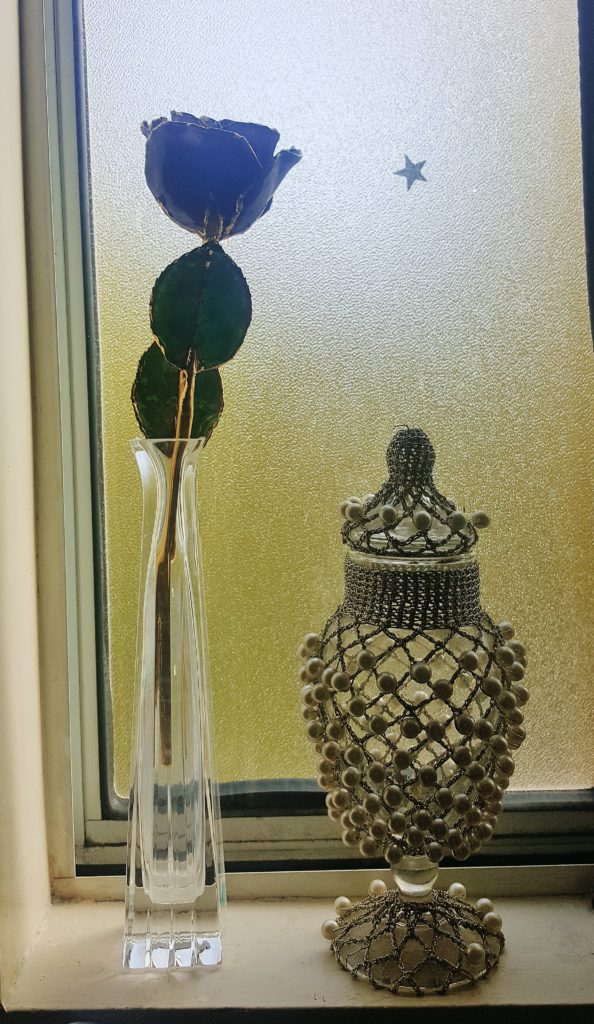 Sometimes a bathroom can be where we go to relax so it only makes sense to have one or a few of your favorite things in there.
Whether it's a picture or photo, a pretty container to hold cotton balls, a keepsake, a candle or even a decorative mirror, find something that will make you happy when you see it in the morning and feel relaxed when you see it at night.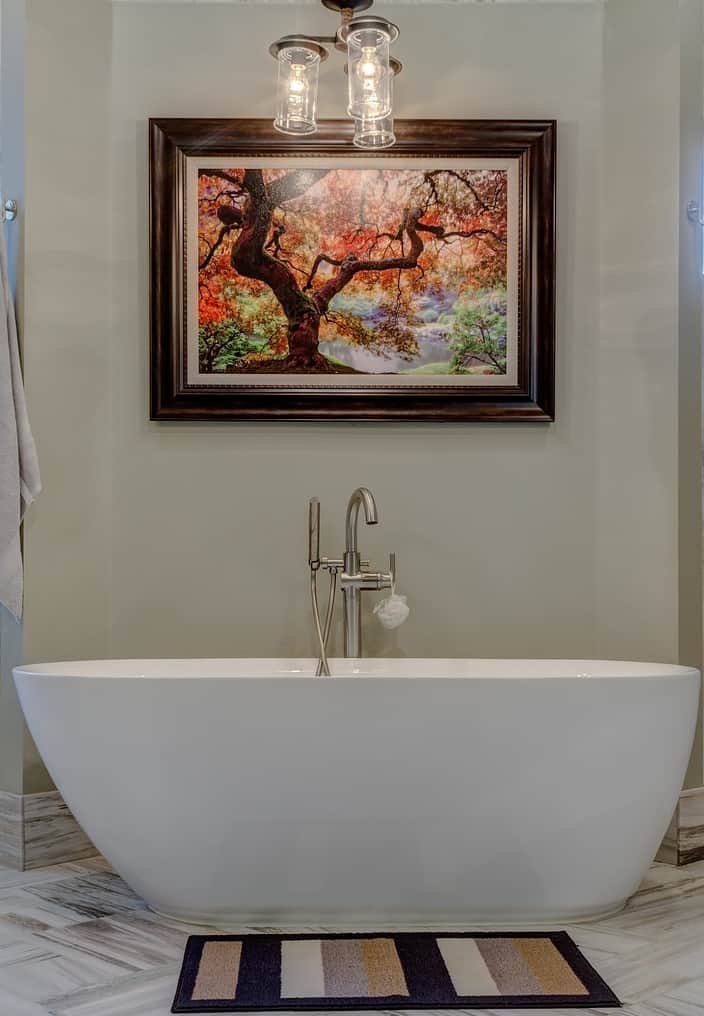 10. Find A New Home For Your Nail Polishes


Contrary to popular practice, the bathroom is not the best place to store nail polishes. Constant exposure to heat and humidity can make them gloppy and shorten their life span.
To free up much needed space, store nail polishes anywhere outside of your bathroom. We made this DIY Dollar Store Nail Polish Rack using craft supplies we already had. What makes it special is it stores nail polish remover, cotton balls, and accessories along with 100 nail polishes. You can easily make a smaller one to suit your collection. Having manicure essentials openly displayed in one easily accessible place will make doing your nails such a pleasure!
---
It's AMAZING how just a few simple steps transformed the look and efficiency of our bathrooms. Not only have we saved time and money but reduced anxiety and jitters. No more struggling to get ready for a special event or important interview, or buying products that we didn't know we already had. Everything is now easy to find and in an aesthetically pleasing way. Determine what causes you the most stress in your bathroom, follow these tips, and you'll see a world of difference in your morning routine.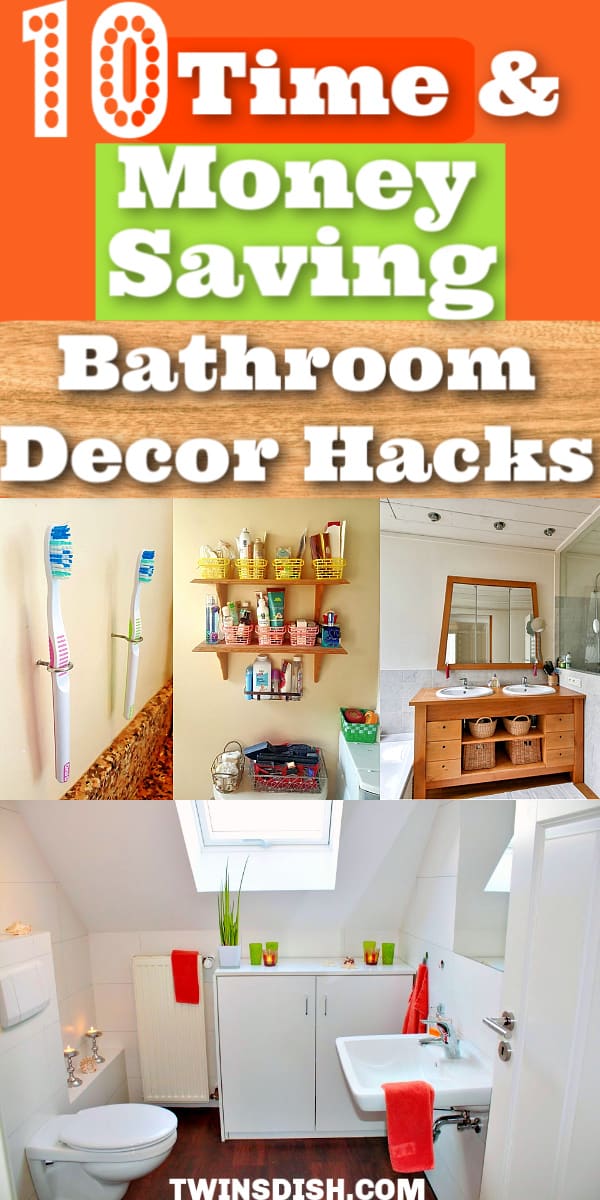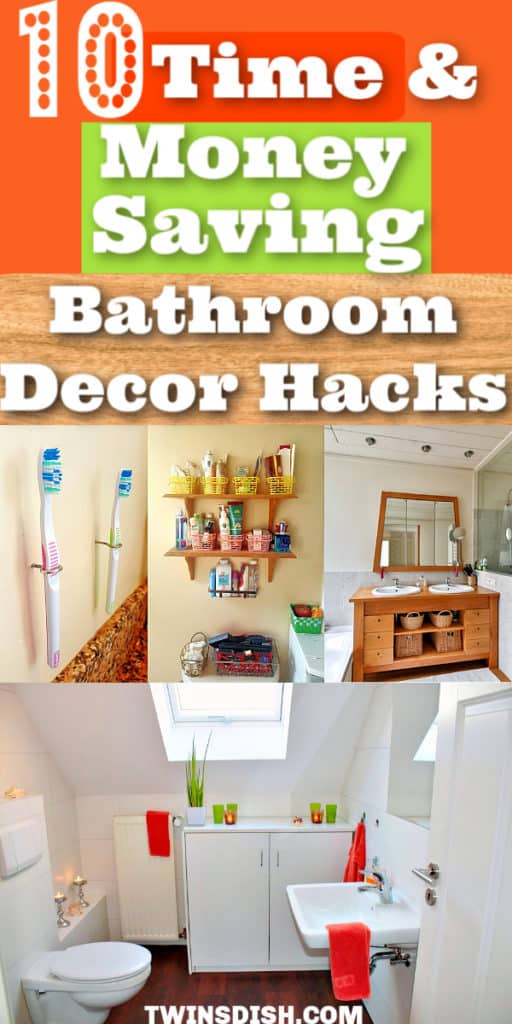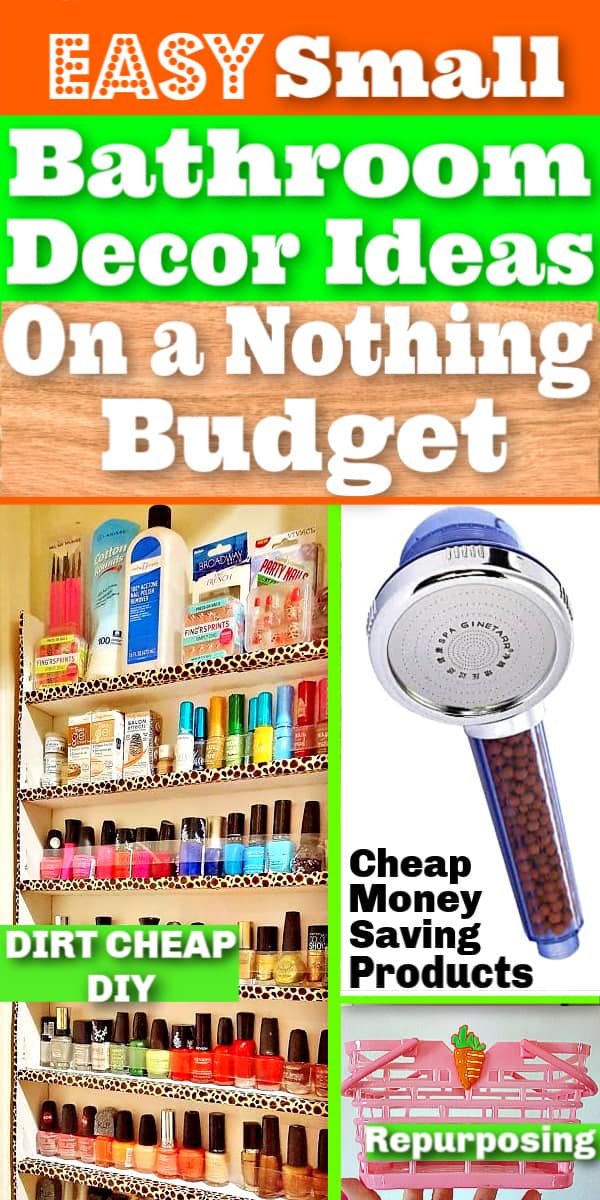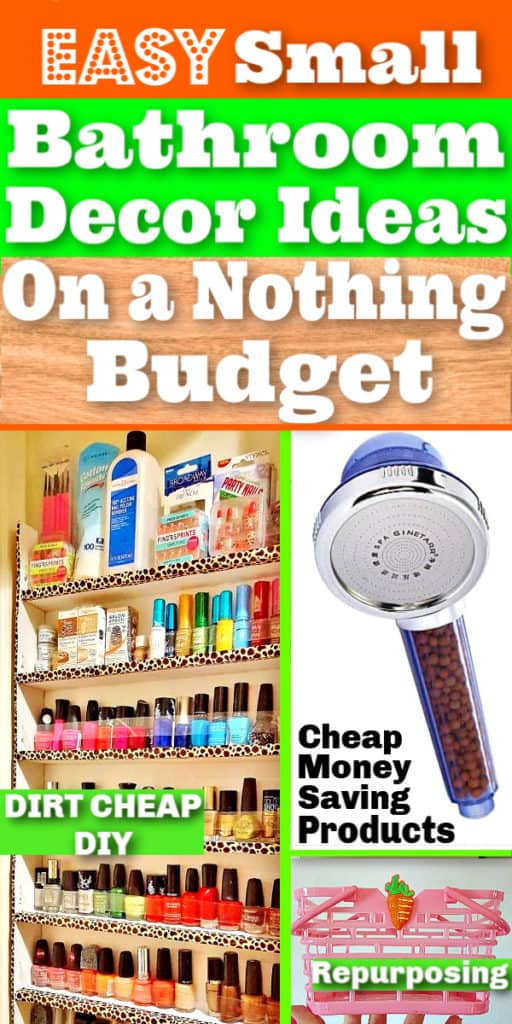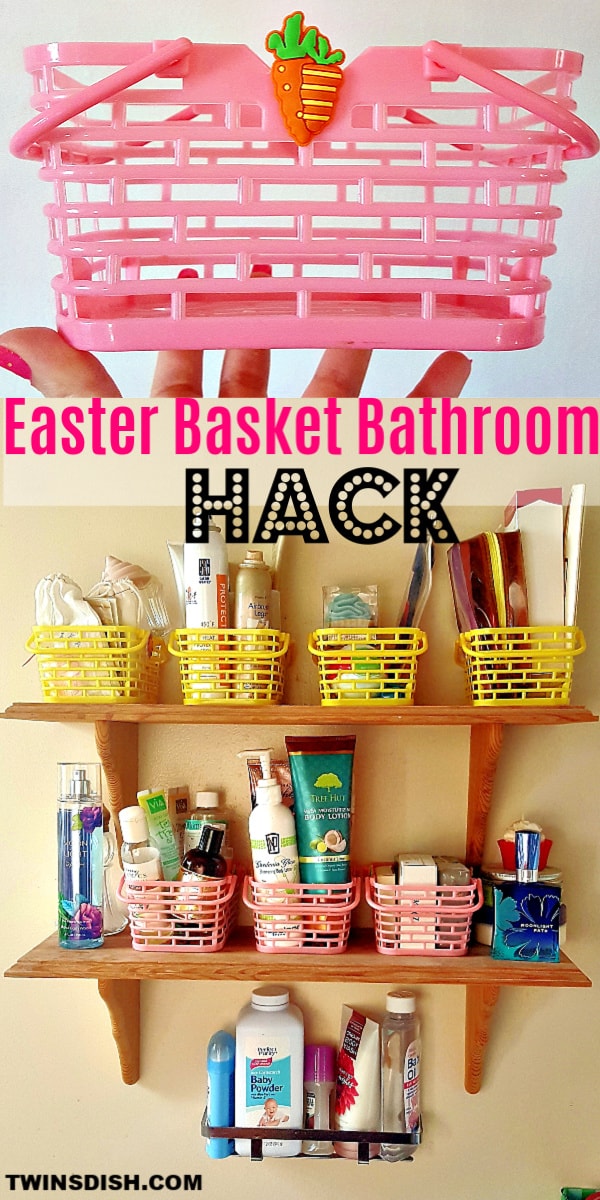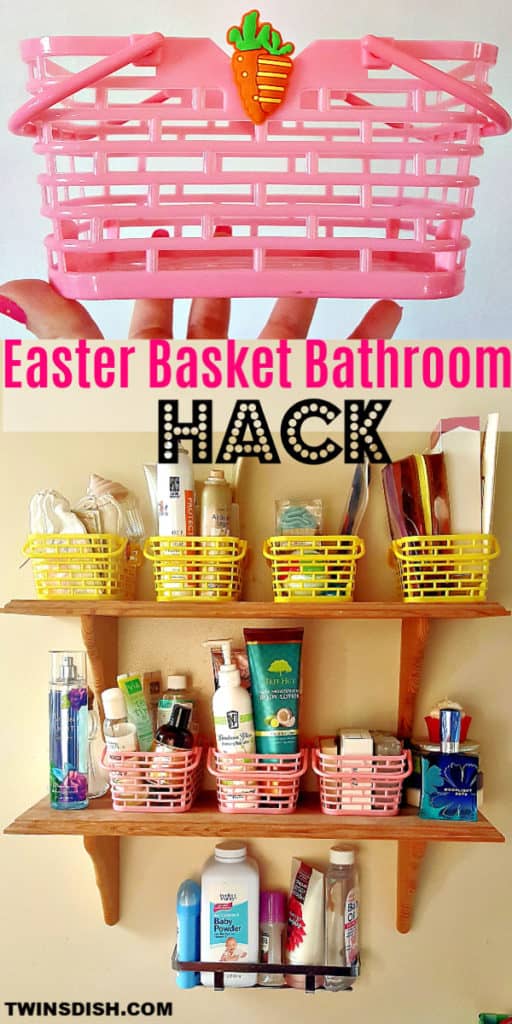 Posts we think you'll like: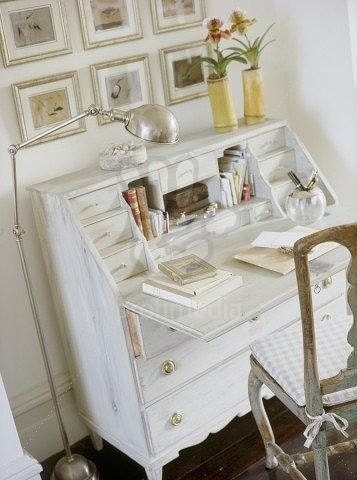 The Perfect Dorm and Small Office Space Solution