11 Of The Best Picture Display Ideas For Your Grad Party
Updated 2023
Show off all of the best memories from your school career in style without breaking your back or the bank!
Photo decorations are the perfect way to set the tone for your graduation party.
The trick is knowing where to display them and how so guests will actually see them.
Here are 12 of the absolute best, easiest, and most attractive Grad party decoration ideas and tips using photos that you'll ever find.
Some can even double as keepsakes that family can take home and cherish. All made the biggest impression on us at the Grad parties we've attended and we're sure they will on your guests too.
You're going to want to pin this!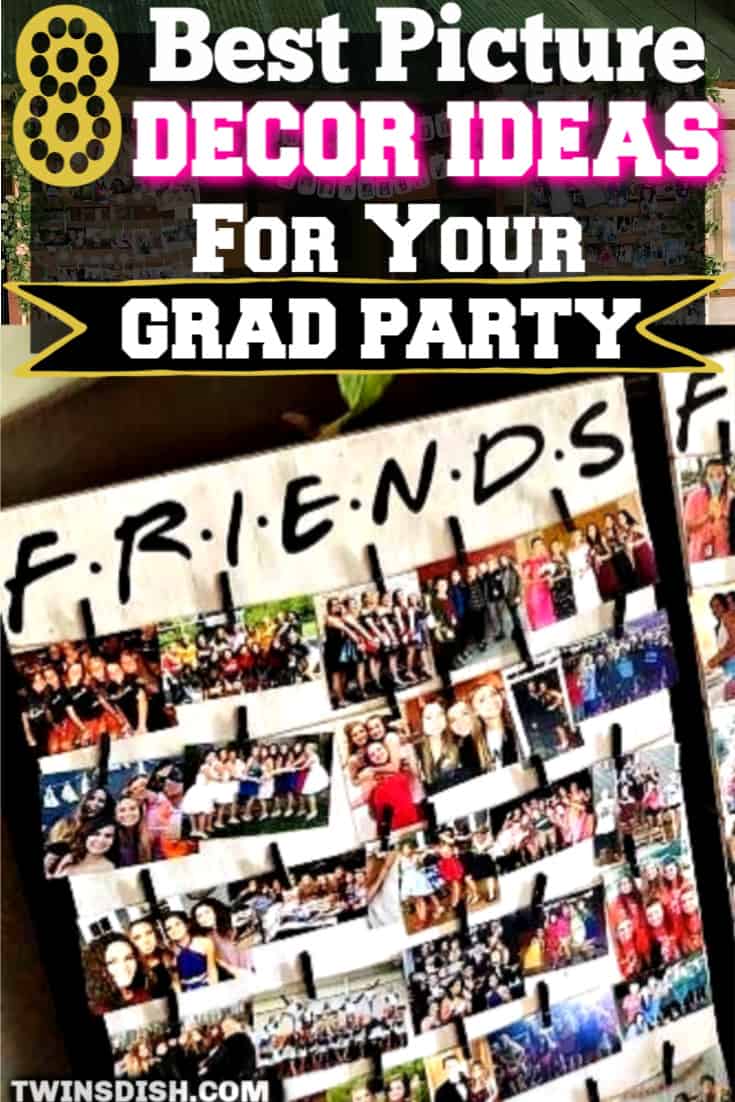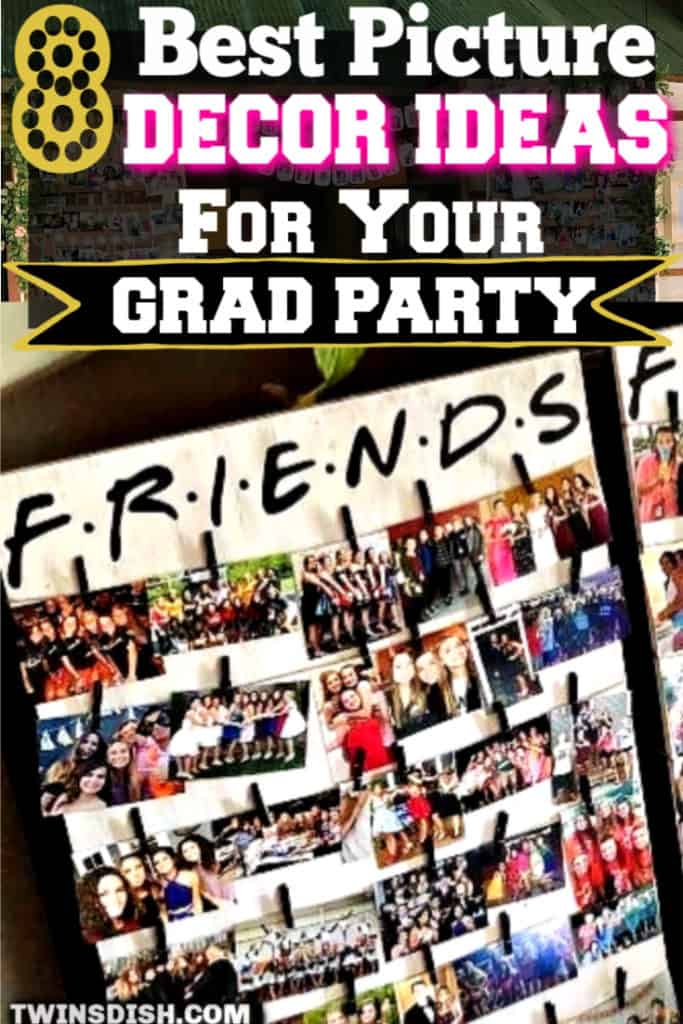 1. Easy DIY "Friends" Photo Display Idea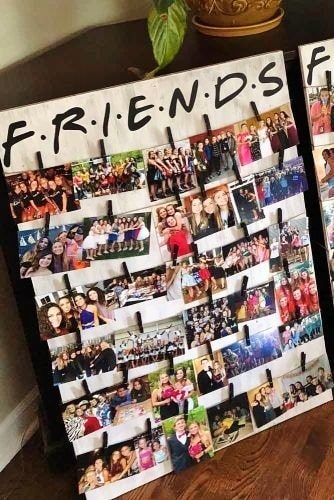 SUPPLIES:
How could we get through school if not for our friends?
Friends are probably one of the things you'll miss most about your school career so give them their own special place at your party with a designated picture display or display area.
You can label cheap dollar store poster board and hang your favorite pictures using string and clothespins as an ode to the most cherished memories with your squad.
If you're hanging all of your pictures on one wall then make a special section labeled, "Friends".
---
2. Graduation Photos Banner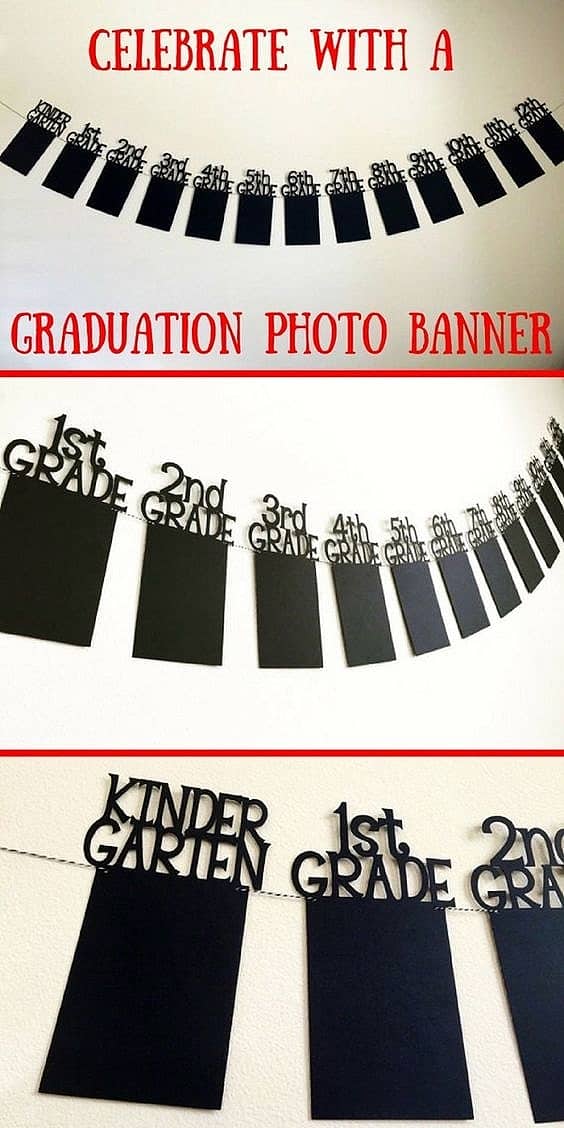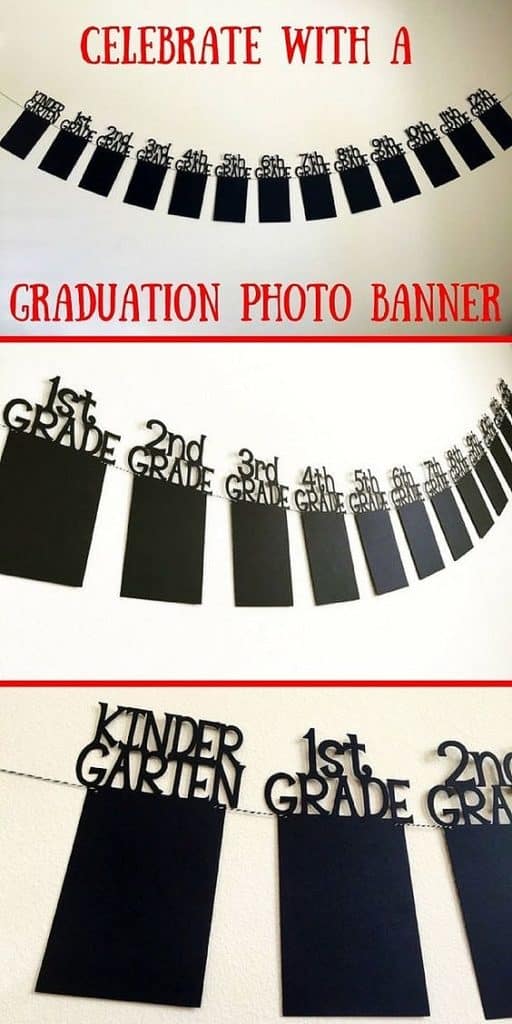 Why not put all of the photos showing off every year of your school career in one place like the one above found on amazon (click here)? It's dirt cheap and guests can enjoy your glow up through the years!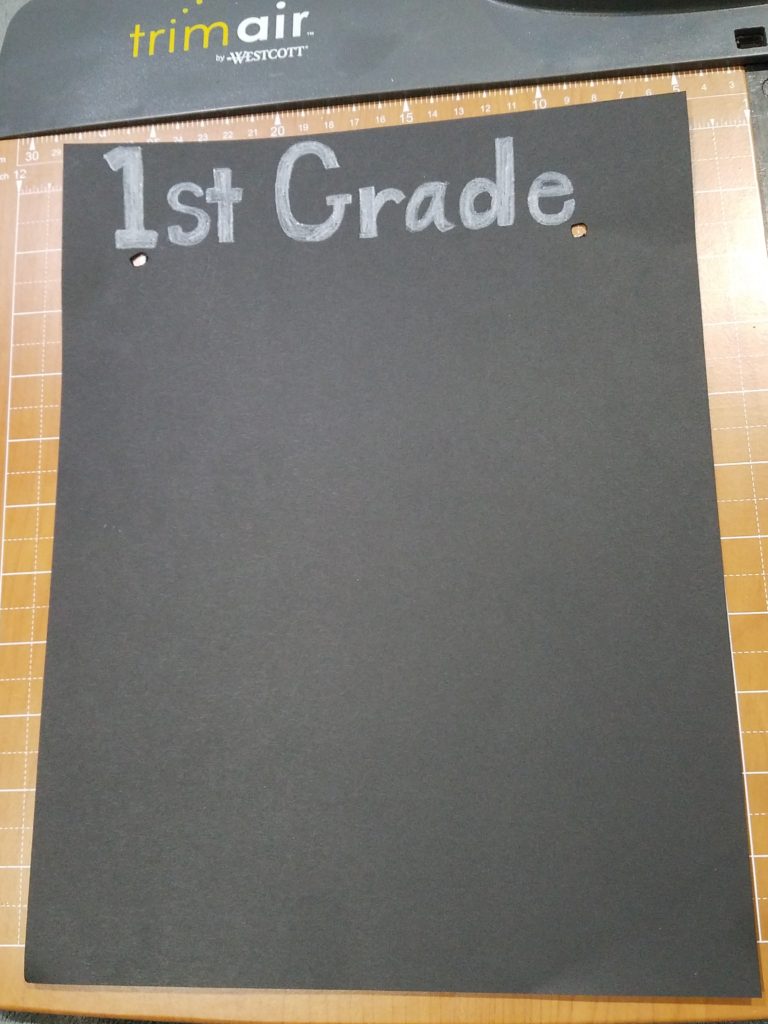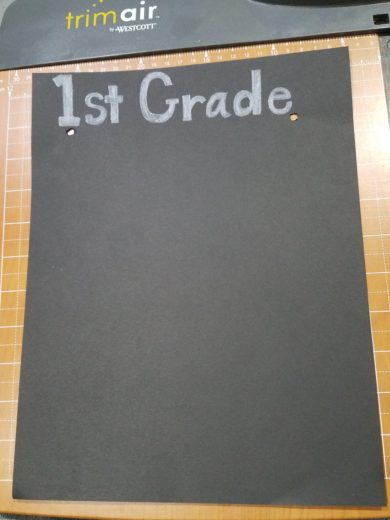 If you like to DIY you can easily make one yourself using string and dollar store card stock by writing or printing out labels for every grade at the top of each sheet, poke two holes and hang on a string.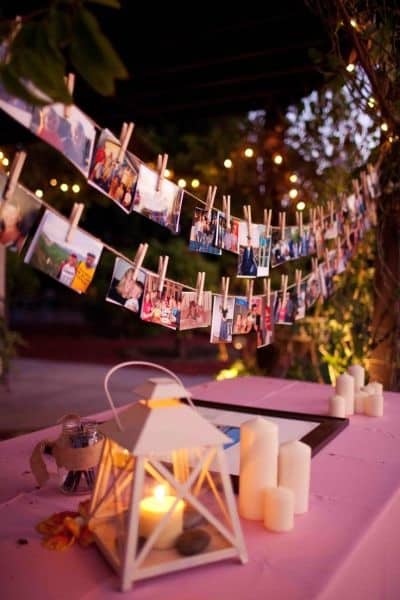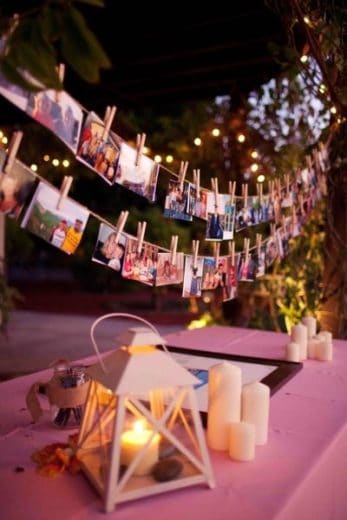 SUPPLIES:
You could also skip the holes and clip it to a string using clothespins.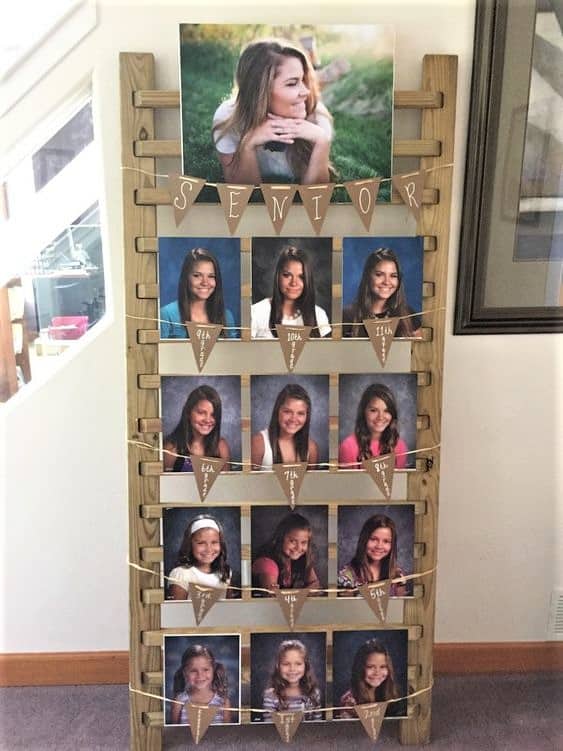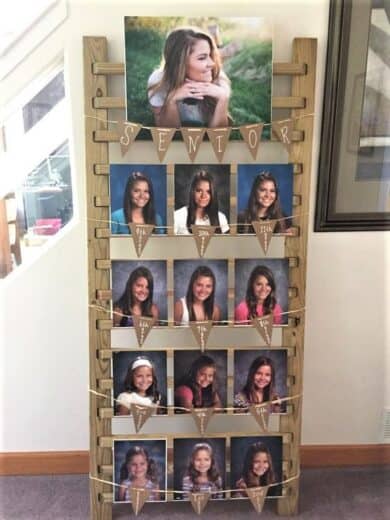 SUPPLIES:
Use wood railing for a rustic look and stringed flags to label each grade. Lattice would also work beautifully.
---
3. Trip Down Memory Lane Driveway Decor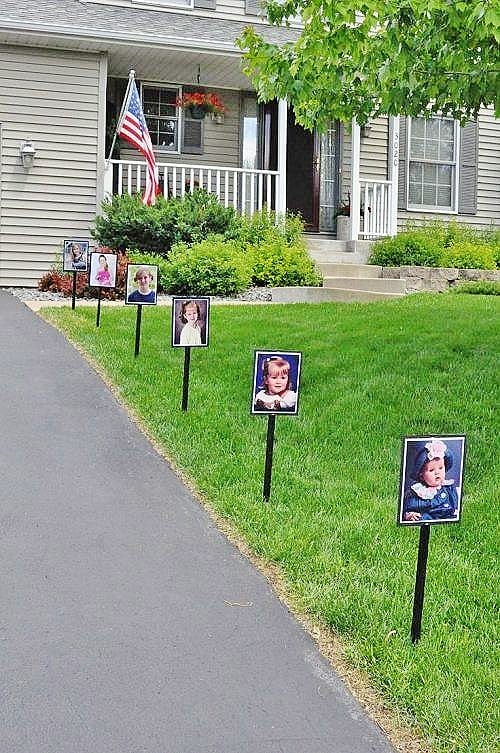 SUPPLIES:
Showcase your past School photos in your front yard to ensure guests know which home is yours.
Use yearly school photos, card stock, Glue or tape, and wood or plant stakes to decorate the driveway giving guests a trip down memory lane literally.
You can also do this in long hallways or entrance ways or in the backyard.
---
4. Photo Wall of Memories Display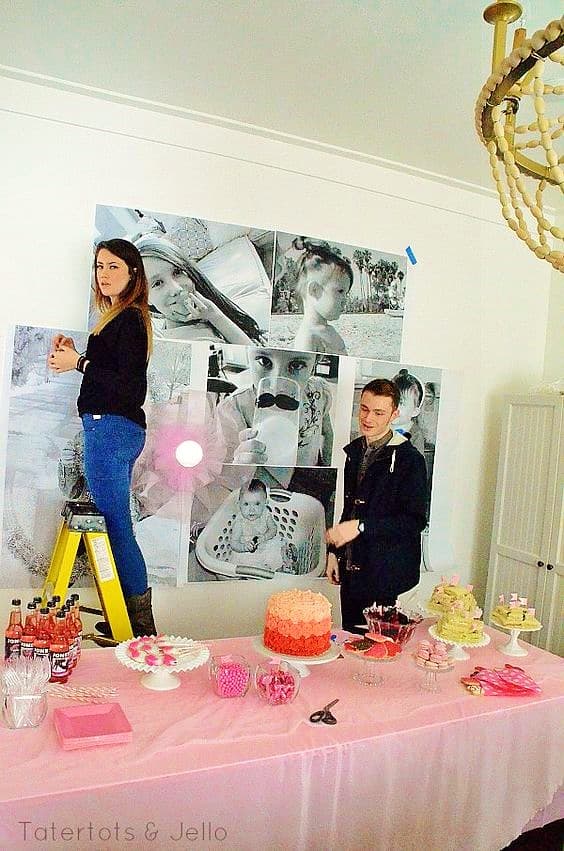 Make an indoor or outdoor wall or fence purely for the Graduate's photos. This is a great option for behind the food table, where people are going to spend time.
You can make easy and affordable large scale photos for the wall by printing them on Blueprint paper which you can do through Staples.com.
You can also make different "walls" such as the friends wall, the graduation wall etc that display coordinating photos. Your guests can also sign the pictures like a year book.
After the party you'll have some great photos to keep or give to friends and family.
---
5. DIY Graduation Photo Bouquets and Centerpieces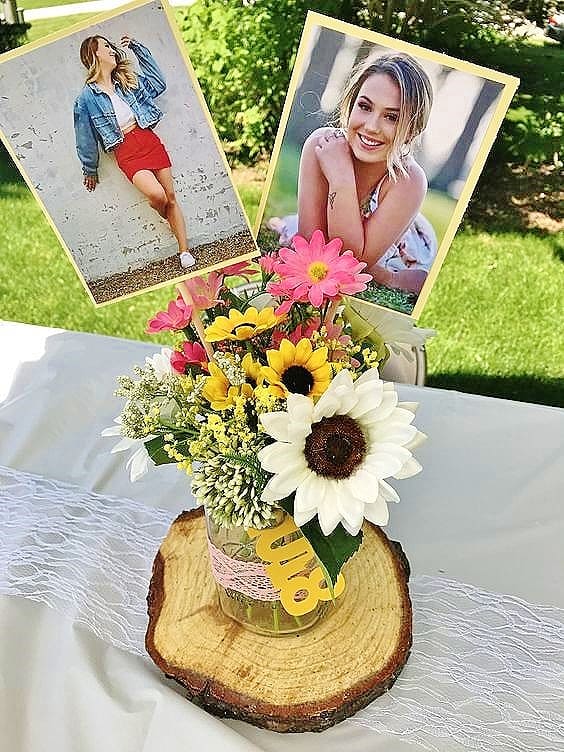 SUPPLIES:
Incorporating photos in your table centerpieces will give guests something to look at while eating, and drinking.
They're also so easy to DIY!
Glue your fav photos of the Grad on card stock, tape to wooden skewers, and insert in a flower arrangement, vase or potted plant.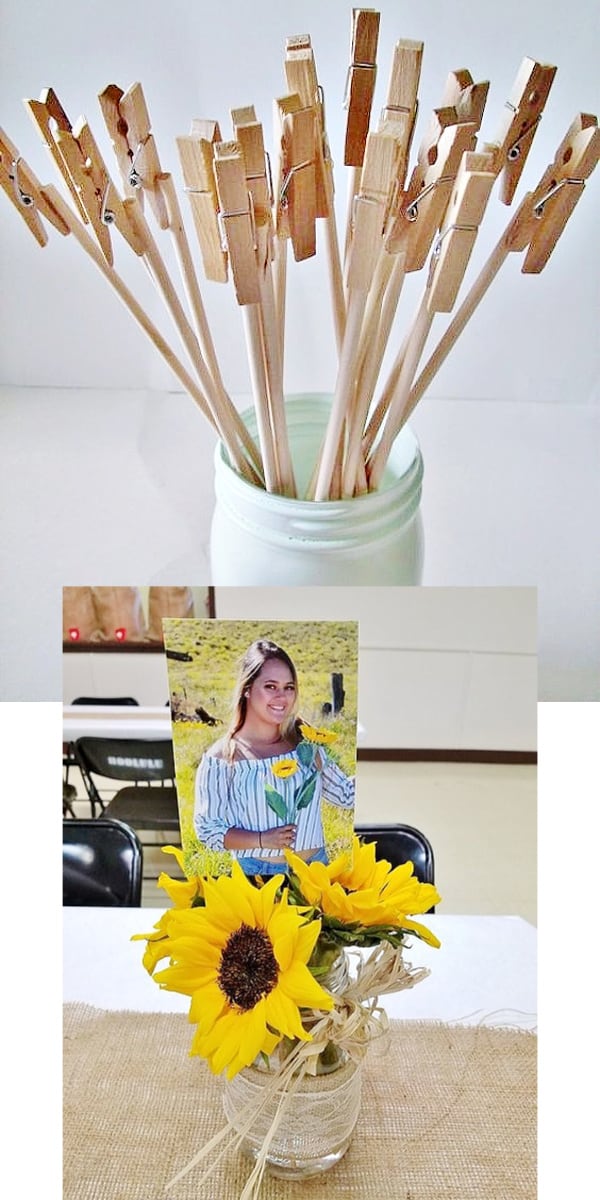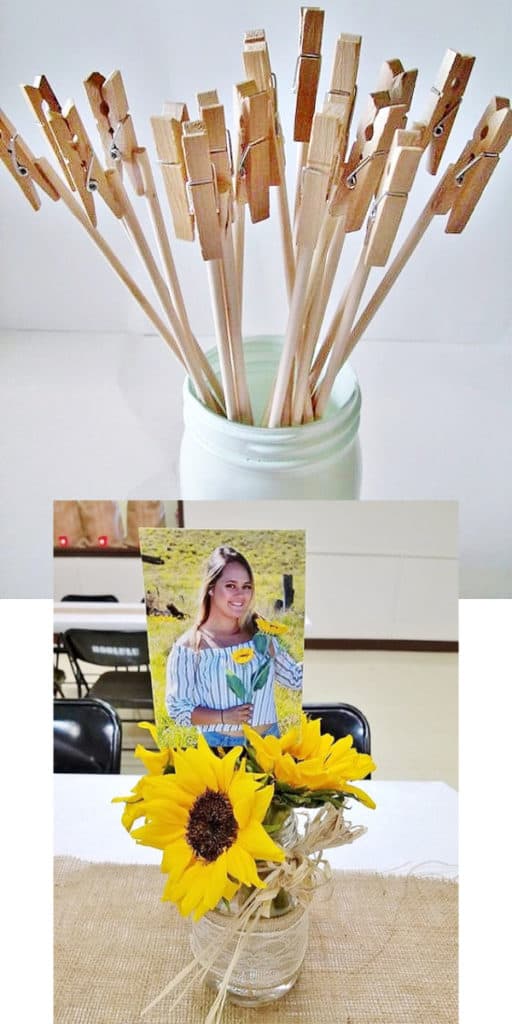 SUPPLIES:
You can also glue clothespins to skewers and clip the pics right in.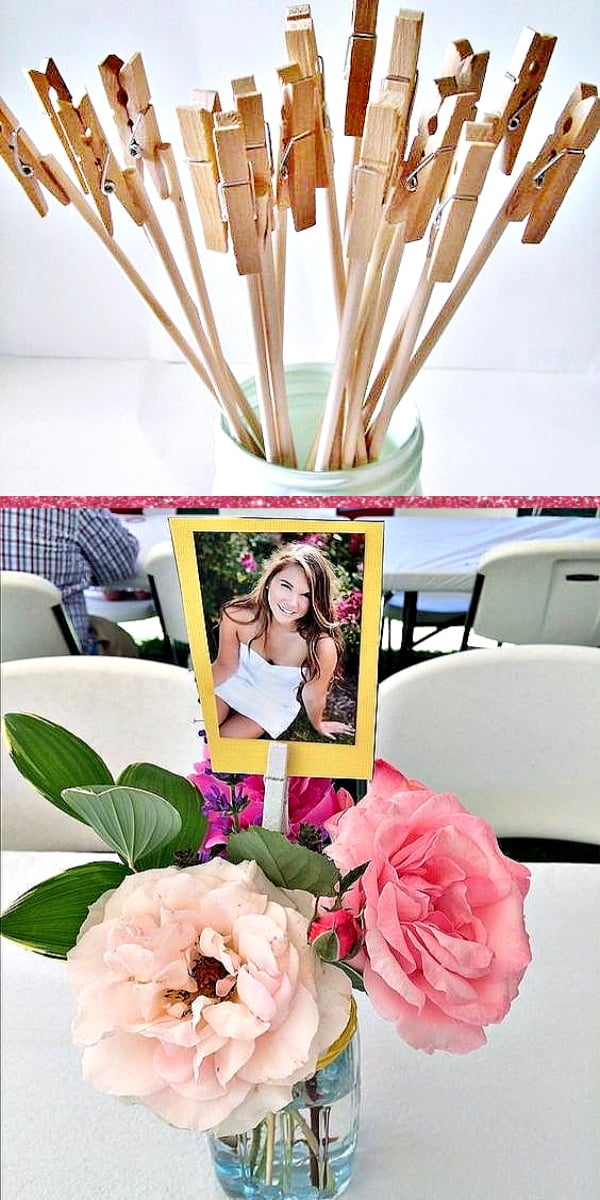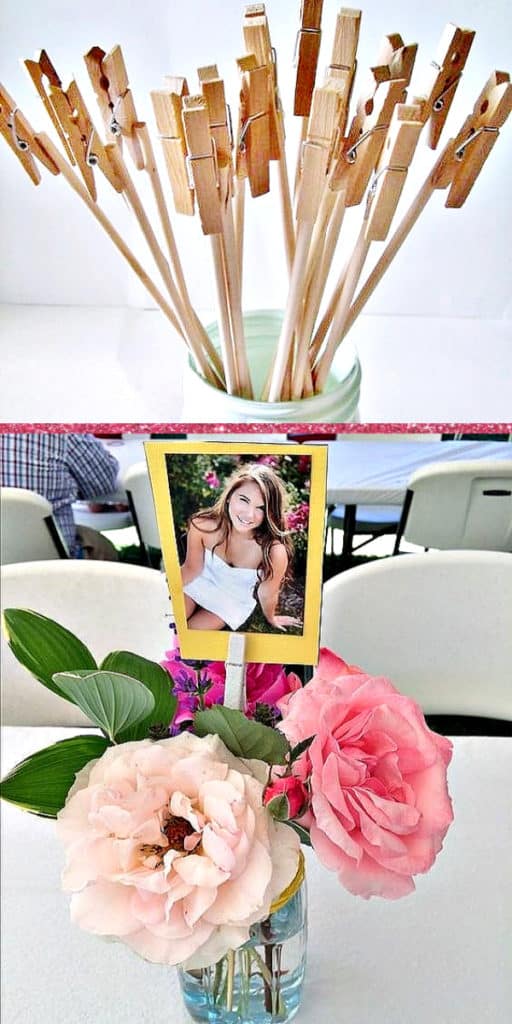 You can use two photos for each centerpiece one in the front and one in the back.
For those with a black and gold grad party theme, use black and white photos on black or gold card stock. It gives a sleeker more sophisticated look.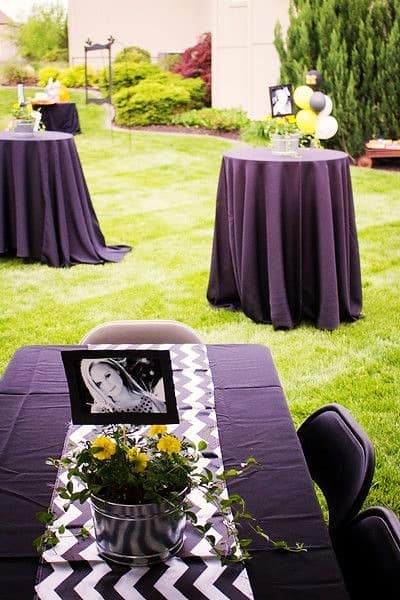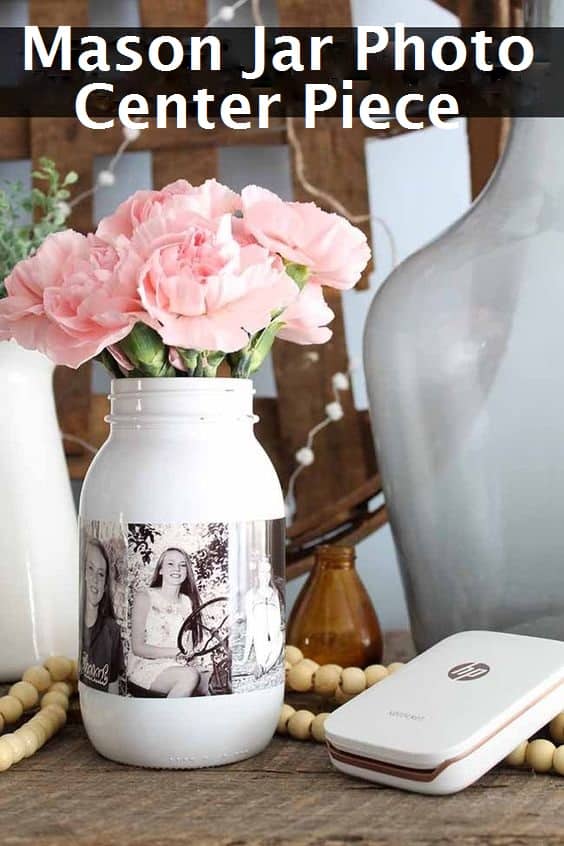 For a super easy keepsake that guests can even take home, glue photos on glass jars, clay pots, or container of your choice with Mod Podge.
You can even paint the jar before gluing the photos to match your color scheme.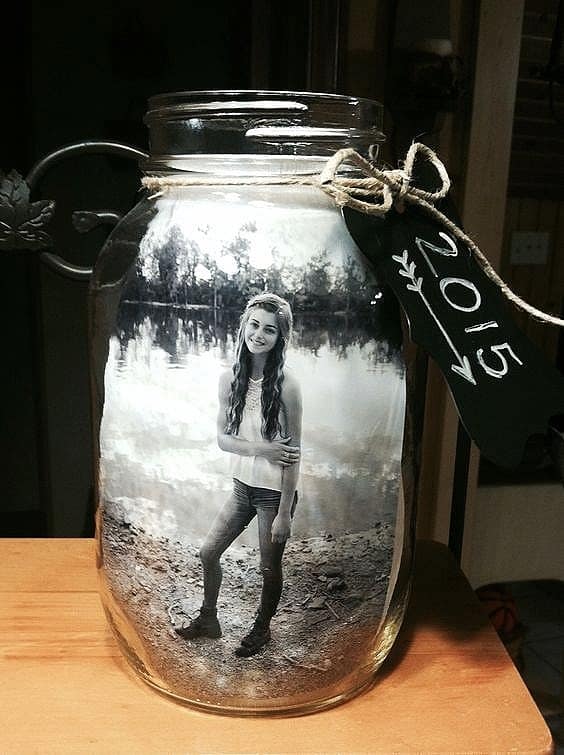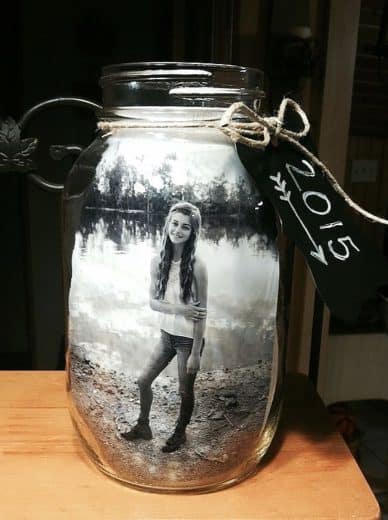 If you're short on time you can even just take an empty glass jar and stick a photo in it for an easy centerpiece. Add artificial flowers if you prefer!!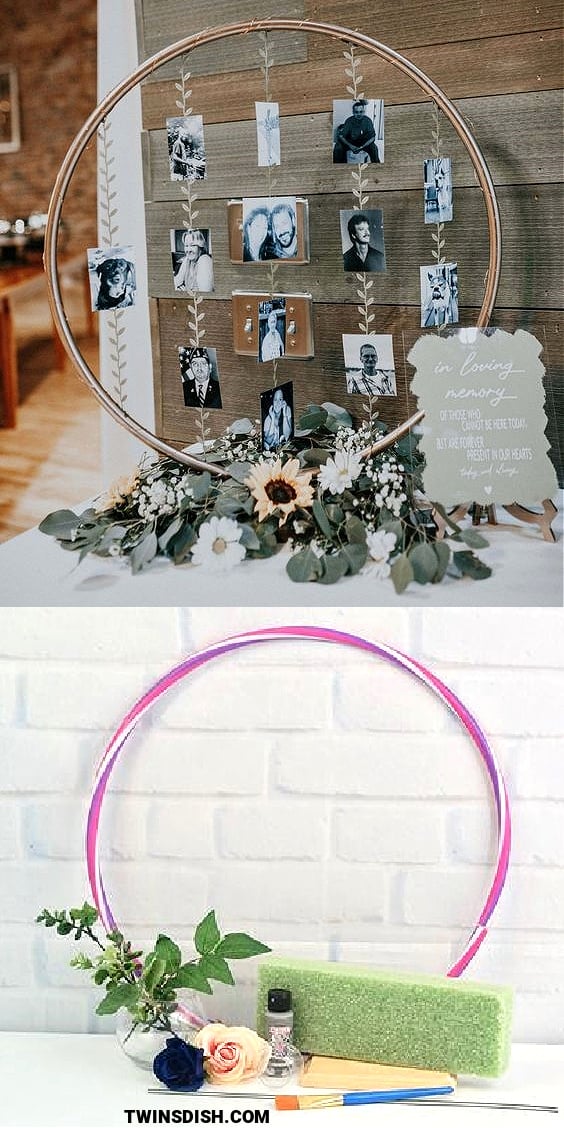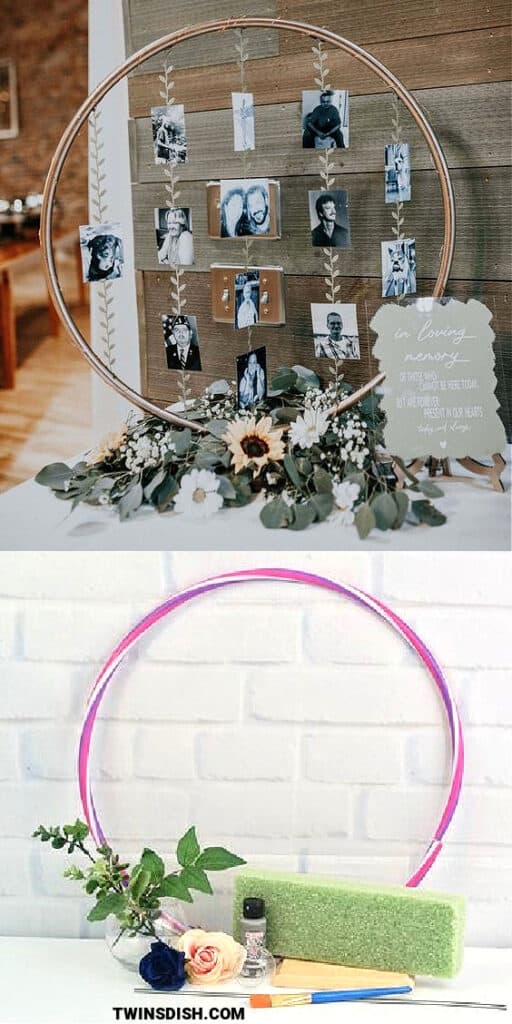 A spray painted dollar store hoola hoop or floral hoop (buy it on amazon) screwed into a slab of wood can create a beautiful picture decor centerpiece. Use garland or ribbon to tape/glue photos to.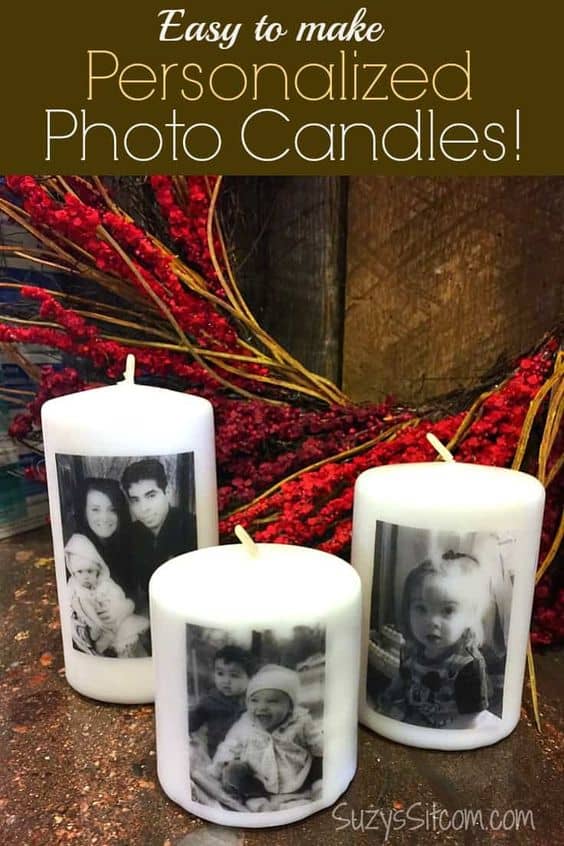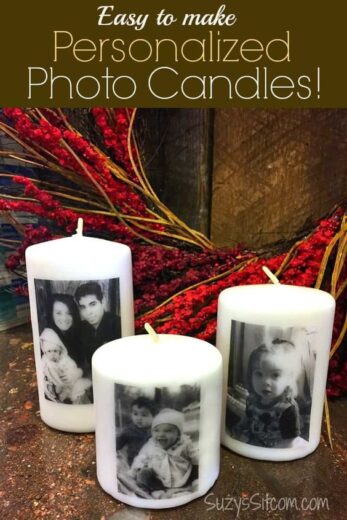 Try making an easy photo candle using candles, wax paper, and tissue paper. These would also make a great Graduation gift for your bestie!
---
6. Graduation Party Picture Display Using Wood Or Pallets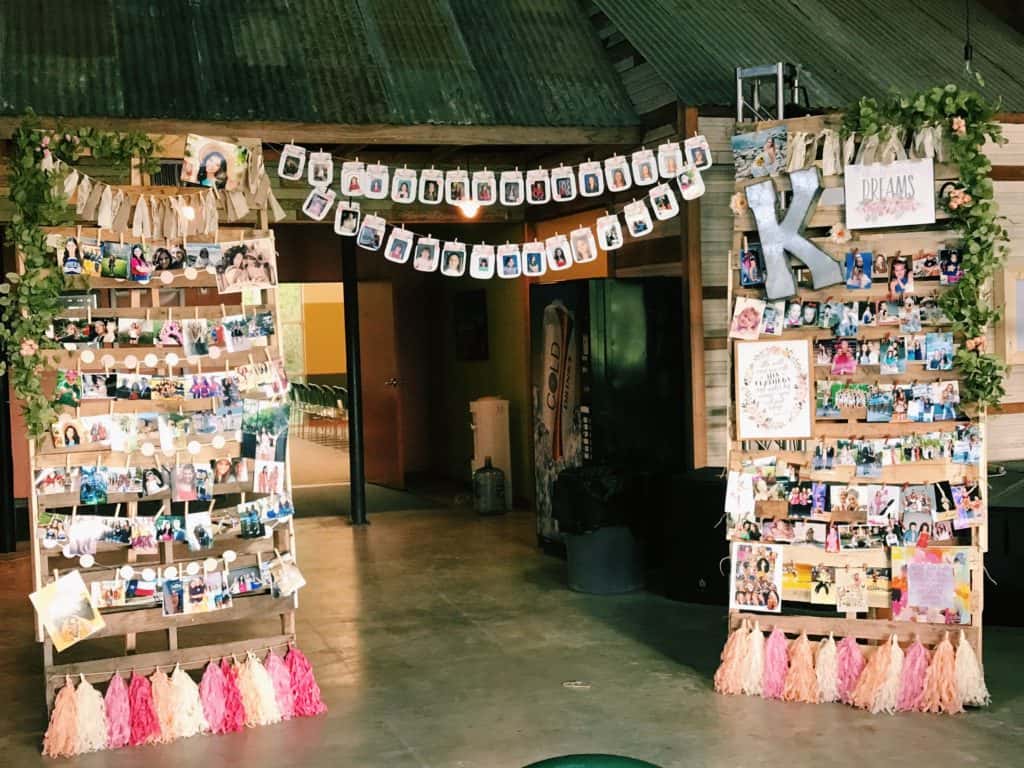 SUPPLIES:
Wood and particularly pallet wood (pictured above) can make amazing custom picture displays for free. We found hundreds of FREE wood pallets on Craigslist in Los Angeles, but if you can't find them on Craigslist, you're sure to find plenty of free ones by calling or visiting the following places:
Construction Company offices/warehouse
Bars and craft beer locations
Pet food stores
Feed & Tack stores
Stationary shops
Furniture stores
Liquor stores
Schools
Flooring stores
Other small retail
Arts And Crafts Store (Michael's etc.)
A friend works at the main office of a construction company that throws out dozens of wood pallets almost daily.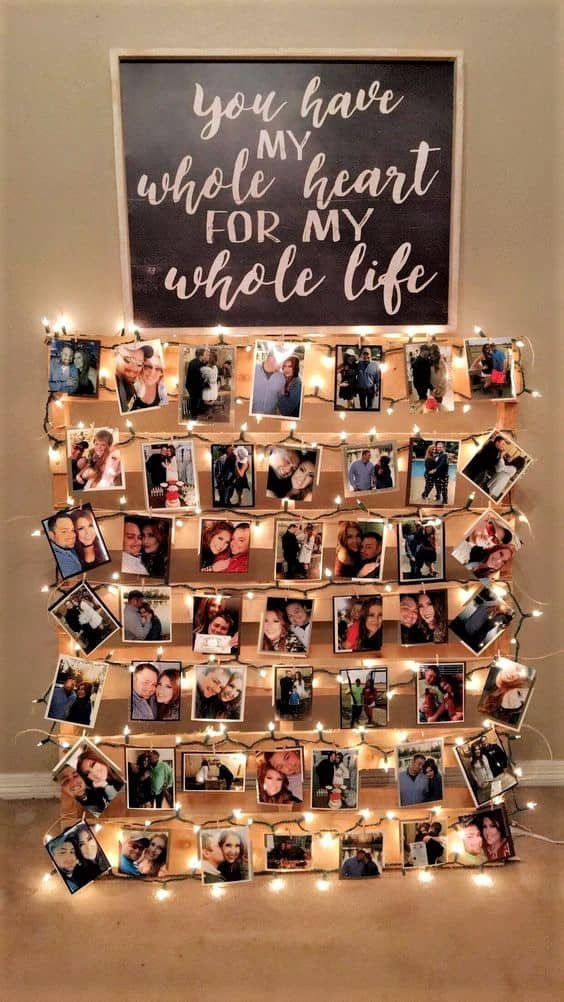 SUPPLIES:
The above was made for a Wedding using repurposed Christmas lights but can easily be altered for a grad party. This allows you to combine all of your school grad photos, friend photos, family photos, and school memories together to view all in one place.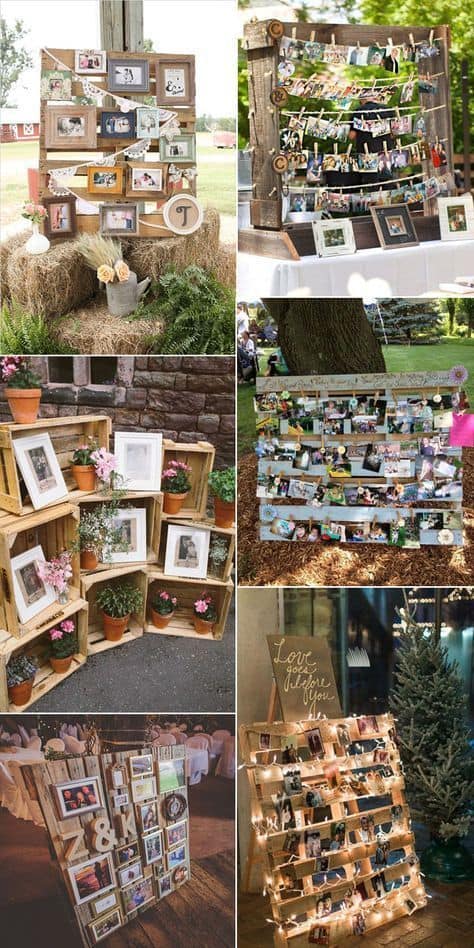 Make cheery and adorable Grad party picture displays using wooden pieces, frames, crates, shutters, wood railings, or trellises.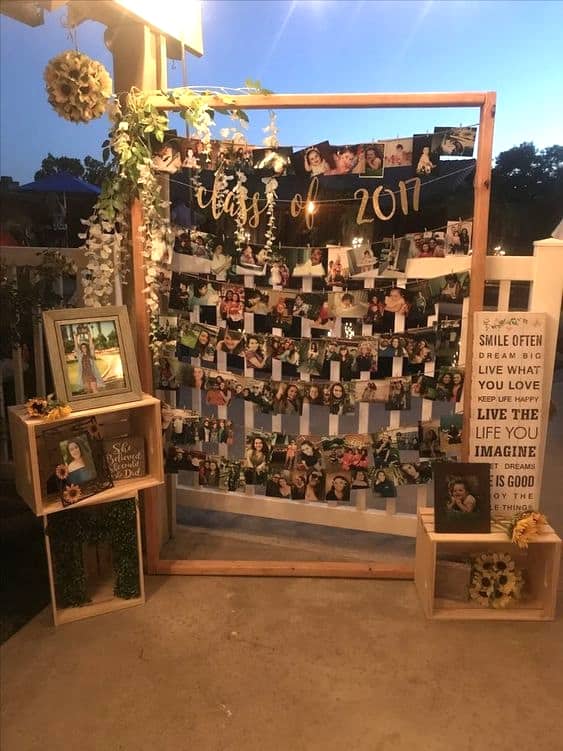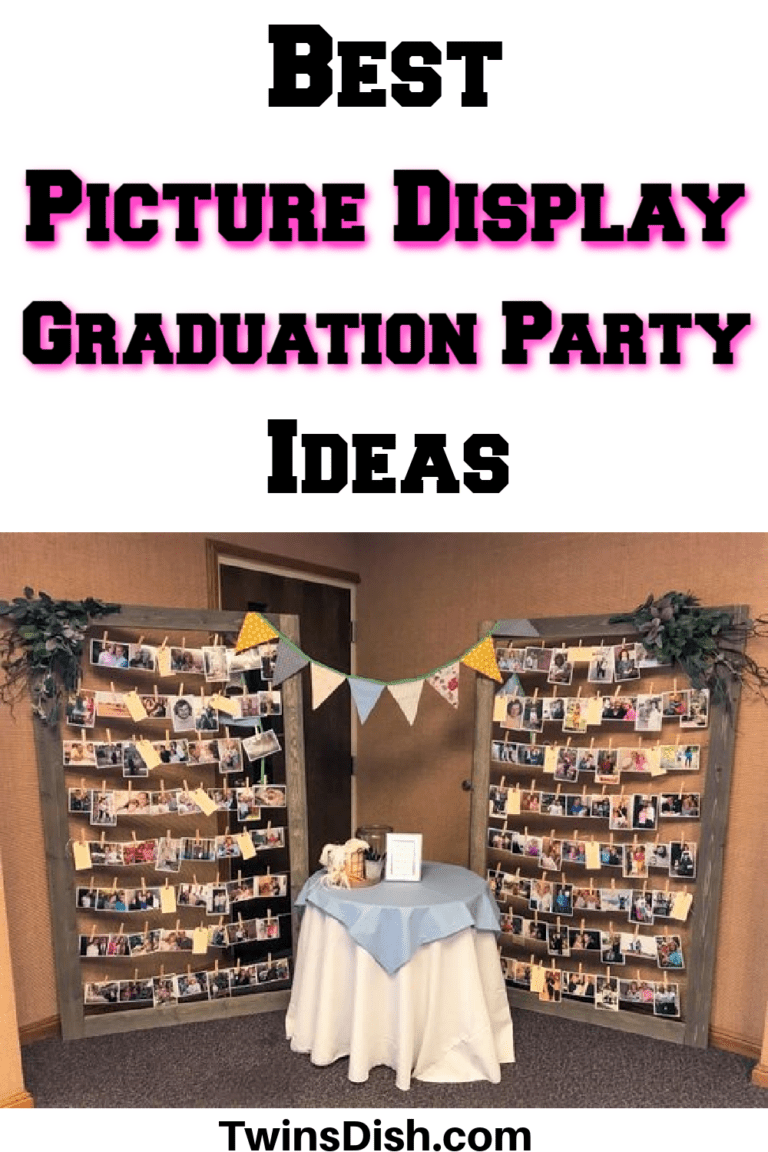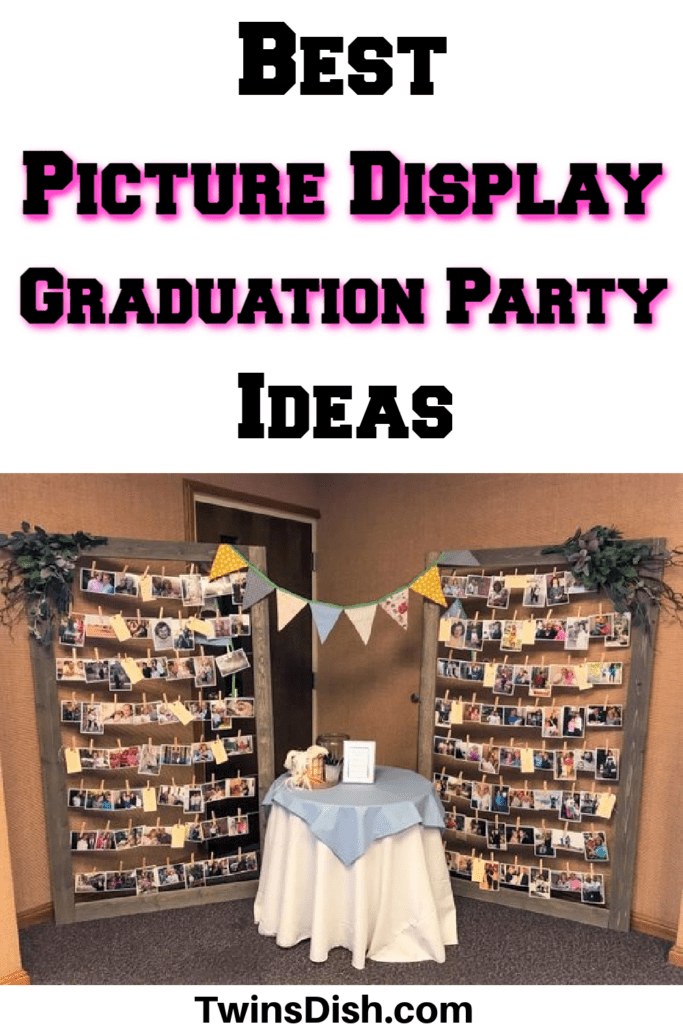 Just use string and clothespins or paper clips to hang the photos.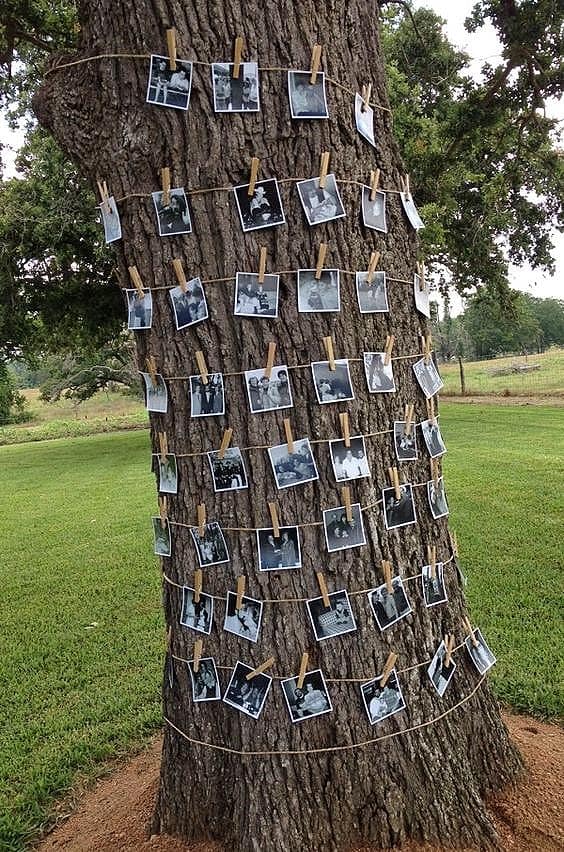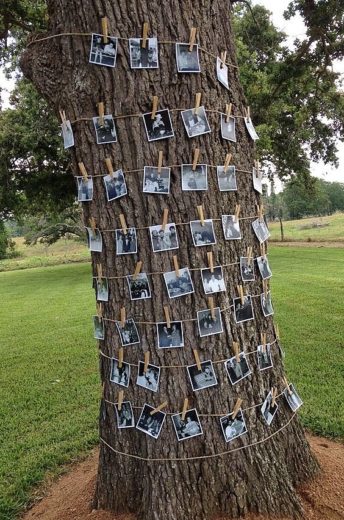 SUPPLIES:
If you don't have wood use a tree or fence. You can even decorate it with balloons, paper lanterns, lights, or garland and dedicate different trees to different people: "friends", "teachers", "family" etc.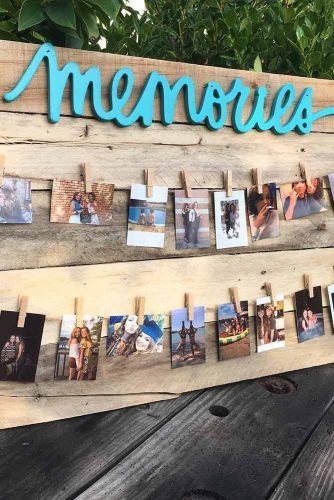 How about a wooden slab of "Memories" (Photo Credit Pinterest.com).
7. Graduation Party Picture Display Table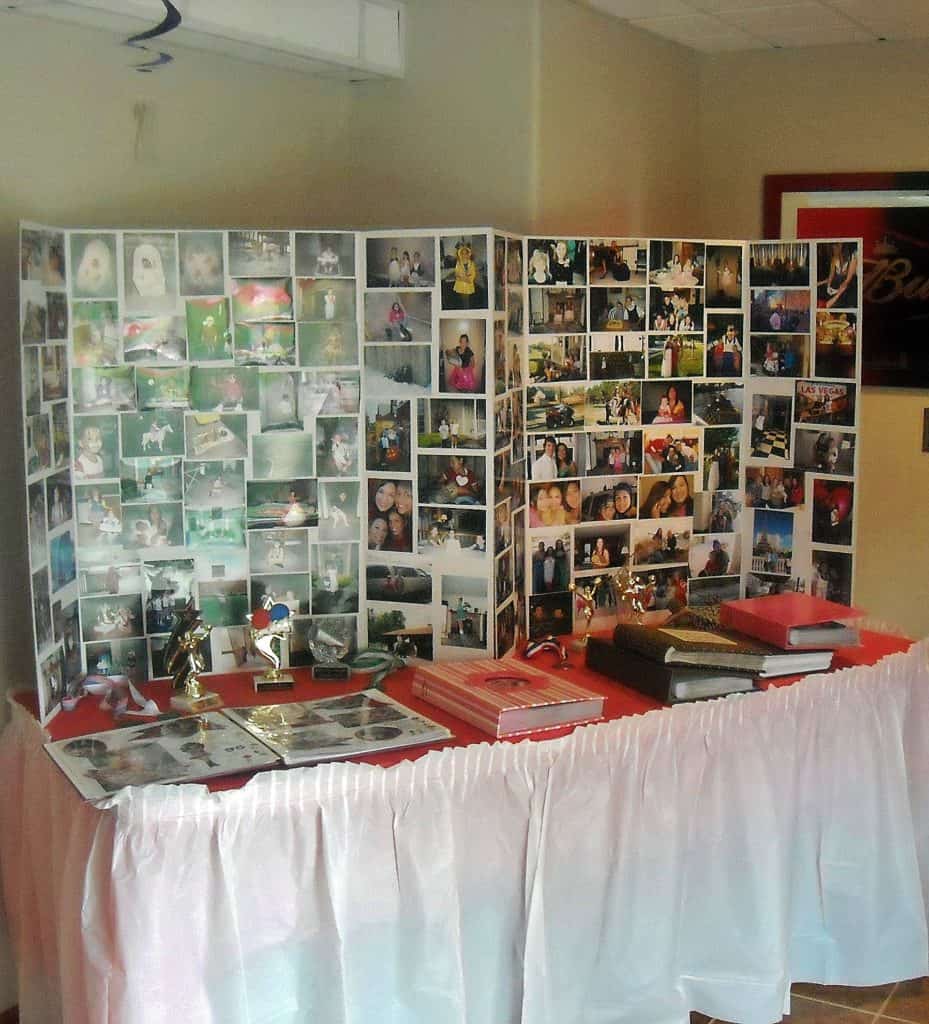 Make an ultimate designated trifold photo display table! This is super easy to do and great if you have a whole lot of pictures and limited space to display them.
SUPPLIES:
You can find 36″ high project display boards at Hobby Lobby for $2.99 or on amazon in many colors.
You can also DIY a trifold using poster board from the dollar store. Include any trophies and designated photo albums for pics of "Family", "Friends", "Teachers", "Memories" etc, to place on the table.
Friends and family will get a kick out of looking through these albums! It'll be a popular table and a great way to fit all of your photos in one place.
---
8. Number Photo Collages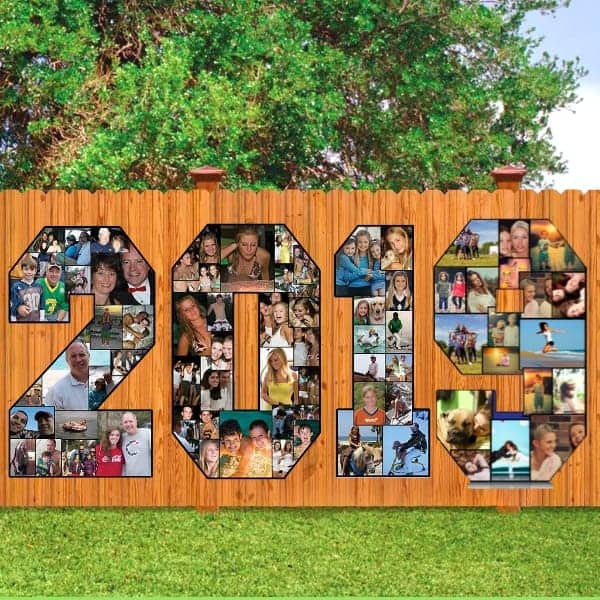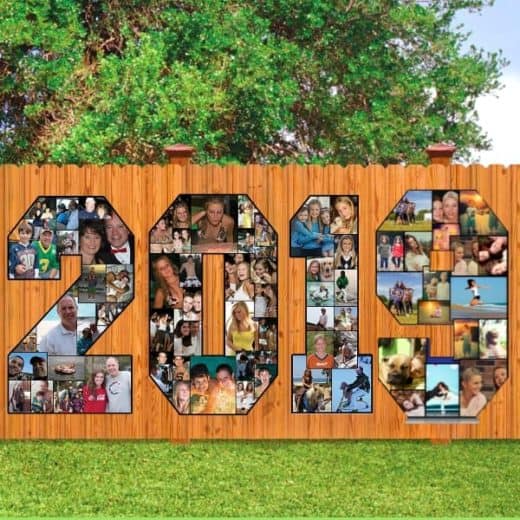 This is a really impressive photo display and decor idea that you can either purchase or DIY on a budget. Gather your favorite pictures and make a giant number collage.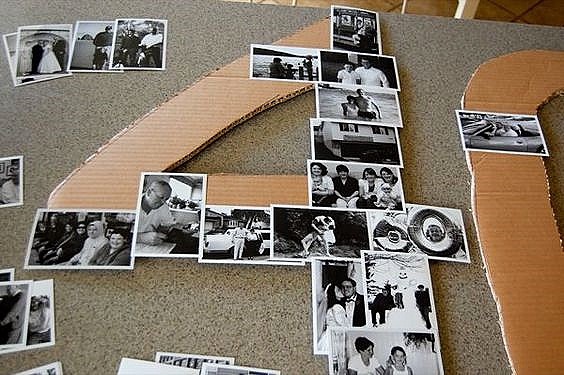 You can also designate a certain group of pics to each number. For example : Family pics for the 2, Grad pics for the 0, Friends pics for the 2 and so forth. Use black and white photos, color, or both!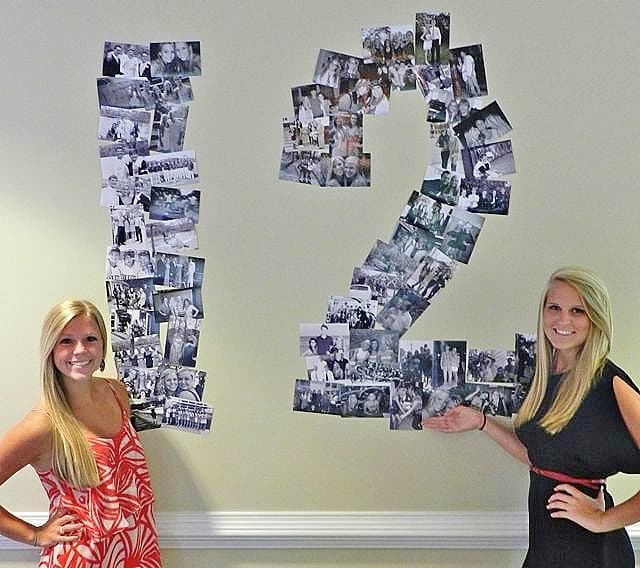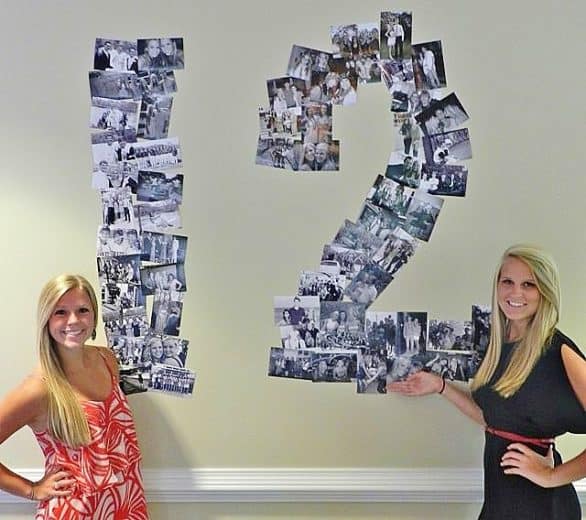 If you don't have or don't want to deal with cutting cardboard, just stick the pictures directly on the wall with double stick tape.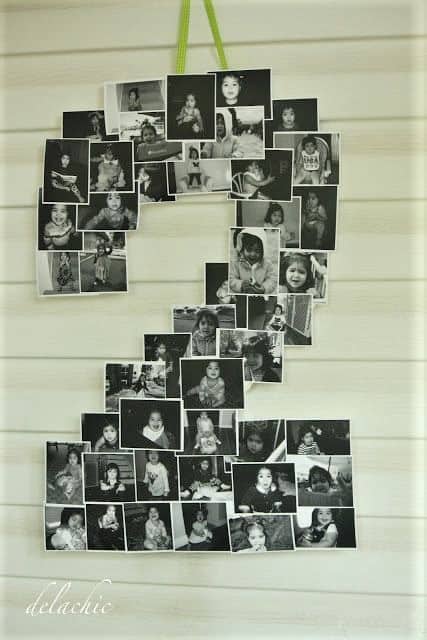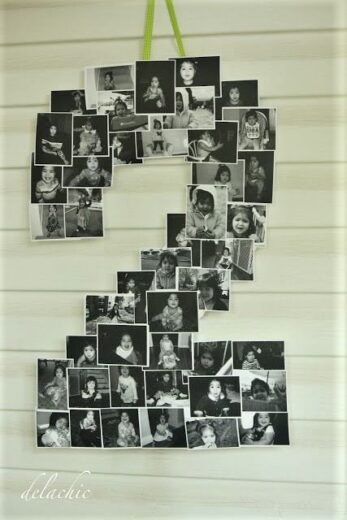 This idea is pretty much fool proof for both indoors and out but will make any area a stunning focal point of the party.
---
9. Vertical Hanging Photo Displays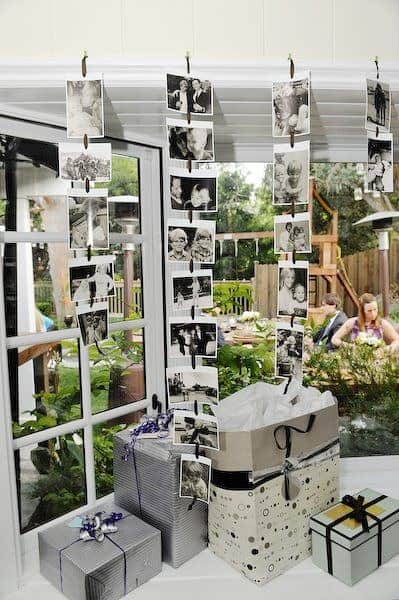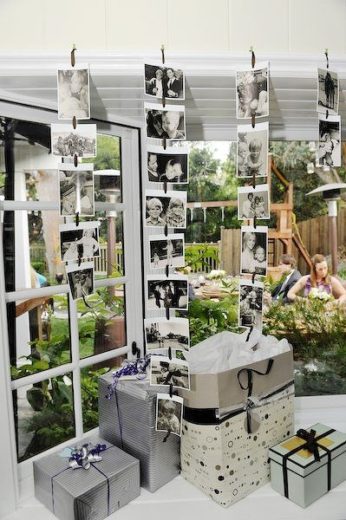 If you don't have a lot of wall, table, or floor space then hanging picture displays can be placed in windows, above tables, and hanging from ceilings or tents.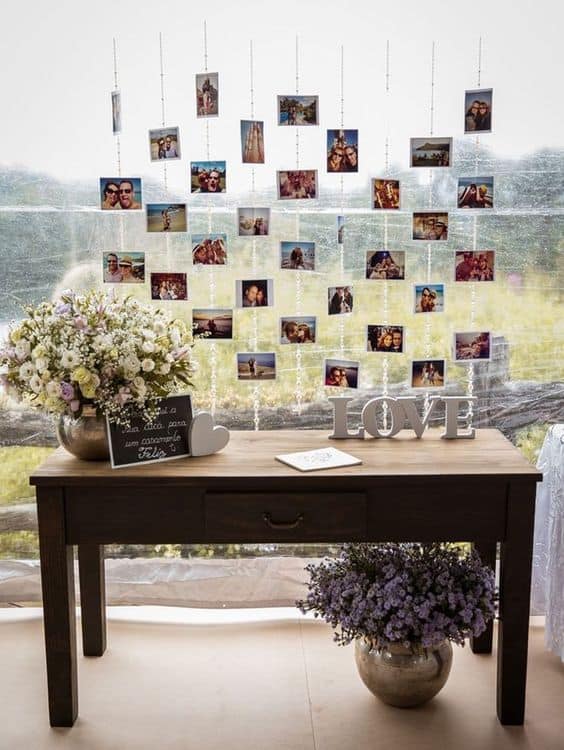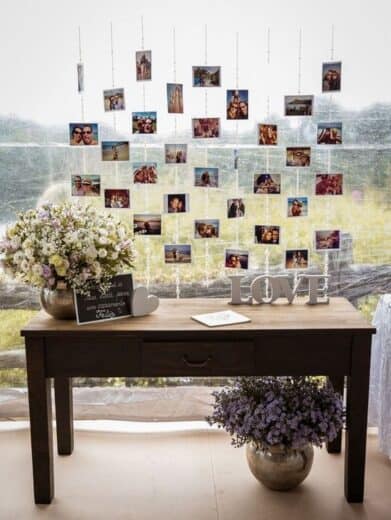 They are cheap and easy to DIY, all you need is a piece of string or ribbon, tape, and some pictures.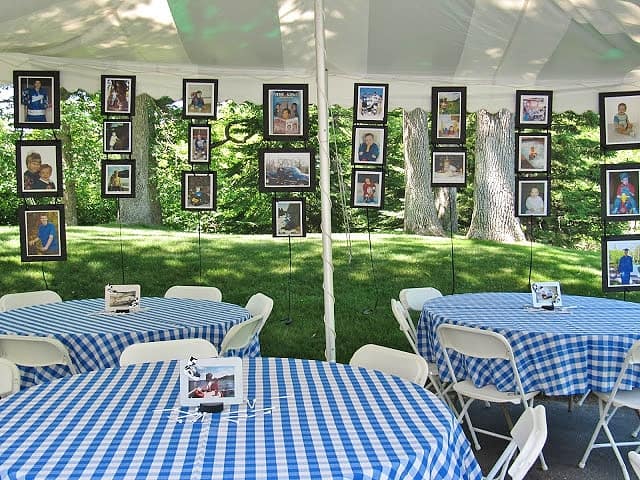 You can hang them anywhere guests will be spending a lot of time. They can be made with large 8x10s, smaller 5x8s, or both!
---
10. Easy Ribbon Hoop Garden Picture Display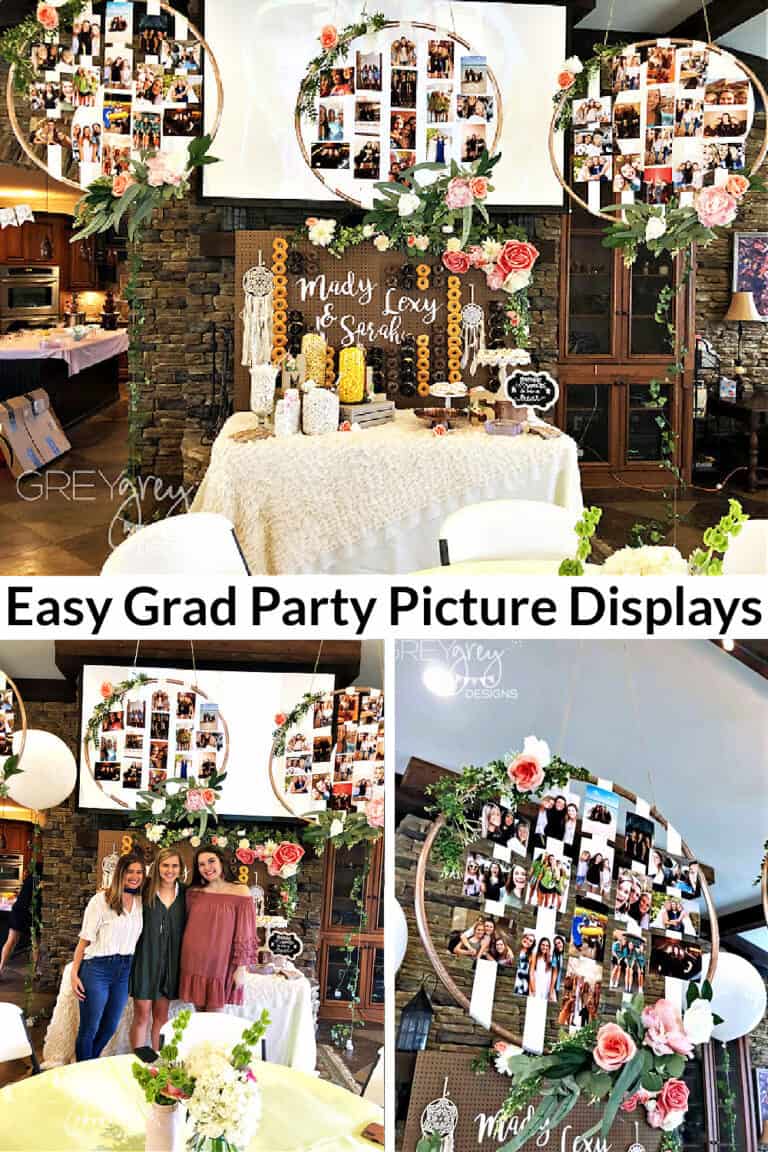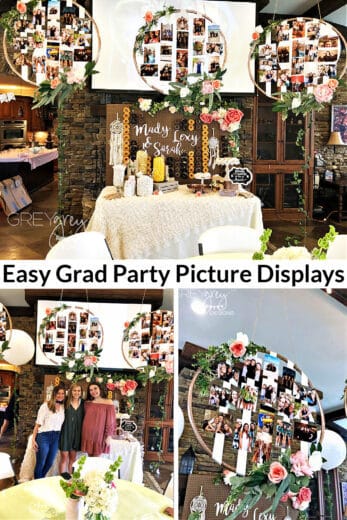 Can you believe these were made from a hula hoop, spray paint, artificial flowers, and ribbon?! These Hula Hoop Garden Graduation Party Picture displays would be beautiful indoors or outdoors.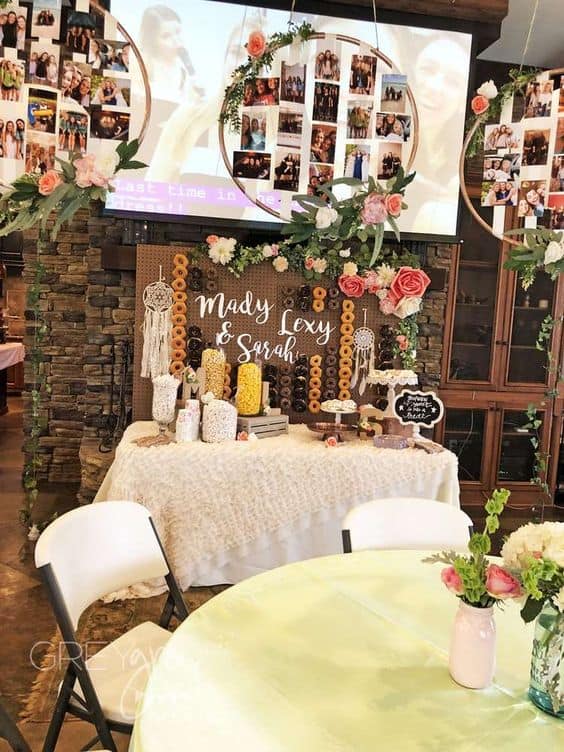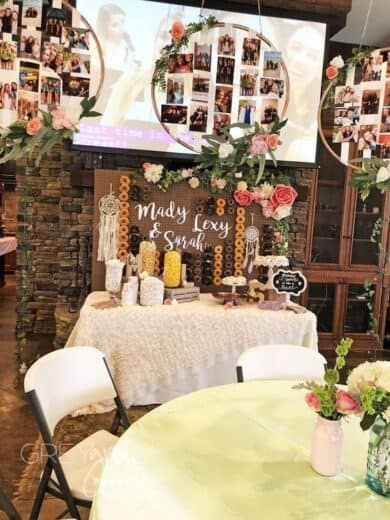 ---
11. Easy DIY Graduation Photo Display Wreath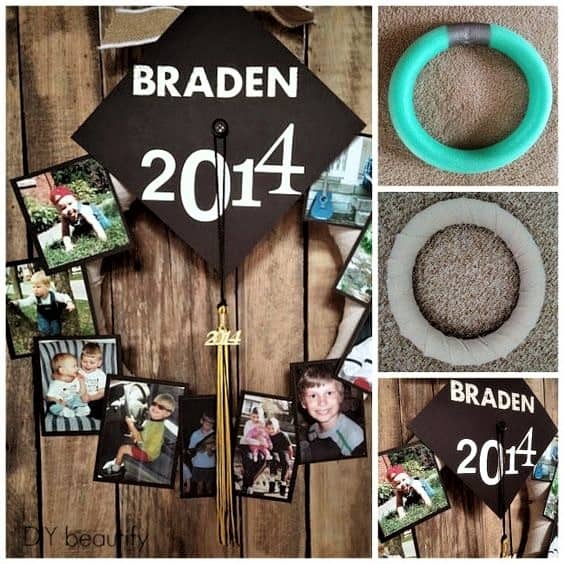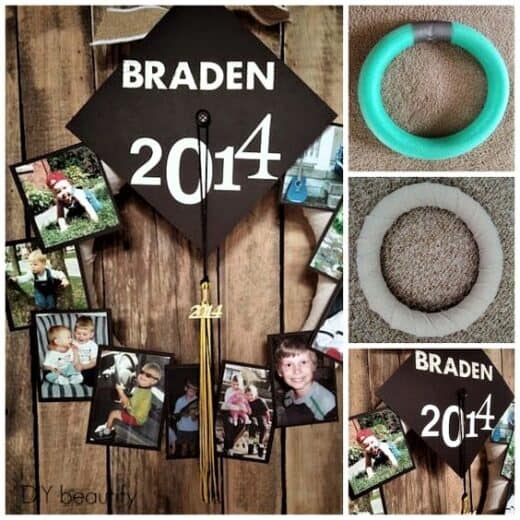 Try this easy DIY Graduation Photo Decor wreath to hang on the front door or wall! Make it out of Dollar store materials like a pool noodle and card stock.
---
We hope these ideas Graduation Party picture display ideas save you time, money, and hassle so you can enjoy your party and make more memories!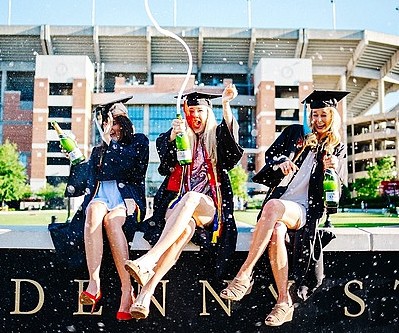 Congrats Grad!
Love,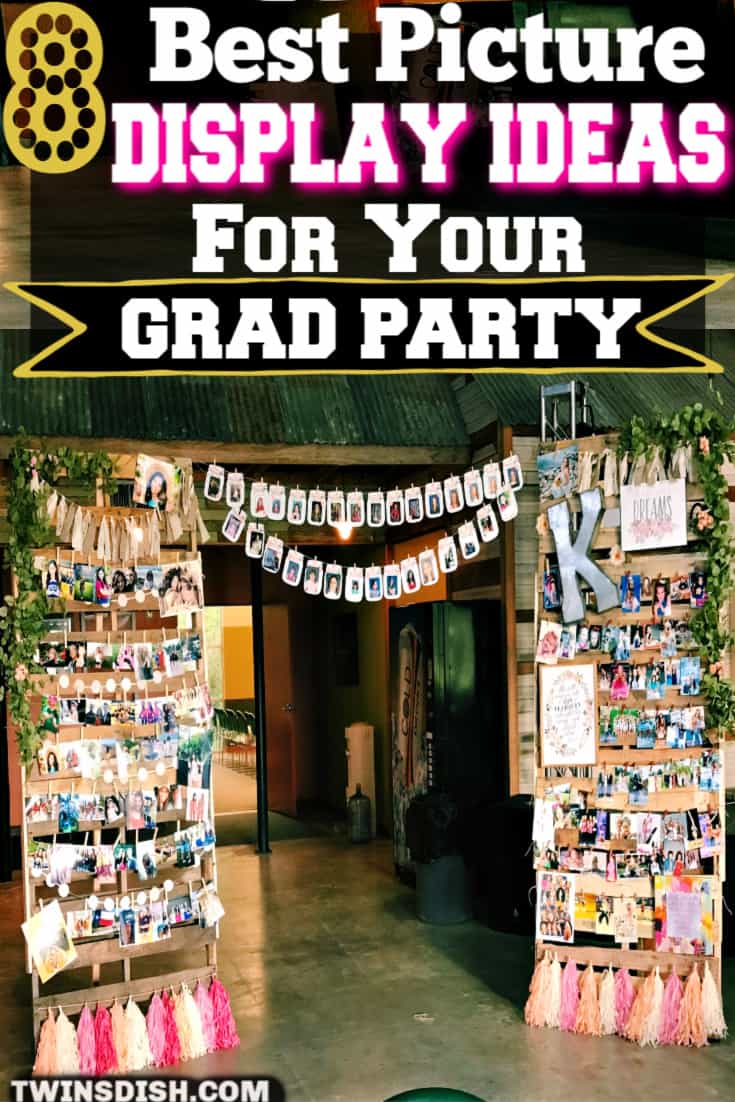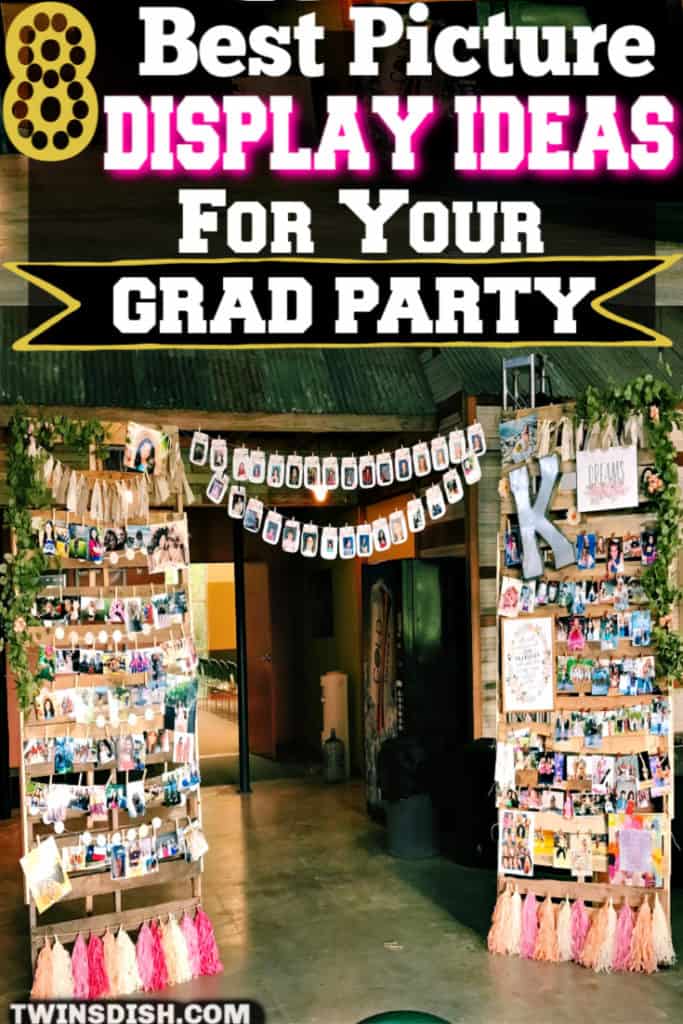 Posts You May Love…