10 Things NOT To Do At Your Graduation Party
Congratulations! You made it through school and now it's time to party, but after working so hard the last thing you want to do is more work for your Graduation celebration.
While we're sure you're swimming in ideas of what to do for your Grad party how about what not to do at your Graduation Party?
From food, to pictures, to decorations, here are some crucial dos and don'ts that we've seen stand in the way of having an absolutely perfect party.
Here's How To Make Your Graduation Party Special
We'll also give you tips and ideas on the universal elements of every memorable Graduation party that'll make the planning process fun and easy…and of course we added some of the best Graduation Party ideas for joint parties and twins!
Keep posted as we keep adding new ideas we remember all of the time.
1. Don't forget to create your own hashtag or give your email address for pictures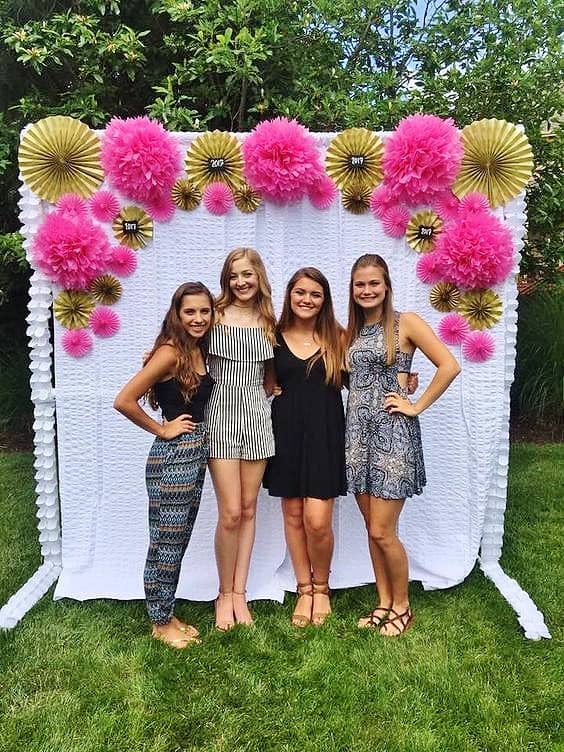 One of the benefits of everyone having cell phones is you no longer need to hire a professional photographer, just include an email address or create a hashtag so guests can send you all of their pictures from the party.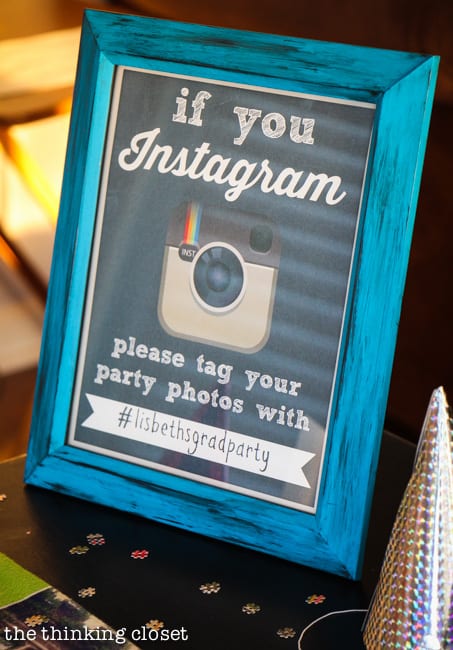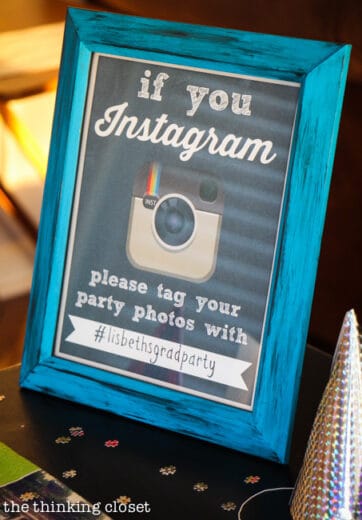 Print out a sign and frame it in a regular photo frame to notify guests of your party hashtag for Instagram or Facebook, or let them know what email address to send their pictures to.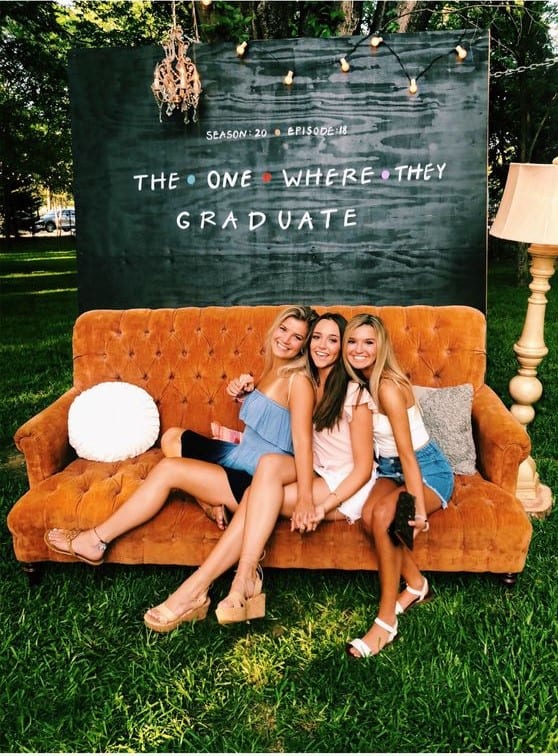 Encourage guests to take pics by easily making a gorgeous DIY photo backdrop (or photobooth) and remind them to include your special hashtag or email.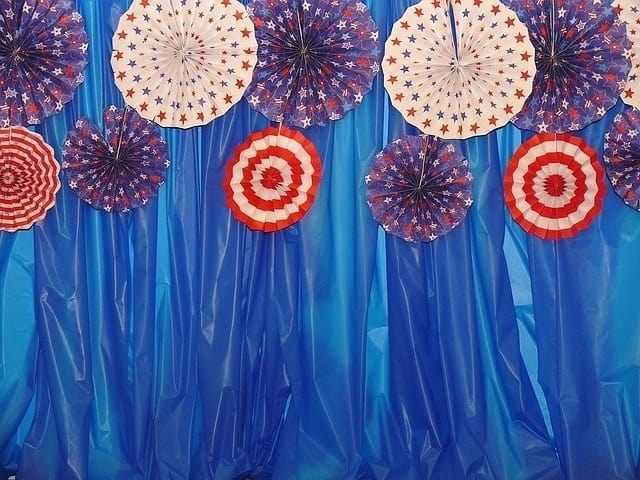 We made some super easy yet amazing photo booths and back drops for parties using only a cheap dollar store plastic table cloth on an outside wall with decorations attached to the top. The total cost was under $5.
You can even use an inside wall or door, and fabric, and fake flowers or balloons for the top.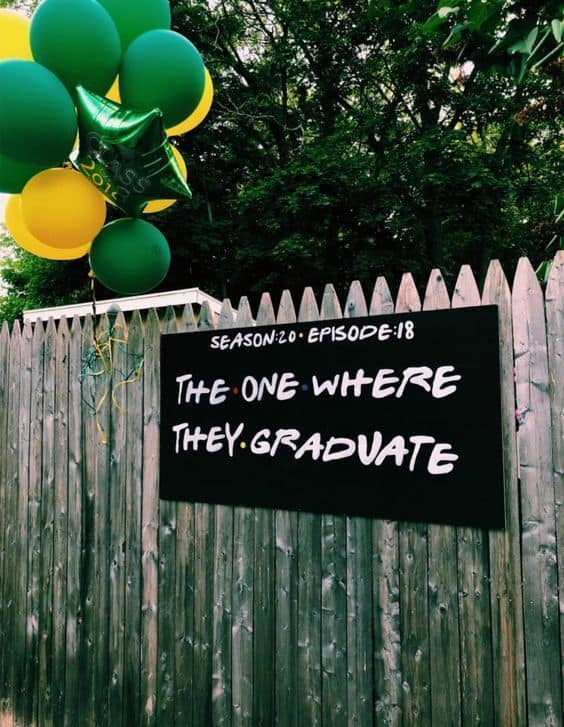 Use an outdoor fence, poster board or chalk board contact paper sign and lights or balloons to create any design you want.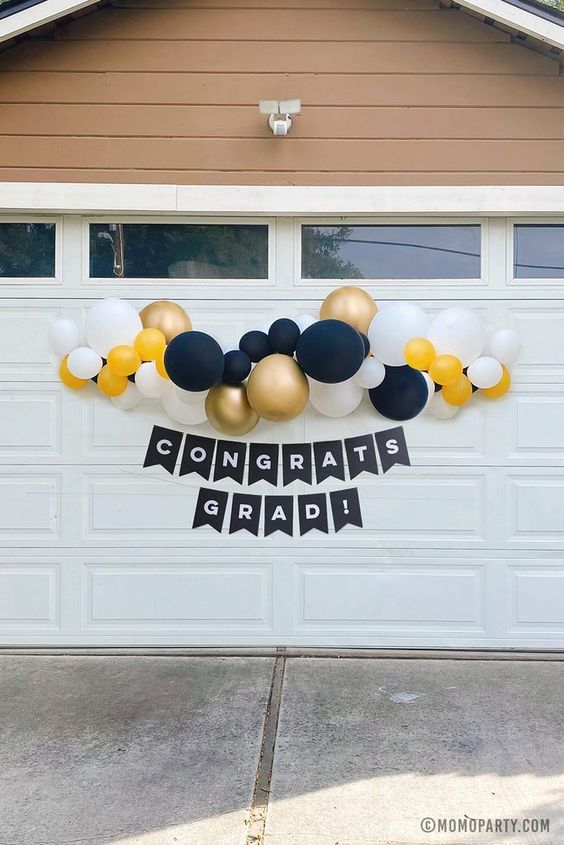 GRADUATION PARTY GARAGE DECOR TUTORIAL
A Garage door can double as a photo backdrop.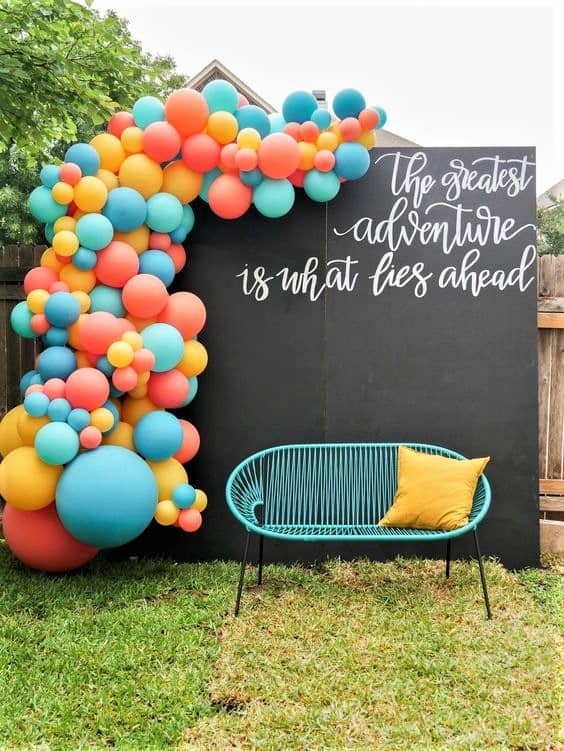 You can even paint or draw it yourself using a stencil.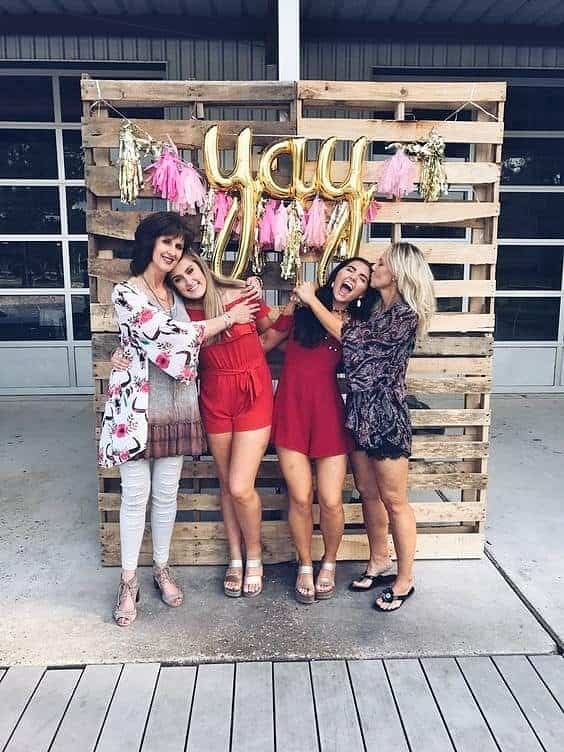 You can also make one using Pallet wood. Pallet wood is free, and also makes an excellent photo backdrop for dirt cheap!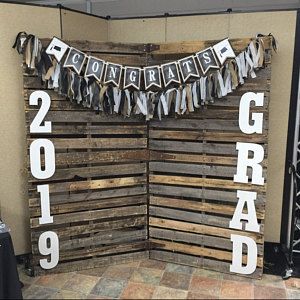 Check your local store, Warehouse, Orchard, Walmart, or even Craigslist to see if they have free pallets to give you.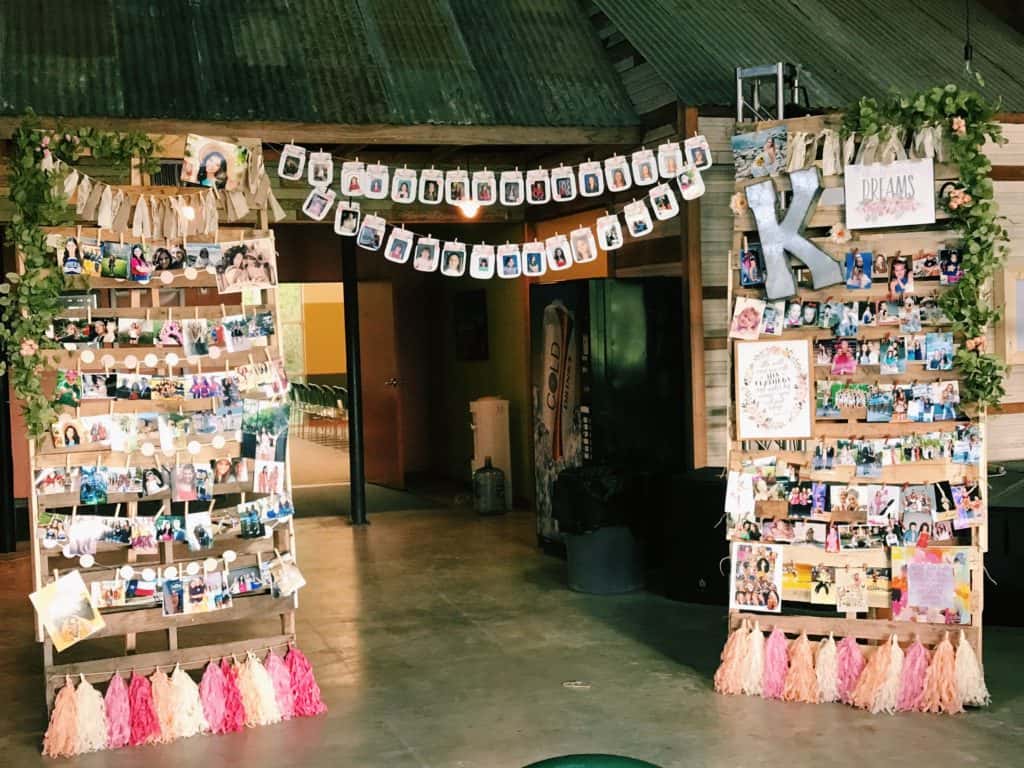 We were given free pallets from our local Trader Joe's storage room for free.
Just add balloons and garland and you'll have a trendy photo pallet wood backdrop for mere dollars.
This idea is especially great for joint and Twin Grad parties. Make two pallet panels like the photo above so each Graduate gets a wall that is joined with a string of both of their photos!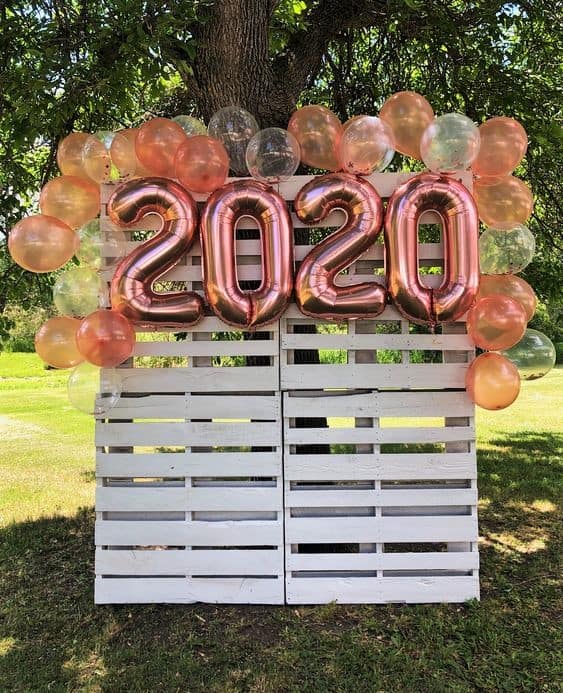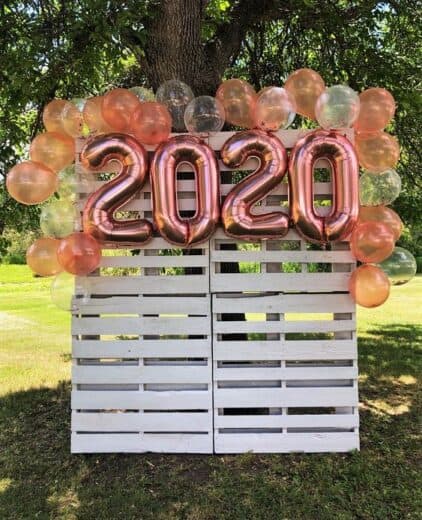 2020 DIY WOOD PHOTO BACK DROP SOURCE
Get creative and paint or stain pallet wood any color you want! You can find number balloons online or at the dollar store.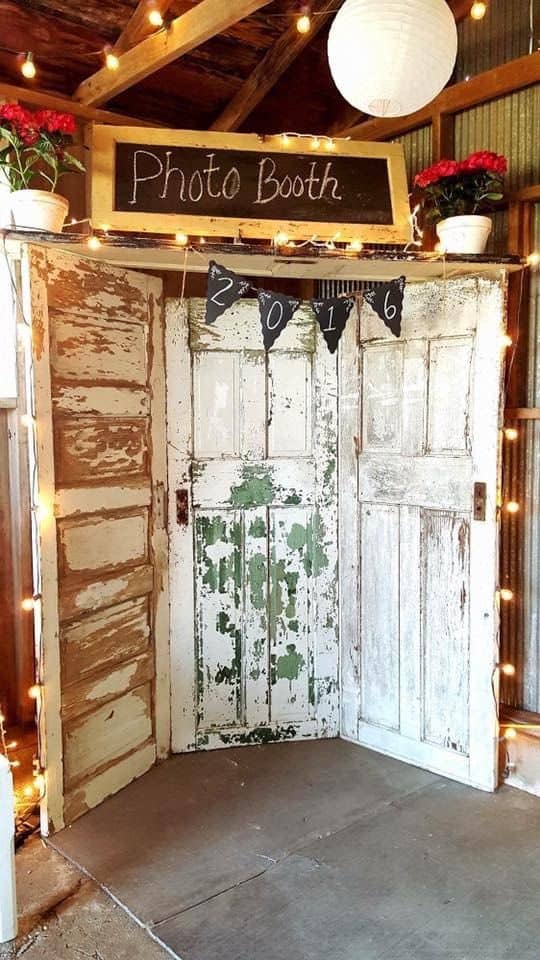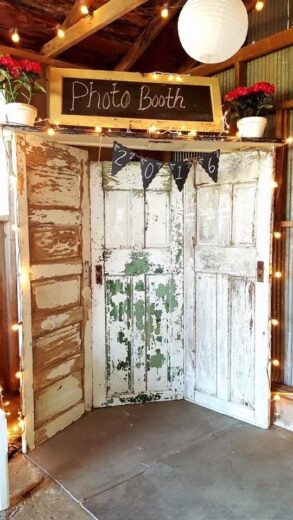 Mom Brenda Kail in Oklahoma used old wood doors, and rachet straps nailed to the back to make this rustic indoor or outdoor Graduation party photo booth.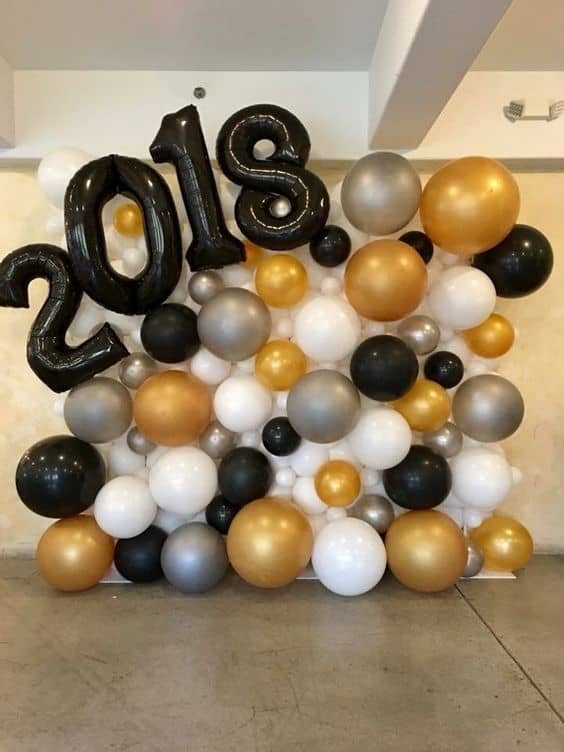 Balloons alone can make an easy yet impressive Grad party photo booth.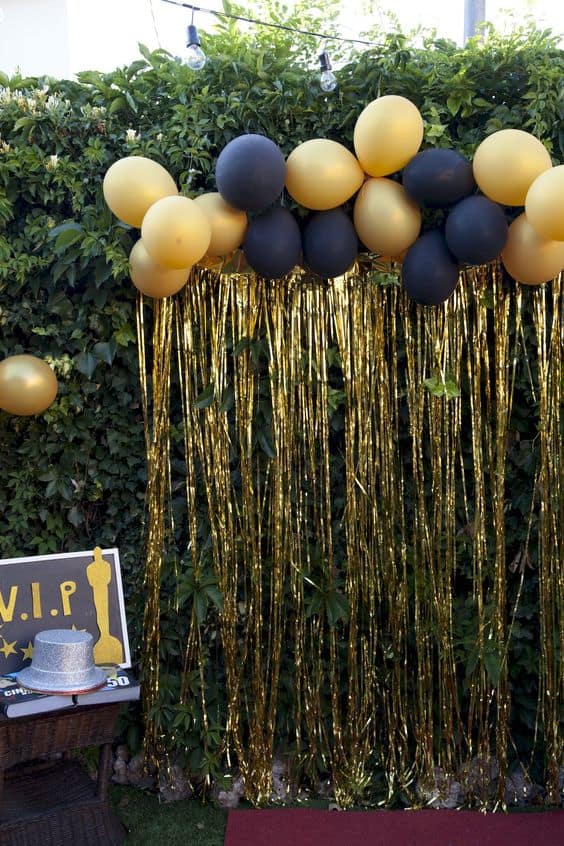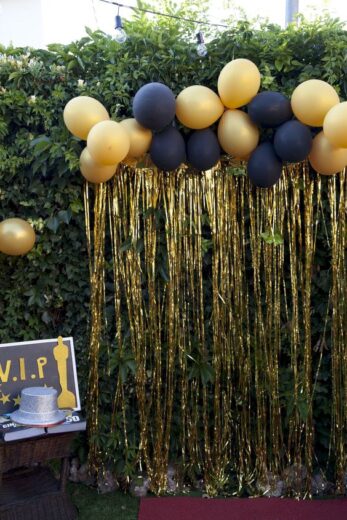 You can purchase gorgeous balloons online for cheap and staple them to even a hedge, piece of cloth, wall, or pallet.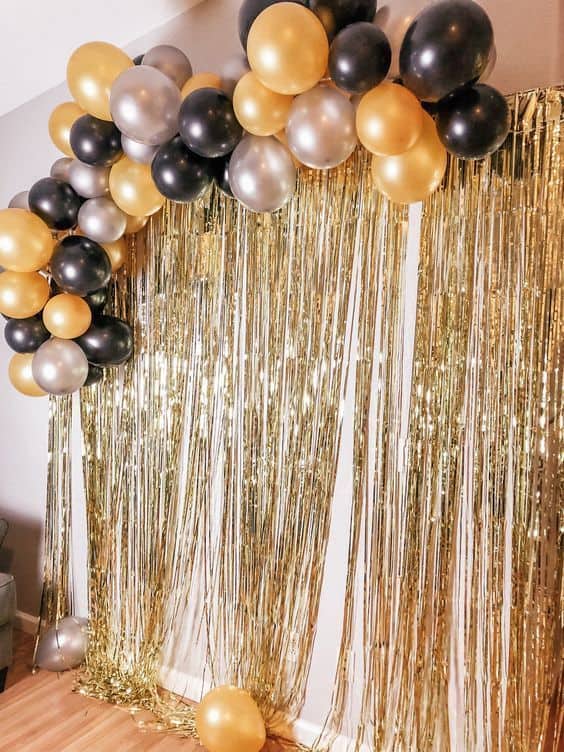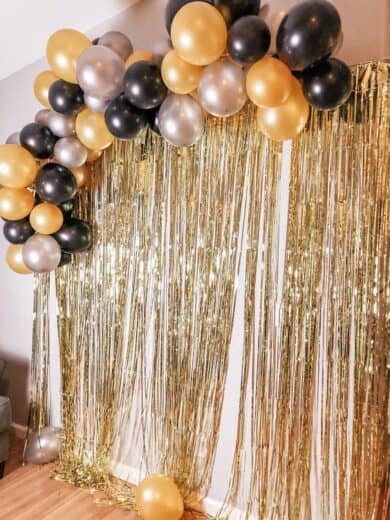 You can buy this GOLD FRINGE TINSEL on amazon for cheap and you can find many easy DIY balloon garland tutorials on Pinterest using gold, black, and silver balloons.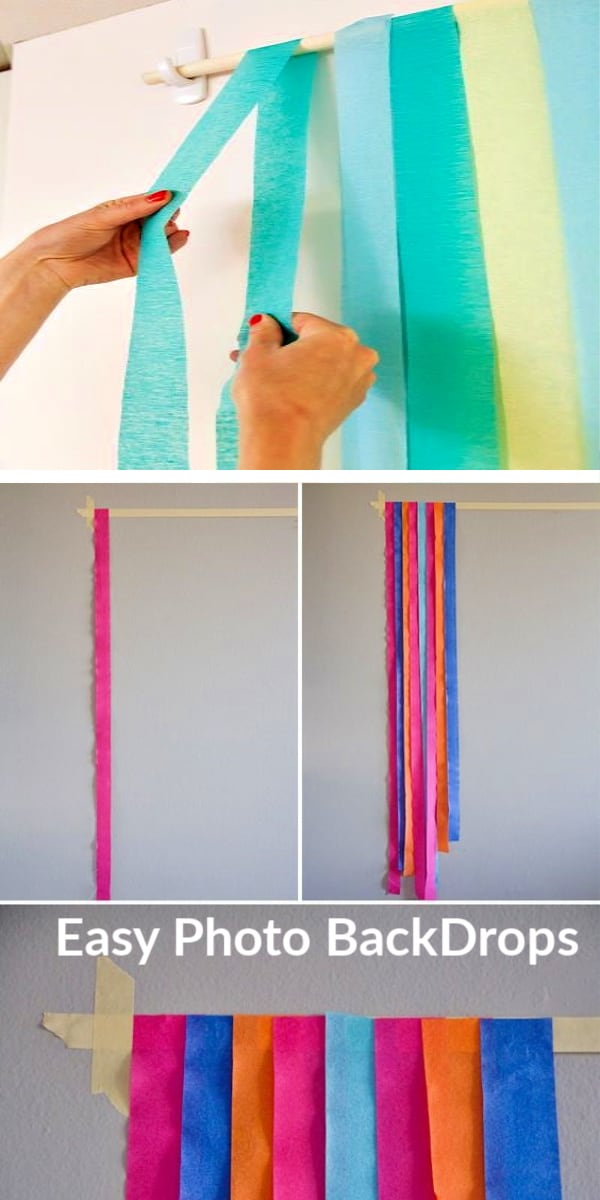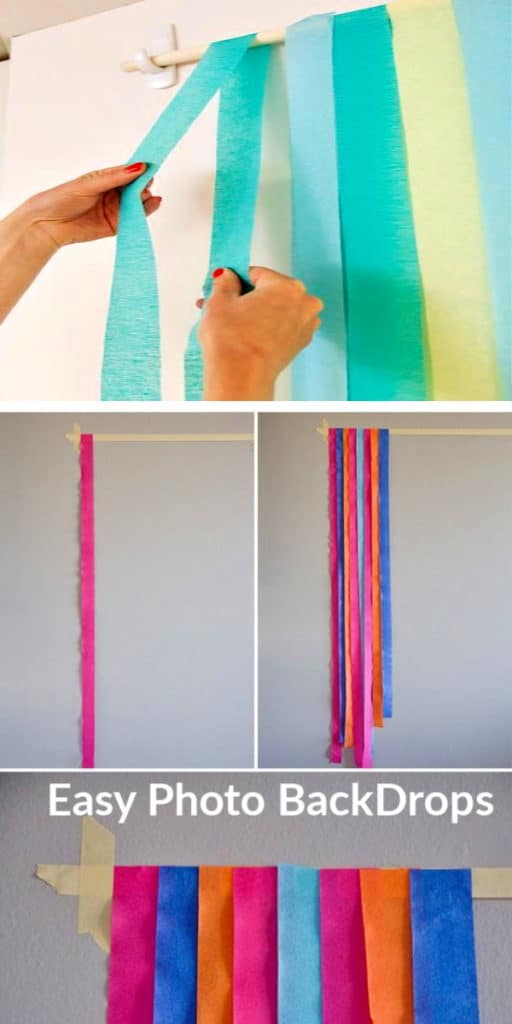 If you're on a shoe string budget you can make fancy and expensive looking photo booth party back drops out of dollar store streamers and masking tape or command hooks and a wooden rod.
For an added effect, twist each streamer and adhere the bottom to the wall with masking tape.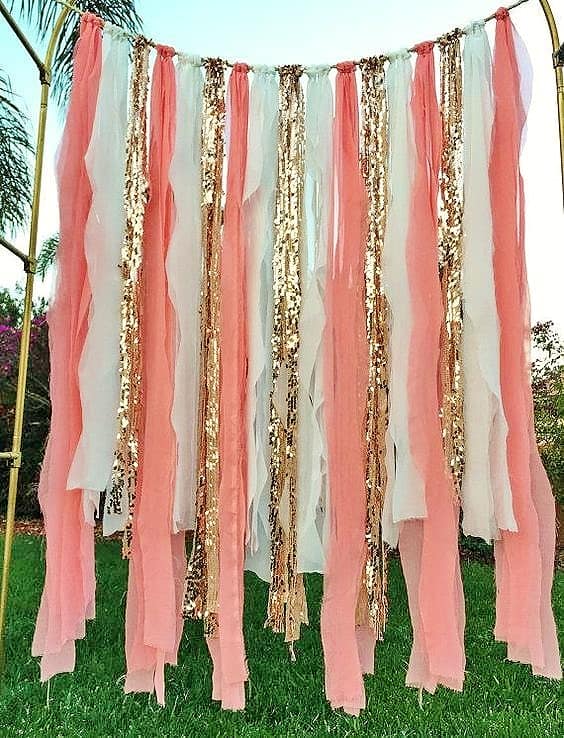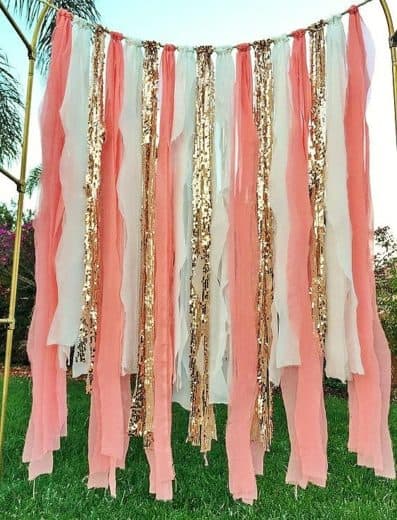 If you don't have a wall or your party is outdoors you can get the same effect for mere dollars by tying streamers, crepe paper, ribbon, or even strips of fabric to a string.
Tie the ends of the string between two trees or stakes and clip any additional banners or decorations to the top using clothespins.
Don't forget the photo props!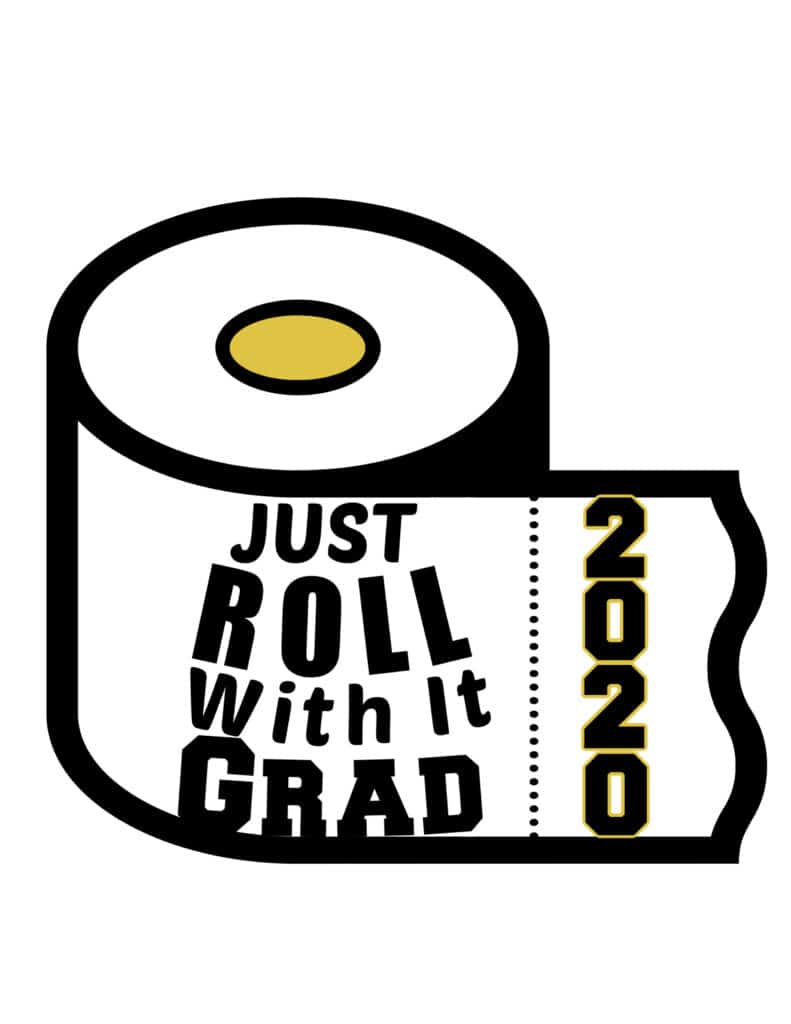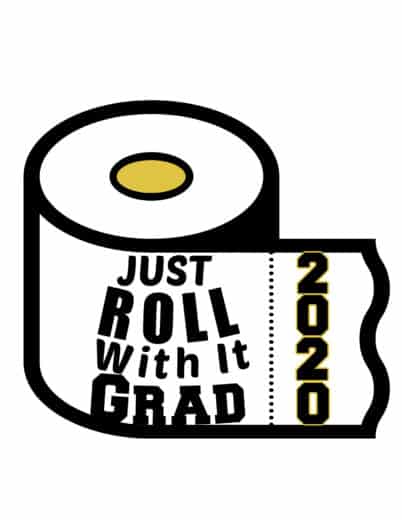 You can print the above photo out and paste to card stock and a wooden stewer or stick for a great Grad 2020 Photo prop or centerpiece.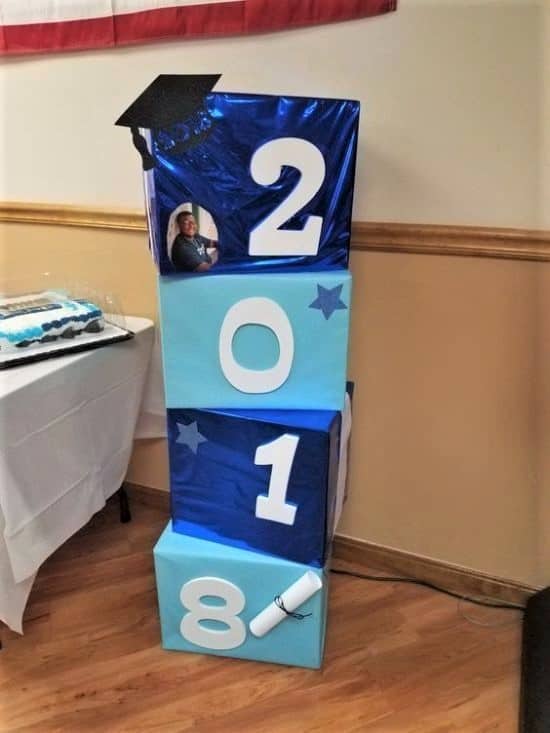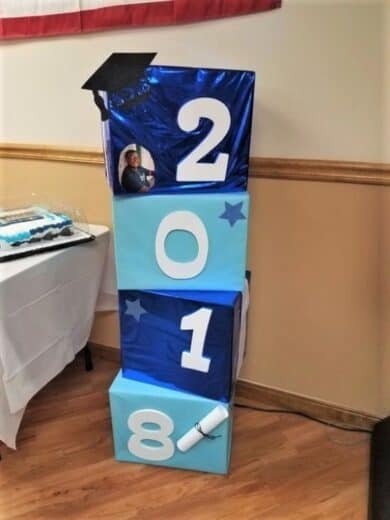 This is a cheap and easy photo prop! Wrap some boxes in wrapping paper and decorate with cut outs. Use numbers, phrases, or names.
2. Don't ONLY offer junk food and candy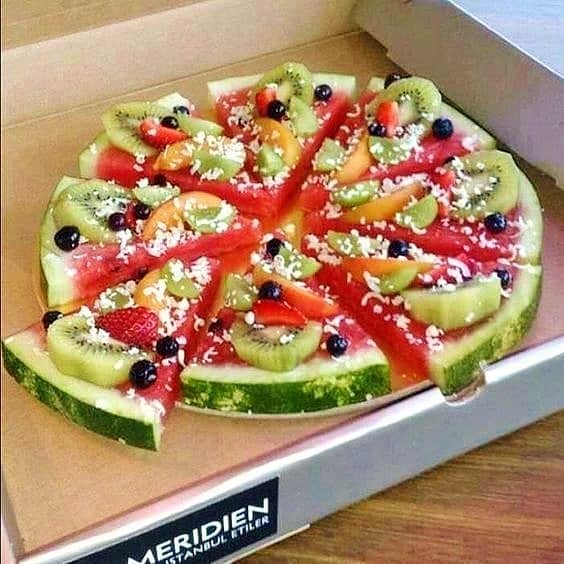 It's your Grad party so splurge a little but be sure to offer healthier options for your guests.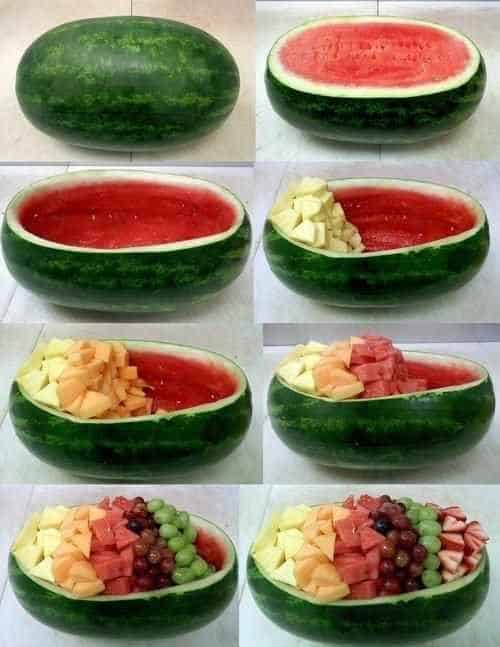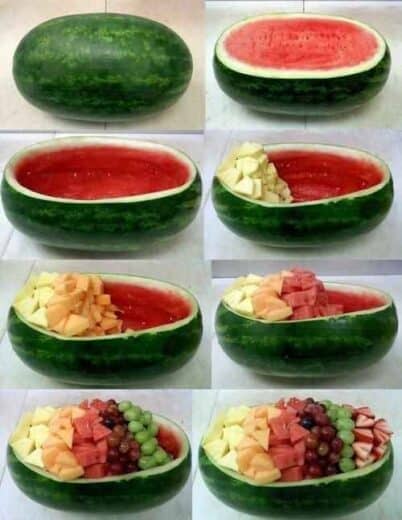 Put out fruit next to the candy, vegetable crudite next to the chips, and salad next to the hamburgers and hot dogs.
Friends or relatives with heart problems or who are diabetic will appreciate the gesture.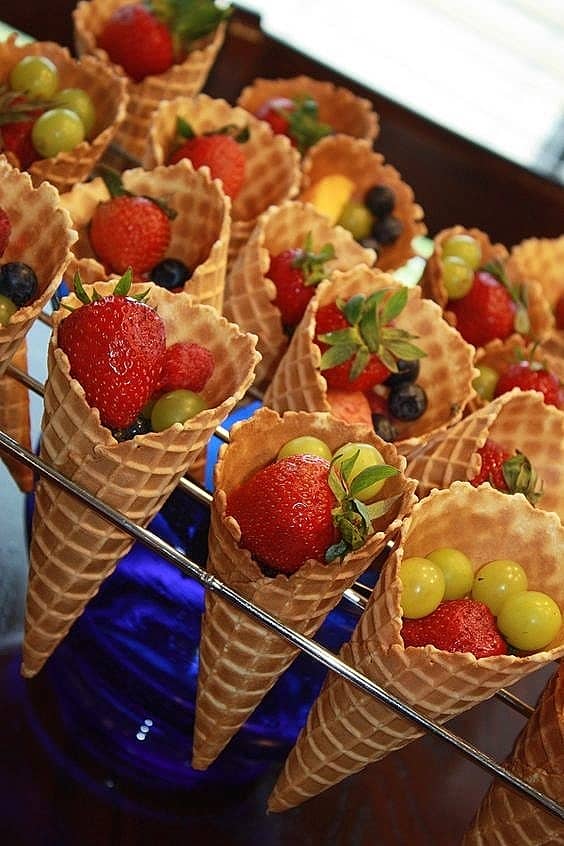 Don't forget an alternative to sugary sodas and sports drinks too!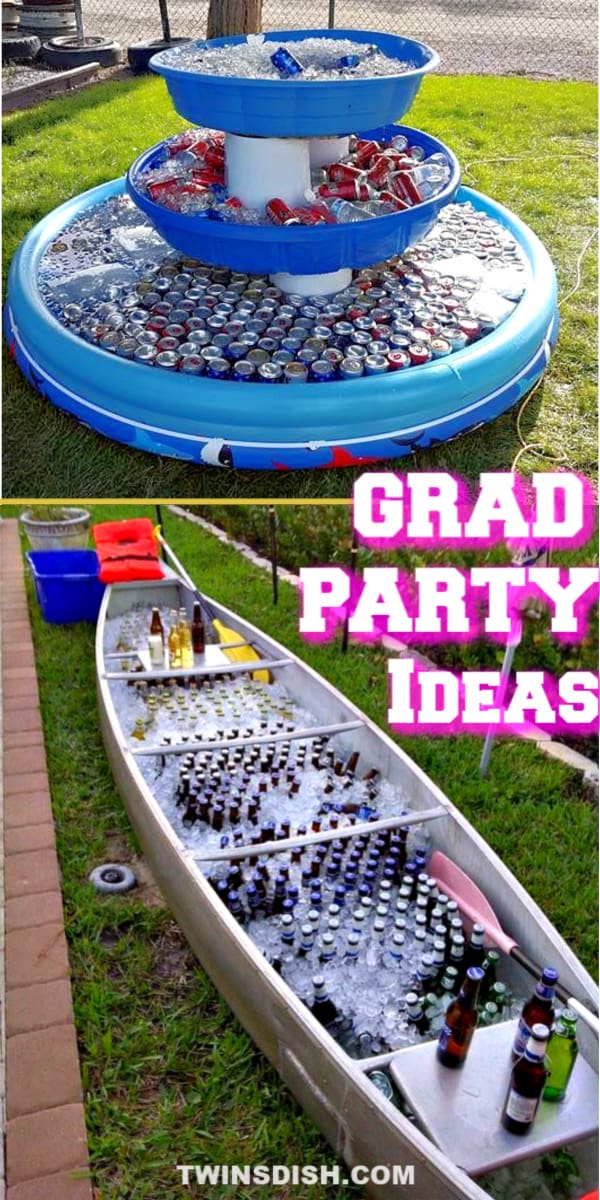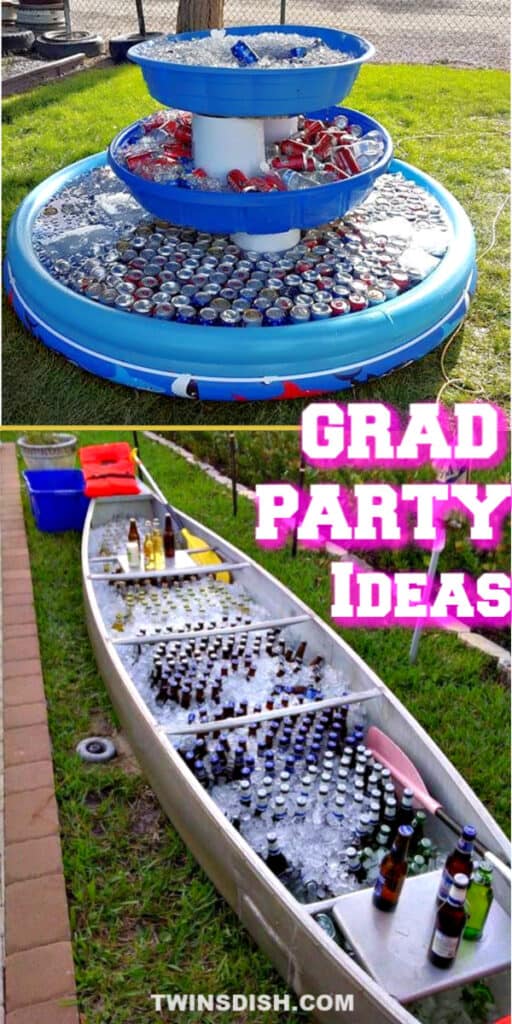 3. Don't make it easy for double dippers to double dip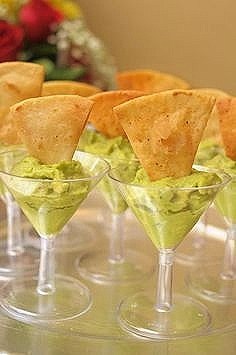 There's always that one child or tipsy adult who dips their chip directly into the bean dip after they already took a bite!
Yes, we've actually seen this in action at parties and it's mortifying. The chances of it are greater if little kids are coming and adults are drinking.
Keep germs at bay by putting dips, guacamole, and even salad in single serving plastic cups or glasses that guests can quickly grab instead of one big bowl or platter on the food table to prevent absent minded double dipping.
You can even purchase cups and containers with lids for take out themed Grad Party food that's germ proof.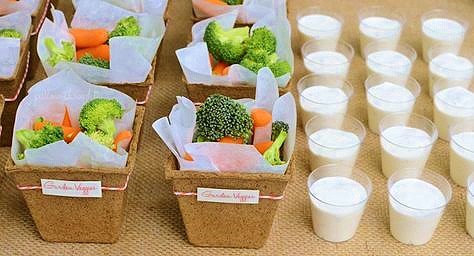 Individual cups are also a cheap way to give a polished and classy look to your grad party food spread, it's also great for portion control.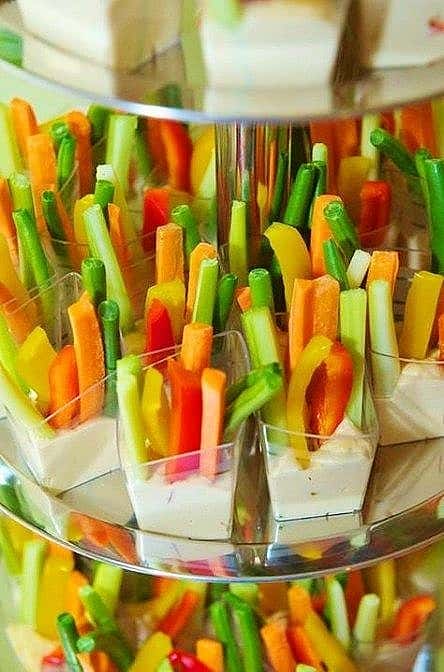 Usually with self serve batch food you get random spills and messy accidents on the tables, individual portions will keep your food table clean and eliminate the need for serving spoons.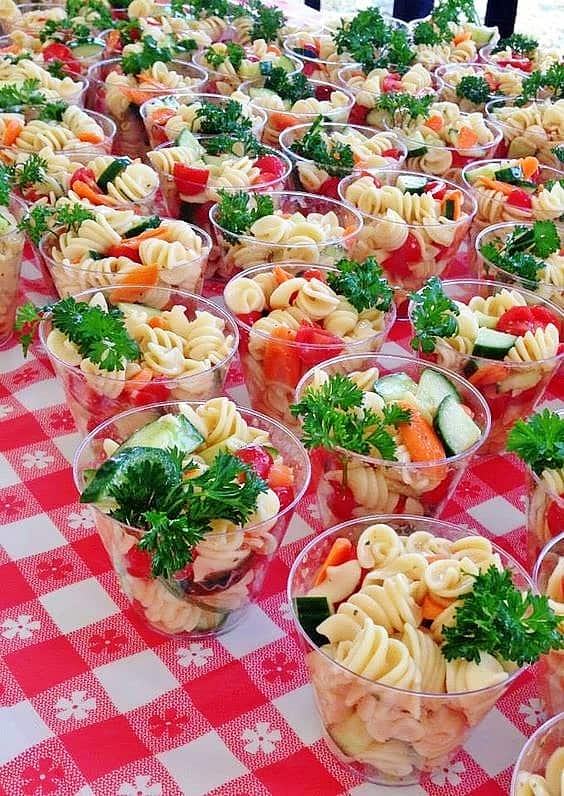 Don't leave food items such as cookies open and stacked on platters that people have to grab with their hands.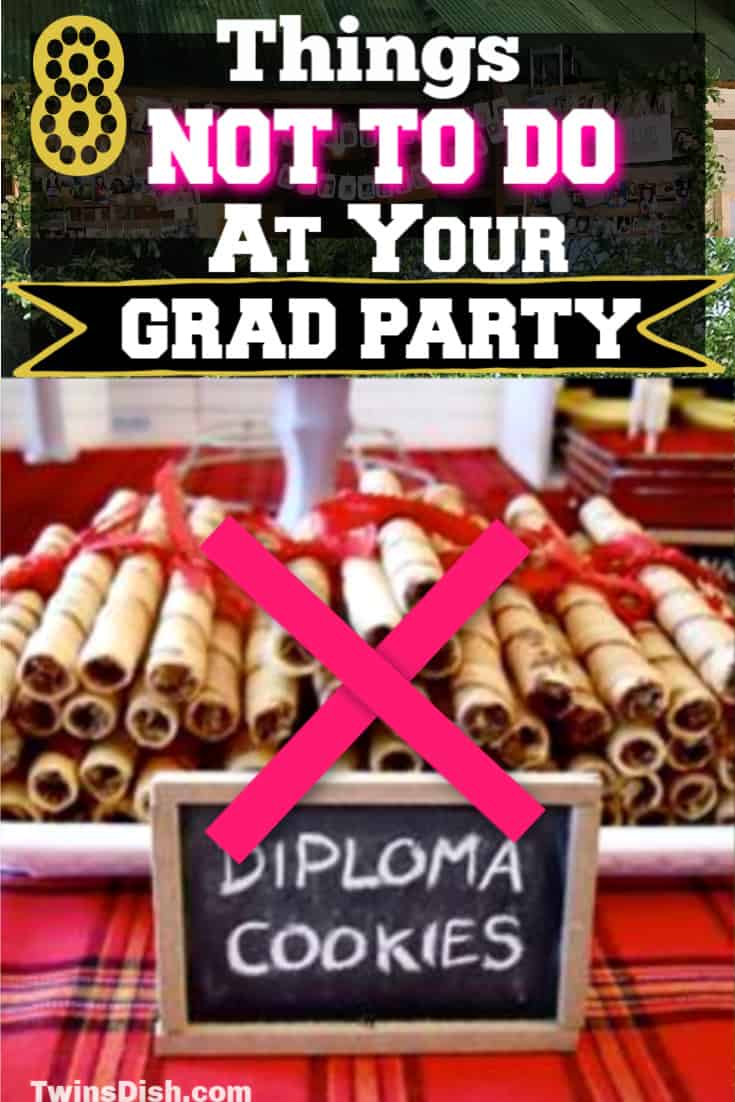 Cover them or store them in jars with tongs that people can use to grab items instead of using their hands.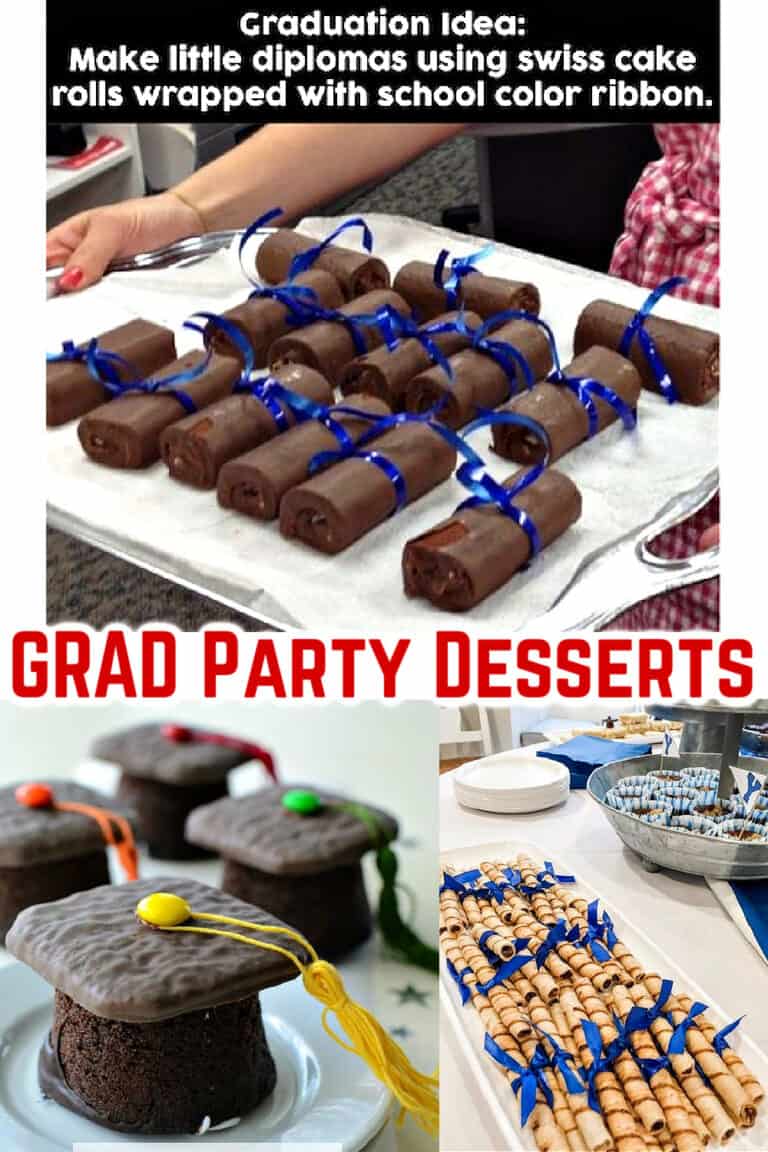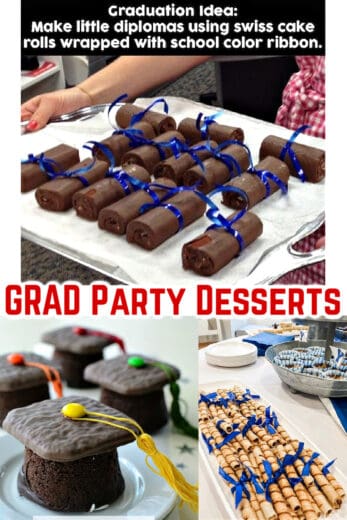 4. Don't make your Grad party look like a memorial or shrine…you're not dead you're just beginning!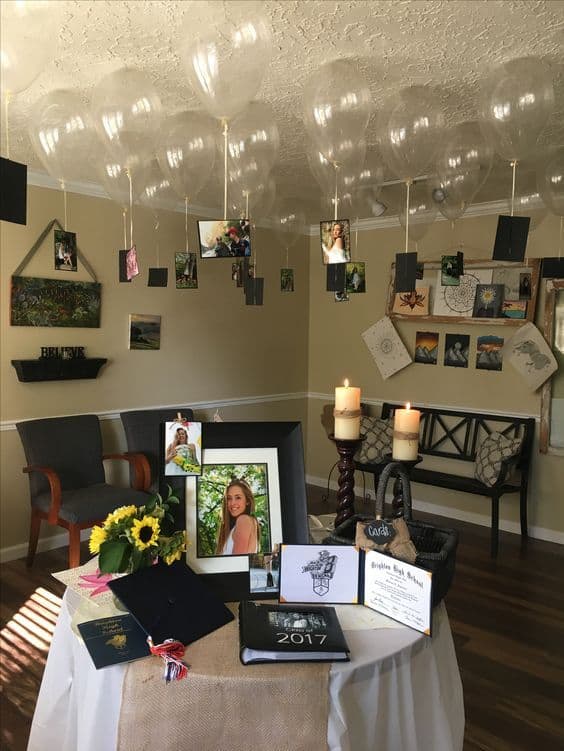 Let's have a moment of silence for the death of your adolescent school career. This is your grad party not your funeral!
Try to display pictures tastefully and select the ones that count, but don't make your party look like you're dead.
When over done, framed photos on a table with candles looks more like a memorial shrine than memories of school years past and all in all evoke a sad feeling of mourning rather than accomplishment!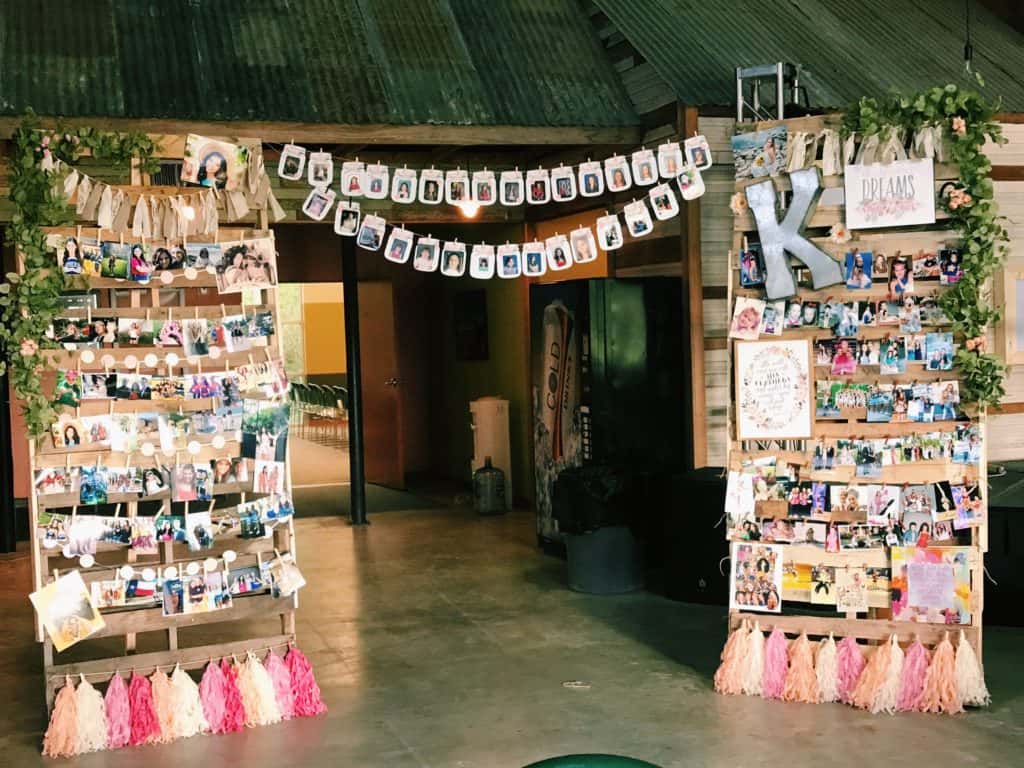 Make a designated picture display area to highlight not mourn the best memories of your school year. Add some color photos along with black and white, a pop of color to the display, or even some sparkling lights to give an inviting and happy feel.

Don't forget those eating tables! Photos placed as centerpieces on the tables where we were eating were ones we noticed the most.
Guests will appreciate having something to look at while they're enjoying their meal or drink so don't forget to put your best photos there!
This is another super easy centerpiece idea for twins since you can stick two photos in each arrangement.
5. Don't do everything yourself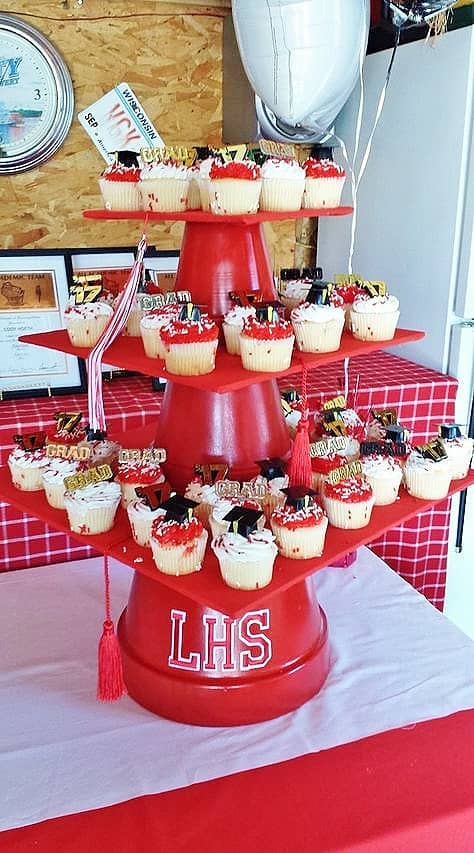 Not everything has to be customized, choose a few easy statement DIY pieces to personalize the party and utilize the dollar store for the rest. It'll be cheaper, less stressful, and save you a ton of time.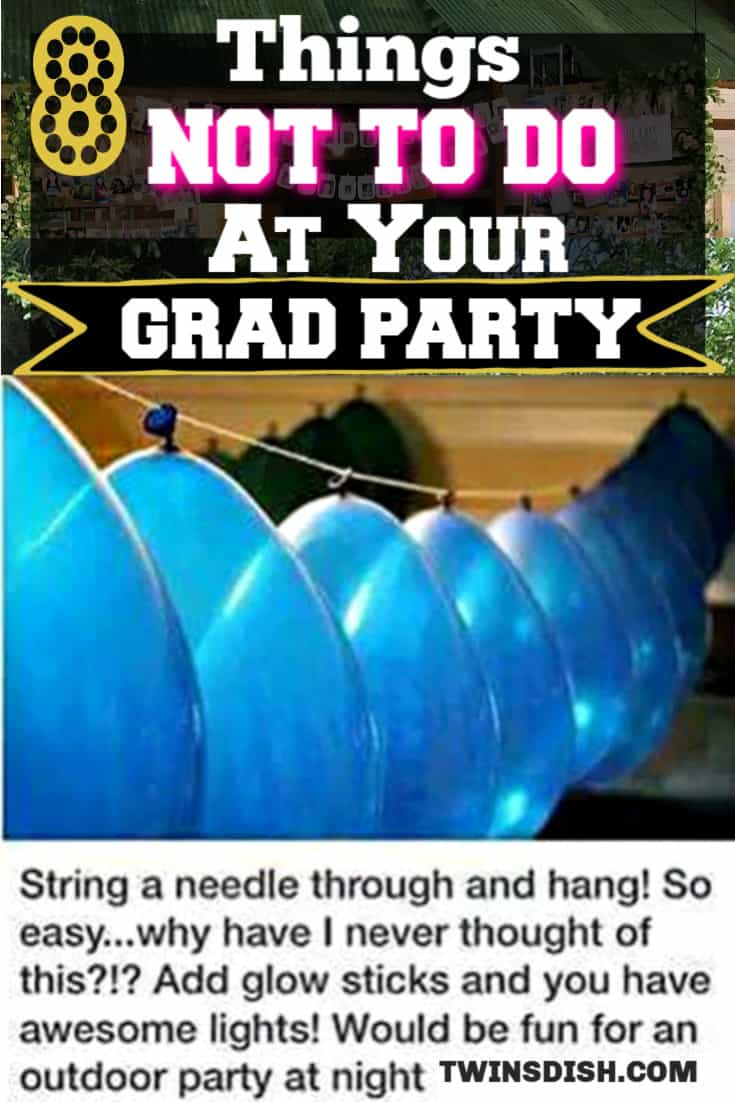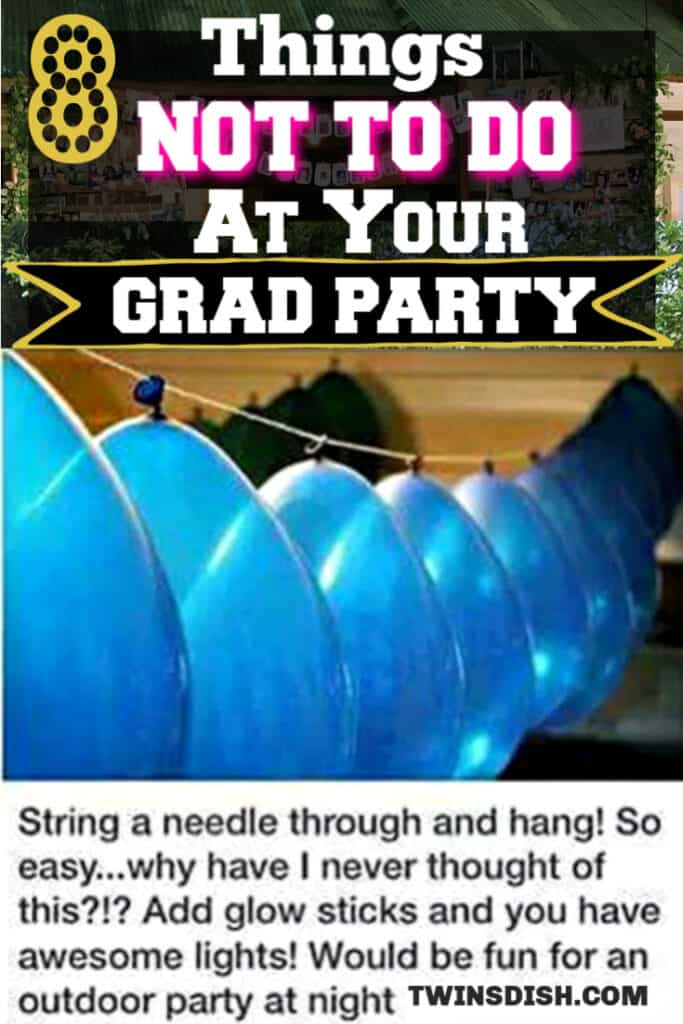 Get a willing sibling or hire a teenager to help with things like taking out the garbage and refilling snacks when the party is in full swing so you can enjoy the celebration.
We've seen Grad party hosts so stressed out trying to keep up with cleaning up over flowing garbage, and refilling empty food trays that they couldn't really enjoy the party or food until it was over.
We've also seen guests going hungry because the host was enjoying the party (as they should be) and didn't keep up with replenishing the food table.
6. Don't Spend A Ton Hiring Professional Entertainment – Utilize Many Talented Teens Or Graduates In The Graduating Class To Perform At Your Party Instead!
Whether it be dancing, singing, playing an instrument, or DJing, heck even performing magic tricks, some may do it for free or for a small fee! Don't stop at graduates, ask cousins, neighbors, and siblings of friends.
Make a free playlist on Spotify of the Graduates favorite songs to play during the party and in between any live performances.
7. Not give guests an opportunity to give the Grad advice.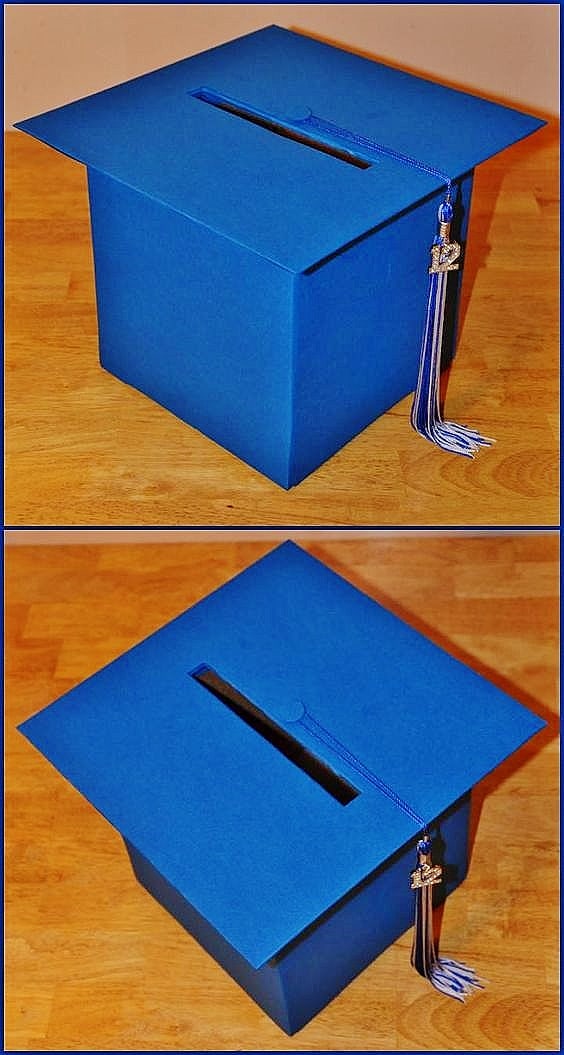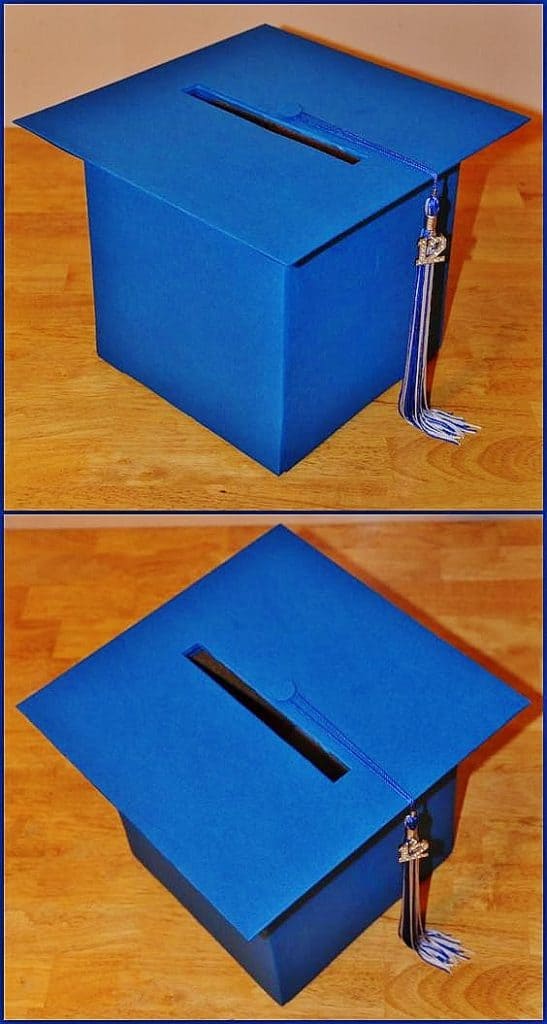 PINTEREST.COM
This is too easy and valuable not to do.
Grab a pen and an empty pad or notebook, and give guests the opportunity to write down their best piece of advice for the new Grad.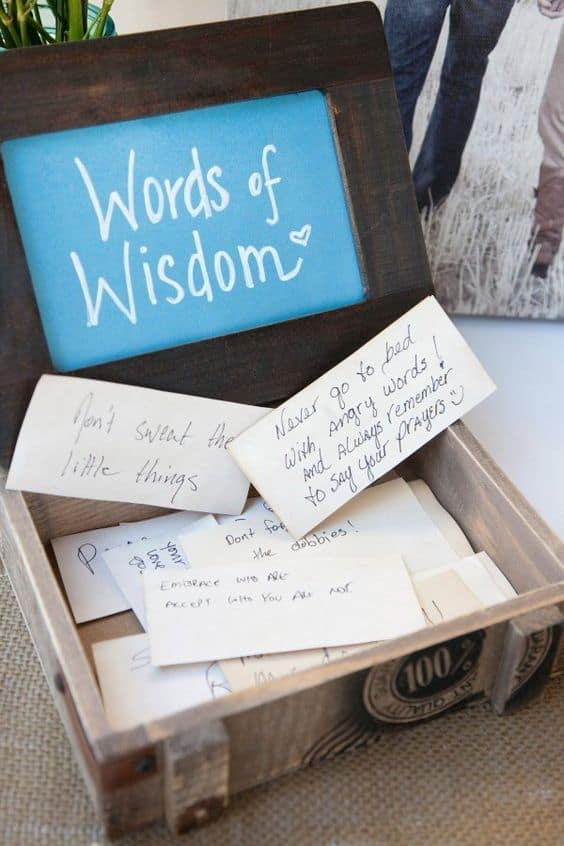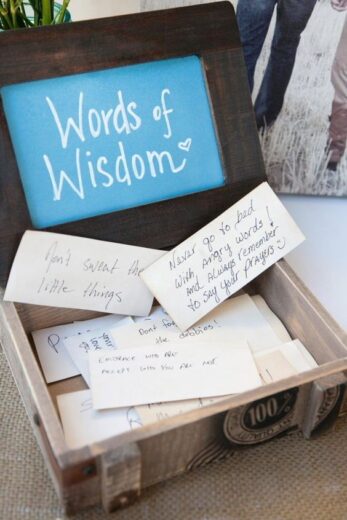 WORDS OF WISDOM GRADUATION PARTY PHOTO CREDIT

You can even set a jar, box, or bag by the pad.
Whether it's on life, deciding their career path, or valuable tips for college, this is the perfect time to get some jewels of wisdom from friends and family who care and have been there.
8. Don't forget the details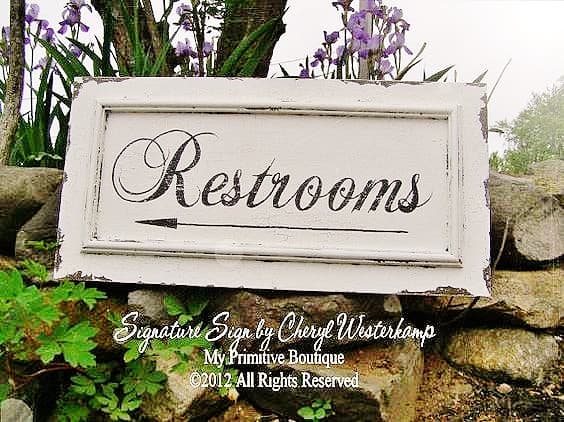 Where to park, where's the bathroom, do all of the lights and electricity work, do you have enough trash cans- all things you should not only figure out prior to the party but make signs for or let guests know about.
The larger your guest list is the more important this is! We've seen people forget to include this info to guests with overwhelming and disastrous results.
9. Don't Have High Maintenance Food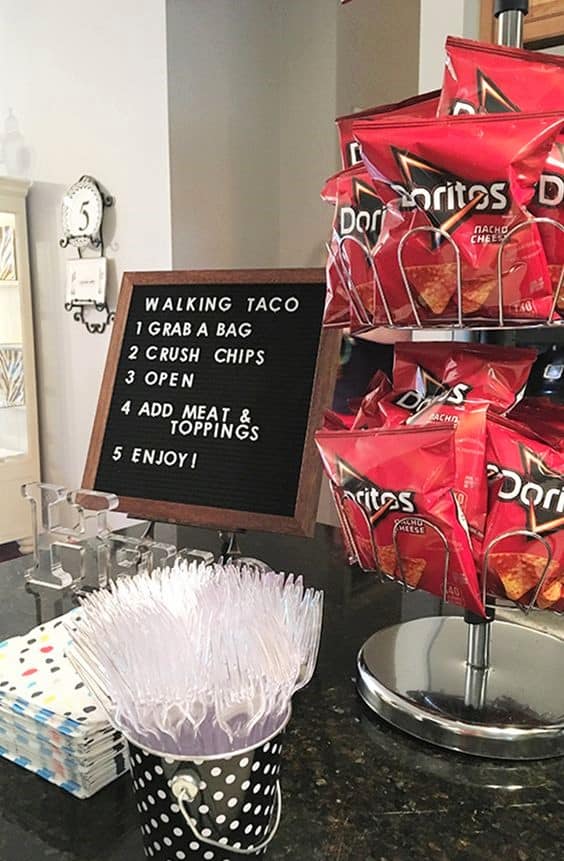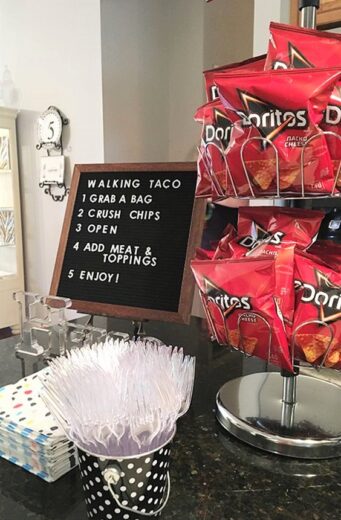 Unless the Queen of England is going to be in attendance save the super fancy gourmet food for your Wedding.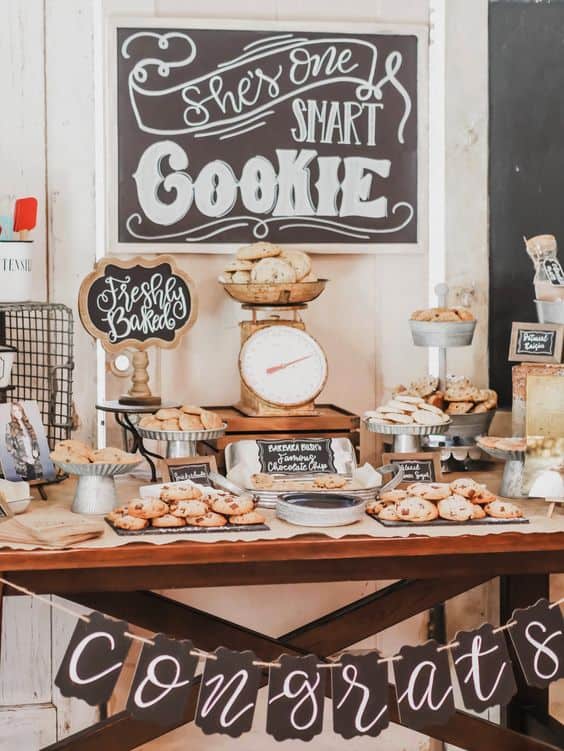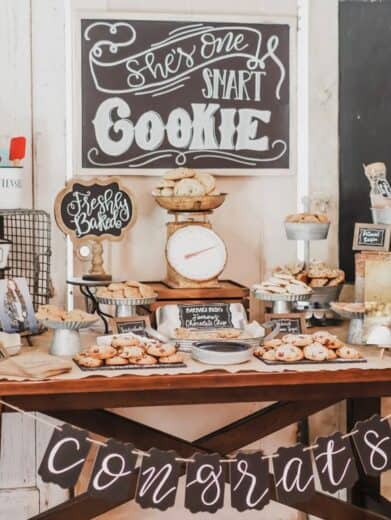 COOKIE BAR PHOTO CREDIT AND TUTORIAL
Rather than gourmet food dress up quick, easy, and delicious dishes that have mass appeal, but use few utensils.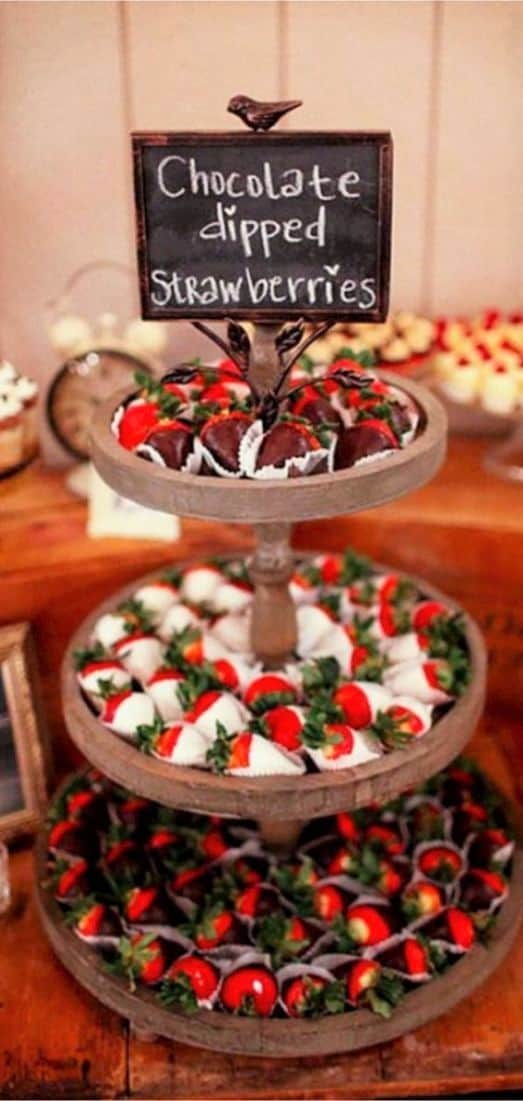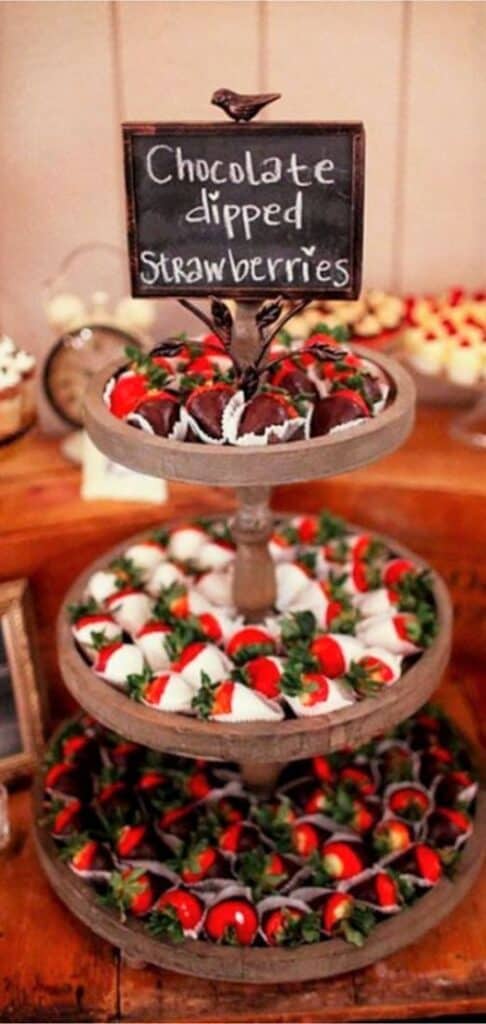 CHOCOLATE DIPPED STRAWBERRY PHOTO CREDIT
Remember it's the presentation that is key.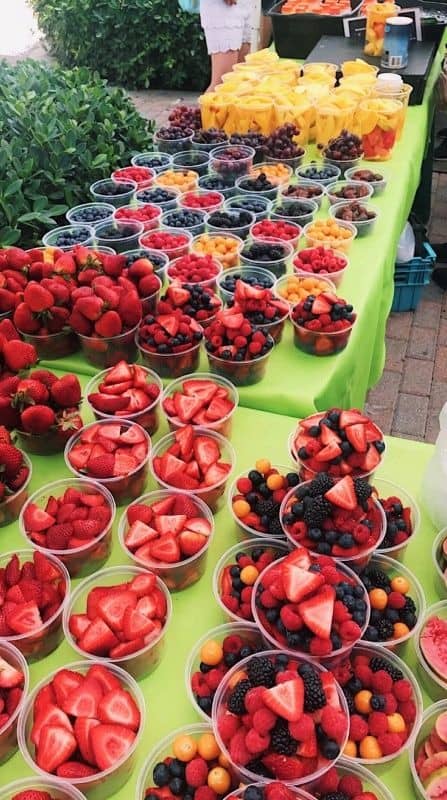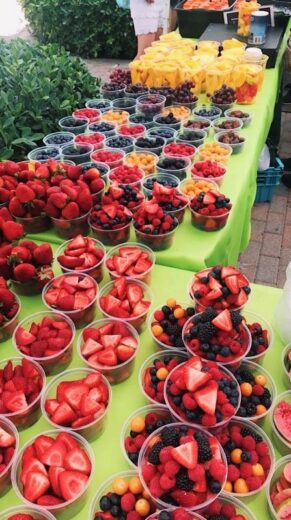 You want something that's easy for guests to pick up and easy to throw out.
Food guests can eat while standing up or sitting down.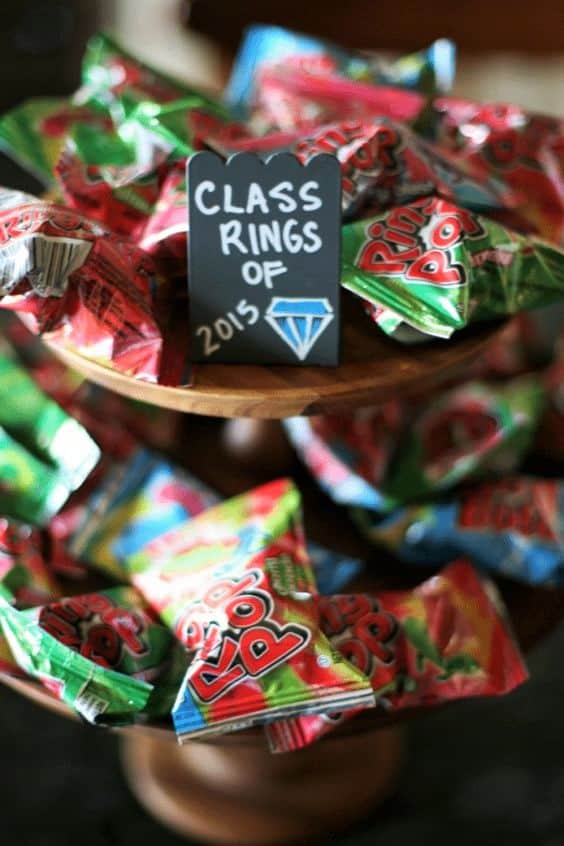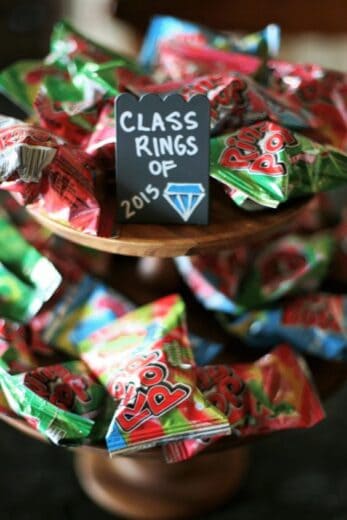 Candy puns are the best way to put a Graduation party food spin on normally ordinary candy.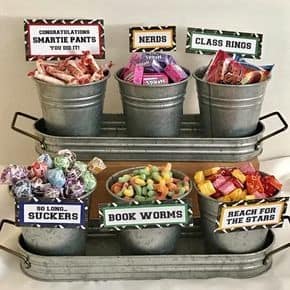 Candy Puns make a great cheap Graduation candy buffet look expensive and witty.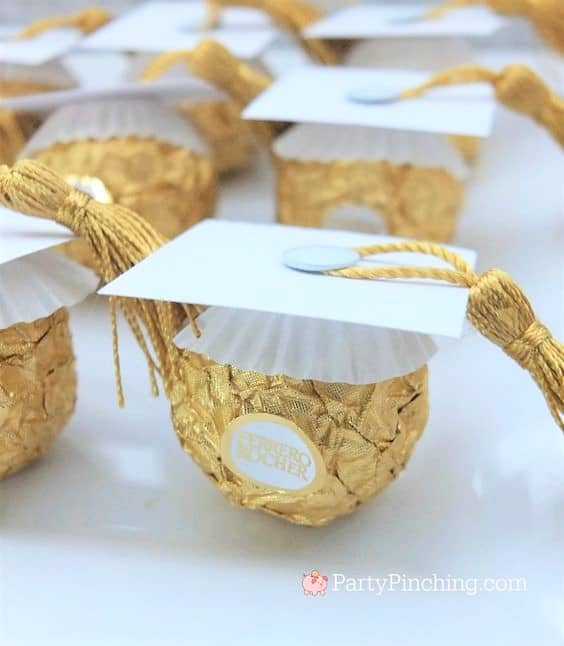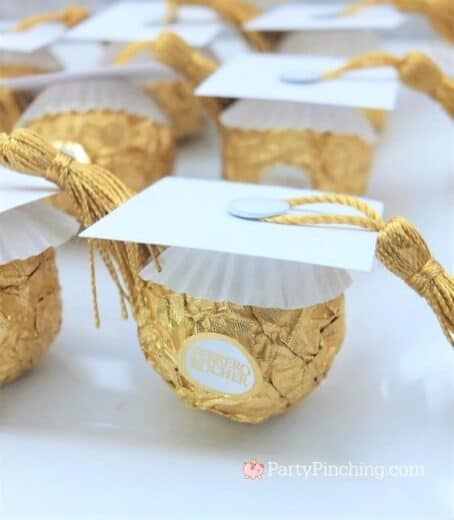 Any food can look fancy depending on how it's displayed.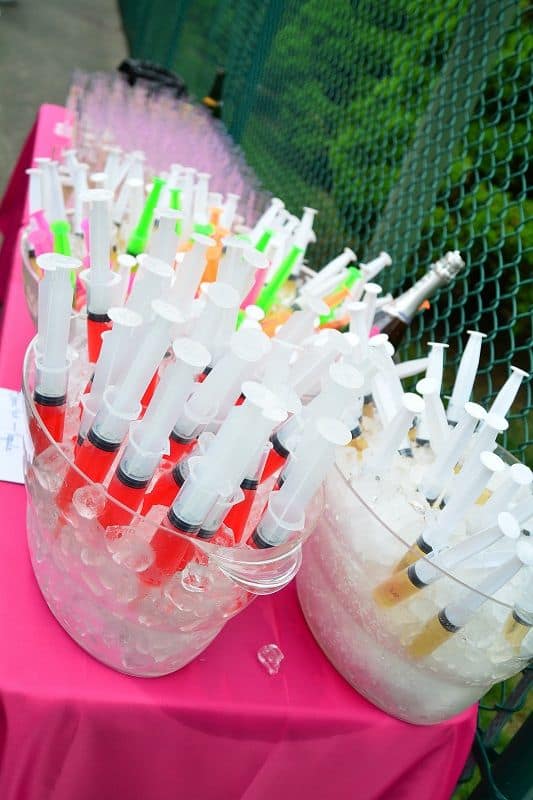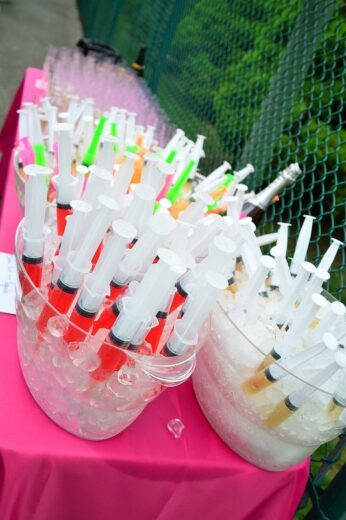 Syringe Medical / Nursing School Graduation Party Food Idea
Having a Medical or Nursing School Graduation party? Don't forget those syringe jello shots!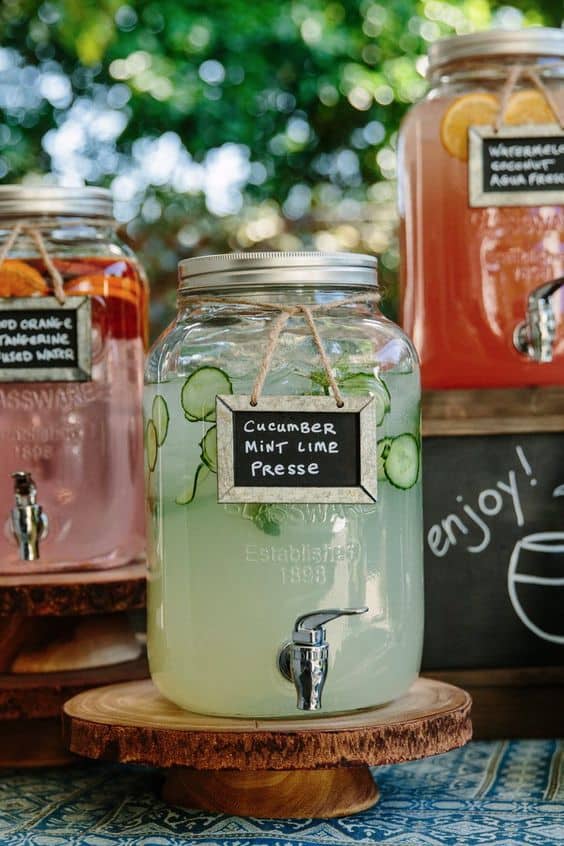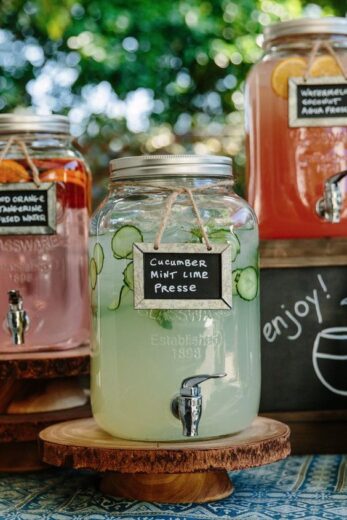 Serve drinks/water in a mason jar with a lid, or buy prepackaged juice boxes, and canned or bottled soft drinks and water.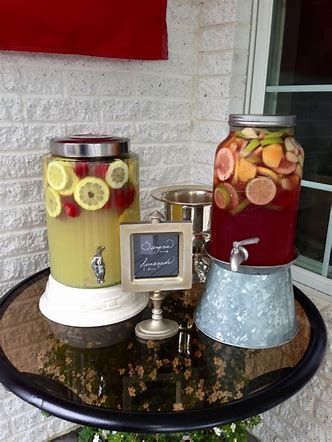 ---
10. Above all, DON'T fret!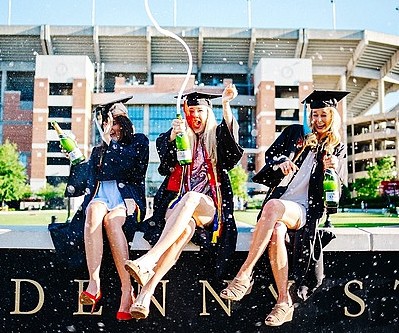 This is a celebration of an amazing milestone and the beginning of adulthood. Whether or not the decorations are perfect or everything goes as planned, the whole point is to take it all in and enjoy one of the most exciting times of your life!
We hope this list helps you plan the Grad party you'll never forget. Congrats Grad! The future is yours!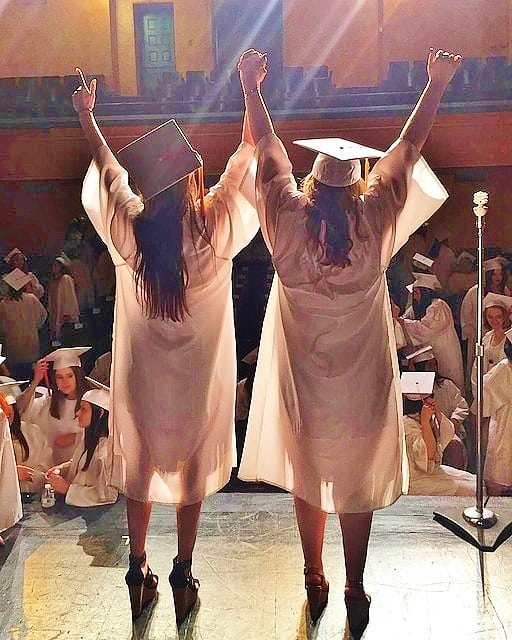 Love,

Don't forget to pin for later!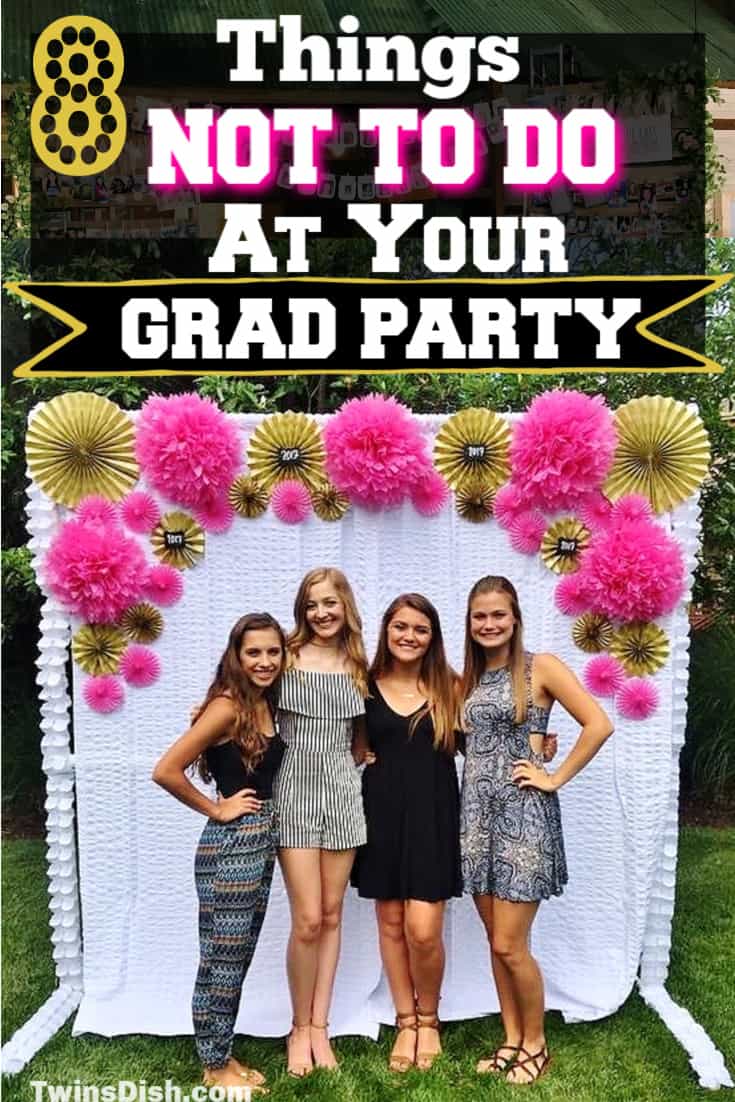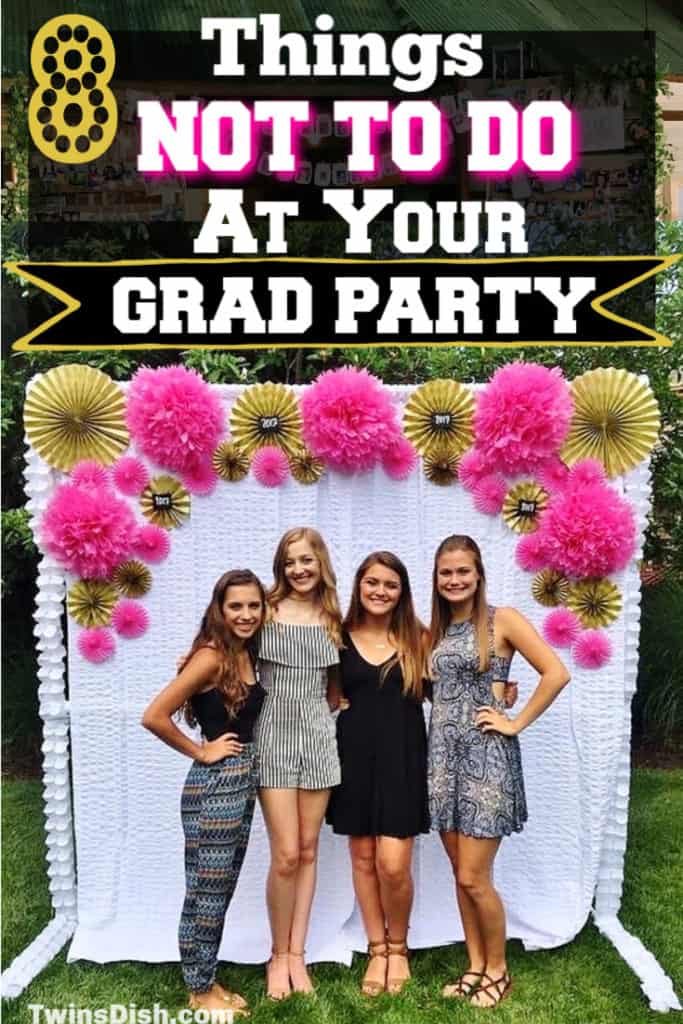 Other posts you may like: