30 Graduation Party Centerpieces You'll Use Forever
Updated January 23, 2023
This Post is all about Graduation Party Centerpieces!
How do you decorate a Graduation Party table? With Graduation party centerpieces of course!
Centerpieces are important since tables are where guests will spend a lot of time eating, drinking, and looking for something to entertain themselves while they do it.
If you're wondering how to make a Graduation party centerpiece or what to decorate your table with, don't fret, there are plenty of really easy options for making gorgeous personalized centerpieces.
We've seen and made some really quick, easy, and inexpensive ones that were the talk of the party.
Some ideas are even interactive with guests helping you decorate themselves.
Here are the absolute easiest, best, and most impressive Graduation table decoration ideas that'll fit every party theme and ANY skill level. They'll work for both a boy or girl, High School or College, and even a joint or twin Grad Party.
Not only will your guests love them, but they'll want to take them home.
Keep checking back as we are constantly adding more unique centerpiece ideas all of the time!
This post may contain affiliate links. Click here to read our full disclosure policy.
Graduation Party Centerpieces Cap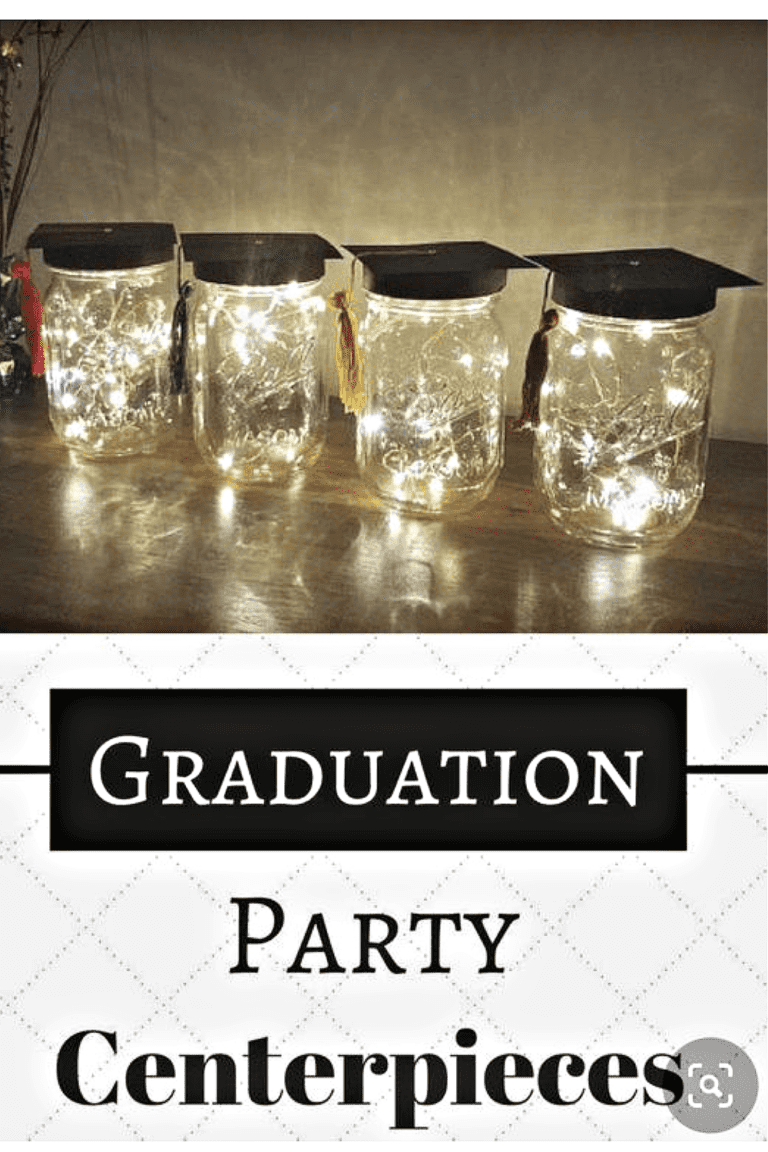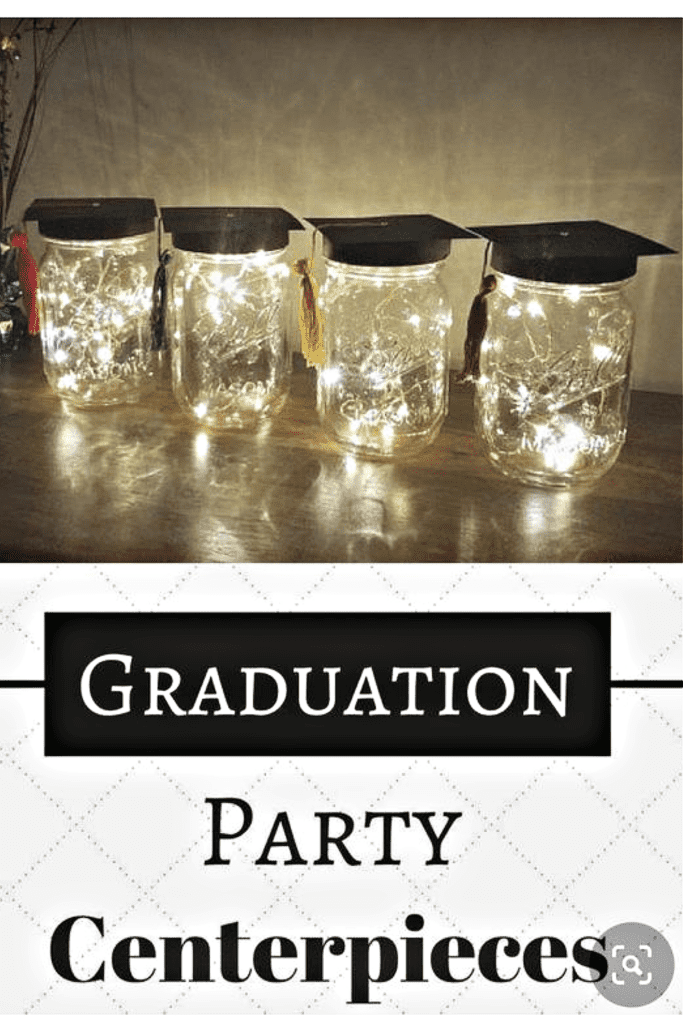 Cap your mason Jars! You can purchase the mini fairy lights for your Mason Jars by clicking here on etsy. You can easily make the Graduation caps yourself using card stock or purchase them on etsy too!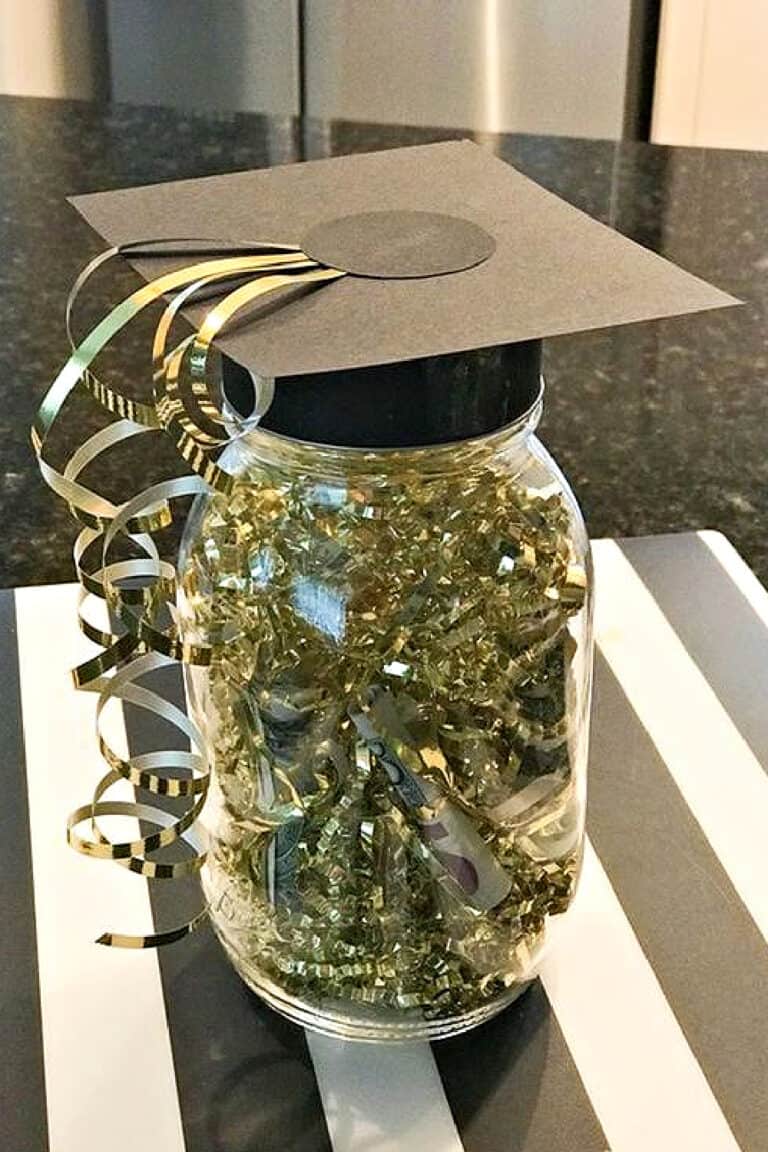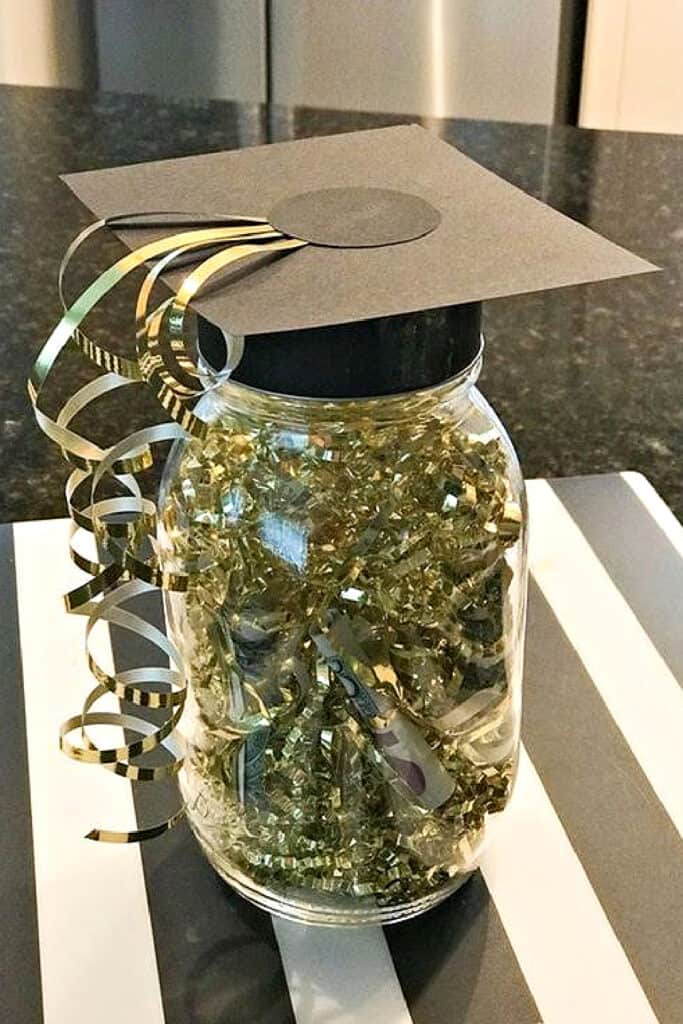 Paint the lids black and fill with gold and black filler paper or ribbon. You can use any color you'd like to match your theme.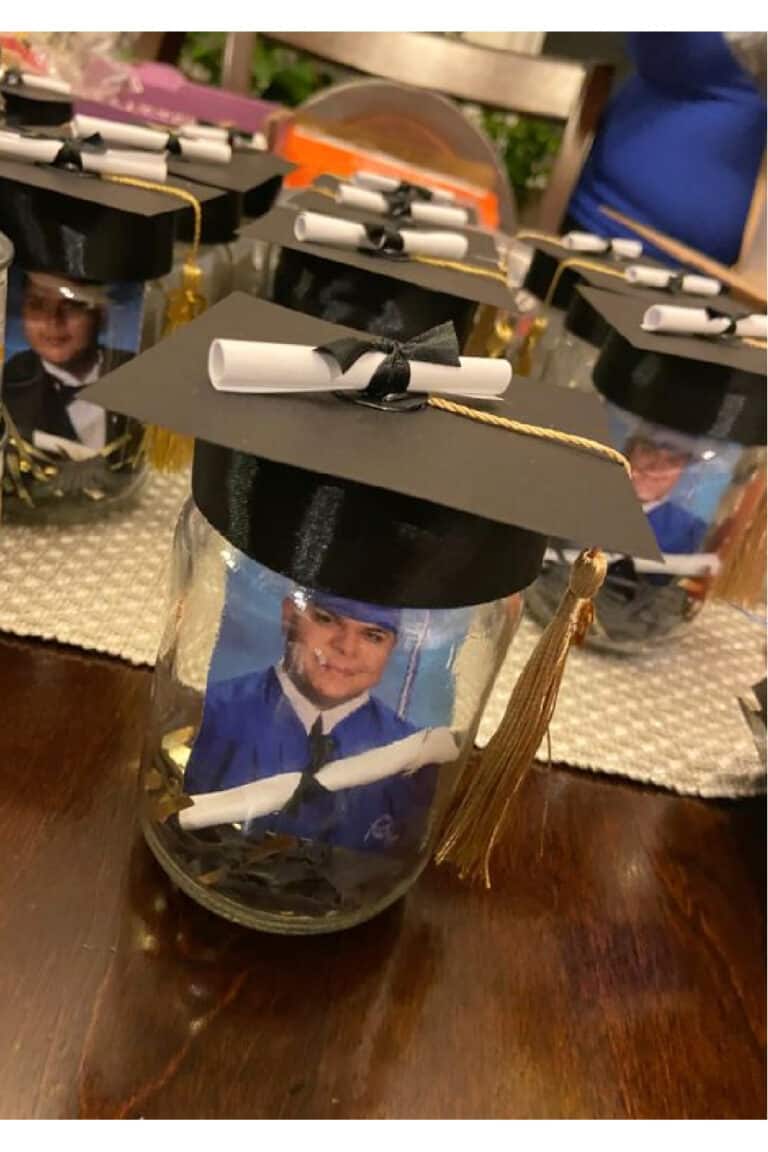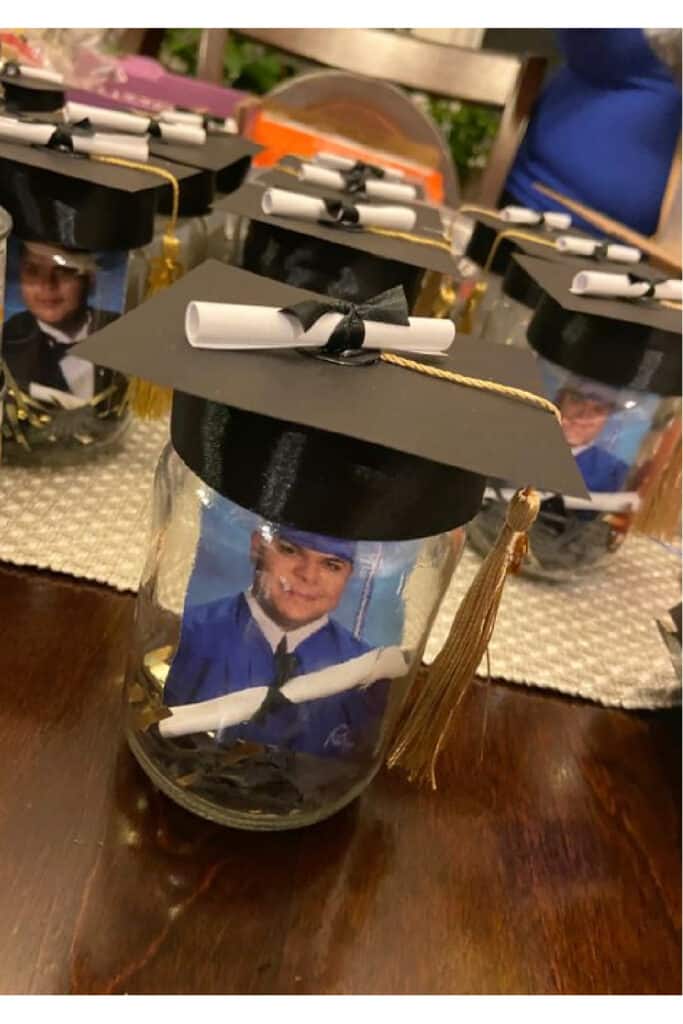 Add a photo! This idea can work for both boys and girls. Black ribbon was used for the jar lid.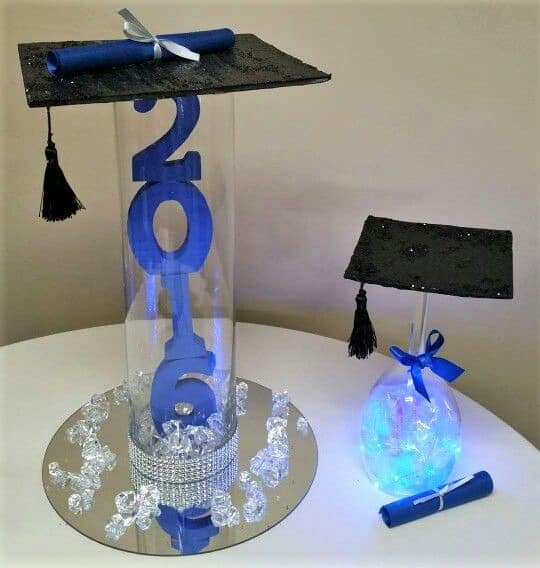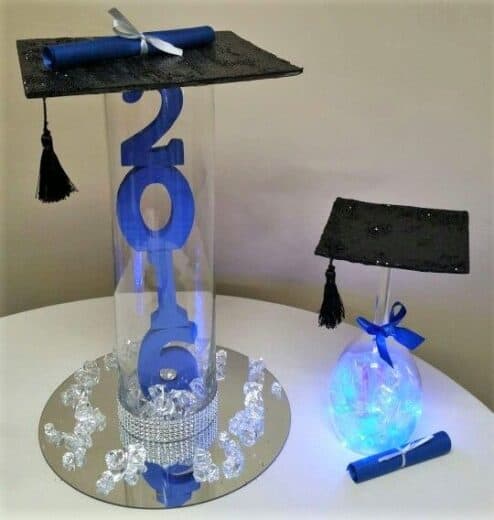 SUPPLIES:
Use painted wooden or cardboard letters glued together, a glass vase, board for the top, a tassel, and mirror.
You can also make a simple but adorable design using a wine glass and glow stick or votive. All items are available at the dollar store or on Amazon for cheap.
There is a great tutorial on how to glitter numbers if you want to give it a little glam kick.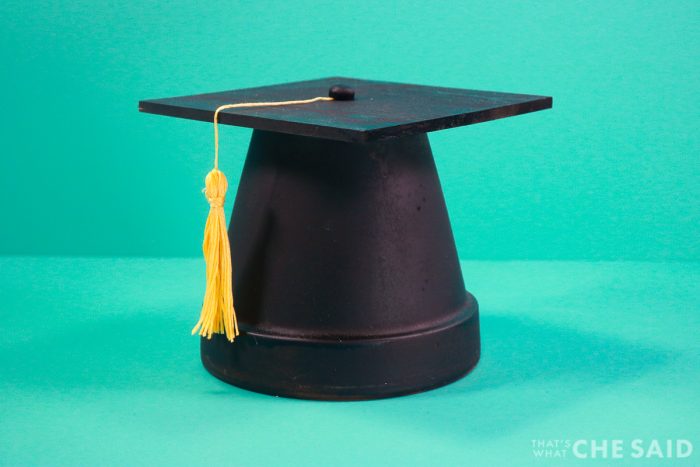 Flip over a terra cotta pot for this super easy design. You can even place a photo, plant, candle, or balloons on top and glue glitter to the base!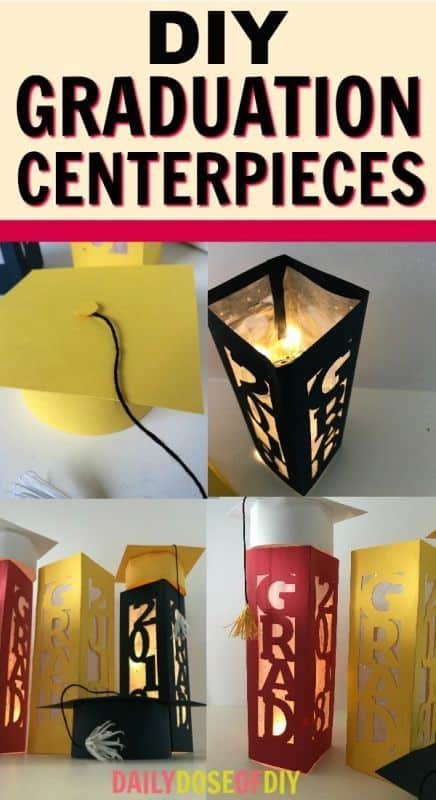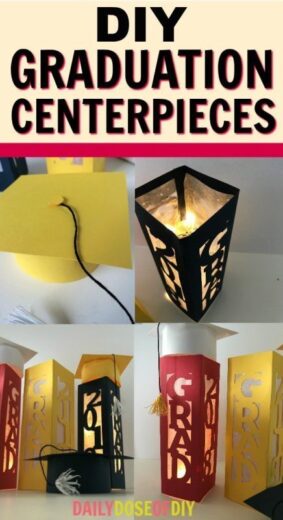 If you have a cricut machine you can make the beautiful Graduation Cap Lanterns for your tables (pictured above).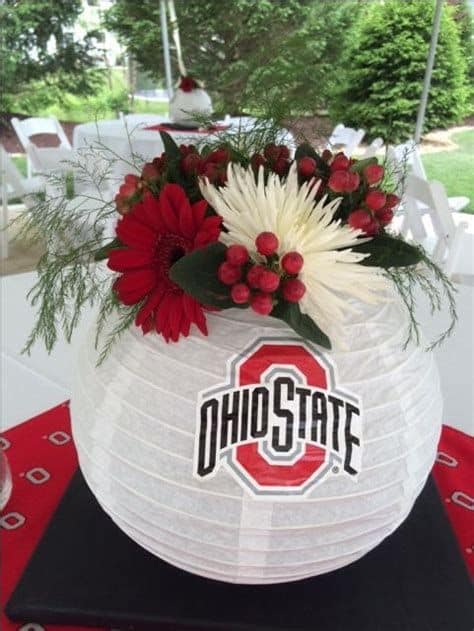 This may not be a cap but it sure does have school spirit. Incorporate your school logo or mascot into your centerpiece.
---
Graduation Party Jar Centerpieces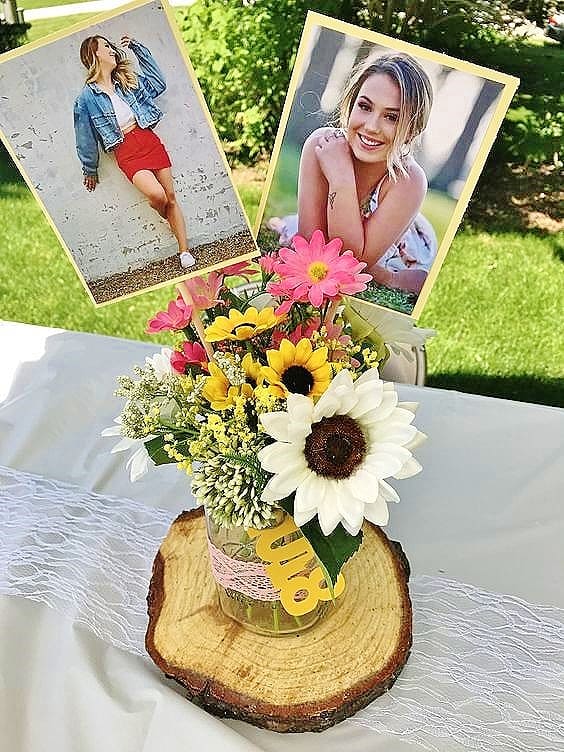 For a rustic backyard idea glue your fav photos of the Grad on card stock, tape to wooden skewers, and insert in a flower arrangement, vase or potted plant. Place it on top of a slab of wood for added effect.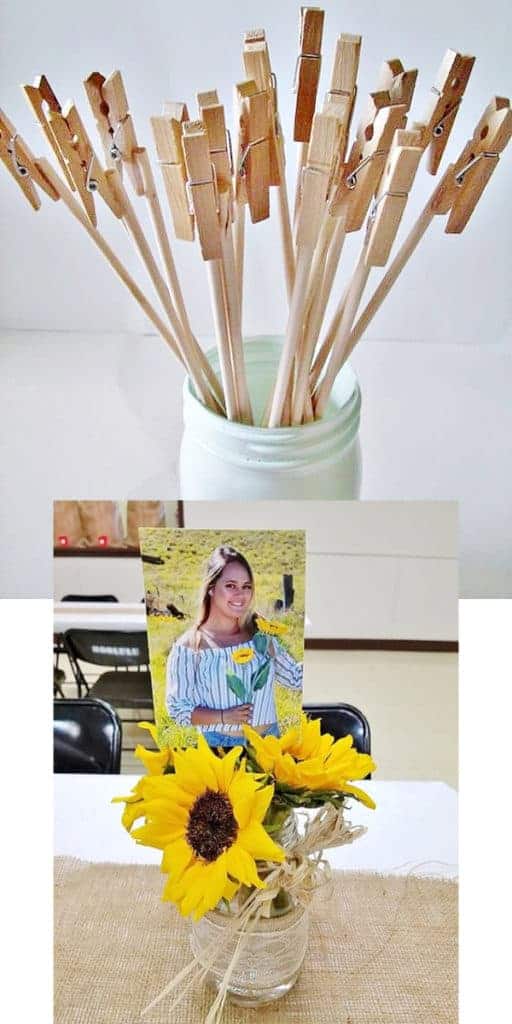 Our favorite method for placing a photo in a bouquet is by gluing clothespins to skewers (as used in the sunflower centerpiece above). Clothespin photo holders are so easy to make!
SUPPLIES: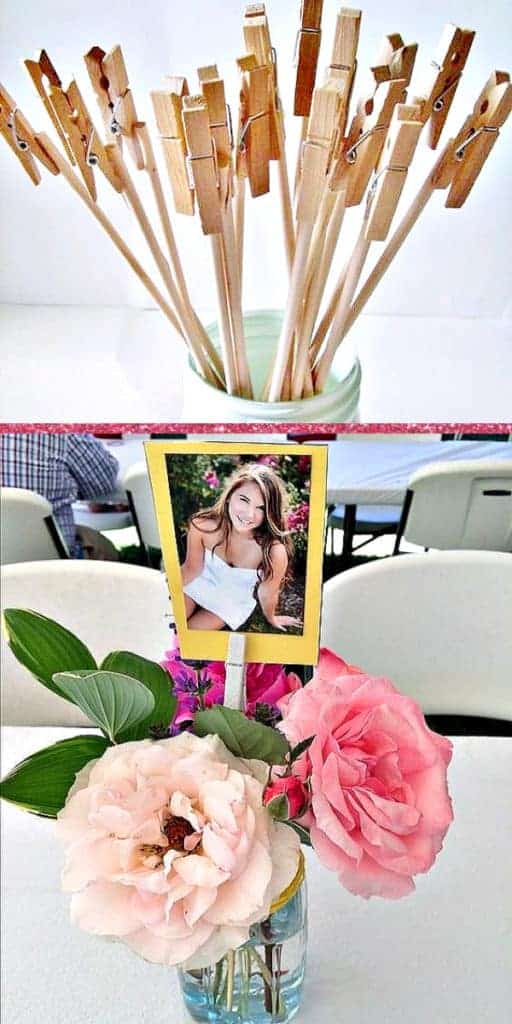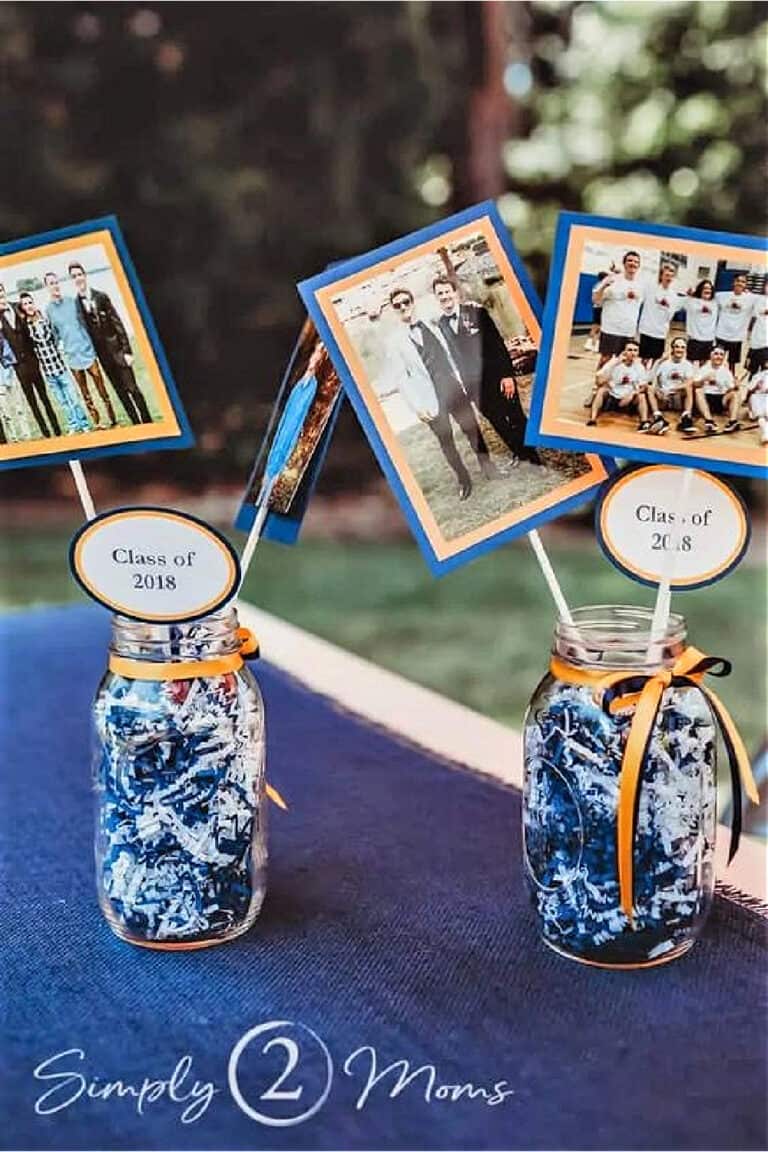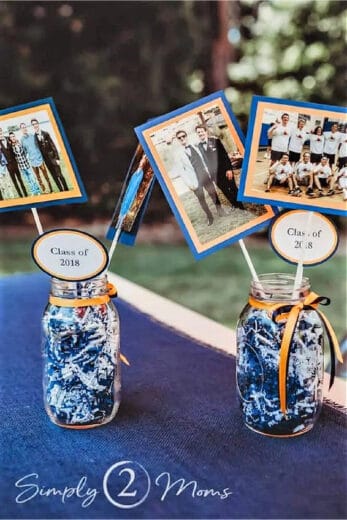 Get the tutorial to make the cheap and simple Graduation Party centerpieces pictured above.
Fill jars with anything from shredded paper to fake grass to pebbles or shells to suit any theme for boys or girls.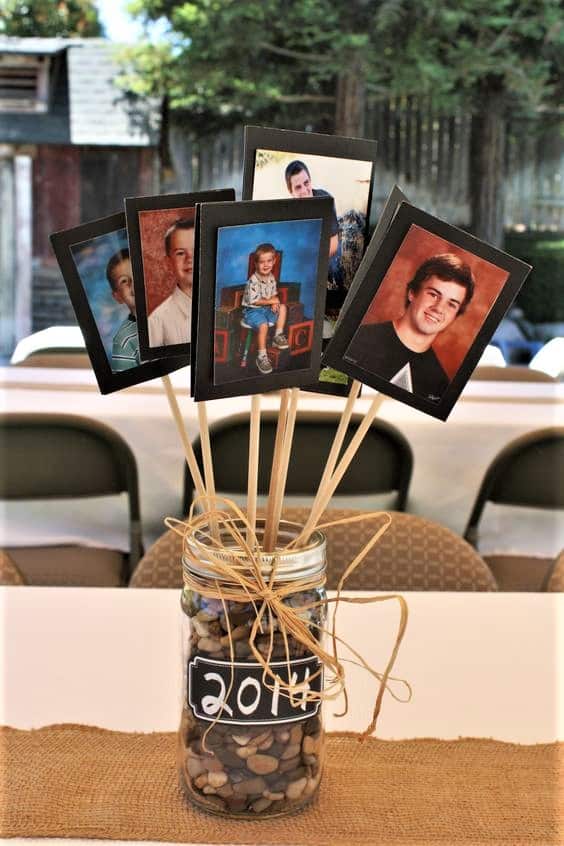 You can add as many photos as you want, and this would work really well for a joint Graduation Party, or centerpiece for twins!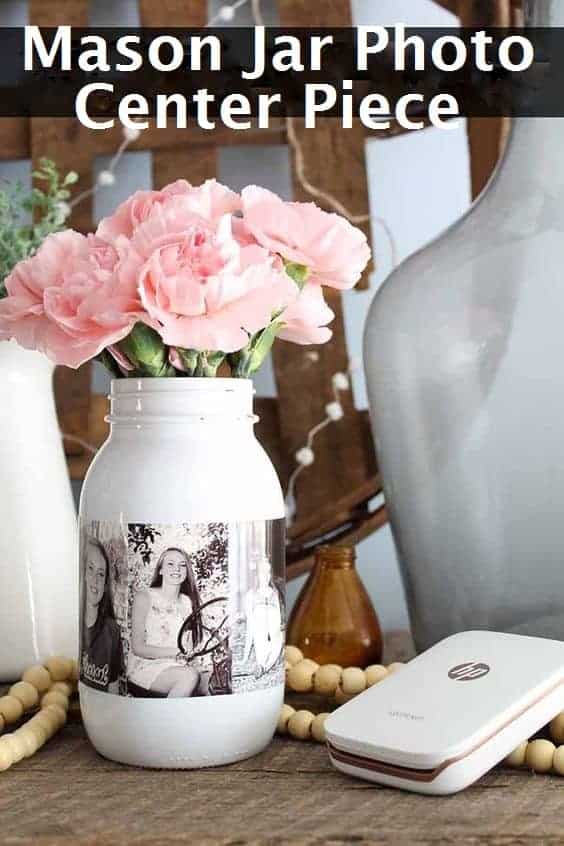 For a super easy keepsake that guests can even take home, glue photos on jars with Mod Podge. You can even paint the jar before gluing the photos to match your color scheme.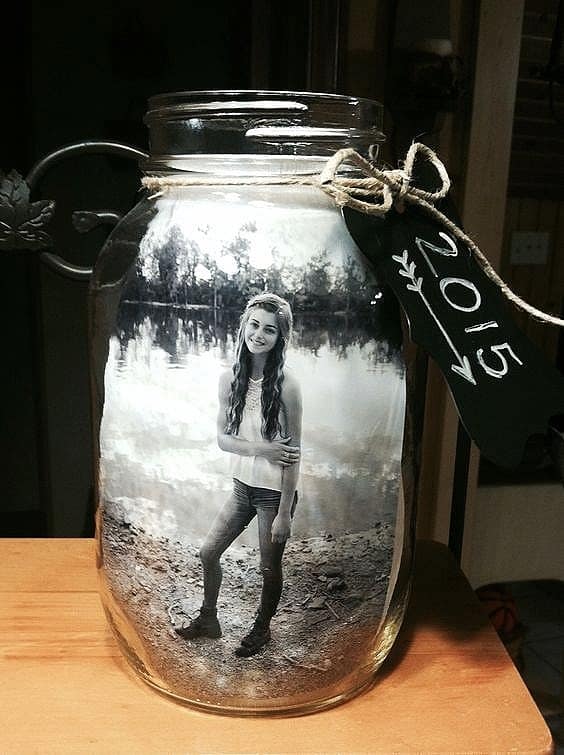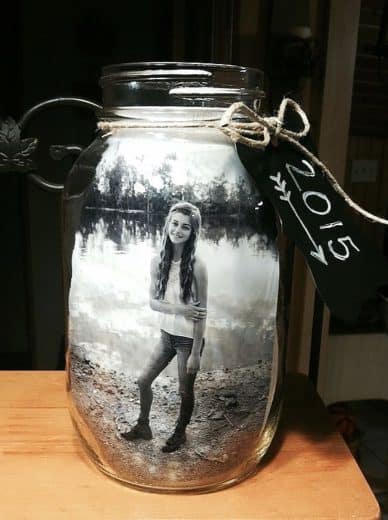 If you're short on time, stick a photo in an empty glass jar for an easy centerpiece.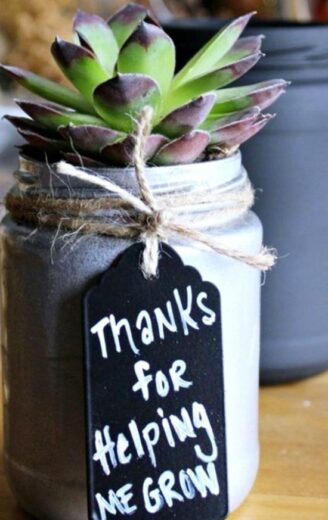 Place a succulent plant in a painted jar for a sentimental centerpiece some lucky guests can even take home as a special thank you from the Grad.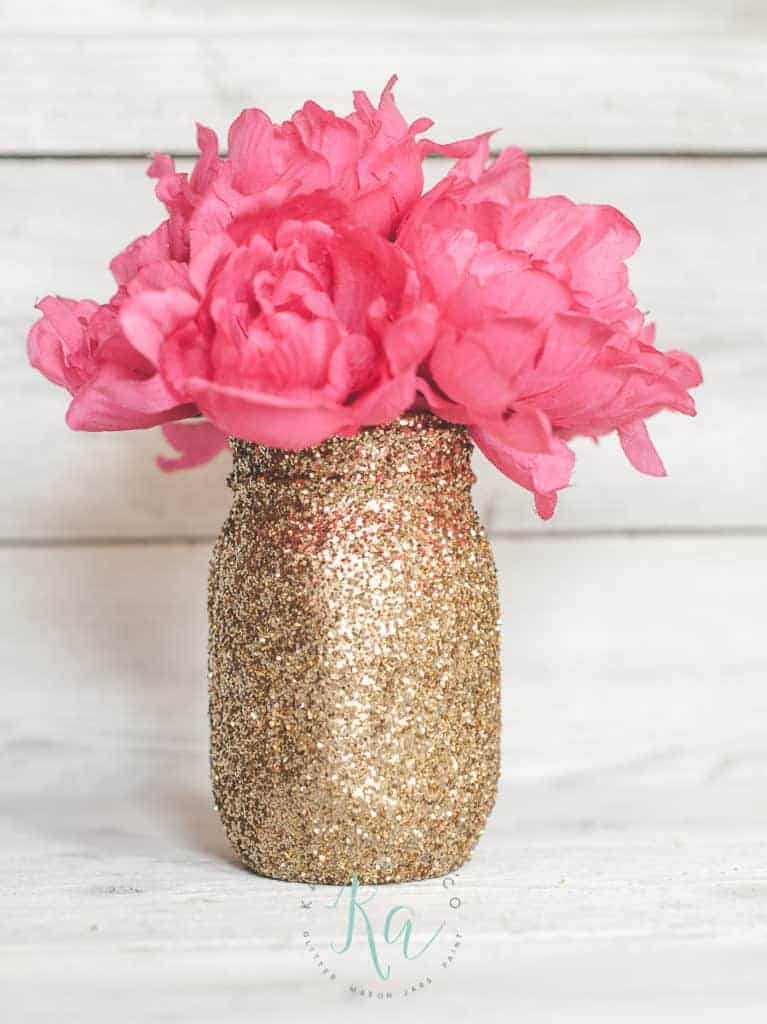 Decorating with glitter or beads adds a glamorous touch to mason jars and is so easy and cheap to do.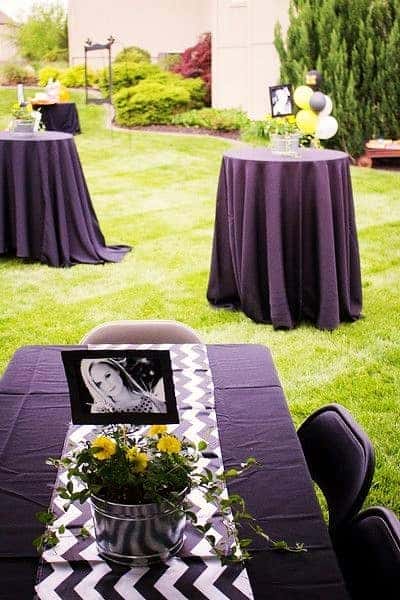 This isn't a jar BUT we love the idea! For those with a black and gold grad party color scheme, use black and white photos on black or gold cardstock. It gives a sleeker more sophisticated look. It can suddenly make any potted plant look like a Graduation centerpiece, and is a great last minute option

---
Graduation Party Centerpiece Bottles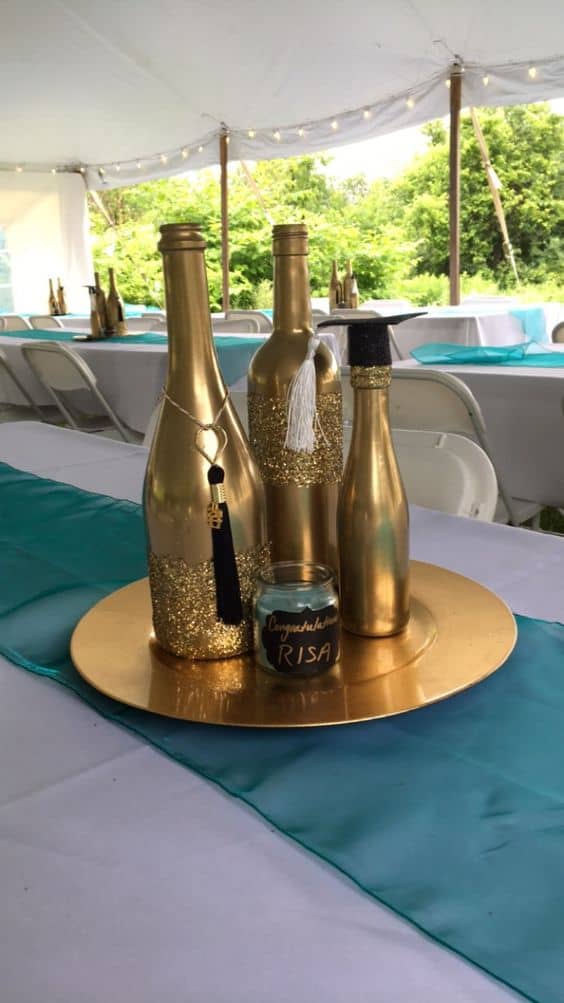 SUPPLIES:
Get out those old wine and Martinelli's bottles! Add some gold spray paint, and roll in some gold glitter for a cheap centerpiece that looks expensive. You can get the gold charger plate above at the dollar store.
Pair it up with a bold color like jade, purple, blue or black for an elegant Grad party table.

Get out the gold spray paint and empty wine bottles or mason jars for some elegant yet simple gold centerpiece ideas.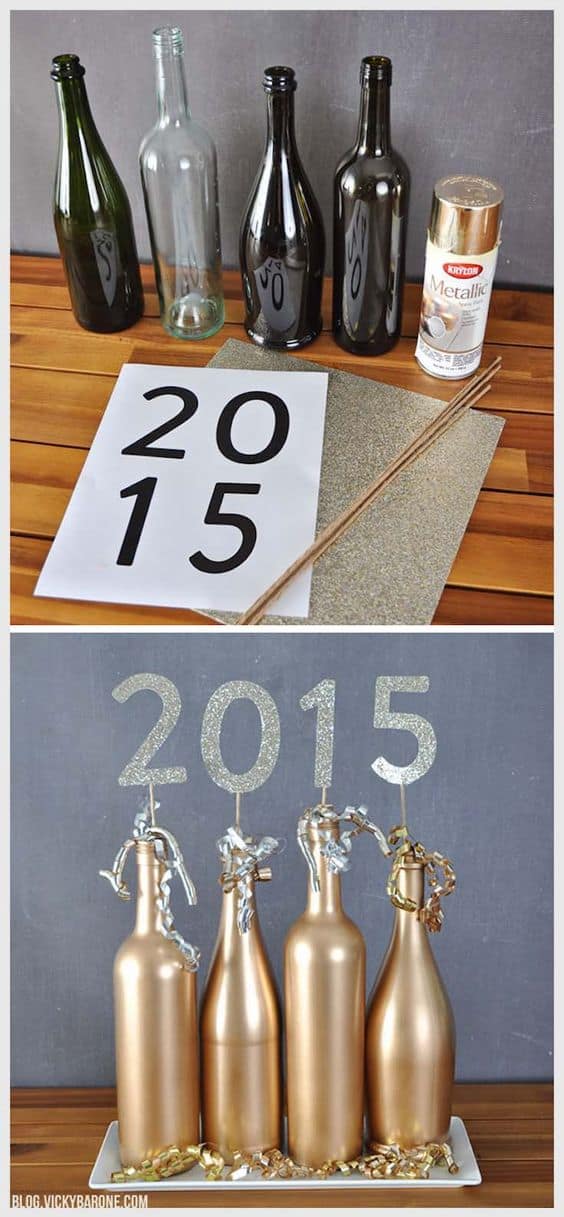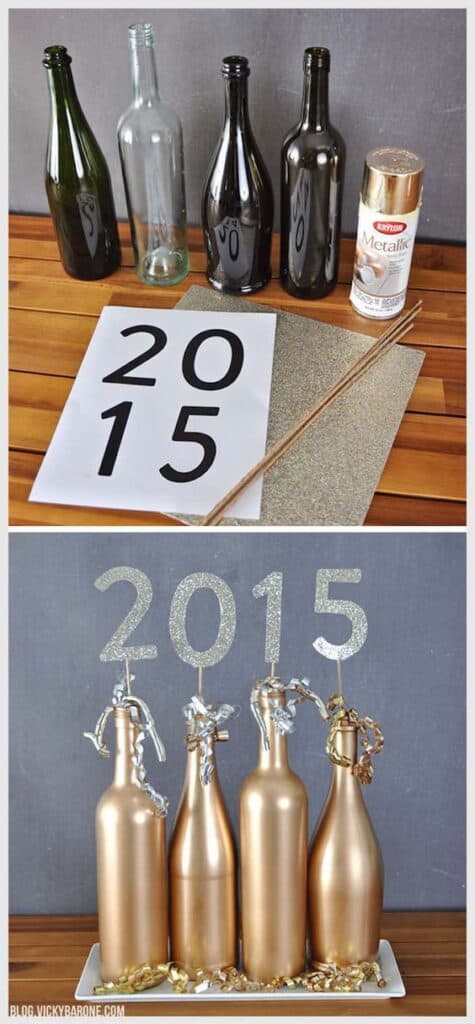 You can fill them with anything from flowers to decorations to photos or confetti.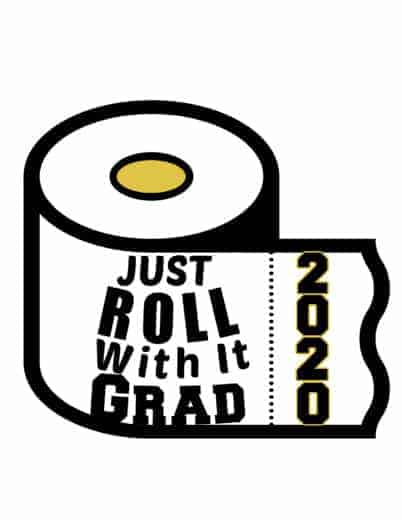 You can design and print any Graduation graphic out and glue it to cardstock and a skewer for a simple addition to your glitter vases or bottles! They can even double as photo props! Use a free graphic designing site like PicMonkey.com or Canva.com.
Graduation Party Centerpiece Vase Ideas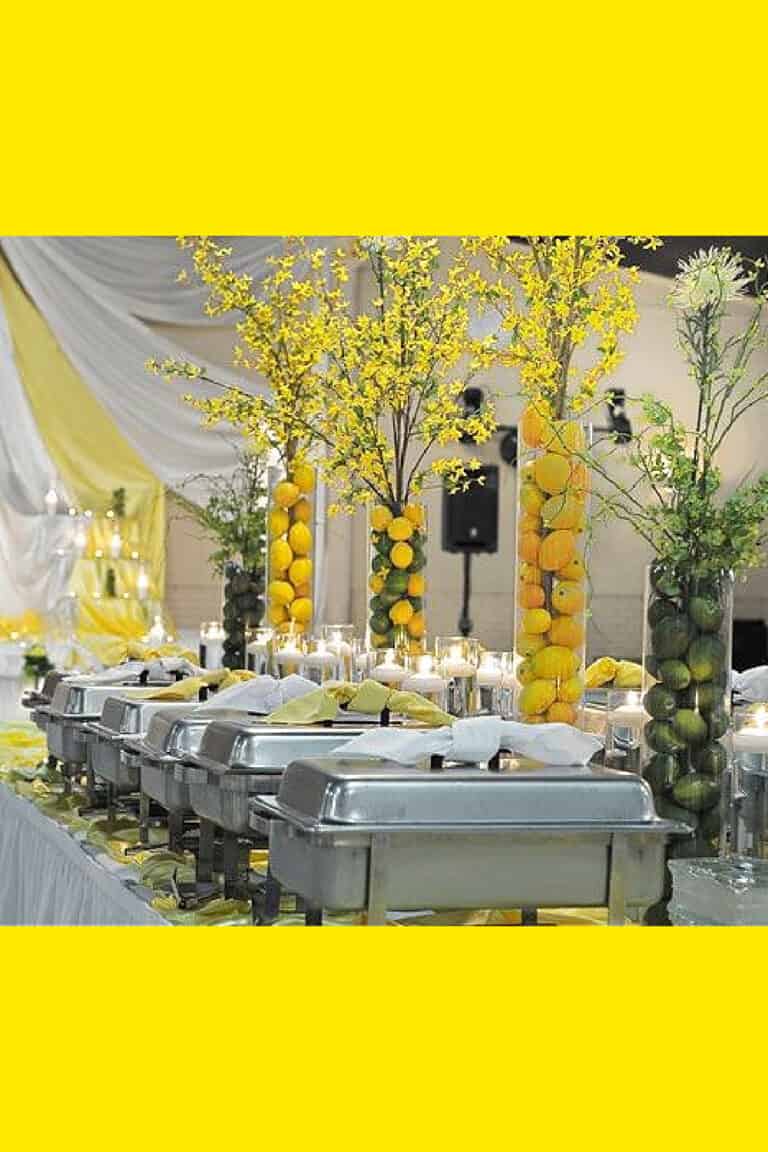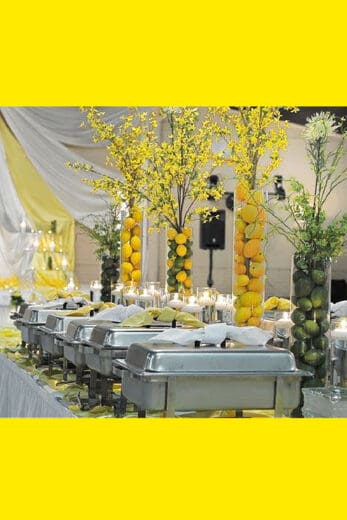 CITRUS CENTERPIECES PHOTO SOURCE
Tall cylinder vases like the ones above can be found for under $16 online. Mix them with shorter dollar store vases and votives and the fruit of your choice to create the stunning look above for cheap.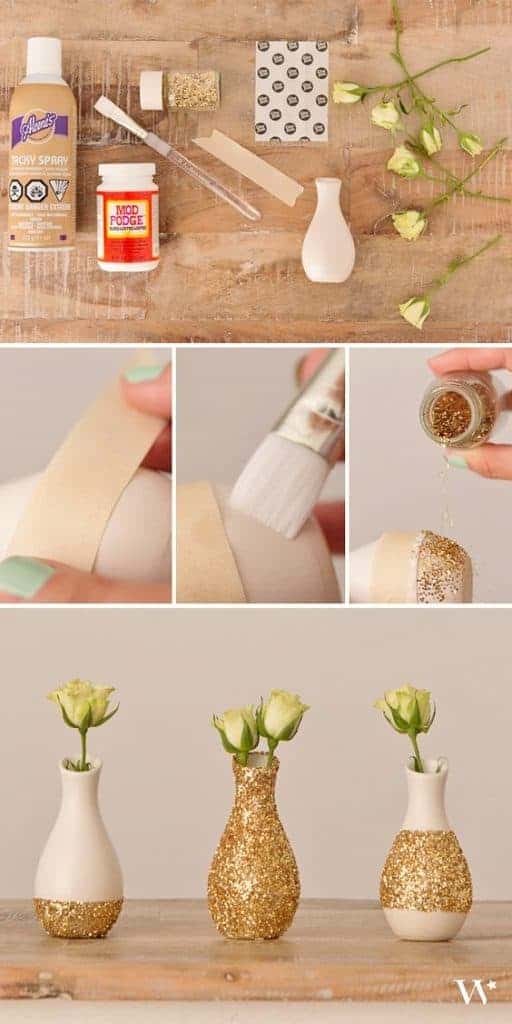 SUPPLIES:

---
Graduation Party Photo Frame Centerpieces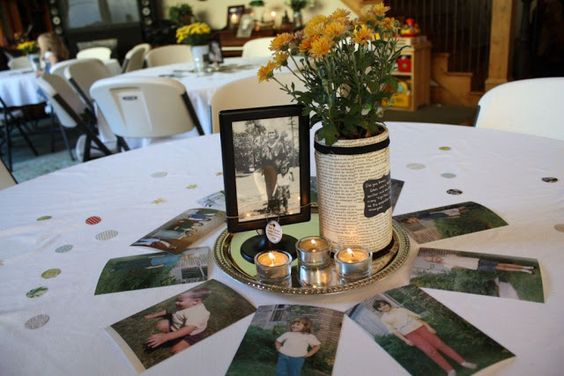 Framed photo centerpieces are a great way to show off cherished memories of the grad and guests.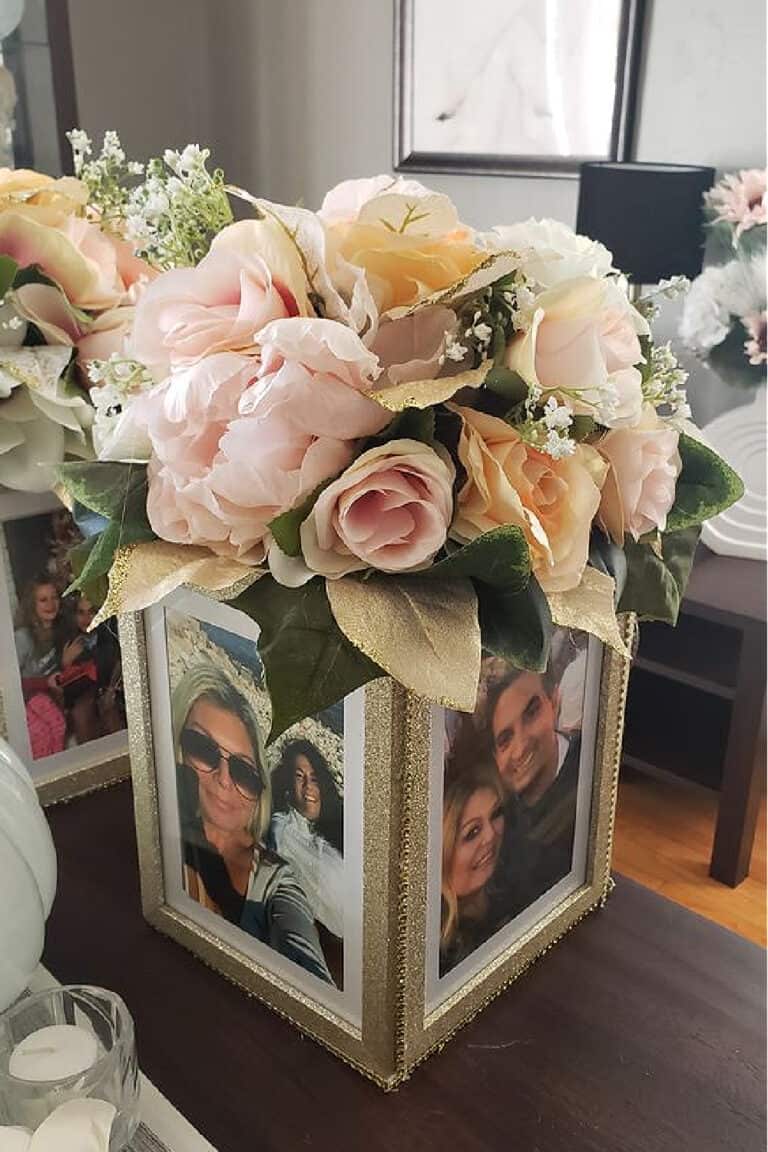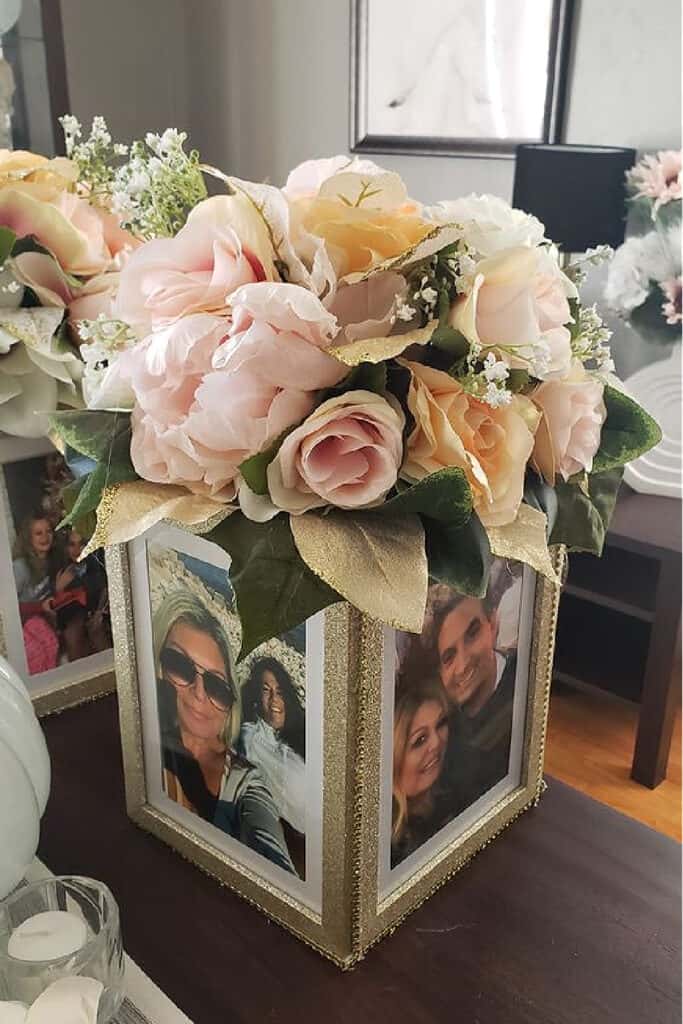 Glue together Dollar Store frames, rhinestone trim, and faux flowers into a stunning photo centerpiece!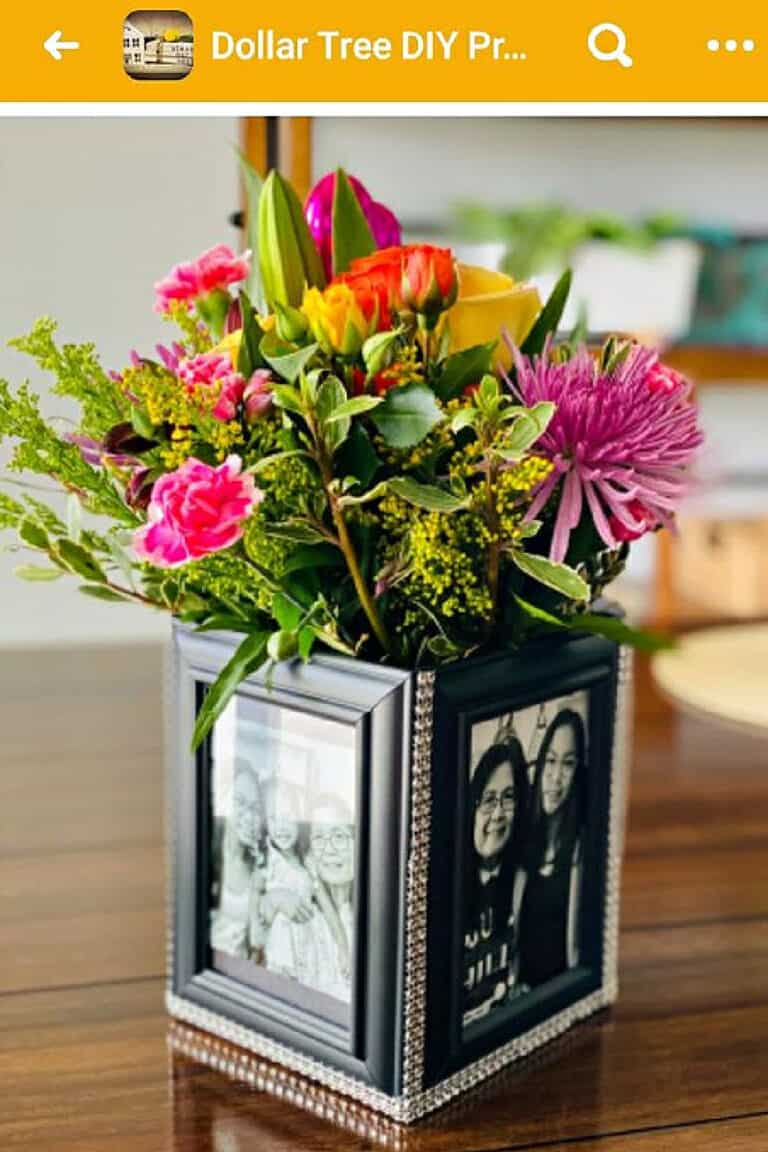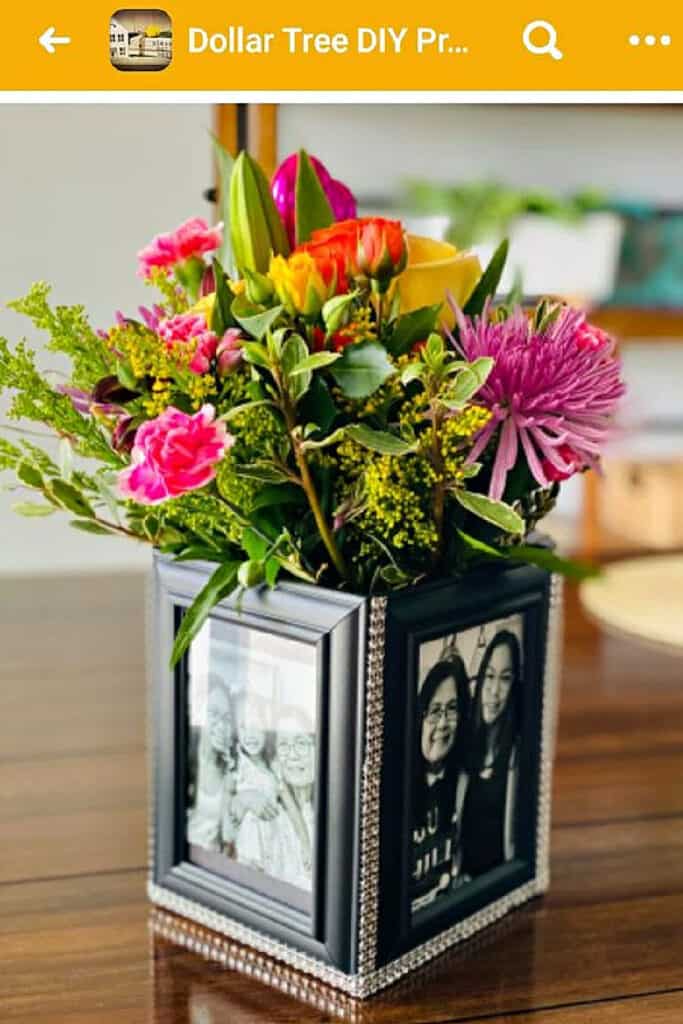 There are sooo many super easy inexpensive decorations you can do with frames from the Dollar Store.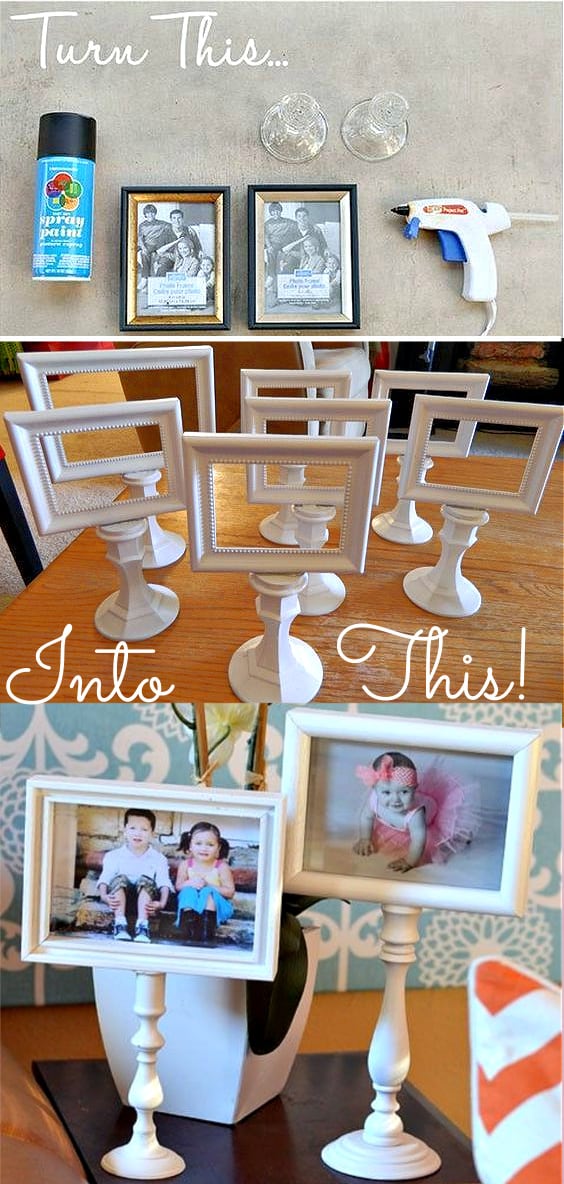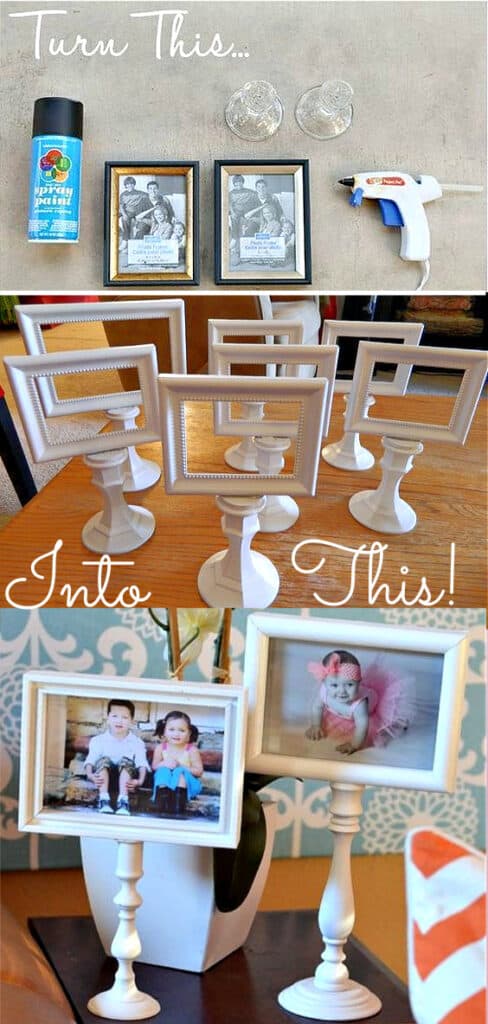 TUTORIAL FOR PHOTO 2, Source for photos 1 and 3
Glue gun frames onto candlesticks and paint them for a pedestal look. You can find supplies at any dollar or craft store.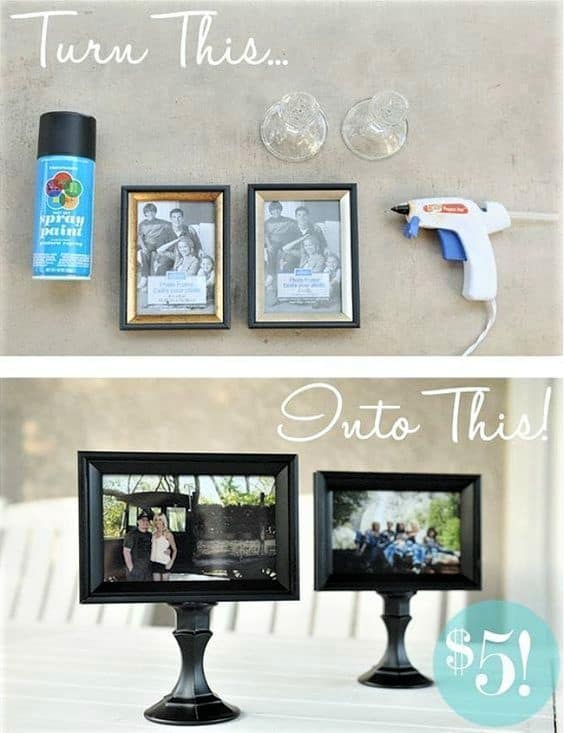 Whether your color scheme is black, gold, white or all three, DIY photo pedestals can be customized to suit your needs.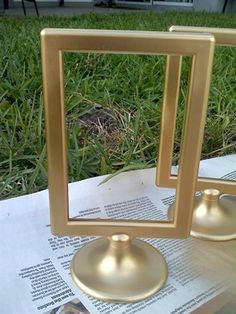 Frames can also make beautiful votive photo centerpieces that can go from day to night easily.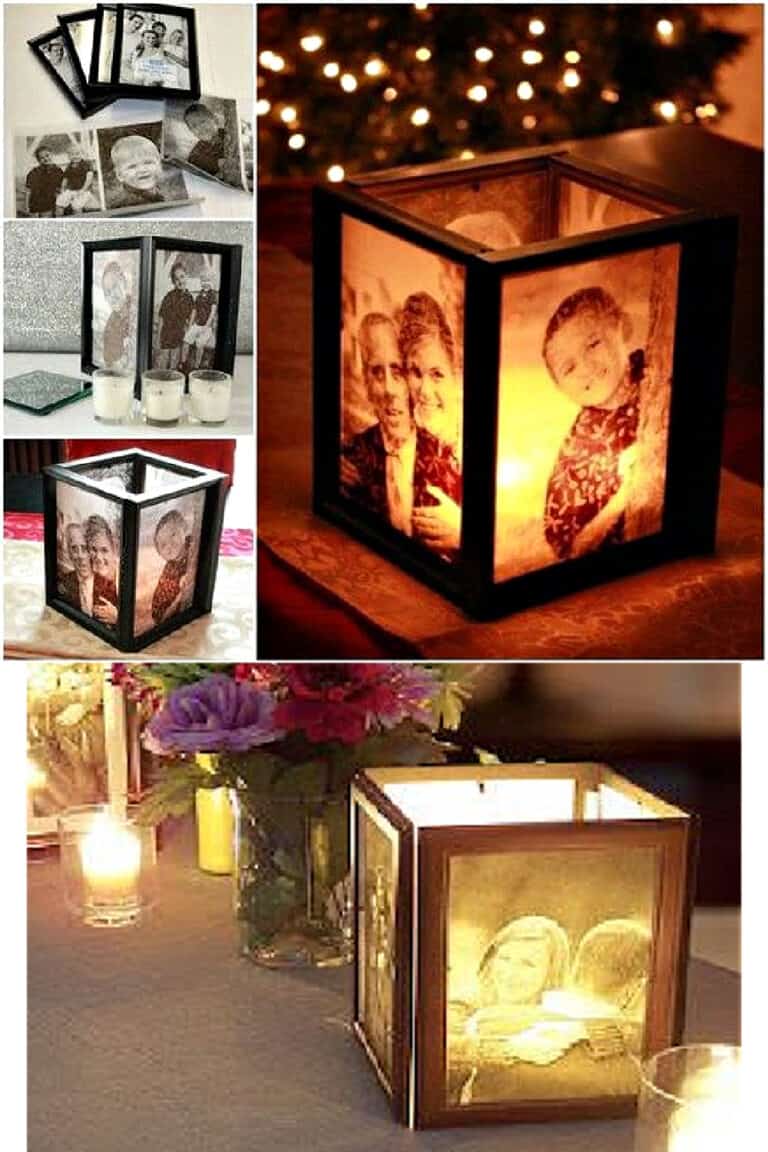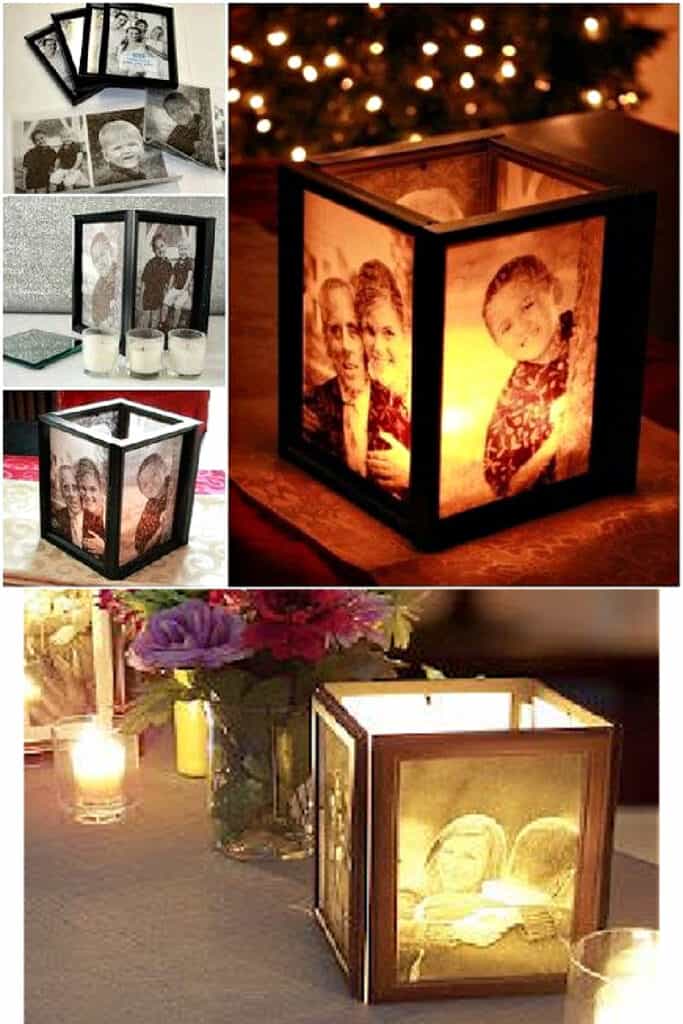 TUTORIAL for Photo 1, TUTORIAL for photo 2
At the end of the event you can even send guests home with them or keep them for yourself.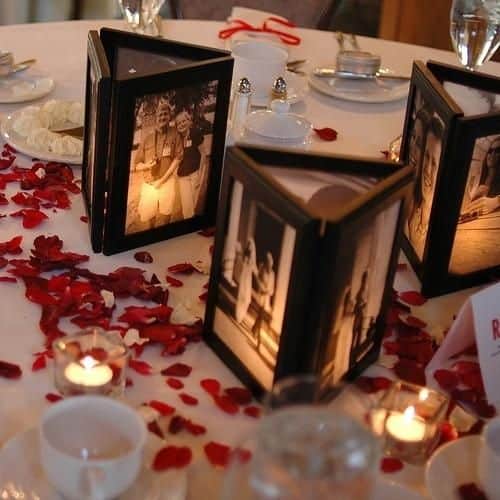 ---
Floral Hoop Graduation Centerpiece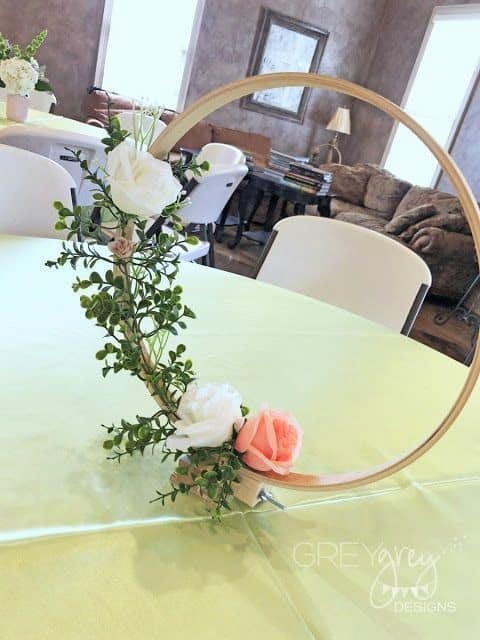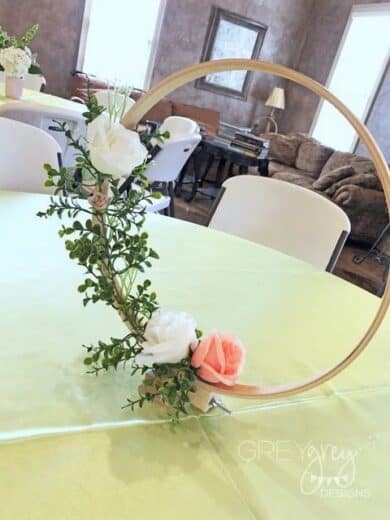 SUPPLIES:
The above boho floral hoop centerpiece was done via Grey Grey Designs but you can copy the look yourself via amazon or the Dollar Store.
Graduation Party Candle Centerpieces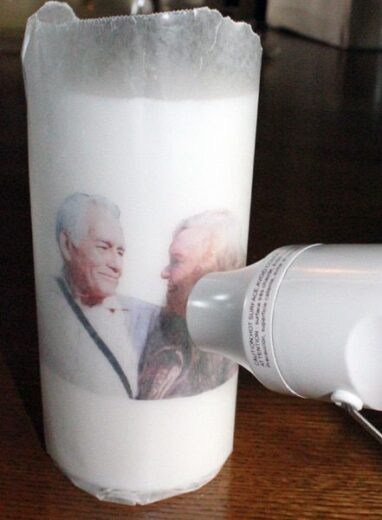 SUPPLIES:
If you want to add incandescent lighting to your event, battery operated and traditional candles can easily be customized with glitter, beads, and even photos. You can easily transfer photos or any graphic you want straight onto candles.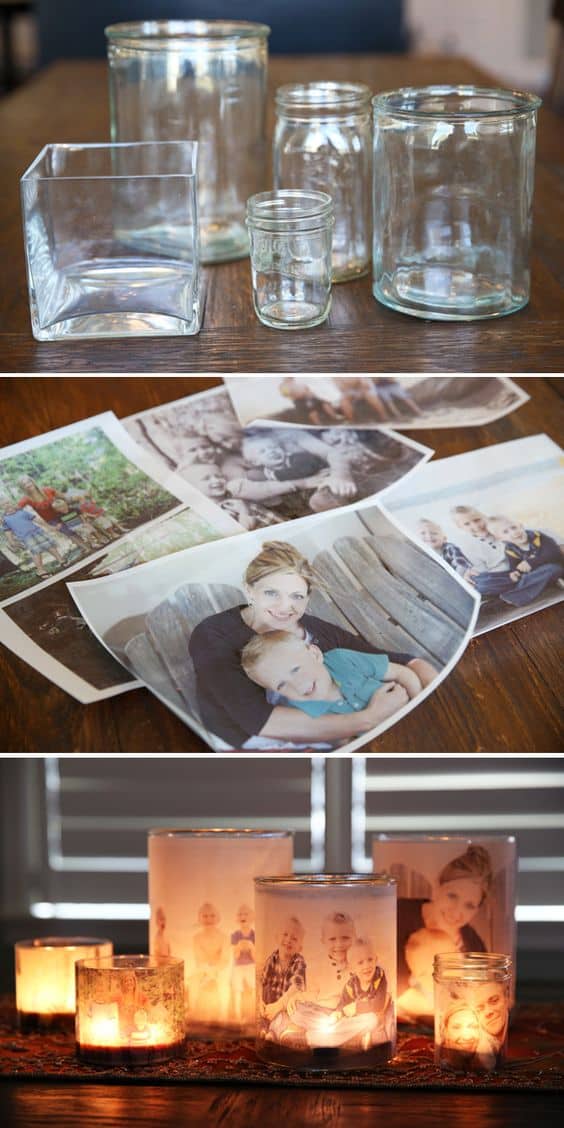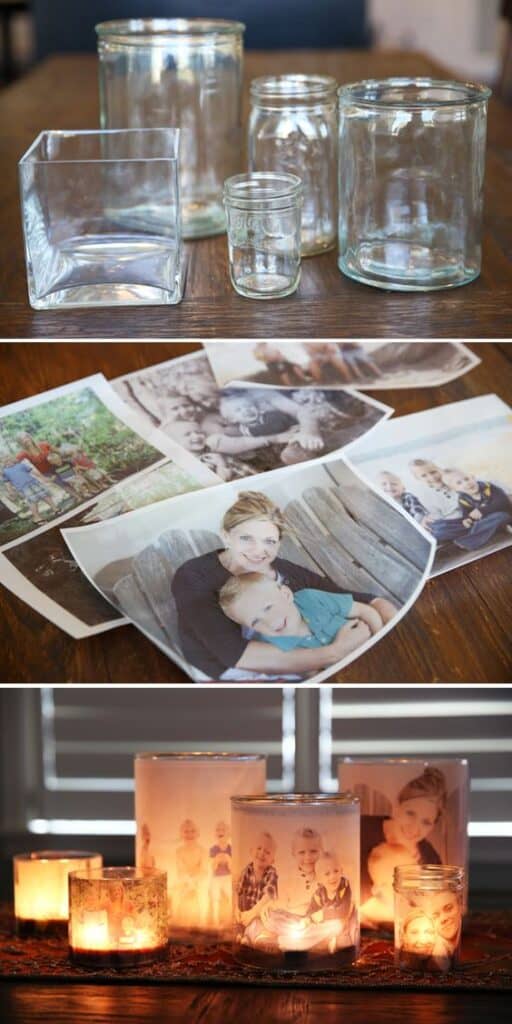 These glowing luminaries even glow in the daylight! Just buy dollar store glass votives and stick photos on yourself using Velum paper.

If you're in a time bind you can even use clear shipping tape to transfer photos onto a large candle.
---
In this post we just showed you how to make easy Graduation Party centerpieces. These ideas have a few things in common: they're unique, quick, easy, and cheap, yet expensive looking! There's no excuse now not to have the Grad party of your dreams!
Other Posts You May Enjoy:
8 BEST Picture Display Ideas for Your Grad Party
10 Things NOT To Do At Your Graduation Party
35 Outdoor Graduation Party Decor Ideas You'll Love
How To Have a VSCO Picture Perfect Prom