10 Things NOT To Do At Your Graduation Party in 2023
Updated August 20, 2023
Congratulations! You made it through school and now it's time to party, but after working so hard the last thing you want to do is more work for your Graduation celebration.
While we're sure you're swimming in ideas of what to do for your Grad party how about what not to do at your Graduation Party?
From food, to pictures, to decorations, here are some crucial dos and don'ts that we've seen stand in the way of having an absolutely perfect party.
We'll also give you tips used by Pros and ideas on the universal elements of every memorable Graduation party that'll make the planning process fun and easy…and of course we added some of the best Graduation Party ideas for joint parties and twins!
Be sure to PIN THIS and check back as we keep adding new ideas all of the time.
This post may contain affiliate links. Click here to read our full disclosure policy.
1. You Don't Have To Hire a Professional Photographer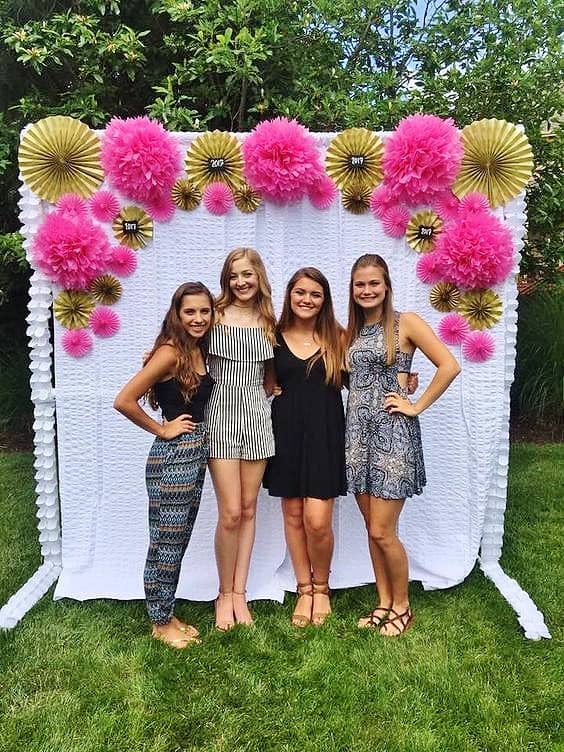 One of the benefits of everyone having cell phones is you no longer need to hire a professional photographer if it doesn't fit into your budget, just encourage guests to take pics by easily making a gorgeous DIY photo backdrop photobooth like the one above and create a social media hashtag or provide an email address so guests can send you all of their pictures from the party!
You can borrow a photo backrop frame (like the one pictured above) from your school or a friend, or make it yourself for around $23 using this Youtube video.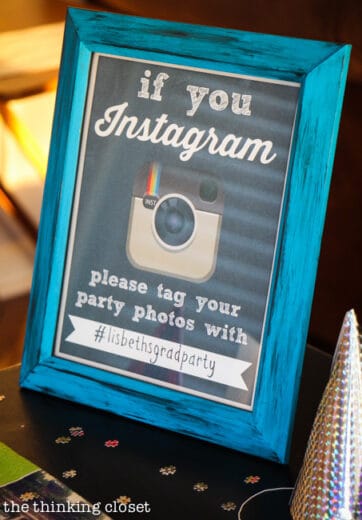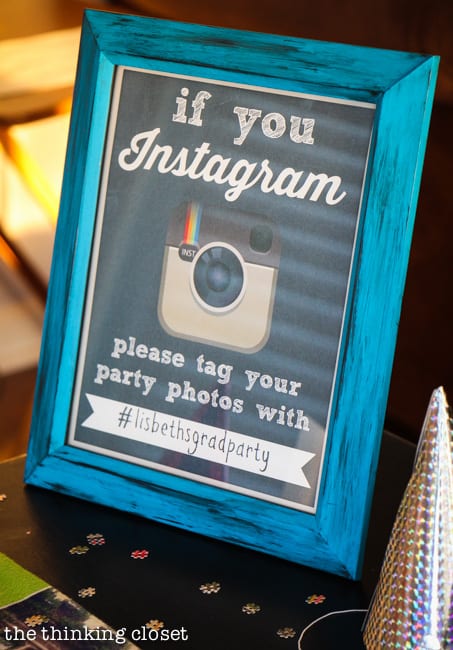 Print out a sign and frame it in a regular photo frame to notify guests of your party hashtag, or let them know what email address to send their pictures to. You can also write it on chalk board or poster board next to the photo booth!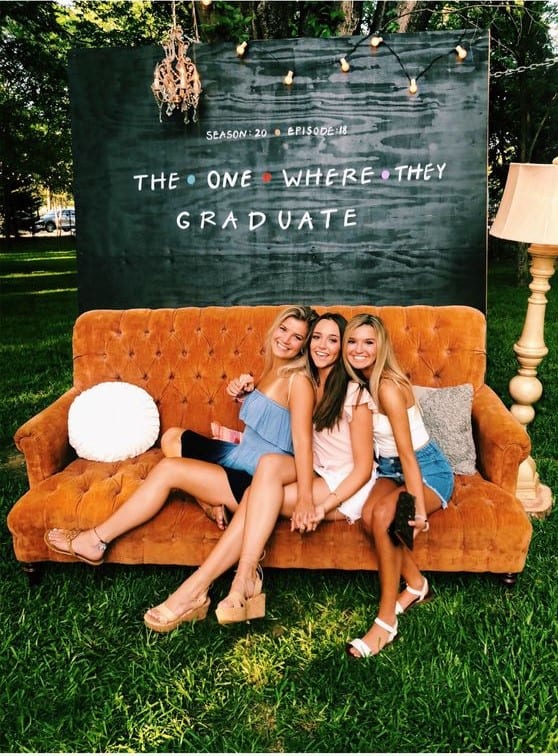 Even if you're on a budget you can make the trendiest and most gorgeous photo backdrops yourself for DIRT CHEAP.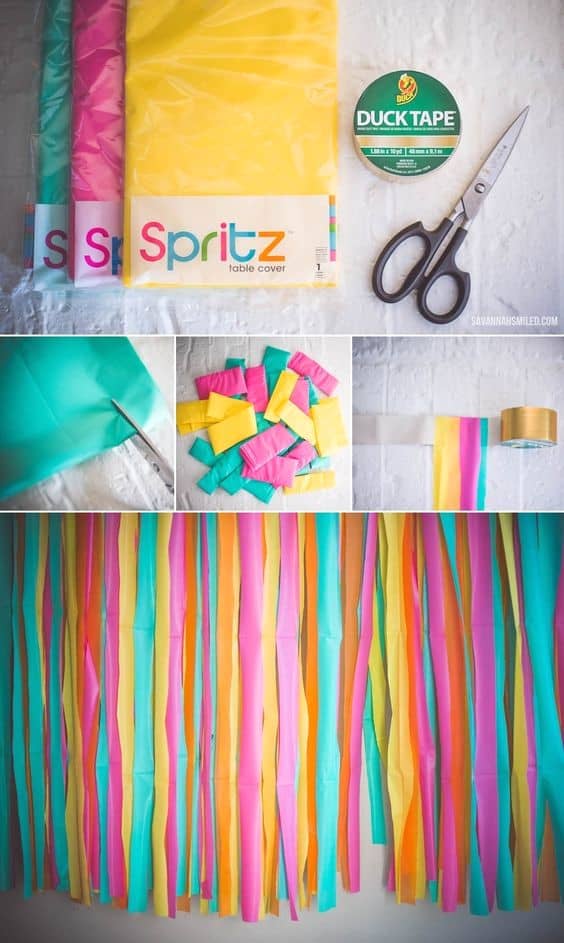 We made some super easy yet amazing photo booths and back drops for parties using only a cheap dollar store plastic tablecloth taped to an outside wall with decorations attached to the top.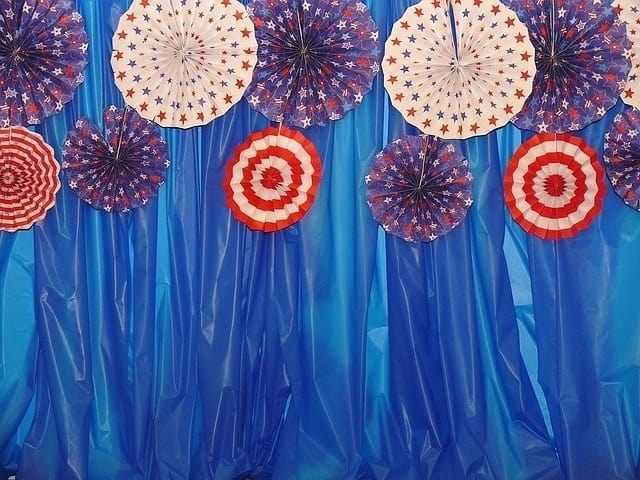 The total cost was under $5. You can also mix in metallic dollar store tablecloths too.
You can even use an inside wall or door, fabric, and fake flowers or balloons for the top.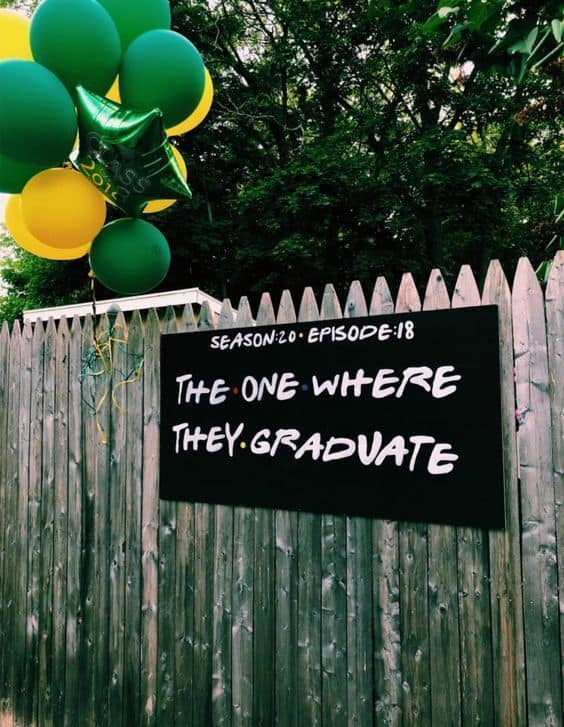 Use an outdoor fence, poster board or chalk board, contact paper sign, and lights or balloons to create any design you want.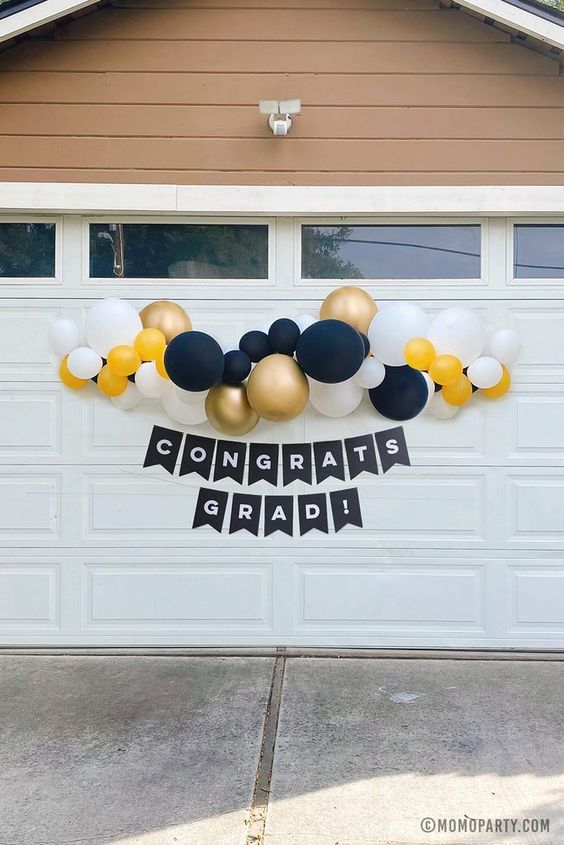 Use your garage door for a photo backdrop. Balloon garland (pictured above) is affordable yet looks expensive and is pretty easy to assemble just purchase a kit here on amazon.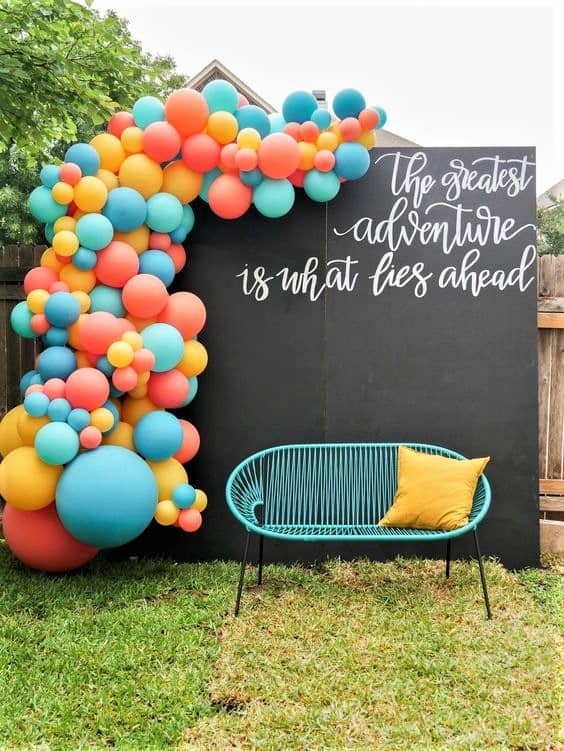 You can find a balloon garland kit like the one above here on amazon.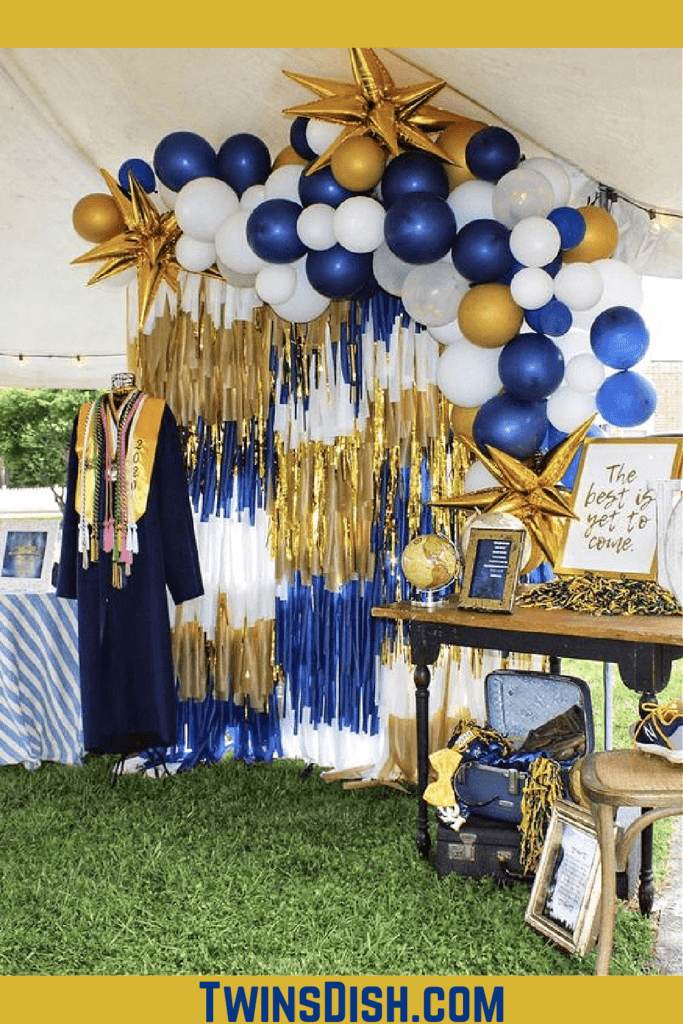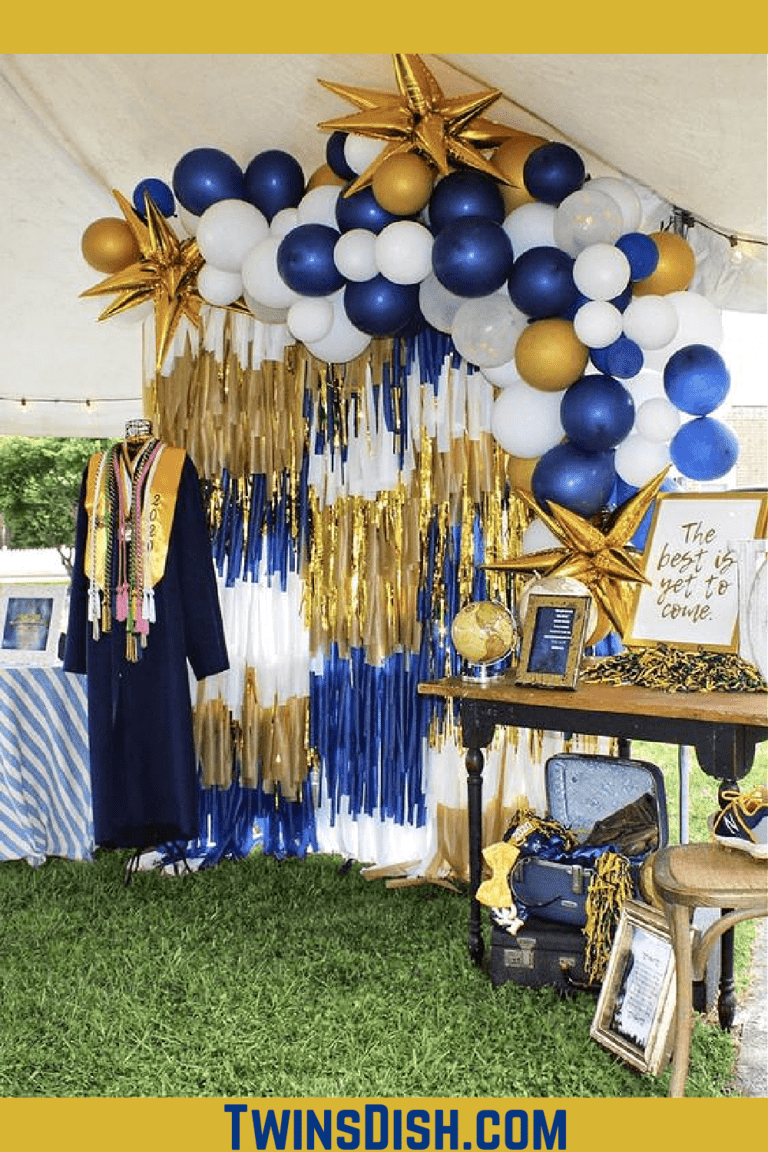 BUY THE LOOK:
The above idea combines a display table of the Graduates accomplishments, their cap and gown, and a photo party backdrop.
The gold starburst balloons are a top trend in Graduation Party decor you can use to accent balloon garland. You can hire the talented event company that designed this look or copy the look yourself using the items above. Custom fringe is available for purchase on etsy.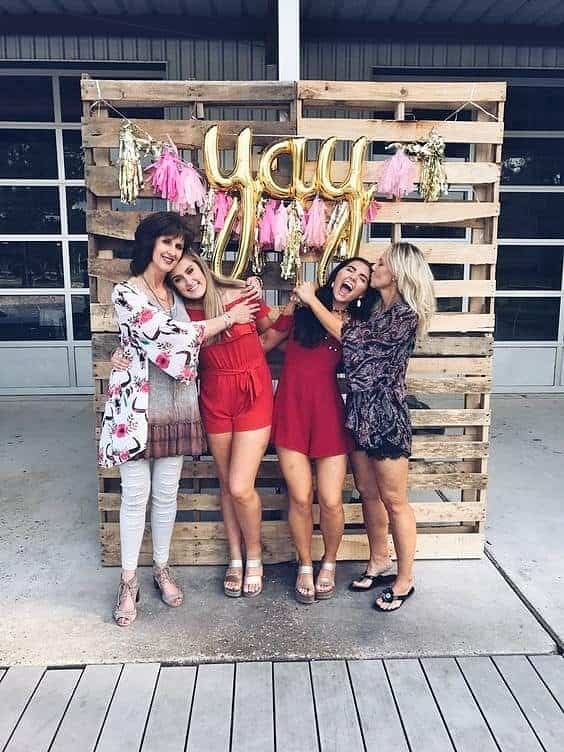 BUY THE LOOK ABOVE:

You can also make one using Pallet wood. Pallet wood is free and makes an excellent photo backdrop for dirt cheap! We found huge quantities of wood pallets for free outside of Trader Joes and on Craigslist.com in Los Angeles.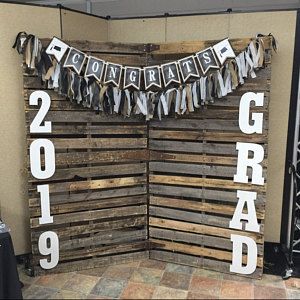 You can find the exact banner for the pallet wood photo back drop above on etsy by clicking here and fabric garland by clicking here !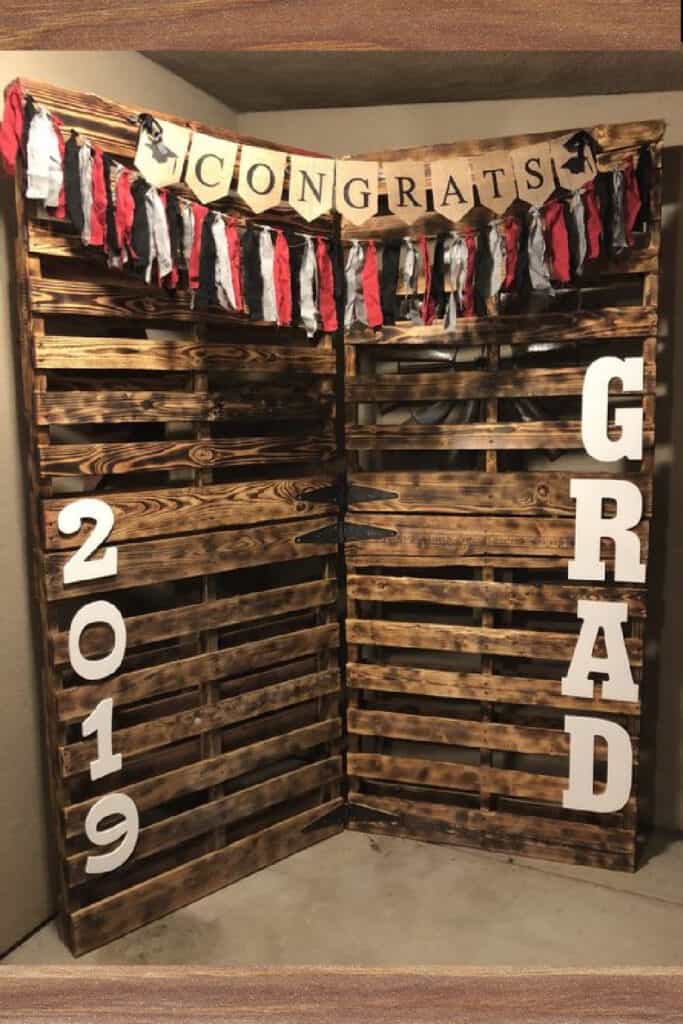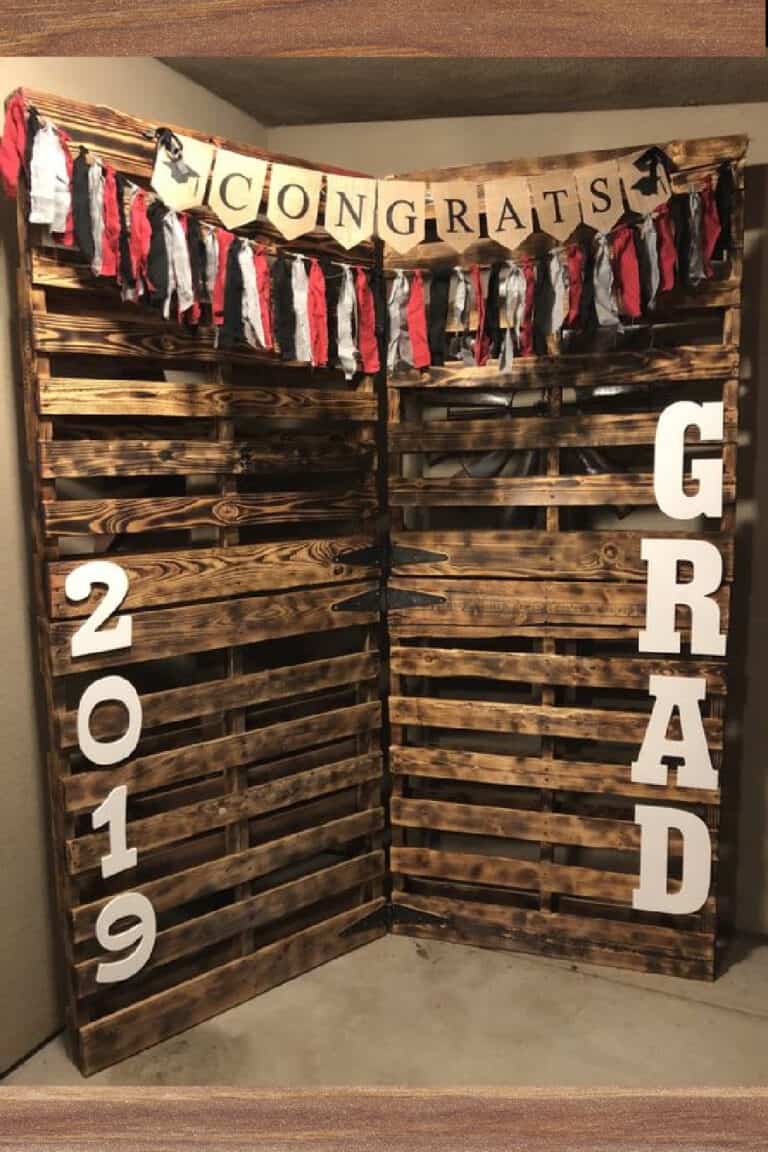 Get the banner in the photo above here on amazon.
If you can't find free wood pallets on Craigslist you're sure to find some at the following places:
Outside of a Construction Company office/warehouse (good for larger quantities)
Outside of Bars and craft beer locations
Outside of Pet food stores
Feed & Tack stores
Stationary shops
Furniture stores
Liquor stores
Schools
Flooring stores
Other small retail
Art and Craft store (Michael's etc)
A friend works at the main office of a construction company that throws out dozens of good wood pallets almost daily.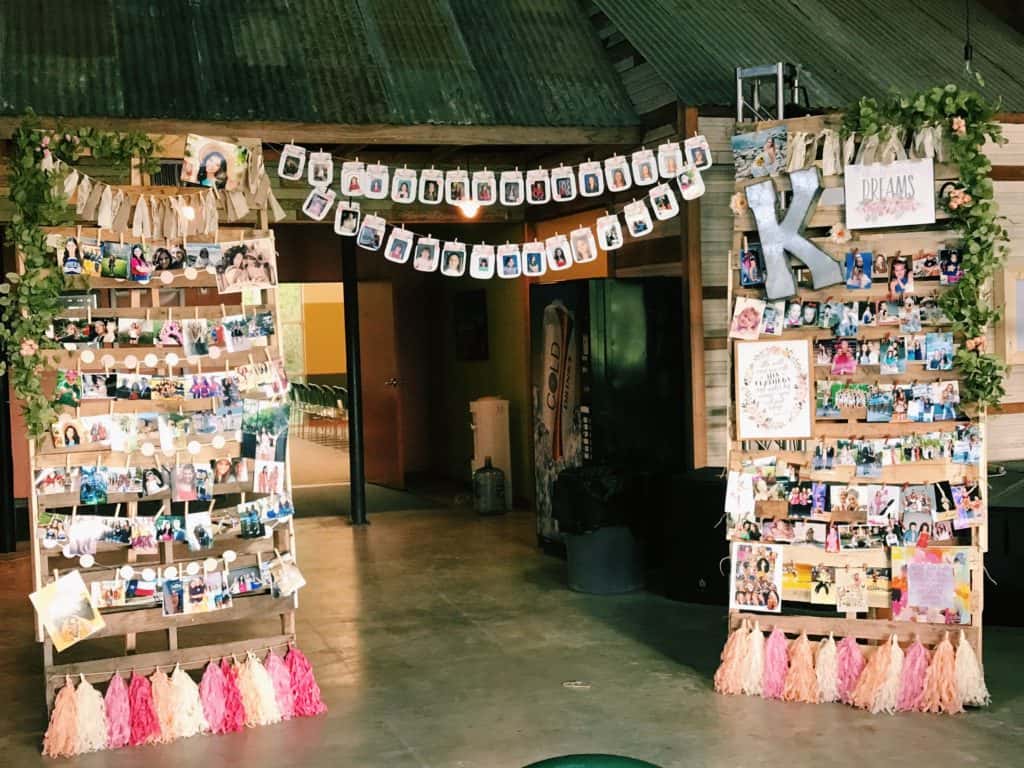 Just add balloons, ivy garland, and tassels and you'll have a trendy photo pallet wood backdrop for mere dollars.
This idea is especially great for joint and Twin Grad parties. Make two pallet panels like the photo above so each Graduate gets a wall that is joined with a string of both of their photos!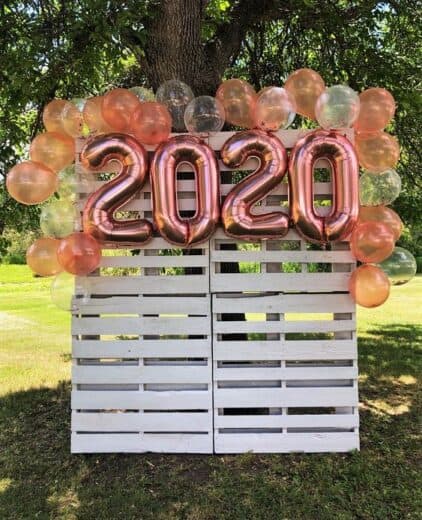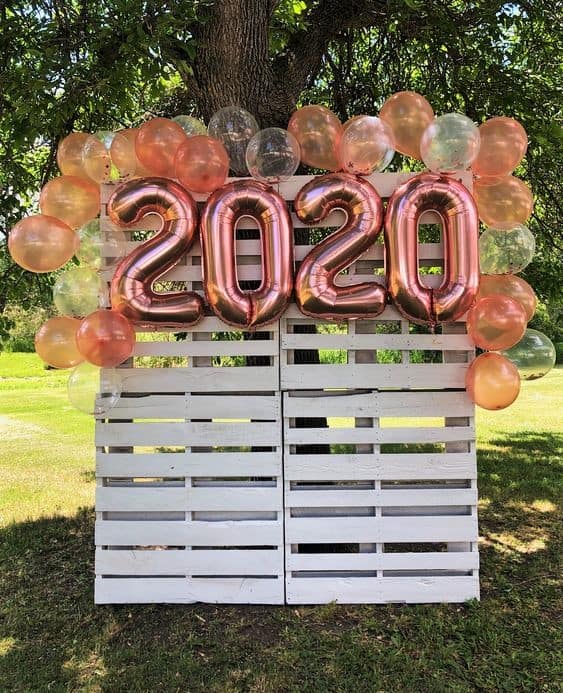 2020 DIY WOOD PHOTO BACK DROP SOURCE
Get creative and paint or stain pallet wood any color you want! You can find number balloons online or at the dollar store.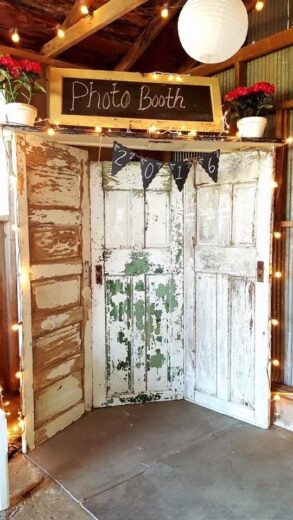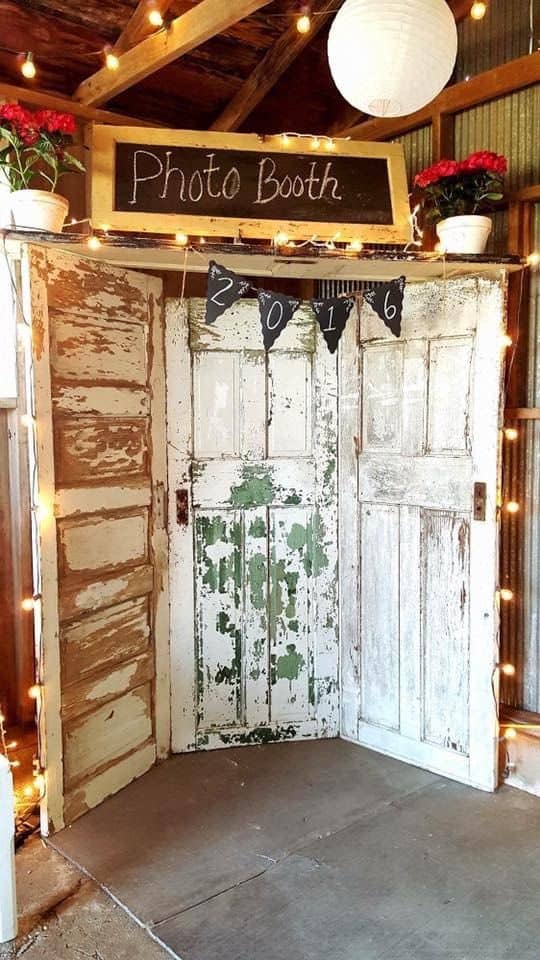 Mom Brenda Kail in Oklahoma used old wood doors, and rachet straps nailed to the back to make this rustic indoor or outdoor Graduation party photo booth. Repurpose old items around the house or head to the thrift store for ideas!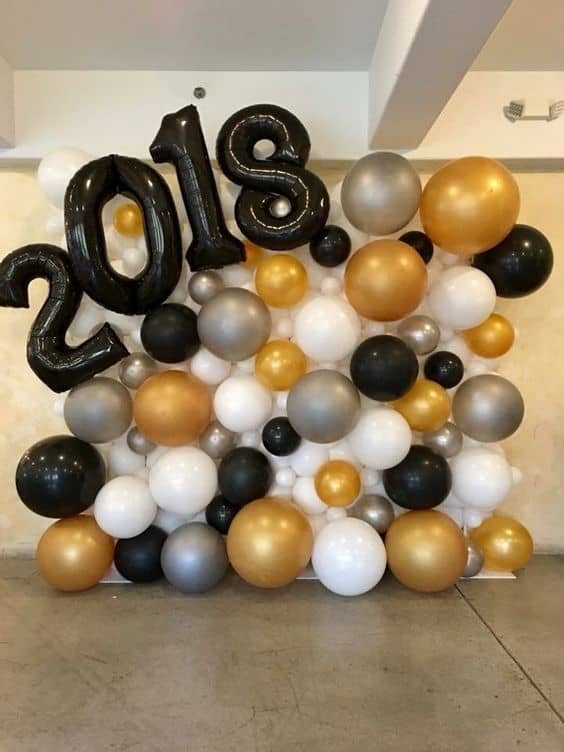 A balloon wall is another top Graduation Party trend that's pretty easy and affordable to DIY but looks impressive. Here is a great tutorial.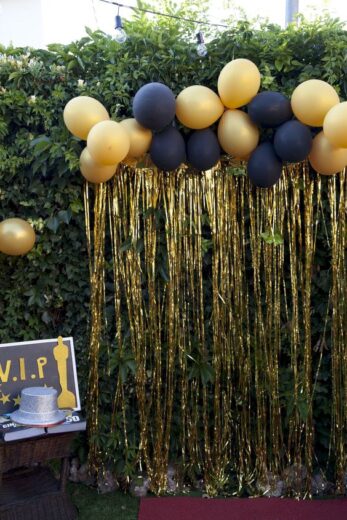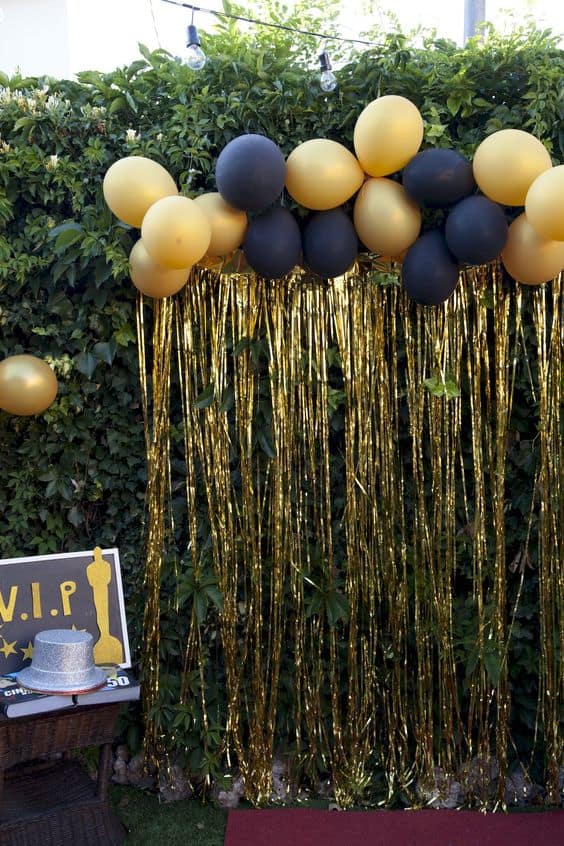 Attach balloons to bushes or hedges like in the photo above, or a piece of cloth, wall, or pallet.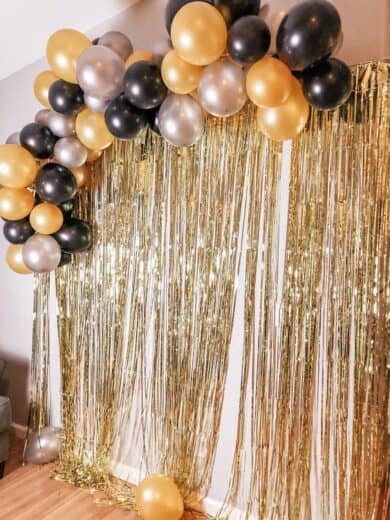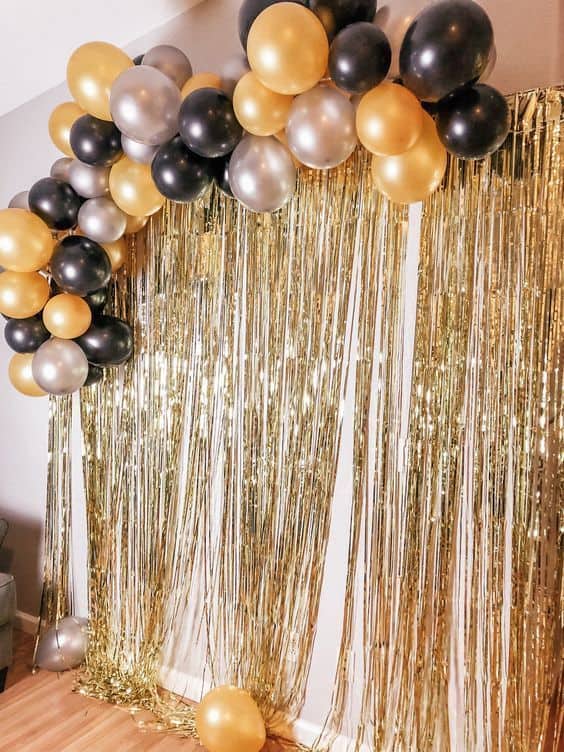 You can buy this GOLD FRINGE TINSEL on amazon for cheap and tape it to your wall or garage door along with the gold silver and black balloon garland.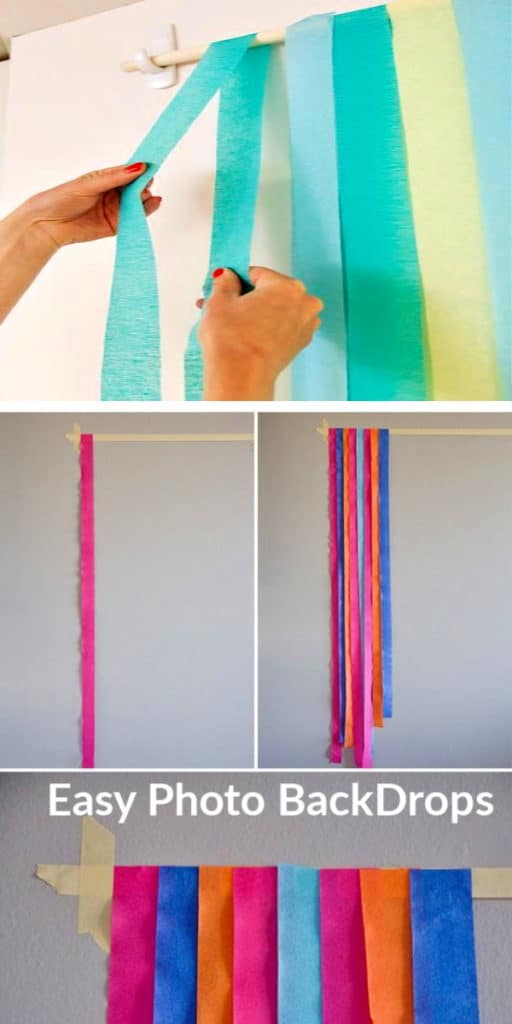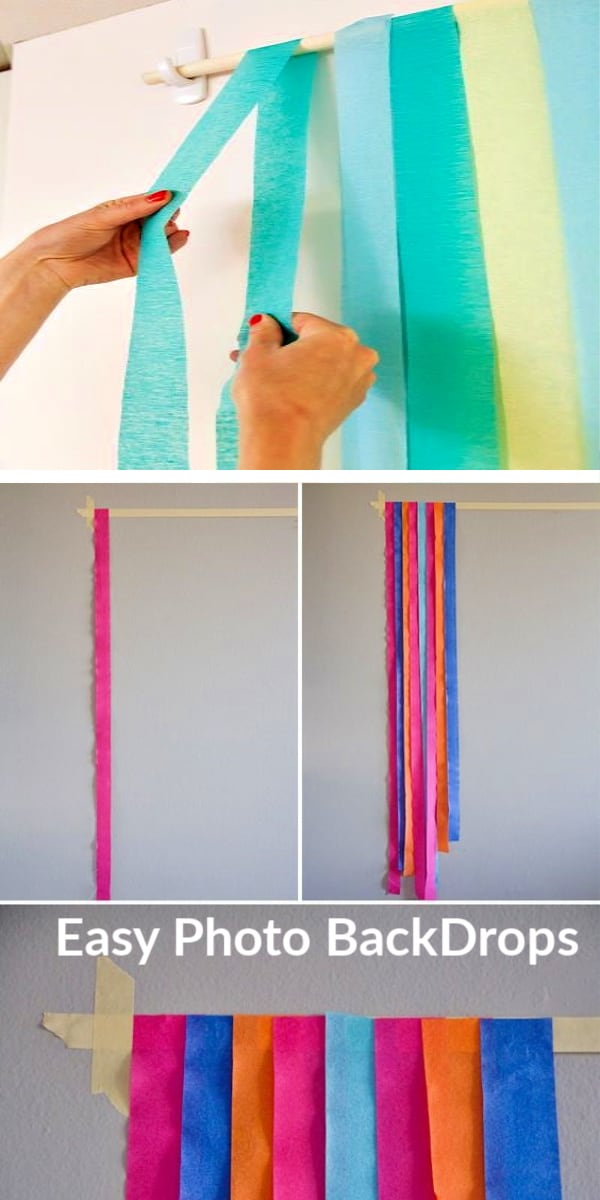 If you're on a shoe string budget you can make fancy and expensive looking photo booth party back drops out of dollar store streamers, masking tape or command hooks, and a wooden rod.
For an added effect, twist each streamer and adhere the bottom to the wall with masking tape.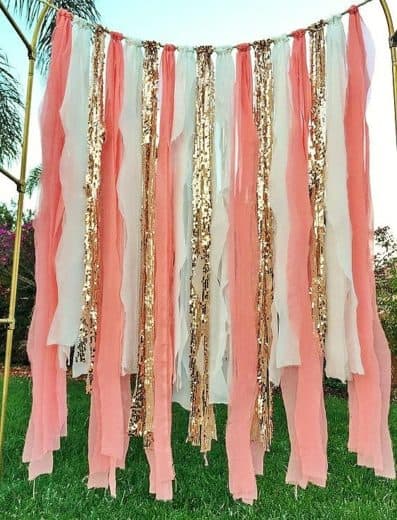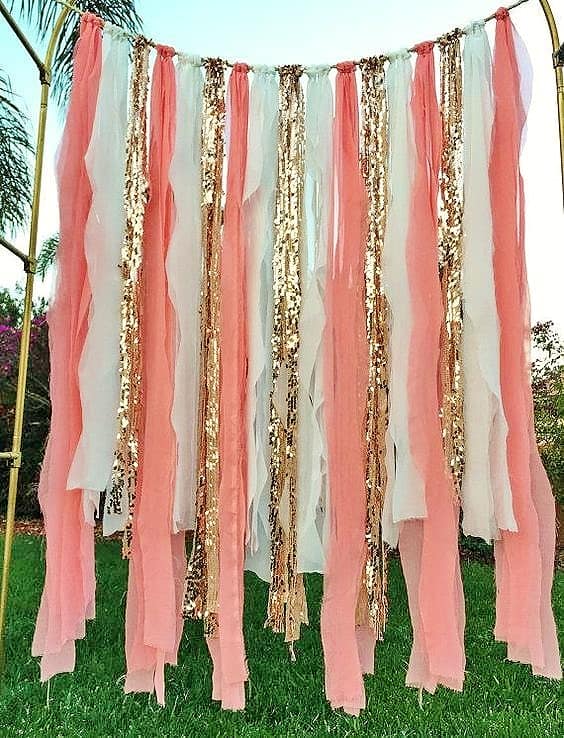 If you don't have a wall or your party is outdoors you can get the same effect for mere dollars by tying streamers, crepe paper, ribbon, curtains, or even strips of fabric to a string.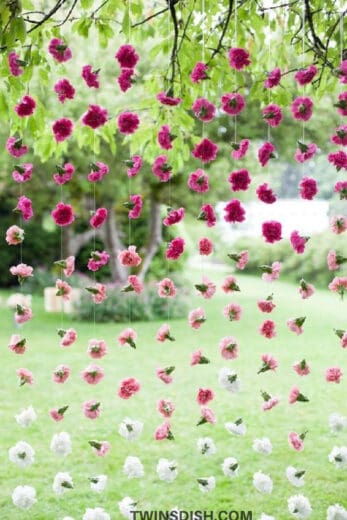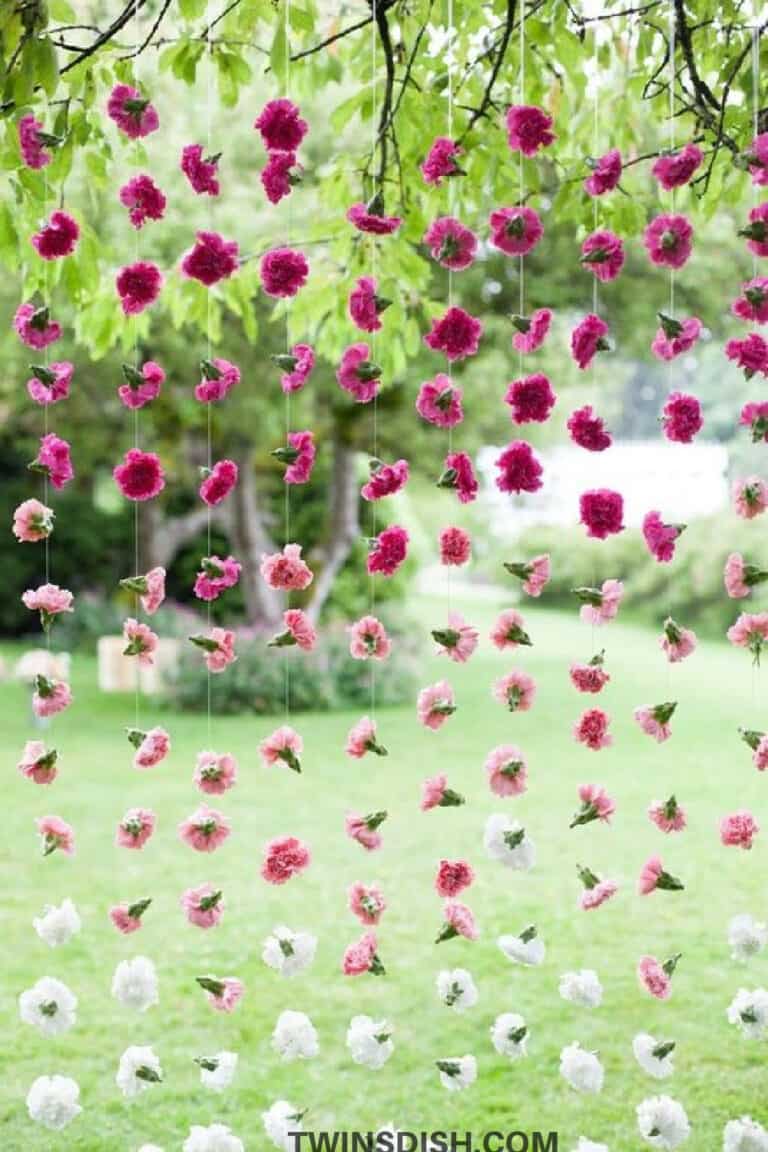 Tie the ends of the string between two trees or stakes and clip any additional banners or decorations to the top using clothespins.
Make the trendy carnation flower photo backdrop above yourself using real flowers or fake ones found on amazon and this great online tutorial
Don't forget the photo props!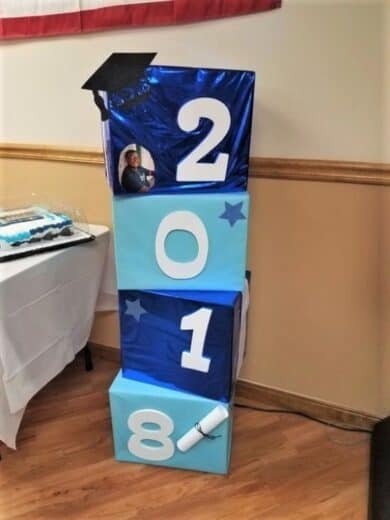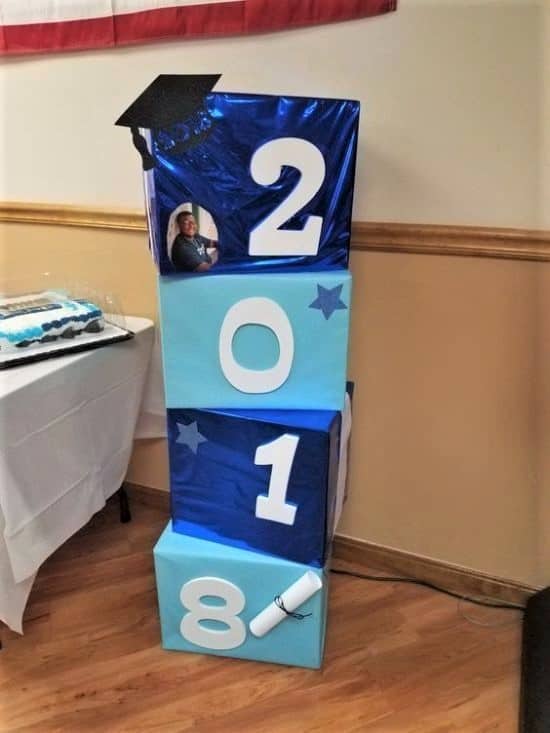 This is a cheap and easy photo prop! Wrap some boxes in wrapping paper and decorate with cut outs. Use numbers, phrases, or names.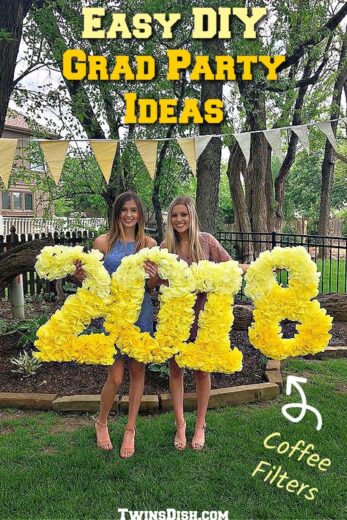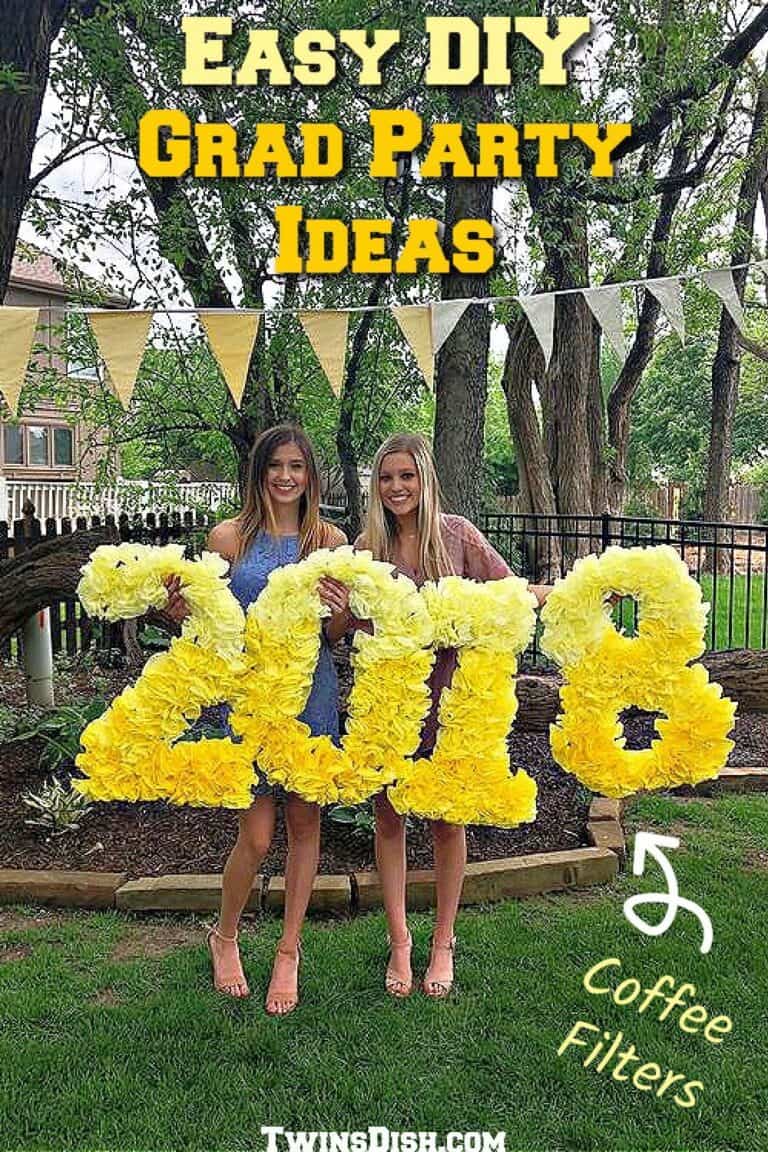 The above Diy photo prop idea comes from Pinterest user Kim Tronoski!
2. Don't Spend On Seating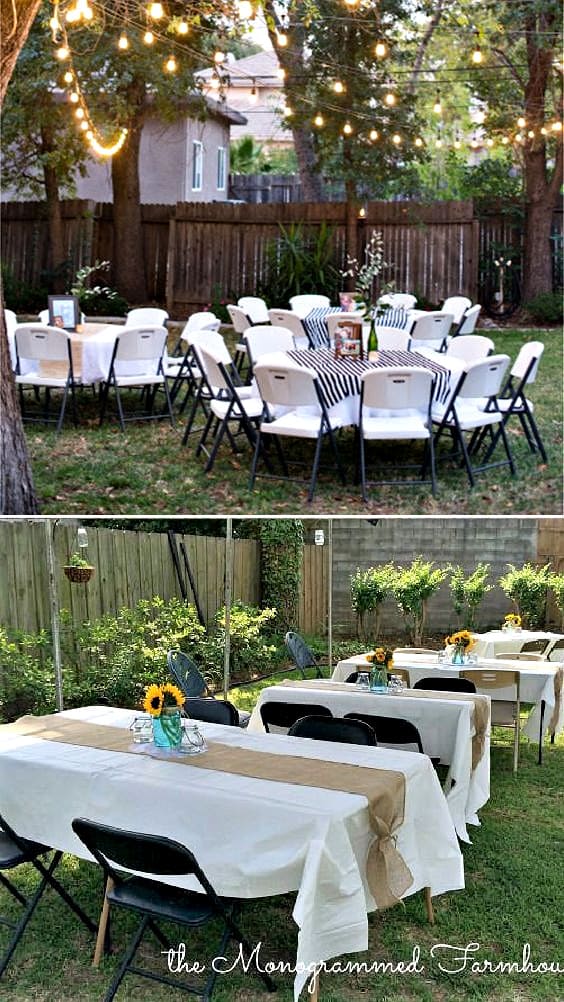 Borrow Tables and Chairs from your School – Go to your school, or your sister or brothers, and ask them if they have any tables or chairs they could loan you for your Grad Party! Our friends have been doing this for years for their Grad parties without any problems. Just be sure to ask for availability for your Grad Party date, ask what time you can pick them up, and have access to a pick up truck to transport them. You'll also want to return them clean. Since you're a tax paying citizen, and schools are paid for by taxpayer dollars, they may allow you to borrow their supplies.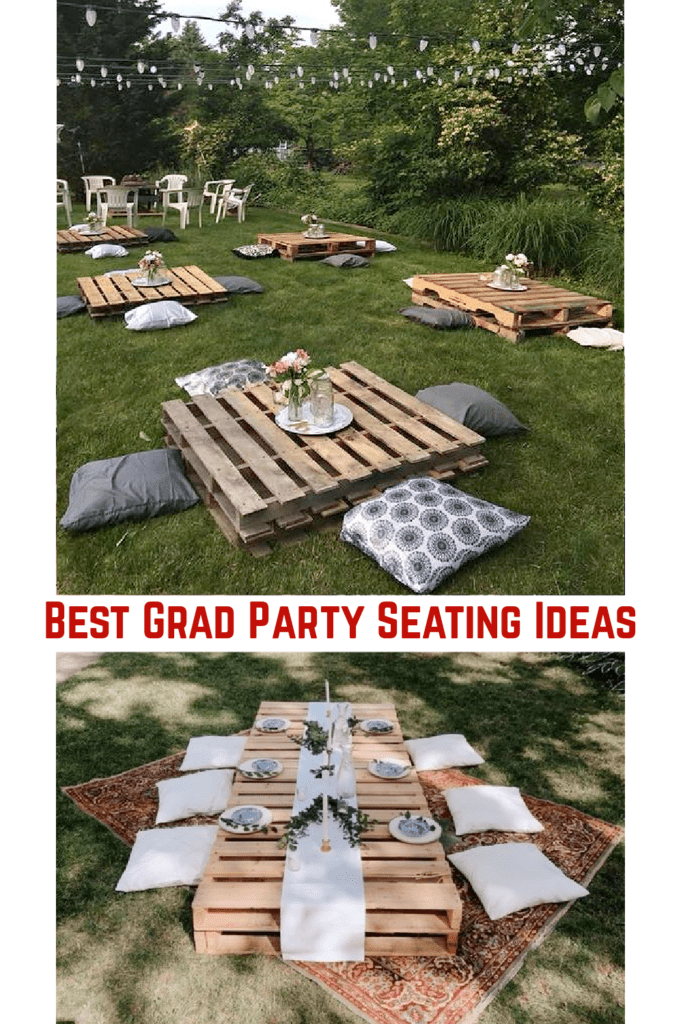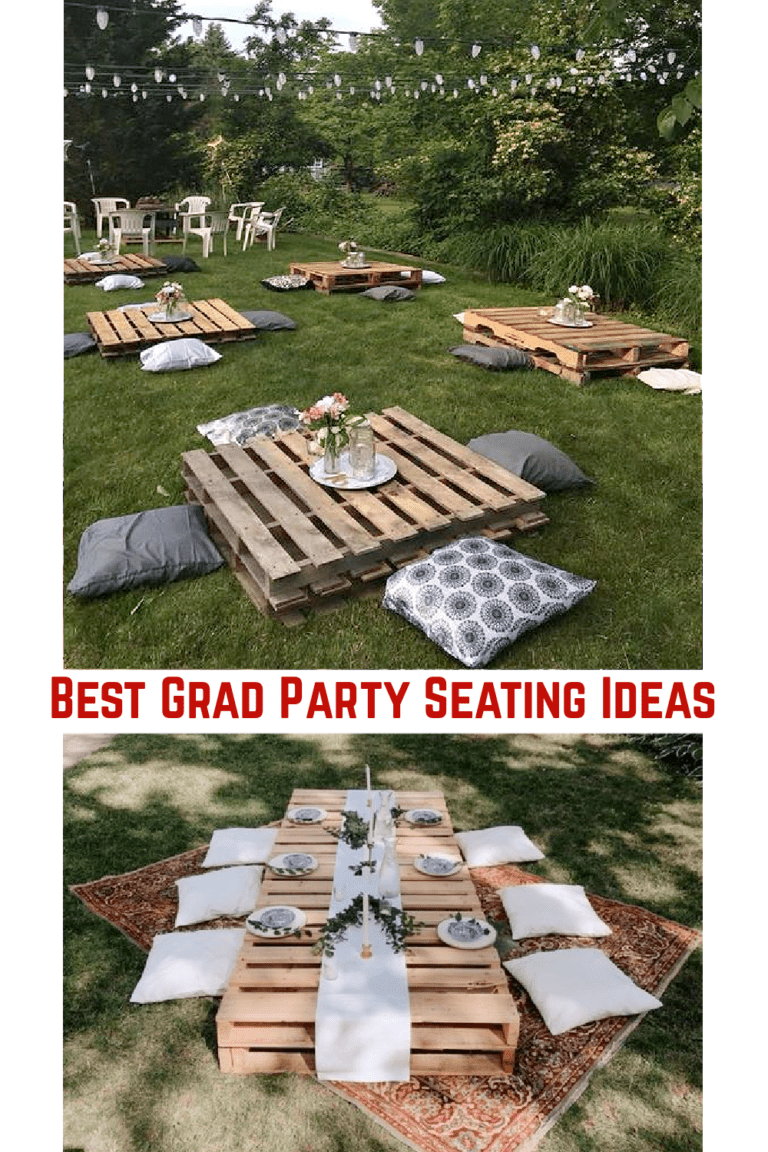 Utilize Pallet Wood For Extra Tables and Seating – Pallet wood makes great extra seating tables with blankets or pillows for seats (pictured above). This is a trendy boho idea that will be fun and picture worthy for young adults and kids but be sure to provide traditional tables and chairs for adults and seniors.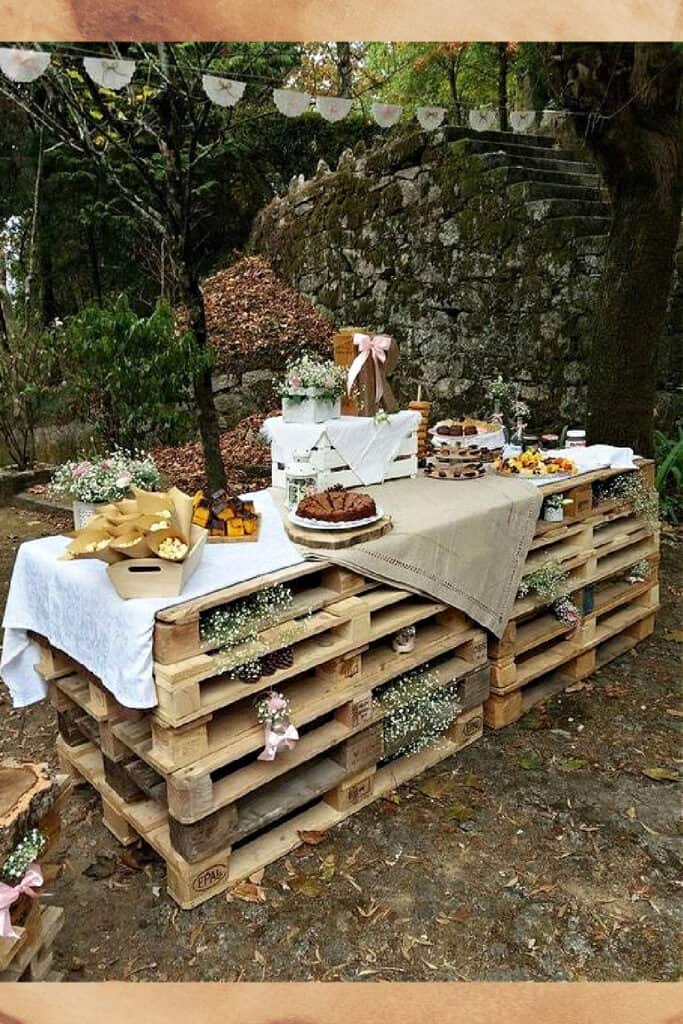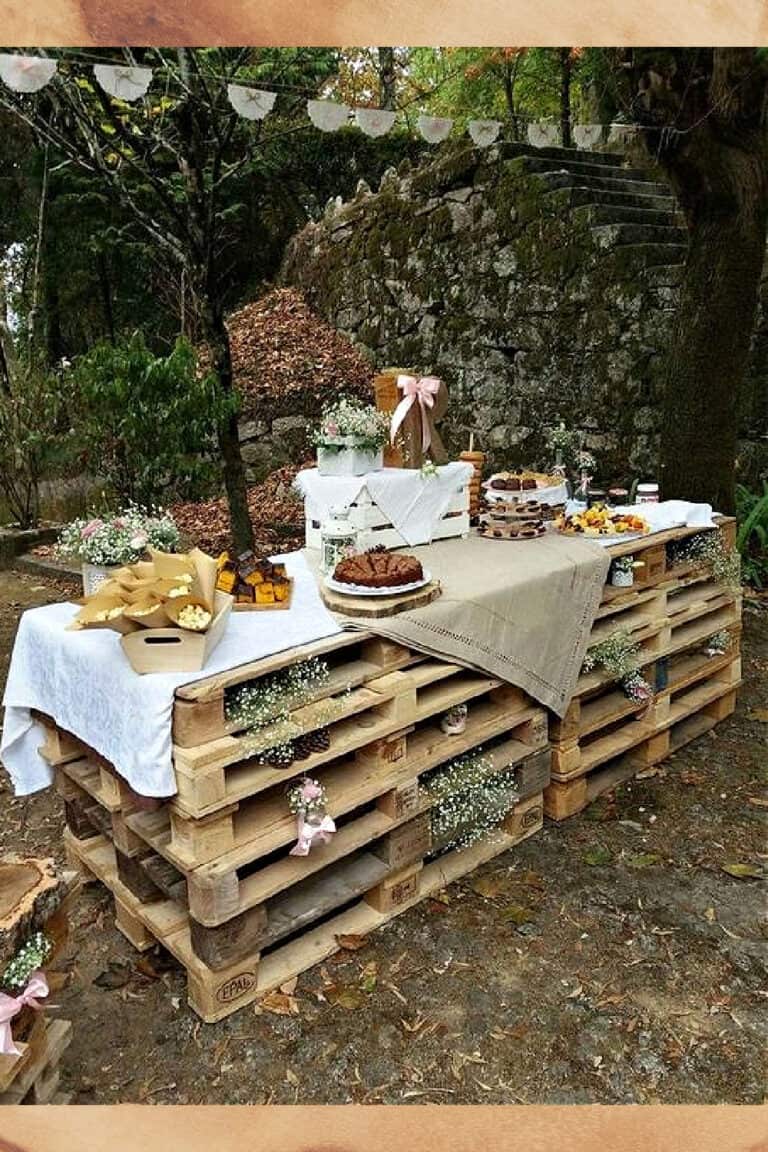 As we mentioned earlier, we found hundreds of FREE wood pallets outside of Trader Joes and on Craigslist in Los Angeles, but if you can't find them on Craigslist, you're sure to find plenty of free ones by calling or visiting the following places:
Construction Company offices/warehouse
Bars and craft beer locations
Pet food stores
Feed & Tack stores
Stationary shops
Furniture stores
Liquor stores
Schools
Flooring stores
Other small retail
Arts And Crafts Store (Michael's etc.)
A friend works at the main office of a construction company that throws out dozens of wood pallets almost daily.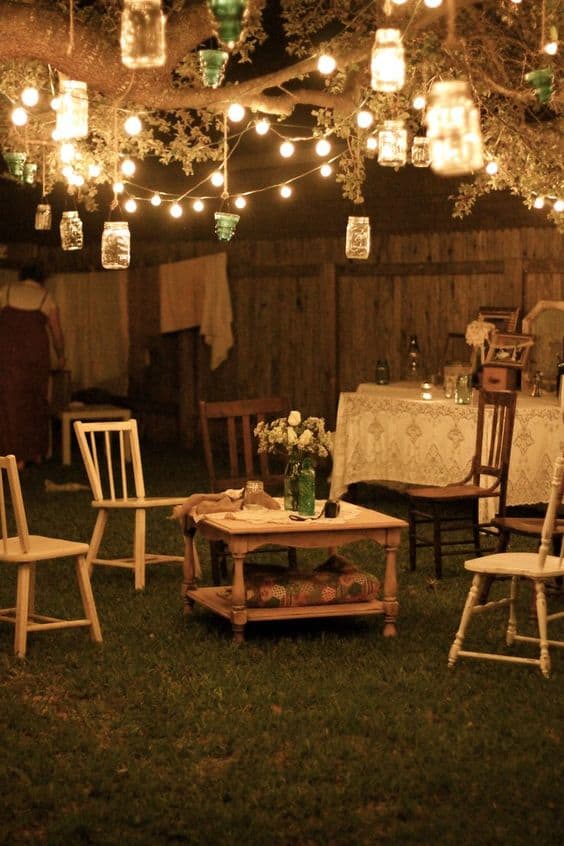 Repurpose Your Furniture- Pull out any extra sofas, chairs, coffee or end tables, and patio seating from your home to use for the party.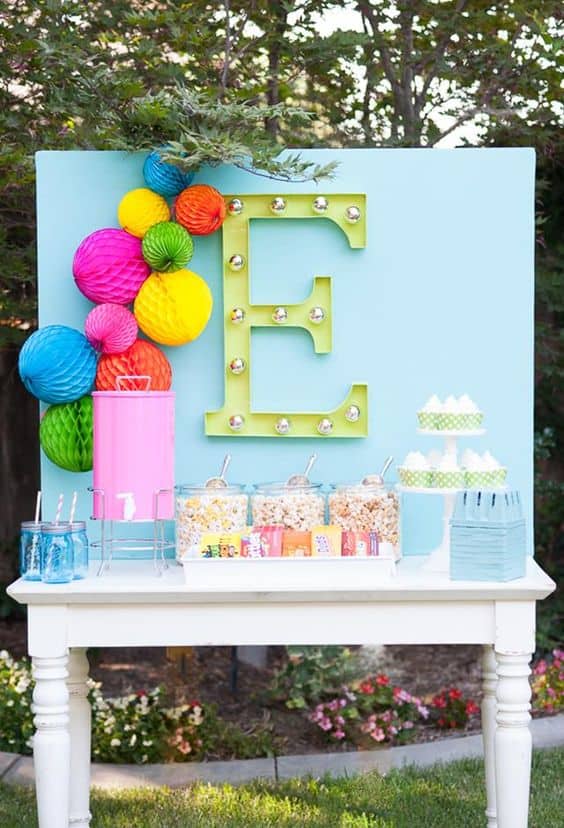 Try Second Hand/Thrift Stores – You can probably find dirt cheap tables and chairs at thrift or second hand stores.
3. DON'T USE HELIUM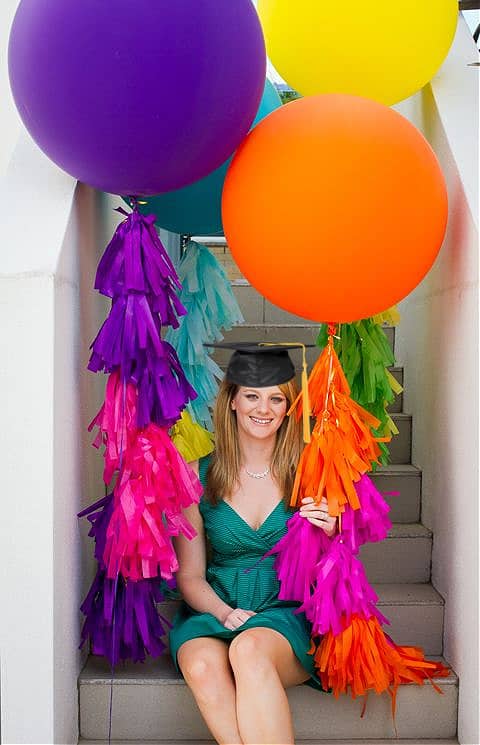 Thanks to the current helium shortage many stores are now charging high fees to fill up balloons with helium.
If you're planning on buying those trendy large balloons prepare to spend a small fortune to blow them up! The good news is there are so many better alternatives to helium for balloon decorations.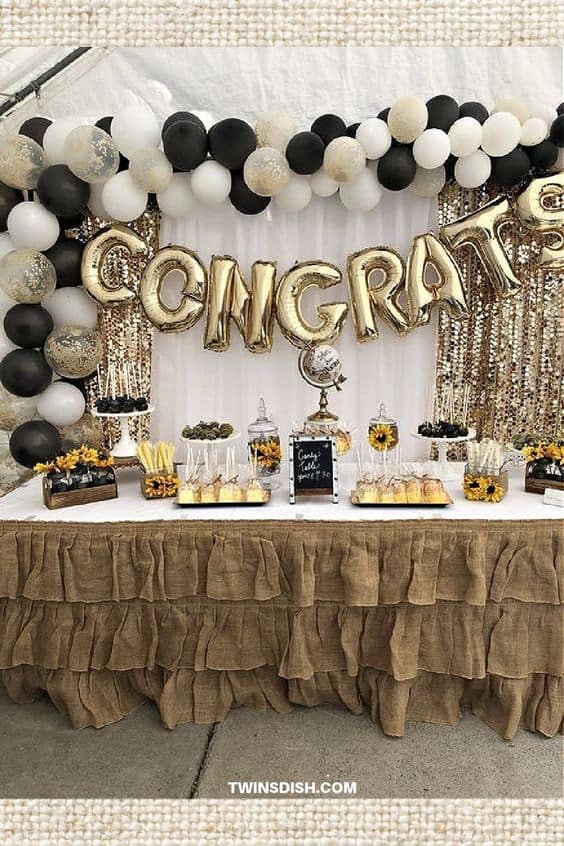 Ditch the helium and make balloon garland (as pictured above) for dirt cheap!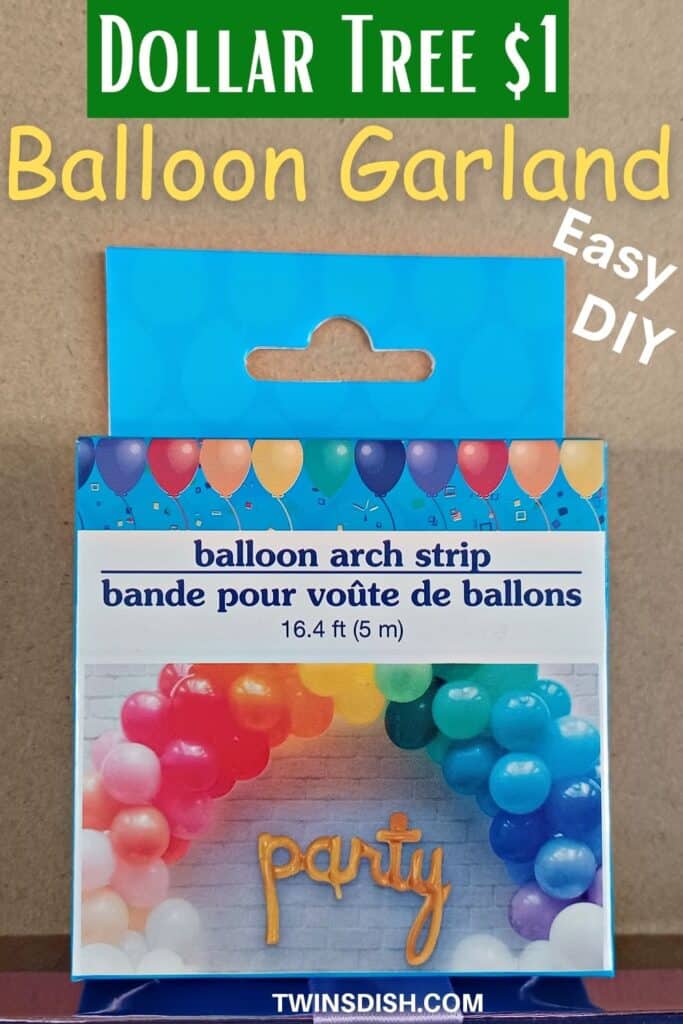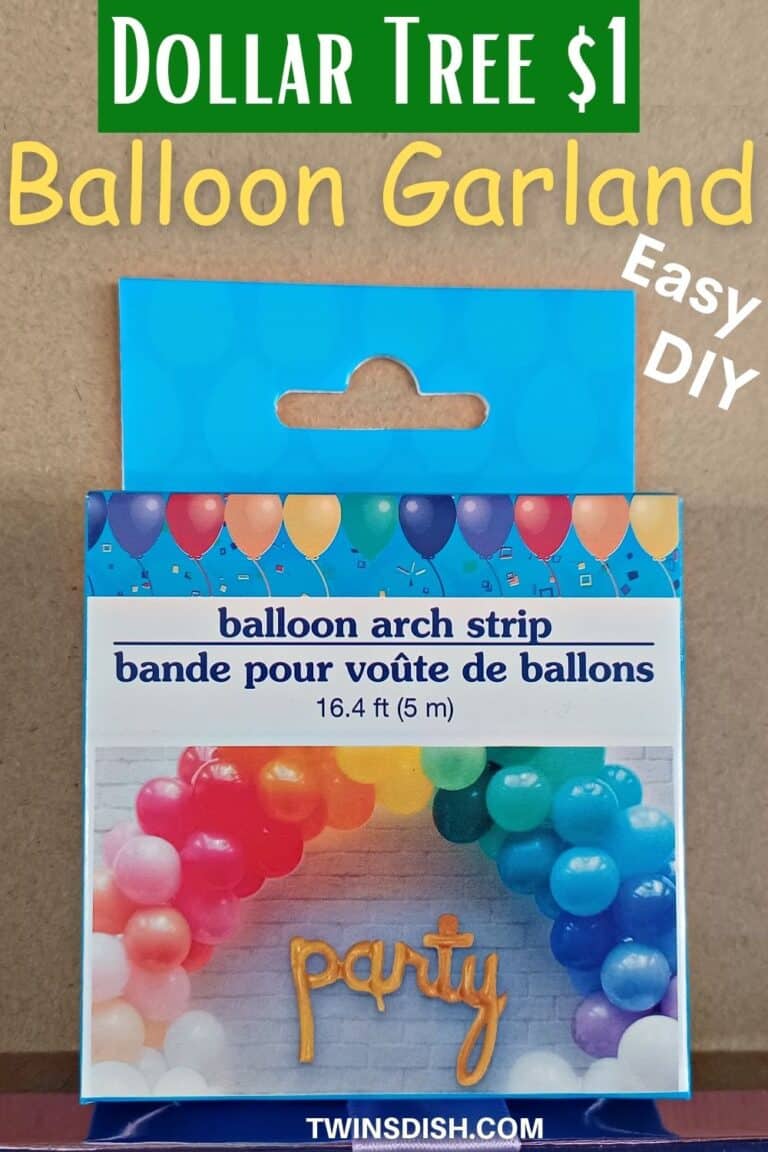 The Dollar Tree sells an easy to use balloon garland making kit for only $1.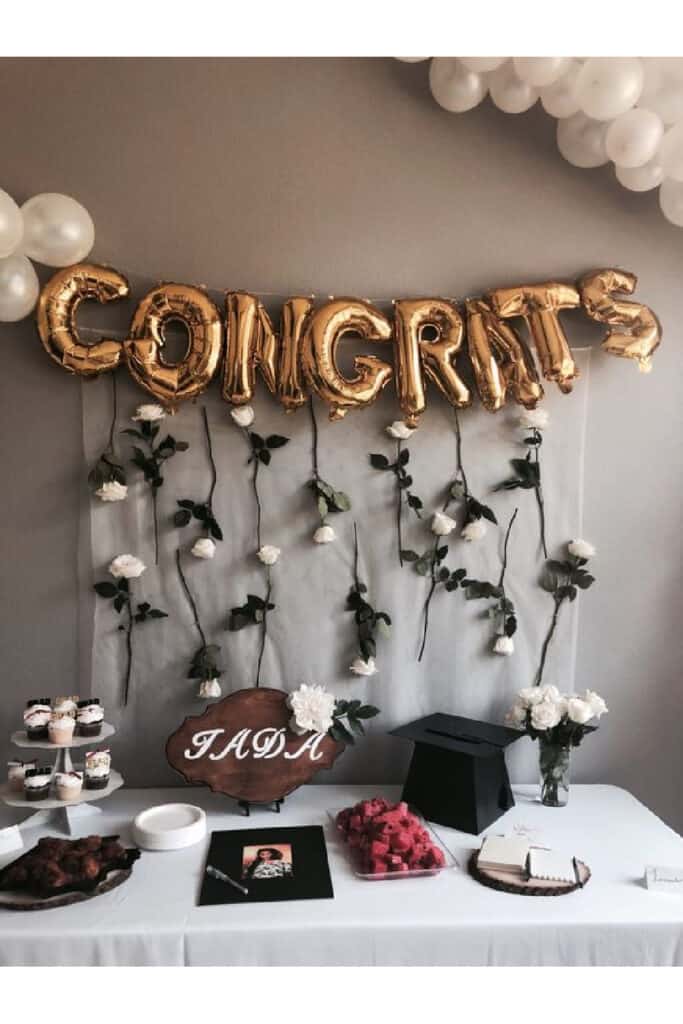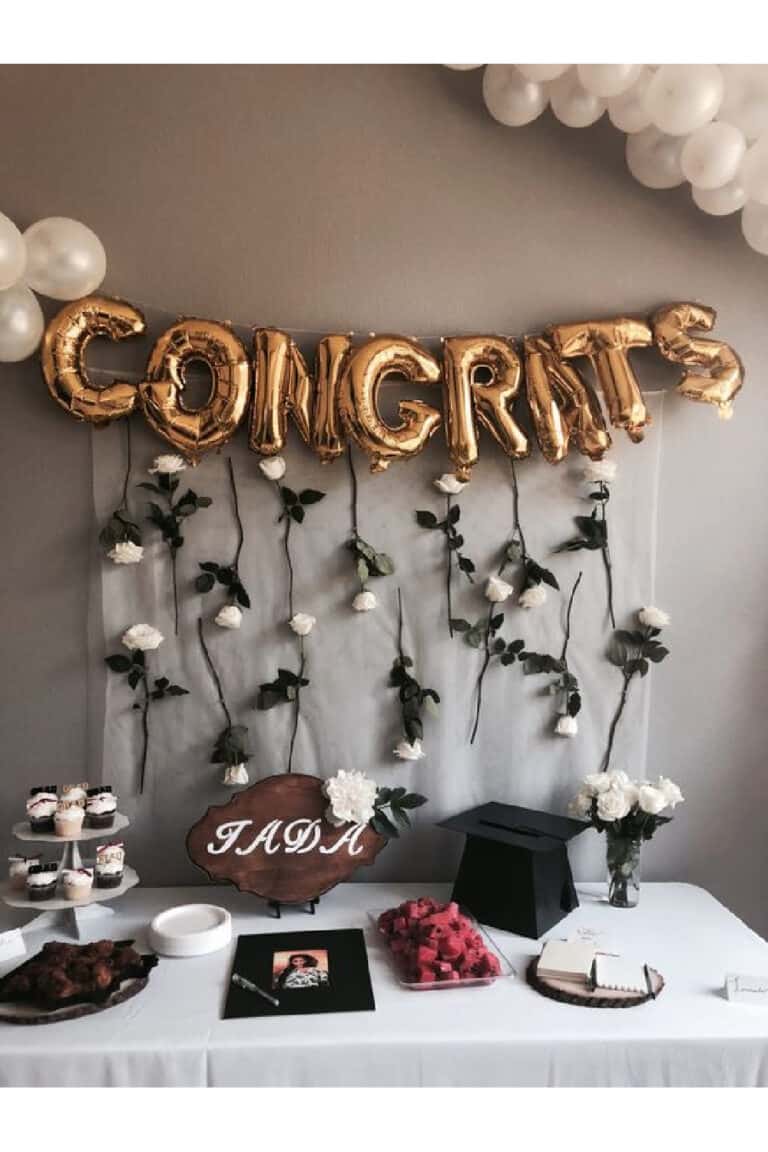 Use letter, number, and phrased balloons for everything from the dessert table, guest book table, photo booths, and even the pool.
Use double stick tape to secure balloons to the ceiling or wall.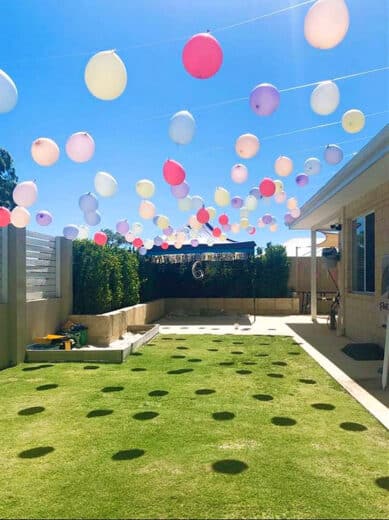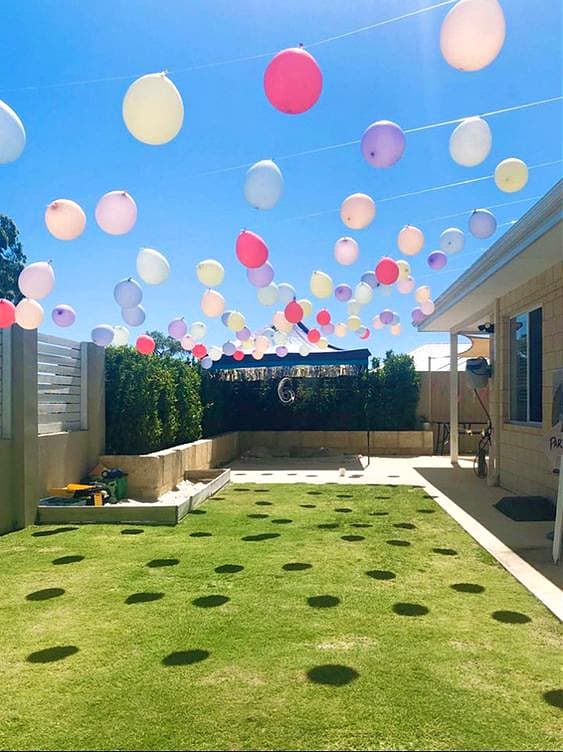 You can also thread balloons on a string or hang to string lights to make balloon garland.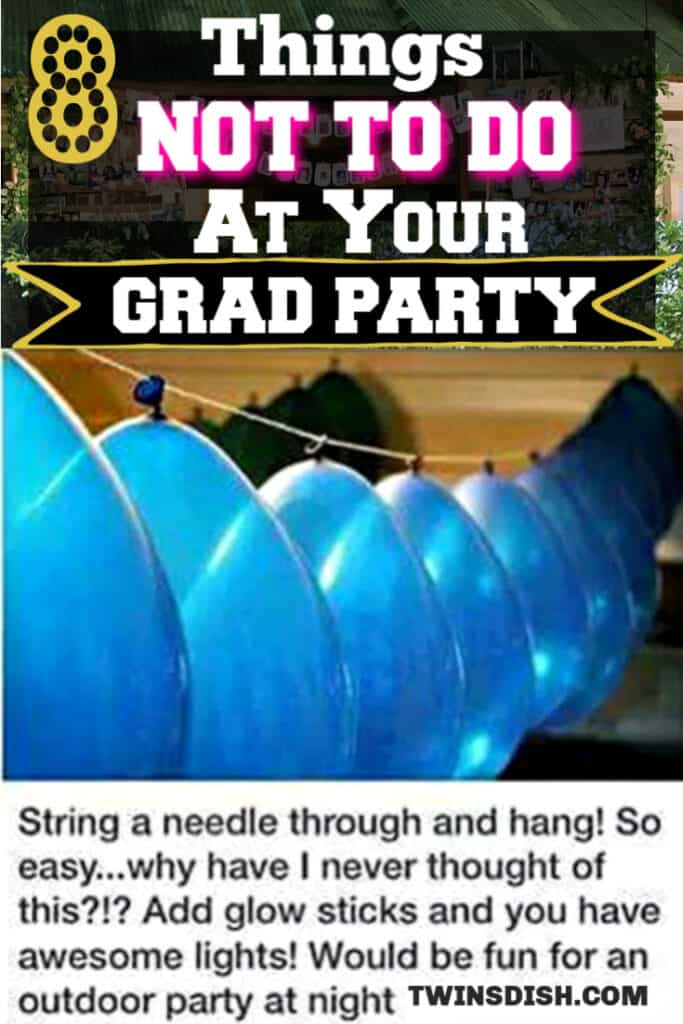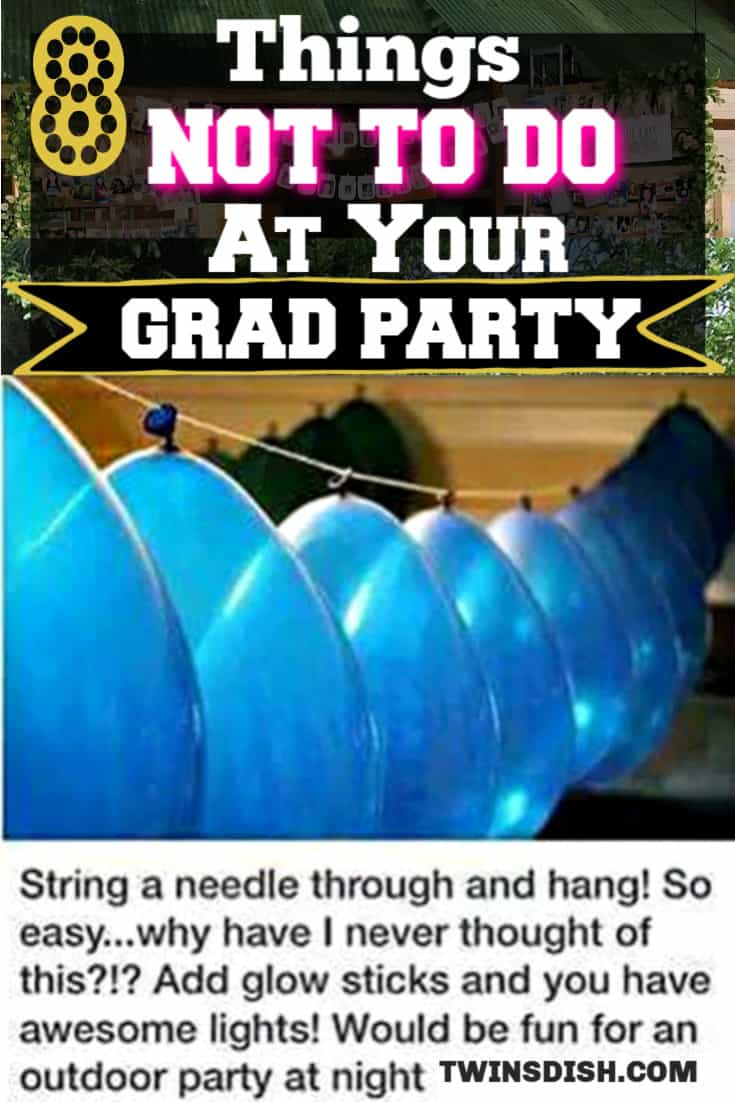 For a nighttime party add glow sticks!
If you still want one or 2 helium balloons for a photo op be sure to purchase them from Party City and call to ask how much they will charge to fill them ahead of time.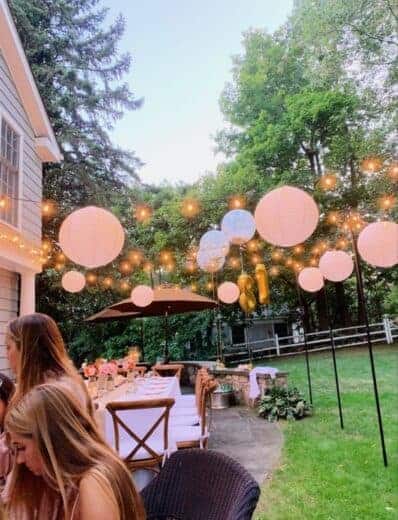 Paper lanterns (pictured above) are popular among pro event planners for their photogenic quality that makes any picture look magical day or night!
Hang them from string lights for a picture worthy backyard Grad Party that's very affordable (and you can reuse them for your yard). You can also purchase them with individual lights included to hang on their own. Get cute lighted paper lanterns HERE on amazon!
Since helium is needed for MRIs and space travel, you'll not only be en vogue by saying NO to helium but save a ton of $$!
4. Don't ONLY offer junk food and candy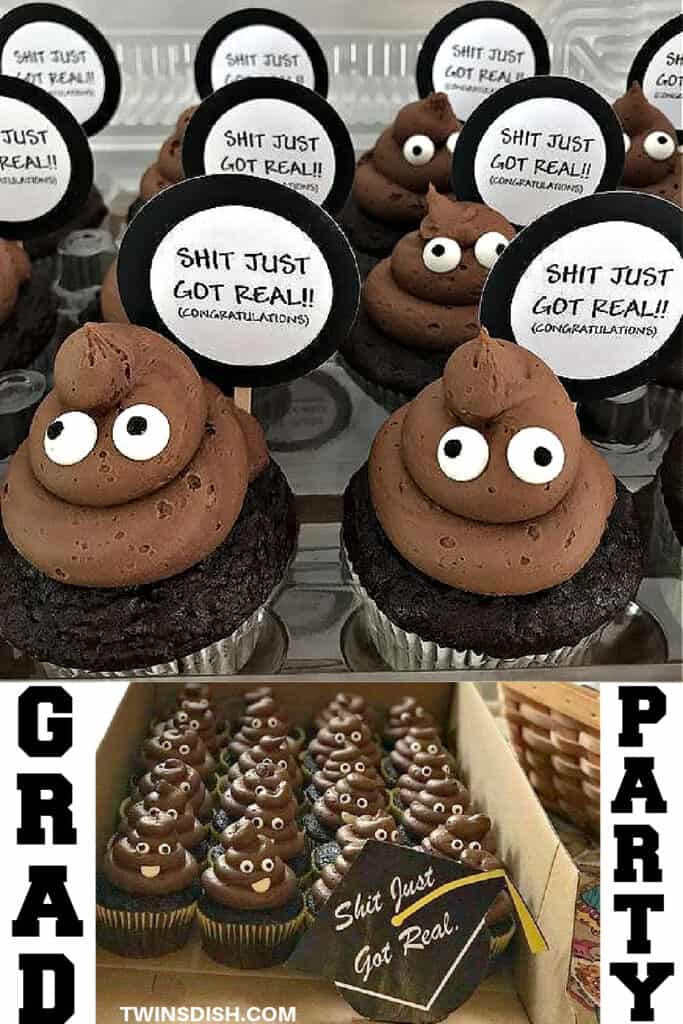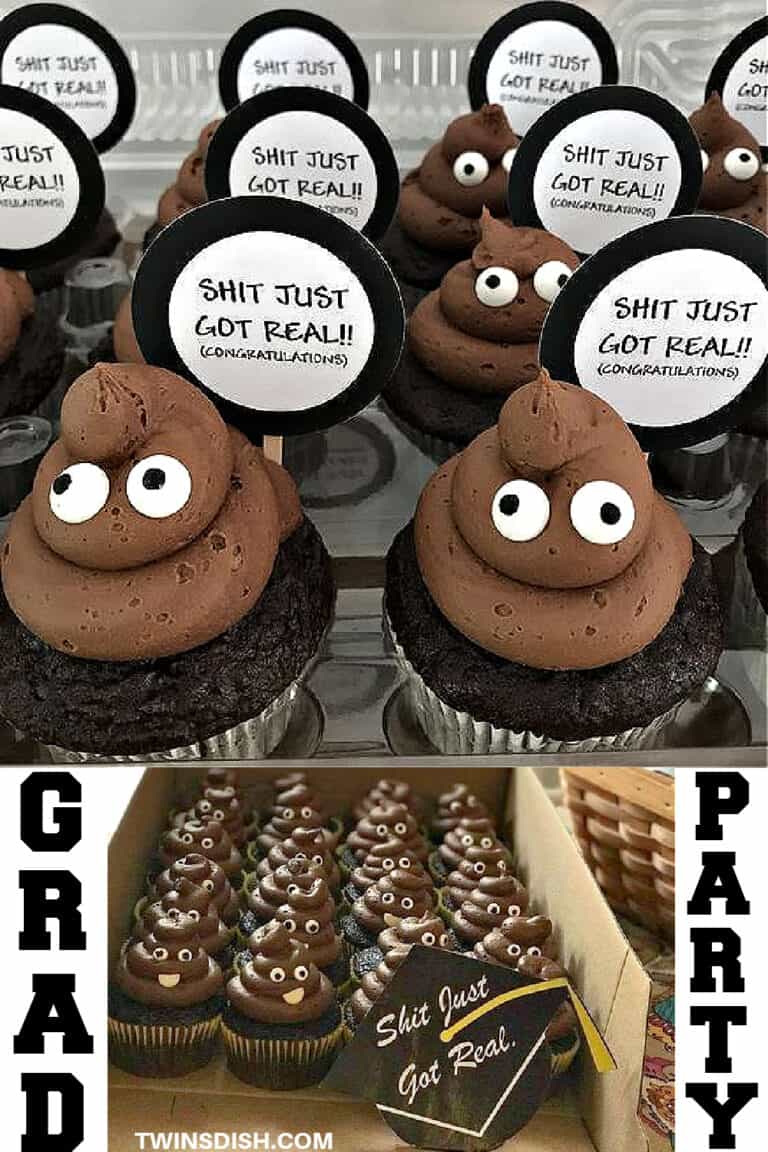 It's your Grad party so splurge a little but be sure to offer healthier options for your guests.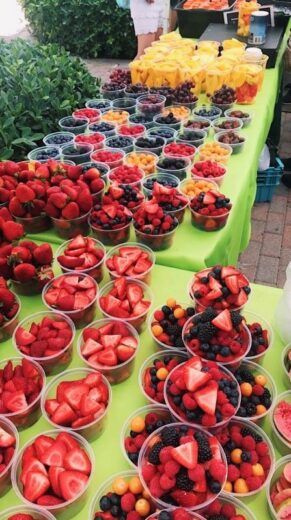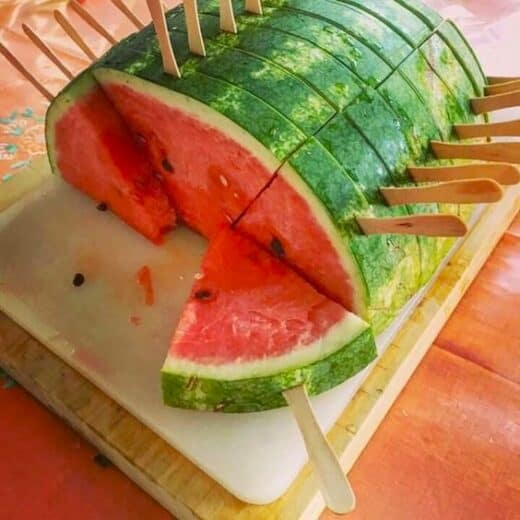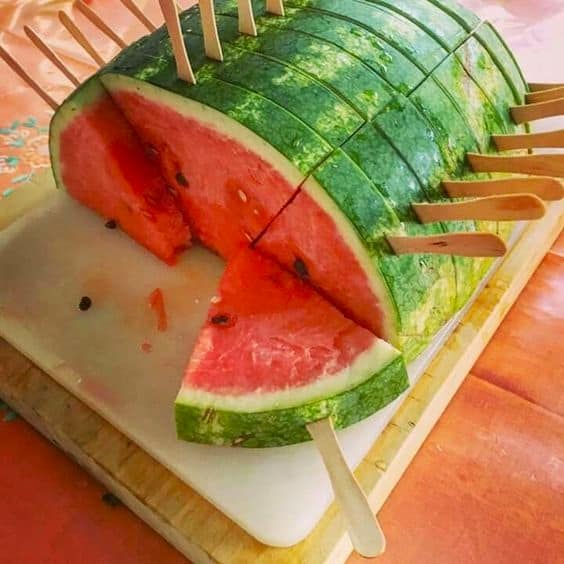 Put a fruit bar next to the candy bar, vegetable crudite next to the chips, and salad next to the hamburgers and hot dogs.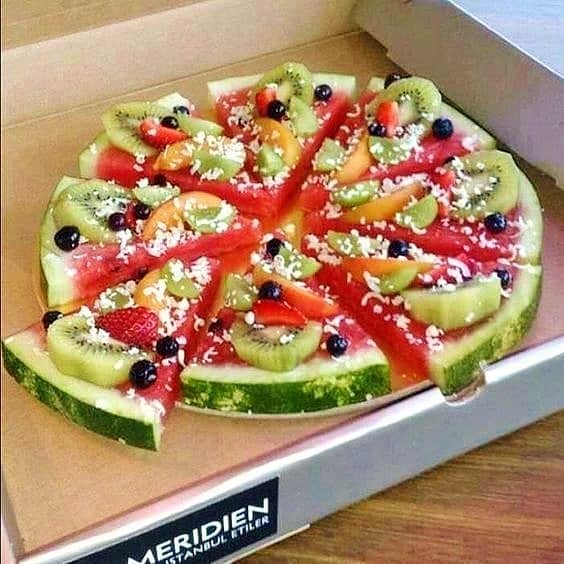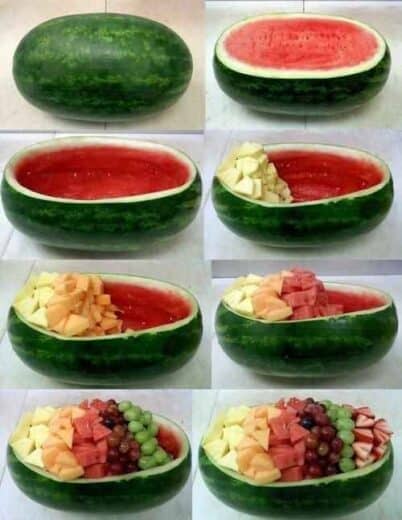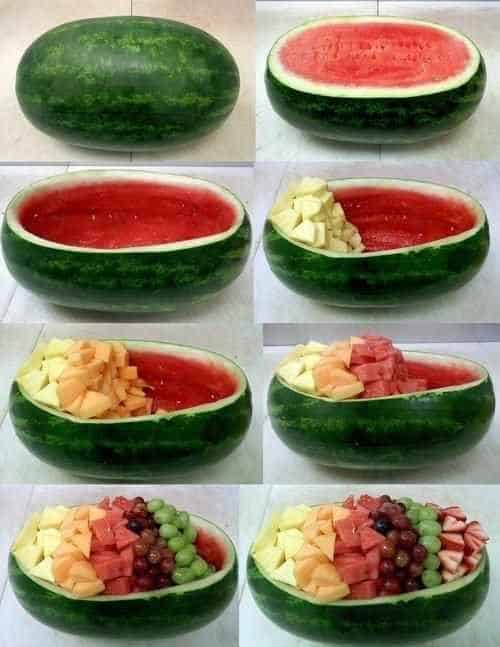 Friends or relatives with heart problems or who are diabetic will appreciate the gesture.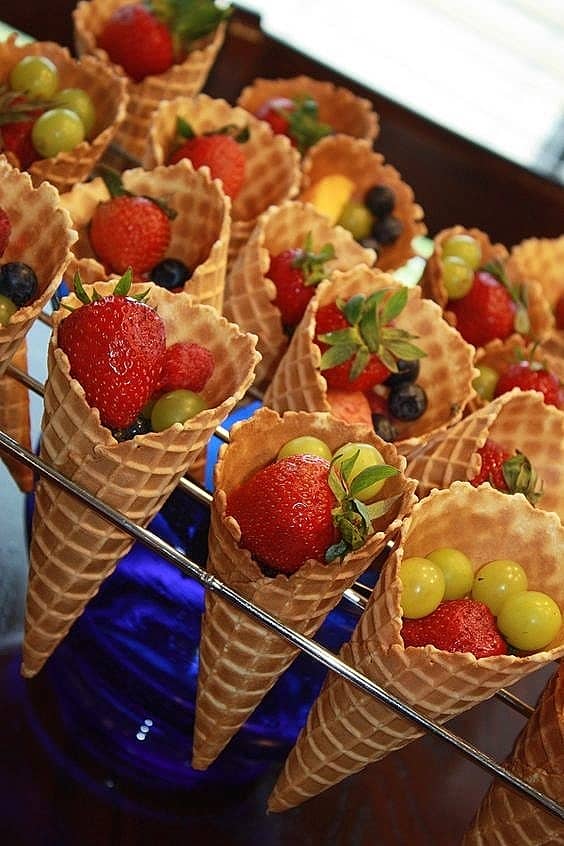 Don't forget an alternative to sugary sodas and sports drinks too!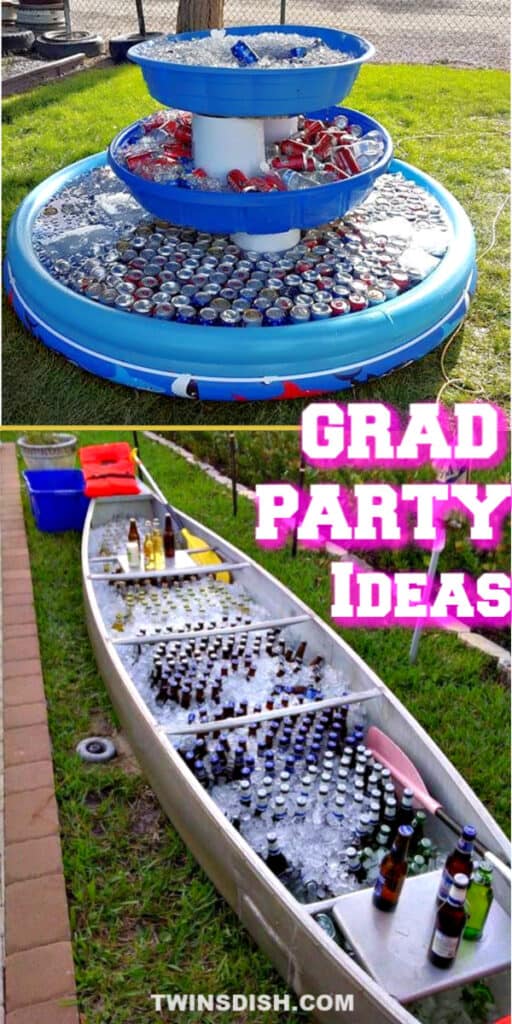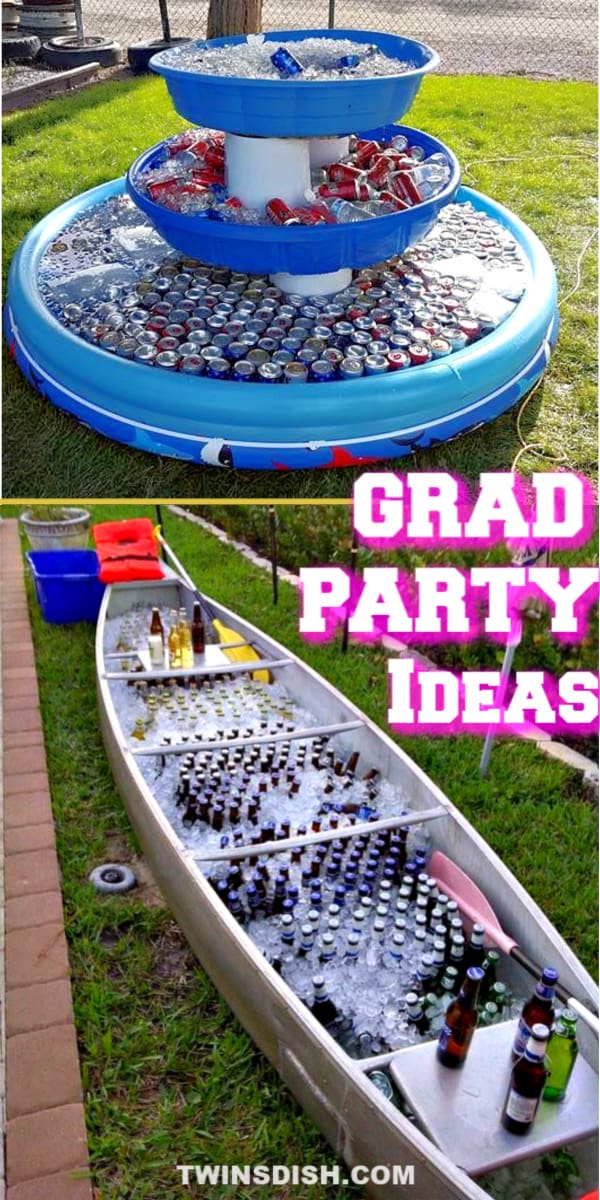 4. Don't make it easy for double dippers to double dip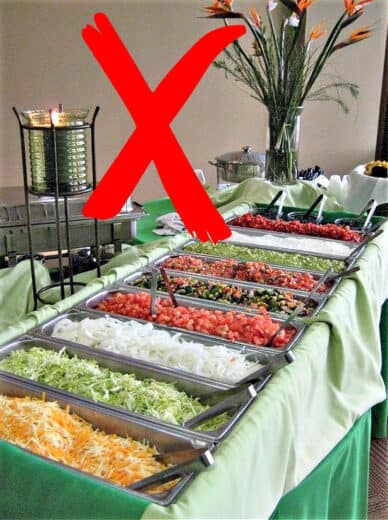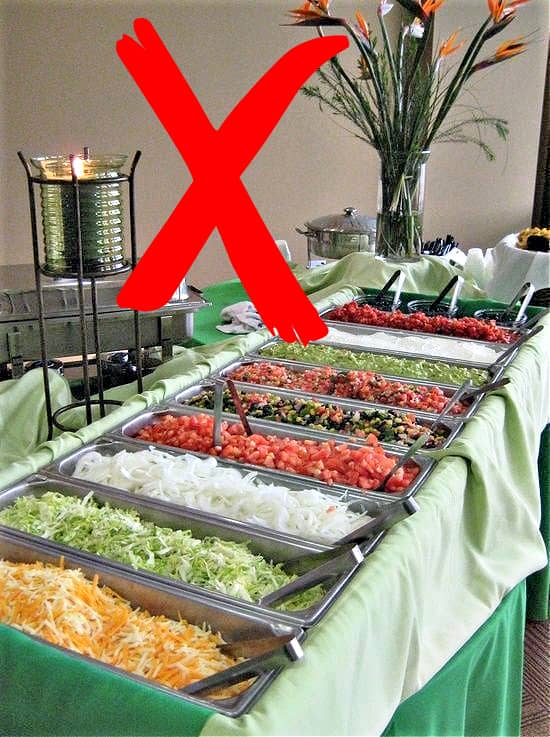 There's always that one child or tipsy adult who dips their chip directly into the bean dip after they already took a bite!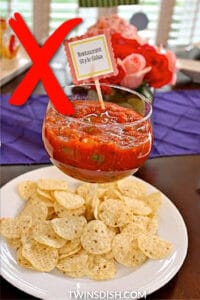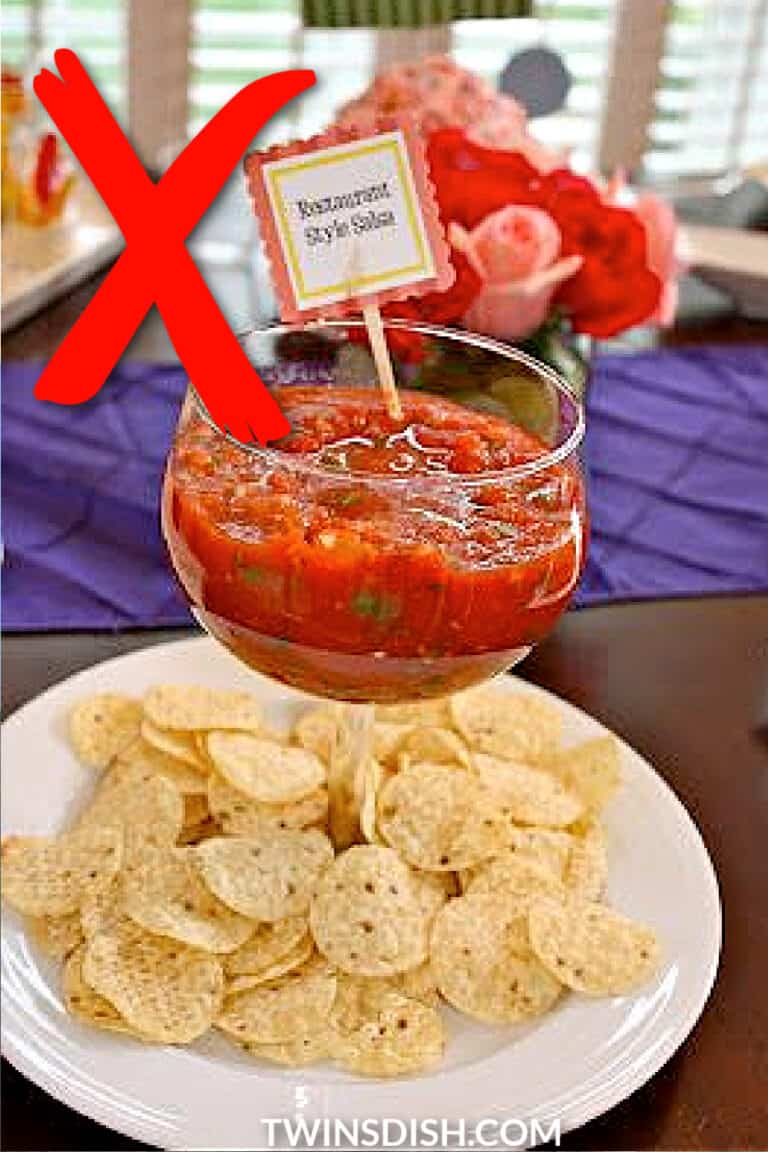 Yes, we've actually seen this in action at parties and it's mortifying. The chances of it are greater if little kids are coming and adults are drinking.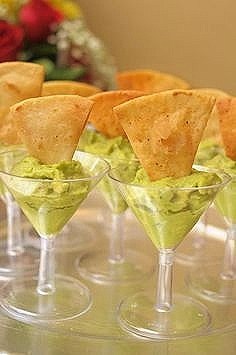 Keep germs at bay by putting dips, guacamole, and even salad in single serving plastic cups or glasses that guests can quickly grab instead of one big bowl or platter on the food table to prevent absent minded double dipping.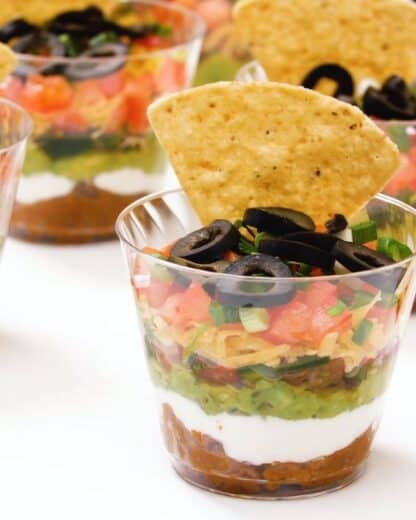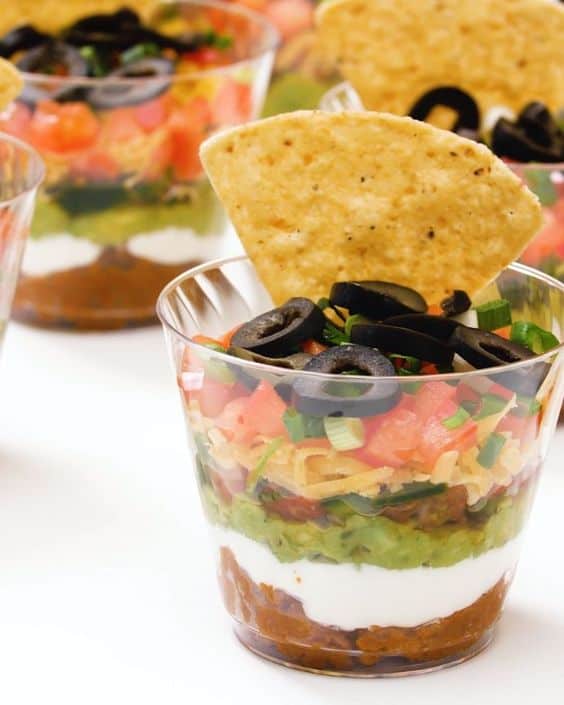 You can even purchase cups and containers with lids for take out themed Grad Party food that's germ proof.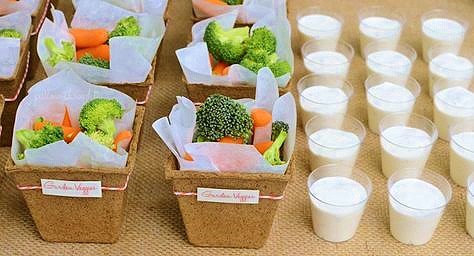 Individual cups are also a cheap way to give a polished and classy look to your grad party food spread, it's also great for portion control.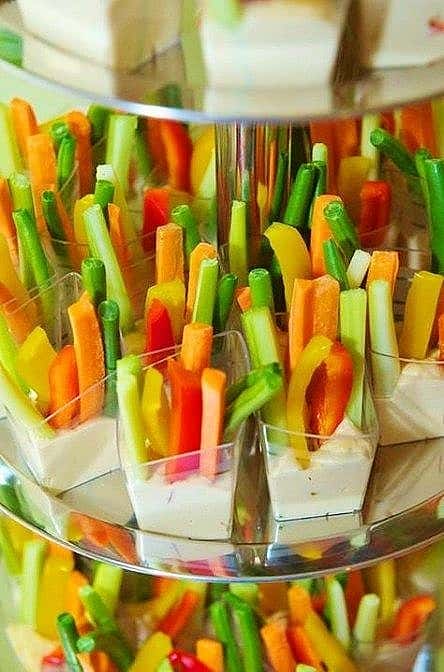 Usually with self serve batch food you get random spills and messy accidents on the tables, individual portions will keep your food table clean and eliminate the need for serving spoons.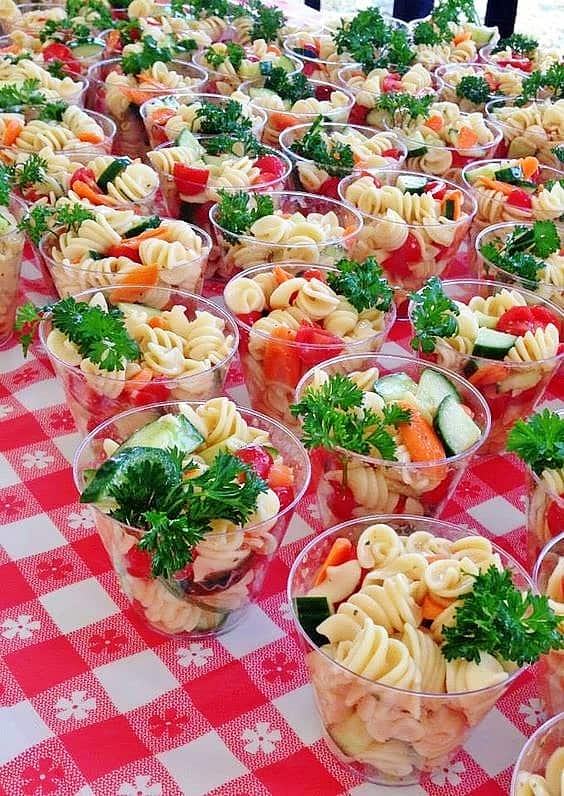 Serving smaller single portions will also save you a ton of money on wasted food. Guests can always go up for second and third helpings if they choose.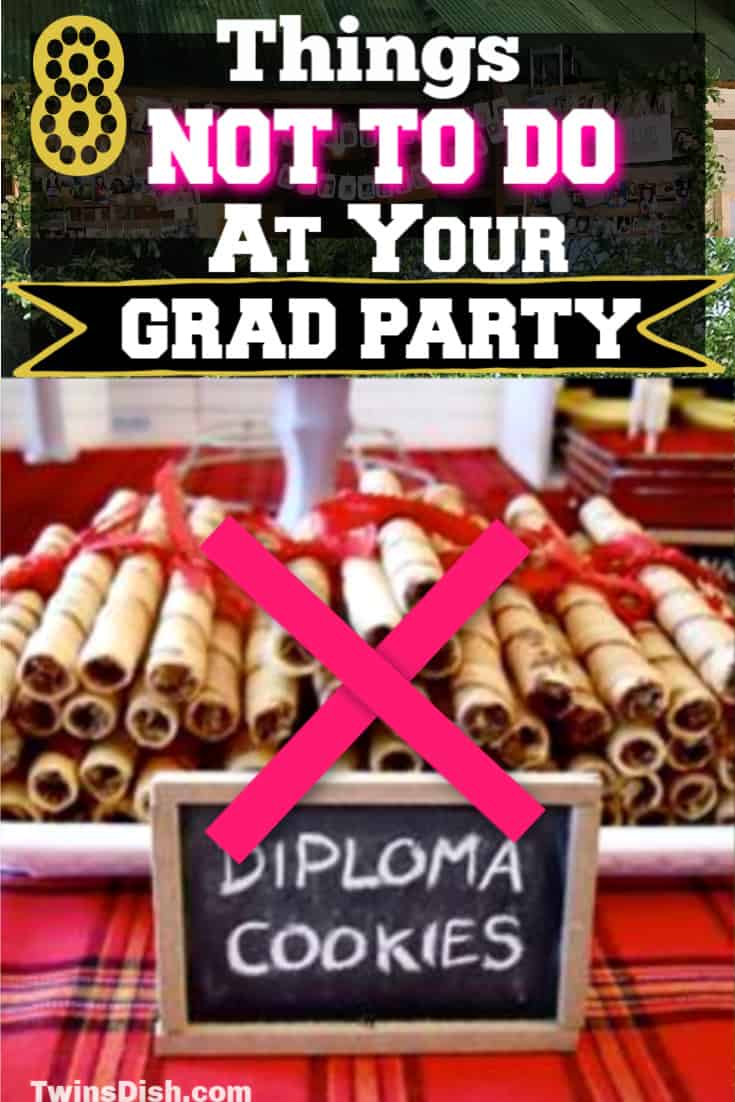 Don't leave food items such as cookies open and stacked on platters that people have to grab with their hands.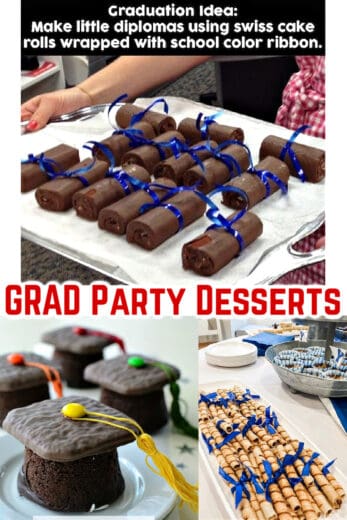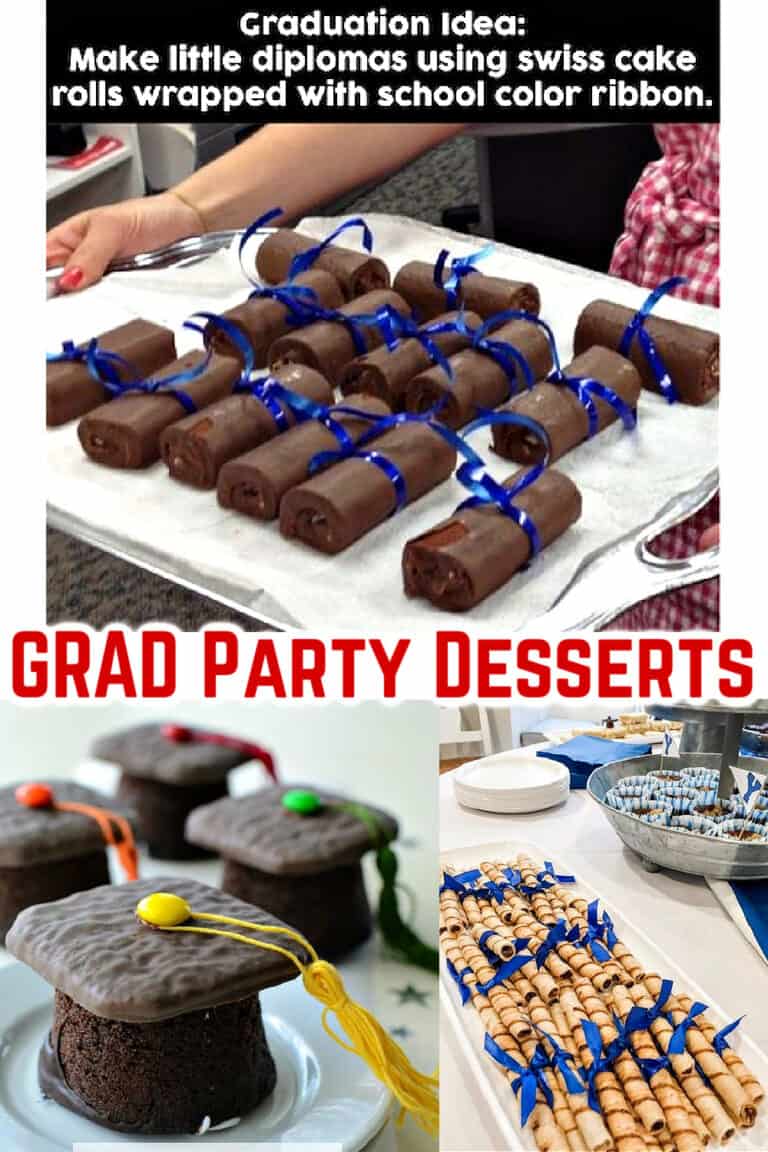 Cover them or store them in jars with tongs that people can use to grab items instead of using their hands.
5. Don't make your Grad party look like a memorial or shrine…you're not dead you're just beginning!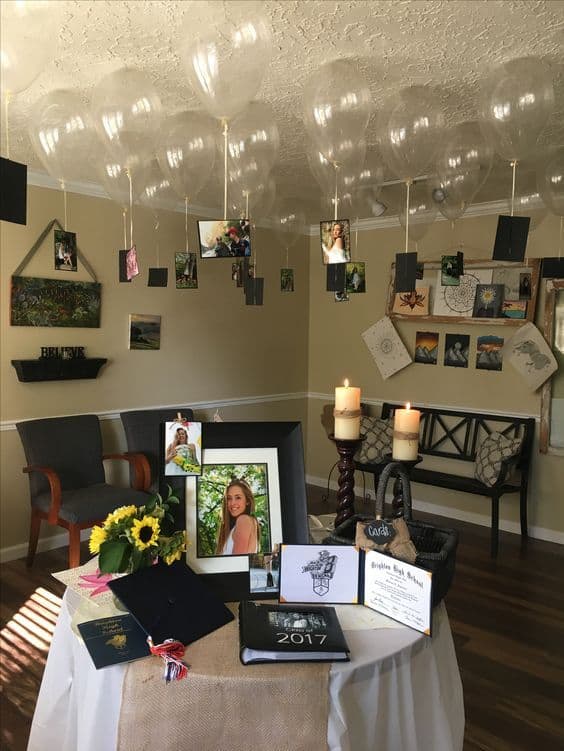 Let's have a moment of silence for the death of your adolescent school career. This is your grad party not your funeral!
Try to display pictures tastefully and select the ones that count, but don't make your party look like you're dead.
When over done, framed photos on a table with candles looks more like a memorial shrine than memories of school years past and all in all evoke a sad feeling of mourning rather than accomplishment!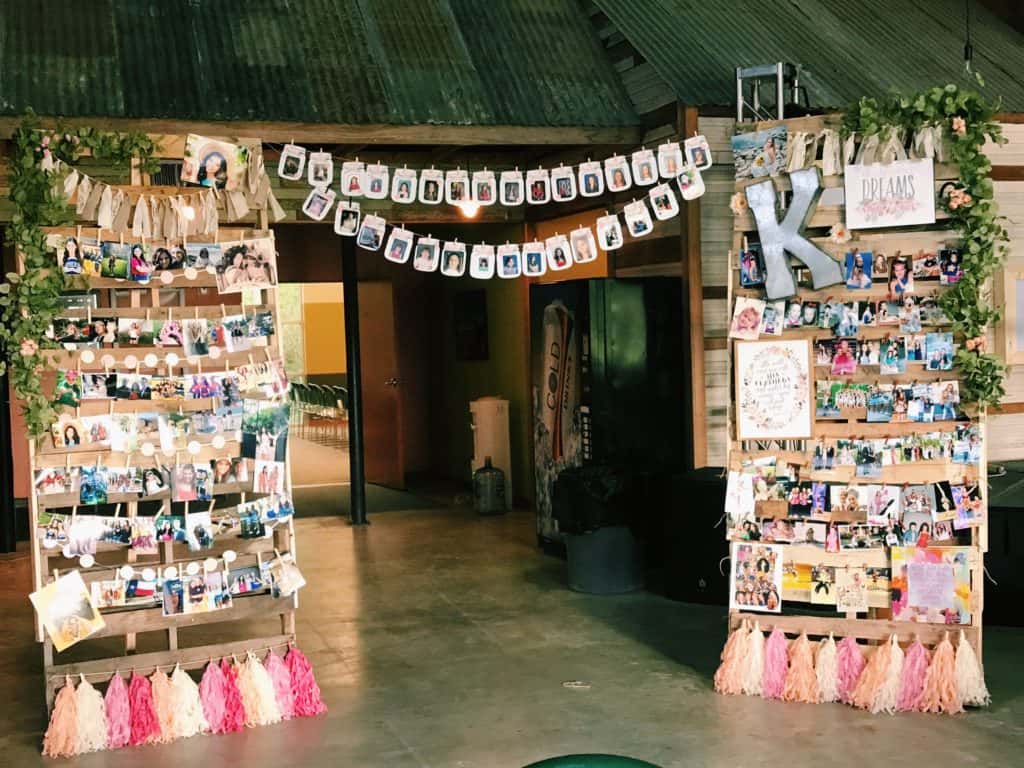 Make a designated picture display area to highlight not mourn the best memories of your school year.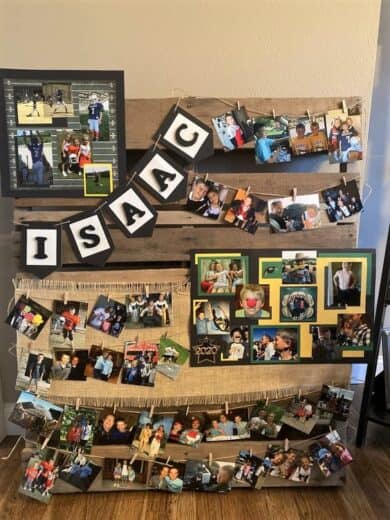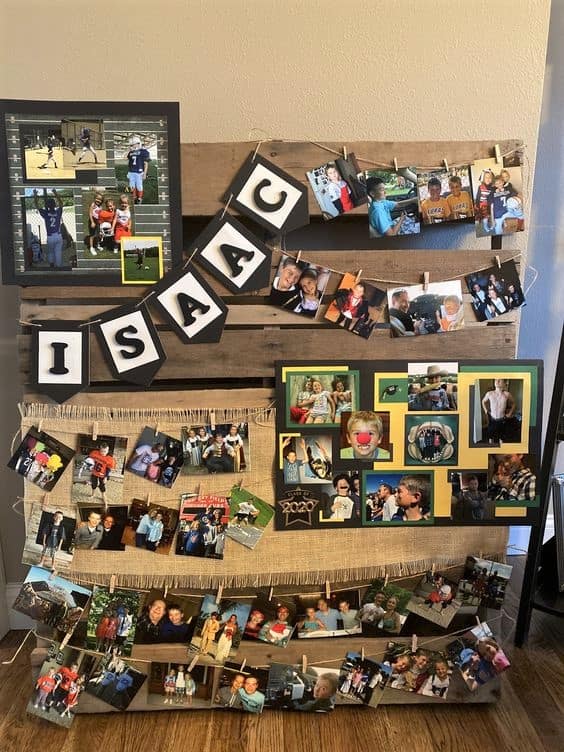 Add some color photos along with black and white, a pop of color to a wood pallet display, or even some sparkling lights to give an inviting and happy feeling.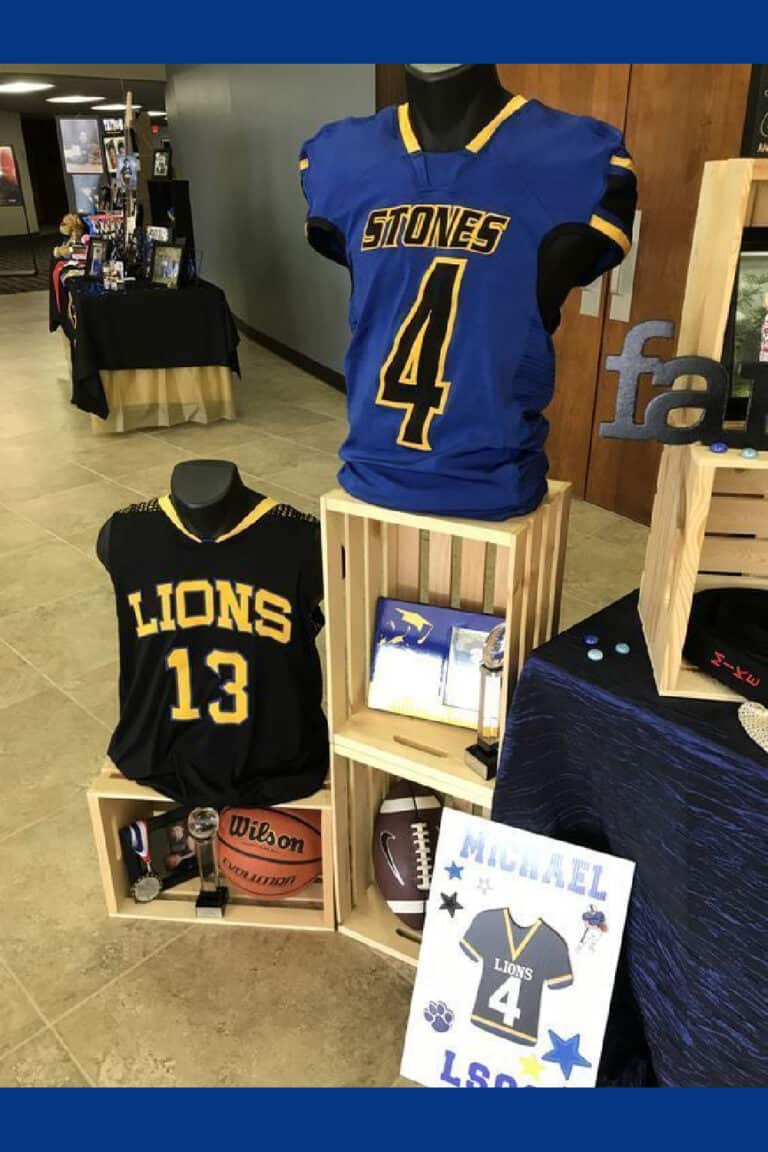 Make an easy Senior table to display all of the Grad's accomplishments through the years and decorate it to suit the Grad's interests or party theme.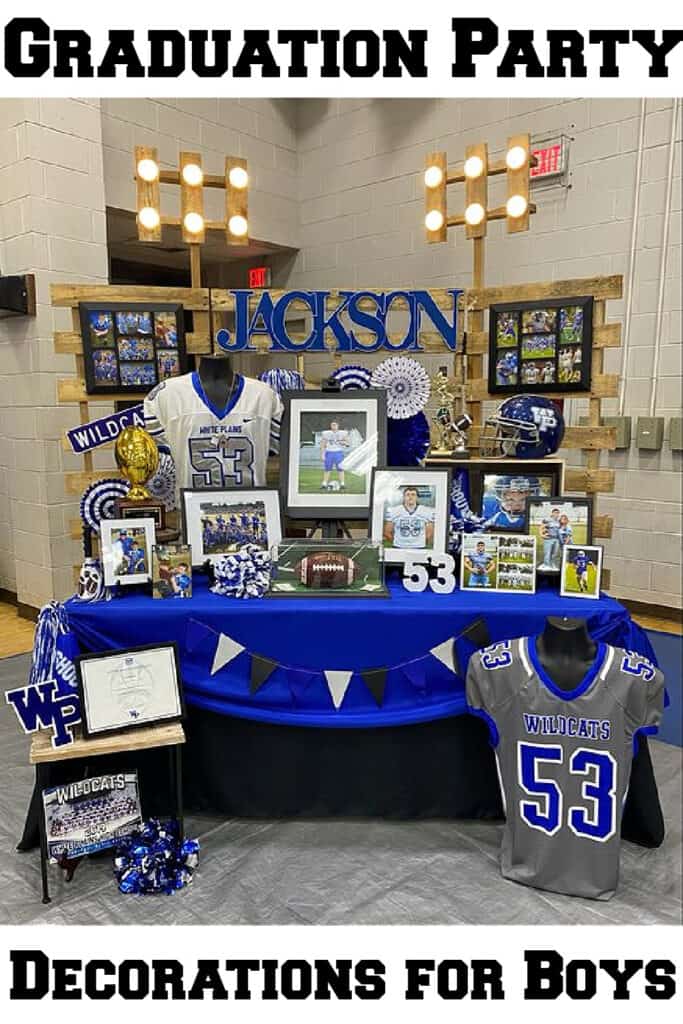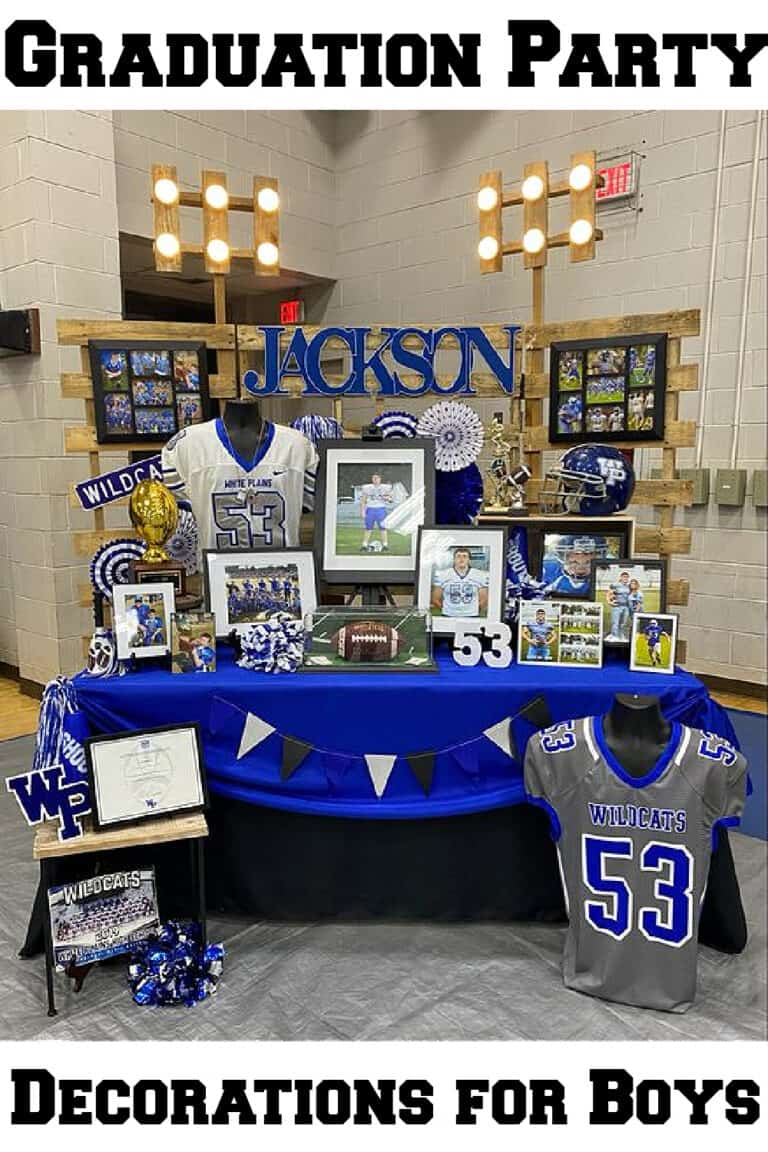 The above Senior Football table for boys was created by Stephanie Hamer using wood pallets and tap lights for a faux stadium.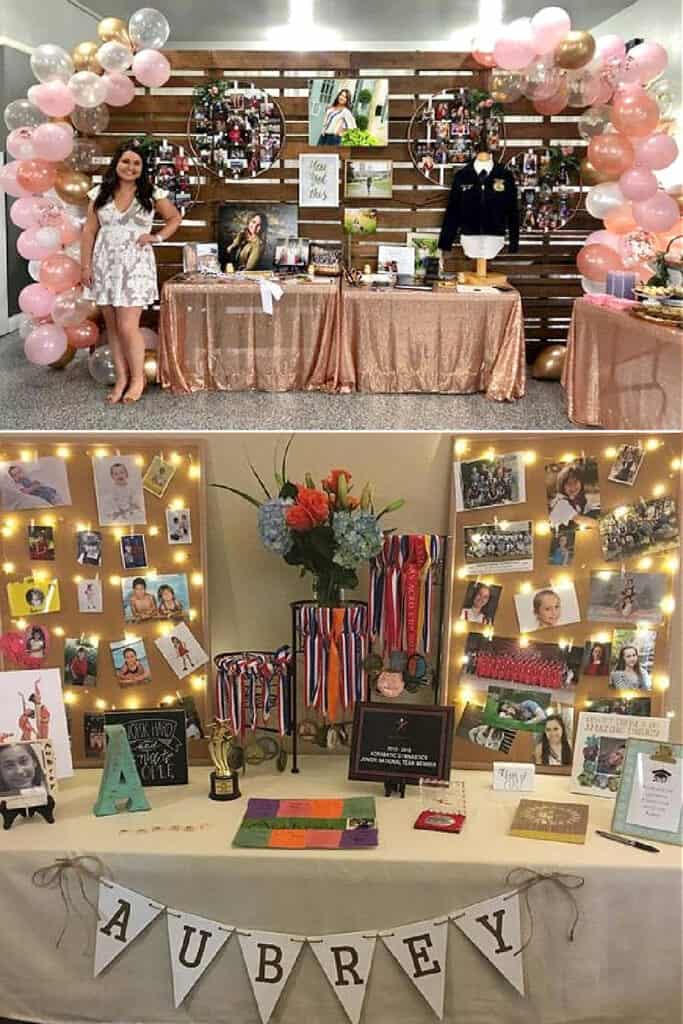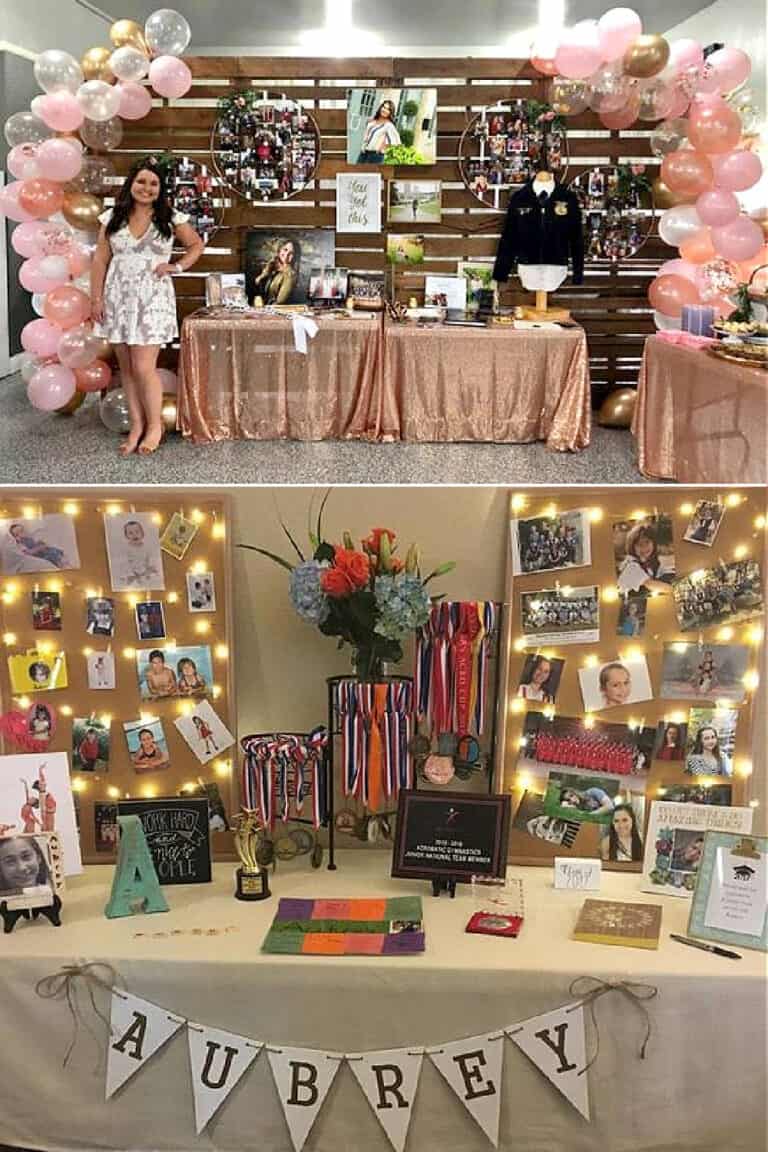 This works for both boys and girls.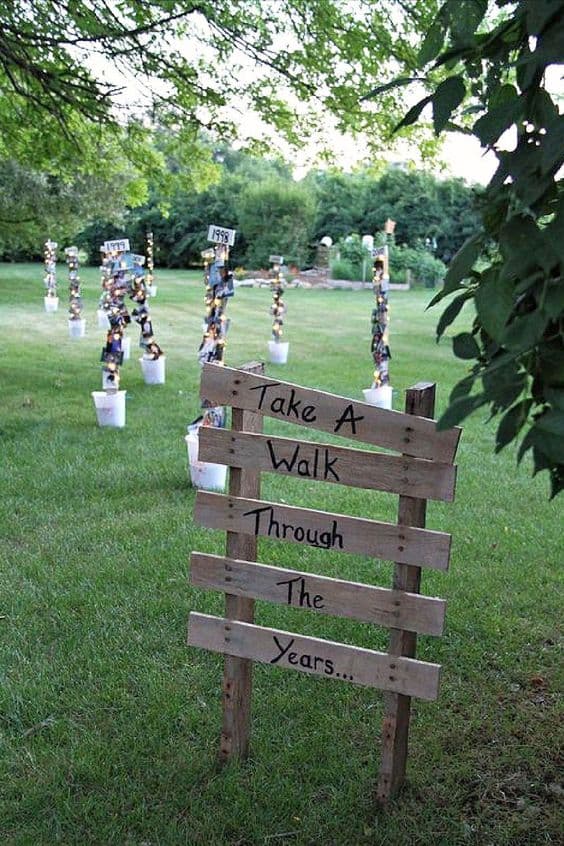 For more picture display ideas for your Grad party you MUST visit our Grad Party Photo Display post for a ton of the best ideas that fit any budget.

Don't forget those eating tables! Photos placed as centerpieces on the tables where we were eating were ones we noticed the most.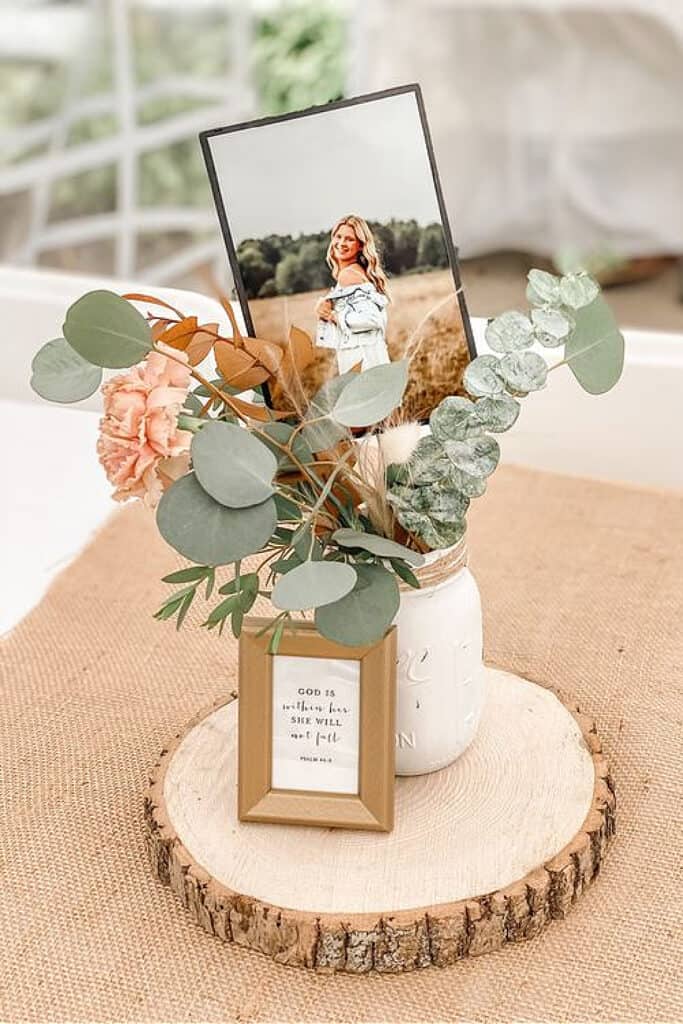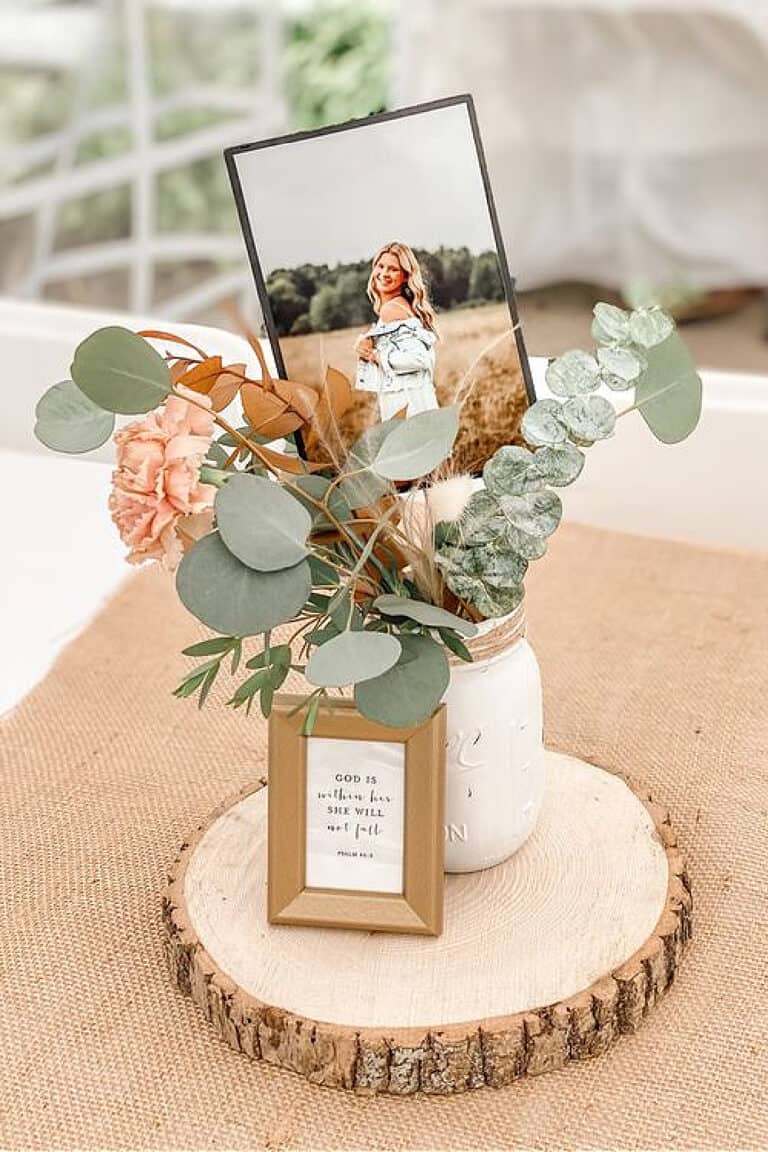 Guests will appreciate having something to look at while they're enjoying their meal or drink so don't forget to put your best photos there!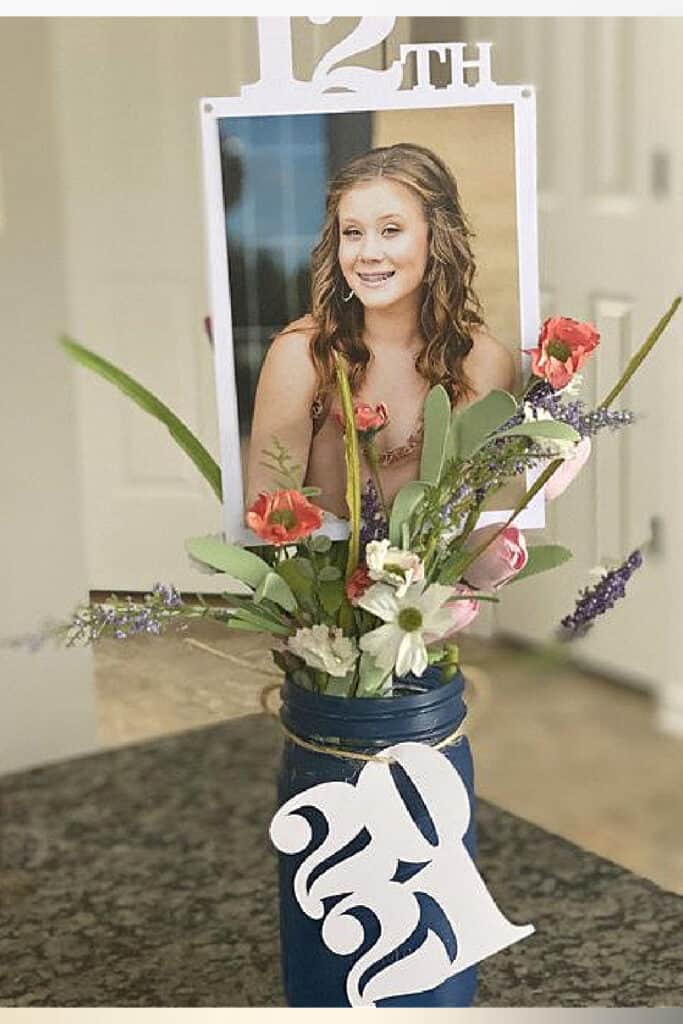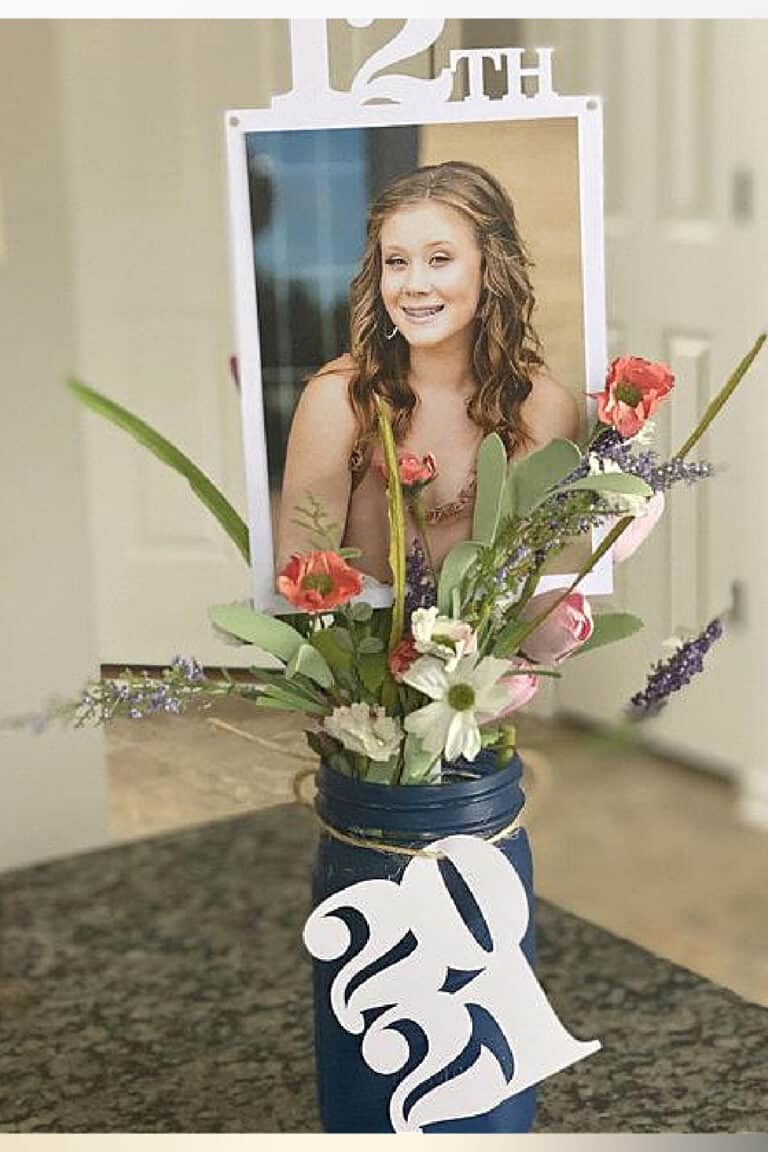 This is another super easy centerpiece idea for twins since you can stick two photos in each arrangement.
6. Don't do everything yourself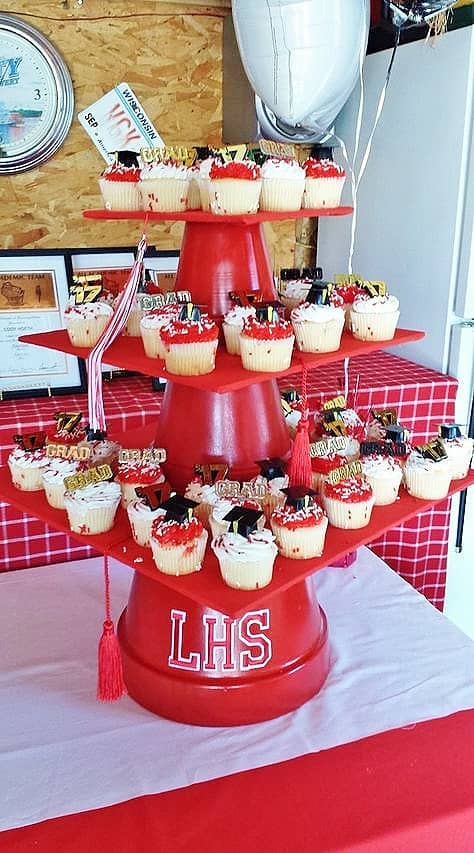 Not everything has to be customized, choose a few easy statement DIY pieces to personalize the party and utilize Amazon and the dollar store for the rest. It'll be cheaper, less stressful, and save you a ton of time.
SOURCEGet a willing sibling or hire a teenager to help with things like taking out the garbage and refilling snacks when the party is in full swing so you can enjoy the celebration.
We've seen Grad party hosts so stressed out trying to keep up with cleaning up over flowing garbage, and refilling empty food trays that they couldn't really enjoy the party or food until it was over.
We've also seen guests going hungry because the host was enjoying the party (as they should be) and didn't keep up with replenishing the food table.
7. You Don't Have To Spend A Ton Hiring Professional Entertainment – Utilize Many Talented Teens Or Graduates In The Graduating Class To Perform At Your Party Instead And Have Games!
Whether it's dancing, singing, playing an instrument, or DJing, heck even performing magic tricks, some may do it for free or for a small fee! Don't stop at graduates, ask cousins, neighbors, and siblings of friends.
Make a free playlist on Spotify of the Graduate's favorite songs to play during the party and in between any live performances.
8. Not give guests an opportunity to give the Grad advice.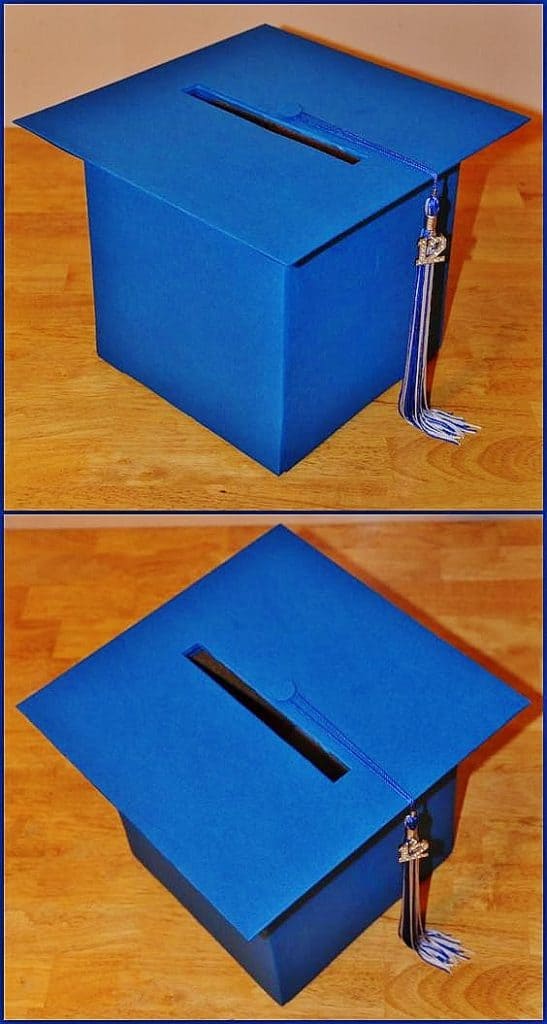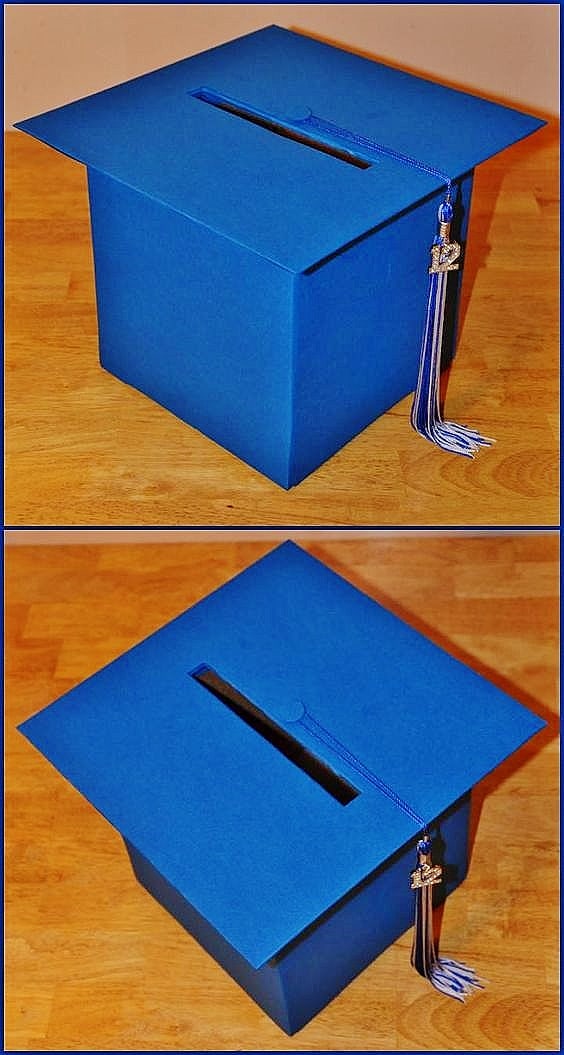 PINTEREST.COM
This is too easy and valuable not to do.
Grab a pen and an empty pad or notebook, and give guests the opportunity to write down their best piece of advice for the new Grad.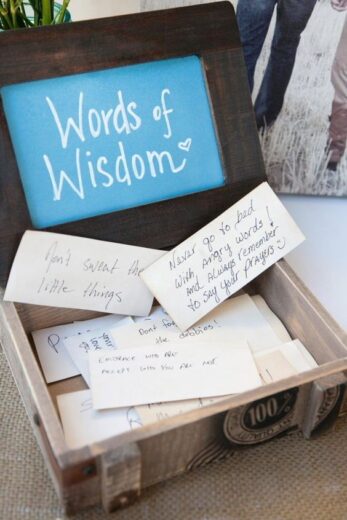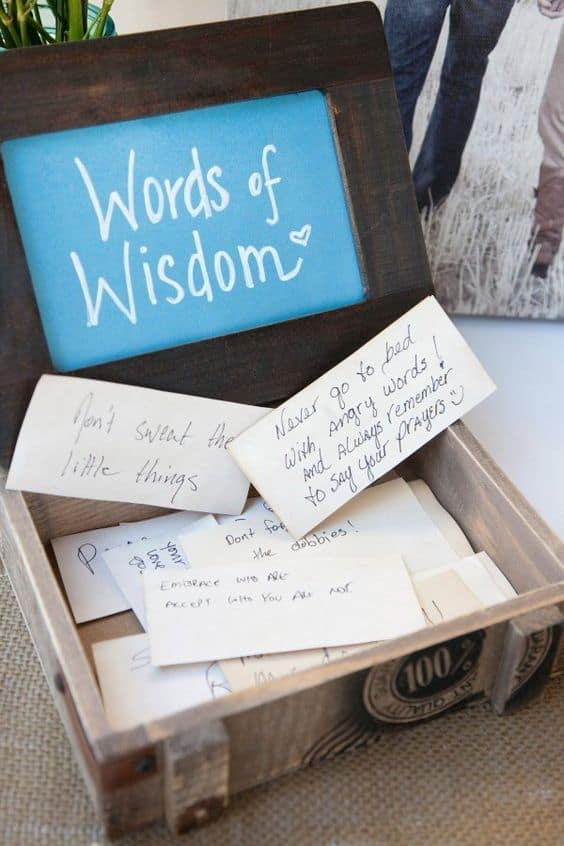 WORDS OF WISDOM GRADUATION PARTY PHOTO CREDIT

You can even set a jar, box, or bag by the pad.
Whether it's on life, deciding their career path, or valuable tips for college, this is the perfect time to get some jewels of wisdom from friends and family who care and have been there.
9. Don't forget the details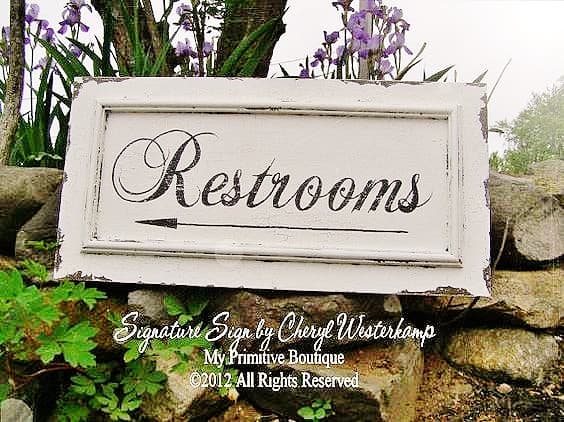 Where to park, where's the bathroom, do all of the lights and electricity work, do you have enough trash cans- all things you should not only figure out prior to the party but make signs for or let guests know about.
The larger your guest list is the more important this is! We've seen people forget to include this info to guests with overwhelming and disastrous results.
10. Don't Have High Maintenance Food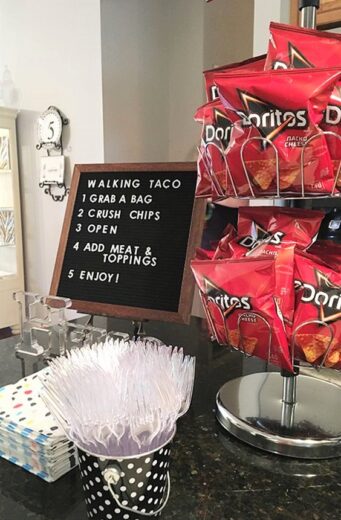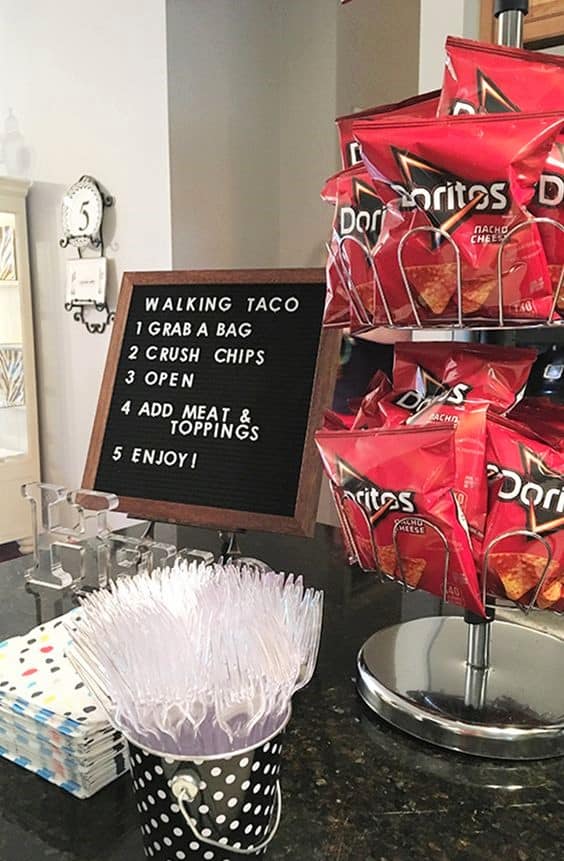 If it fits in your budget go for it, but unless the Queen of England is going to be in attendance you can save the super fancy gourmet food for your Wedding.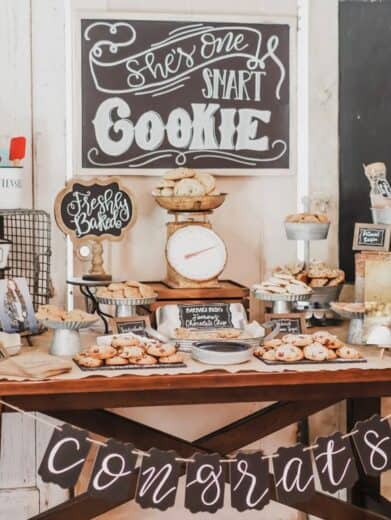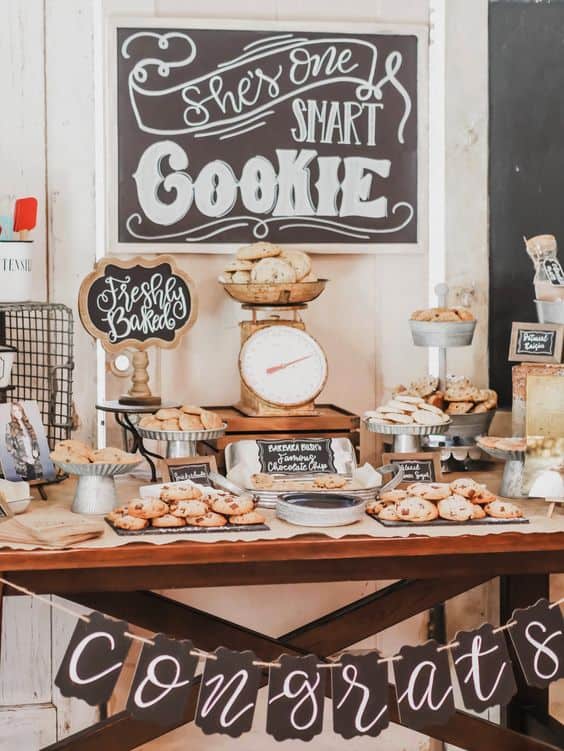 COOKIE BAR PHOTO CREDIT AND TUTORIAL
Dress up quick, easy, and delicious dishes that have mass appeal, but use few utensils.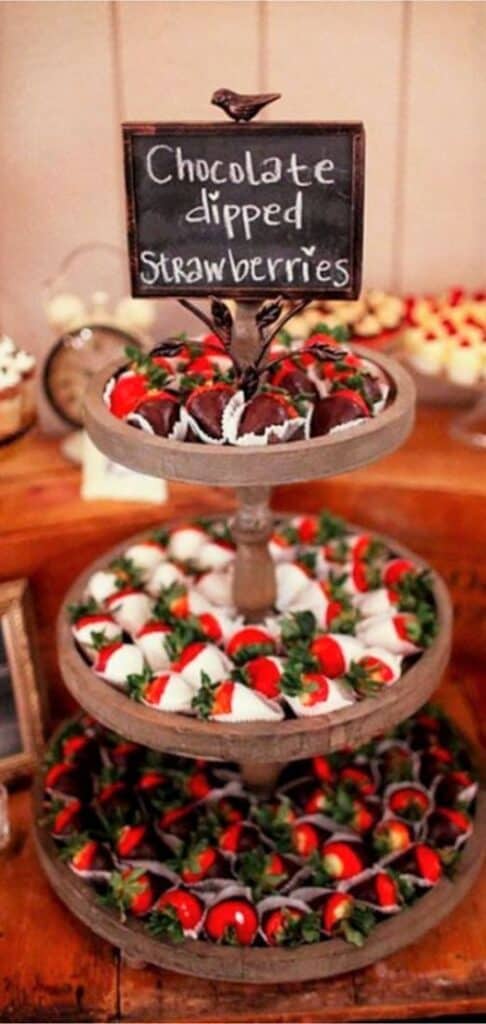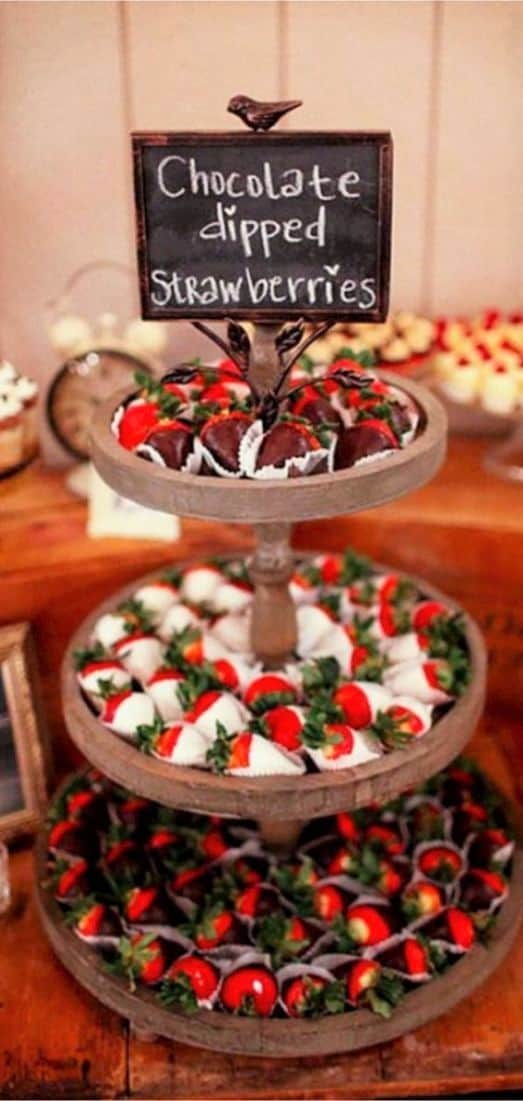 CHOCOLATE DIPPED STRAWBERRY PHOTO CREDIT
Remember it's the presentation that is key.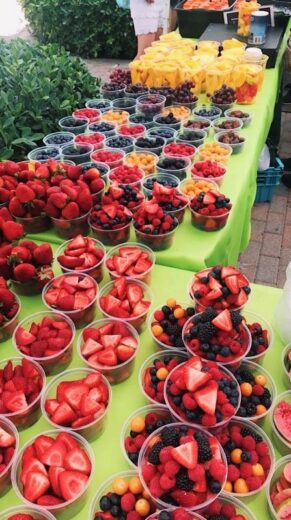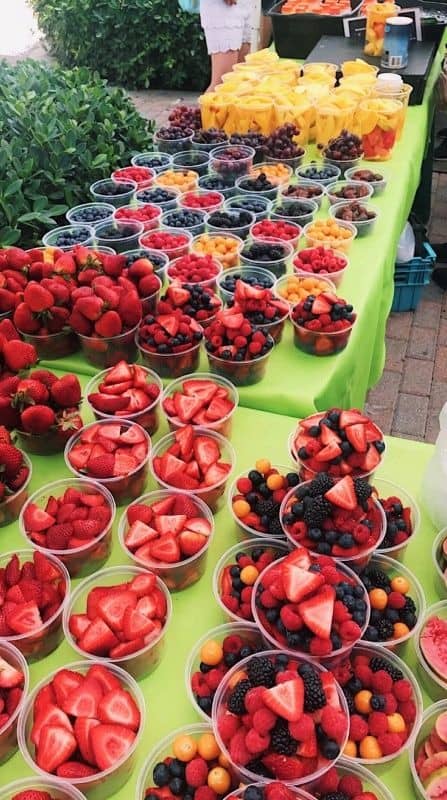 You want something that's easy for guests to pick up and easy to throw out.
Food guests can eat while standing up or sitting down.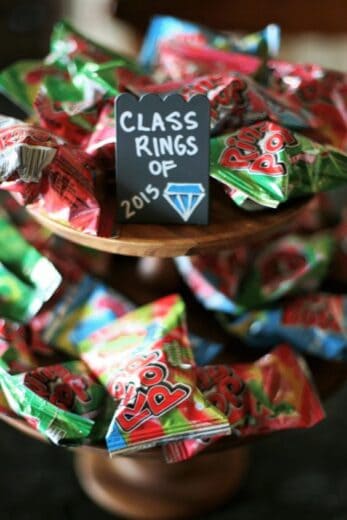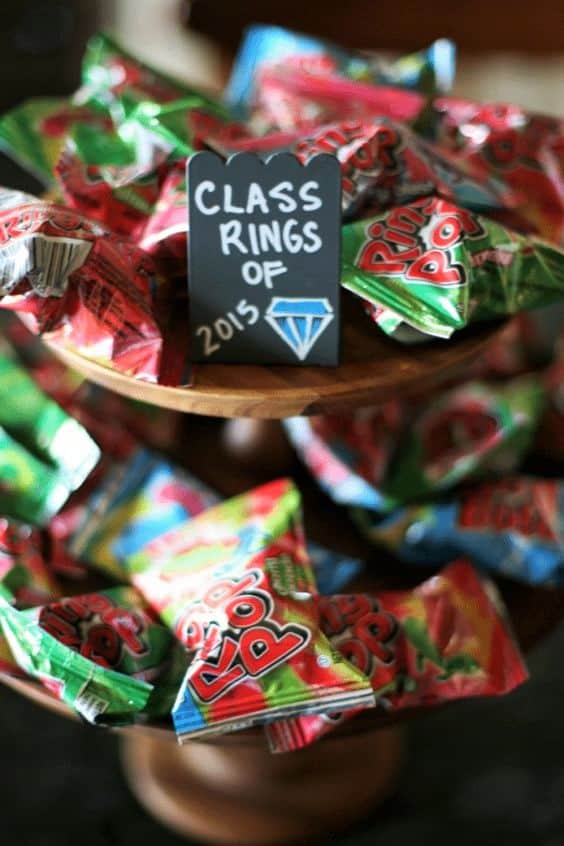 Candy puns are the best way to put a Graduation party food spin on normally ordinary candy.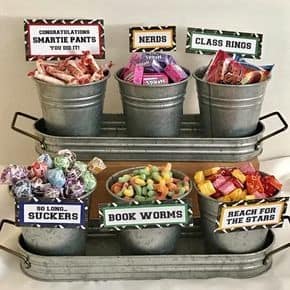 Candy Puns make a great cheap Graduation candy buffet look expensive and witty.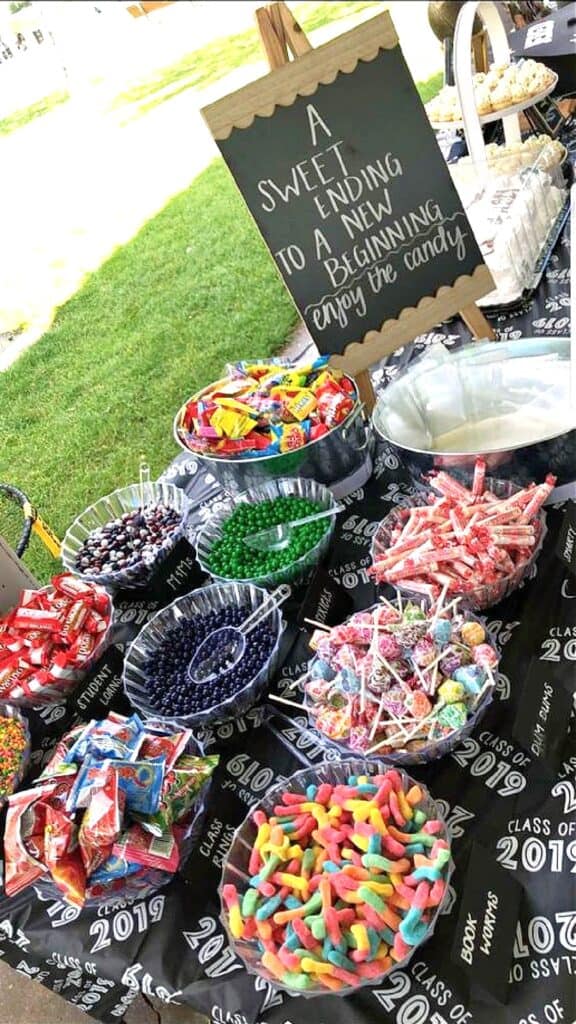 For a super easy candy bar just use one witty pun on a sign for the whole candy bar!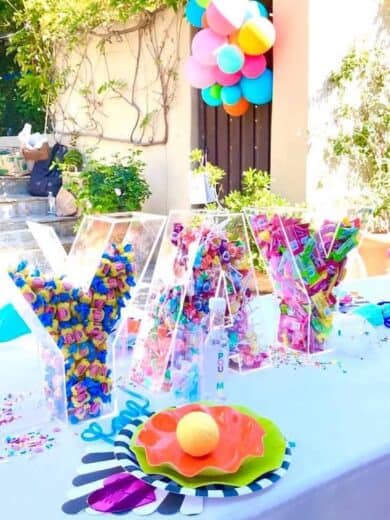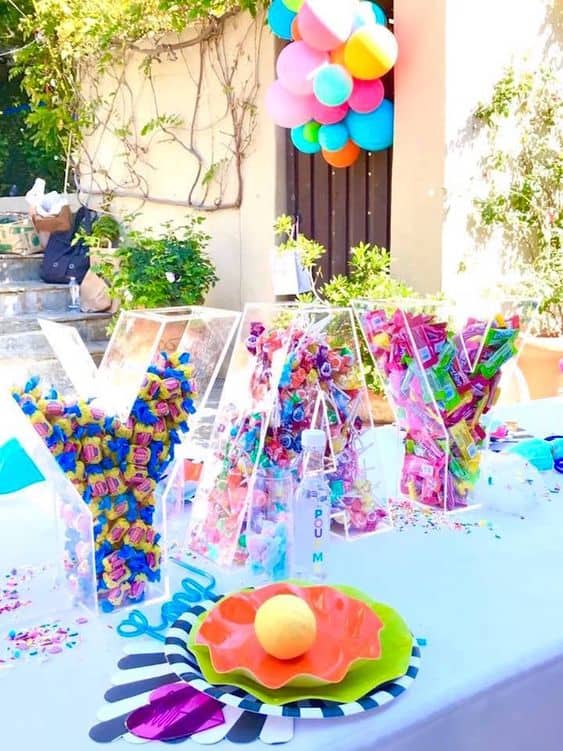 Fillable acrylic letters will make a show stopping candy bar for any gender. They may be available to rent for cheap at your local event rental company or you can purchase them here on alibaba or here on etsy.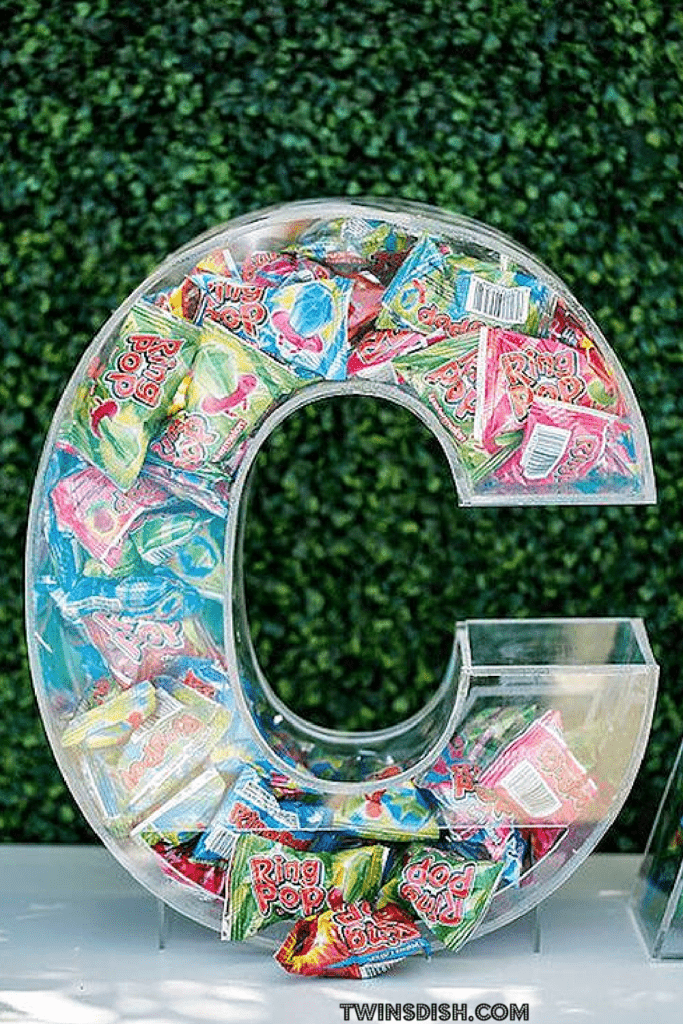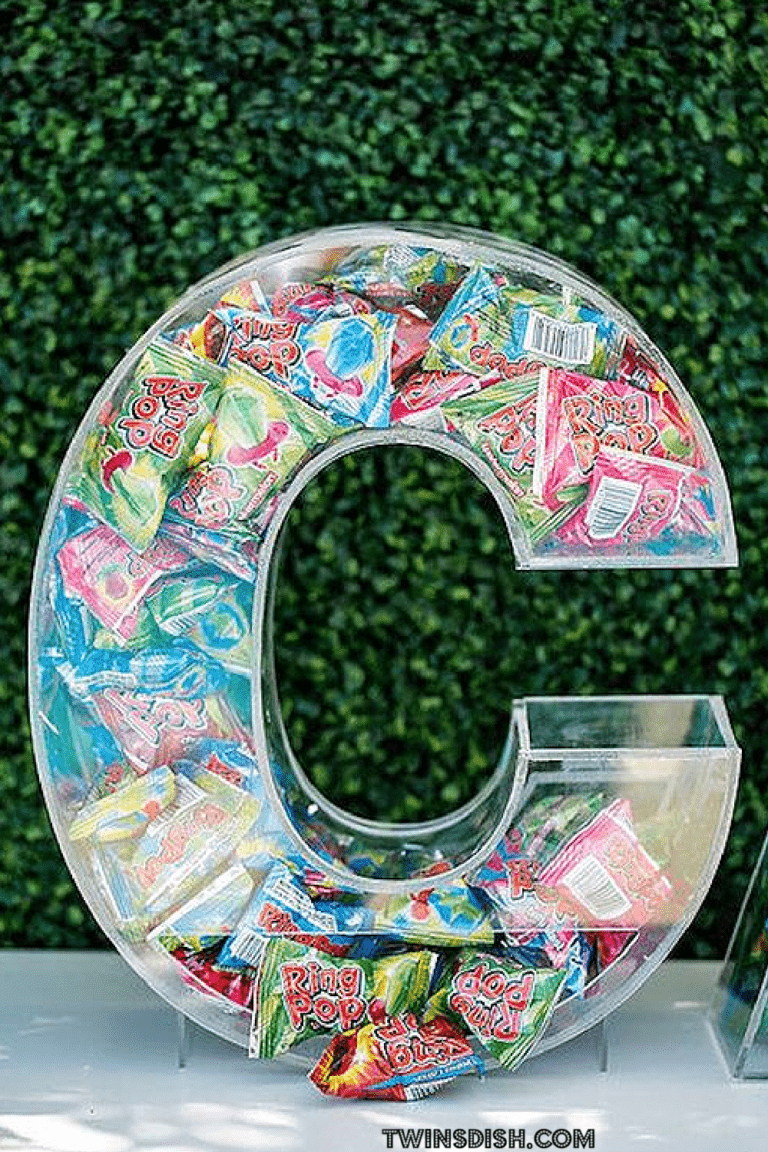 It will definitely double as a photo backdrop!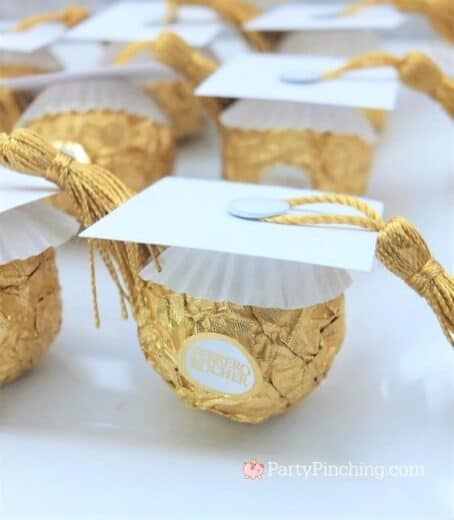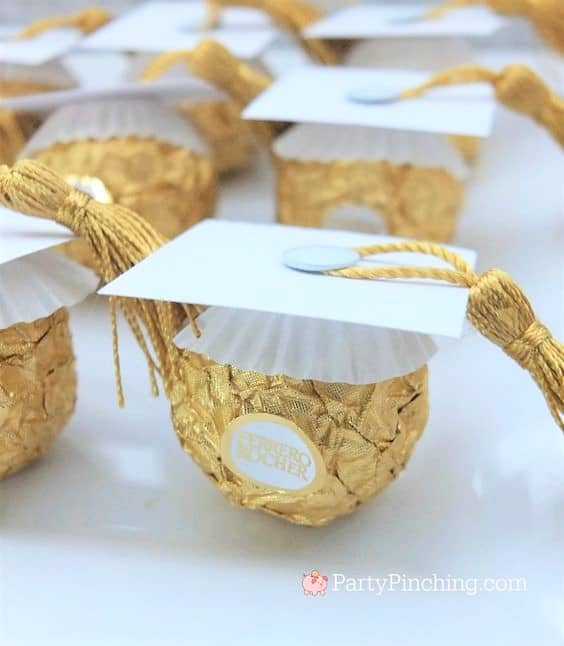 Any food can look fancy depending on how it's displayed.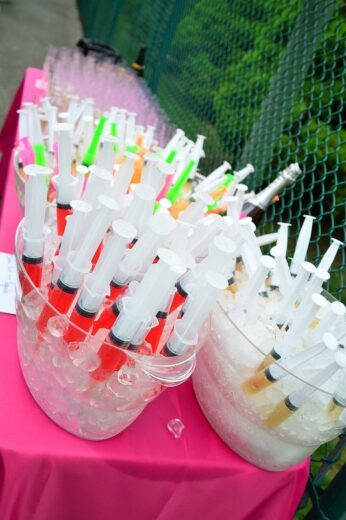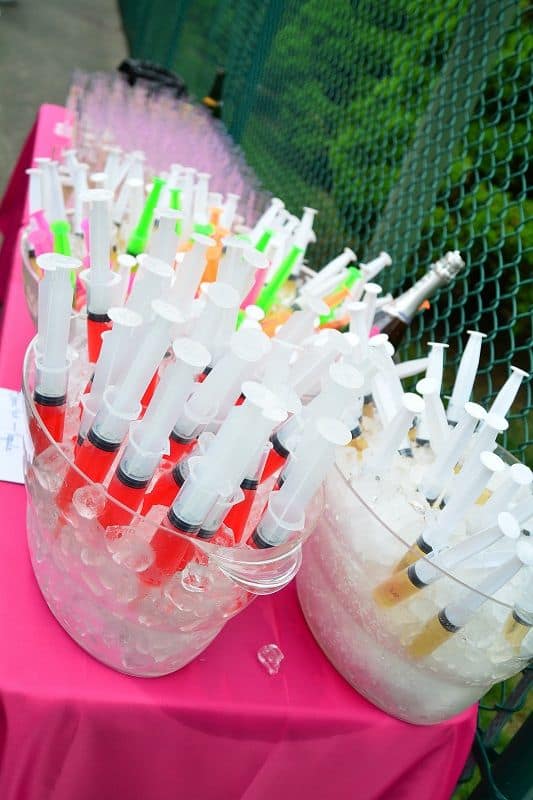 Syringe Medical / Nursing School Graduation Party Food Idea
Having a Medical or Nursing School Graduation party? Don't forget those syringe jello shots!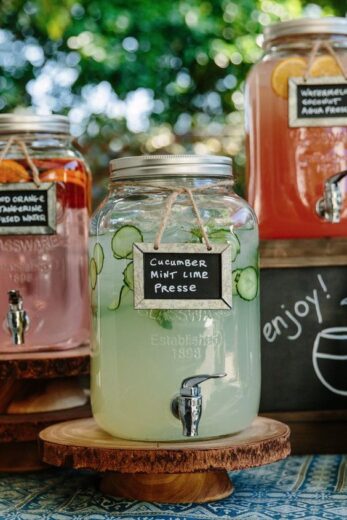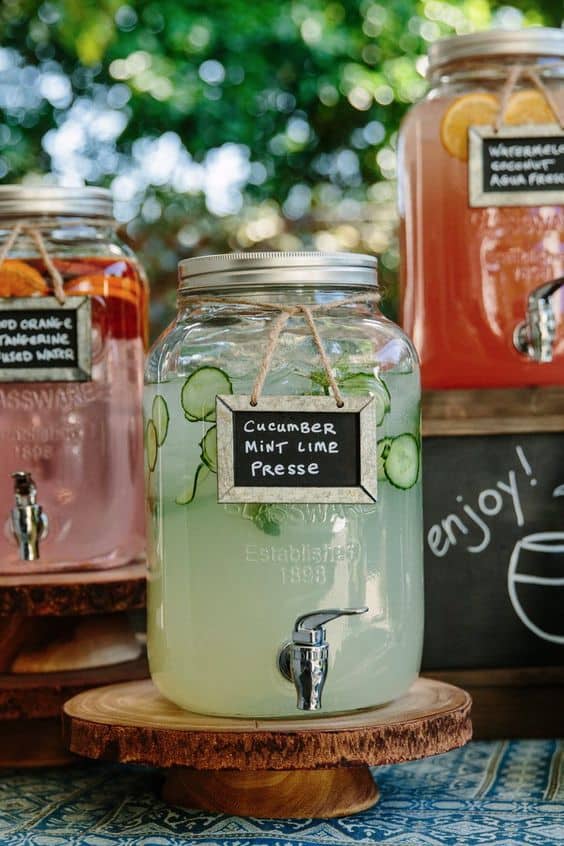 Serve drinks/water in a mason jar with a lid, or buy prepackaged juice boxes, and canned or bottled soft drinks and water.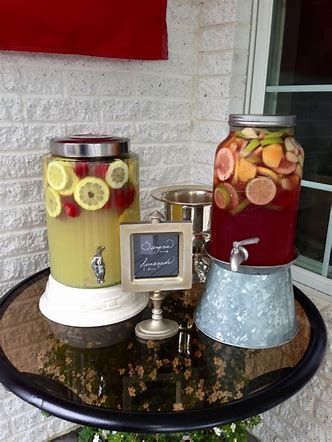 ---
11. Don't Have The Trendy Polaroid Guest Book IF…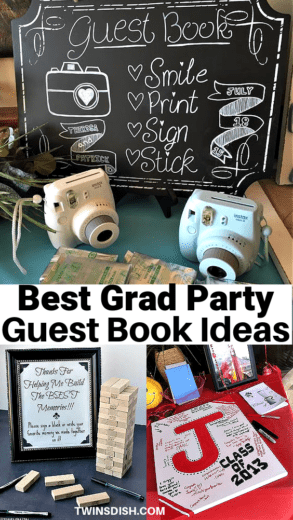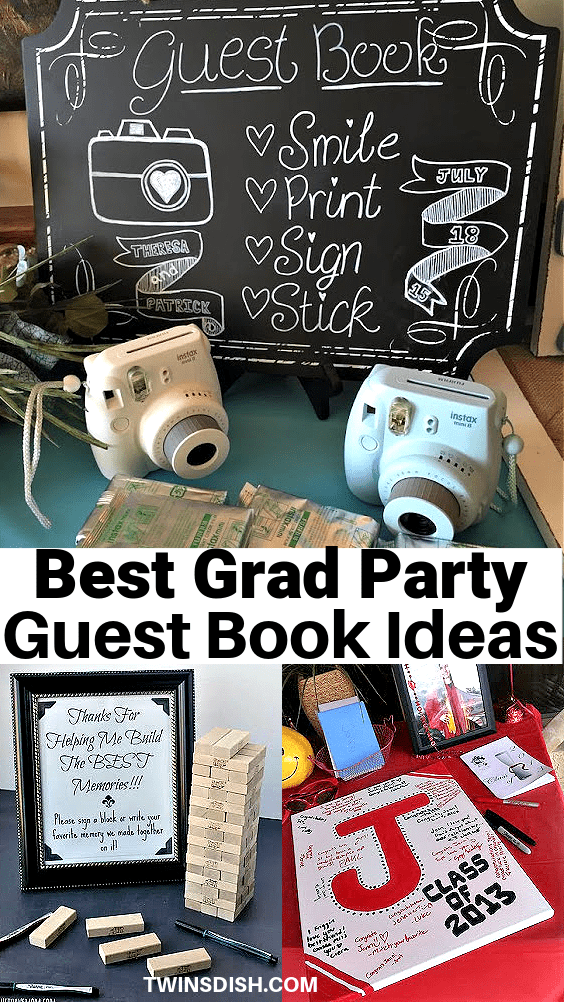 If you have a tight budget or are going to have a ton of guests, the polaroid guest book idea will cost you a small fortune.
We've seen this in action at many Grad parties and Weddings, guests will take multiple photos in an attempt to get a flattering picture.
Factor in the cost of film, the photo album, and pens, and you're looking at a small fortune. Another issue is many of your older guests may forgo it all together.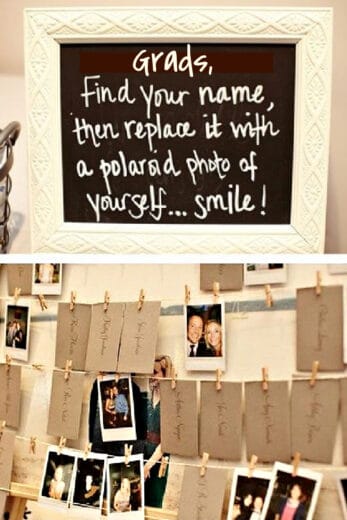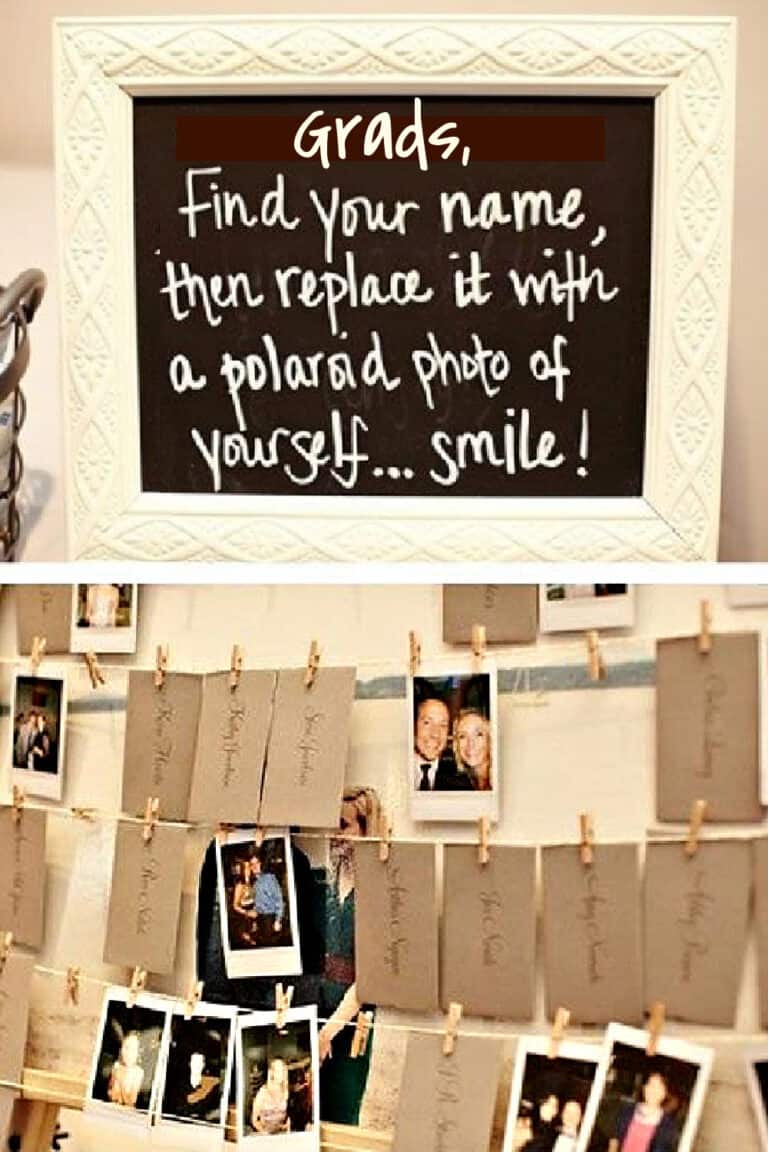 If you still really want a polaroid guest book you can limit who takes pictures by putting up signs and name cards like the Grad guest book idea pictured above.
Use a cute alternative or more traditional guest book for everyone else (like friends of friends and extended family) to sign.
Here are other alternative guest book ideas for every budget and theme:
Buy an inspirational book like "All Of The Places You'll Go" by Dr Seus that guests can sign like a year book.
Buy a dollar store Jenga set and instruct guests to write a note or memory to the Grad and sign their name
Buy an artists canvas and have guests sign it so the Grad can hang it on their wall
Signing the Grad's School t shirt.
Buy a stuffed animal for guests to sign, you can buy a dog, unicorn, bear, or even a Lama to fit your fiesta or Taco theme
Buy a Globe for guests to sign and leave comments on that the Grad can have as a keepsake on their desk
When all else fails, just get a pretty note book and have guests write a message and sign it the old fashioned way.
If you want to forgo the Polaroid guest book altogether but still like having a photo of each guest, then have people snap a picture of themselves with their phones at the photo booth and either send you the pic via text/email or create a Grad Guest Book hashtag so guests can post their pic with the hashtag and a message to the Grad!
Have either a selfie stick or a cellphone holder handy at the photo booth for guests to use to get a good shot, and have your traditional (and cheaper) guest book available for guests to sign too!
13. Don't Have An Open Card Box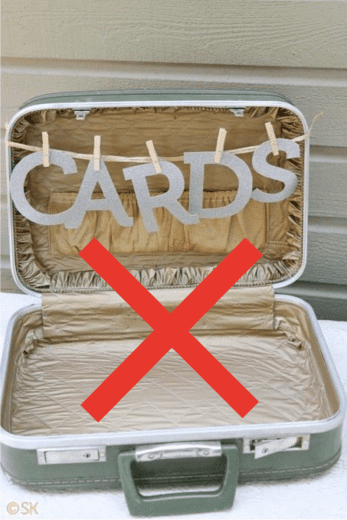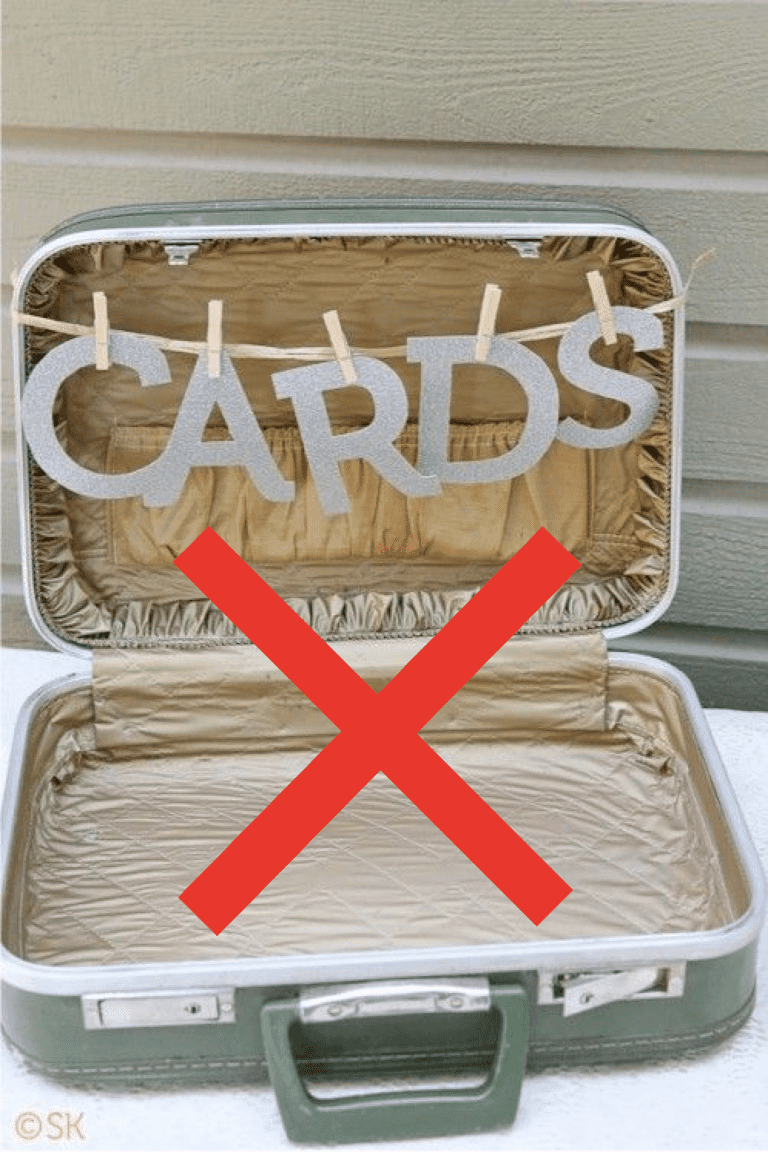 Don't use these trendy open card box ideas unless you know and trust everyone that is coming to your Graduation party.
People know that the greeting cards in your Card box are full of cash and can easily grab one and walk off with it!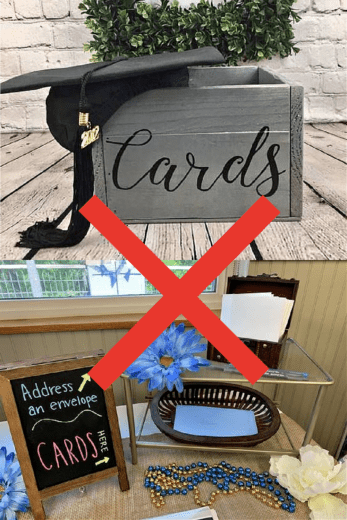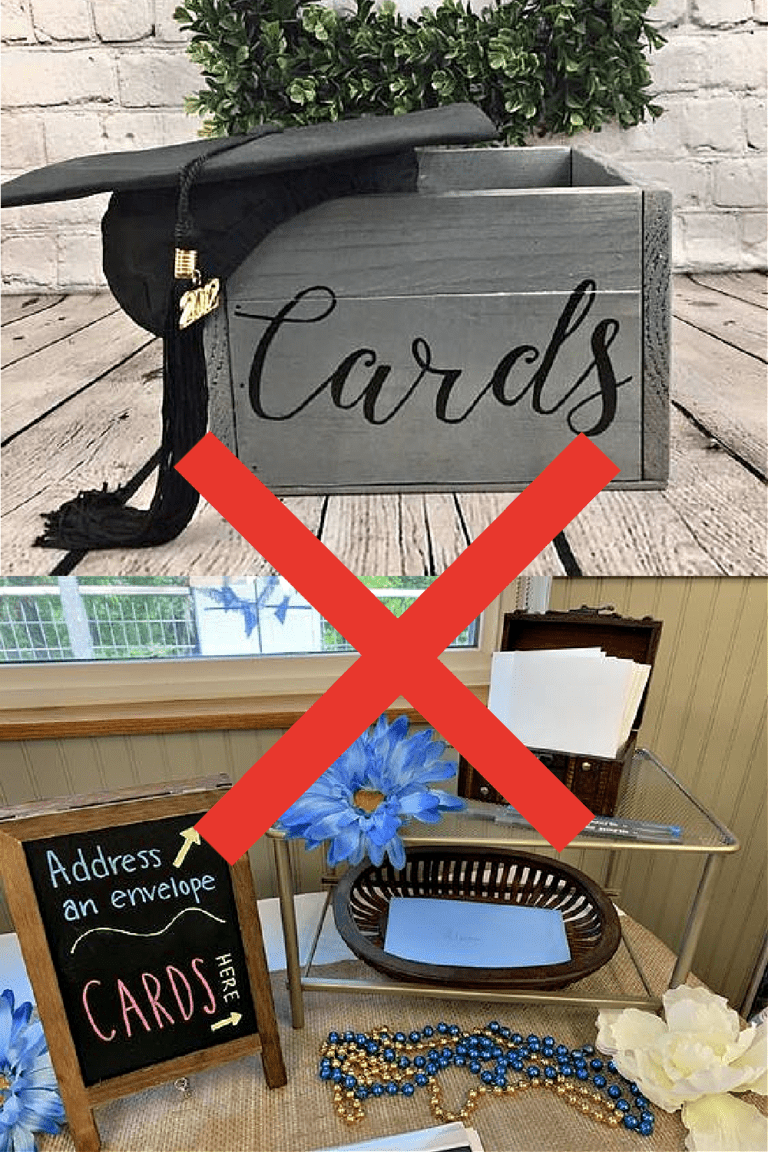 These open card box ideas were originally designed for small weddings where all of the guests in attendance were very close family and friends, NOT larger Graduation parties.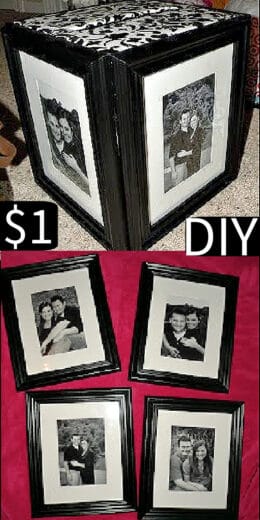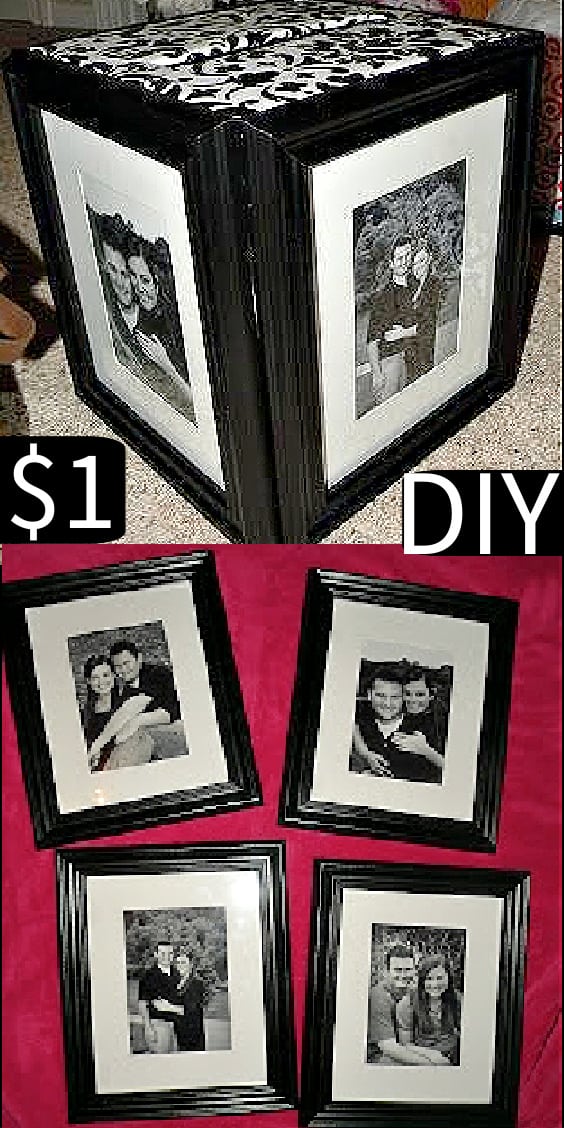 INSTEAD opt for closed card box ideas that someone can't easily walk off with. Better yet, secure it to the table with tape or earthquake puddy.
14. Above all, DON'T fret!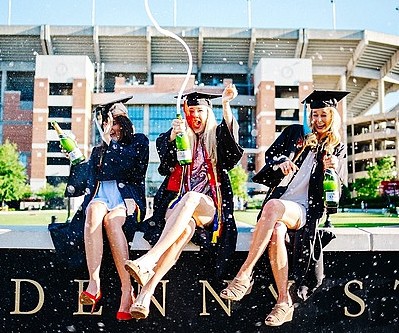 This is a celebration of an amazing milestone and the beginning of adulthood. Whether or not the decorations are perfect or everything goes as planned, the whole point is to take it all in and enjoy one of the most exciting times of your life with your family and friends.
We hope this list helps you plan the Grad party you'll never forget. Congrats Grad! The future is yours!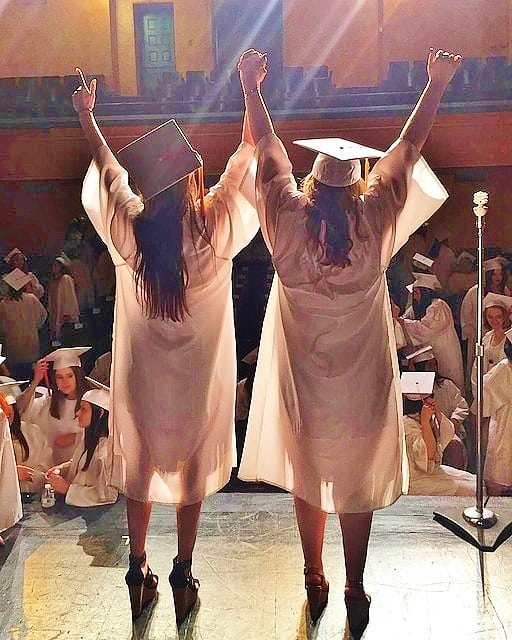 Love,

Don't forget to pin for later!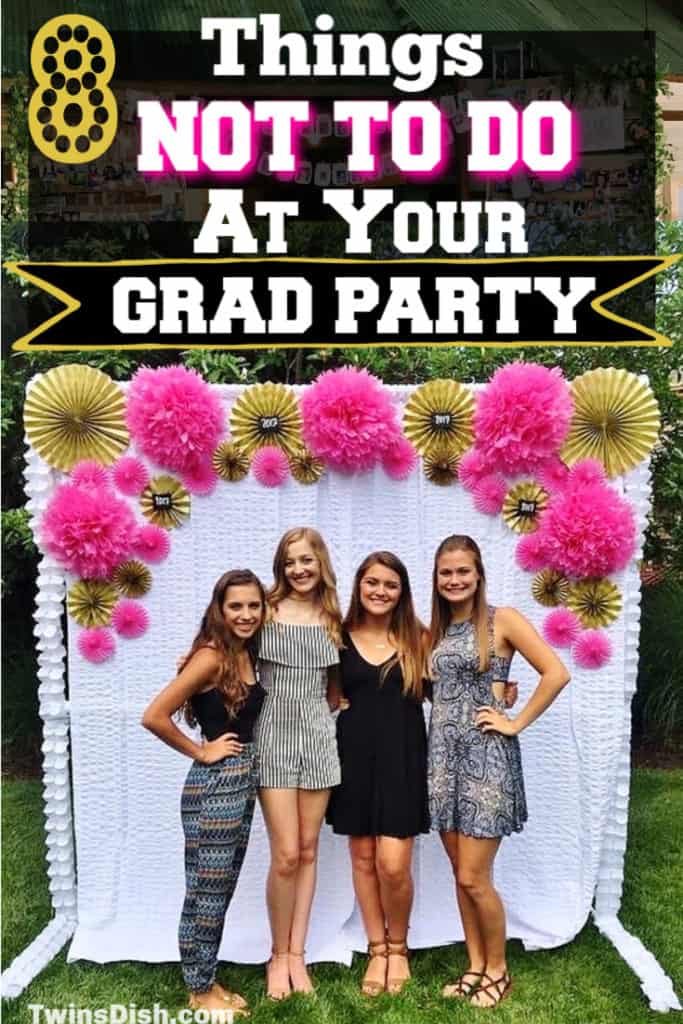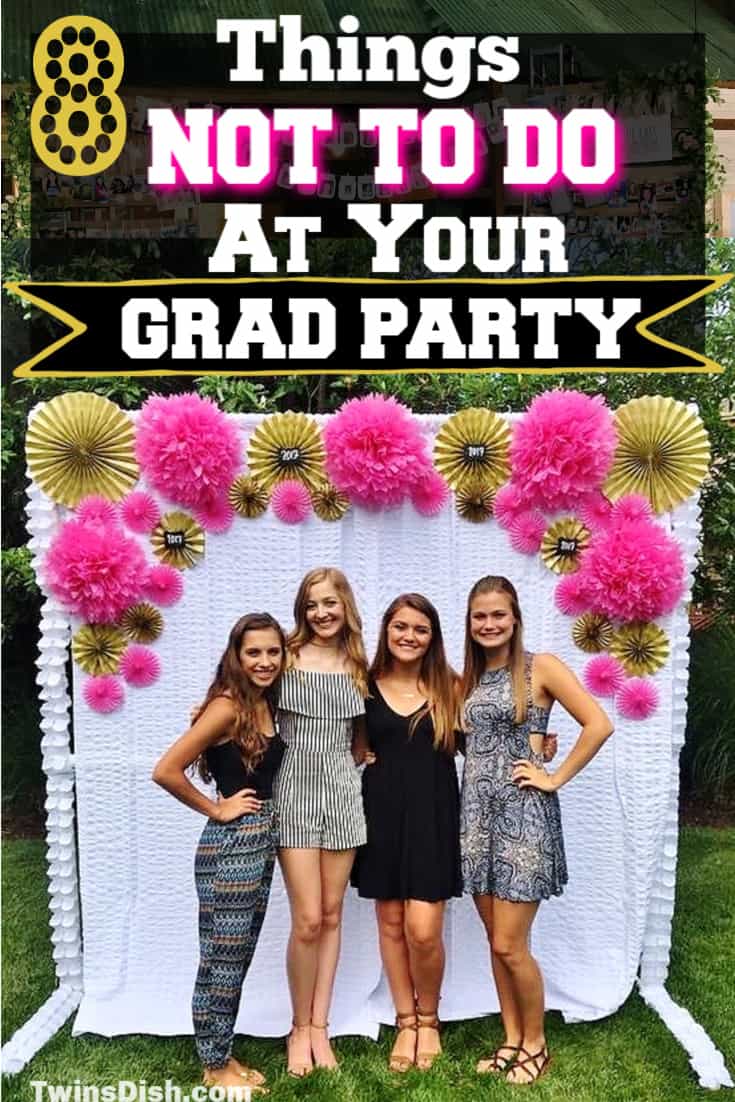 Other posts you may like: