2023 Easy Tricks Millionaires Use To Make ANY 4th of July Party EPIC
Updated 2023
There are no expectations or standards higher for parties than in Los Angeles and we've seen them all.
From multi millionaire pool parties to backyard family BBQs, what we've learned is the simplest things fly for the 4th of July.
We did all of the work for you this 4th of July creating a one stop post of the very best DIY party ideas we've seen, with everything you need for your celebration.
These twelve simple yet classy items are things even multi millionaires have at their party to pull off an epic, Instagram worthy 4th of July for the pickiest of crowds. What's surprising is, many are things you either already have or normally throw out.
From table settings and decorations, easy ways to dress up your drinks and food, we covered it all. Everyone is going to want an invite to your party.
This is our personal go-to list of items that we use every year whether it's just the two of us at home or a fireworks spectacular.
Even if it's the night before America's Birthday, there is still time to make it epic. Prepare to have photos of your party lighting up Instagram.
Pin it for later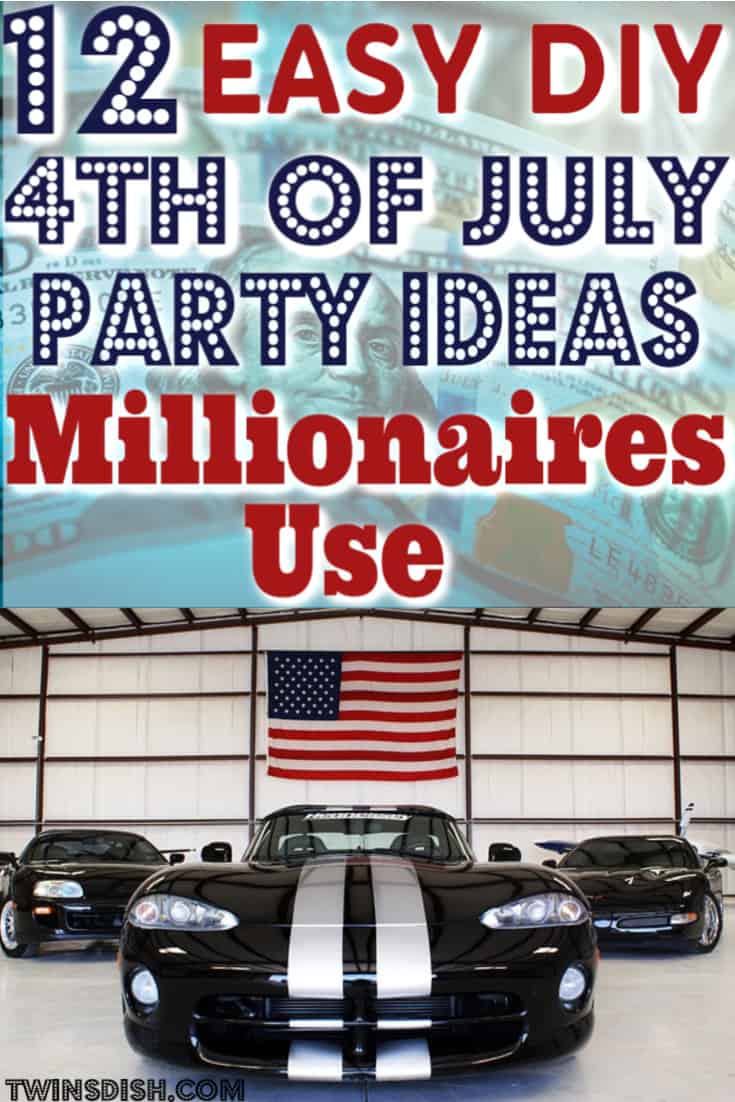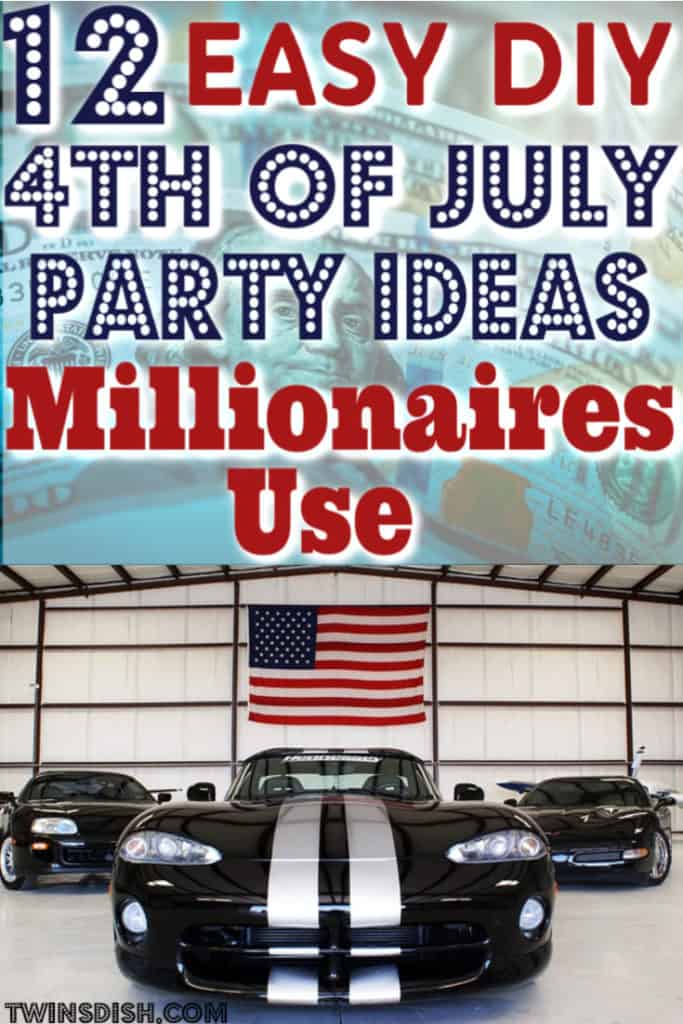 1. Pop Rocks Candy
At even posh 4th of July Mansion parties Pop Rocks are sprinkled on cookies, cupcakes, cakes, popcorn, Jello, pudding, and anything else you can think of. They're basically fireworks in your mouth! Put them on everything, they never get old.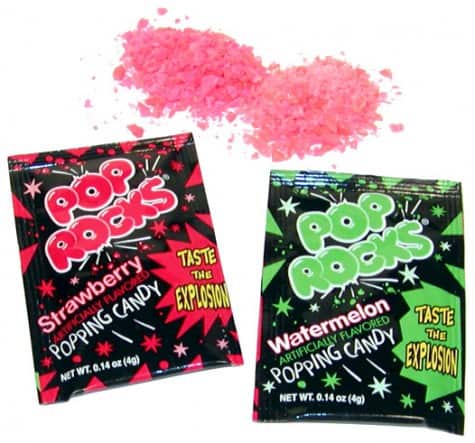 Our personal favorite is when they're used to coat the rim of glasses for drinks and cocktails.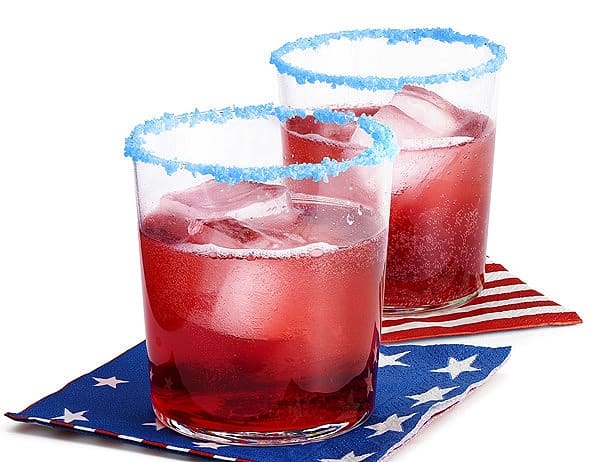 If someone eats them without knowing, it's especially funny to see their reaction. You can even just give envelopes of Pop Rocks as a party favor alone.
They ALWAYS instantly transform ANY homemade OR store bought dish into a memorable patriotic treat. It's quick and effortless. If you're celebrating with kids, they'll get a kick out of it too.
Although Pop Rocks is the candy of choice for most epic 4th of July parties, if those aren't available, the next best option is Rice Krispies. The snap, crackle, pop they give off makes them perfect for firecracker holidays. Although the popping mainly happens when they're in milk, you can make Rice Krispies treats of all kinds and even sprinkle Pop Rocks on them.
2. Sprinkles
While Pop Rocks are a party for your mouth, sprinkles are a party for your eyes. Any common store bought treat suddenly looks customized and festive when you add sprinkles.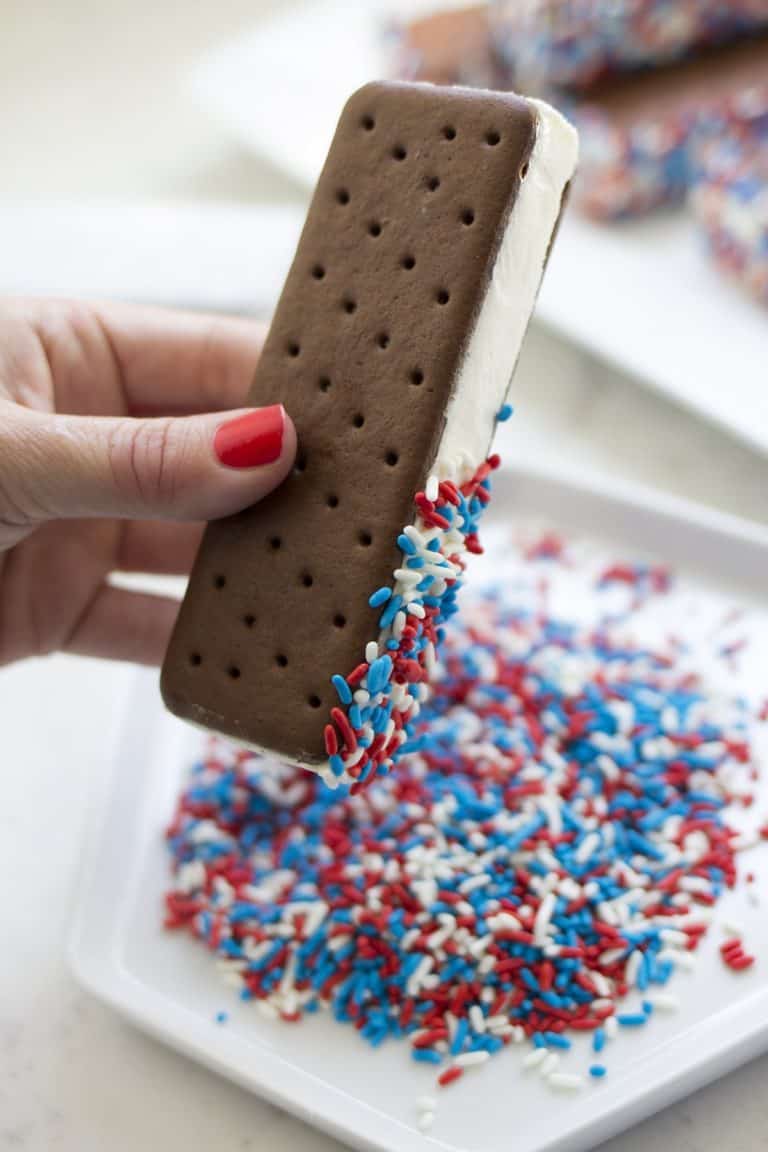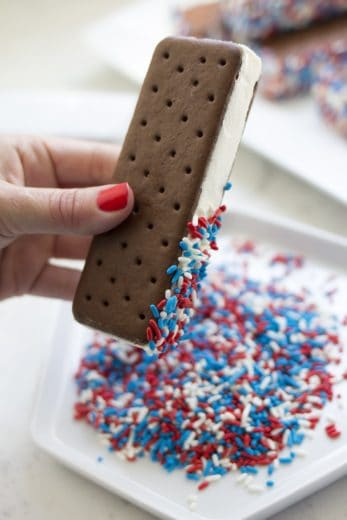 Roll store bought Ice Cream sandwiches in Patriotic sprinkles to make a ridiculously easy patriotic dessert. Add sprinkles to cupcakes, cakes, cookies, and desserts.
If you're in a pinch and don't have Patriotic sprinkles on hand, here is our favorite hack: use white sugar, and red and blue food coloring to make your own. If the colored sugar is too damp, be sure to let it dry a bit so it's easy to sprinkle.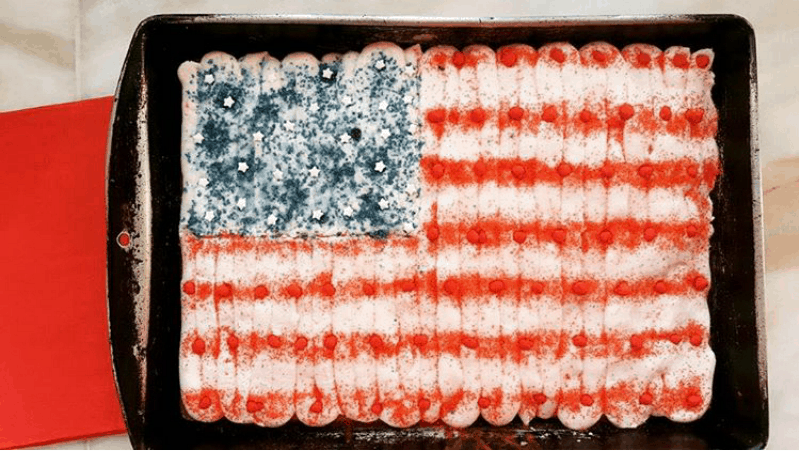 We were able to decorate the cake above in 5 minutes by quickly piping frosting in a zigzag and sprinkling the colored sugar on top in a flag design.
3. Food Coloring
Food coloring is used at every exclusive country club in Southern CA for 4th of July food and decorations. A drop or two is added to sugar, water, or rice to make bouquets or candle displays for easy Patriotic centerpieces that have impressed even the wealthiest.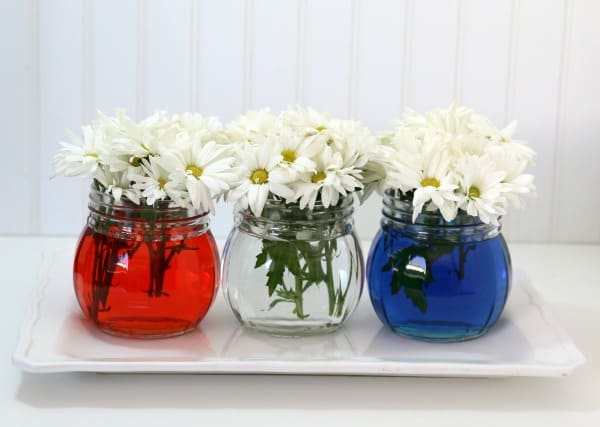 Food coloring makes decorations that are easy to elegantly take a celebration from day to evening for dirt cheap.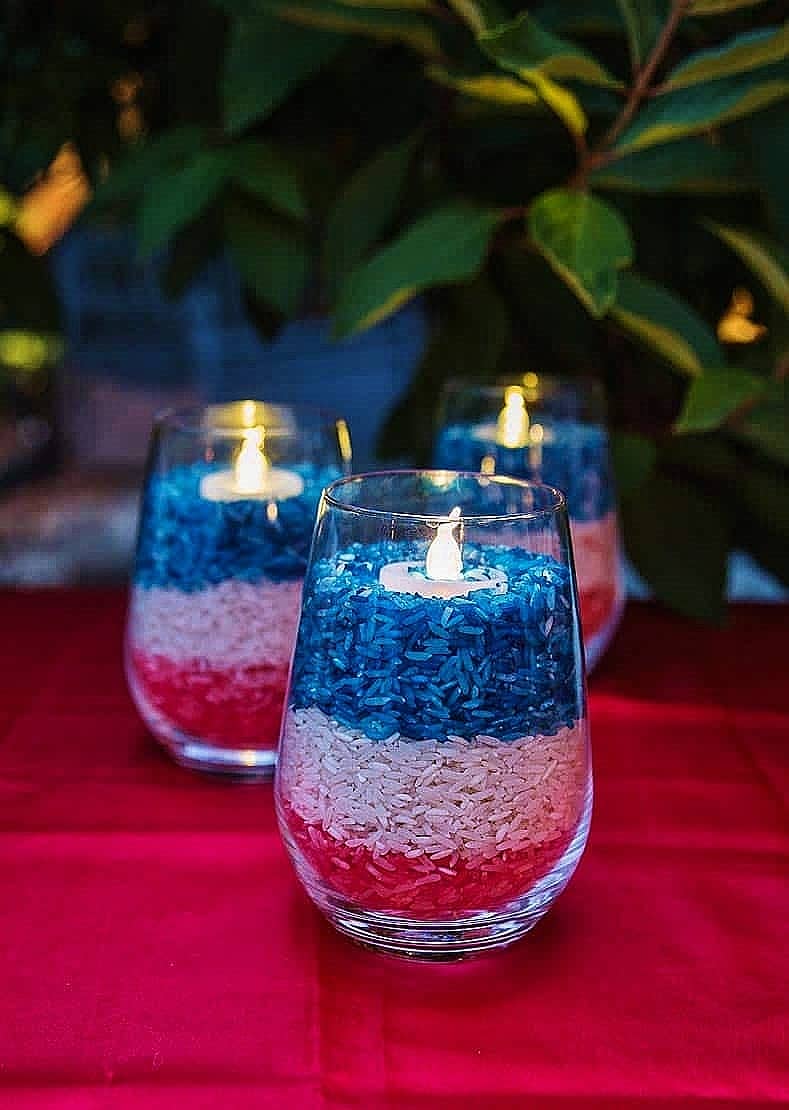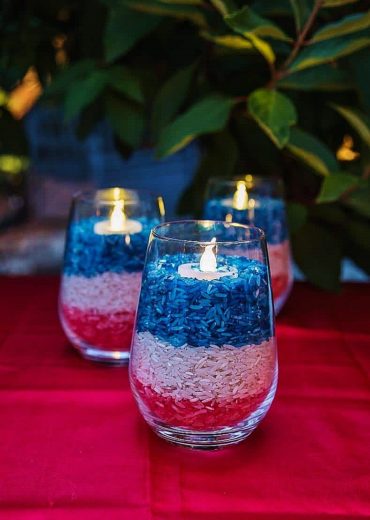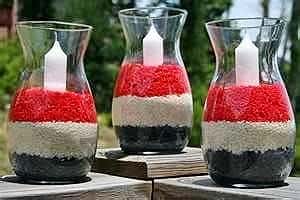 ANY food from savory to sweet can be made patriotic by adding a few drops of red or blue food coloring. It's the oldest trick in the book and they use it all the time.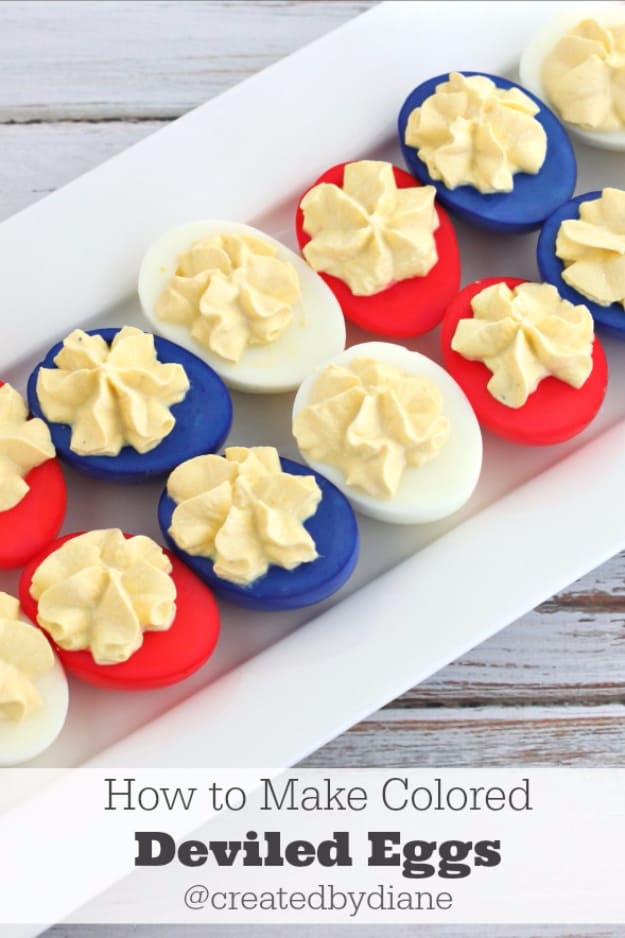 We color pasta by soaking it in red and blue colored water for a few minutes after cooking.
If you can't add food coloring then choose foods that already come appropriately colored like Jello and pasta sauce.
3. Mason Jars
Mason jars are an American staple that you can use for drinking glasses, utensils, and decorations.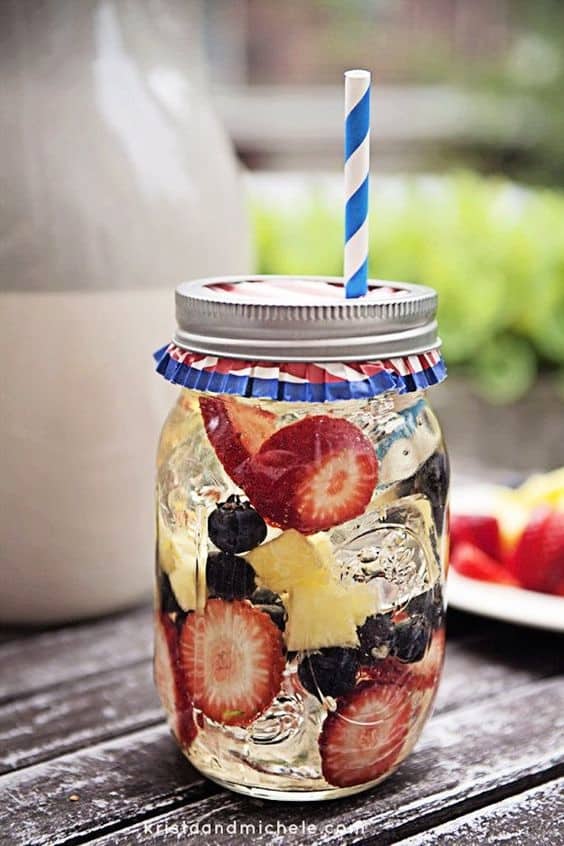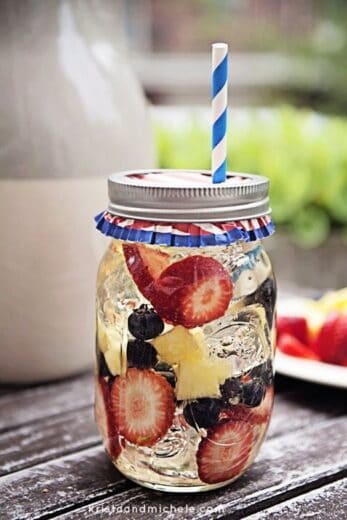 PHOTO CREDIT MASON JAR SANGRIA
Your guests will LOVE this! Screw the cap on top of a patriotic cupcake liner that guest can poke a hole in with their straws for a convenient drinking glass that will keep bugs out.
They look ADORABLE at BBQs and outdoor celebrations and instantly add a hometown all-American feel to any event.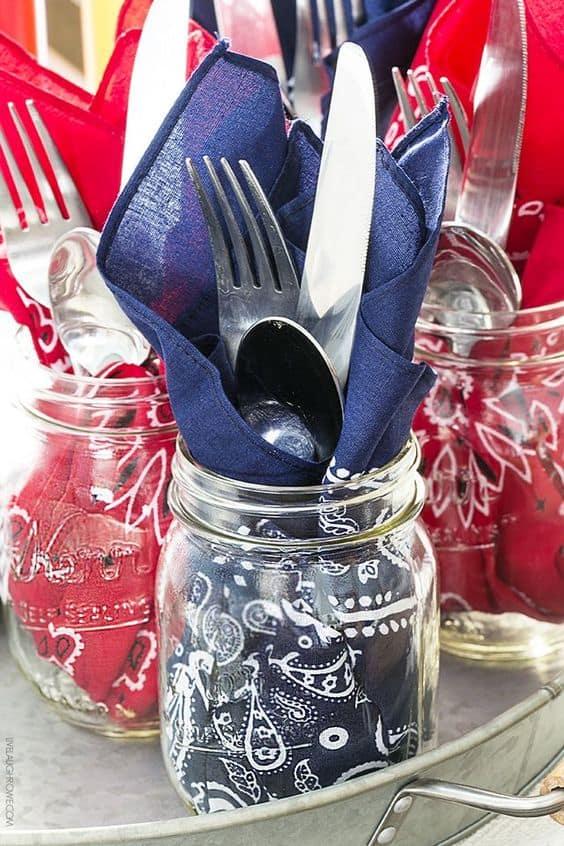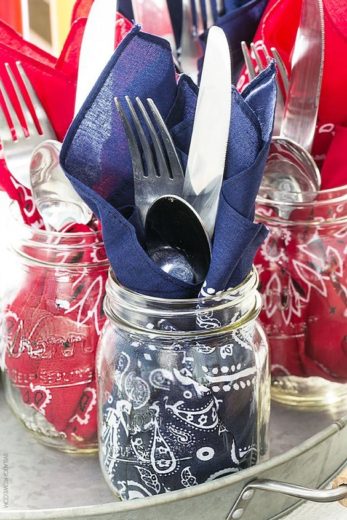 On the 4th of July mason jars are used at even the fanciest celebrations without the risk of looking tacky. They make beautiful votives and instant centerpieces or table decorations. With food coloring, they look all the more beautiful.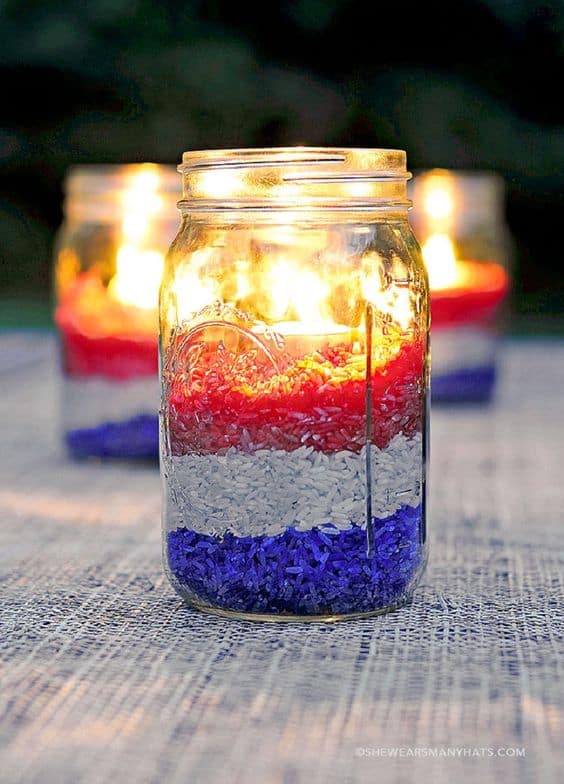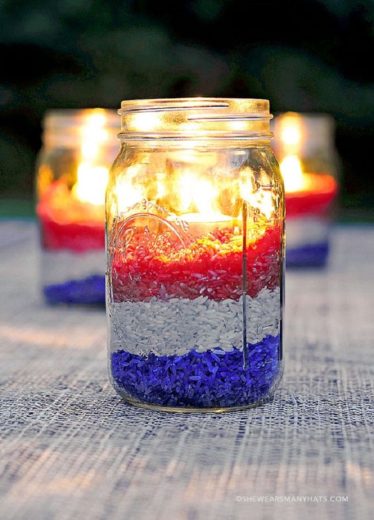 Add food coloring to Elmer's glue or Mod Podge and brush on Mason Jars for a sea glass effect. YES this works, if you want the finish more pearlized like the image below, add a little metallic pigment to the mix (or an old metallic eyeshadow). We did this at a rooftop pool party and it looked gorgeous!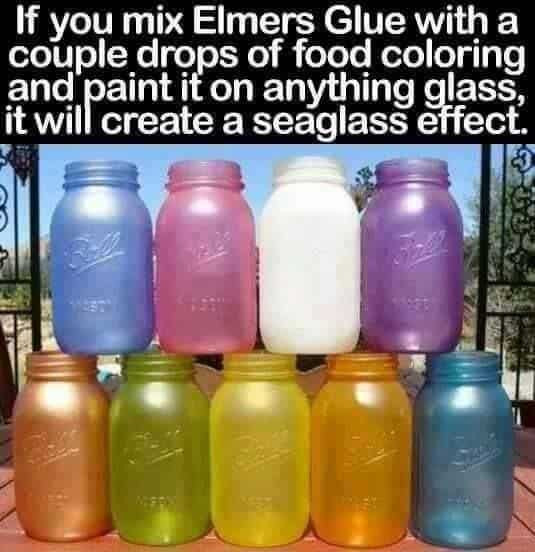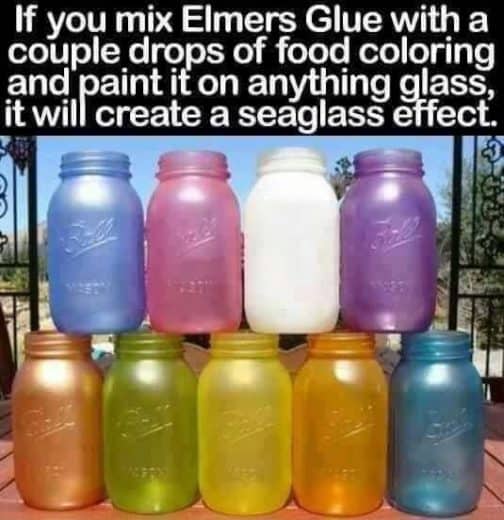 You can paint Mason jars with acrylics too. Just stars or even a whole flag theme will do the trick.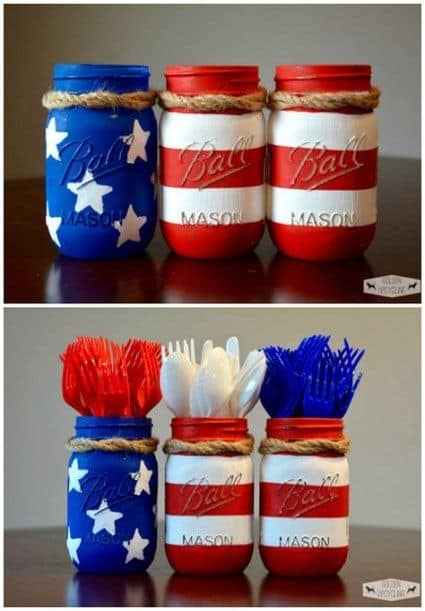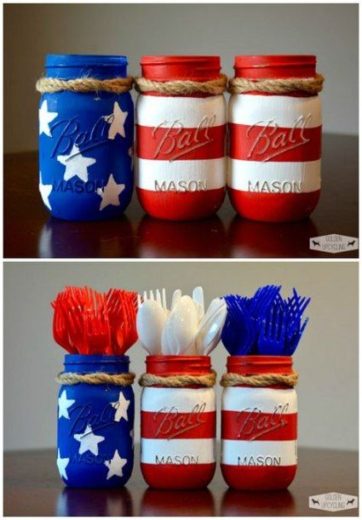 You can even glue a flag on them or star cut outs for a beautiful patriotic votive. They're so versatile and so American.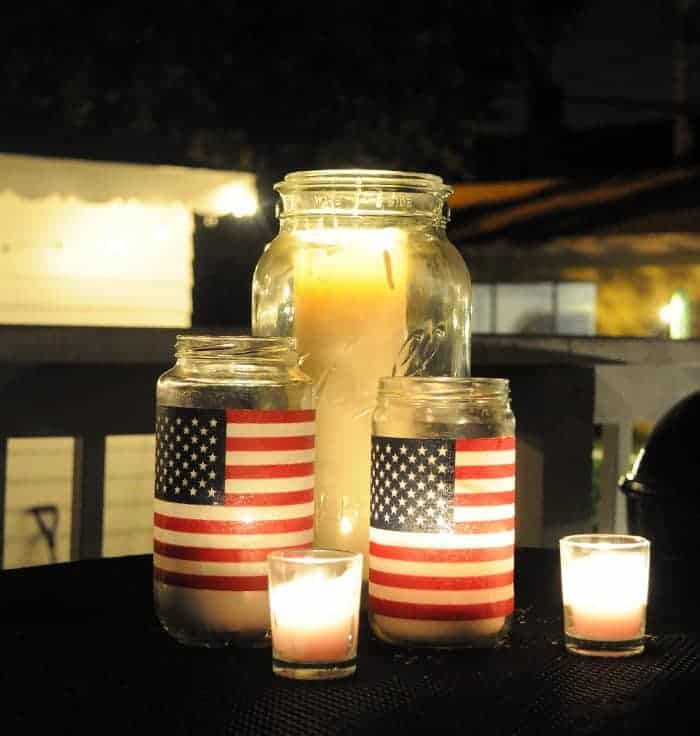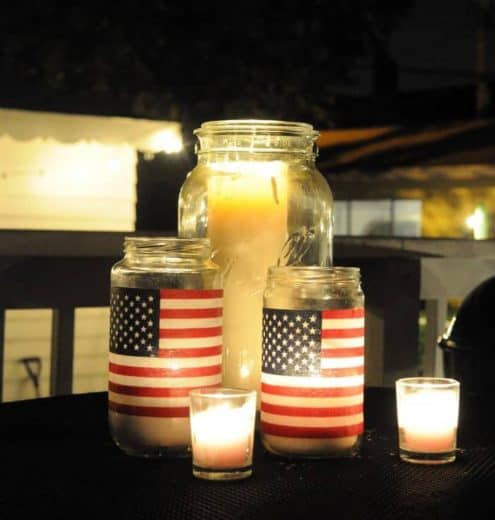 4. Cookie Cutters
Cookie cutters work magic! Aside from shaping cookies, cookie cutters can be used to instantly make ANY dish not only look patriotic but gourmet. You'll find star shaped foods at most celebrity celebrations (even the Kardashians')
Use a star cookie cutter to cut shapes out of cucumbers, cheese, bread, or lunch meats for salads, platters, and sandwiches.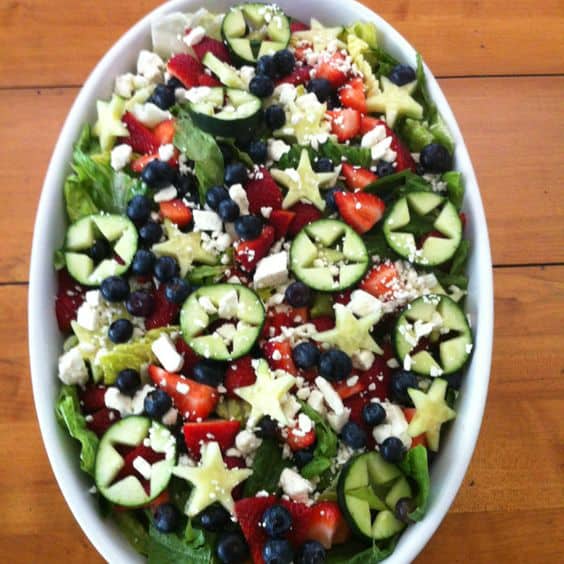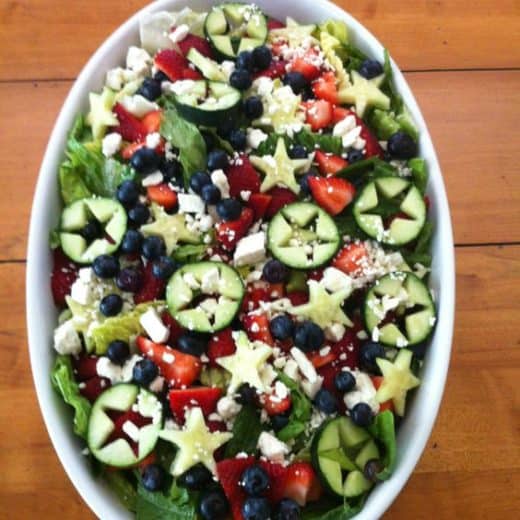 We love using it on fruit like watermelon, apples, pears, and melons for fruit salad, and to garnish fruit water, or sangria. A star shaped cookie cutter can even hold dip.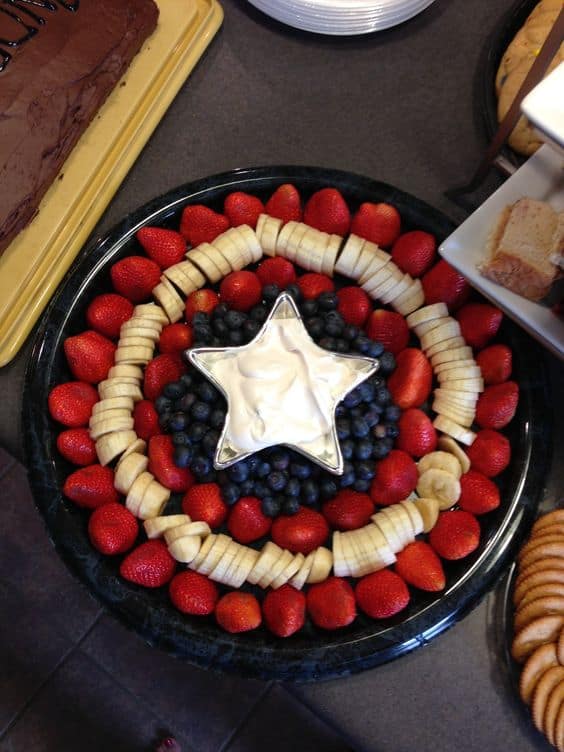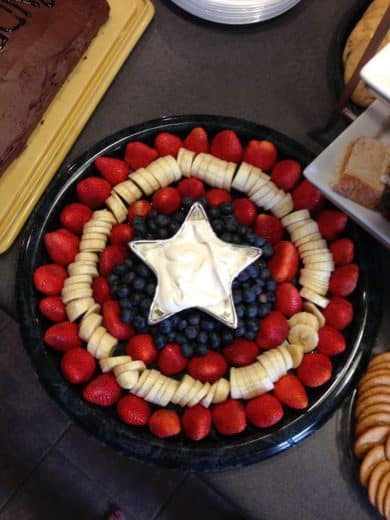 The little star shaped fruit looks adorably Instagram worthy floating in people's drinks. It turns each person's drink into a walking decoration that everyone wants.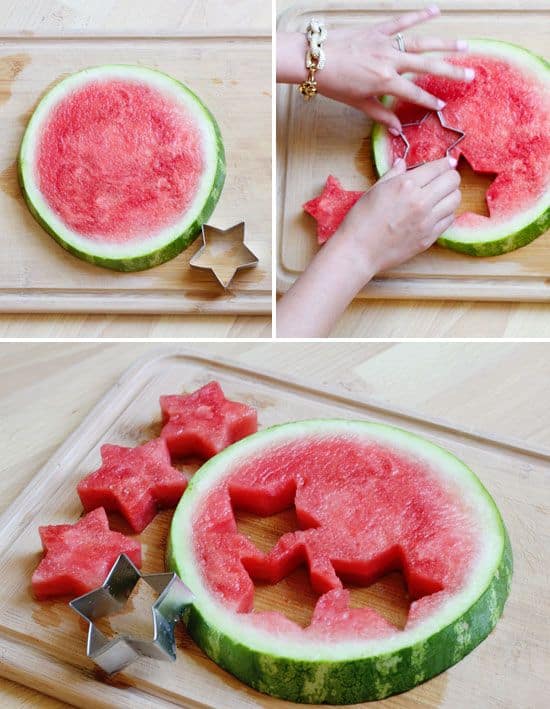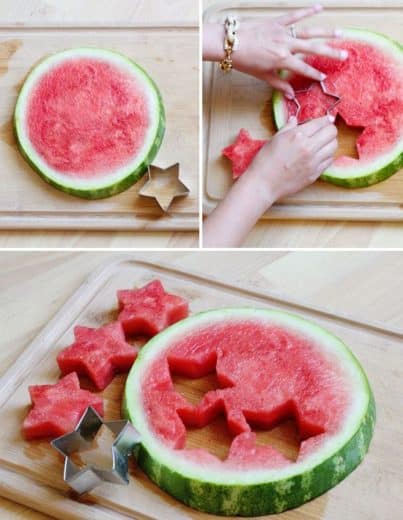 Don't forget the American pie! Make those flag worthy crust designs.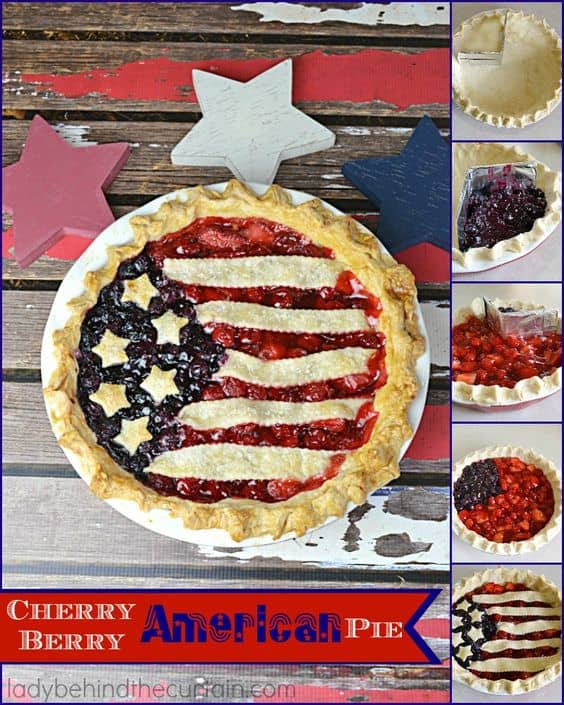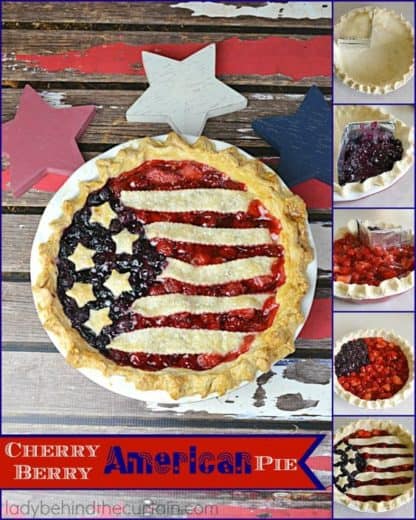 If little ones are at your celebration they'll also be more inclined to eat whatever is in a patriotic shape.
You can also use cookie cutters as stencils to trace paper cut outs and decorations. They're an effortless way to kick your party up a notch or two.
5. Fruit
Sometimes it's best to use nature's candy. Fruit is a 4th of July staple that's offered at most posh celebrations because it's a good healthy alternative to dessert that's also perfectly colored! Fruit can be used for nearly every food dish from sweet to savory at your 4th of July celebration.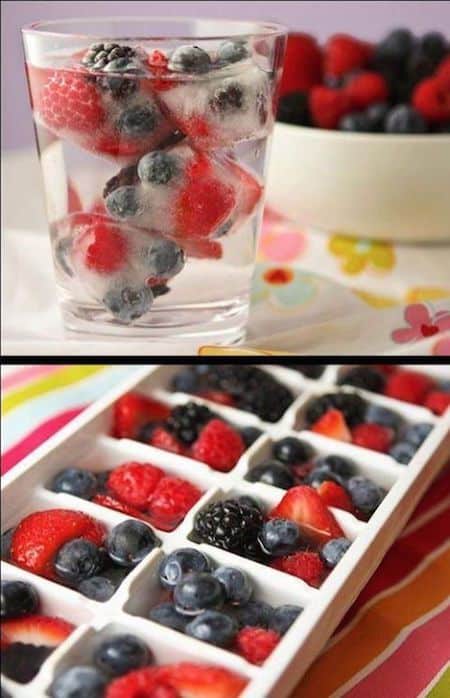 Use Watermelon, Raspberries, Strawberries, Cherries or Blueberries to add a 4th of July theme to even the most basic drinks.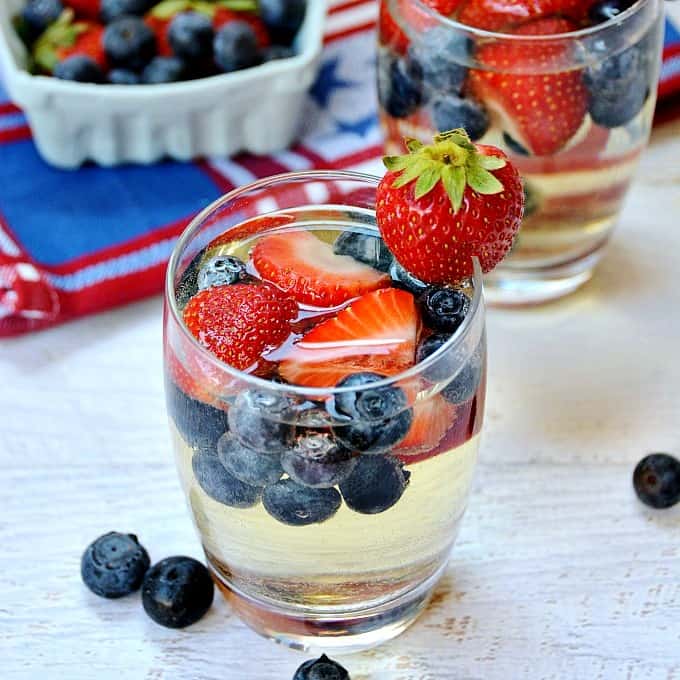 Even savory dishes and salads pair well with fruit.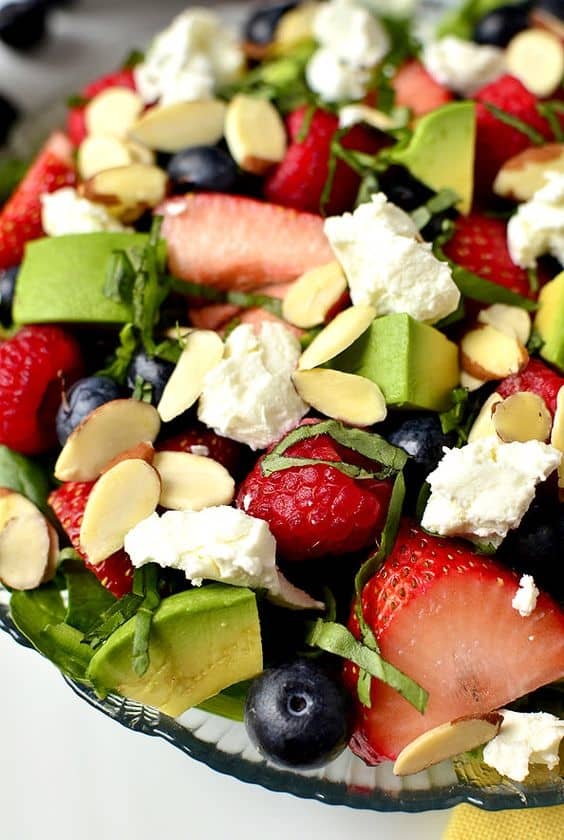 Fruit adds a fresh summer look to sweet treats ( also a few antioxidants) and can be used to easily spice up an otherwise boring dessert.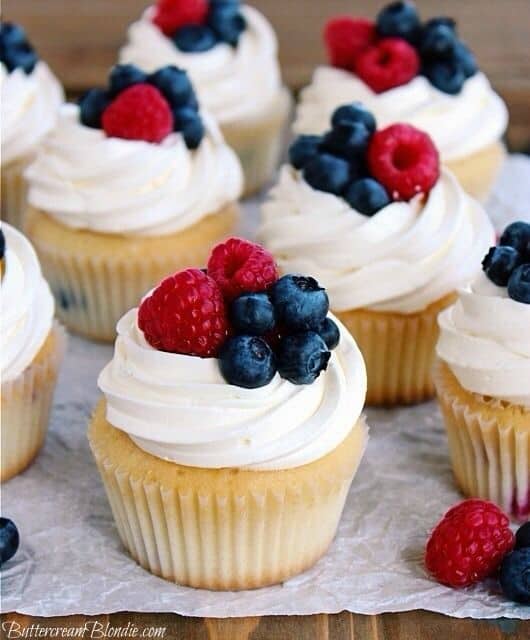 Cakes from the most upscale bakeries are decorated with fruit on the 4th of July? It instantly gives any cake a gourmet look.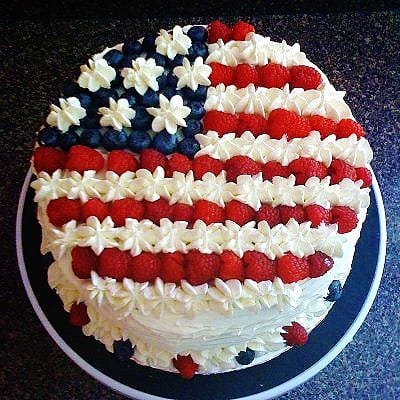 Like we said earlier you can use cookie cutters to cut shapes into fruit and stick them on skewers or toss into a salad.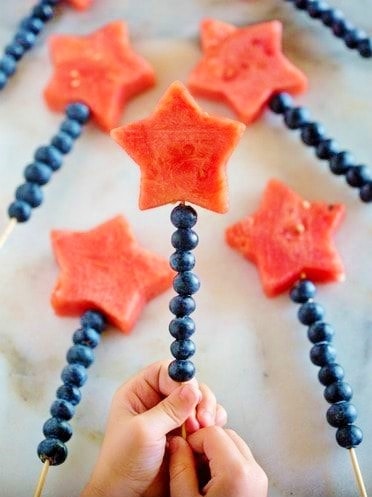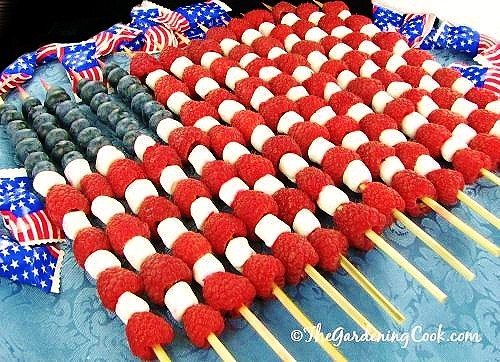 With its bold red and blue colors, fruit on it's own is festive!
A trendy Patriotic adult treat we've seen a lot is fruit like strawberries, cherries, and watermelon soaked in alcohol.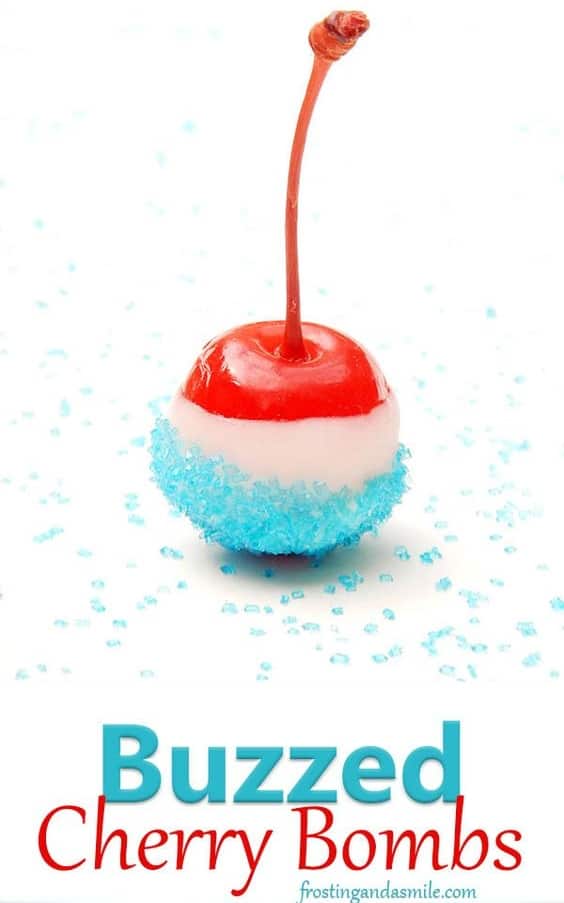 6. Pool Floaties
Most millionaire 4th of July parties that have a pool utilize pool floaties but not just in the traditional way. We've seen floaties like pool noodles used for decoration and utility.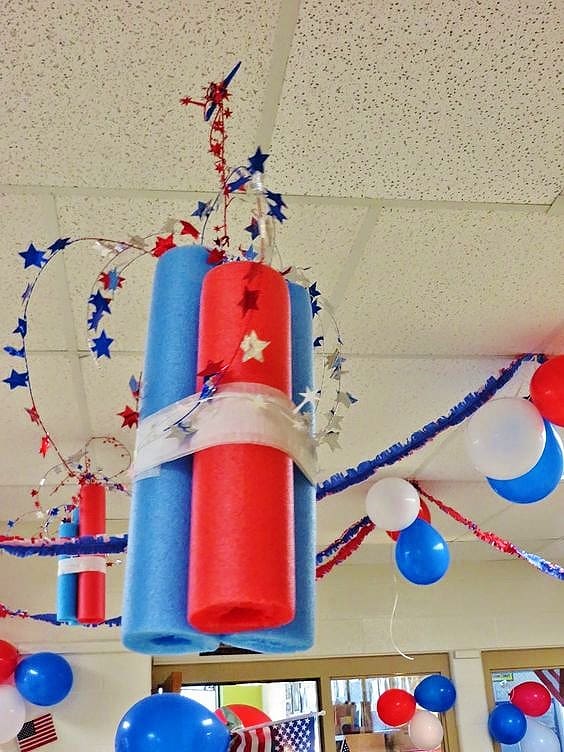 At a Playboy mansion party they used pool noodles around tubs to create floating coolers for drinks.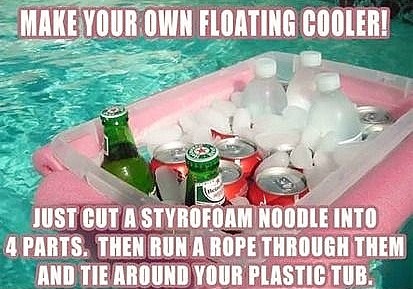 We're not sure if this technically classifies as a floaty, but another common pool decoration we've seen is colored balloons floating in the pool.
7. Christmas Ornaments
It's Christmas in July…sort of. Bust out those Christmas ornaments because they can double as amazing 4th of July decorations!
At posh banquet events and fireworks spectaculars we've seen gorgeous Patriotic decorations made out of what most would classify as Christmas ornaments. Red, Blue, and silver/white balls make beautiful wreaths, or garland.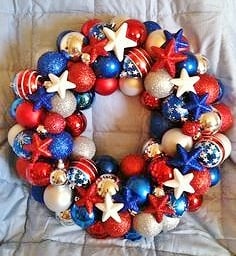 We've seen patriotic colored balls hung in random places such as trees and gates that doubled as great party photo back drops.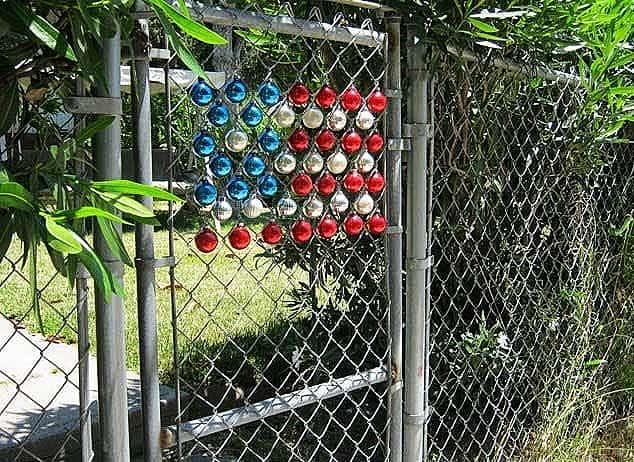 Glass containers filled with Patriotic ornaments and even Christmas lights are on tables and mantels making adorable Instagram worthy indoor/outdoor decor.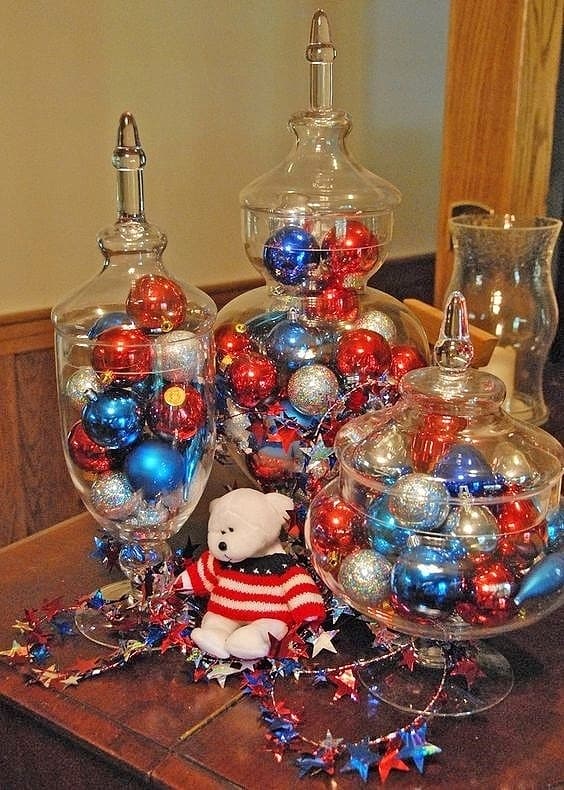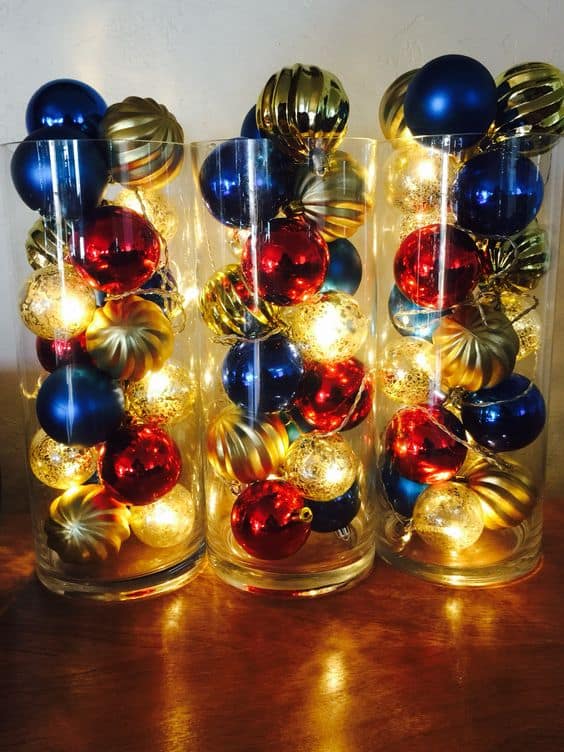 8. Glow Sticks
When the sun goes down and you're waiting for the fireworks to start that's where glow sticks come in. Glow sticks are used at nearly every night time event…especially nightclub parties.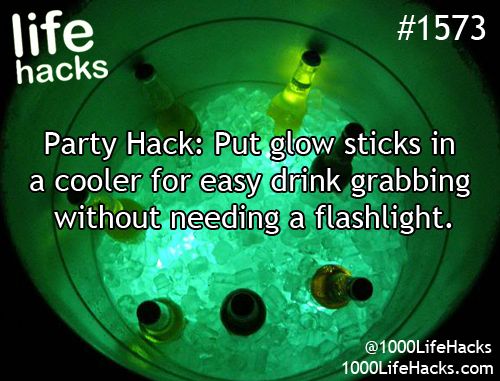 Glow sticks are way more versatile than you think. Throw them in your pool or ice chest, put them in balloons, tape them to your tiered platters, or cut them open and poor in your bubble solution.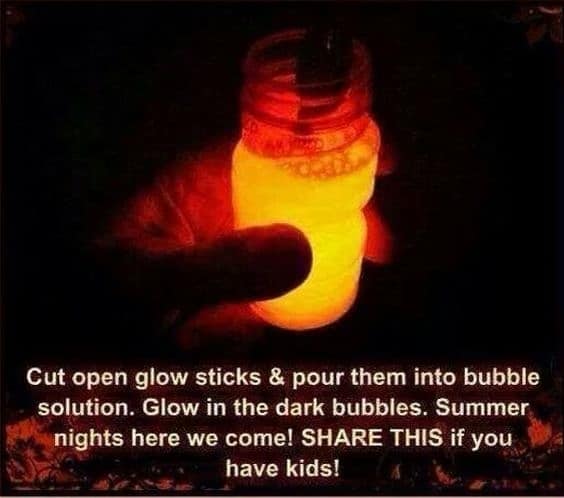 Just keep in mind that you have to snap the glow stick before cutting it open and adding it to the solution. The glowing effect lasts as long as a cracked glow stick normally does so you can't make these the night before. Use one or two glow sticks per 5 ounces of bubble solution.
Night time holidays like 4th of July, are what glow sticks were made for.
9. Cans and Plastic Cups
Don't throw out your cans or plastic cups, they're useful!
For a fireworks spectacular at a movie studio we used cans wrapped in paper to make a tiered display for desserts. One of our favorites at the same party was beer served in a cake shape for guests to grab.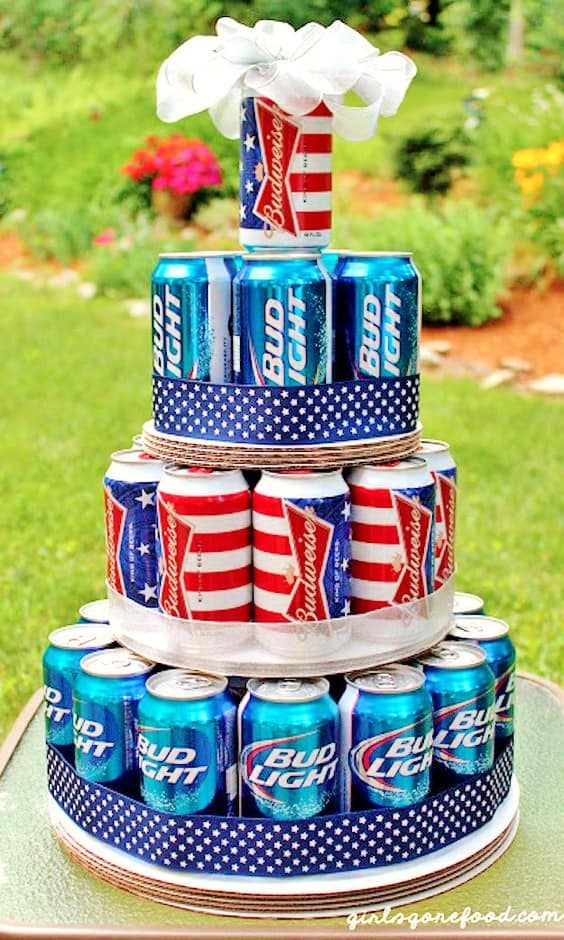 Paint or decorate food cans to hold everything from utensils, to napkins to platters.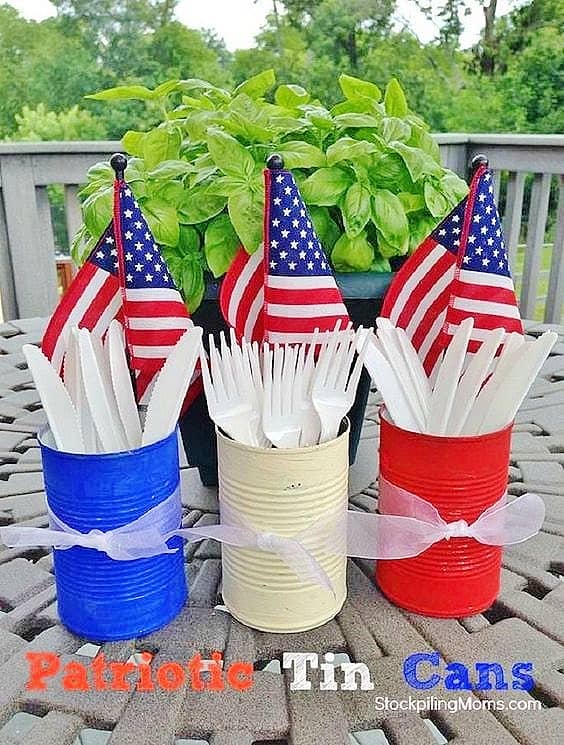 At one Beverly Hills Country club we saw cans used as beautiful votives on tables and lining the patio.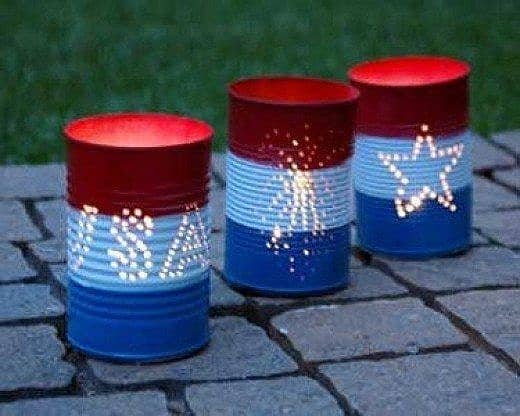 They're best at pool parties instead of glass votives because they're durable and shatter resistant so they can be placed on the floor or tables without any safety concerns.
They can easily be customized, we love to sprinkle them with glitter. They look absolutely gorgeous and cost next to nothing.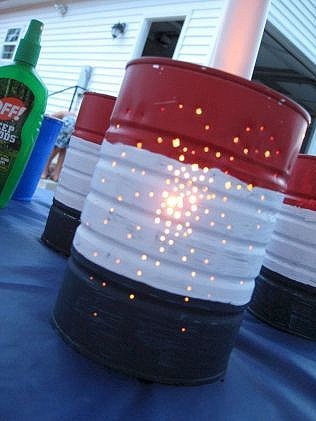 Plastic Solo cups are used at nearly every pool party but we don't only use them for drinking.
Turn your cups upside down and poke a hole in the bottom for a clever sparkler guard for kids or put them on Christmas lights for fun outdoor lighting.
We love decorating with cans and cups because it cuts back on waste. It's AMAZING what you can easily do with excess party supplies and a little imagination.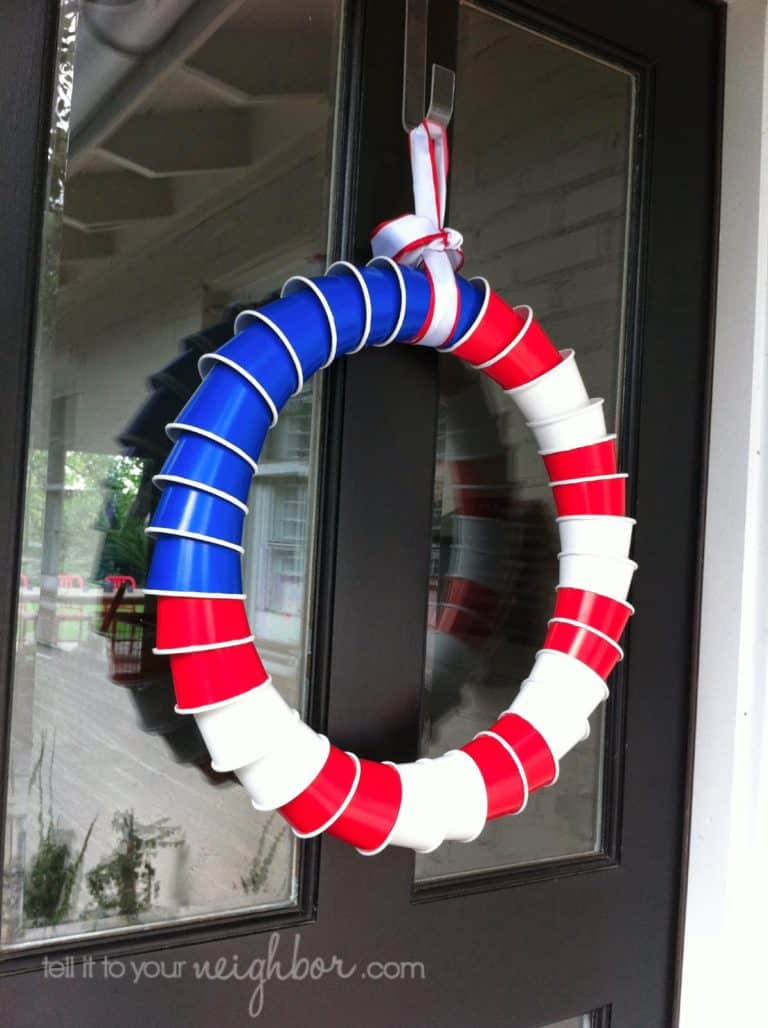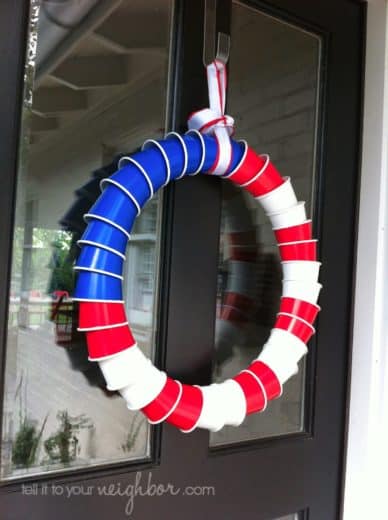 10. DIY Apothecary Jars & Tiered Trays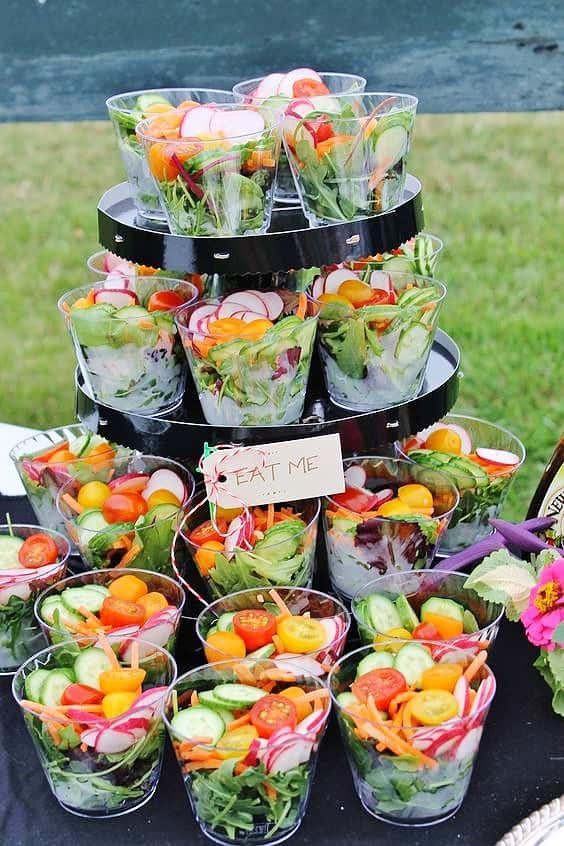 Apothecary jars and tiered trays add a level of elegance and dimension to 4th of July spreads.
Don't have any? They're easy and cheap to DIY. We often make disposable tiered trays out of foam boards and liquor bottles or painted cans, but you can also make permanent ones.
Fill apothecary jars with red/white/blue ornaments, colored rice, candy, paper shreds, or even beans.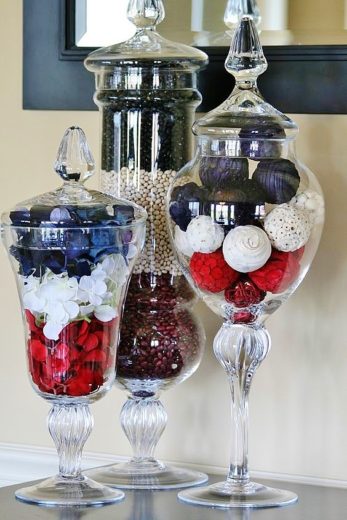 Use DIY tiered trays to display watermelon triangles, fruit, salads, desserts, and anything else you'll be serving up. Our personal hack: tape a glow in the dark glowstick necklace around each tier for a night time display.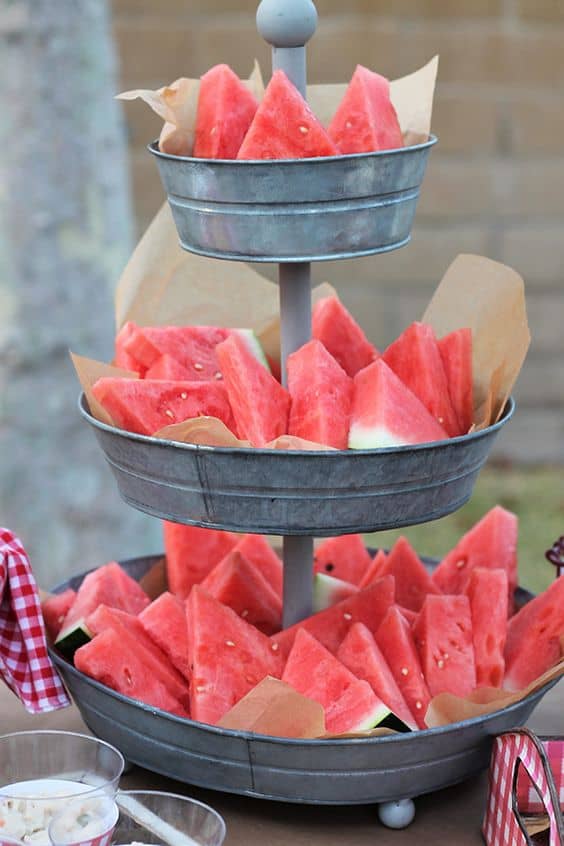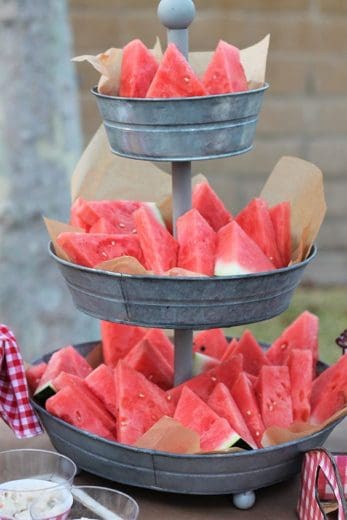 These will also be useful year round for all holidays and seasons. They make great mantel decor.
11. Good Old American Flags
It just wouldn't be a 4th of July celebration with atleast one American flag. At upscale events and mansion parties they're used anywhere and EVERYWHERE, in vases, glued on mason jars for easy votives, on a wall for a photo backdrop, or chalk drawn on the driveway or front yard.
They make elegant and easy table arrangements and centerpieces.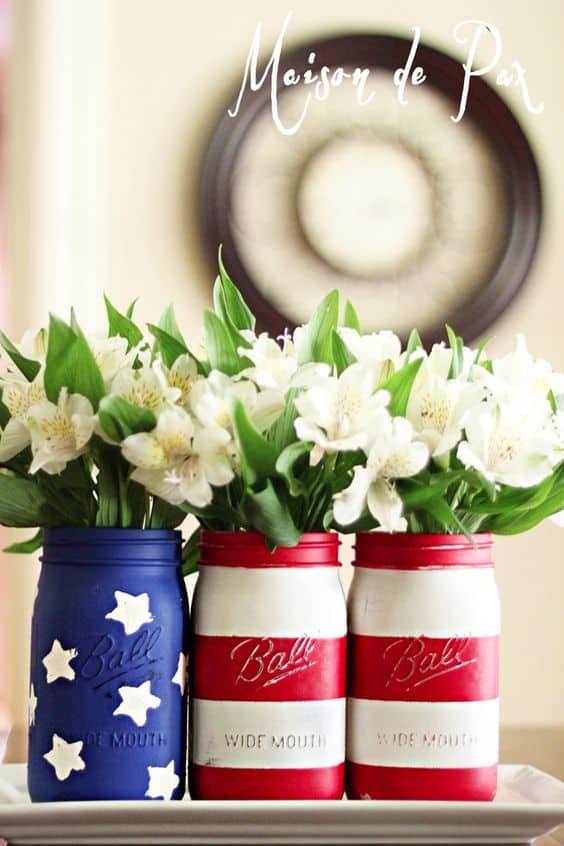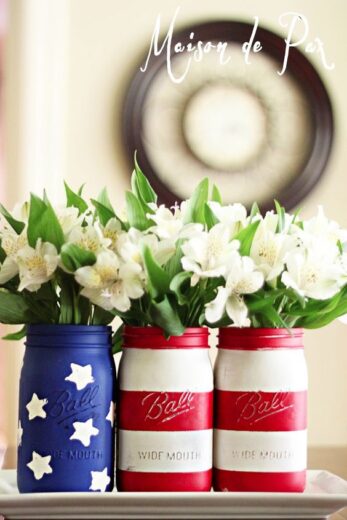 The rich and famous love giving out flag themed apparel as party favors so all their guests can look patriotic.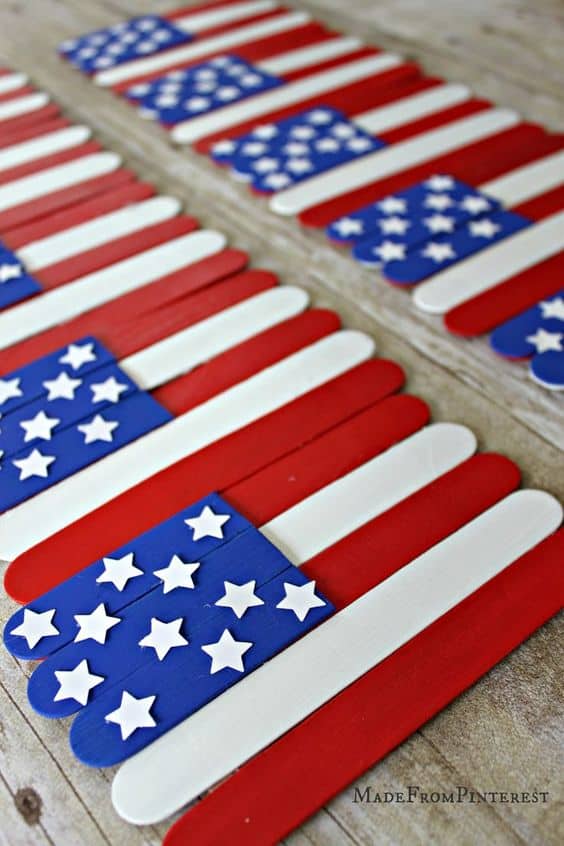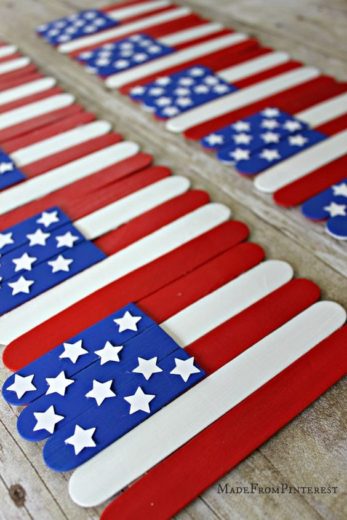 If you don't have traditional American flags, you can always improvise.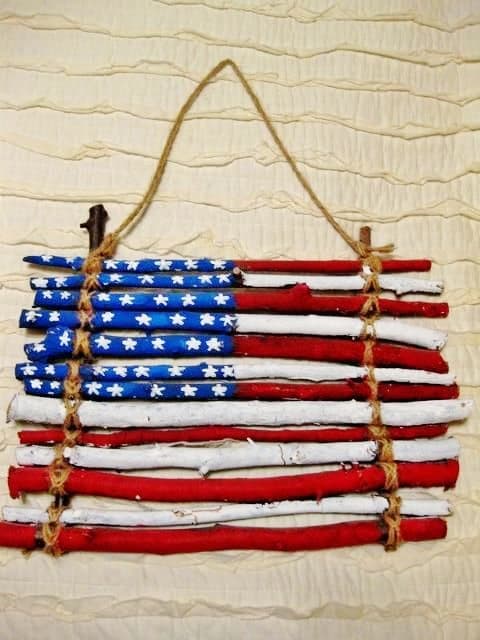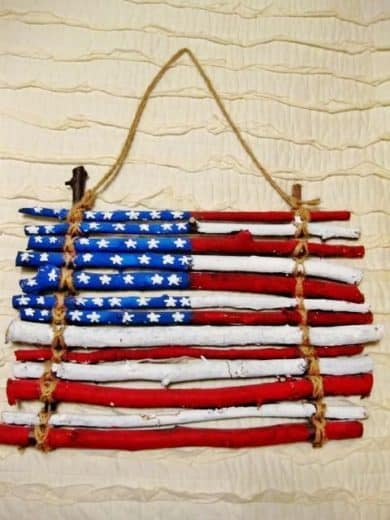 Give kids something to do by painting them on popsicle sticks, branches, shutters, or even finger nails.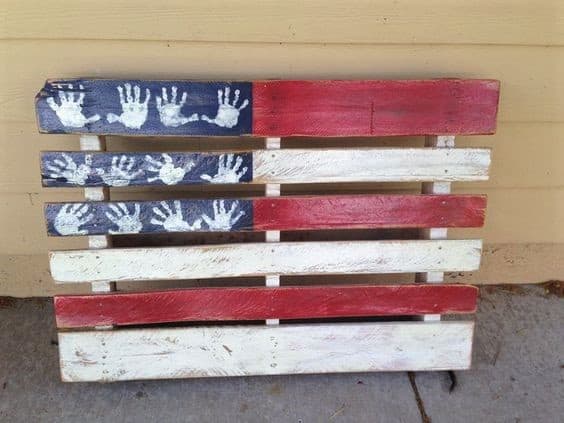 KIDS PALLET WOOD AMERICAN FLAG
We personally love making flag designs on food. It's the ultimate symbol of America and everything it stands for.
You can make something as simple as fruit look elegant and patriotic by simply arranging it the right way. It looks amazing on food tables!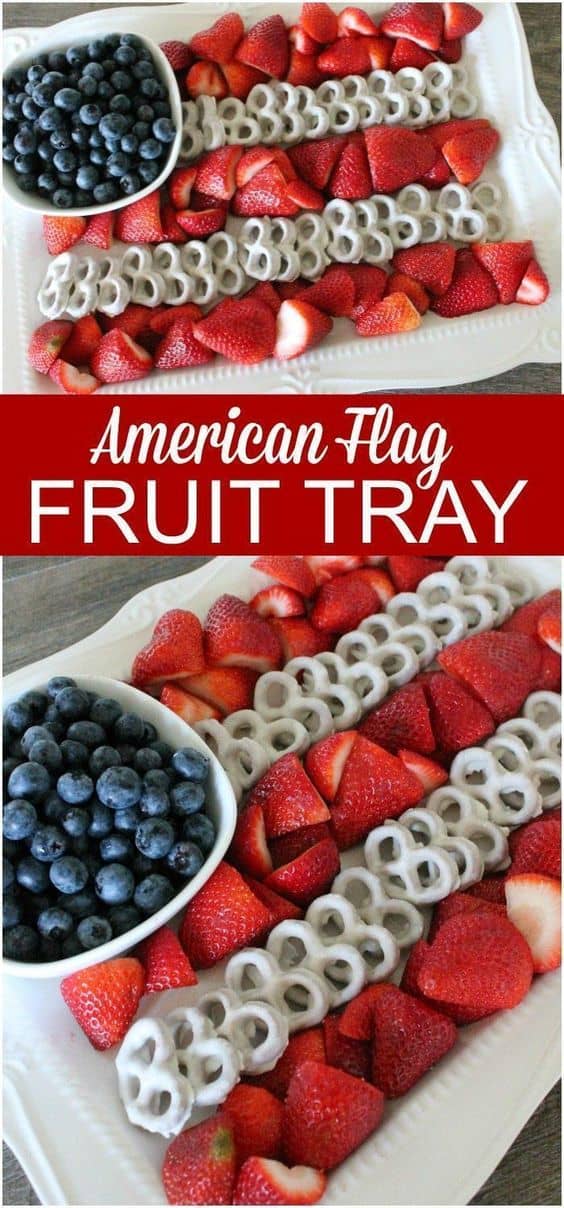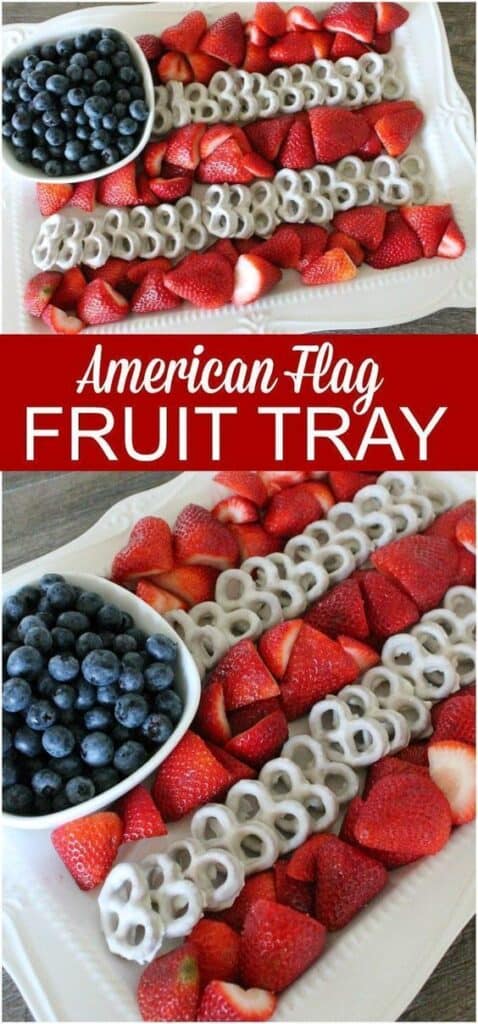 12. Photo Booths and Props
The days of Instagram have gotten so bad that when people aren't taking pictures is when you need to worry, that's where photo booths and props come in. They'll almost guarantee and subliminally encourage people to pull out their phones.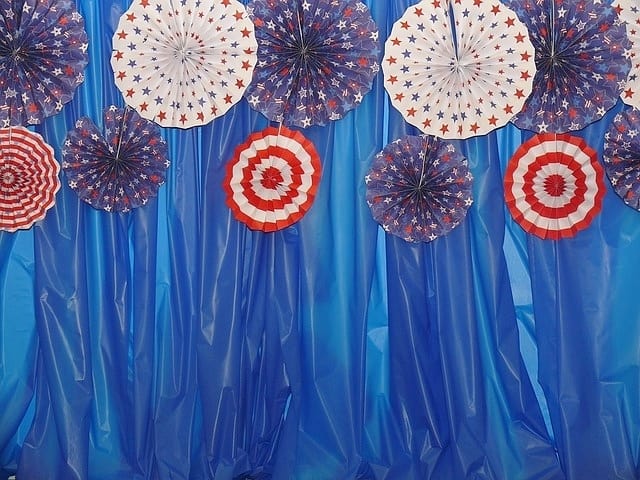 We have made some super easy yet amazing photo booths and back drops for parties using only a cheap dollar store plastic table cloth on an outside wall with fake flowers, balloons, or decorations attached to the top. The total cost was under $5.
You can also make a similar backdrop using streamers or crepe paper, masking tape, and balloons.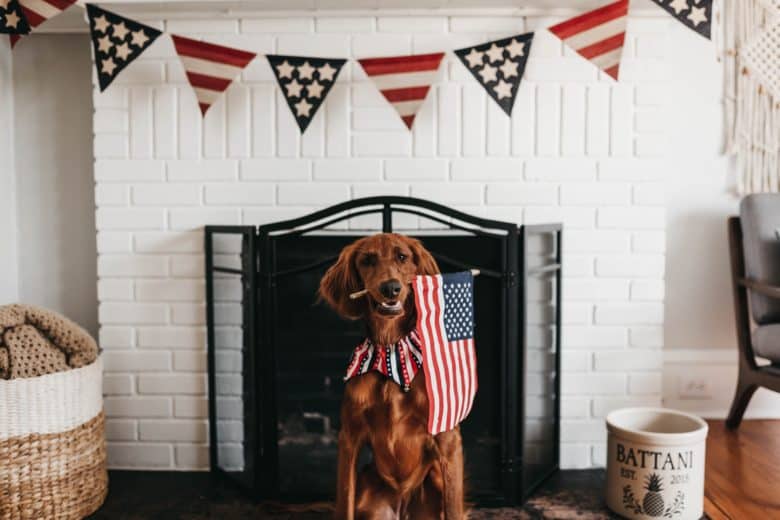 Pets are far from items but if you have a people friendly pet who loves attention, use them at your celebration for a photo prop. The most popular photo props are pets.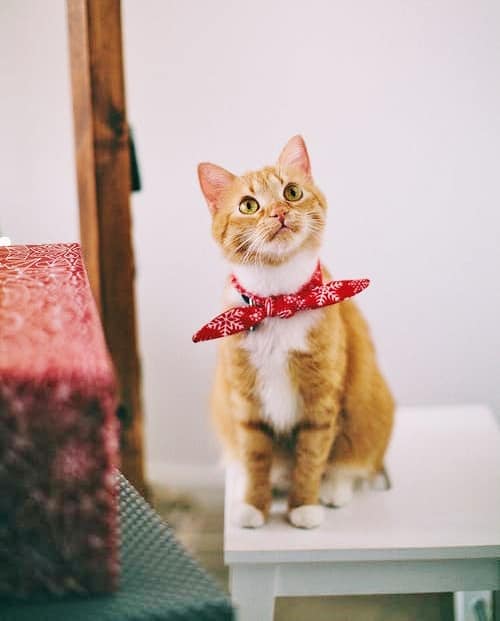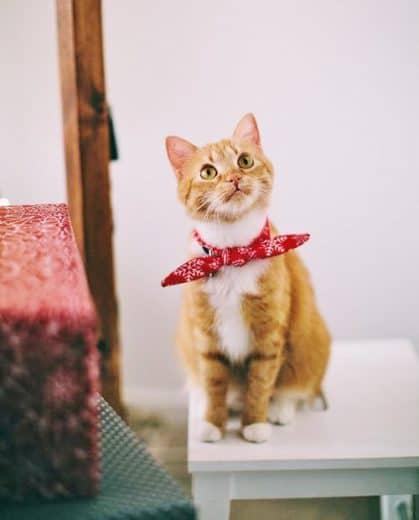 Add a little patriotic bow, tie, hankerchief, hair band, ribbon, or dye their hair. Not only will your pet get all of the attention it wants but your guests will be waiting in line for a picture. Just be sure to follow responsible pet owner guidelines if you're having fireworks.
13. Sparklers
If you don't have fireworks (or a good view of them) each guest can become a fireworks display. Sparklers are found at most east coast celebrity 4th of July celebrations. They're absolutely gorgeous and luckily super cheap but before buying sparklers please check your local fireworks laws or get the appropriate permits. They're not legal in every state.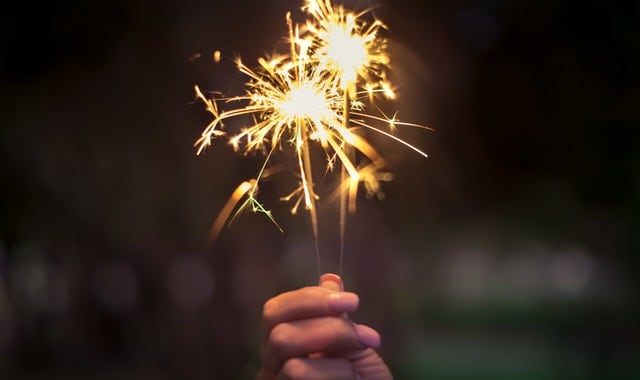 14.)

Patriotic Colored

Bandanas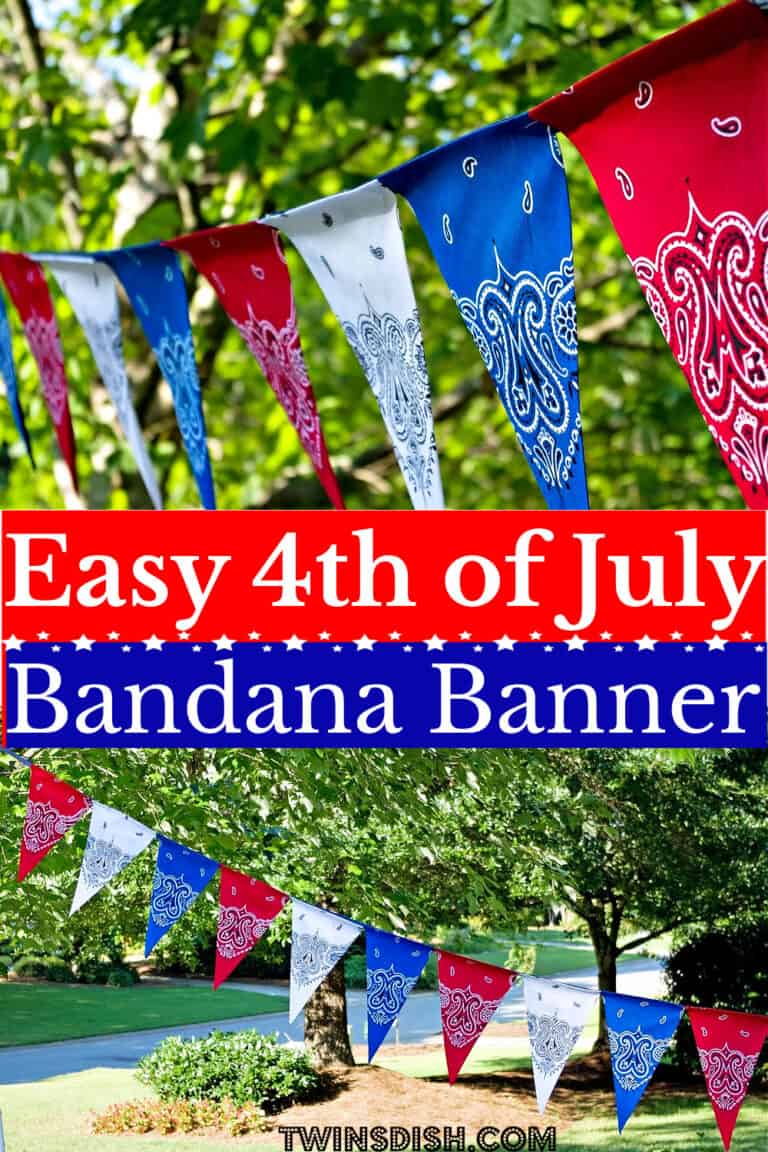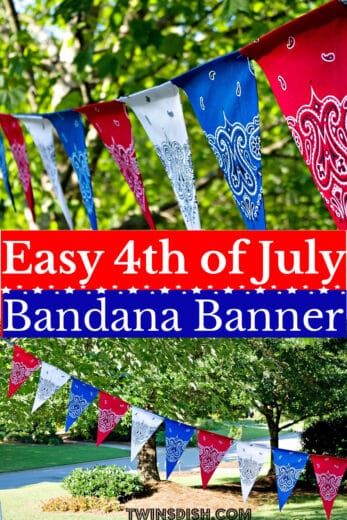 SOURCE: PATRIOTIC BANDANA TUTORIAL
Bandanas are an American staple that's versatile and offered in a variety of colors. They also only cost under a dollar each!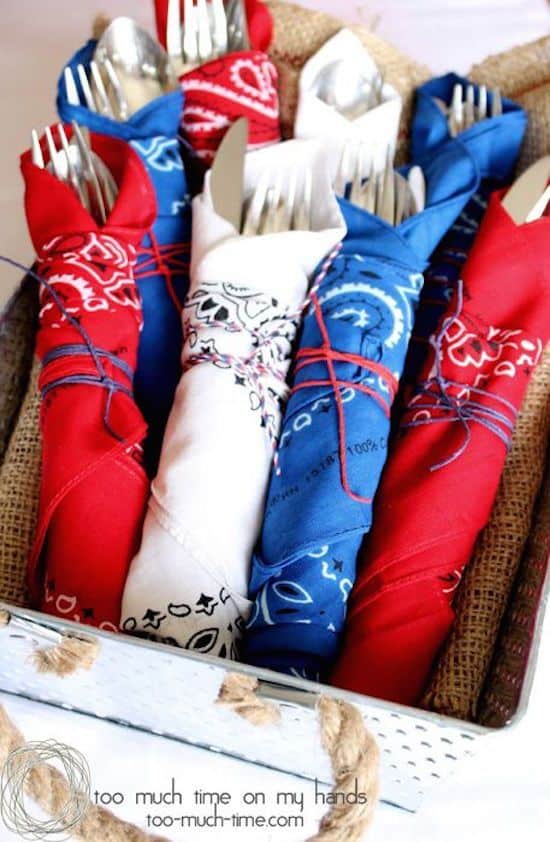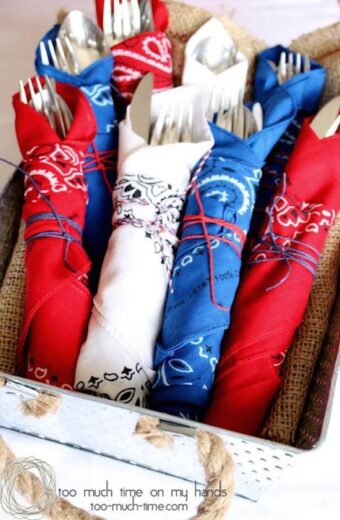 BANDANA NAPKINS TABLESETTING IDEA
Use them as napkins or sew/glue them together for a Patriotic tablecloth.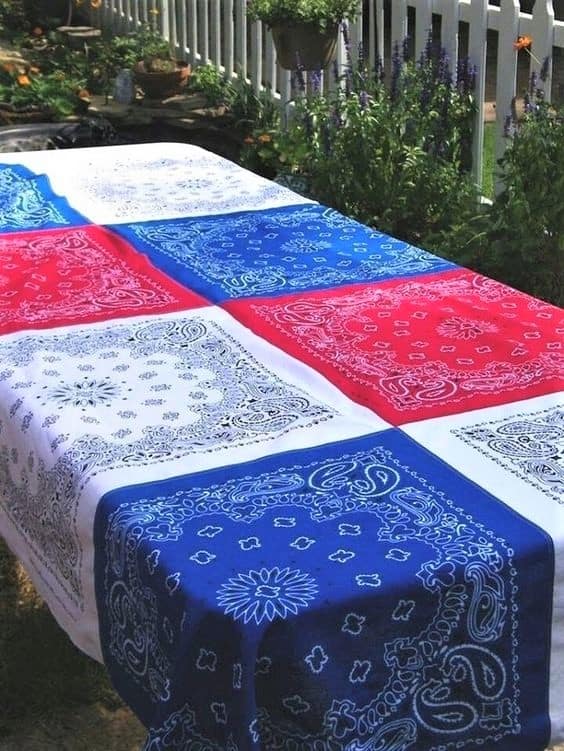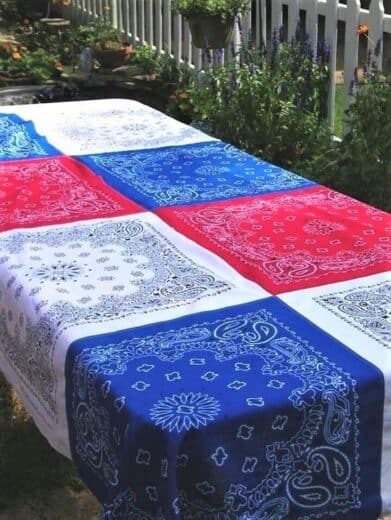 PATRIOTIC BANDANA TABLECLOTH PHOTO
Since they're so cheap yet an America classic, they make the perfect festive table setting idea.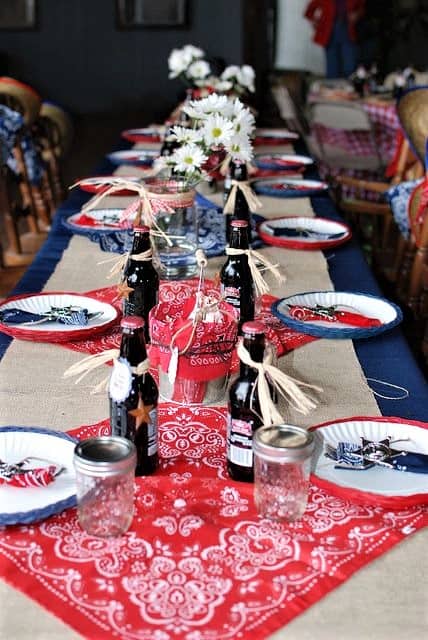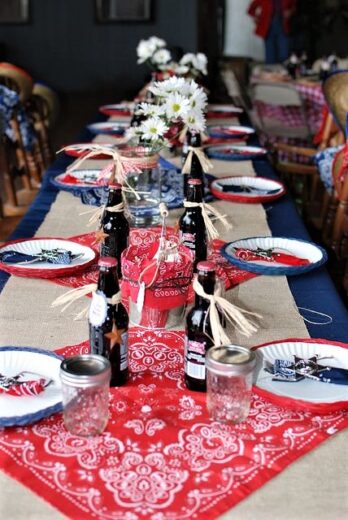 ---
We just showed you our list of super easy tricks to make any 4th of July celebration epic.
These items make it easy enough to throw together your most extravagant event or an intimate celebration for two
You can customize these ideas to please any crowd or fit any venue. Whether it's a celebrity mansion party or a country backyard bbq, they've impressed them all.
We hope we've helped you toast America in style. Let us know how these tips worked for you and if you have any to add.

Happy

4th

of

July

!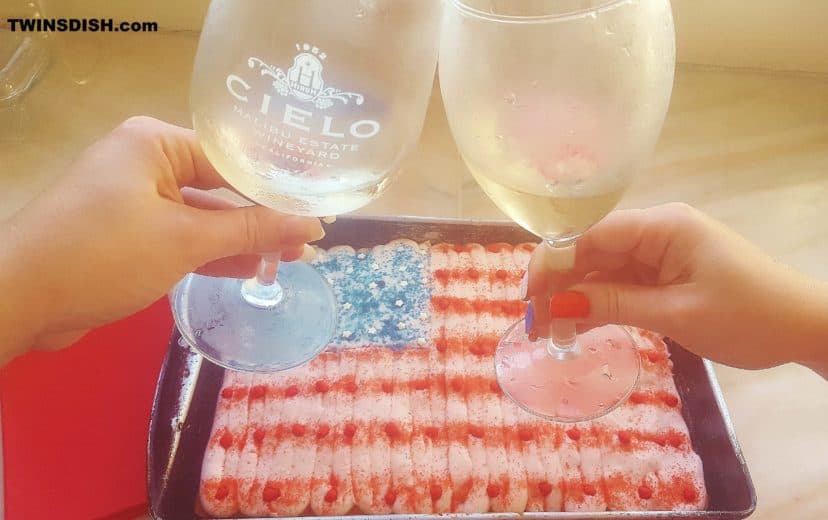 Love,


Don't forget to pin it..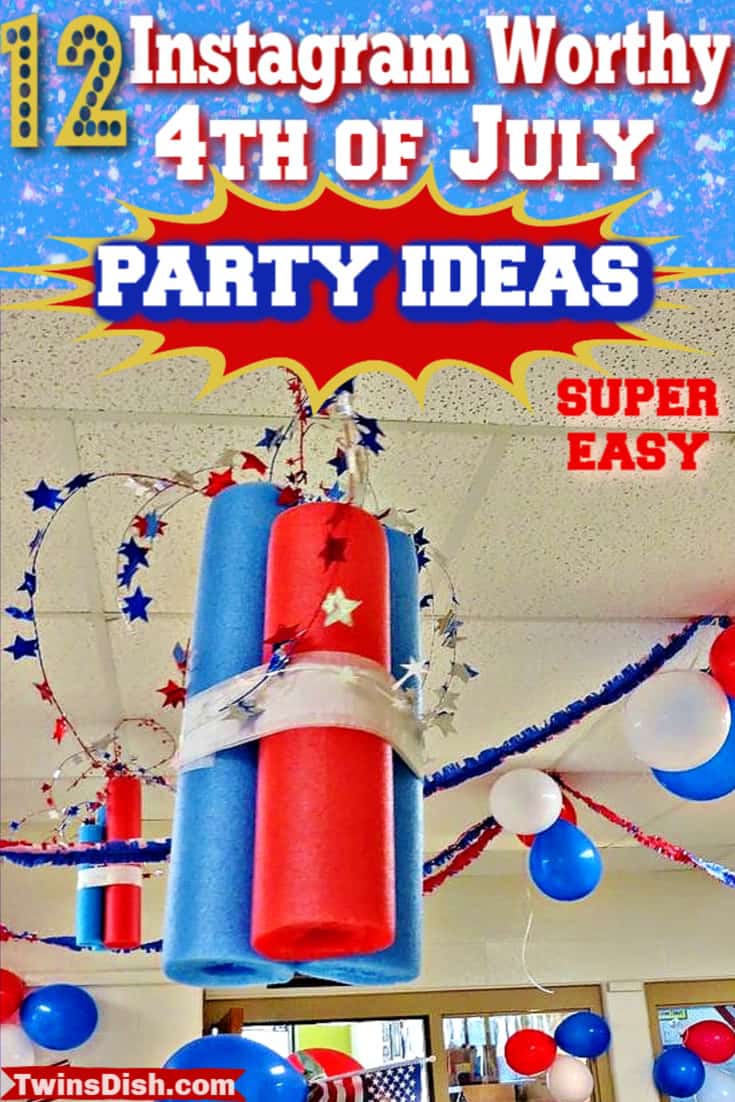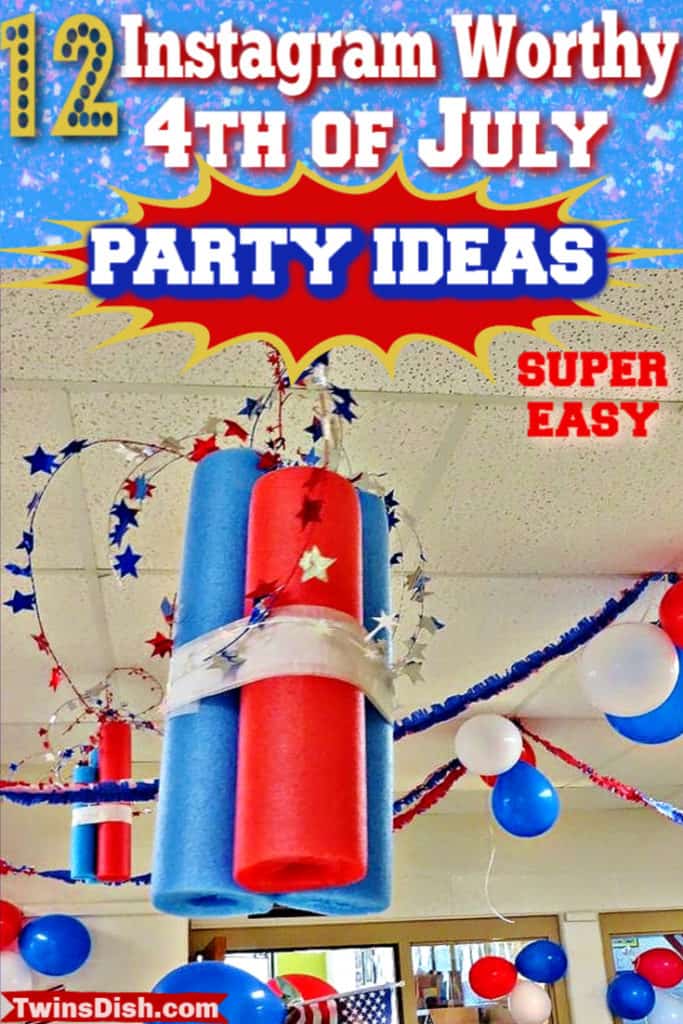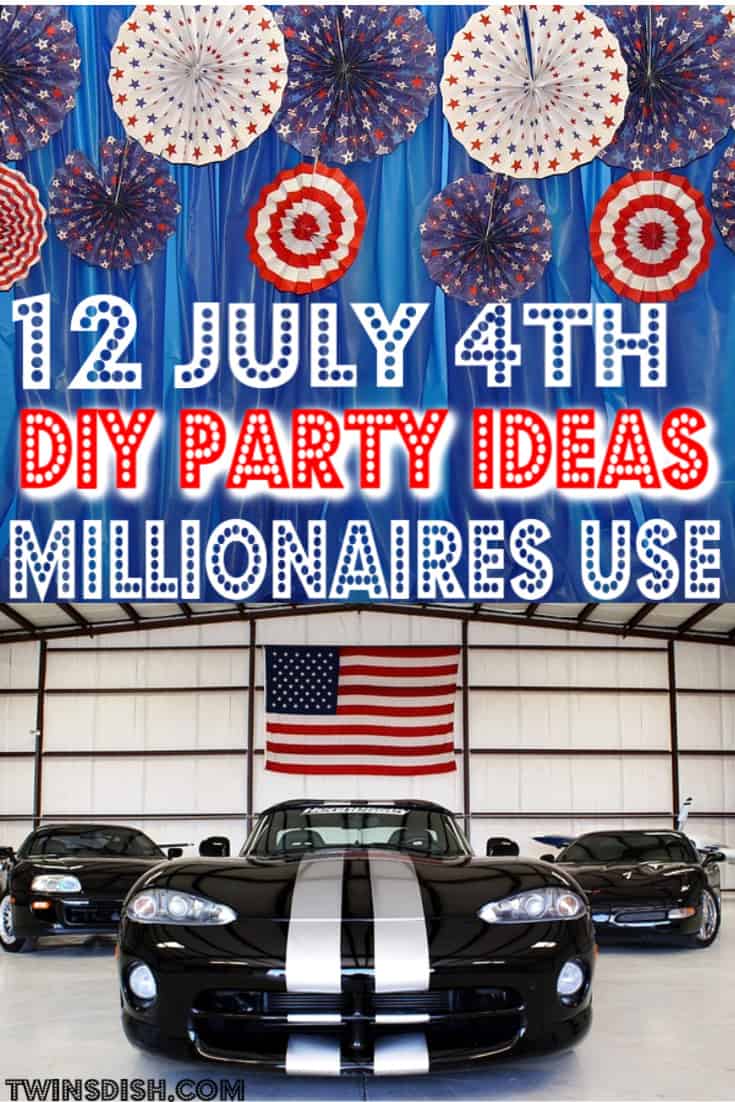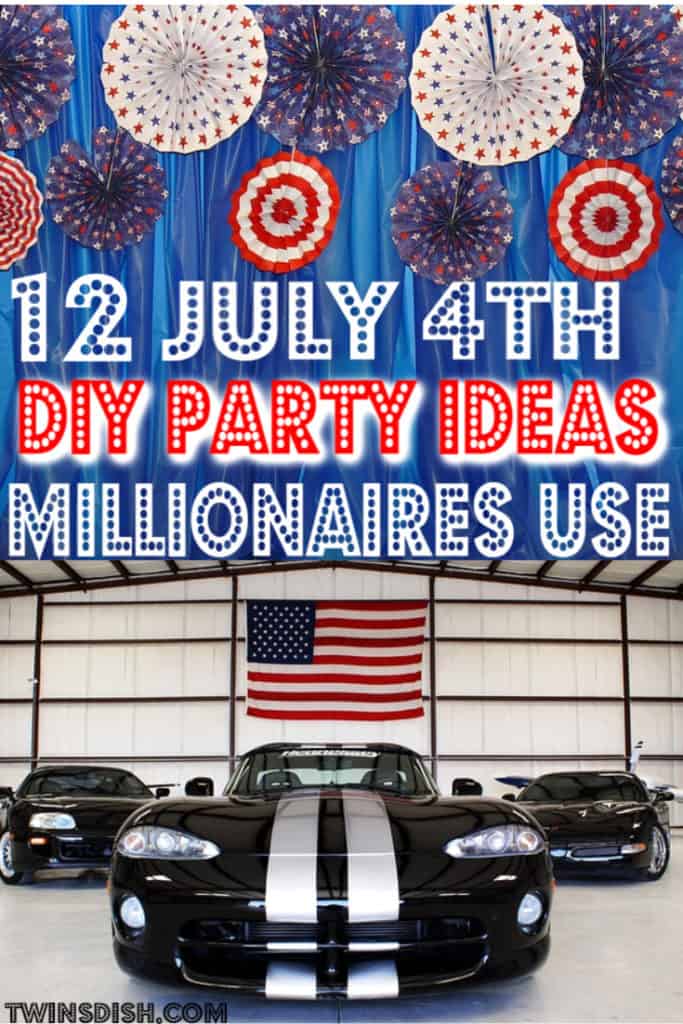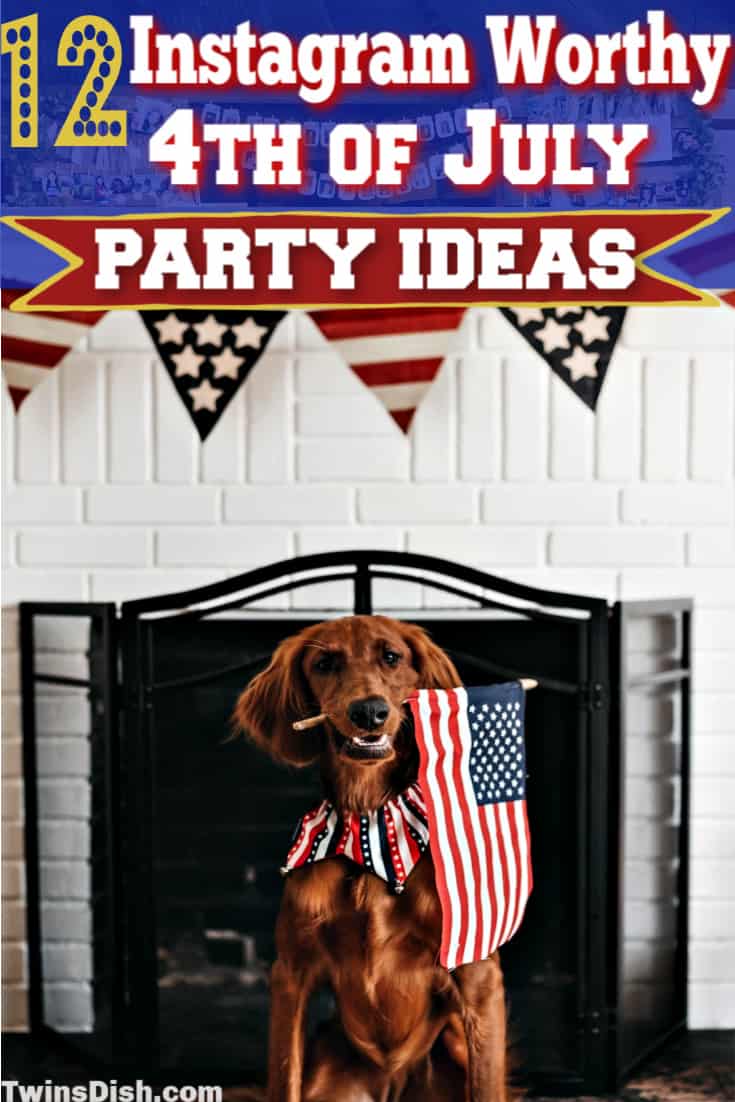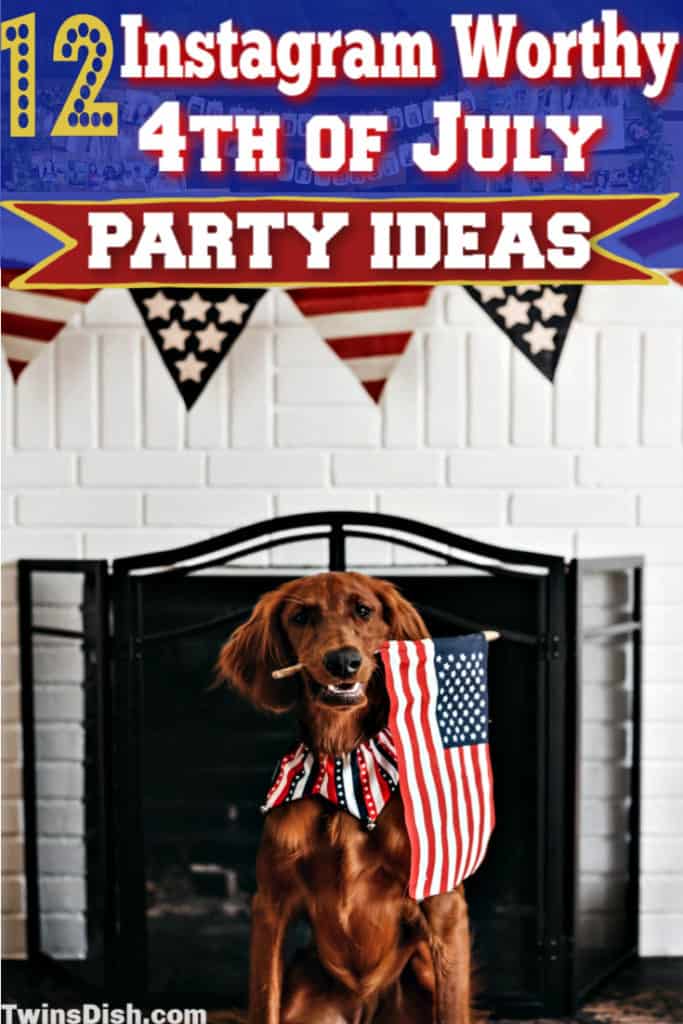 Posts you may like…