The Best Serums For Every Skin Type
With so many different kinds of serums on the market, it can be a bit overwhelming choosing the right one.
The secret lies in knowing which ingredients are most effective for your skin type and which actually work.
Whether you're in your teens, 20s, 30s, 40s, or beyond, there are certain types of ingredients dermatologists recommend to improve your skin, preserve it, and protect it.
We'll simplify the process for you by explaining what serums are, the different types of serums, which ingredients are backed by science, how to determine which one is right for your skin, and in what order to apply them.
Some of the information in this post can also help in choosing other products in your skincare routine like cleansers, toners, and moisturizers.
Pin it for later…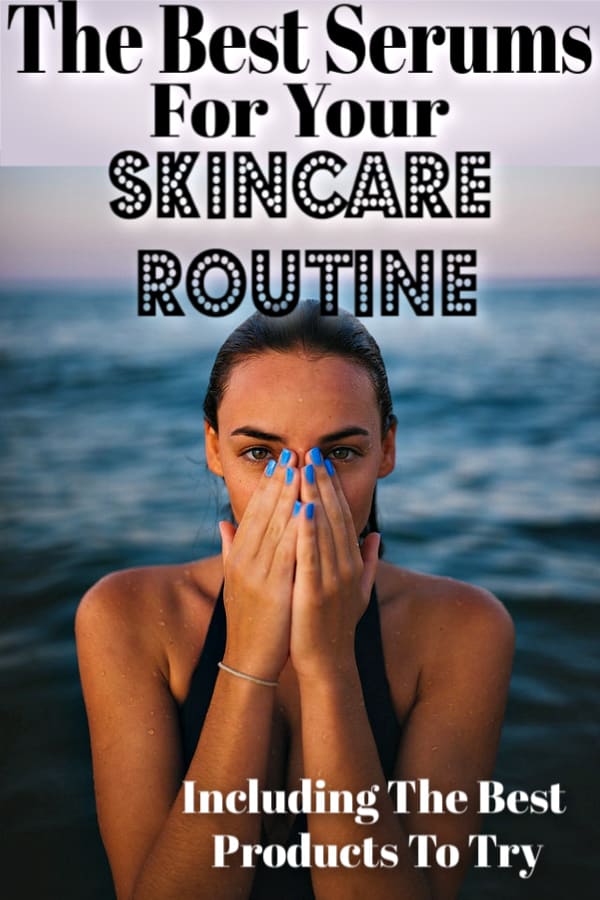 What Are Serums?
Serums are concentrated and potent forms of ingredients like antioxidants and acids that are super absorbent and help treat specific skin concerns like acne, aging, dryness, and dullness.
They come in colored or dark bottles so light doesn't spoil or degrade the ingredients inside. They usually have a slightly thicker consistency than water.
Nowadays serums can come in other forms like essence, oil, and booster. We'll explain each type and what it does for your skin.
Types of Serums
Essence is a term that's popular in Korean skincare. Traditionally Essences have a lower concentration and thinner consistency than serums, they're generally in between a toner and a serum. But now some Essences are basically a serum depending on what country you live in. For example Estee Lauder's Night Repair Serum is called "Brown Bottle Essence" in Korea.
Boosters are serums with concentrated formulas of particular ingredients that boost the efficacy of whatever other creams or treatments you are using. Look at it as adding an extra shot of espresso to your coffee, or extra float of rum to your Pina Colada.
Ampoule is an intensive treatment targeting a specific skin issue you might be having for a limited amount of time. It has a higher concentration of ingredients than a serum or essence and a lighter texture and faster penetration rate into the skin. They come in glass viles with a dropper to protect their super reactive ingredients inside from air and other contaminants. Ampoules are usually the most expensive products in a skincare line.
In the end it's all marketing, basically they are all serums, just boosters and ampoules are more intensive and higher powered serums.
Essences are traditionally less concentrated and more so prep the skin for further treatment. You put them on after toner and before serums.
When applying products, as a general rule you should always put on the product with the thinnest consistency first, last on your face should be oil.
The order is: Cleanse, Tone, Essence (if you're using one), Serum, Moisturizer, Oil.
Choosing The Right Serum
When picking out a serum you're going to want to pay attention to ingredients.
Certain ingredients are super effective in treating specific skin problems, while other ingredients are universally recommended by dermatologists for all ages and skin types.
We'll go through the most popular and highly recommended ingredients and what they can do for your skin.
Antioxidants
Antioxidants are a term we bet you've heard a lot. They both prevent and slow down cell damage in your skin caused by environmental elements like the sun and pollutants, and also dietary toxins such as alcohol.
Basically they slow down the aging process…that's why we love them so much.
The only two ingredients actually proven to reverse wrinkles and skin damage are the antioxidants Vitamin C and Vitamin A. Here are the details on these two skincare rockstars…
Vitamin C
One antioxidant Dermatologists say EVERYONE should use no matter their age is Vitamin C.
Vitamin C is best able to protect the skin when it's applied topically, rather than being consumed through supplements or food.
It's especially good for people who live in harsher climates or spend a lot of time outside because when you use it along with sunscreen, it forms a complete barrier of protection from harmful UVA/UVB rays.
Vitamin C is a lifesaver and a must for your skin because it not only protects the skin from sun damage but repairs it and boosts collagen production as well.
Collagen is what gives youthful skin its plump appearance and it decreases significantly as we age.
Vitamin C can go bad quickly if it's not stabilized, therefore not all forms of Vitamin C are effective.
Some forms of Vitamin C are stronger and can lead to some irritation in people with sensitive skin.
The following are the most effective forms of Vitamin C:
L-ascorbic acid -The purest and strongest form that helps to boost collagen production and smooths and firms skin. It CAN cause irritation for those with sensitive skin.

Magnesium Ascorbyl Phosphate isn't a pure form so it doesn't work as quickly as L-ascorbic acid but is gentler for more sensitive skin types, easier to absorb, and takes longer to go bad.
ester-C is another favorite

Ascorbyl 6 Palmitate

disodium isostearyl 2-ol-ascorbyl phosphate(VCP-IS-NA)

ascorbic acid sulfate
Add Vitamin E And Ferulic Acid
Some other antioxidants, when mixed with Vitamin C, increase its potency and shelf life: enter Vitamin E and Ferulic acid.
Serums containing Vitamin E, Ferulic acid, and the right form of Vitamin C create an antioxidant powerhouse that not only heals the skin and prevents it from damage, but keeps it properly hydrated. They work very well together and are great for all skin types. They're the 3 antioxidants most referred by Dermatologists.
Vitamin A (Retinoids)
Vitamin A is scientifically proven to resurface the skin and increase collagen production. For this reason, it's a very popular treatment for acne and wrinkles.
Like Vitamin C, not all forms of Vitamin A are created equal.
RetinA (Tretinoin)is the purest form of Vitamin A. It's very strong and can cause irritation and peeling but is the most effective in resurfacing the skin for people who can tolerate the side effects. You can only get RetinA with a doctor's prescription.
Retinol is a gentler form of Vitamin A that you can find in many over the counter serums. While it isn't as strong, it can still be effective in resurfacing the skin, increasing collagen production, and evening out skin tone.
Retinyl Palmitate is the most gentle form of Vitamin A, it's also the cheapest. It causes less irritation to the skin than RetinA and Retinol which makes it the best option for sensitive skin types.
It's super important to stress that Retinoids can make your skin more sensitive to sunlight, so always use a sunscreen on top during the day. Also, be sure to check with your doctor if you have certain skin or health conditions or are pregnant or lactating. While Retinoids are generally safe to use, you should always exercise caution.
Other Powerhouse Antioxidants
While Vitamins C, E, A, and Ferulic Acid are the most recommended by Dermatologists, they're not the only ingredients that can improve your skin.
Alpha Hydroxy Acid (AHA) exfoliates the skin (more gently than a scrub) removing the top layer and corrects discoloration making it great for acne prone skin. It also increases collagen production, retains moisture and improves the absorption of products making it effective for wrinkles. Some people can experience mild skin irritation the first few times using it so if you have sensitive skin then beware. You should also use a sunscreen. Glycolic acid and Lactic acid are the two most popular forms of AHAs.
Beta Hydroxy Acid (Salicylic Acid) is more gentle than AHA but provides similar results in exfoliating, unclogging pores, and improving the texture and tone of skin. It's recommended for acne prone and aging complexions.
Polyphenols are plant based antioxidants found in dried spices, fruits, vegetables, green tea, wine and chocolate. They soothe inflamed skin, prevent sun damage, and reduce the break down of collagen. They're great for sensitive skin. Flavonoids found in green and black teas and Castor oil are a popular type of Polyphenol great for soothing acne rosacea and delaying skin aging. Resveratrol is another type of Polyphenol found in the skin of fruits that has antimicrobial and anti inflammatory properties as well as anti aging benefits.
Niacinamide (Vitamin B3) is a powerful antioxidant that improves skin texture and tone, reduces wrinkles and hyperpigmentation,  and has anti inflammatory properties. Niacinamide can boost the performance of Vitamins A and C, and Alpha Hydroxy Acids when added to your skincare routine however it's important to know which products to apply together.
While Niacinamide works well with Retinols (Vitamin A), applying it with Vitamin C is up for debate. Some old scientific studies claim it can cause redness in sensitive individuals or become less effective, while newer studies claim the opposite. To be on the safe side use one at night and one in the morning.
CoEnzymeQ10 is another powerhouse antioxidant that keeps cells healthy and stimulates collagen production.
Hyaluronic Acid is naturally occurring in the connective tissues of our joints, eyes, skin, and hair. It cushions and lubricates. We lose Hyaluronic acid as we age and through poor diet. When applied to the skin, Hyaluronic acid is extremely effective in retaining moisture. Just 1 gram can hold up to 6 liters of water. It's also used with Vitamin C to increase the penetration rate into the skin. Sodium Hyaluronate is the salt form of Hyaluronic acid that's commonly used in many drugstore serums. It can more easily be absorbed by the skin and can hold up to 1,000 times its weight in water. Beware though, it has the potential to dry out your skin in doses higher than 2%. Sodium Hyaluronate is also often times diluted with water.
Alpha Lipoic Acid is a powerful antioxidant that is easily absorbed by skin cells. It reduces fine lines, prevents aging, improves skin texture and tone, and boosts the potency of other antioxidants like Vitamins C and E.  It makes your skin glow.
Which Ones Should You Choose?
Dry Skin
If you have dry skin even when you put moisturizer on, then you should definitely look for a serum with moisturizing and healing ingredients like:
Hyaluronic acid to lock in moisture
Niacinamide to increase elasticity
Vitamins C and E to protect the skin, repair it, and seal in moisture
Aloe Vera to moisturize and heal
CoEnzyme Q10 to keep skin cells healthy
Natural oils, like Jojoba, Coconut,  Argan, RoseHip, and Grapeseed oil. They are highly moisturizing and natural sources of antioxidants like Vitamins C and E.
Acne Prone Skin
For acne prone skin you're going to want ingredients like:
Salicylic Acid or Glycolic Acid which unclogs pores and exfoliates. Less dead skin means less black heads and quicker absorption of other treatments.
Aloe Vera which contains Vitamins A & C and works as an anti inflammatory for cystic acne
Retinol (Vitamin A) which resurfaces the skin
Alpha Lipoic Acid to improve texture and tone
Vitamins C and E which heal scars and act as an anti inflammatory
Niacinamide B3 to even out skin tone, heal scars, and boost other products
Tea tree oil to kill bacteria
Resveratrol for it's anti-inflammatory and anti-bacterial properties. It also works especially well to inhibit breakouts when used with Benzoyl Peroxide.
Polyphenols like Green Tea to calm redness and irritation or Castor Oil (be sure to check for allergies) for its antibacterial, anti-inflammatory properties
Look for the terms non comedogenic (doesn't clog pores) and hypo allergenic (not likely to cause allergic reactions) as well when choosing products for acne prone skin.
Also if a product has silicones in it then be very careful with what you apply with it. Silicones tend to trap whatever ingredients they're applied with to the skin which can be good or bad depending on what those ingredients are.
Castor oil can also have a similar effect in that it can increase the absorption of ingredients you apply with it.
Aging or Dull Skin
If your skin is dull or shows signs of aging then definitely use serums packed with antioxidants and moisturizing ingredients like:
Vitamins C and E, and Ferulic Acid to repair, protect from damage, and brighten
Alpha Lipoic Acid for an instant glow
Lactic Acid or Salicylic Acid to exfoliate
Hyaluronic acid to plump the skin
Resveratrol to brighten the complexion
Retinol to reverse signs of aging
Polyphenols like Green tea to delay aging
CoEnzyme Q10 to keep cells healthy and increase collagen production
The Cost
Serums can get expensive but they don't have to break the bank. Some of our favorite serums are ones we either make ourselves using oils or some of the cheapest ones on the market.
Guess what, celebs don't always use the most expensive serums either.
Join our Weekly Newsletter and we'll send you our secret list of amazing serums starting at just $5. You'll also get the password to our VIP Vault filled with exclusives like our skincare guide on how to pick the right routine for you and all of our best beauty secrets, DIY, and products.
We hope we made a dent in demystifying the complex world of serums for you. Now that you're armed with a bit of knowledge you'll be better able to pick a skincare routine that works best for you.
If you have any questions or tips on serums that work for you, feel free to leave them in the comments section below.
Don't forget to pin it for later…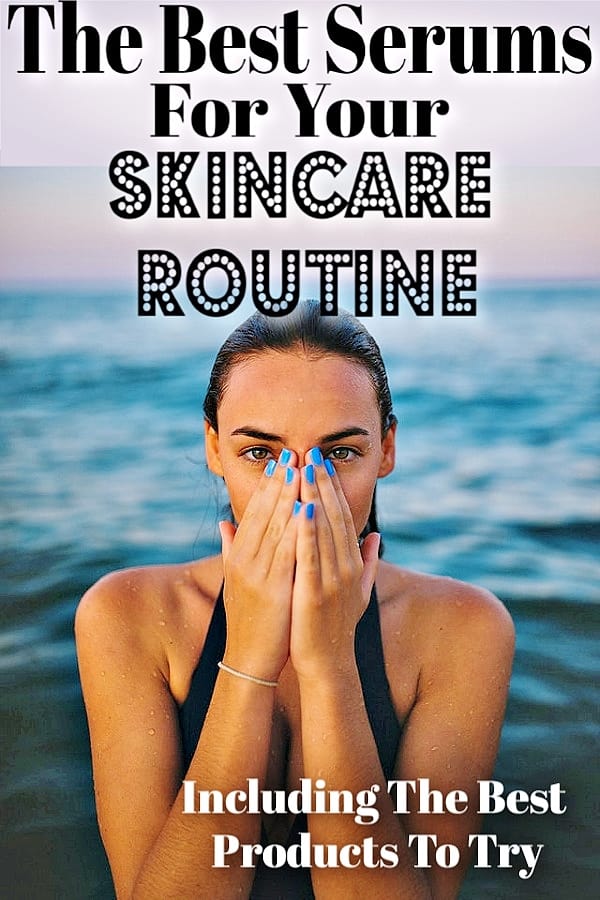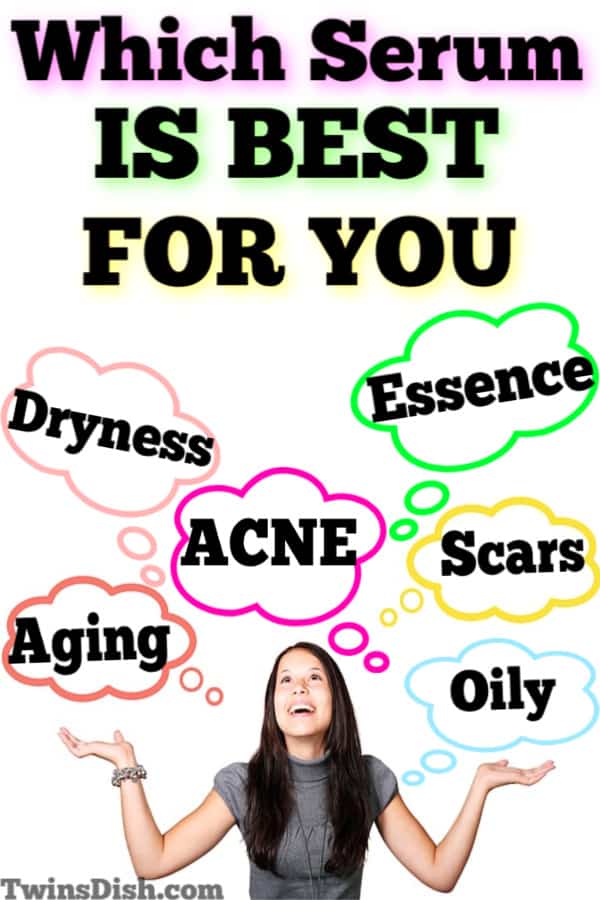 Love,

Other Posts You May Like: