23 Backyard Graduation Party Ideas For Outdoor
Updated January 23, 2023
The hottest trend in Graduation Party ideas and themes is a backyard Graduation Party.
It's surprisingly easy and budget friendly.
We'll show you tips and tricks used by pros on the universal decor elements of every memorable outdoor Graduation party that'll make the planning process fun, easy, and affordable.
Many of these ideas can easily transition from day to night in case your afternoon party bleeds into the evening.
Here are the best Summer trends for High School, College, and adult outdoor Graduation party ideas. These ideas will make your Graduation party visually stunning and extra special!
This post may contain affiliate links. Click here to read our full disclosure policy.
EASY GRAD LETTERS AND NUMBERS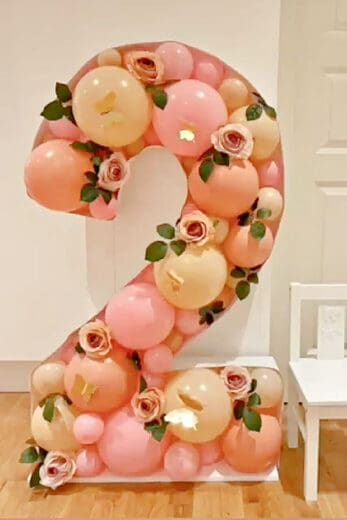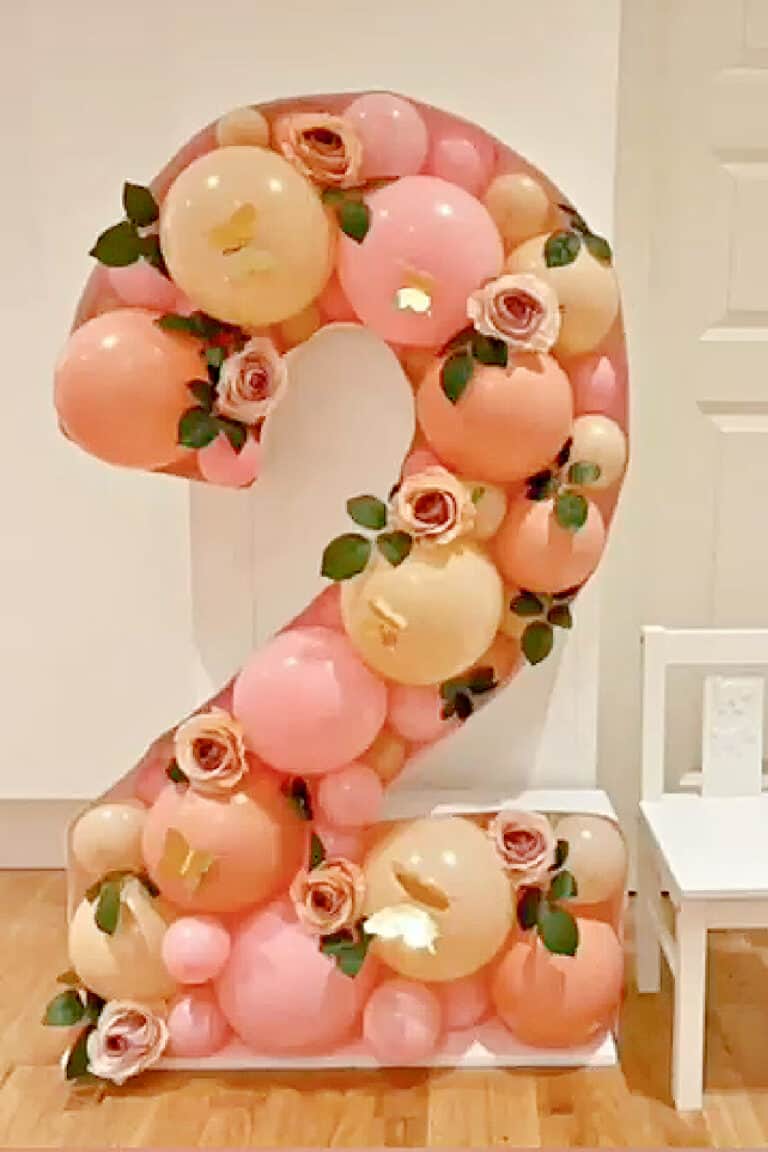 MOSAIC BALLOON NUMBERS/LETTERS
Balloon and floral mosaic numbers/letters are an emerging trend in Graduation party decor for both boys and girls, and with an easy DIY option they're affordable for any budget and skill level!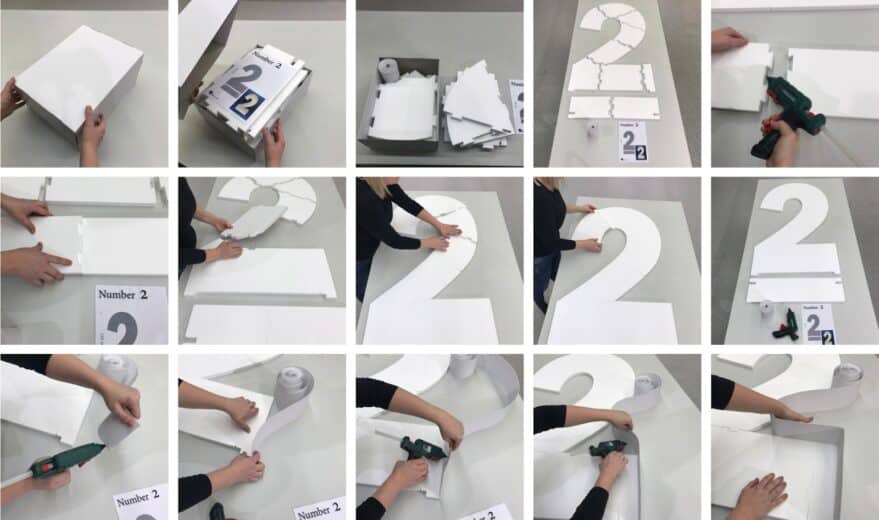 You can either ask your event planner or purchase the easy to assemble kit above for about $20 per letter/number (balloons not included). If you're on a budget you can purchase the supplies individually yourself for even cheaper. You'll need:
Dollar store foam board for the numbers (2 – 4 boards per letter or number depending on whether you want them to be 2ft, 3 ft, or 5ft high)
Balloons blown to various sizes
There are multiple ways to make the sides. You can either buy one or two 6 inch by 24 inch white cardboard roll/s PURCHASE THEM HERE or you can purchase card stock/poster board from the dollar store and cut it in 6 inch wide strips.
Letter/number templates (the youtube video below will show you how to easily print out any size digits or letters for FREE, otherwise you can purchase ready made templates from etsy for around $6 per number/letter)
EASY MARQUEE LETTERS/NUMBERS OUTDOOR GRADUATION PARTY IDEA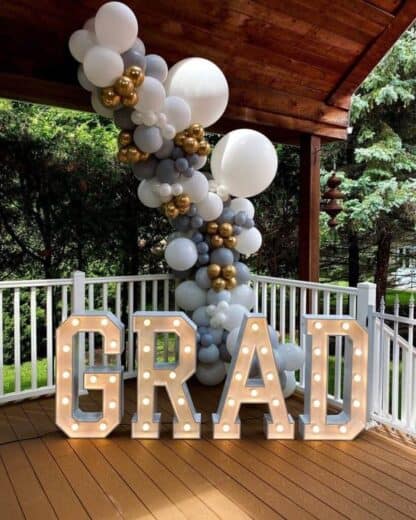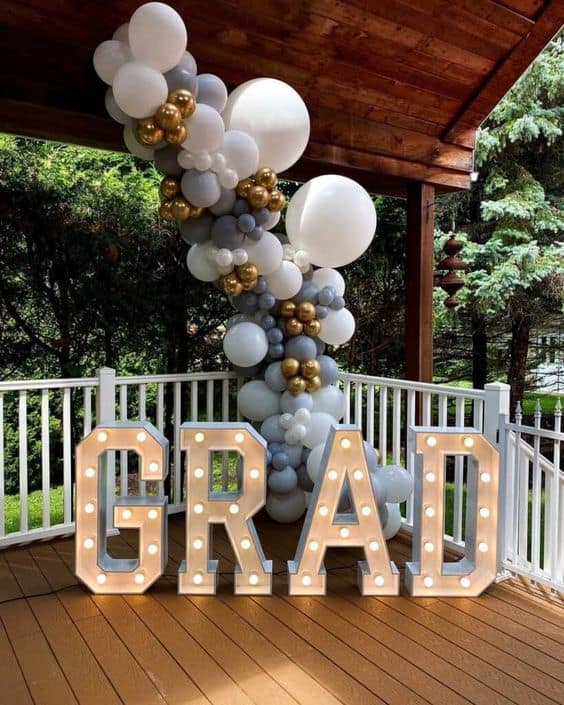 Marquee letters and numbers are one of the most sought after party decorations out now because they're so photogenic and festive for guys and girls.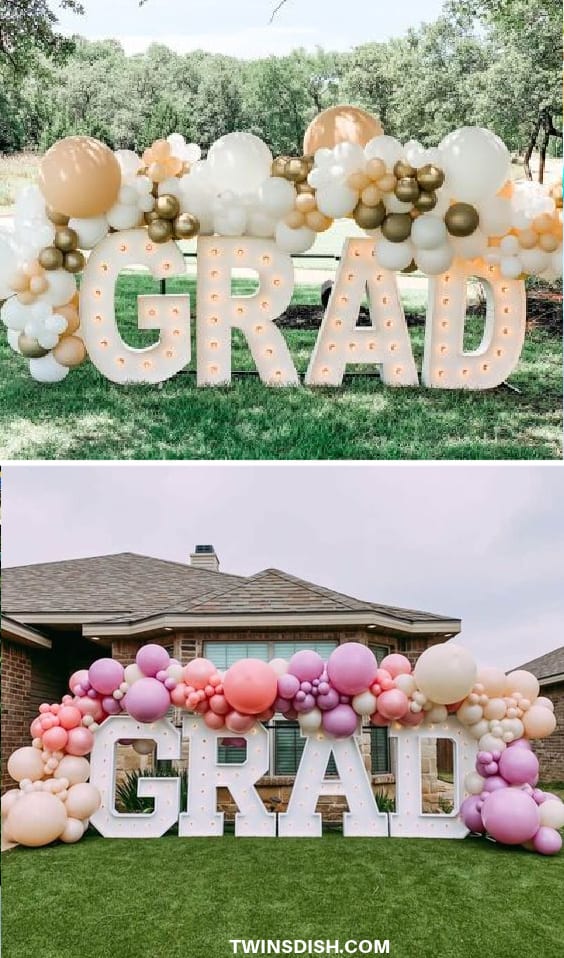 They're also one of the most expensive to buy or rent (party rental companies charge on average $500 here in Los Angeles), BUT we found the easiest DIY version that makes it affordable for everyone!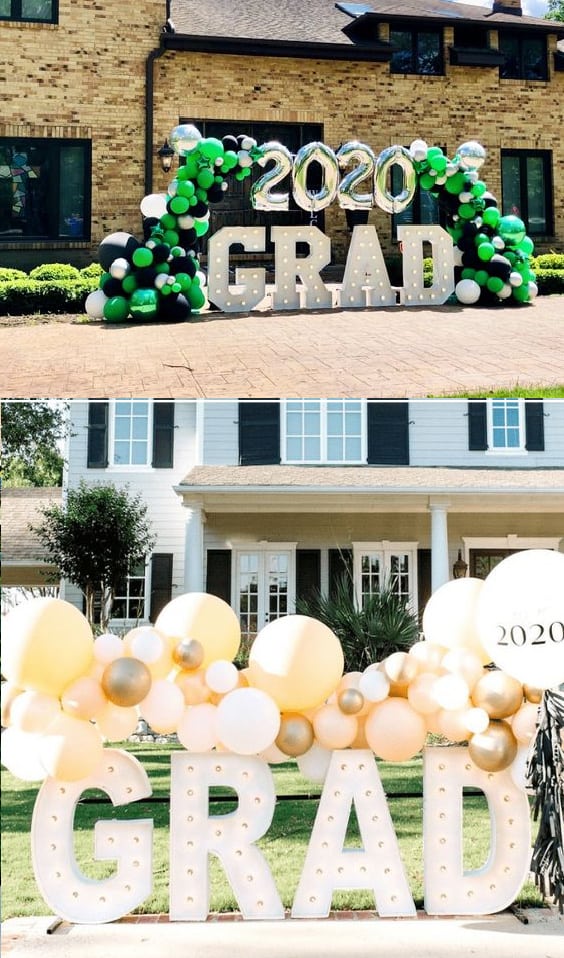 Use the same tutorial and list of supplies for the "Mosaic Balloon Numbers" we mentioned above, only instead of balloons fill them with dollar store tap lights or cut holes to insert string lights.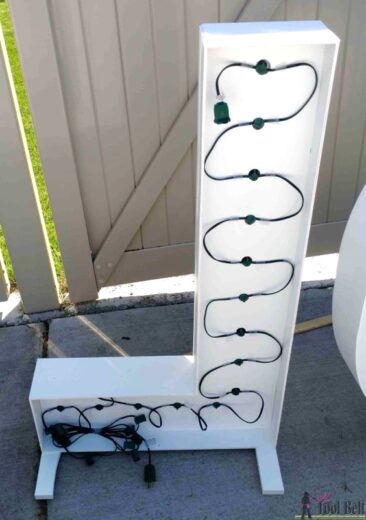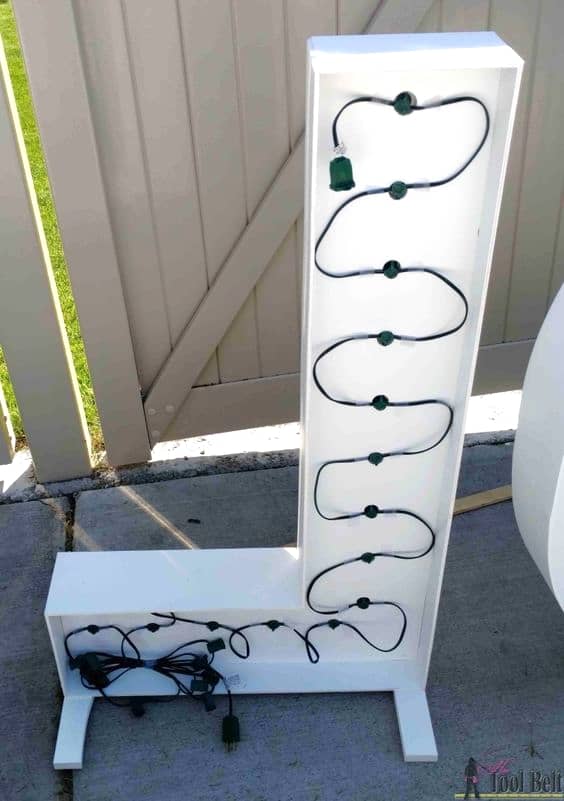 You can use as many or as few lights per letter/number as you like, or forego the lights altogether, or fill with paint or glitter. You can use the school year, or the Grad's name/initials.
RUSTIC TABLES & SEATING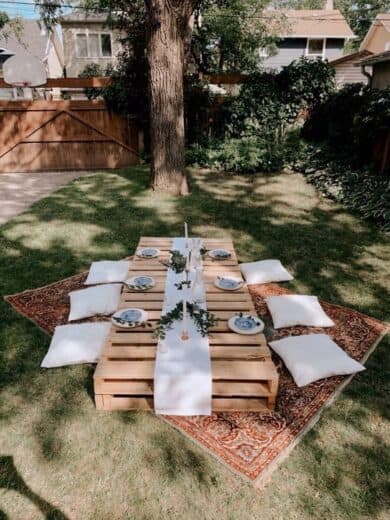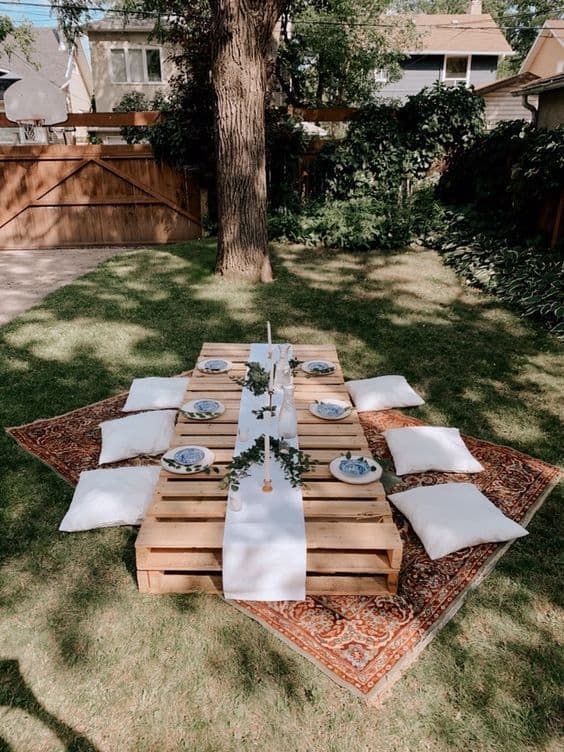 Pallet wood makes the BEST rustic, boho, picture worthy outdoor table and seating ideas for teens and kids and it's FREE!!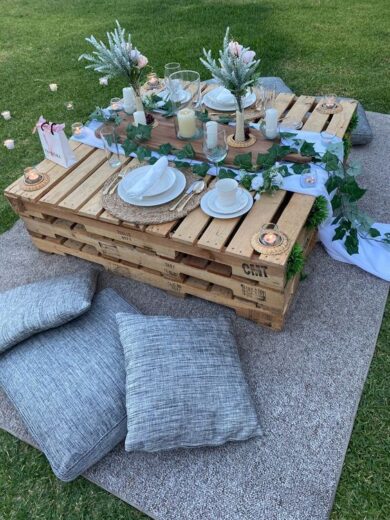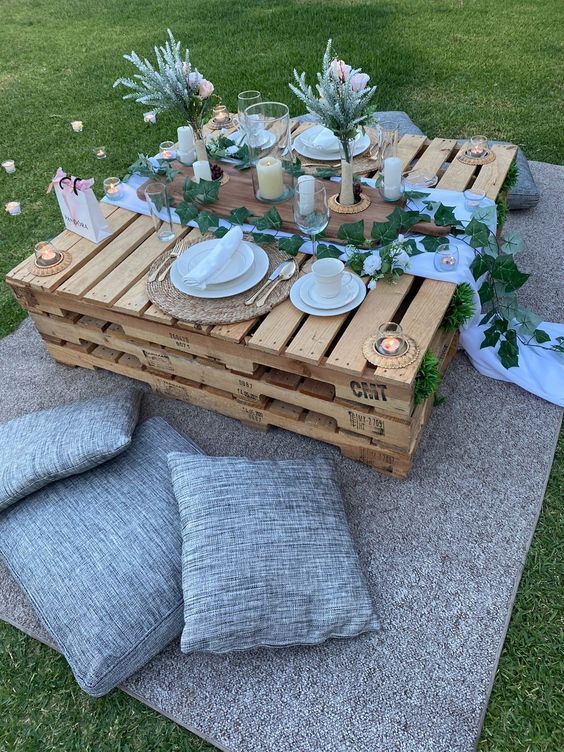 We found free wood pallets outside of our local Trader Joe's and huge quantities of wood pallets for free on Craigslist.com in Los Angeles! If you can't find free wood pallets on Craigslist you're sure to find some outside of the following places:
Construction Company office/warehouse (good for larger quantities)
Bars and craft beer locations
Pet food stores
Feed & Tack stores
Stationary shops
Furniture stores
Liquor stores
Schools
Flooring stores
Other small retail
Art and Craft store (Michael's etc)
A friend works at the main office of a construction company that throws out dozens of good wood pallets almost daily.
This trendy boho idea will be super fun and picture worthy for young adults and kids but be sure to provide traditional tables and chairs for older adults and seniors.
DIY GRADUATION PARTY CENTERPIECES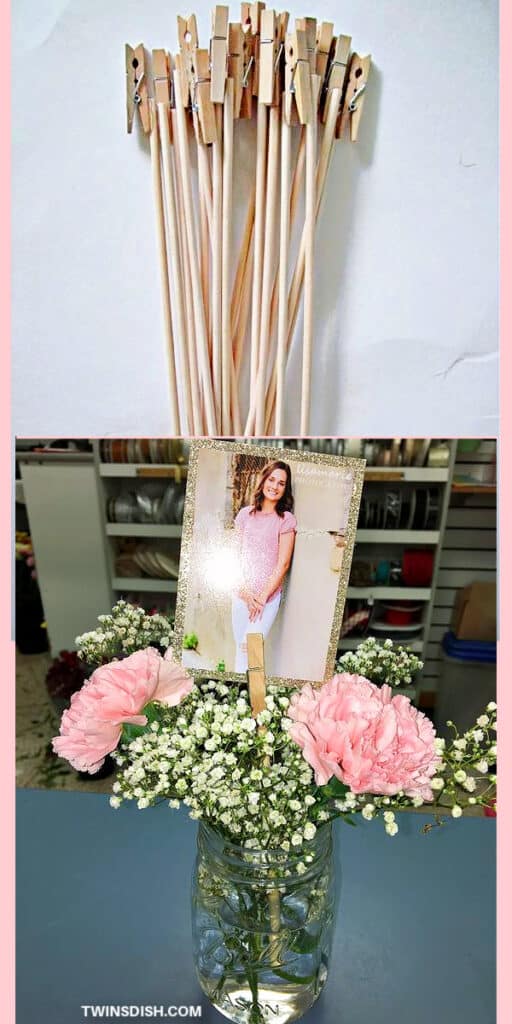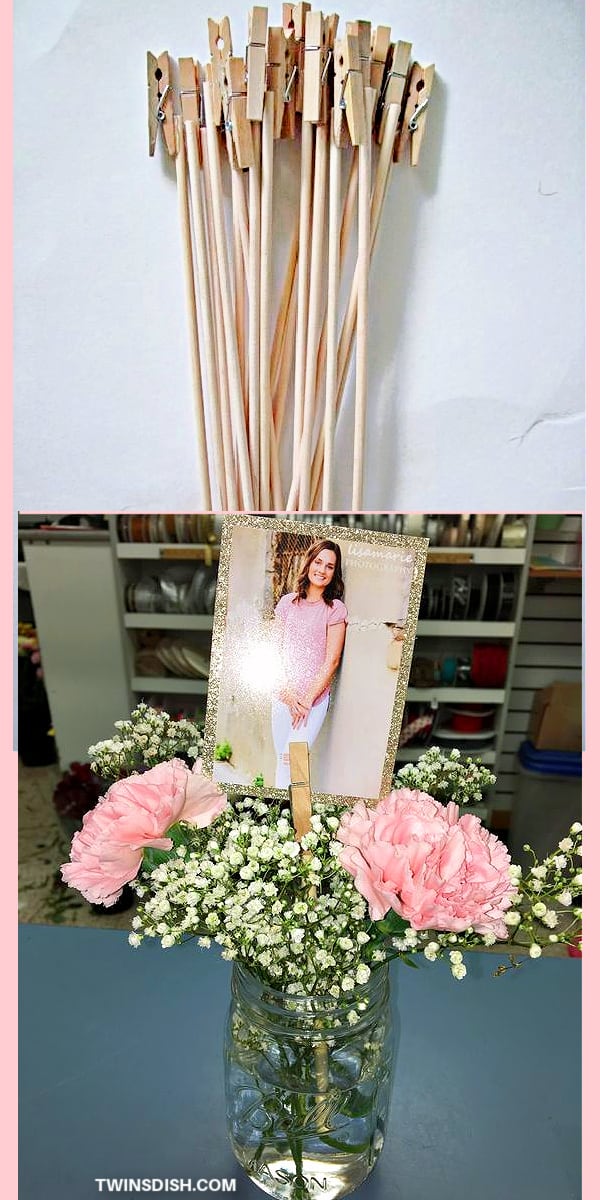 Photo bouquets are so easy to make with these DIY clothespin photo holders! Just glue clothespins to skewers.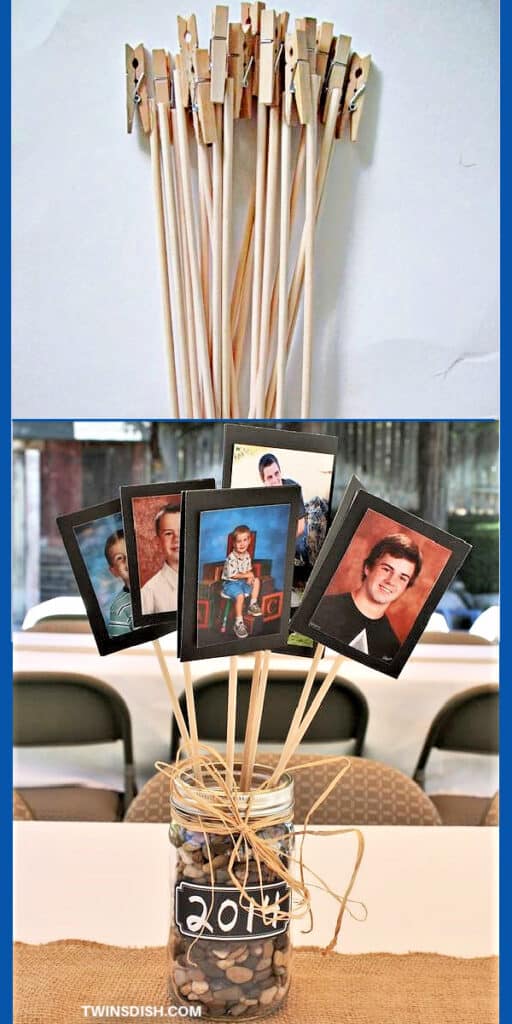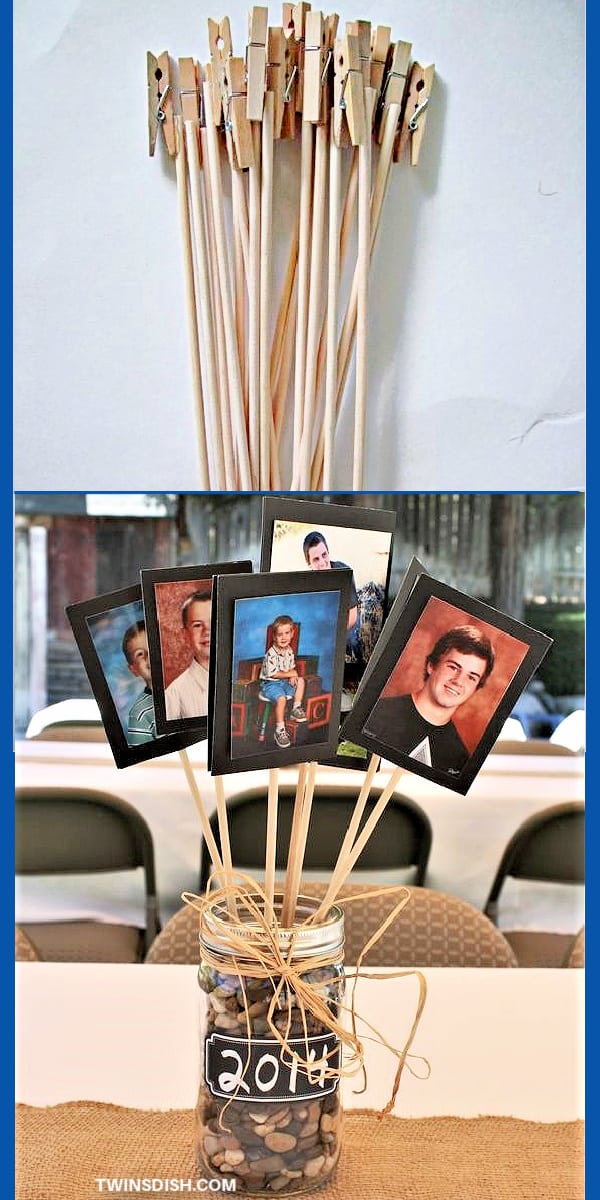 You can have just one accent photo or a whole bouquet of photos.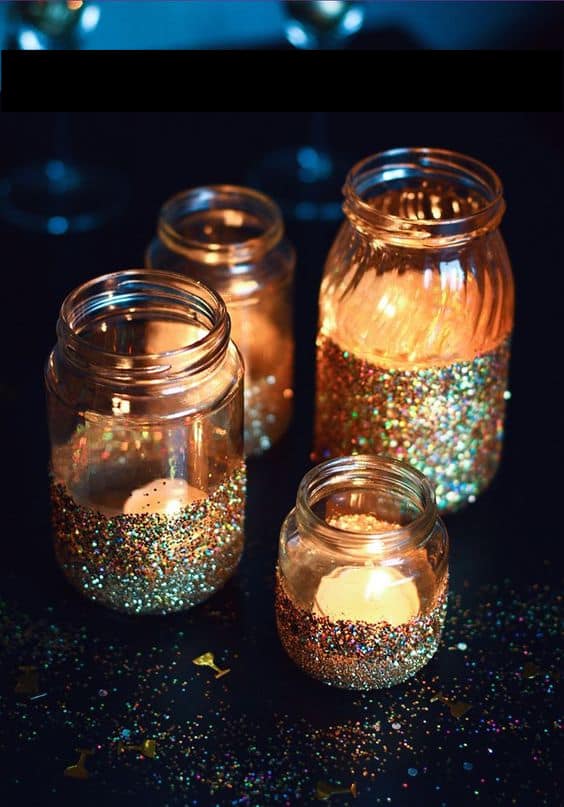 Have fun with your table decor. Glam up leftover jars with glitter and glue to use as gorgeous votives to decorate your tables.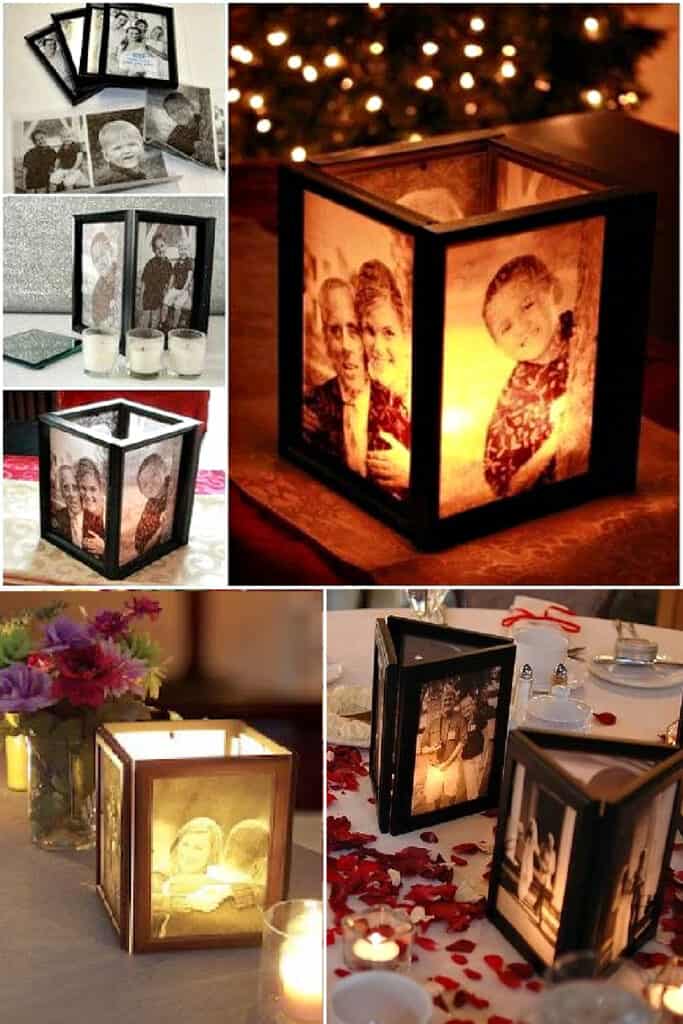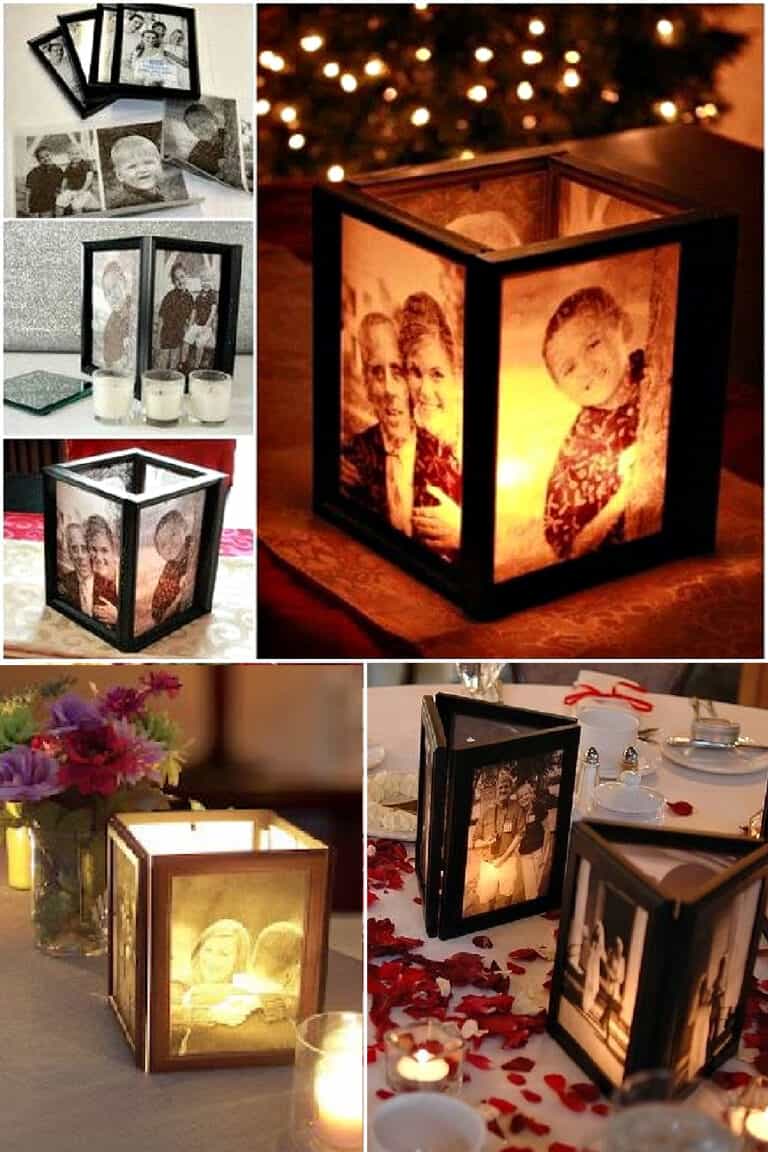 TUTORIAL (TOP), TUTORIAL (Lower Left), SOURCE (Lower Right)
Cover up your citronella candles and give your guests something to look at while eating. Bring photos to light using these super quick and easy DIY dollar store picture frame centerpieces.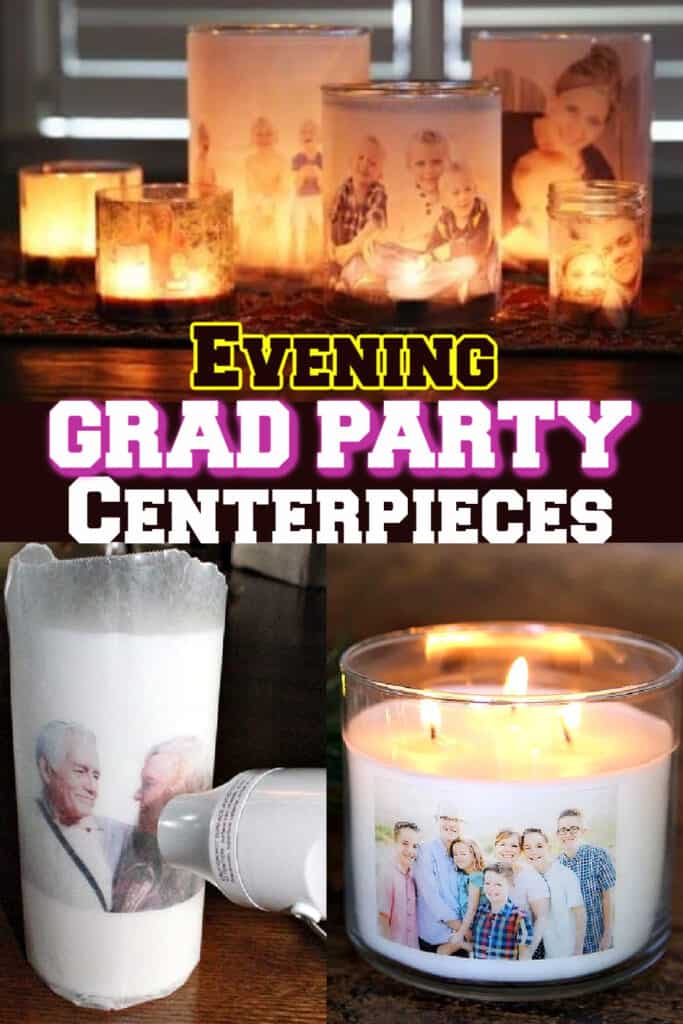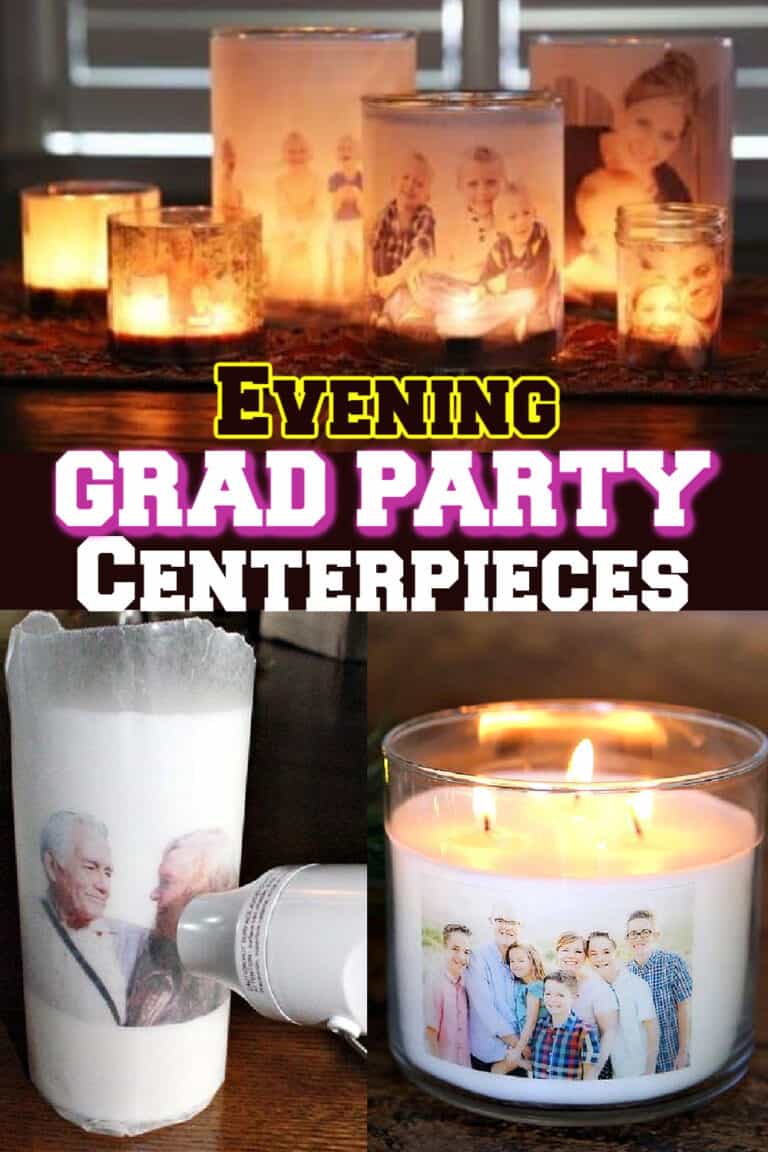 These lighted centerpieces are not only cheap, and easy to make but are great gifts for guests to take home.
---
EASY LIGHTED TABLE CLOTH BACKYARD GRADUATION PARTY IDEA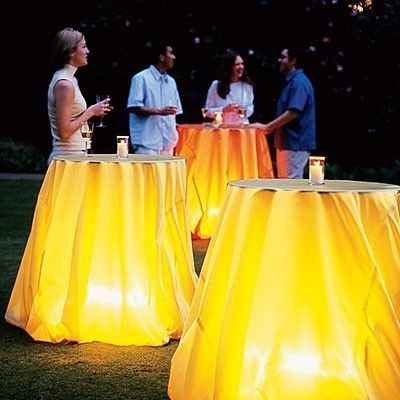 SOURCE
Put tap lights or camping lights underneath your table cloths for a polished look to a backyard evening event!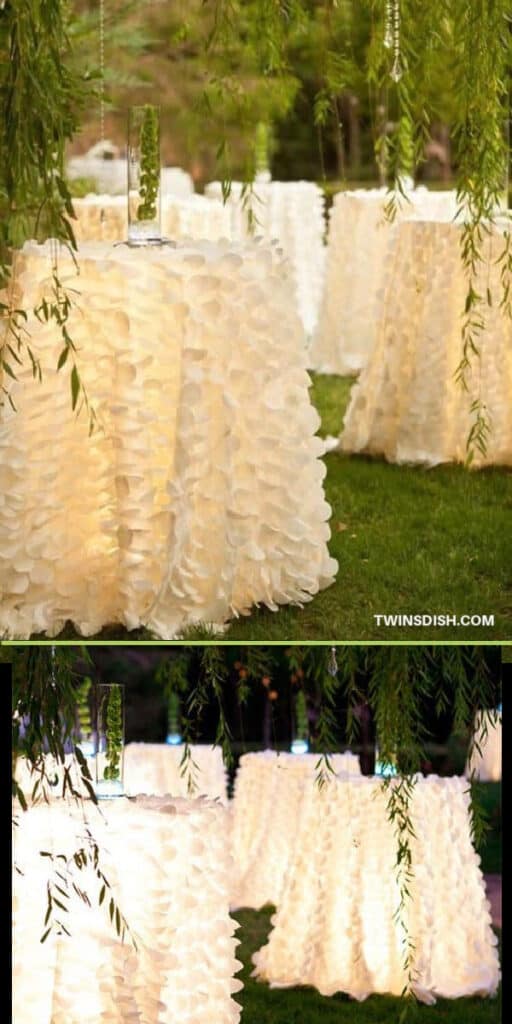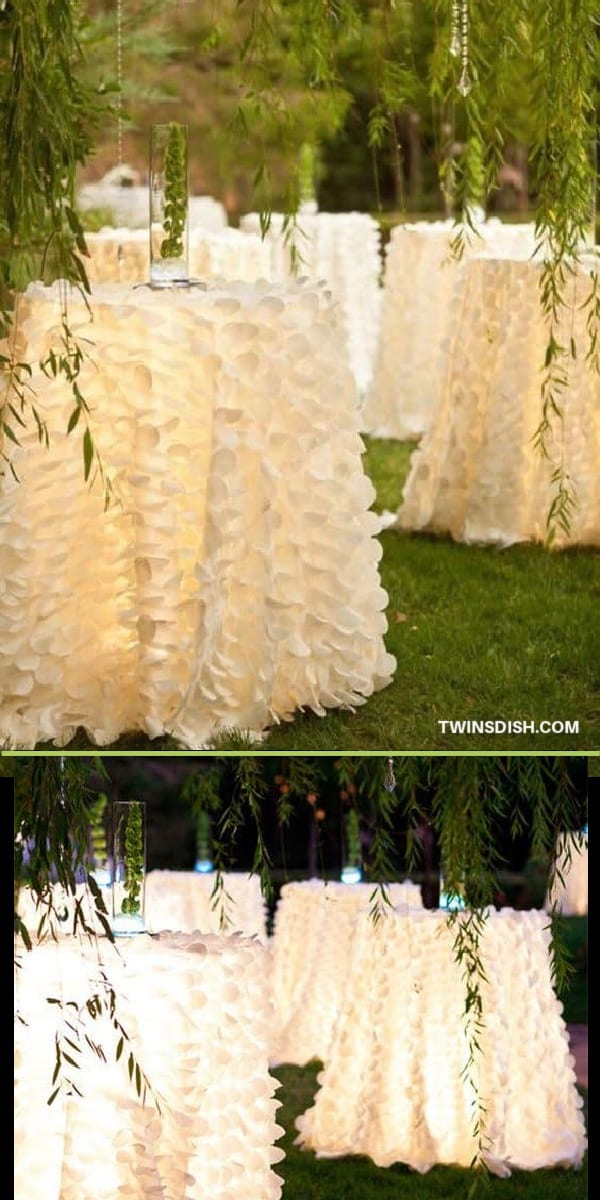 This is a professional lighting technique used at many events that you can easily copy for dirt cheap and is perfect for carrying events from day to night.
---
GRADUATION PARTY BACKYARD POOL AND WATER DECORATIONS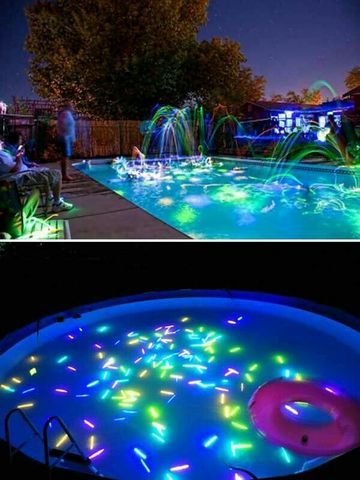 Crack some glow sticks and throw them in the pool, vase, cooler, or a water bucket.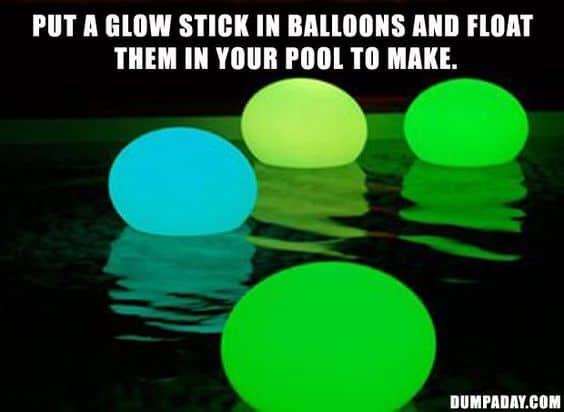 These floating orbs above are frequently used by professional lighting designers for events but are easy to replicate with glow sticks in balloons.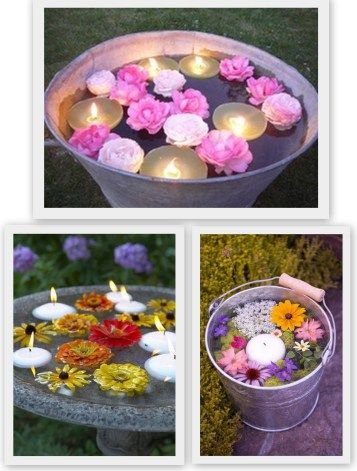 GET THE LOOK:
Toss floating votives in your pool, a bucket, bird bath, or any body of water.
---
Graduation Party Hanging Flower Hoop Spheres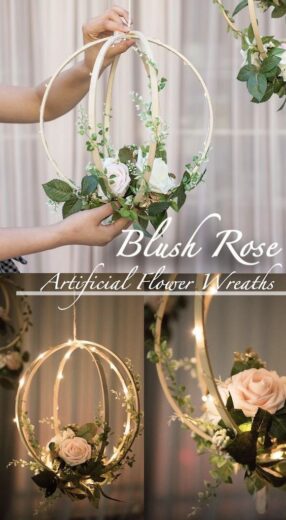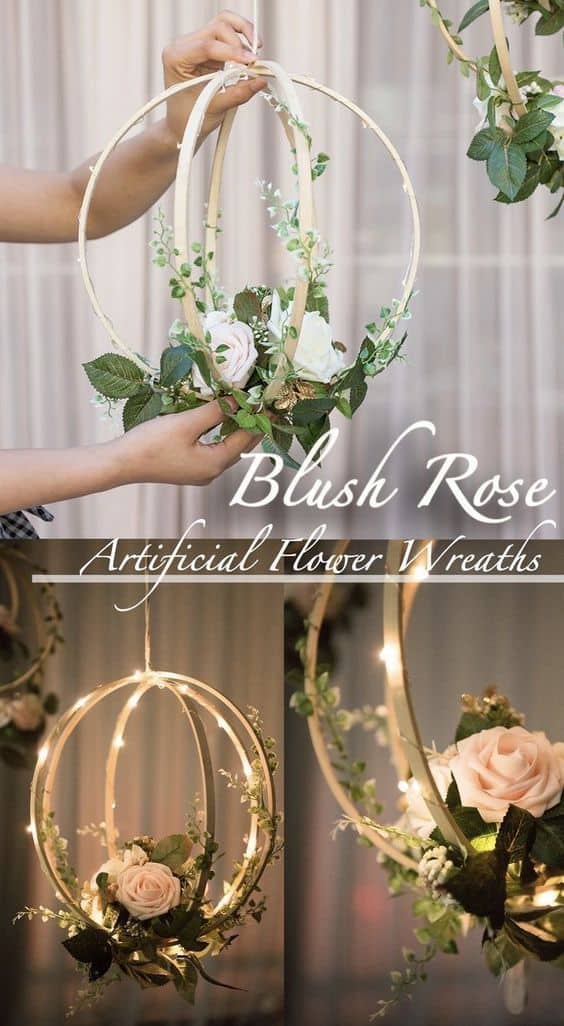 You can create a gorgeous ethereal feel to your backyard celebration or garden party with this easy DIY hanging light flower decoration.
GET THE LOOK:


Here's another DIY version for under $20.
GRADUATION PARTY BACKYARD LIGHTING IDEAS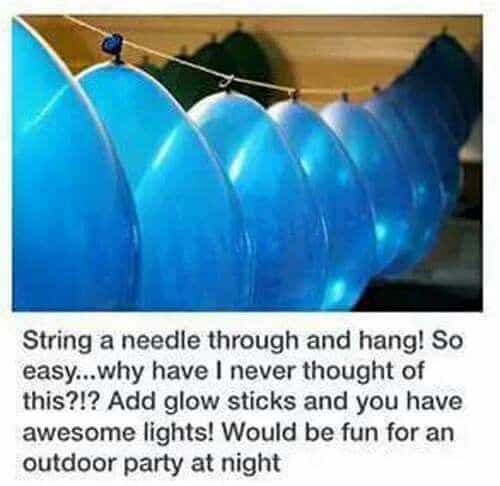 Take those glow stick balloons and string them for glowing garland to decorate the yard, a backdrop, or above a table. Be sure to tie a knot after every balloon to keep spaced apart.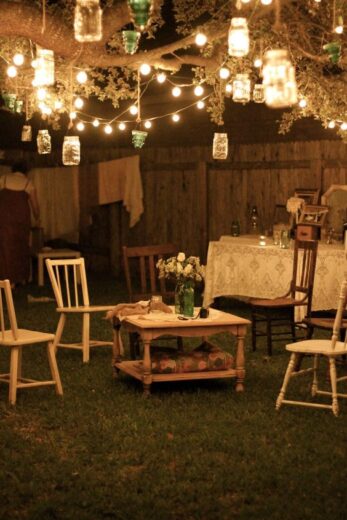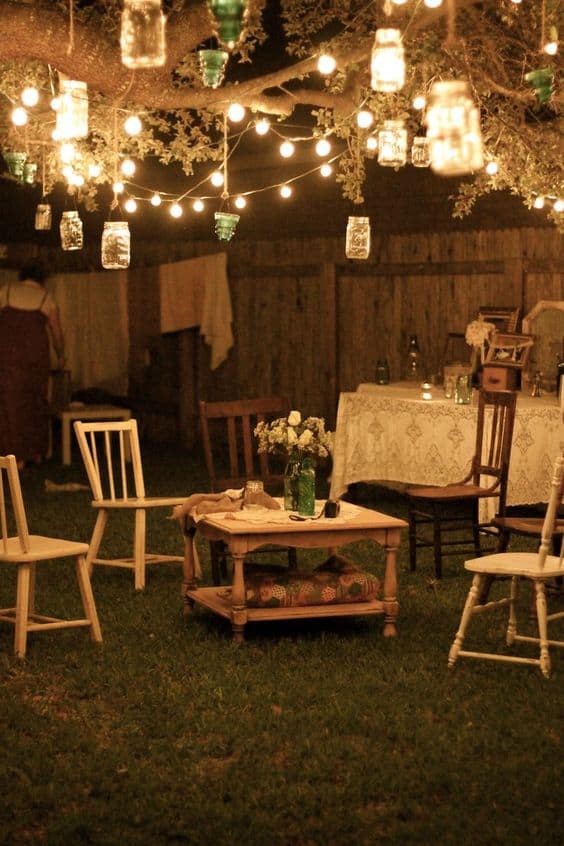 GET THE LOOK:
Don't forget those trees to make intimate outdoor space for your party. Repurpose Christmas lights or use globe ball string lights and mason glass jars with string to hang from trees. Pull out your indoor living room furniture to use outside.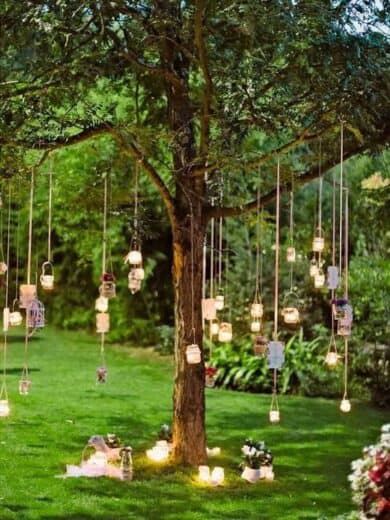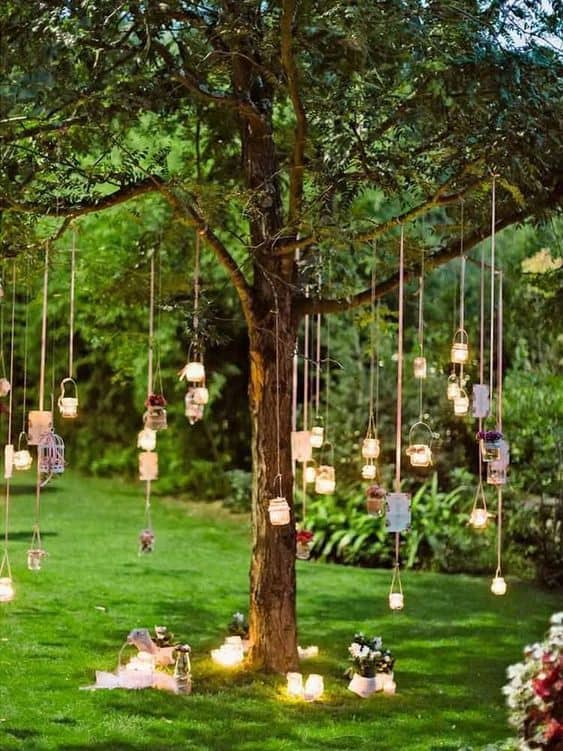 If weather permits, glass or jar votives can be hung from tree branches using ribbon or string for a striking garden decoration. Feel free to attach photos to the ribbon too!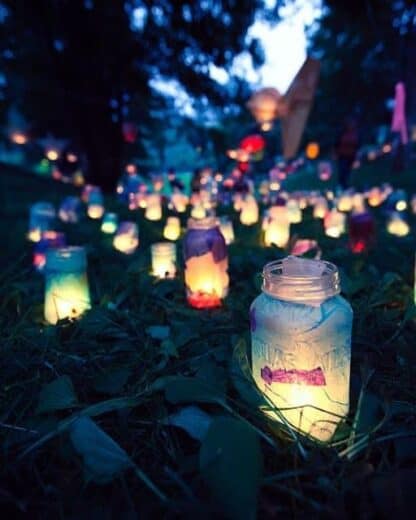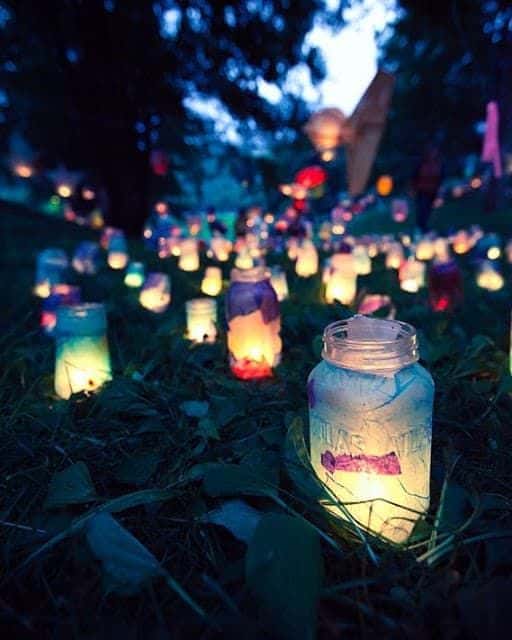 An easy way to add a touch of color to votives is by gluing tissue paper on Mason jars. You can either stick in a battery operated or wick votive or glow stick.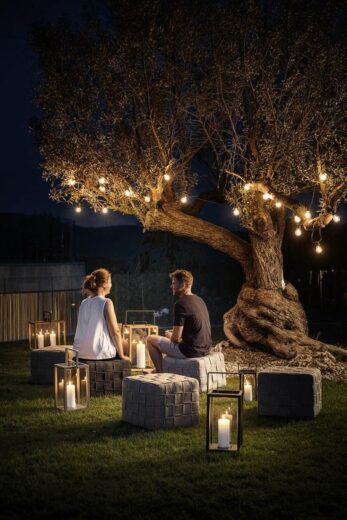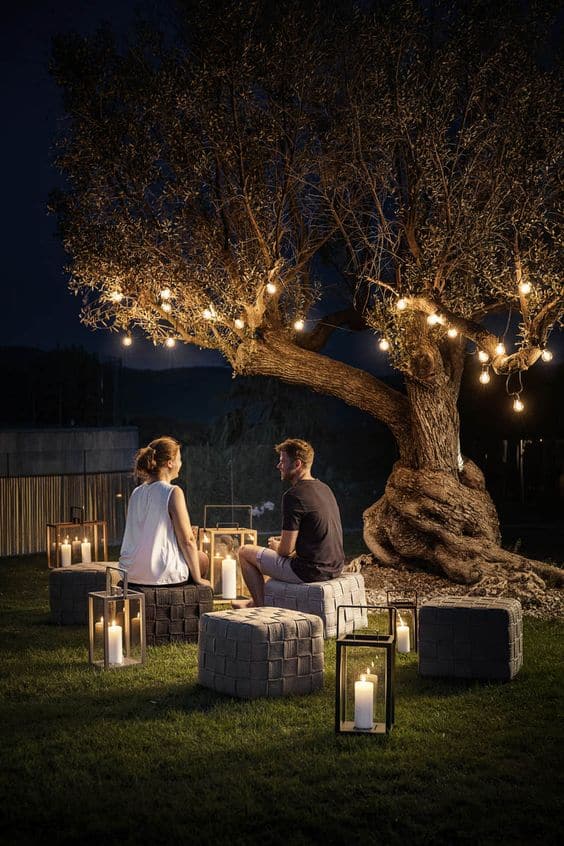 Drape ping pong lights from trees over your deck, backyard, tables, or dance floor.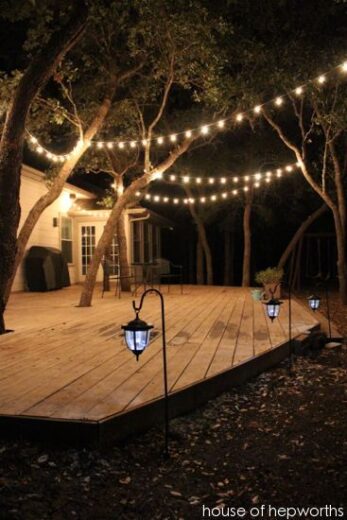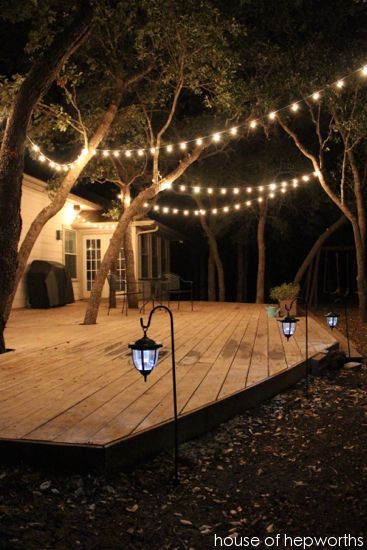 When all else fails use plain old Christmas lights.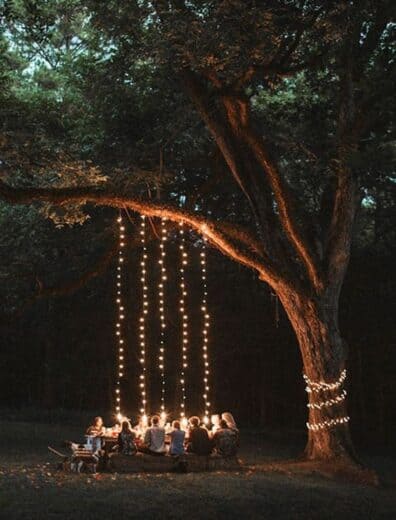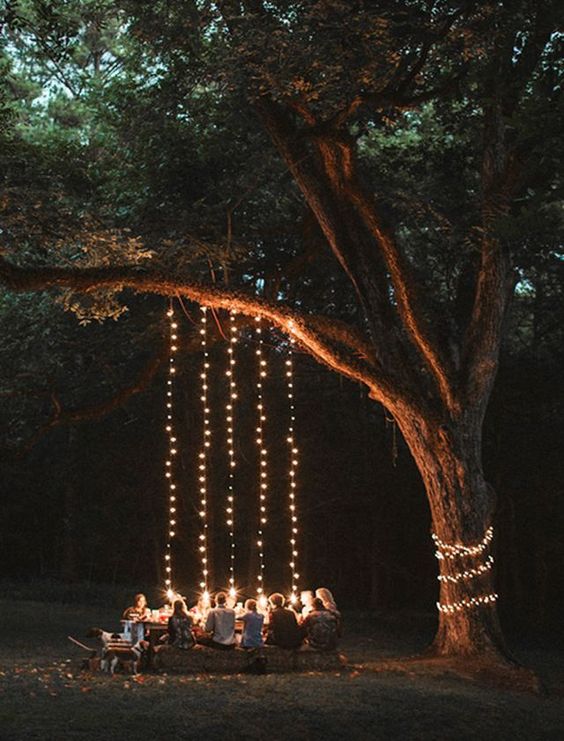 You can make the design as formal or as simple as you'd like to create your desired ambiance.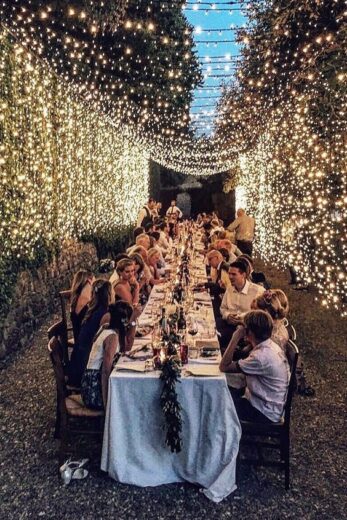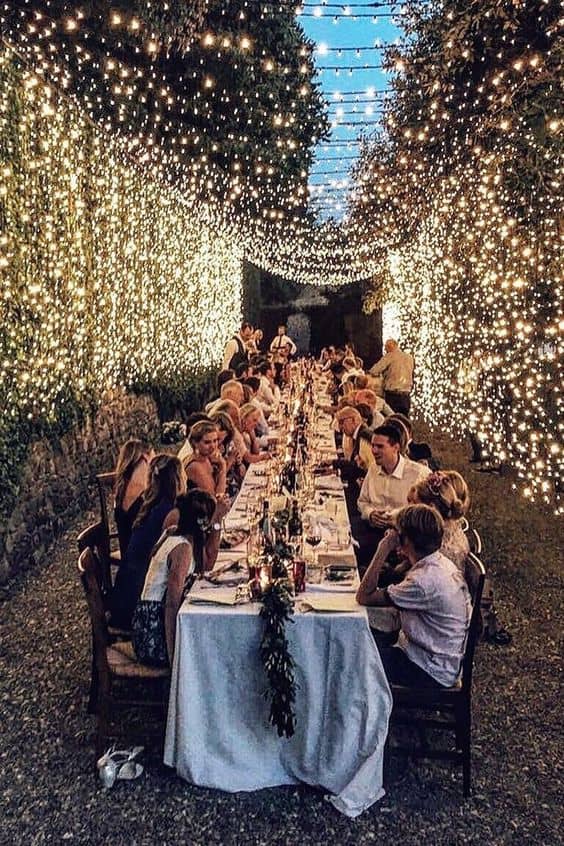 Drape string lights for walls of lights above your tables, dance floor, or deck.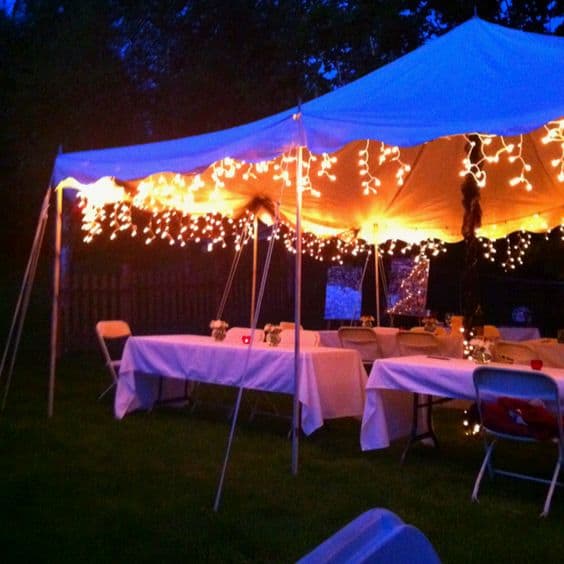 Line tents and canopies with lights to carry an outdoor event into the night.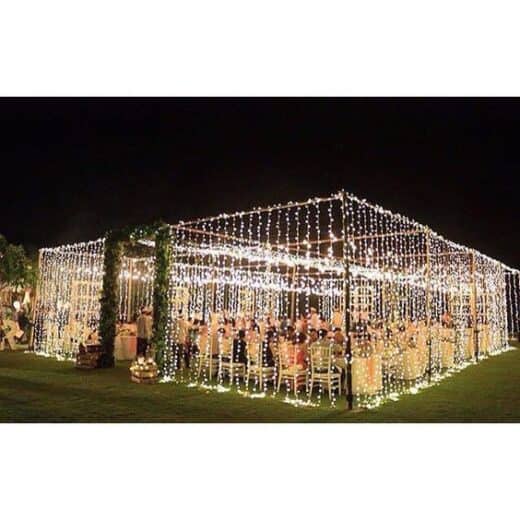 Make walls and rooms of lights, the possibilities are endless.
Graduation Party Paper Lanterns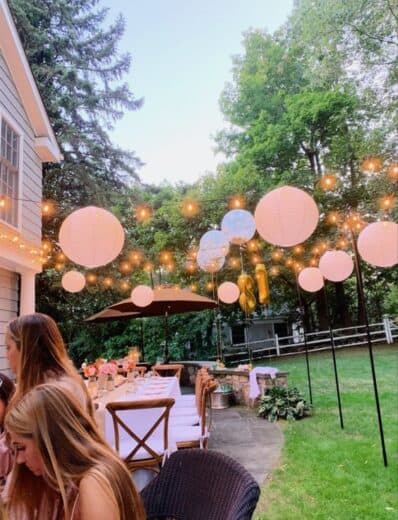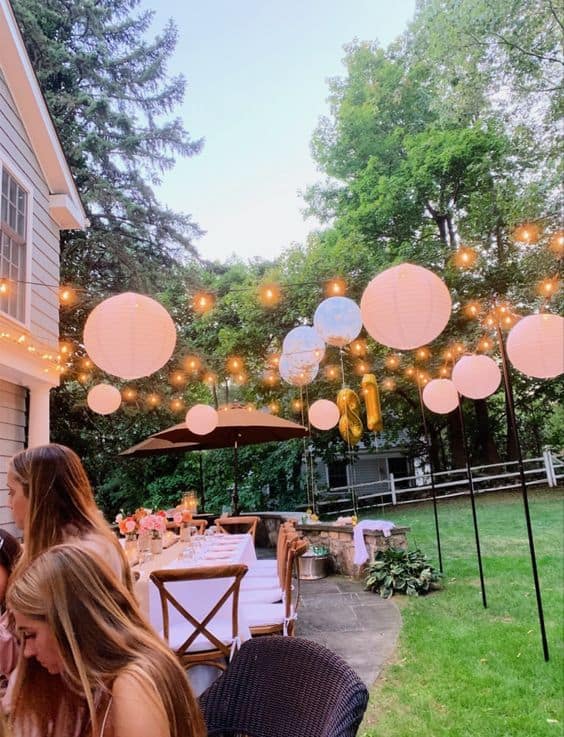 Paper lanterns are popular among pro event planners because of their photogenic quality that makes any picture look magical day or night! Hang them from string lights for a picture worthy backyard Grad Party that's very affordable or you can purchase them with individual lights included to hang on their own. Get cute lighted paper lanterns (like pictured above) HERE on amazon!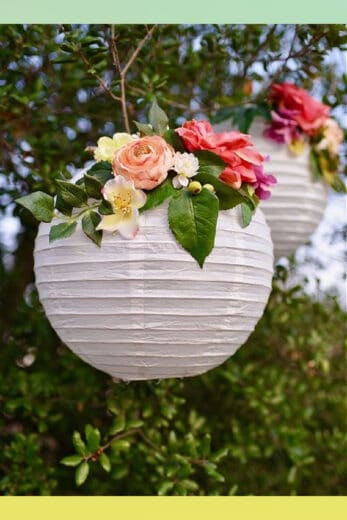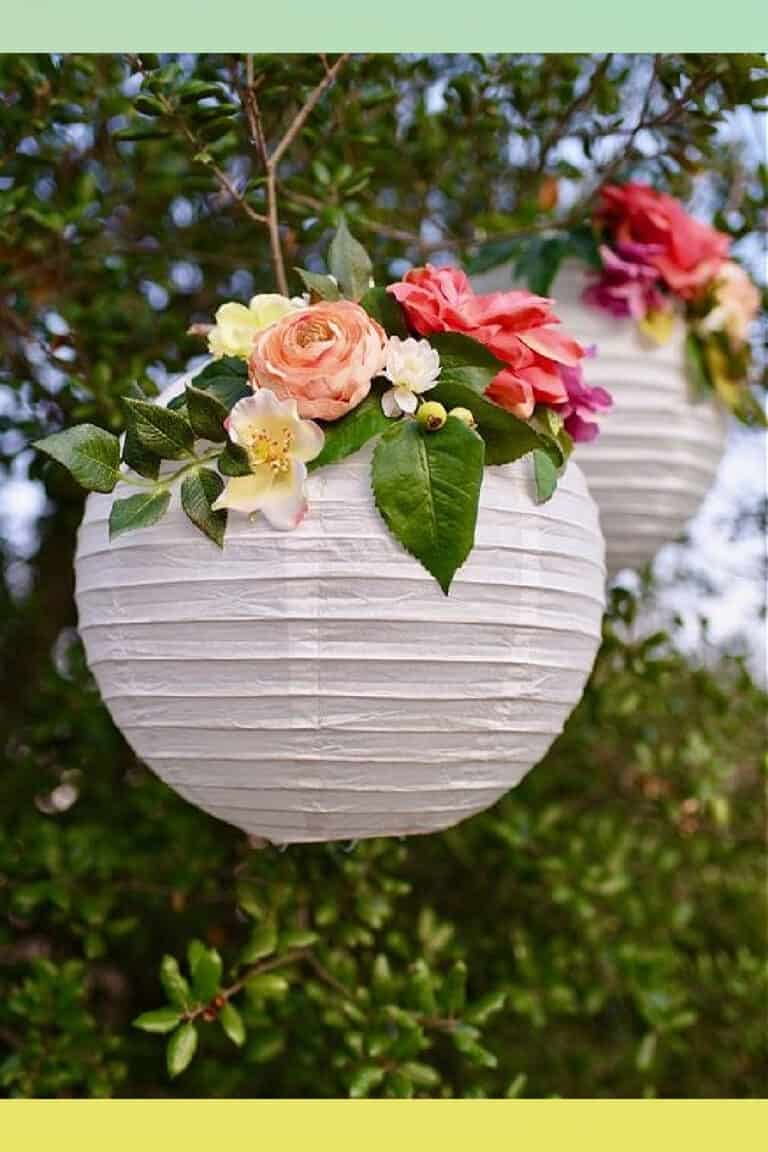 Paper lanterns can be customized to fit any Graduation Party theme, color, or style for boys or girls.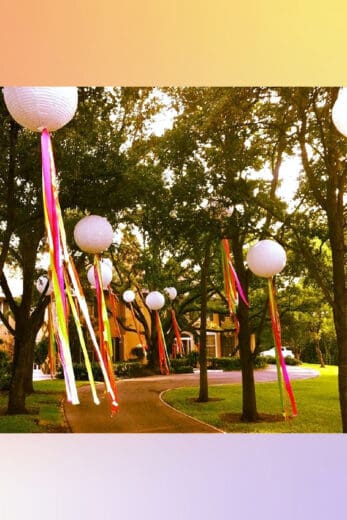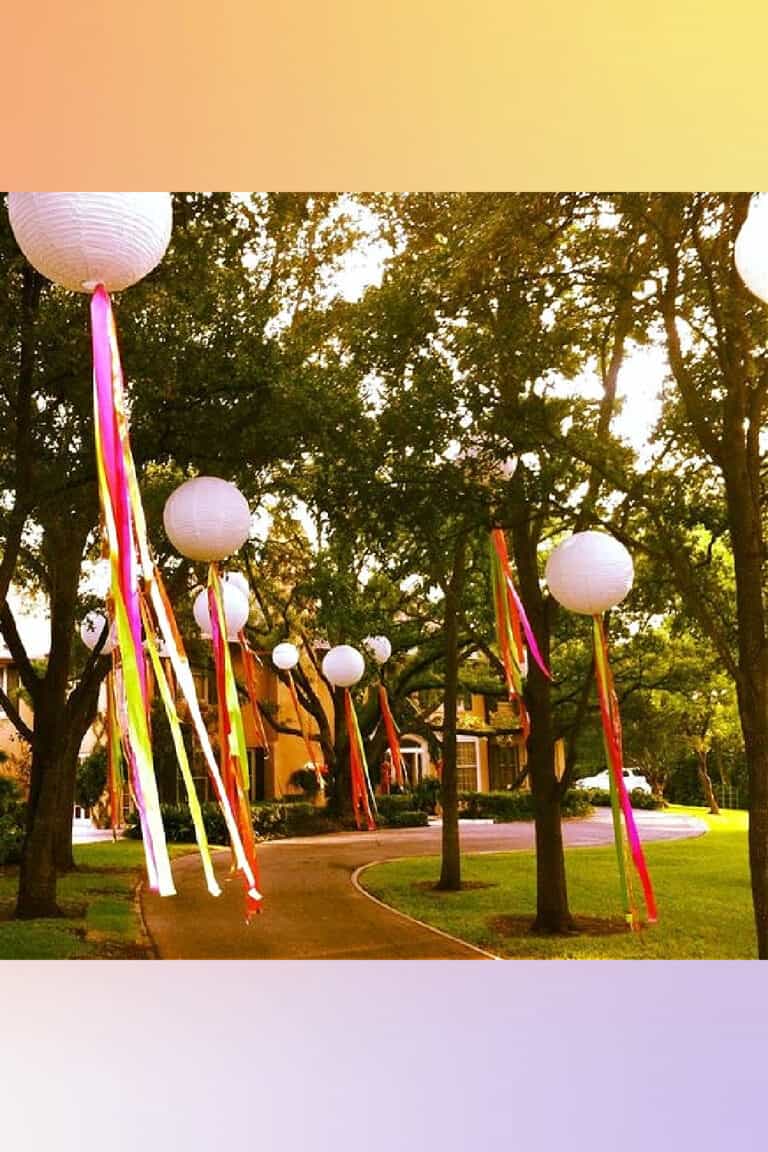 Get creative and try hanging the following from them:
Streamers
photos
Ivy Garland
tassels
ribbon
fringe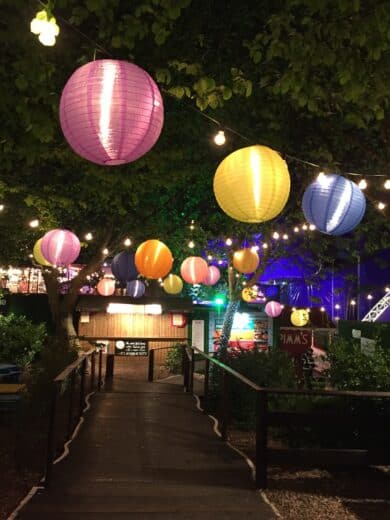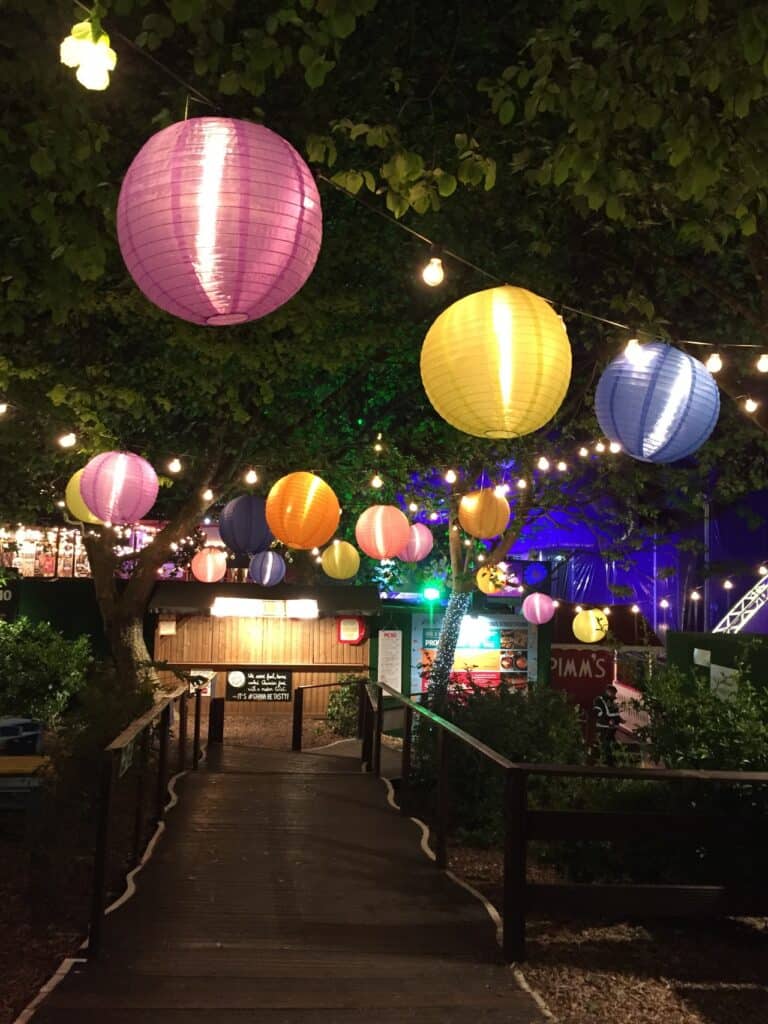 Paper lanterns come in a variety of colors and sizes. Get multicolored paper lanterns here on amazon and the lights for them pictured above.
---
Backyard Lighting – Bonfire

GET THE LOOK:
Outdoor Grad parties are one of the events bonfires are made for.
Whether you make or buy a fire pit or just get some wood together for a free burning bonfire now is the time to light one up!
Not only will it set the ambiance for your Grad Party but it'll give guests a great opportunity to roast some marshmallows for dessert.
---
BACKYARD GRADUATION PARTY PROJECTION SCREEN IDEA
Use a projector whether it be from your cell phone or an inexpensive one you can purchase online to show anything from a picture reel, to music videos, to movies.

You can even run footage from the Graduation itself for guests that may not have made it to the Graduation ceremony.
---
Outdoor Graduation Party Picture Display Ideas

String and clothespins is all you need to make a beautiful backyard or garden photo display for your outdoor Grad Party. String it between trees, stakes, or over tables for the ultimate table decor. Add candles, lights or any of the centerpiece ideas we talked about earlier.

Make an easy and free Grad Party picture display using wood pallets and Christmas lights. The one above was made for a wedding but can easily be altered for a Graduation Party. Just clip the photos to the lights or string. We got free pallets from our local Trader Joe's and found hundreds of FREE wood pallets on Craigslist in Los Angeles, but if you can't find them on Craigslist, you're sure to find plenty of free ones by calling or visiting the following places:
Construction Company offices/warehouse
Bars and craft beer locations
Pet food stores
Feed & Tack stores
Stationary shops
Furniture stores
Liquor stores
Schools
Flooring stores
Other small retail
Arts And Crafts Store (Michael's etc.)
A friend works at the main office of a construction company that throws out dozens of wood pallets almost daily.
---
Pallet Wood Backdrop Photo Booths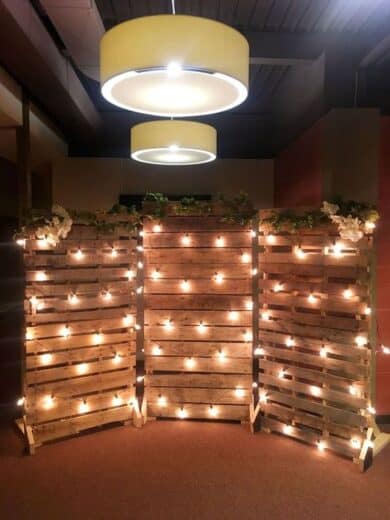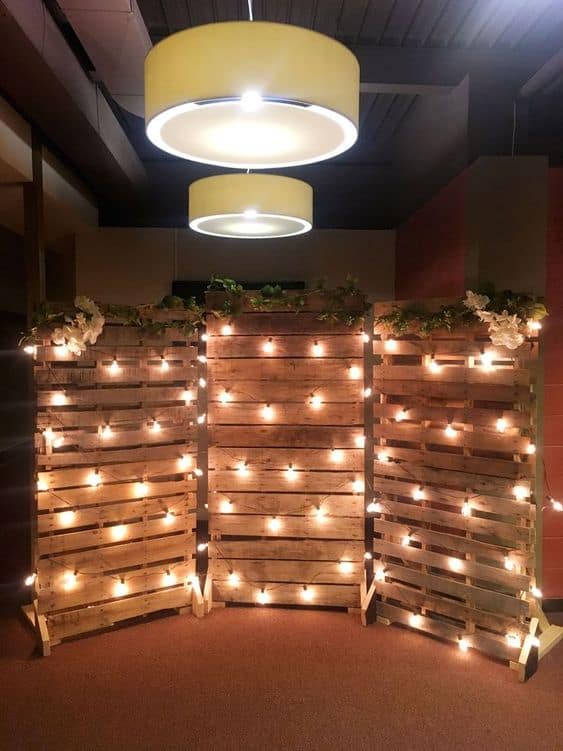 Pallet wood comes to the rescue once again for a photobooth or backdrop idea. Use string lights and garnish with artificial vines and flowers to fit your theme.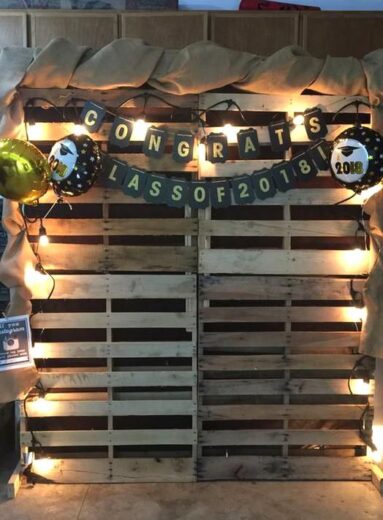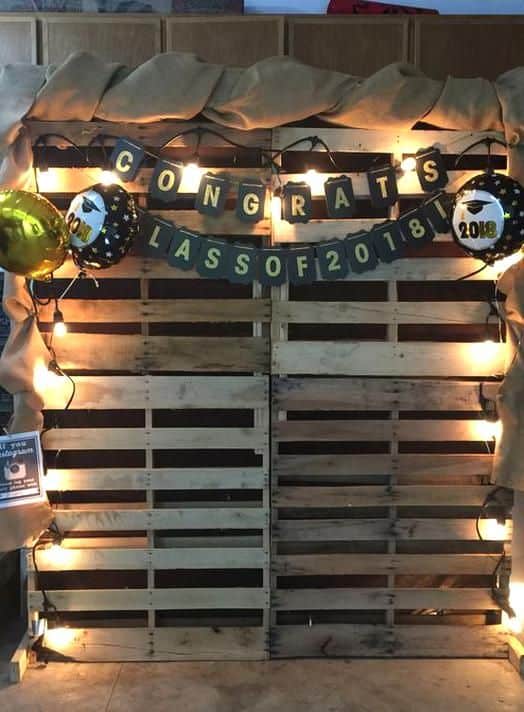 Decorate pallet wood with banners, balloons, string lights, and fabric.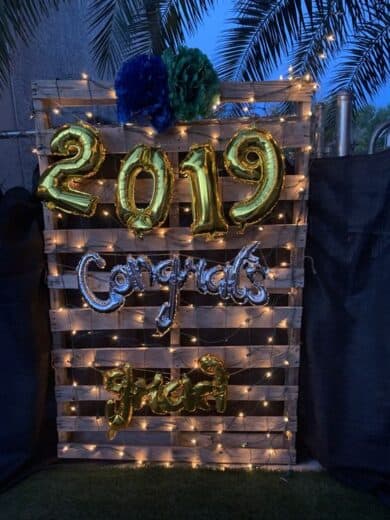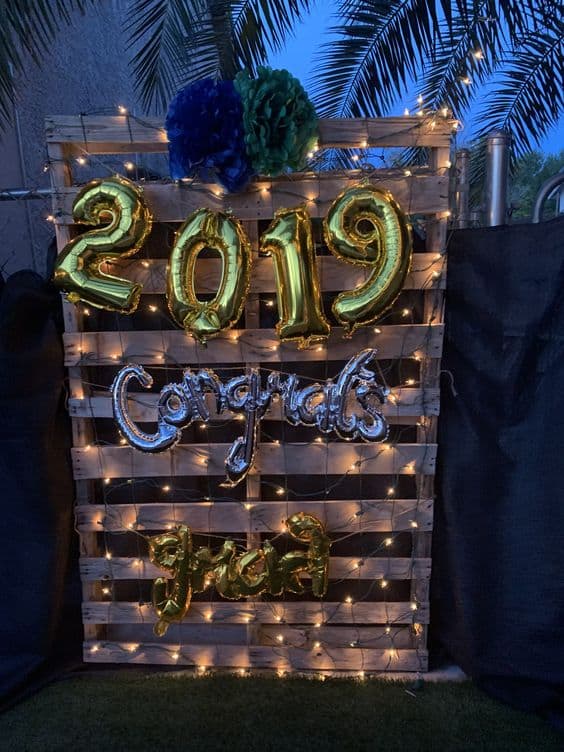 GET THE LOOK:
Don't have string lights? Repurpose Christmas lights and add the ever trendy number and phrase balloons to your wood pallets from either amazon or the dollar store.
---
In this post we showed you outdoor Graduation Party ideas for a evening Grad Party or "Grad Party After Dark". We hope we've given you all of the inspiration you need to create the perfect evening Grad party.
Other Posts You May Like:
10 Things NOT To Do At Your Graduation Party
8 Of The BEST Picture Display Ideas For Your Grad Party
30 BEST Easy DIY Graduation Party Centerpieces Your Guests Will Want