Easy DIY Easter Decor Ideas That Look Store Bought In 2023
Updated January 23, 2023
We're behind on our Easter planning this year and were on the hunt for crafts that were easy and fun for kids and adults to do but beautiful enough to use as decorations….we hit the jackpot.
We compiled a list of the absolute best gorgeous Easter decoration crafts that kids can help you make or make on their own.
They save time, money, and keep the kids entertained all while preparing your home for the big Easter feast.
We look forward to sporting these at our Easter dinner and we hope you do too.
Pin It For Later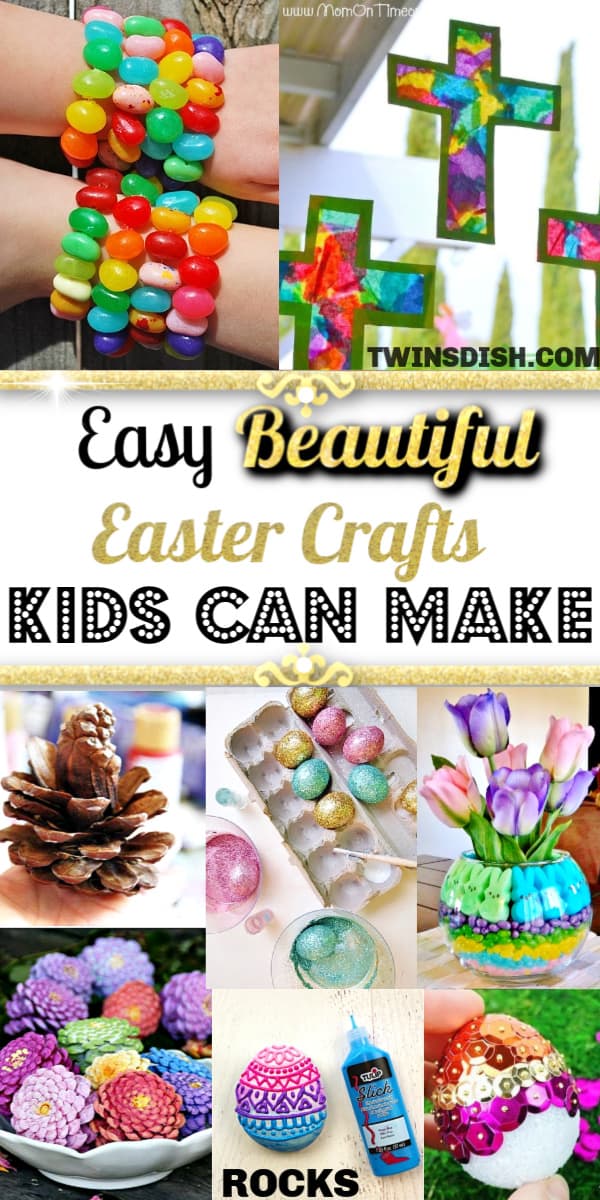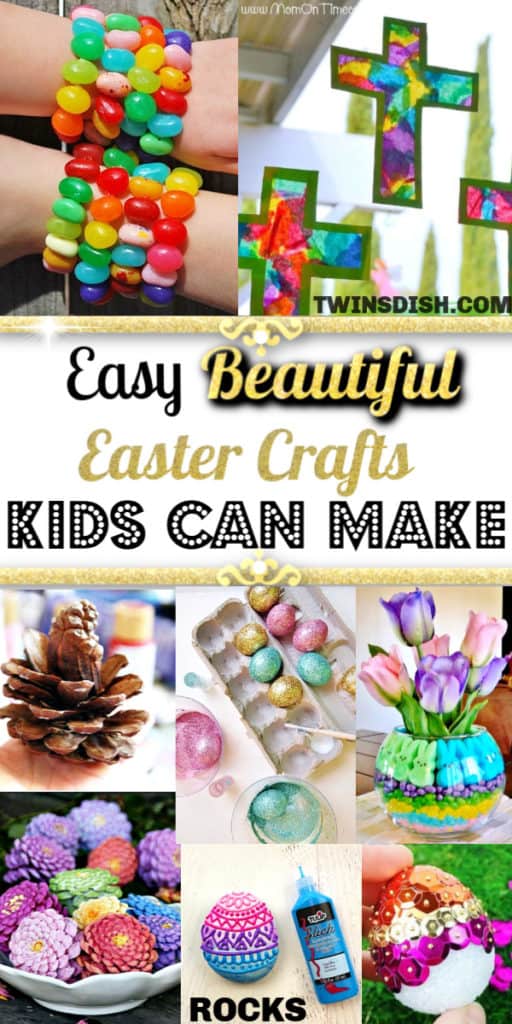 Table Setting Ideas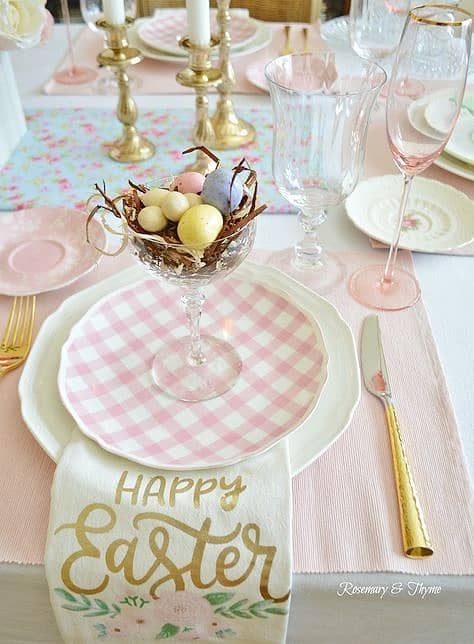 We loved setting the table when we were little and our niece and nephew do too. This table setting idea makes an easy and elegant Easter table setting that highlights the kids beautiful dyed Easter eggs–Eggs and grass in a Champagne or Martini Glass.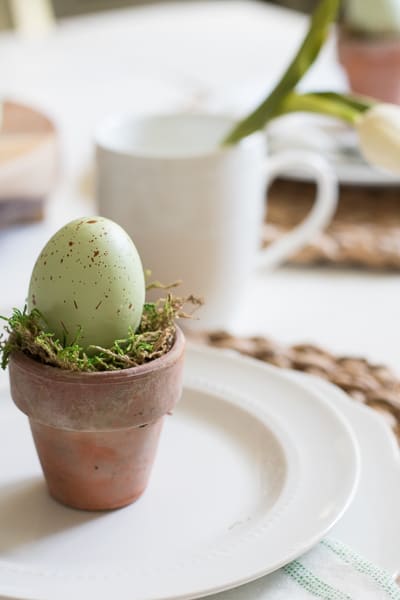 small flower pot + moss/grass + an egg = a rustic look the kids can help you with. Try this easy farmhouse style place setting idea.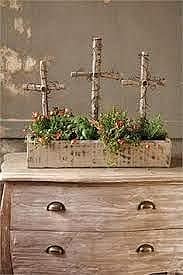 This rustic crucifix centerpiece (From Pinterest) would look amazing on any table and is a great craft to do for Good Friday. Just collect some sticks, fasten them in a cross with some twine or wire and insert them in a box of plants or grass.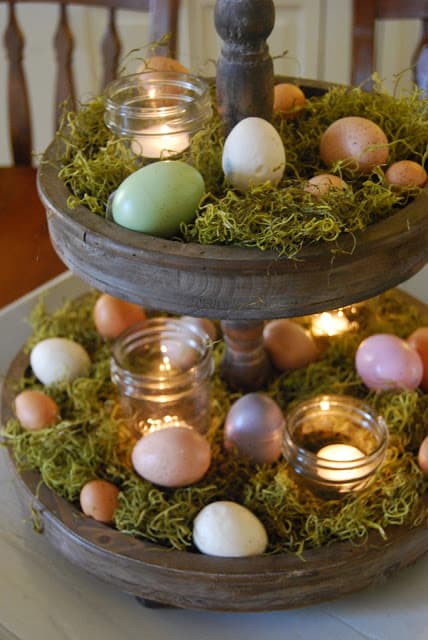 The tiered Easter egg display above is easy to DIY, just stack cake stands, cups, or vases with plates and add grass/moss, lights, and eggs.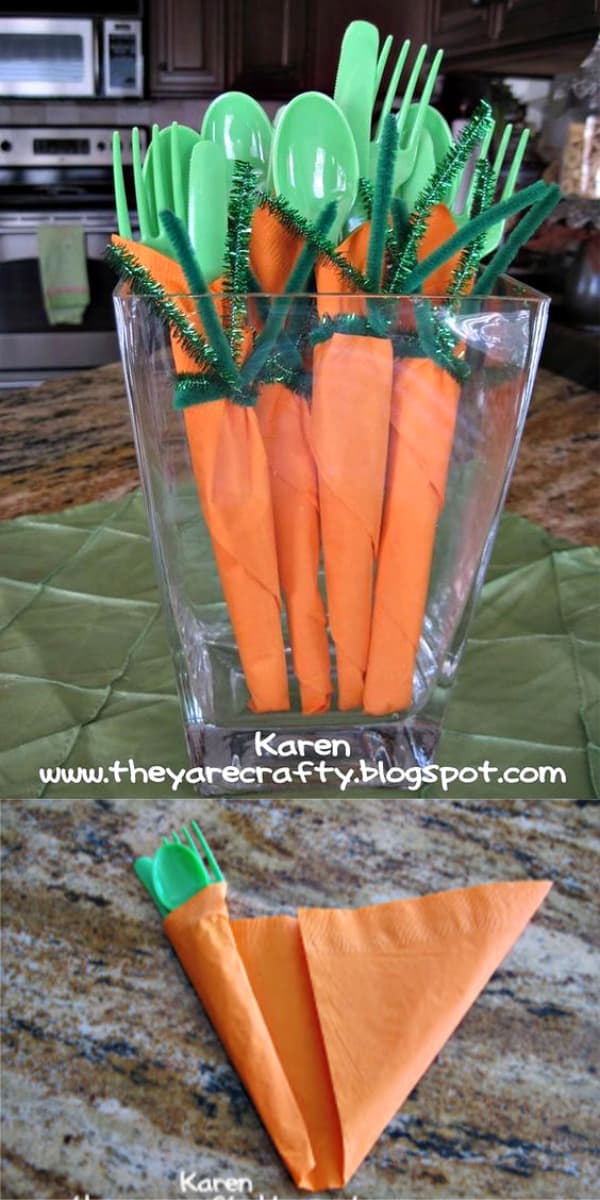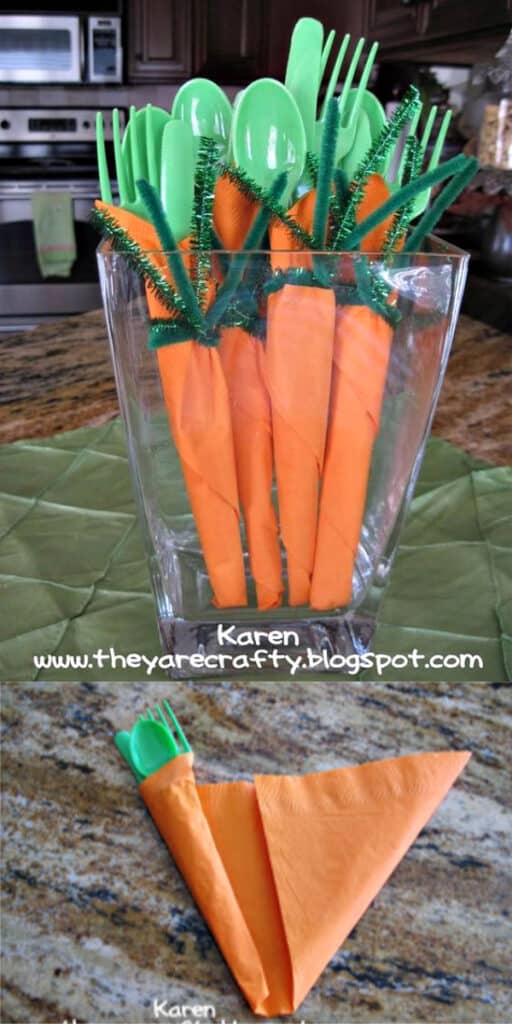 How about this easy Easter tablesetting hack for utensils?! Get the tutorial here.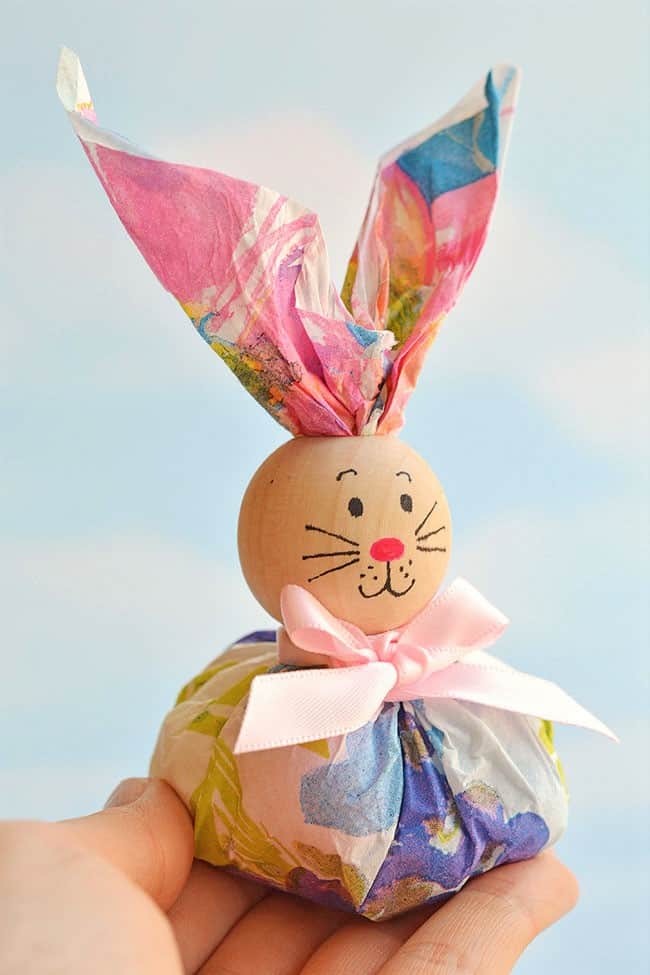 Using Dollar napkins and Michael's beads you can make these easy Bunny candy treat bags for your tablesetting. Get the full tutorial here.
Pastel Jars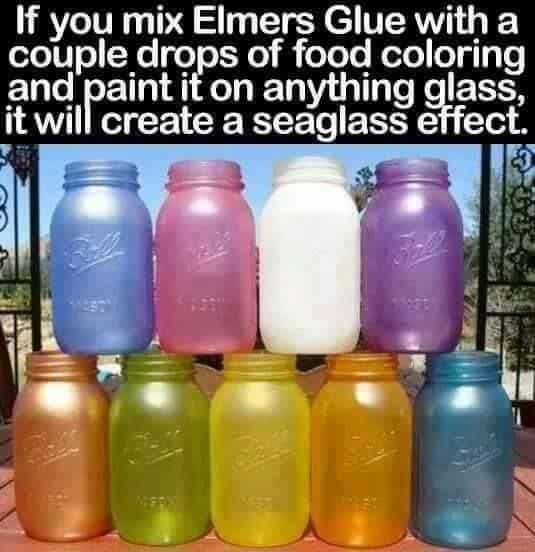 Easy Sea Glass Mason Jar idea the kids can do. We heard Mod Podge works better.
You can do the same to virtually anything glass using Mod Podge, and food coloring. Paint it on layer by layer. This photo was found on Pinterest via DumpADay.com
Jelly Bean Jewelry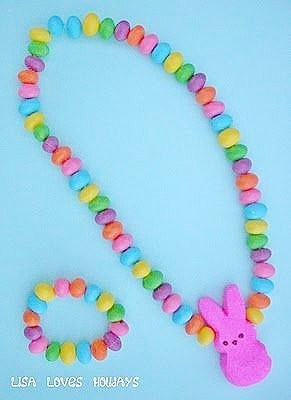 If you don't want to decorate your Easter table with Peeps and Jelly Beans why not decorate the kids in these DIY Peeps and Jelly Beans Bracelet and Necklace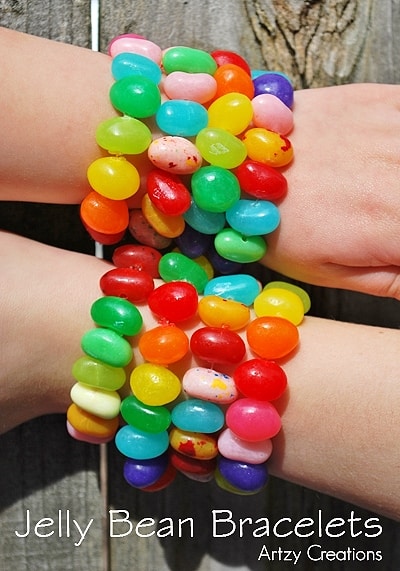 Here is another great tutorial for Easy Jelly Belly bracelets the kids will love using Jelly Bellies. Would also make great gifts.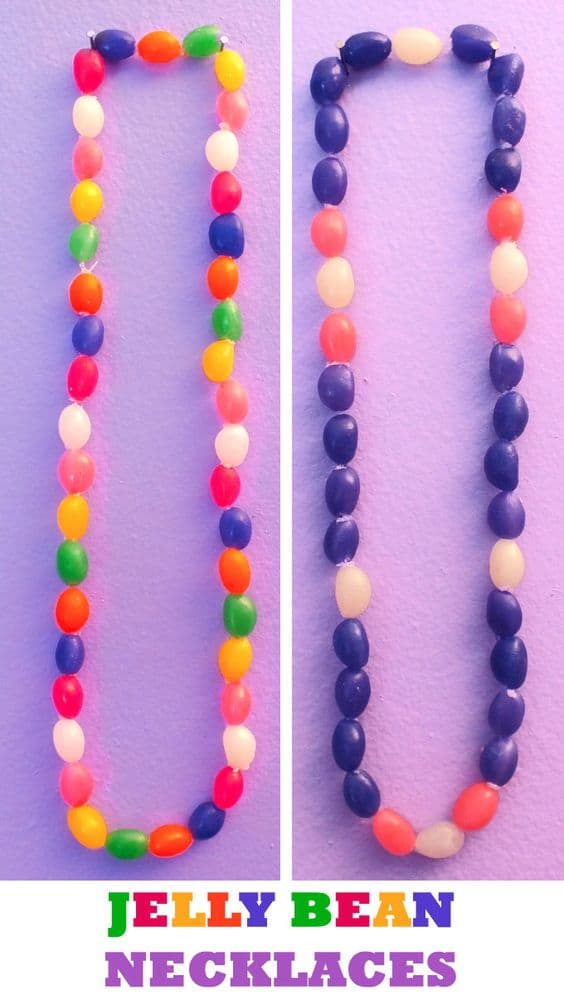 These are easy to make and such a great idea, I had to include another tutorial for a Jelly Belly Bean Easter necklace.
Pom Pom Bunnies And Animals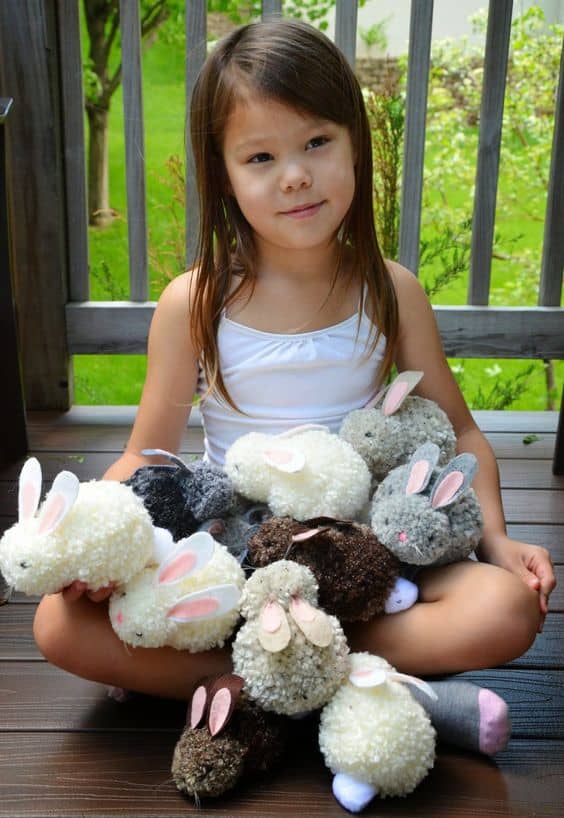 Make these adorable Pom Pom bunnies for a basket or the table! Here is another great tutorial for these little bunnies.
If you don't know what Pom Poms are or how to make them here is a tutorial that'll teach you about these fluffy balls and give you all of the different methods for making them.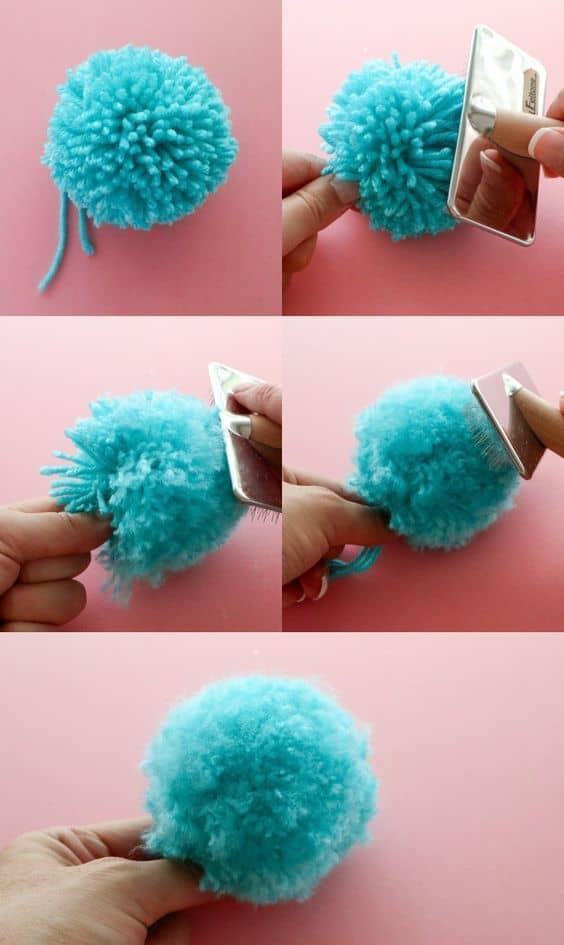 Here is the secret to making your Pom Pom Bunnies super soft and fluffy.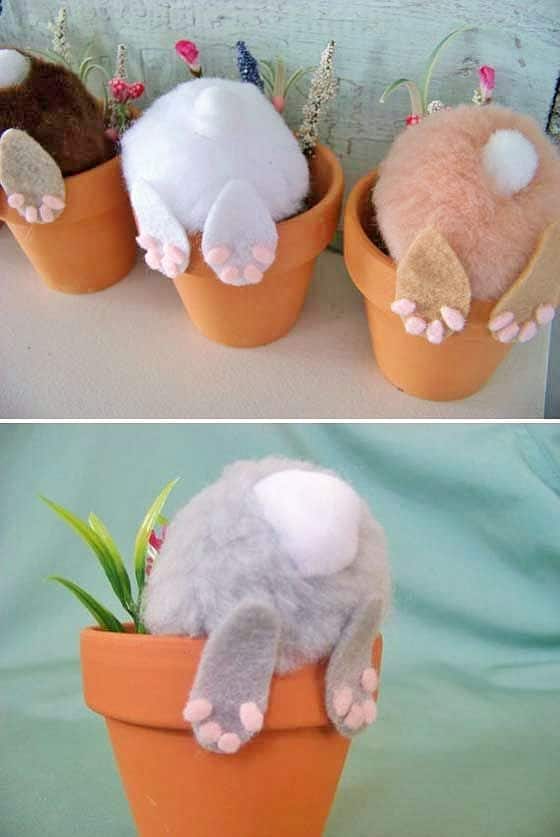 Add felt feet to your Pom Pom Bunny and put him in a Flower Pot to recreate this Curious Bunny Pot Decoration being sold on etsy. Here is a great tutorial on how to make them!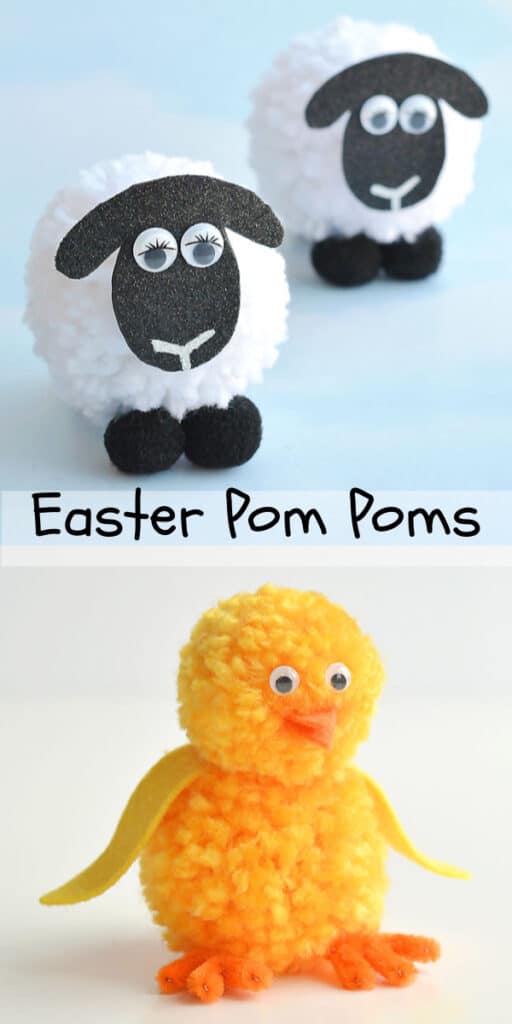 Learn how to make these Pom Pom sheep and chicks along with your bunnies! Get the video tutorial for the Sheep here, and for the Chick here.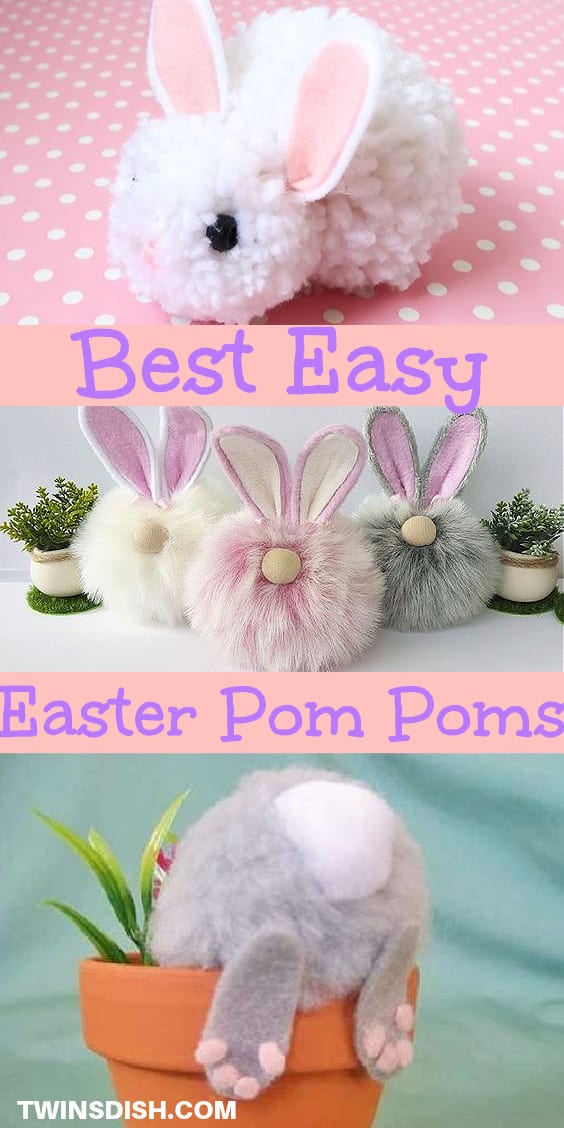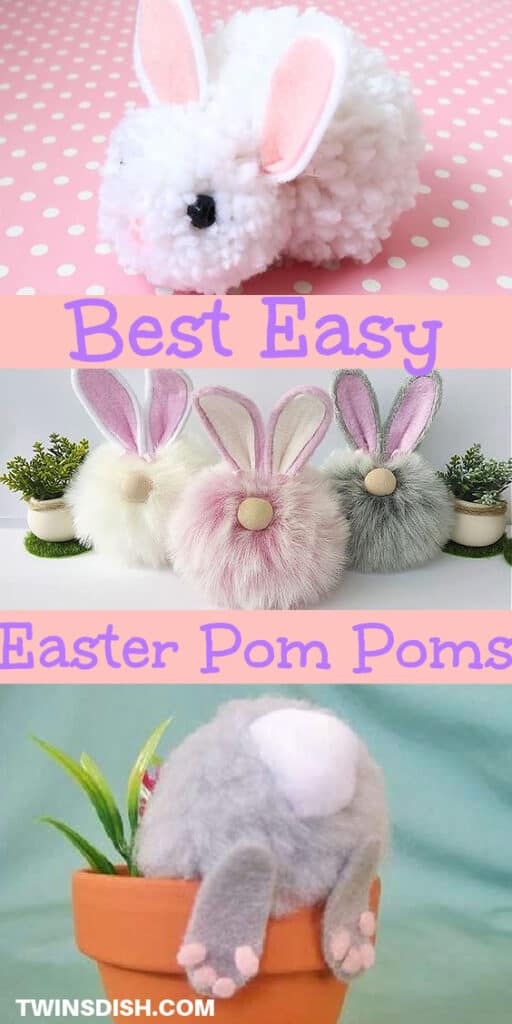 Along with cuddly pom pom Easter Bunnies, Make adorable Easter Gnomes like the ones shown above.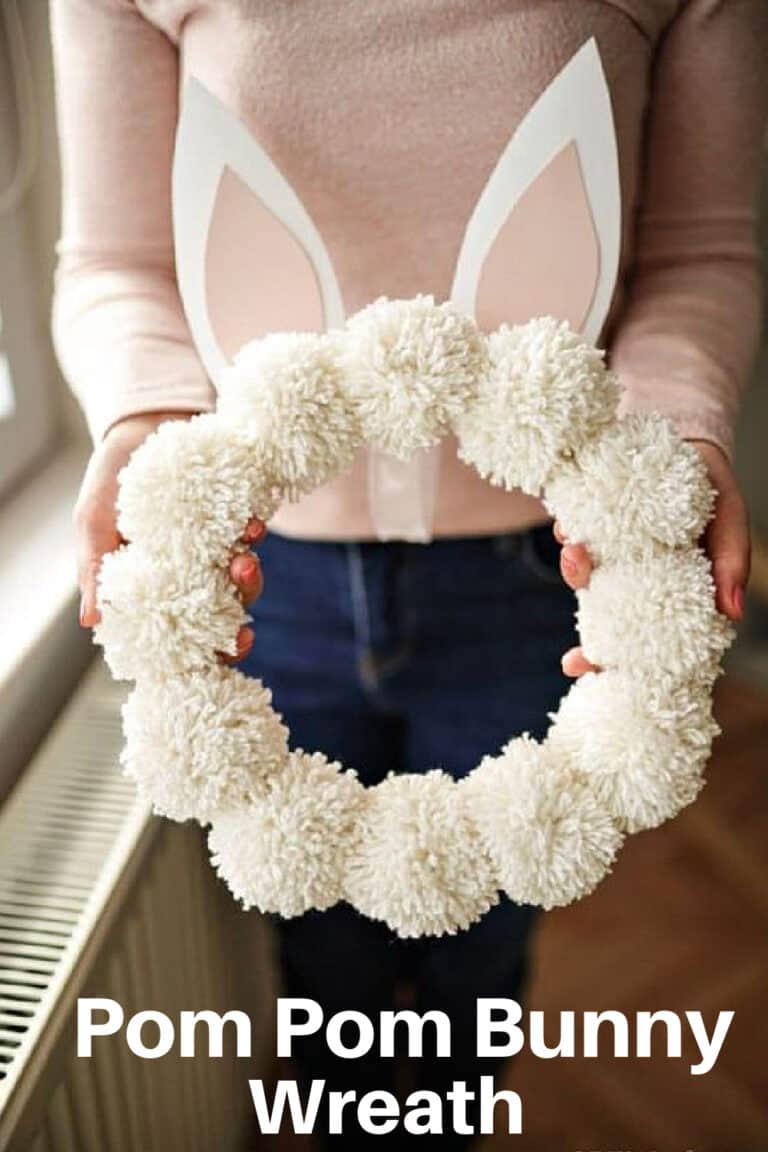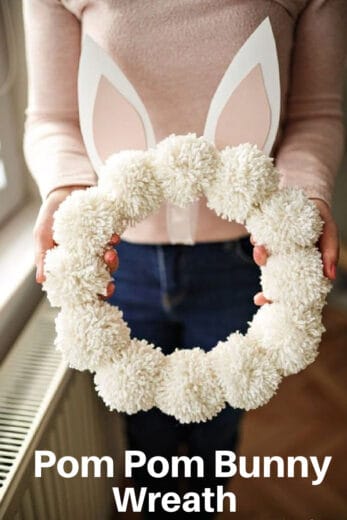 Make this adorable Easter Bunny wreath out of Pom Poms.
No Sew Sock Bunny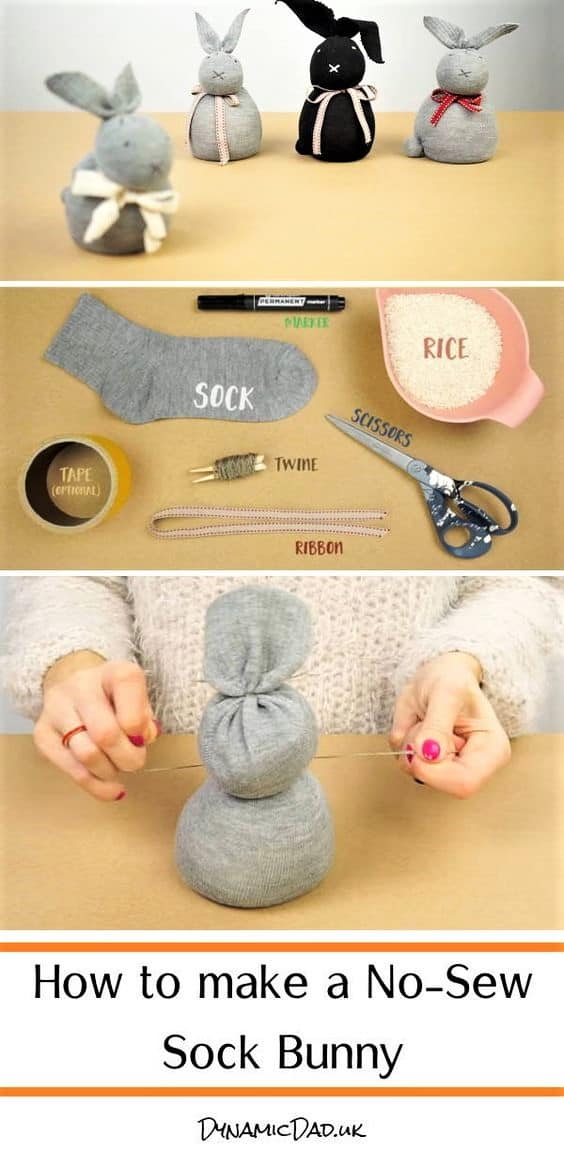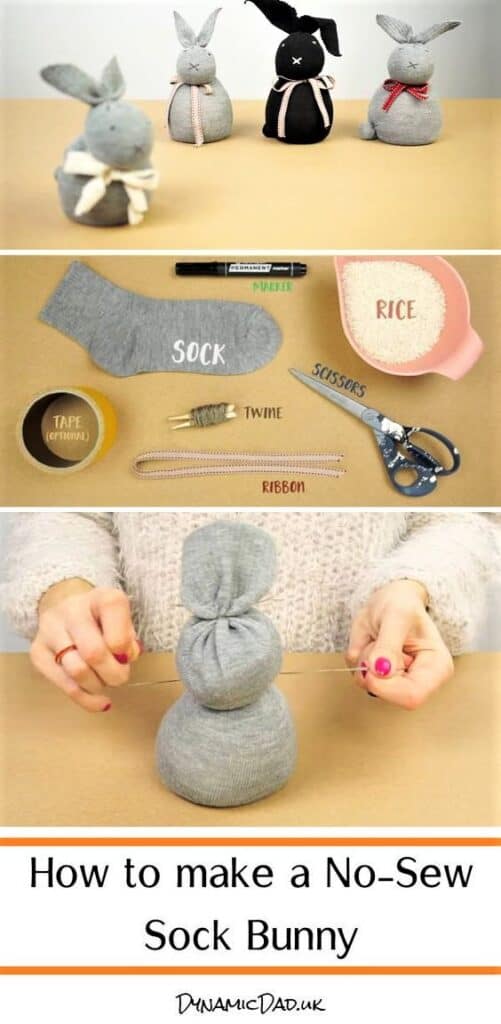 These easy and quick no sew sock bunnies use just a handful of items you probably already have lying around the house or kitchen cupboard.
Easy Easter Bunny Flower Pot and Cups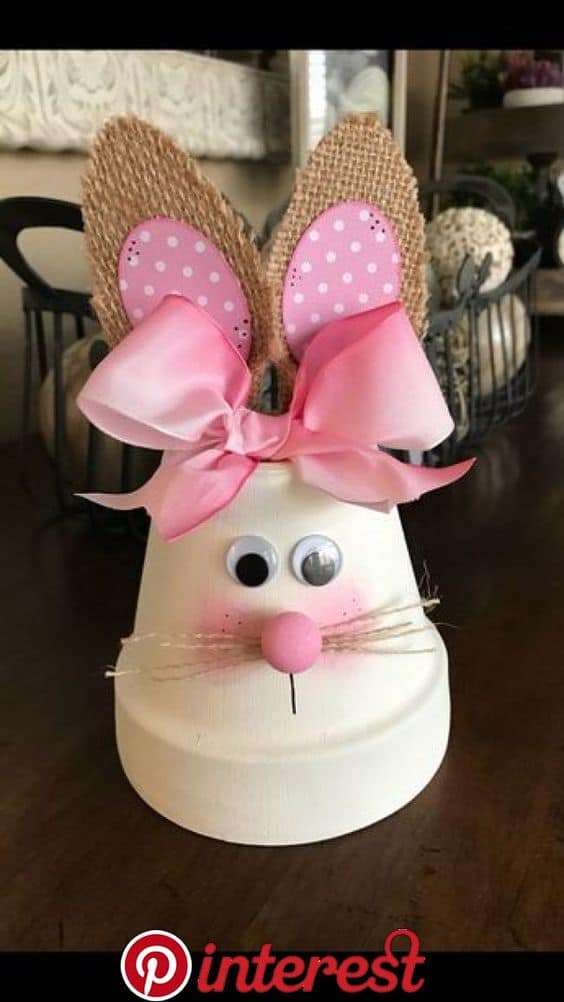 In mere minutes you can transform an old flower pot into a flower pot bunny! This is one of the top Pinterest craft and decor ideas this Easter.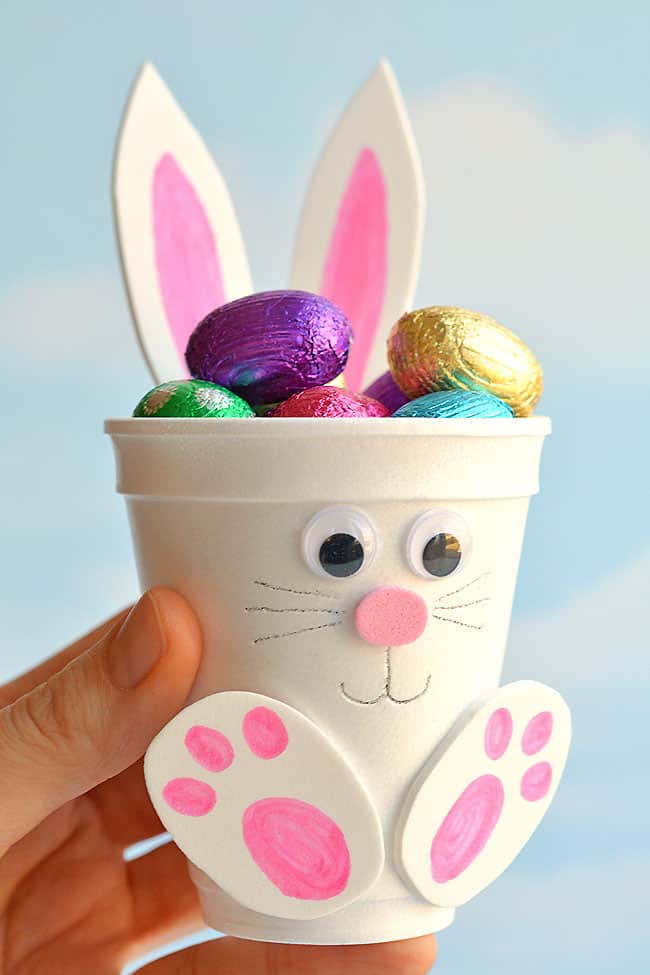 This easy to make kids craft would make the perfect eye catching party favor for each guest at your Easter dinner table! You can use foam or paper cups and card stock and virtually anything to make the eyes and nose. Get the tutorial here!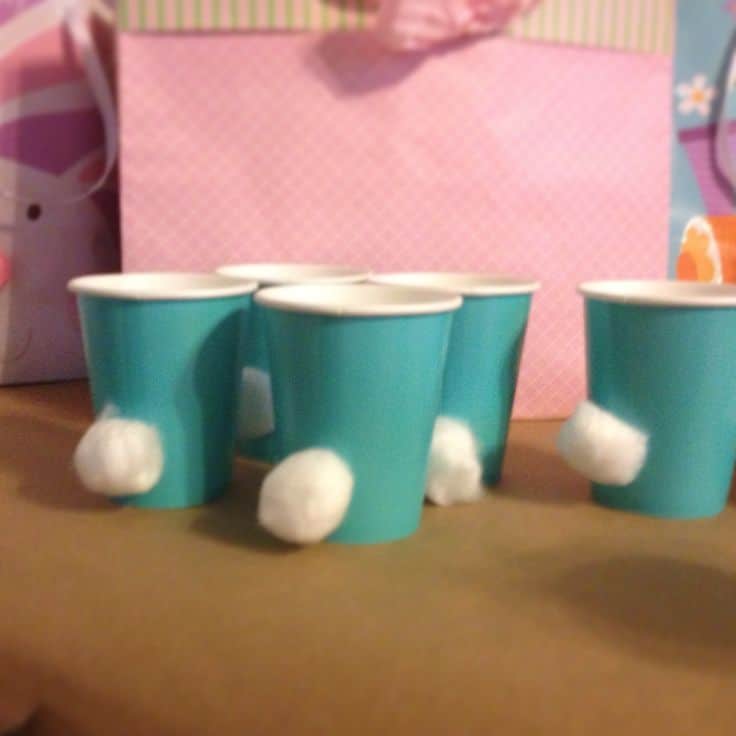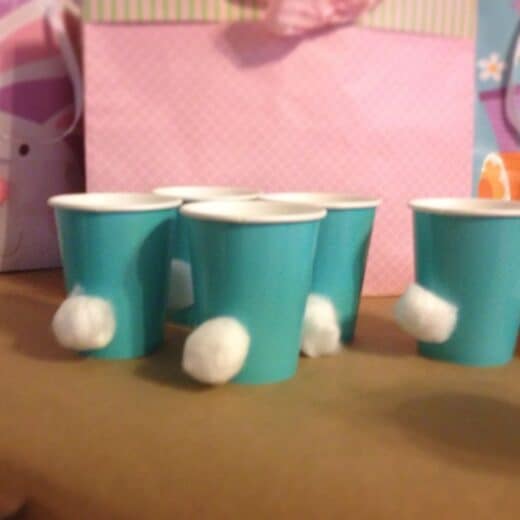 For something more simple, glue a cotton ball on paper cups. This is an amazing dollar store idea that would be perfect for an easter brunch!
DIY Toilet Paper Roll Bunny Stamps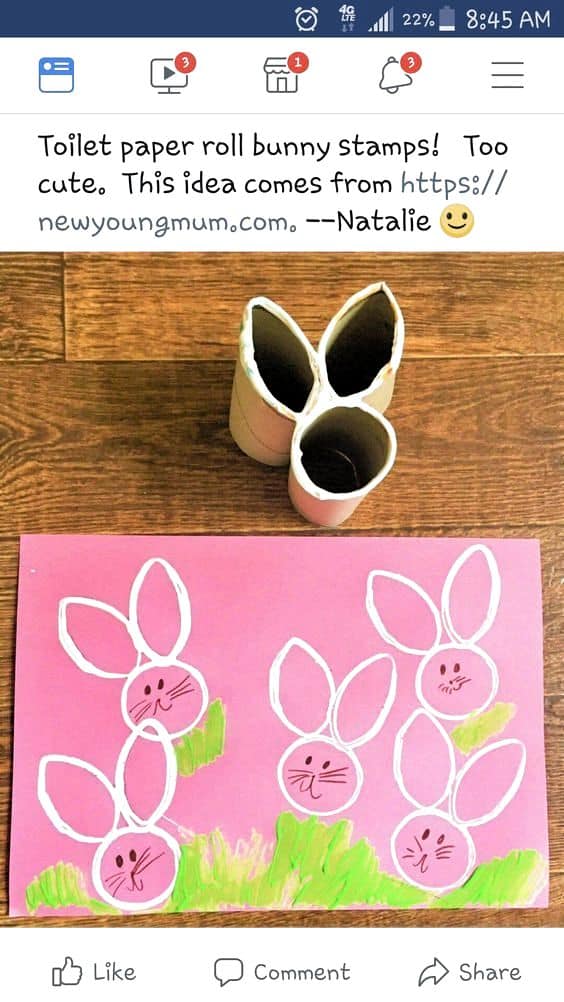 Make your own fool proof bunny stamp out of toilet paper rolls for even the tiniest of kids.
Stained Glass Kids Craft Decor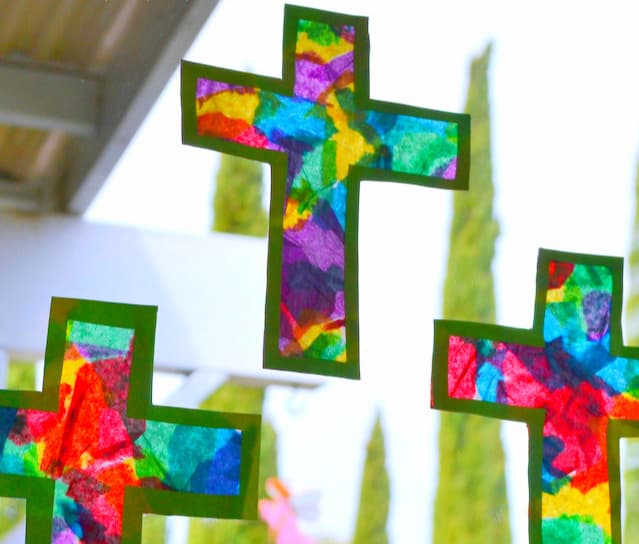 This quick and easy stain glass cross craft is the perfect idea for the home or classroom. You can use contact or wax paper, tissue paper, construction paper and a scissors. Find the full tutorial here.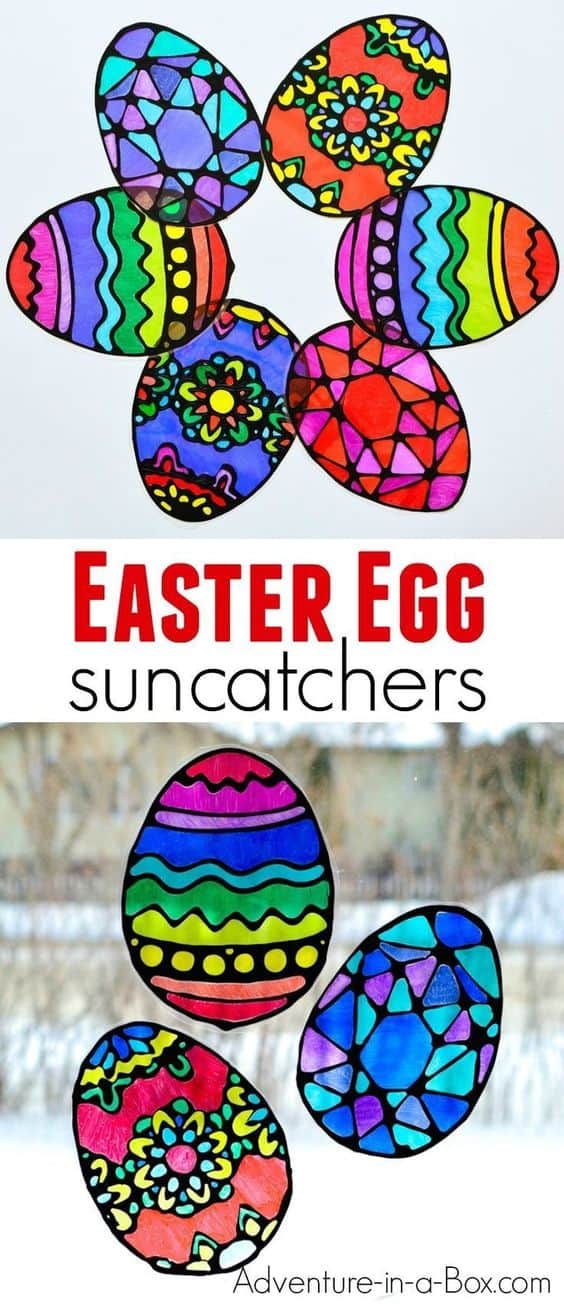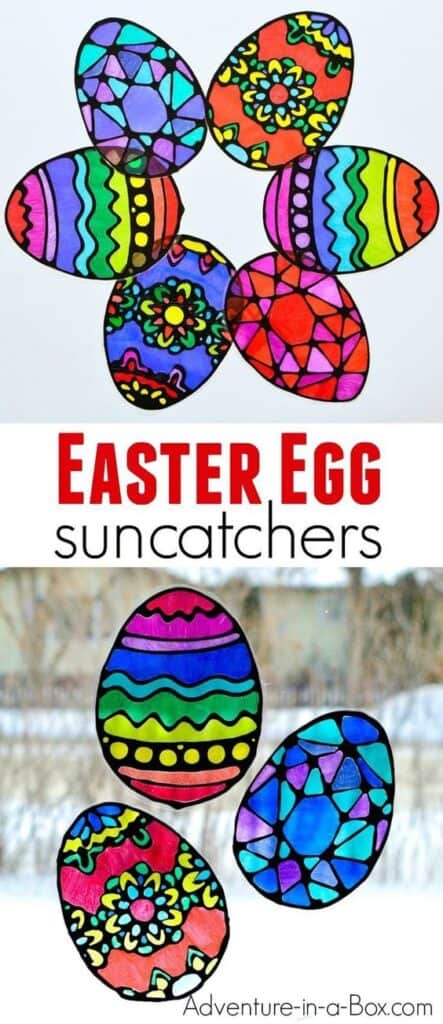 These beautiful sun catchers require glue, sharpies, and repurposed plastic. They give a reflection when light hits that's sure to illuminate your rooms. Get the full tutorial here
Easter Egg Topiaries

Make the above dollar store topiaries with $1 broom sticks and planters. (Tutorial for Topiary on the right CLICK HERE, Tutorial for Topiary on the left CLICK HERE)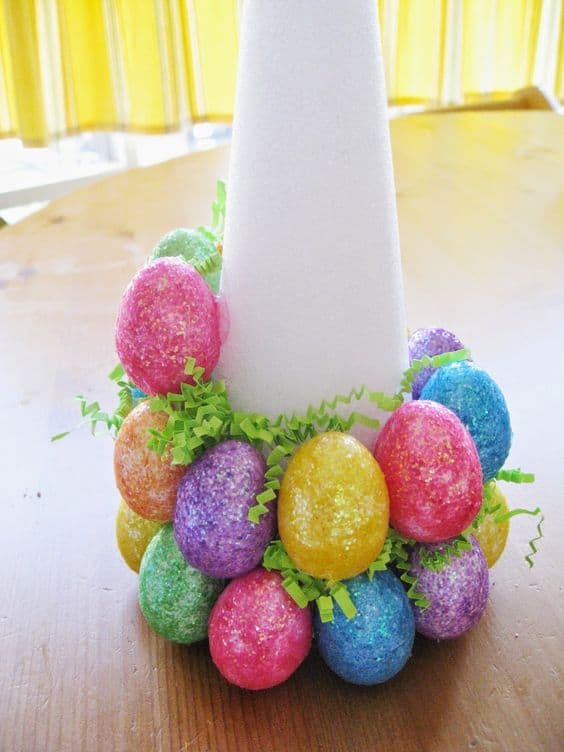 These Easter Egg Cone Topiaries can be easily made with a glue gun, cardstock for the cone, and foam or plastic eggs covered in glitter. You may want to reserve this for kids who can use a hot glue gun. They'd make a great table or mantel decor idea.
You can put them in a flower pot to make these adorable Potted Egg Topiary Trees.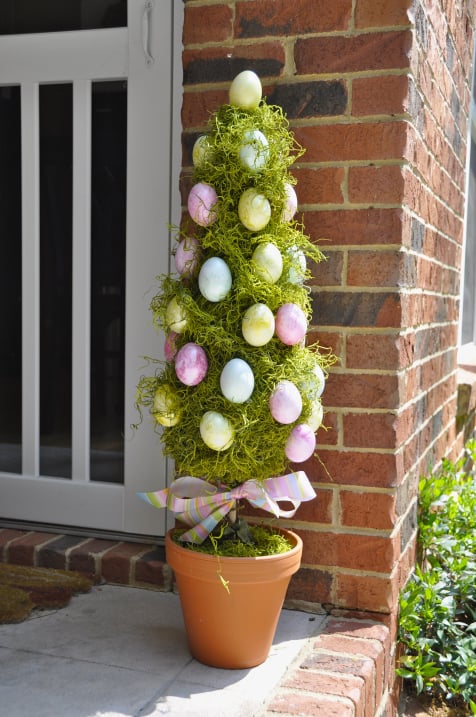 You can easily make a larger Easter Egg Topiary Tree out of floral foam and a flower pot for indoor or outdoor! Get the easy to follow tutorial here.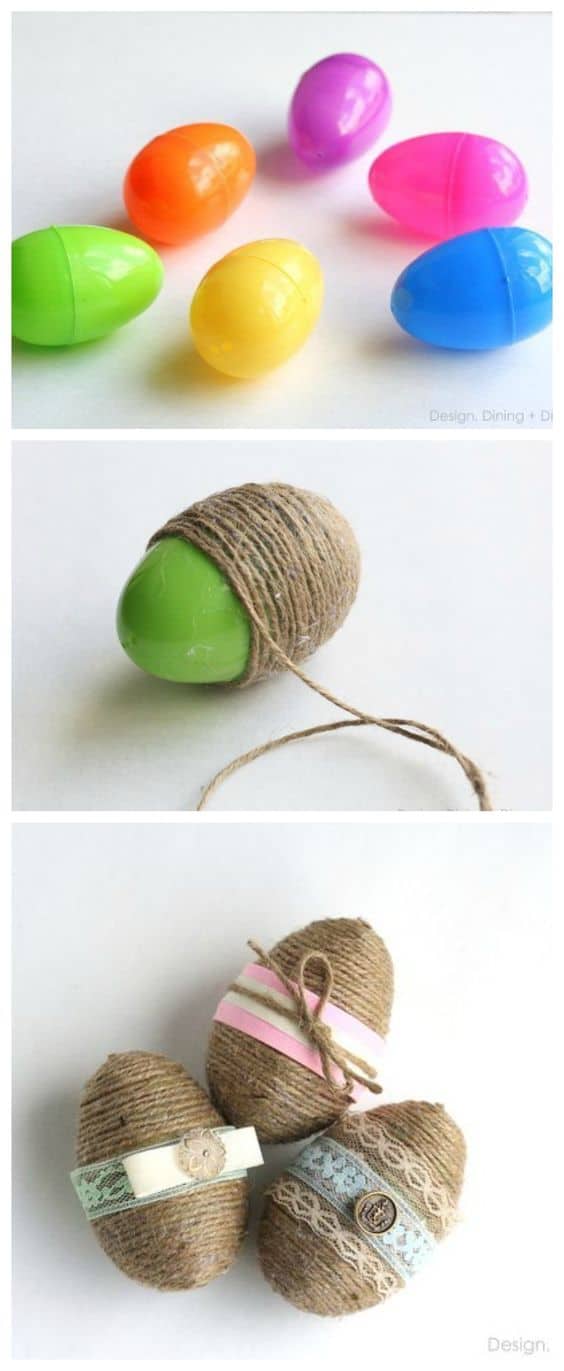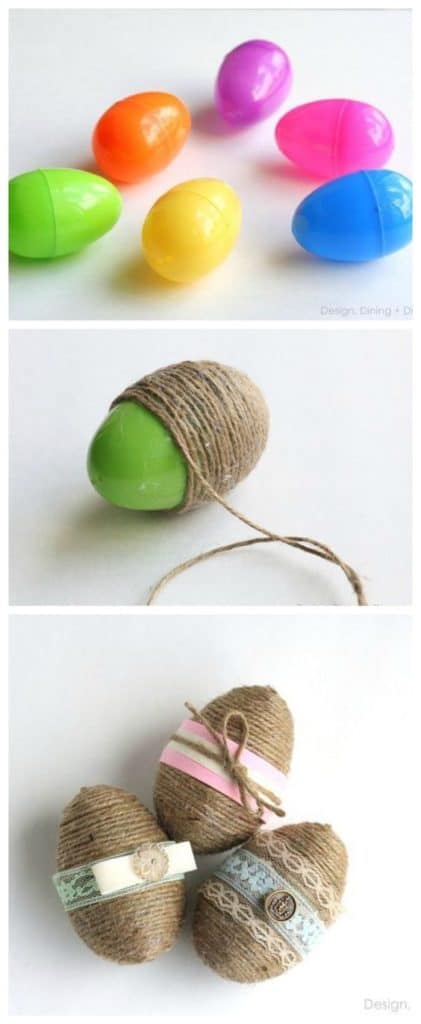 Use these Easy DIY Rustic String Eggs for your egg Topiary Tree for a Farm House look or display them in a basket or jar.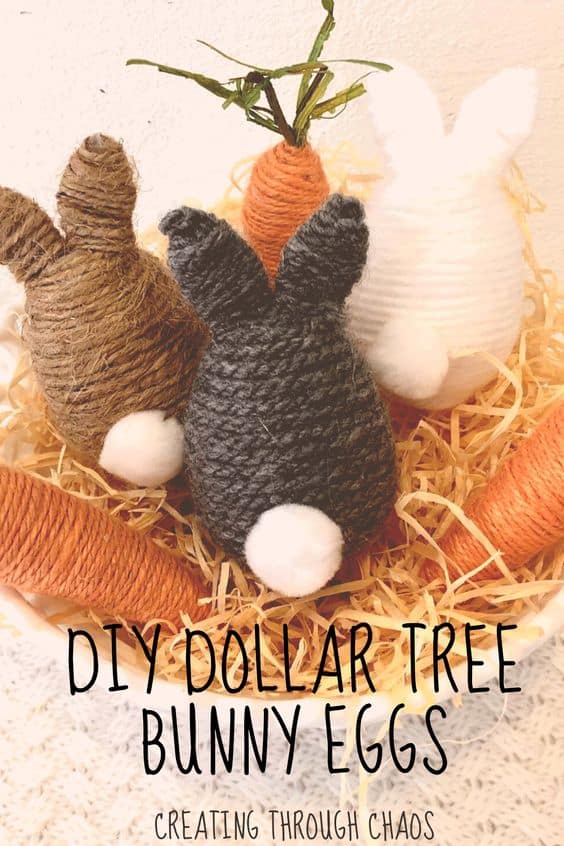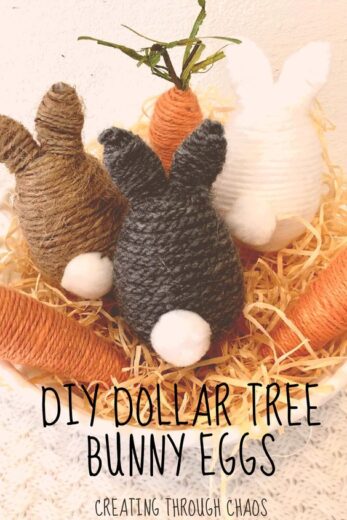 These Easy DIY Dollar Tree Bunny Eggs will be the perfect addition to your Easter Decor Table.


These glamorous sequin push pin styrofoam eggs can also be a great addition to your egg topiary or table.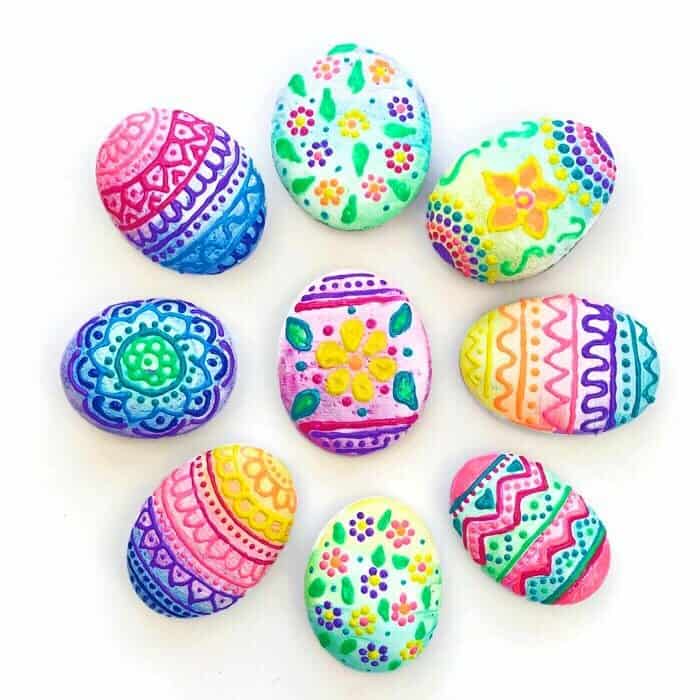 Make these Easter egg painted rocks using puff paint or Sharpies. View the tutorial here at Color Made Happy
Garland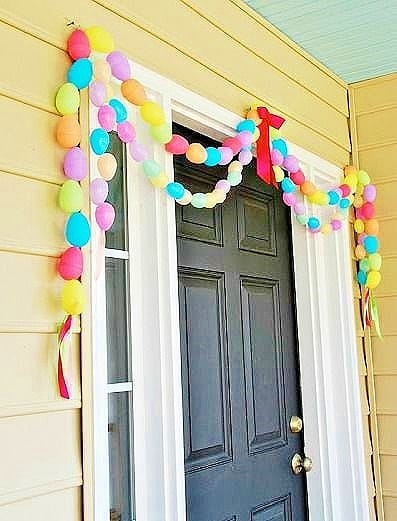 This garland is a very easy and versatile Easter Decoration using twine and plastic dollar store Easter eggs that you can use both indoor and outdoor. The picture is courtesy of Honey and Fitz but you can find an excellent tutorial here.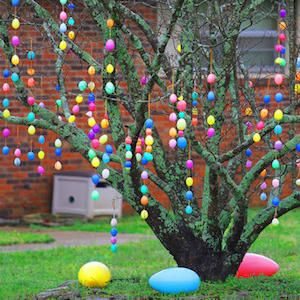 You can use the garland as outdoor decor for an Easter tree.
Easter Egg Lights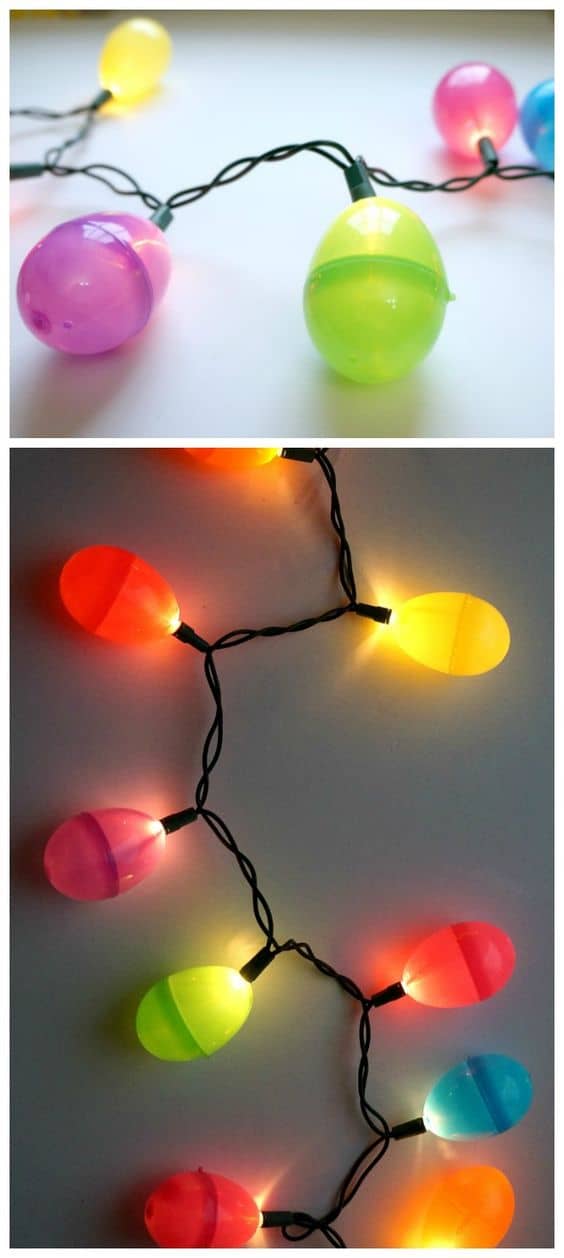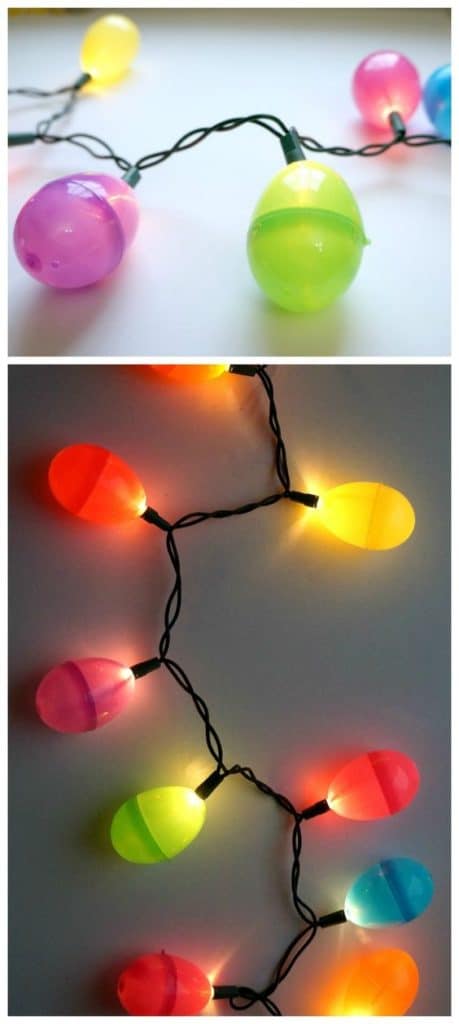 You can also use plastic Easter Eggs to make your own Easter Egg Lights for indoor and outdoor decorating. This may not be good for the tiny little ones to do but they'll definitely enjoy the final result.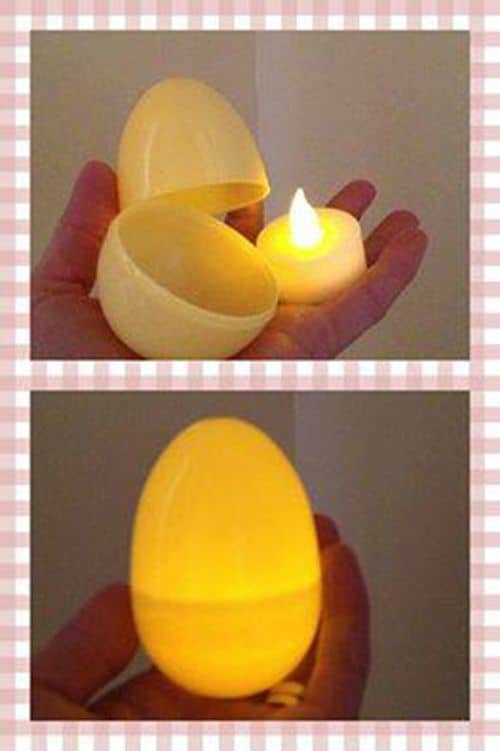 You can also use dollar store plastic eggs and have kids place battery operated votive candles inside OR…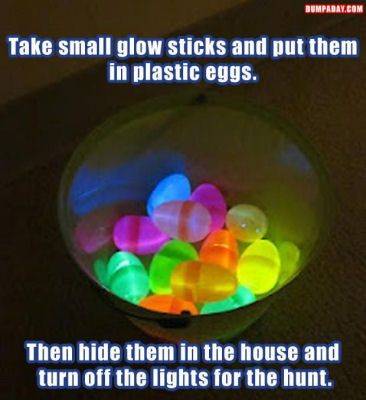 put Glow sticks inside of them for indoor and outdoor use!
EASTER TREE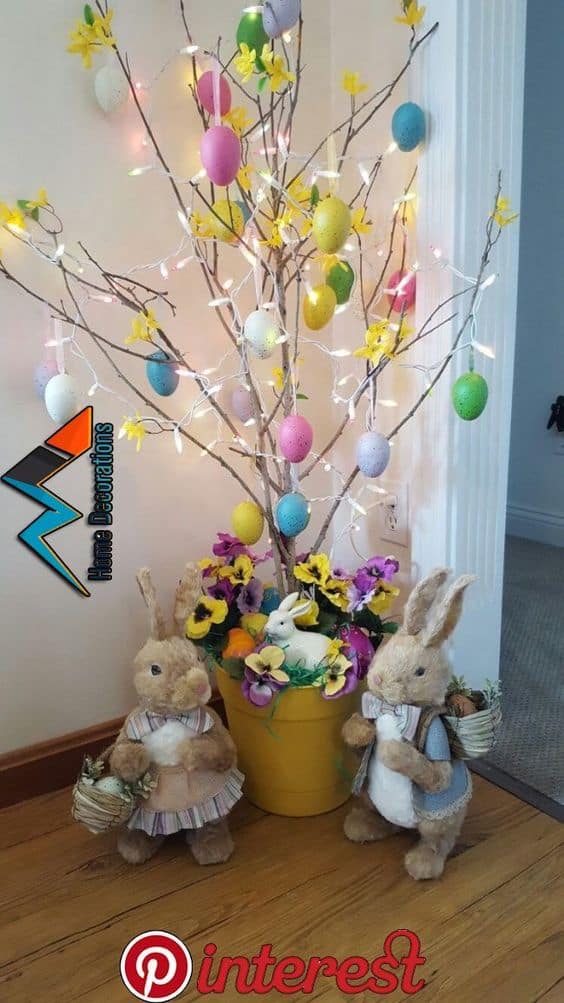 If you need a place to hang all of the egg garland, lights, and eggs you made above, have the kids look for tree branches for an Easter tree! You can make it large like the one pictured above or small enough to put in a table top vase.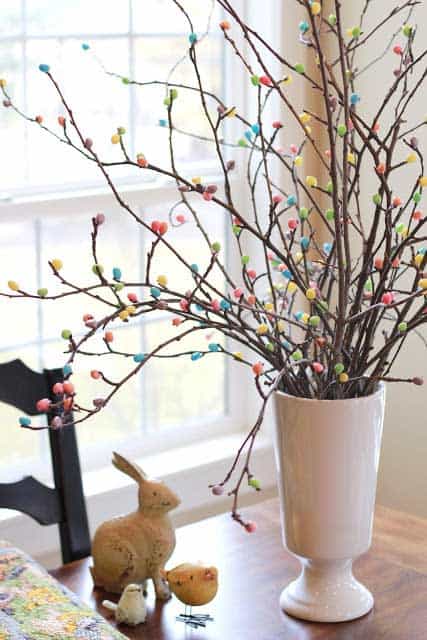 Use a tree branch or even pussy willows to decorate with either of the following:
little chicks
flowers,
eggs
jellybeans
lights
pom poms
or anything you want.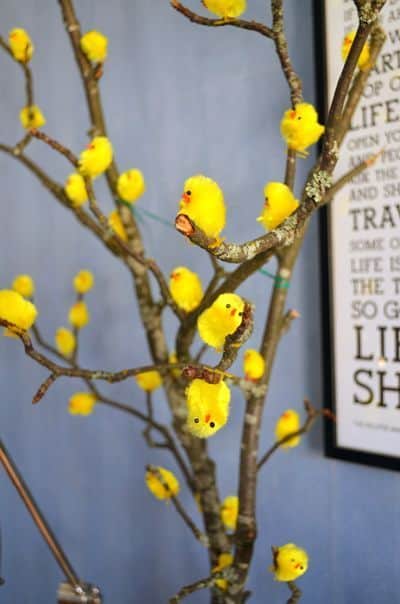 Don't forget you can also paint the branch white!


These easy DIY salt dough eggs for kids or kids at heart would be perfect to hang from your Easter tree or make into a garland.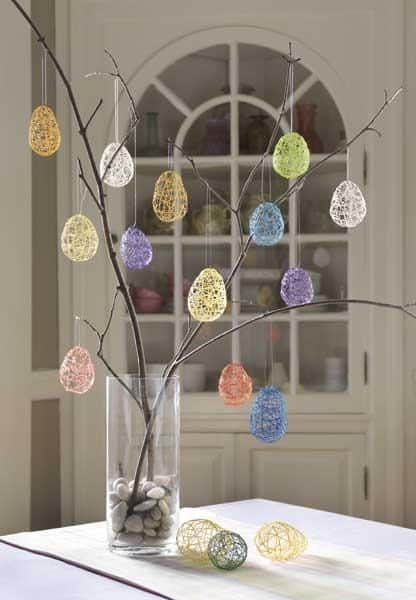 Make cheap and easy string eggs to hang on your Easter tree. You could even fill the eggs with candy. Get the tutorial here.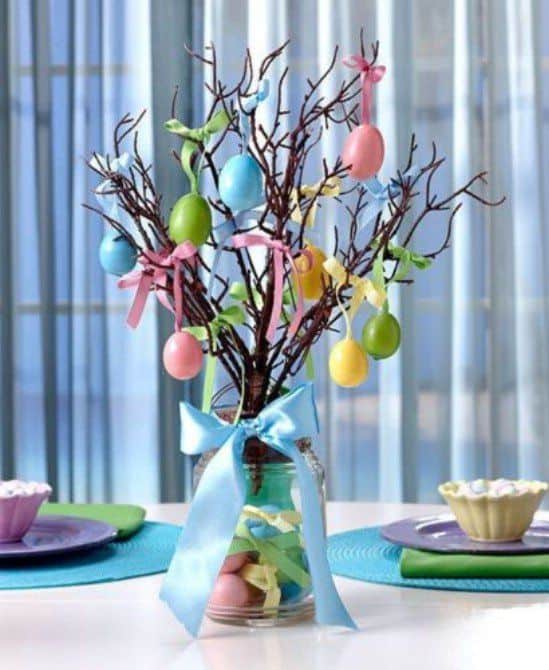 Make a small table top tree using a mason jar and plastic eggs to hold your tree branch in place. Source.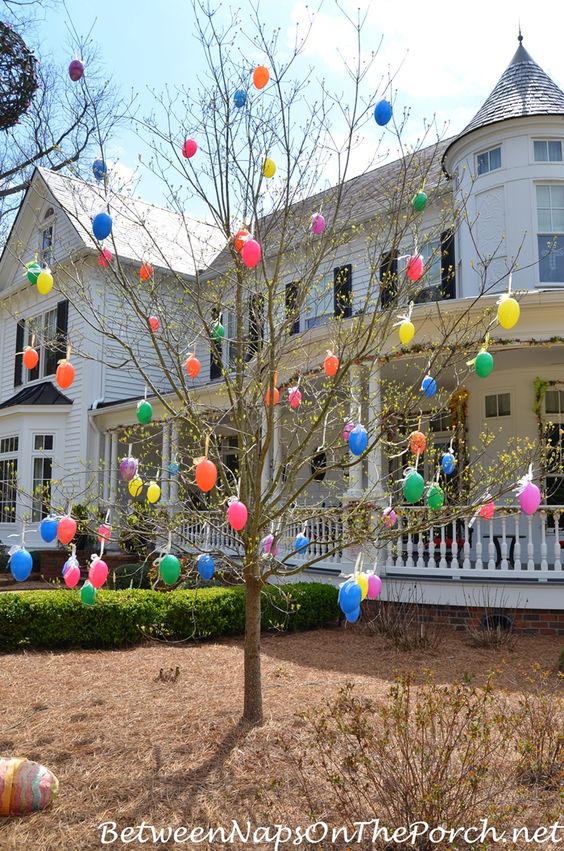 For outdoor decor have the kids pick out an Easter tree in your yard to decorate! SOURCE IDEA HERE
DOLLAR STORE EASTER AND SPRING BOUQUET CRAFTS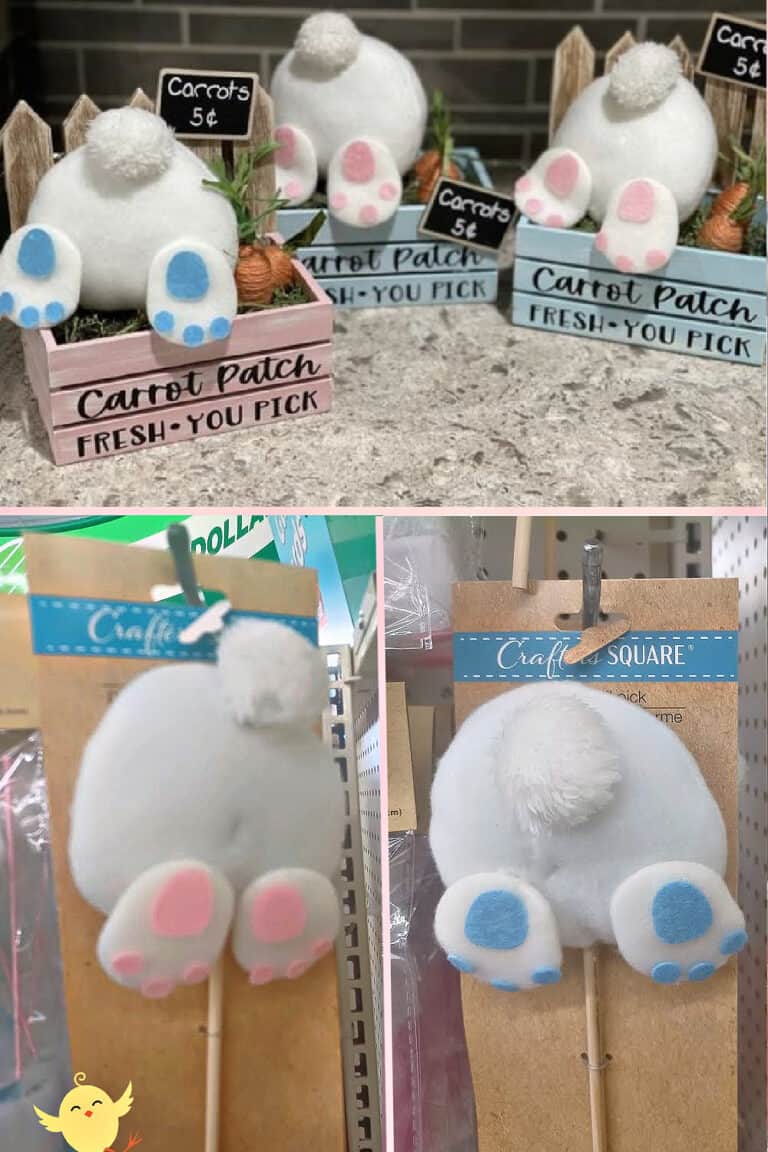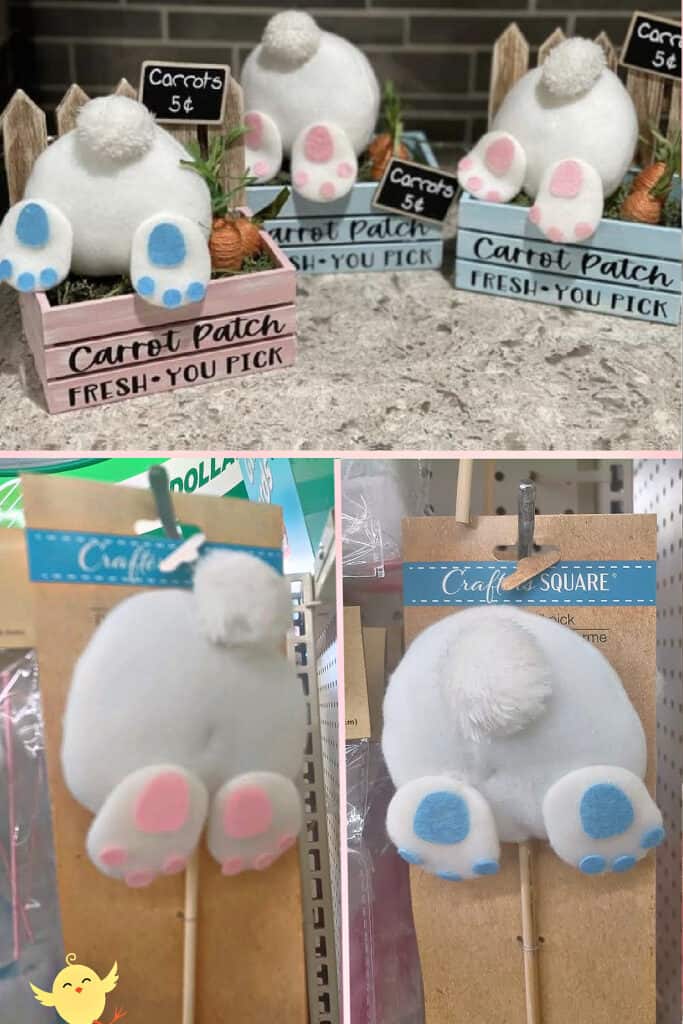 You can find everything to make the Easter crates pictured above at the Dollar Tree!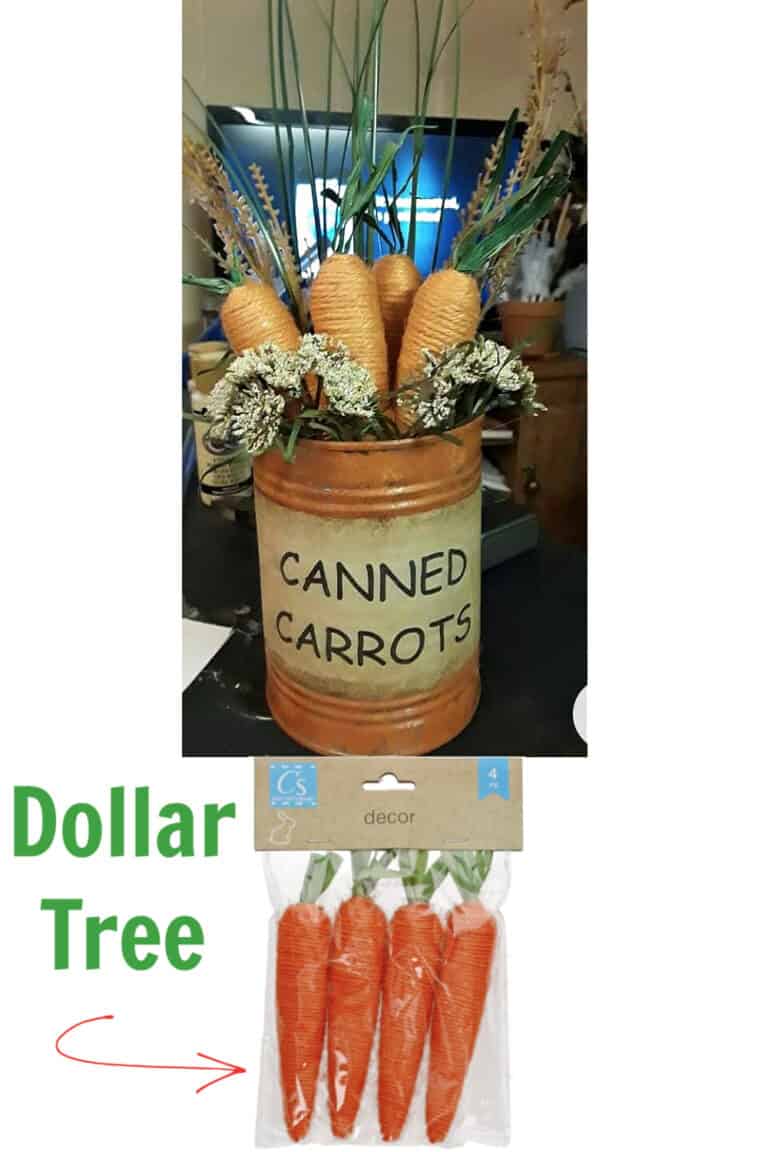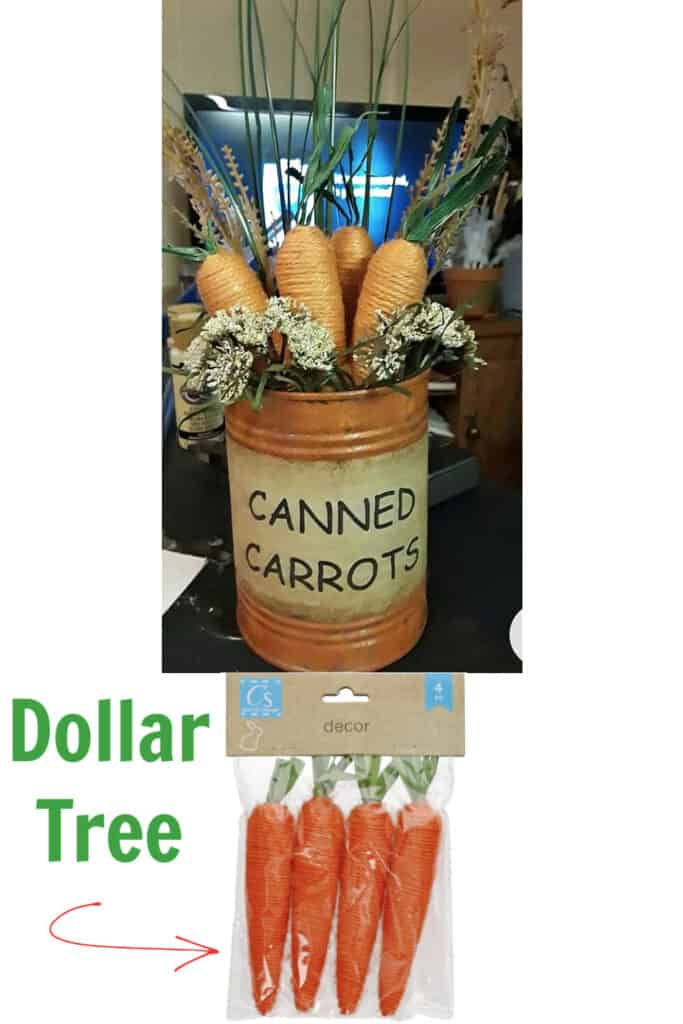 Repurpose a tin can and grab some Dollar Tree paint and carrots to make this Spring Easter bouquet for your table or mantle!
Candy and Egg Bouquets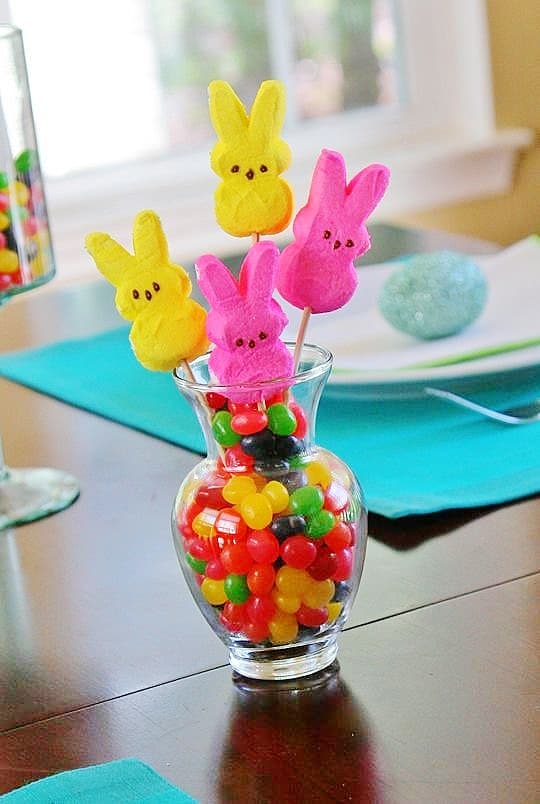 Put the kids to work making an Easy Peeps Bouquet everyone can eat after dinner using Peeps, sticks, Jelly Beans, and a vase.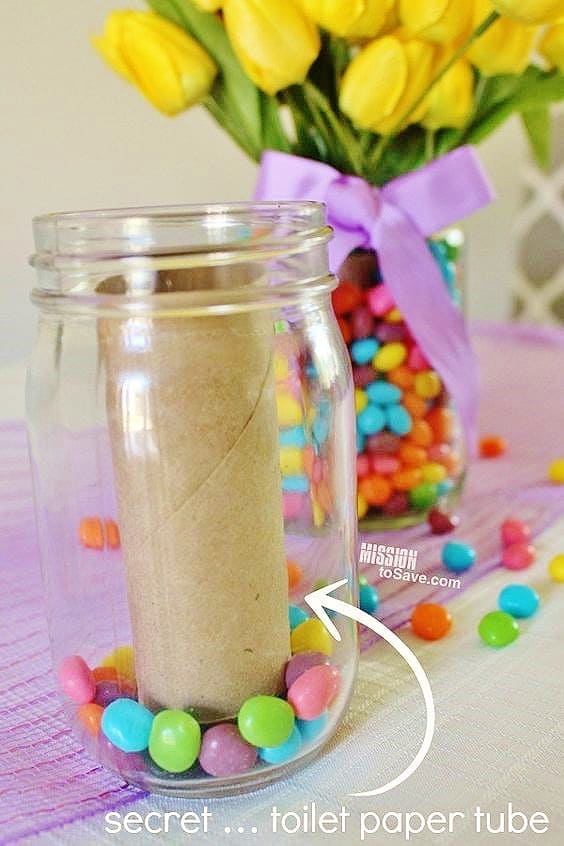 You could even use this easy Jelly Bean Vase Hack for your Easter tree. Put a plastic cup, toilet paper roll, or drinking glass inside your vase or jar and arrange the eggs around it.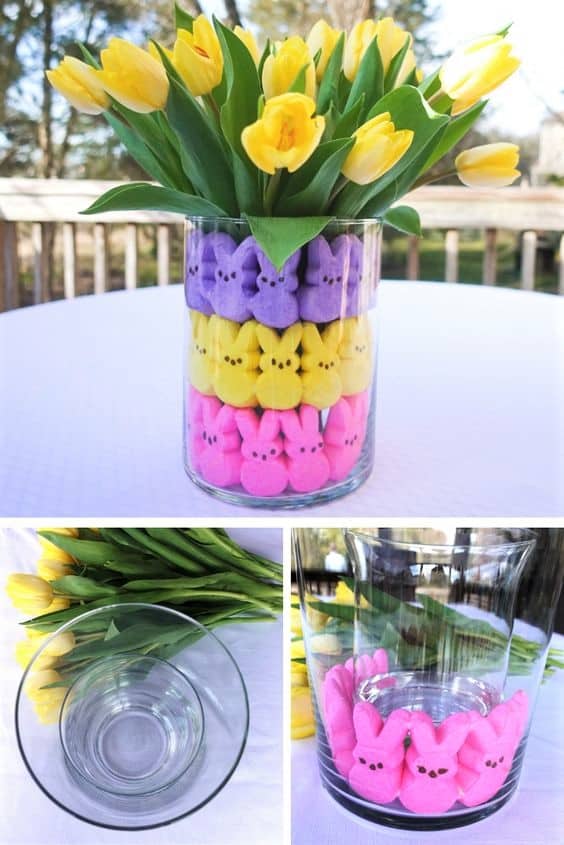 To keep your flowers alive longer use a smaller vase in a larger one for your eye candy Peeps Easter decoration. Get the full tutorial on this perfect Easter decor idea for kids and adults at South Lumina Style.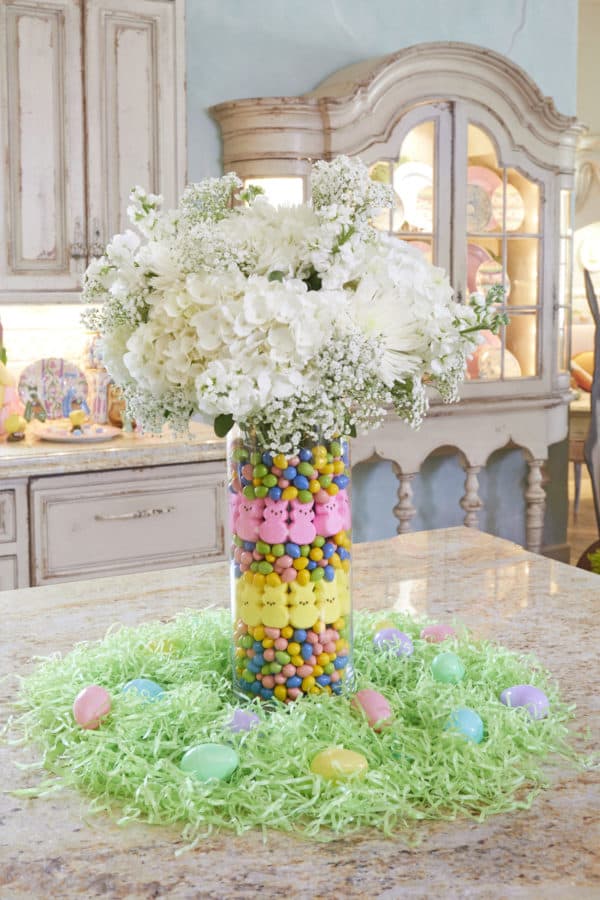 How gorgeous is this tall candy vase bouquet? The grass underneath is a great way to display eggs.

This vase decor idea uses the same concept but square. Click here for the full tutorial.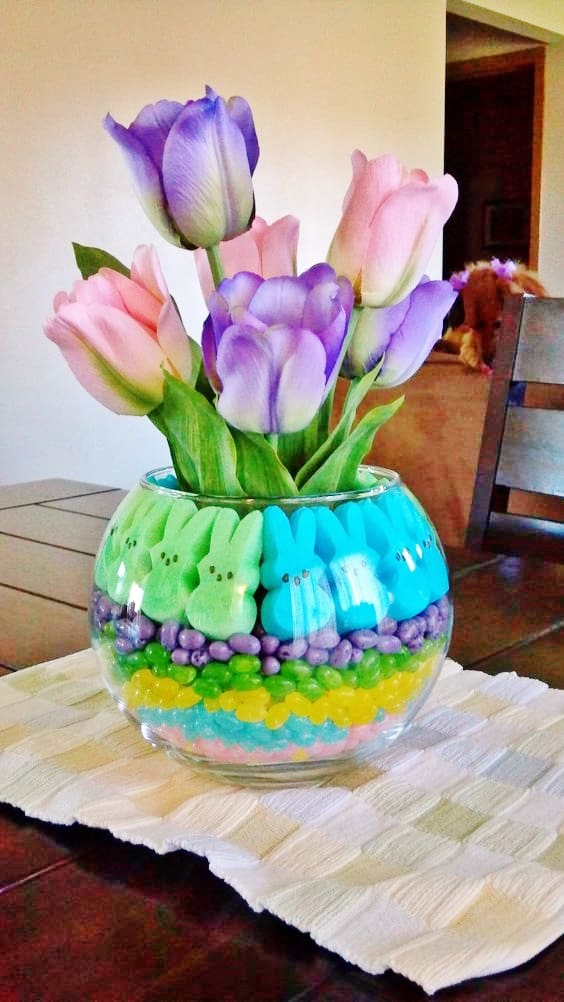 Here is another version using a potted plant inside of a larger round vase.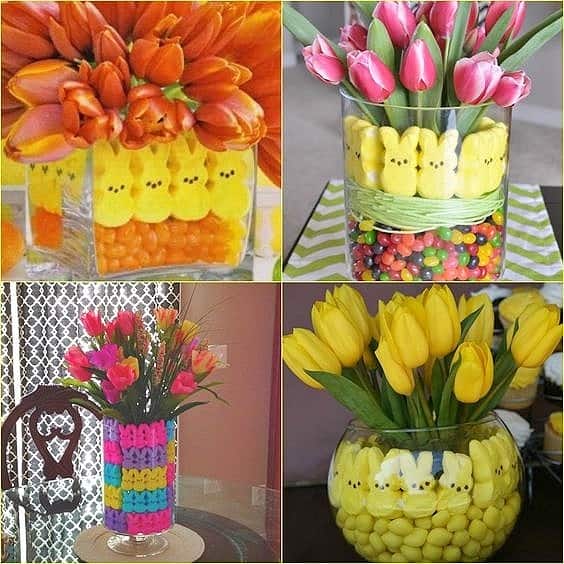 Here are more Peep and potted plant decor ideas that kids and adults will both love.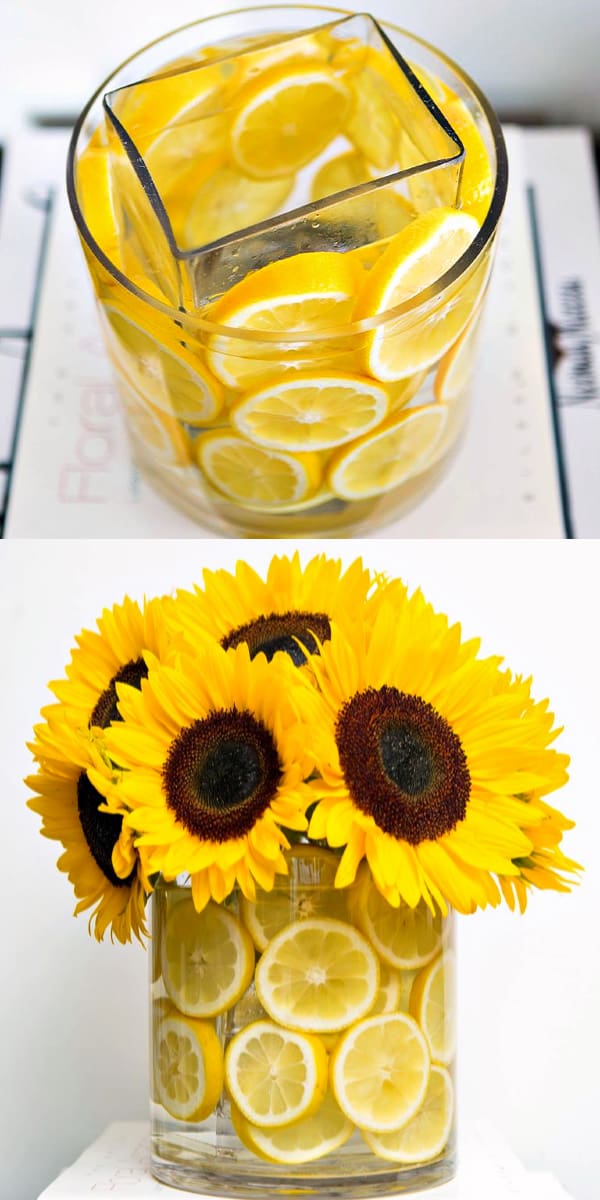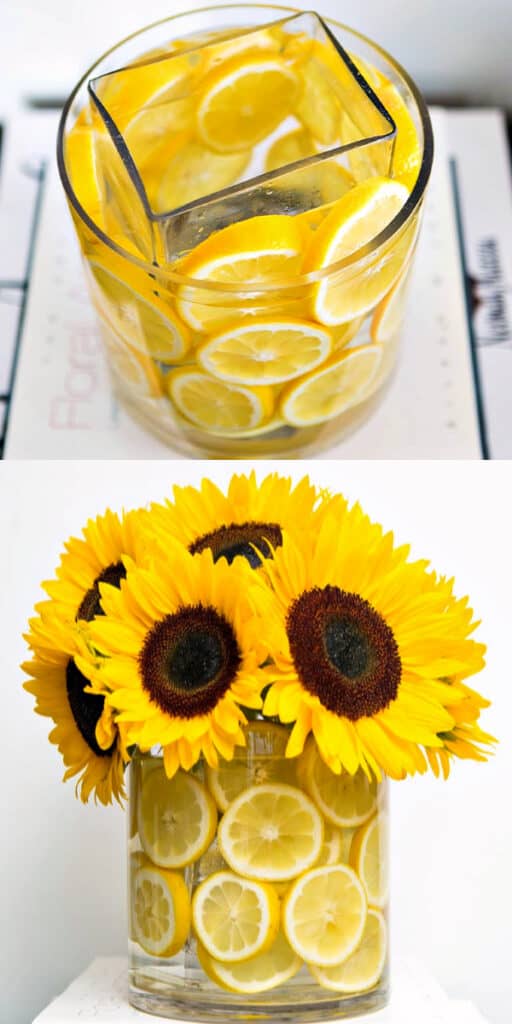 Use in season fruit and flowers with water to create a quick and easy yet gorgeous Easter decor idea for your table or even a gift! Find the tutorial here.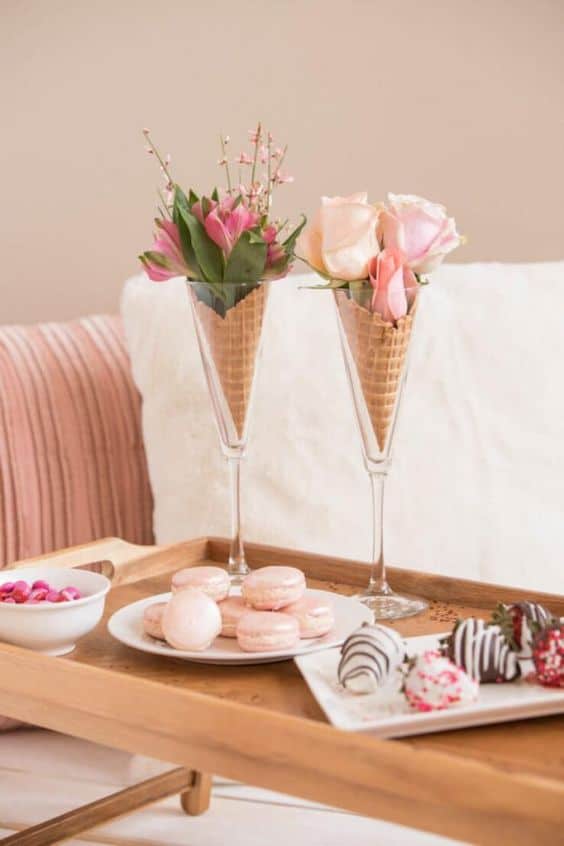 Use Champagne glasses instead of vases and waffle cones to hold in place!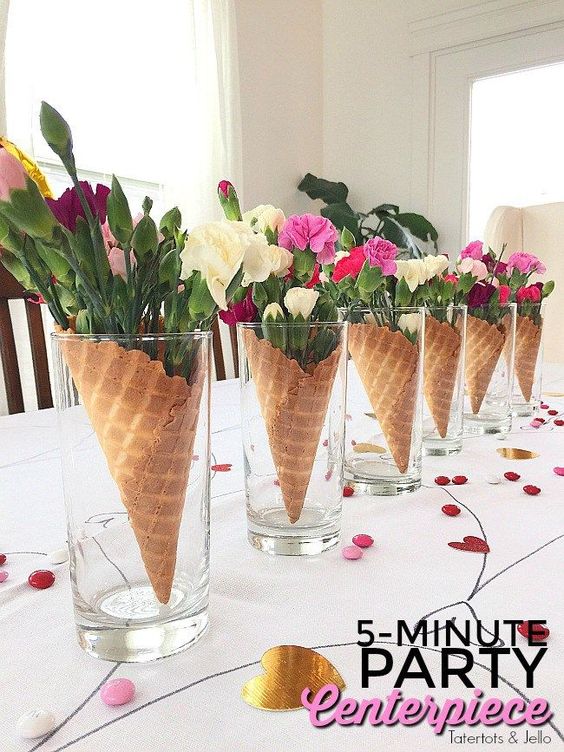 Use water glasses and waffle cones to make a beautiful Spring centerpiece.


You can use real or plastic eggs to make a gorgeous vase for your arrangement like the one above.

These glitter eggs are a bit messy to make but well worth it. They'd look adorable in a vase.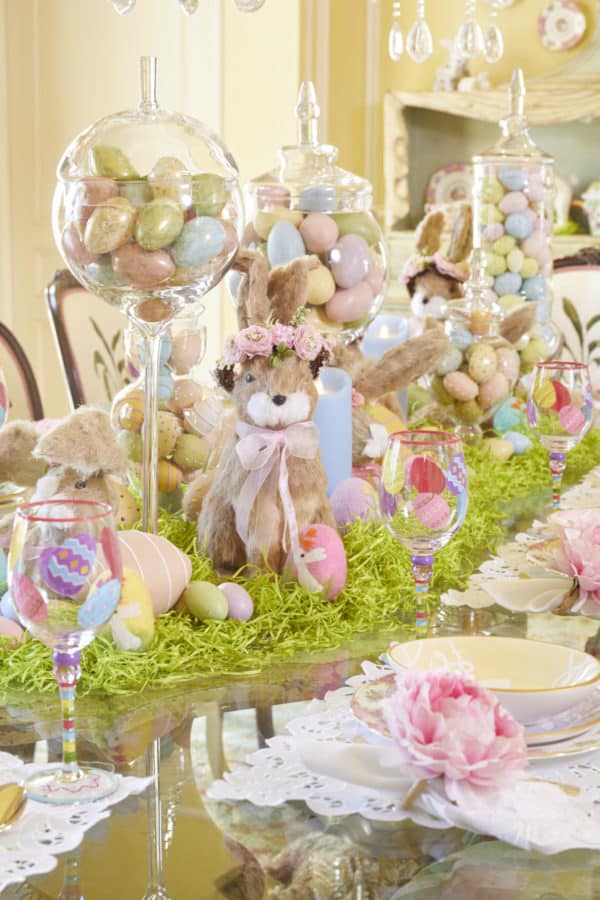 If you don't want to deal with flower arrangements, just display your eggs or candy in glass jars like the beautiful apothecary jar table setting above.
Easter Egg Bouquet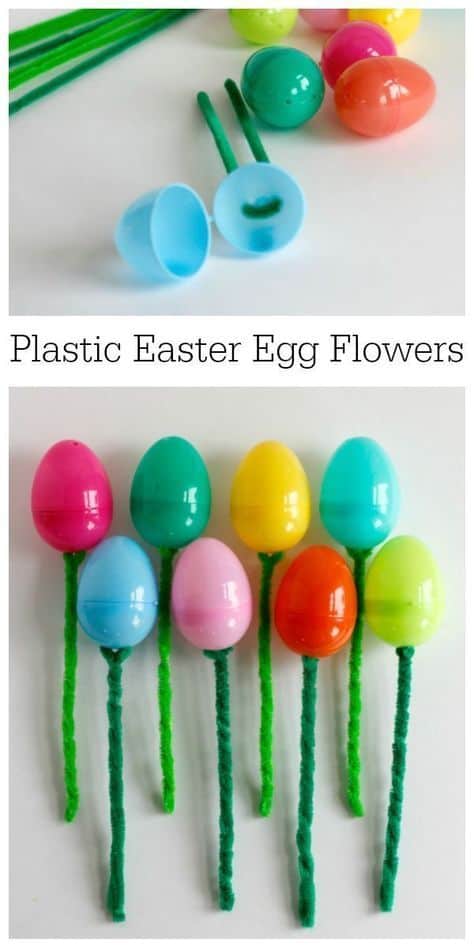 This Easter hack is GENIUS! It's too quick and easy not to do. Just grab a pipe cleaner and loop it through the two holes at the bottom of a plastic Easter egg! You can use it for gifts, candy, or a bouquet! Get the tutorial here!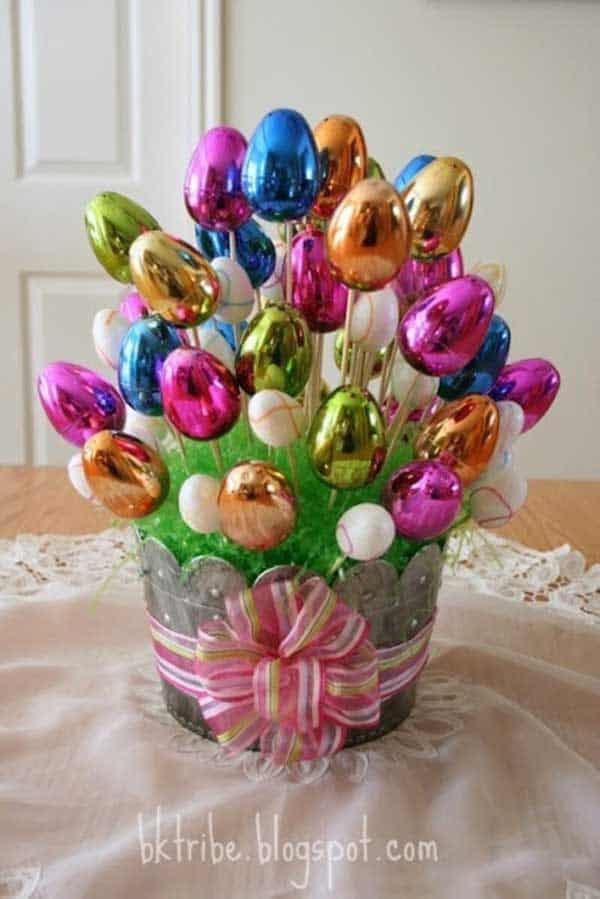 Making a bouquet of Easter eggs, like the one above, is super easy if you have skewers. Just poke the skewers through the holes already at the top of the eggs. Get the tutorial here.
Pinecone Flowers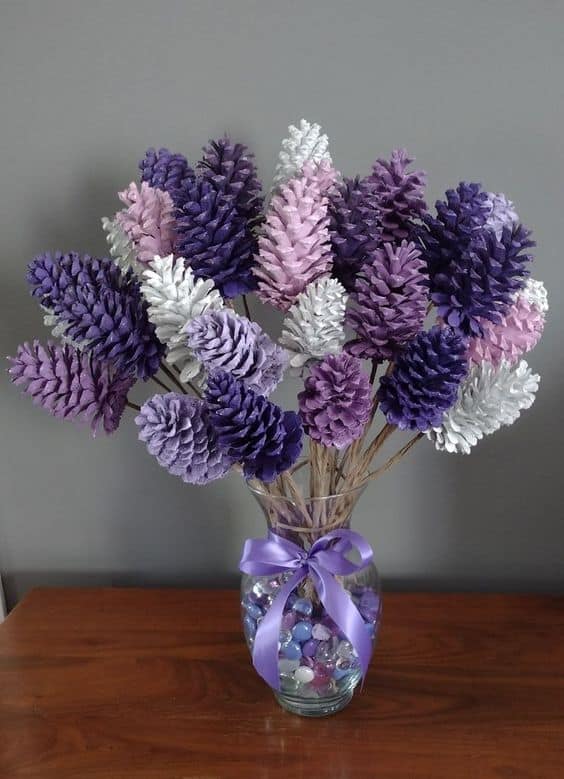 Make a Lilac bouquet that'll last forever by dipping pinecones in acrylic paint diluted with water and hanging upside down to dry and open up again. The sticks were purchased at Walmart and glued into a drilled hole at the bottom of each pinecone.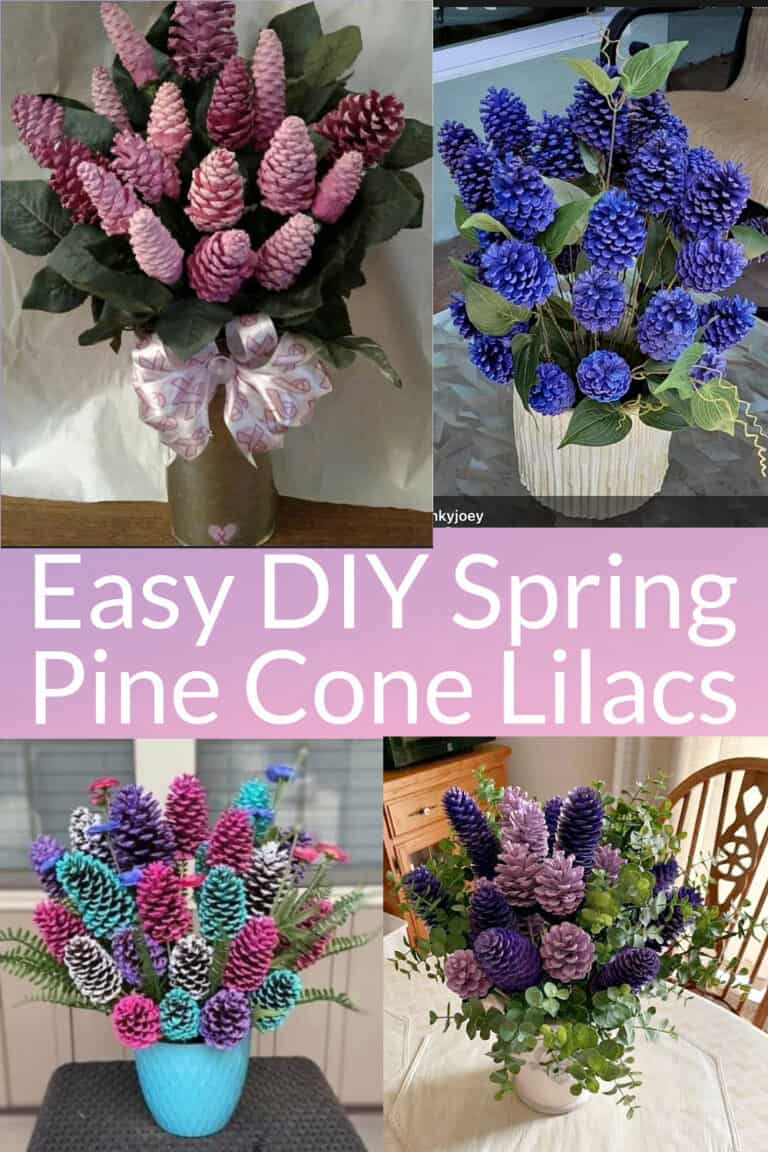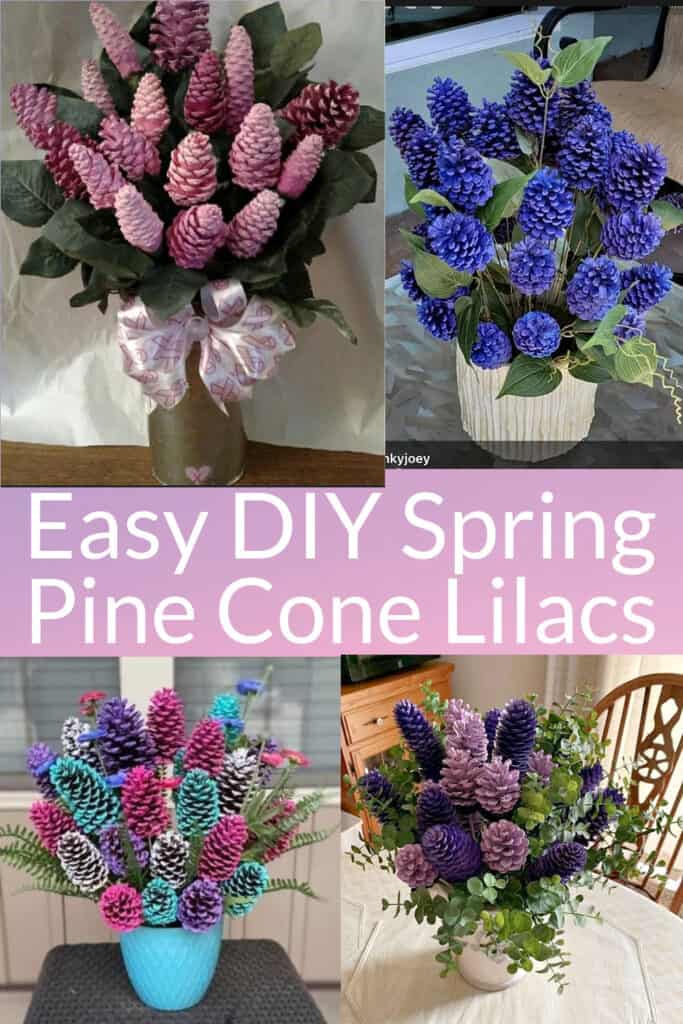 Add leaves to give the appearance of a lilac plant or stick the pinecones in an existing faux plant.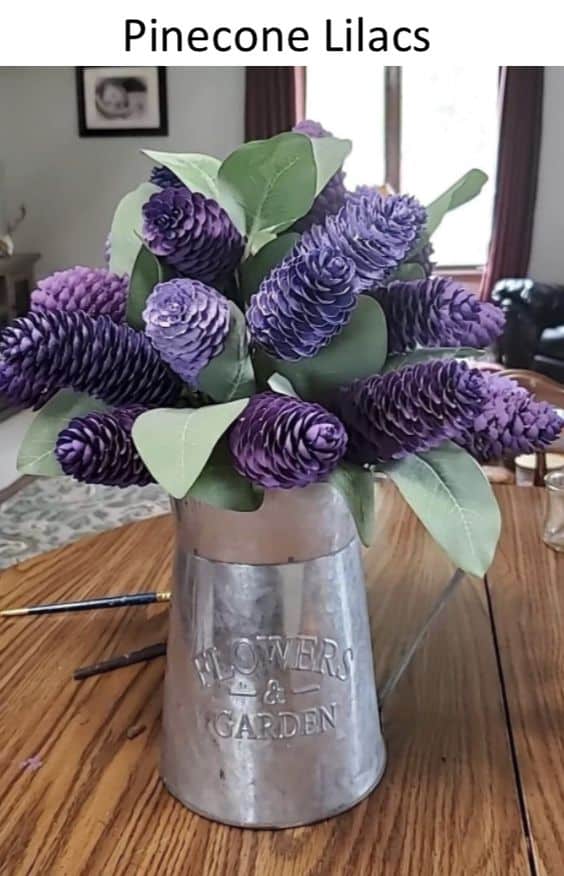 Why stop at lilacs? Paint them to resemble any flower or season you want! Place them in a flowering tin for a rustic look.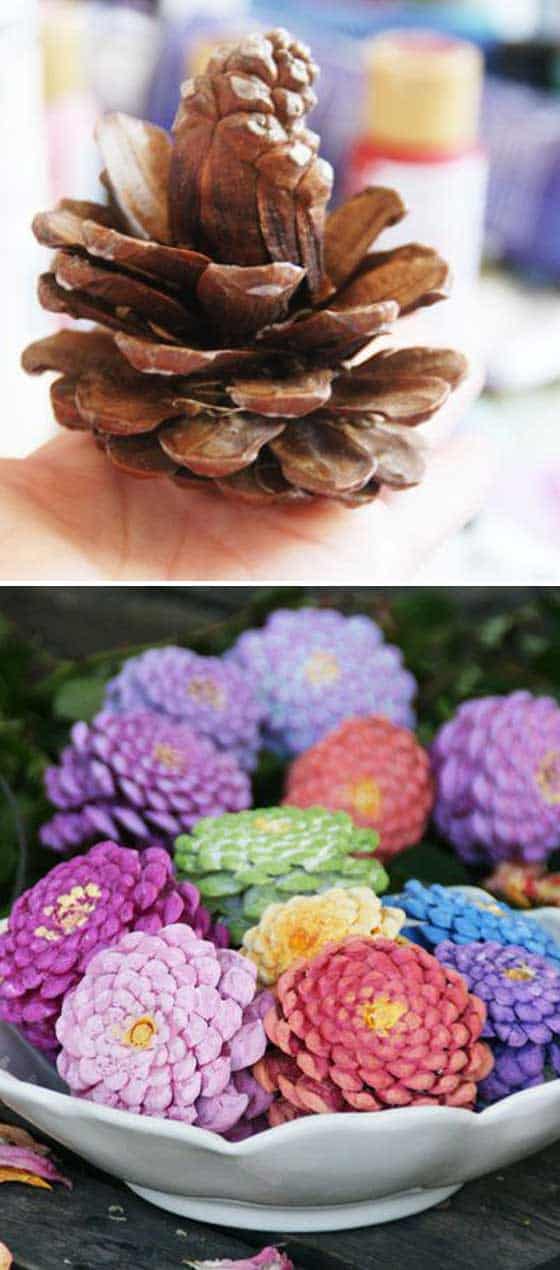 Pinecones aren't only for winter anymore. This is such an easy idea that looks beautiful on a Easter or Spring table. We have so many pinecones from Christmas, we can't wait to try this. Get the tutorial here (it made Women's World Magazine).
Easter Wreaths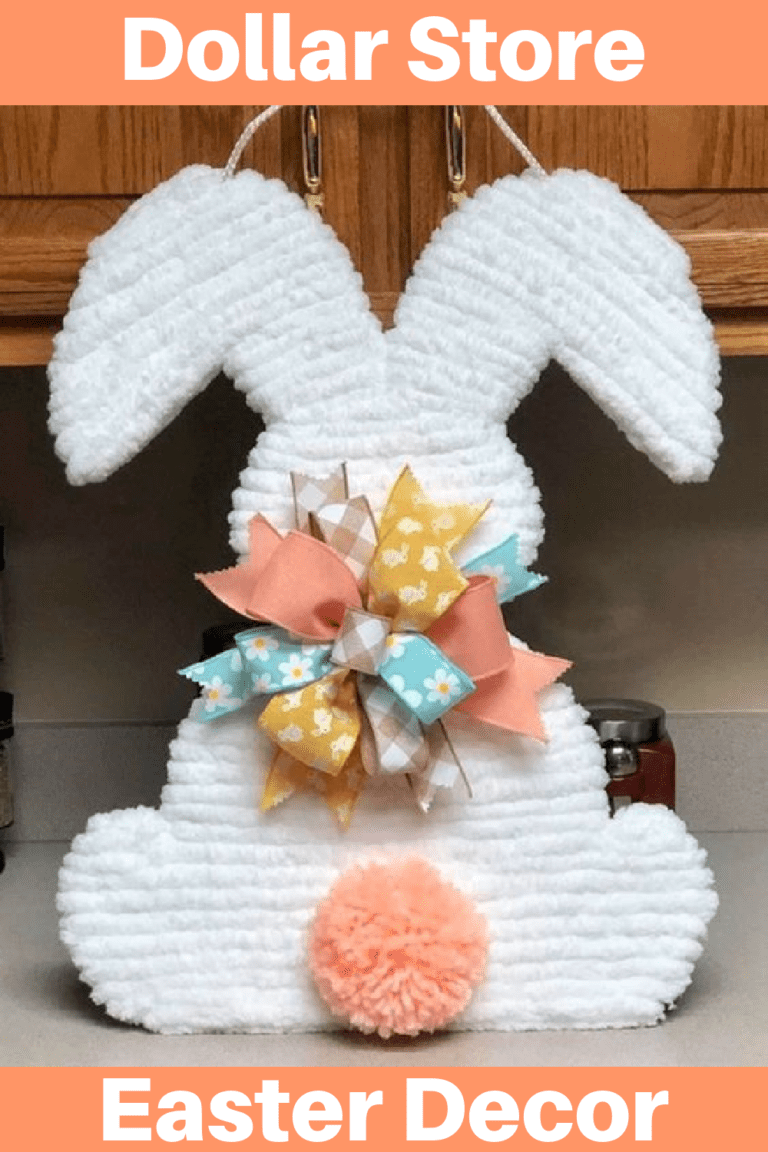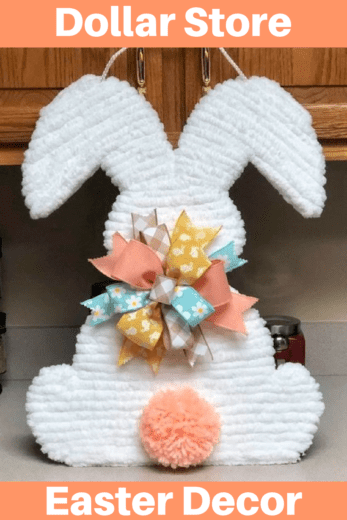 The adorable Easter Bunny wreath above is easy enough for kids to make using Dollar Store items!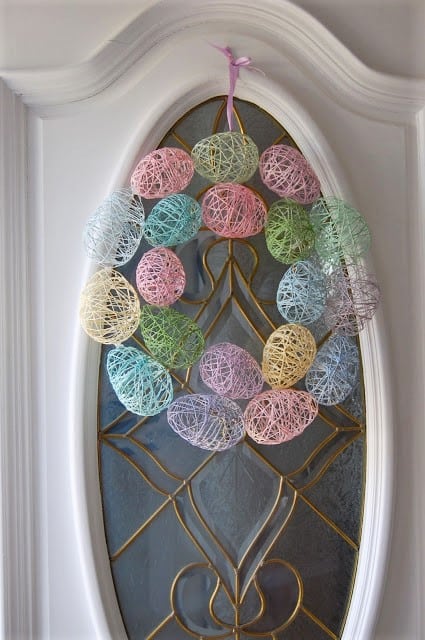 This light weight and ethereal looking wreath can be made with string, glue, and balloons. Get the tutorial here.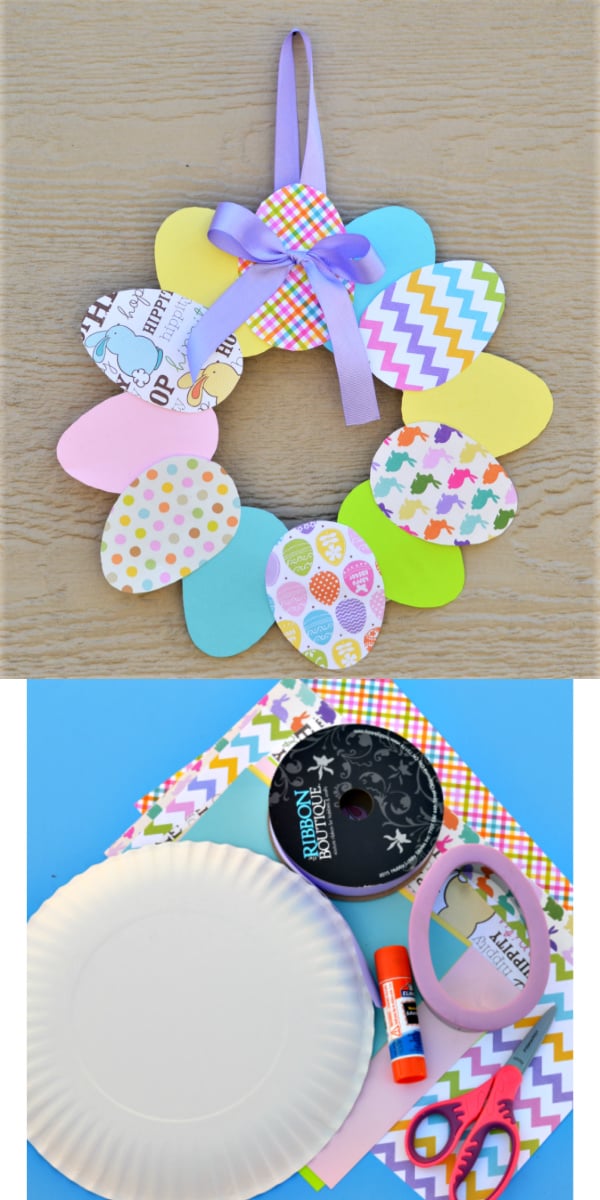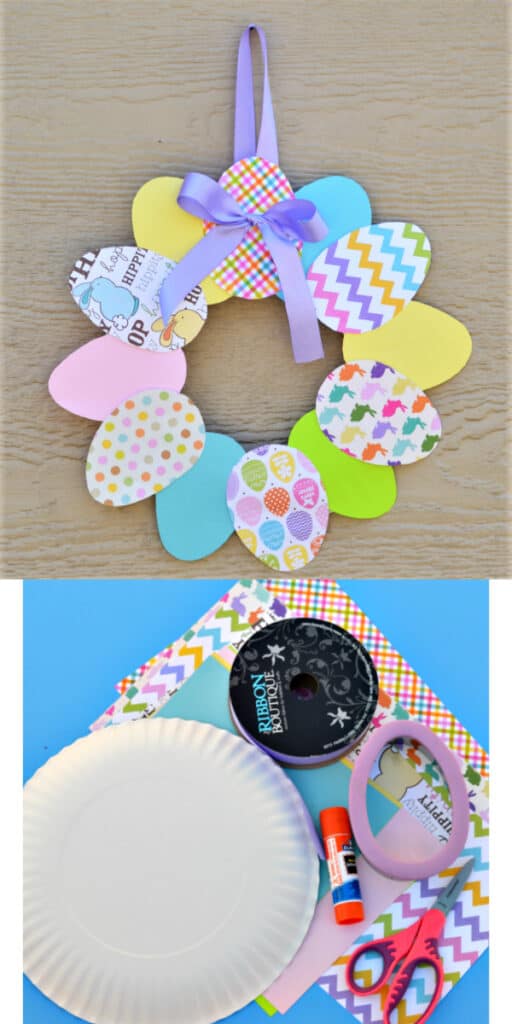 Put the kids to work making easy egg wreaths that are beautiful enough to hang up from items you have lying around the home. Get the tutorial here.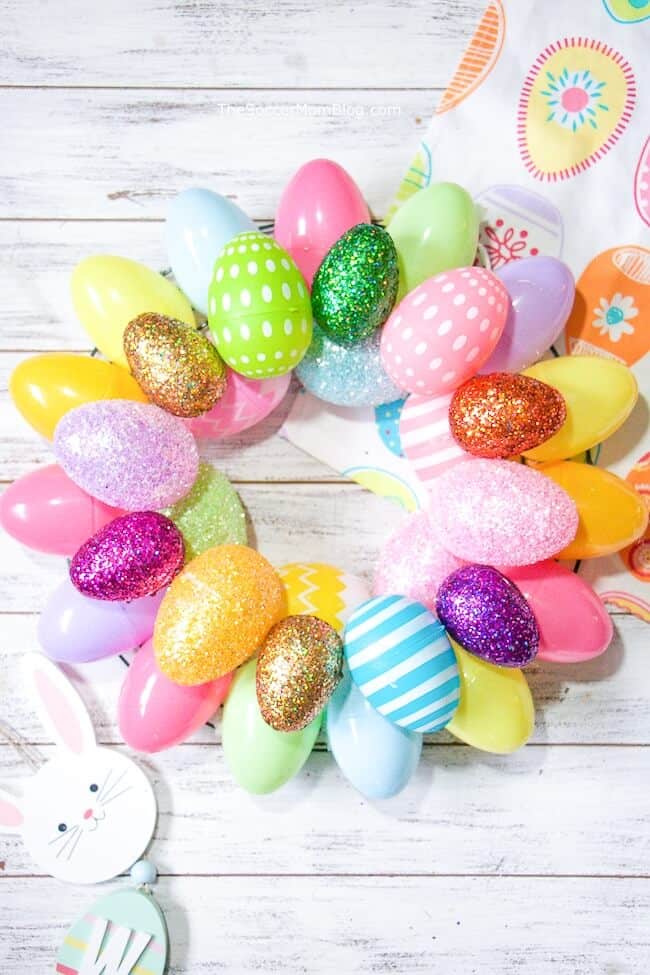 This plastic Easter egg wreath can be made in 10 minutes using dollar store items! You can also add plastic grass for an added touch. Get the tutorial here.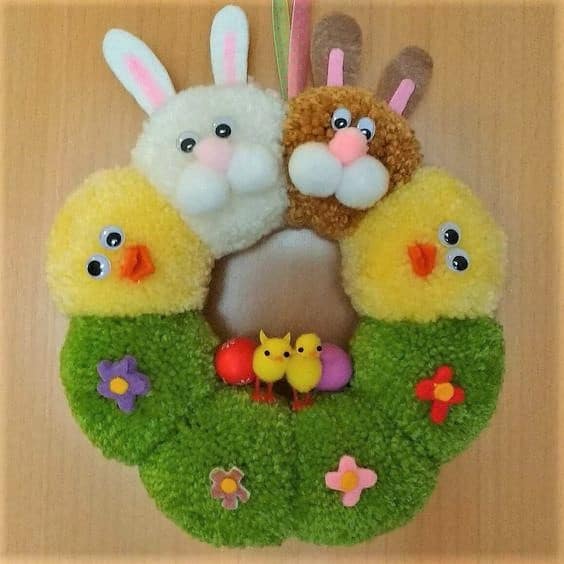 Make a wreath out of pom pom bunnies and chicks. Get the inspiration here.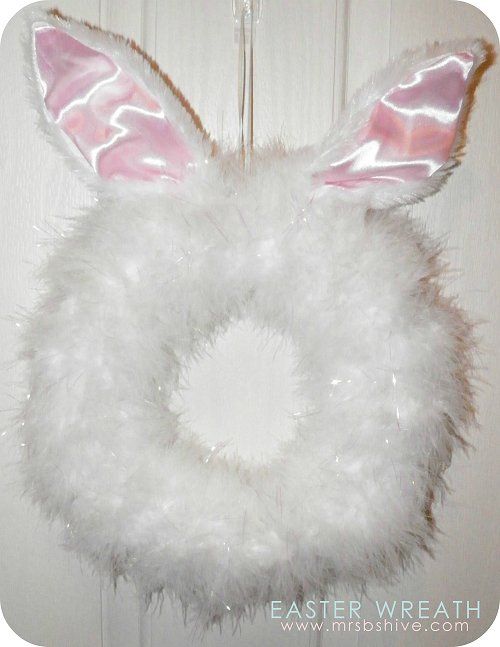 Two 6 ft boas, bunny ears head band, and a styrofoam circle is what it took to make this bunny wreath. See it here on Pinterest.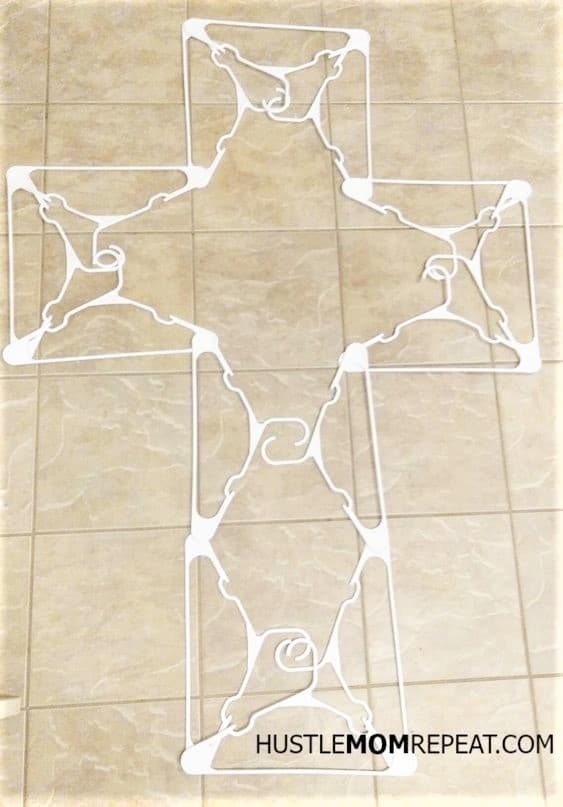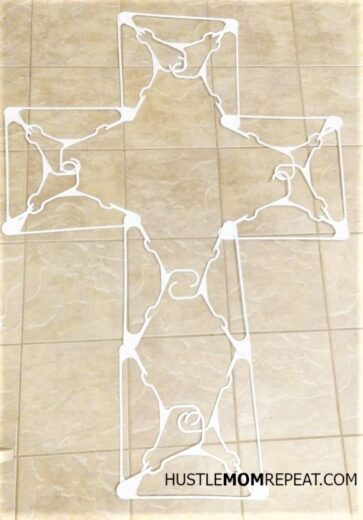 Dollar Store hangers create an easy yet impressive cross Easter Wreath or wall decor.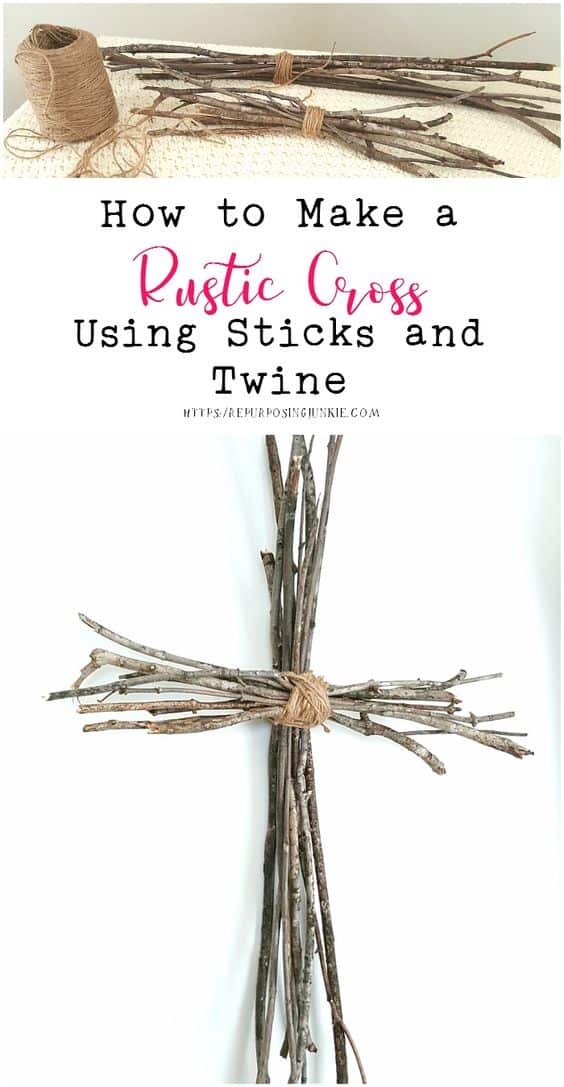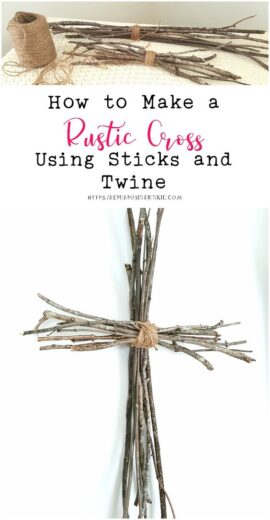 Start gathering those sticks outside to make this easy rustic diy Easter Cross Wreath for your door.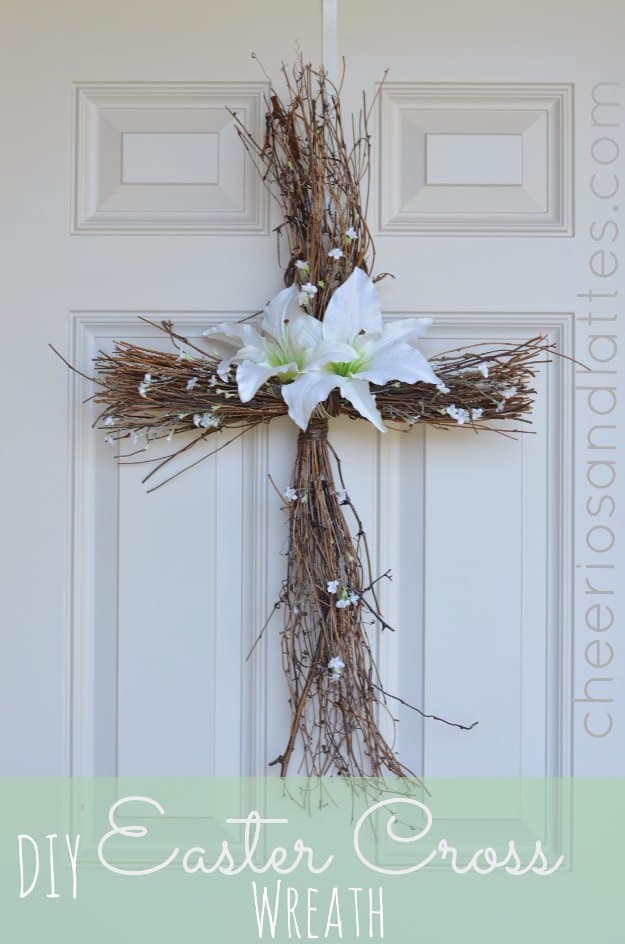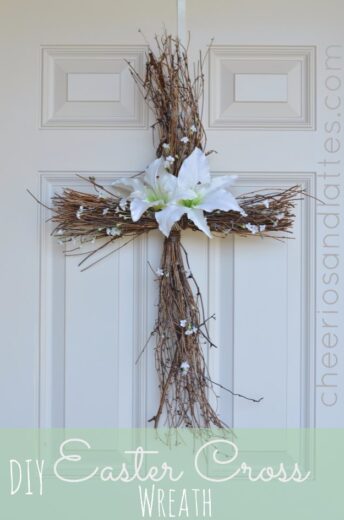 Above is another beautiful Easter wreath idea using wooden sticks, twine, and dollar store Easter lilies!
Easter Wine Glass Votives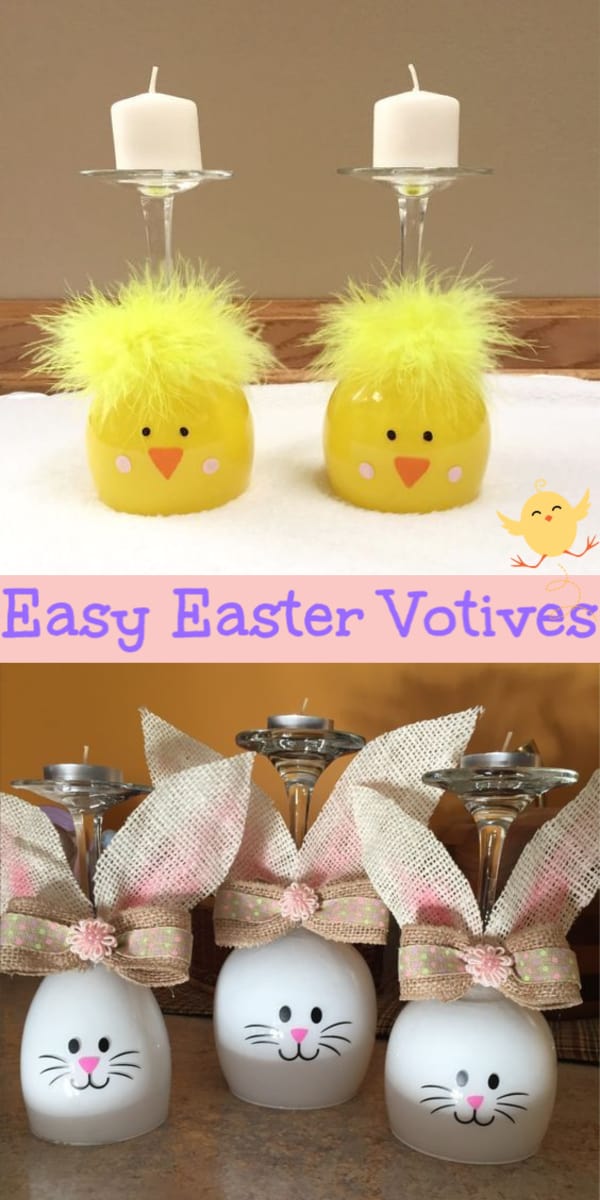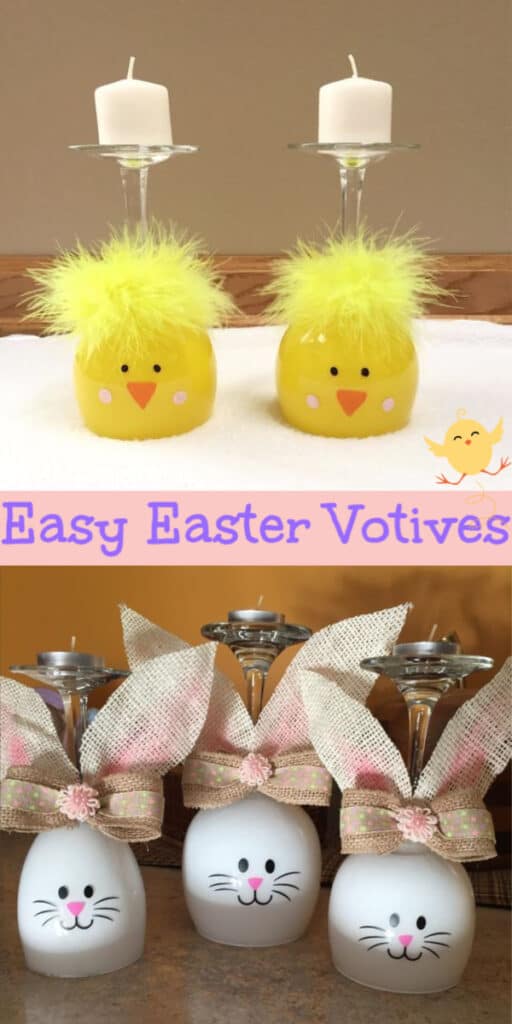 Grab an old wine glass, paint the inside, and draw a face with the Sharpie, instant centerpiece. Chick Photo Source Bienz Craft Boutique on Etsy
For the Bunny Wine Glass votive tutorial click here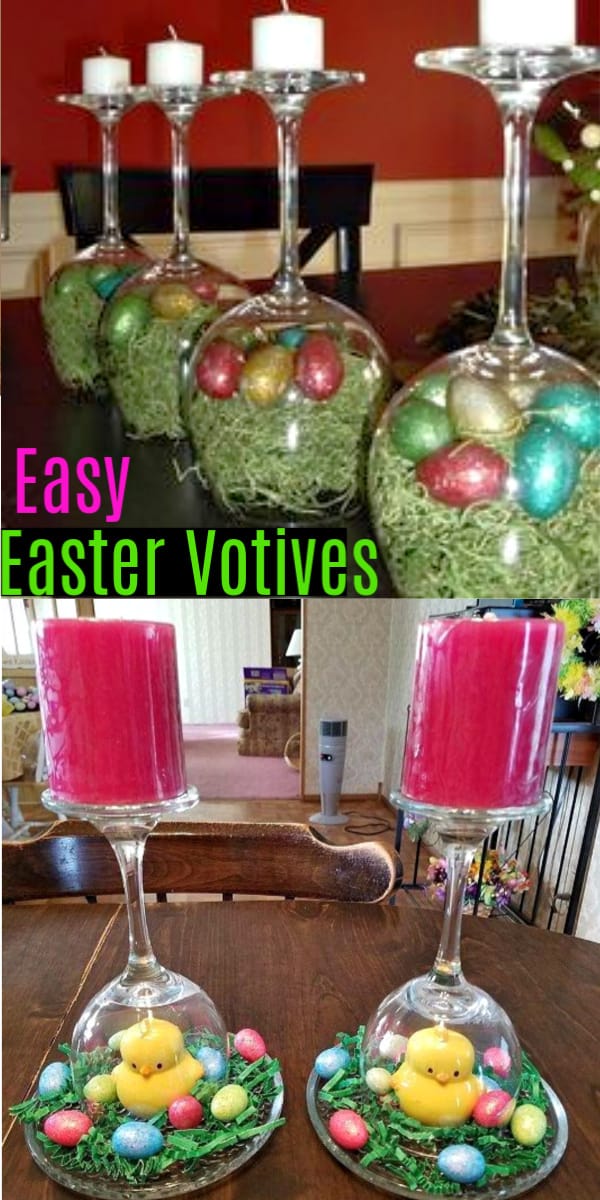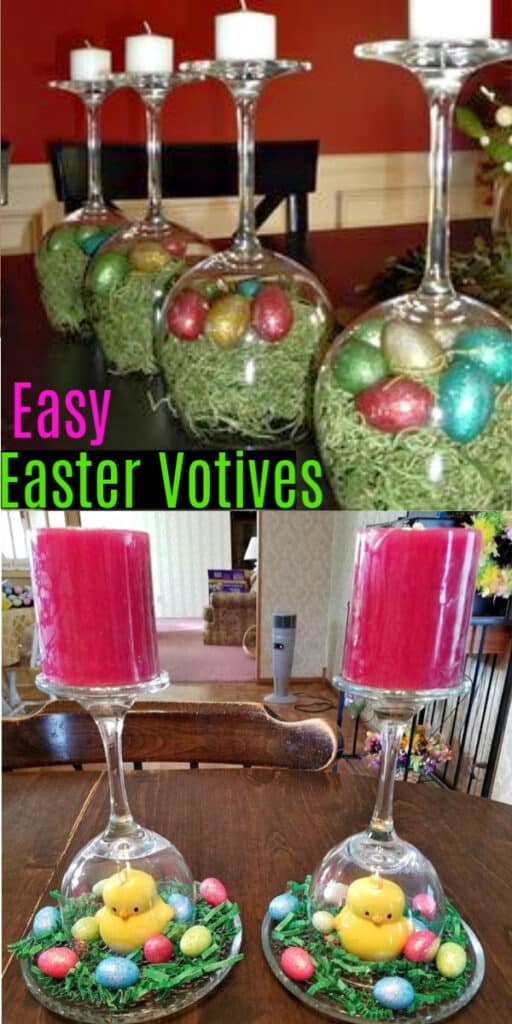 Easiest Easter Centerpiece idea is to turn over your wine glasses and place grass, candy, or festive trinkets underneath and a votive on stem! Both photos were found on Pinterest.com
Easter Chandelier Decor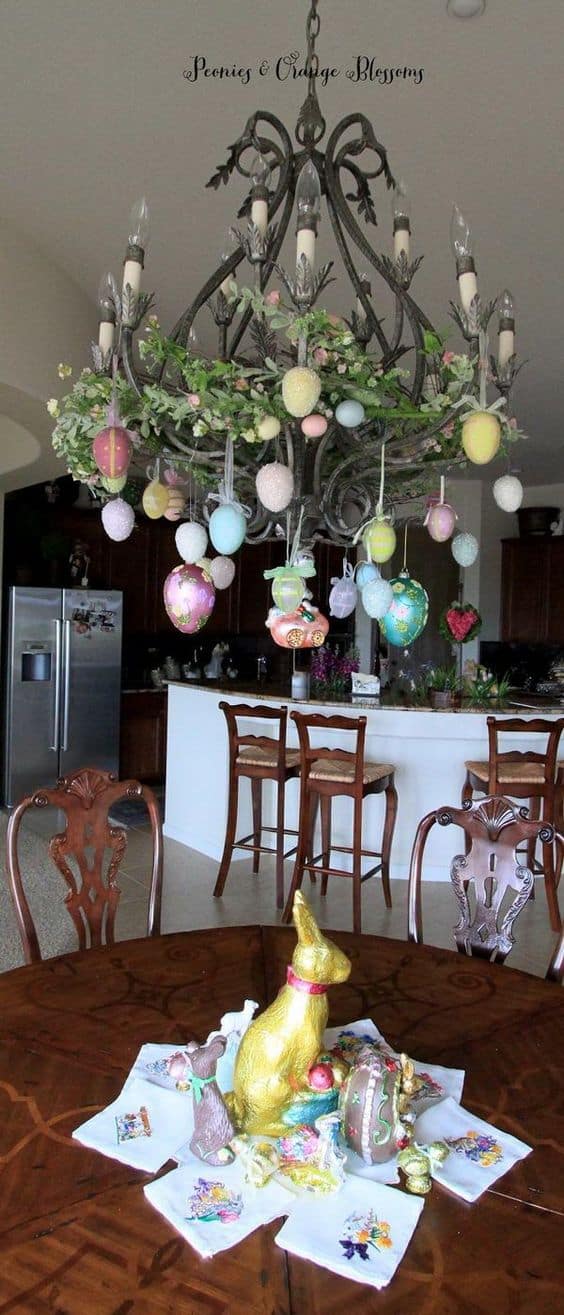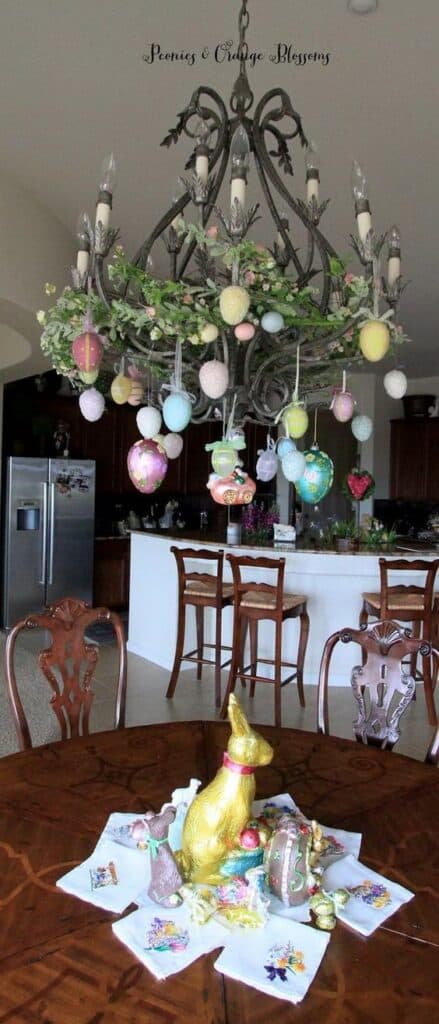 Don't forget the Chandelier! Get the tutorial here!
Easter in a Jar and other Easter Basket Alternatives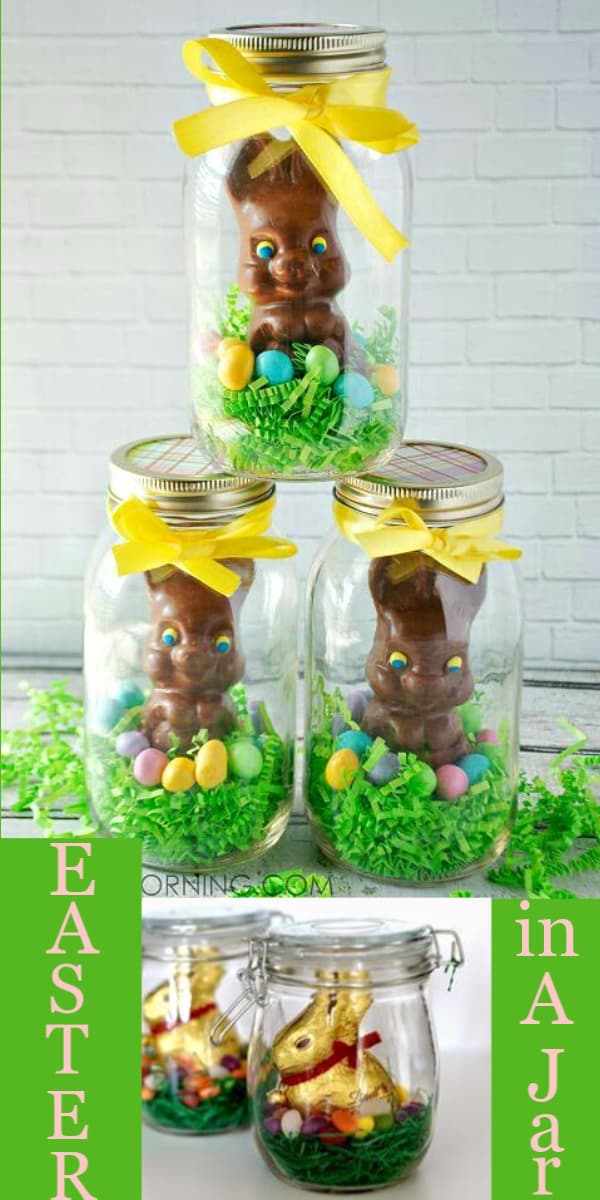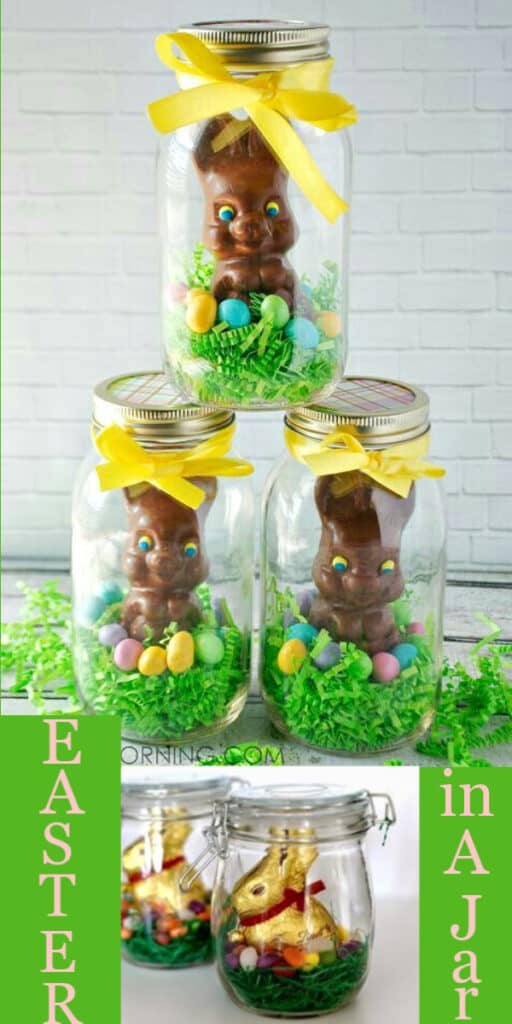 What a great Easter basket alternative! Get a mason jar or any jar and fill it with grass and Easter candy for the kids or even a centerpiece. Tutorial for top photo here, Tutorial for bottom photo here.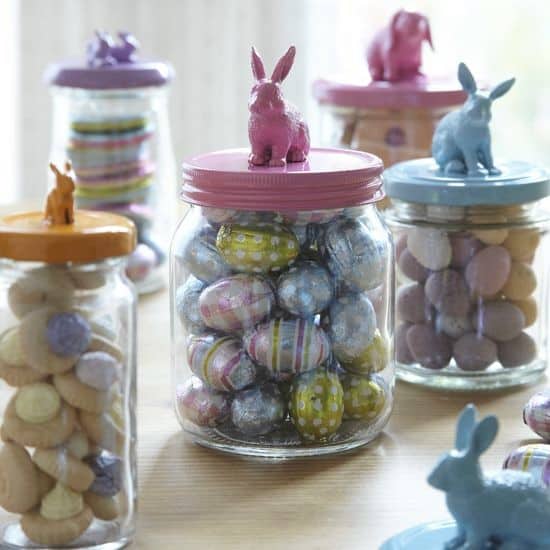 Instead of placing the bunny in the jar you can place it on top! Photo source.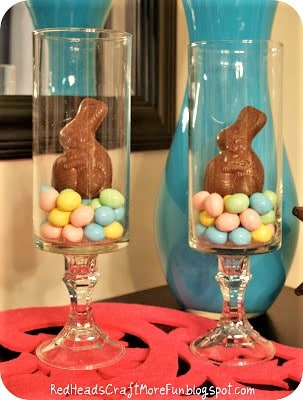 These vases on a pedestal are easy and cheap to make but are striking filled with candy. Get the tutorial here.
Wood Crafts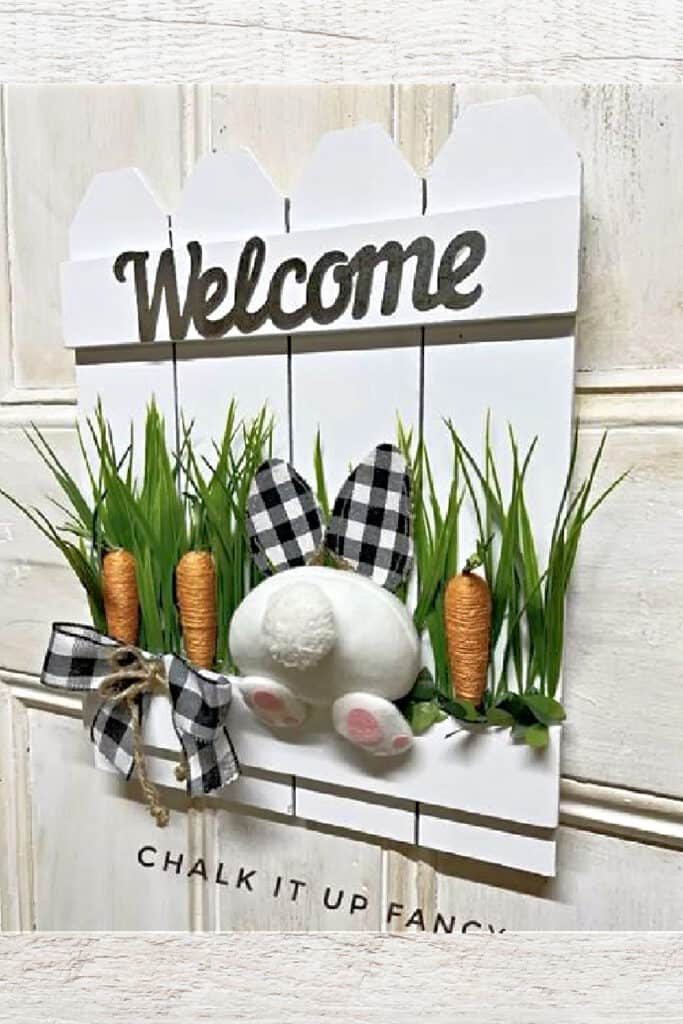 Use Dollar Tree items to make easy beautiful wood signs for Spring!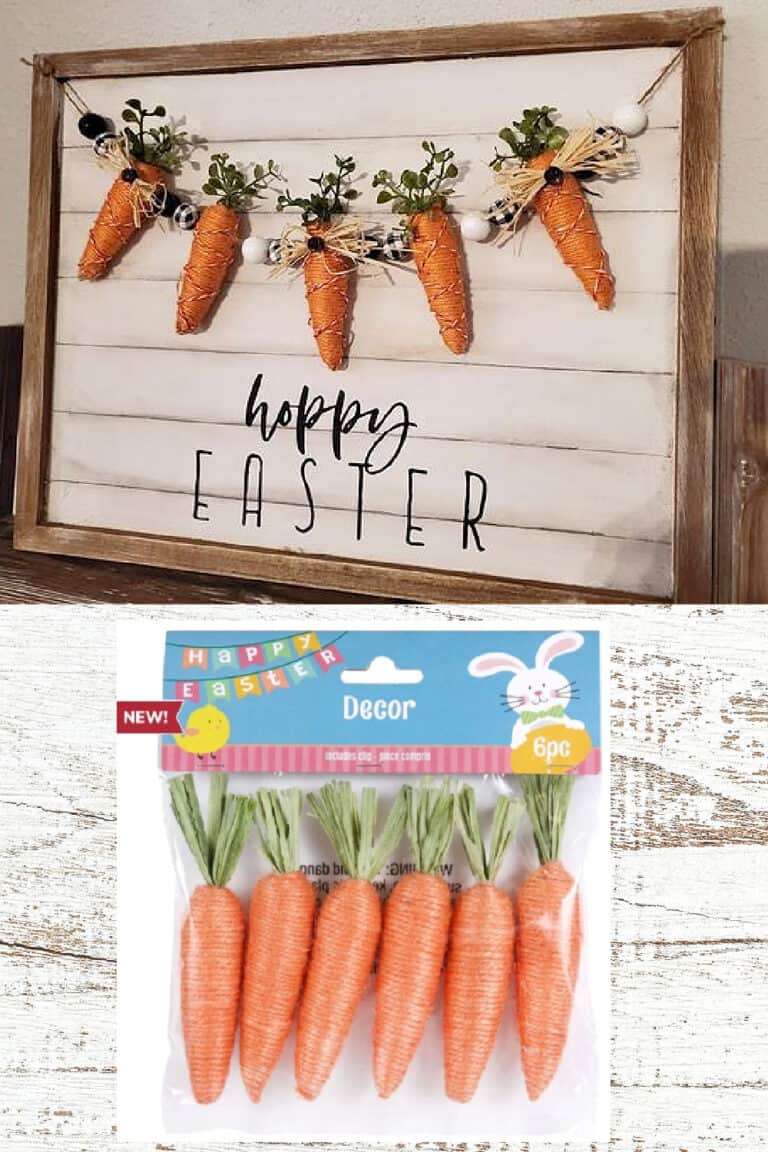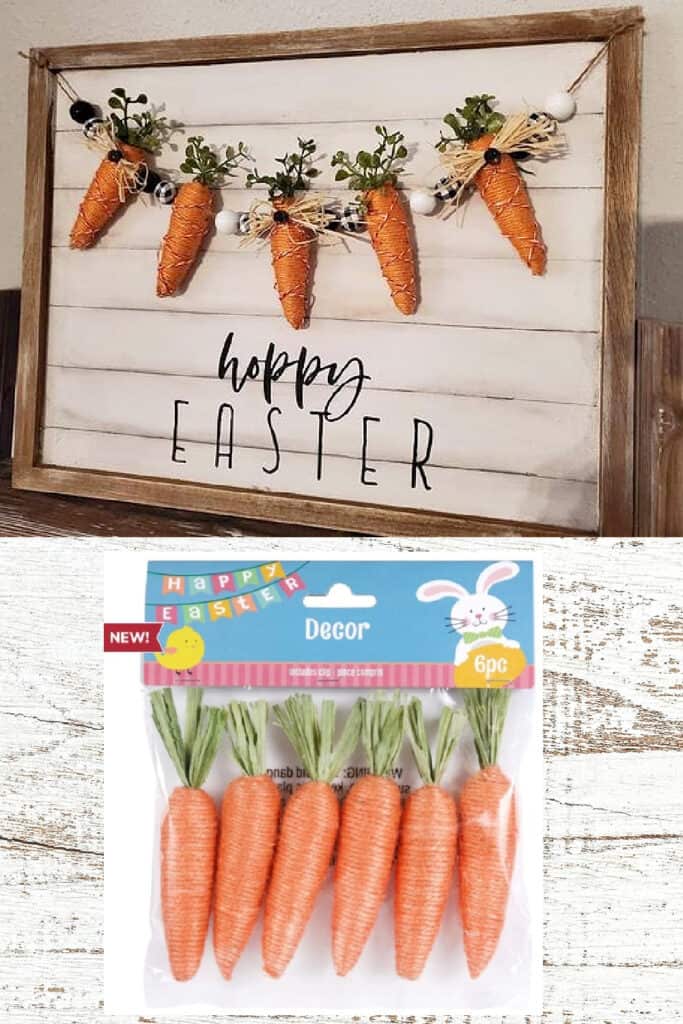 You can find rope carrots or carrot garland along with wood planks and pieces at the Dollar Tree to make this adorable Farm House Easter sign to keep or sell.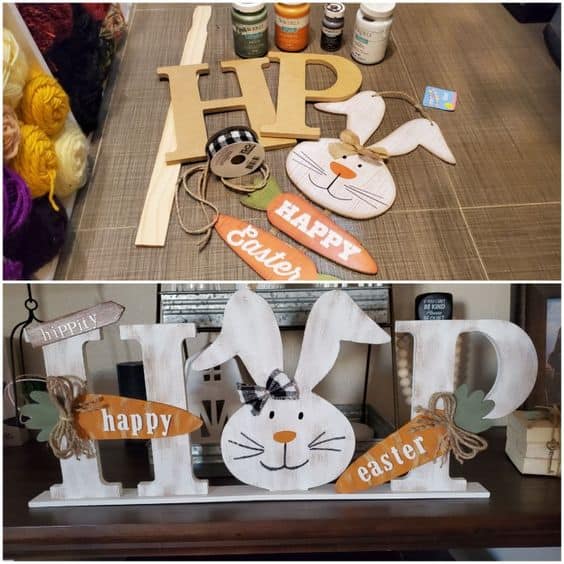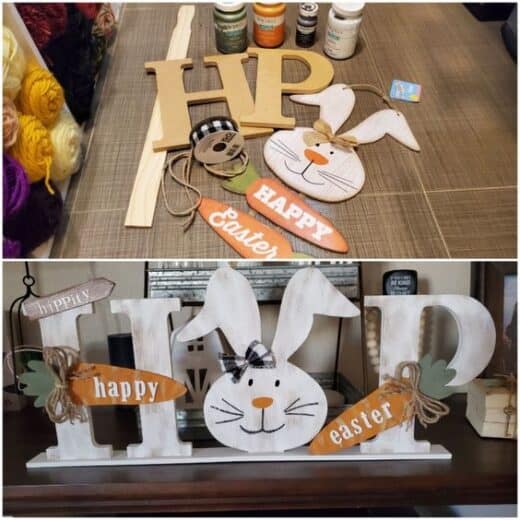 You can find the supplies for this Easter Bunny mantle sign at Hobby Lobby and the Dollar tree.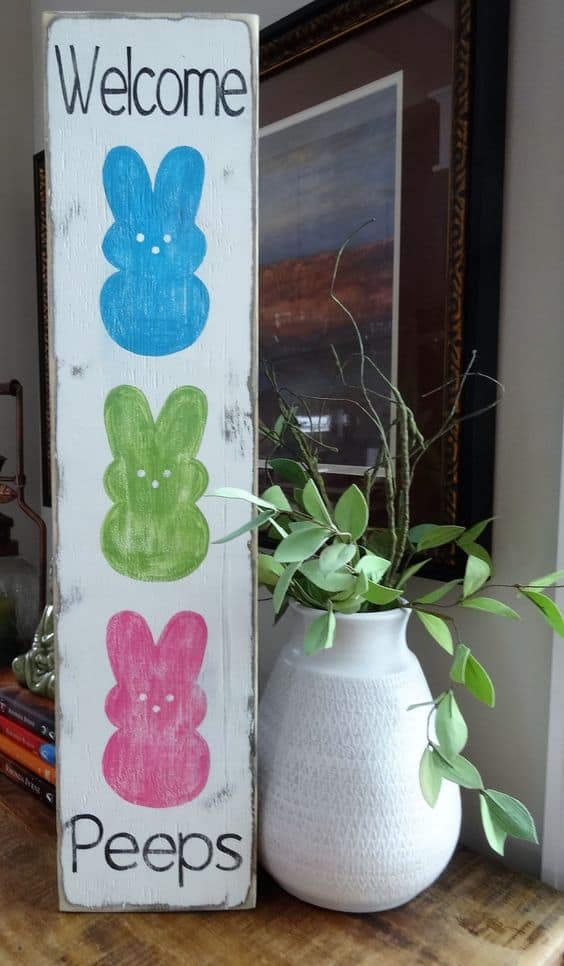 Welcome Peeps into your home with this Farmhouse style wood sign for your front door! You can find it here on etsy or try to recreate it yourself!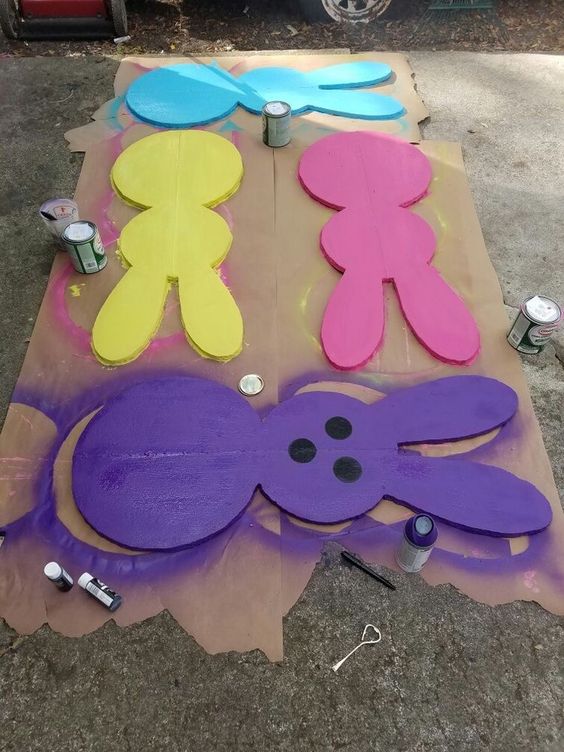 You can make large peeps out of thin wood board or cardboard. SOURCE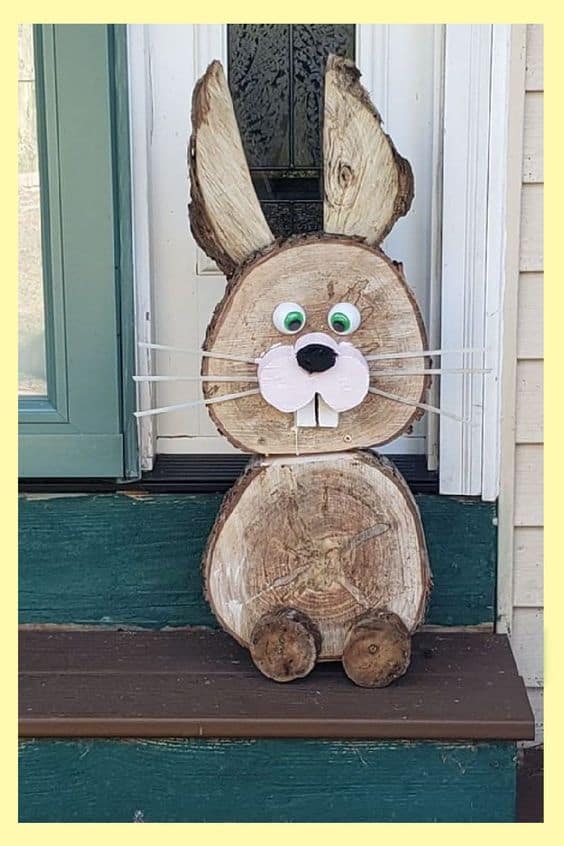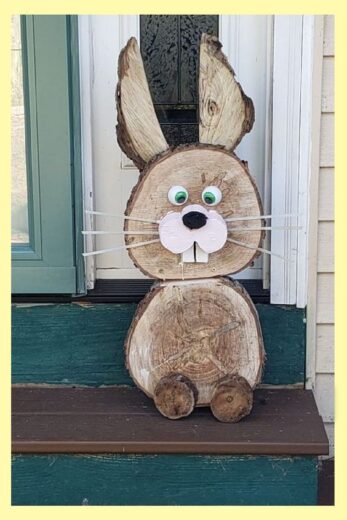 This adorable wood Bunny above can be made with tree scraps. Find the source here.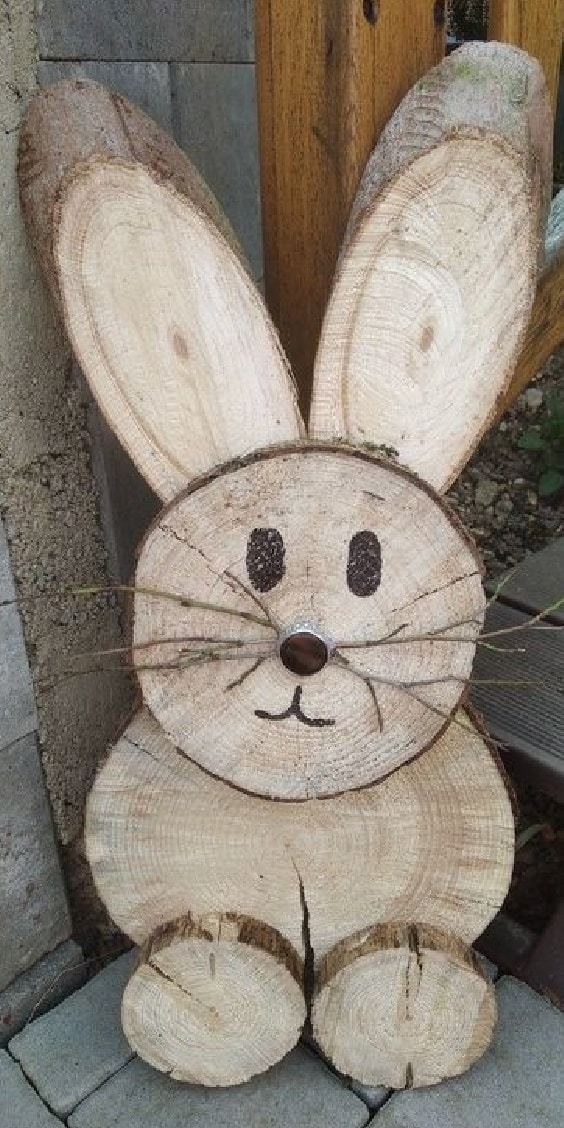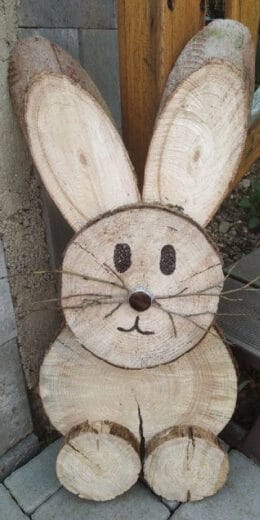 The above Wood Easter Bunny could be made for indoor and outdoor decor to greet guests.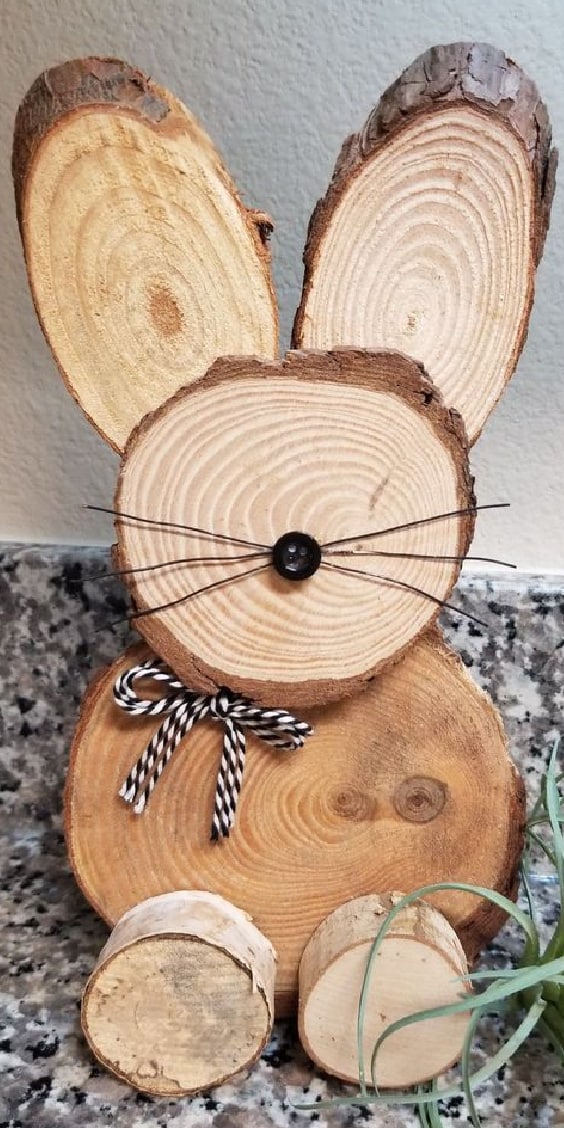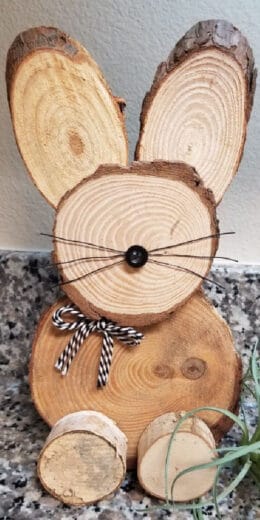 Make the above table top Easter bunny with wood scraps and logs for your table or kitchen.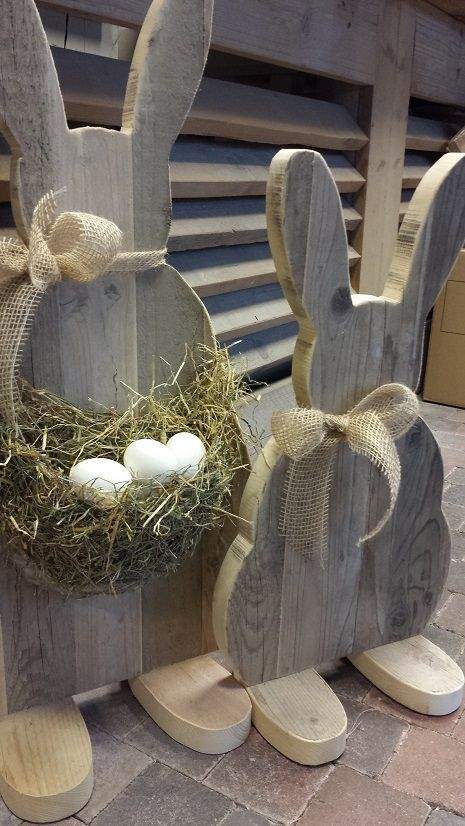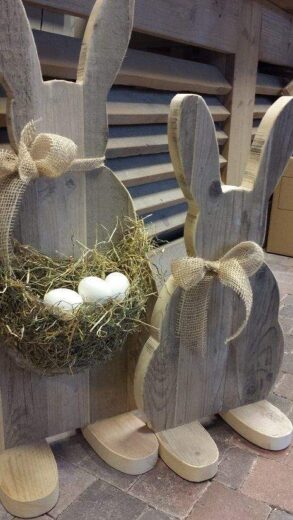 Here is another beautiful DIY wooden bunny Easter decoration.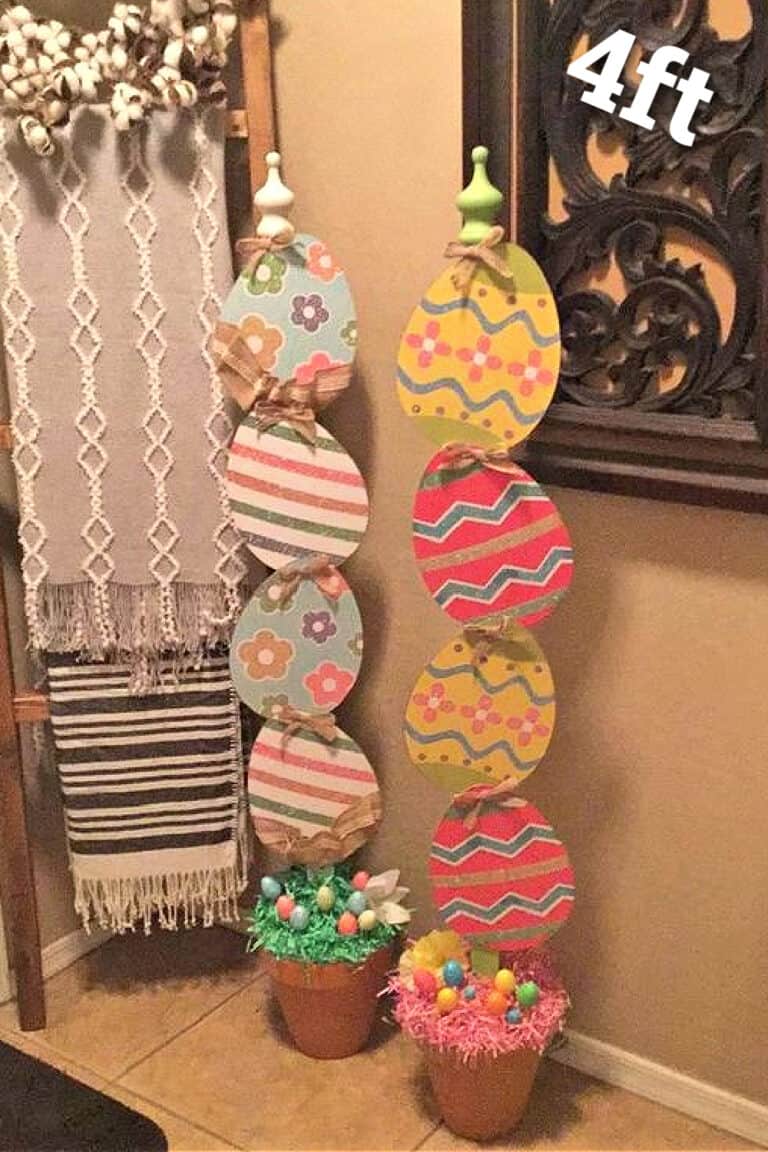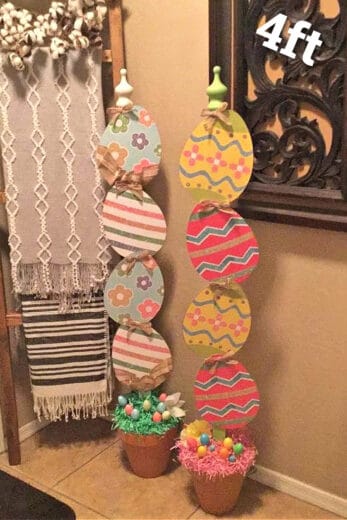 The above Easter Egg Topiary is 4 ft high and made from all dollar store items.
Dollar Store Easter Dice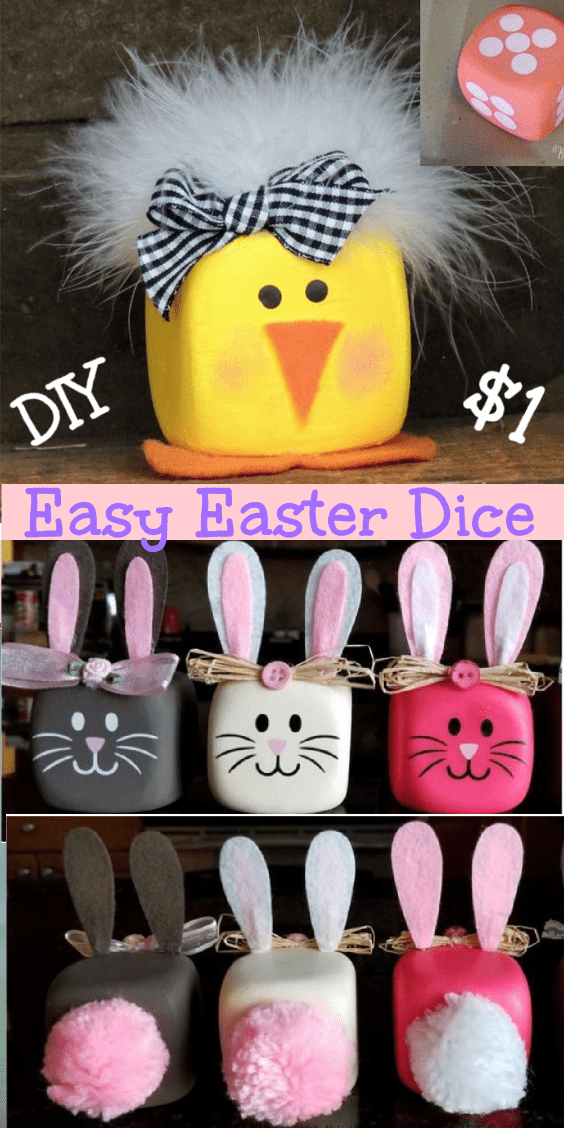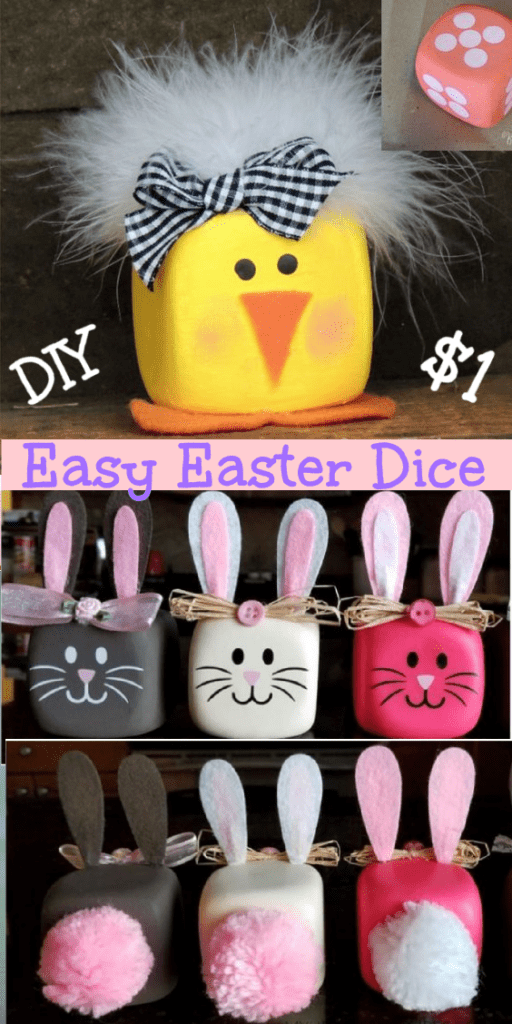 These are too easy not to make! These require dollar store dice and balloons! A fun craft for kids to make and an adorable decoration.
---
We never knew elegant Easter decorations could be so easy. By just using items we already have, we're keeping the kids entertained and the adults happy. Keep checking back, we'll definitely add to this list if we find any other noteworthy ideas.
HAPPY EAST

ER!
Love,


Posts You May Enjoy…