15 Easy DIY Ways To Decorate Your Home For Christmas
Last Updated August 23, 2023
Christmas decorations don't have to be complicated to be beautiful.
We're sharing our favorite easy Christmas decoration crafts, tips, tricks, and hacks that we use to decorate our home year after year.
They work for EVERY budget, style, and space, and most of them utilize items you may already have around the house.
Use these ideas to repurpose random leftover Christmas supplies like gift wrap, candy, wine corks, or pine cones.
A lot of these are even fun Christmas crafts or DIY gifts you can make with family.
Whether you're throwing an epic Christmas party or wedding, hosting a fun old fashioned family Christmas, looking for easy diy Christmas crafts to sell, or enjoying a quiet holiday in your small apartment–if you've taken on the task of decorating this year–we have you covered.
You're guaranteed to find atleast one idea you can use and keep checking back because we update it every year!
We organized the decoration into the sections below:
MAKE A DISCO BALL SNOWMAN
WRAP YOUR DOORS
Garland Or Tinsel On Doors, Windows, Entry Ways, Banisters, and Mantels
CHRISTMAS TREE IDEAS 2023 TRENDS
Hanging Garland for Ceiling, Walls, Windows and Mantles
Fill Your Containers With Christmas
CANDLES & VOTIVES
DIY Snowflakes
Pinecone Decorations
Candy Cane Decorations
CONE TREE DECORATIONS
WOODEN INDOOR OR OUTDOOR DECORATIONS
Clay Pot Christmas Decor
CHRISTMAS BRANCHES
VASES AND JARS
DIY WALL HANGING CHRISTMAS TREE IDEAS
CHRISTMAS WREATH IDEAS
CHRISTMAS STOCKINGS
This post may contain affiliate links. Click here to read our full disclosure policy.
If you like it, don't forget to pin it for later…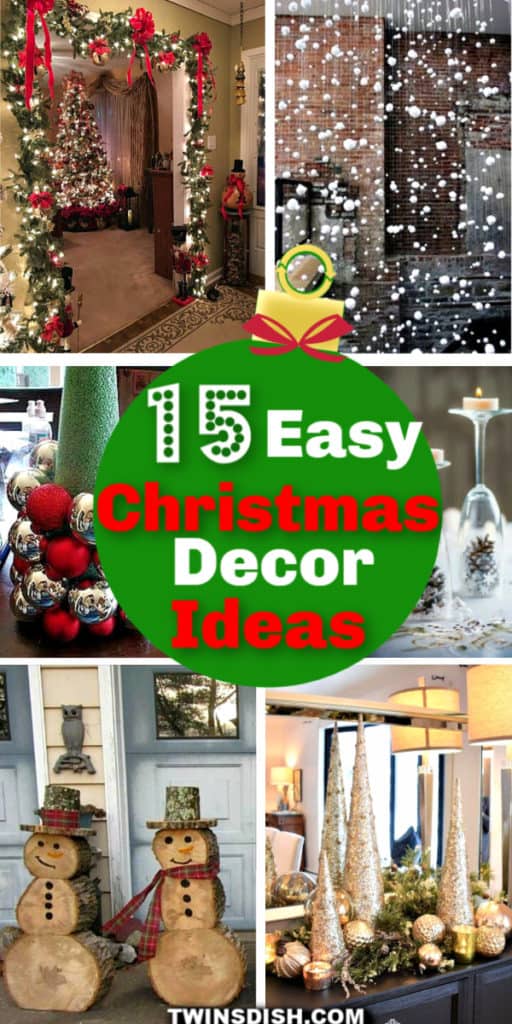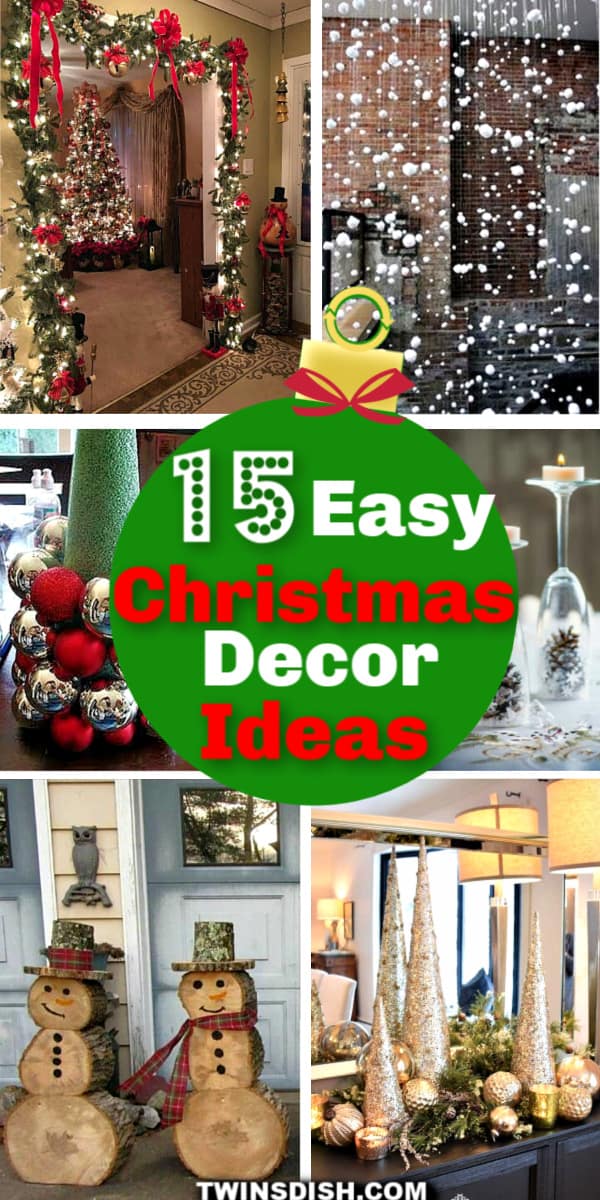 MAKE A DISCO BALL SNOWMAN
Here is a fresh DIY Christmas decor idea that can take you from Christmas to New Years and straight through winter….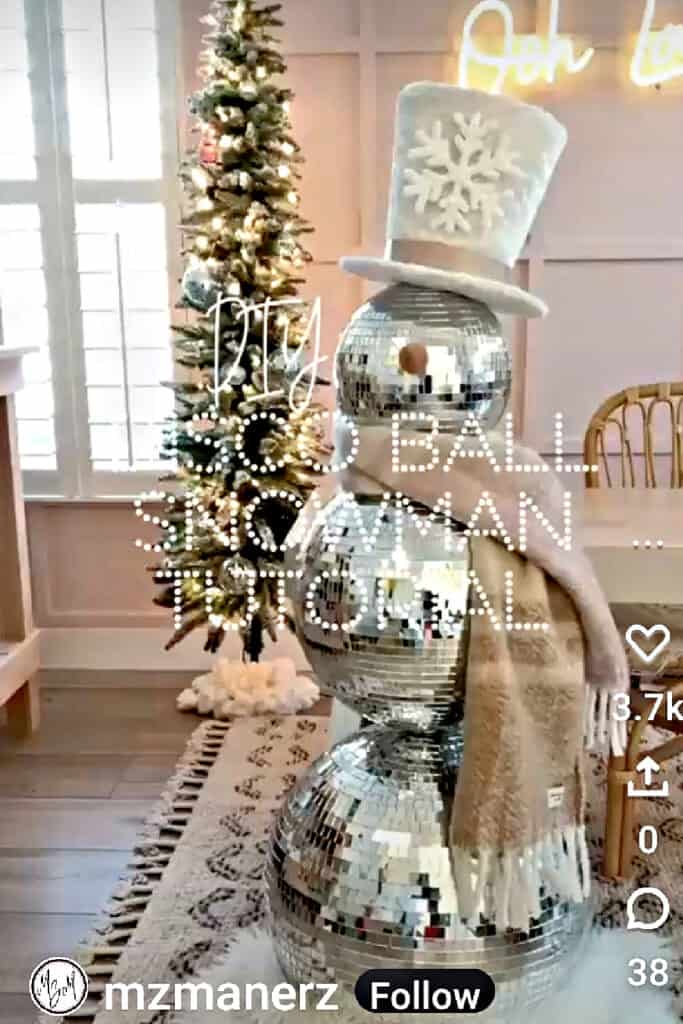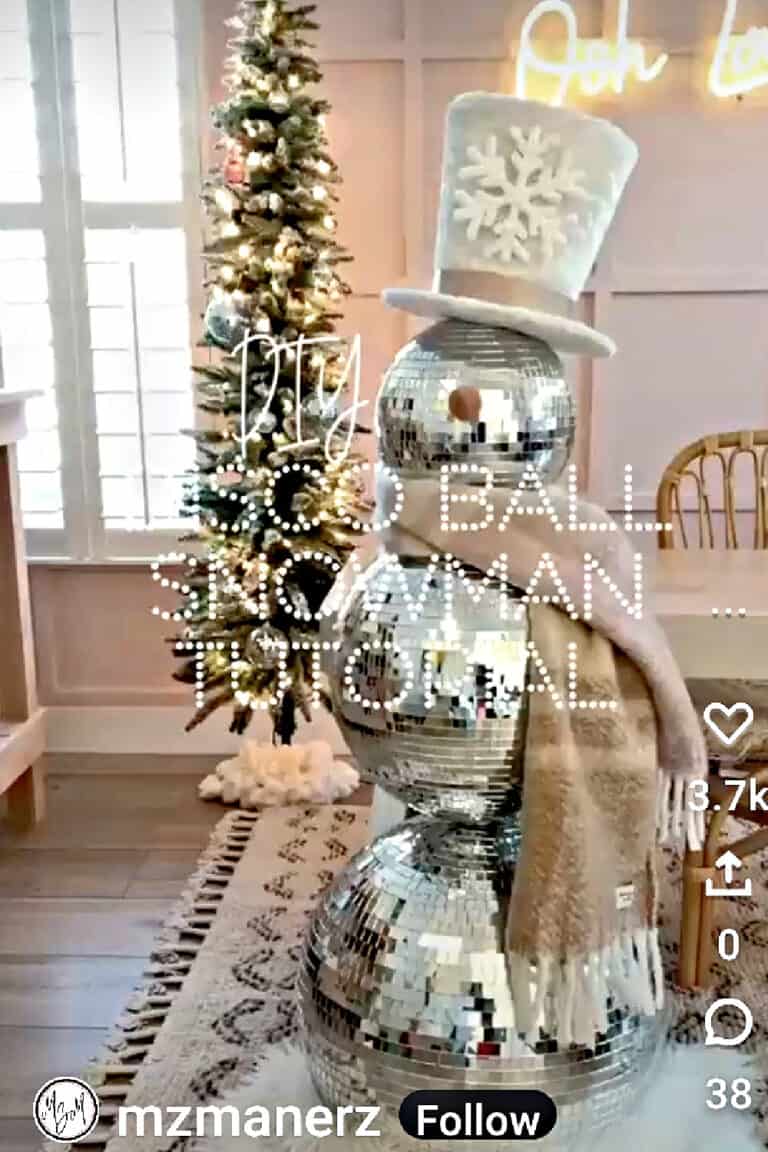 The easy diy Christmas Decor snowman (pictured above) takes a 20 in disco ball, 16 inch disco ball, and 10 inch disco ball, but you can make a smaller version too. You can purchase disco balls of various sizes and the hat on ebay or amazon.com or make them yourself using disco ball tape
WRAP YOUR DOORS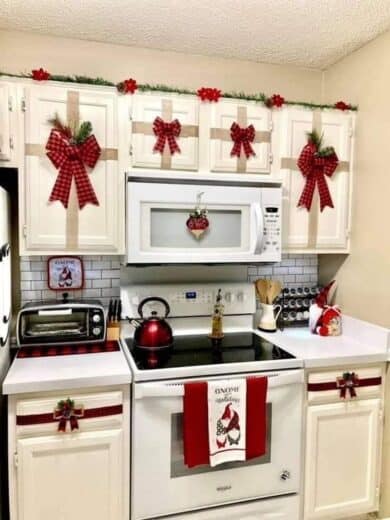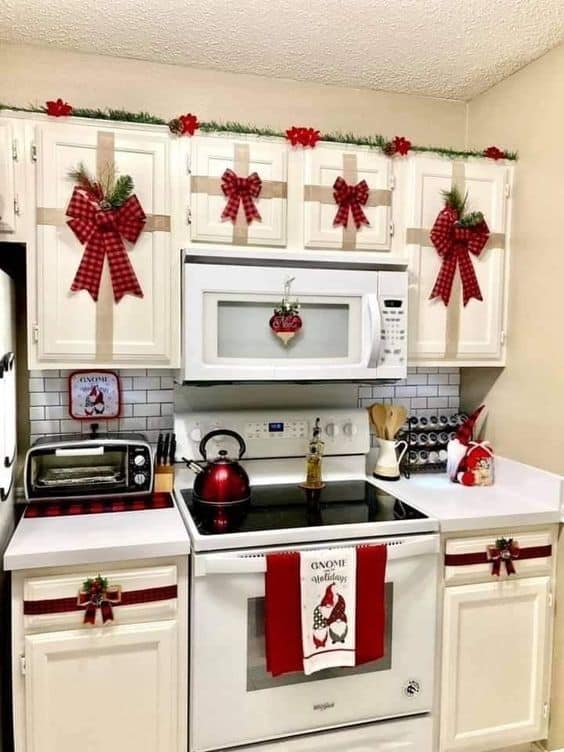 Our college used to do this every Christmas and we have been doing it ever since!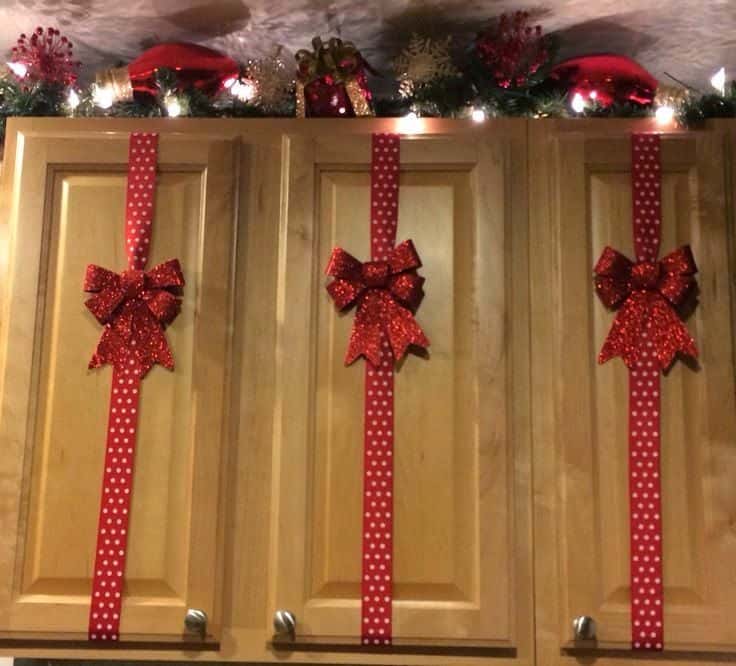 You can use wrapping paper, construction paper, or ribbon to decorate your doors.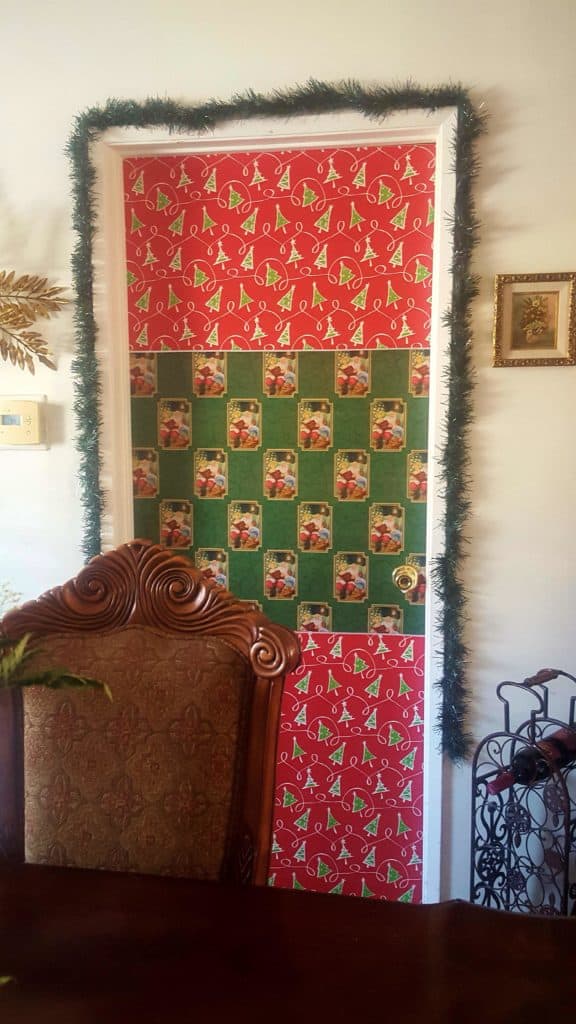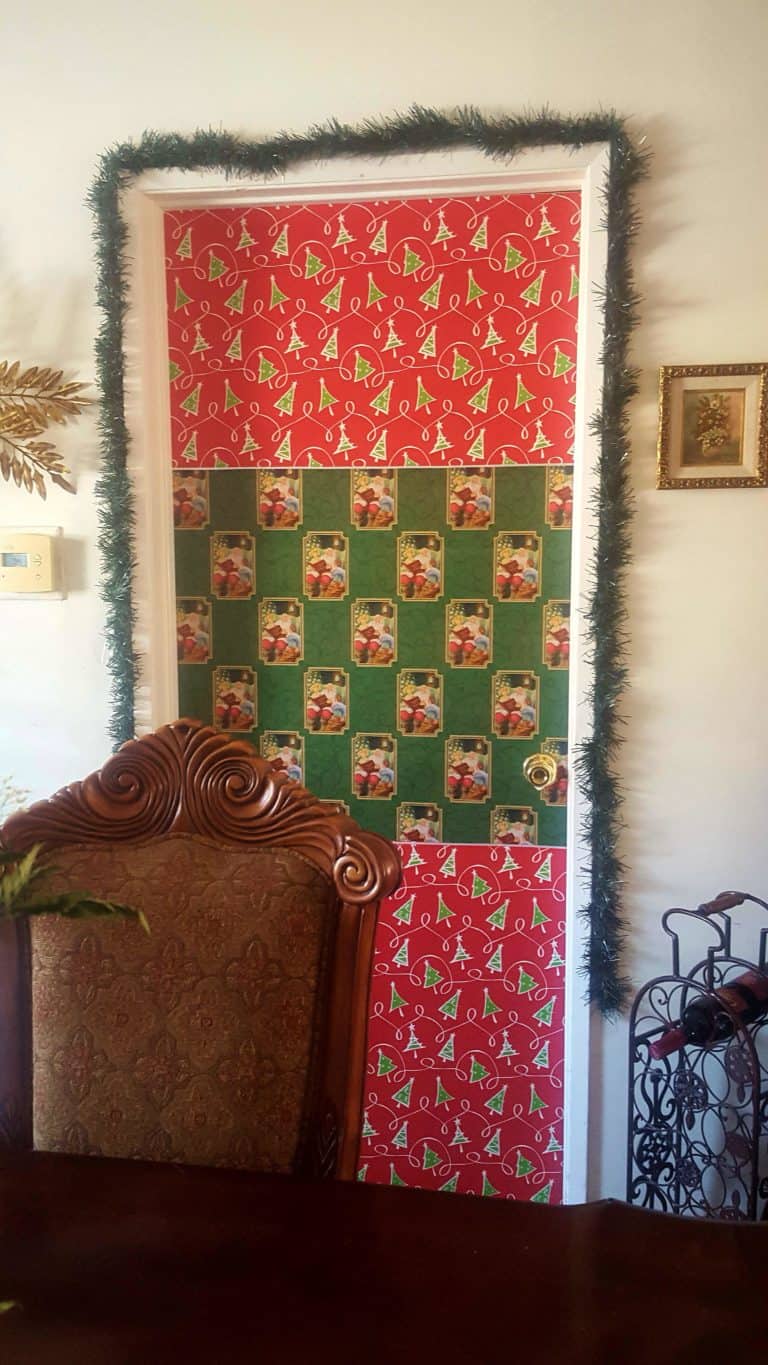 This works for ALL doors including cabinets and even the fridge.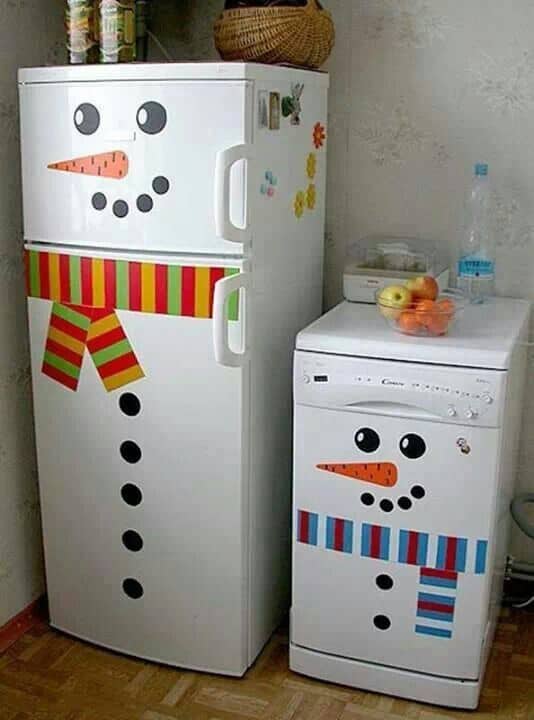 Make a cute design like a snow man, wrap your whole door or put a piece of wrapping paper on just the top half of the door, top it off with a bow or ribbon.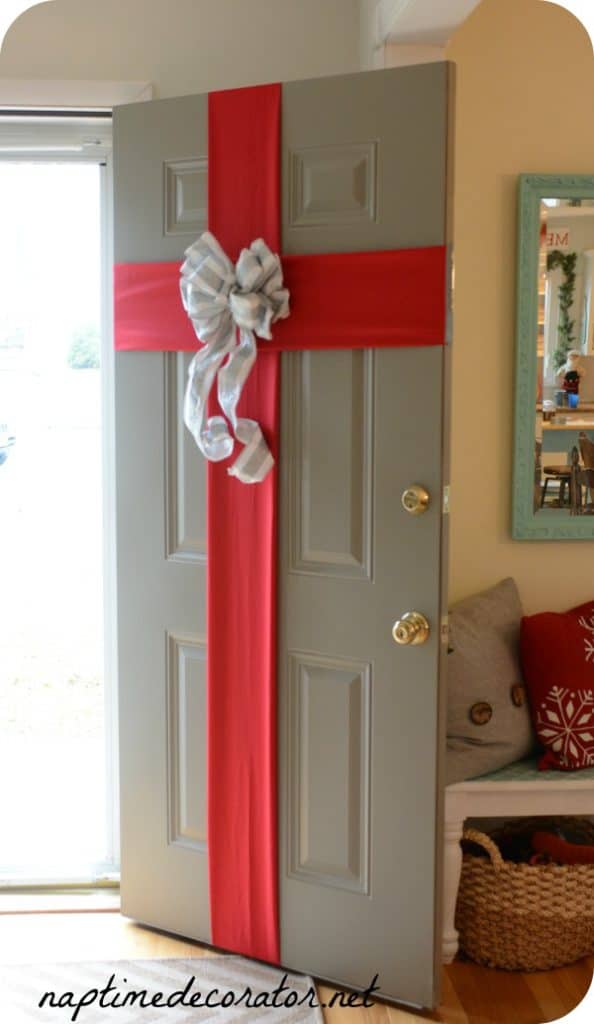 You can also just tie it up with a bow. It's also great for schools since it's super easy and uses supplies that you already have.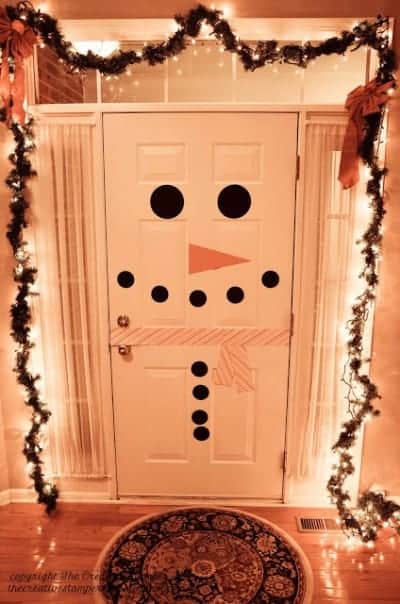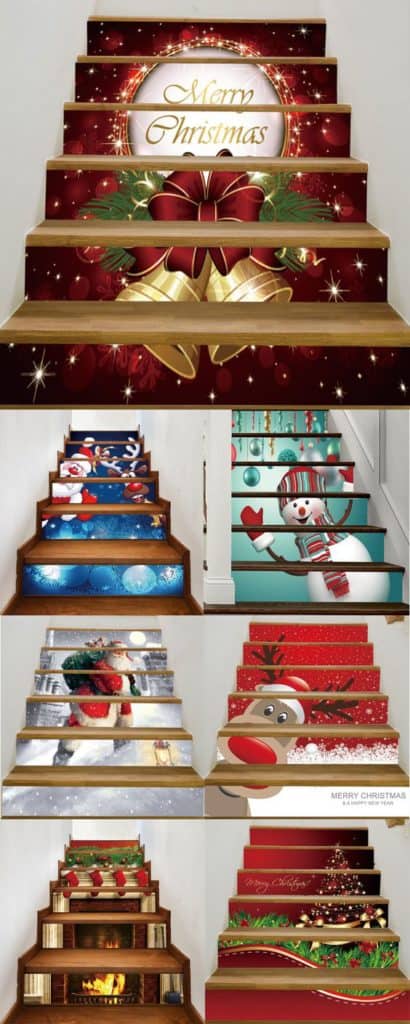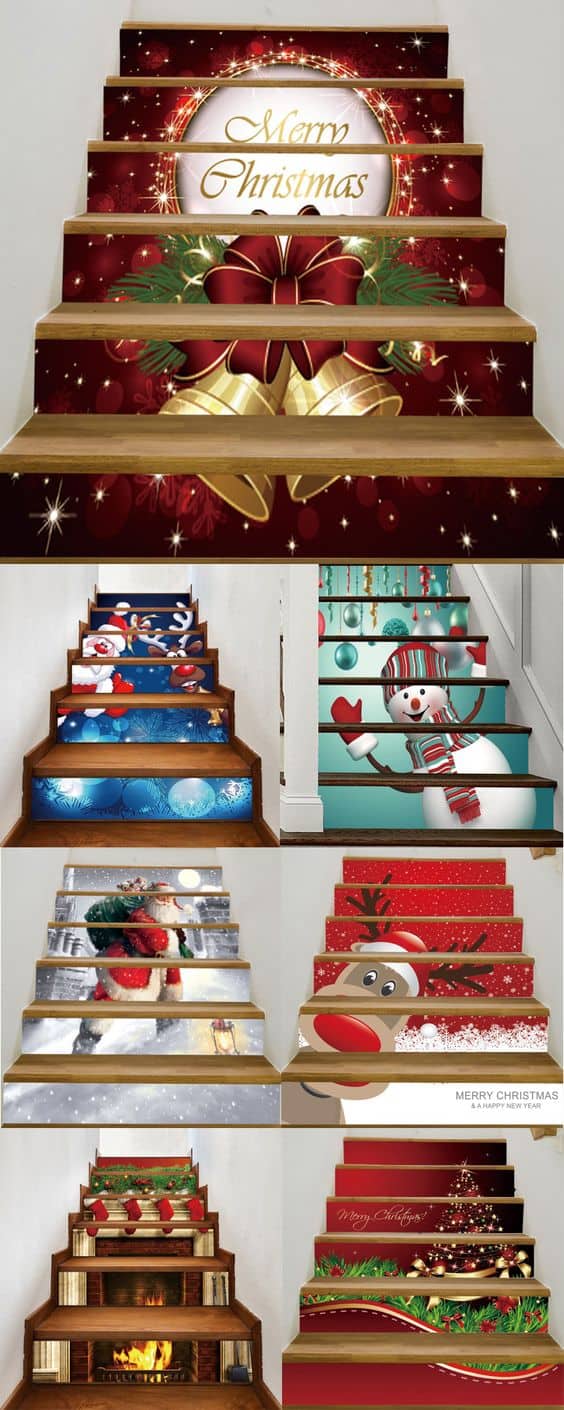 Wrapping paper can also look great on the face of tiled or wood stairs, just cut the pieces to fit and attach them with double stick tape.
Garland Or Tinsel On Doors, Windows, Entry Ways, Banisters, and Mantels
You can really get creative with this. Use store bought garland or tinsel, or make your own.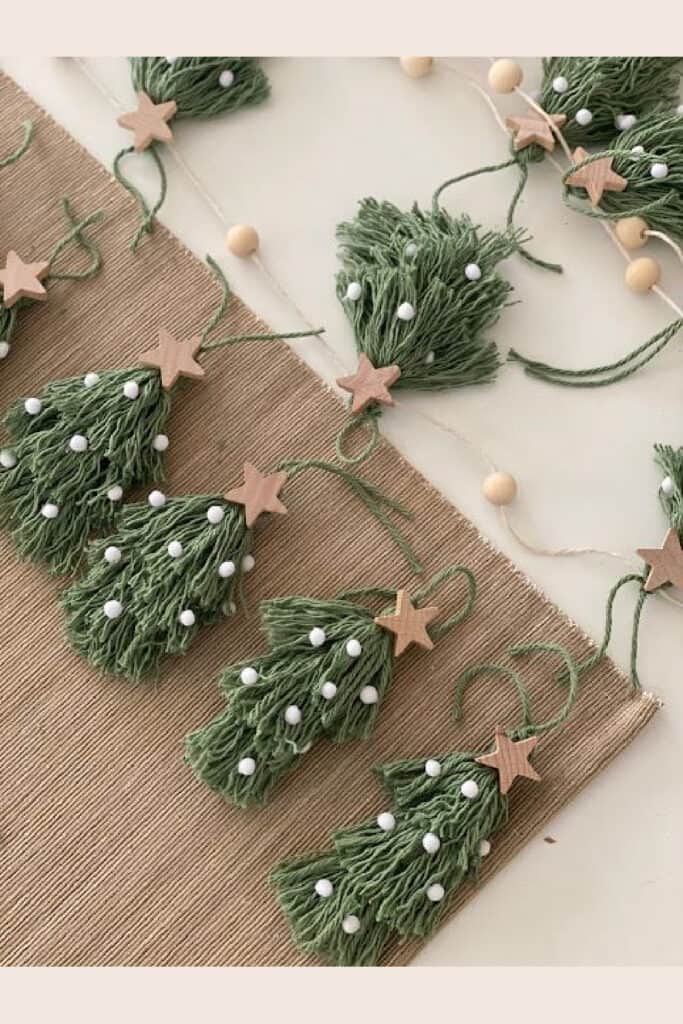 Add lights and bows or ornaments to make it really festive.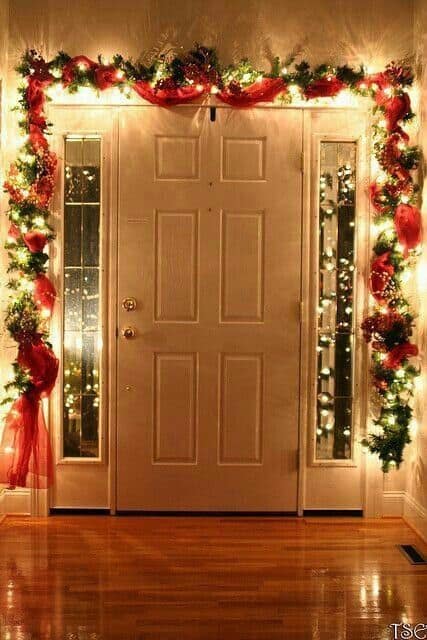 We always hang garland above our doors and windows.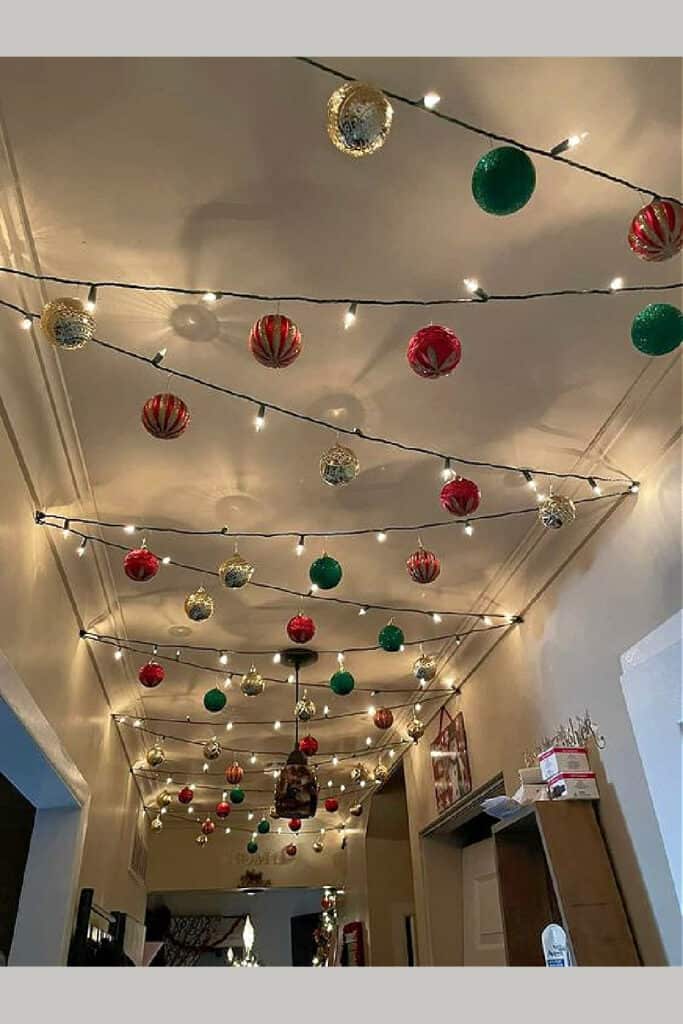 From the drop ceiling going into the dining room, we hang tinsel with lights and ornaments using command hooks.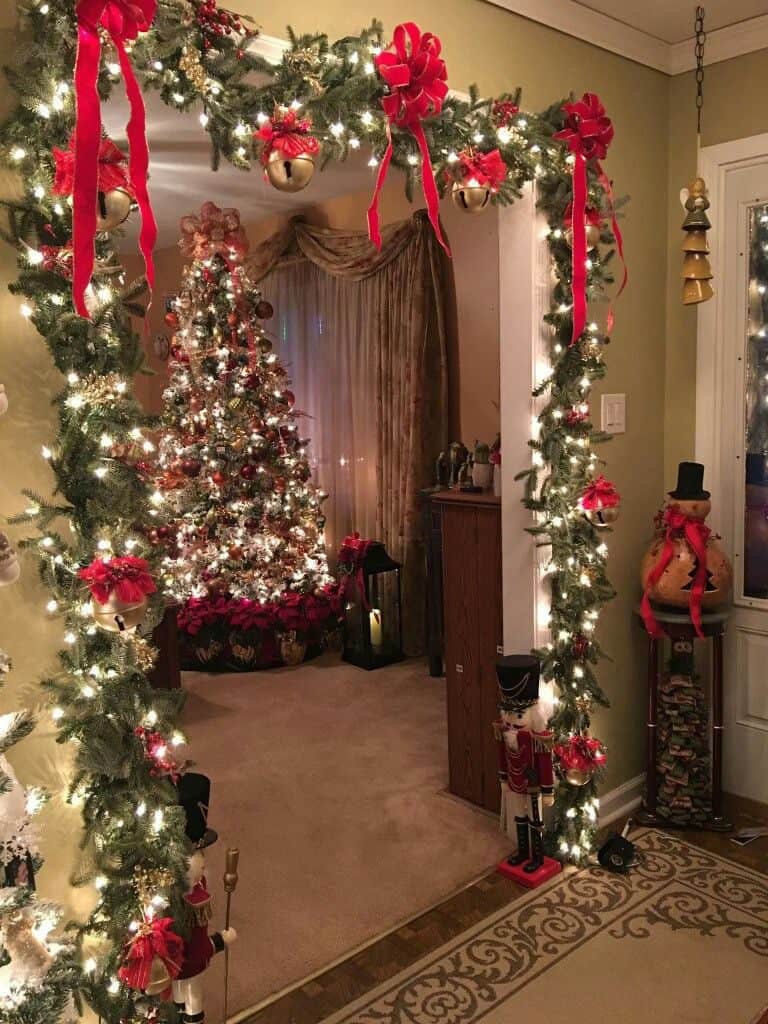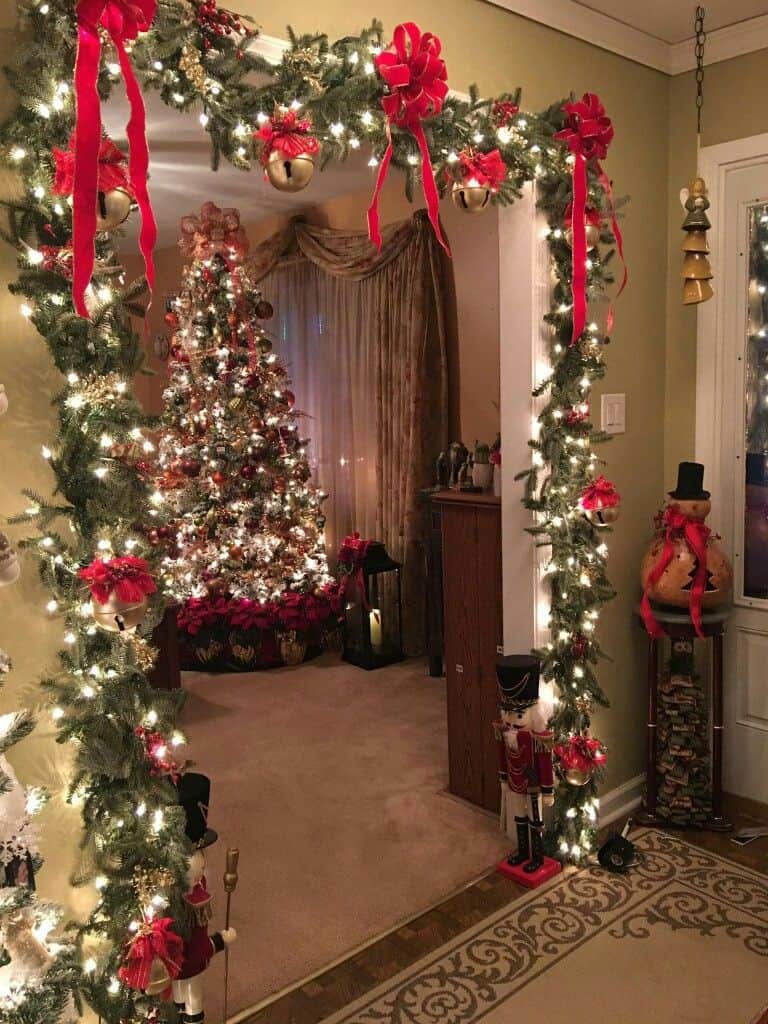 Don't forget your kitchen cupboards! Line the tops of cupboards with garland and or lights.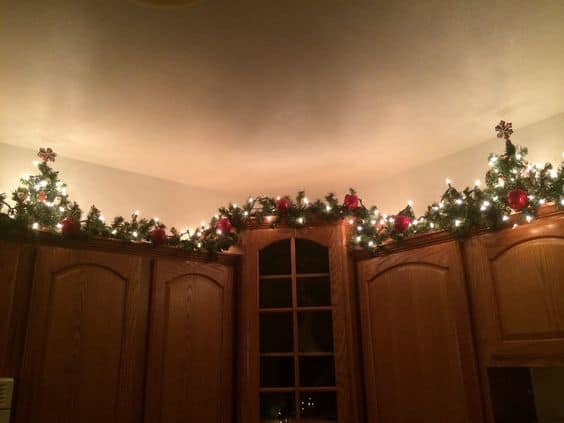 Garland and tinsel work really well above mantels and on stair banisters.


Try different drapes and designs with ornaments, lights and garland on staircases.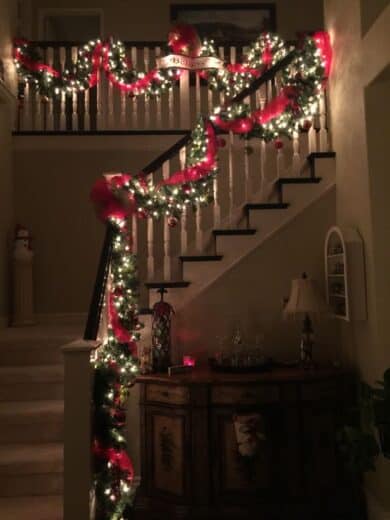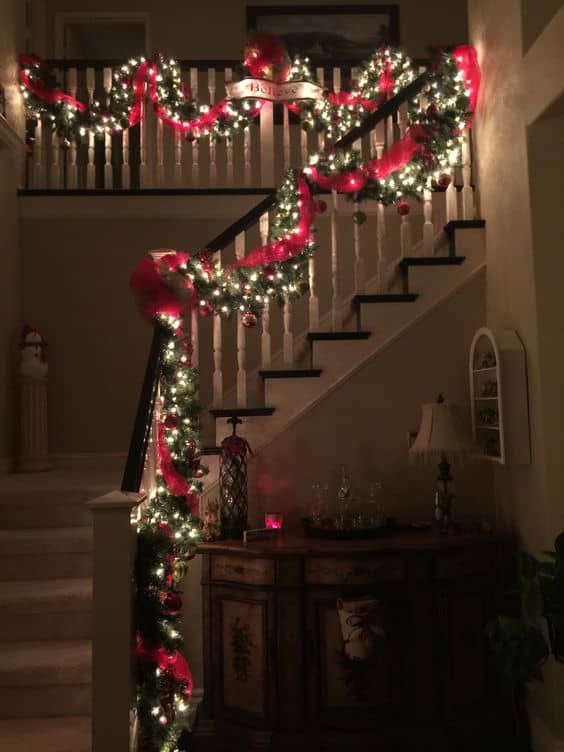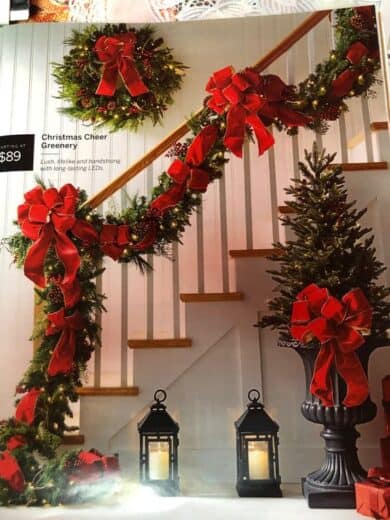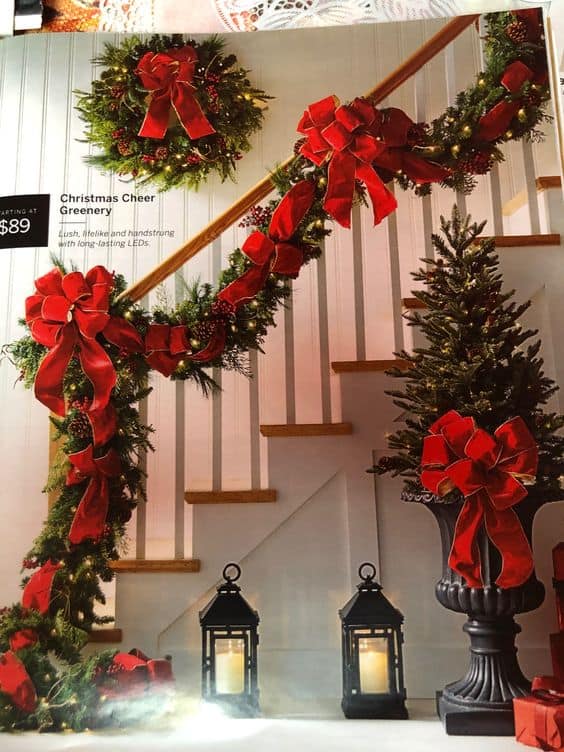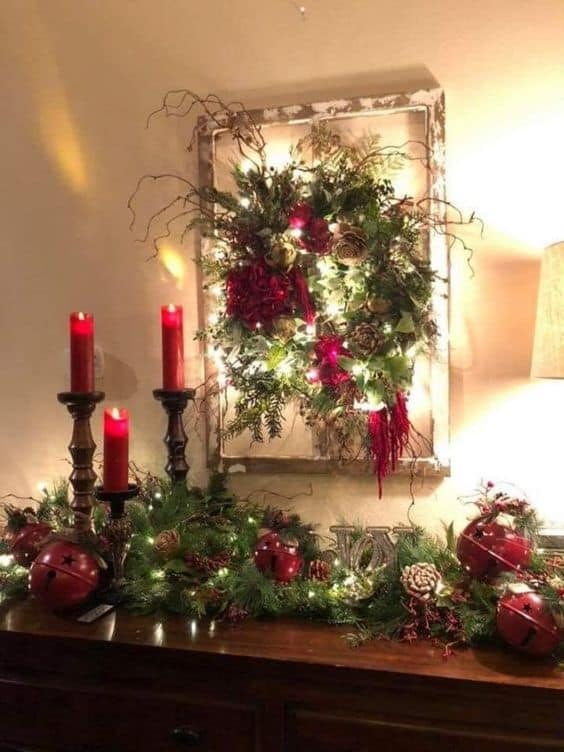 Add a wreath to the wall of a garland covered mantle for an added touch.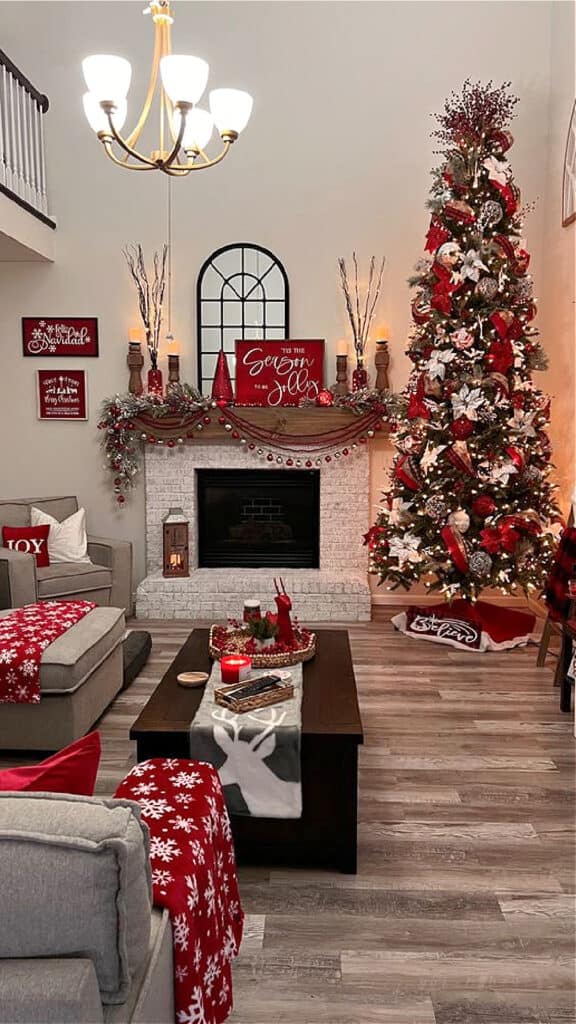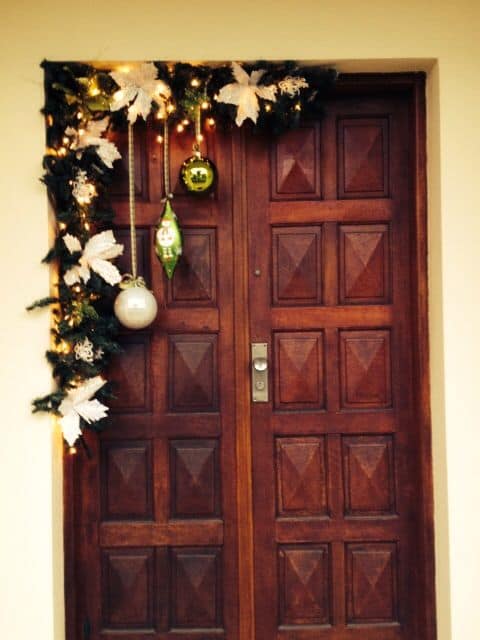 Hang garland and ornaments in just one corner of your doorway for an elegant look.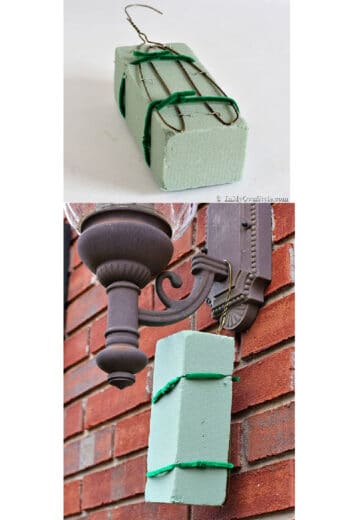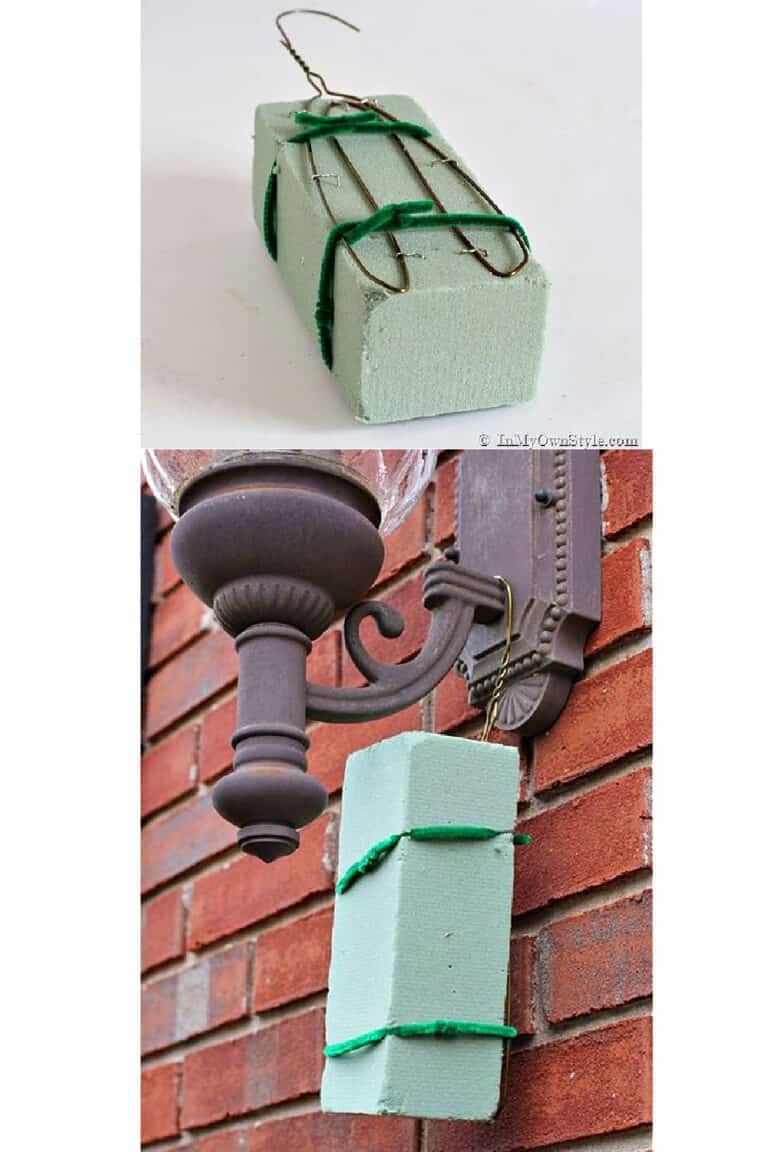 Use this cheap and easy trick for hanging garland from wall lights.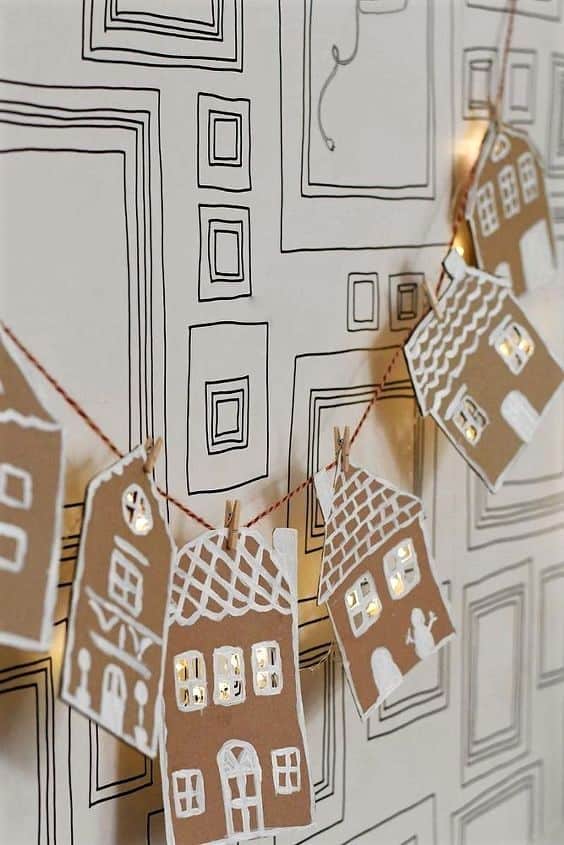 CARDBOARD GINGERBREAD HOUSE GARLAND TUTORIAL
Make super easy cardboard Gingerbread house garland from your amazon boxes.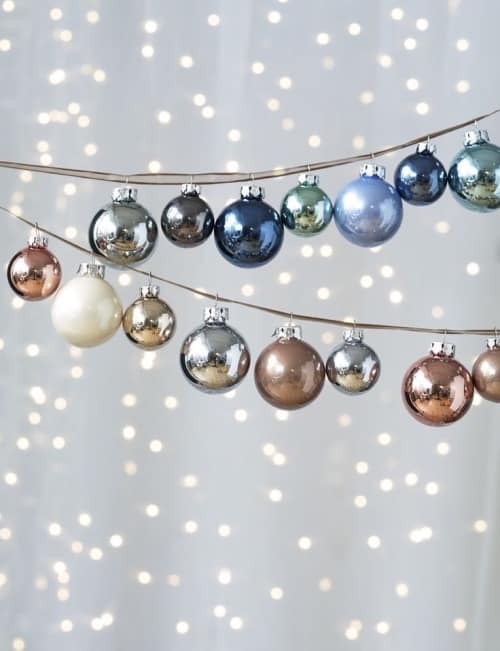 If you have leftover Christmas tree ornaments string them on some ribbon for your very own diy garland!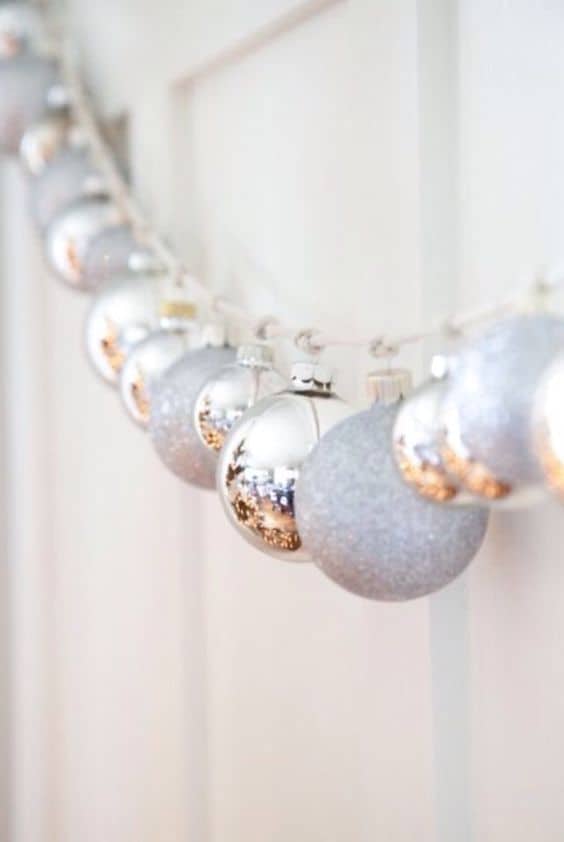 String them single file for a simpler look or load them up on the ribbon for a posh look. This looks gorgeous indoors and out!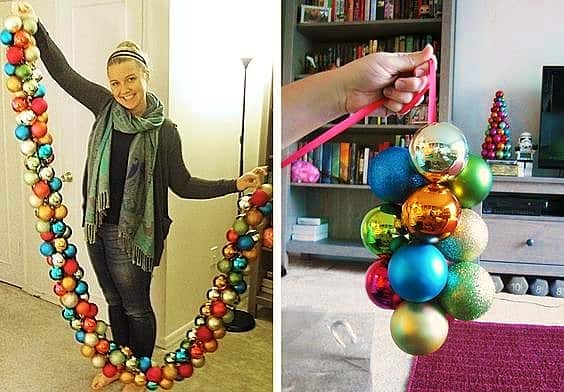 Having a party? Grab some green solo cups and balloons for faux light garland. Add glitter to the balloons or glows sticks inside for an added touch.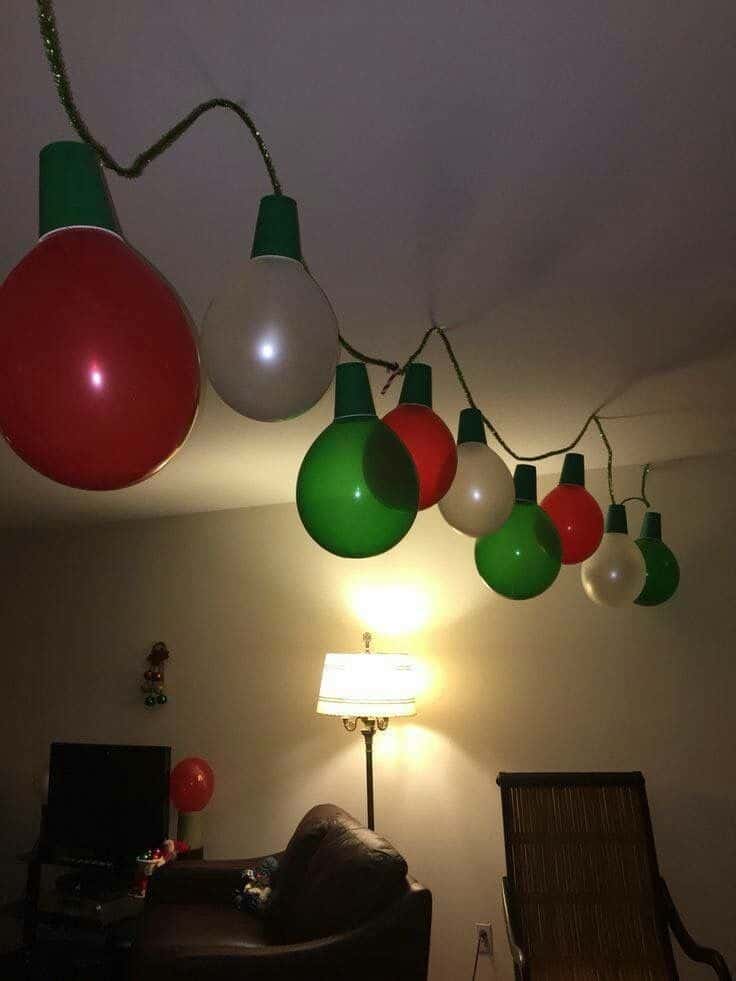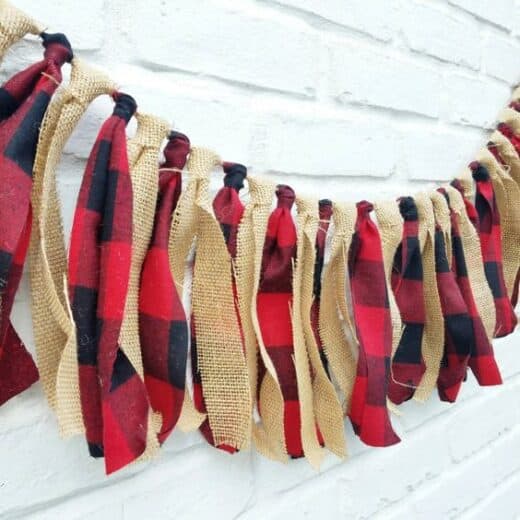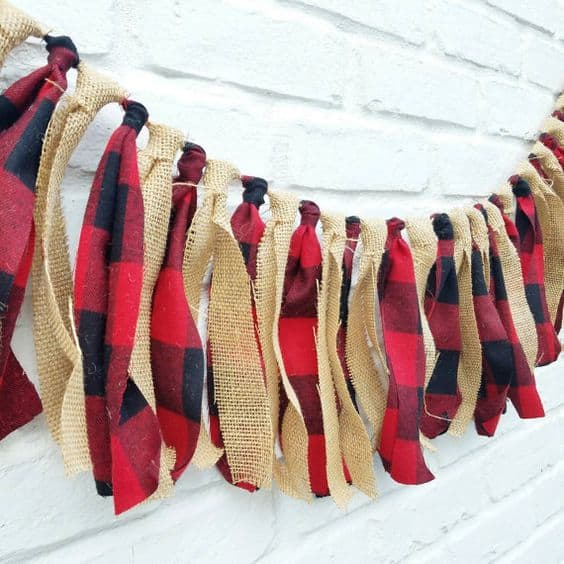 BUFFALO CHECK TASSEL GARLAND PHOTO CREDIT
We found the pic above on Pinterest for purchase through etsy but you can certainly recreate it yourself.
Tie strands of fabric around a string for a beautifully festive Tassel Christmas garland. Buffalo Check and burlap are farmhouse staple fabrics.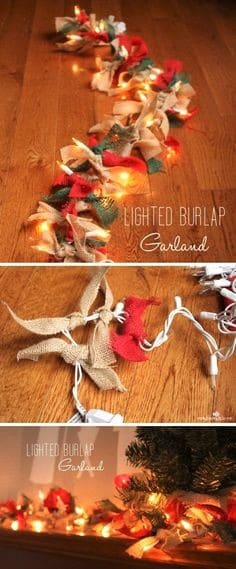 Do the same thing with lights. Tie scraps of burlap around string lights.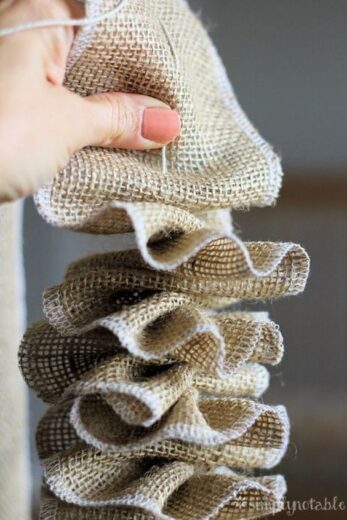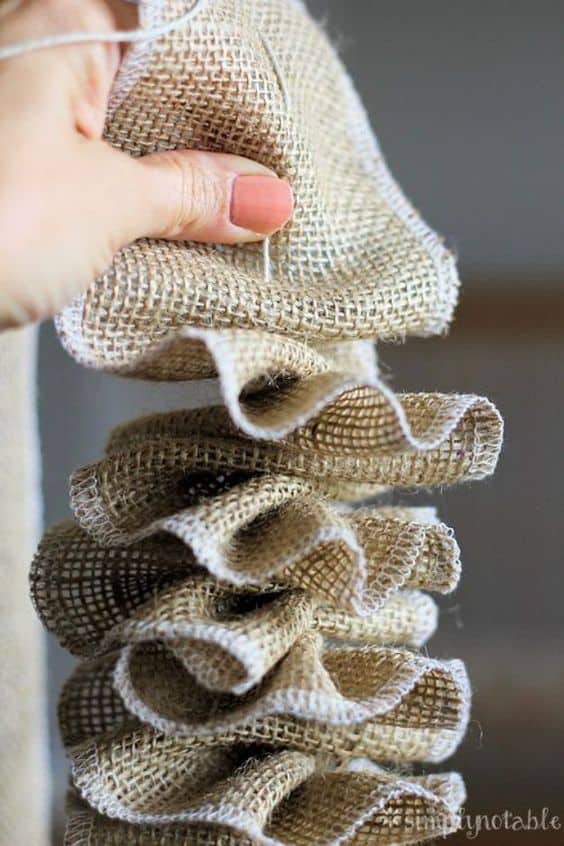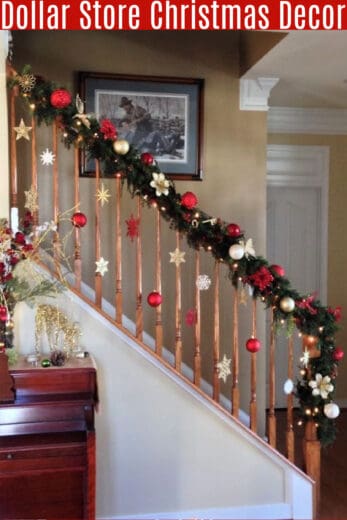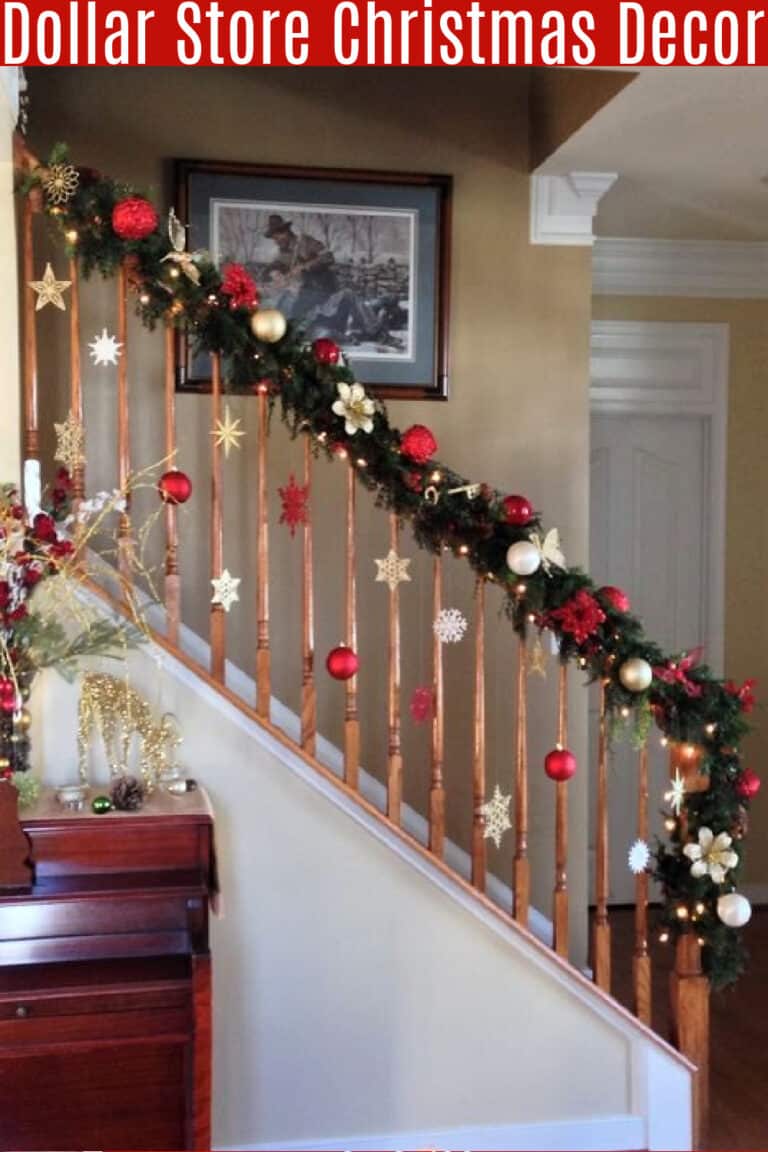 Use Dollar Store items to decorate the banister, tie snowflakes and ornaments to the banister with fishing wire.
CHRISTMAS TREE IDEAS 2023 TRENDS
Color schemes are a huge trend for Christmas Trees this year.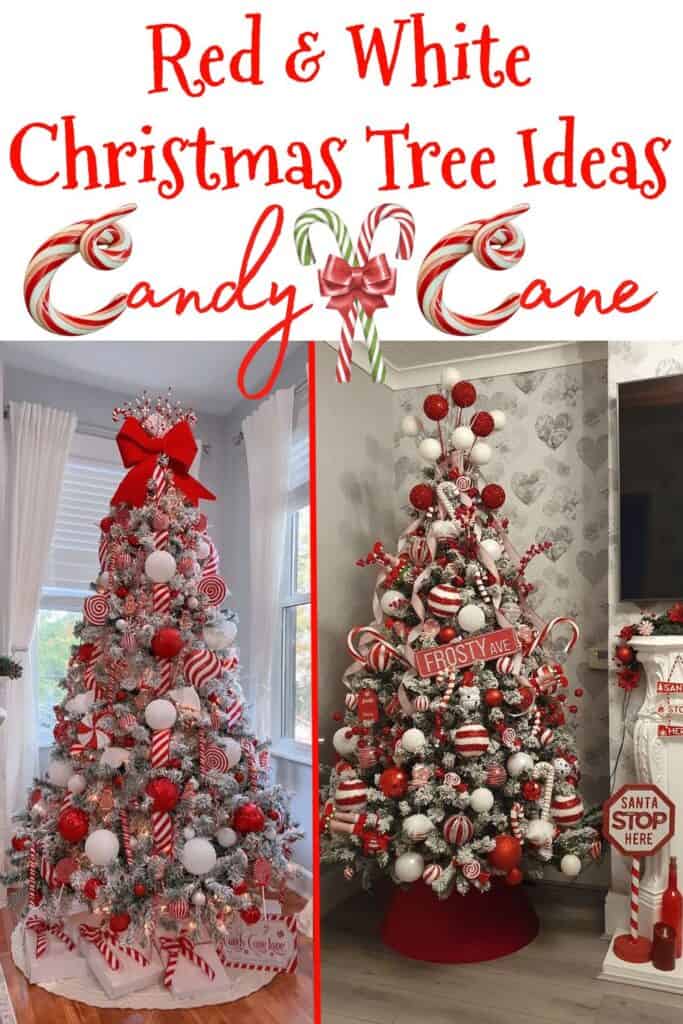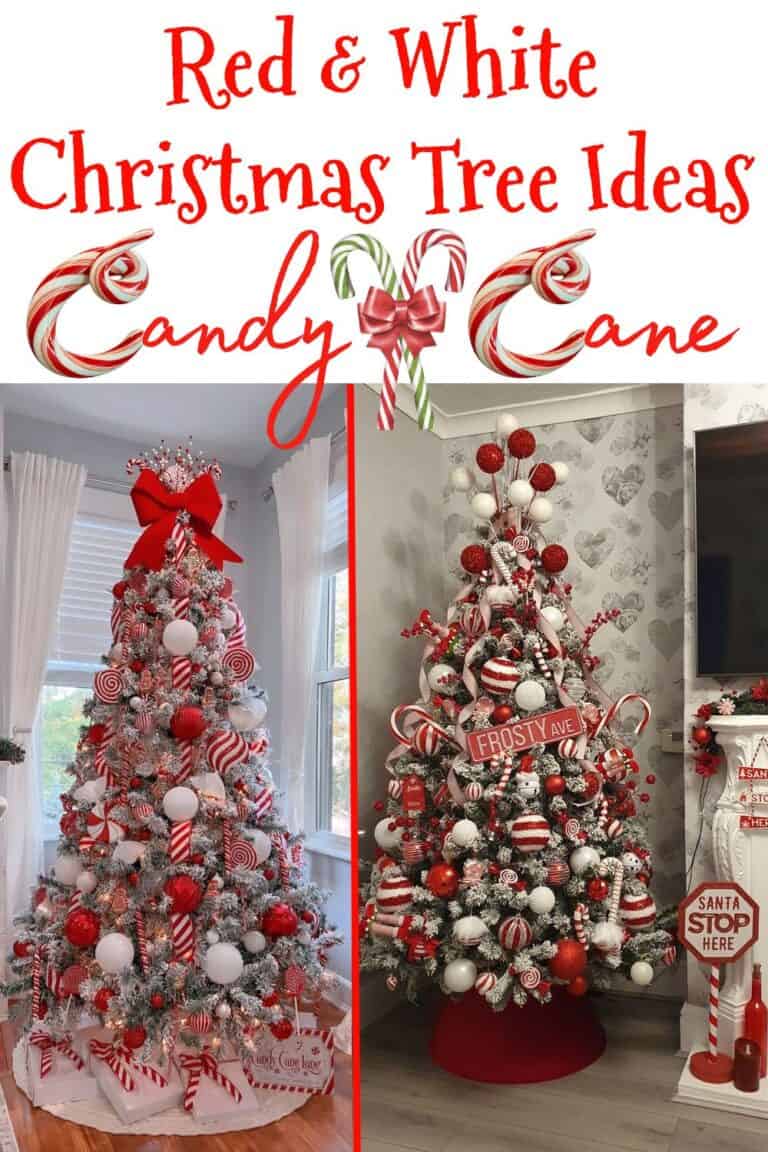 Leading the charge is the Red and White color scheme. One popular trend to incorporate it is with a candy cane or peppermint theme (pictured above). For the ornaments go to Hobby Lobby, Michaels, or even make them yourself using dollar store items such as styrofoam and glitter!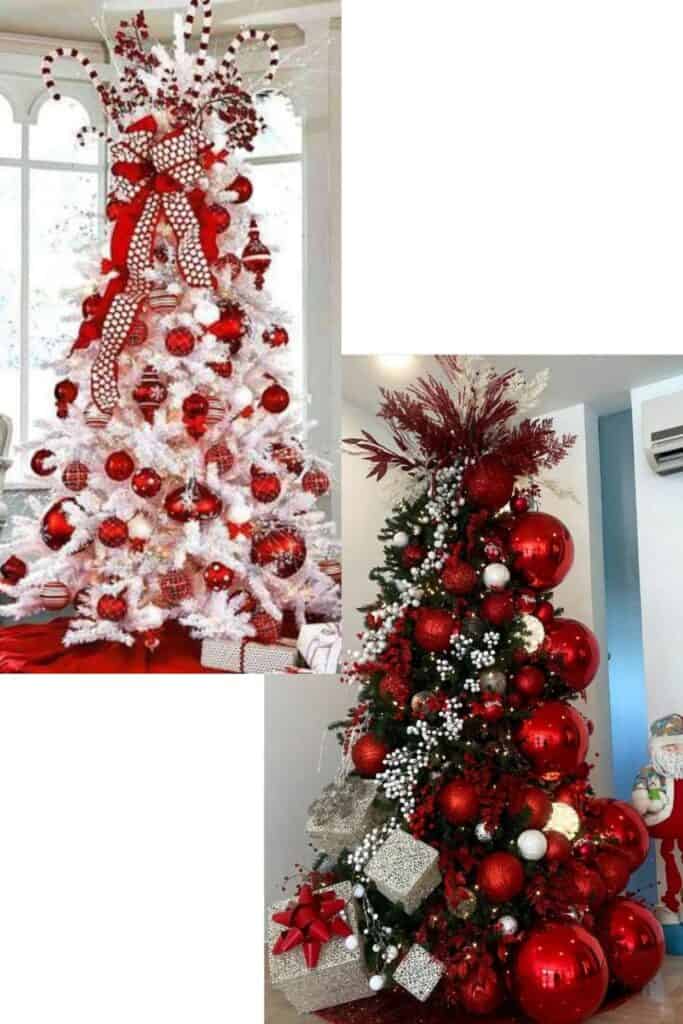 Also leading the charge are other traditional color combinations with white such as gold, and blue but there are some more modern color schemes emerging. Get the large Ornaments pictured above here on amazon. They come in various sizes from 6 inches to 12 inches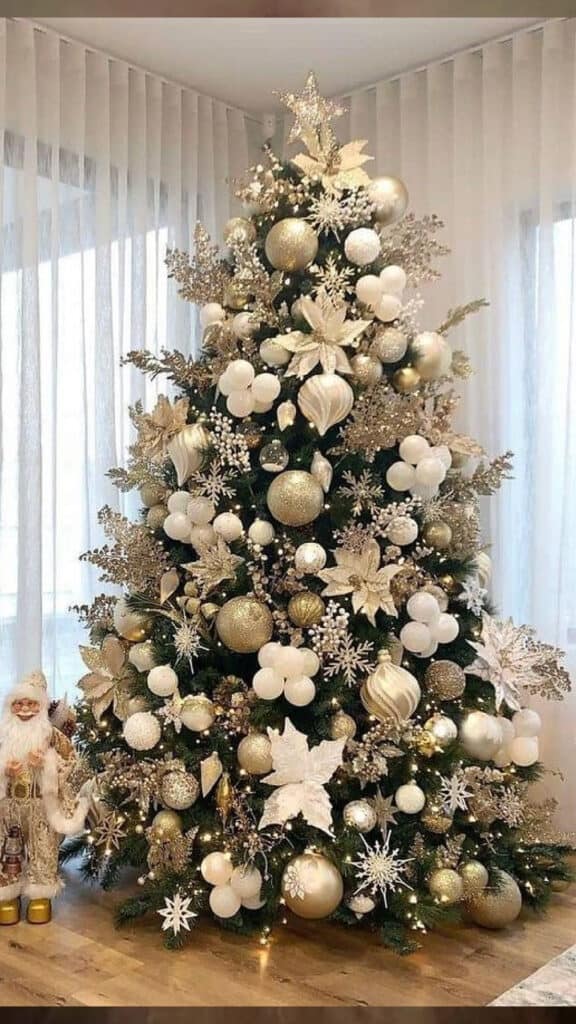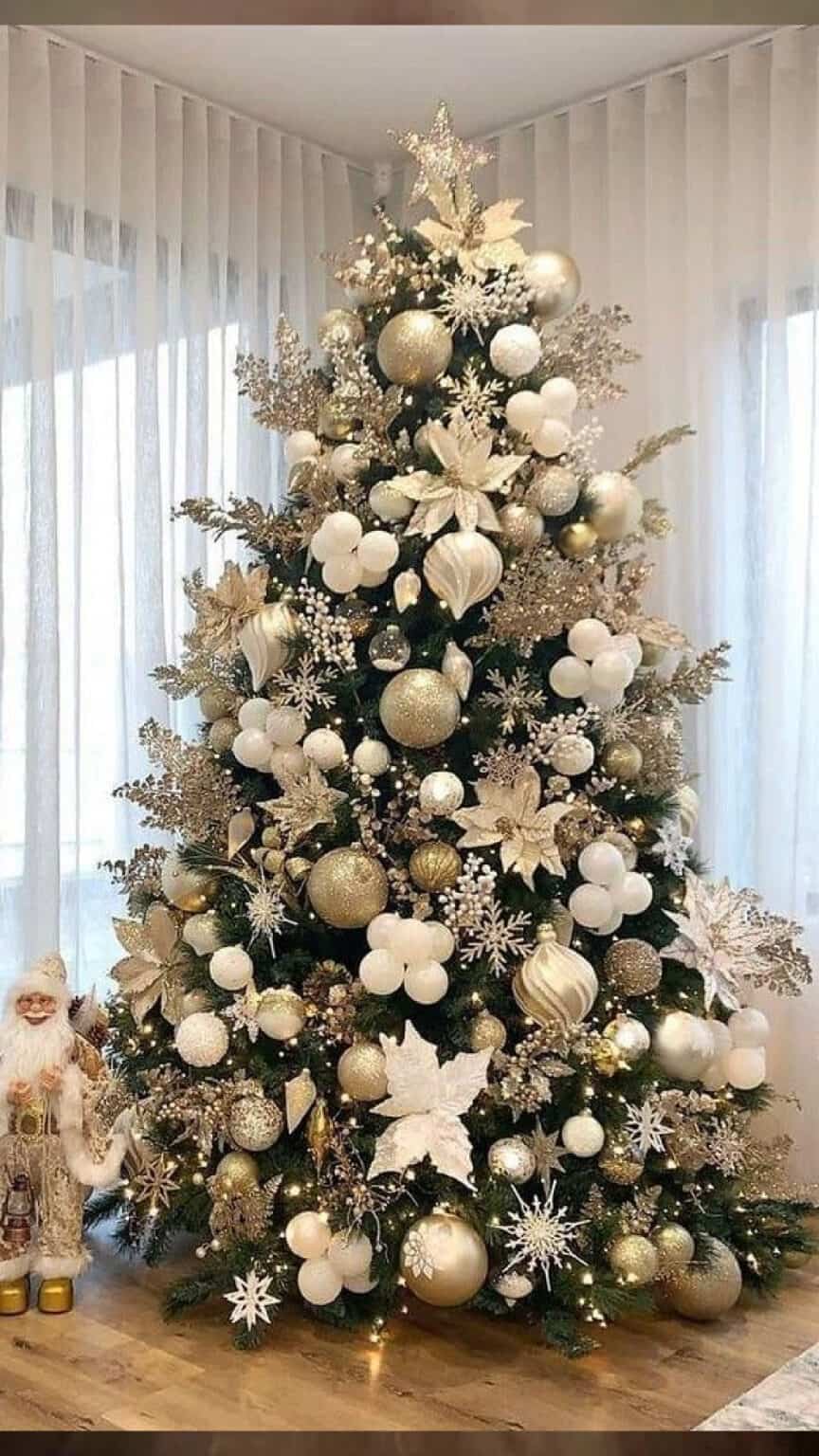 More modern color schemes include rose gold, white and pink, and black and white.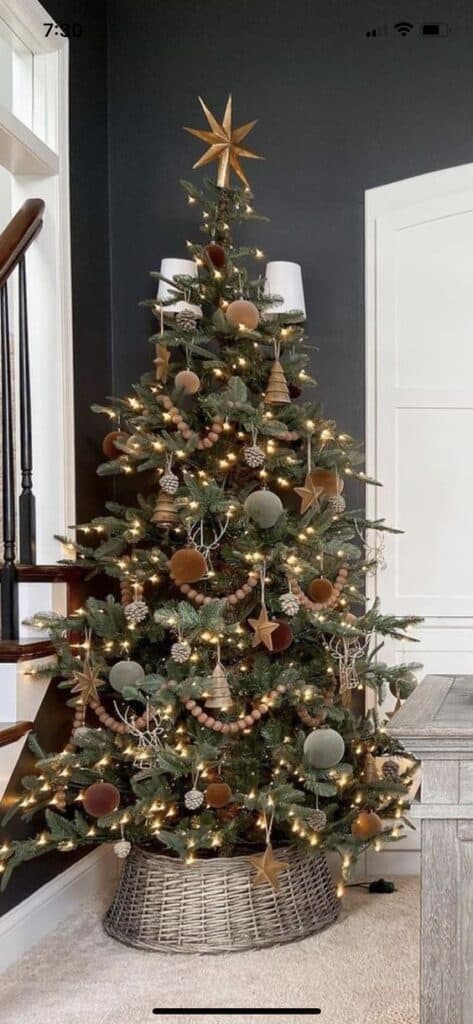 The rustic minimalist or Scandinavian Christmas tree idea is really having a moment this year. You can find ornaments like the ones pictured above at anthropology, Hobby Lobby, and even surf your local TJ Maxx.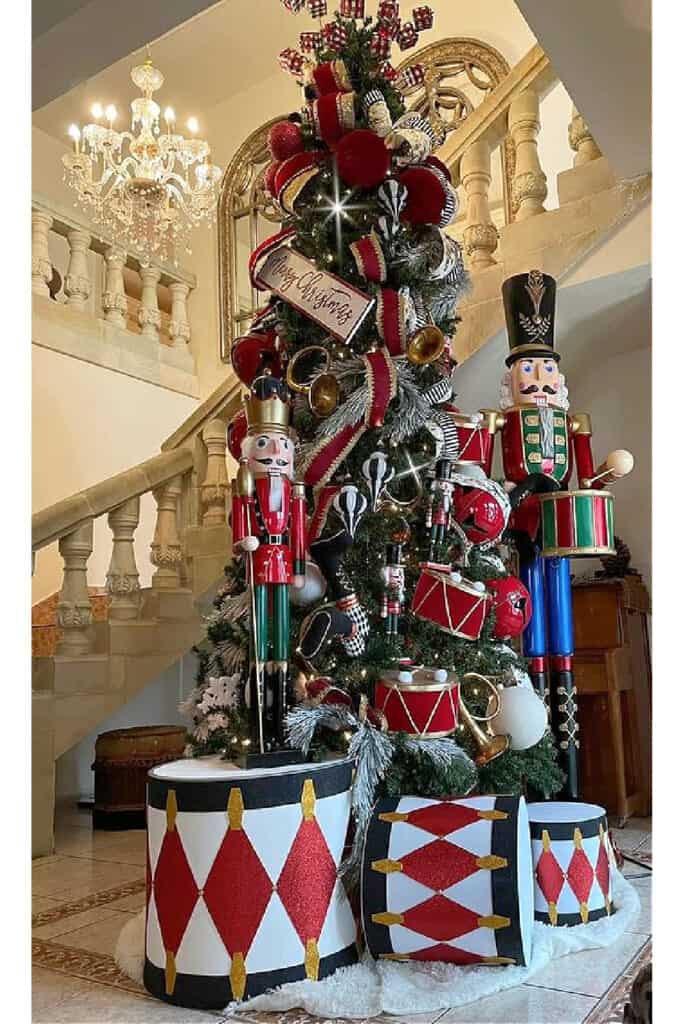 Nutcrackers are a popular trend this year, the bigger the better!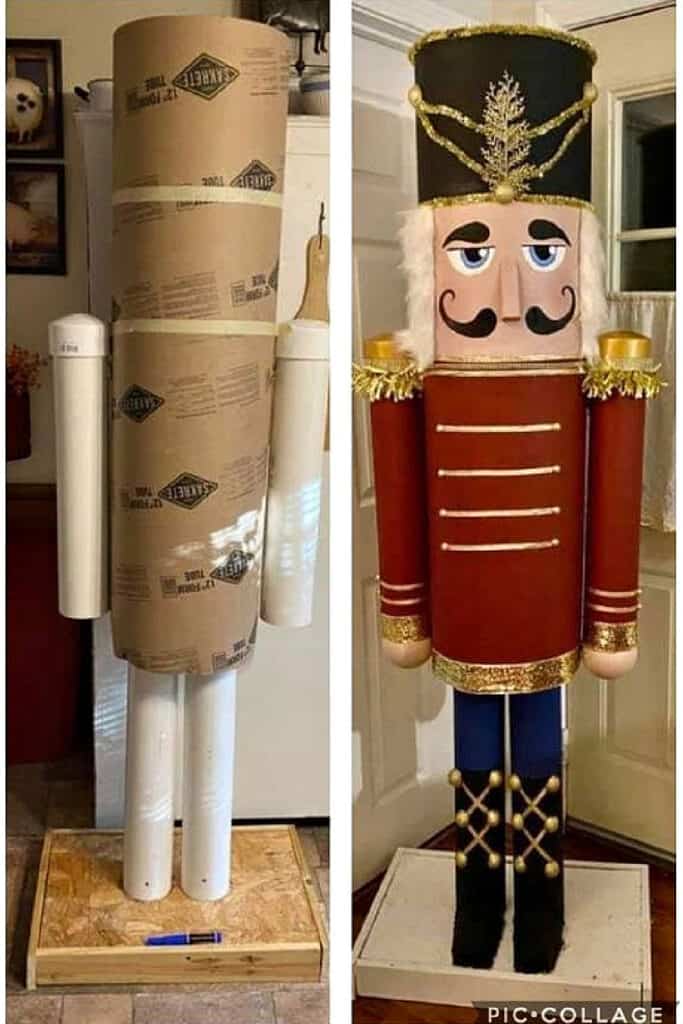 You don't need to spend a fortune though, you can paint second hand ones or make your own.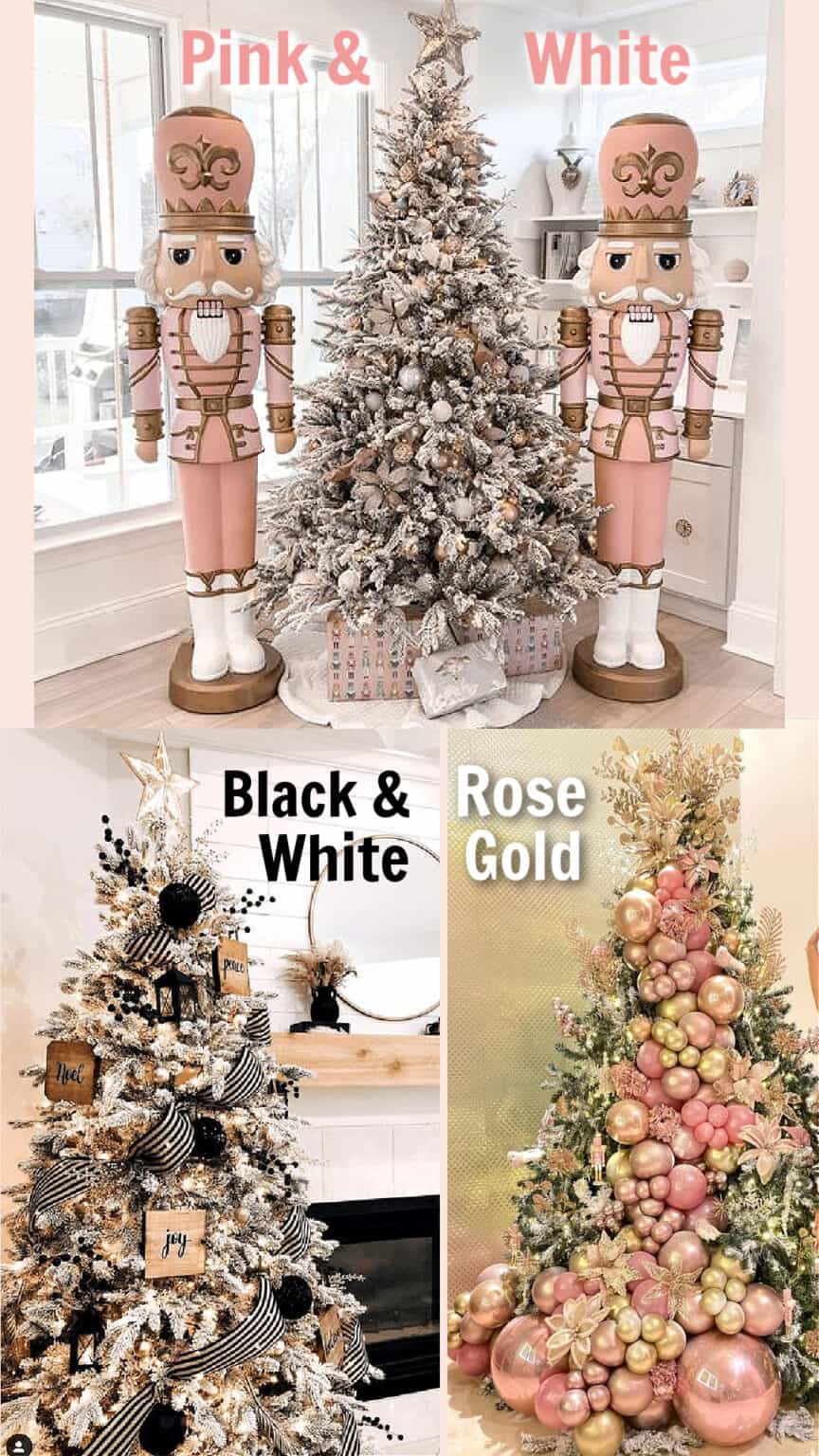 The "Royal" tree theme uses unique color combinations with red such as red and blue, or red and purple.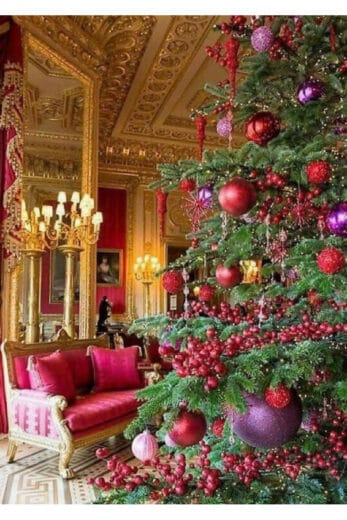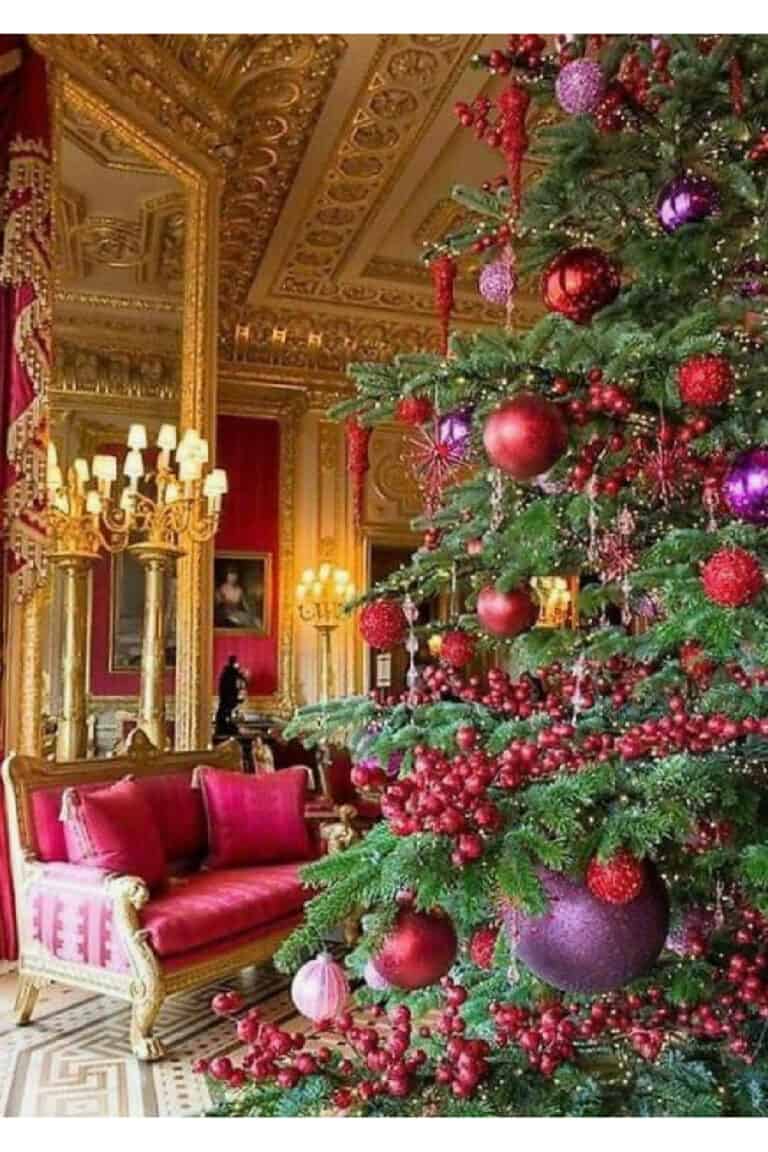 Aside from color schemes, unique themed trees to match home decor styles are also popular such as beach and simple rustic Farmhouse.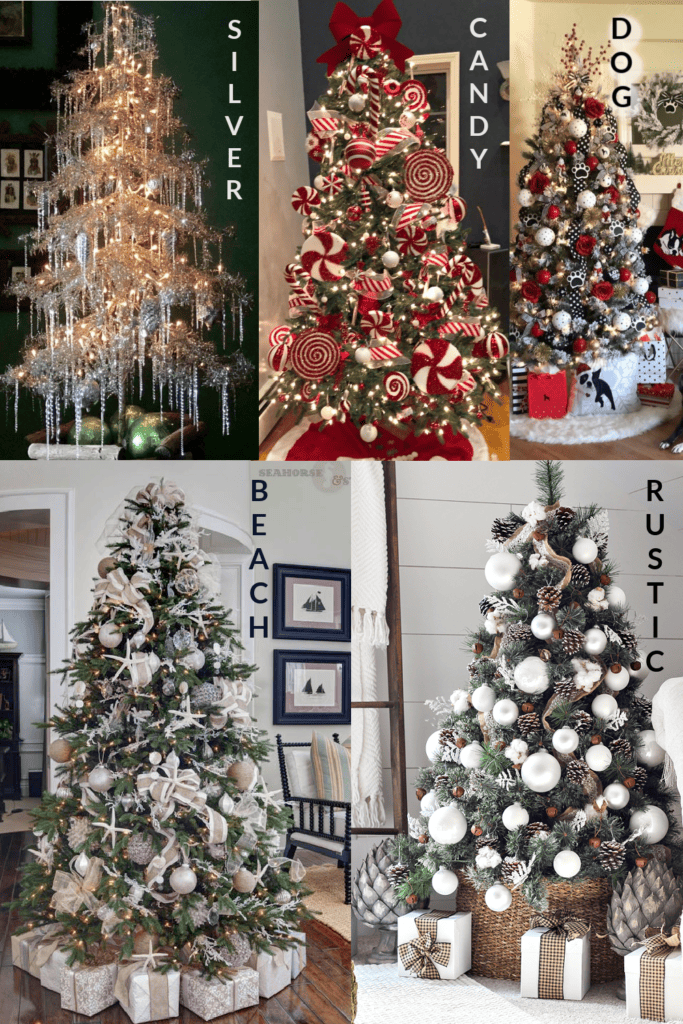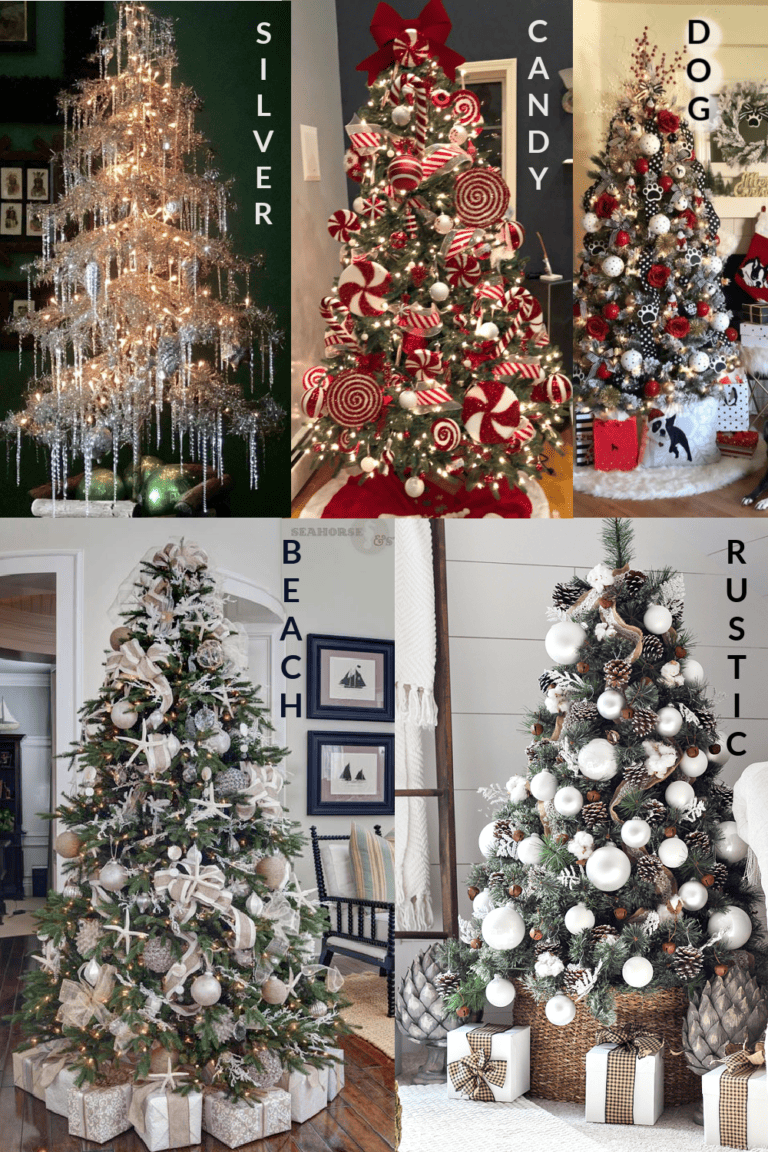 Whimsical themes are also very popular such as Candy, Grinch, Gnome, Elf, Disney, Snowman, and even a dog theme for your pets. You can purchase the silver Christmas tree above and the icicle ornaments here on amazon.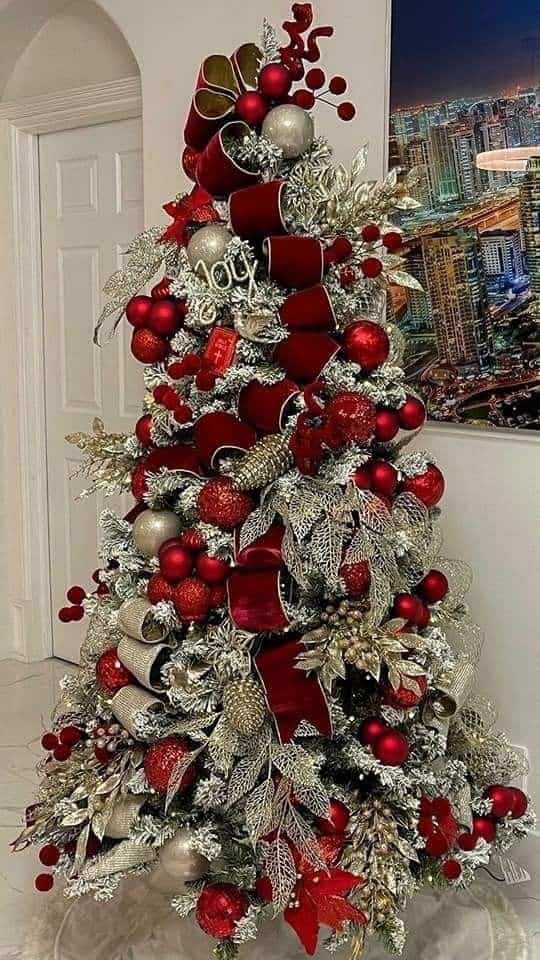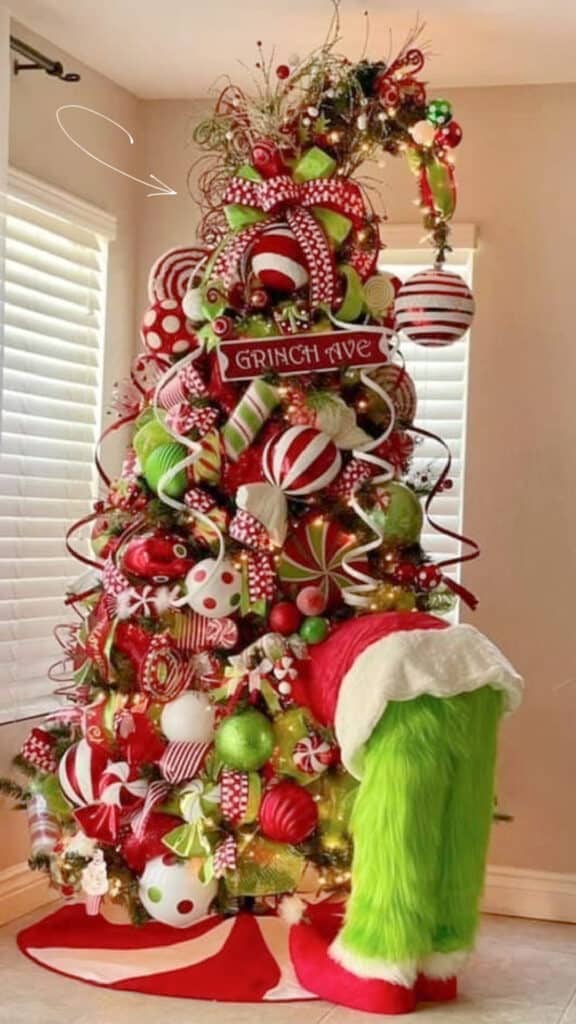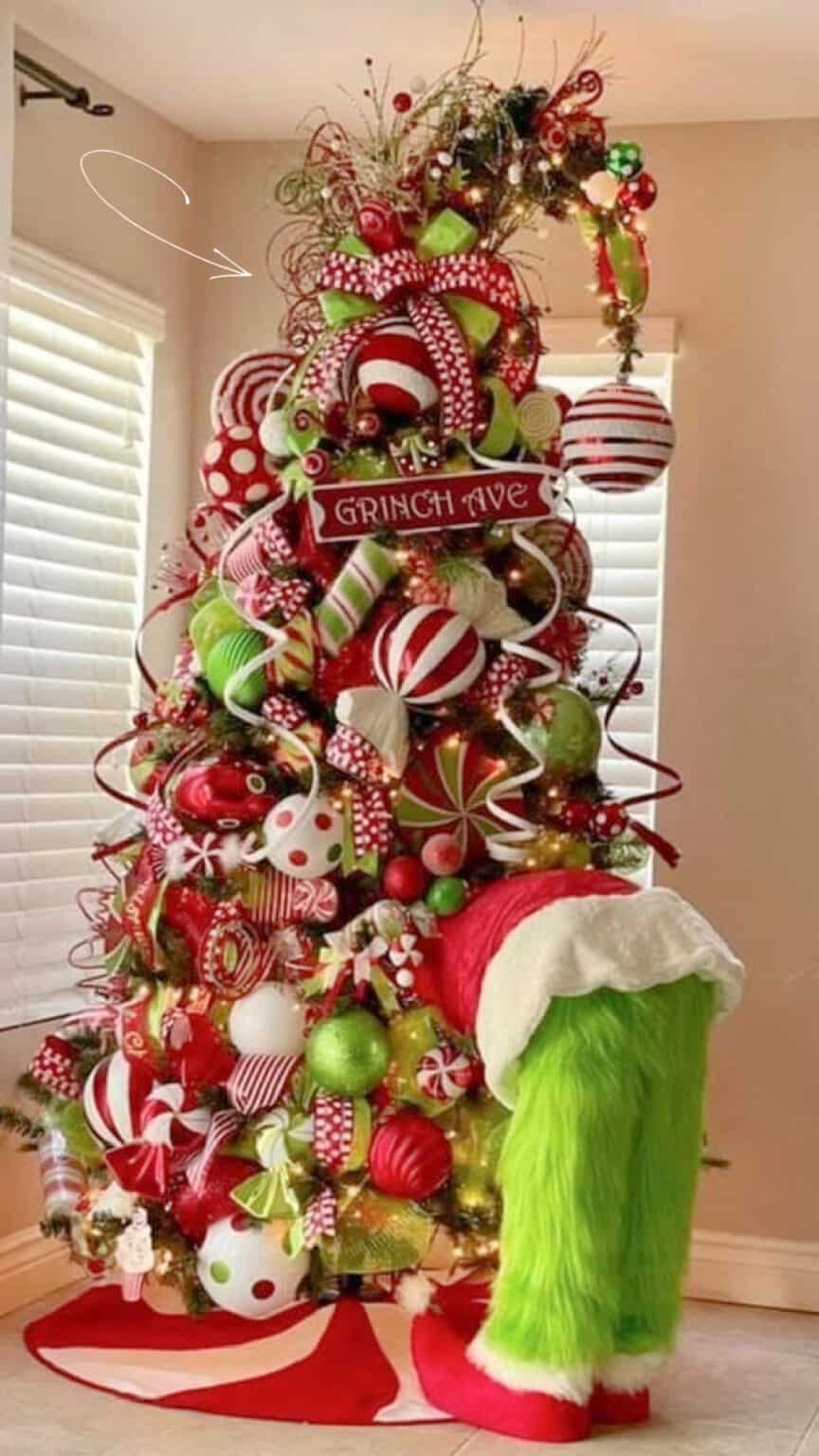 You can easily diy the Grinch tree above using Walmart items (such as the curved tree), amazon for the large ornaments, and the following tutorial for the Grinch legs…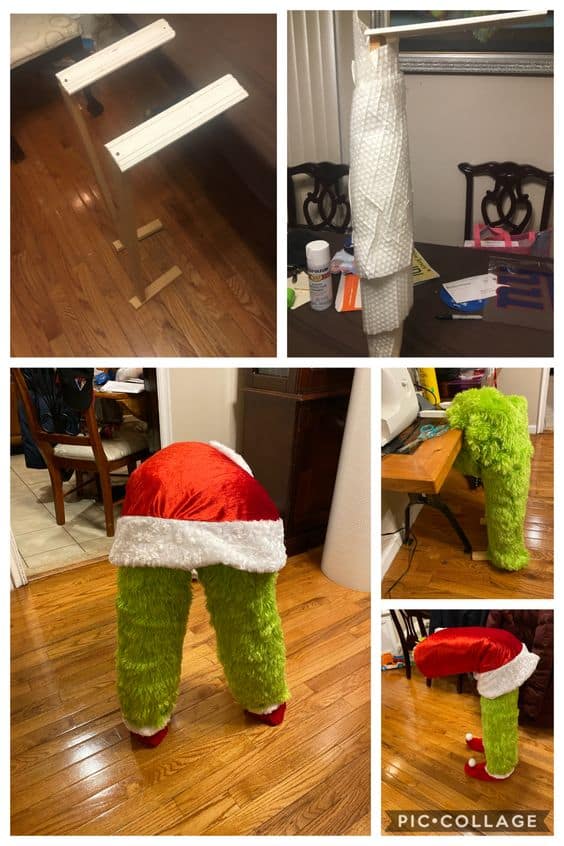 The Grinch legs were made out of a fur blanket from Walmart. The body was a tree skirt cut to size, and elf shoes were used for the feet. A little tip comb the fur with a wire dog grooming brush to give it that grinch fur look. .Click here for the Grinch Tree tutorial.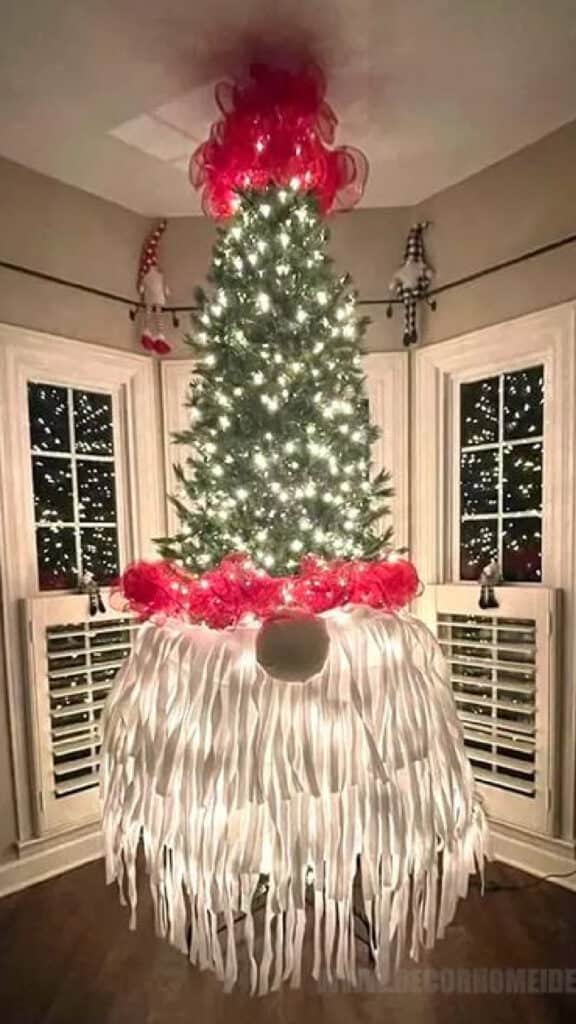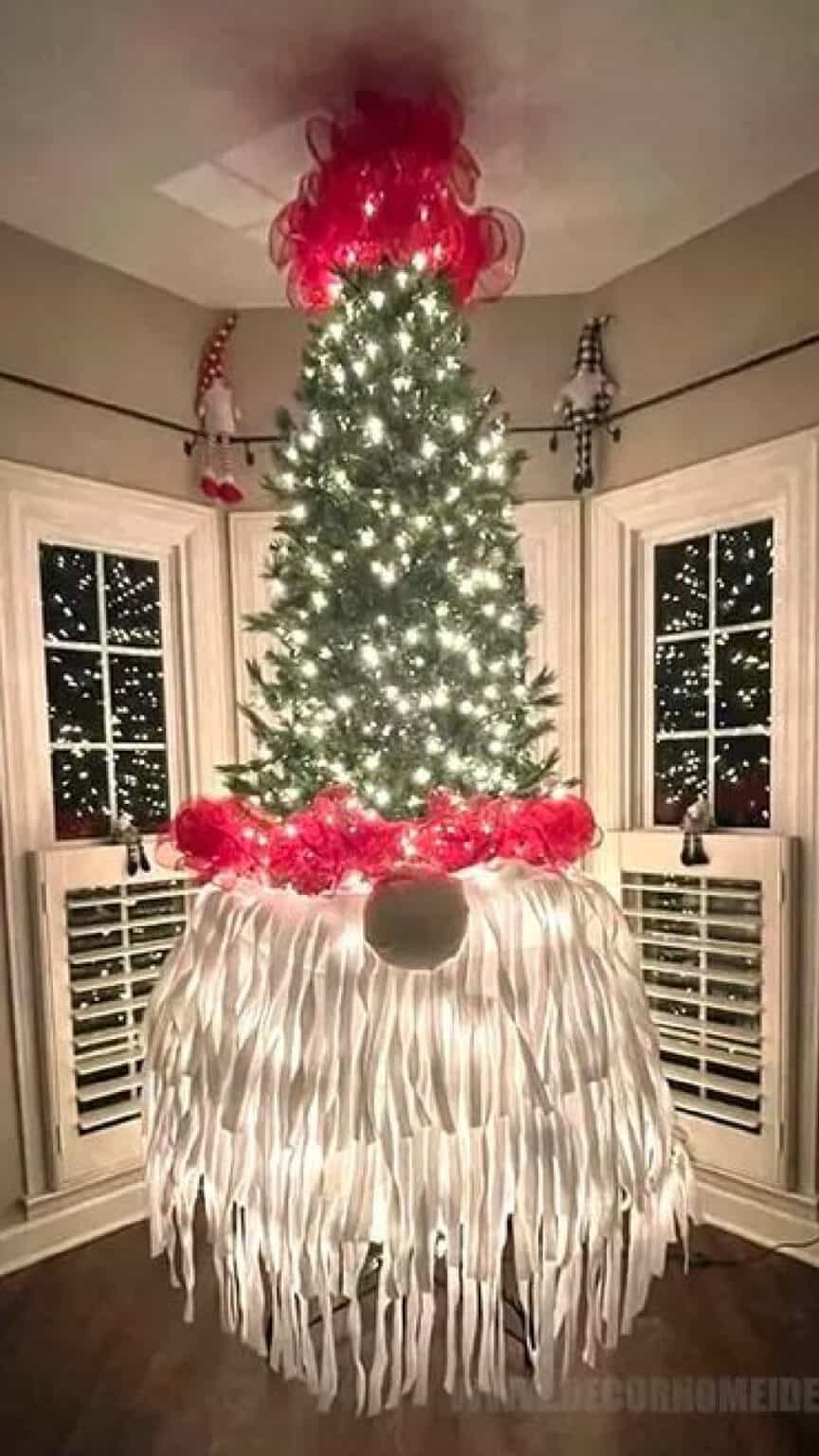 Here are the directions for the Gnome Tree above: "For the beard of the Gnome tree above wrap a solid piece of white material such as felt (or a dollar tree table cloth) around the bottom half of the tree. Use the same material to cut 3 strips that I layered over that to make the beard leaving around an inch at the top to wrap around the tree. Found a round foam type piece at the hobby lobby for the nose and covered it in a skin color type material then added the red mesh around the tree and at the top for his hat. Cutting the felt took the longest but otherwise very simple."
Some are even searching for fun non traditional Christmas tree ideas like a Tee Pee tree and wall trees made with command hooks and garland.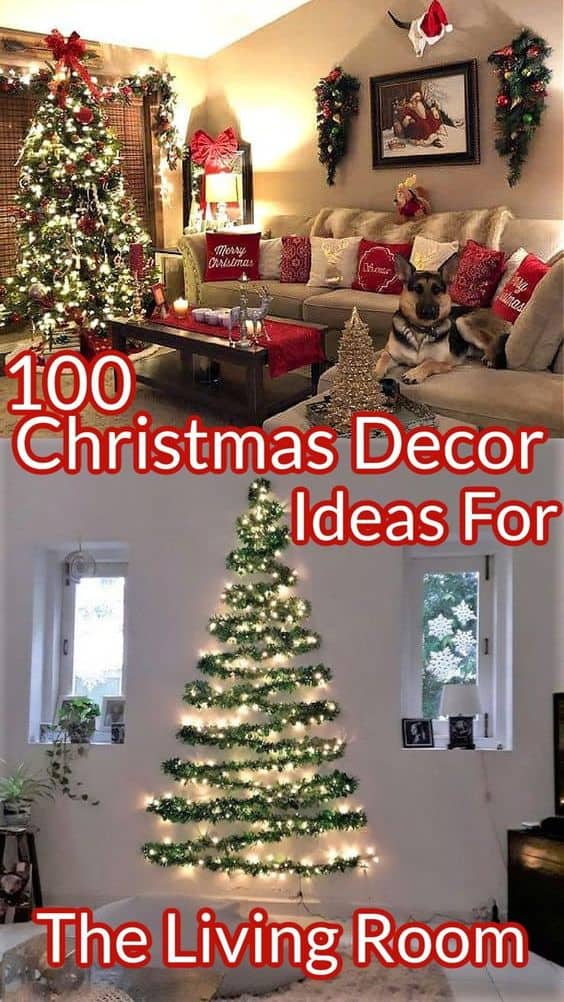 One of the strongest new Christmas Tree trends this year is the banded tree which has bands of large ornaments or even flowers that seem to wrap around the tree.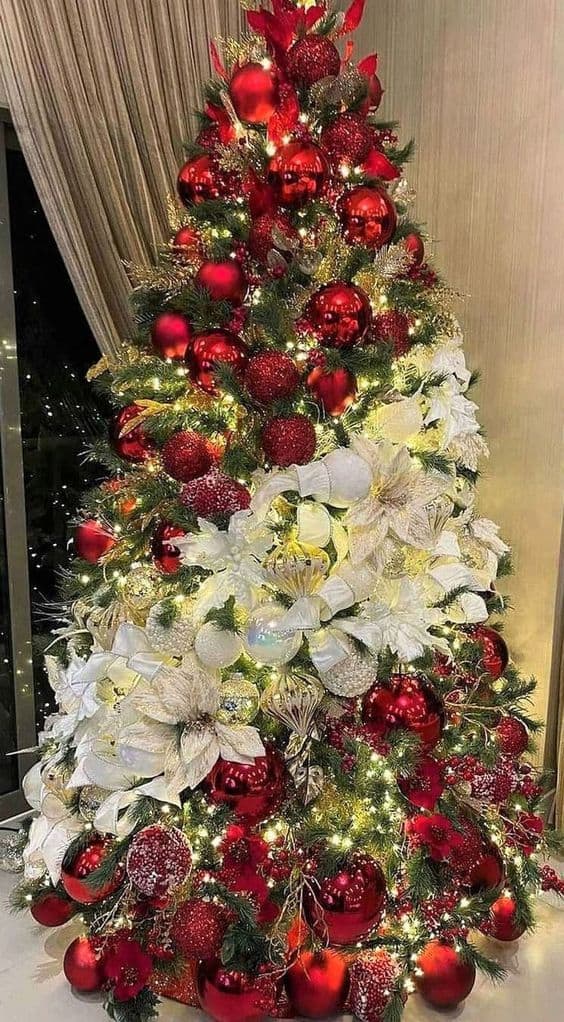 We've seen various colors of poinsettias at the Dollar Tree but you can also find them on amazon.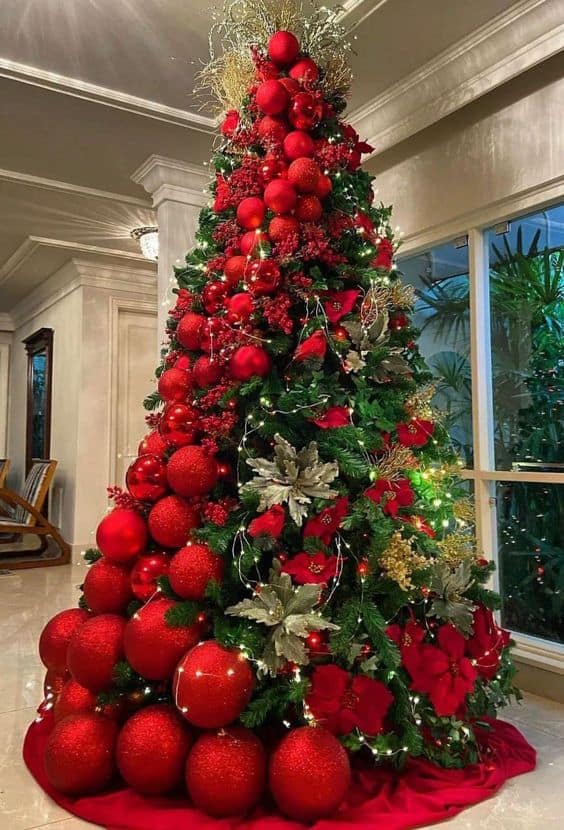 You can find the Large/oversized Christmas ornaments on amazon used to recreate the Christmas tree idea above. Use large ornaments in various sizes from 6 inches to 12 inches.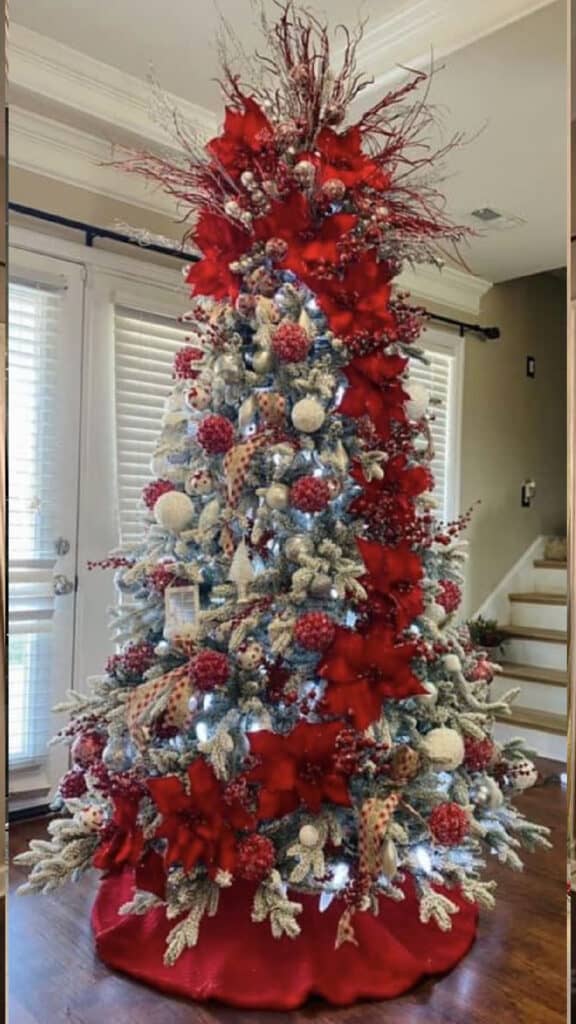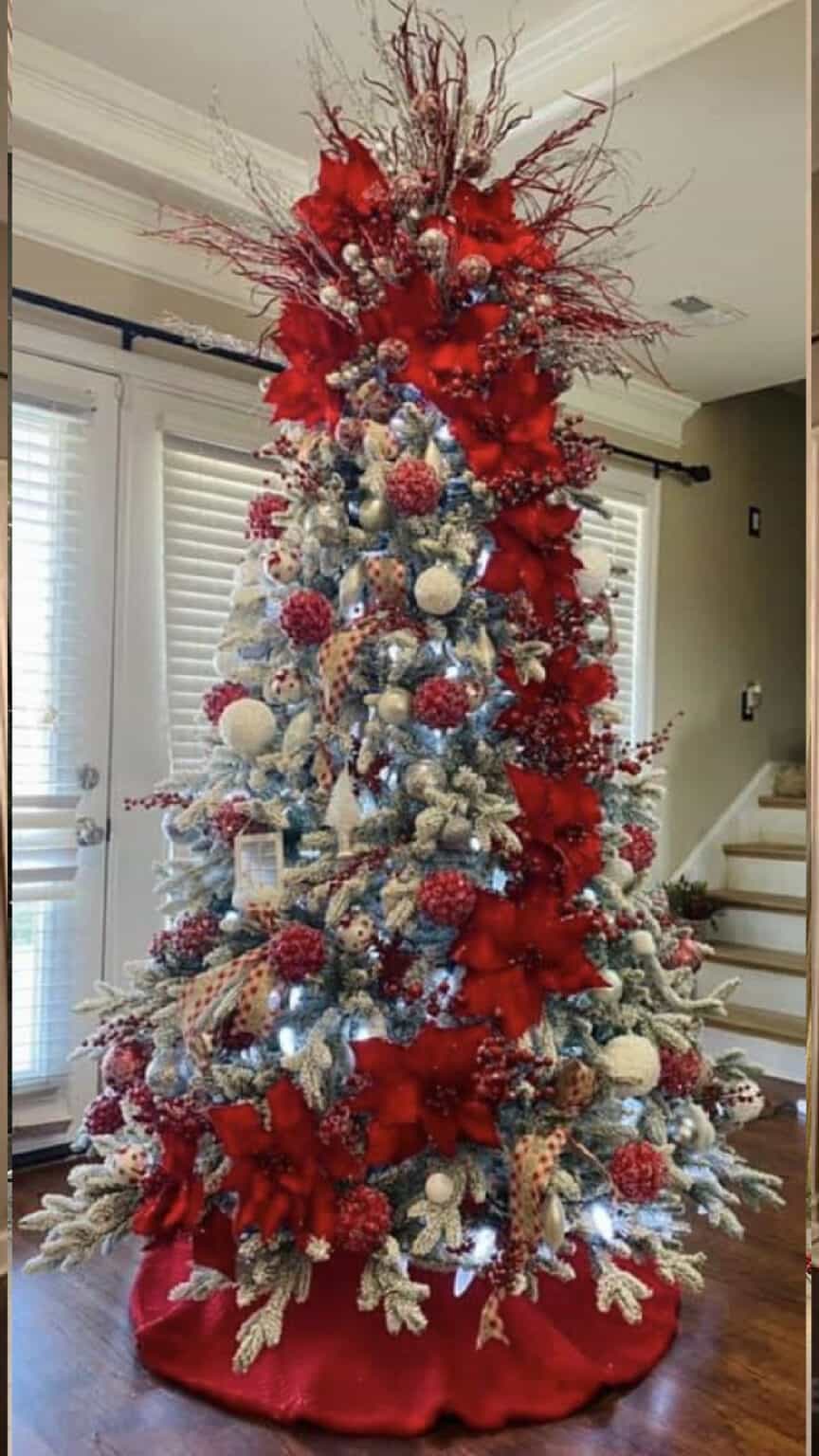 We're also seeing cluster ornaments in groups of three or more. Make cluster ornaments by tying ball ornaments together with wire then inserting in tree.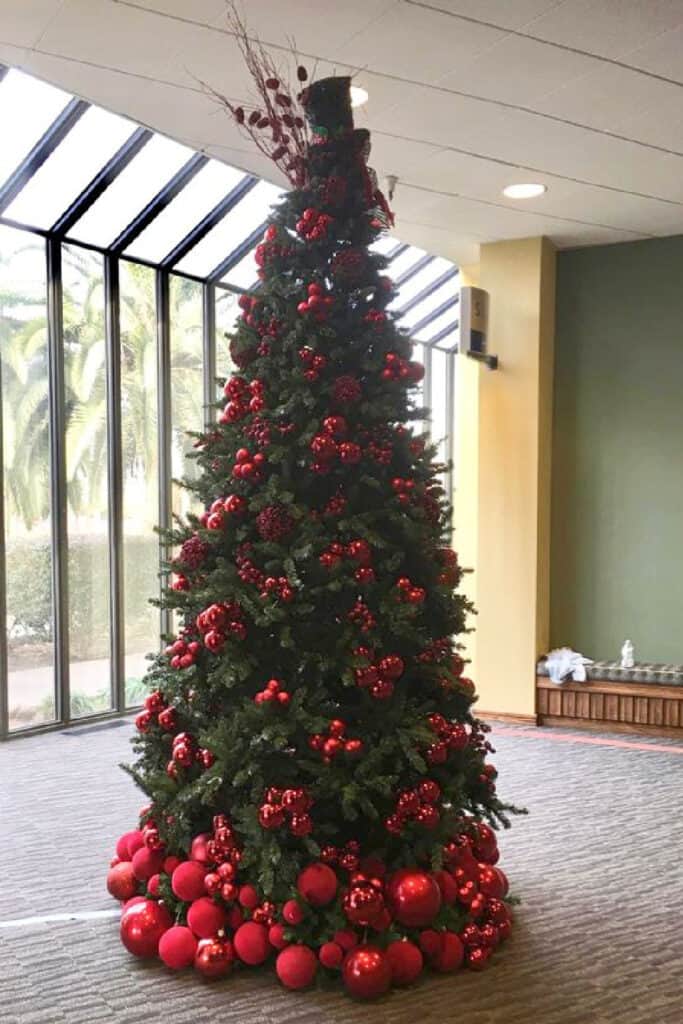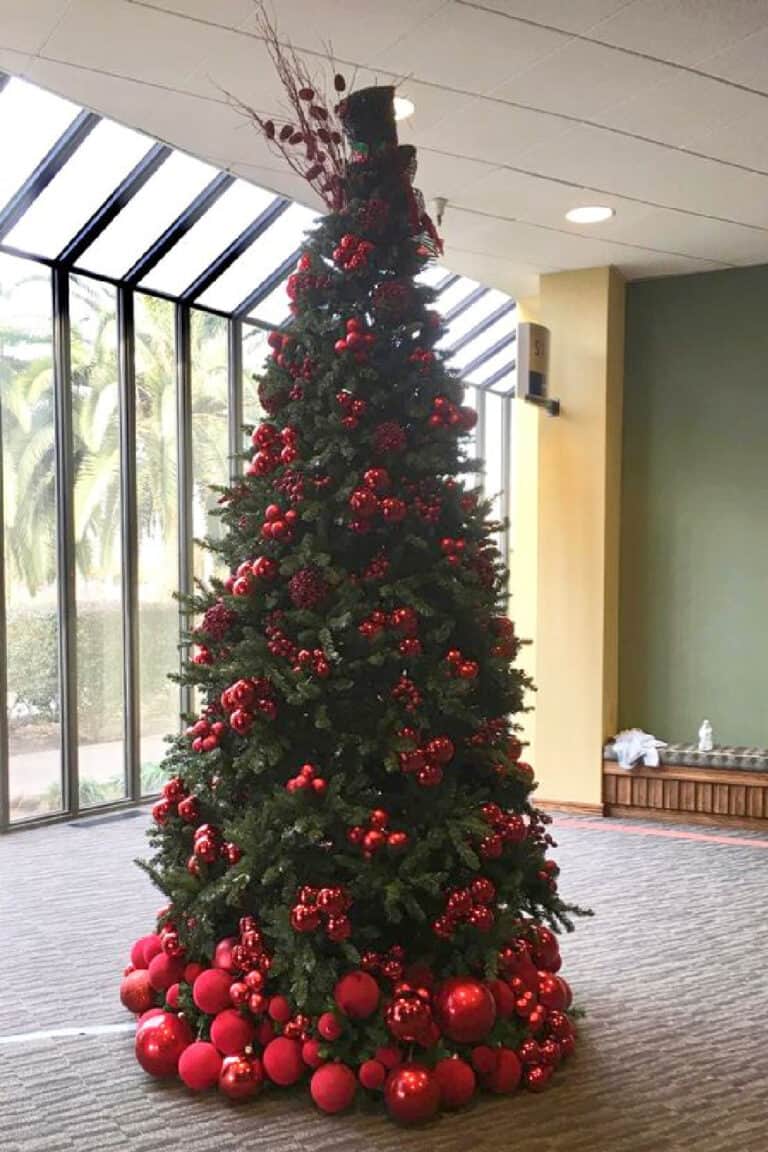 Hanging Garland for Ceiling, Walls, Windows and Mantles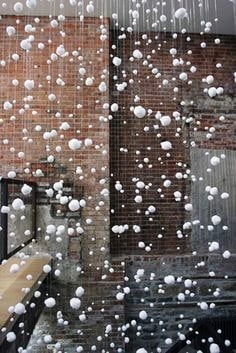 Thread different sized pom poms or cotton balls on fishing wire or clear string for an indoor snow flurry garland! This would make a great Christmas party, wedding decoration, or window decor.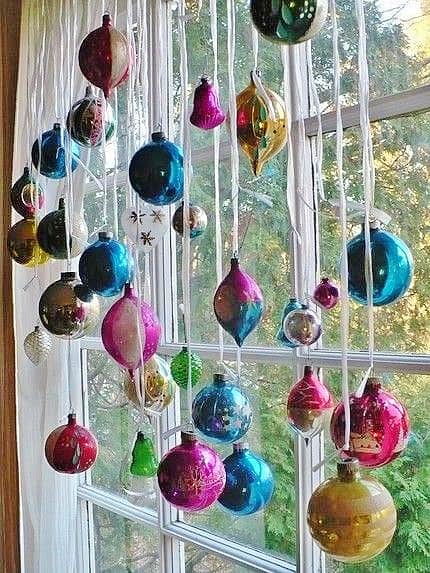 Transform windows, hallways, doorways, mantels, or even walls with hanging ornaments.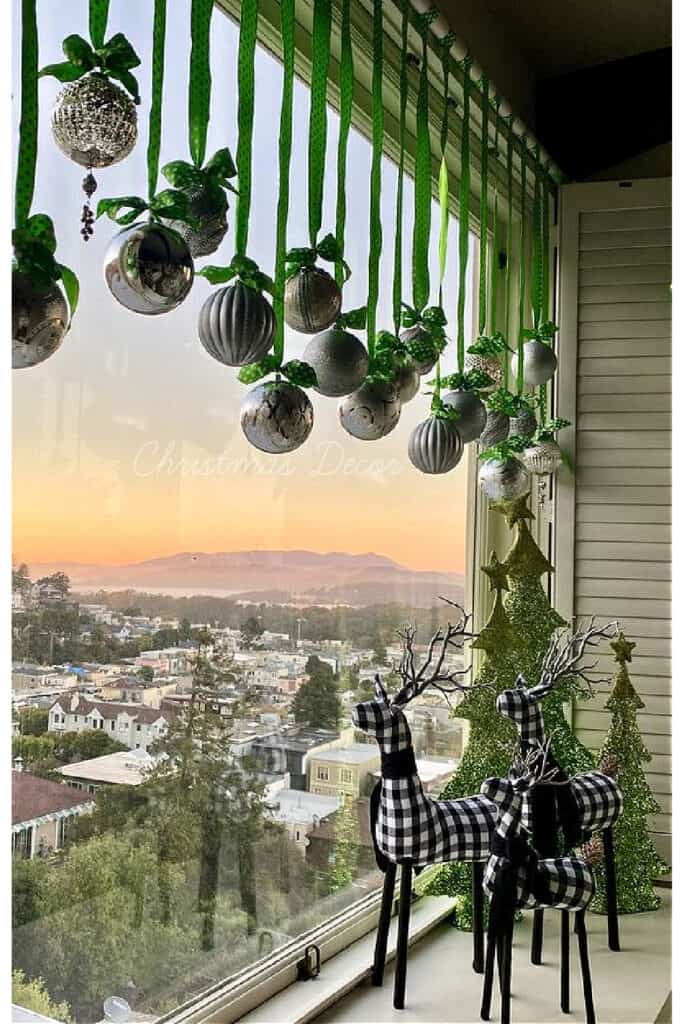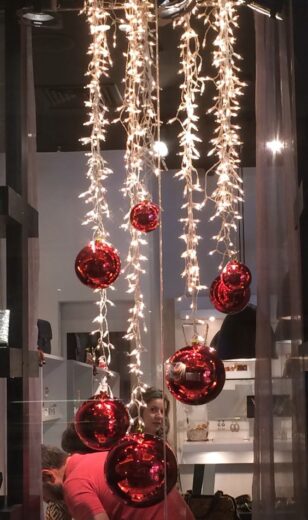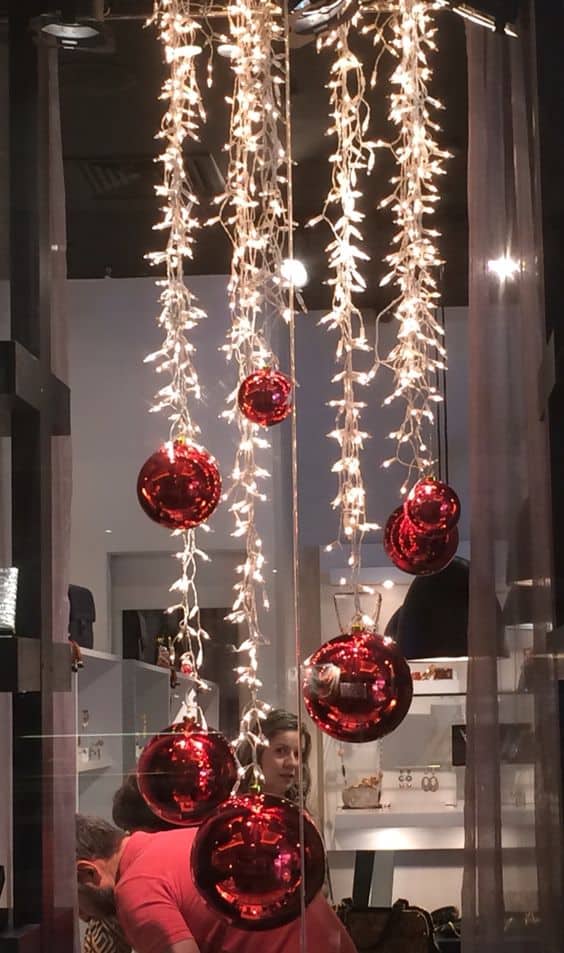 String lights hang ornaments beautifully.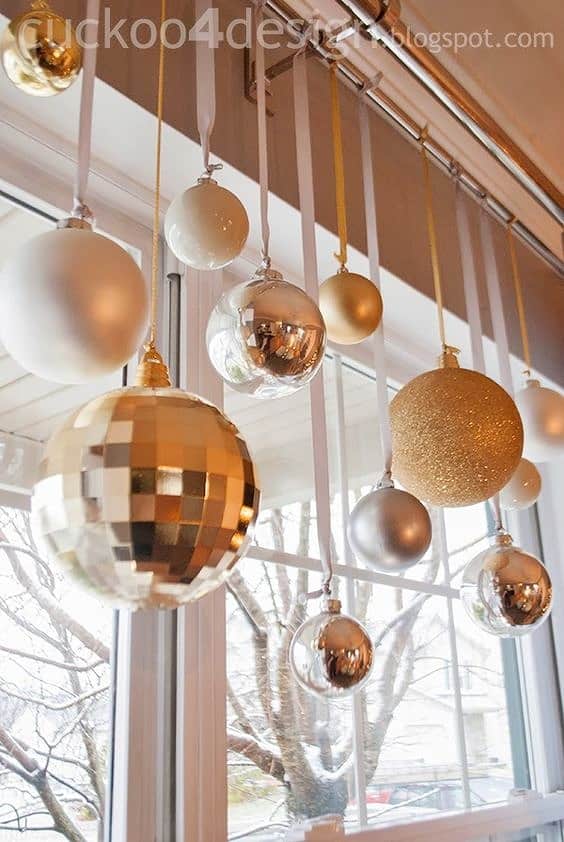 Use ribbon or string and even clear fishing wire! Don't be afraid to use different sizes and shapes.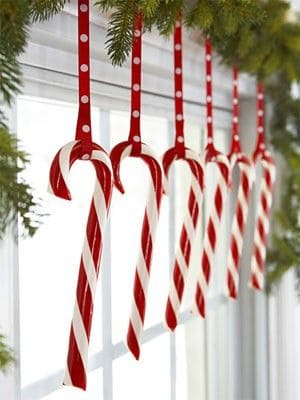 Make hanging candy canes for your window using festive colored ribbon.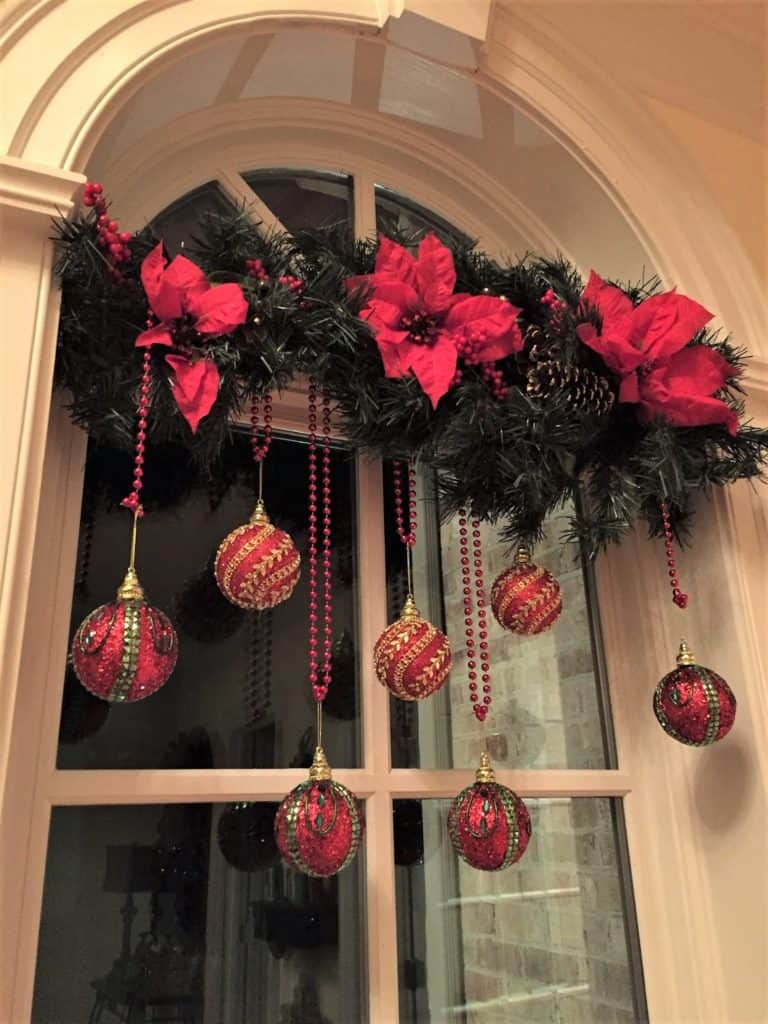 For a glam look you can even use beads for hanging garland! TIP: Use Styrofoam balls coated in glue and rolled in glitter for larger sized ornaments.
Do the same to mantels and chandeliers for a dazzling centerpiece.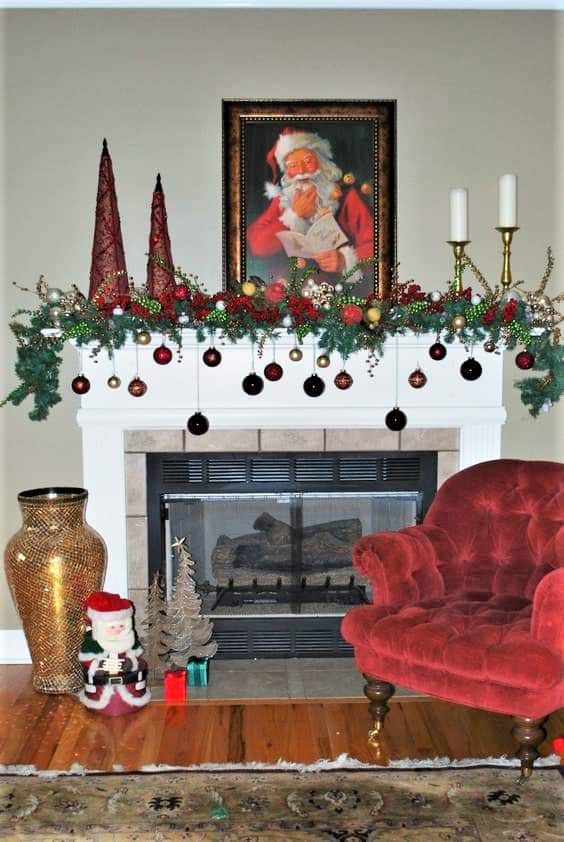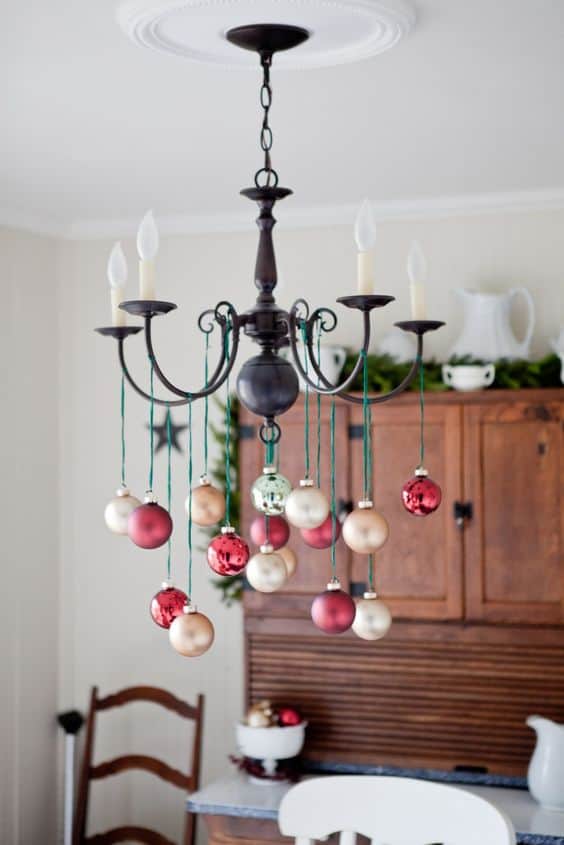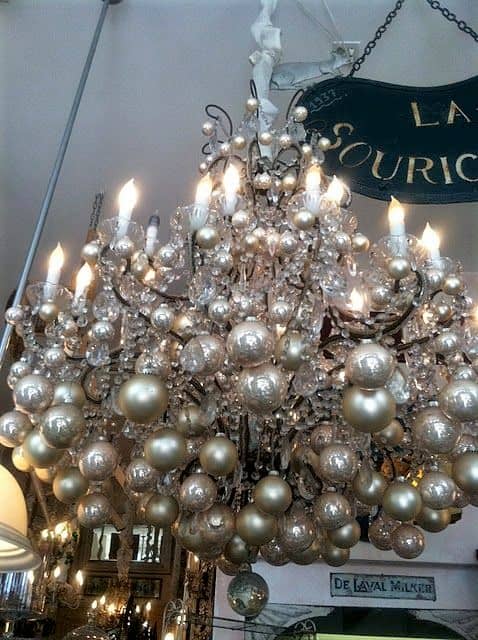 If you don't have string, just hang ornaments directly on the chandelier with hooks for a winter wedding worthy look.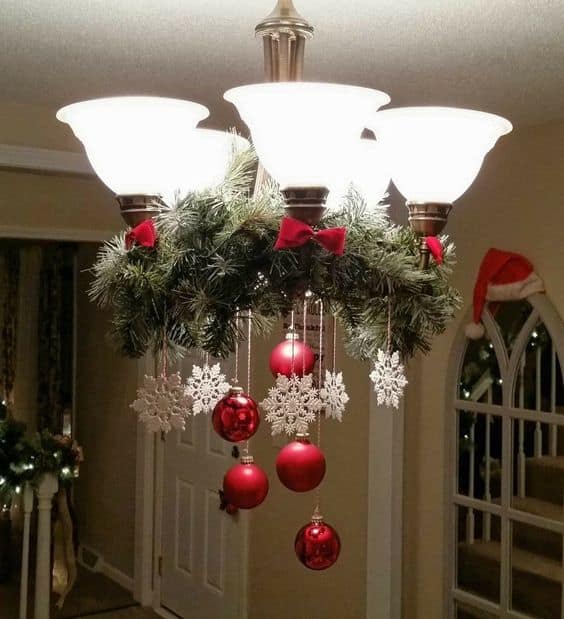 Hang garland, snowflakes, and ornaments from your Chandelier for easy festive ceiling decor that doubles as a centerpiece.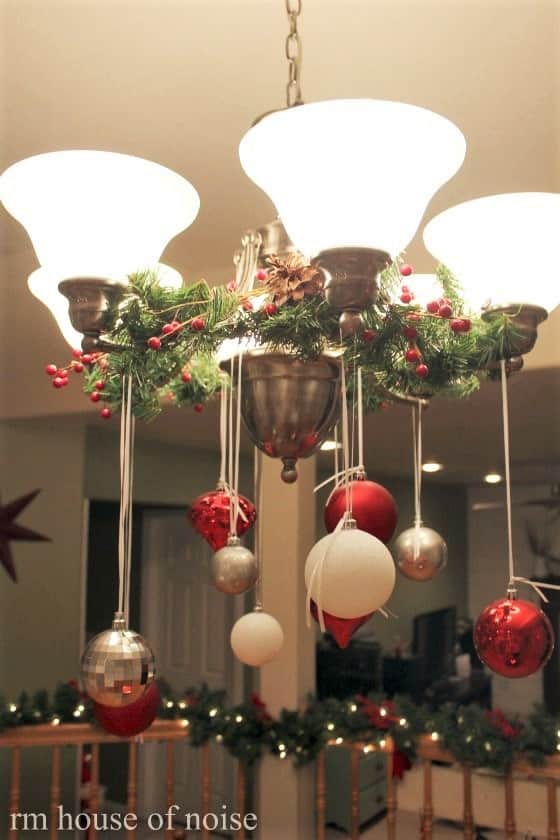 For more glamour hang DIY or dollar store snowflakes off of chandeliers. This can double as a centerpiece over your table.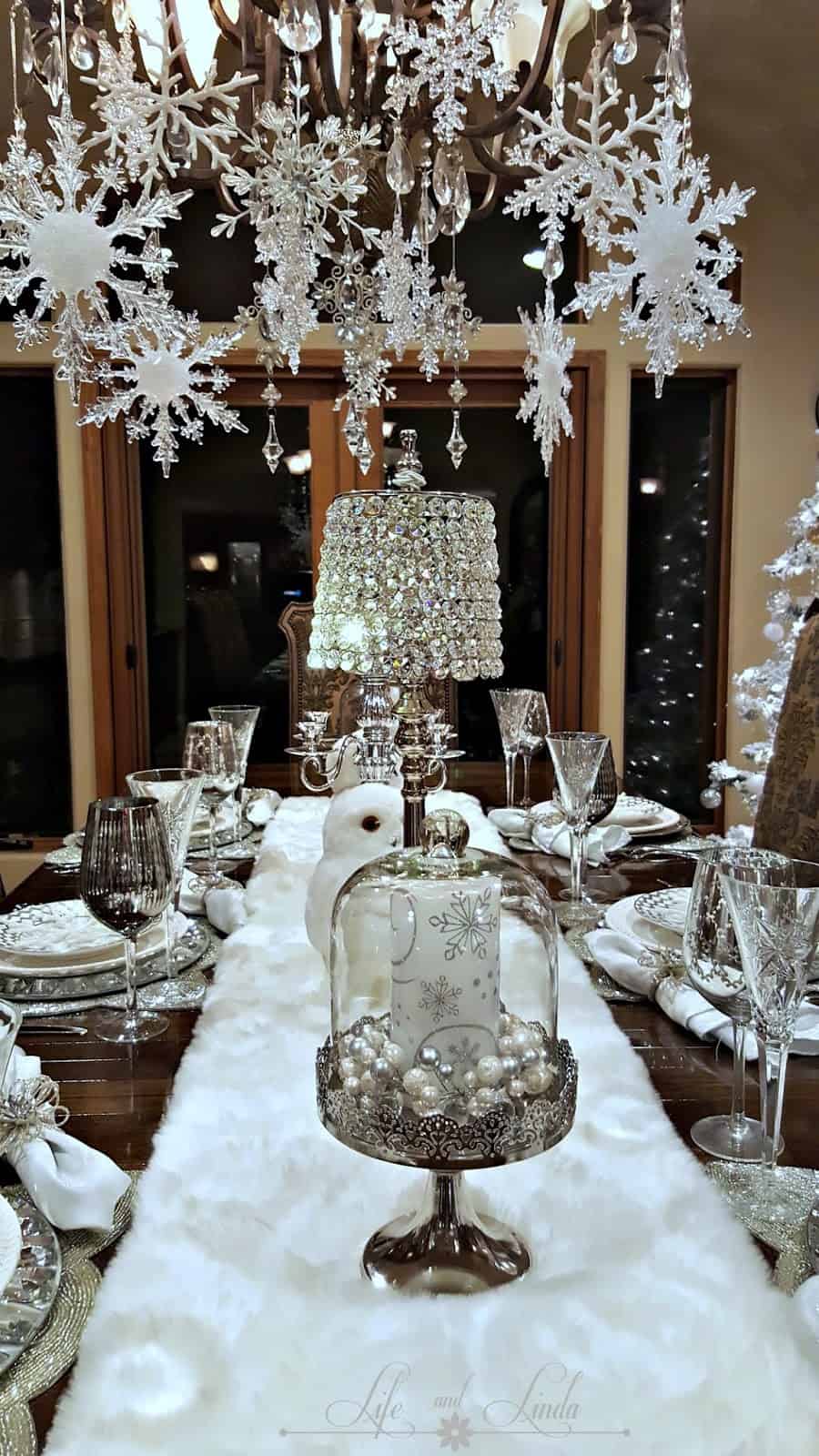 You can also use clear thread to make a dollar store hanging snowflake garland!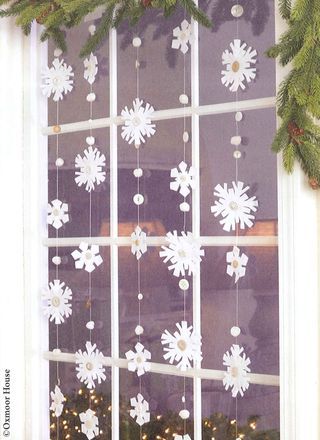 Thread them with pearls or forego the string altogether and glue or tie them to eachother.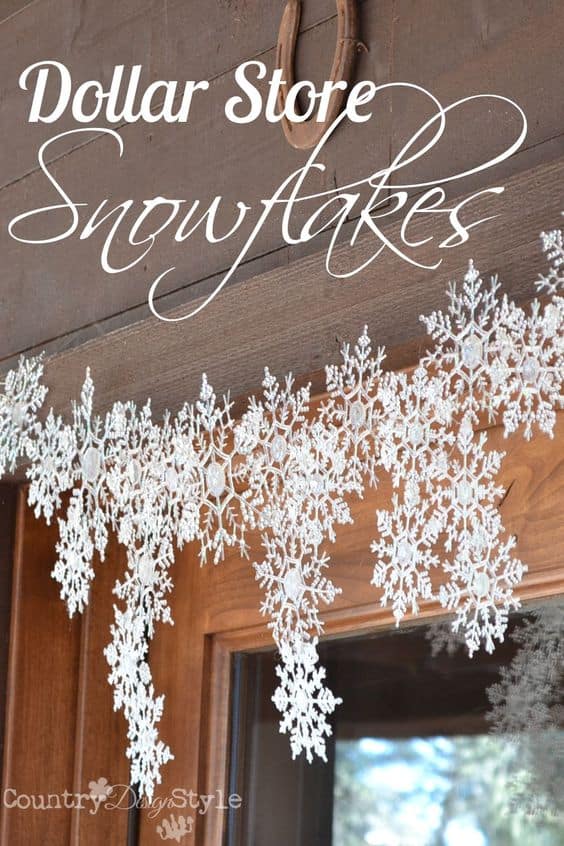 Don't forget the banister!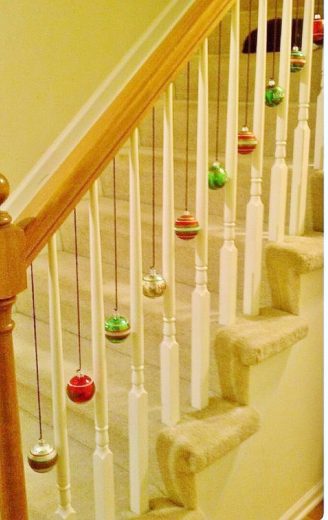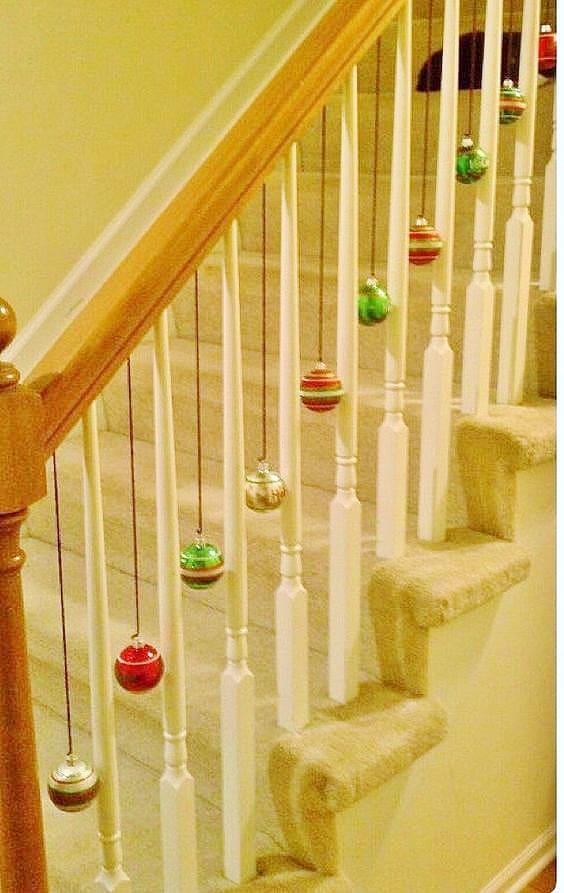 Use festive string, ribbon or even burlap!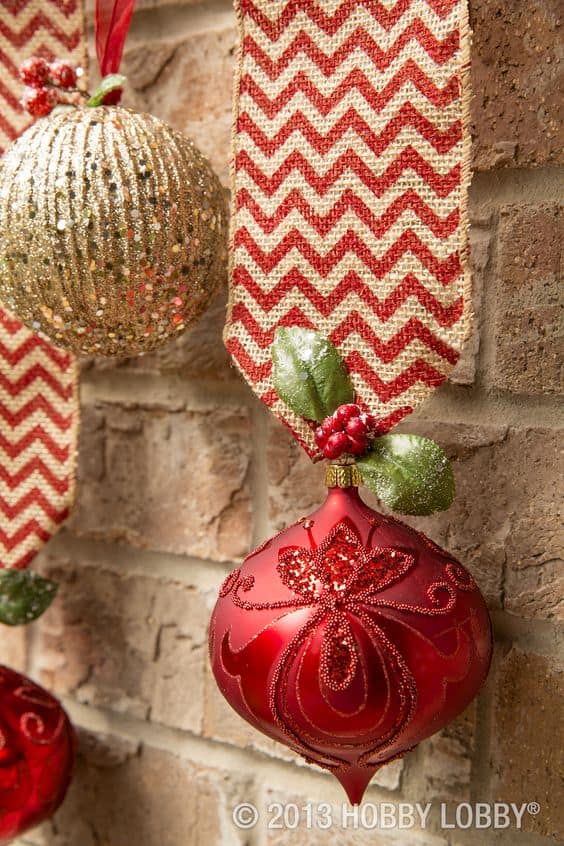 Hang garland from a Dollar Store picture frame. Coat everything including the string in glitter for a opulent look.
Fill

Your

Containers

With

Christmas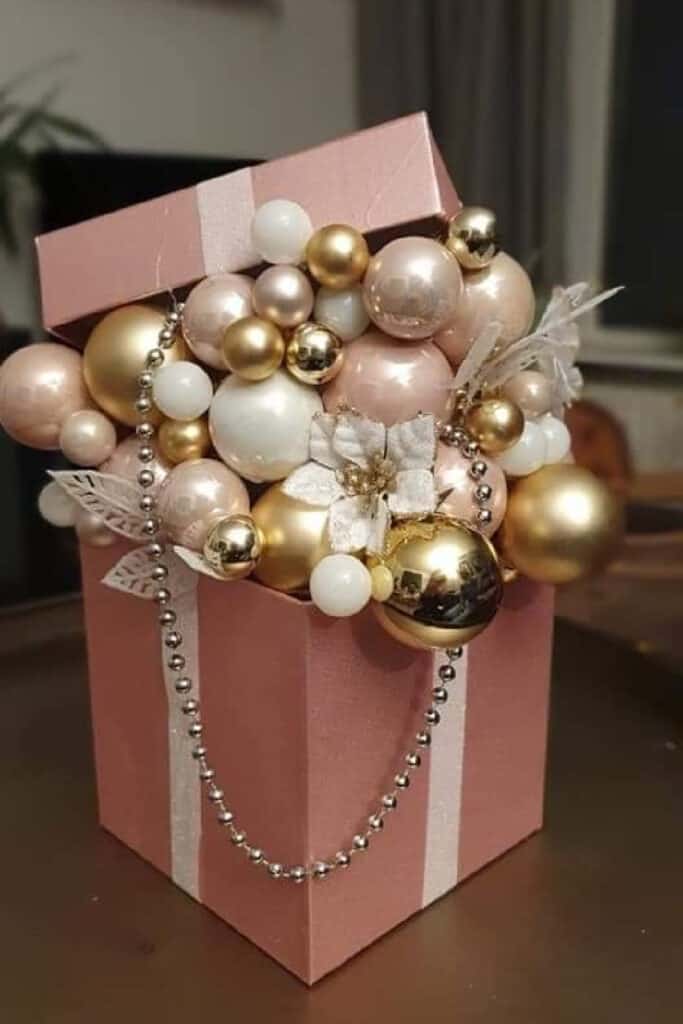 Grab a vase, basket, cake stand, plate, tray, or box and fill it with all things Christmas. You can also use a glue gun to hold items in place for a more permanent arrangement.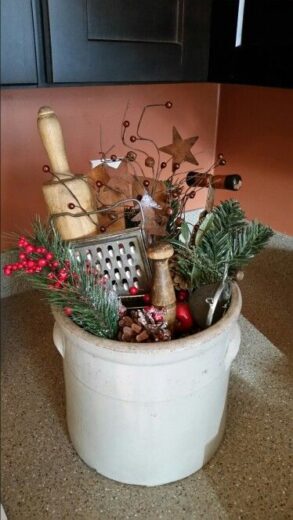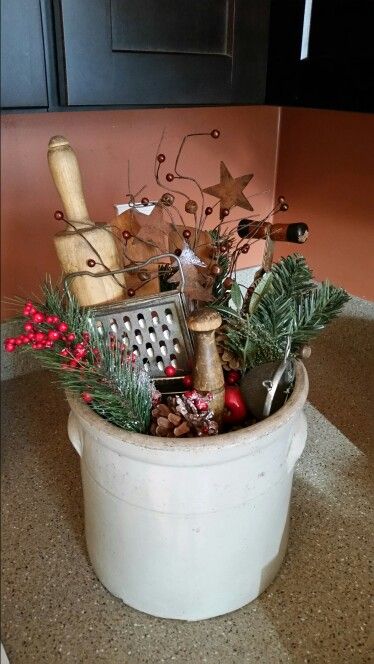 Even old kitchen equipment can become a festive decoration.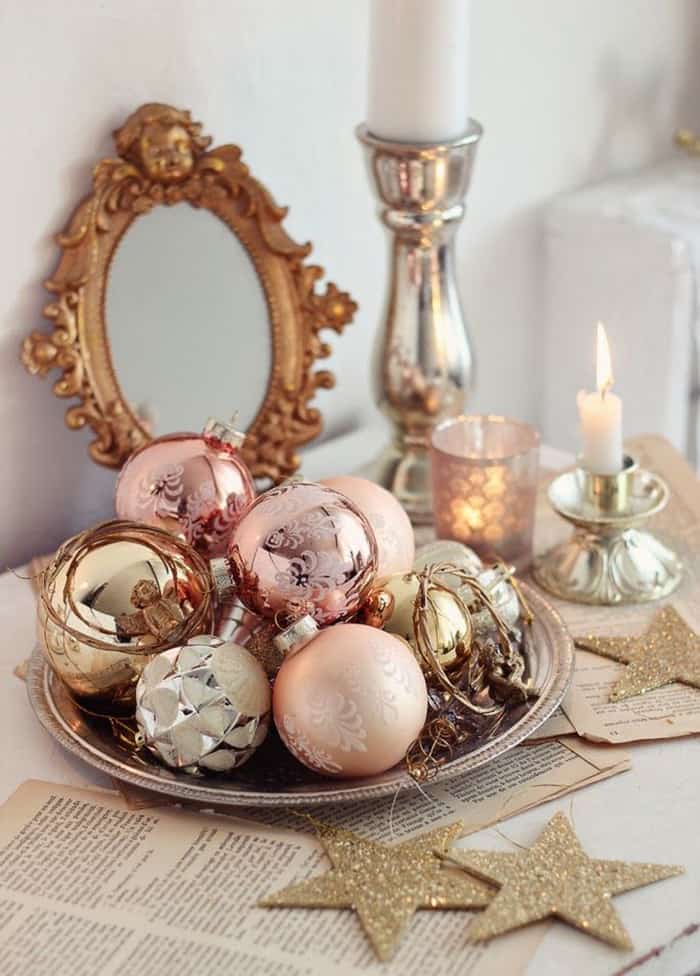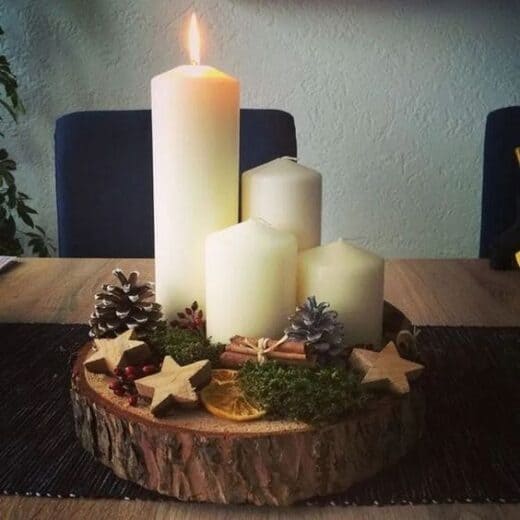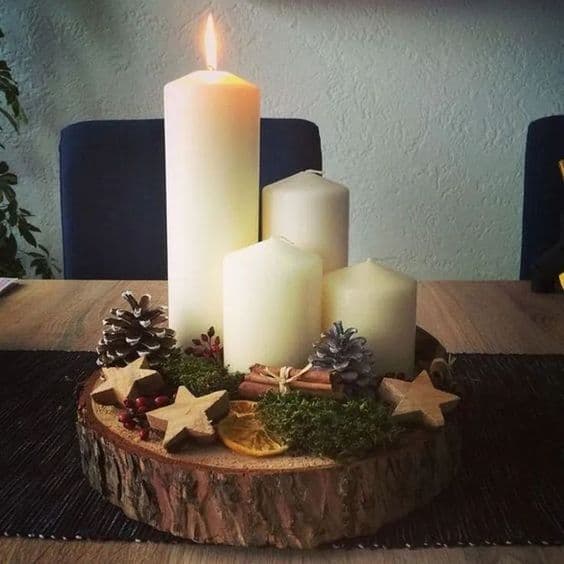 We make decorative trays out of leftover Christmas odds and ends that we can't find a place for.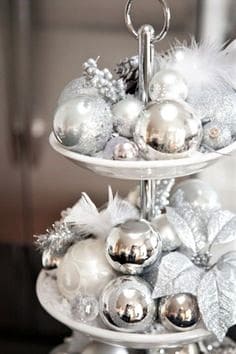 Transform a 3 tier serving tray into a luxurious display using metallic and glitter ornaments in the color of your choice.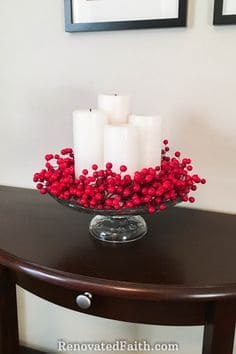 A slice of wood can make a beautiful rustic decorative tray for farmhouses.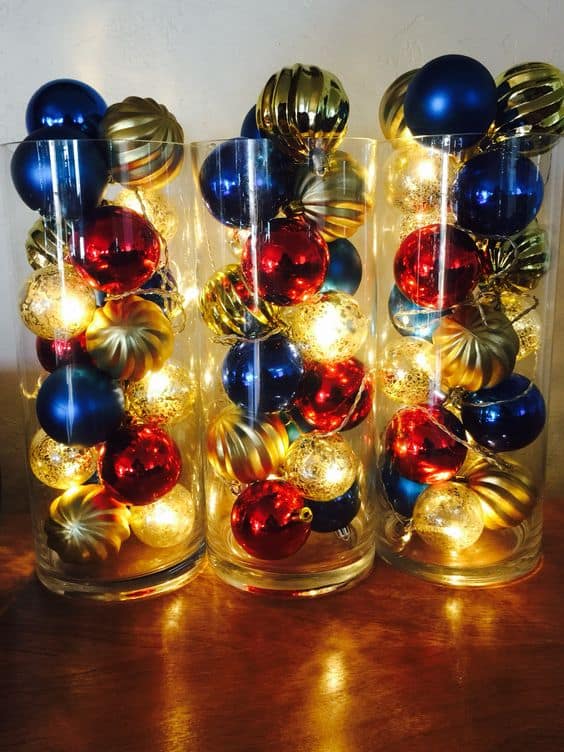 Have wedding centerpiece vases lying around? Fill them with ornaments and lights!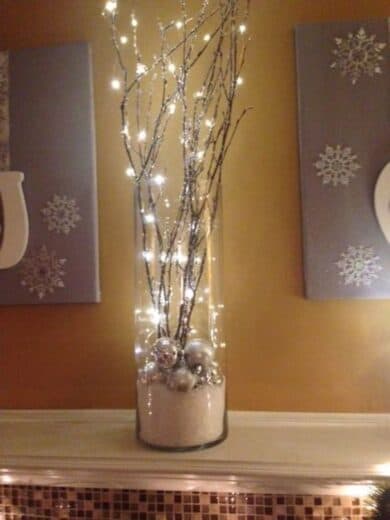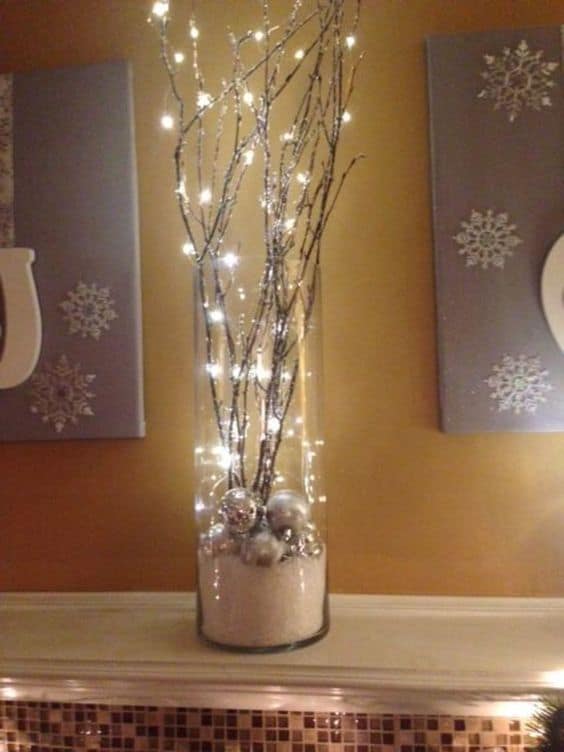 You can use spray adhesive or glue to coat outside fallen branches with glitter or epsom salt before placing in a vase.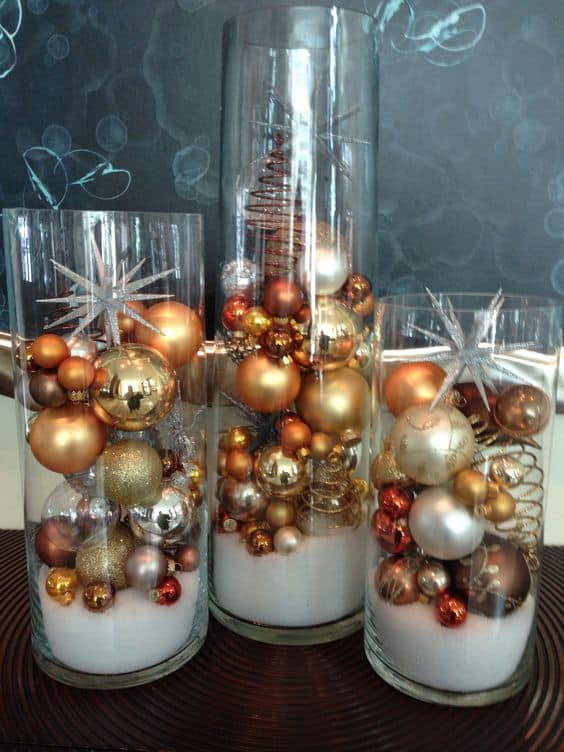 You can use ornaments, pinecones, ribbon, candles, or create a Christmas scene using salt or fake snow as a base.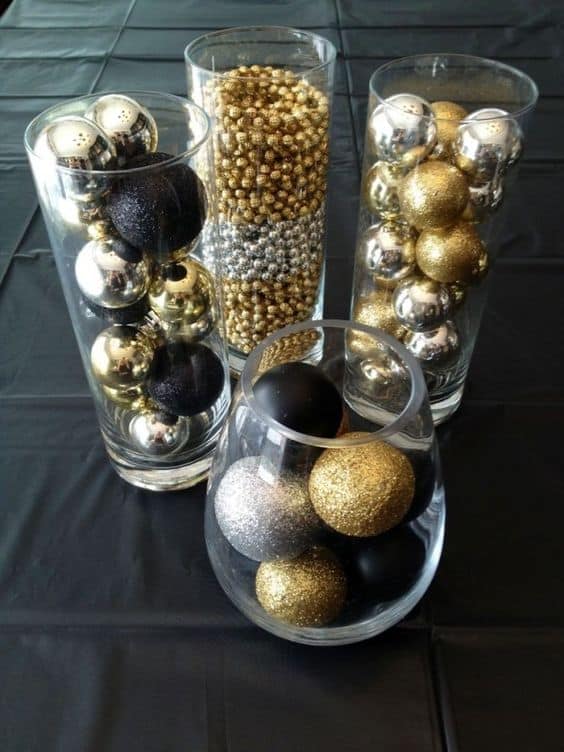 A black, silver, and gold filling could double as New Year's Eve décor and hold those NYE party favors.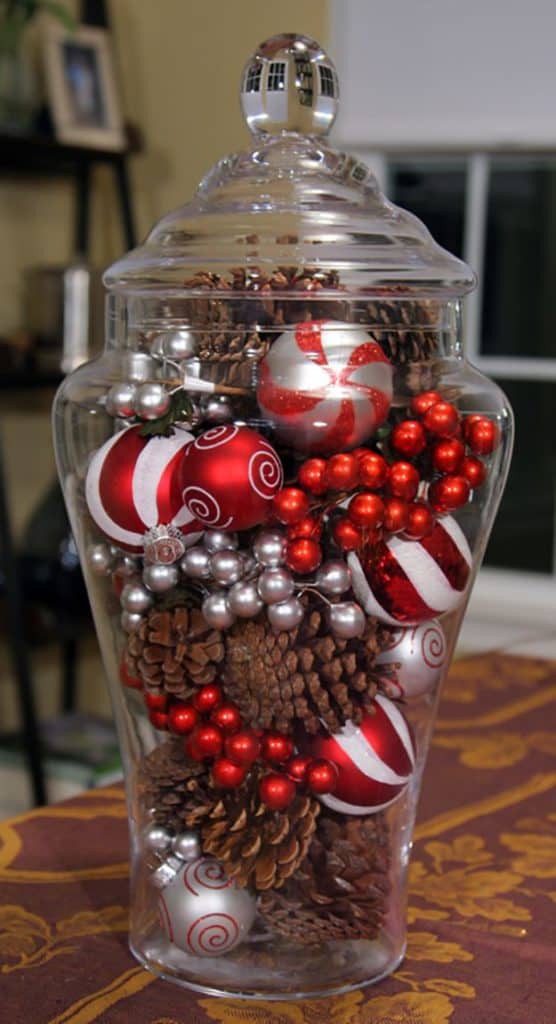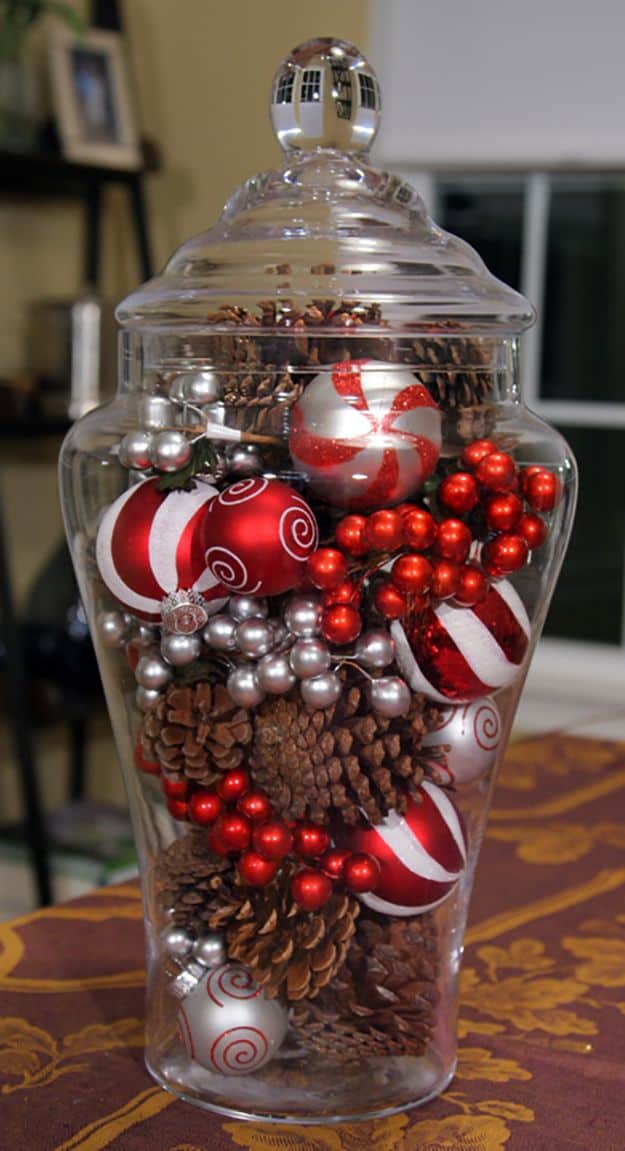 Store your gift wrapping supplies like ribbons and bows and ornaments in apothecary jars.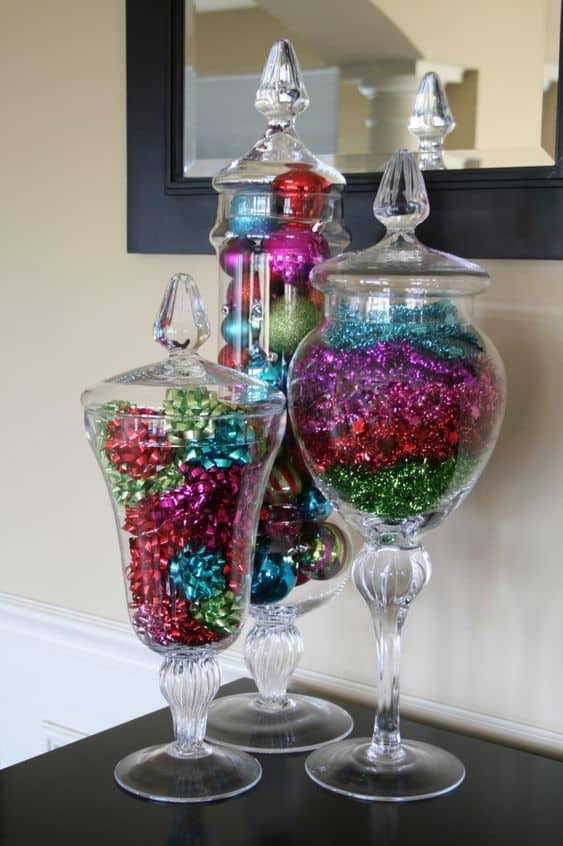 Anytime you need a bow, ribbon, or ornament just open up the jars and grab one. If you empty it early on you can always fill it up with other Christmas stuff.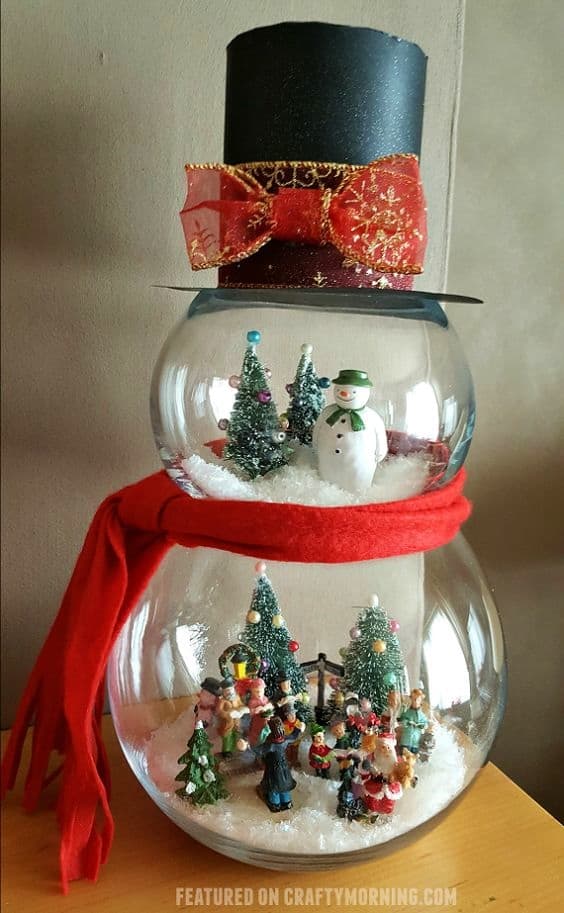 Stack your vases or fill them with your favorite Christmas scene.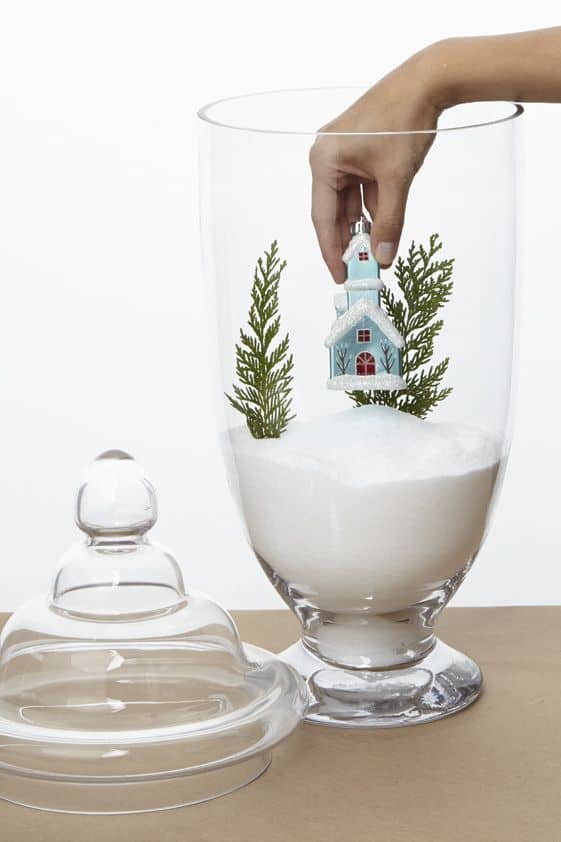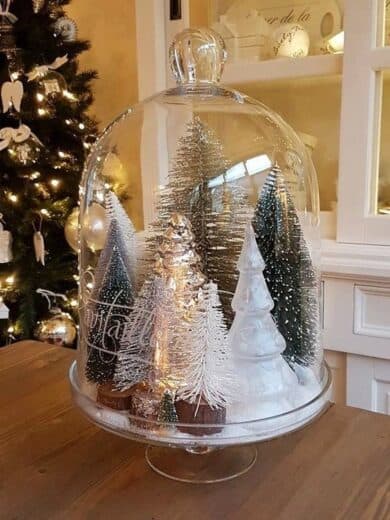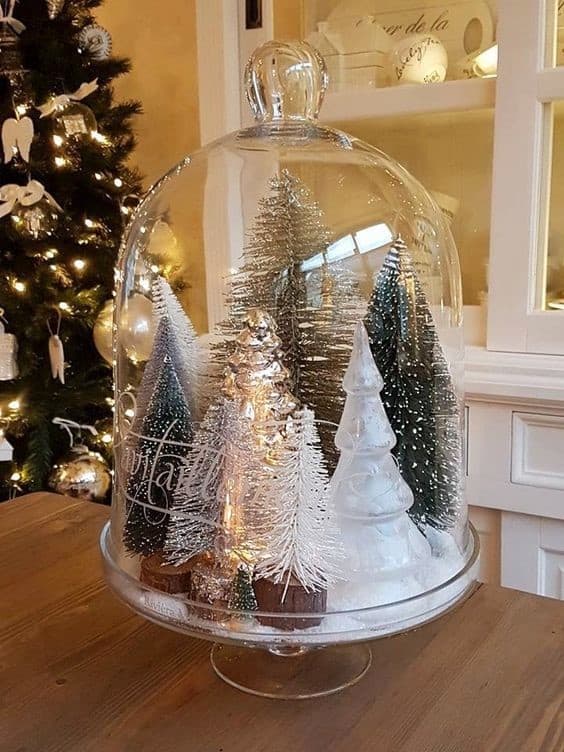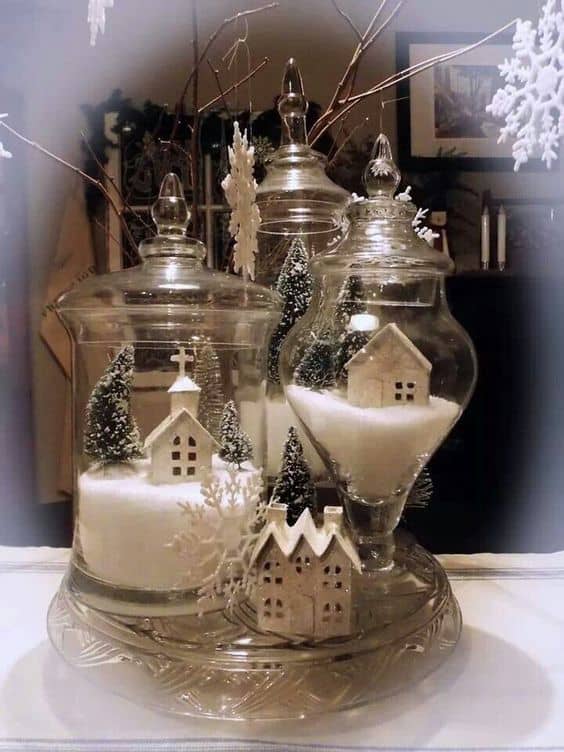 CARDBOARD GINGERBREAD HOUSE TUTORIAL
Make easy and cheap realistic looking cardboard gingerbread houses to stand alone or put in your apothecary jars and canisters using white paint, a paint pen, or even white out.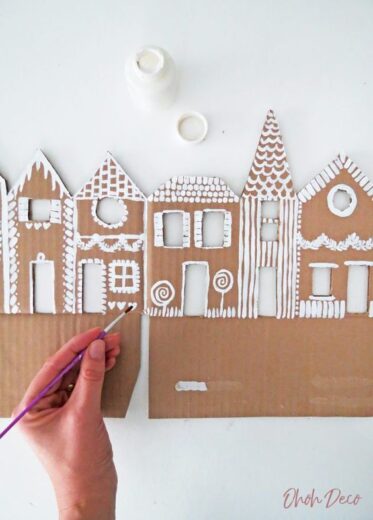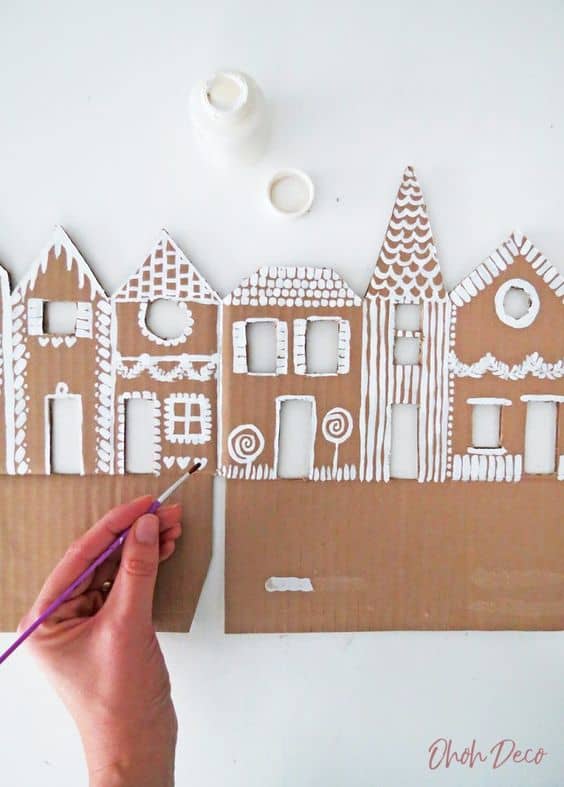 EASY CARDBOARD GINGERBREAD HOUSE TUTORIAL
Don't stop at houses, you can make complete faux gingerbread villages from cardboard boxes just as easily.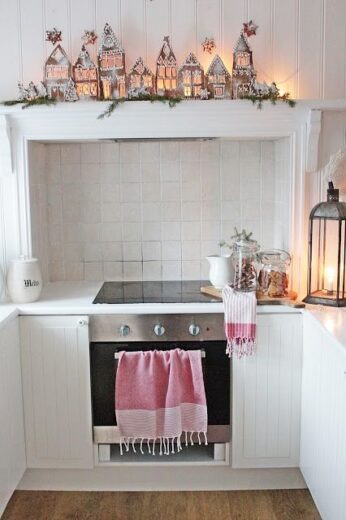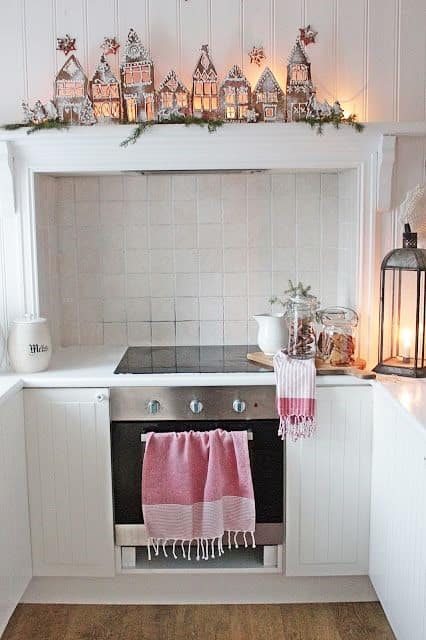 CARDBOARD GINGERBREAD VILLAGE VOTIVE TUTORIAL
CANDLES & VOTIVES

This is the most popular dollar store Diy Christmas decor idea this year that's so easy KIDS can help you make them.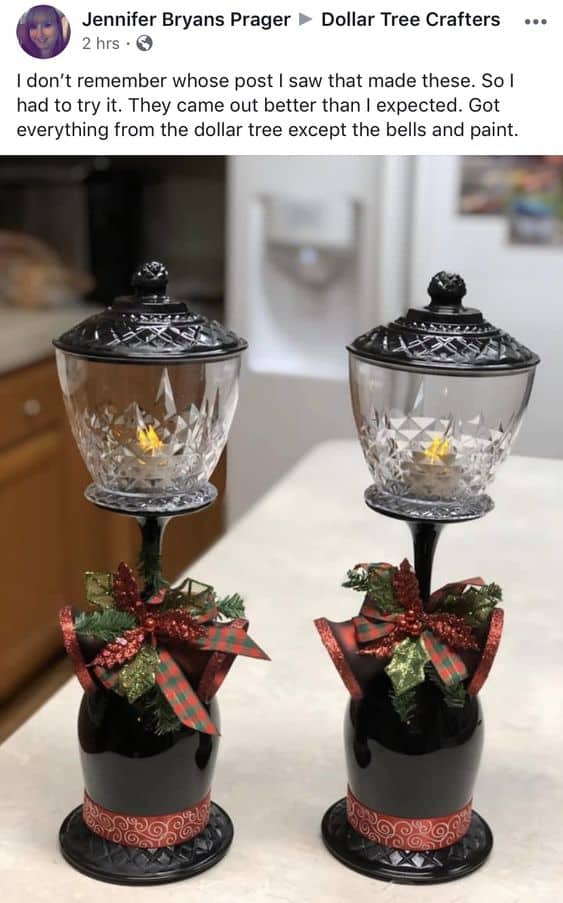 We found a few different versions made with different dollar store items that we'll show you below. The one above is made with the following Dollar Tree items:
black plastic wine glasses
a plastic sugar bowl set with a lid (found in the wedding/party isle of Dollar Tree)
a battery operated votive
just the lid of another plastic sugar bowl set
Paint the inside of the wine glass and the stem, tops of the candy dishes and let dry
Turn the wine glass upside down and glue the candy dish to the base
Glue the cover of the candy dish to the bottom of the lamp post and cover with ribbon
Tie a ribbon or decoration of choice around the neck of the wine glass and insert a votive.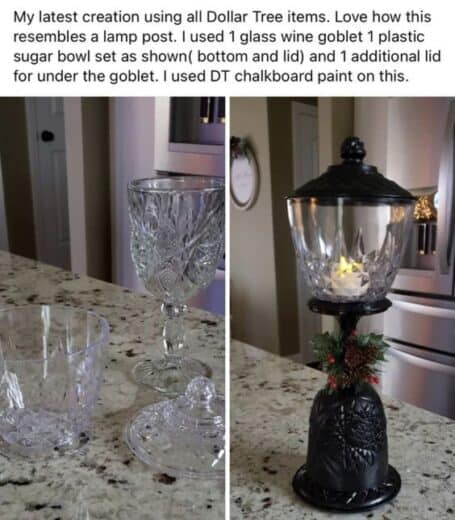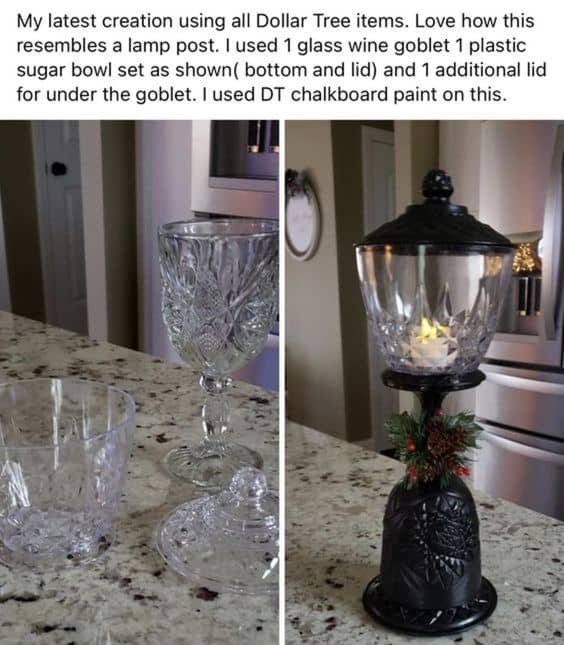 Feel free to use any combination of Dollar Tree items like goblets, bottles, vases, or even tin pails for the stem.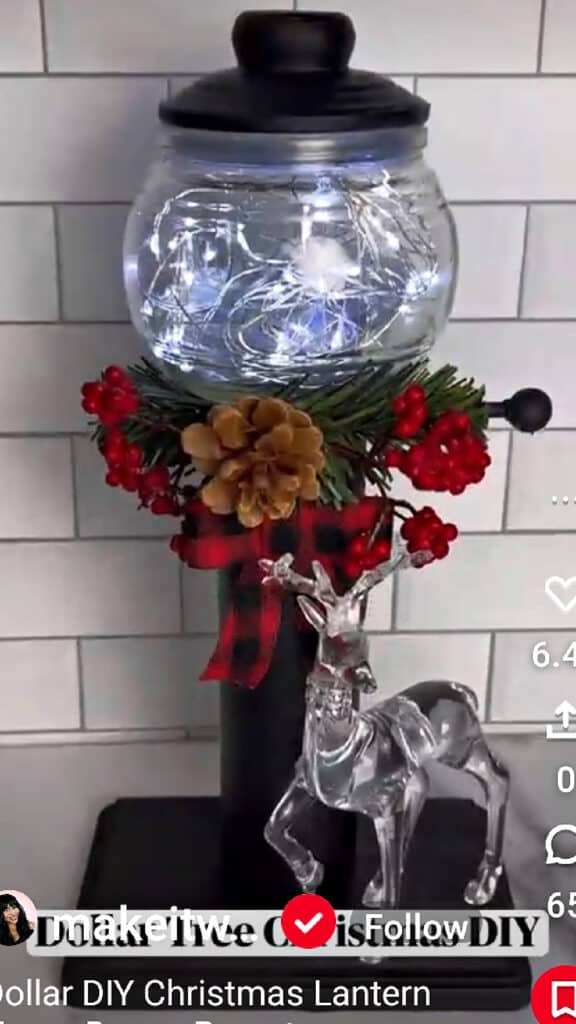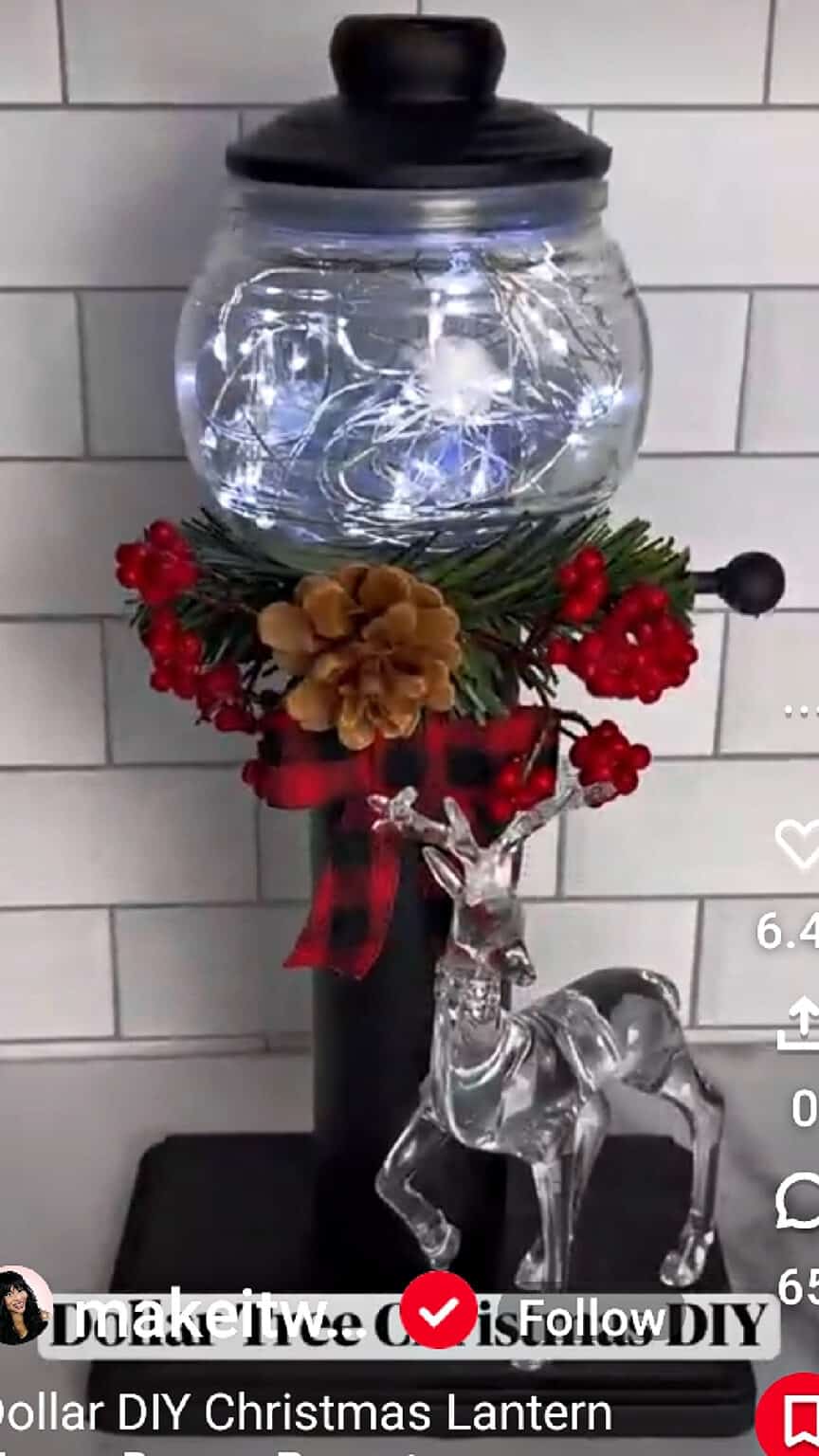 Here are 4 EXCELLENT tutorials with different versions you can make: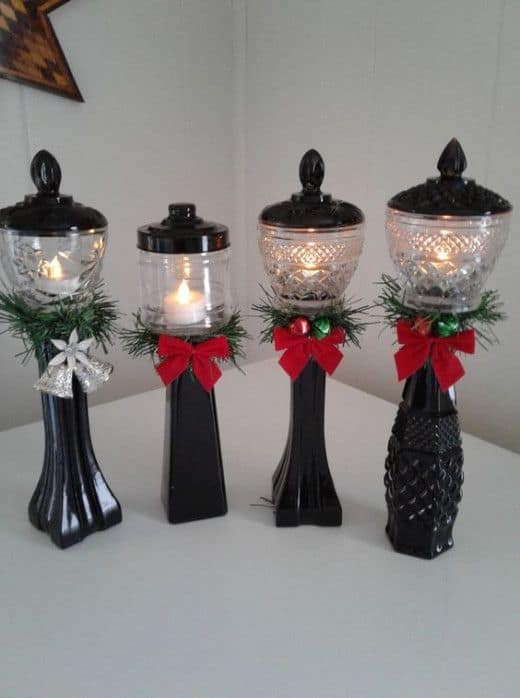 These are great for cozy rustic decor, OR fill them up with candy for the perfect gift everyone will love.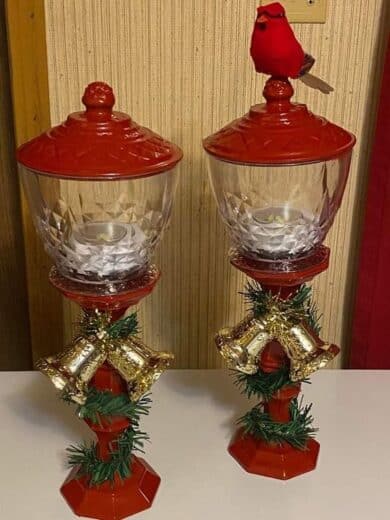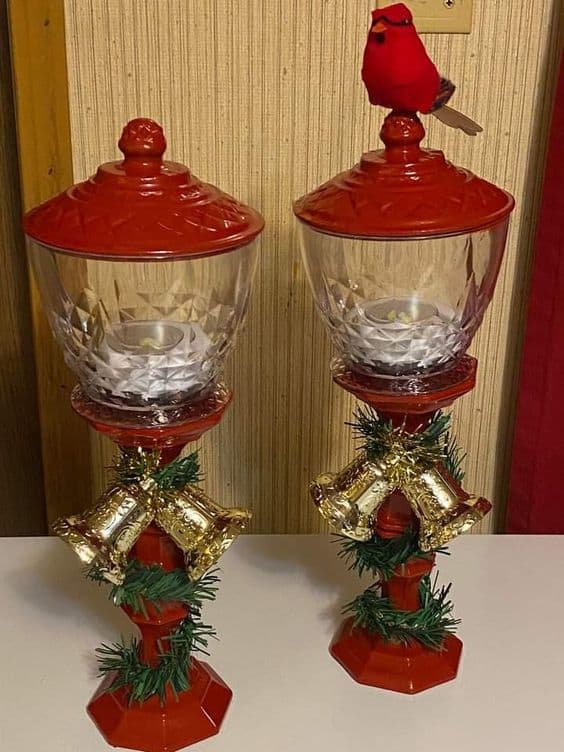 Experiment with different colors, and decorations for every season and style like the beautiful red bird lamps above created by Jamie Lewis on Pinterest.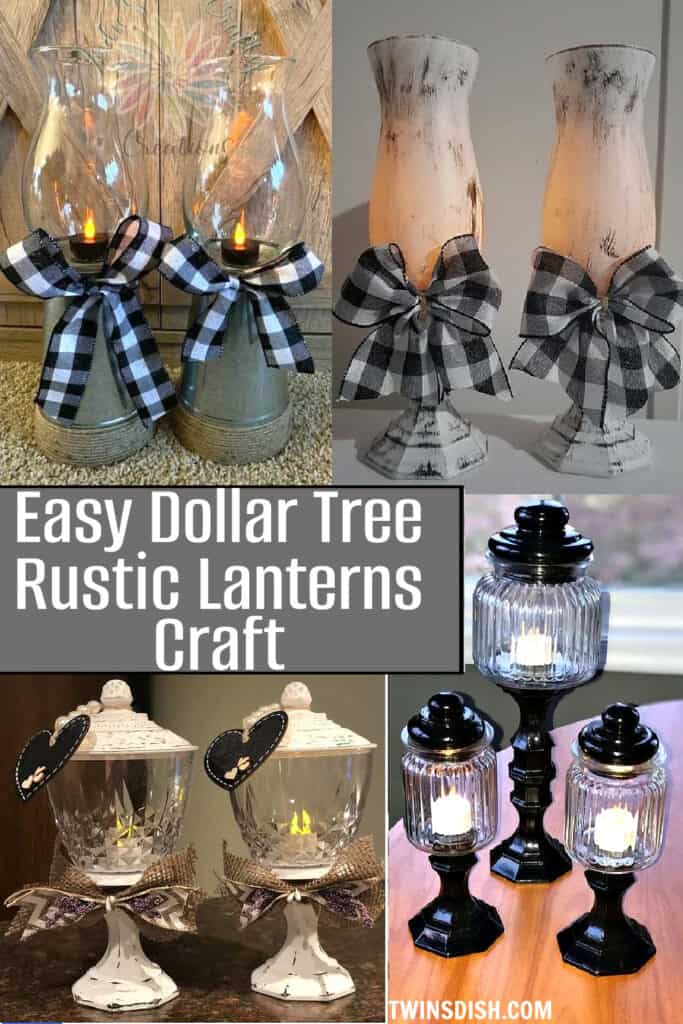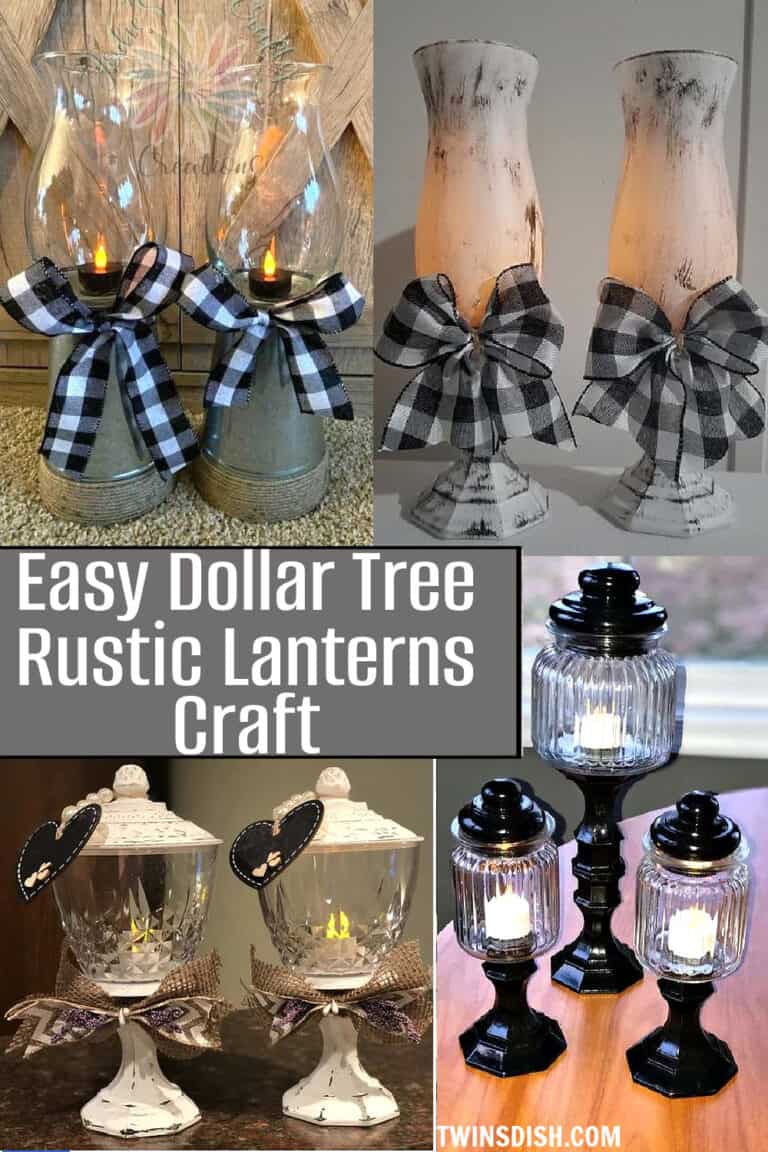 When Christmas is over you can remove the Christmas decorations and replace them with whatever holiday comes next!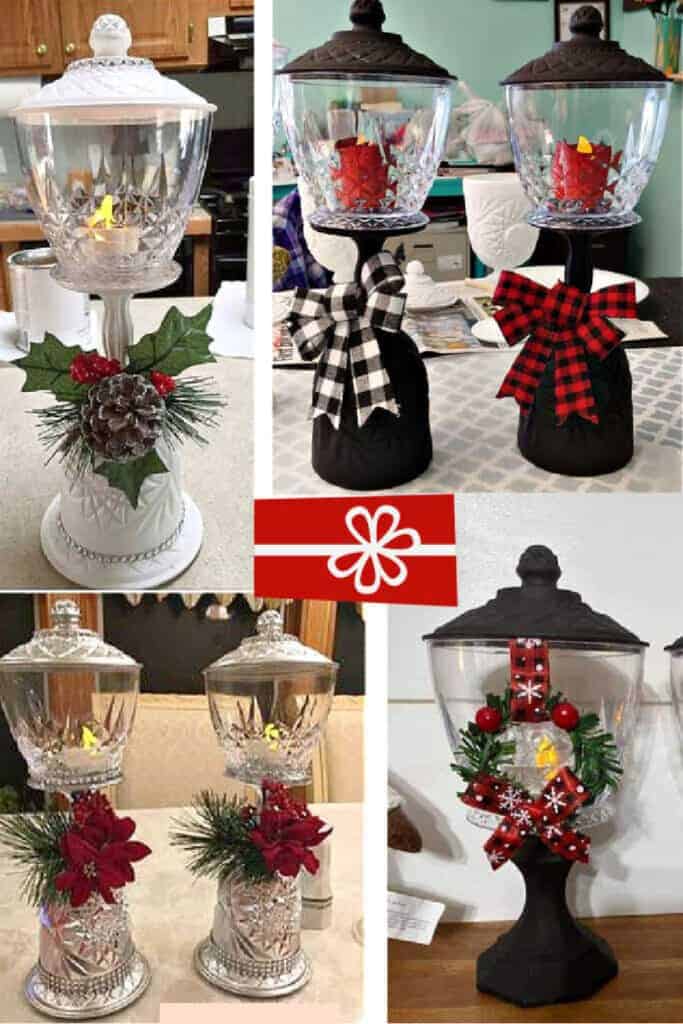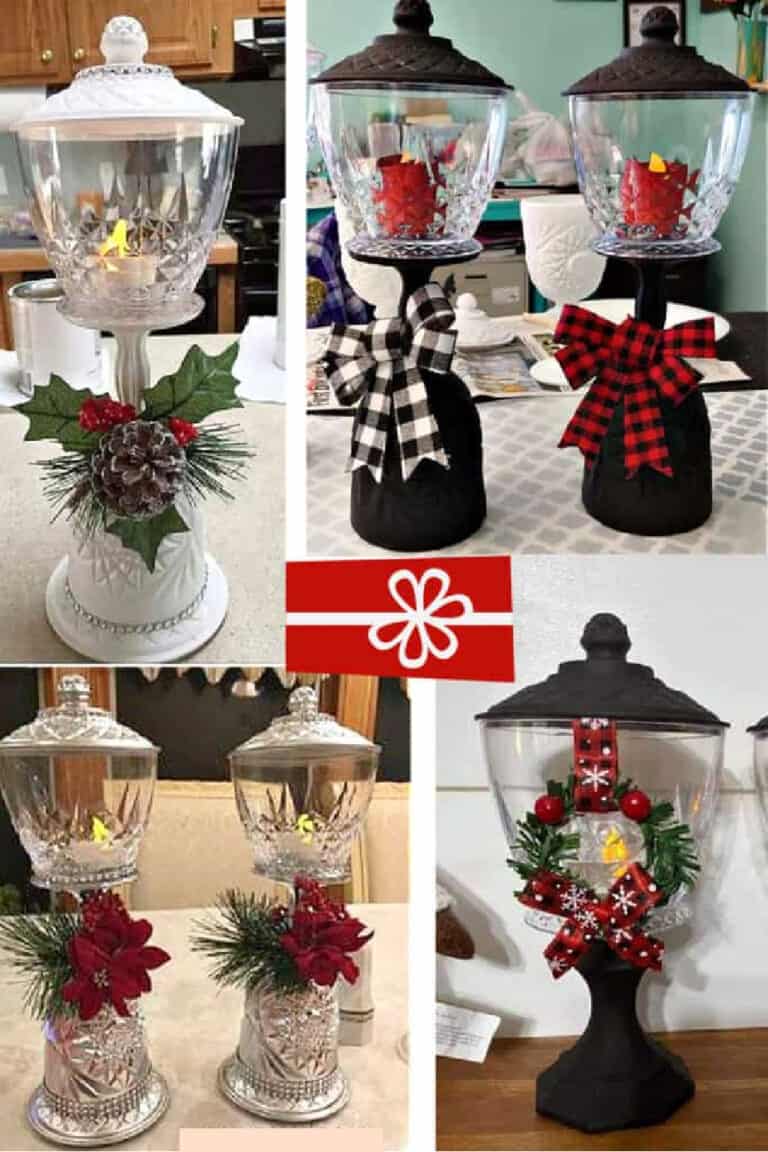 These would even make a great centerpiece for a December wedding or Christmas Dinner.
Bring out your cake stands and pedestals to fill with candles, pinecones, or anything else that puts you in the spirit.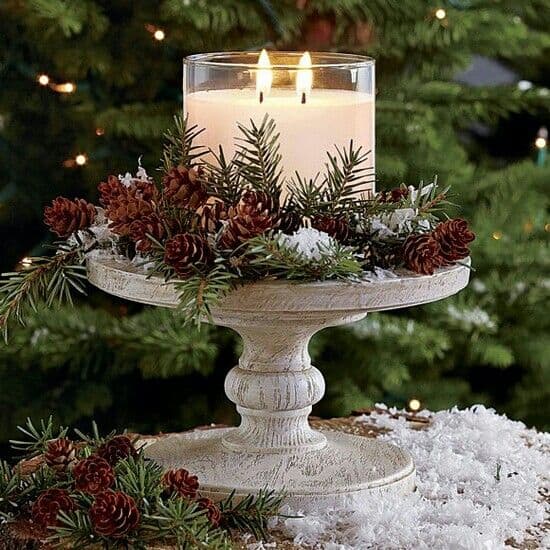 Roll mason jars in glue, epsom salt, and even glitter for EASY Snowy Mason jar Luminaries and votive candles.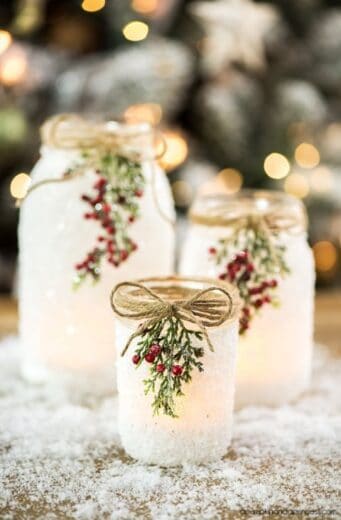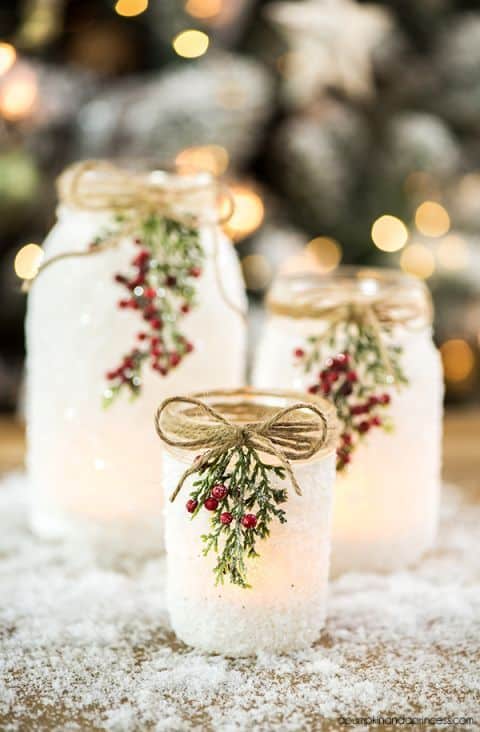 This super easy and popular craft is amazingly beautiful on a table.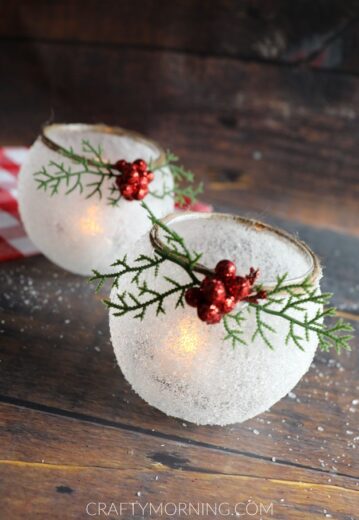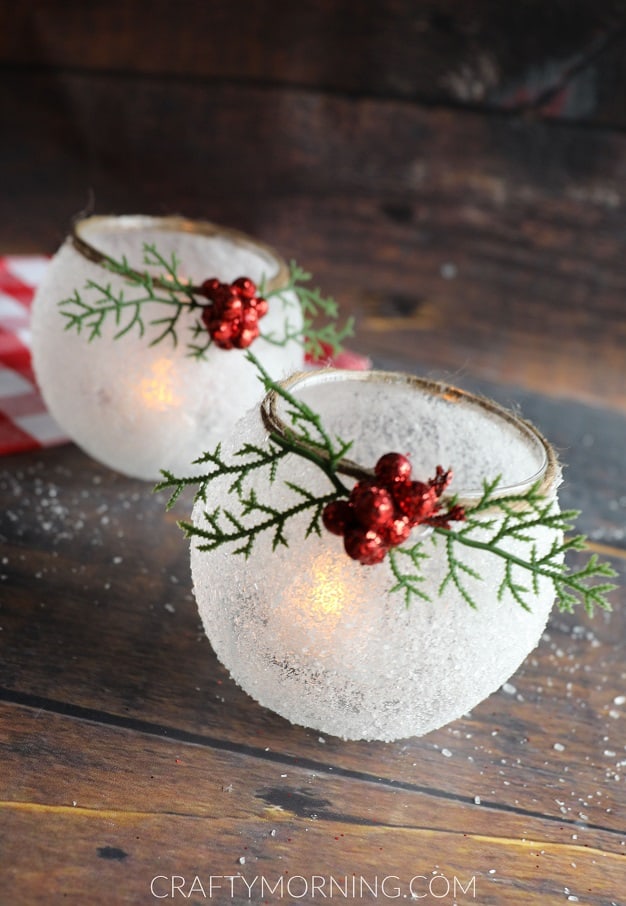 Can you believe these were quickly made with dollar store votive glasses, glue, and Epsom salt?!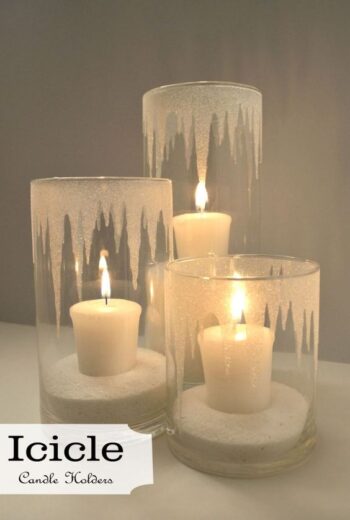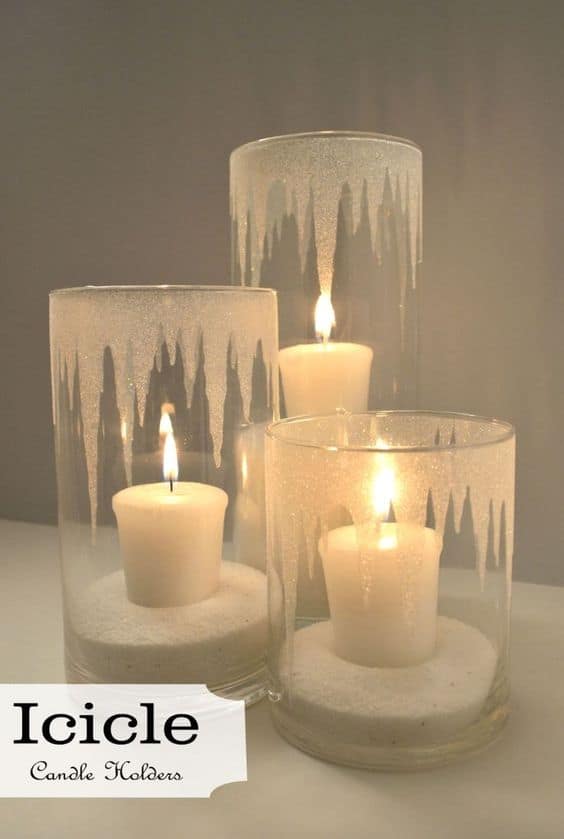 Here is just another easy yet beautiful variation of what you can do with glue and Epsom salt on glass. This centerpiece is channeling a Frozen theme.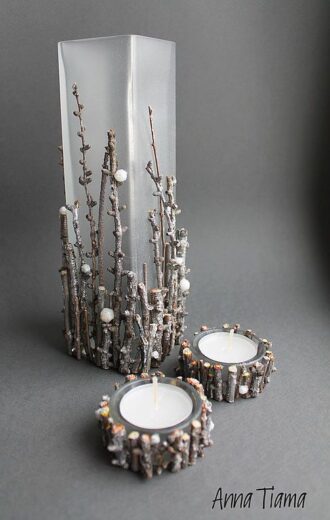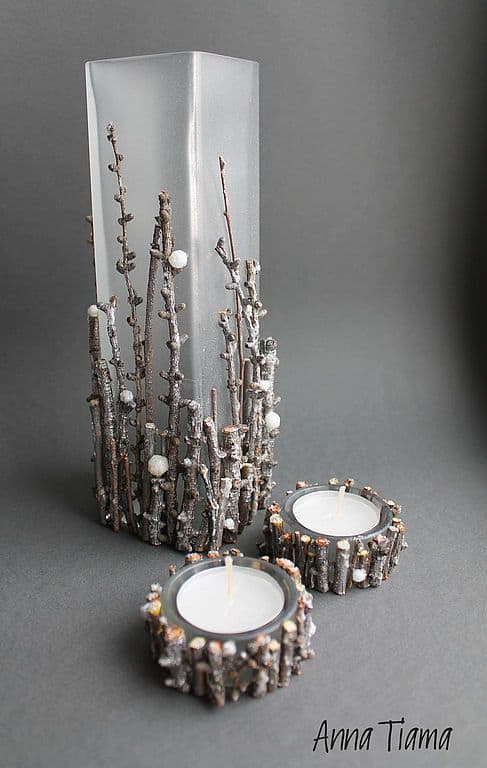 Do the same with twigs and any vases or votives you have lying around. Just trim the twigs to your desired length, glue on, and you have a beautiful rustic decoration.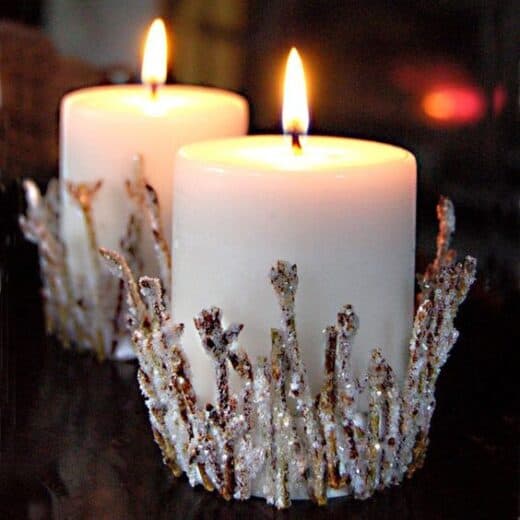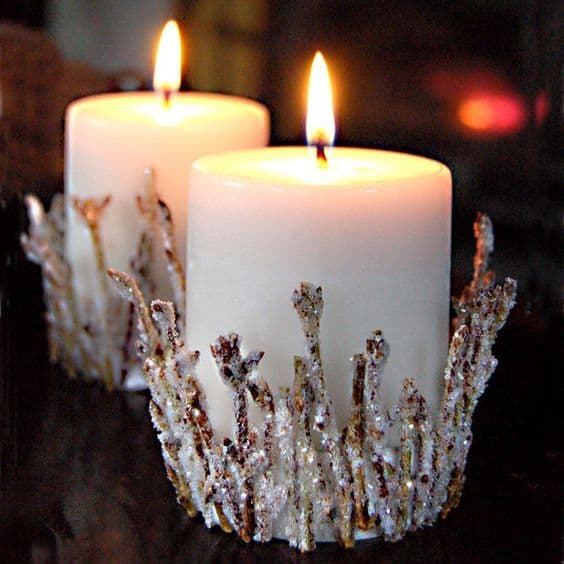 Have any paper cups lying around?! Coat twigs in Mod Modge (or elmers) glue, roll them in glitter, and glue them to the bottom of a paper cup. For the full tutorial click on the "TUTORIAL" link.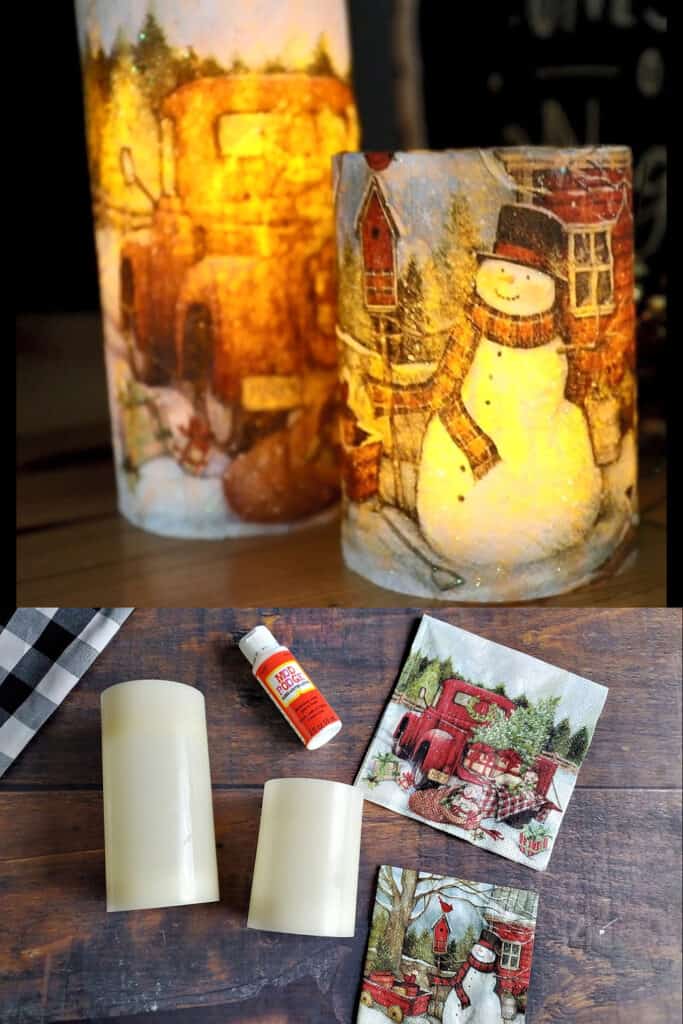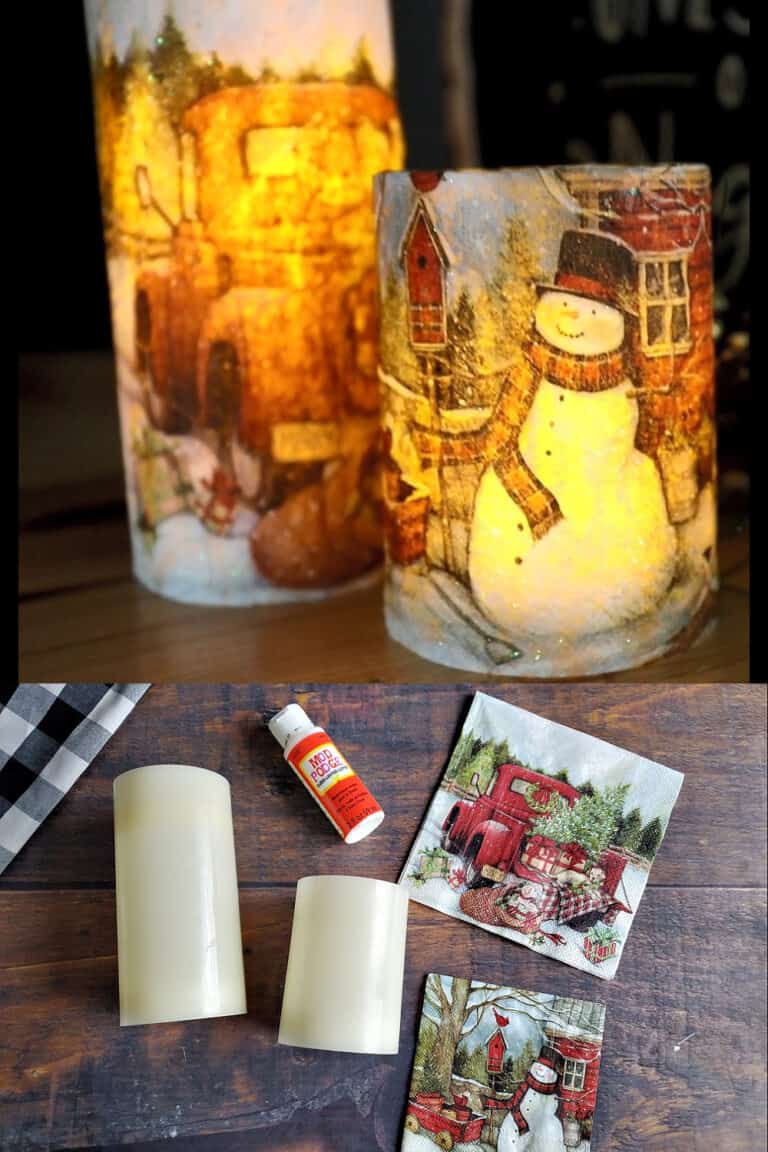 Have battery operated candles hanging around? Make them Christmas candles in MINUTES using paper Christmas napkins and glue!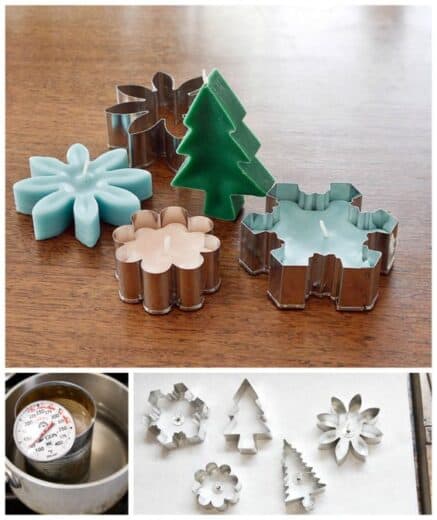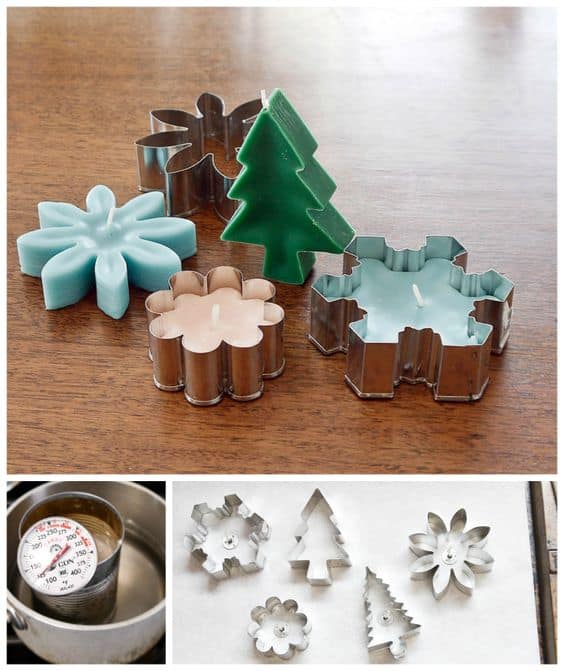 Here's something to do with the left over ends of your candles or wax melts, make easy festive Christmas votives out of cookie cutters!
Turn your wine glasses into containers and candle holders for an instant holiday centerpiece or decoration that costs nothing.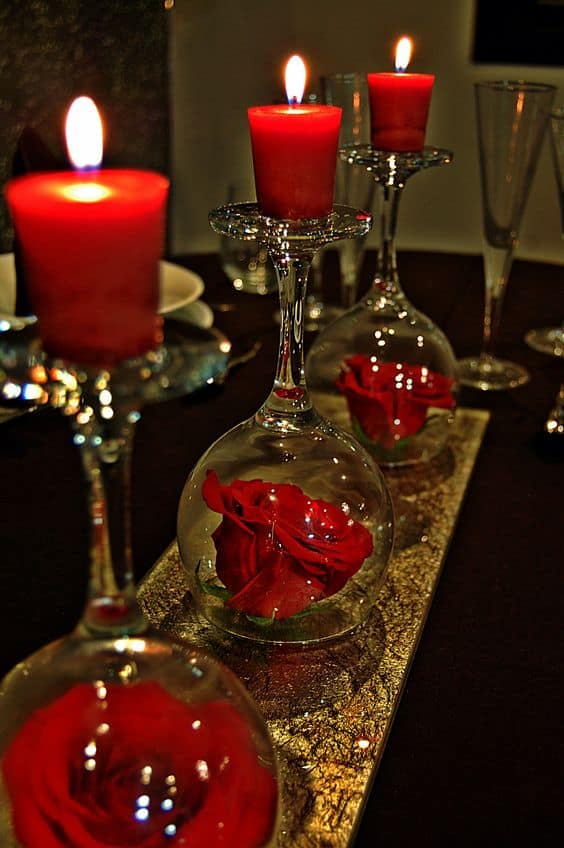 This is what you do to your spare ornaments.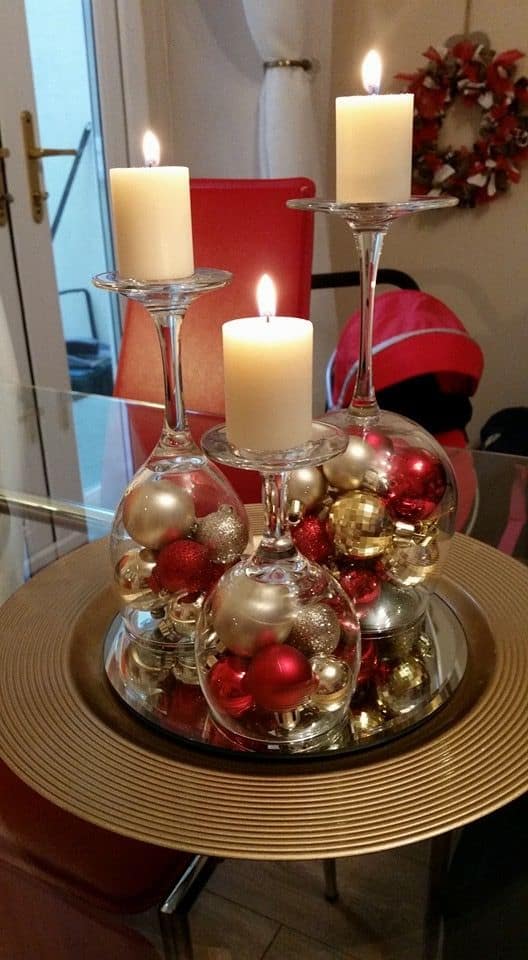 Glue together dollar store candlesticks and glass bowls for beautiful votives and centerpieces you can use year round.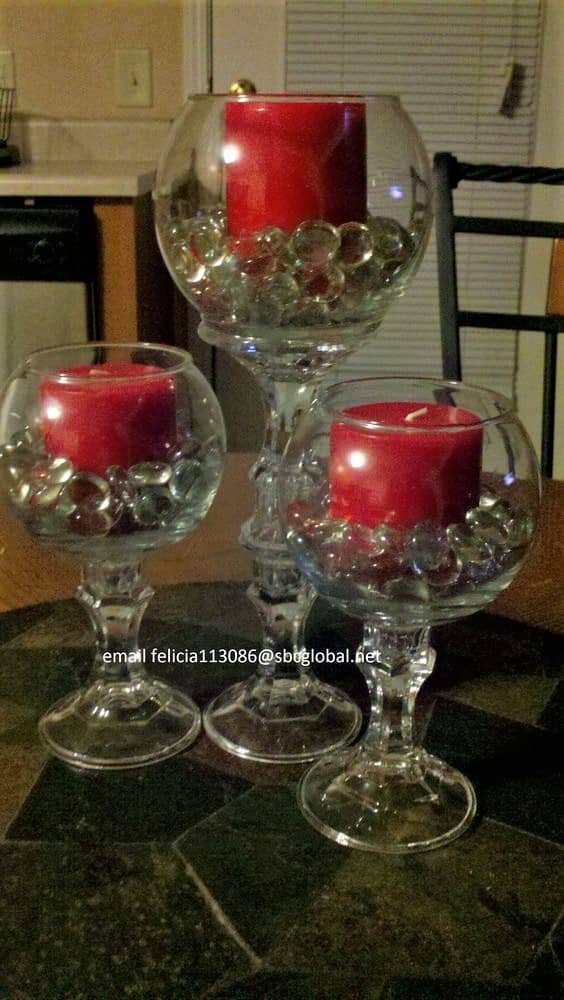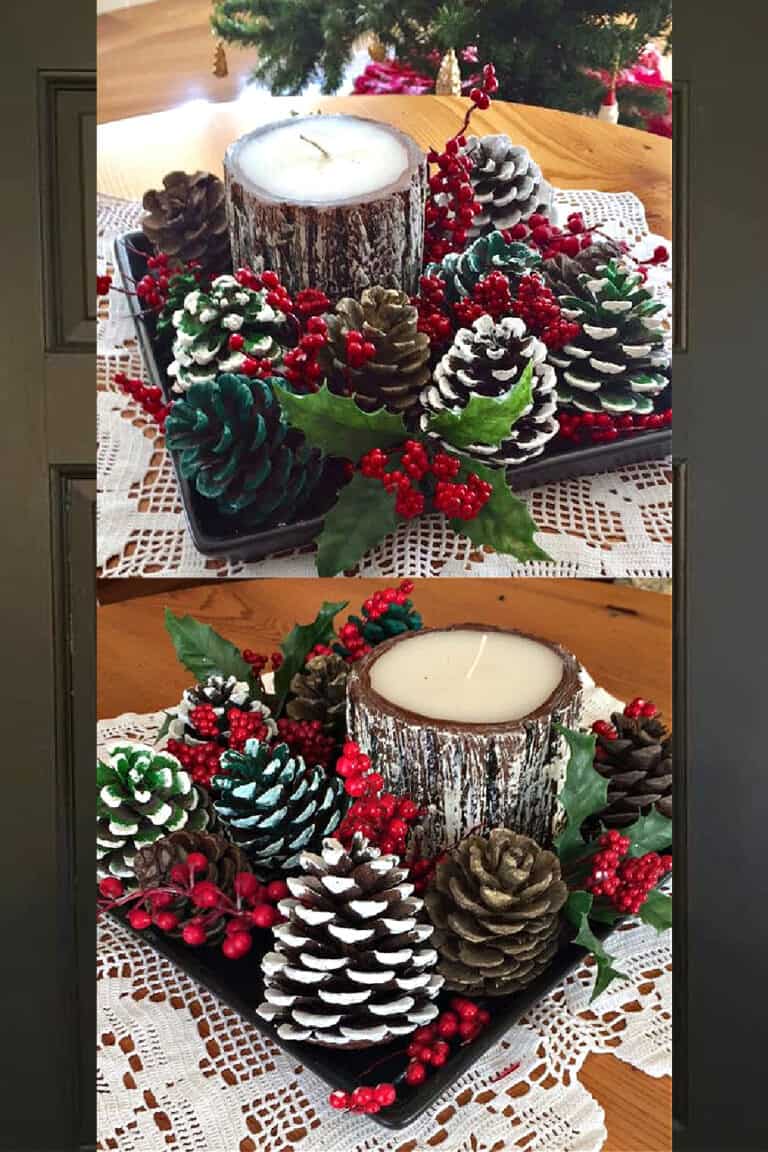 Faux gingerbread villages can be used as votives with battery powered candles and Christmas lights that light them up from behind.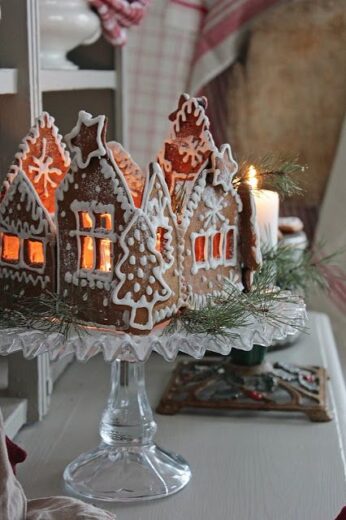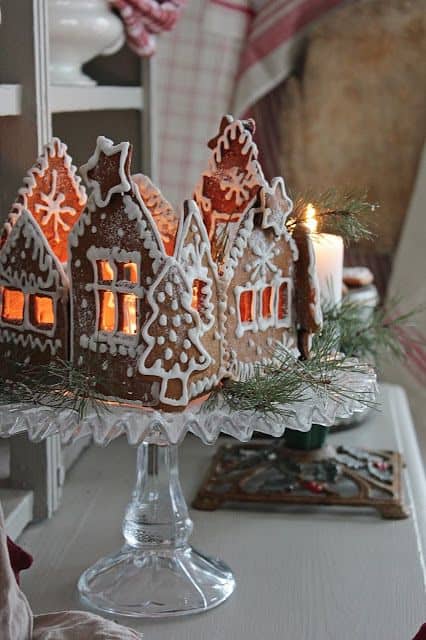 DIY Snowflakes
Snowflake decorations are great because once Christmas is over, you can keep them up all winter long.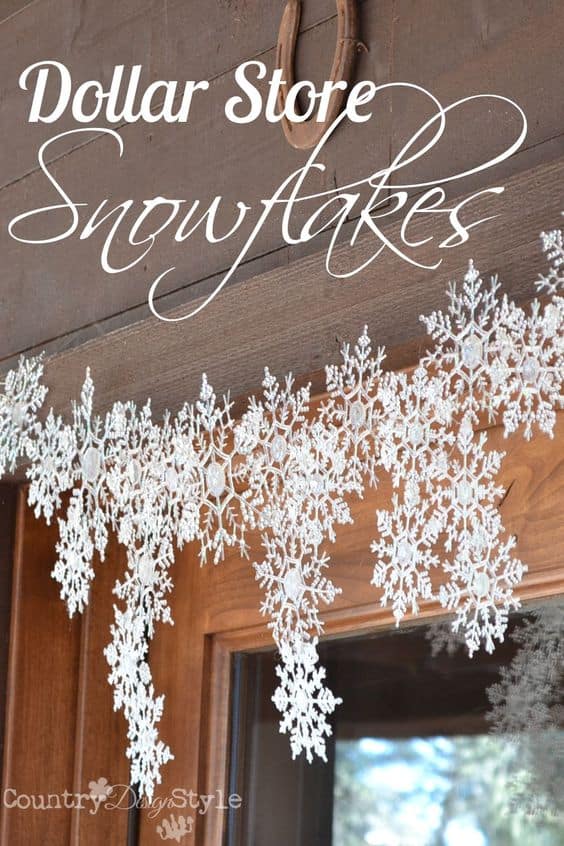 Buy snowflakes at the dollar store or make them yourself to suit any style from farm house to glam easily.


There are several ways you can make snowflakes yourself. One easy way is to glue together popsicle sticks in the shape of a snowflake.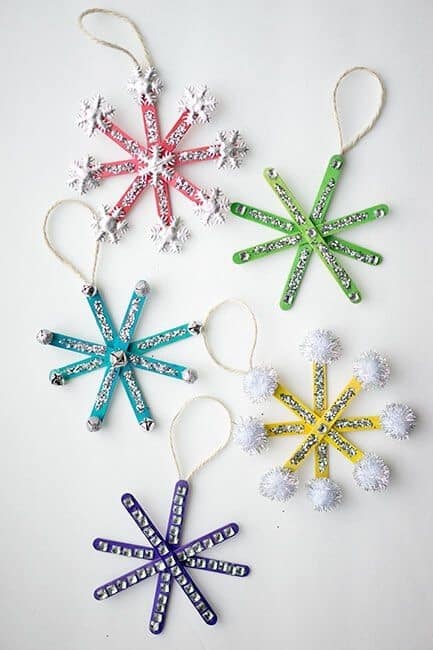 They can be painted, glazed, or glittered out. Even kids can help!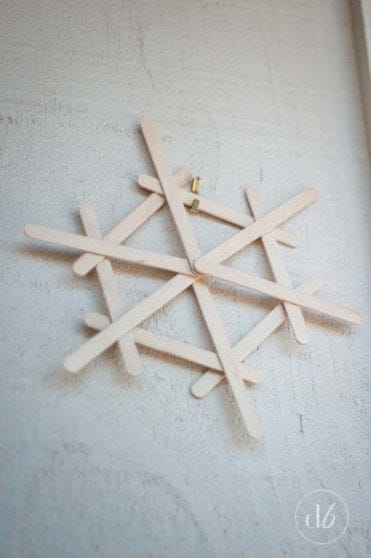 Make them as simple or intricate as you want and small or large.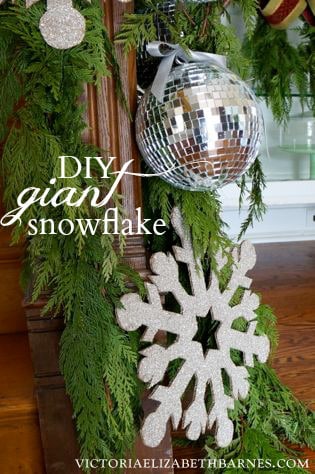 Via VictoriaElizabethBarnes.com
Another way to DIY snowflakes is to cut them out of cardstock and paint, sprinkle with glitter, or decorate it with anything you'd like.


Probably one of our favorite methods is the hot glue gun method. All you need is wax or parchment paper, a printed out snowflake design, and hot glue.
Place the parchment paper over the snowflake design and trace it with hot glue. Once dry peel them off and place on the window or glue to string to make hanging snowflake garland.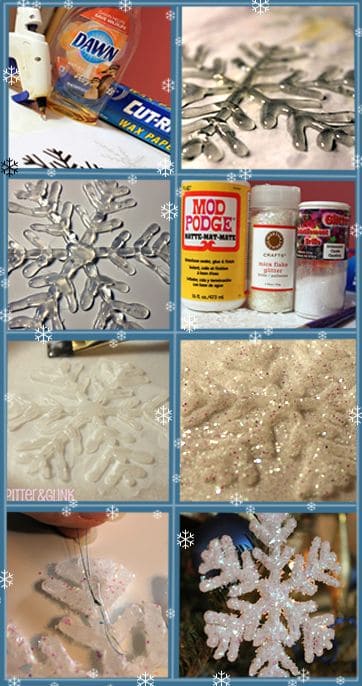 You can make them sparkle by painting them with Mod Podge and sprinkling with glitter.
TIP: You can also use puff paint or elmer's glue. However the elmer's glue method works best on smaller snowflakes. ALSO try using the new glow in the dark elmer's glue for glowing night time snowflake ornaments on your tree!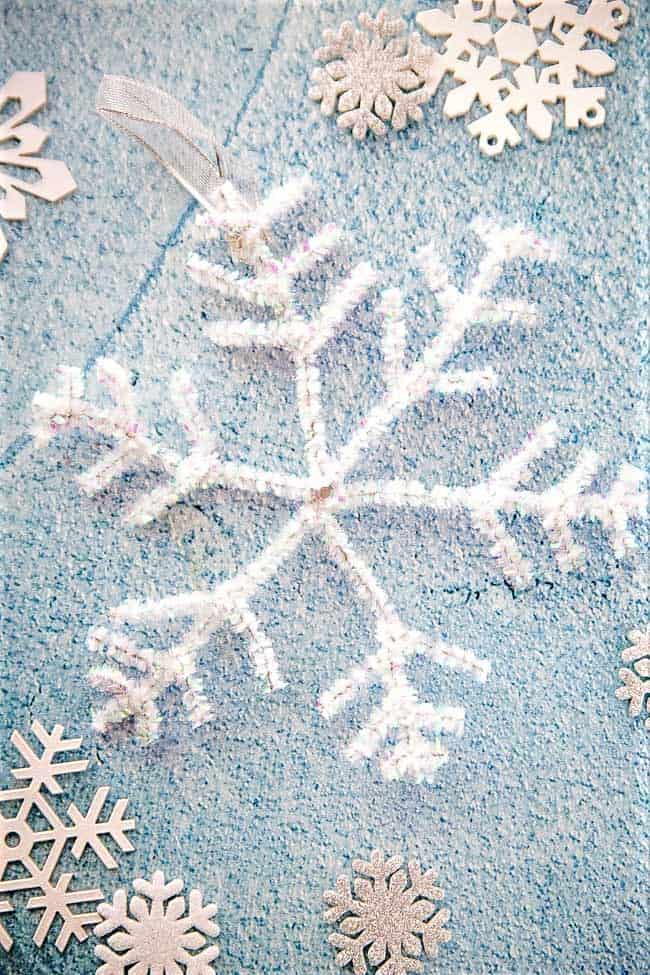 The least messy DIY method for making snowflakes is the pipecleaner method. Just cut pipe cleaner and twist into a snowflake design. Add a little rhinestone in the center for sparkle.
This method is great for kids!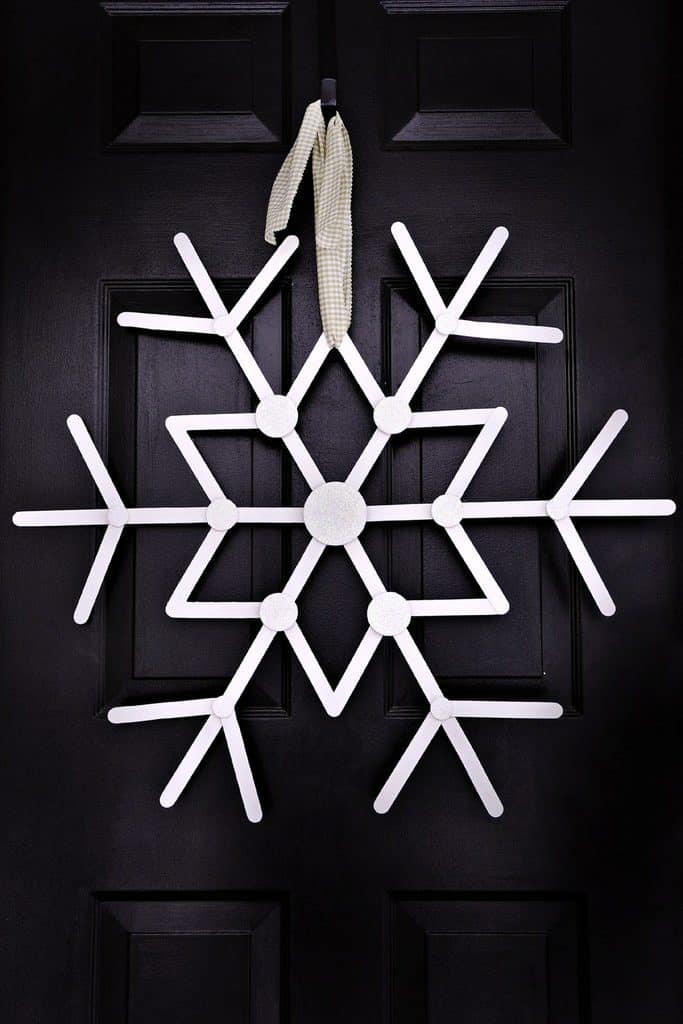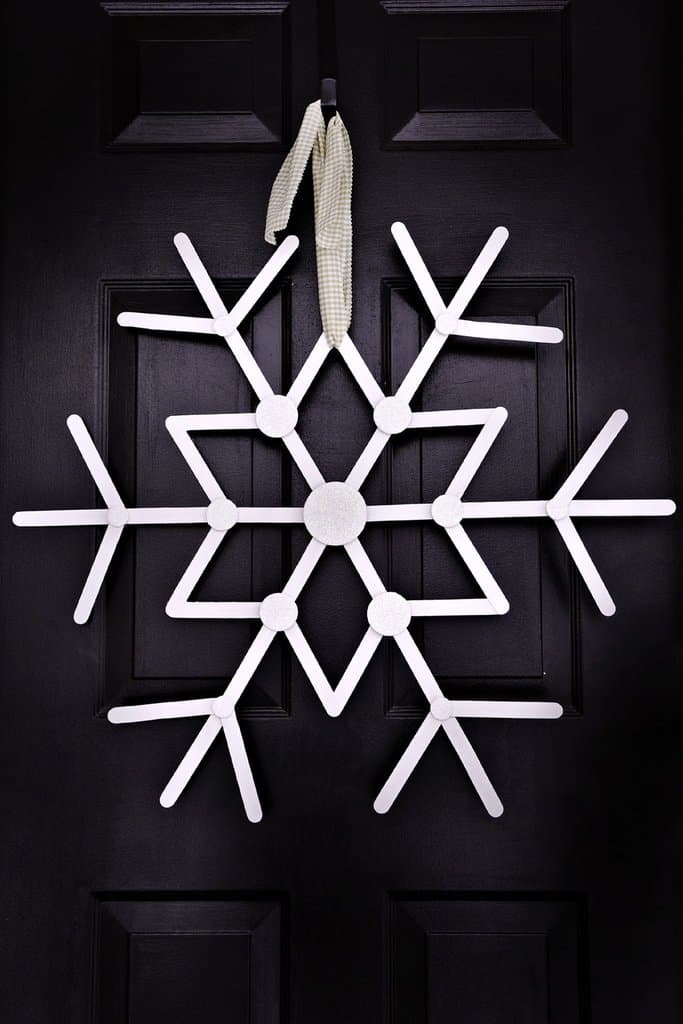 Whatever method you choose, snowflakes also look great hanging from a door…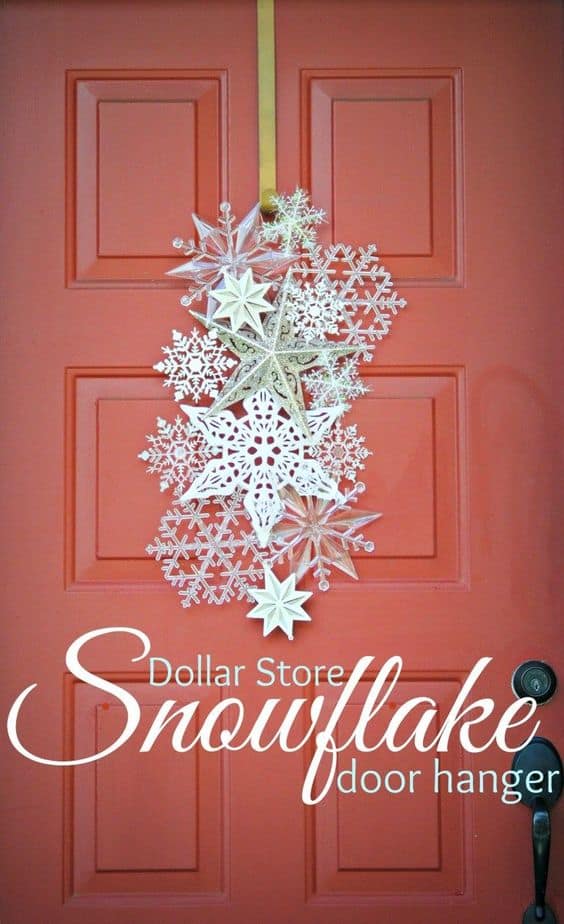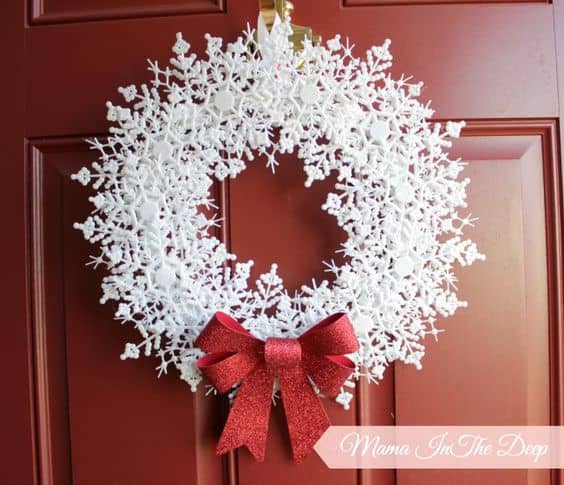 hanging from windows…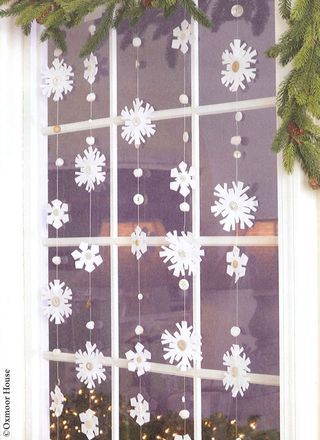 or even under your plate!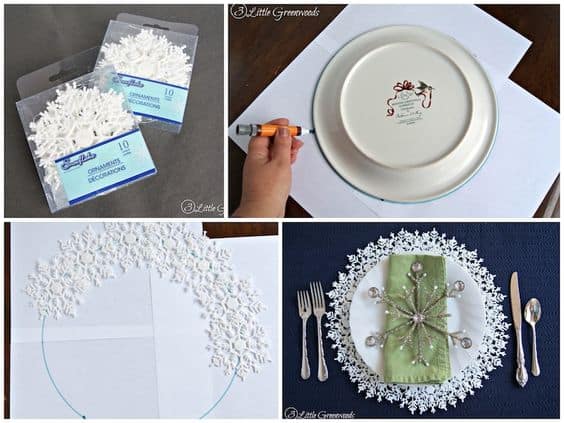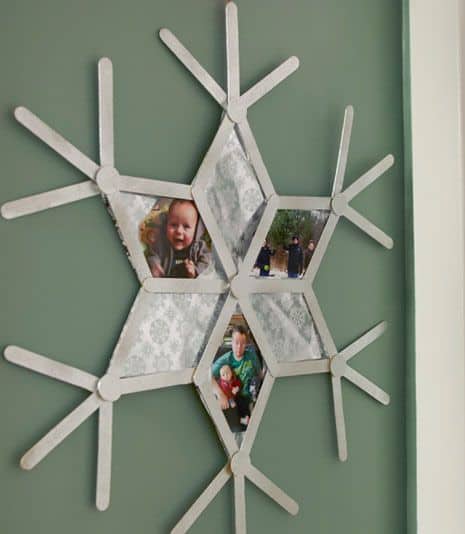 You can even put wrapping paper or pictures on it and make a nice keep sake.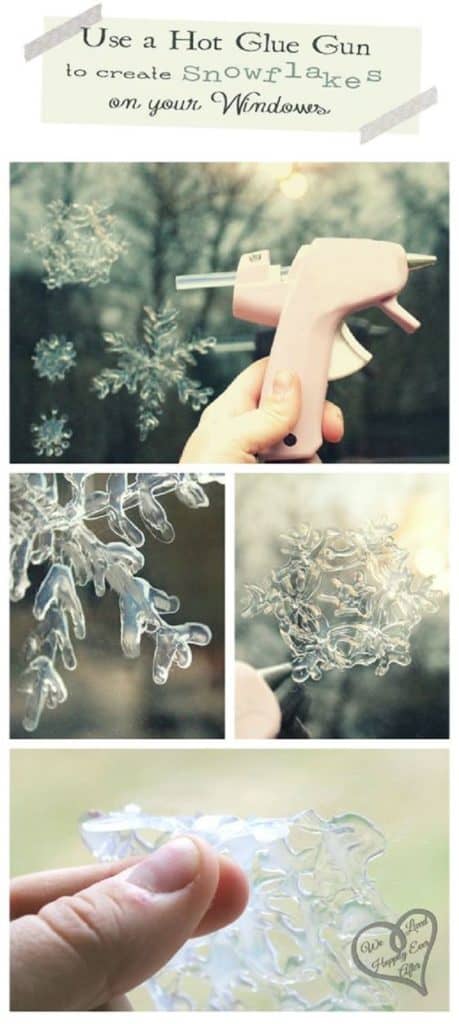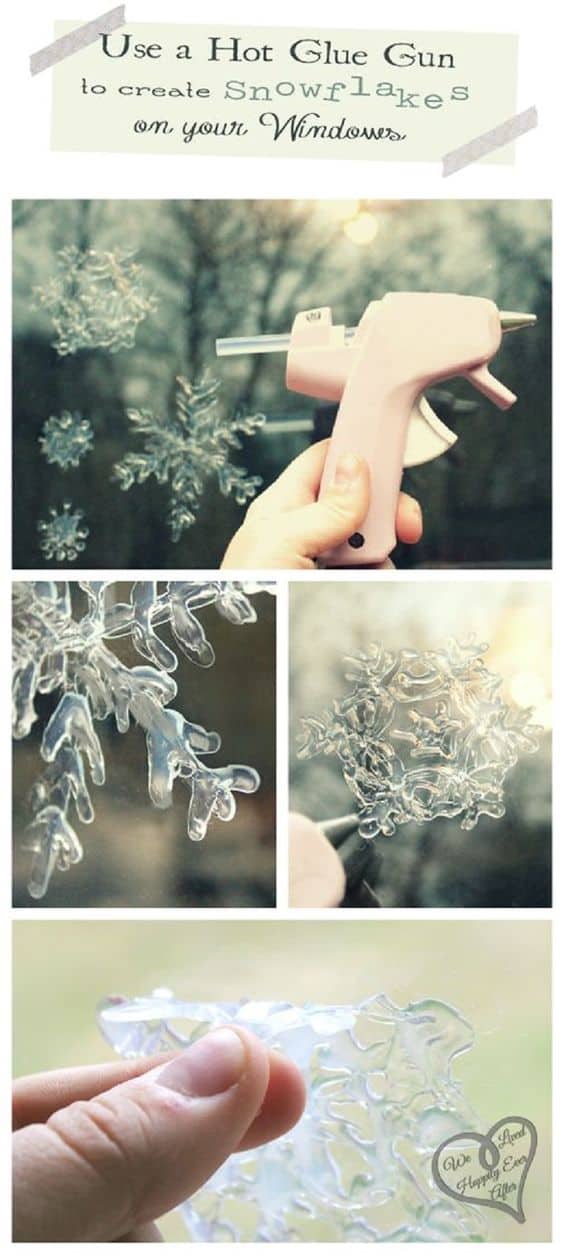 These window clings are a great way to dress up your windows from the inside. The tutorial is for snowflakes but you can do stars, a snowman, or just about any pattern you want. Sprinkle them with glitter or even paint them with nail polish.
These would also make cute ornaments as well. All you need is a hot glue gun and parchment paper.
TIP: If you want to make it more sturdy then after the hot glue dries, peel the snowflake off the parchment, and add a layer of Mod Podge before decorating.
Pinecone Decorations
Pinecones are readily available no matter where you live and you can do so many beautiful things with them. Here are the best ways to decorate using these adorable little Christmas staples.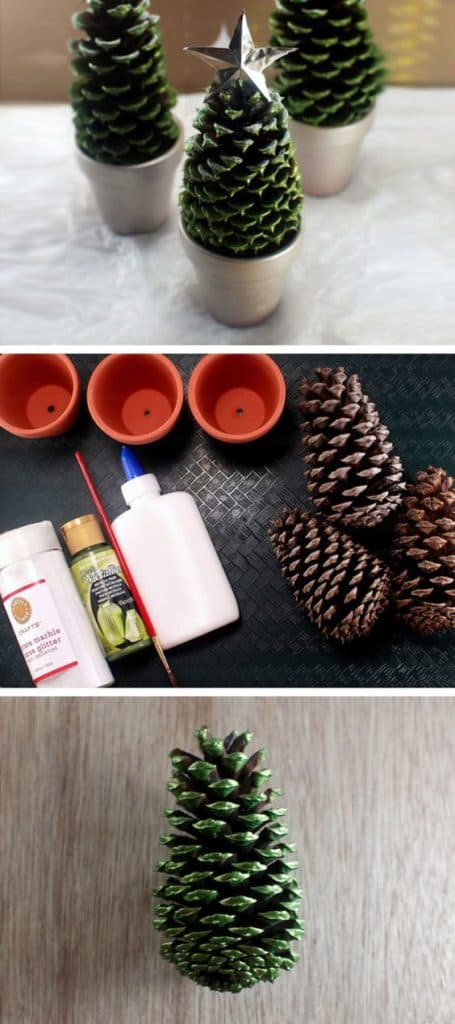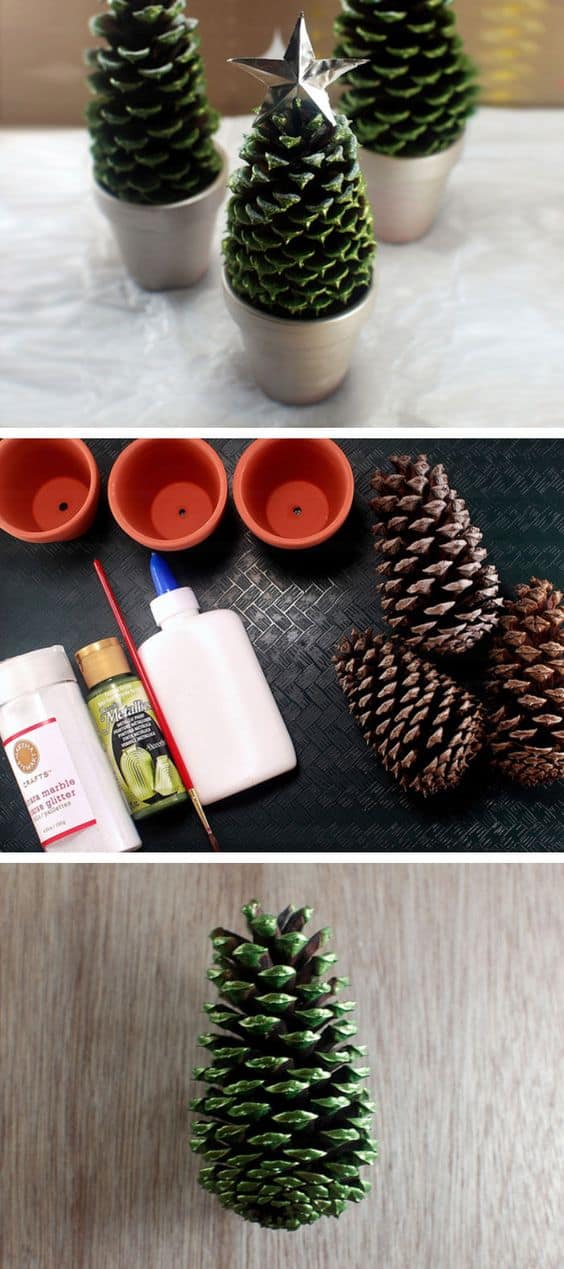 Even one little pinecone can make an adorable Christmas tree. If you have a bunch of pinecones you can also easily make a larger tree.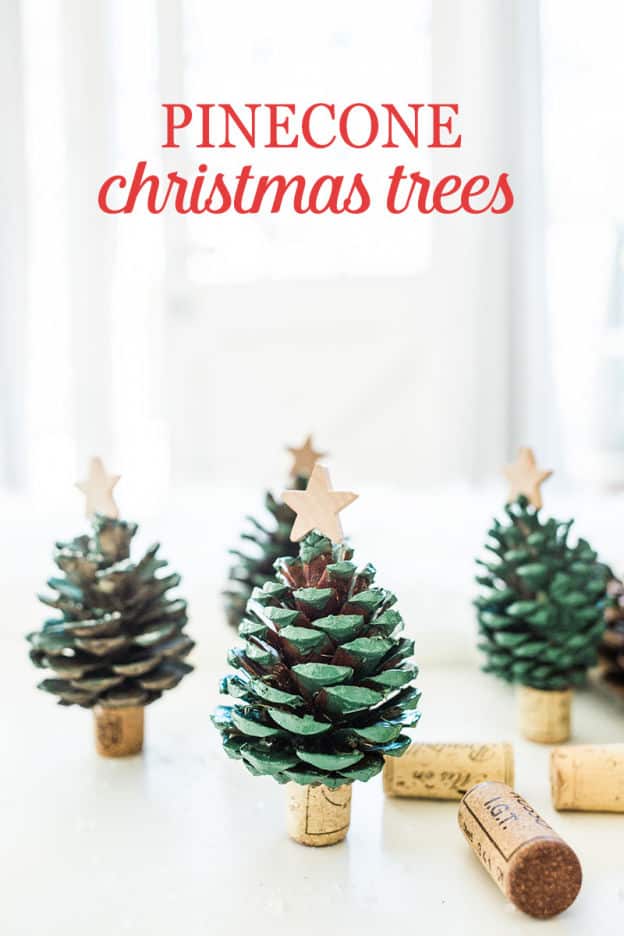 When we were little we used to go on walks with our mom and collect pinecones then we'd take them home to decorate.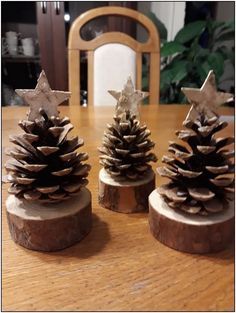 Pinecones on their own can make adorable stand up tabletop trees. If you want to make them fancier use a hot glue gun to glue wine bottle corks, or wooden slabs from tree branches to the base.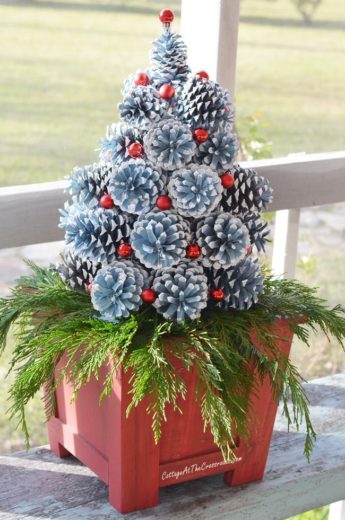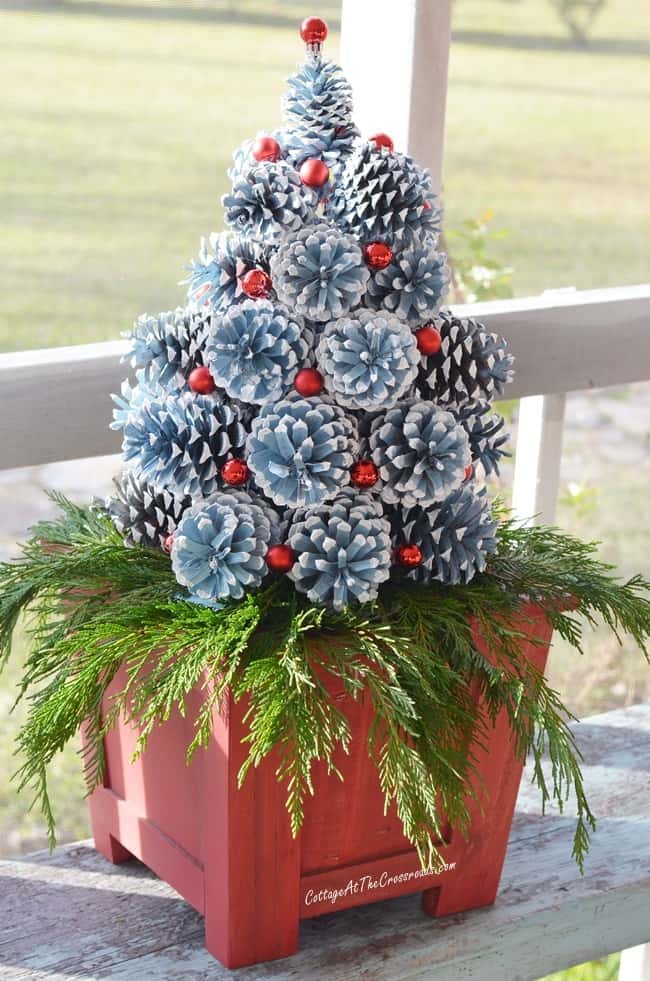 Make larger trees like the one above using a large clay pot or planter and a simple cone made out of card stock. Paint and decorate pinecone trees to your liking.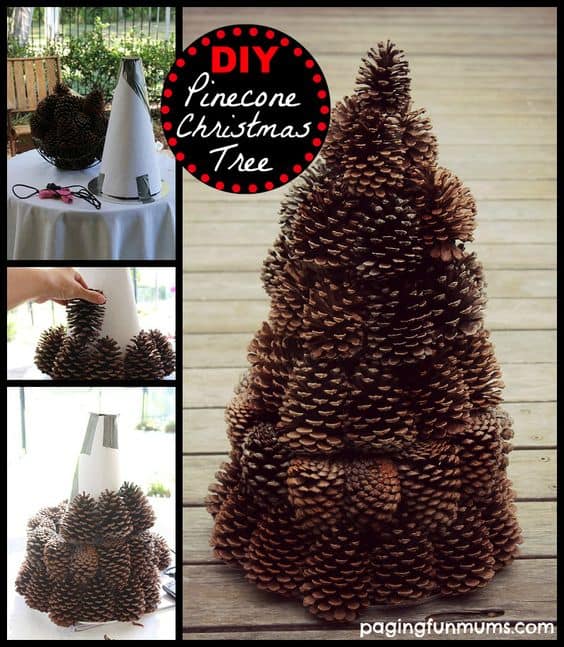 They're great for
Offices,
Bathrooms
Centerpieces
Mantles, or even on the porch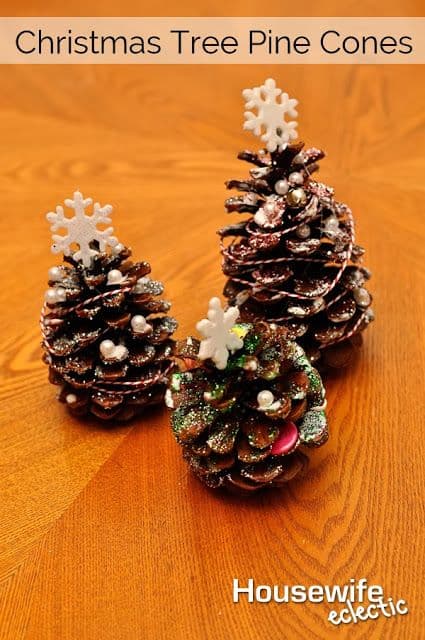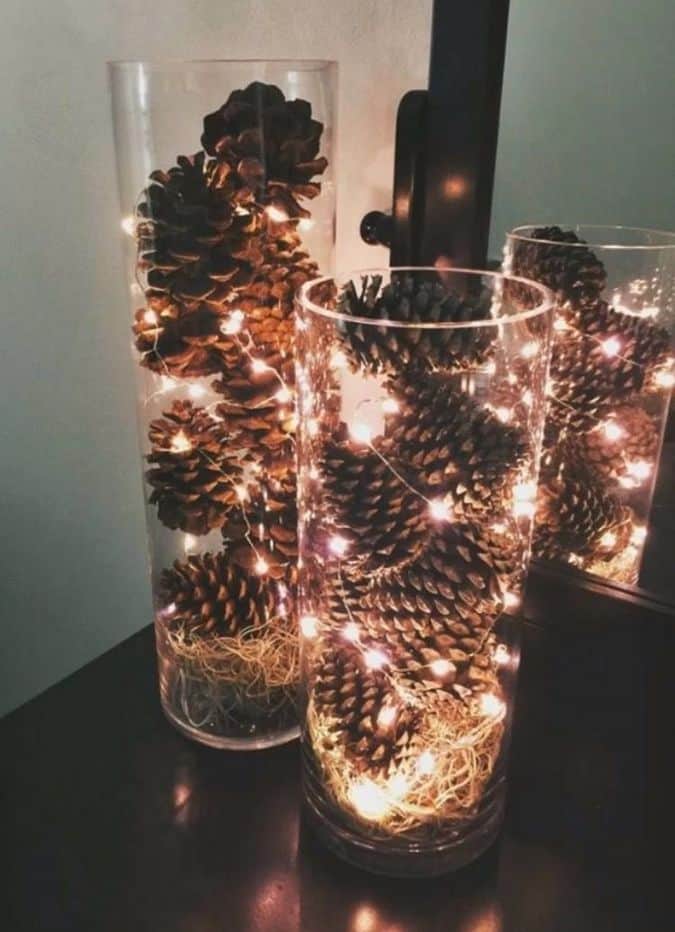 Roll pinecones in glitter
Spray paint them silver or gold
string them in a garland
turn them into trees
make them scented and put them in a basket or vase with Christmas lights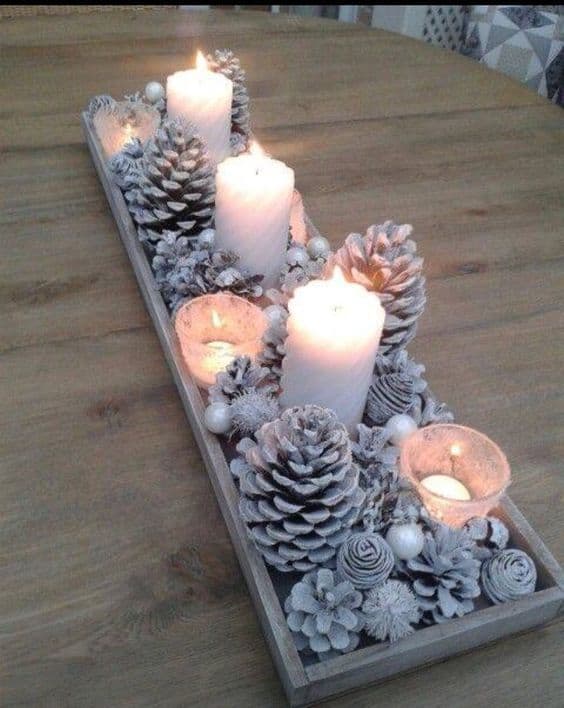 …the possibilities are endless.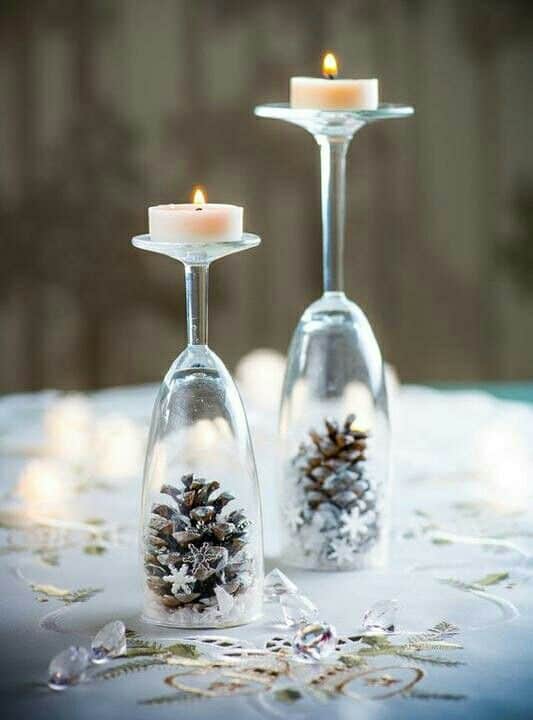 Trap a pinecone in your Champagne glasses and top with a votive for a wedding worthy centerpiece.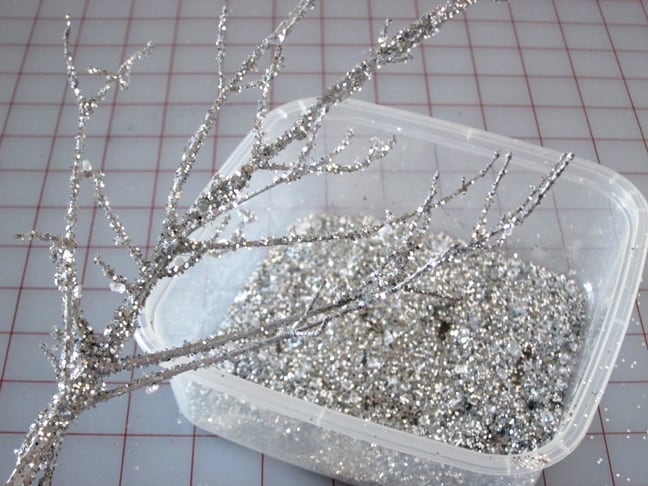 Add a branch covered in glue and glitter and you can make a beautiful centerpiece for your table or mantel.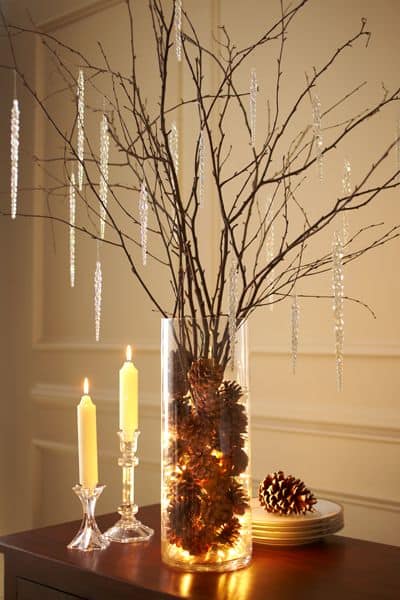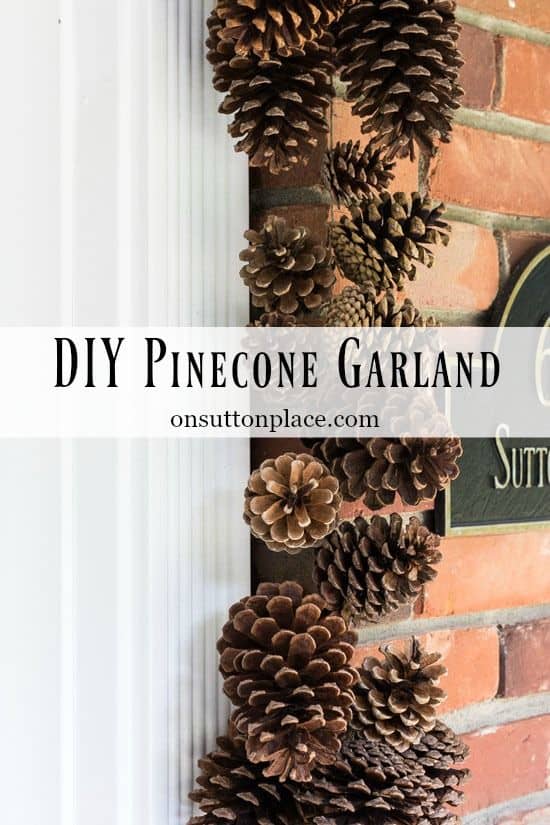 Before making any of the items above you can scent them so they double as air freshener!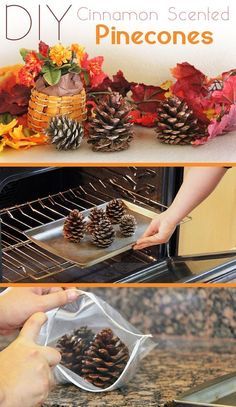 Candy Cane Decorations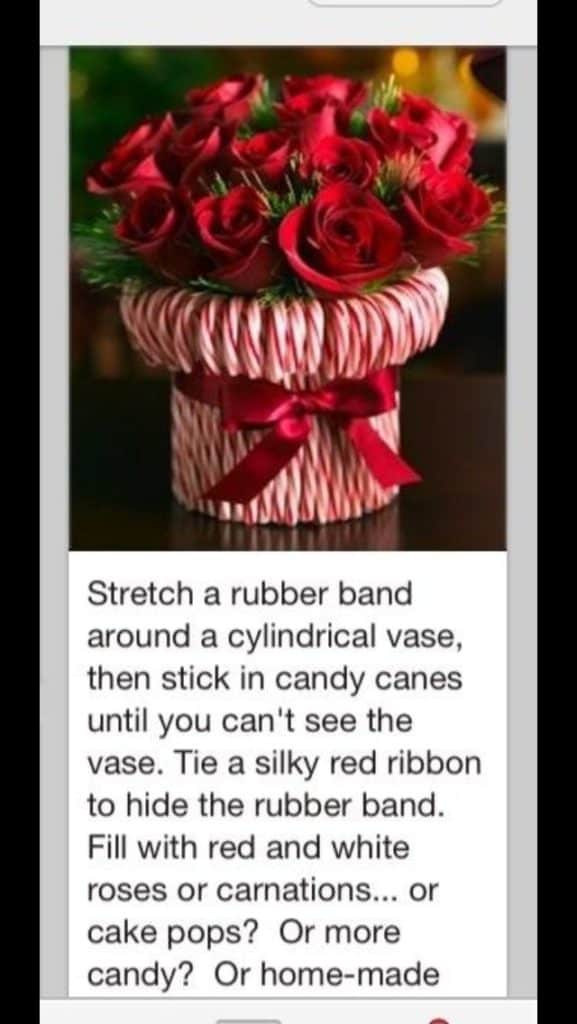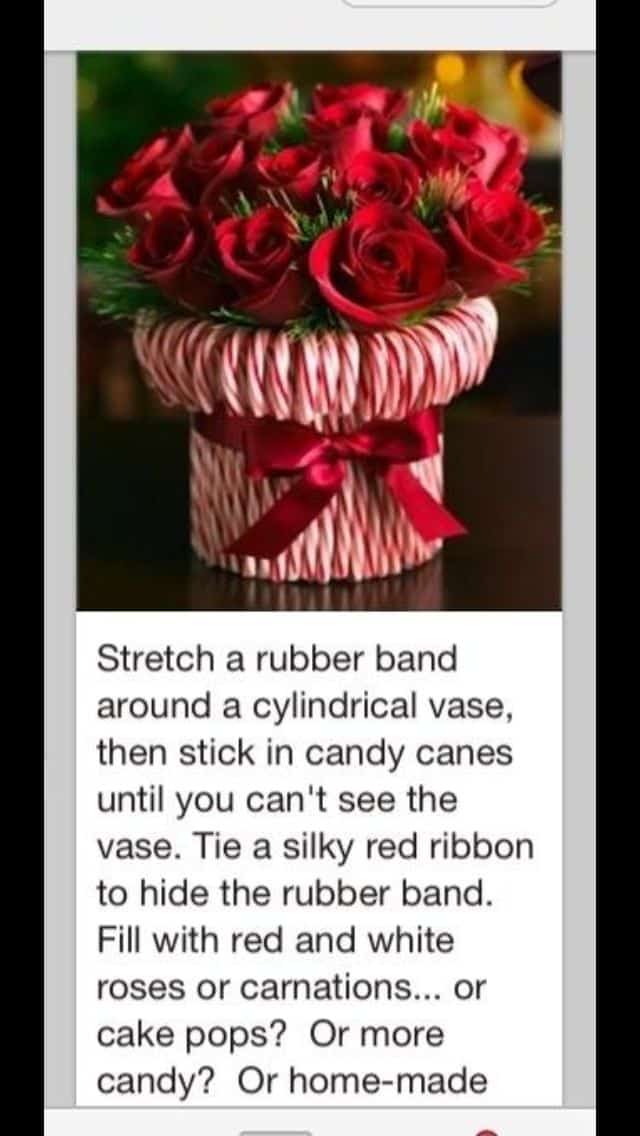 Seldom do most people eat all the candy canes they're given, so why not make some eye candy out of them? From vases to place cards to candlesticks, there's a plethora of easy, classy decorations you can make. Check out this nice little list: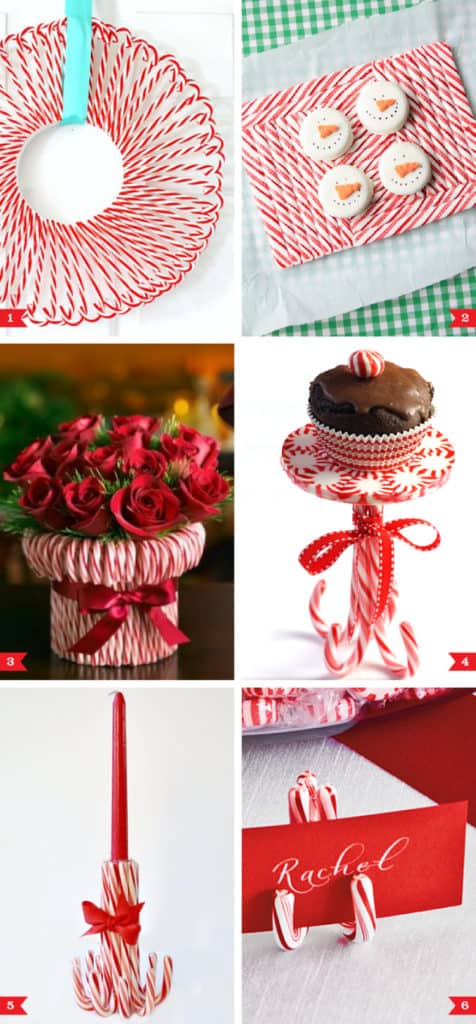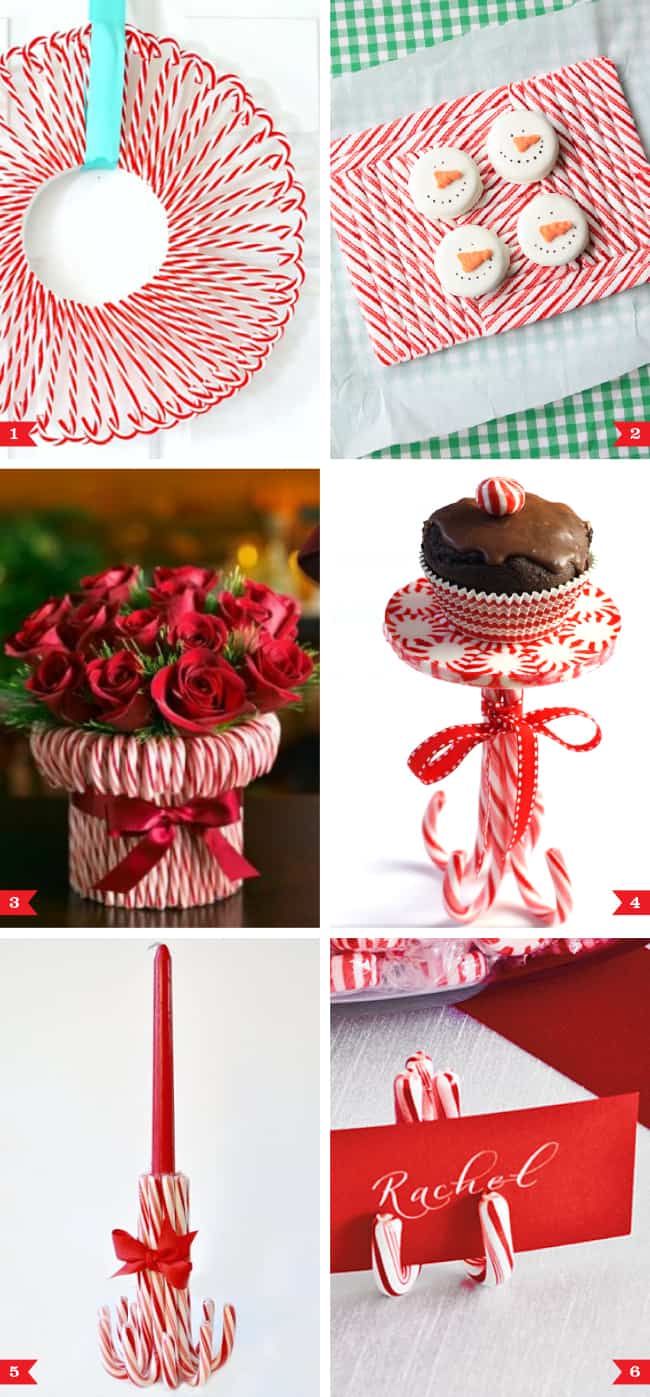 CONE TREE DECORATIONS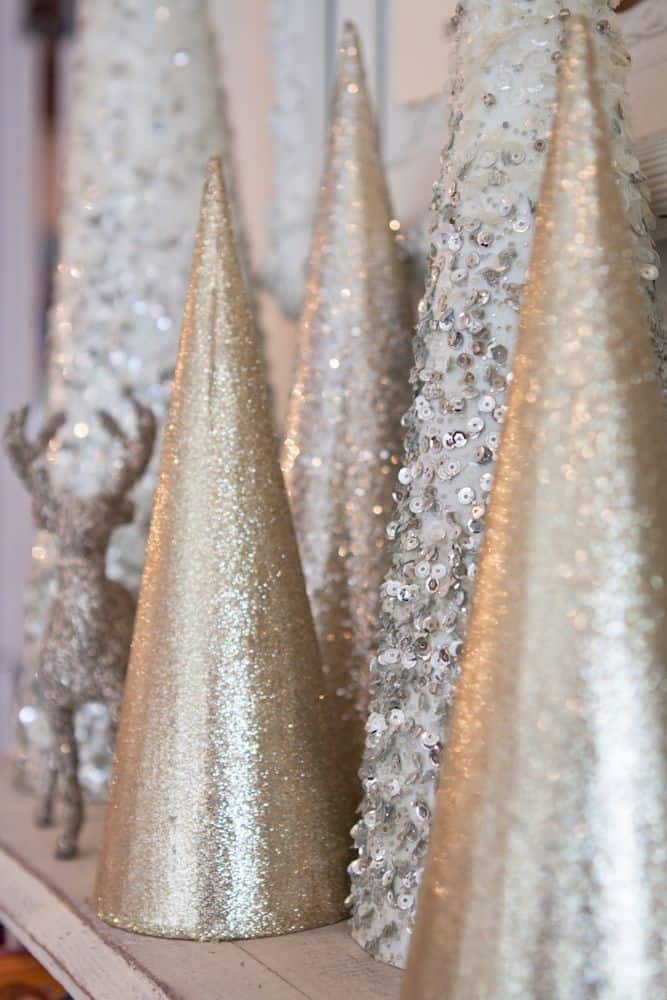 Cone decorations are super easy yet super classy and you can put just about anything on them.
Just take poster board or even construction paper, roll it in a cone, brush it with glue and decorate it with glitter, beads, rhinestones, or anything else your heart desires.


For longer lasting ones, use the tutorial above that involves spray sealant.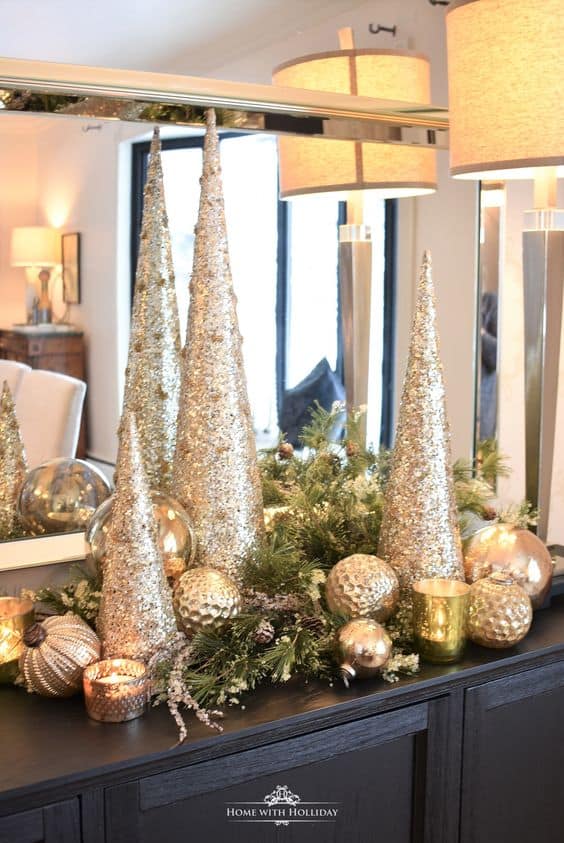 This could easily be used at a wedding too.


For a more colorful look turn them into Santa!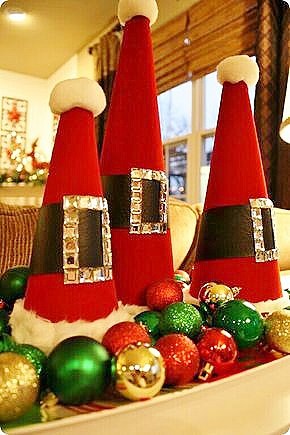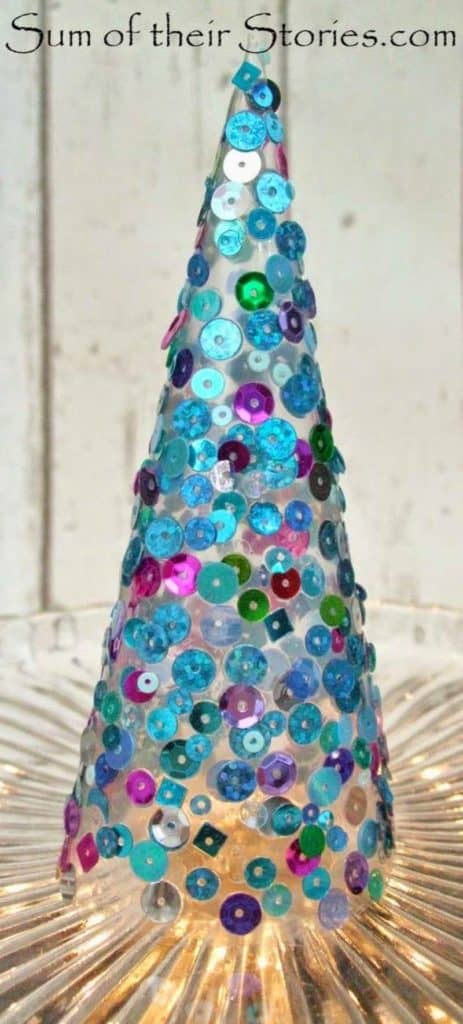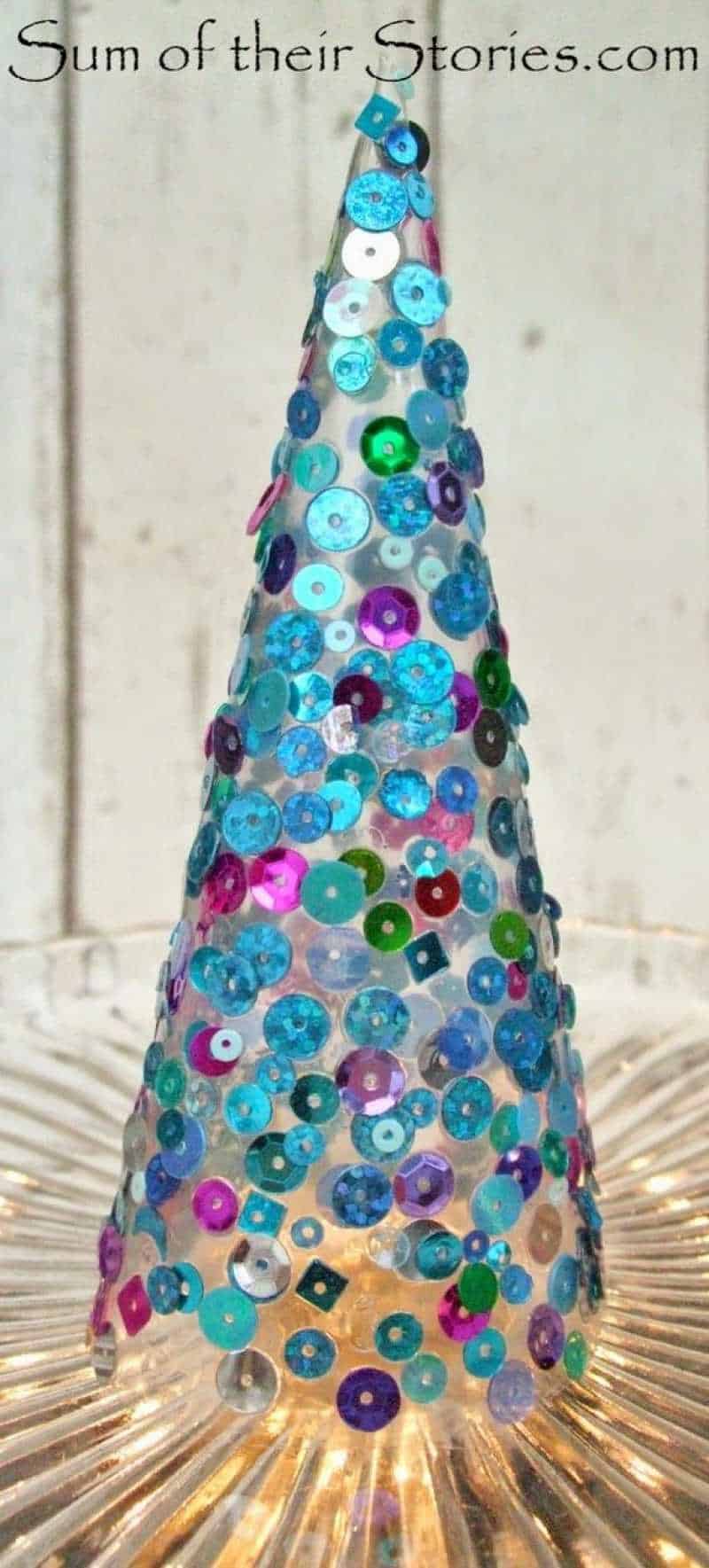 Make your own Christmas tree easily with cones and garland!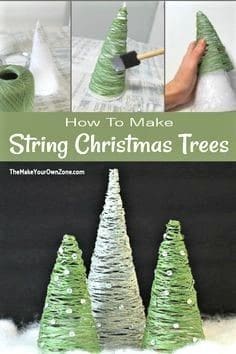 STRING CHRISTMAS TREE TUTORIAL
Whether you use a styrofoam form or cardstock cone, you can easily make this dollar store string Christmas tree in all sizes and colors.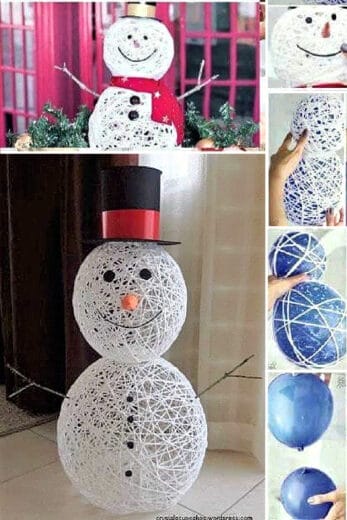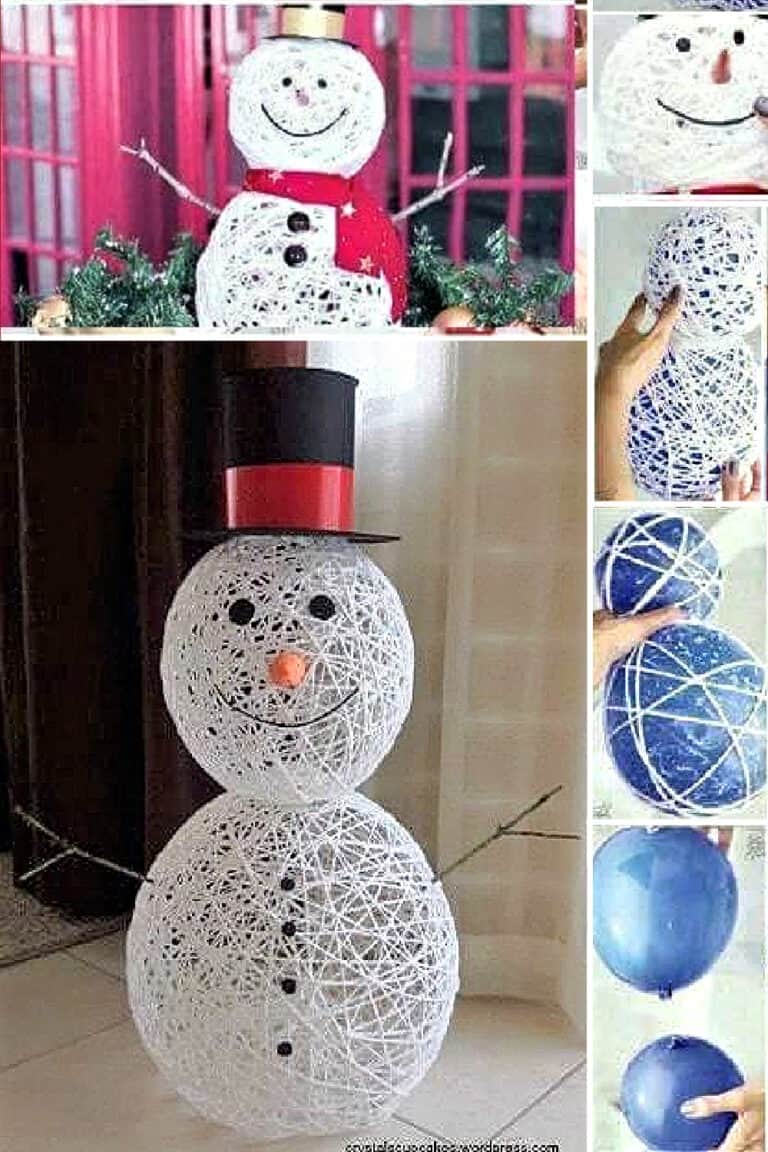 This isn't a tree but while we're talking about string and yarn make this easy string snowman.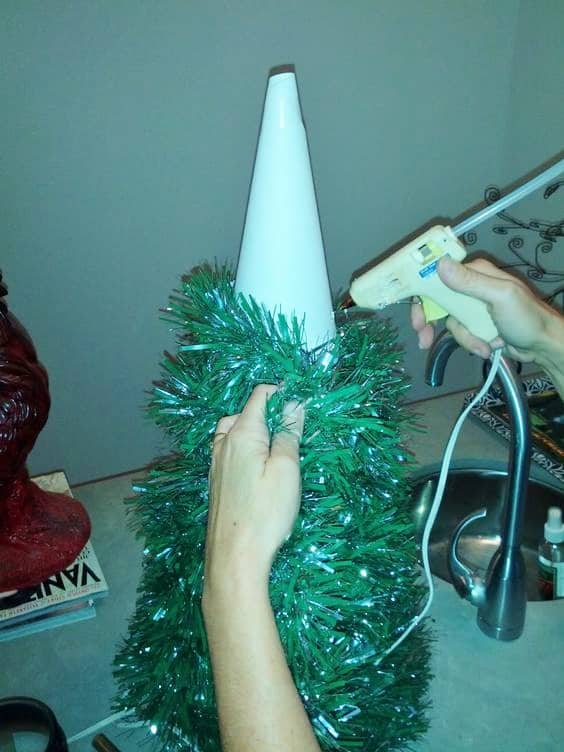 Use some rolled up cardstock, garland, and a glue gun. Top it off with ornaments!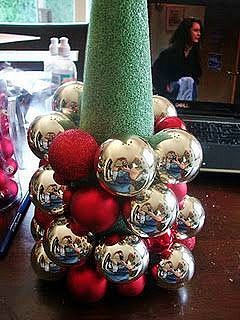 You can also use styrofoam and ornaments for an easy holiday tree.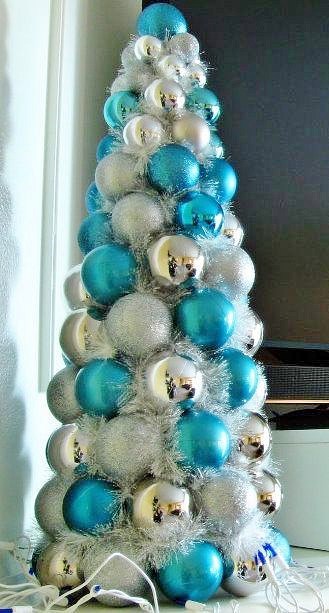 Combine ornaments, garland, and lights for a realistic tree decoration that lights up!
WOODEN INDOOR OR OUTDOOR DECORATIONS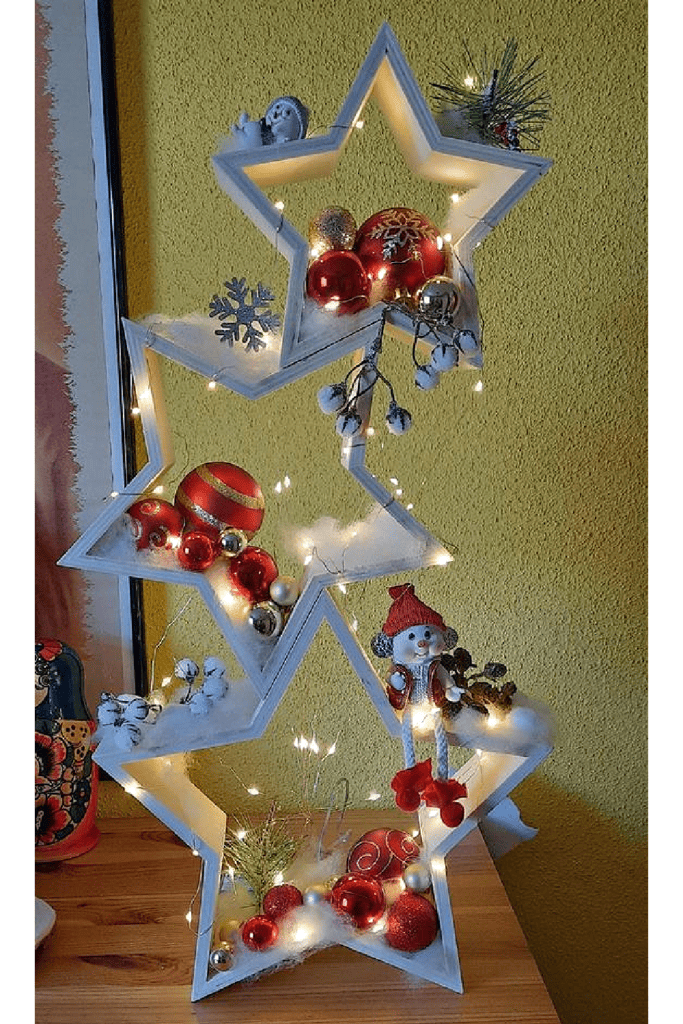 These beautiful wooden stars can be found at the Dollar Tree, on Amazon, Walmart, or Michael's. Stack them and glue your favorite Christmas items inside for a beautiful wooden sculpture to place on any table or mantel.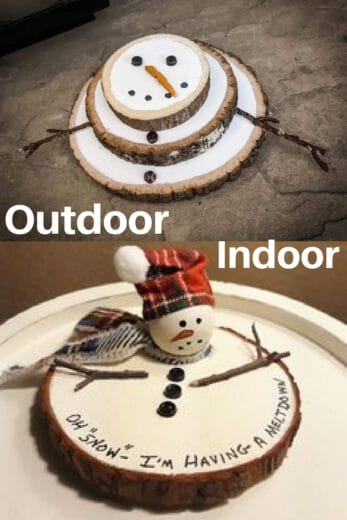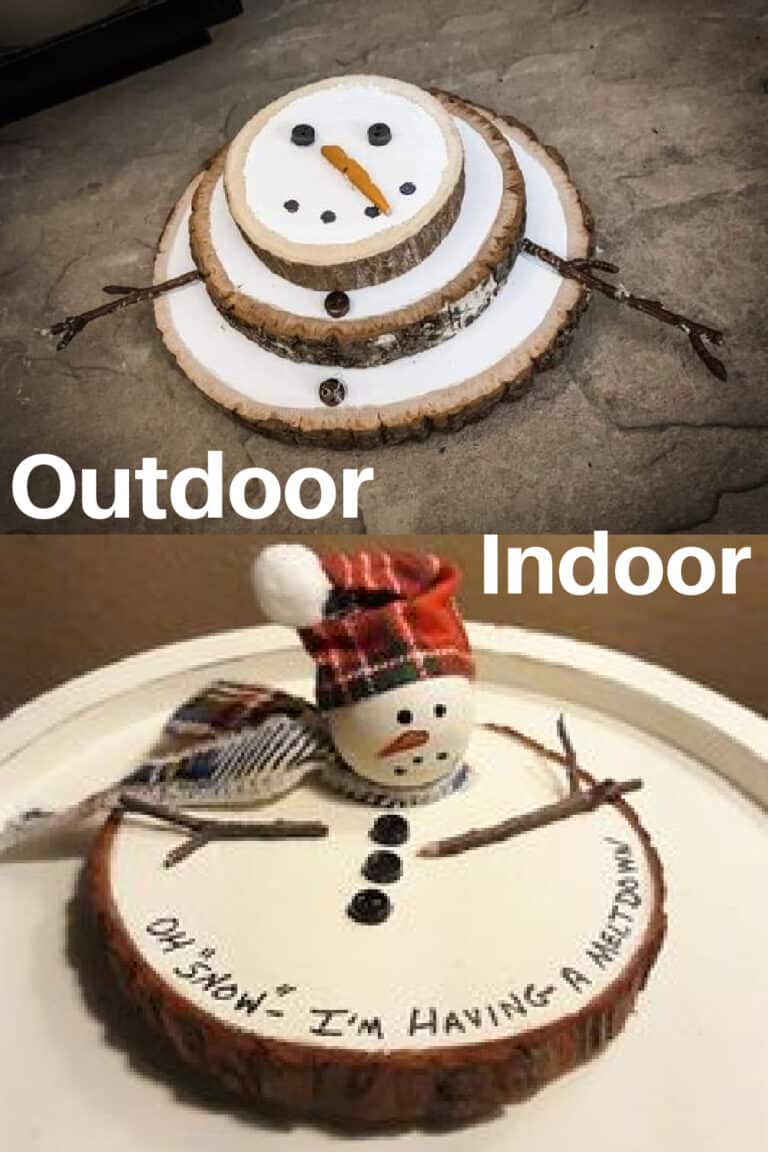 You can make the melted snowmen above in both an outdoor larger version and an indoor smaller version that kids and adults can make or gift. Just use wood slices and for the outdoor version slice a few branches when you're cutting firewood.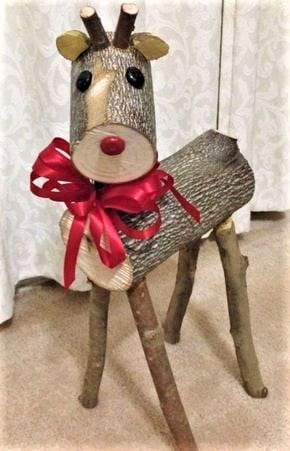 Steal a couple of logs from your fireplace stash to make this cheap and easy indoor and outdoor Log Deer rustic decoration. You can make a Rudolph version or pick your favorite of Santa's Reindeer.
Kids will LOVE this too!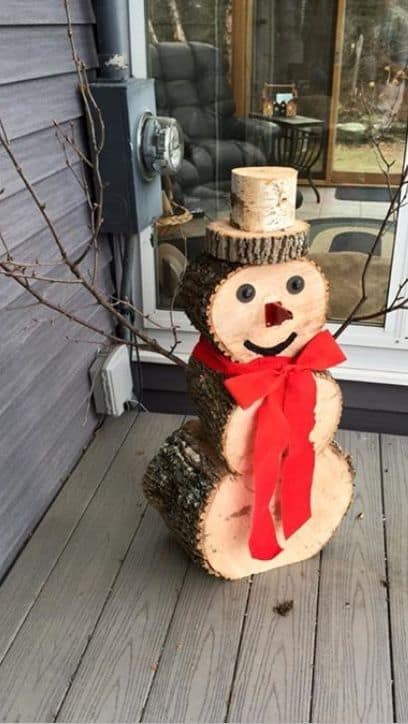 Don't forget Frosty! These use a few items you already have lying around the house. You can paint on the face or use any kind of items you want, get creative!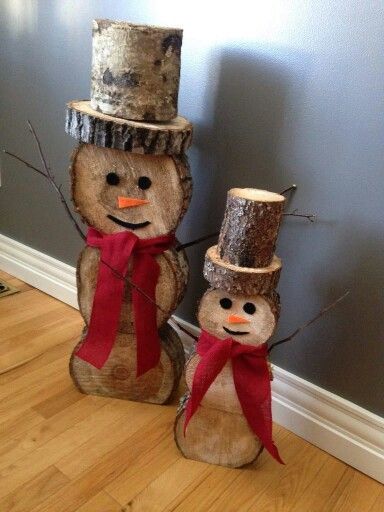 What a great way to store extra fire wood, when you're done using them you can burn them in your fireplace!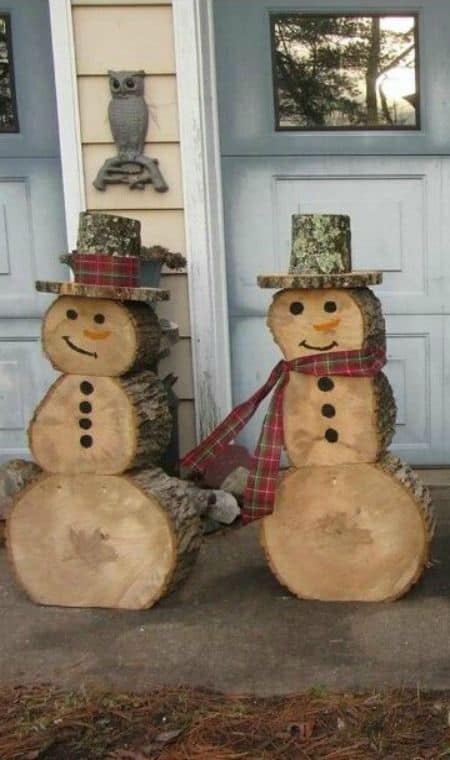 Simply stack logs or use glue and pegs!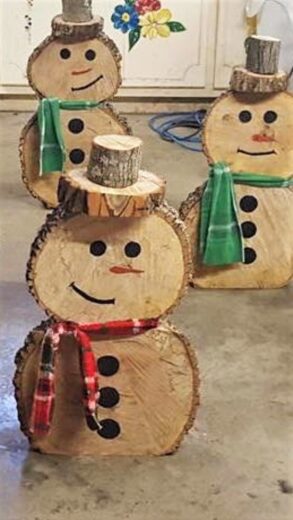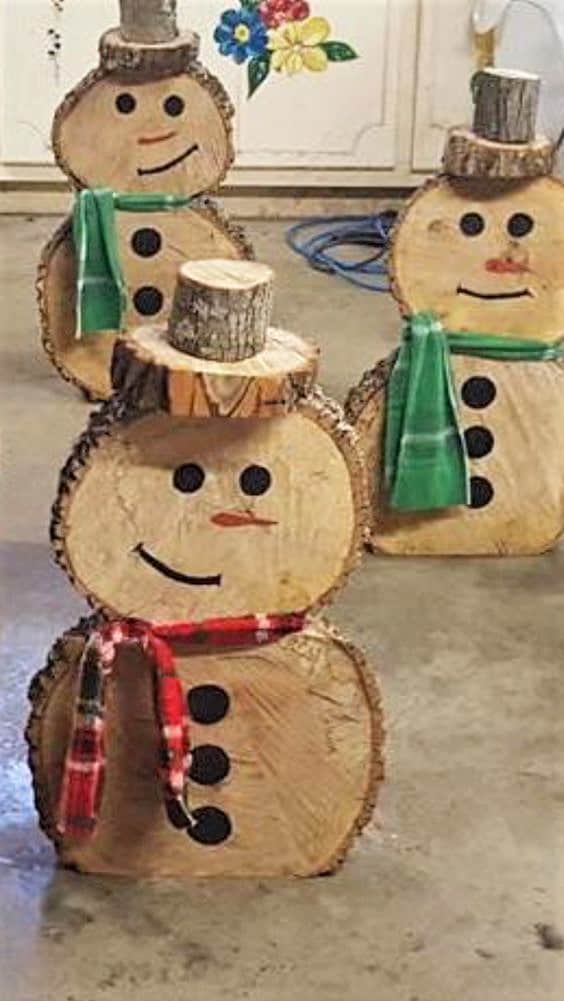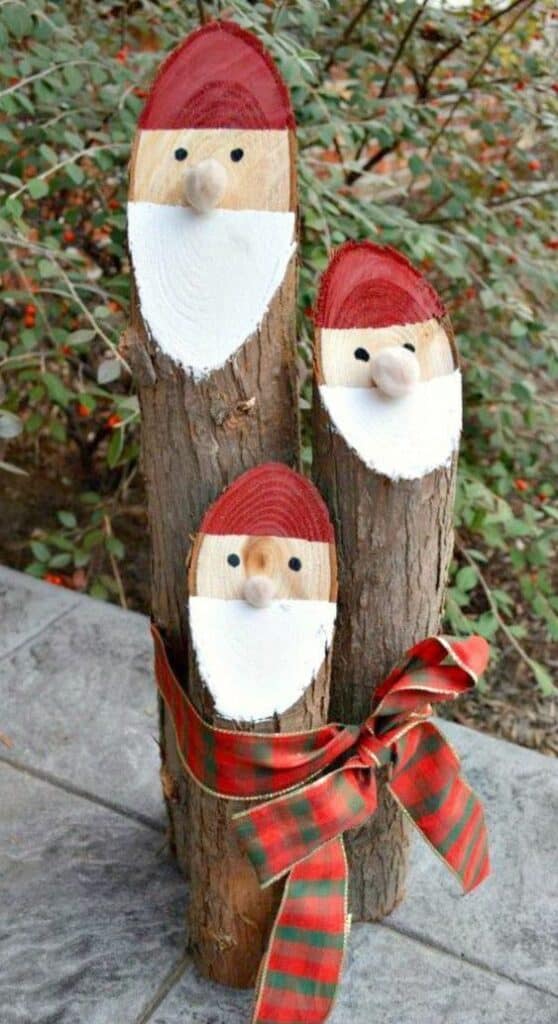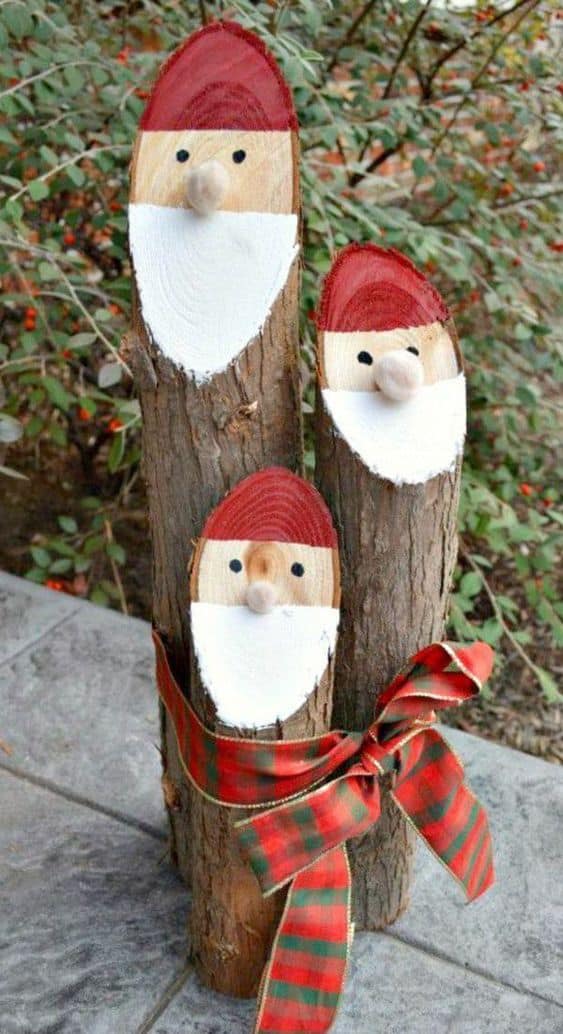 Make this pack of Santas for your porch out of fallen branches and paint. You can DIY these or purchase them through the link.
Clay Pot Christmas Decor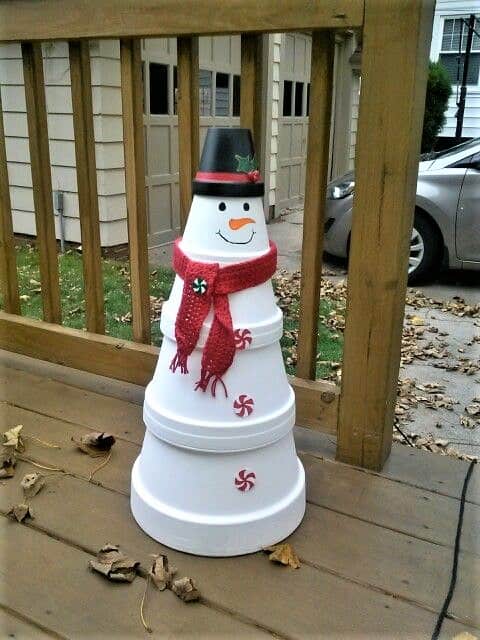 Stack your clay pots and paint them.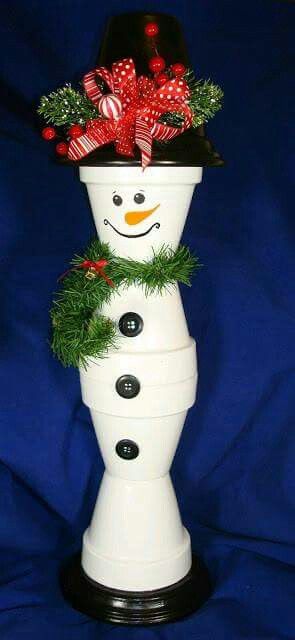 Here is yet another version of a clay pot snowman.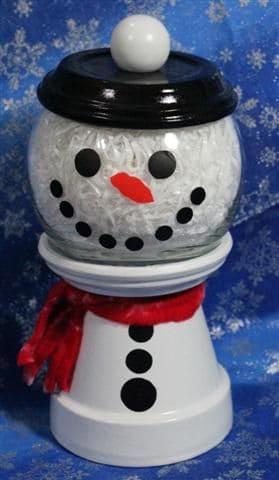 If you have a fishbowl vase, add some clay pots and saucers to make the perfect candy jar that would make a great gift!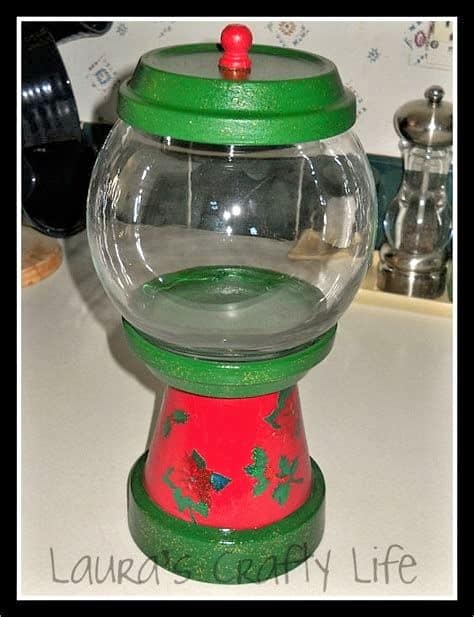 You can use clay or terra cotta pots to make Christmas trees of all sizes.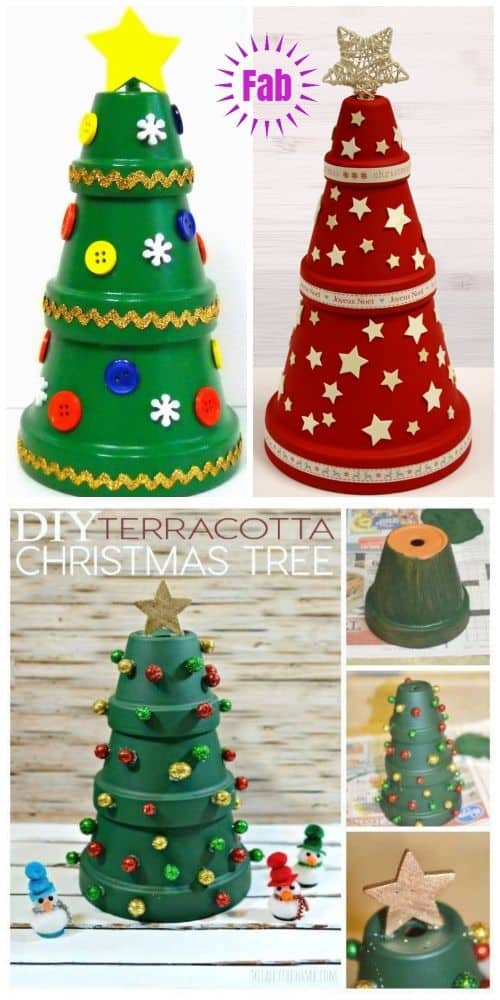 Make clay pot candy dishes or vases.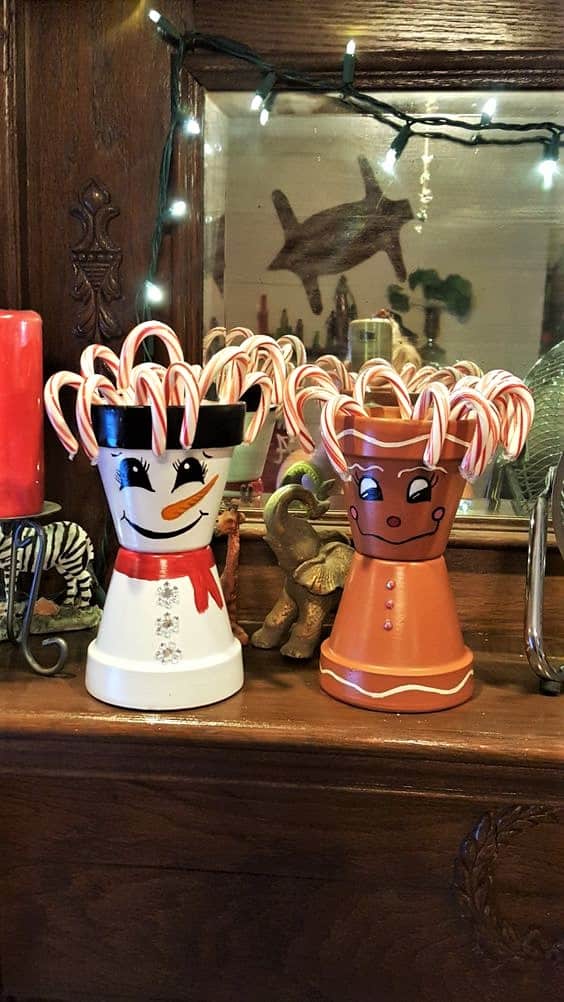 Need a unique DIY gift basket alternative? How about putting their favorite things in a claypot Santa!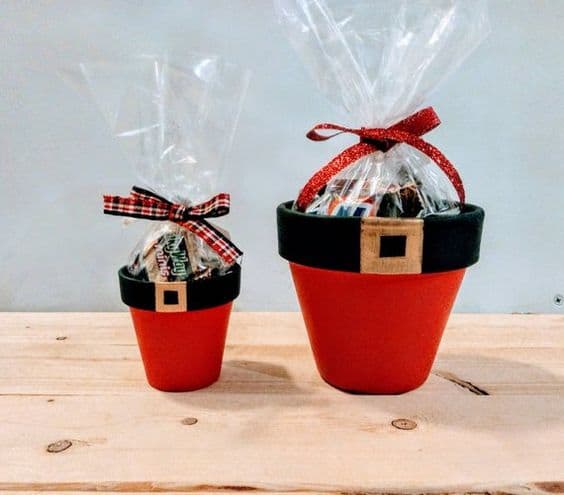 Here is a décor ideas for the sports fans in your life!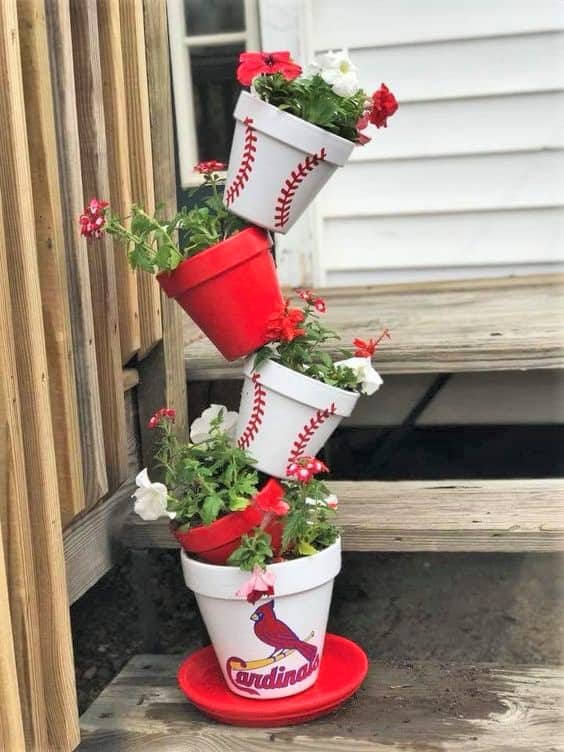 NutCracker fans of all ages will love this clay pot idea. Just stack various claypot sizes, then paint and embellish!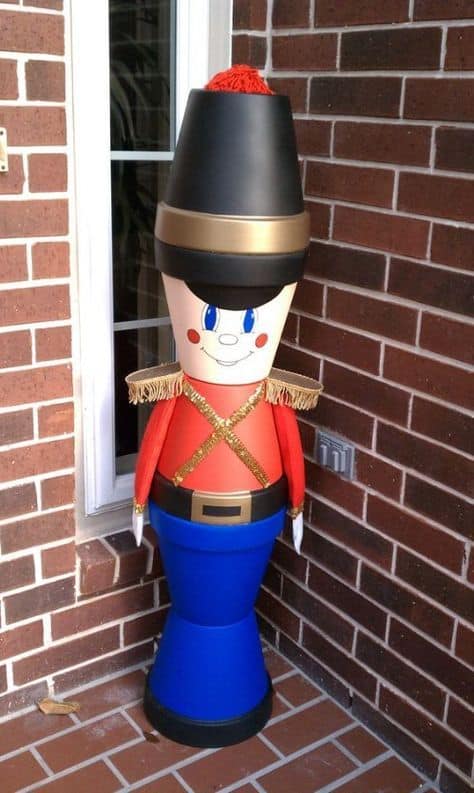 Claypots can even make great candle holders or candle gifts!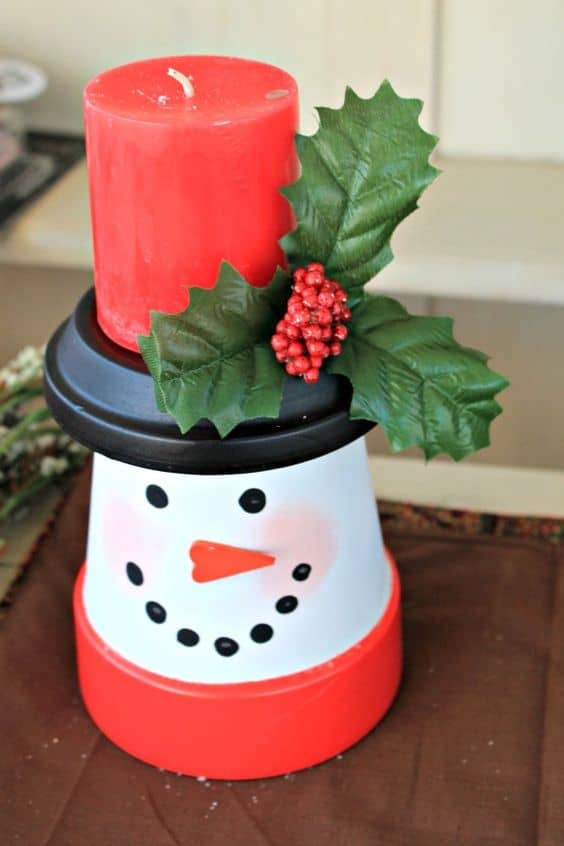 Don't forget your bathroom! With terra cotta pots every room can have a Christmas tree. This is exceptionally easy to make!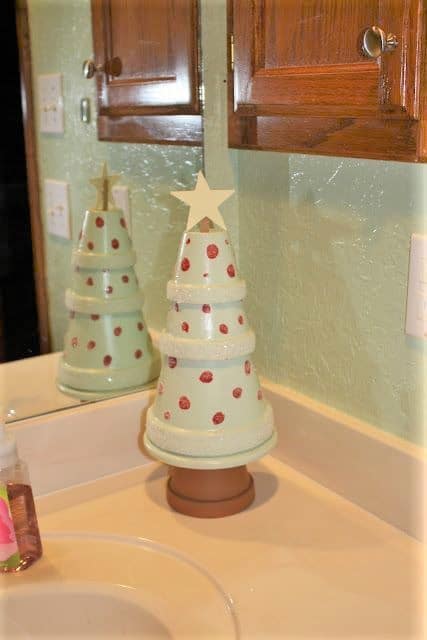 CHRISTMAS BRANCHES

This is the ultimate in centerpiece, mantle, and even wedding décor but costs practically nothing!
Grab some fallen branches outside, coat in glue, and sprinkle with glitter. Place them in a vase and you have an impressive Christmas display.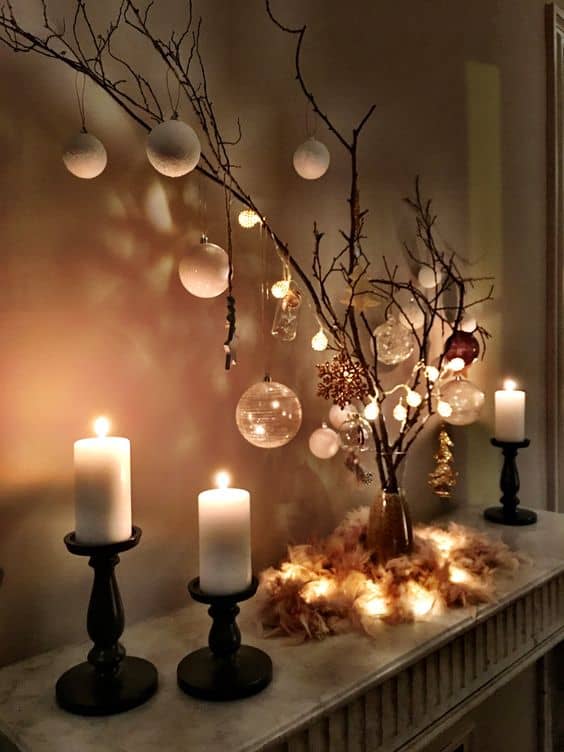 You can even forego the glitter and just stick branches in a vase and hang lights and ornaments on them.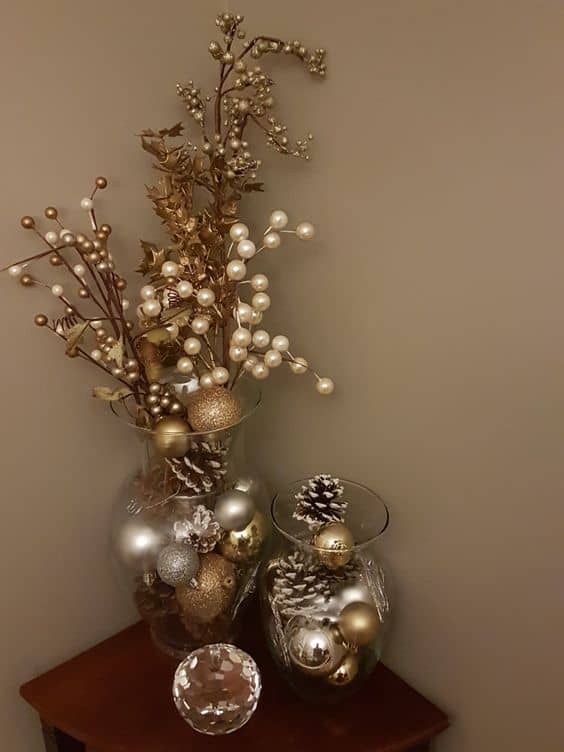 Silver and gold, pinecones, and pearls are just a few things you can fill your vase and branches with.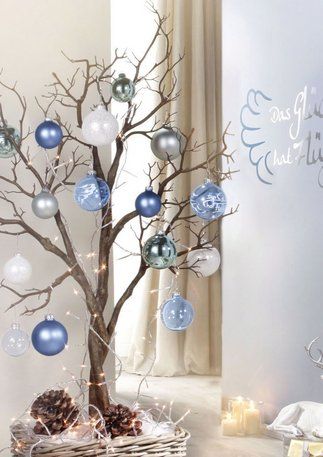 You can add just a touch of sequins or glitter to the branches making an elegant and beautiful display.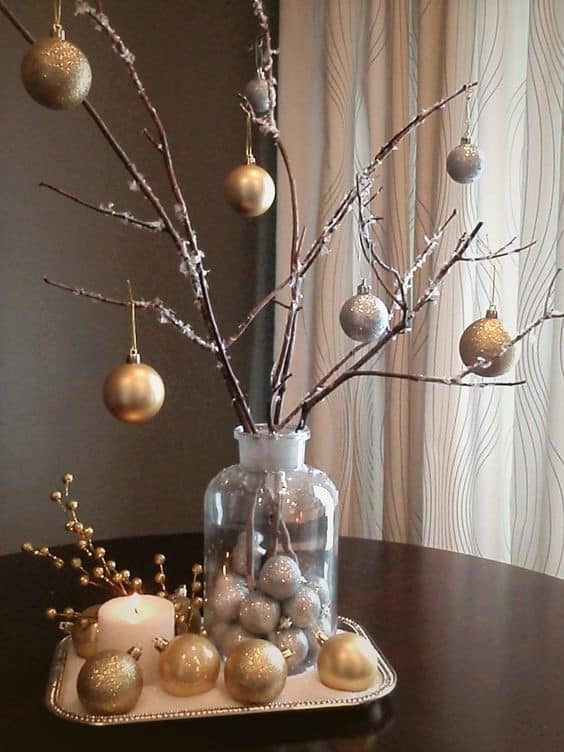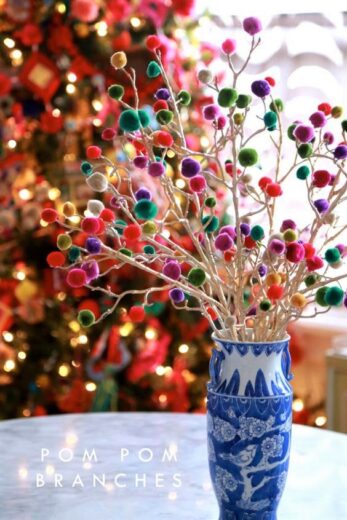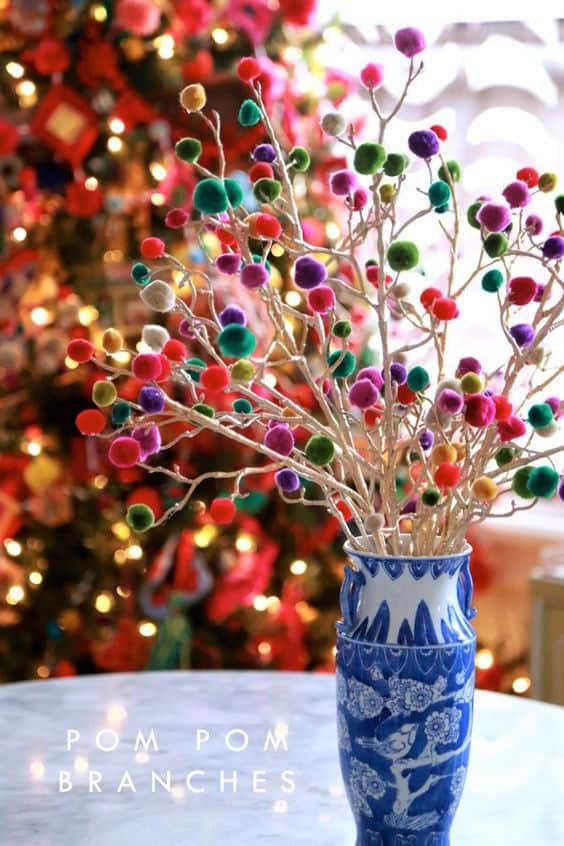 POM POM Christmas Branch Tutorial
VASES AND JARS
Although many of the ideas above can be used for a vase or container there are a few hacks worth mentioning.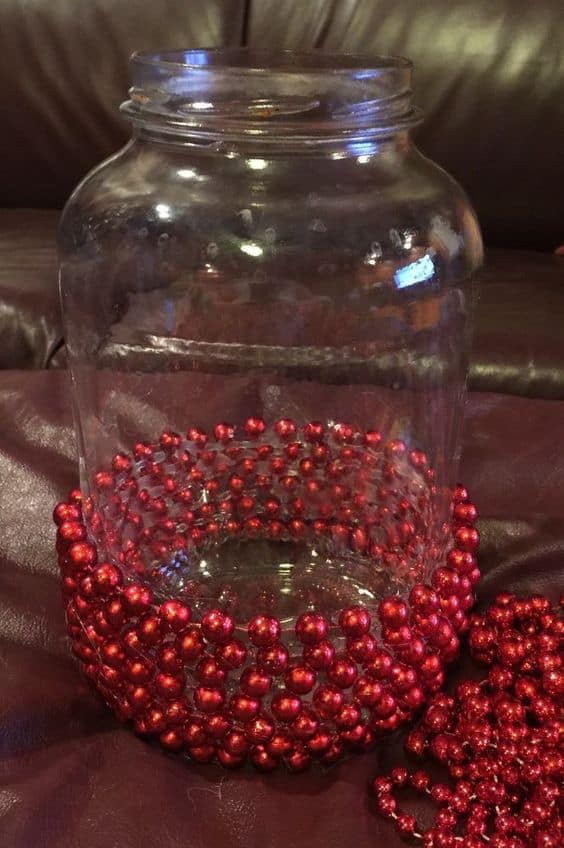 Save those empty jars from Thanksgiving! Grab an empty tomato sauce or pickle jar and glue dollar store beads to it for a beautiful vase or container.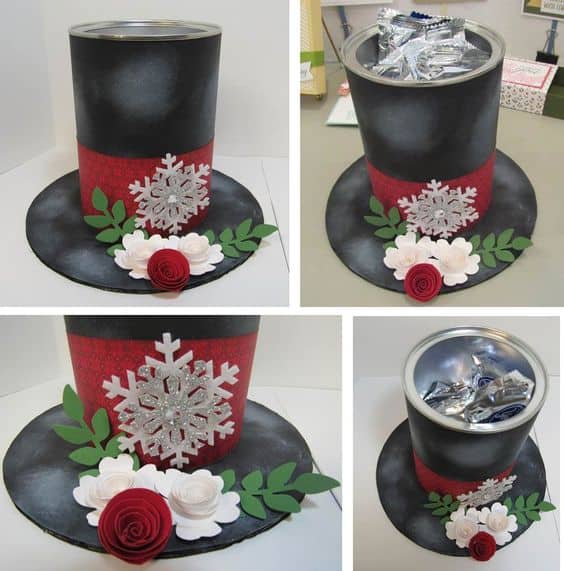 Use an empty coffee can to make a container you can store anything in or use for a gift! Just paint the coffee can the color of your choice and use cardstock for the bottom.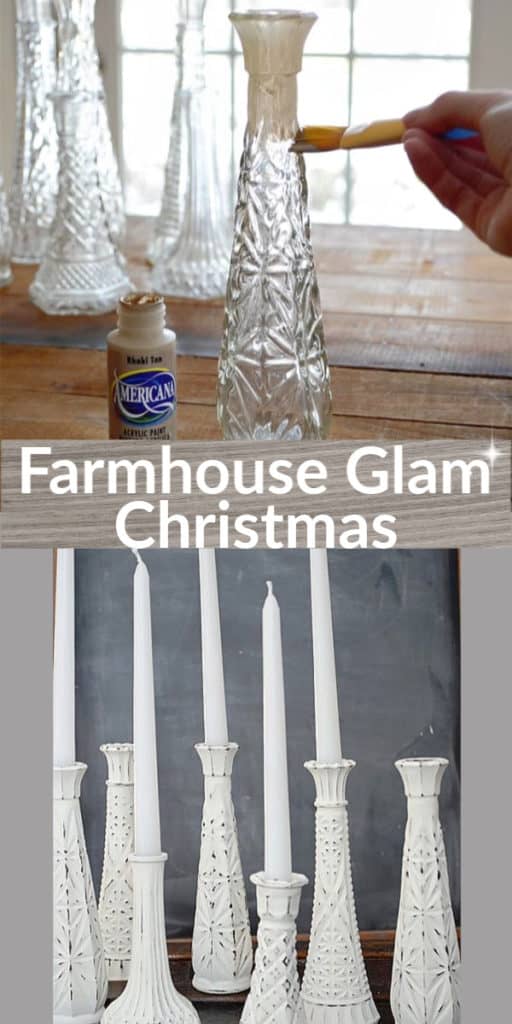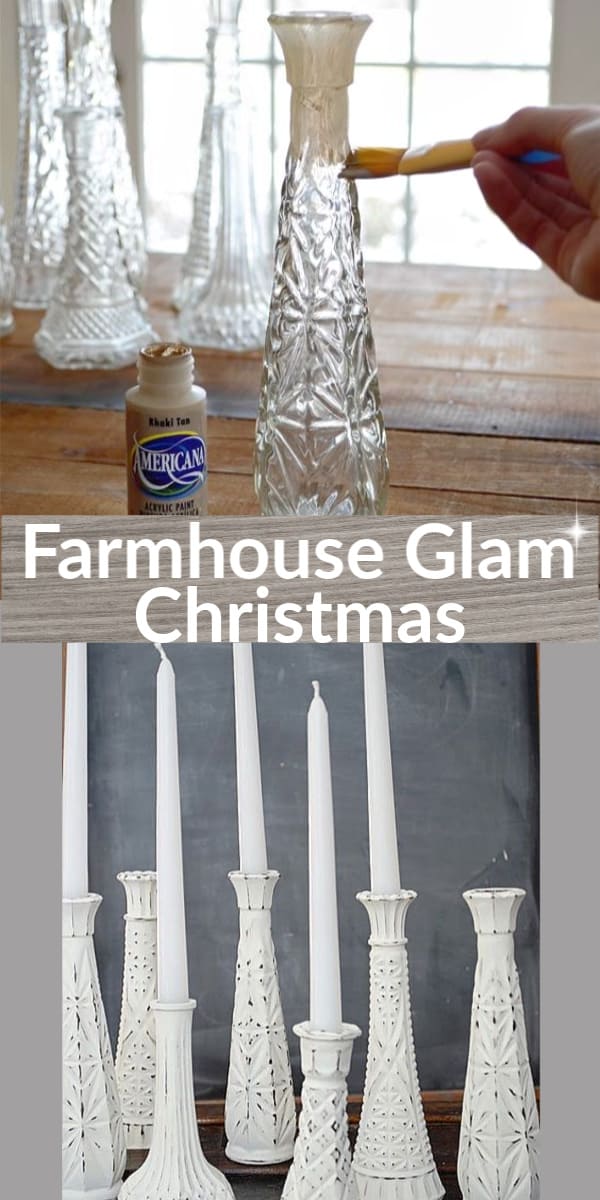 Dollar store vases get a Farmhouse Glam makeover with white paint and sand paper. These are ridiculously easy to make and can hold anything from candlesticks to tree branches (Click on "source" under the photo for the full tutorial). Add some glitter for a bit of sparkle.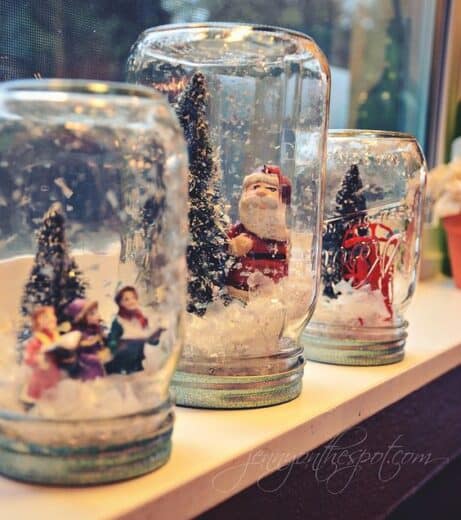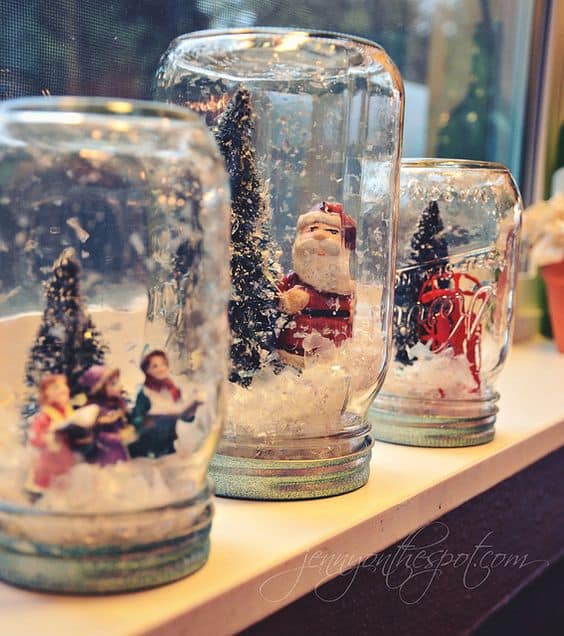 Make a quick and easy waterless snow globe out of leftover jars or clear containers. This is an excellent Christmas decor craft for kids and adults.
DIY WALL HANGING CHRISTMAS TREE IDEAS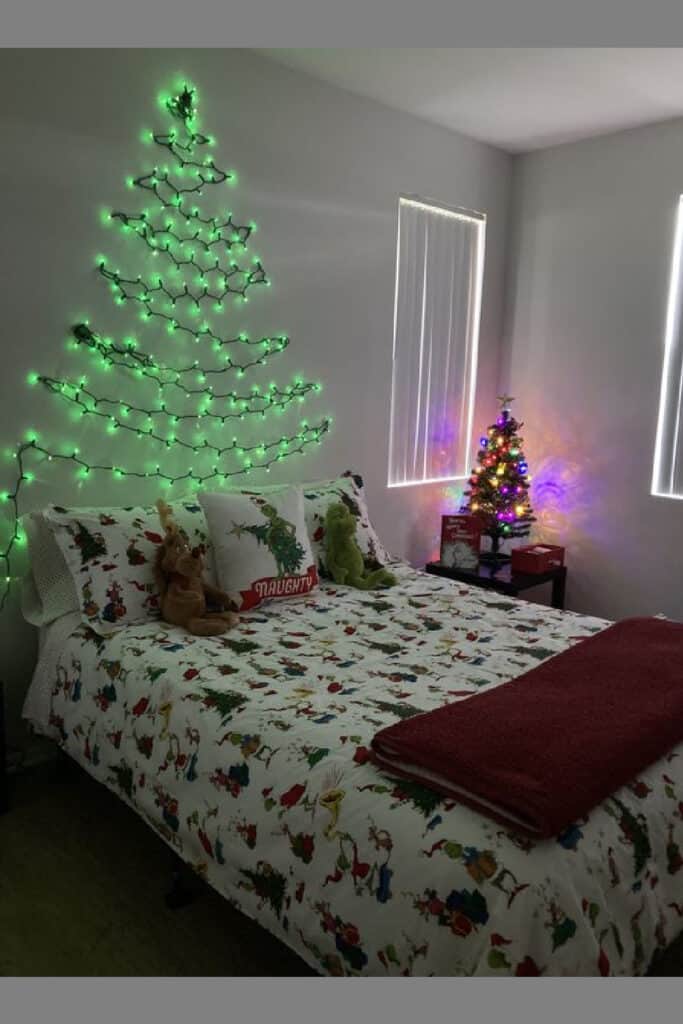 Don't have a Christmas, or the room for one? Then make one on your wall!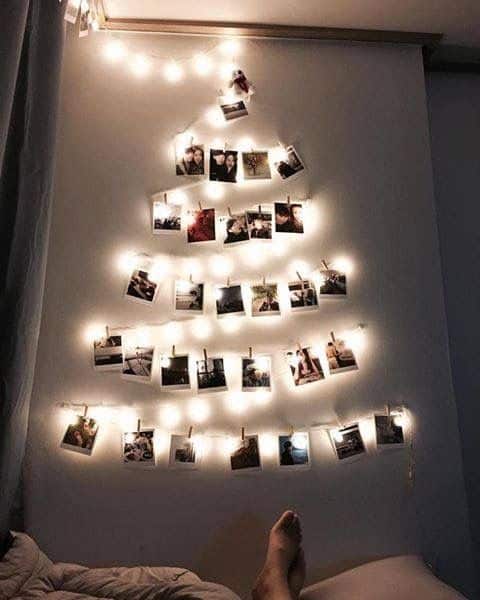 Make this simple photo tree for the wall using lights, command hooks or thumb tacks, clothes pins, and photos. You can even use Christmas cards.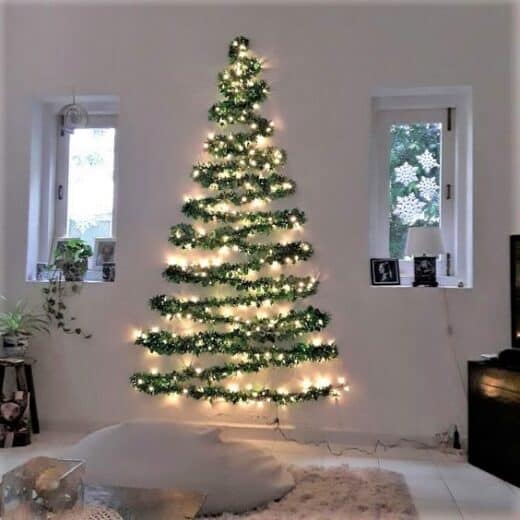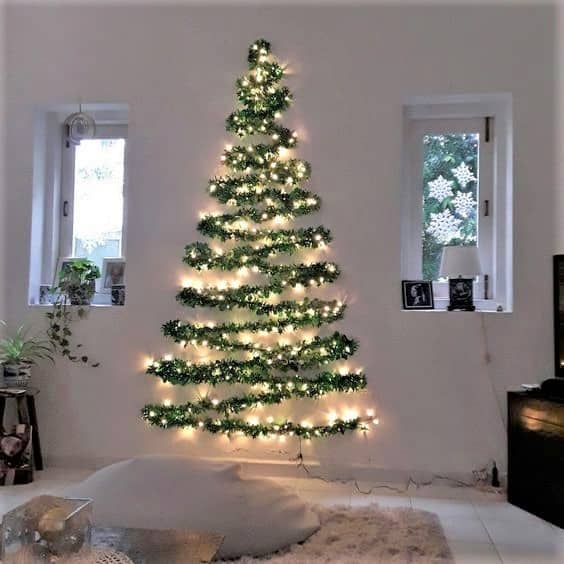 This idea works for ANY room and ANY budget making it genius for kids, teens, bedrooms, and apartments because you can make it out of virtually anything.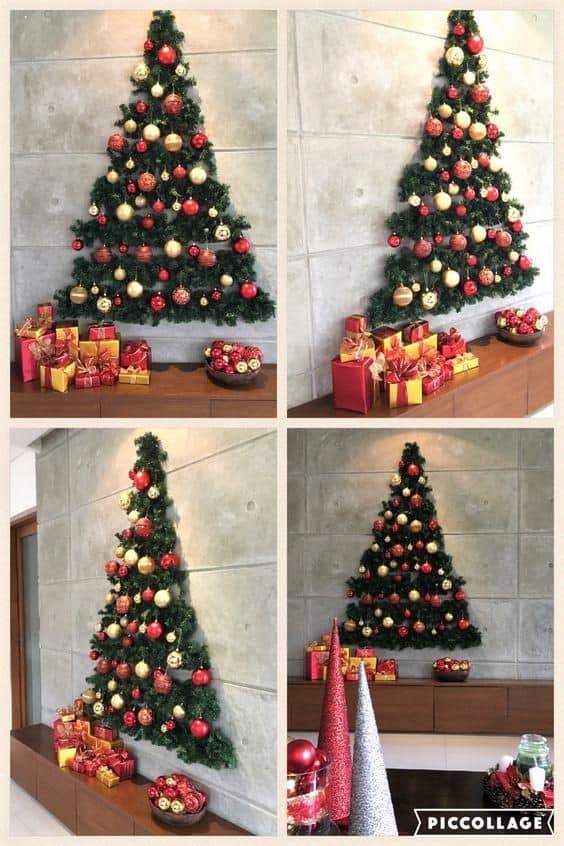 Use dollar store command hooks and lights, garland, tinsel or even photos on string.
You can even decorate your tree with ornaments once you're done!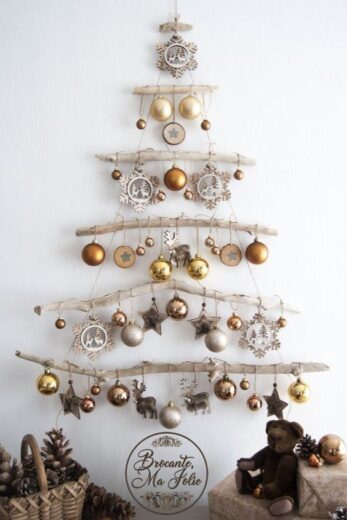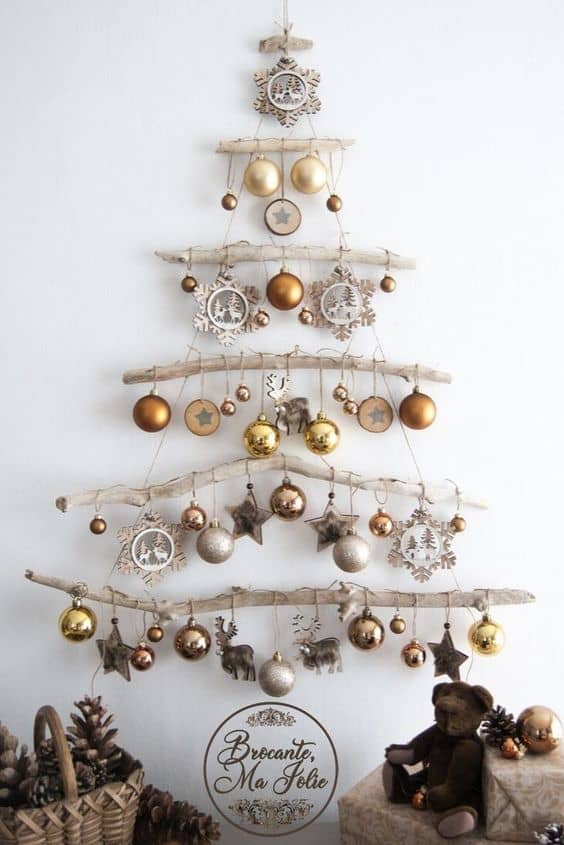 Make a wall Christmas tree out of driftwood and string or purchase the one above on etsy.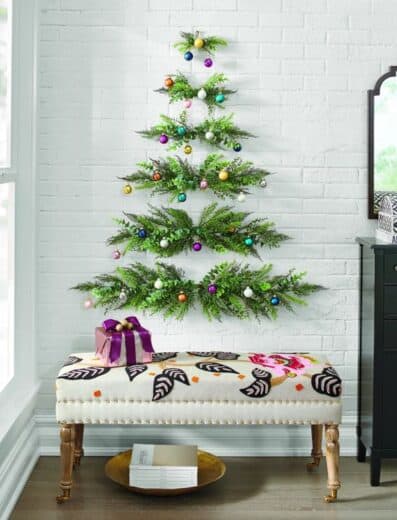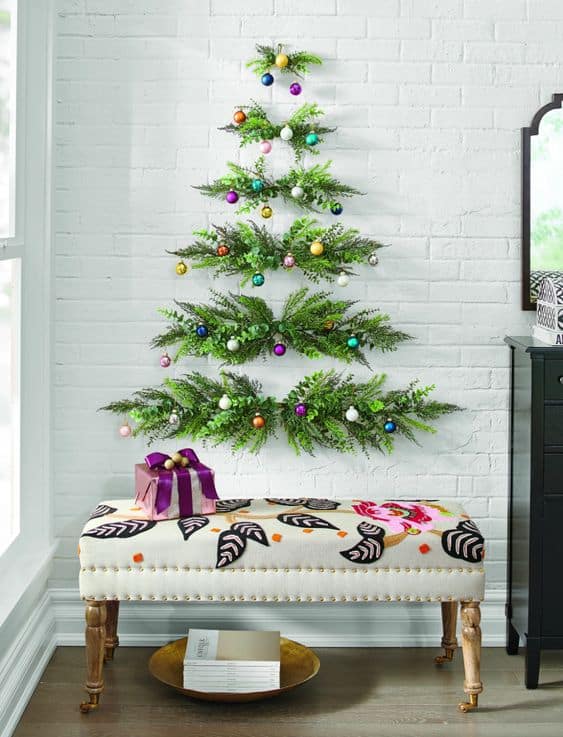 You can buy the above wall Christmas tree or attempt to make it yourself using command hooks and wire garland.
You can use gold string and command hooks or thumb tacks and nails. Design the tree over a table or add a shelf to the bottom with garland to enhance the elegance.
CHRISTMAS

WREATH

IDEAS
Use a Dollar Store frame and ornaments to create your own Christmas wreath alternative for your door, wall, or mantle! You can make this elegant or rustic.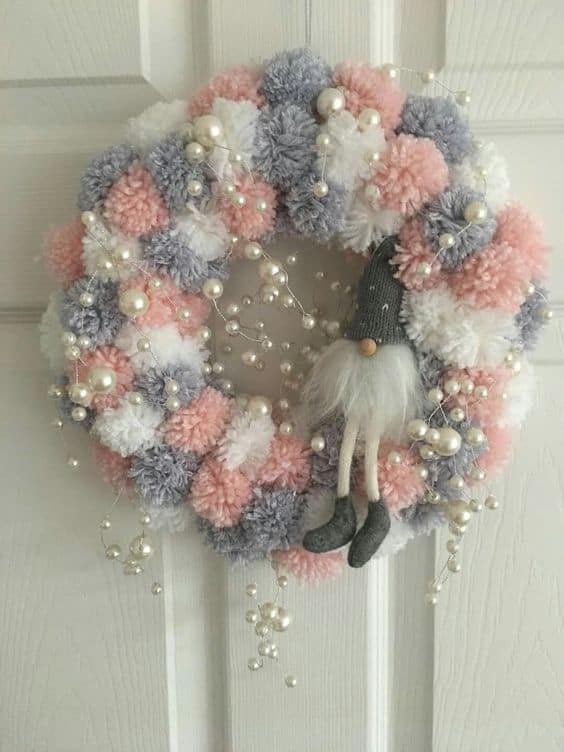 You can replicate the dainty pastel pink and pearl gnome wreath above using pom poms made of dollar store yarn. Here are 2 helpful tutorials for making pom poms and pom pom wreaths:
Tutorial for making pom poms and pom pom wreaths
Tutorial for making pom poms individually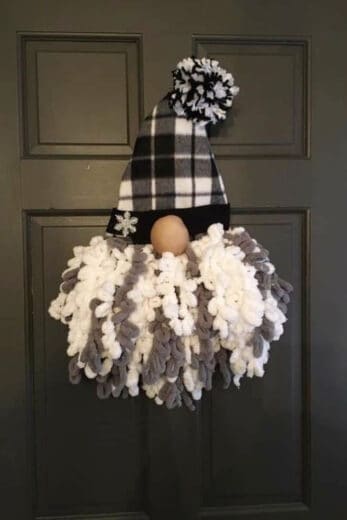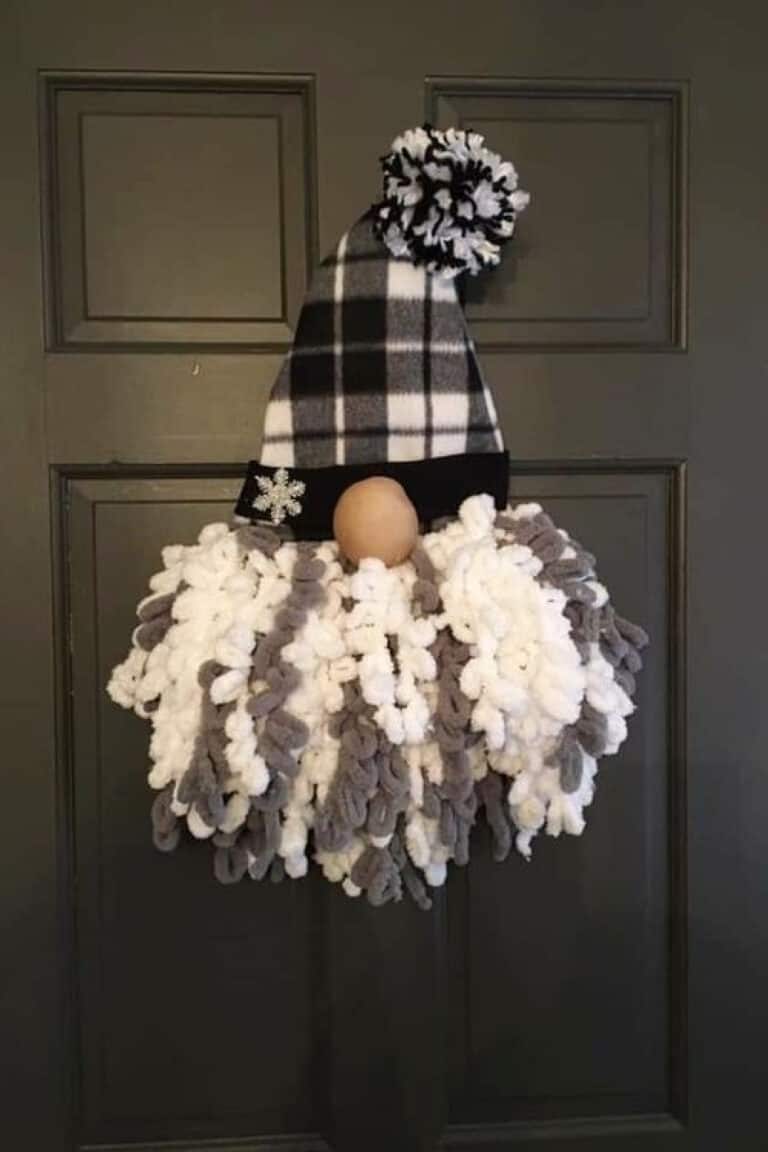 You can make this easy diy Gnome Christmas wreath using loop yarn or a yarn scarf, snow hat, and a ping pong ball with a nylon stalking over it for the nose (or even sew one yourself). Here is a great tutorial Below is the video tutorial for a Fall Gnome version using a quick Dollar Store hack that you can use for reference.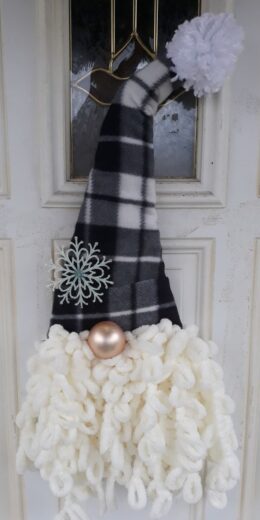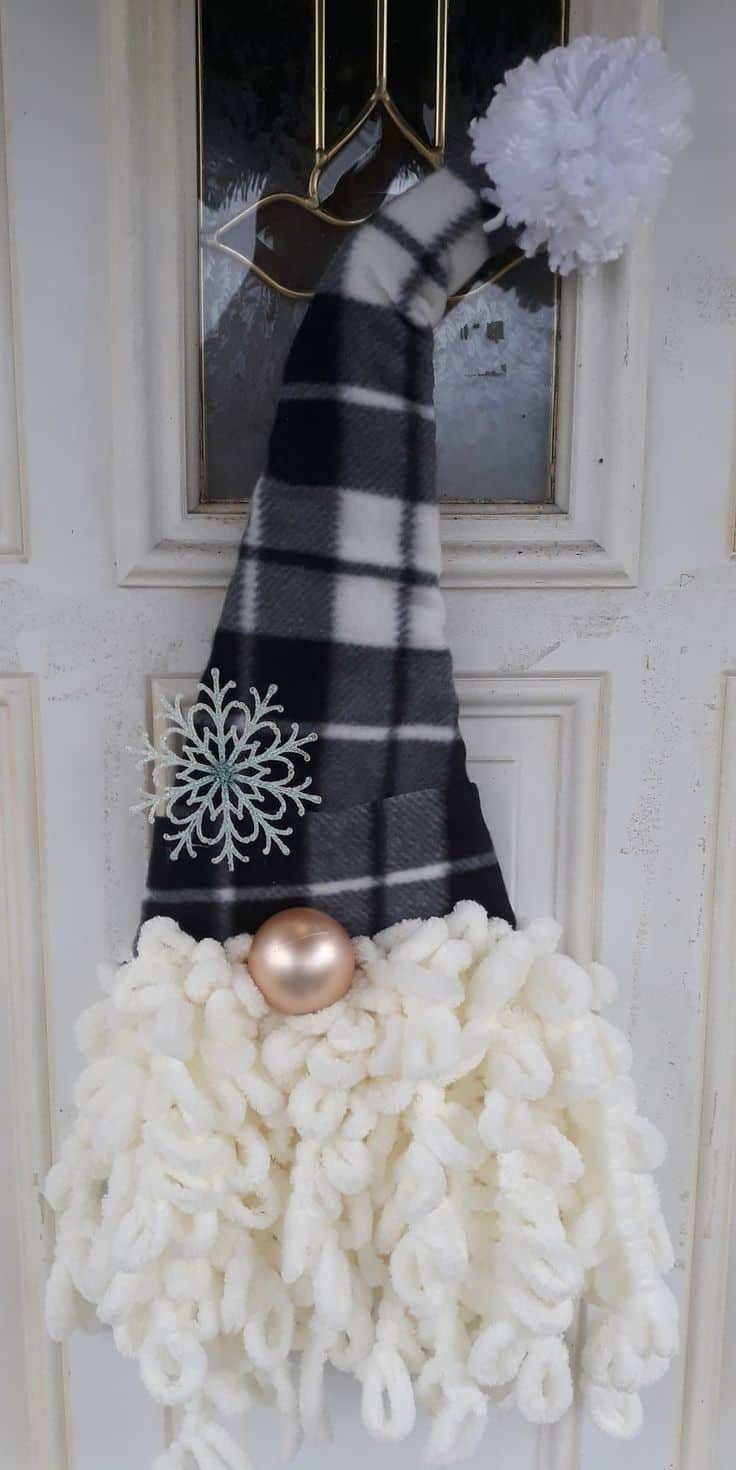 Use a Christmas ball ornament for the nose of the above gnome wreath!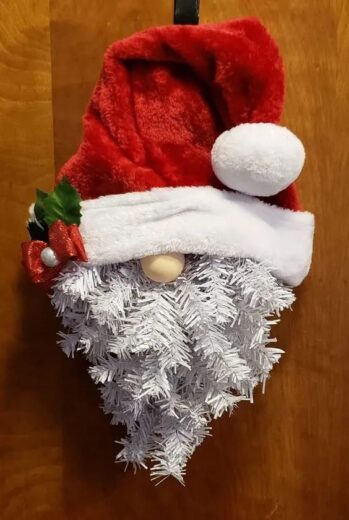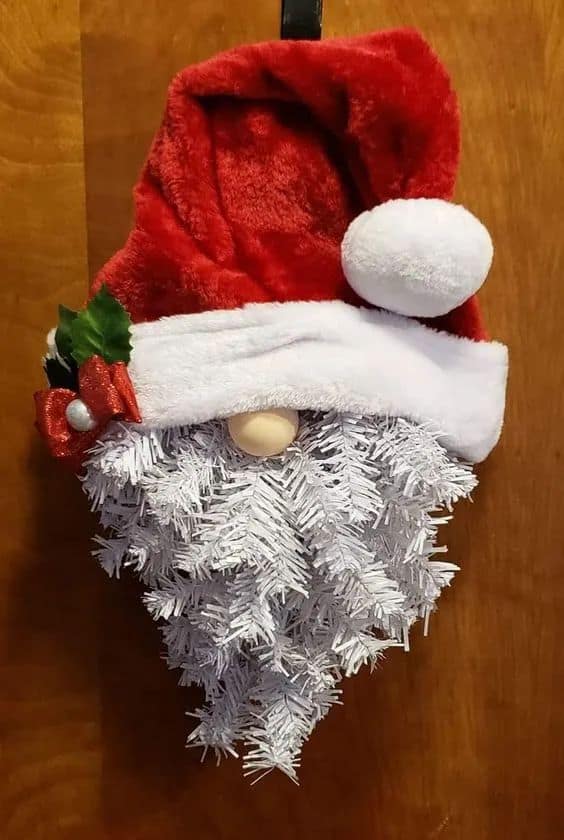 Use a Dollar Store Santa Hat, Dollar Tree mini flocked Christmas tree, and painted ping pong ball to make the adorable quick, cheap, and easy Gnome Christmas wreath above for your front door.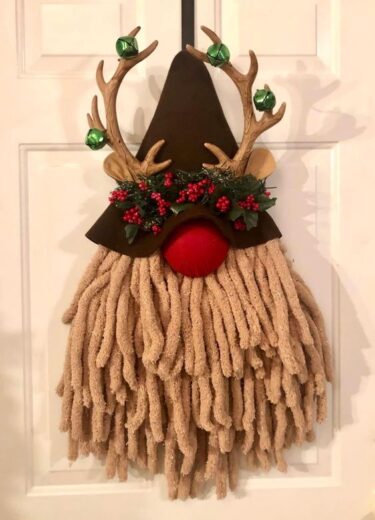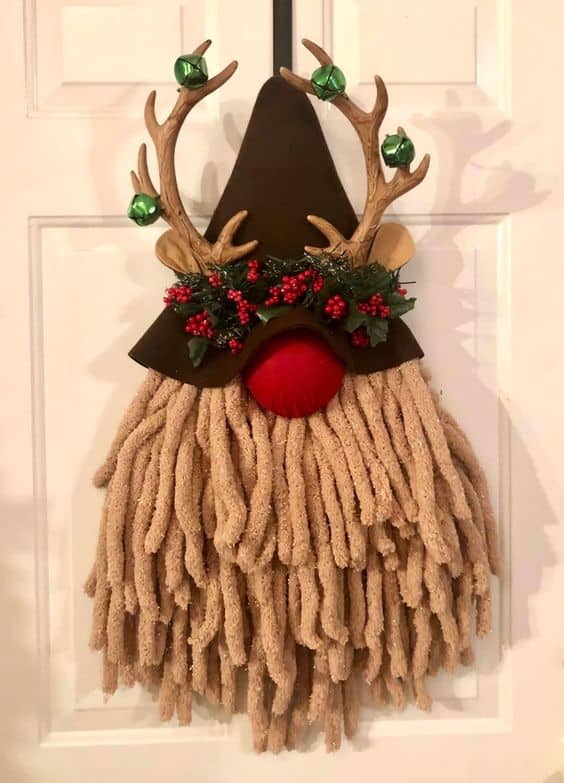 Use Bernat Blanket Extra Thick Yarn to make the beard of the above reindeer gnome wreath.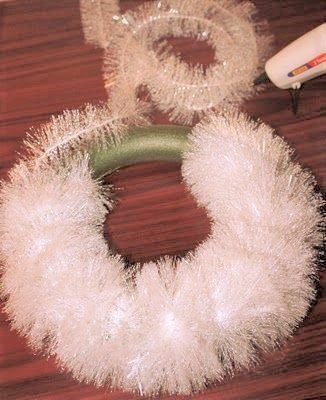 LUXURIOUS WHITE CHRISTMAS WREATH TUTORIAL
Use a white wreath form or pool noodle and dollar store garland to make an incredibly easy yet luxurious looking white Christmas wreath.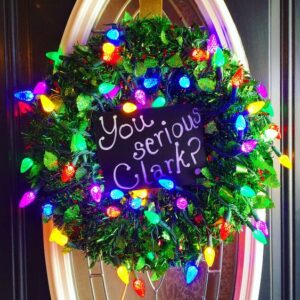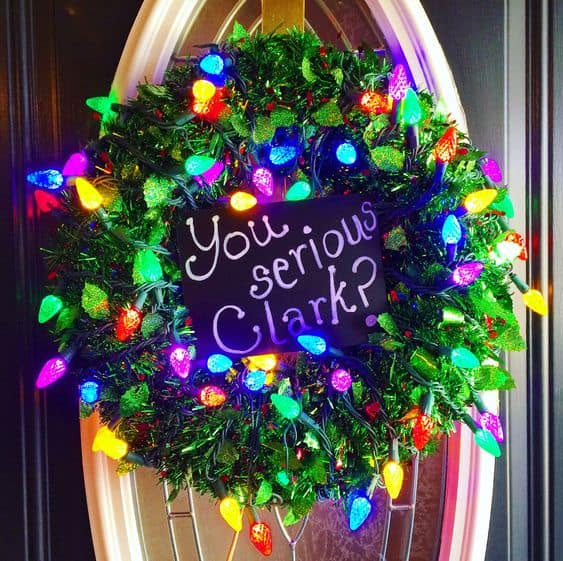 You can also use the garland wreath tutorial above to make this Christmas Vacation themed wreath for your door or Christmas party.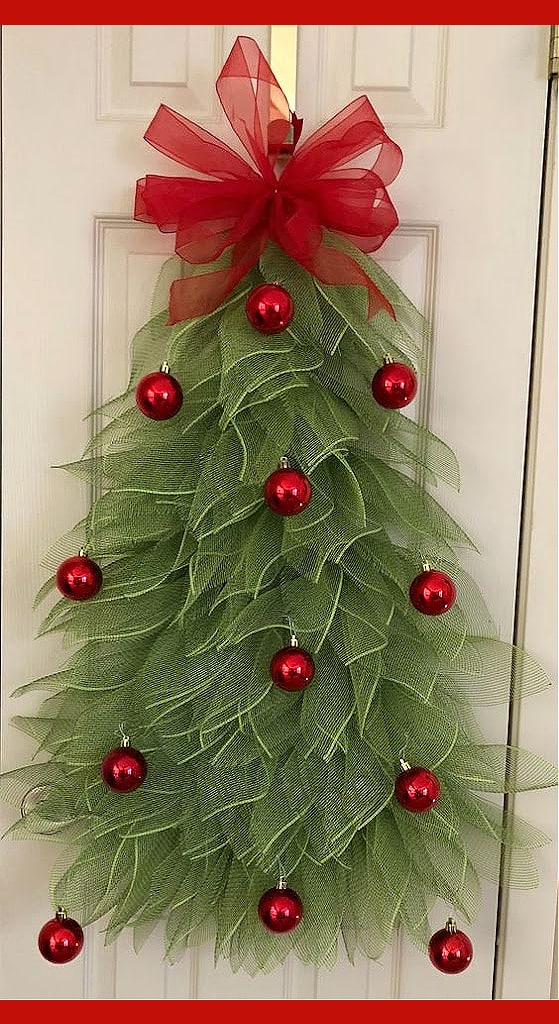 There is more than one method for making the stunning DIY Deco Mesh Christmas Tree Wreath above but all are EASY and most use dollar store items! Scroll down for links to tutorials…..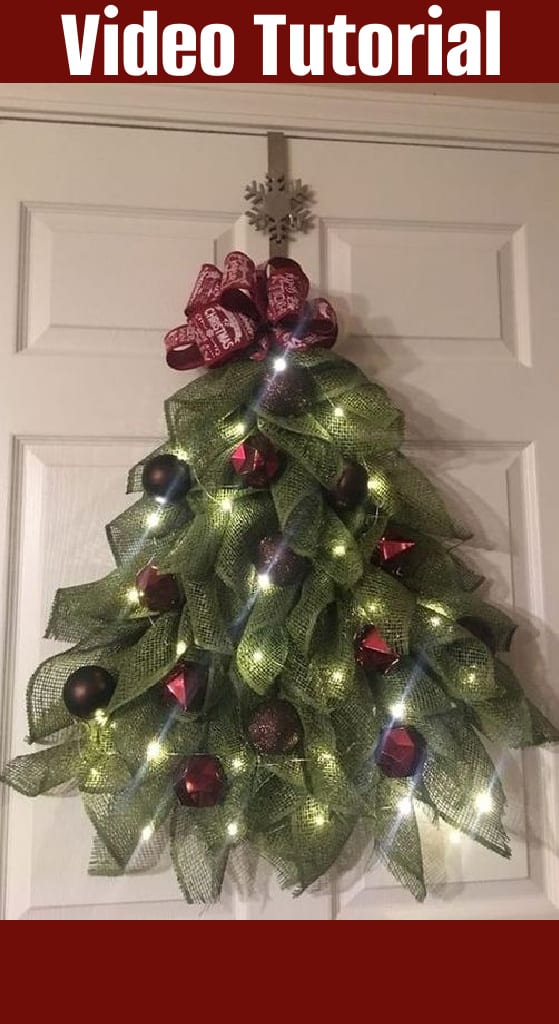 The video tutorials are below:
Dollar Tree Witch Hat Christmas Tree Wreath ~ Christmas DIY ~ Dollar Tree DIY ~ Farmhouse Christmas – YouTube
Christmas Tree Wreath Kit Tutorial | DIY Christmas Wreath | Christmas Crafts | Triangle Wreath Board – YouTube
How to Make a Christmas Tree Wreath Using Poly Burlap Mesh and Witch Hat Form from Dollar Tree! – YouTube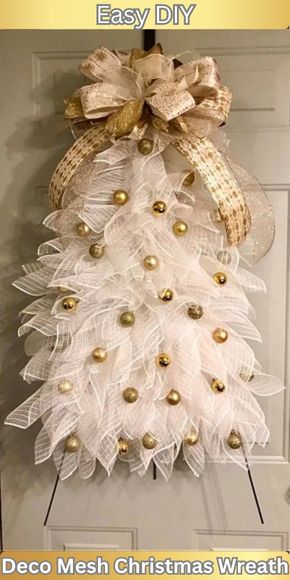 Make the deco mesh tree wreath in different colors and themes to match your decor. You can even place packages underneath the tree!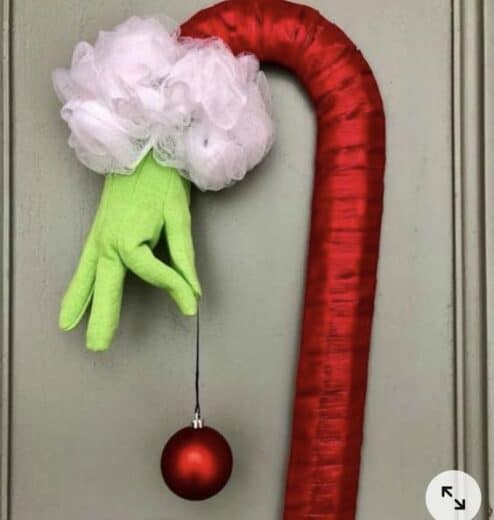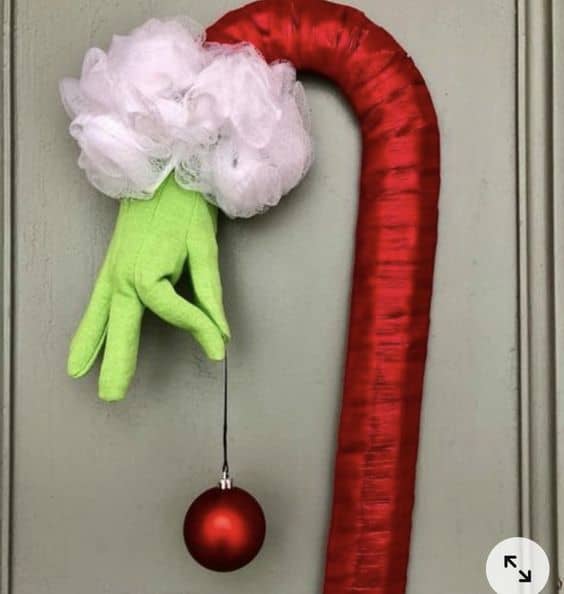 Make the above dollar store Grinch wreath by putting a wire coat hanger in a pool noodle and covering it with red cloth or ribbon or purchasing a dollar tree candy cane wire wreath form and wrapping it in red cloth or ribbon. Add a stuffed green glove with wire in the fingers and a loofah for the cuff.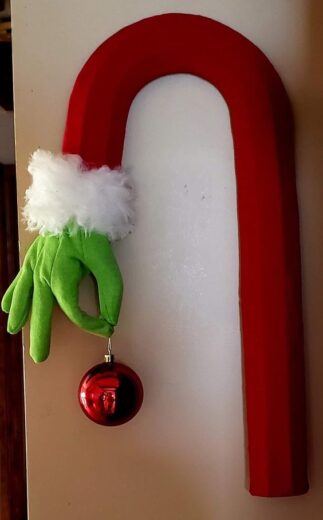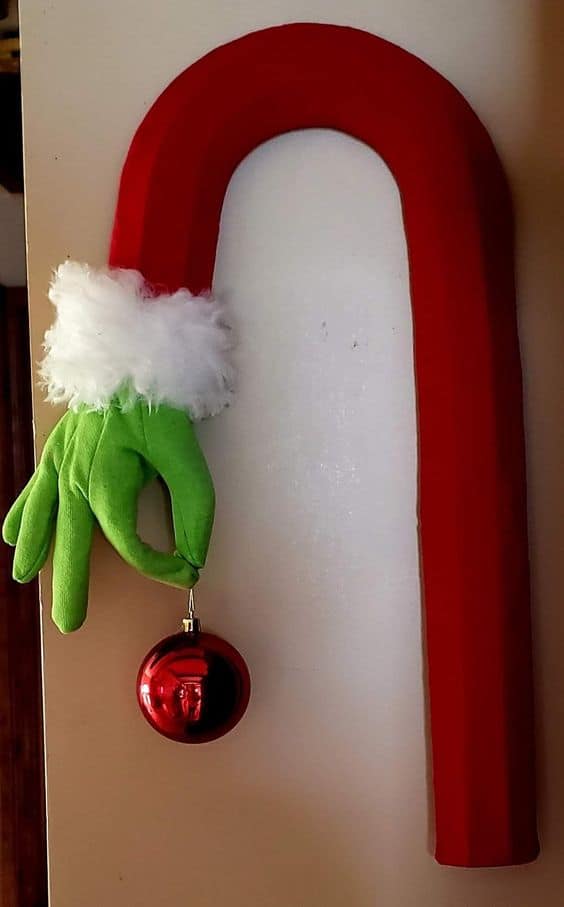 Use a dollar tree candy cane wire form and glue on fabric to make the above Grinch wreath.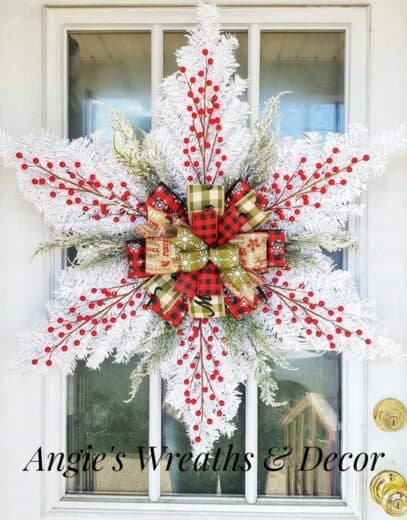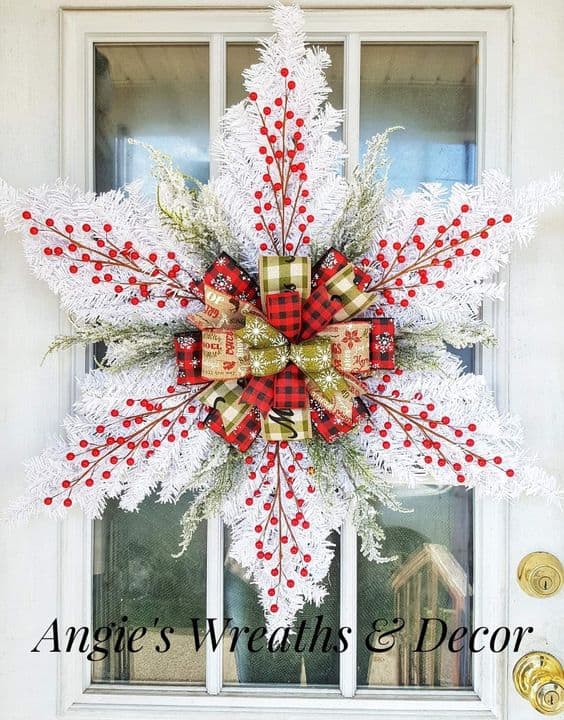 The above wreath was purchased custom made by Angie's Wreaths. You can also try to DIY this yourself using flocked mini trees from the dollar tree and holiday riboons and accents!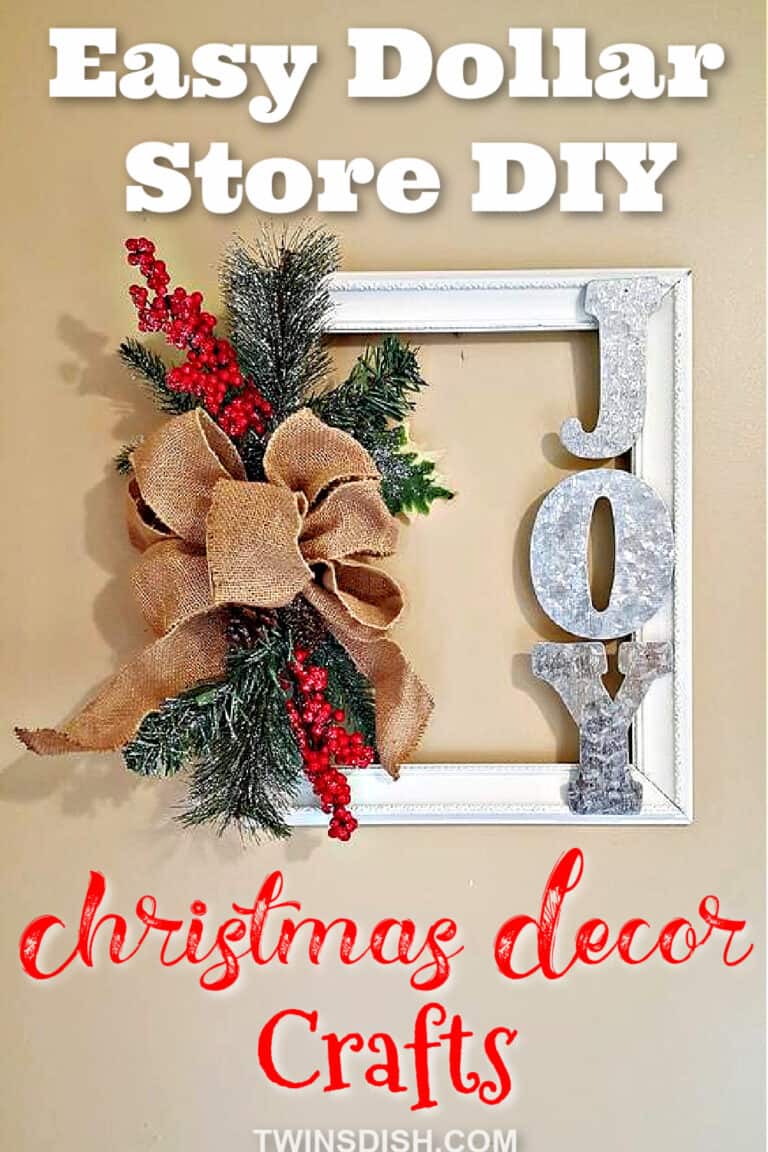 COUNTRY CHRISTMAS FRAME TUTORIAL
Make a Country Christmas FarmHouse version using silver painted dollar store wood letters and garland hot glued to a white frame.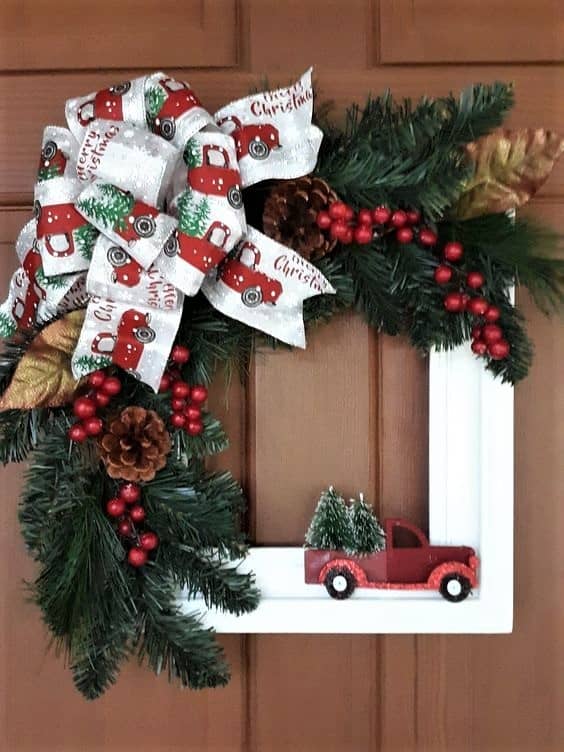 PINTEREST.COM
Glue Garland and dollar store ribbon on to a dollar store frame for a unique vintage wreath for your door or wall.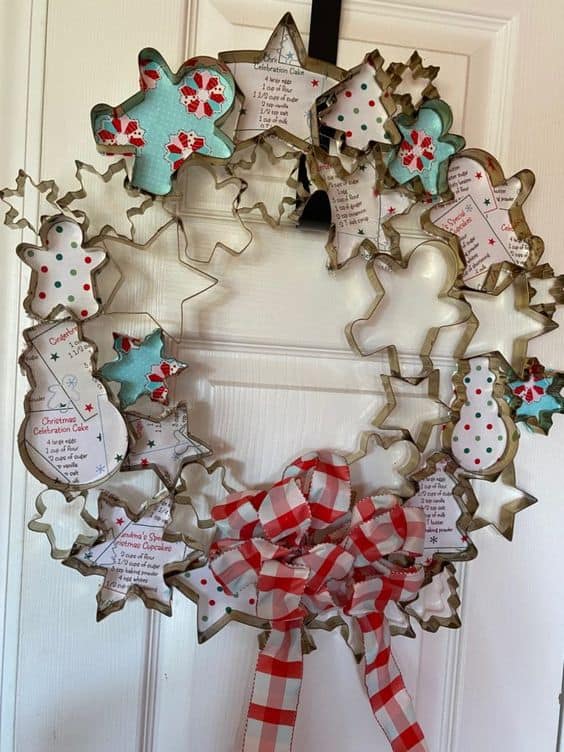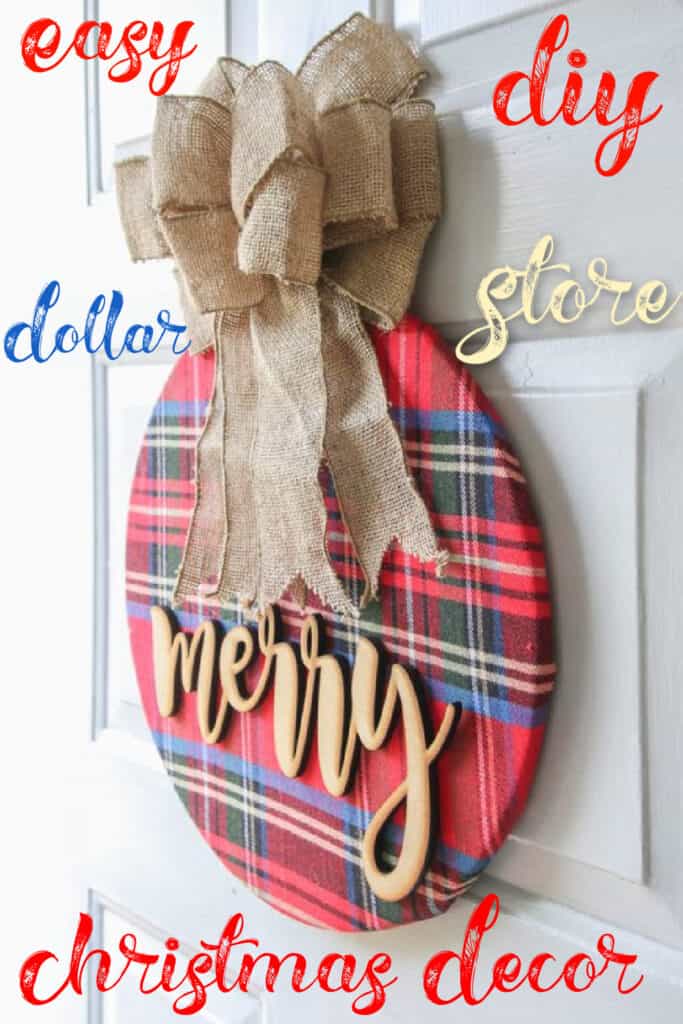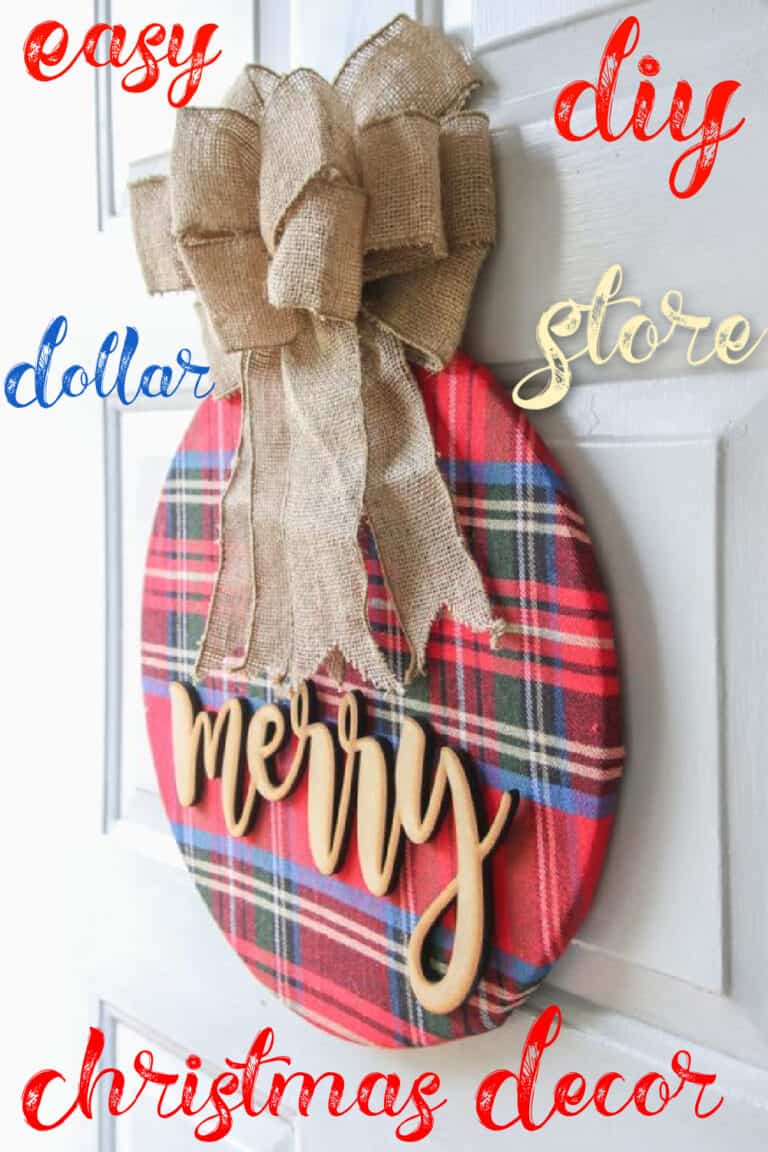 DIY CARDBOARD FABRIC CHRISTMAS WREATH TUTORIAL
Make this easy yet unique farmhouse wreath out of cardboard and fabric.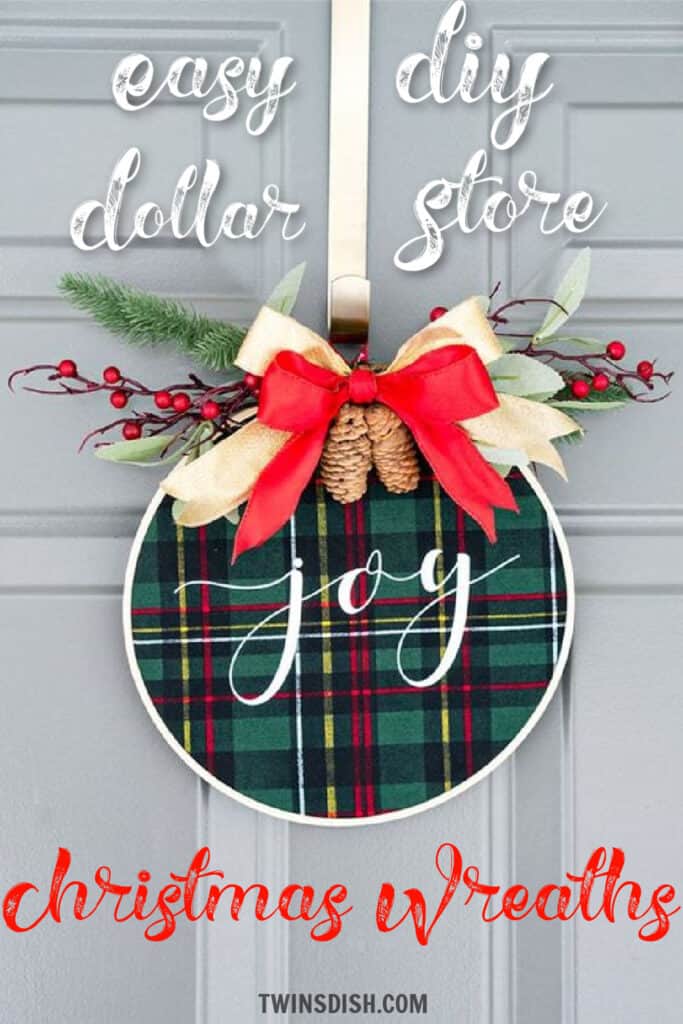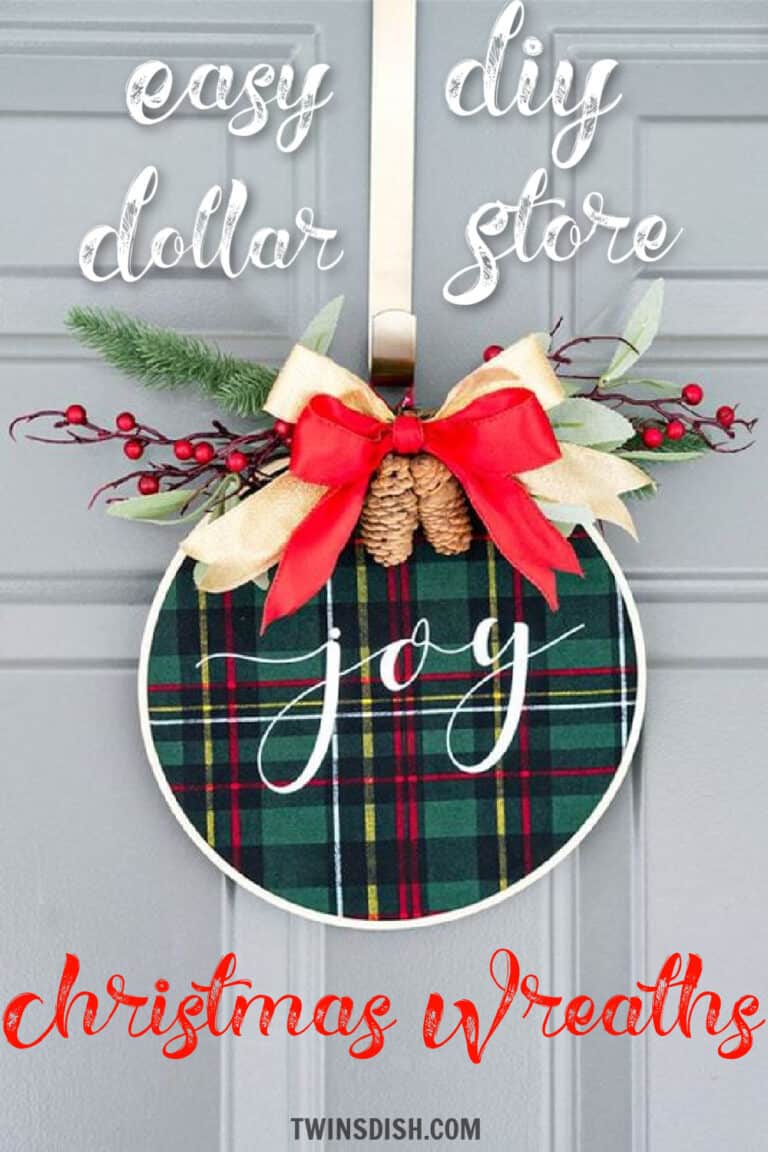 HOOP AND FABRIC WREATH TUTORIAL
Here is another version using a hoop and fabric.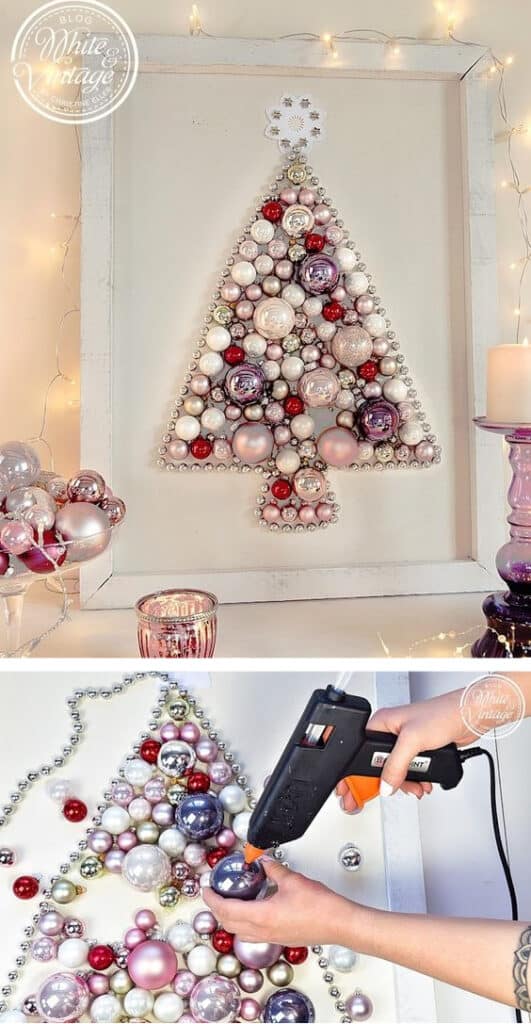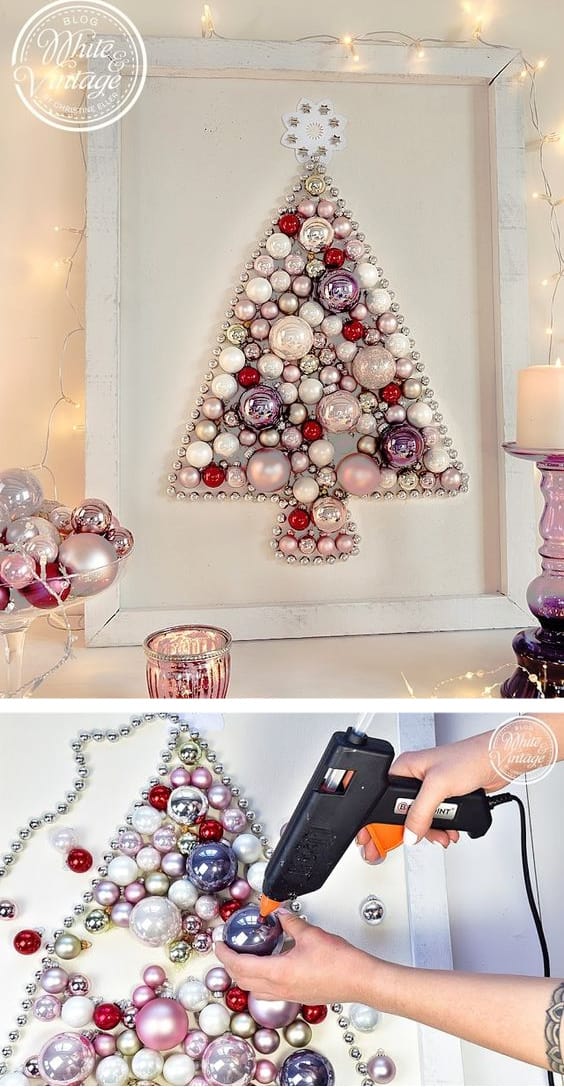 CHRISTMAS TREE WALL DECOR WREATH TUTORIAL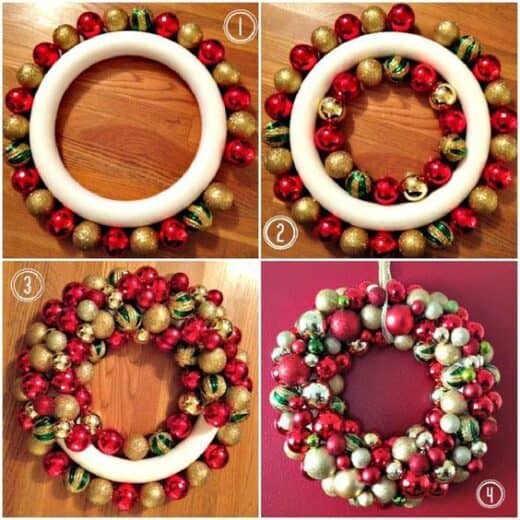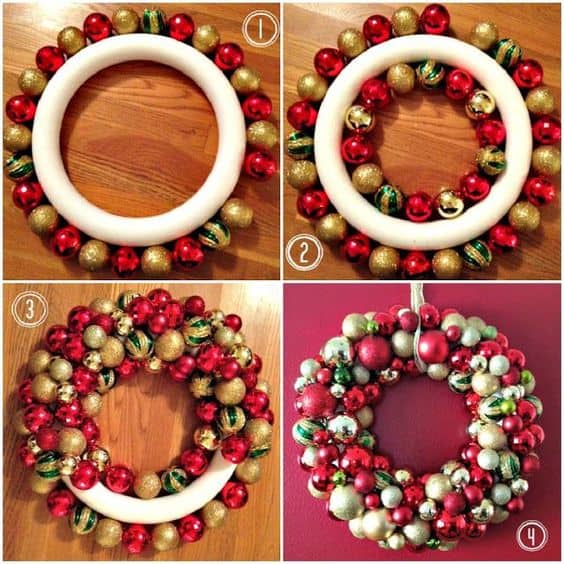 Glue dollars store ornaments to a dollar store form to create a luxurious looking Christmas ornament wreath for cheap. Hang it on your door, above your mantle, on your wall, or even on the kitchen cabinets.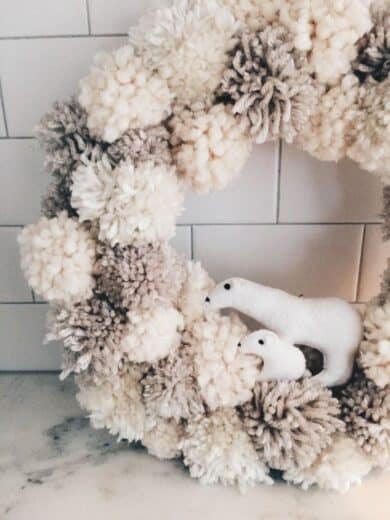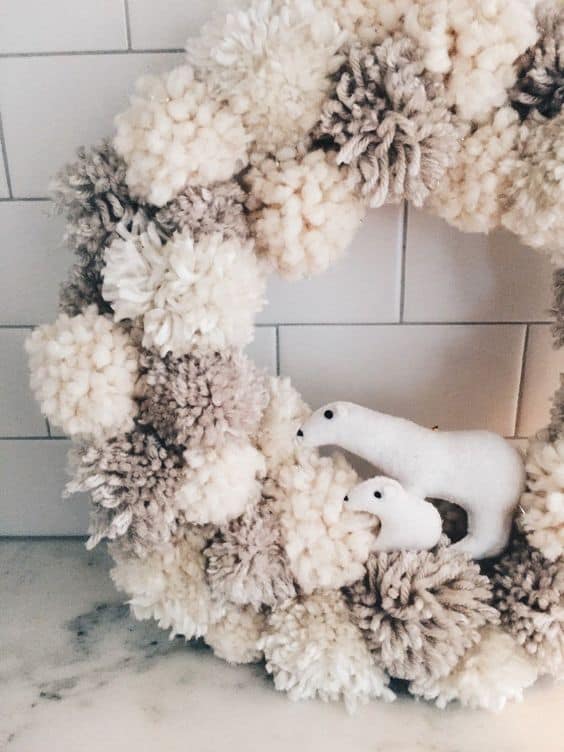 Make a pom pom Christmas wreath out of Dollar Store yarn and cut card board or a floral form.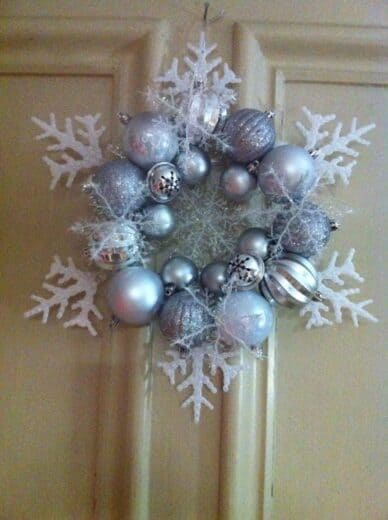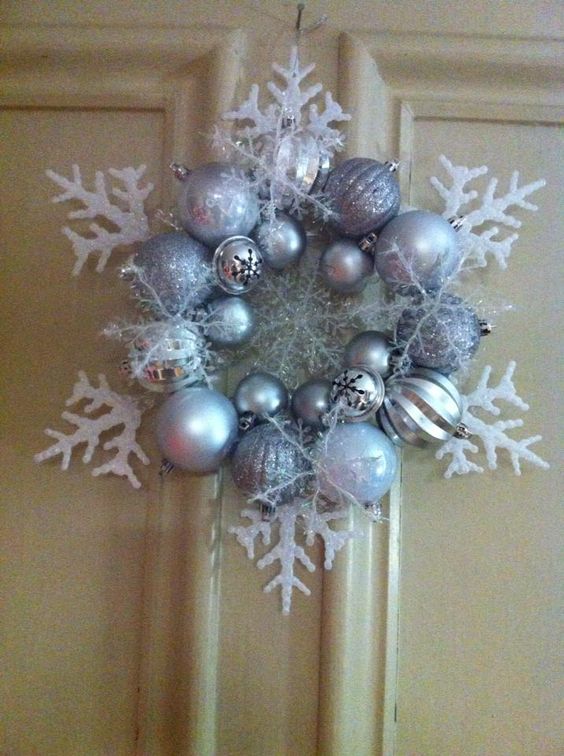 CHRISTMAS STOCKINGS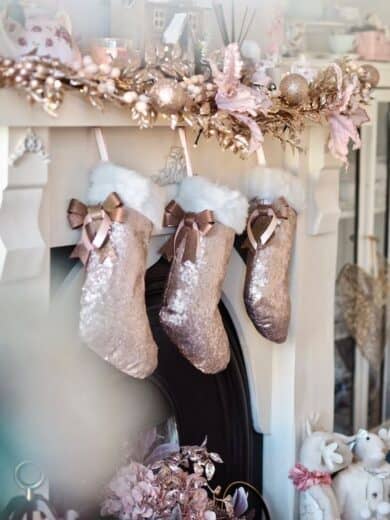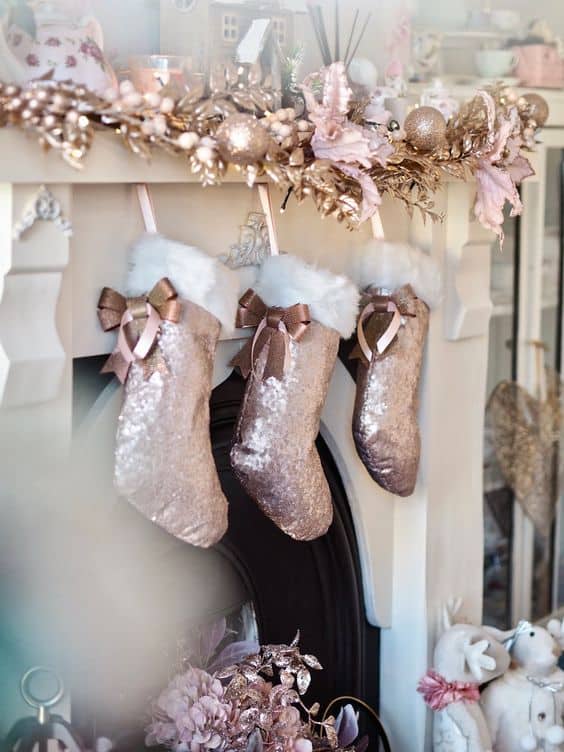 SEQUIN DIY ROSE GOLD CHRISTMAS STOCKING TUTORIAL
Make an easy custom made stocking that only looks expensive.
---
We hope you enjoyed our favorite, easy, no fail Christmas decor ideas for every budget. They'll have your home looking like a Hallmark card year after year with the greatest of ease. If you haven't already, don't forget to bookmark or pin this post for reference to use next year as well.
Have a very Merry Christmas and the best New year yet!
Love,

Posts You'll Also Like: